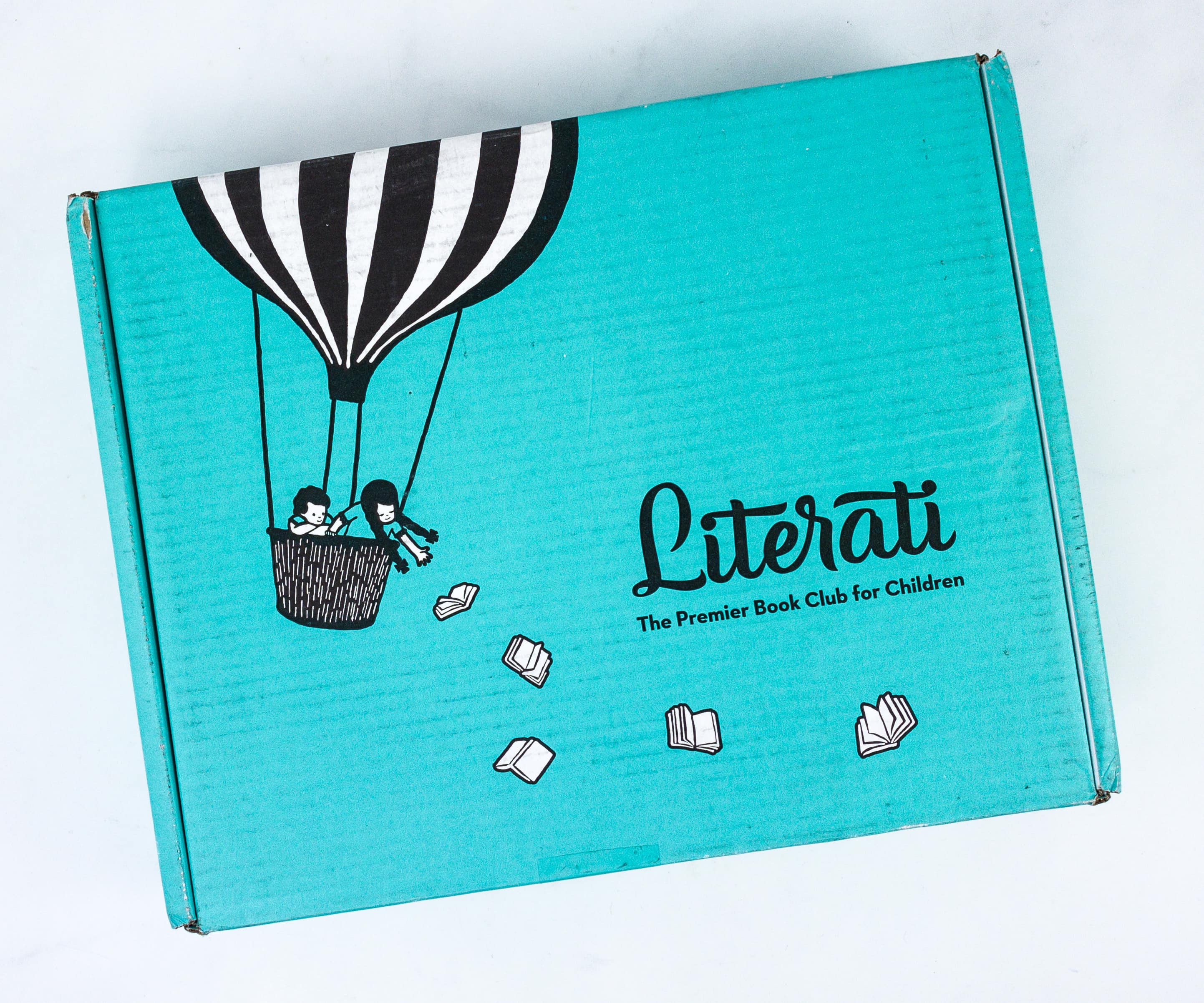 Literati is a monthly book subscription box for children that works similar to Stitch Fix. For a monthly fee of $9.95, you'll receive 5 books to try out for a week. You can purchase the ones you love and return the rest (in totally new condition) in the enclosed prepaid mailer (shipping is free in both directions).
You can get 5% off when you decide to keep all the books! There are also categories for each age bracket: Club Neo is for newborn to 1 year; Club Sprout is for children ages 2-3; Club Nova is for kids 4-6, and Club Sage is for those 7-8 years old.
This is a review of the Club Nova box for kids 4-6.
DEAL: Get $25 in account credit to put towards books when you sign up! USE THIS LINK to get the deal.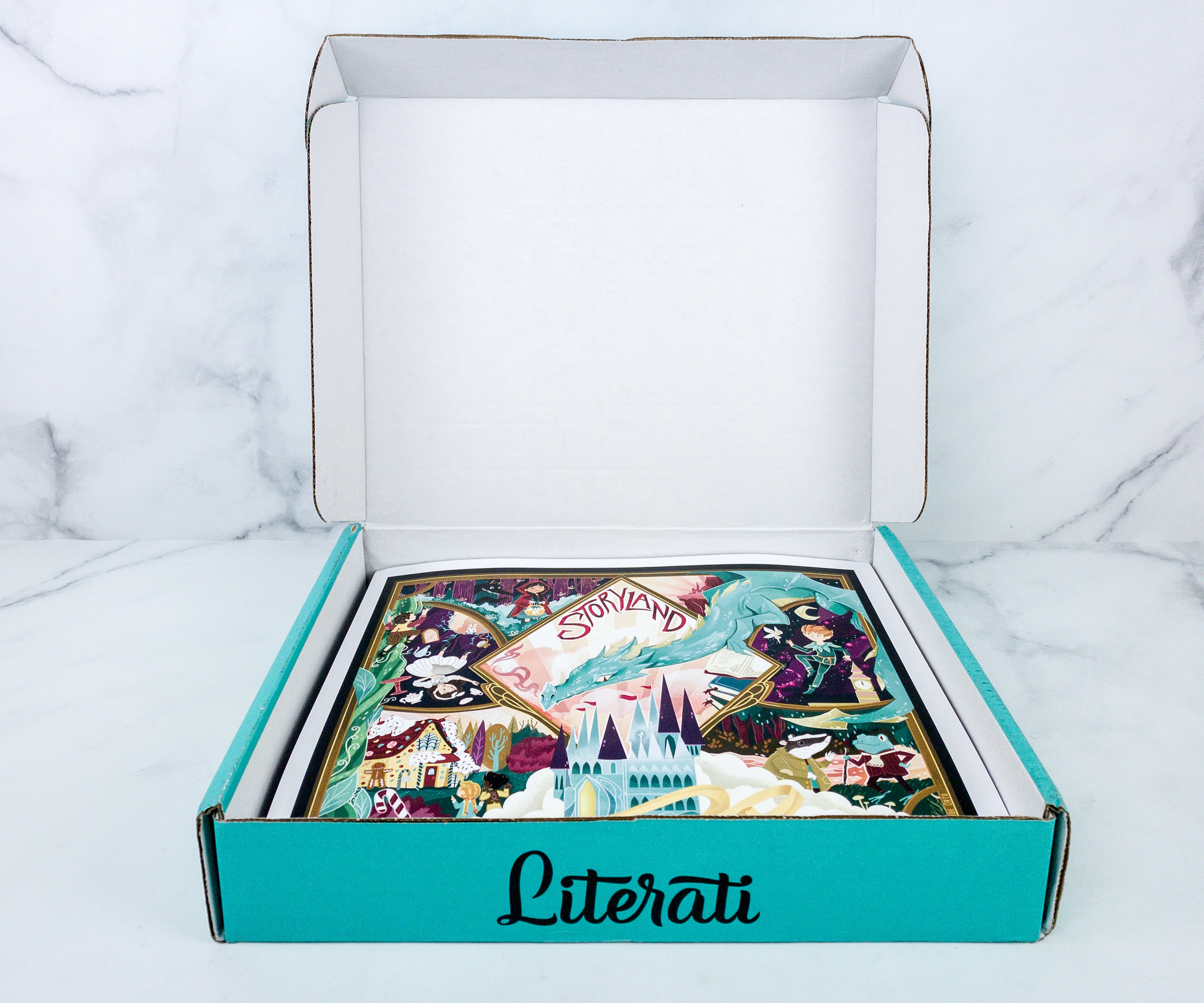 There are lots of books in store for us!
The box looks full, and the contents are all neatly packaged.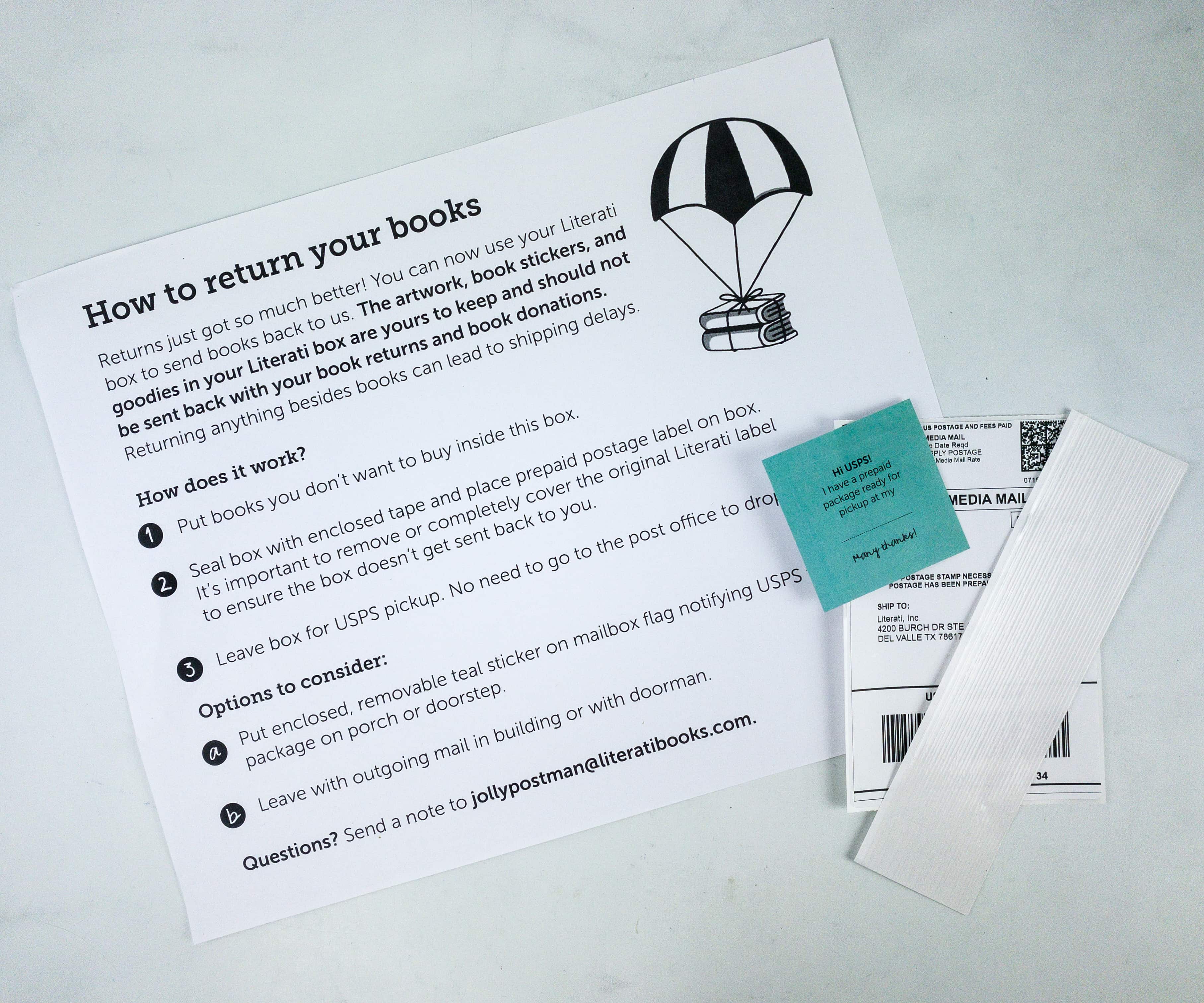 There's no longer a padded mailer. Instead, you can use the teal box itself if you want to return some of the books. You'll also receive a tape and a prepaid postage label for the box.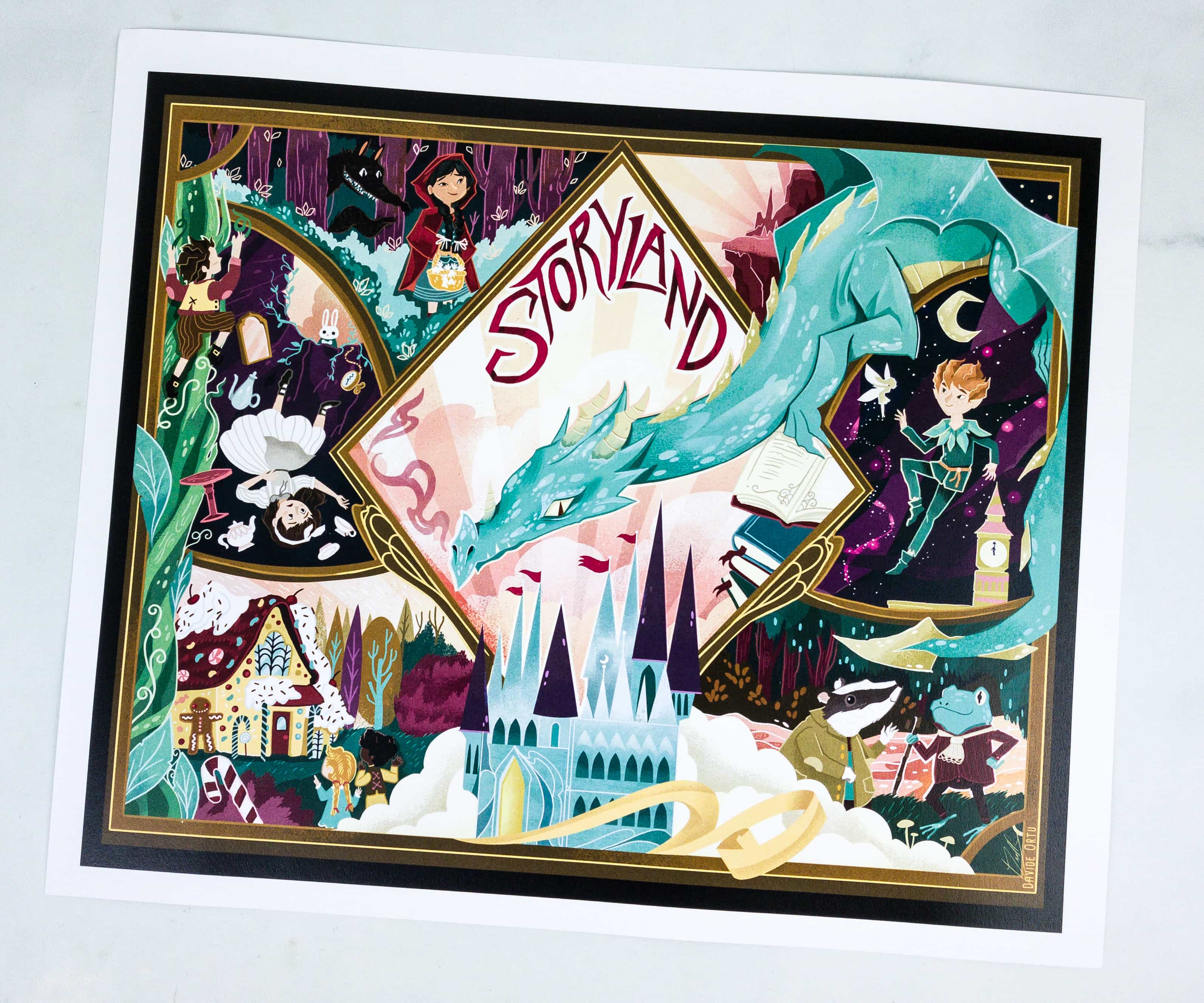 A full-size print comes with the box, along with free shipping. Although I don't love that the fee doesn't apply to a full box purchase, this high-quality print makes it more worth it. Also, the theme for this month is Storyland!
They included a sheet to help us label the books, and let others know that they're ours when we decide to keep them. They're really adorable!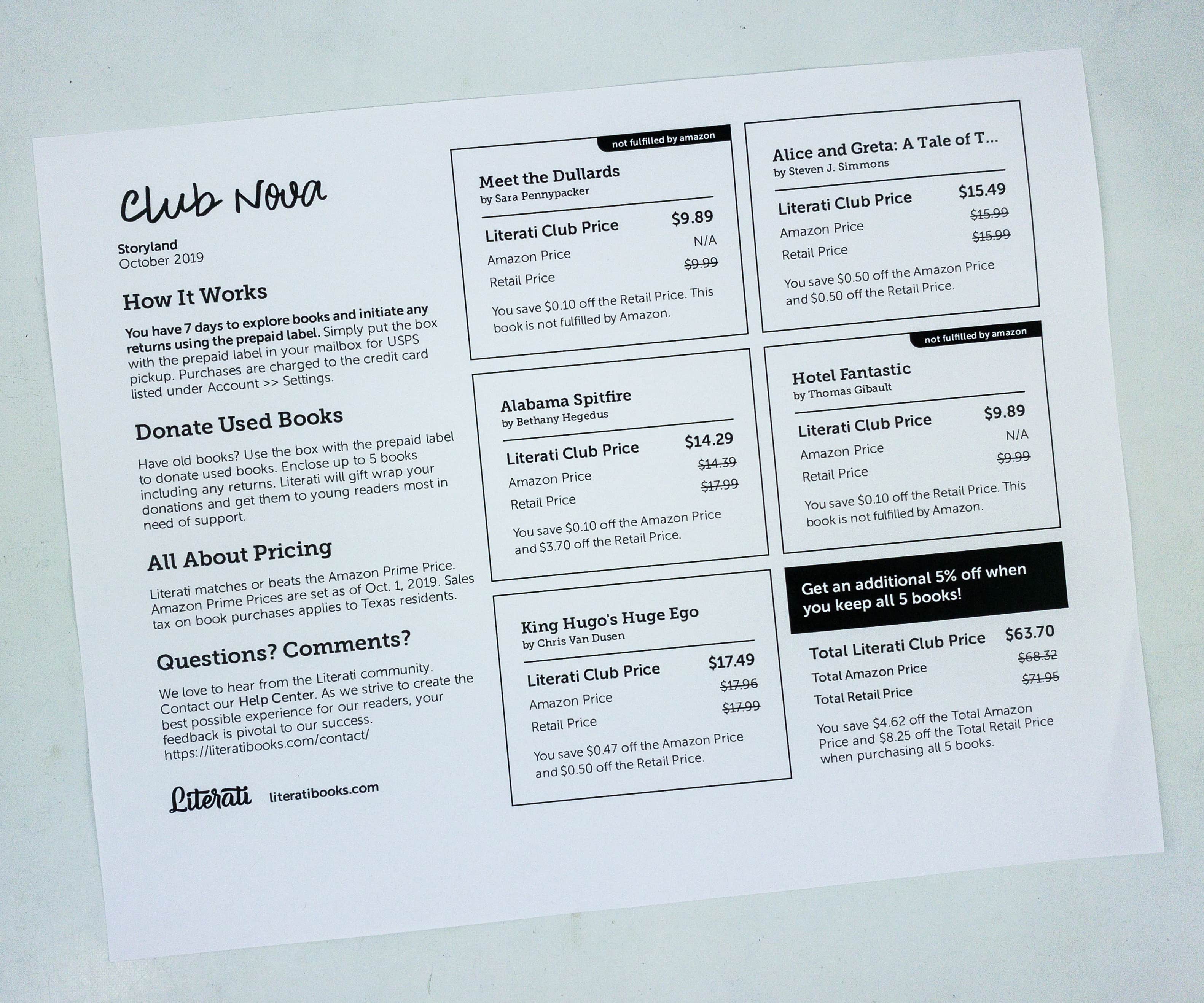 There's also a listing of the book prices. If you decide to keep everything, you'll get 5% off. The subscription has a $9.95 non-refundable fee. According to Literati "it covers shipping both ways, allows the curators to invite a new world-renowned illustrator each month to draw personalized bookplates and a unique print for members, and covers other themed surprises that are included in the box." Since the print is now full size and high quality, we are digging that change. It includes the shipping back and forth too.
There's a cute card from Literati.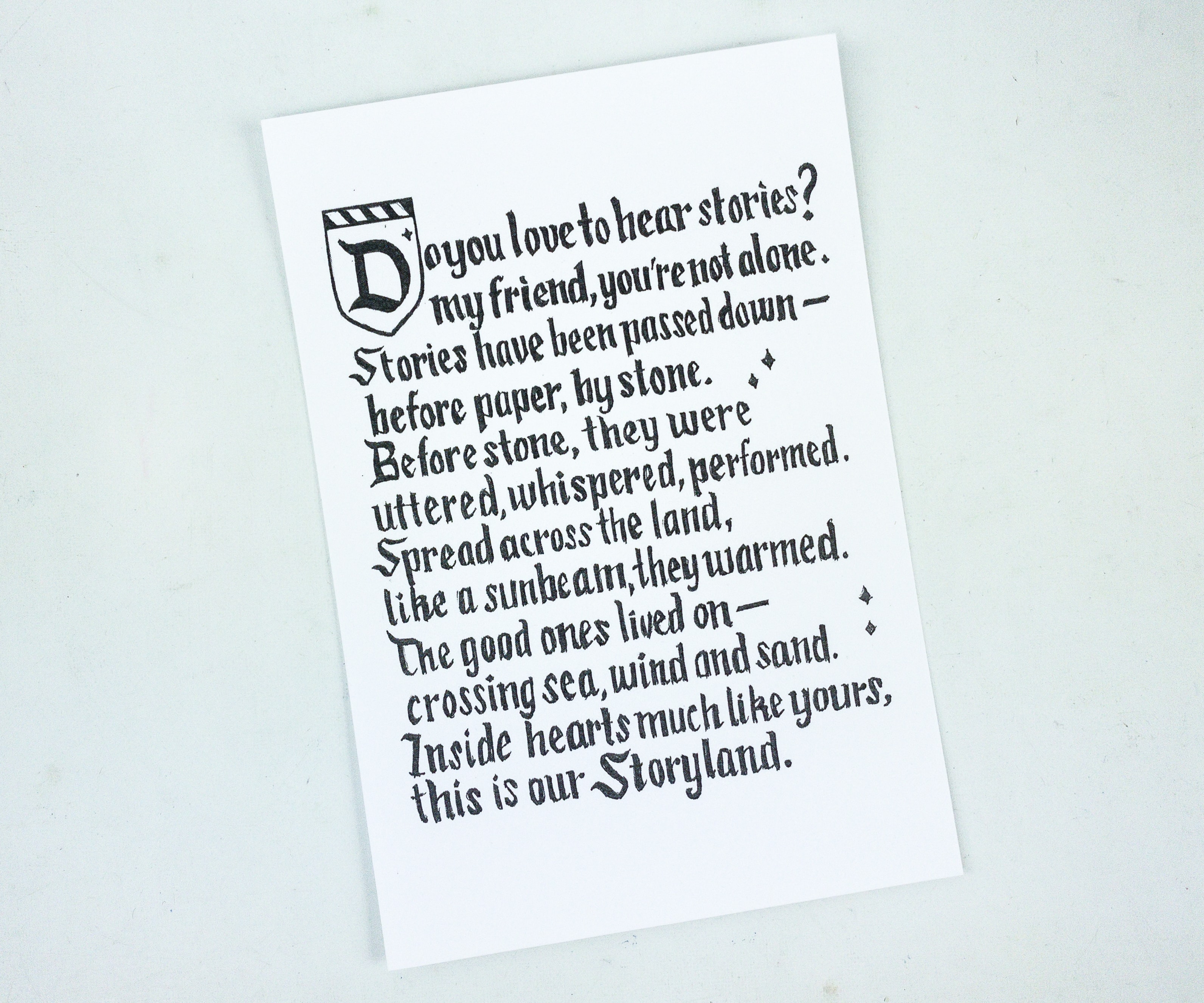 At the back is a message related to this month's theme.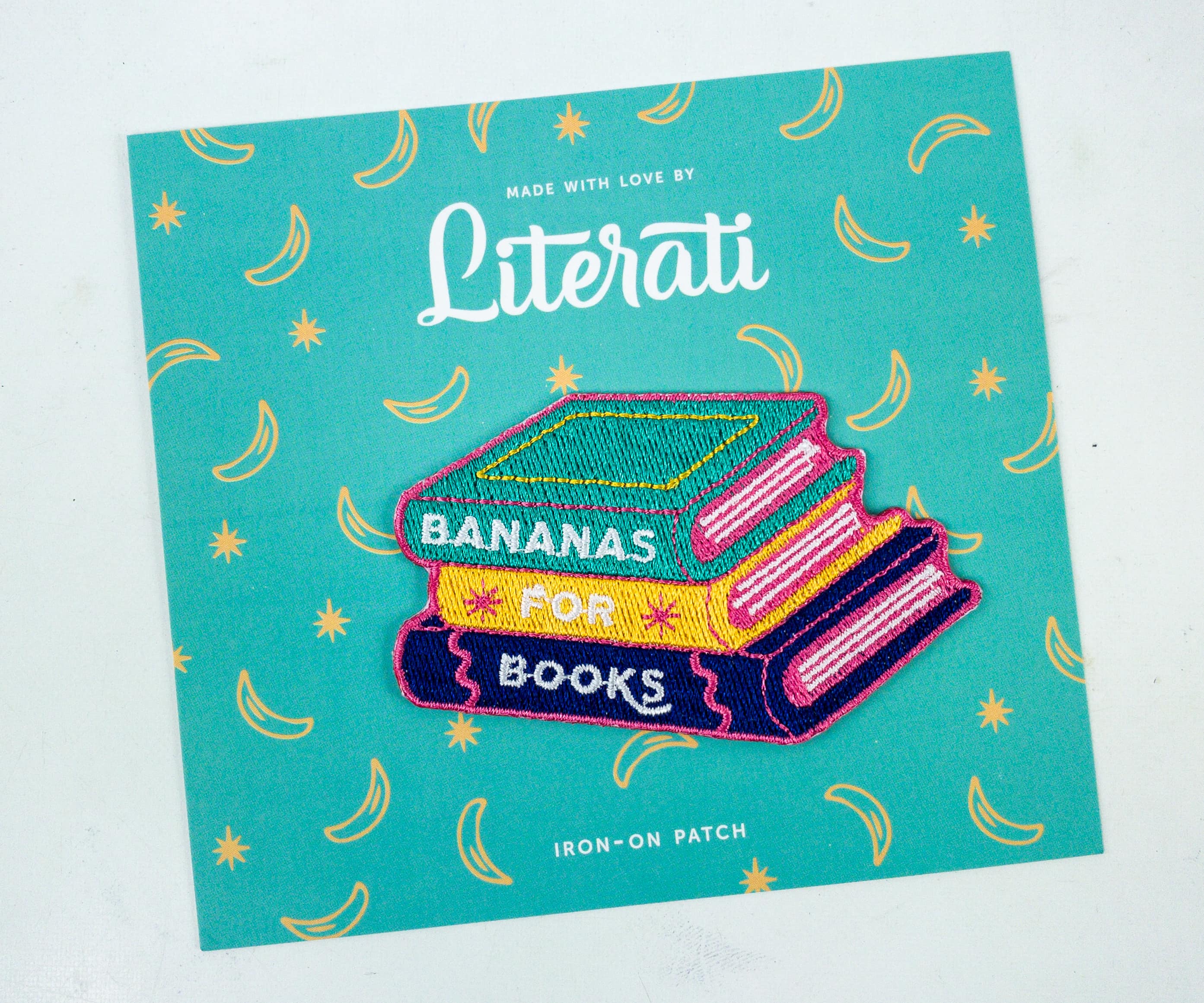 Every month, Literati book boxes include toys, items, or activities that the kids can get busy with.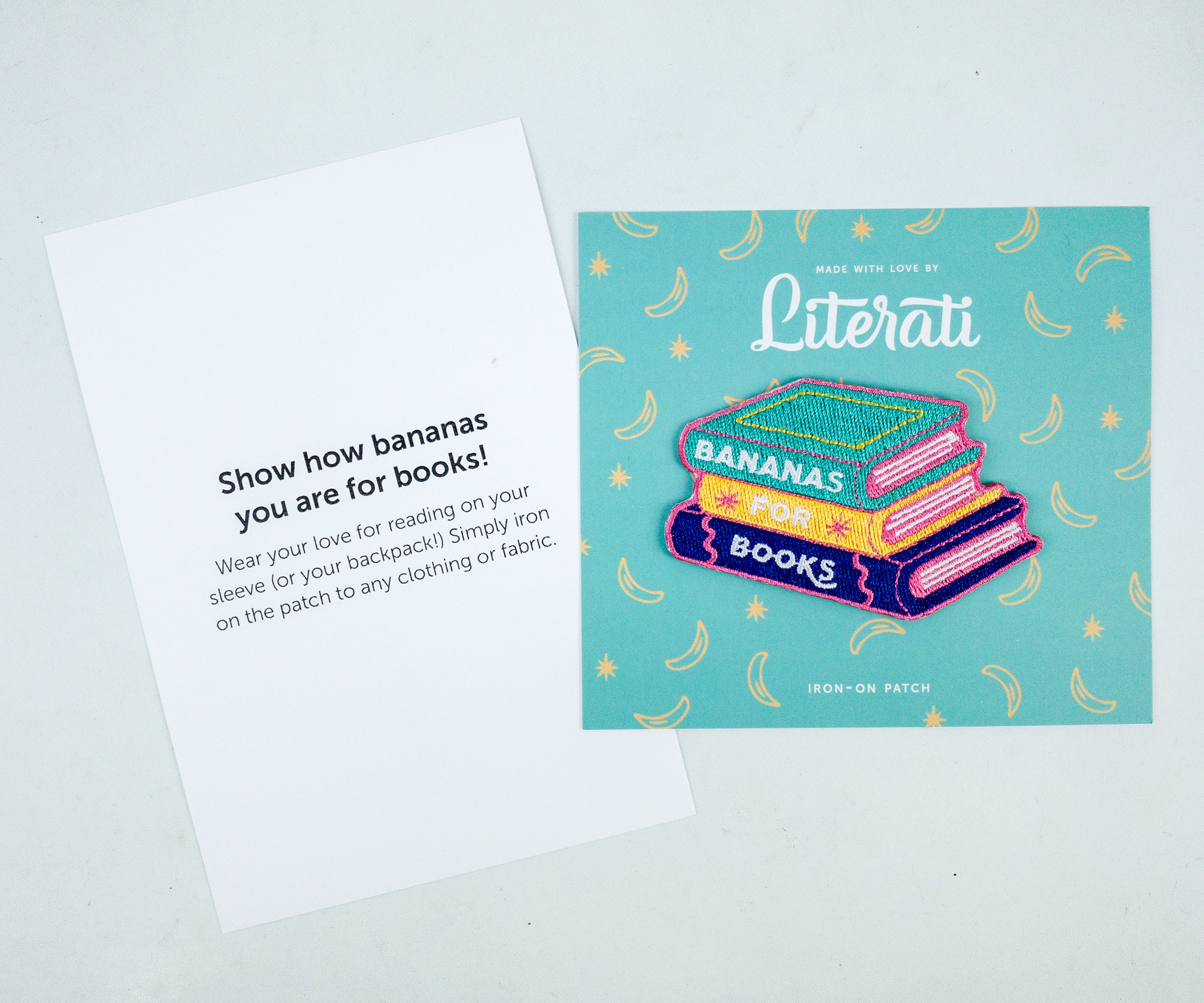 You can simply iron the patch in your favorite shirt, sweatshirt, or your backpack!
For this box, we got an iron-on patch, and it's a stack of colorful books!
There's also a card that features the October Community Challenge.
The instructions for the challenge are listed at the back. The prizes will be donated to your favorite charity!
Everything in the box!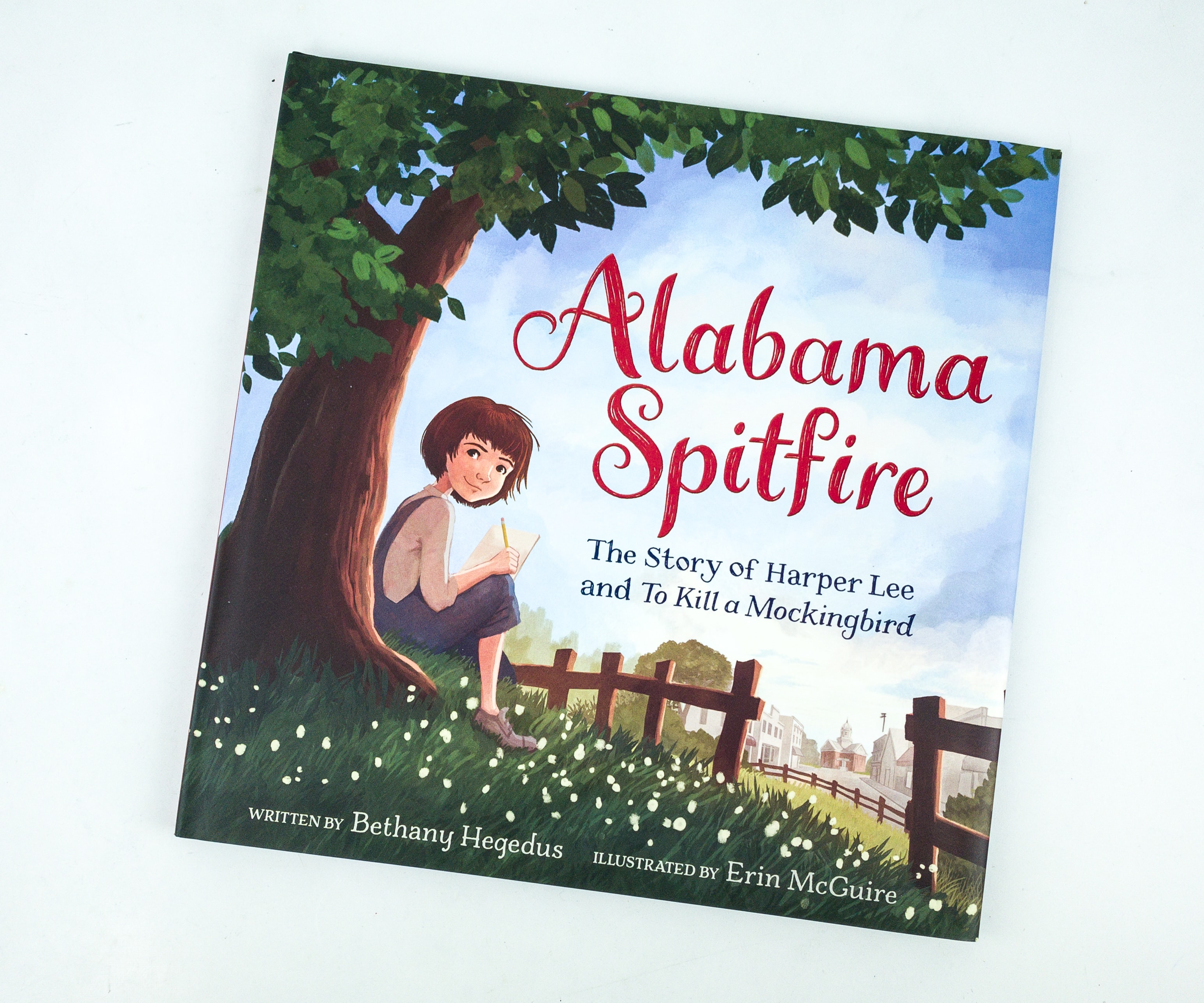 Alabama Spitfire by Bethany Hegedus ($12.31)
The inspiring true story of Harper Lee, the girl who grew up to write To Kill a Mockingbird, from Bethany Hegedus and Erin McGuire. Perfect for fans of The Right Word and I Dissent.

Nelle Harper Lee grew up in the rocky red soil of Monroeville, Alabama. From the get-go she was a spitfire.

Unlike most girls at that time and place, Nelle preferred overalls to dresses and climbing trees to tea parties. Nelle loved to watch her daddy try cases in the courtroom. And she and her best friend, Tru, devoured books and wrote stories of their own. More than anything Nelle loved words.

This love eventually took her all the way to New York City, where she dreamed of becoming a writer. Any chance she had, Nelle sat at her typewriter, writing, revising, and chasing her dream. Nelle wouldn't give up—not until she discovered the right story, the one she was born to tell.

Finally, that story came to her, and Nelle, inspired by her childhood, penned To Kill a Mockingbird. A groundbreaking book about small-town injustice that has sold over forty million copies, Nelle's novel resonated with readers the world over, who, through reading, learned what it was like to climb into someone else's skin and walk around in it.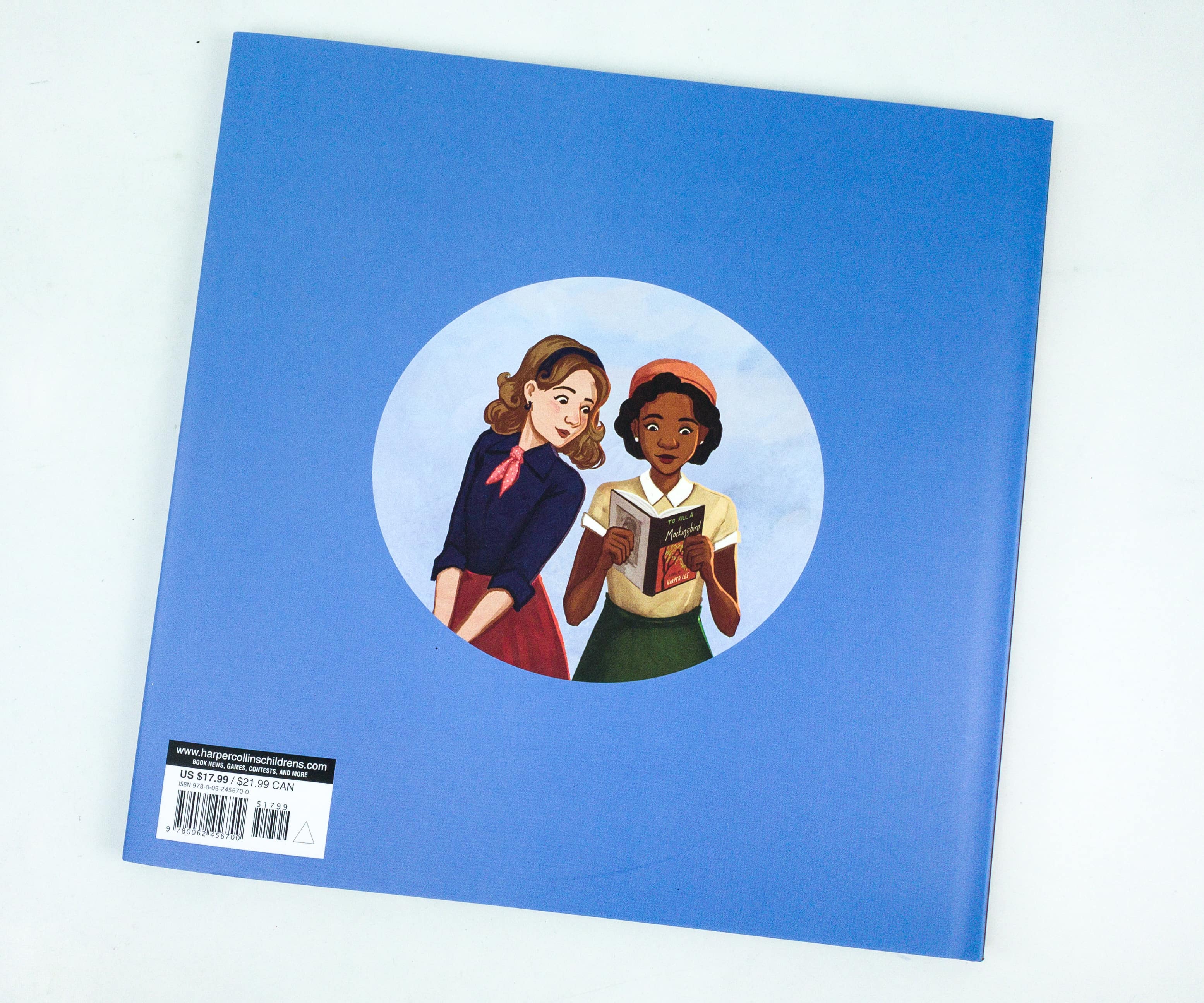 The back of the book features two girls who are reading a book!
The story tells us about the life of American novelist, Nelle Harper Lee, and how she became one of the most beloved writers of the twentieth century.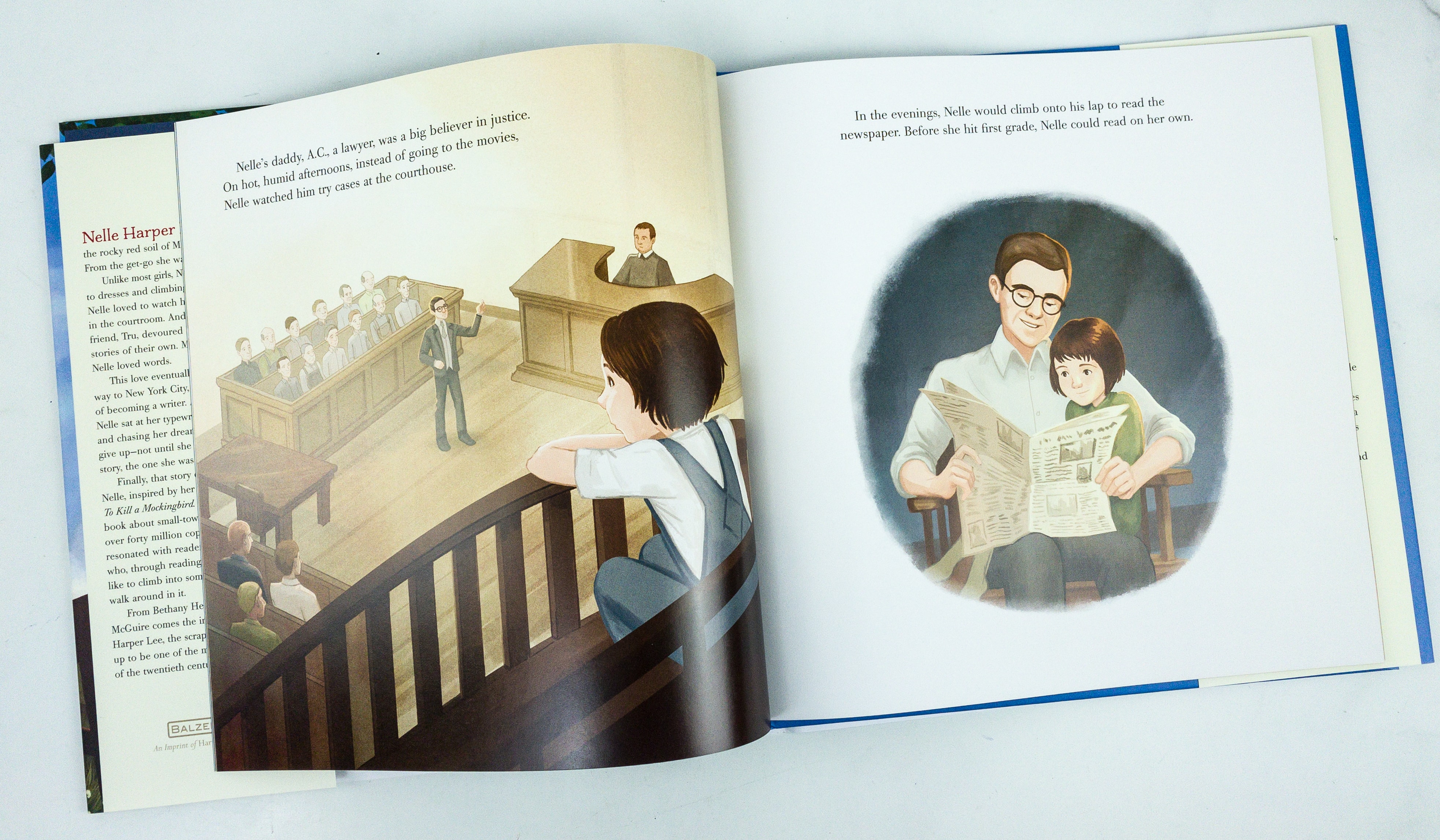 Unlike most girls, Nelle loves climbing trees and adventures, and instead of dresses, she prefers overalls. She really looks up to her dad and often watched him try cases in the courtroom, as shown on these pages.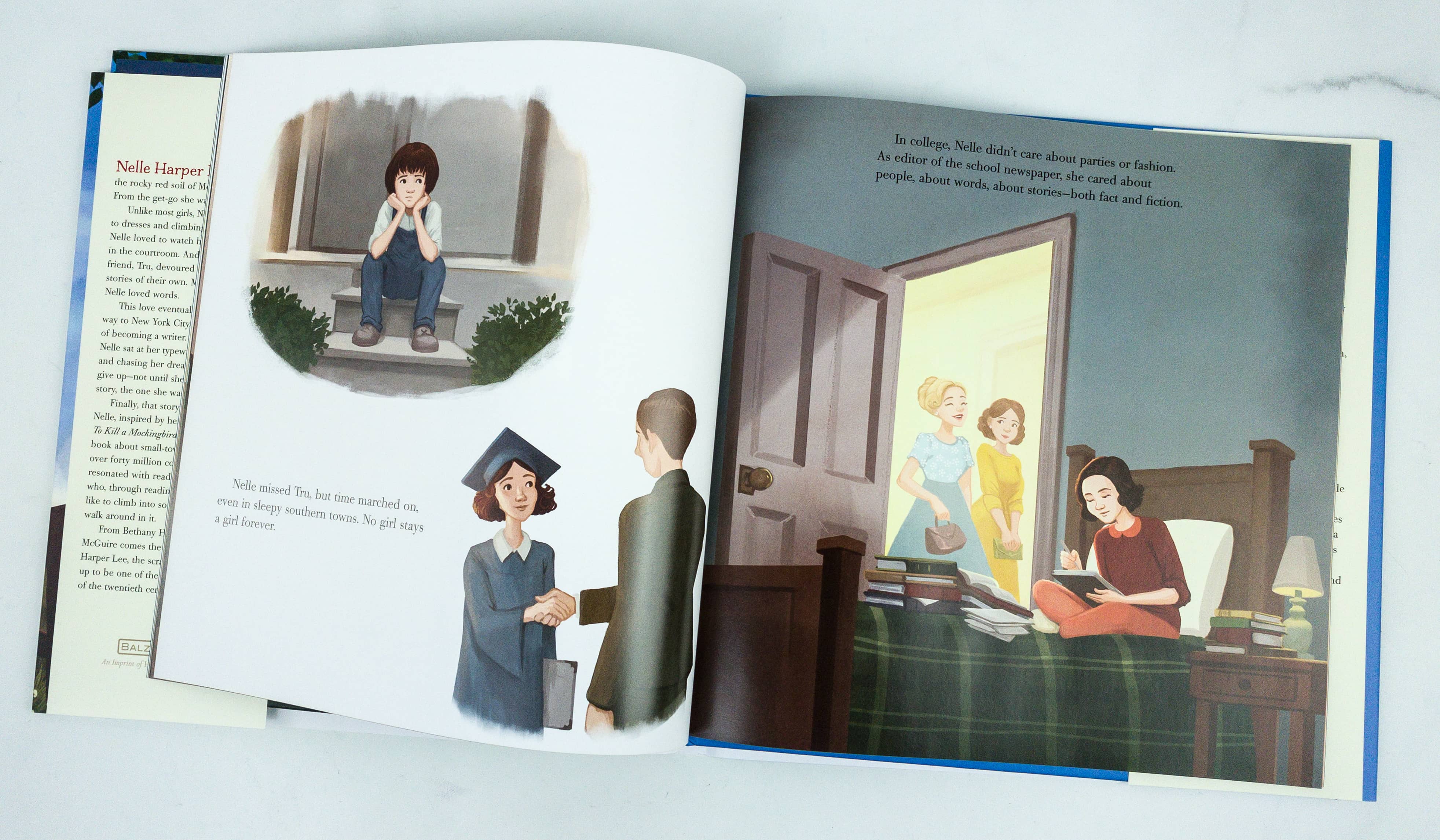 When she reached college, instead of attending parties or try to be fashionable, she focused on the school paper as the editor. Inspired by her childhood, she wrote the classic favorite "To Kill A Mockingbird," which also won the 1961 Pulitzer Prize.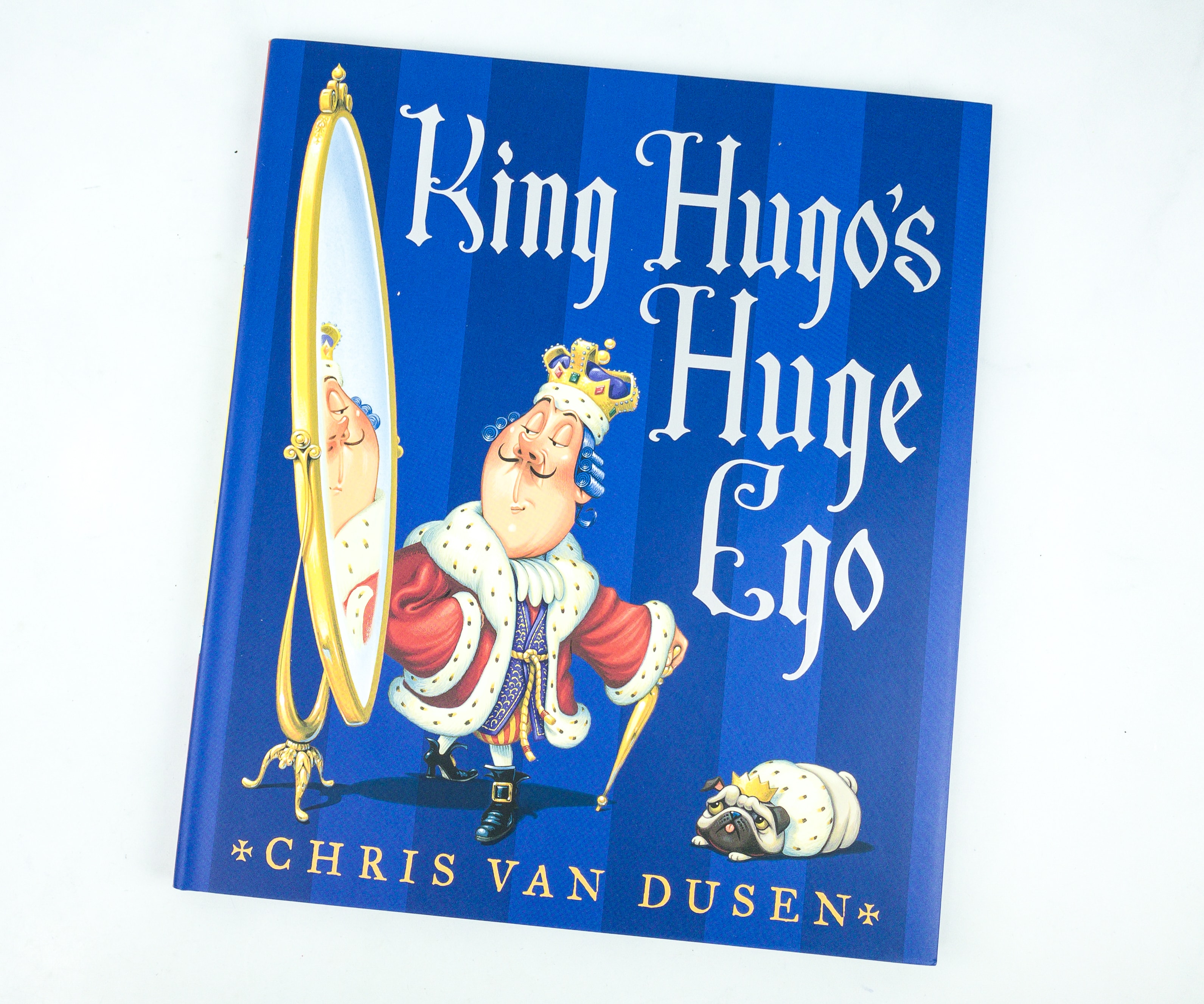 King Hugo's Huge Ego by Chris Van Dusen ($13.99)
From a master of visual comedy comes the royally satisfying tale of a head swollen out of proportion and a blowhard brought down to earth. 

Hugo is a tiny king with a very large ego. But when he mistreats a villager who also happens to be a sorceress, the spell she casts causes his head to literally swell. The more he boasts, the bigger it gets, until it finally topples the mini monarch right off his castle! Who will cut this royal pain down to size? And, more important, will anyone live happily ever after? Chris Van Dusen's hilarious story is matched only by his outrageous illustrations. Together, they make for a picture book that is sometimes fairy tale, sometimes cautionary tale, and always laugh-out-loud funny.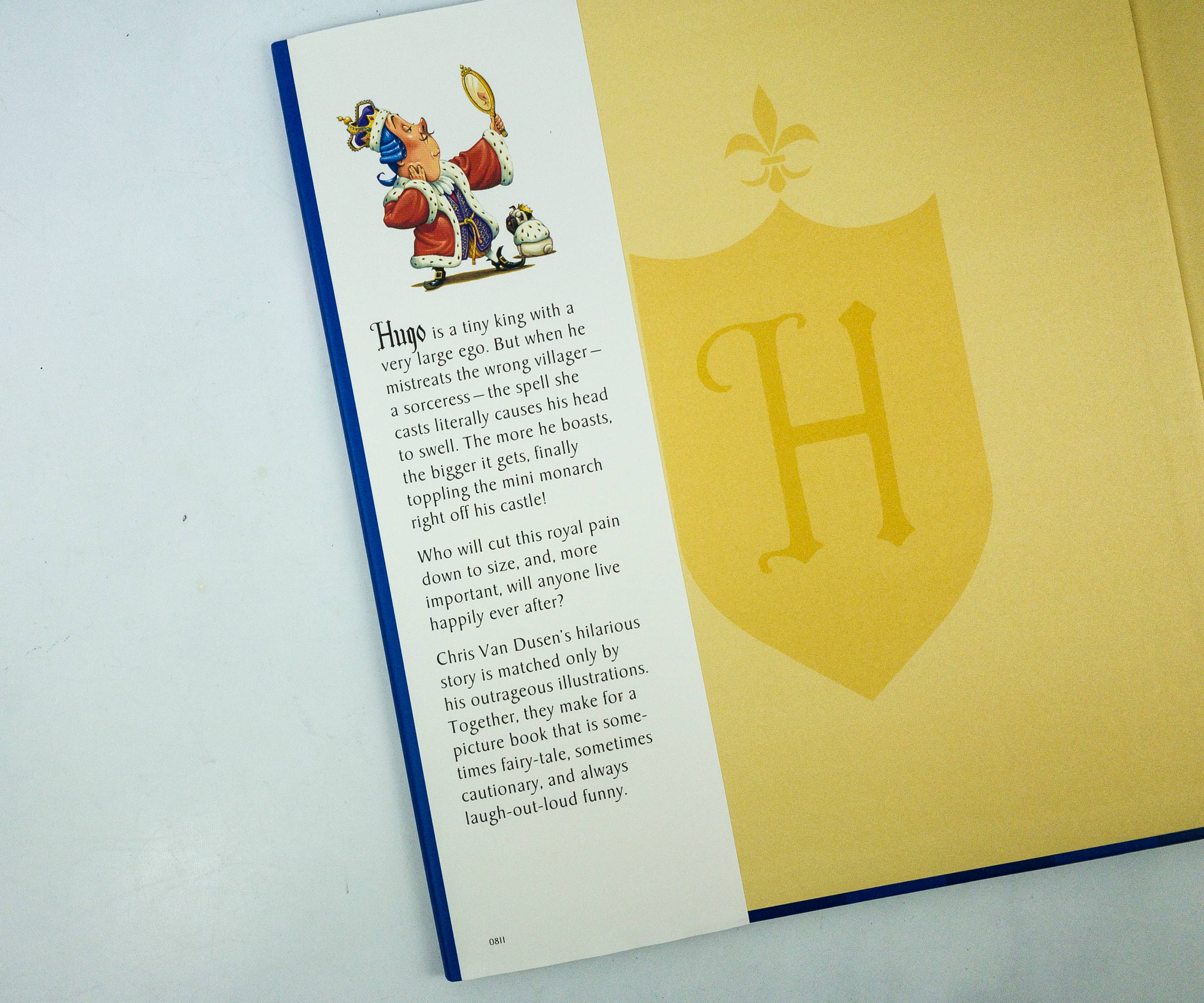 The story is about King Hugo which, despite his small size, has a very big ego!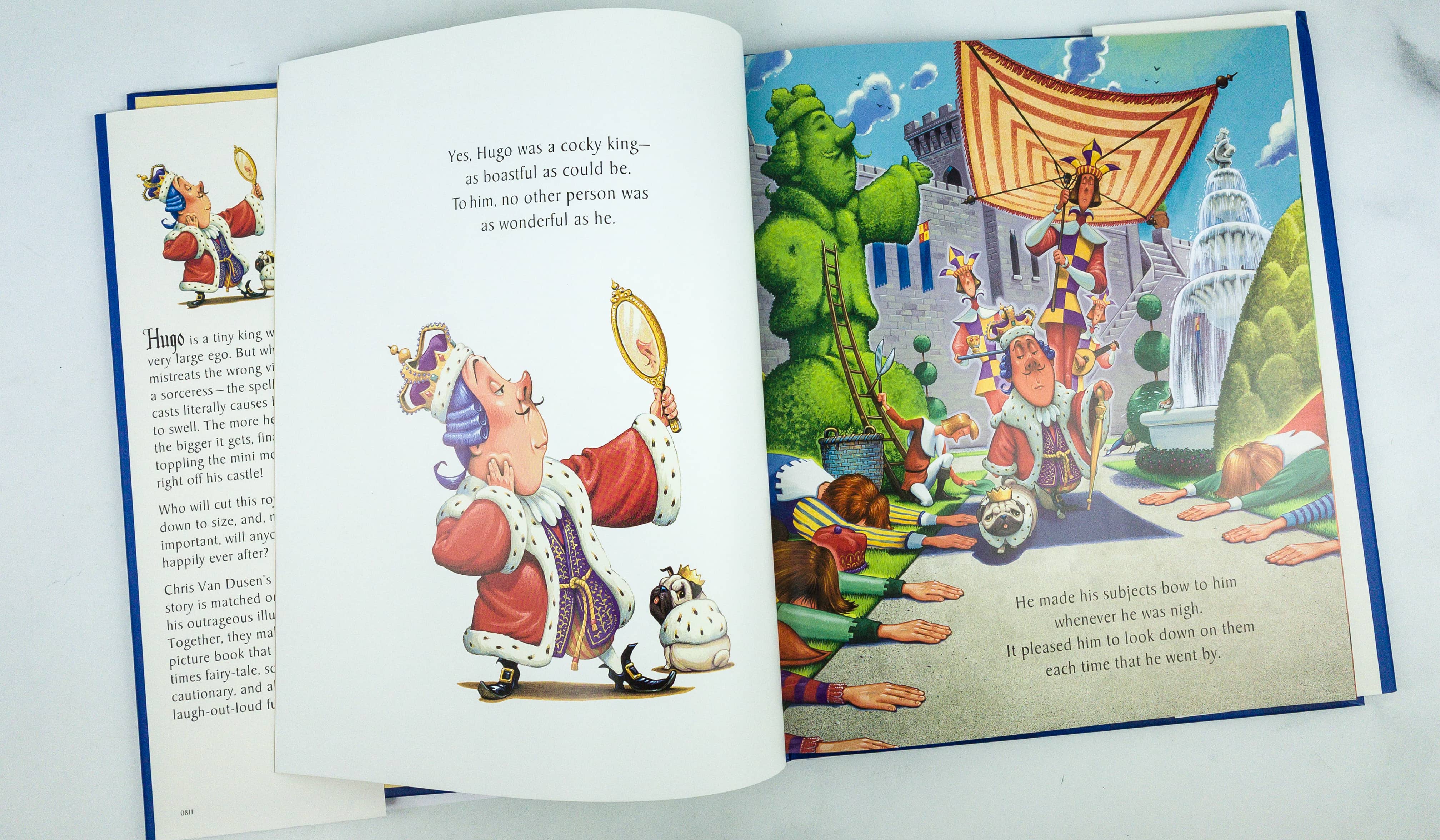 He even demanded everyone to praise and adore him, but everything changed when he mistreated a sorceress named Tessa. The sorceress cast a spell on him: the more he boasts, the more his head gets bigger!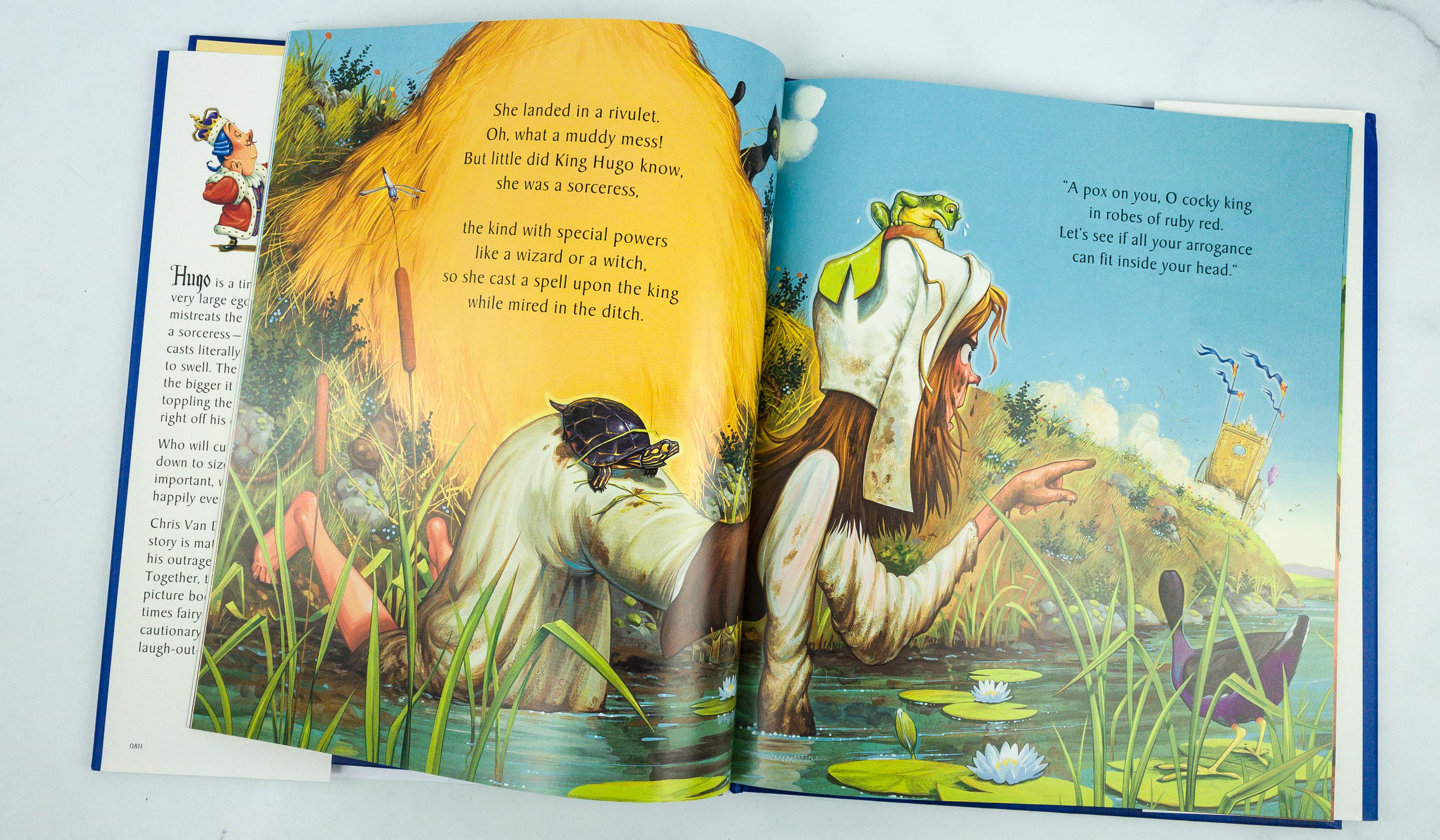 The book is hilarious, and the kids can't help but laugh out loud whenever the King's head gets bigger. The illustrations are amazing and well-detailed. Aside from the funny scenes, we also love this story because it tells us about the importance of humility!
Meet The Dullards by Sara Pennypacker ($11.38)
"The deadpan, subversive humor of this story matched with equally funny illustrations, is just right for independent readers who may never think of boredom the same way again." – Seira Wilson, Amazon Editor

In the tradition of The Stupids, Meet the Dullards is a clever and irreverent picture book about a comically boring family, from bestselling author Sara Pennypacker and illustrator Daniel Salmieri.

Their home is boring. Their food is plain. Their lives are monotonous. And Mr. and Mrs. Dullard like it that way.

But their children—Blanda, Borely, and Little Dud—have other ideas. . . .

Never has dullness been so hilarious than in this deadpan, subversive tale.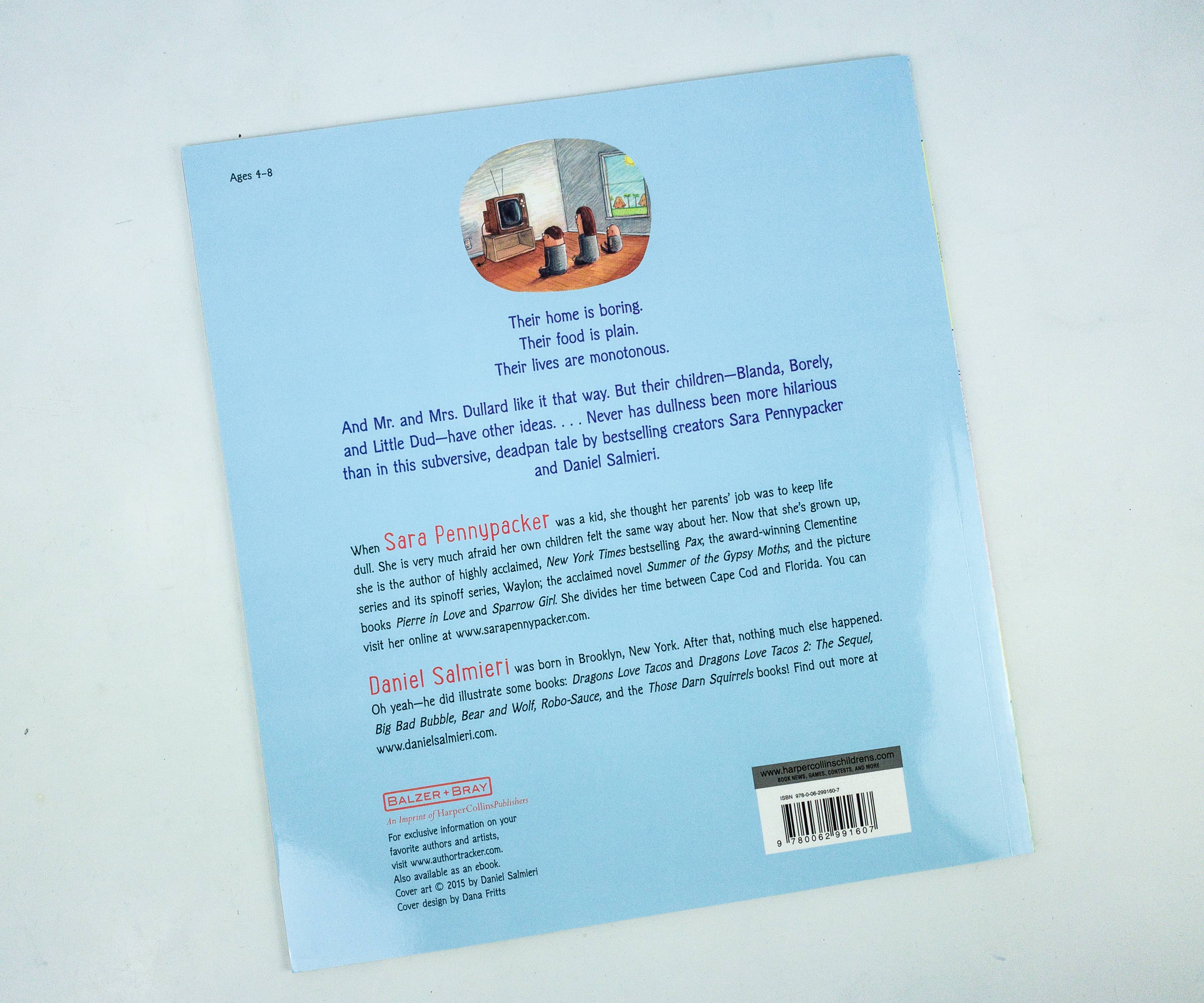 The back of the book introduces us to the "boring" life of the Dullard family. It also included information about the author Sara Pennypacker and illustrator Daniel Salmieri.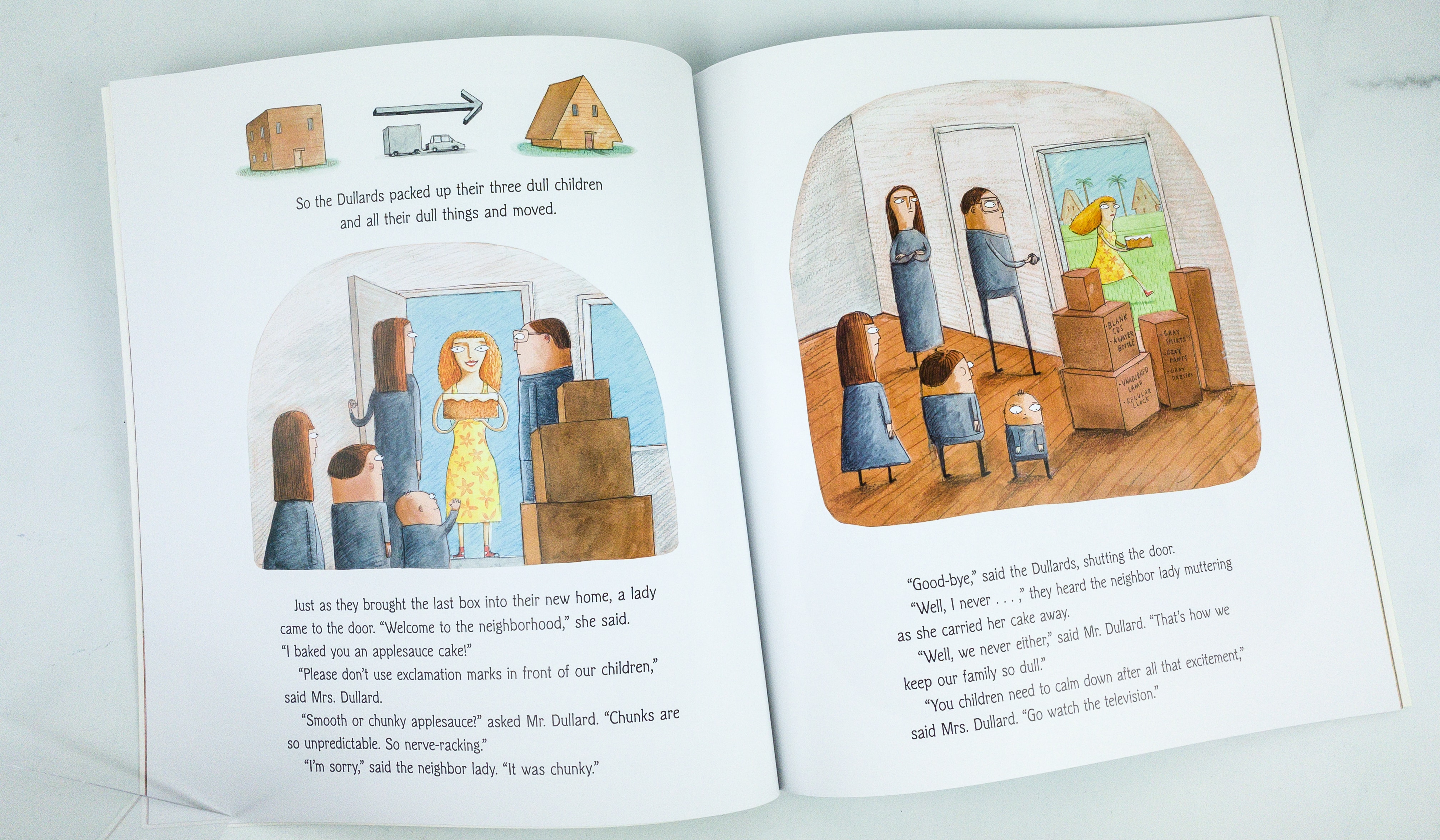 We love the simple humor of this story, which the kids can easily appreciate. The illustrations suited the humor perfectly as well!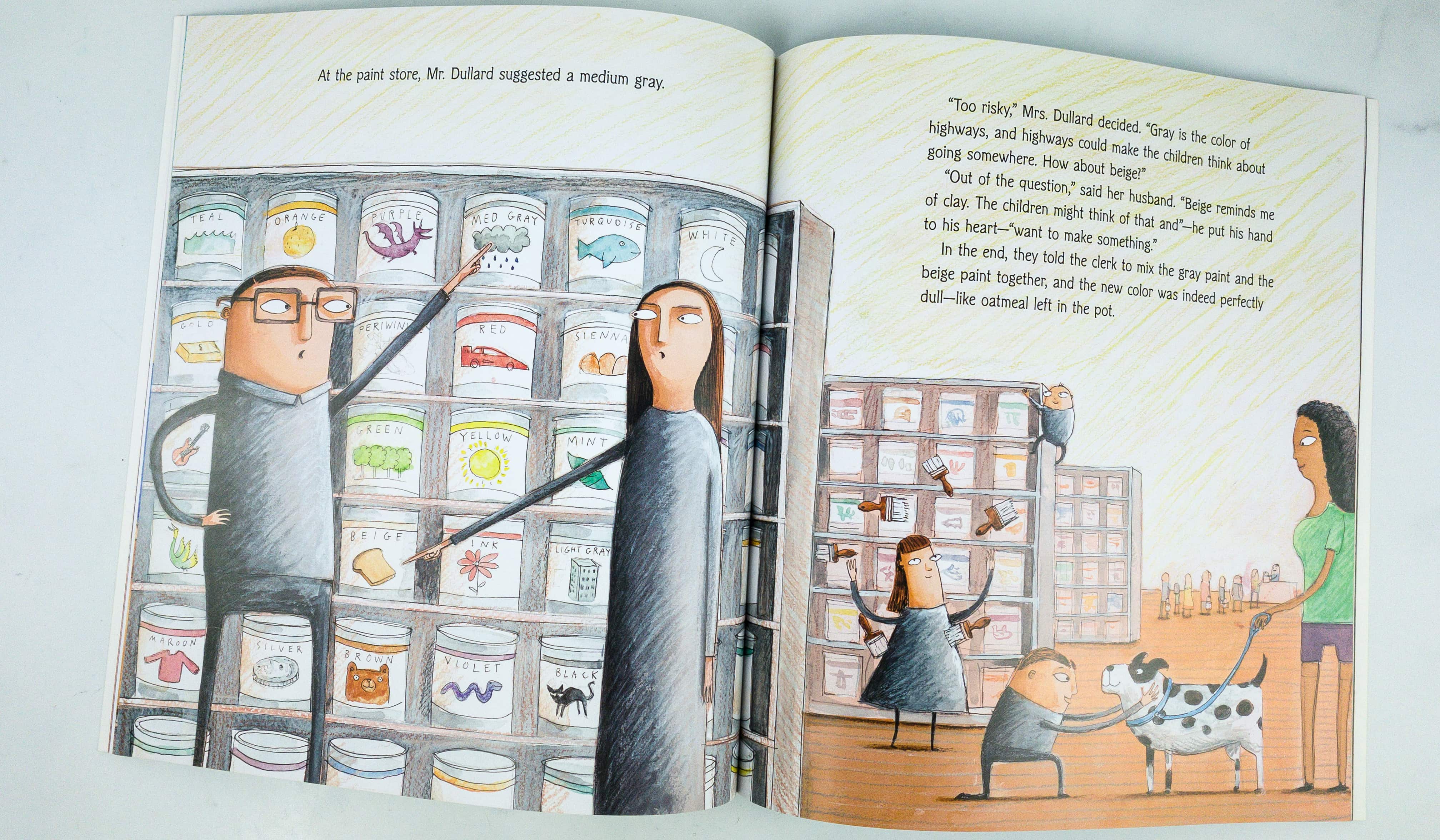 This makes a great bedtime read! My kids can't help but laugh and they can totally relate to the children in the story who doesn't want "boring" things.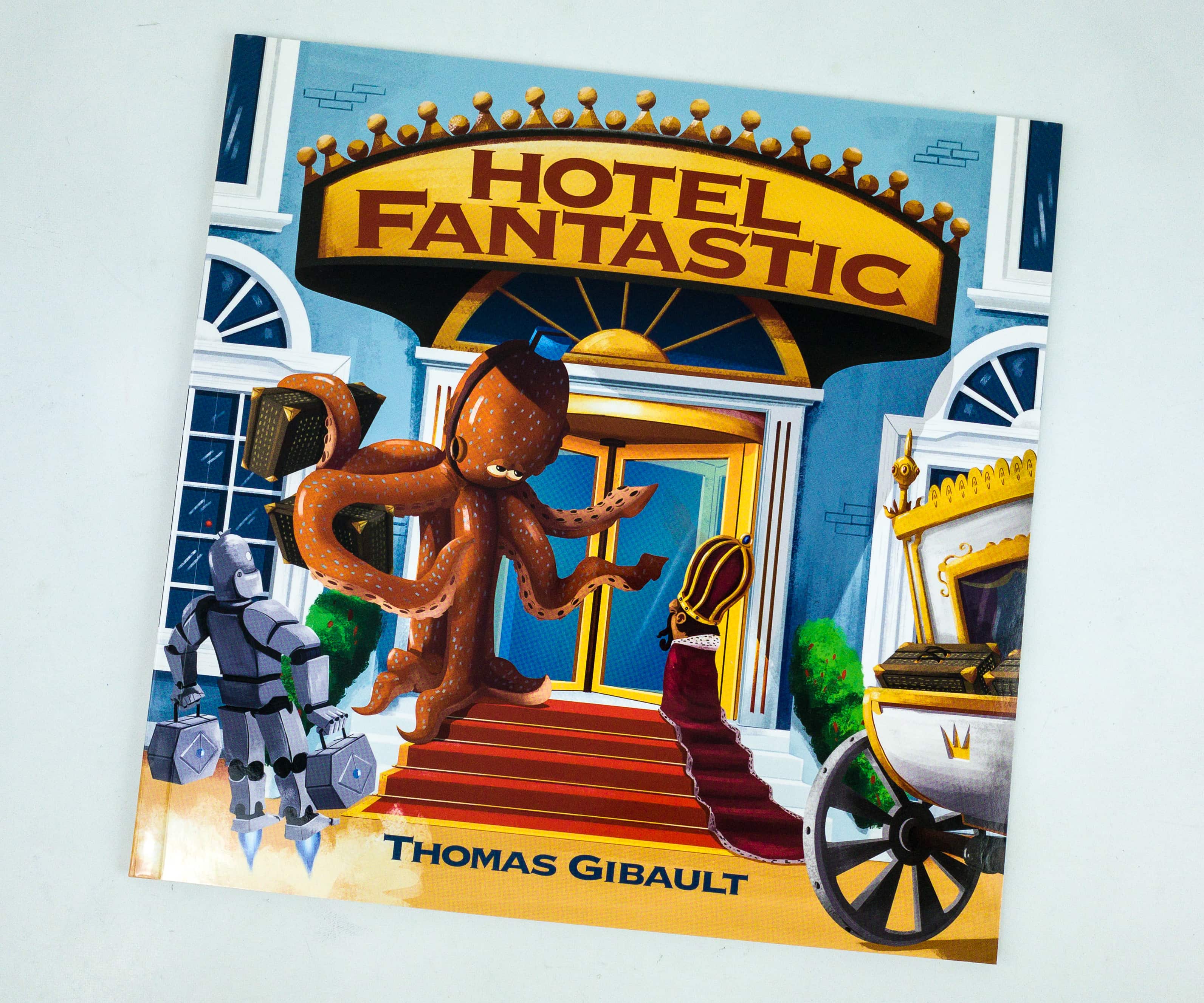 Hotel Fantastic by Thomas Gibault ($16.99)
Hotel Fantastic is a destination like no other. From superheroes and dragons to monsters and aliens — everyone is welcome. Whether you're a robot needing to recharge or a giant looking for extra legroom, the suites here are designed to cater to each guest's needs. Feeling hungry? Dine at the hotel's world-famous restaurant among princesses and pirates. Need a workout? A fully equipped gym and rooftop swimming pool serve beings of all shapes and sizes. And rest assured that your safety and security are a top priority — an elite strike team is always at the ready. Pay no attention to the rumors you may have heard — there's certainly no horrible creature threatening to attack the hotel at any moment …

Thomas Gibault's wild picture book invites children into a fantastic world filled with unexpected characters. The rich, bright, one-of-a-kind illustrations are laugh-out-loud funny and encourage visual literacy — there's something different and new to discover with every perusal. And the surprising twist ending will inspire repeat readings as children search for clues sprinkled throughout the story. Based on the vivid imagination of one boy, this is a book that beautifully showcases the wonders of imaginative play and encourages play-based learning. Also, many young children will identify with the boy's antagonistic relationship with his sister.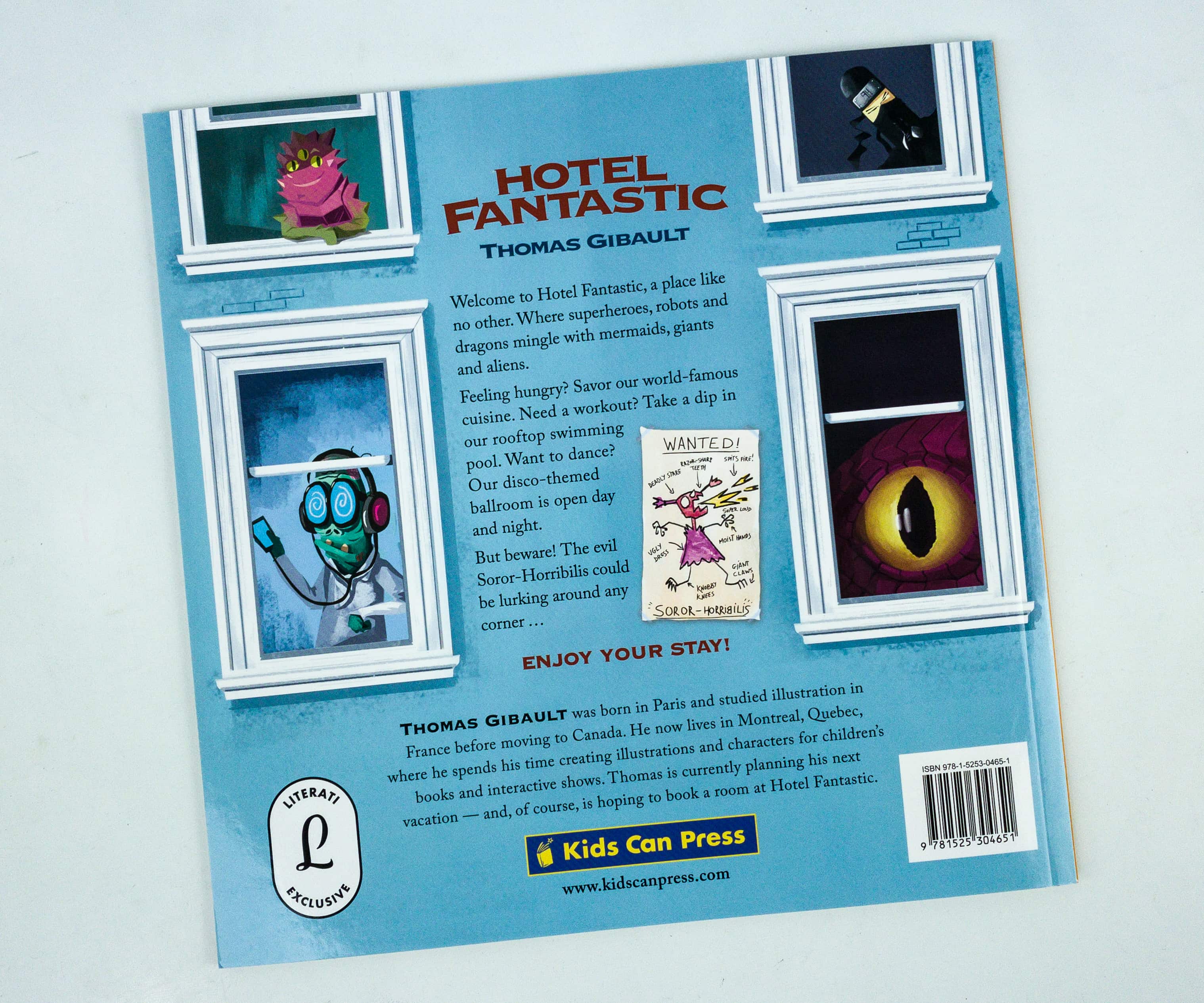 As the title of the book (and name of the hotel) implies, we're expecting a different and amazing story, and to enjoy our stay in this Fantastic Hotel!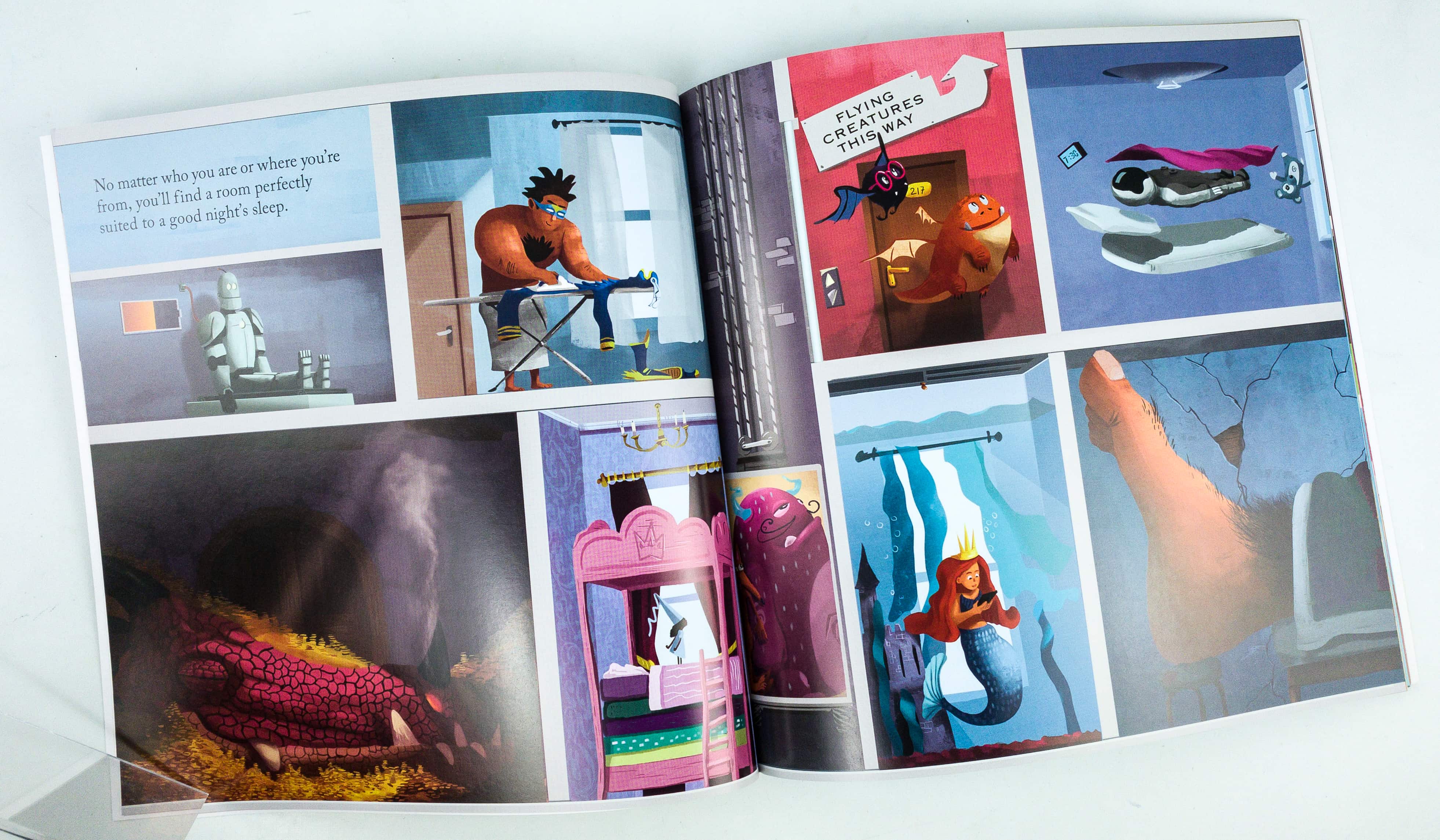 The book is filled with fantastic illustrations that show the different creatures in the hotel, and how everyone got or served exactly what they need.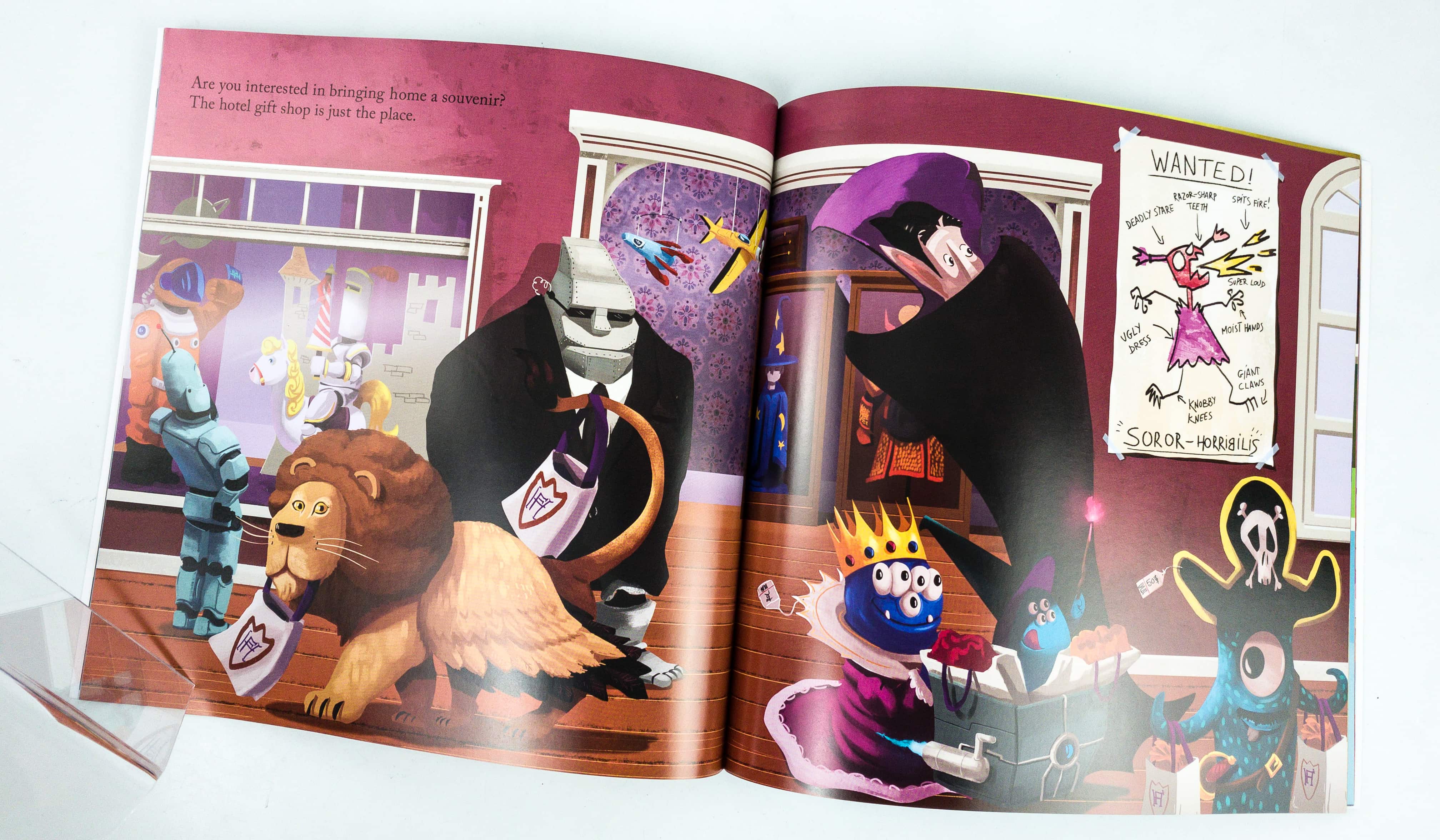 Here are some odd characters that visited the souvenir shop to get something to remember about their wonderful stay at the hotel! Instead of getting scared, my kids are even amused and wanted to see a hotel exactly like what's in the story. It shows how great a kid's imagination is, and how it helps develop how they think and decide. Imaginative play is surely awesome!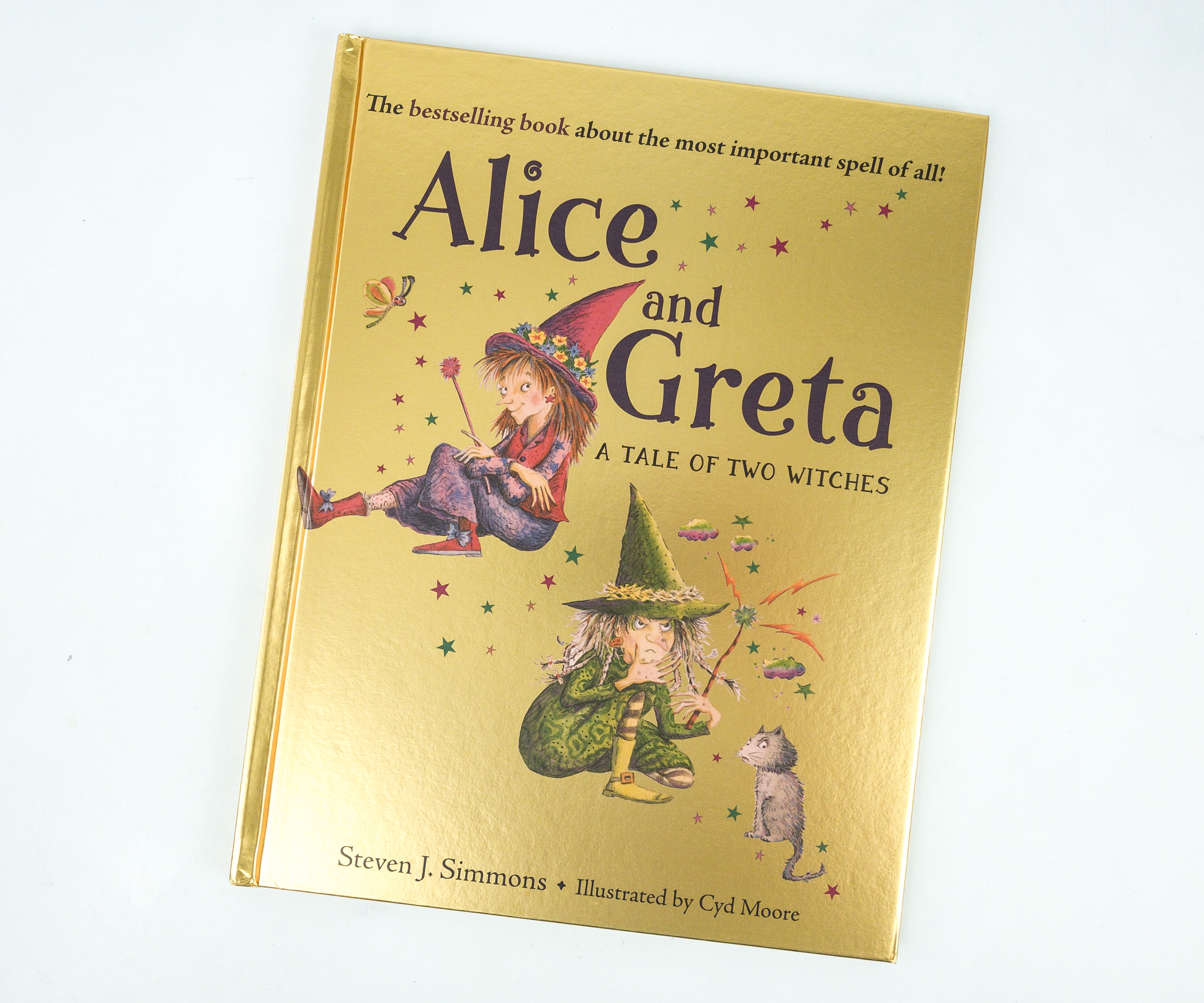 Alice & Greta: A Tale Of Two Witches by Steven J. Simmons ($12.31)
A bewitching tale showcasing the timeless lesson that a good deed always triumphs over a bad one, even at Miss Mildred Mildew's School of Magic!

Whatever you chant,
Whatever you brew,     
Sooner or later     
Comes back to you!

Alice and Greta attended the same school of magic, but they each have their own ideas about how to put their skills to the best use. Alice spends her days waving her wand to cast splendid spells. Greta only uses hers to stir up trouble. When their wands and witching styles clash, it turns out Greta should have paid more attention to those early magic lessons. An enchanting tale of two very different fates.
It's a magical story about two little witches, Alice and Greta. We also love the shiny gold book cover!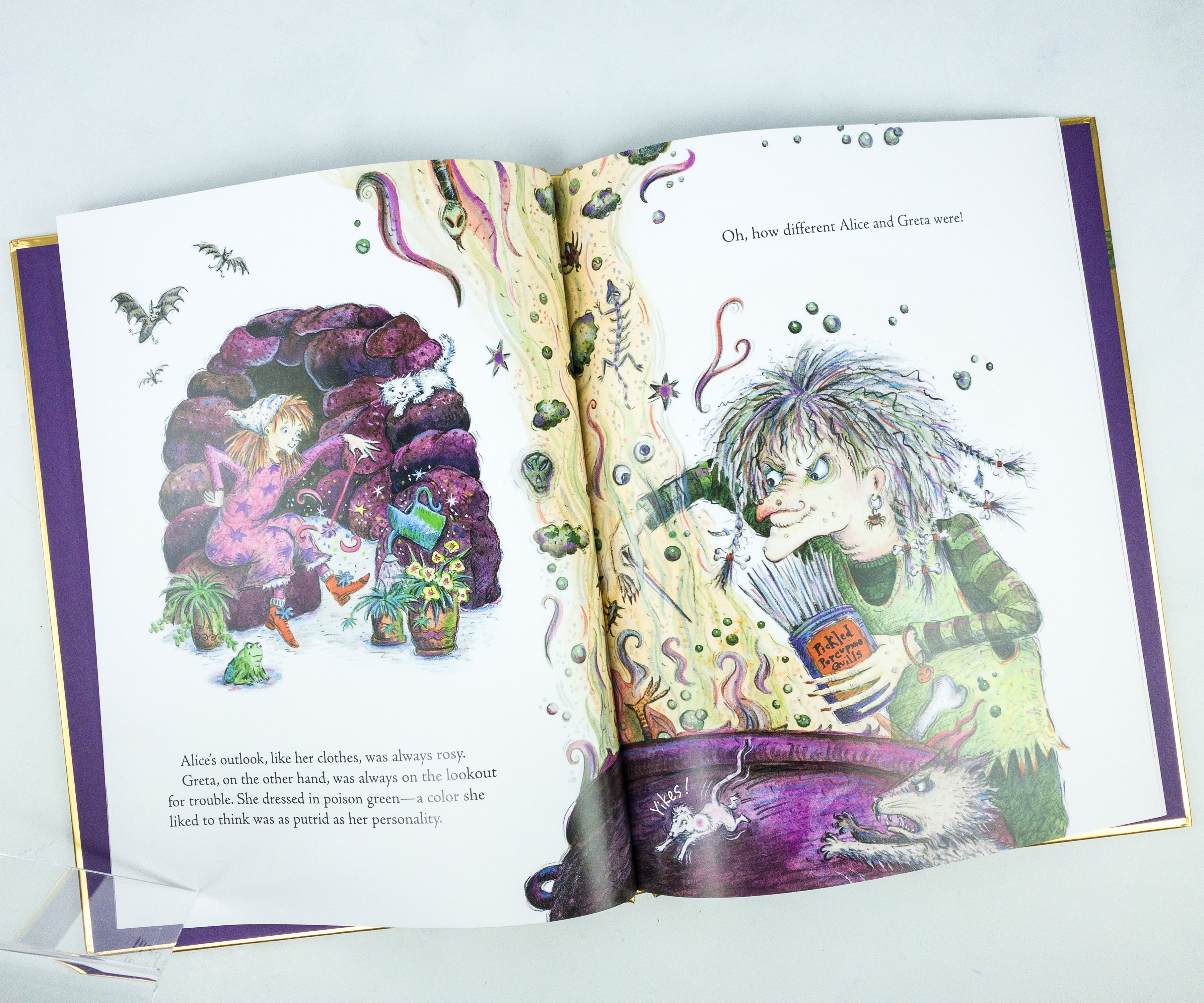 Alice and Greta have the same basis of magic, which they learned from Miss Mildred Mildew's School of Magic. Alice uses her magic for the good, while Greta uses it to create havoc!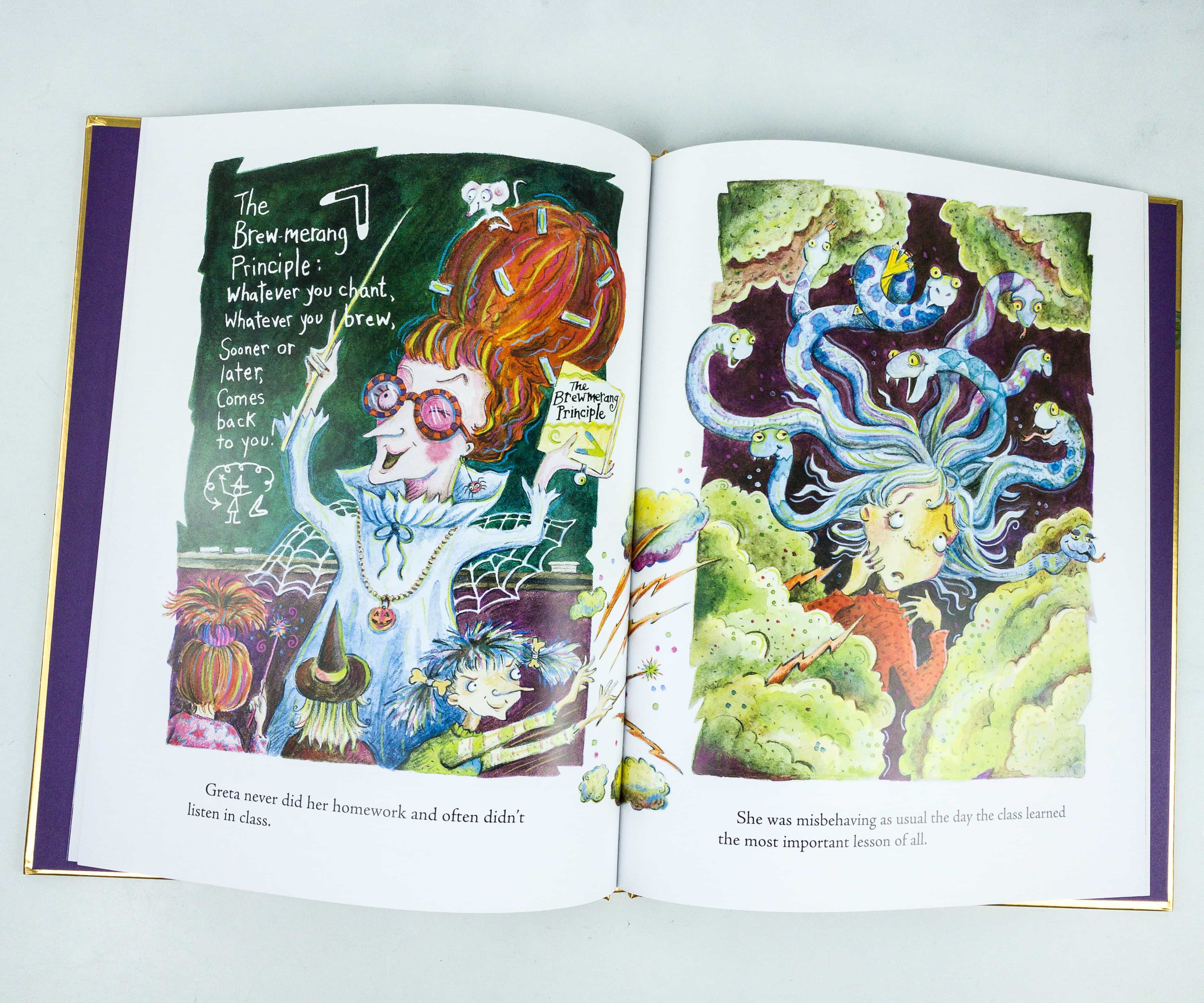 There's a principle that the witches need to keep in mind and heart, which is the Brewmerang Principle that says
Whatever you chant,

Whatever you brew,

Sooner or later,

It comes back to you!
The saying definitely reminded us of the "Golden Rule", and that "what you give, is what you get."
The books this month are all overflowing with humor and great lessons! All the stories are fun and written in a kid-friendly way. Also, the illustrations may be of different styles but they're amazing all the same. Some of the books may have little text but the awesome illustrations definitely satisfied my kids' curiosity. For this selection, we love The Fantastic Hotel the most! My kids can definitely relate to the kid whose imagination definitely took him to the amazing place that can attend to any creatures' needs. We're happy to have these adorable books, and they all deserve re-reads. The kids don't even want to put them back on the shelf as they love to read them again and again. We're really excited about the next set of books!
Any thoughts on Literati?