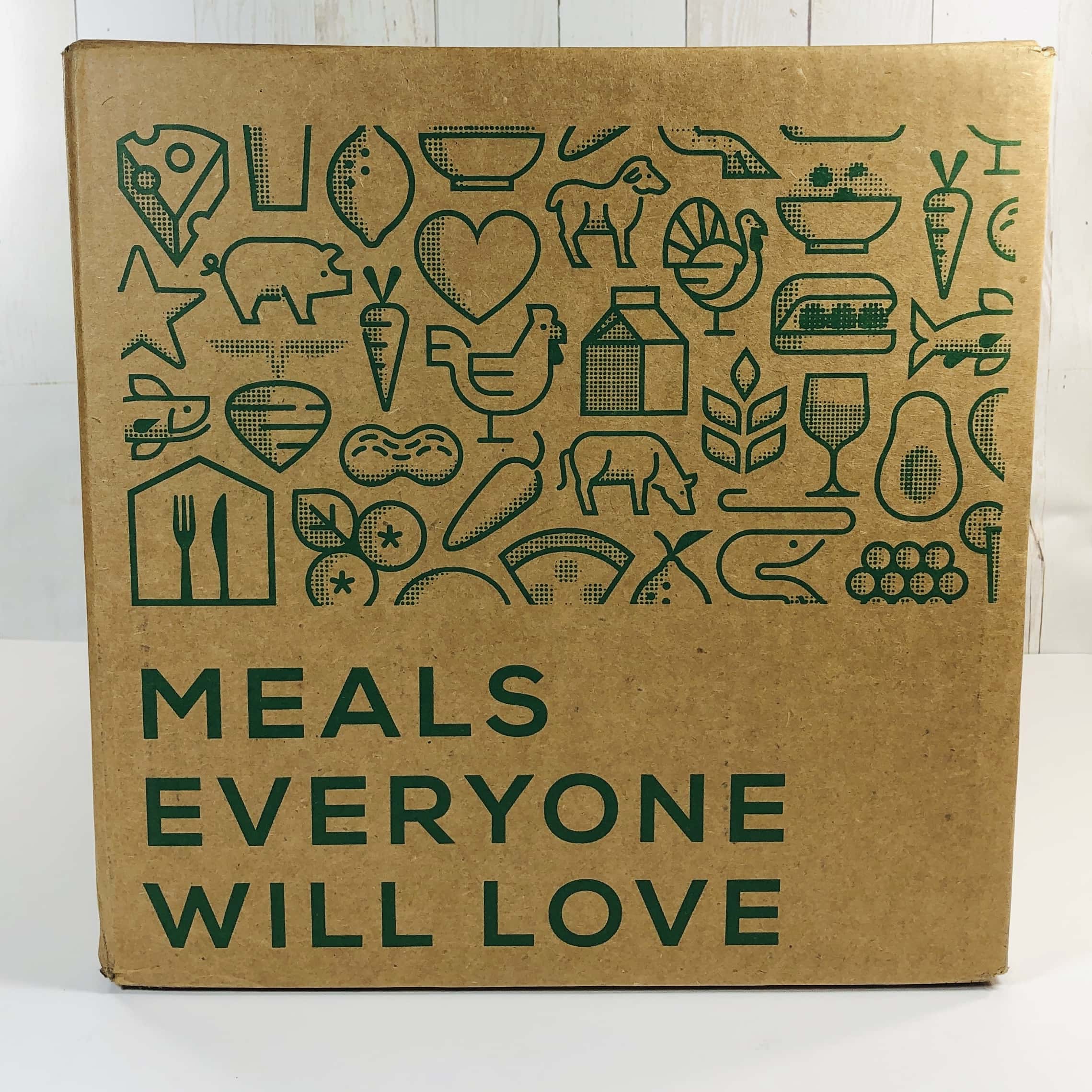 Home Chef is a meal in a box subscription – every week, you choose from a variety of recipes and have all the ingredients and preparation instructions delivered to your door. The basic concept is the same as other weekly meal delivery services, but it has its own unique features and recipes. Their meal options include many great Asian, Indian, African, and South American inspired dishes, along with more traditional American home-style and steakhouse fare. They offer at least one oven-ready meal a week and even have protein packs and seafood samplers. Need a quick no-cook lunch? They've got you covered!
Home Chef vs. the Grocery Store

With meals starting at $7.99, Home Chef is more affordable than shopping the same ingredients at a supermarket. Not only do our meal kits save you time, they can save you over $20 per entrée.

Home Chef vs. Other Ingredient Delivery Services

We offer you variety and flexibility. Order today for delivery next week. Delivery is free when you meet our minimum order.

We make Fancy Food Approachable & Inexpensive

For under $60, you get everything you need to whip up three restaurant caliber meals for two, including portioned out oils and spices. No wasted time. No wasted ingredients.
DEAL: Get $30 off your first order when you sign up – just use this link to get the deal!
BLACK FRIDAY DEAL: Home Chef has a giant Black Friday Sale for 2019!
Get NINE meals FREE when you sign up! USE THIS LINK – no coupon code required! That's up to $90 savings!
This sale is applied as:
$40 off your first box
$30 off your second box
$10 off your third and fourth boxes
My items were kept nice and cold with this special insulation. The insulation can be placed in my curbside pickup container, as can the cardboard box. I also found two frozen gel ice packs.
Home Chef offers at least 10 selections available for 2, 4, 6, or 8 people. Meals for your box are suggested based on your preferences, but you can change the selections any time. The portions are large, and this is currently the least expensive and has the most choice out of any similar major subscriptions (for 2 people) – around $9.95 per person per selection, although there are options that are more or less, depending on the meal.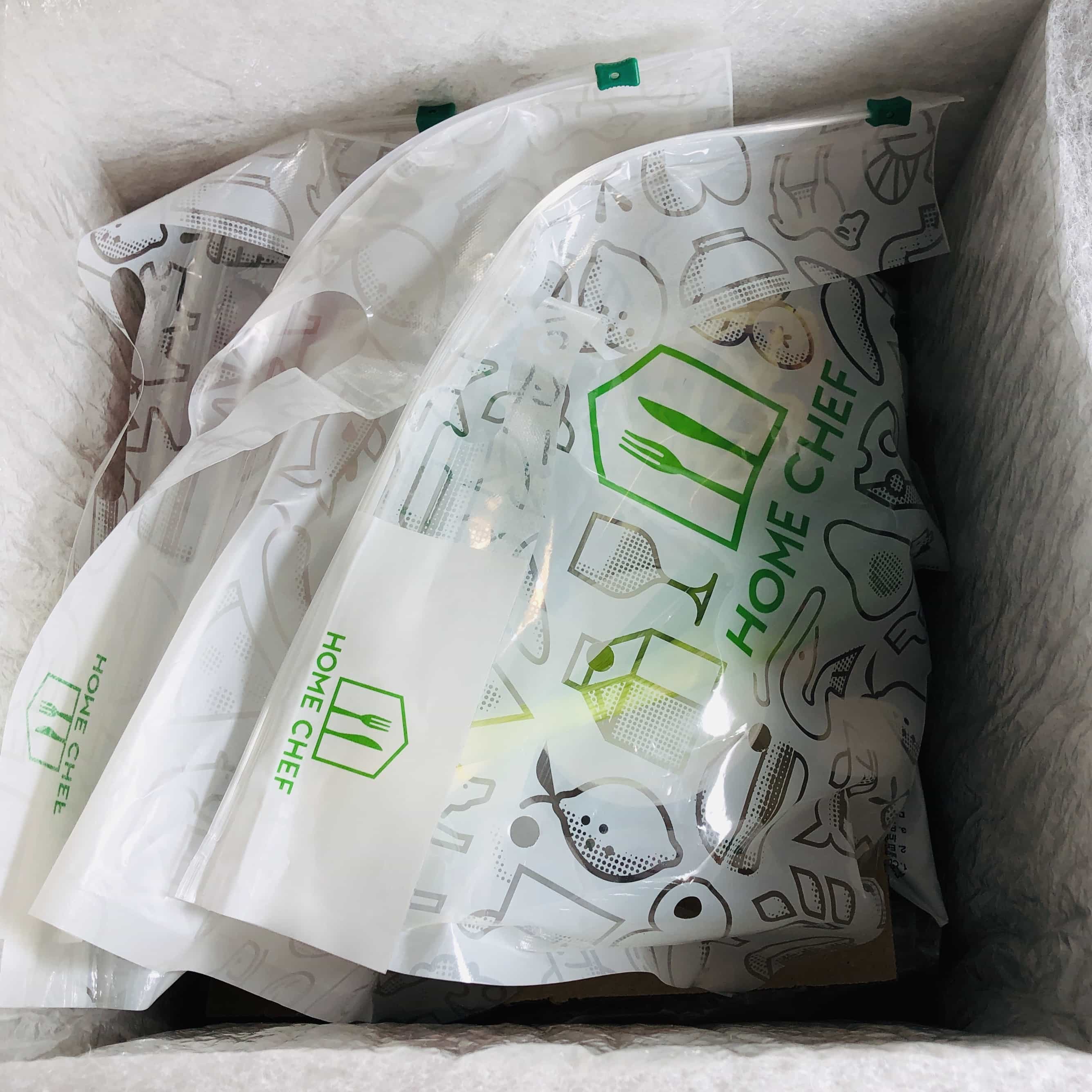 I found my items packed together by meal.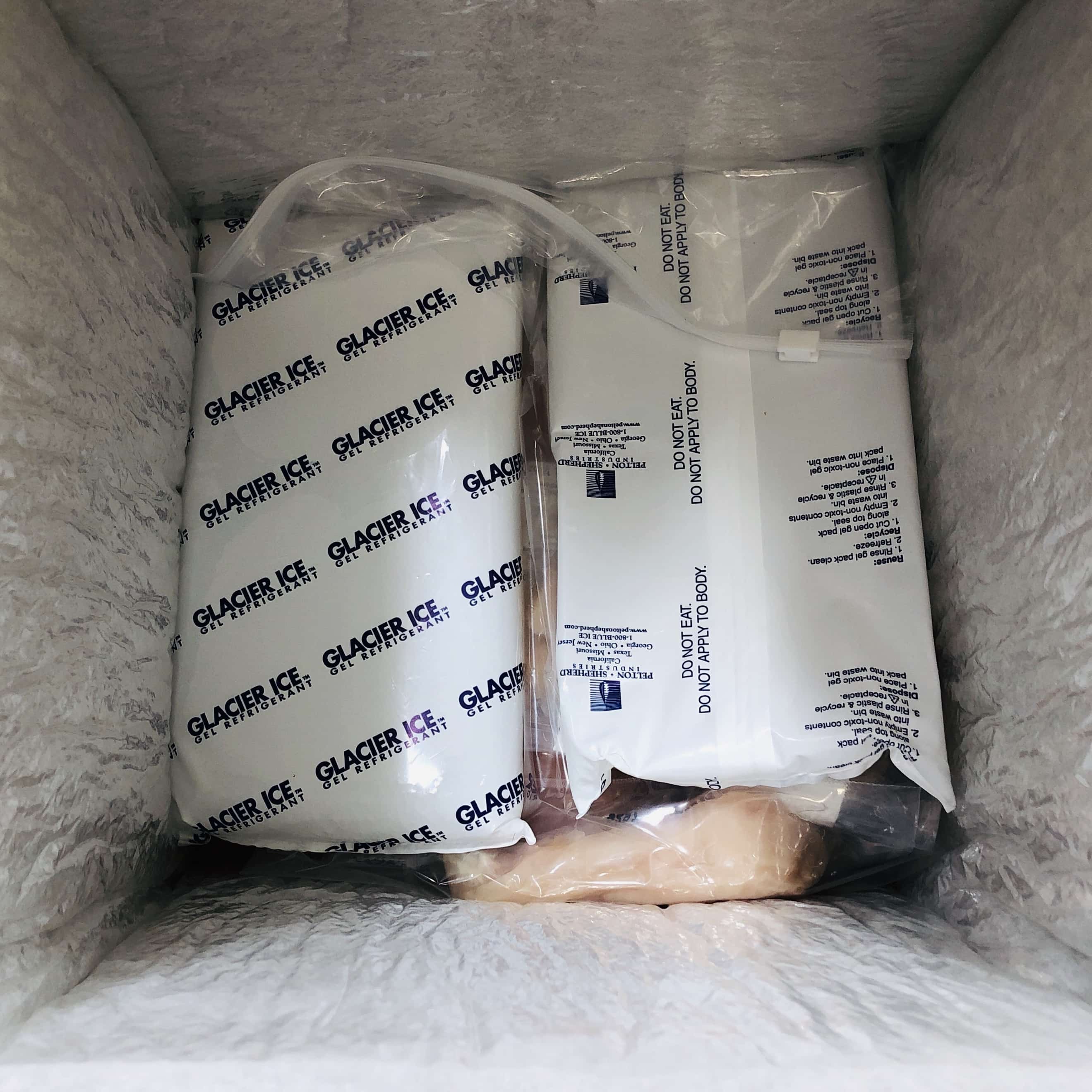 The meat was packed separately on the bottom of the box.
I found a green envelope.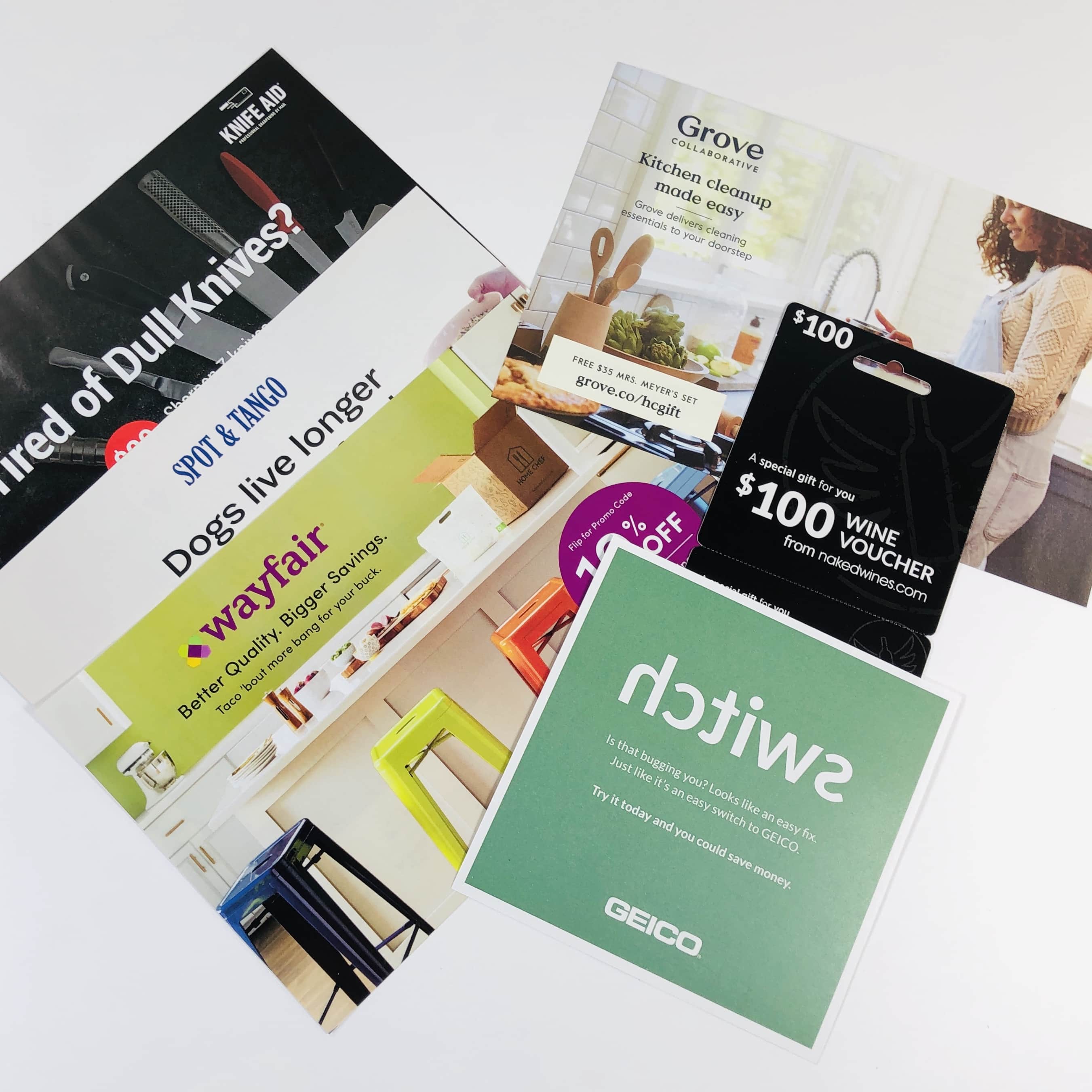 Some offers were inside.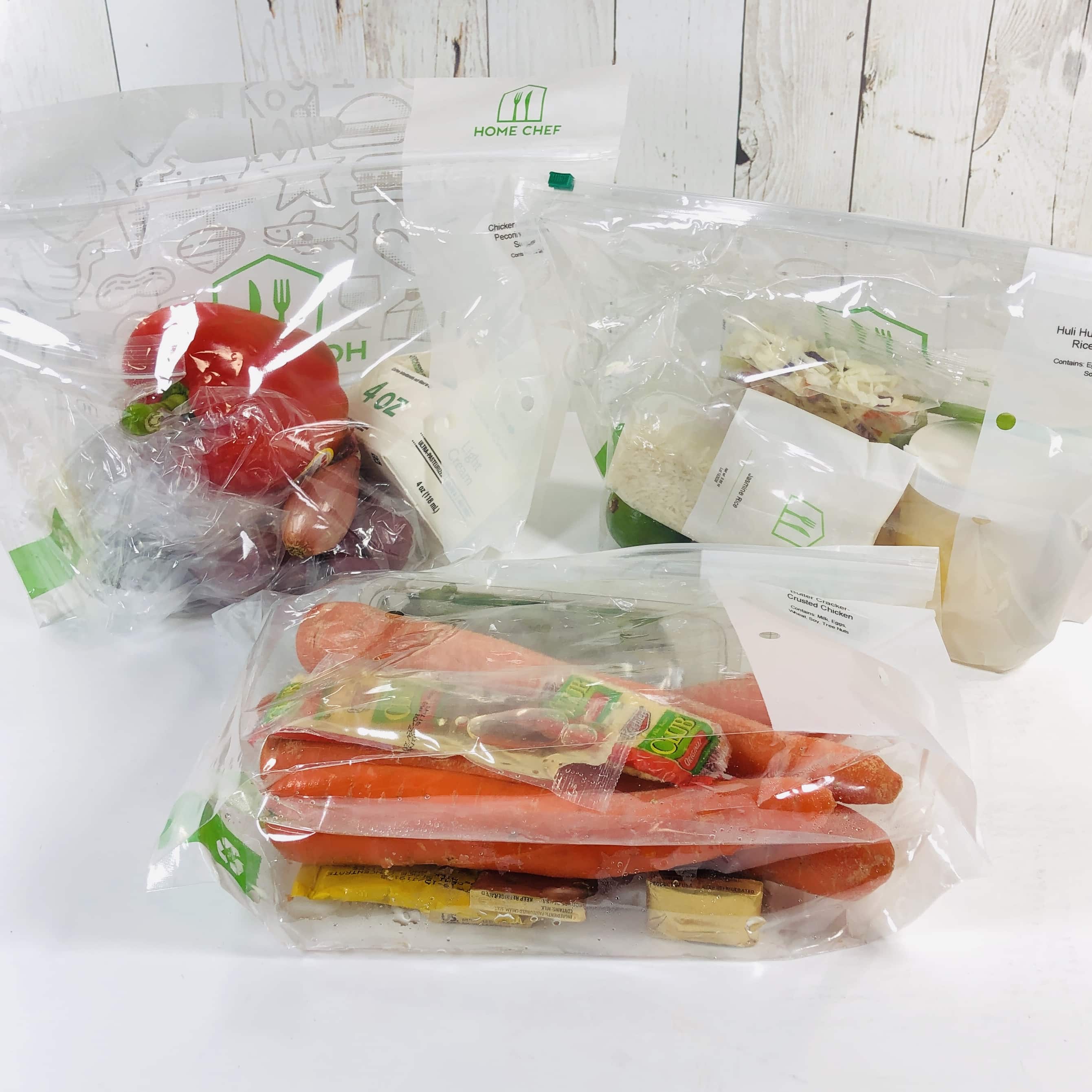 I ordered three meals for two people, although you can order for more people or even order meat packs.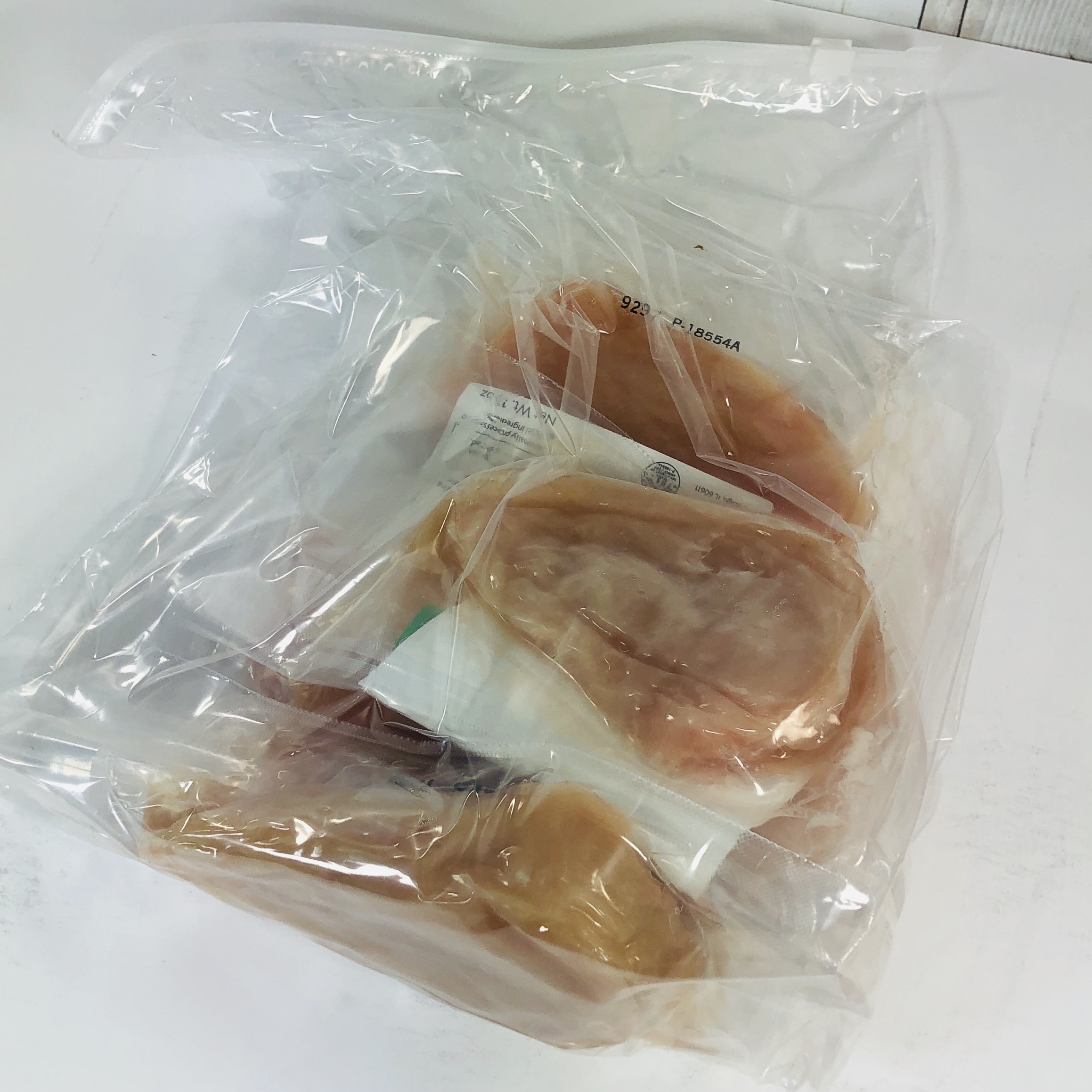 Speaking of meat, you will find raw meat packed in a different bag to avoid cross contamination. You can make substitutions when placing your order, such as by choosing organic meat or maybe pork instead of chicken. There are additional charges for substitutions.
Each recipe comes with a card that tells you what you should have received in the box, and what items you need to prepare the food at home. Generally it's only basic items that you need, like salt, pepper, and olive oil, plus pans and oven temps if necessary.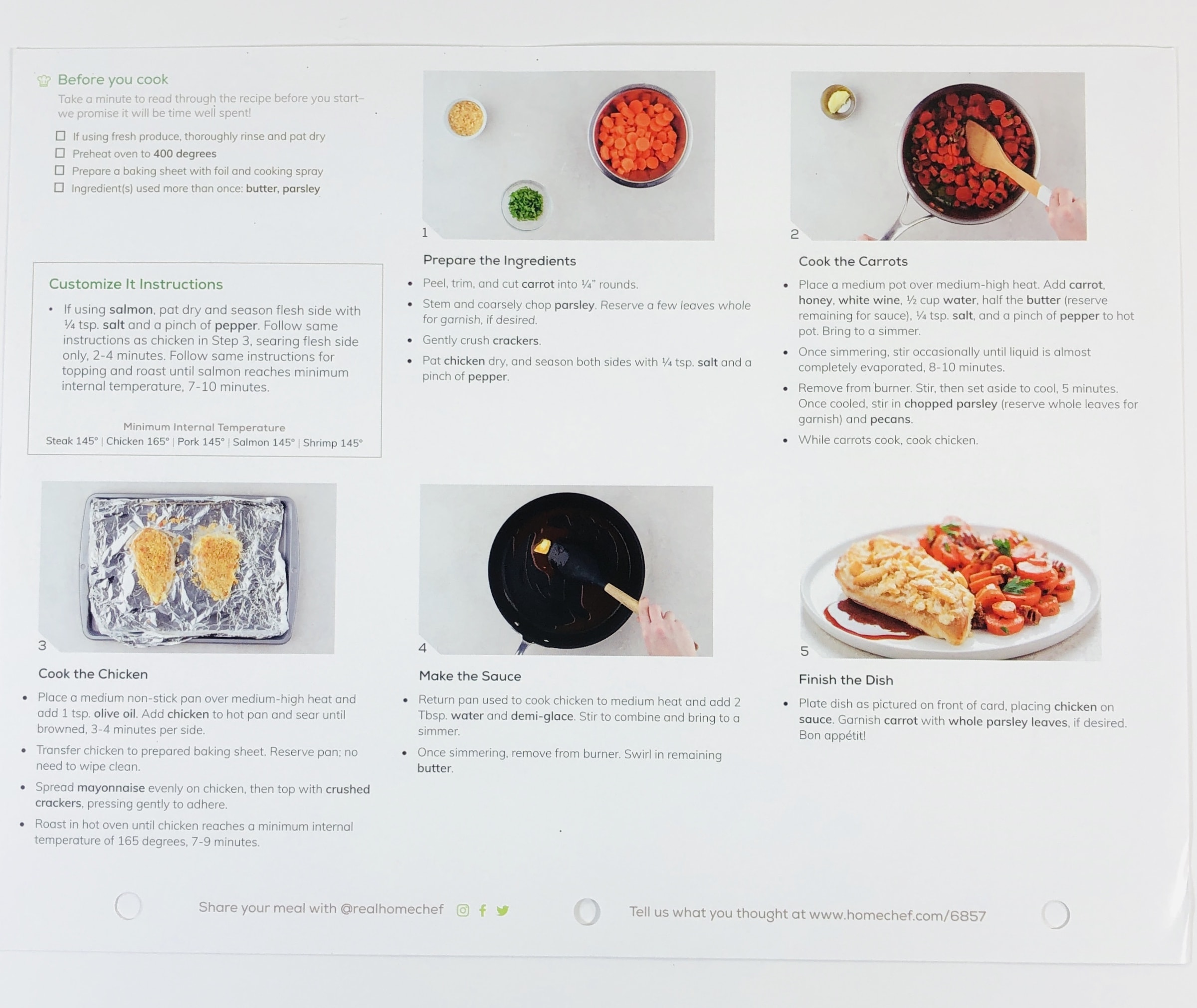 The cards also have pictures to help guide you as you prepare the recipe.
Butter Cracker-Crusted Chicken with Honey Butter Carrots and Pecans (Intermediate level, 580 calories per serving) I went with three chicken dishes this month, sometimes it just works out that way.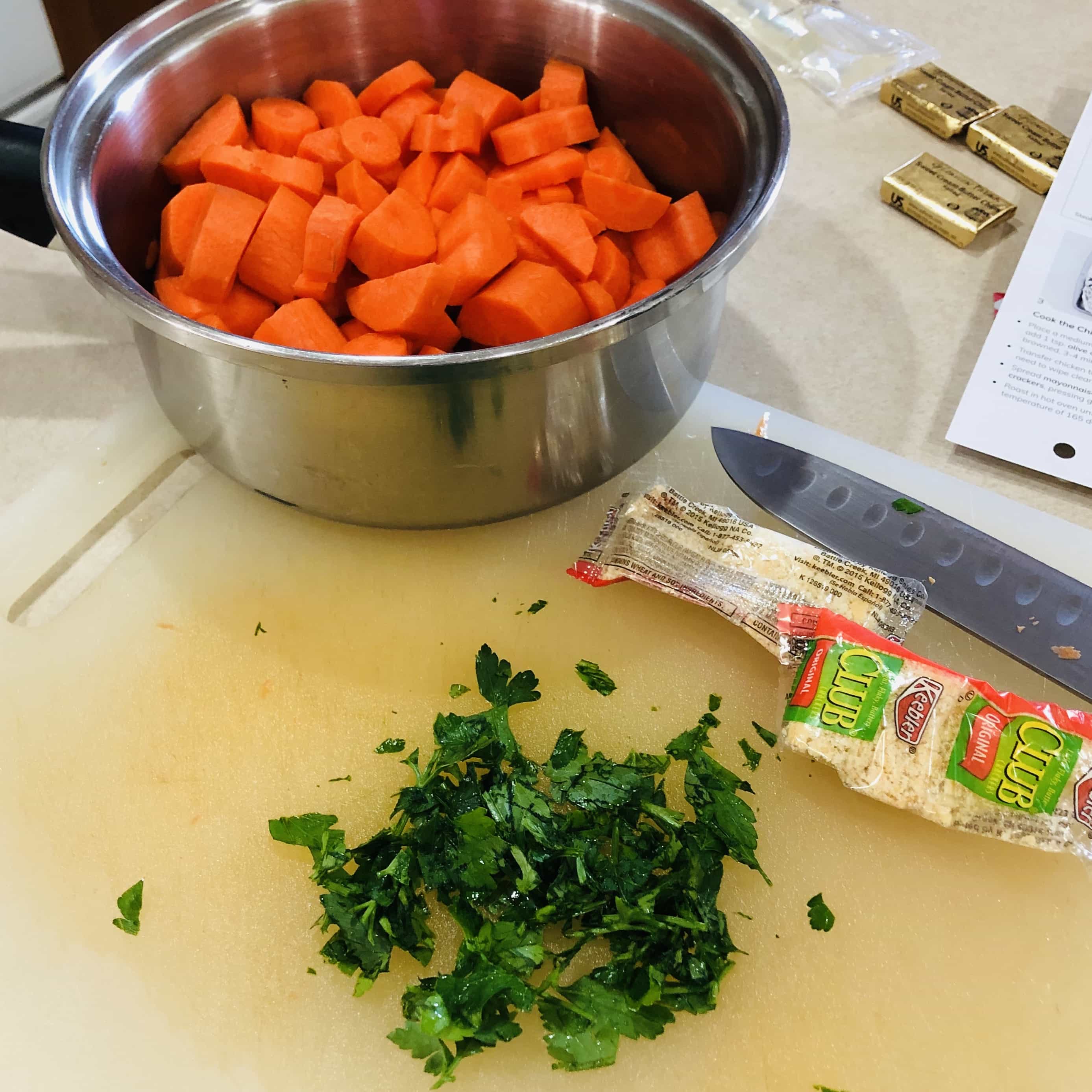 I started by cleaning and prepping the veggies. By the way, these carrots were HUGE!
I was worried the amount of water called for to cook the carrots wasn't going to be enough, but it was!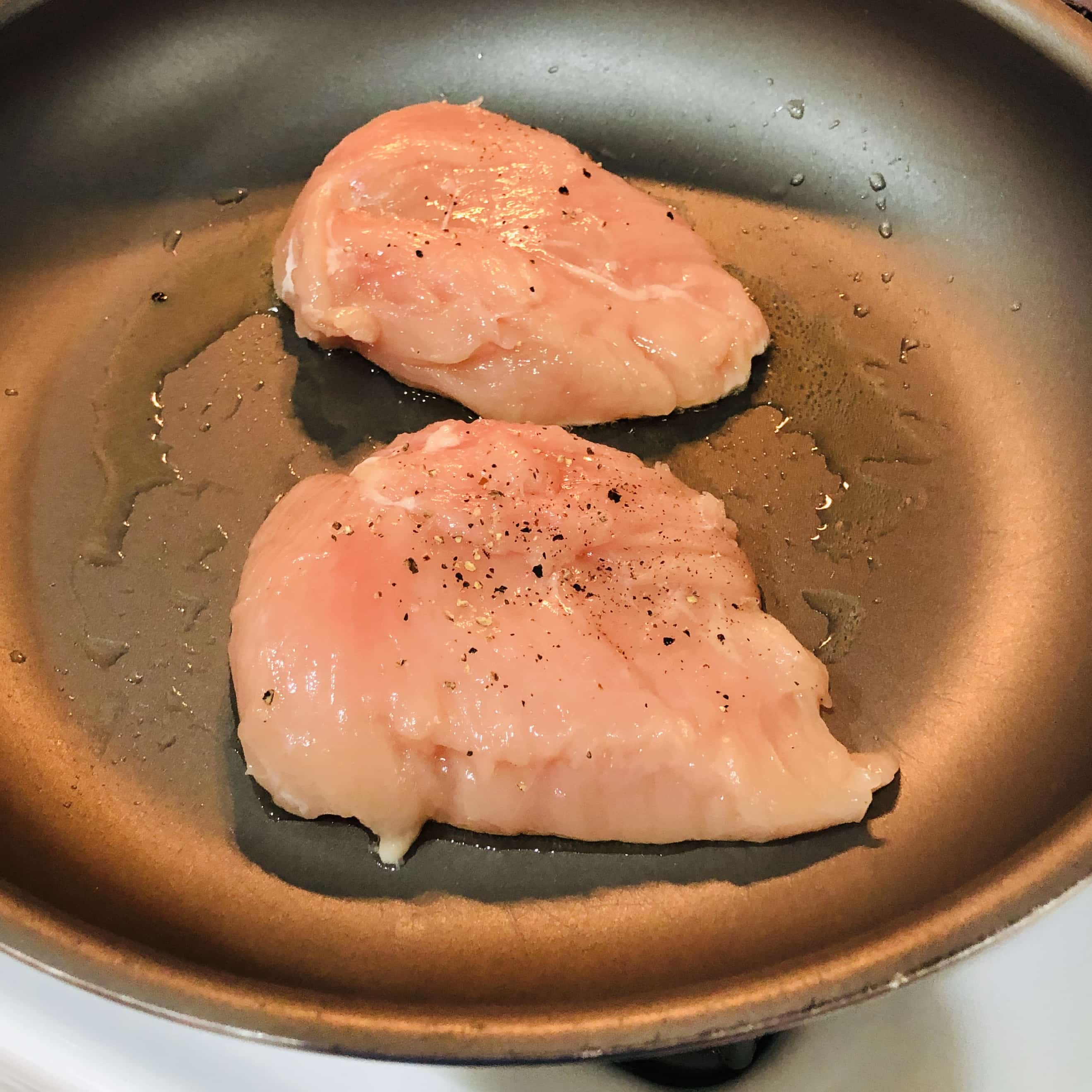 Season the chicken breasts and saute until browned.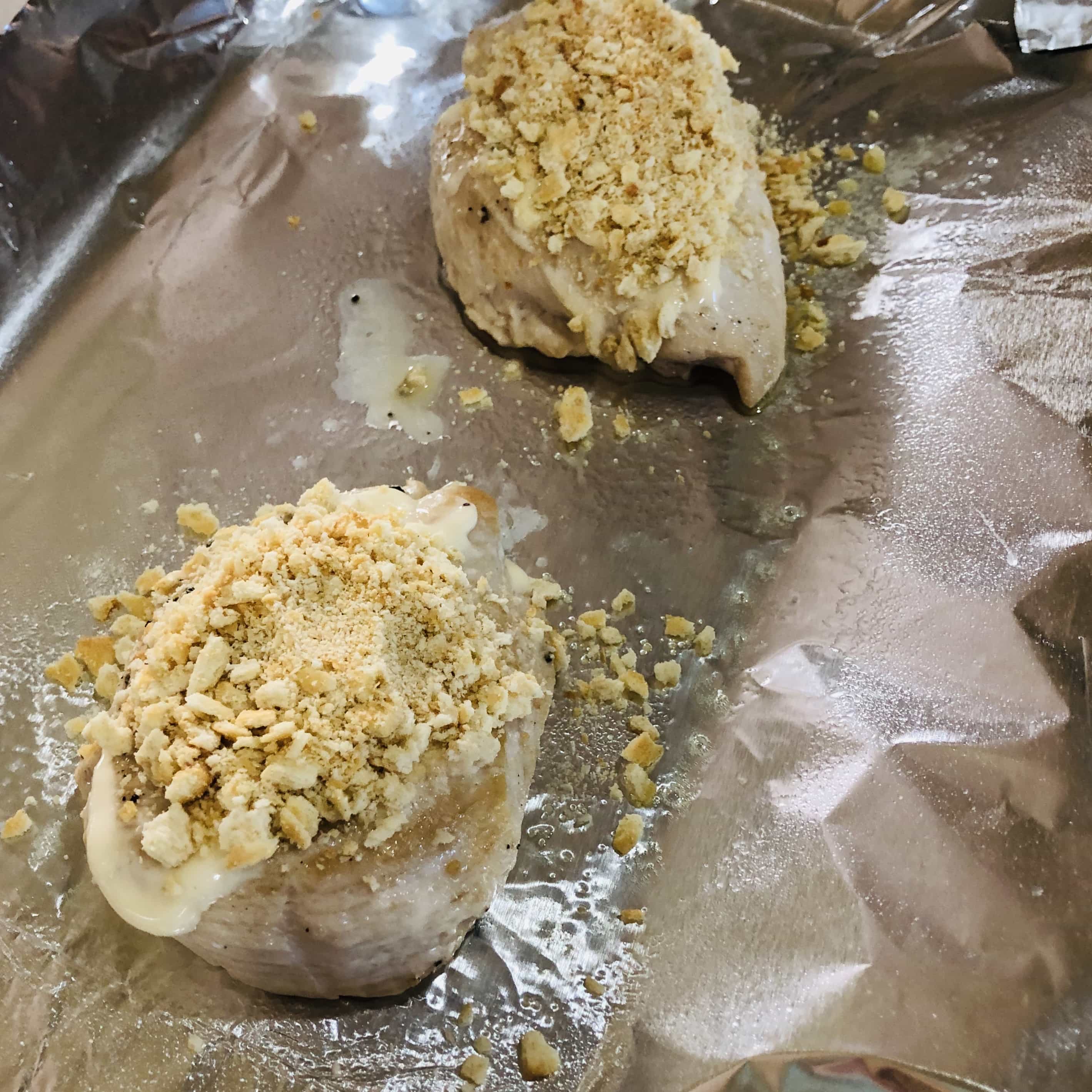 After browning the breasts I topped them with mayo and cracker crumbs and placed in the oven.
In the meantime I worked on the sauce.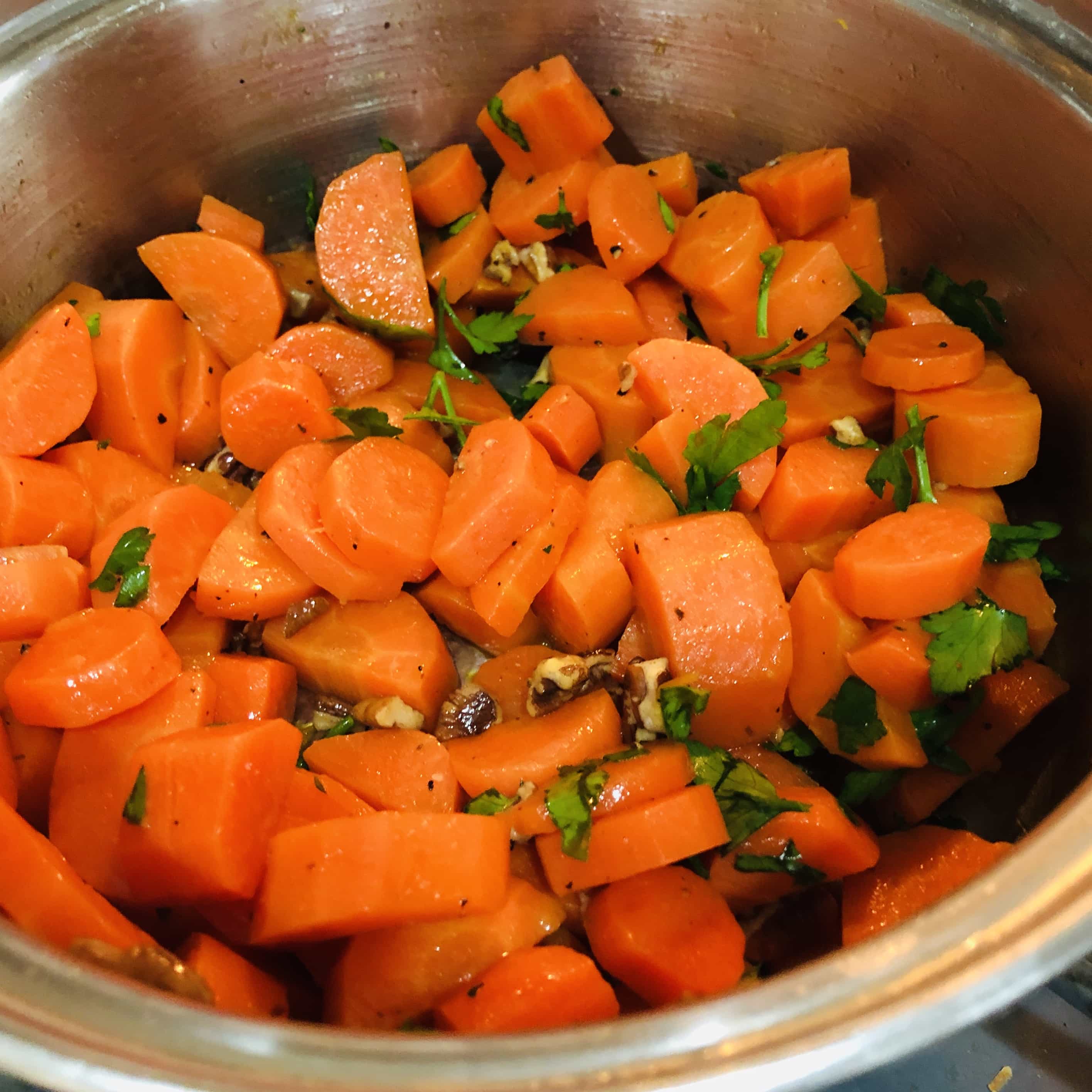 I added parsley and pecans to the finished carrots.
Finally the chicken was done.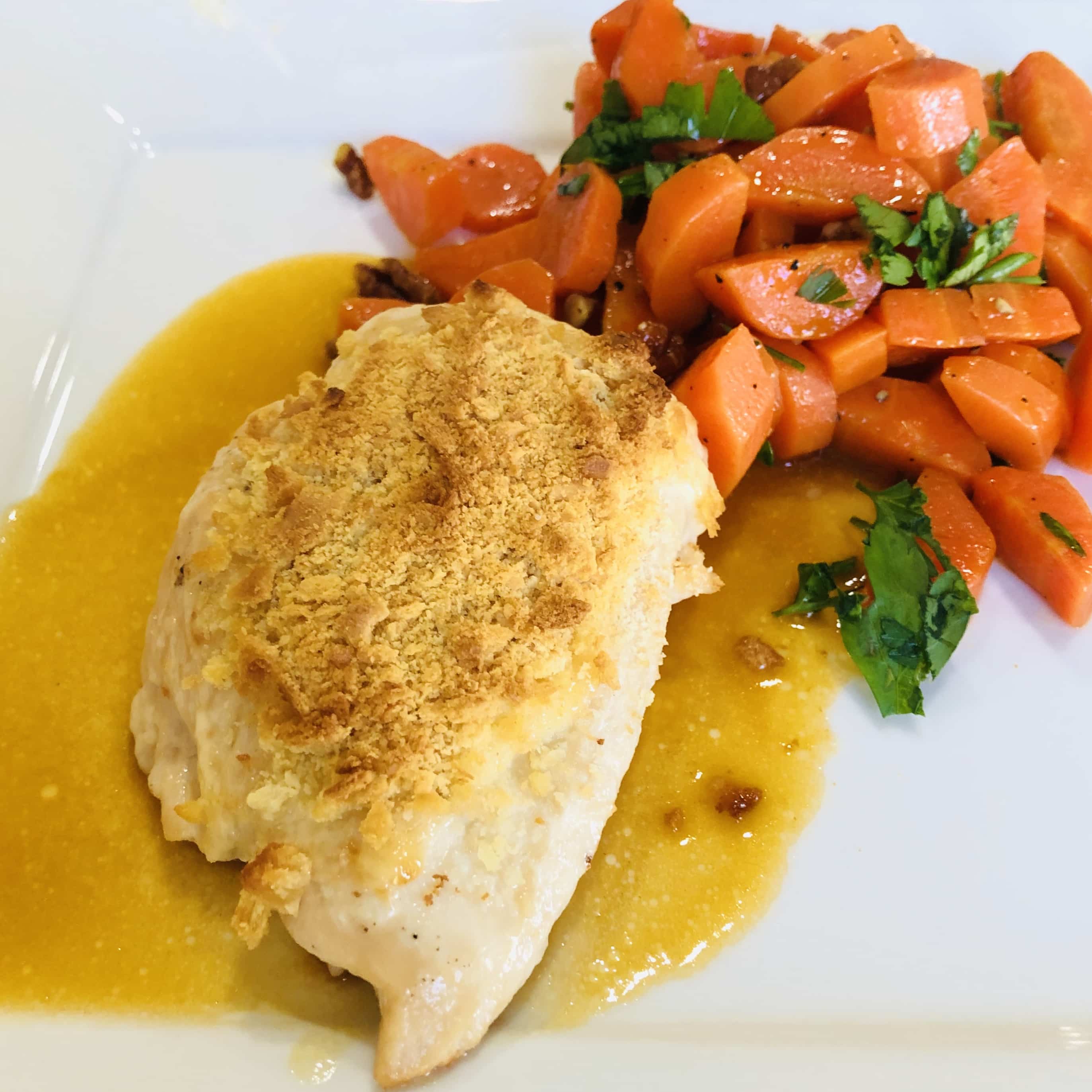 I finshed the sauce and placed on the plate, then placed the chicken breast on top. I served the carrots along side. It wasn't a hard dish to make, even though it said intermediate level. The flavor was so good, with the rich sauce playing nicely with the sweet carrots.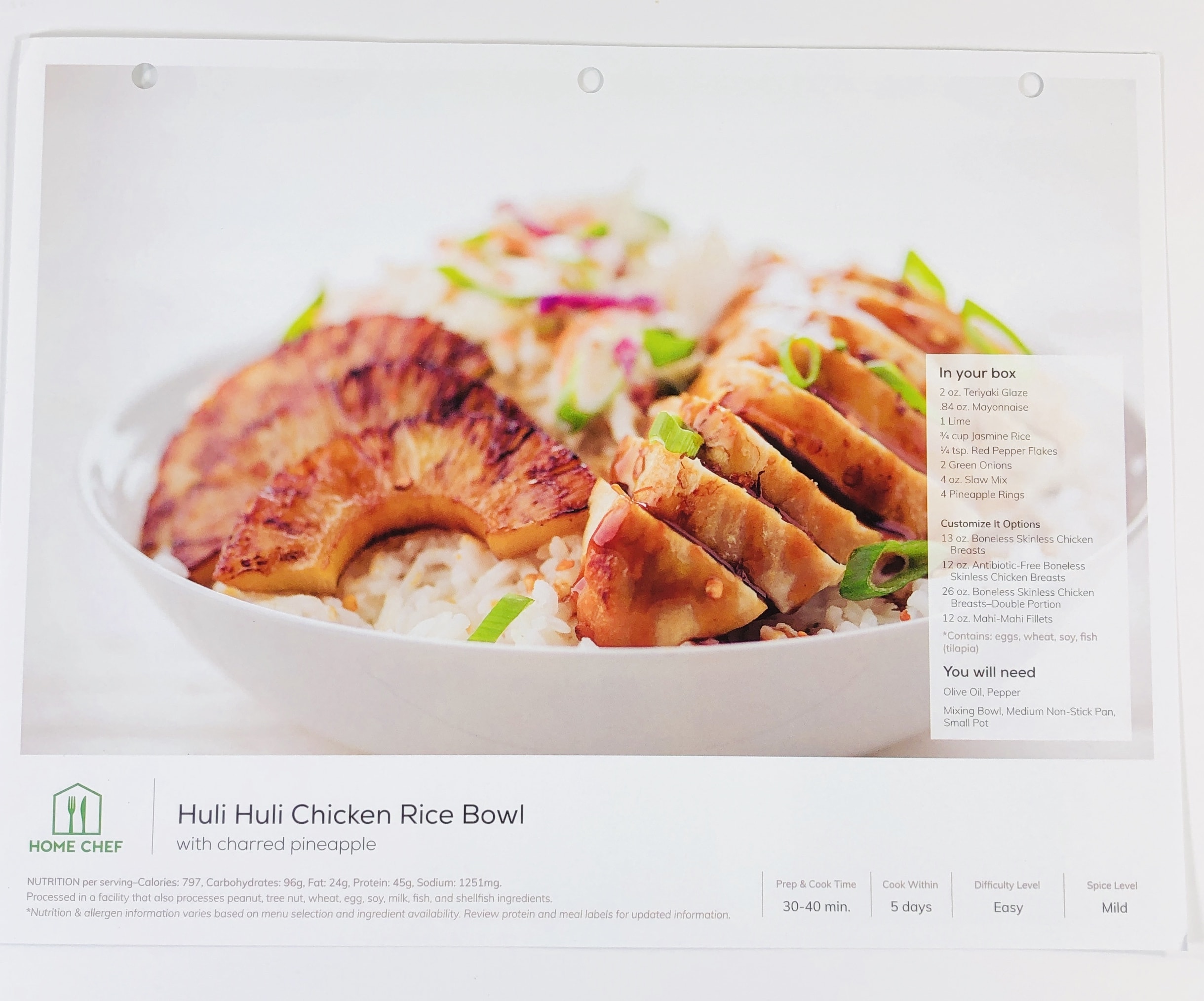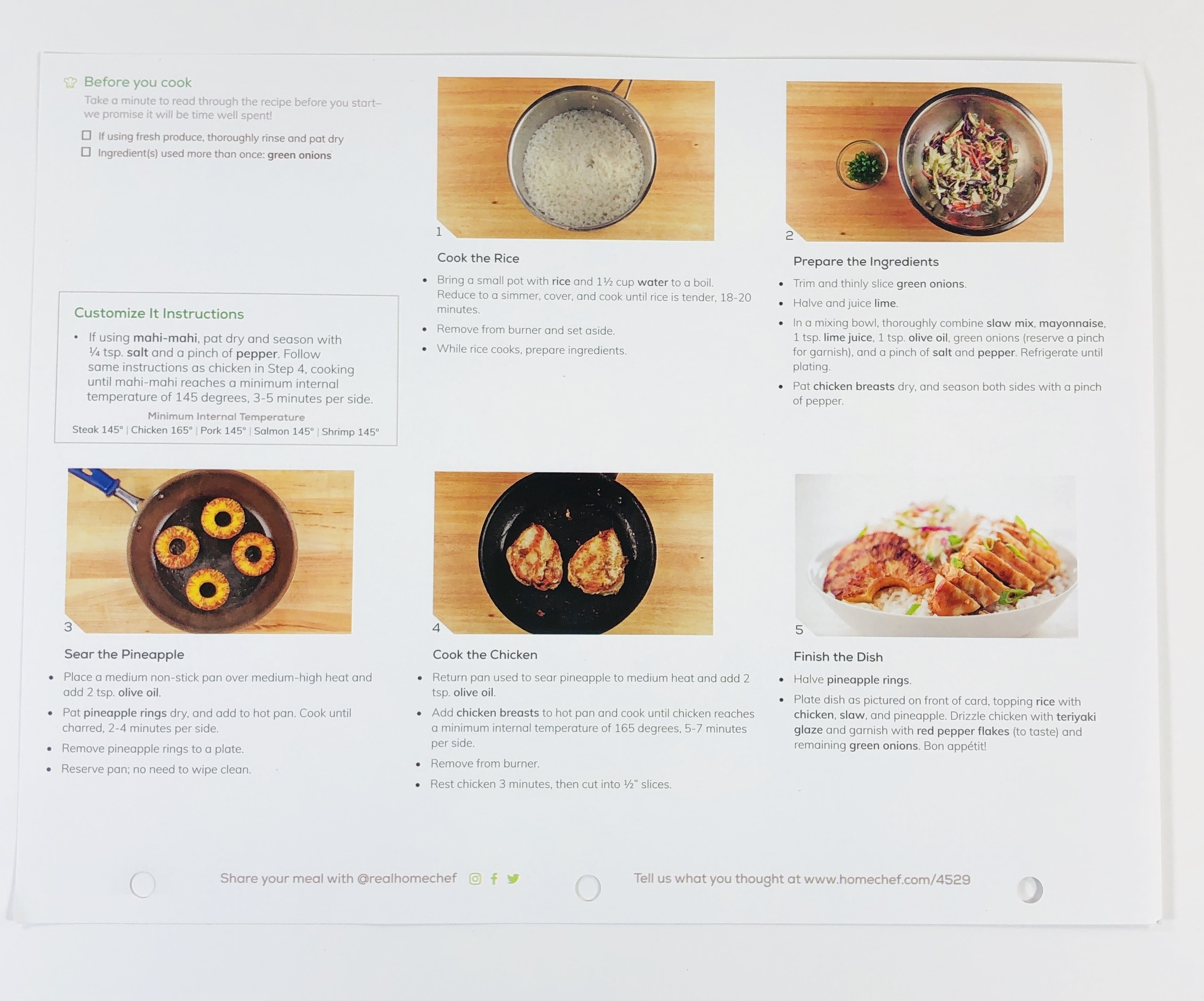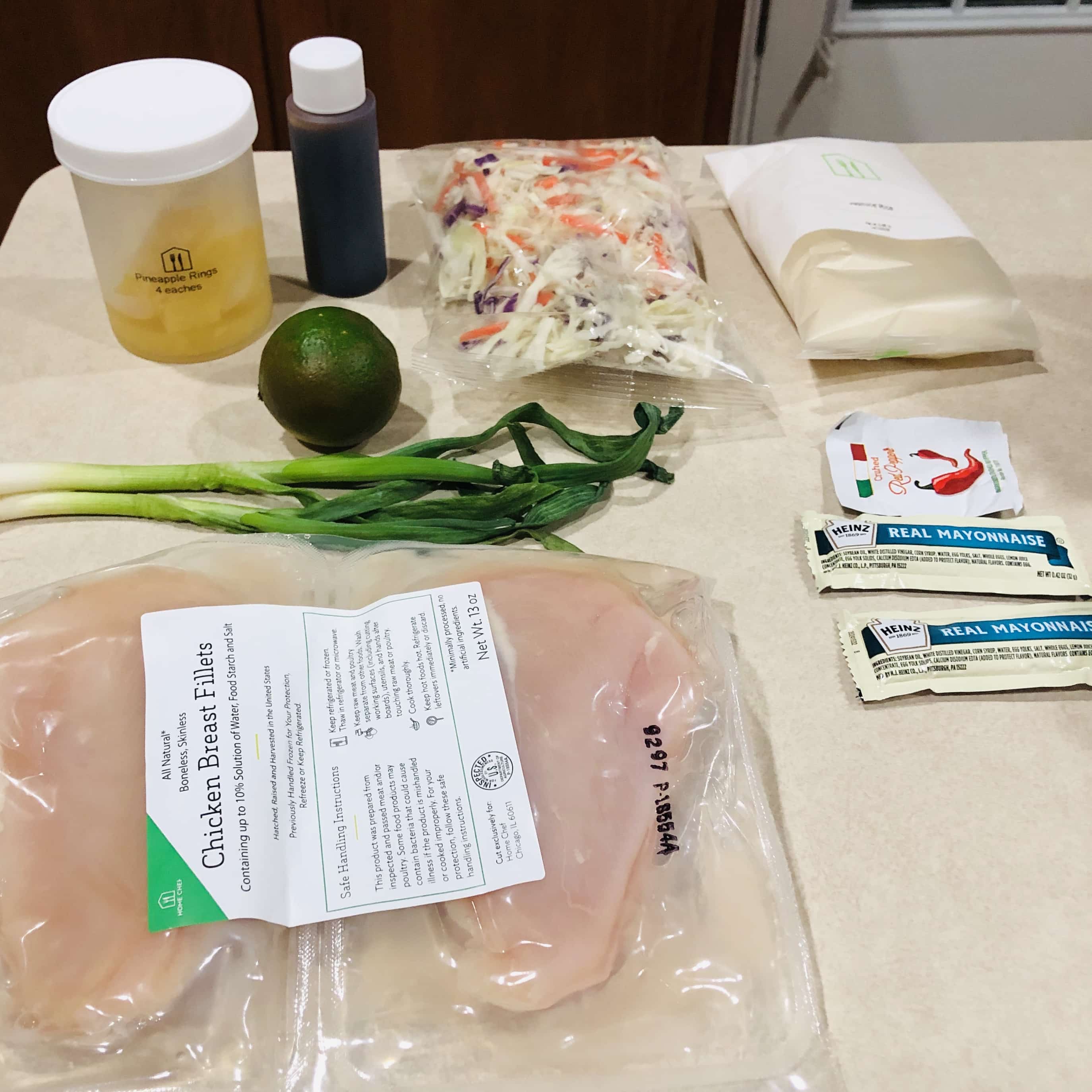 Huli Huli Chicken Rice Bowl with Charred Pineapple (Easy level, 797 calories per serving) This was actually the last meal I prepared and even though I prepared it within 5 days of receiving the box, the green onions and lime looked sad. I was still able to juice the lime but the green onions had to be tossed and I didn't have any on hand.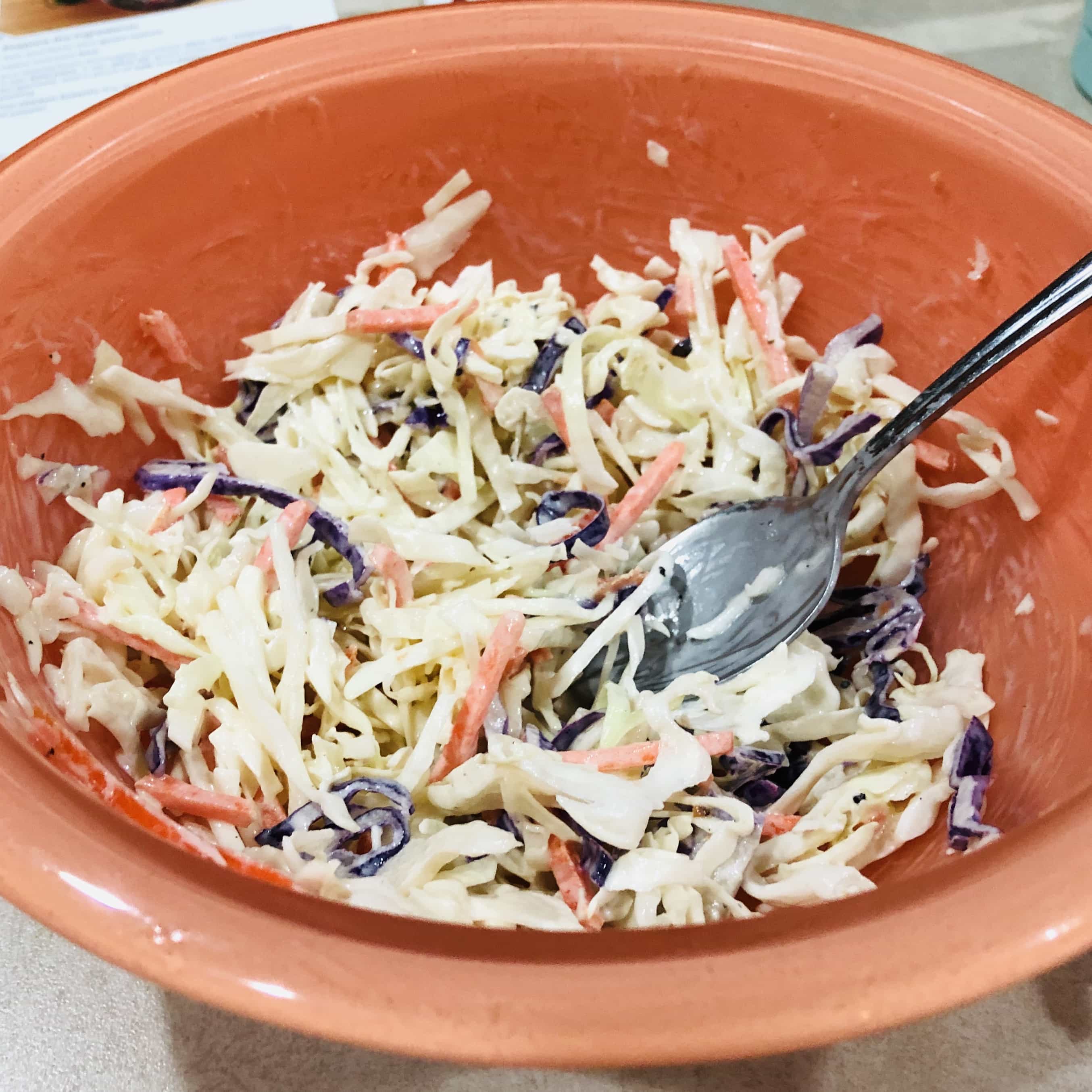 I started by putting the rice on to cook and prepped the coleslaw, which was super simple.
Next I charred the pineapple rings.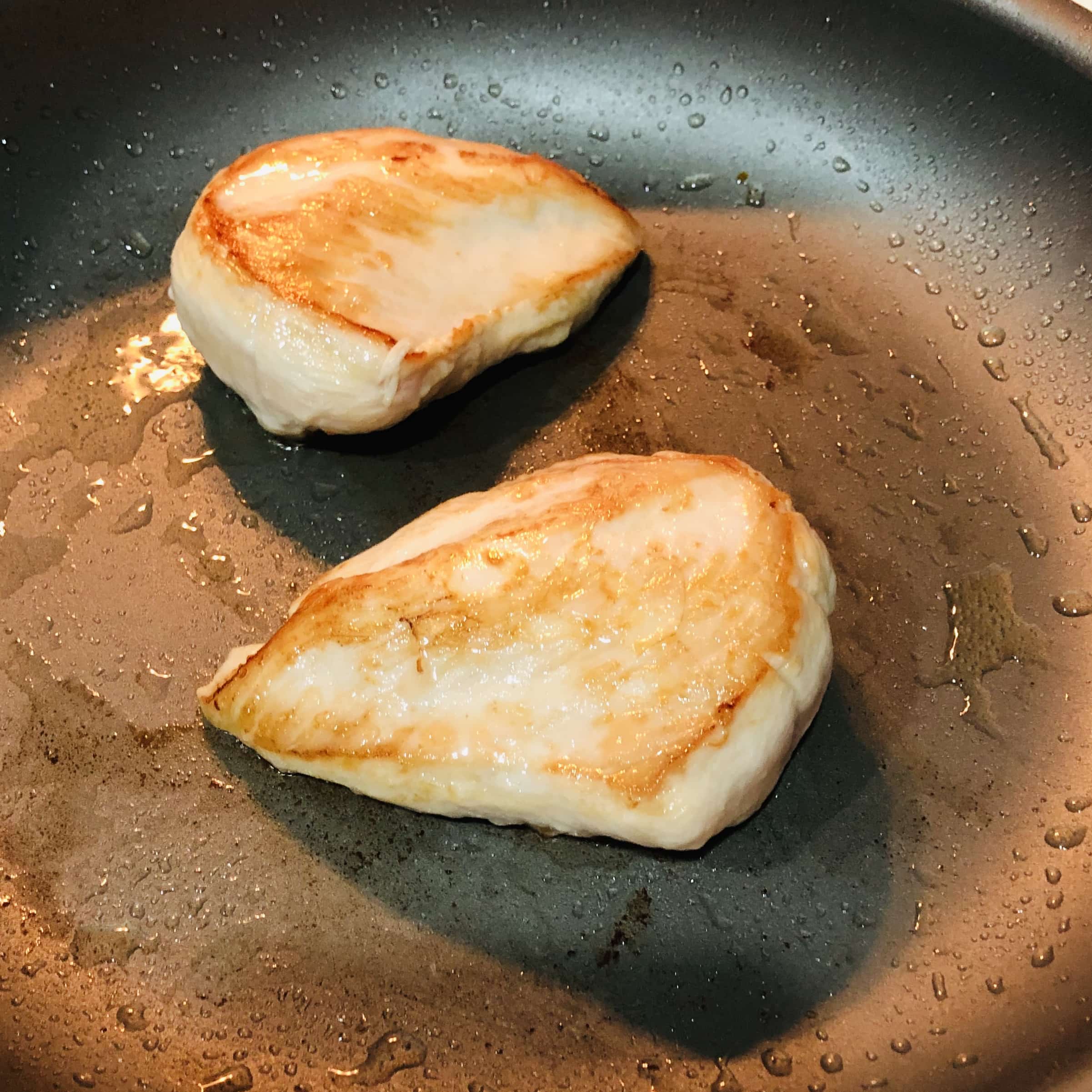 I used the same skillet to brown the breasts.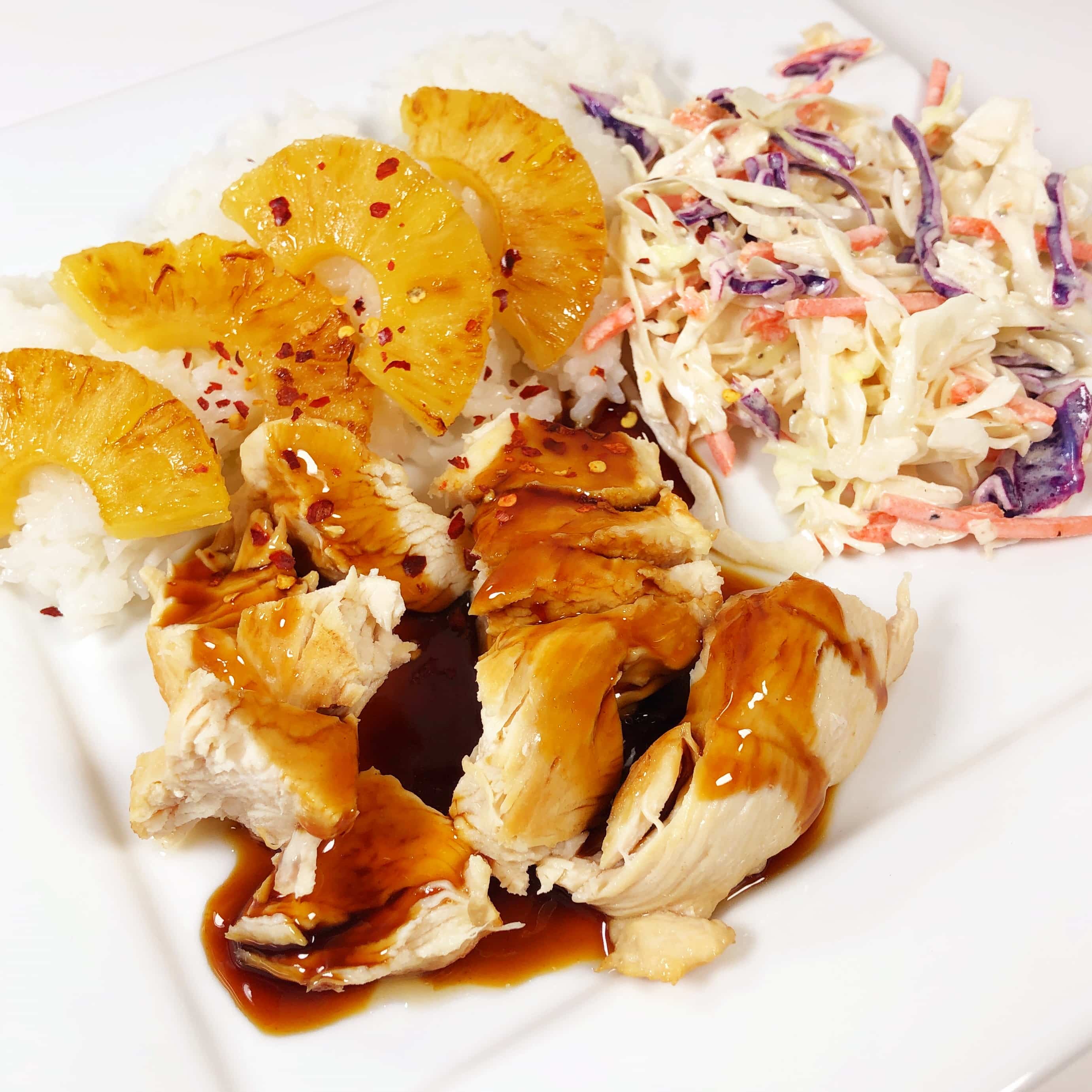 I placed some of the rice (it was a LOT of rice, so I didn't even use half of my serving of rice here) on the plate along with the coleslaw. I set the pineapple on top of the rice and sliced the breasts, then topped them with teriyaki sauce. A sprinkle of red pepper went over the top. This was so good, I love the sweet and saltiness of the sauce, plus the creaminess of the coleslaw.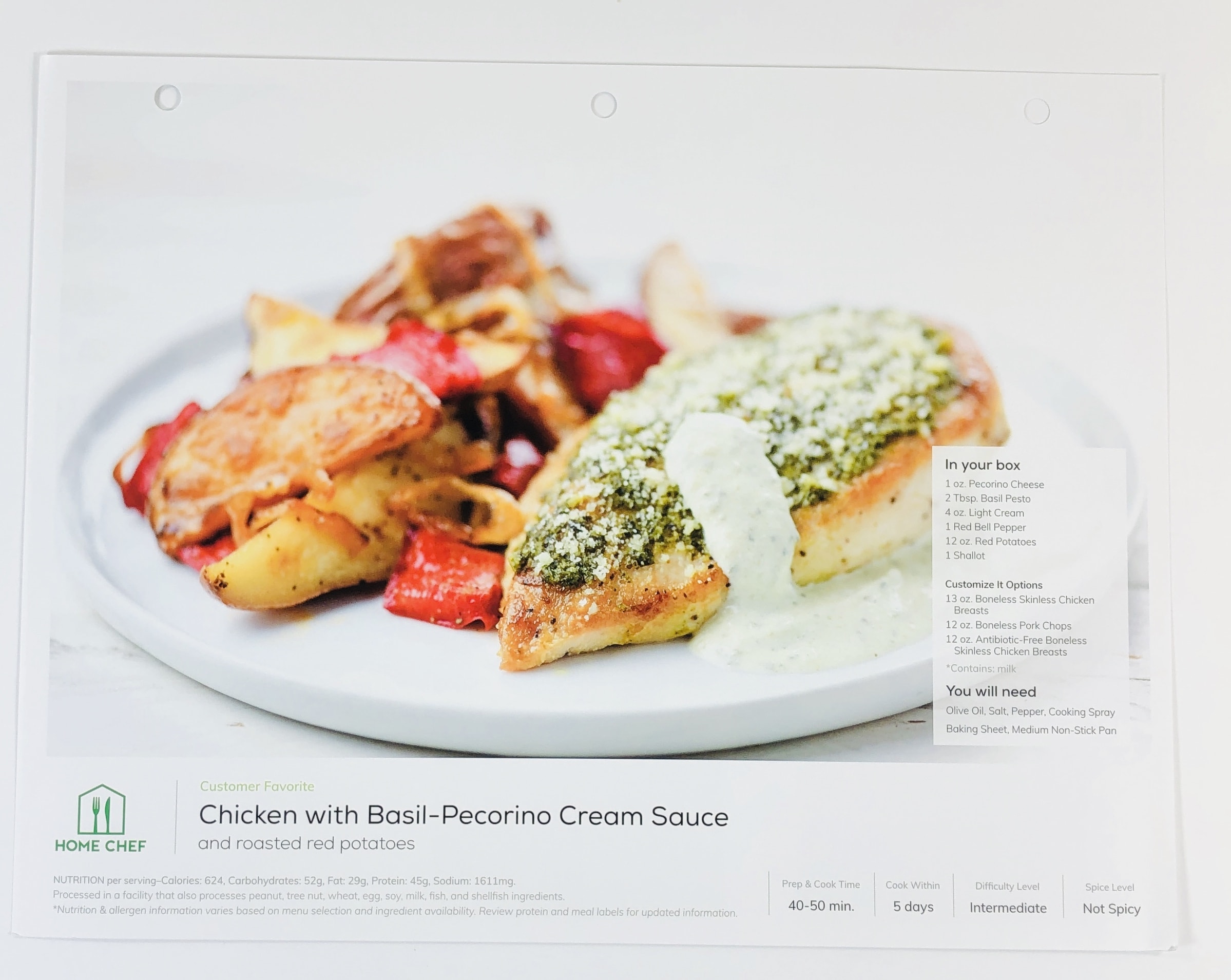 Chicken with Basil-Pecorino Cream Sauce and Roasted Red Potatoes (Intermediate level, 624 calories per serving) My third meal sounded a little bit fancy but was easy to prepare.
As always I started by prepping the veggies.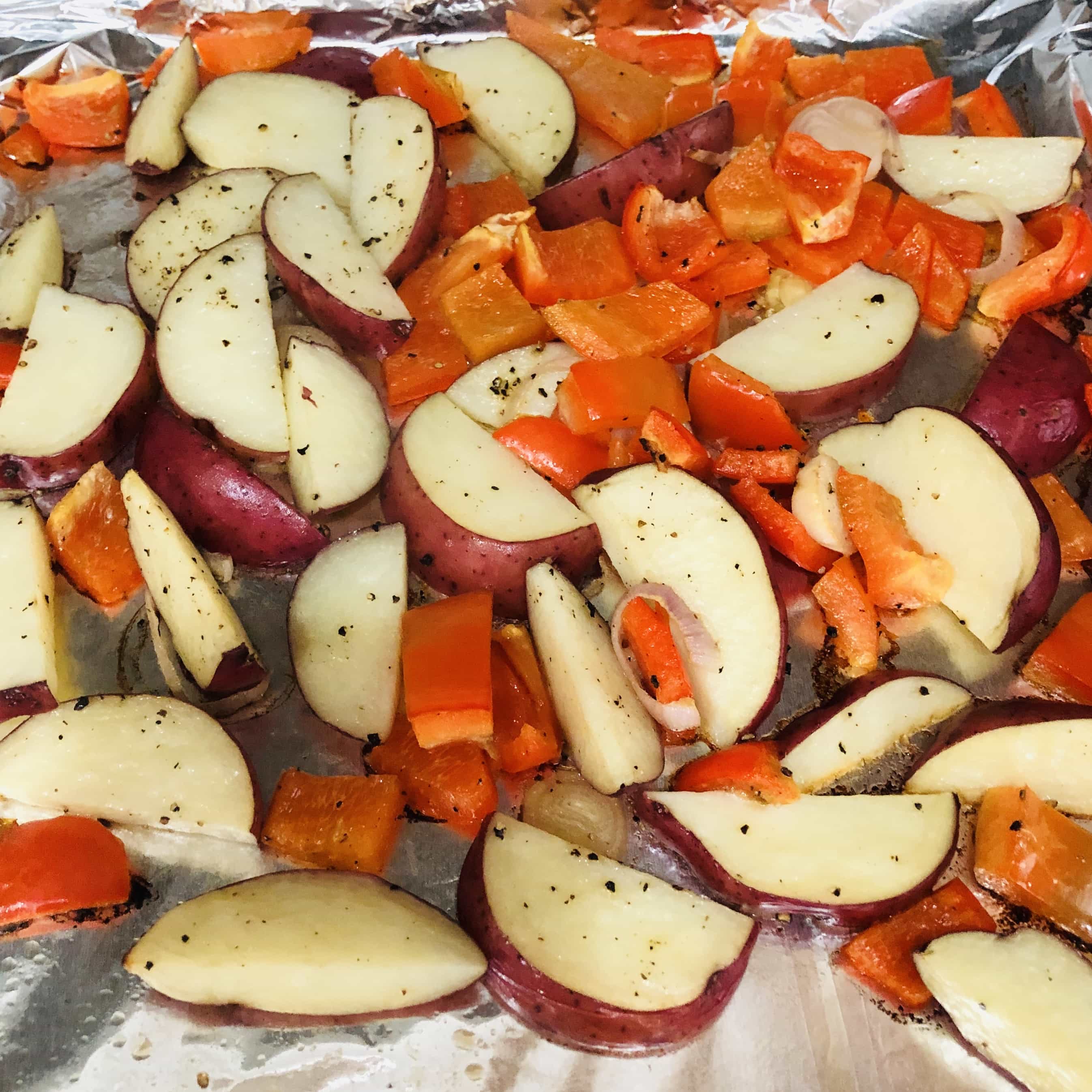 The veggies roasted in the oven while I went on to the next step.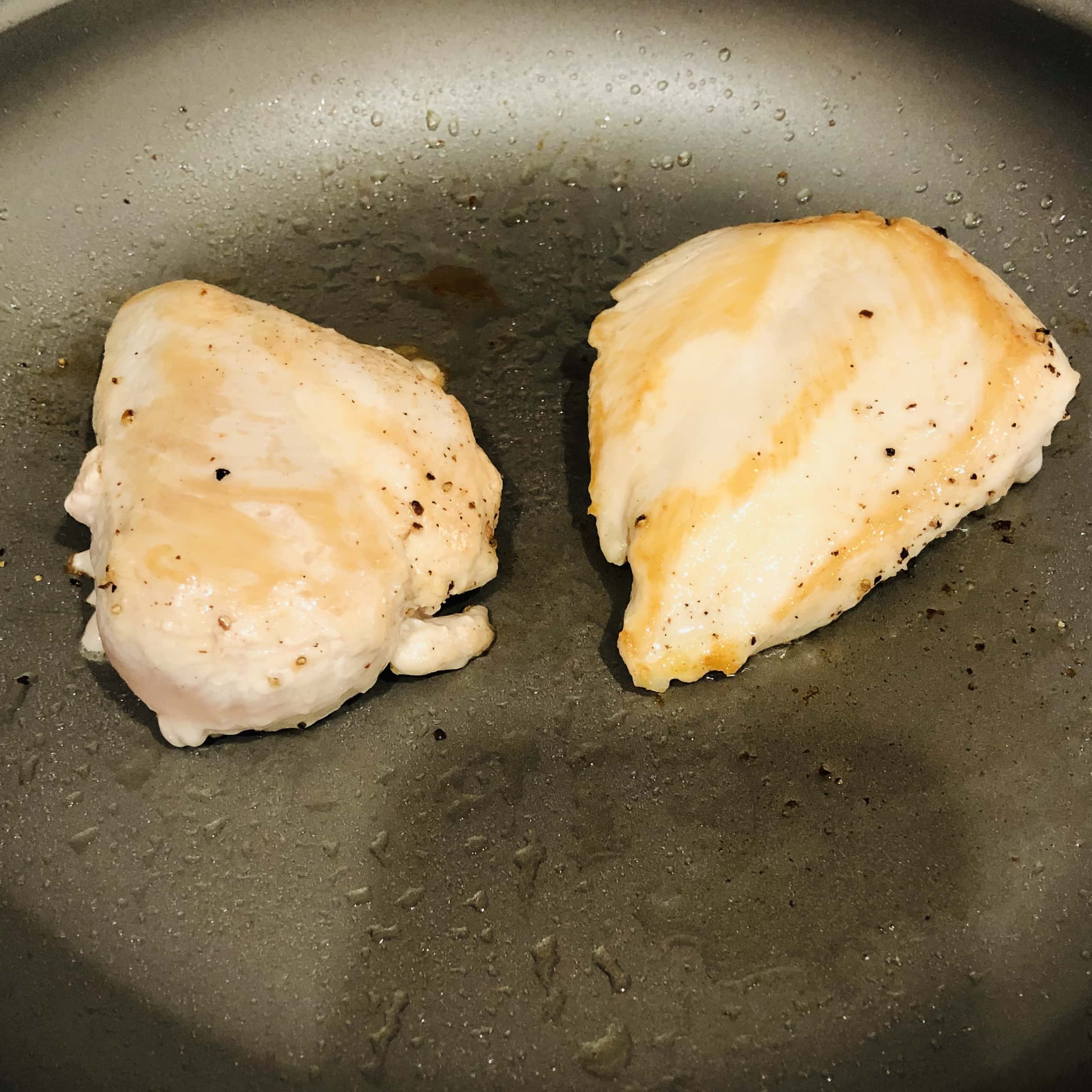 I browned the breasts but they will finish cooking in a later step.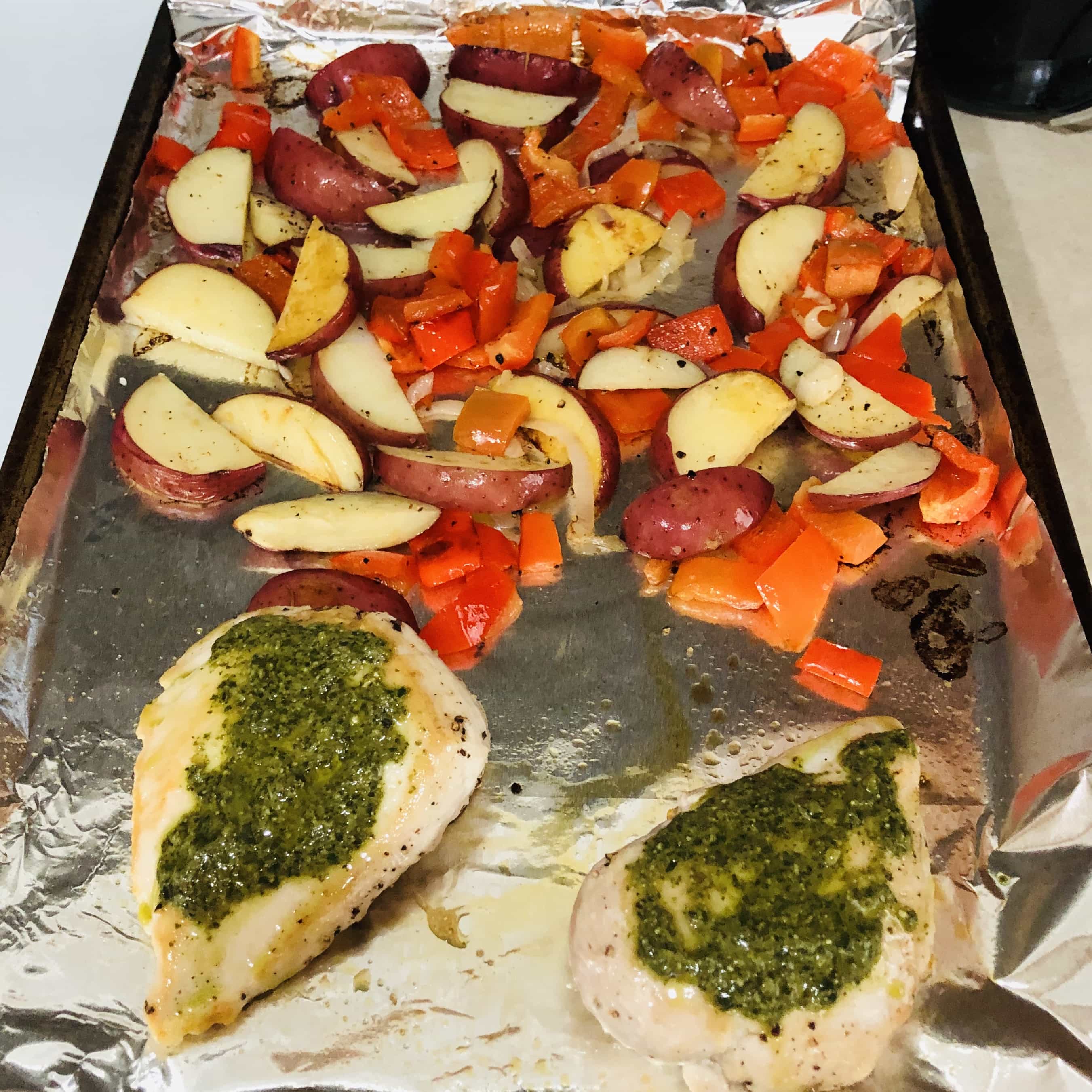 I stirred the vegetables and placed the breasts on the baking sheet. Pesto went on top of the chicken.
The sauce was very easy to make. I heated the half and half in the same pan that I used to brown the chicken.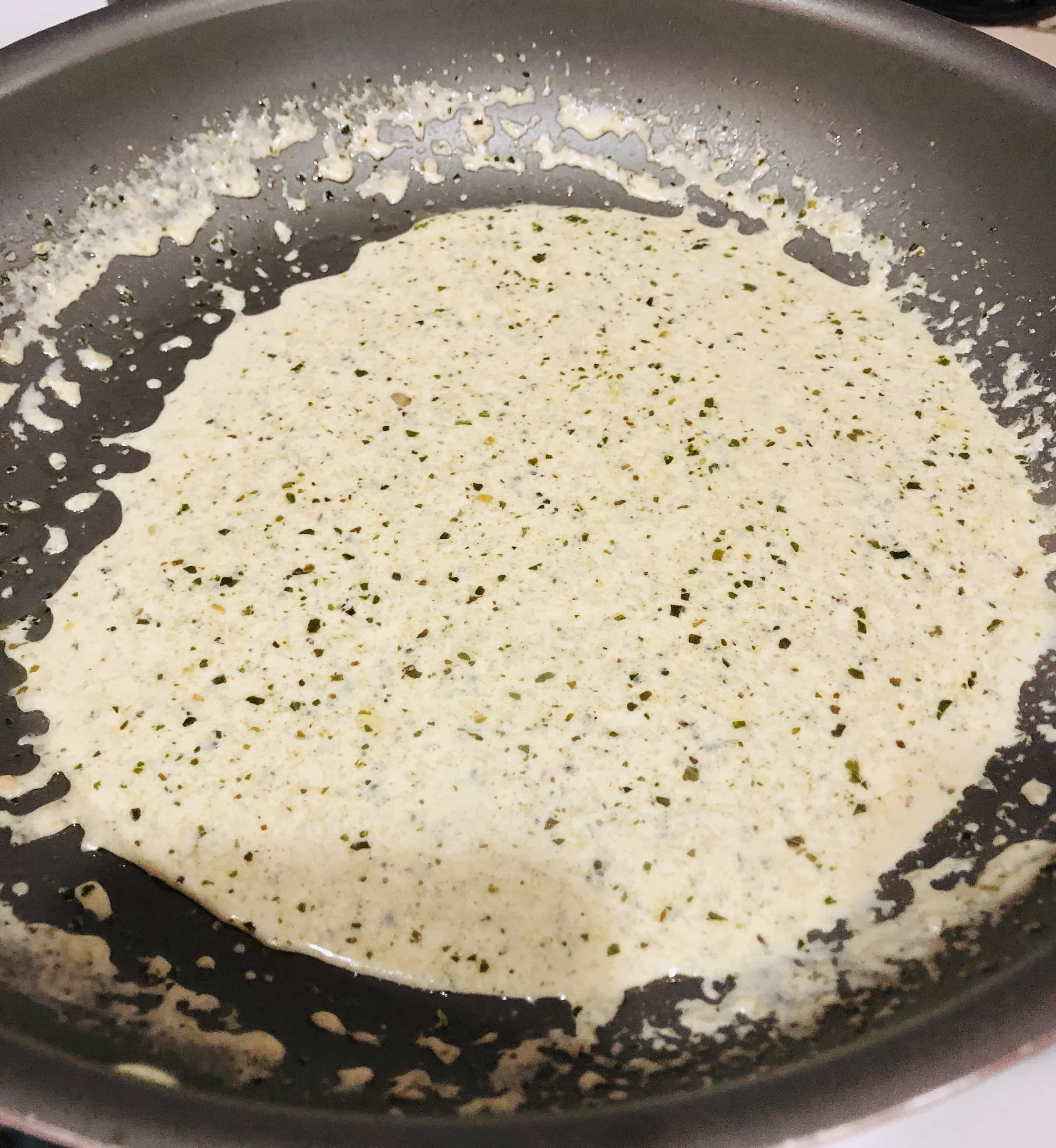 Next I added the remaining pesto plus some cheese.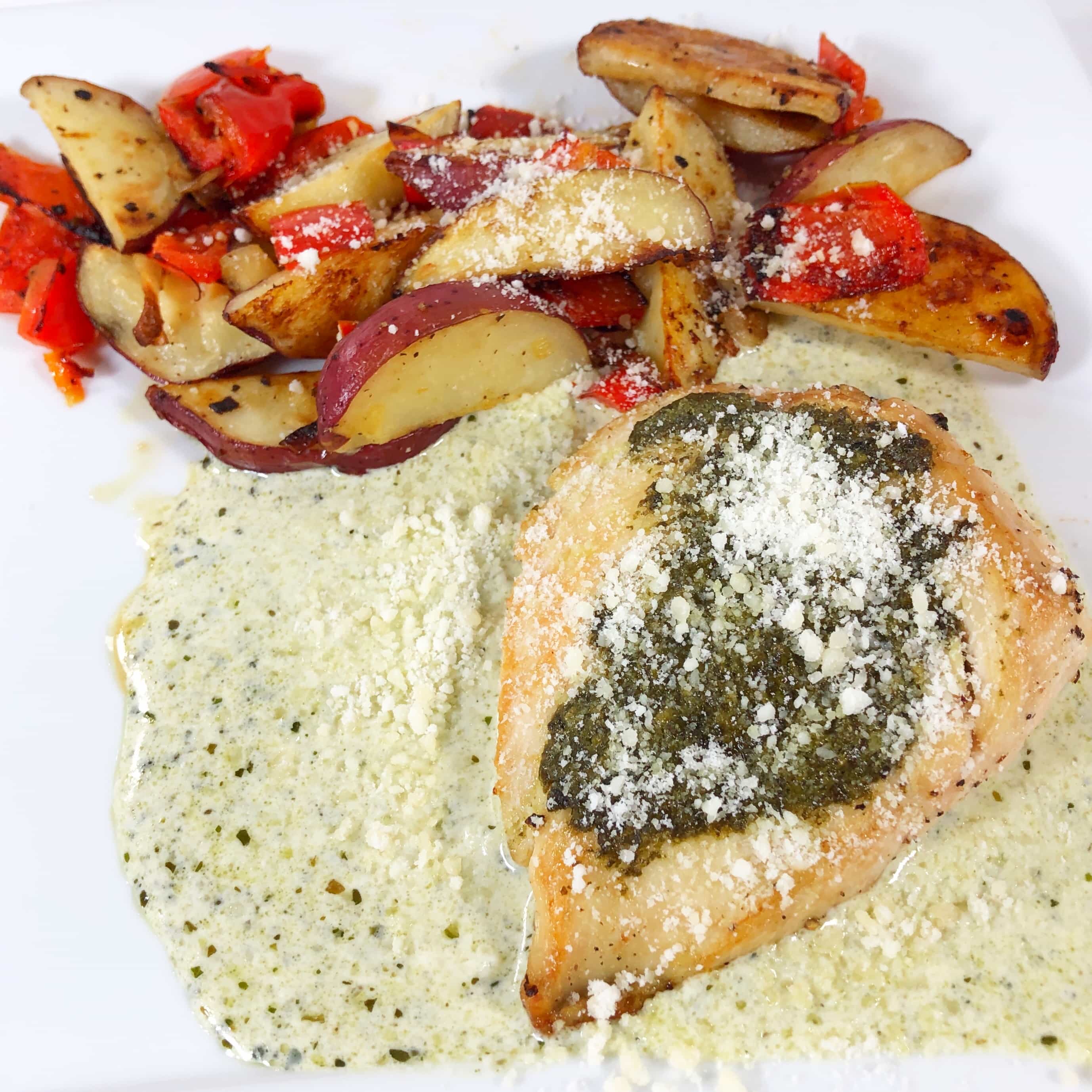 I placed the sauce on the plate and topped with the chicken. The vegetables went on the side and the whole thing was given a sprinkle of pecorino cheese. It was absolutely delicious and my husband had the leftovers for lunch the next day and he loved it. Roasted veggies + pesto + cheese = yum!
Home Chef sent some tasty meals and they were easy to prep and full of flavor. Everything was pretty easy, from ordering to delivery and of course preparation was not bad either. I had three meals that each served two people and the sizes were very generous, no need to serve anything on the side, although you could probably feed another person that way or have leftovers. My box cost $59.70 and delivery was free since it was over $49.
Have you tried Home Chef? What did you think of your meals?