NOSEJOY is a monthly subscription box that sends items that smell absolutely amazing! Make your nose happy with lovely smelling soaps, candles, lotions, and more for $34.95, which includes shipping. Each box will be curated to the season and will include upscale and boutique brands.
Your sense of smell is strongly tied to your emotions. Good smells create good vibes! With NOSEJOY, you can experience smell-good happiness throughout your day – a fresh soap in the bath, an energizing candle at your desk, or a delicious lotion on your skin. The best part is that you can use and enjoy these things knowing new premium goods are on the way!
DEAL: Get $5 off your first box! Use coupon code HELLO5.
Every month I try to guess what scent will be featured based on the sticker that's placed on the outside of the box (see previous picture). I saw evergreen trees, so I couldn't wait to open the box!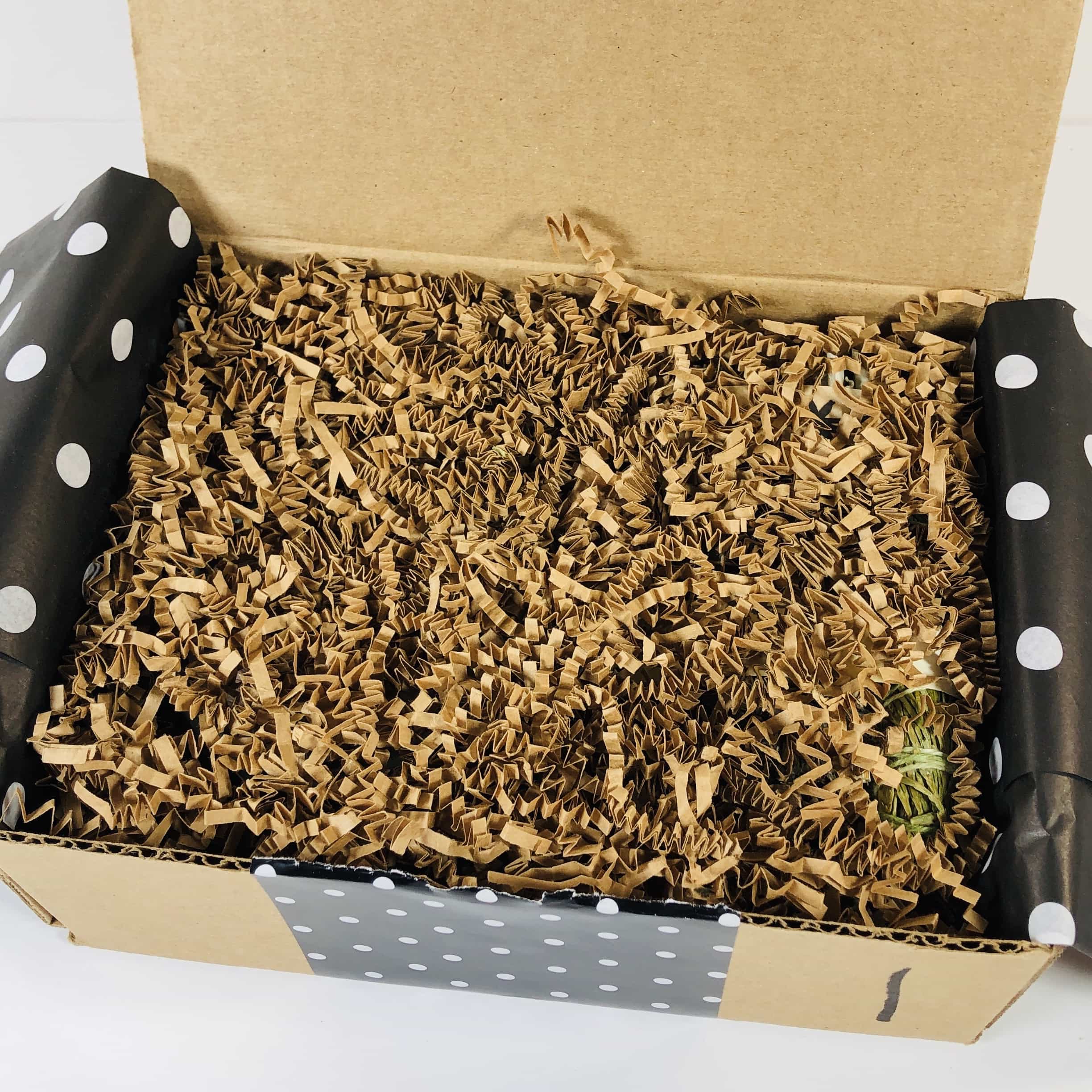 Everything was tucked into shredded paper squiggles.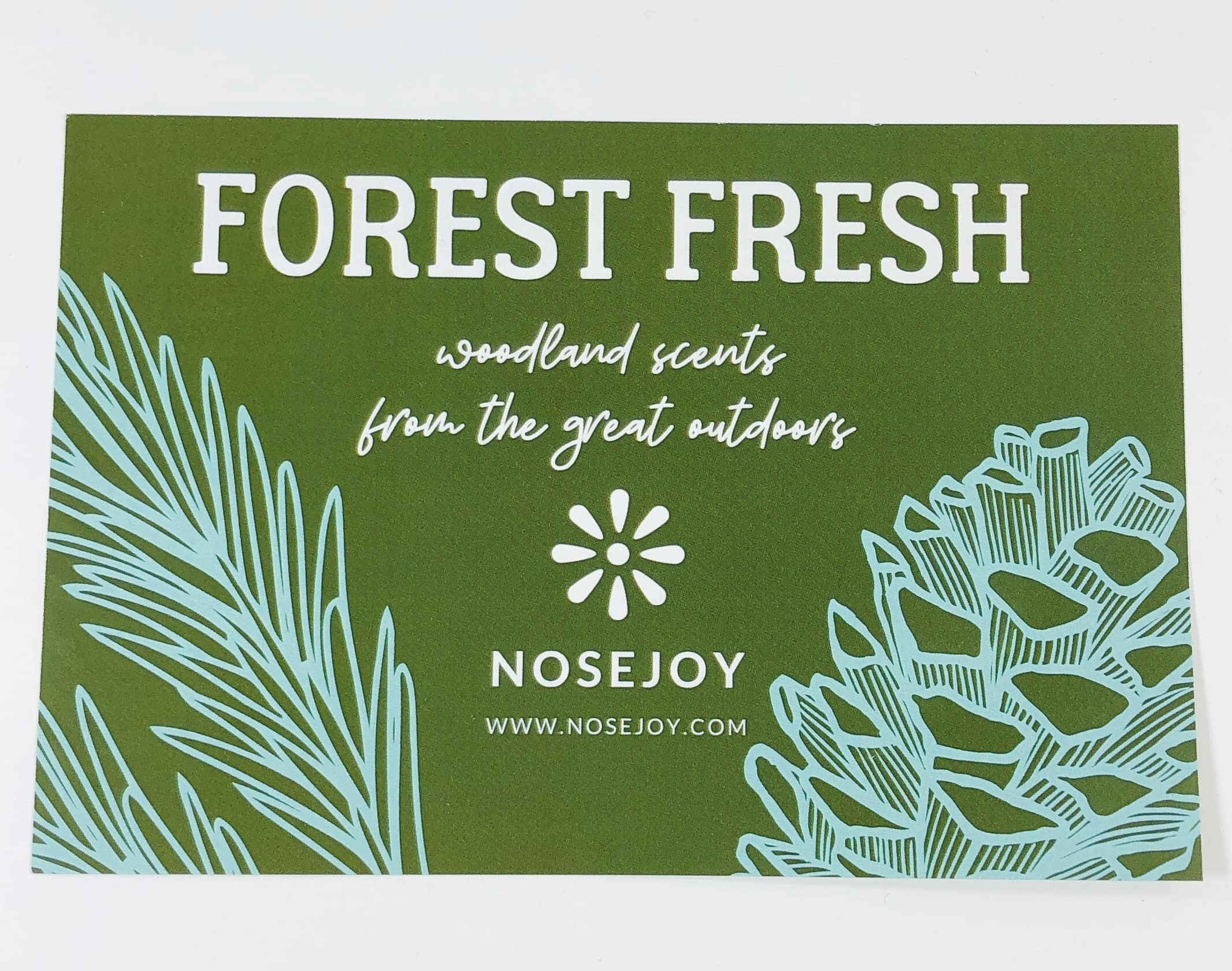 I found a card that announced the September theme, FOREST FRESH. I love it!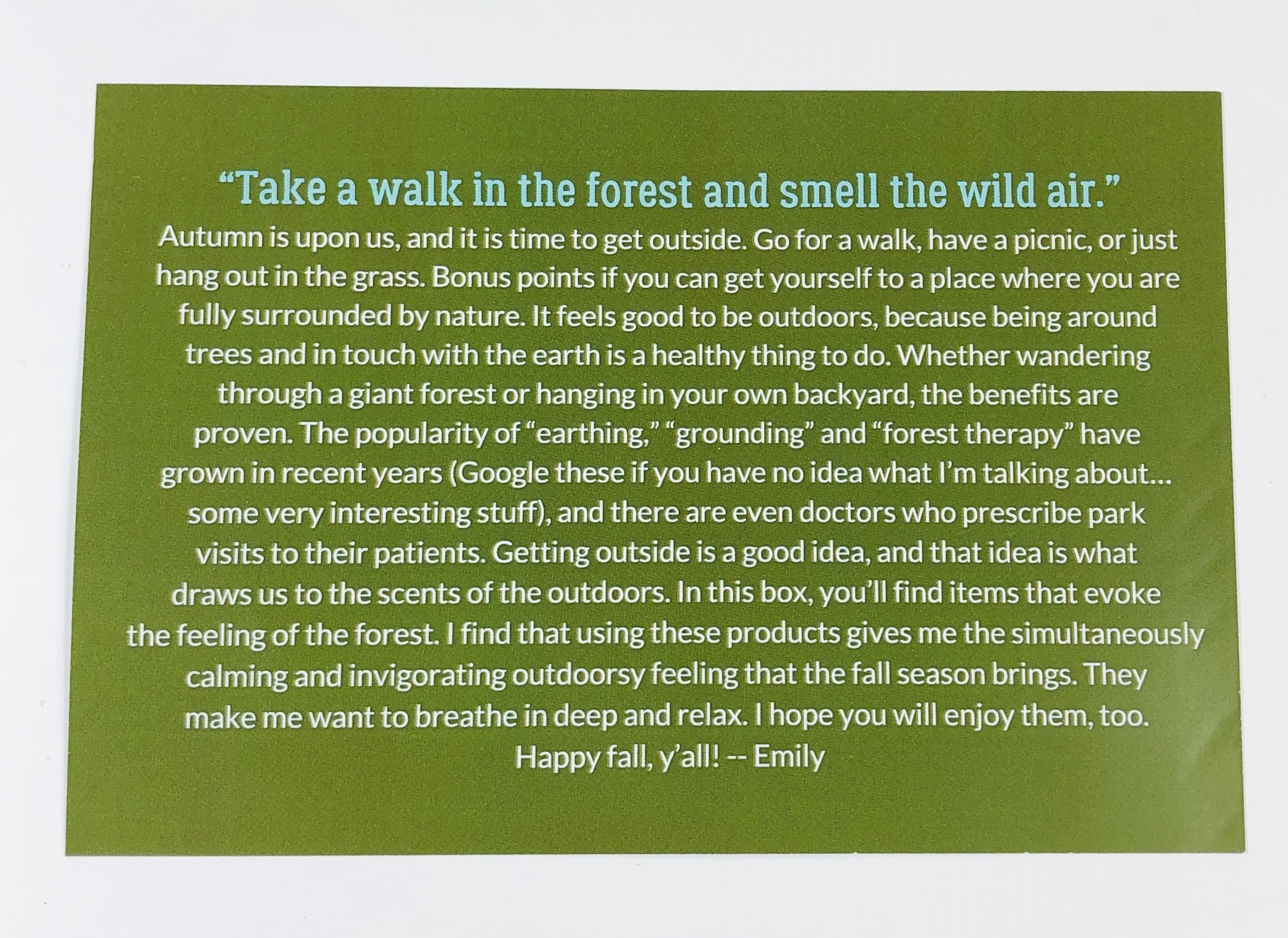 The back of the card gave a little intro to this month's theme.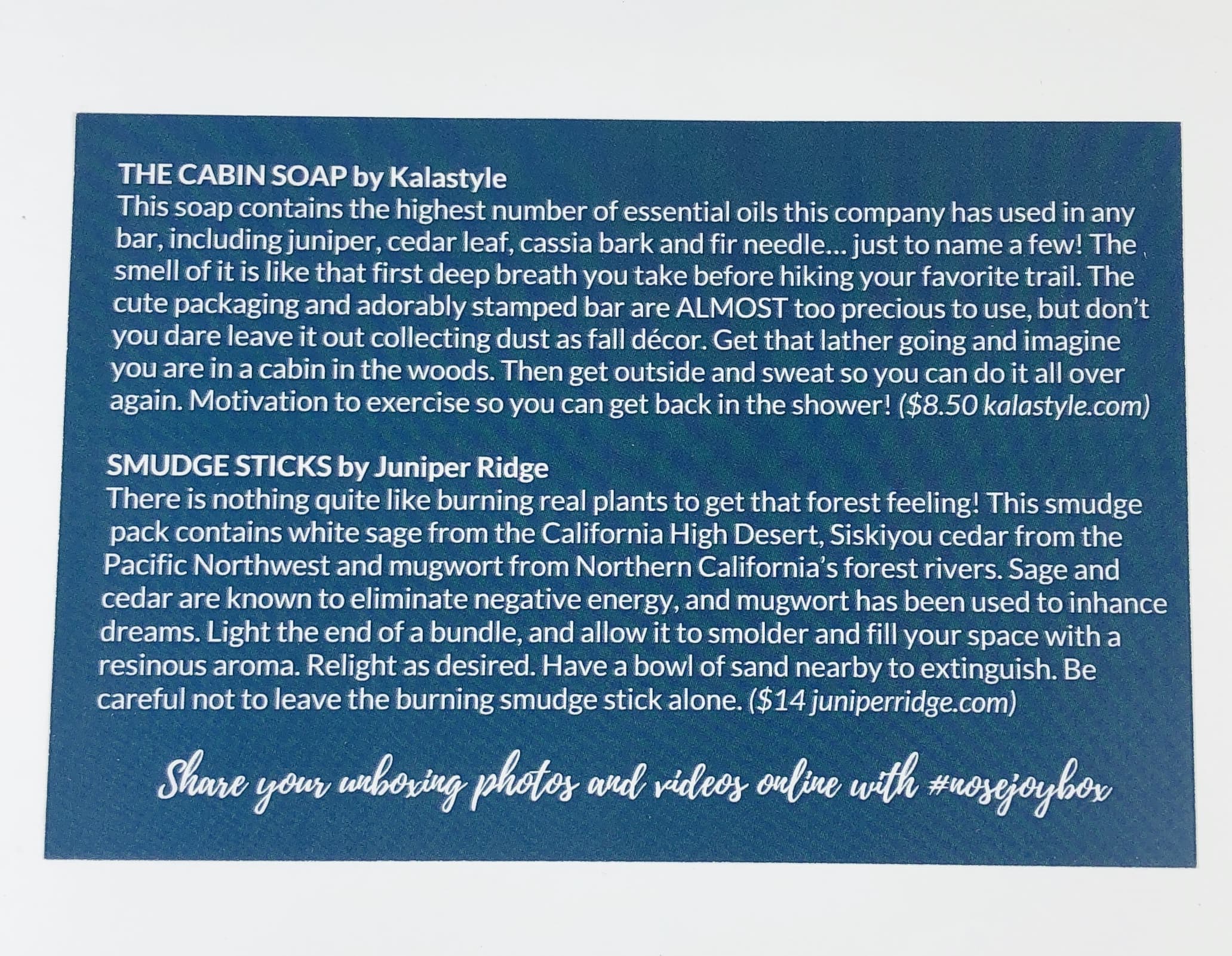 Next was an insert on the products.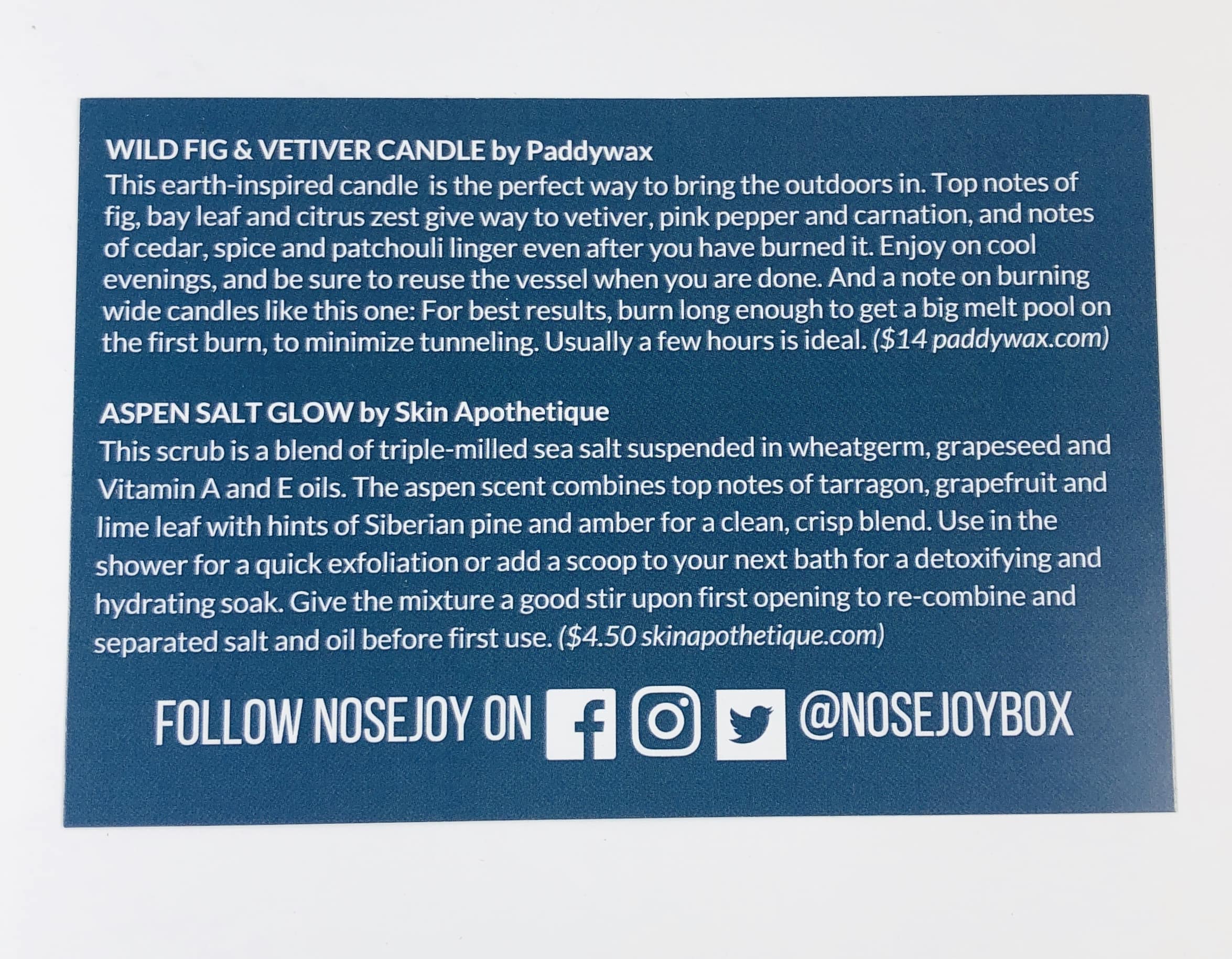 The insert gave a little info for each item, its MSRP, and listed a website in case you need more.
Everything in my September 2019 NOSEJOY box! NOSEJOY consistently sends fun items that smell amazing and that are absolutely adorable!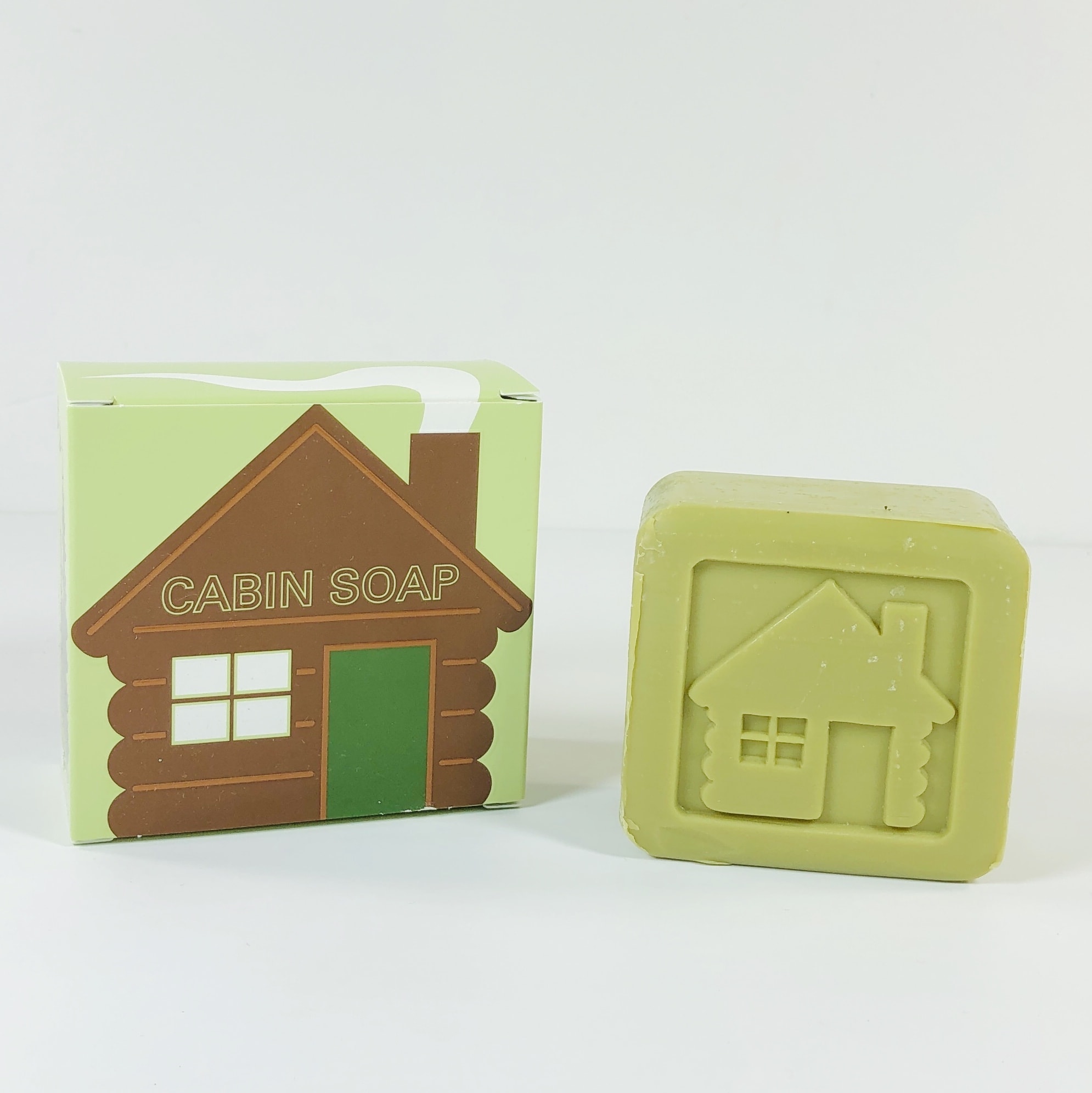 Kalastyle The Cabin Soap ($8.50) Not only is the box cute, but look at the actual soap – it has a wood cabin design!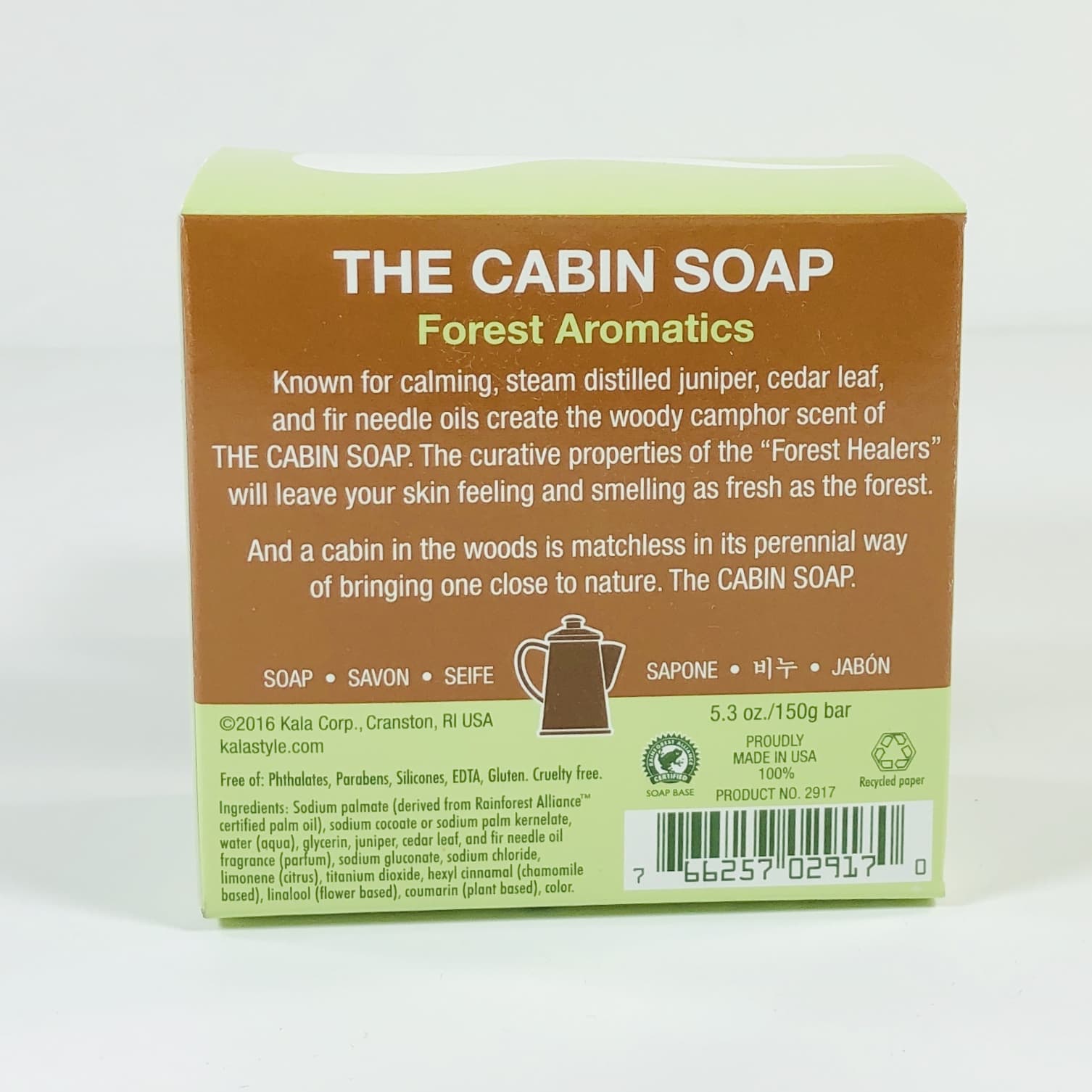 The soap contains glycerin and all kinds of essential oils but no parabens or phthalates. It smells like Irish Spring took a trip through a forest that has a couple of campfires burning. I grew up camping in the forest so it brings back happy memories for me.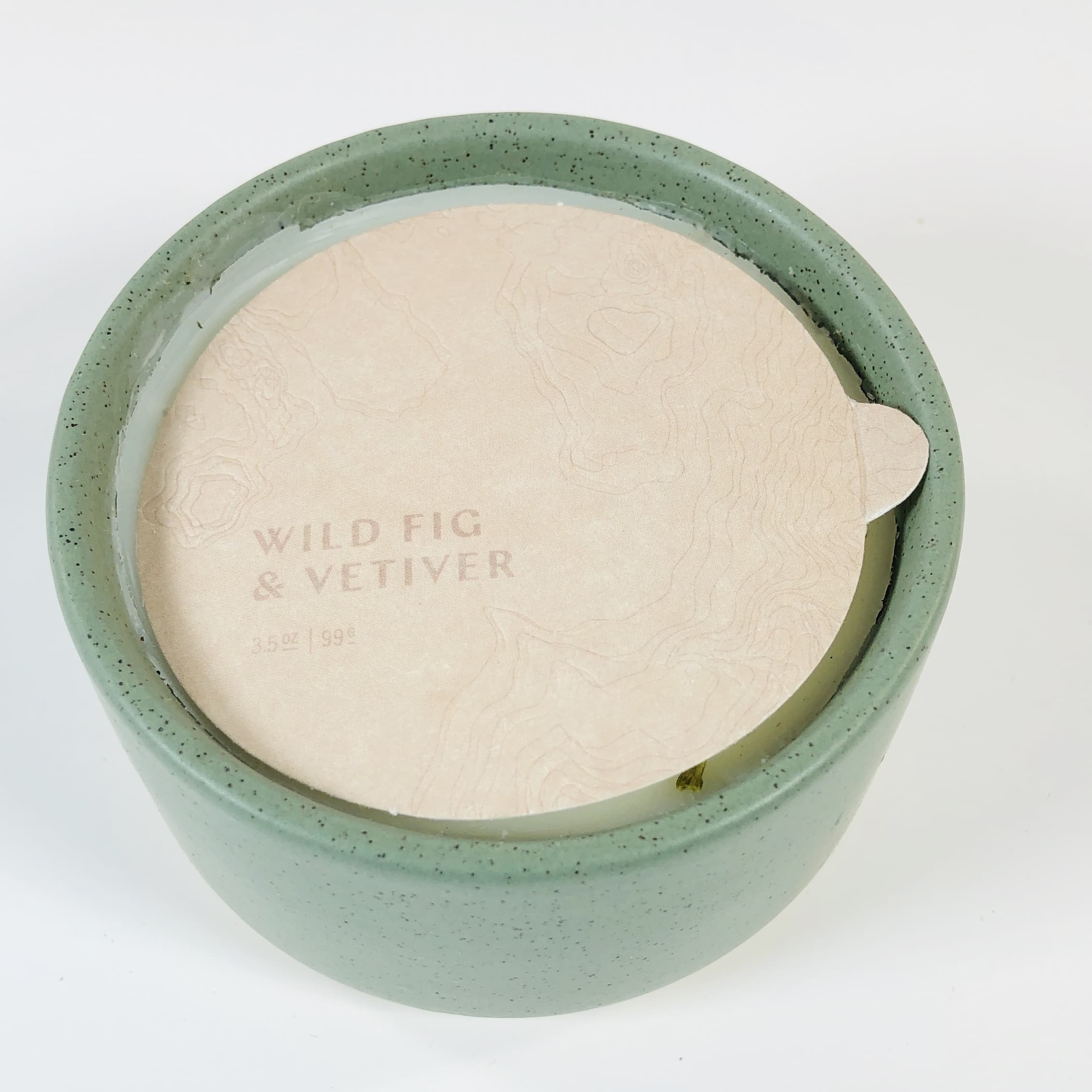 Paddywax Wild Fig & Vetiver Candle ($14) has notes of fig, vetiver, and spices and smells warm and spicy, maybe like a unisex perfume. I think this one smells a little more powdery as the candle burns. The candle is made of soy wax with a cotton wick.
Isn't the little ceramic container sweet looking? You can use it to hold trinkets once the wax is gone.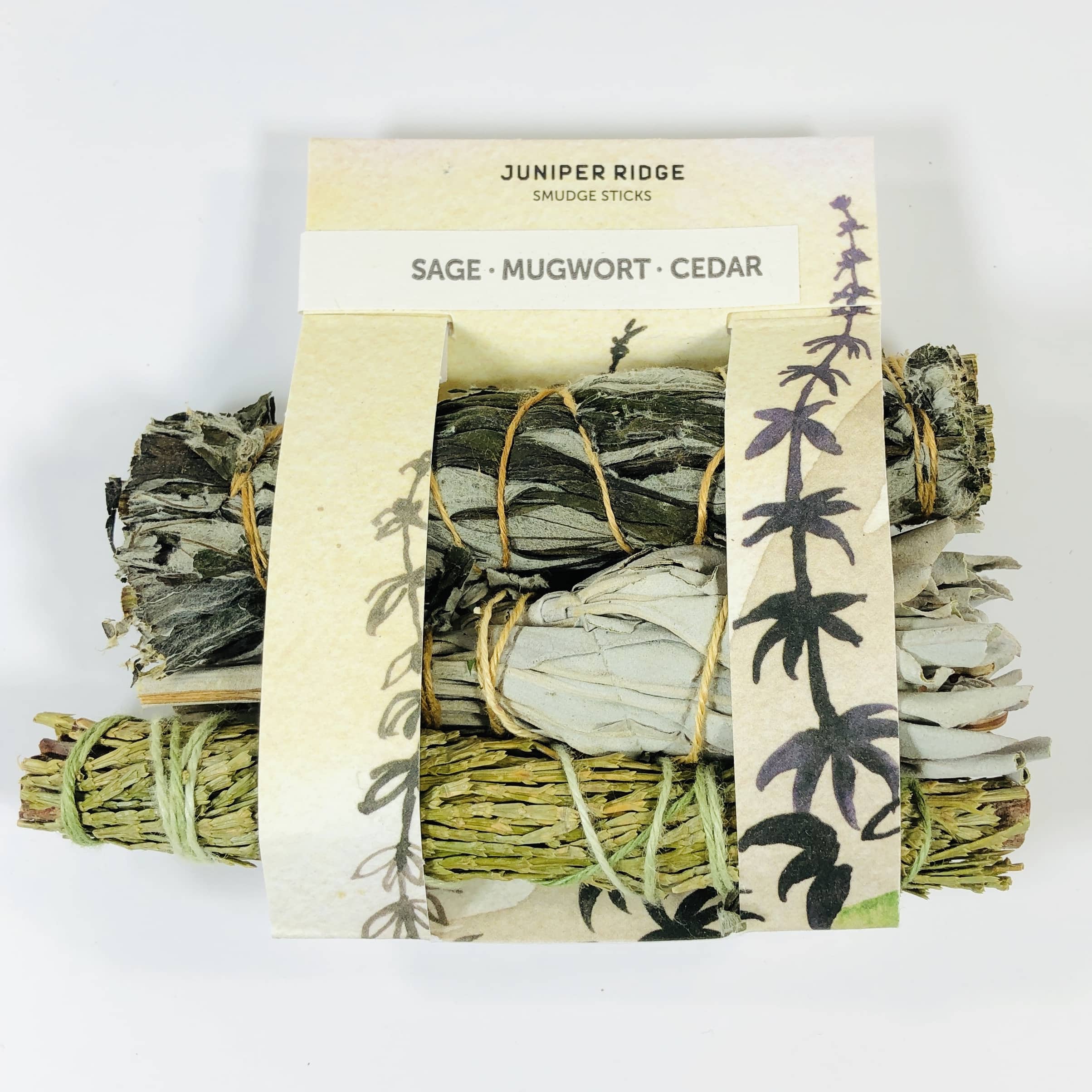 Juniper Ridge Smudge Sticks ($14) We received a trio of smudge sticks to help bring the scent of various campfires to our own homes. They are calling it "ancient incense" and I love that thought, plus the accompaning campfire stories inspired by each bundle, which you can read about on the Juniper Ridge website.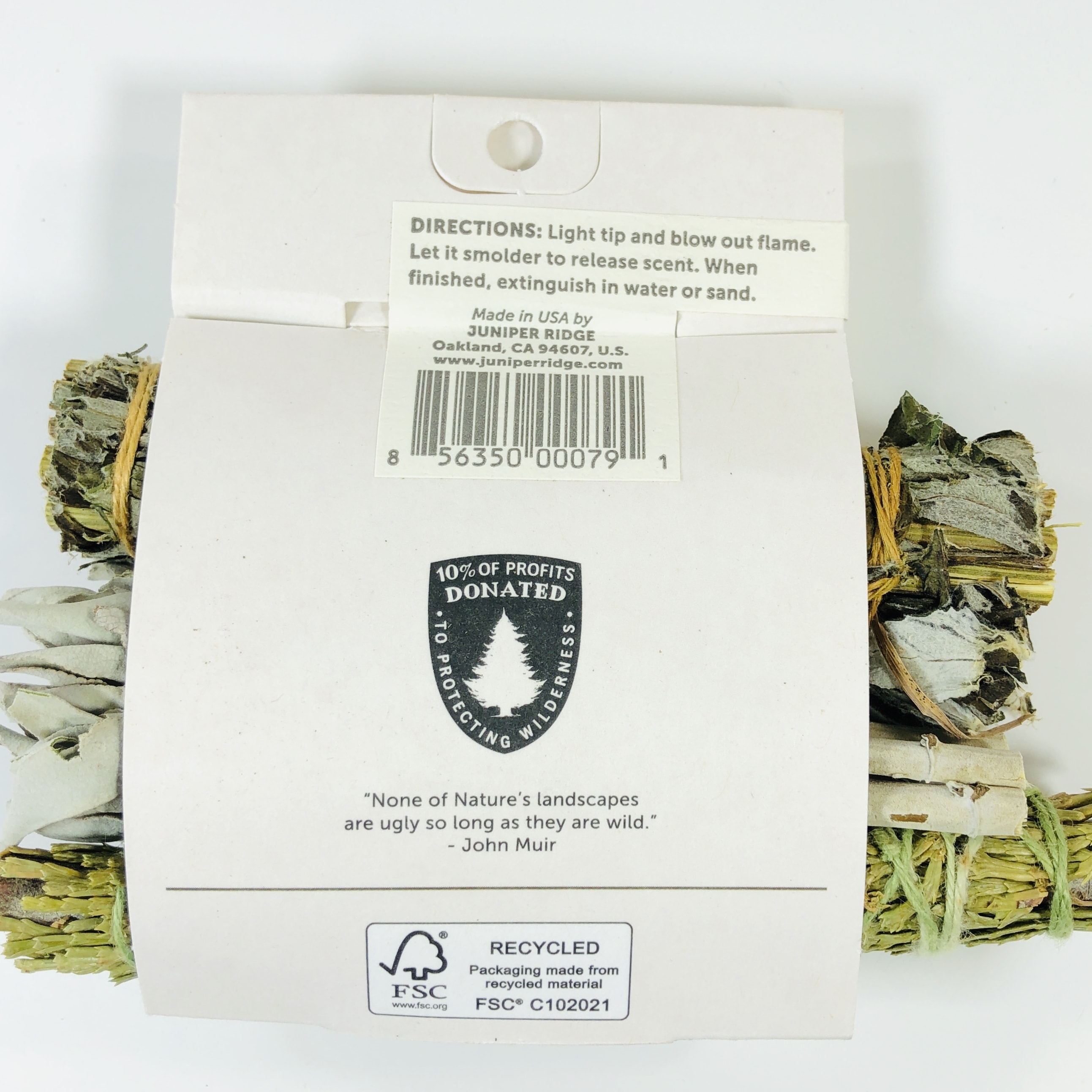 10% of proceeds from the sale of these bundles will go towards protecting the wilderness, and our forests need to be protected, they are magnificent places to visit and my own worries seem small when encountering a giant pine tree or roaring river. Light one of the bundles and then blow out after a few seconds (if it doesn't go out on its own) and place on a fire-safe holder and just let it smolder for a bit. You can do a cleansing ceremony (search Google for instructions) or just enjoy the scent.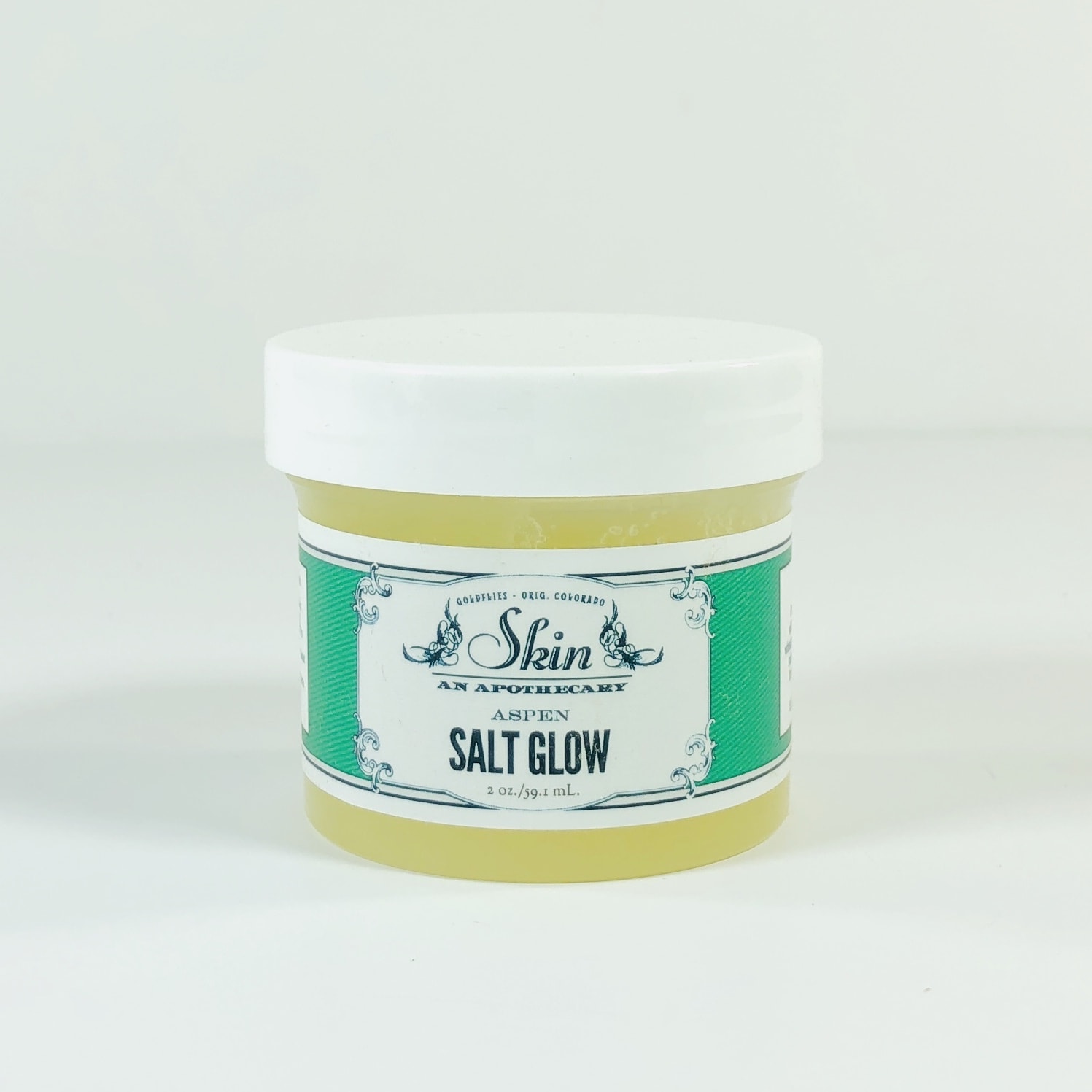 Skin Apothetique Aspen Salt Glow ($4.50) is a 2-in-1 product that can be used in the bath tub or shower. I used mine in the shower and loved the scent!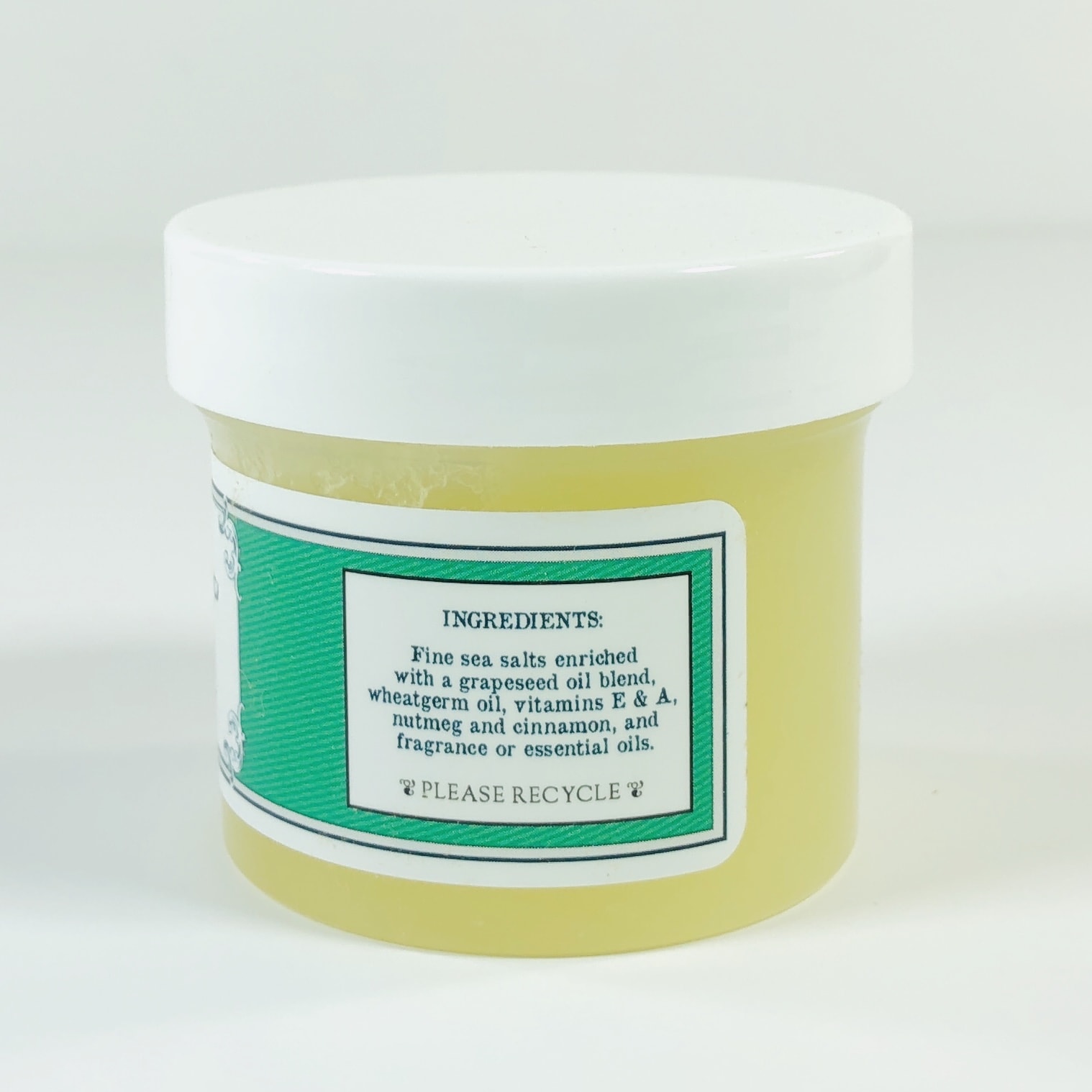 It is made with sea salt and plant oils, plus fragrance.
It is meant for the body – don't try this on your face! I used it as a scrub in the shower, but you can also swirl it into the tub.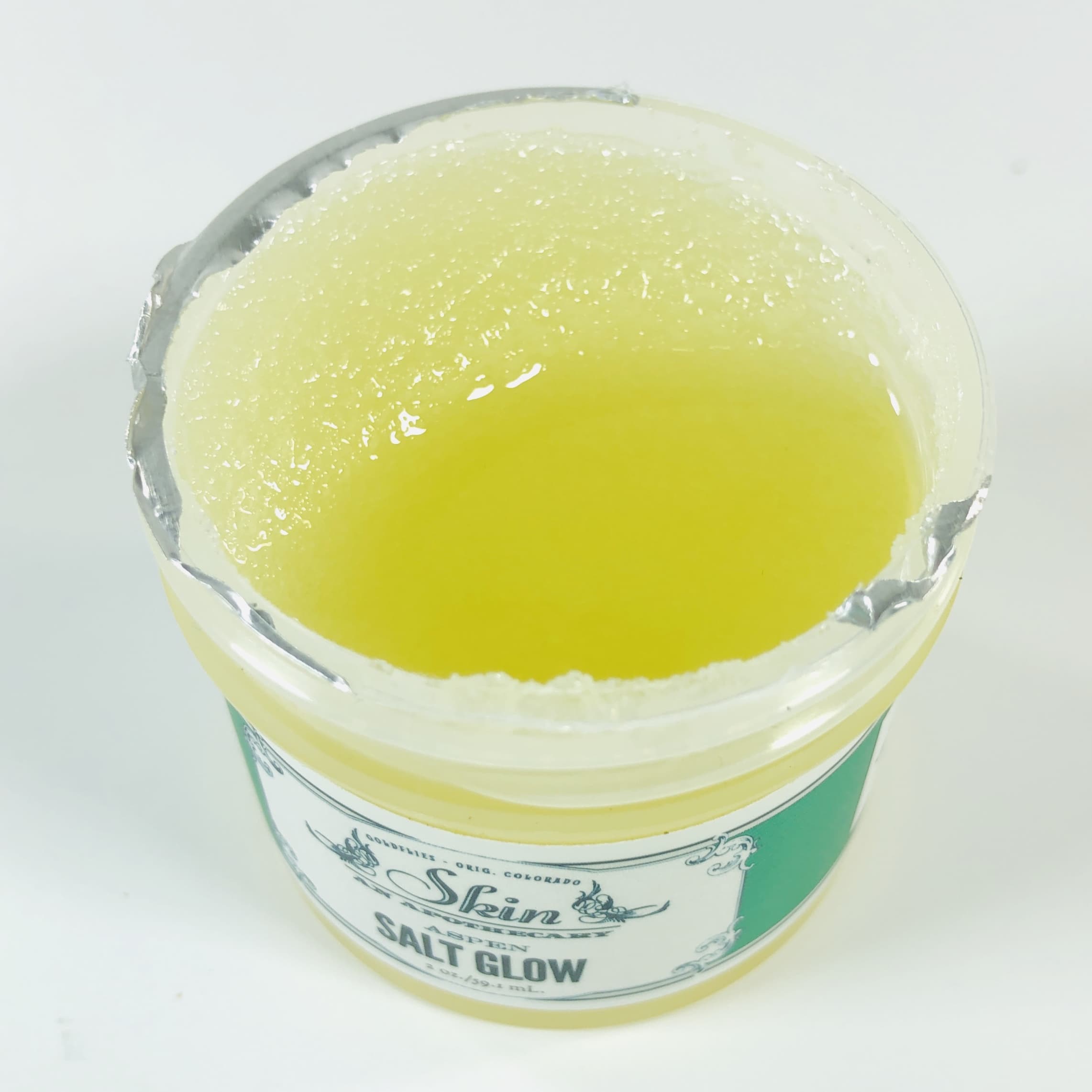 Give it a stir before using and enjoy the uplifting scent of citrus! It left behind a slight scent that faded a little after my shower. It also left my skin soft and I didn't need any additional moisturizer afterwards.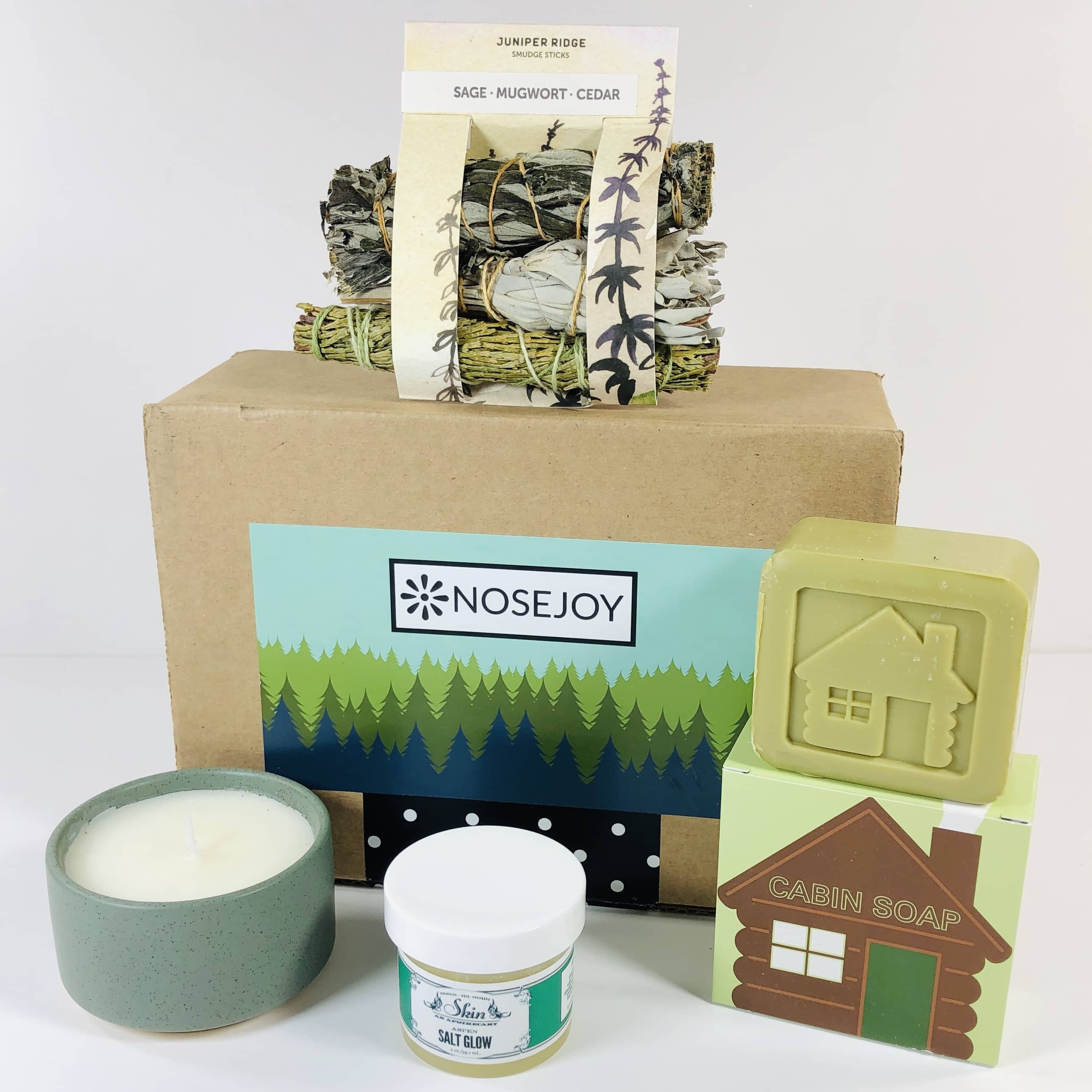 NOSEJOY sent just what I needed as the summer here in Central Texas just keeps persisting! This made me long for cool days next to the fireplace, and strolling through the brisk air (forest optional). The scents were exceptional, of course, and each item worked well and looked good too. The value for the September box was around $41!
Have you tried NOSEJOY? What do you think of this box?