The 2019 Valmont Magic Christmas Advent Calendar is available now at Saks Fifth Avenue! This calendar is $300 + shipping!
Rediscover the wonderment of childhood by opening the doors of an advent calendar—as thrilling as a jewelry box! For Christmas, Valmont offers up its magic in a playful yet sophisticated skincare regime. Twelve little delights for dreamlike skin during the holiday season. Made in Switzerland.
NOTE: This calendar is now sold out!
Each box includes: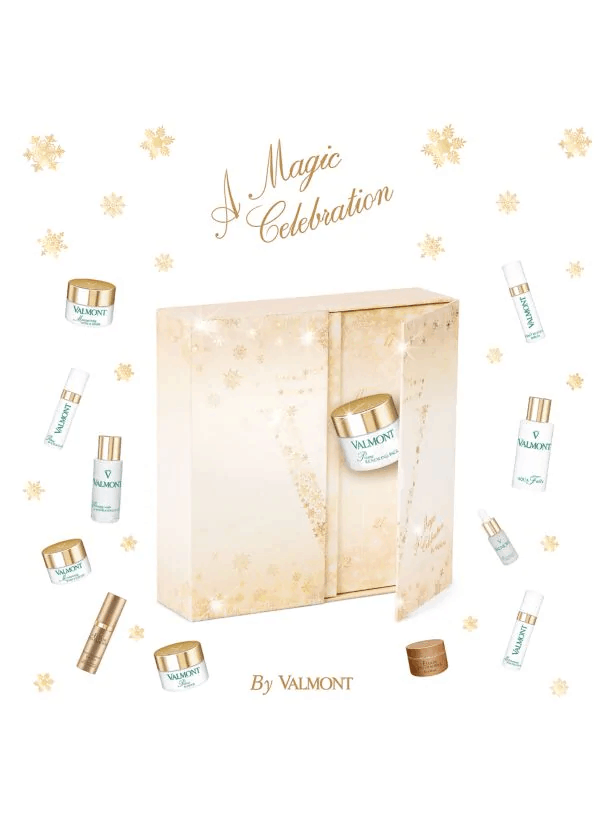 Aqua Falls, 1.01 oz.
Priming with a Hydrating Fluid, 1.01 oz.
Prime 24 Hour, 0.51 oz.
Moisturizing with a Mask, 0.51 oz.
Moisturizing Booster, 0.14 oz.
Moisturizing Serumulsion, 0.17 oz.
Hydra3 Regenetic Serum, 0.17 oz.
Prime B Cellular, 0.17 oz.
Moisturizing with a Cream, 0.17 oz.
Vos Yeux Eye Cream, 0.17 oz.
L'Elixir des Glaciers Sérum Majestueux Vos Yeux, 0.1 oz.
Prime Renewing Pack, 1.01 oz.
Looking for even more advent calendars? Check out all our posts on Advent Calendars or find more on Amazon, or see the list of Advent Calendars in the directory!