Erin Condren's Seasonal Surprise Box is a quarterly planner accessories and stationery box featuring early access items, popular accessories, and exclusive surprises from Erin Condren. This box isn't available by subscription; you must purchase each box individually. This box usually sells out quickly but click here and tap that blue bell to get notified when the next box becomes available! The box is $35 and includes free shipping. This box was still available at the time of this review and ships in mid-September! 
Perfect for celebrating the shifting seasons and embracing the festive feeling of fall, this must-have box is a limited-time offer you won't want to miss!
DEAL: FYI – if you use this referral link to register for the site, you'll get a $10 coupon code emailed to you. It may not work on the box purchase. You can use it on pretty much anything on the site.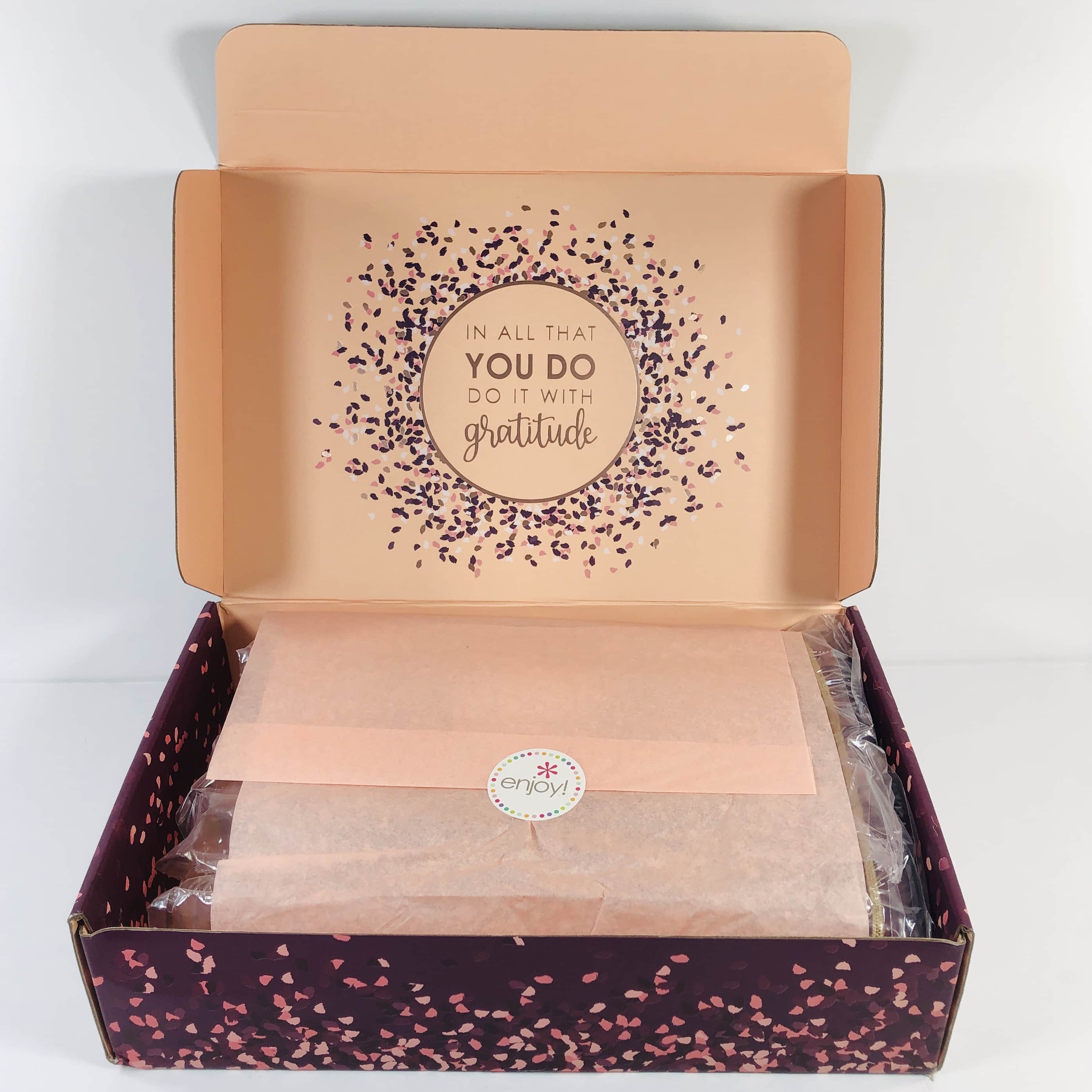 The box had darker fall colors with some lighter touches, like leaves in confetti form.
The inside of the box has an inspirational saying and you can even take the box apart and reassemble it with the outside facing in. I have done this to several boxes, which are now used to hold stationery and the like.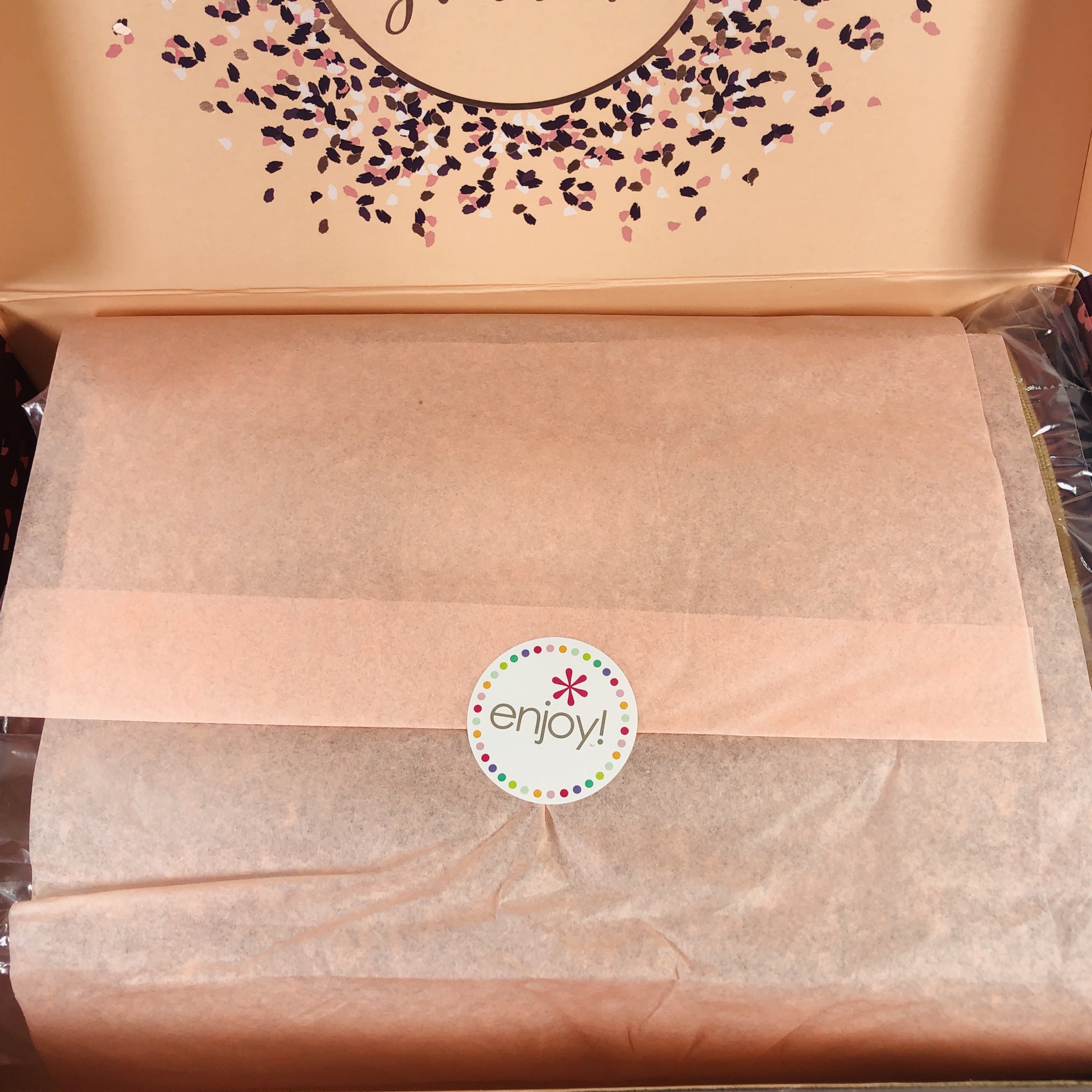 My items were wrapped in tissue paper that was sealed with a sticker.
Bubble wrap kept everything in place.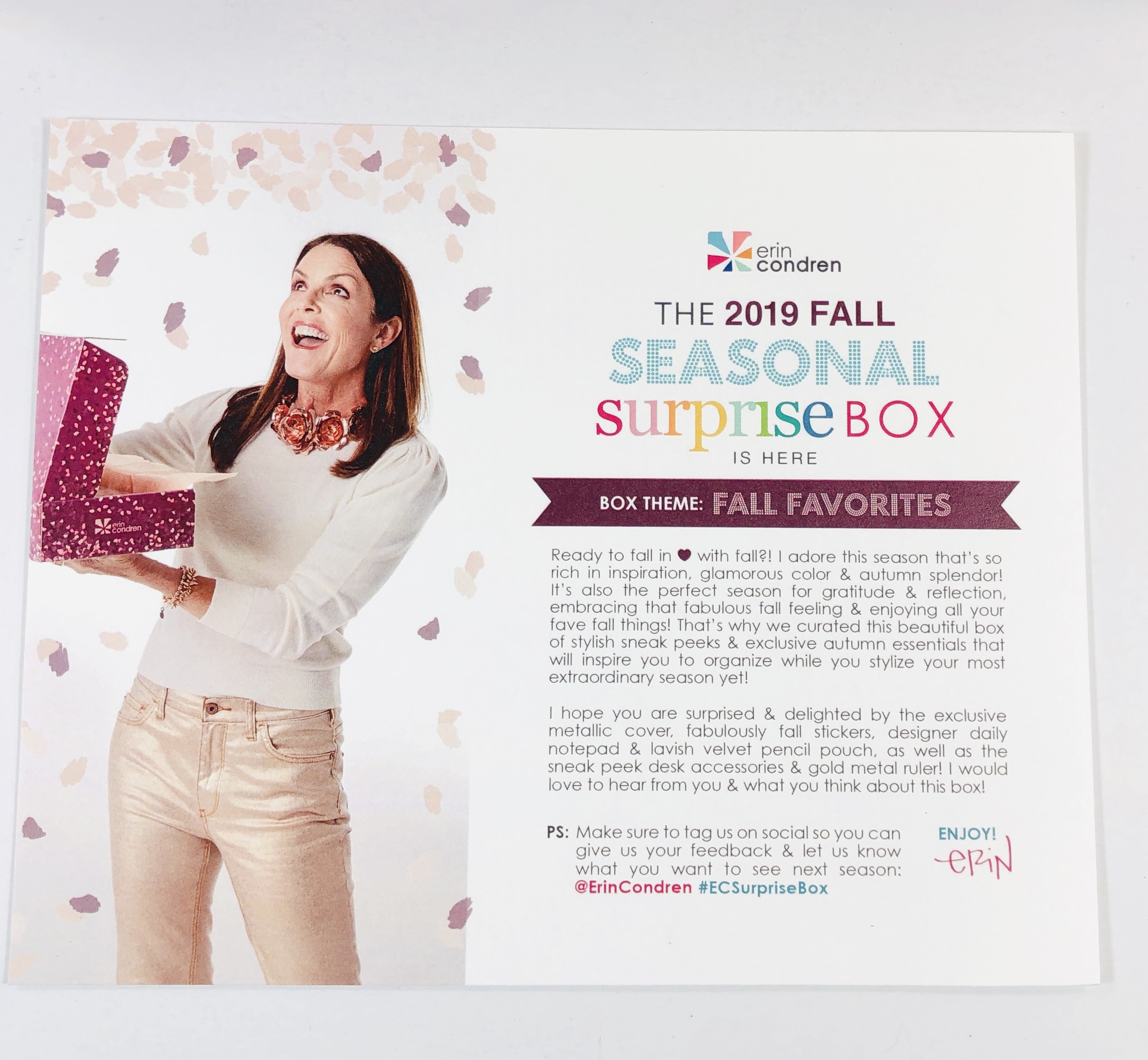 The theme for the Fall Box is Fall Favorites!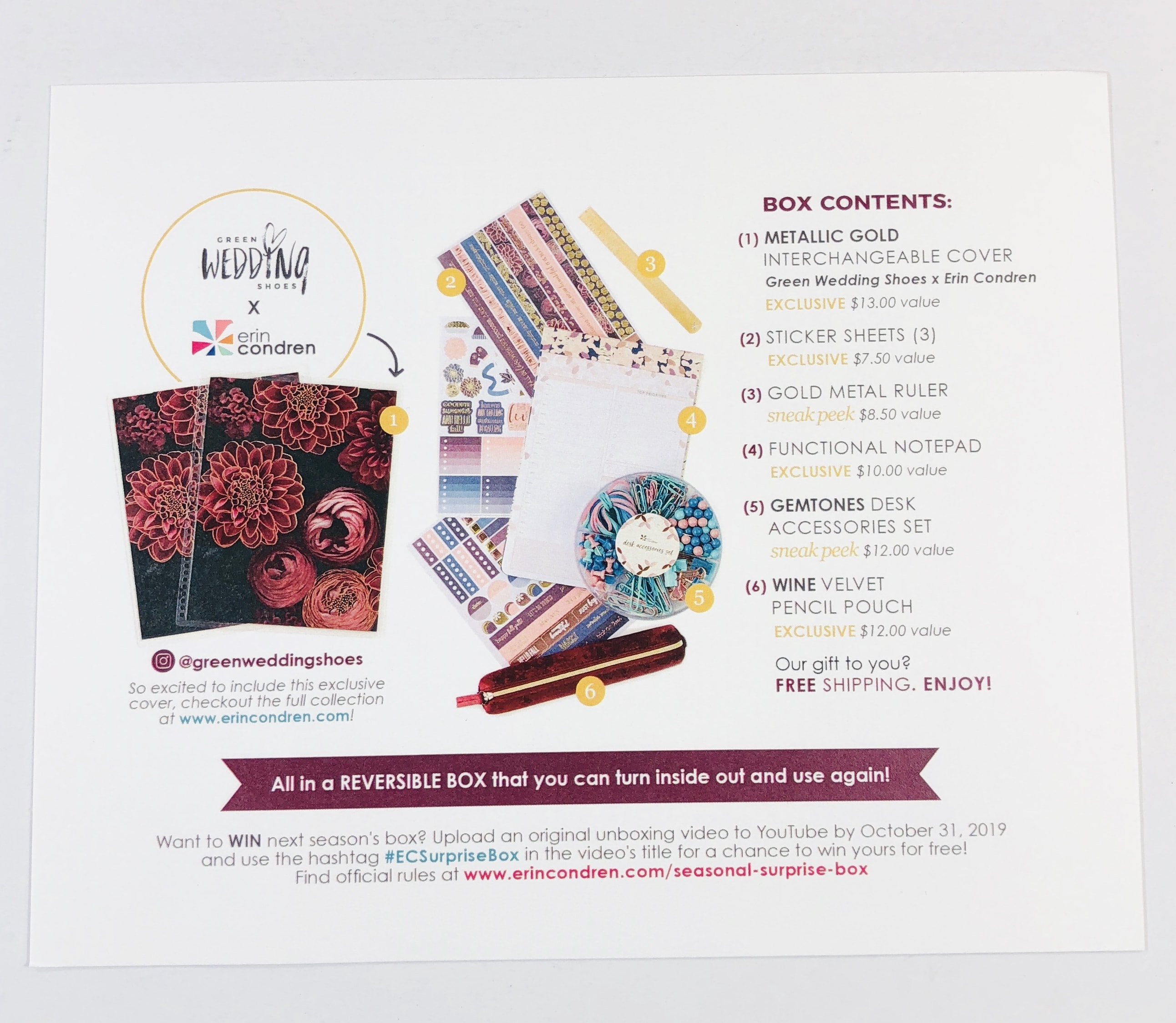 The information card gives you a picture list of all the items included and value. Some of the items may be available at Erin Condren retail locations, some may be coming soon, and others are exclusive to the box.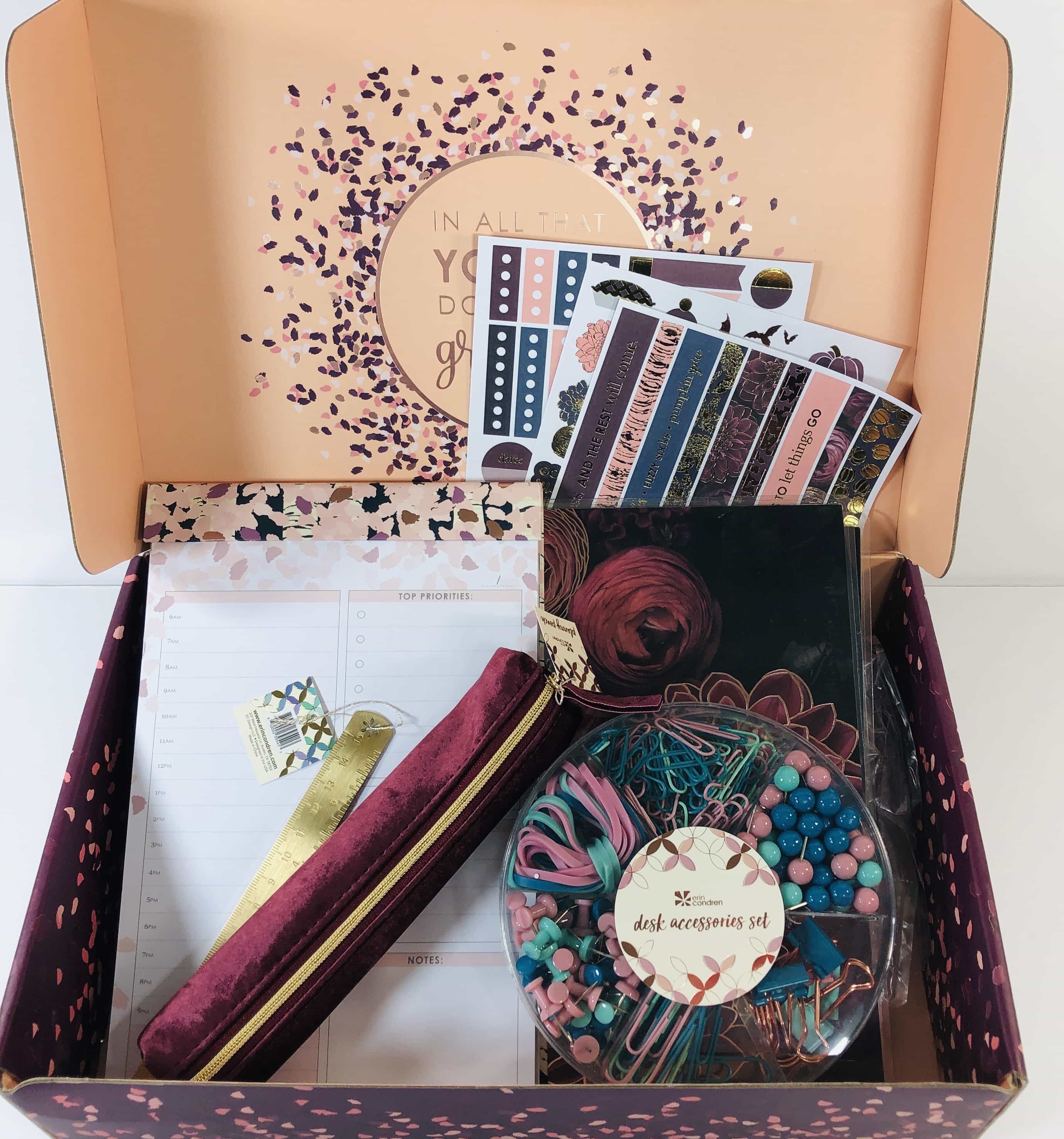 In addition to the main EC site, you can now shop a selection of non-personalized Erin Condren items on Amazon! Many, if not most, are discounted, and they all have free Prime shipping!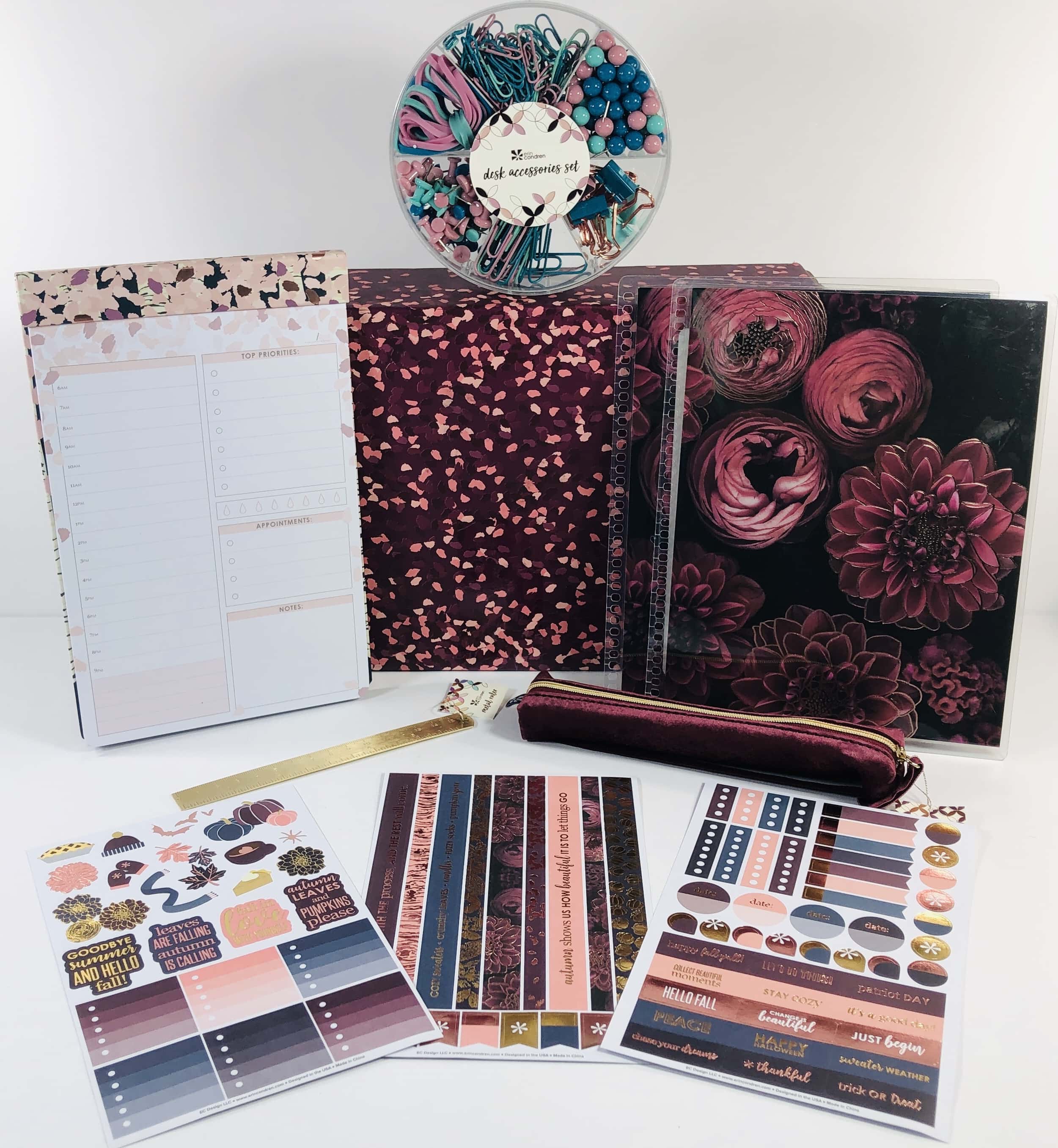 Everything in my box!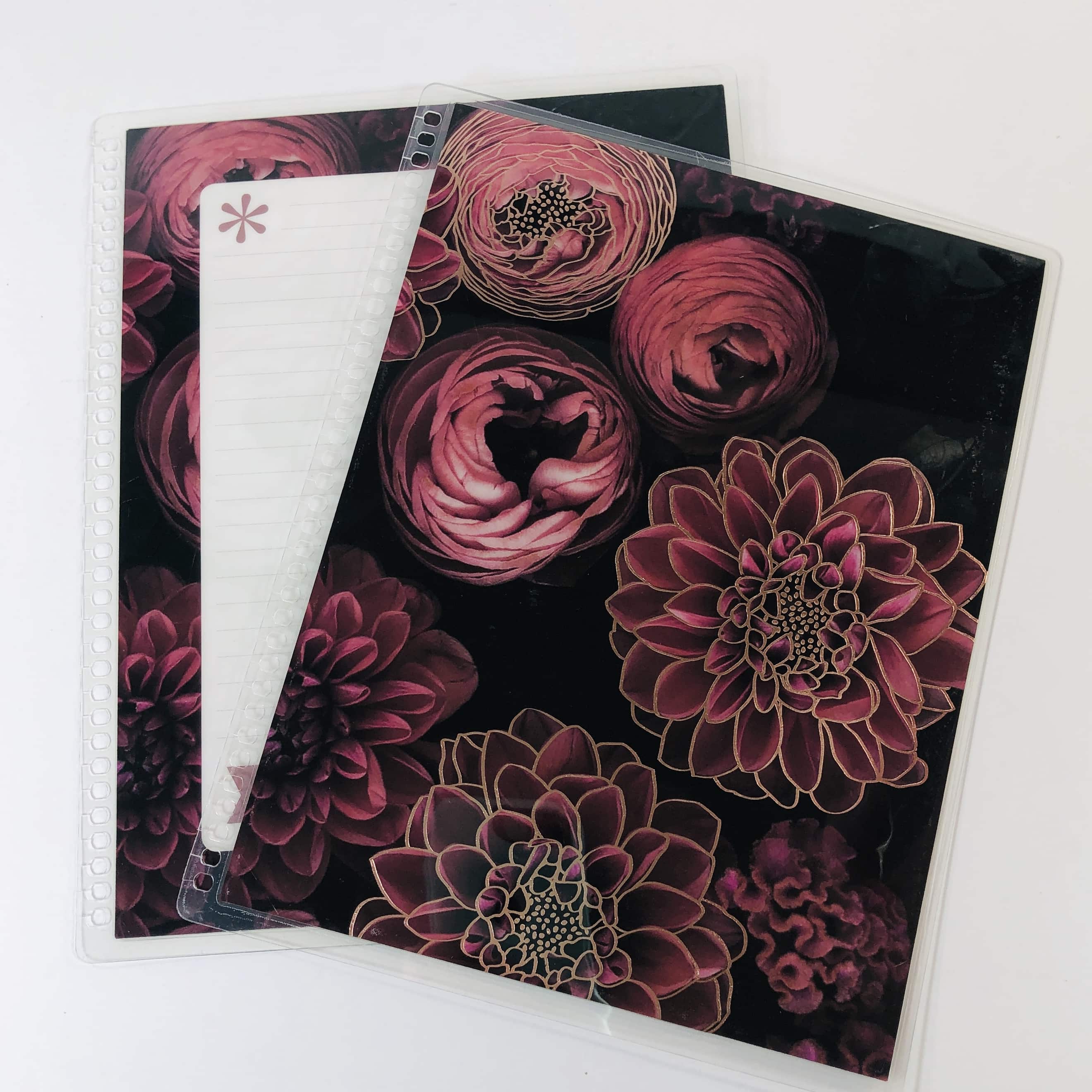 Metallic Gold Interchangeable Cover ($13) Erin Condren often sends exclusive interchangeable covers to help your planner transition to the new season.
The outside covers feature metallic touches. The burgundy flowers set the stage for fall.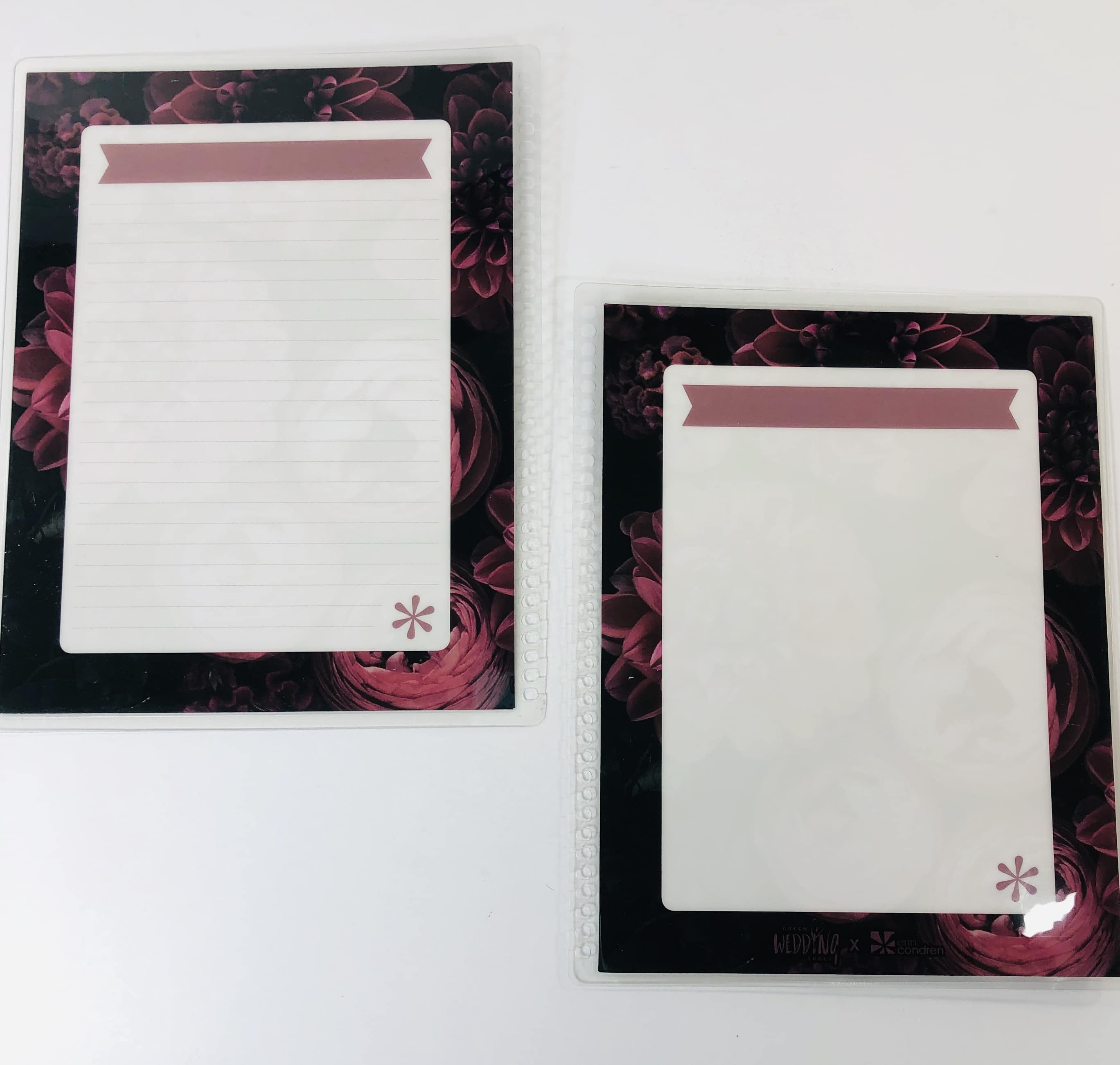 The inside covers can be used as whiteboards – make sure to use a wet erase marker!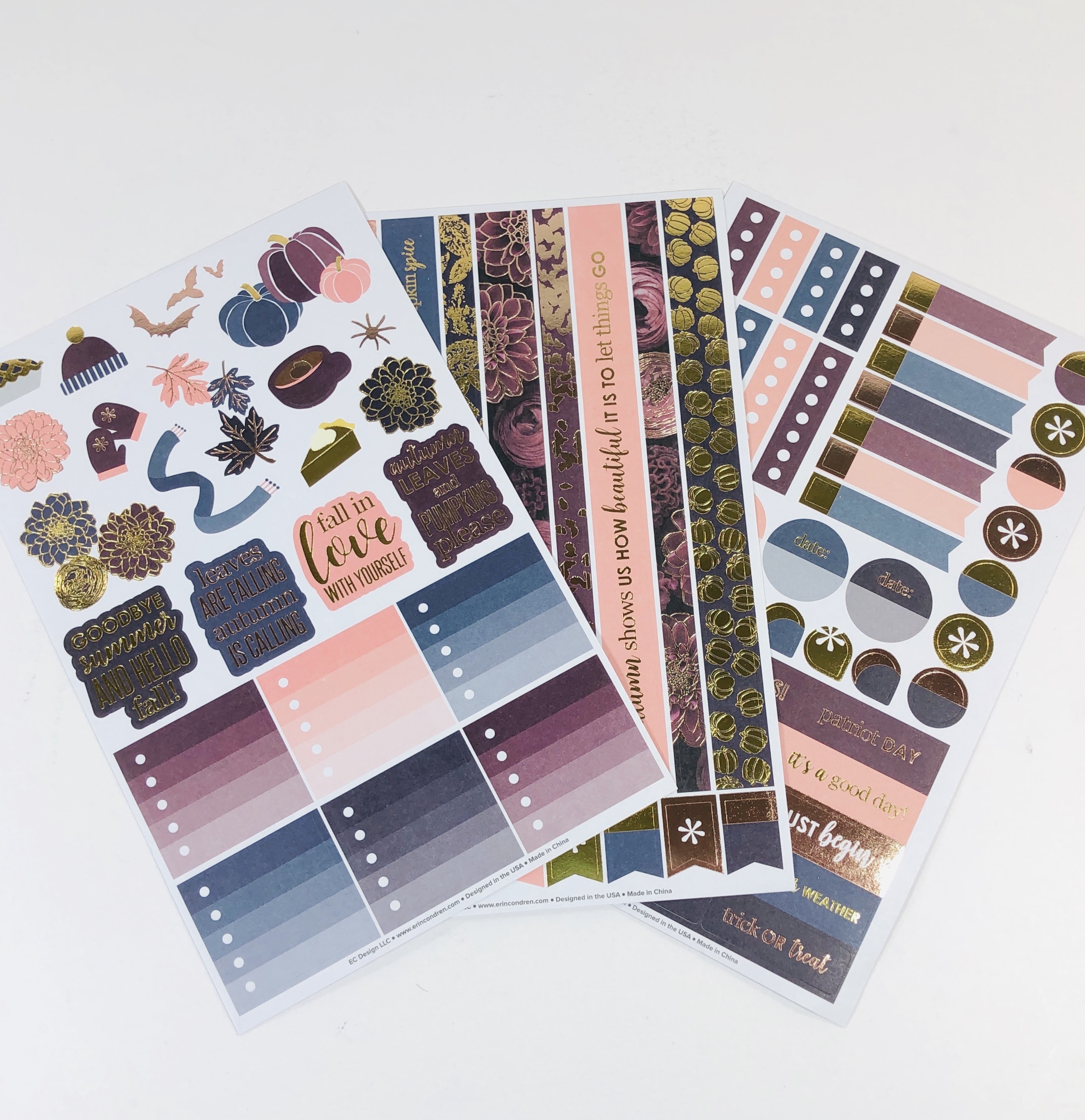 Sticker Sheets ($7.50) I received three exclusive sticker sheets that will take us into sweater weather.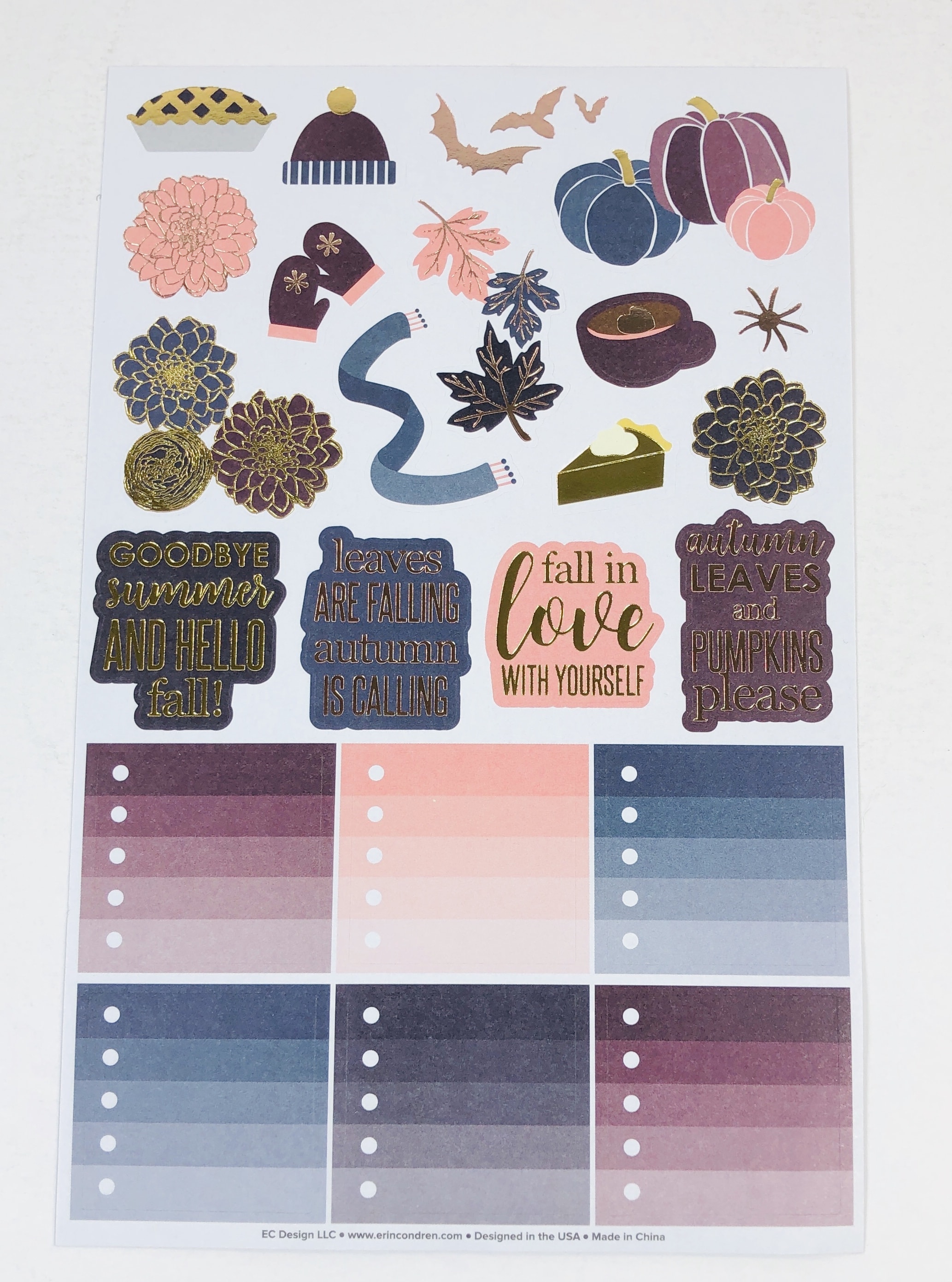 I always love a good ombre color scheme and check out the gold and rose gold metallic details. I even spot a spider and bats!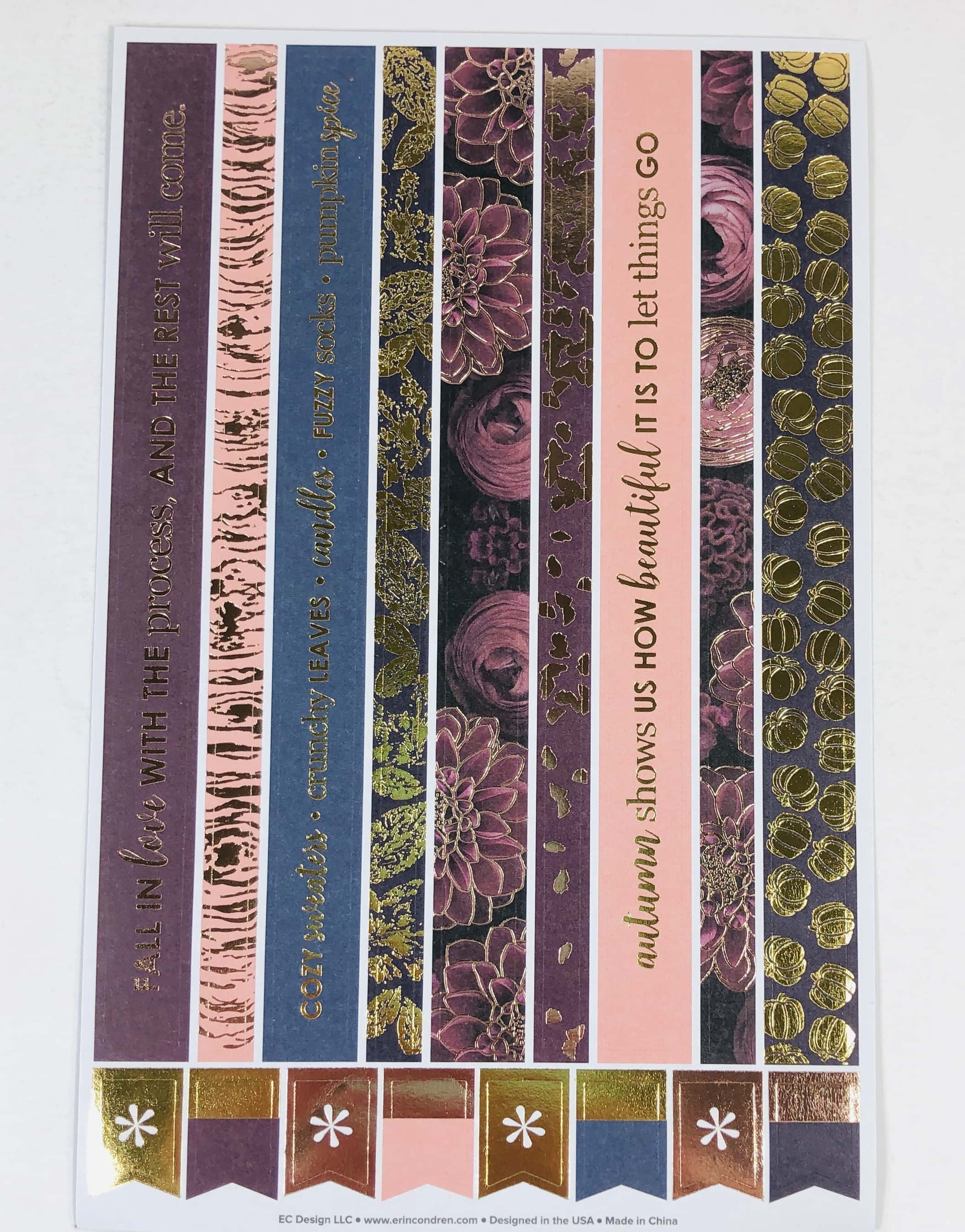 More flowers and a lovely metallic pumpkin strip.
I know these stickers will add a touch of seasonal color to my planner. There's even a sticker to commemorate Patriot Day (9/11) and the rest will take us through Thanksgiving.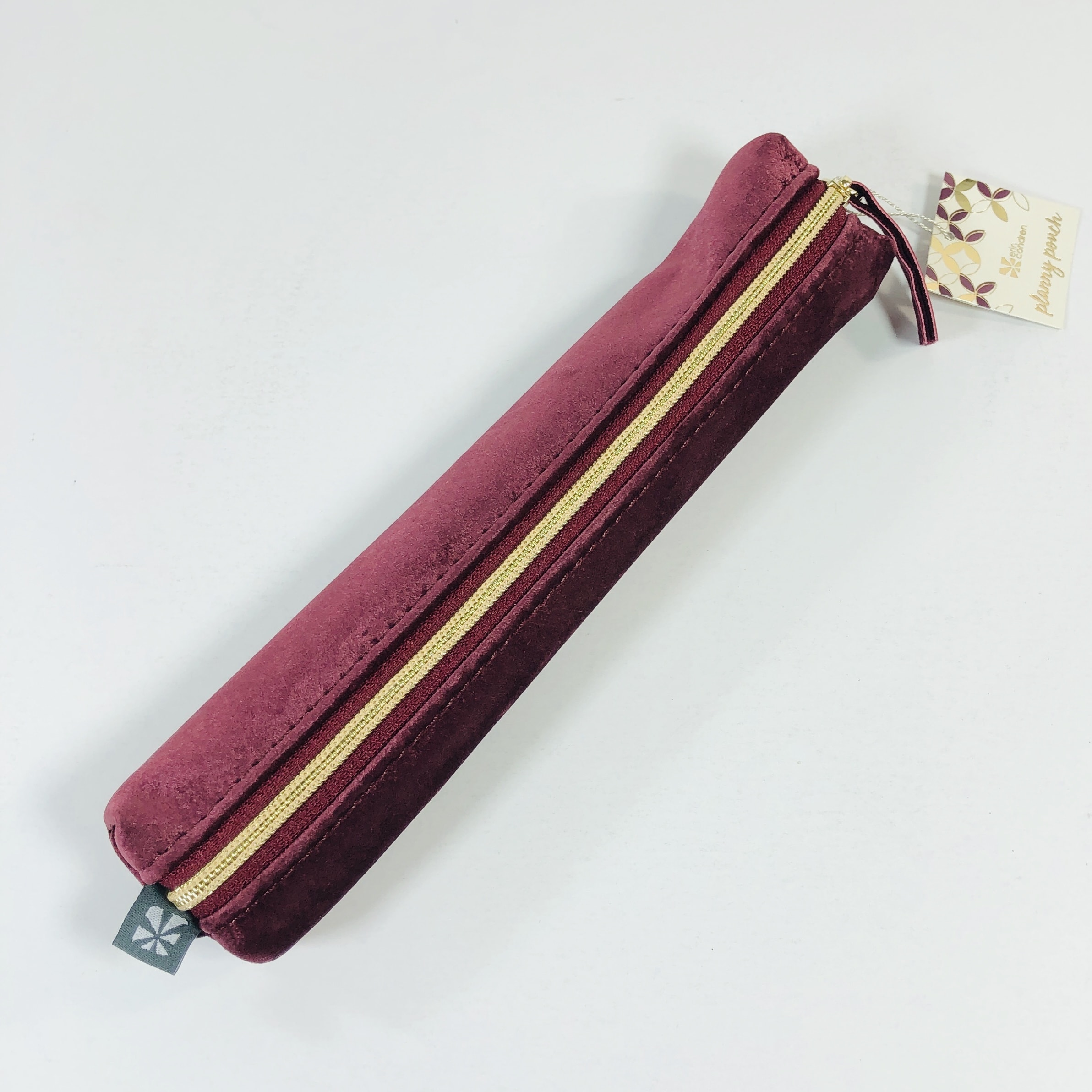 Wine Velvet Pencil Pouch ($12) is exclusive to this box and features burgundy colored suede-like material with a gold tone zipper.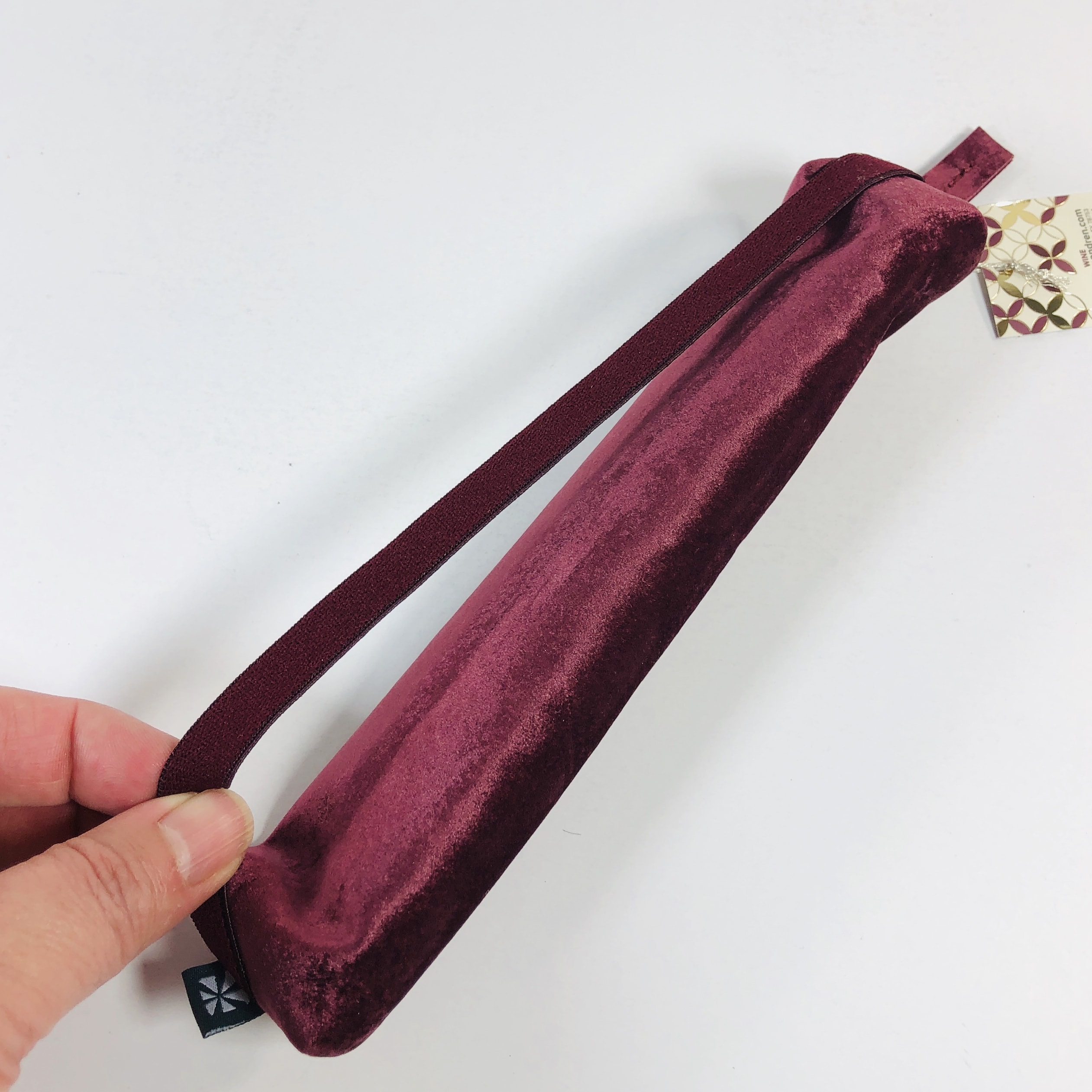 There is a stretchy strap along the bottom so you can attach it to your planner and have pens and pencils at hand.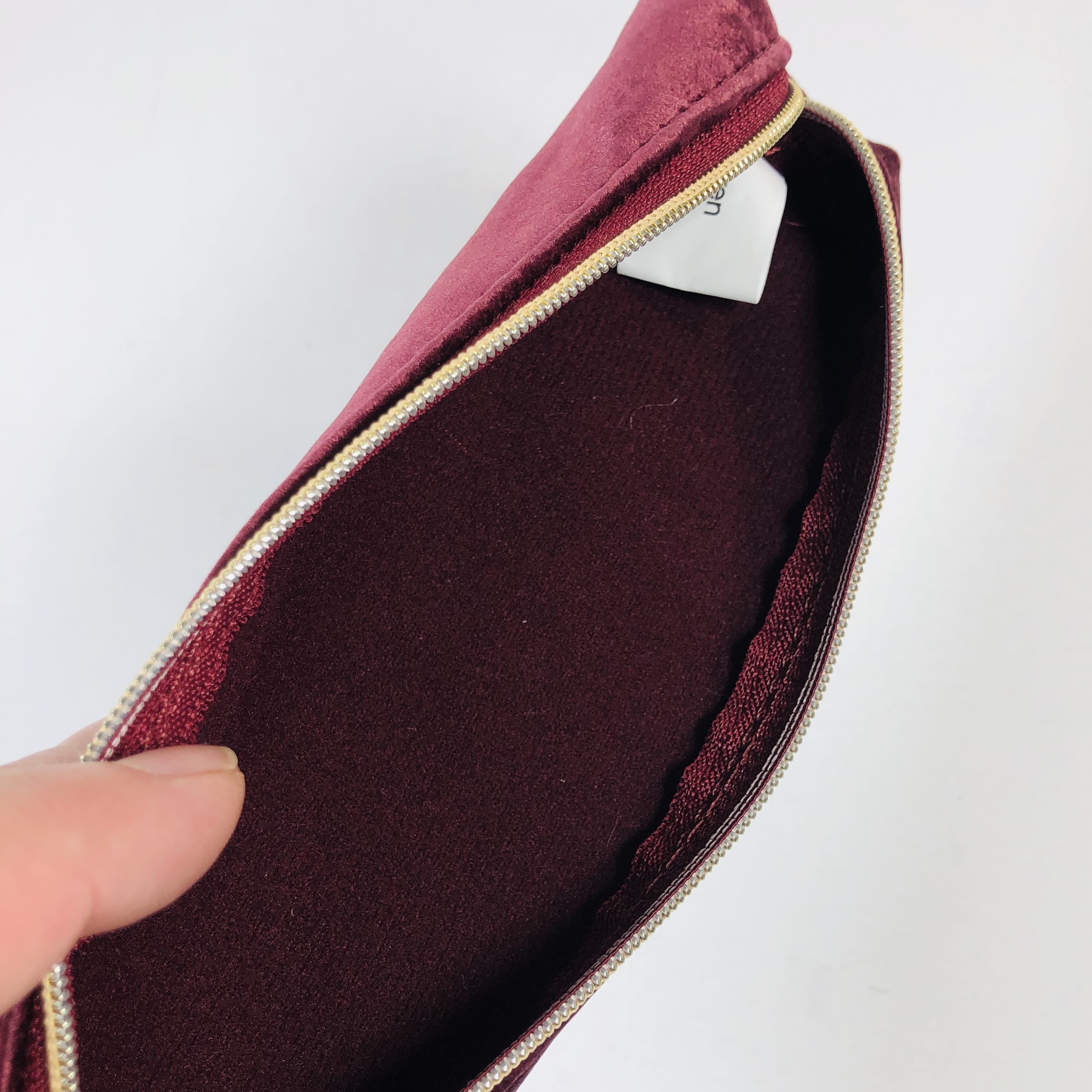 It's big enough to hold a few writing implements but probably not a rainbow's worth.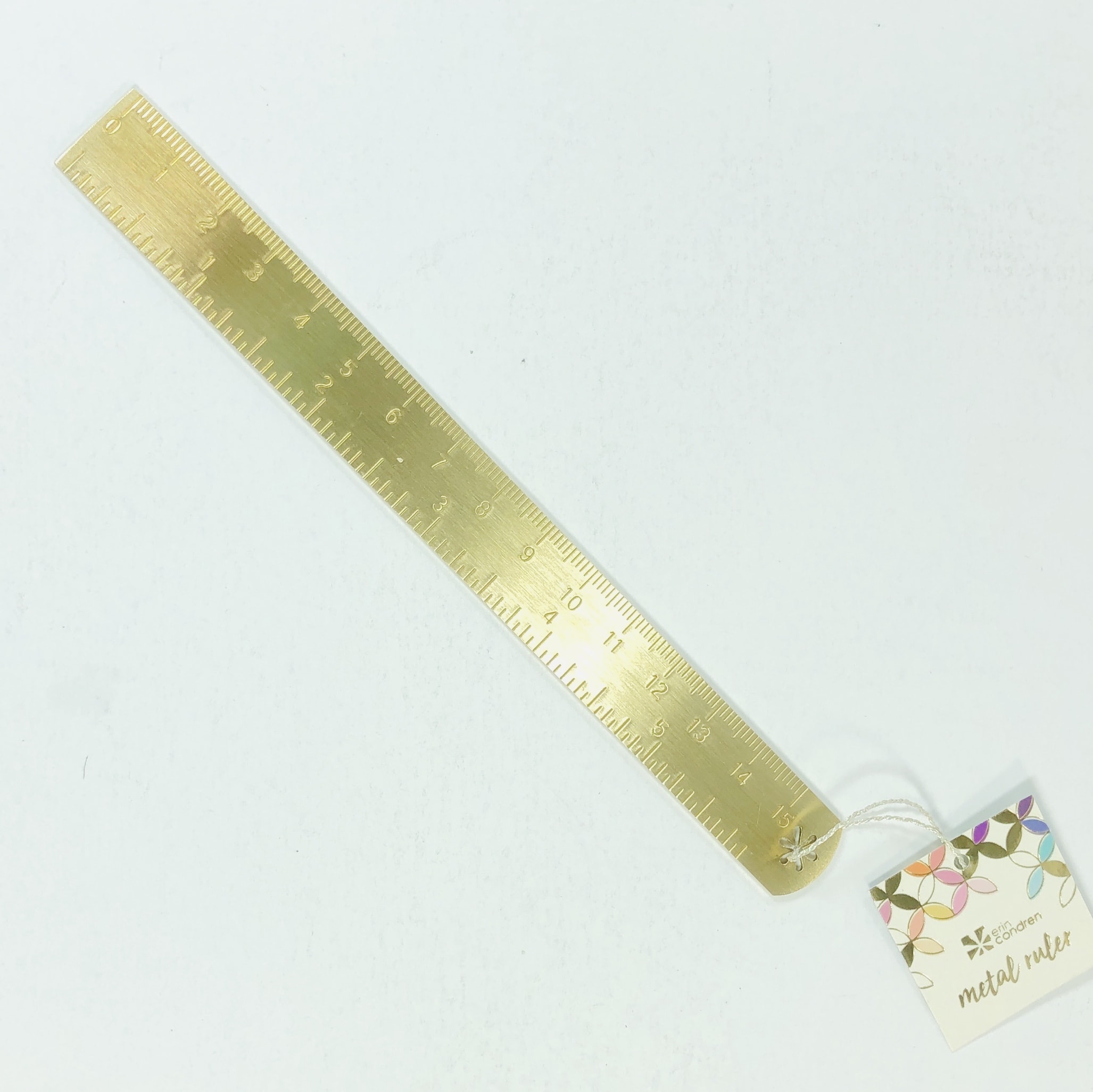 Gold Metal Ruler ($8.50) is a sneak peek item so keep your eyes open to see if they add it to the online shop eventually.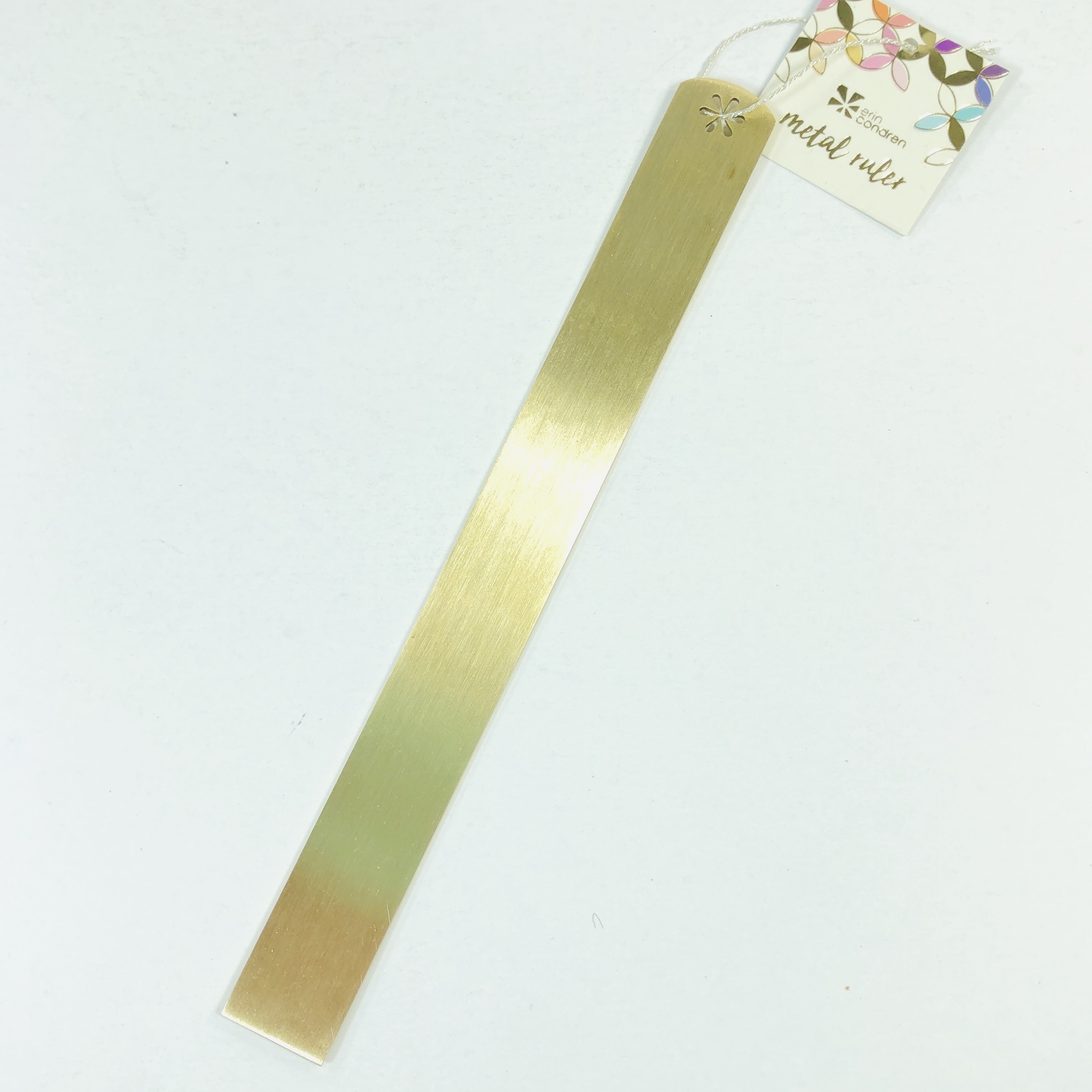 The numbers on the front go up to 6″ or 15cm. The back is unmarked.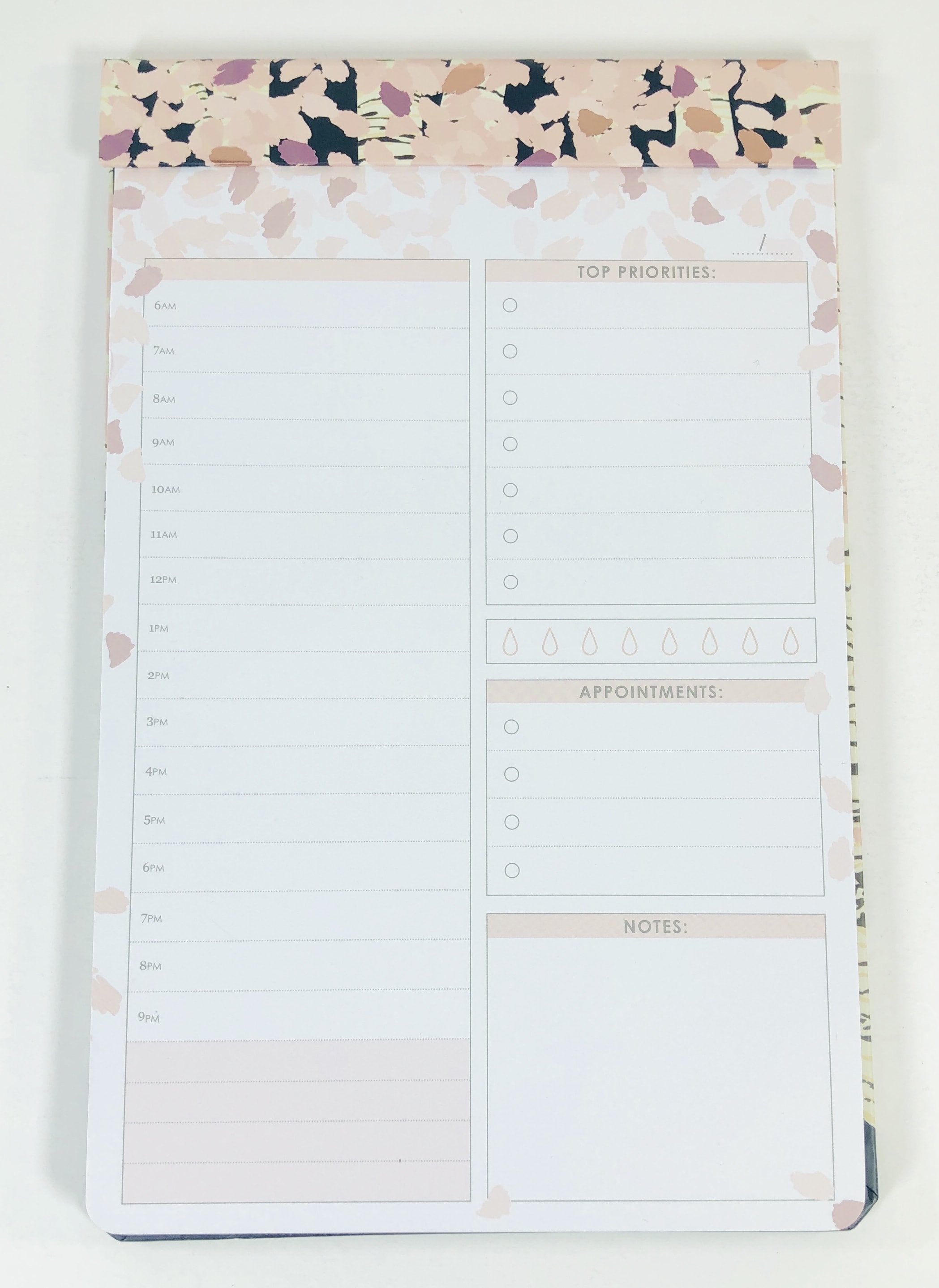 Functional Notepad ($10) is an exclusive item which is too bad because I could see myself ordering more of these. I've tried the horizontal planner and went with a vertical planner for 2020 but this pad lets me try out the hourly format. Sometimes I just need some extra structure to my day!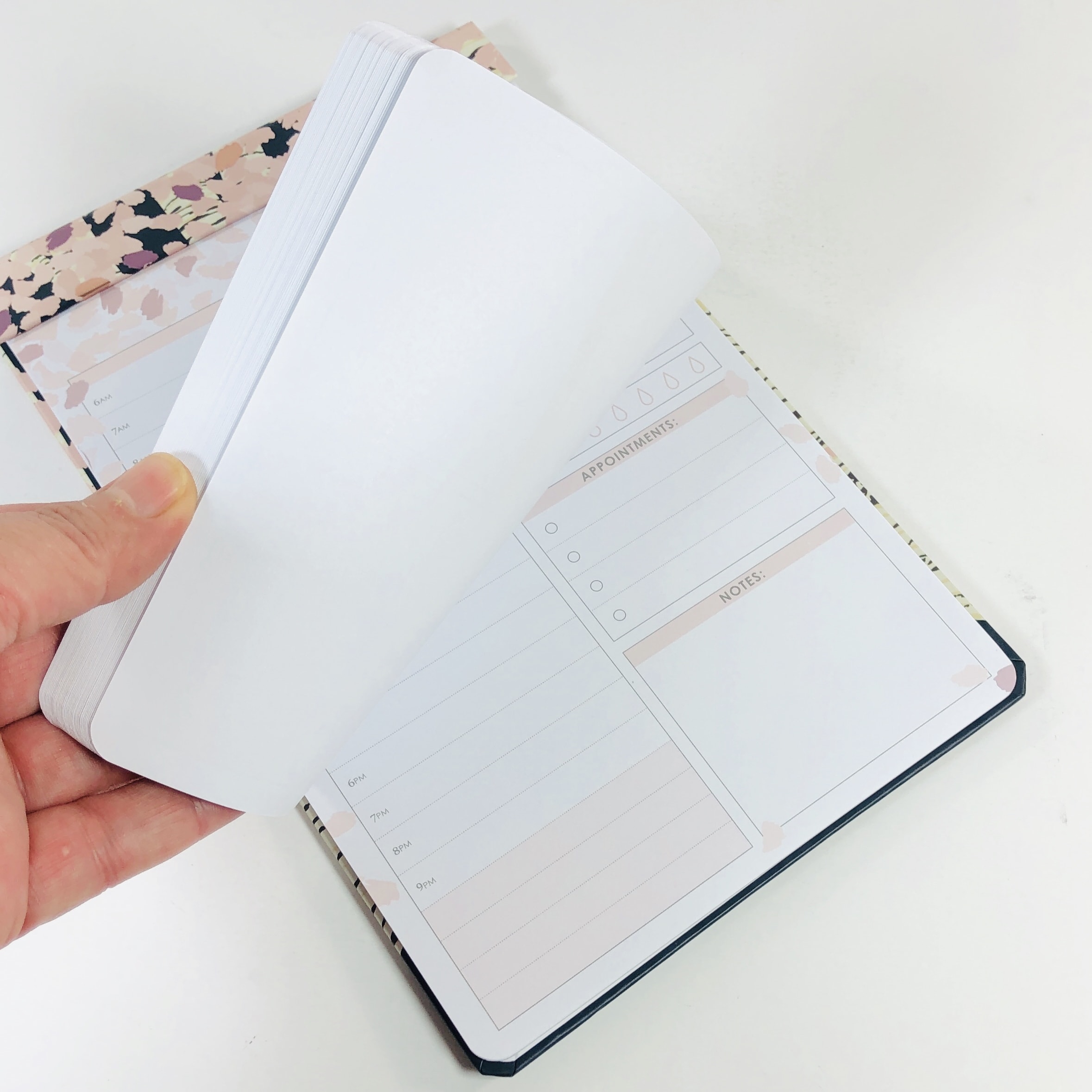 There are loads of pages on this pad so I should be good for a while. It's big for a notepad, about 9.75″ x 6″. It's almost as big as my planner!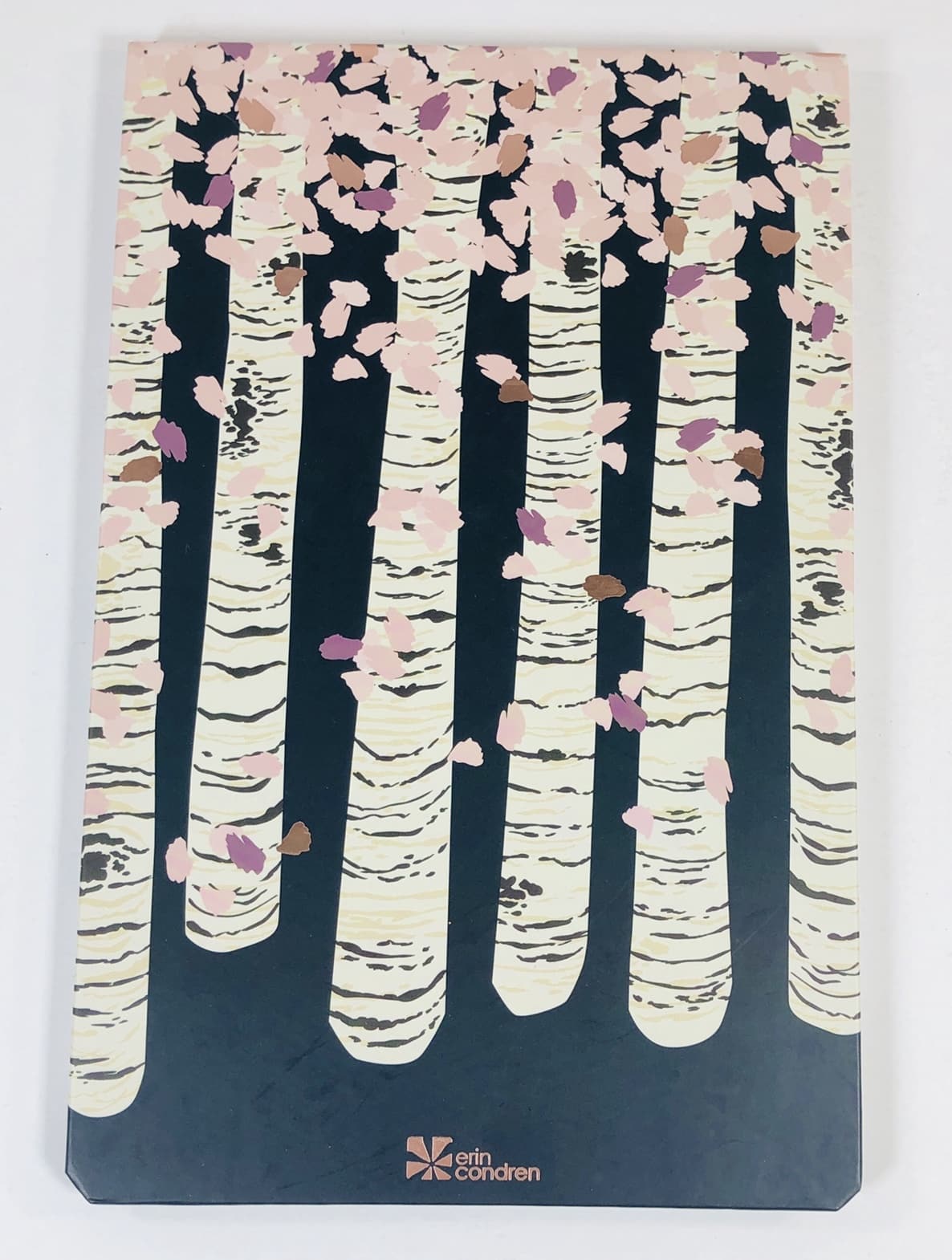 The back of the pad is very sturdy and I love the (birch?) trees and falling leaves.
Gemstones Desk Accessories Set ($12) I think my jaw dropped when I saw this set. It has all the desk accessories I will ever need again for the rest of my life.

A handy list of included items was on the back of the container and includes rubber bands, paperclips, and push pins.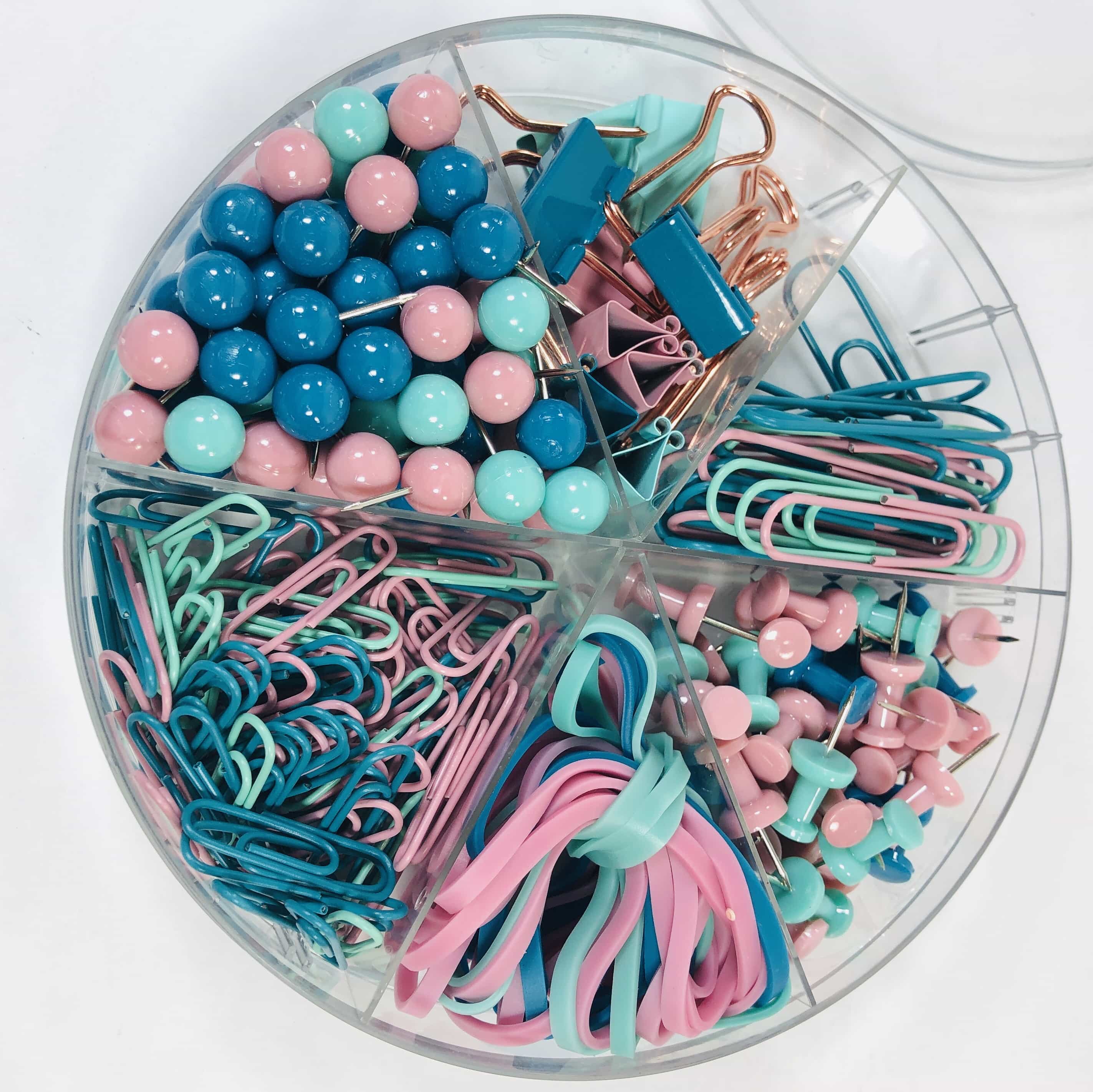 Aren't they pretty? I think the colors work for the whole year round.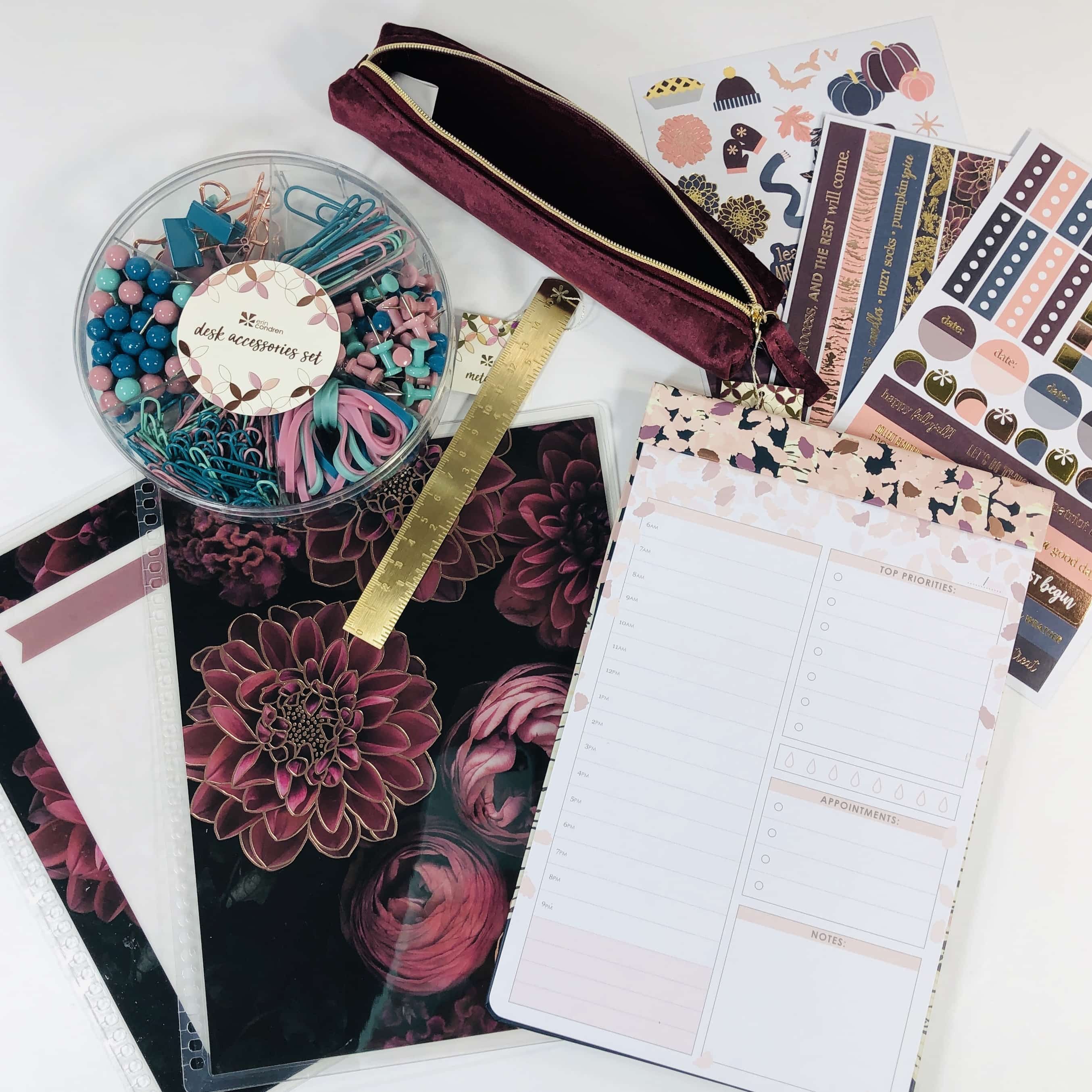 As always I am loving my Erin Condren Seasonal Surprise Box for Fall! The colors are so pretty and rich and there were all kinds of things in here that I didn't even know I needed until they showed up at my door. The desk accessories will keep me stocked up for a while and the Functional Notepad will keep me on task. The other items will help me add some seasonal style and color to what has become my almost constant companion. My planner helps me keep my life on track and having a seasonal assortment of supplies keeps it fun and helpful, and let's not forget stylish!
What did you think of the box?
Visit Erin Condren Seasonal Surprise Box to subscribe or find out more!