Love with Food Tasting Box sends 6+ surprise snacks from various healthy snack brands each month. It's an ideal sampler pack to jumpstart healthy snacking and to help you discover the most innovative food brands. This monthly snack subscription promises to only include snacks made with real ingredients and no added chemicals. The Tasting Box is $9.99 a month. Love with Food also offers other snack boxes such as Gluten-free and Deluxe.
DEAL: Get 40% off your first box with this link!
LIMITED TIME: Get your first classic tasting box FREE and just pay $4.99 shipping! No coupon code needed – just use this link to subscribe.
There's an information card on top of the snacks.
As always, the box is full to the brim!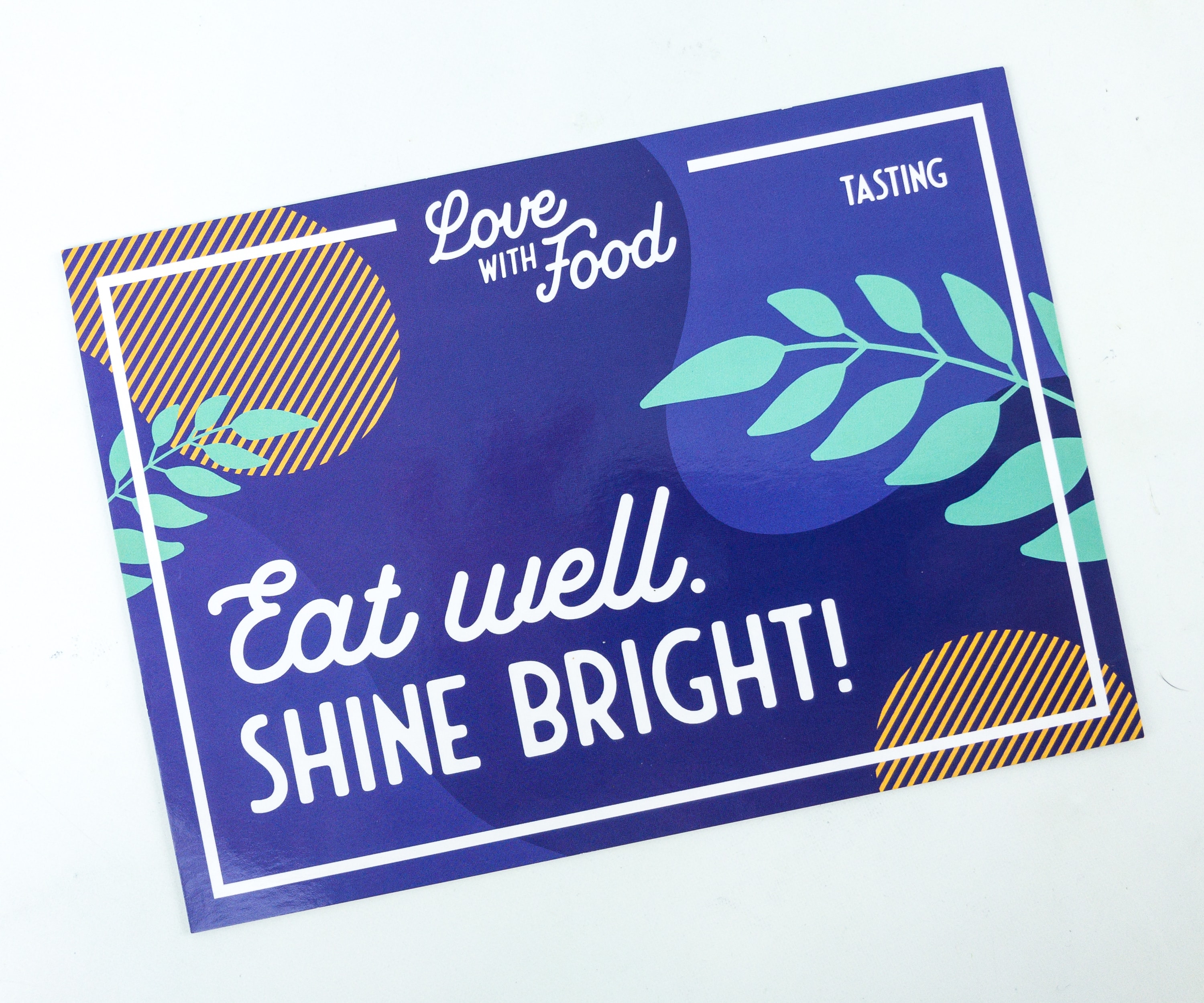 This month's Love with Food theme is EAT WELL. SHINE BRIGHT.
With every snack box delivered to you, Love With Food donates at least one meal to a family in need.
We also got coupon cards! One is from Iconic Protein that offers a free bottle, and the other is a $100 special gift wine voucher card from Nakedwines.com.
Everything in my box!
Healthy Cell Bioactive Gel ($1.47) It's a nutritious dietary supplement in gel form, which promises better absorption than capsules or powders.
At the back of the packaging, they included a 20% off coupon code you can use on your first Healthy Cell order.
The supplement contains essential vitamins, minerals, and other micro-nutrients that help improve the immune system while keeping your heart, brain, bones, and skin healthier and stronger.
Bush's Best Sriracha Lime Crisp-Roasted Chickpeas – Roasted chickpeas taste great, and they made it even better by adding a sriracha-lime flavor! It delivers just the right amount of heat, with a citrusy twist. Another thing I like about it is that it's rich in protein and fiber. It's so tasty and nutritious, perfect as a post-workout snack.
Bare Baked Crunchy Apple Chips ($1.27) We found another alternative to greasy potato chips, and this time, it's made with apples! This all-natural snack is made from cinnamon and real apples, which are sliced and baked to perfection. It's gluten-free and dairy-free, with no-GMO or added preservatives either!
Each piece is thick, sweet, and crunchy. This snack has no trans fat or cholesterol content, so you can eat as much as your heart's desire!
Health Warrior Acai Berry Chia Bar ($1.06) Health bars make an ideal on-the-go snack, it easily fills you up without the guilty feeling. This one is plant-based and kosher-certified, with ingredients such as white chia seeds, organic cashew butter, and rolled oats. It's made even more delectable by cranberries and acai berry!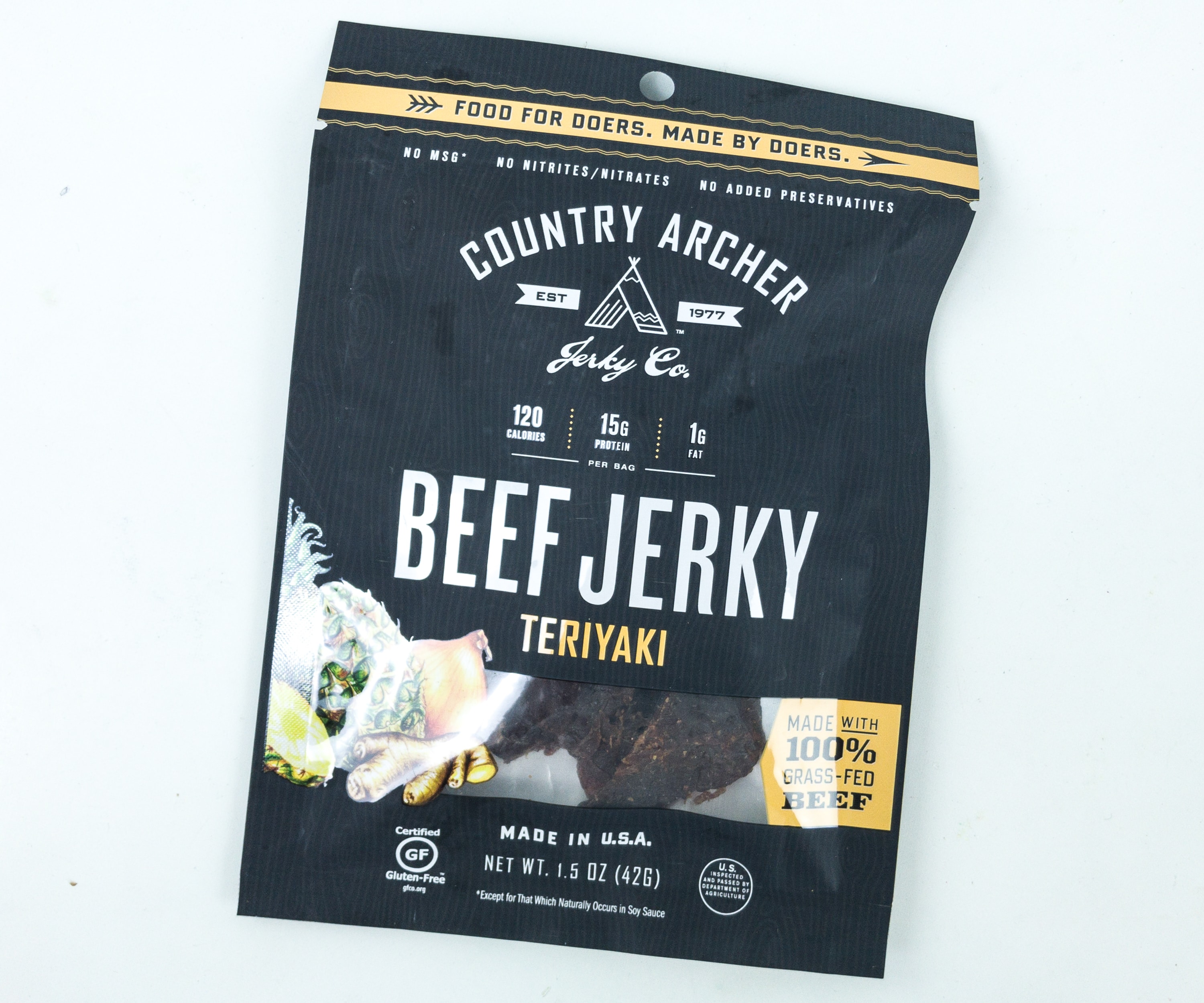 Country Archer Teriyaki Beef Jerky ($1.50) Beef jerky is another snack I love! I got a pack in this box and they're moist, chewy, and absolutely delicious. It's made with grass-fed beef packed with protein, fiber, and other essential nutrients that would sustain you in between meals.
They do taste similar to teriyaki, with a balanced combination of salty and sweet. This snack is also free from gluten, nitrate, MSG, hormones, and antibiotics.
Emily's Daily Nuts & Fruit ($1.32) This pack contains almonds, cashews, raisins, cranberries, and diced cinnamon apples. It's a nice mix of crunchy and chewy textures, plus it's filling and energizing. The size of the pack is quite handy. You can easily stash it in your purse or bag, for snack emergencies!
180 Degrees Snacks Almond Rice Pops With Cranberries ($0.56) Popped rice are mixed with crunchy baked almonds and sweet dried cranberries in this snack. It's sweet and satisfying, it instantly fulfilled my sweet tooth cravings!
Poppies Master Baker Coconut Macaroon – This macaroon is made tasty by coconut. It's a bit sweet but not overwhelming. Soft and chewy, it also makes a perfect pair with a hot beverage.
If you're trying to avoid junk foods and starting to have a healthy diet, Love With Food makes an ideal companion. Their snack choices are great alternatives to your usual junk food, but without sacrificing the taste. I always find their mix of snacks pretty amazing, as they always provide a well-balanced curation of treats that include sweet, salty, and fruity snacks. We're excited for more healthy and delicious treats in future boxes!
What's your favorite snack this month from Love with Food Tasting Box?
Visit Love with Food Tasting Box to subscribe or find out more!