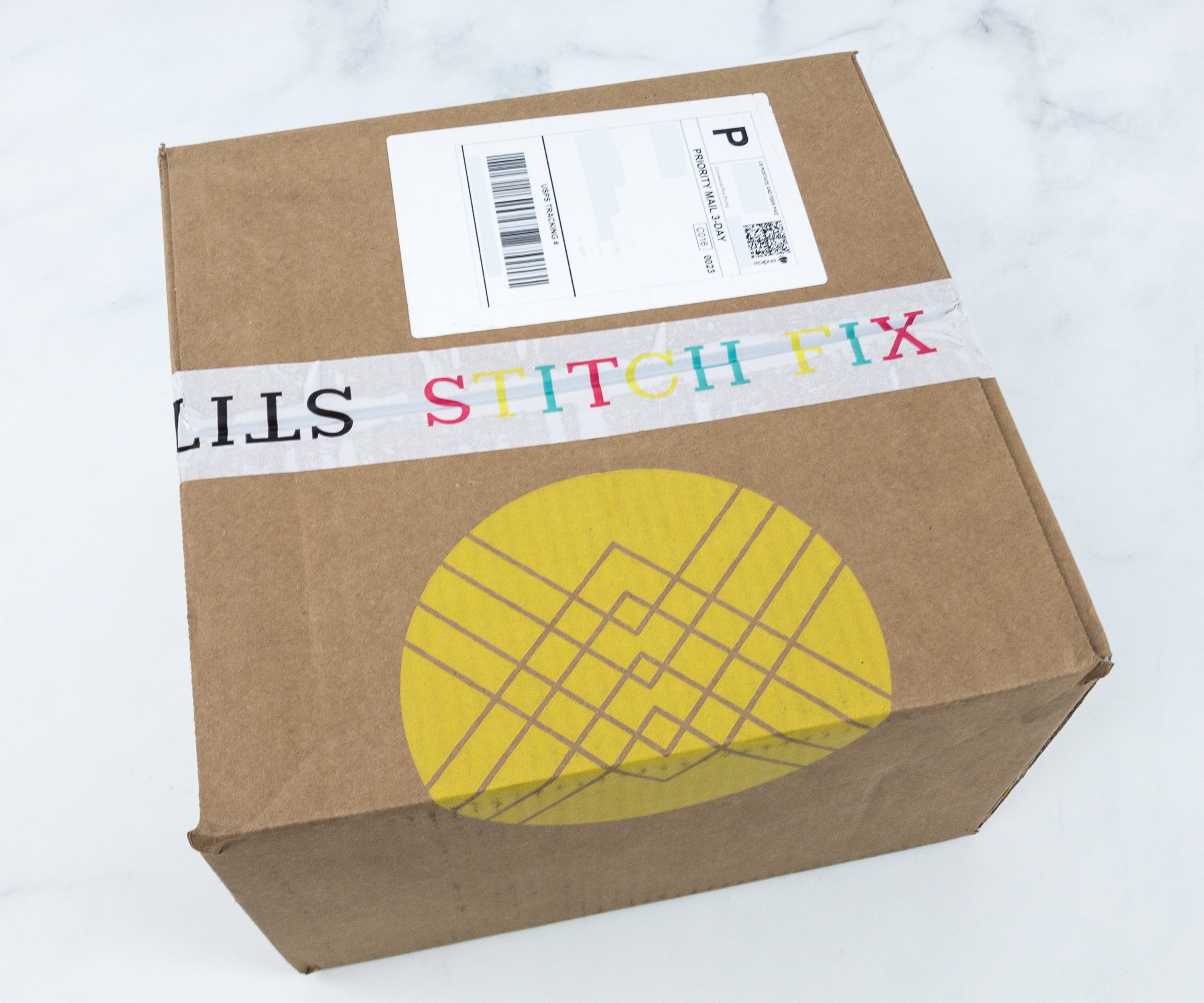 Stitch Fix Kids is a personal styling service for kids clothing ranging from sizes 2T to 14. At $20 styling fee for each box, you'll get 8 to 12 items with retail price ranging from $10 to $35 when it is shipped to you. You will be asked to share some styling preferences first when you sign up for this box so that the items included will be curated accordingly. If there are clothes that don't fit your kid, you can always return them by the return envelope included in the box. If you do decide to keep all of the items, you will get 25% off on the whole box.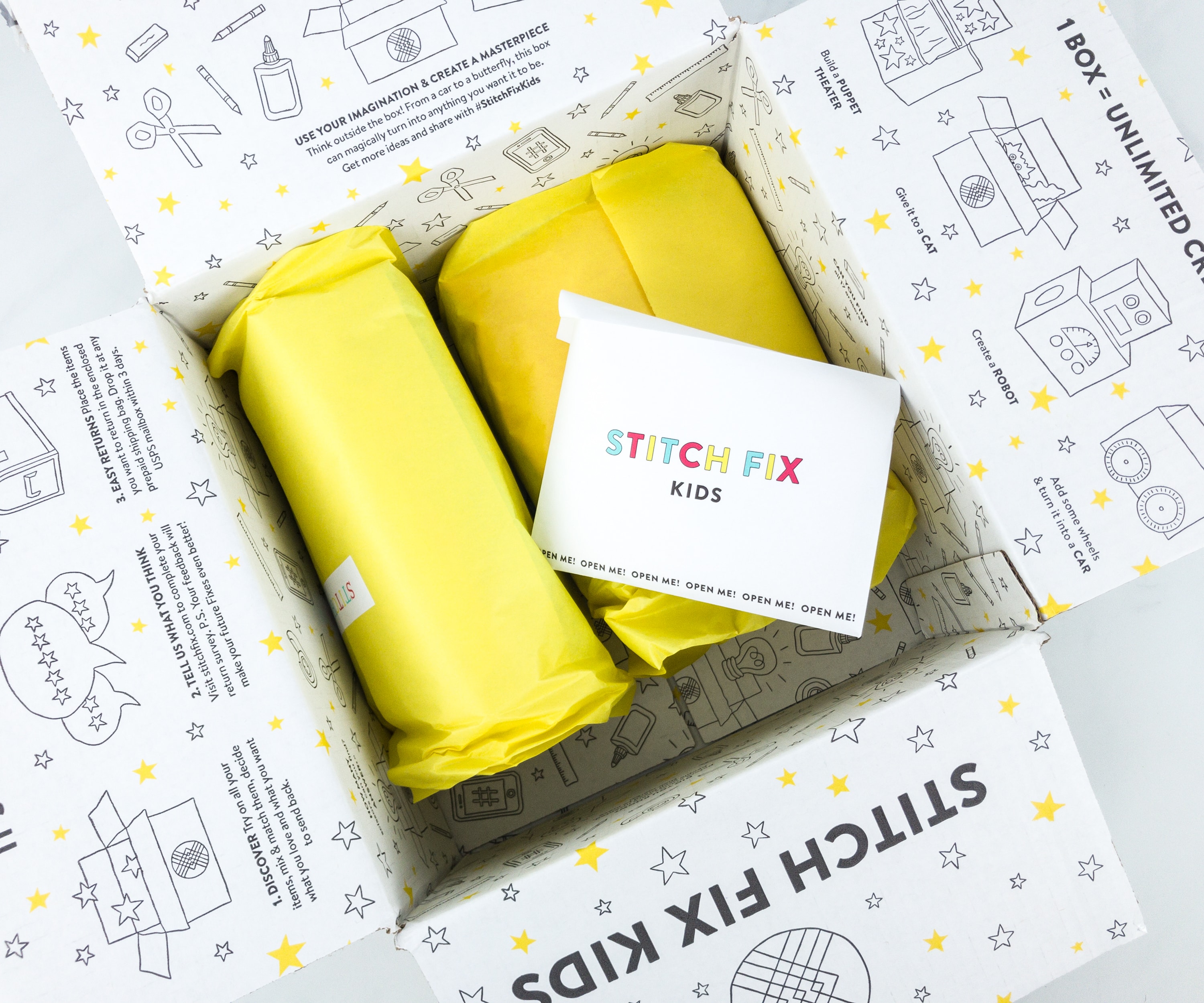 The flaps of the box come with cute designs that offer suggestions on what you can do to the contents of this month's crate.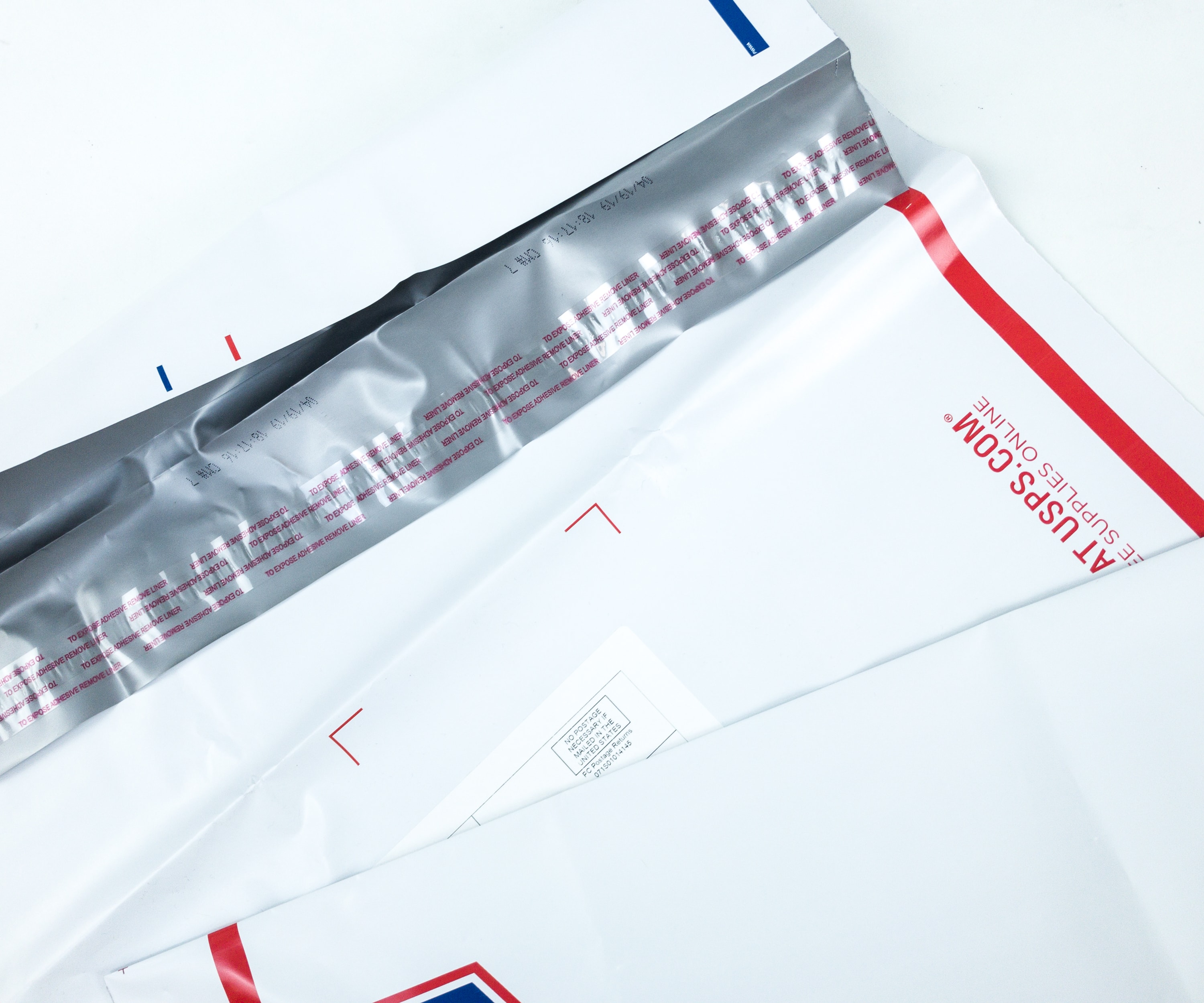 The return envelope is already included in the box so you can return the items easily.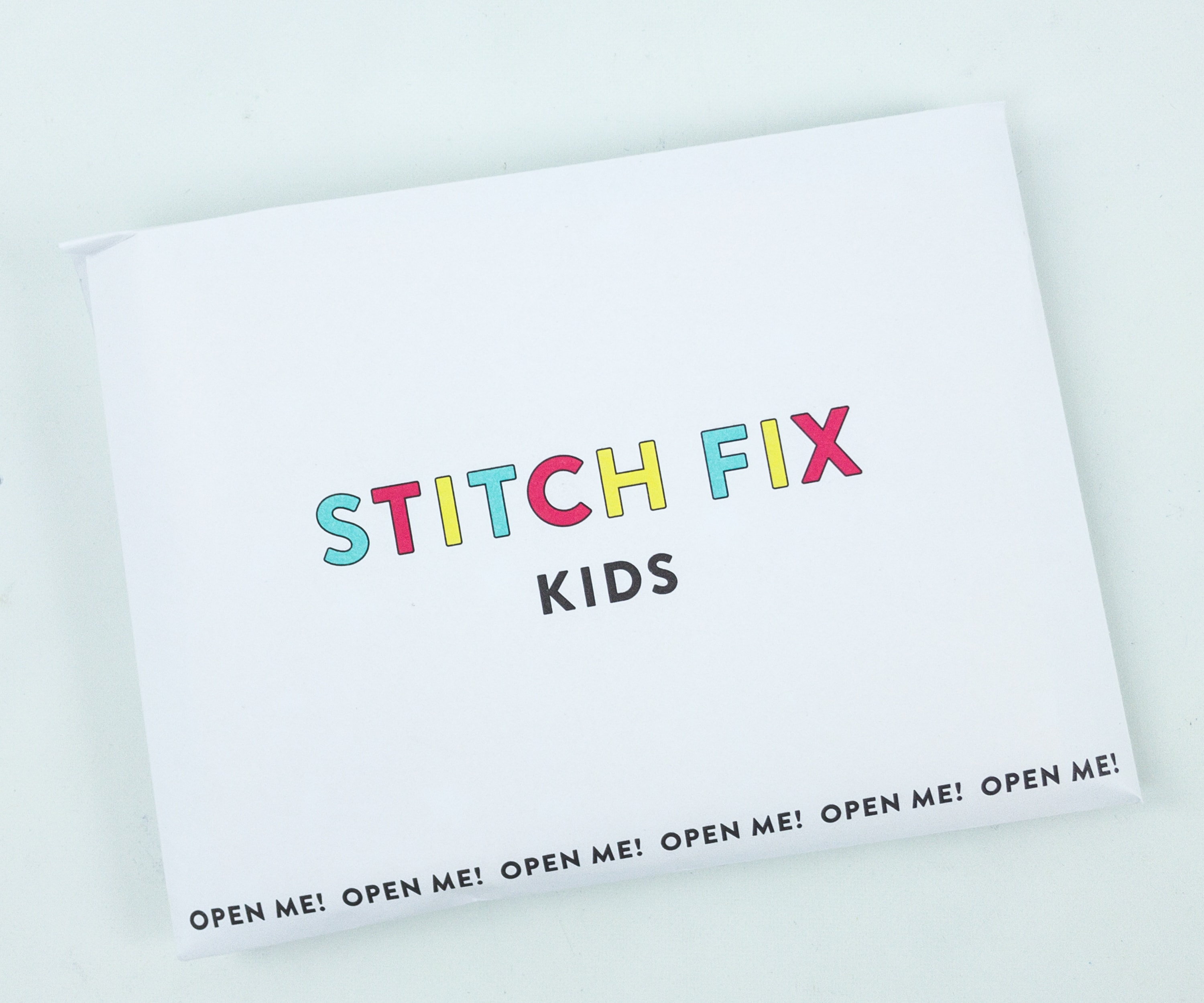 You can return any clothing or accessories that you don't like and pay only for what you're keeping.
Inside the envelope is a personal message from the stylist and a cute information card.
Here's a list of all the items included in this month's Stitch Fix along with their size, color, and price.
I love that they included a list of outfits in this month's box. All that is left to do is to have my little one try them out for size.
There's also a mini-game, and you can earn $25 in credit for each referral.
Also included is an adorable sticker sheet for your little one to play with.
For May 2019, they're encouraging kids to make an instrument for a chance to win $100 Stitch Fix credit!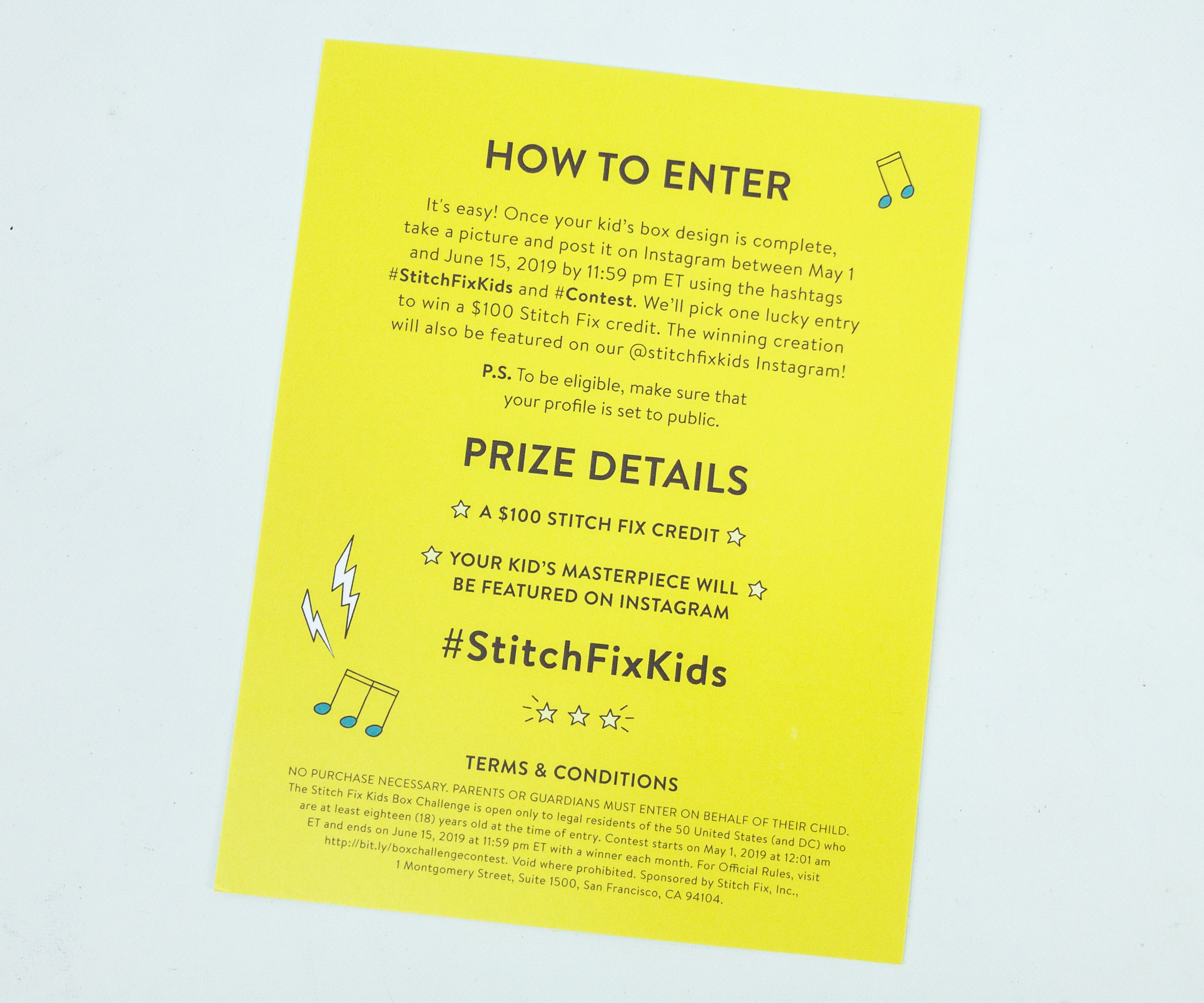 The back of the card provides instructions on how to join the contest and the prize details.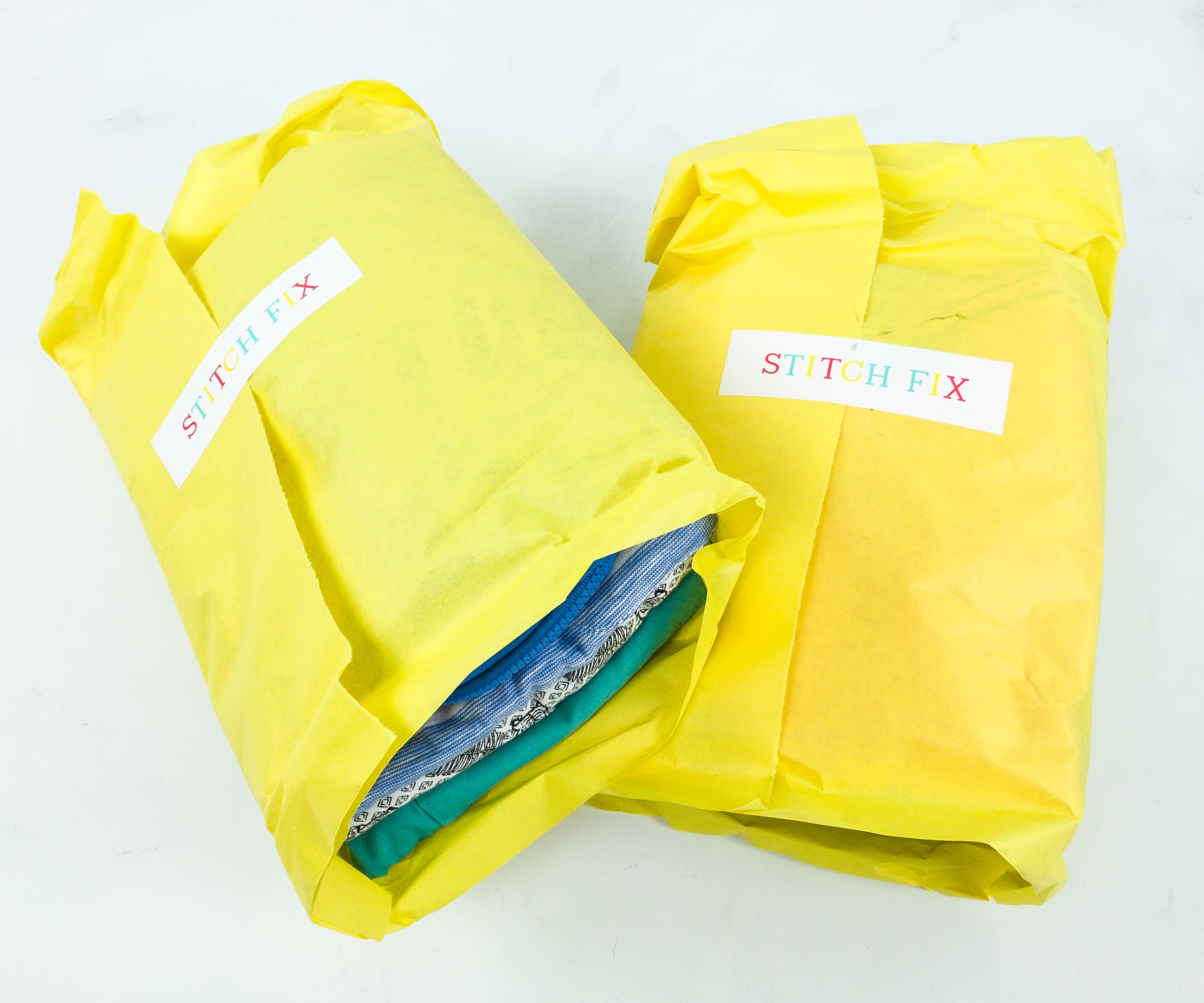 All the items are wrapped in a yellow tissue paper sealed with a sticker.
Everything in the box!
Joules Ben Short Sleeve Graphic Tee ($18) Ahoy! Underwater-themed and pirated-themed, this shirt sure captured the attention of my son!
Light and breathable, the pale yellow shirt is made from premium quality fabric. The best thing? It has details that glow in the dark!
Featured at the back of the shirt is a pirate treasure.
We had to see if it works, so here you go! The octopus looks cool as it glows in the dark!
The treasures on the chest glow too! So awesome!

Joules Boucaneer Knit Pull-On Short ($20) Summer is a great time to wear shorts whether going to the park, beach or just when lounging around at home. This short looks so lovely with its striped design, featuring a variety of blue shades, as well as light yellow and white.
Both the short and the shirt fit my son well! He loves it, especially the glow in the dark shirt. He just needs to put on a pair of sneakers and he's ready to play outside!

Hollywood Interactive Graphic Tee ($16) It's not a crocodile, it's not an alligator, it's a stegosaurus! It's such a geeky shirt because it includes some trivia about the dinosaur but we absolutely loved it.
The dinosaur design in front of the shirt features a huge zipper pocket, where you can put some coins or small toys.

Flapdoodles Caelan French Terry Knit Short ($16) Here's another casual short, and this time it features an elastic waist and a drawstring. It also comes with a pair of deep front pockets. My son finds it easy and comfortable to wear!
Cool, lightweight, and breathable too! This ensemble is simply rawr-some!

But wait, there's more! We opened the pocket and there were food and leaf prints, giving us the idea that these are inside the dino's tummy!
Odin & Ivy The Classic Short Sleeve Graphic Tee ($12) Camping is always a good idea. Reminding us to go on an adventure is this camping-themed shirt that says "adventure awaits"!
There's also an illustration of a tent with trees on the background, plus a text below that says "sleep under the stars."
Flapdoodles Caelan All Over Print Woven Shorts ($24) This short gave a whole new meaning to animal print! There are zebras and tigers all over, and we're loving the details despite it being in black and white. It's buttoned but still easy to wear with a hidden elastic waist!

This ensemble may be dominated with neutral colors but the details are still fun and cool!

Joules Short Sleeve Pocket Tee ($22) Striped tees never go out of style. We got one in the box and comes with a pocket on the left side. The stripes are colorful as well.
Joules Woven Pull-On Short ($24) We got another comfortable short with a gartered waist, and this time it's in a solid color. Teal is so cool on the eyes!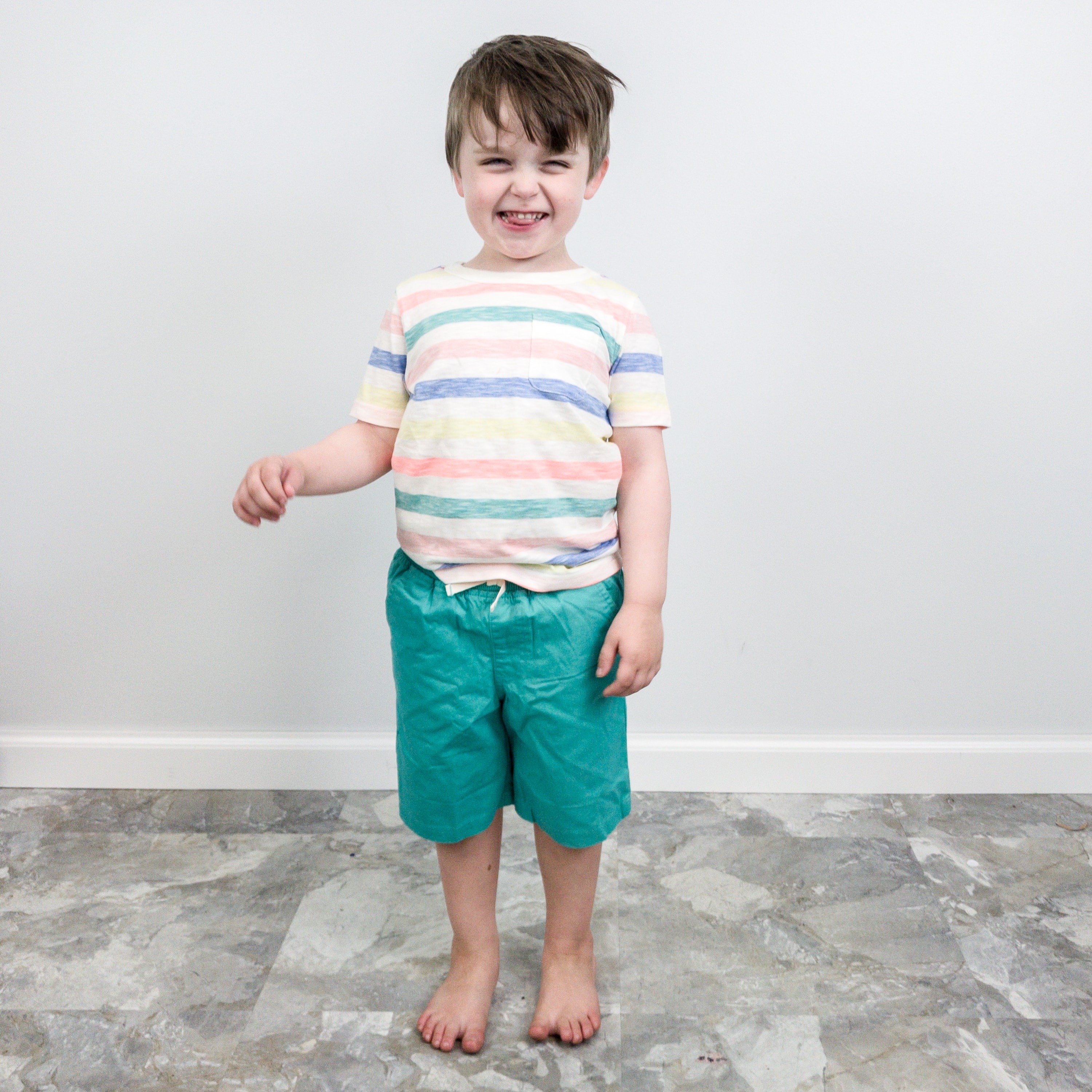 This outfit looks cute and bright on my son. He loves it as much as I do!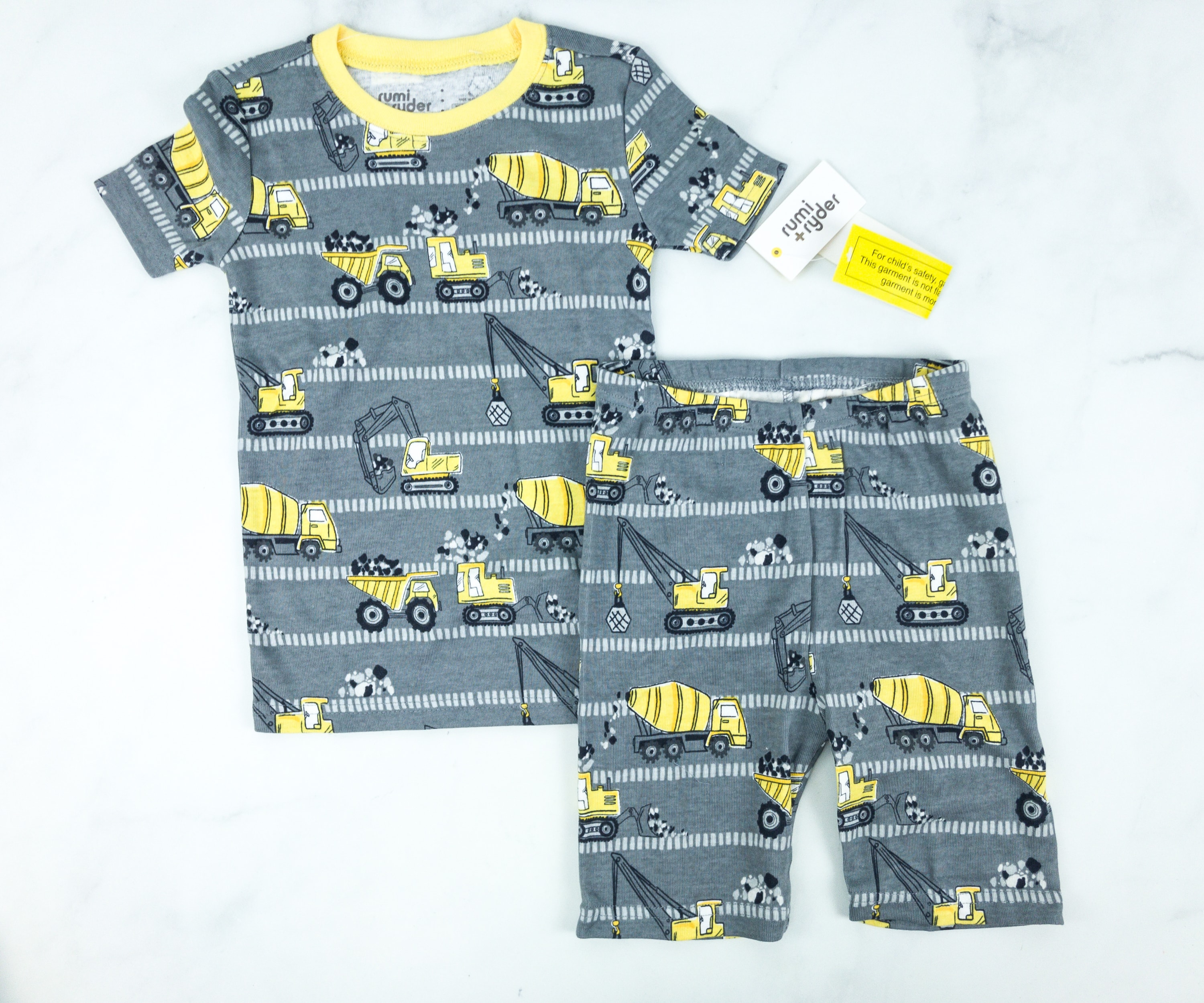 Rumi + Ryder The Classic Shirt Sleeve Two Piece Tight Fit Sleepwear ($24) We even got a sleepwear set! It's composed of a tight-fit shirt and short, both featuring a bunch of road construction vehicles on the print. Since it's sleepwear, it has to be comfortable for my son to have a good night's sleep and it didn't disappoint – but it's on the pricey side for jammies!
Joules Short Sleeve Applique Graphic Tee ($22) Graphic tees are never boring! Another one my son can't let go of is this light coral shirt featuring a shark!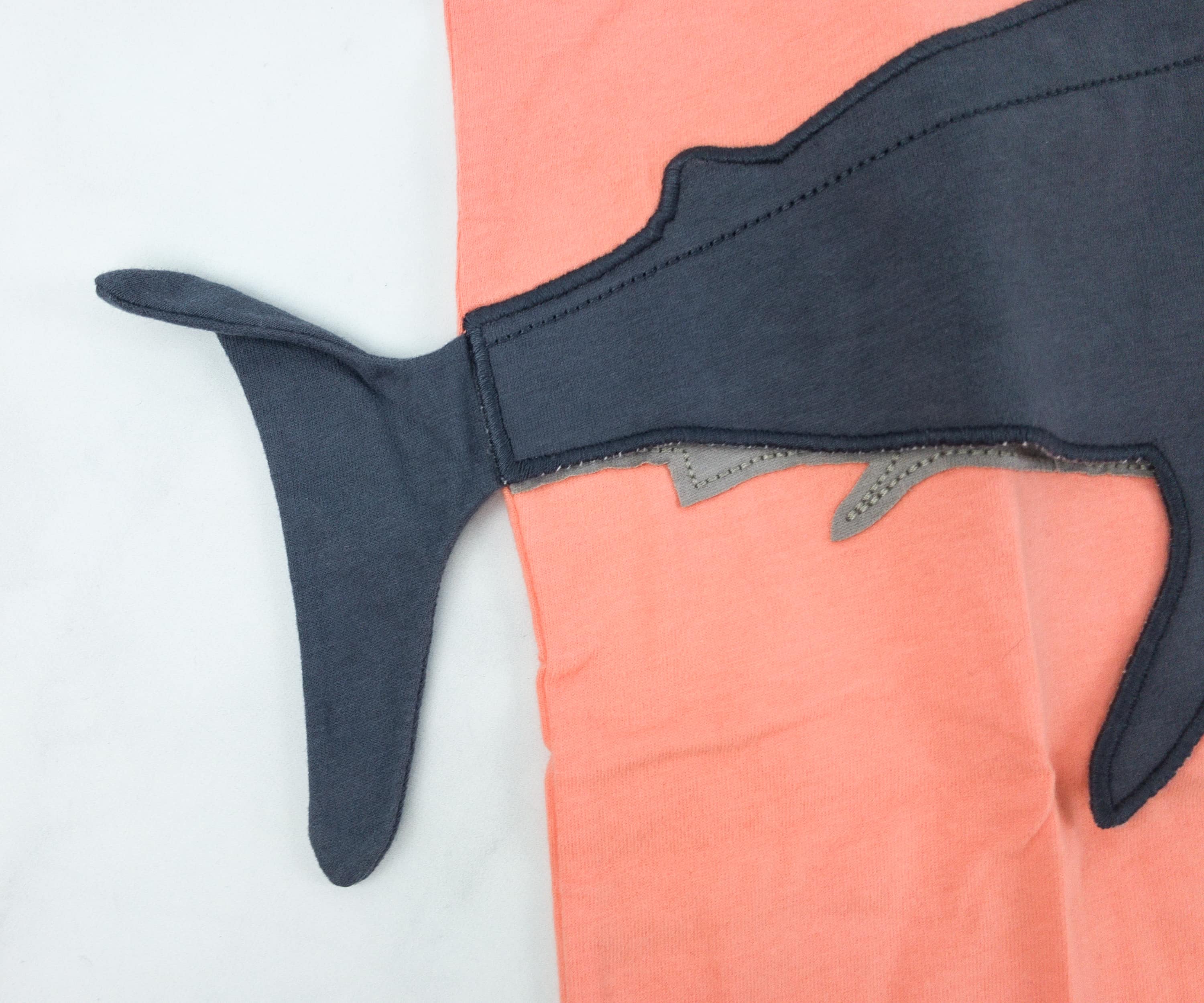 The design is huge, so the tail part of the shark is outside the shirt.
This one is ferocious and cute at the same time!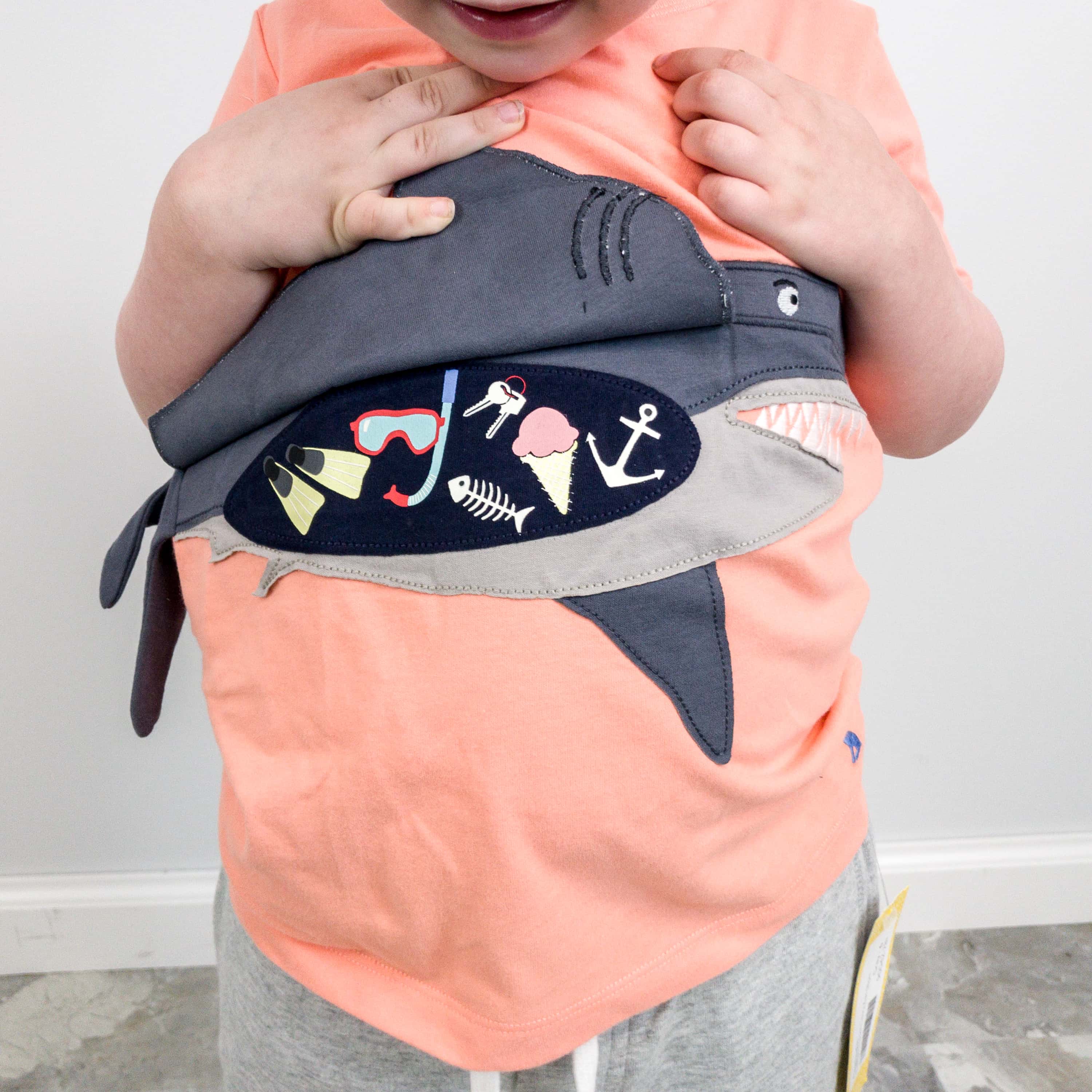 You can even flip the "skin" and see all the items inside the shark's belly. There's a key, flippers, scuba mask, and even an anchor.
We always get fun and season-appropriate clothing pieces from Stitch Fix Kids and that's why we love them! All the graphic tees in this month's fix are a hit with my son and his favorite is the one with the shark. I am happy that they also added a lot of high-quality shorts that we can easily mix and match with various tops for a summer-ready casual look. This subscription brings nothing but convenience on us! Through them, we get to add fresh items to my son's closet minus the fuss and for that, we're more than happy!
Are you getting the Stitch Fix Kids box too?