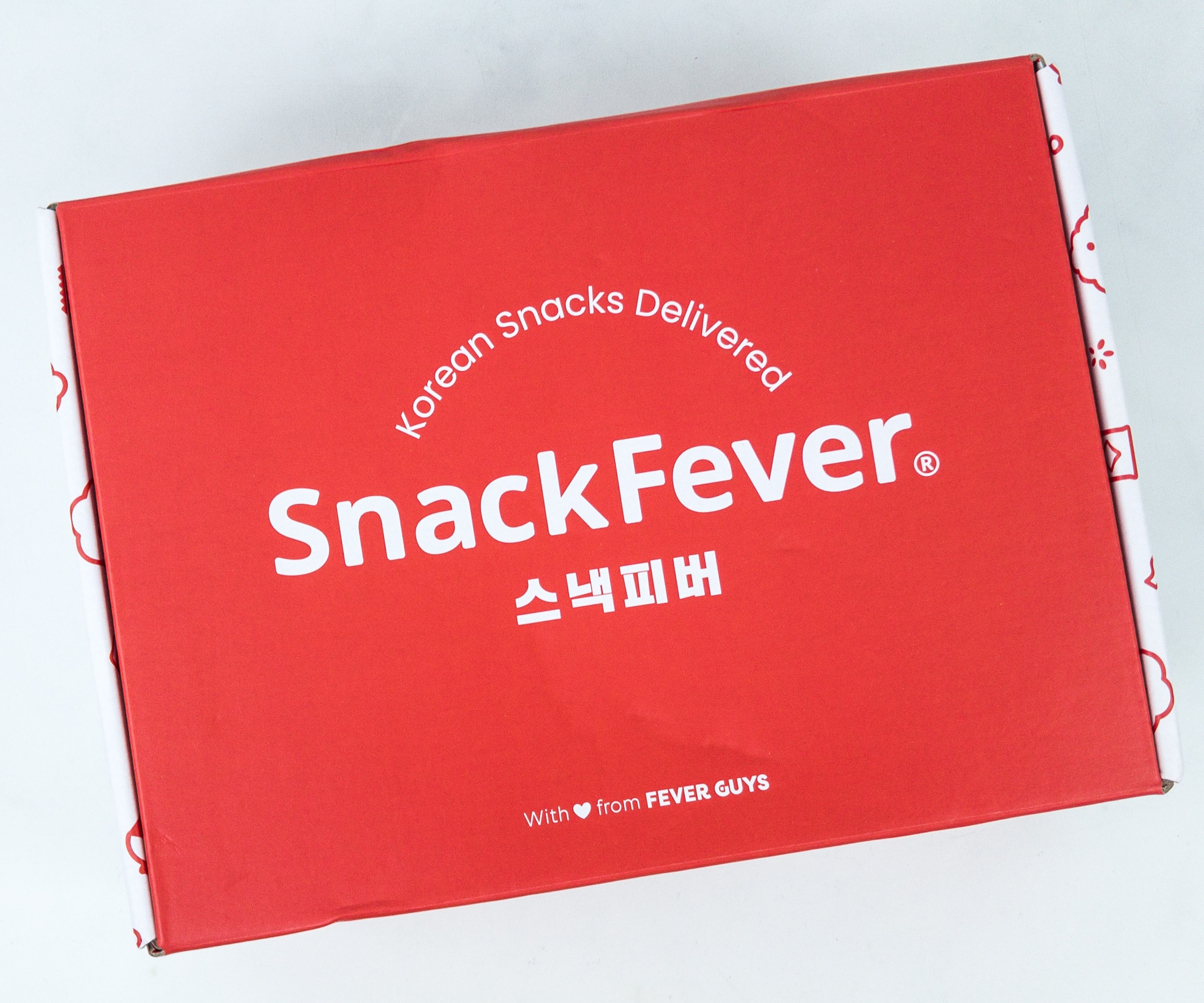 SnackFever is a monthly subscription box that delivers all your favorite Korean snacks, as well as other hard-to-find Korean treats. Each month, subscribers will get 5 to 12 Korean snacks and treats, depending on their subscription. Snack Fever is available in three boxes, the mini box, the original box, and the deluxe box, and subscriptions are $12, $22, and $35, respectively, every month.
NOTE: Starting the February 1st, Snack Fever will be having some changes on their subscription, including a Loyalty Rewards Program, new Original and Deluxe boxes, and a new shipping schedule. You can read more about the changes here.
DEAL: Save $3 off your first box (Mini, Original, Deluxe). Use coupon code HELLOSUB3.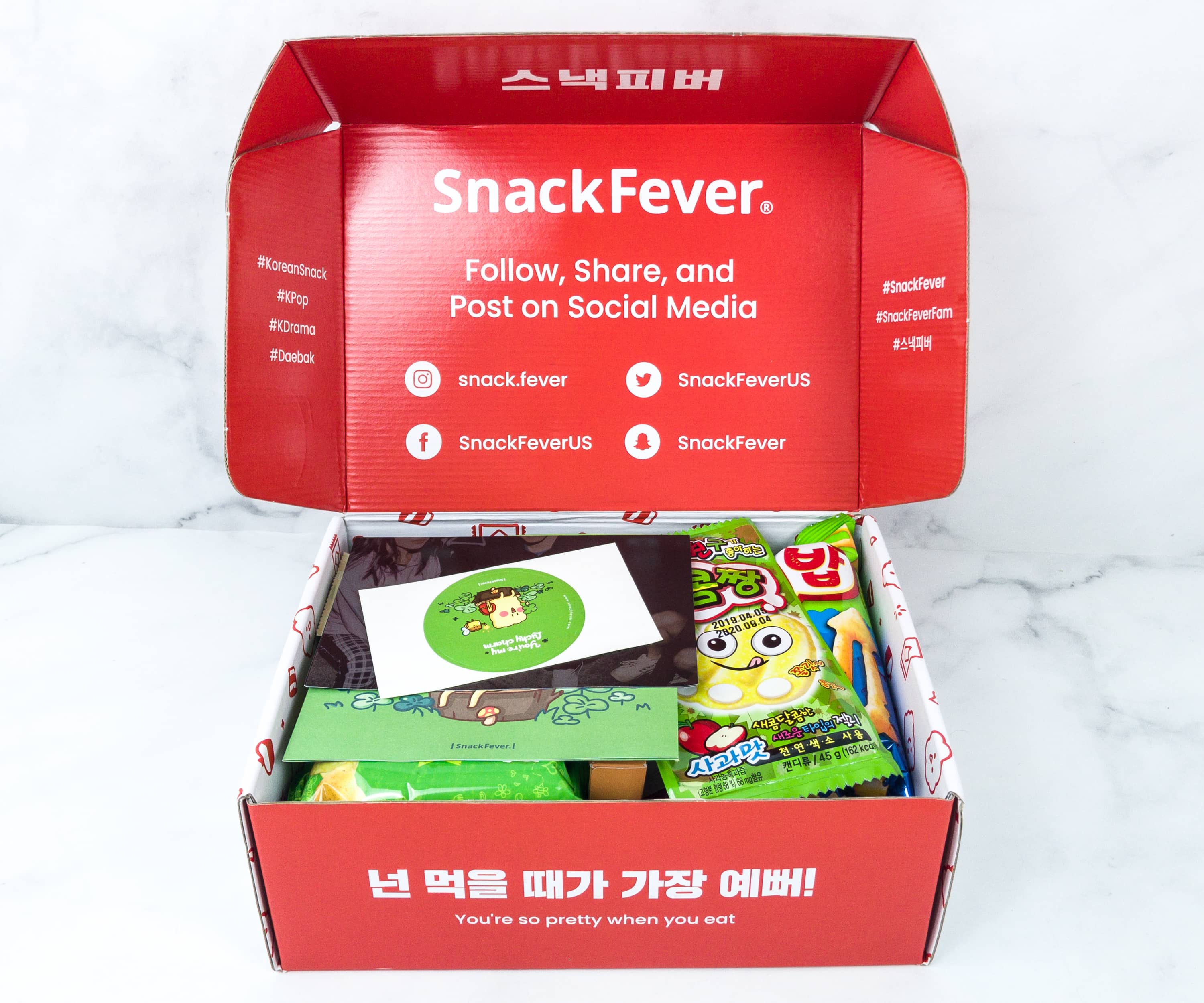 SnackFever's social media handles are printed in the box. On the sides, there's even a Korean sentence which means "you're so pretty when you eat"!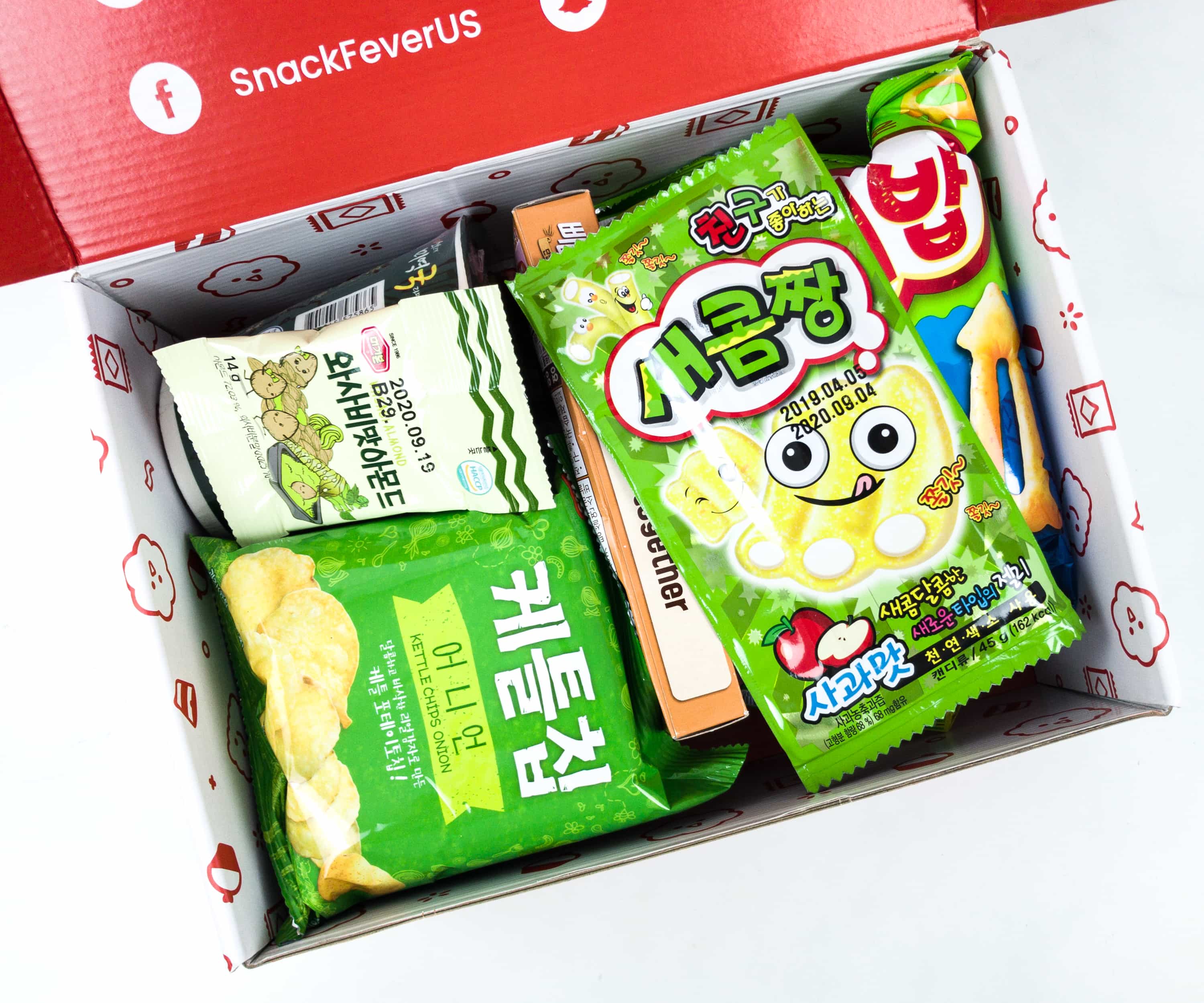 There are no extra packaging, just snacks filling the box to the brim!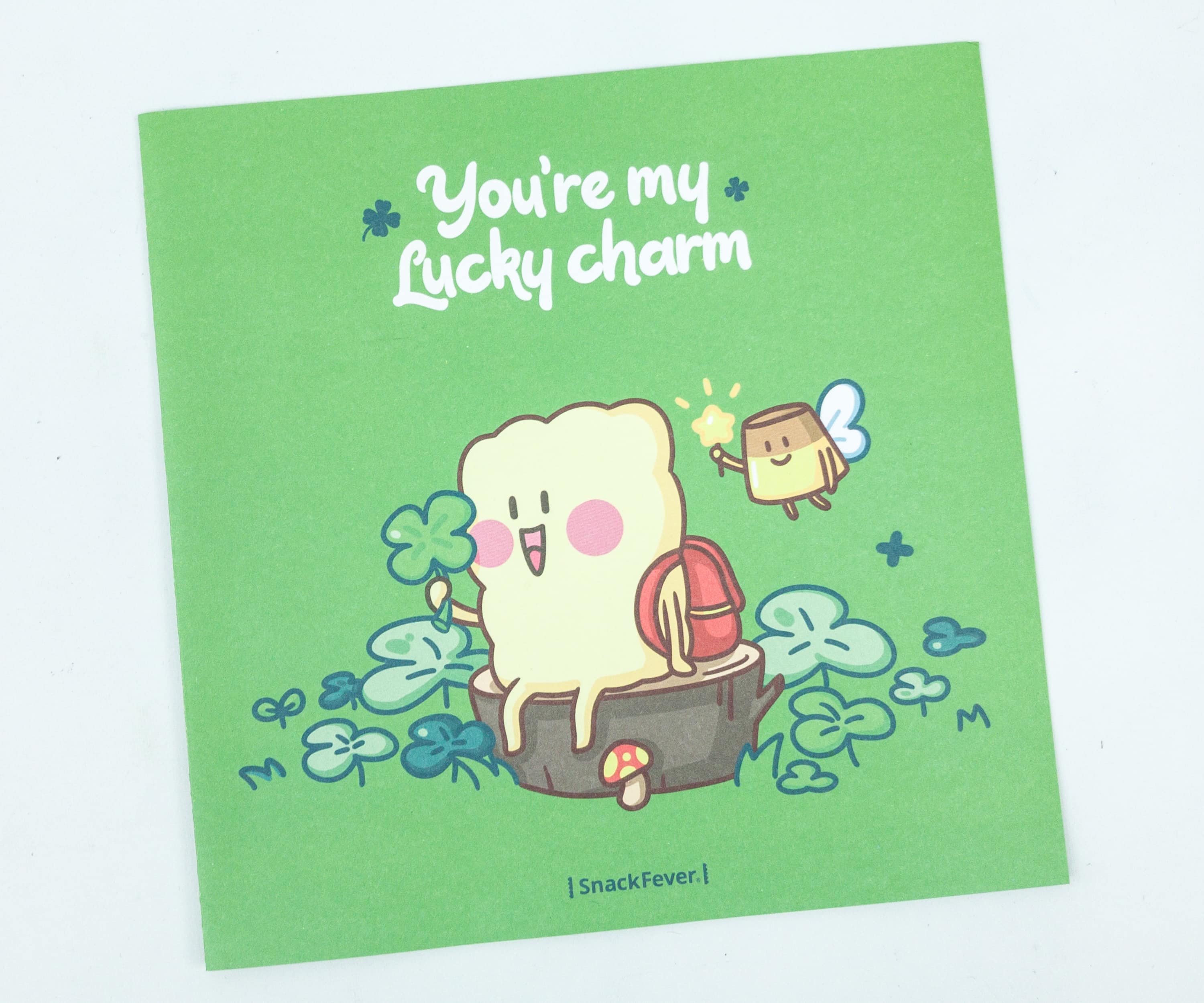 June 2019 theme is YOU'RE MY LUCKY CHARM!
The booklet features selfies of subscribers with their Snack Fever boxes, as well as some Korean vocabulary words.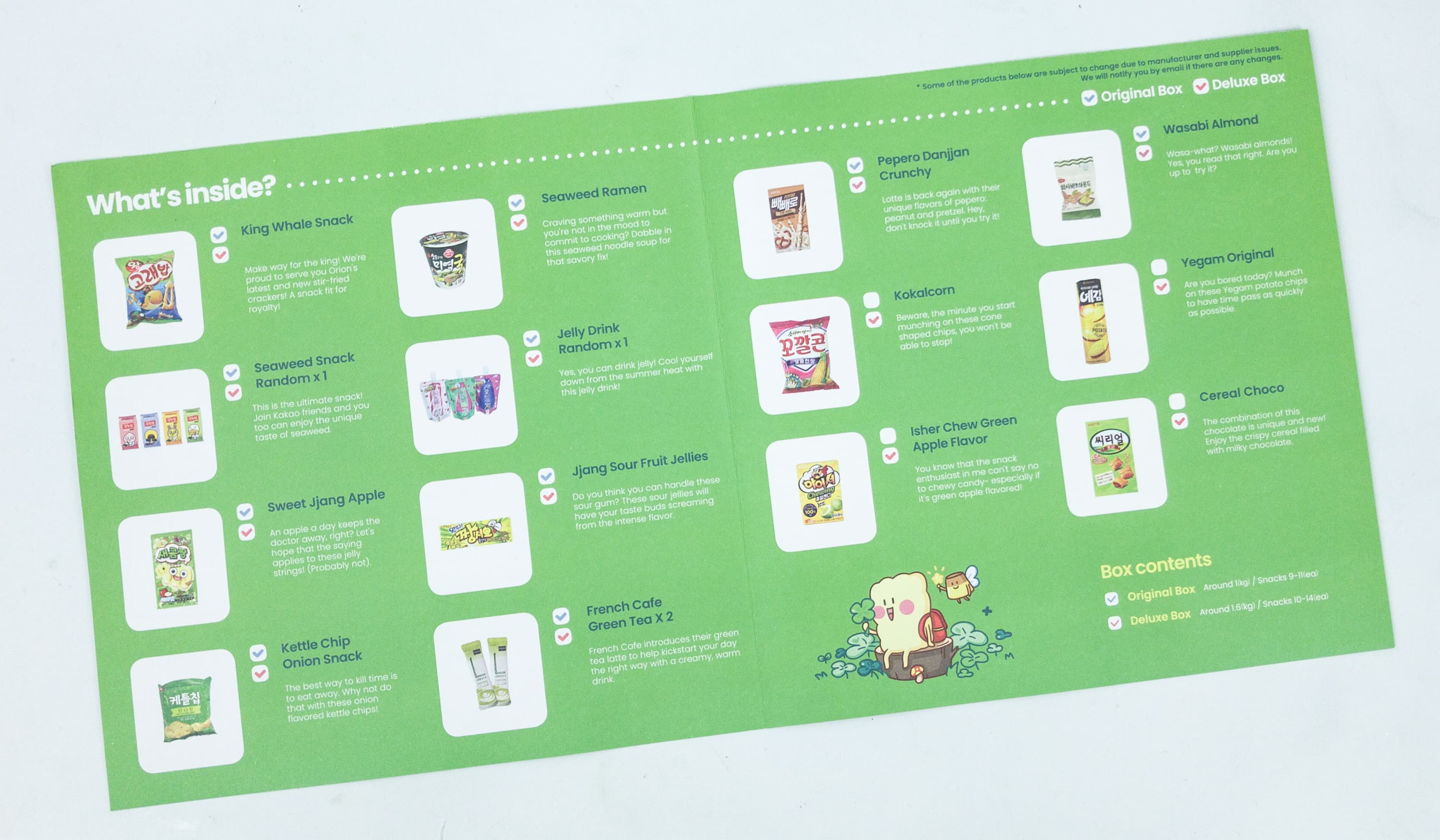 Of course, there's also a list of all the items in the Snack Fever Mini Box, Original Box, and Deluxe Box.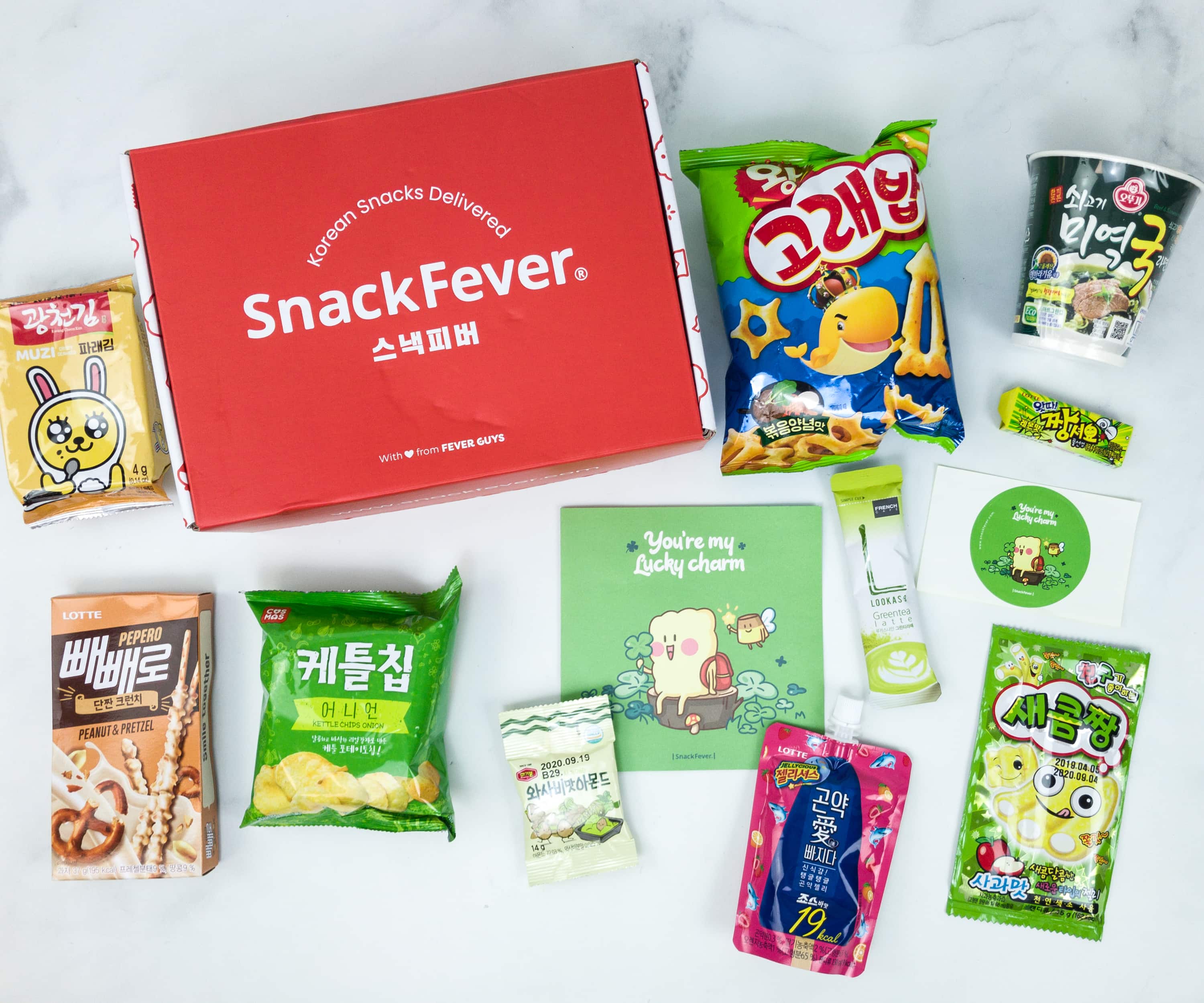 Here are the full contents of the Original box. To see all of our SnackFever reviews including the big box, click here.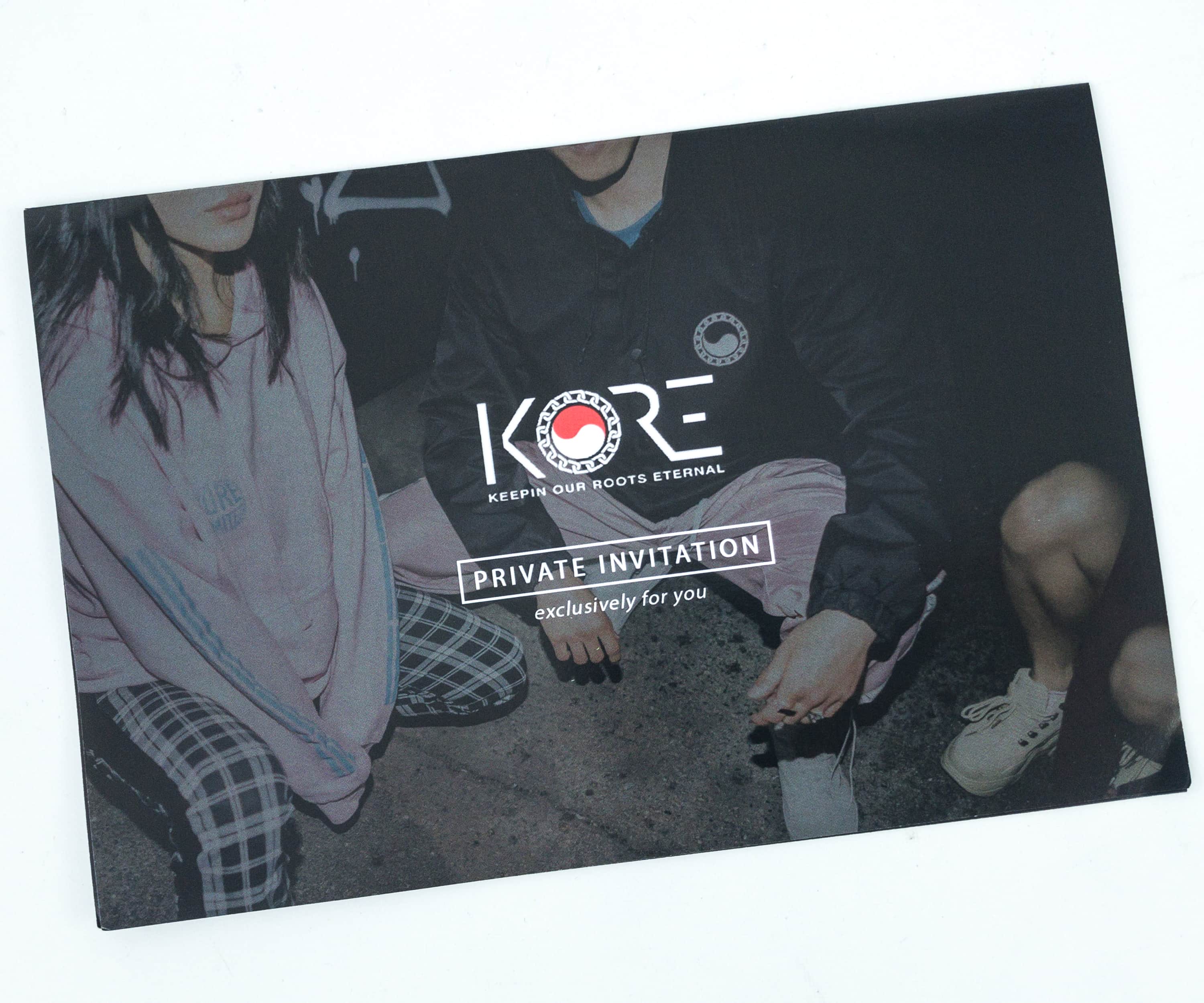 This month's box includes a promotional card from KORE.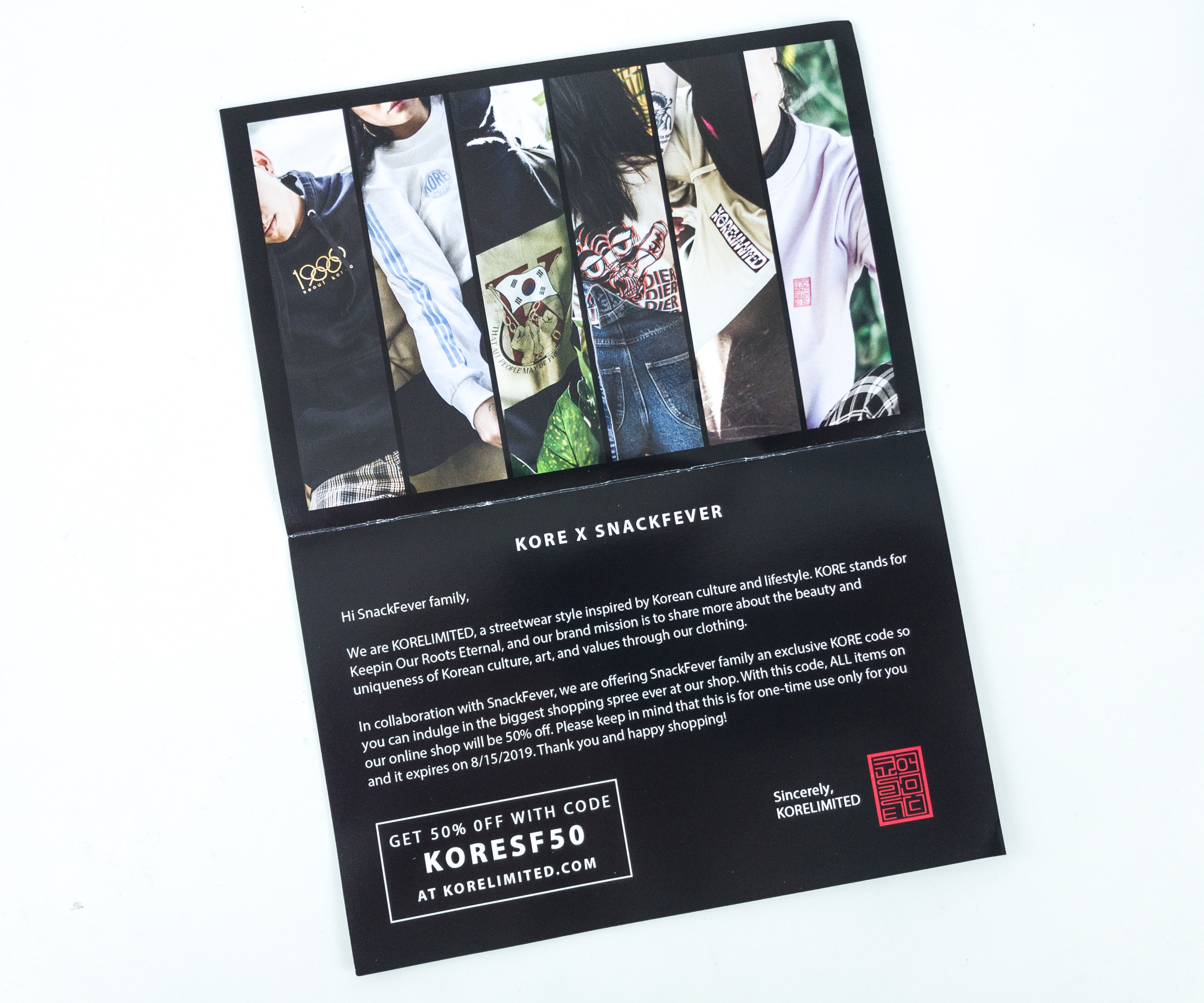 Inside, there's a 50% off coupon code you can use for purchases at KORE's online shop.
The sticker features the same design as the booklet.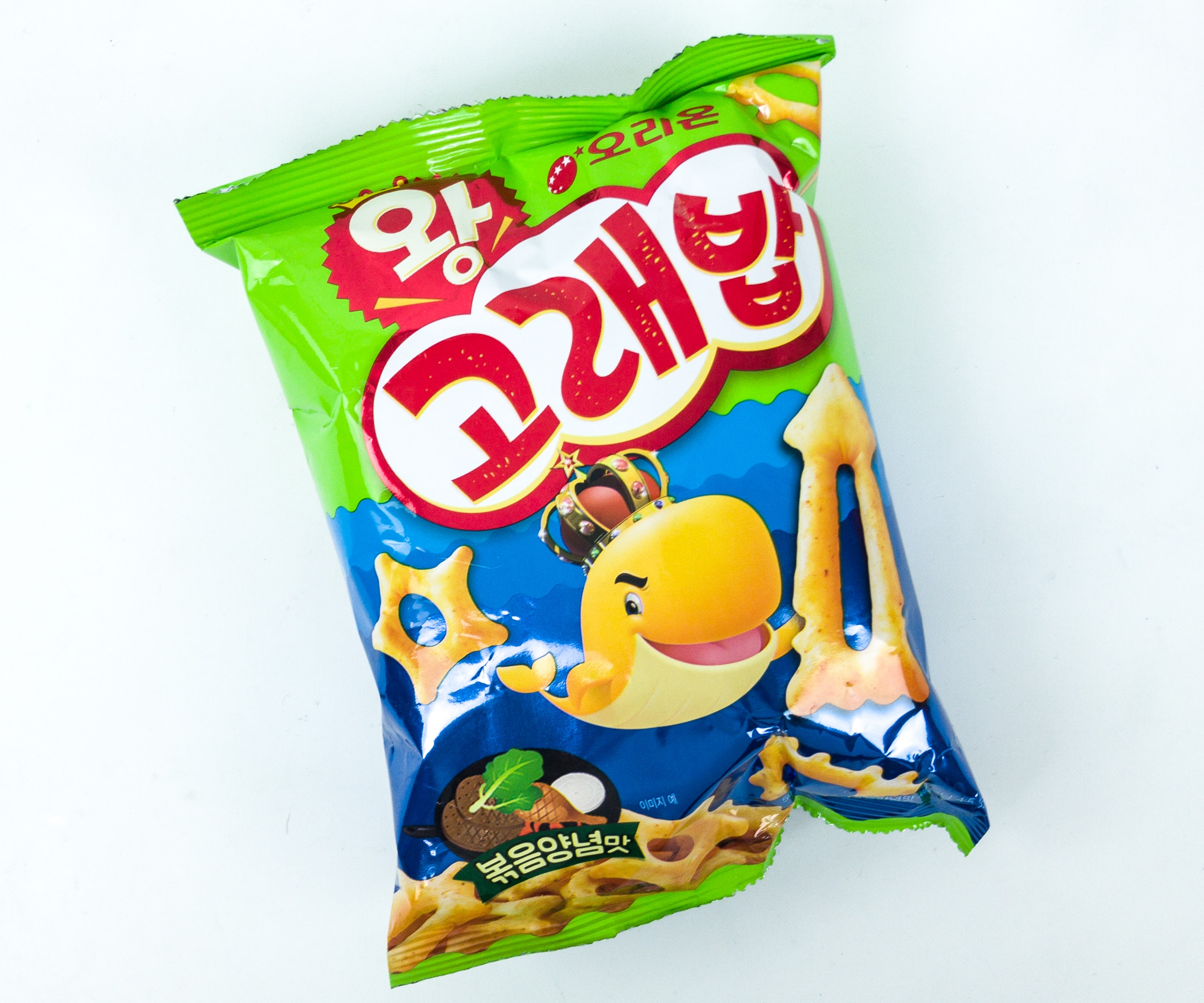 King Whale Snack. Popularly known as Goraebab, this bag is filled with stir-fried crackers shaped like various sea creatures. Each piece is thin, crispy, and a little salty.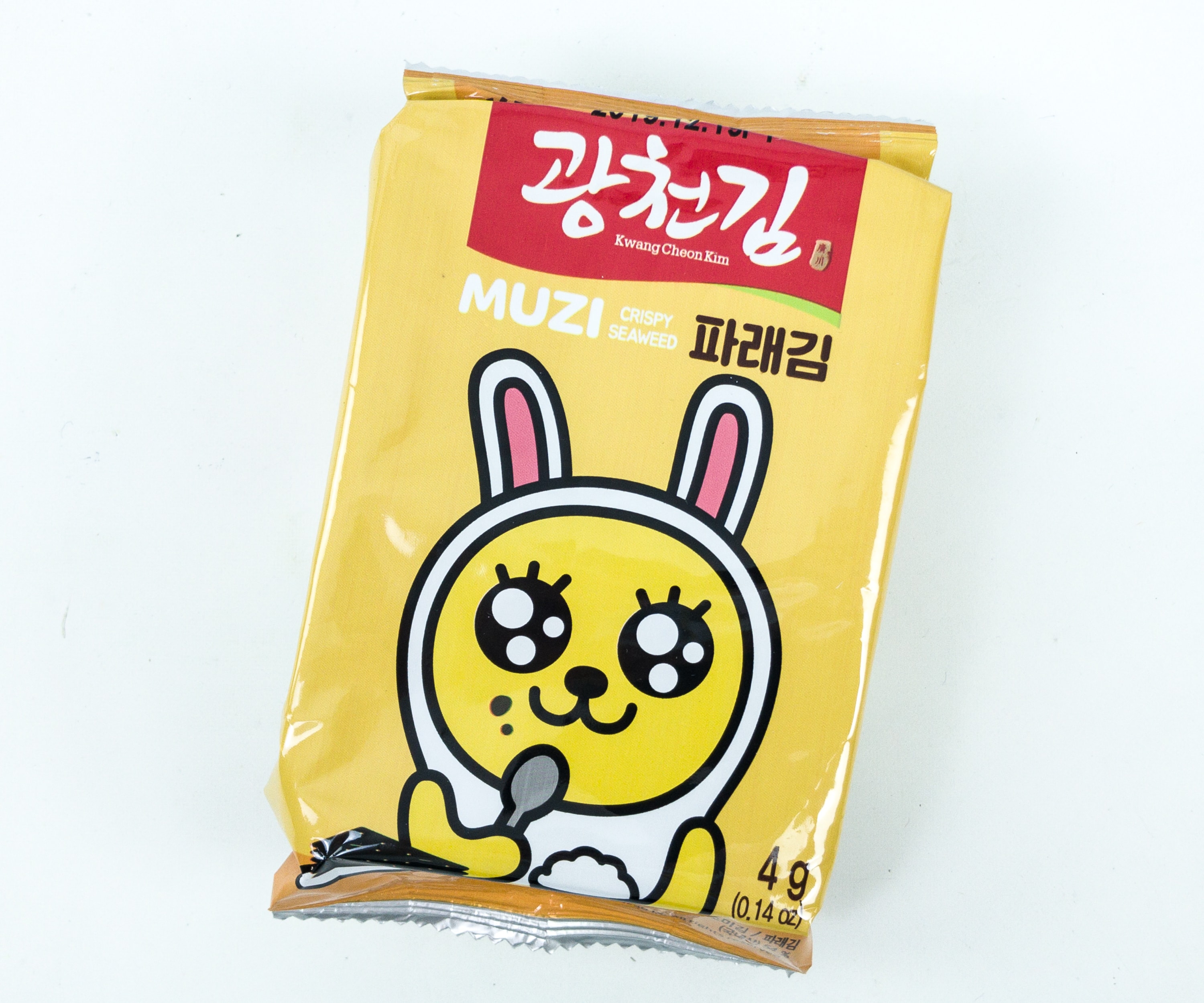 Seaweed Snack. Subscribers will get 1 out of 4 variants of this seaweed snack featuring Kakao Friends on the packaging, and we got Muzi. The roasted seaweed sheets are tasty and not too salty. It's a perfect snack to munch on while watching TV!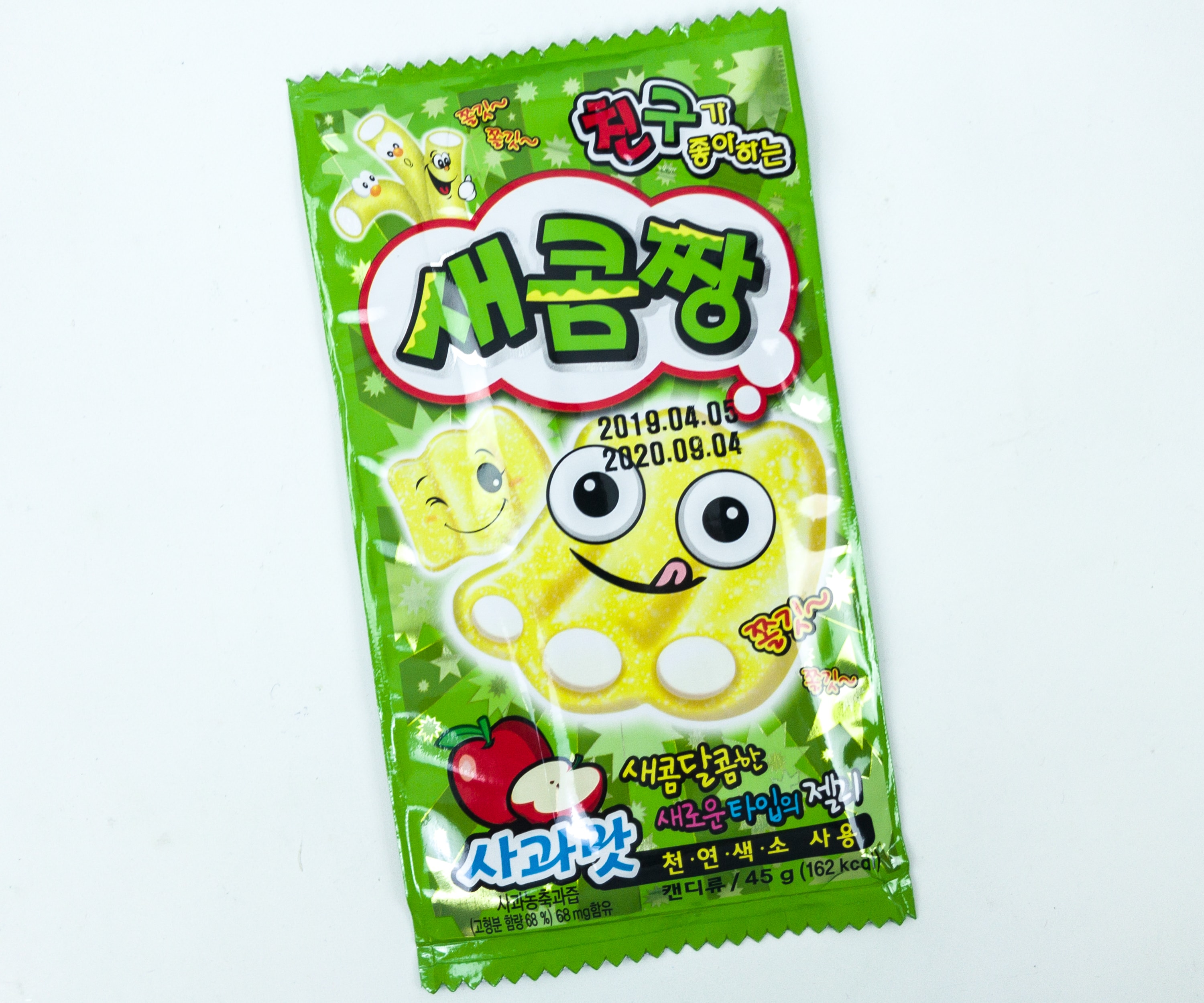 Sweet Jjang Apple. These jelly strings are apple-flavored, featuring just the right amount of tang and sweetness in every bite. So good, you'll crave more!
Kettle Chip Onion Snack. Made with potatoes and flavored with onion, this snack easily satisfies our cravings for something savory. Each piece is crispy and flavorful. It goes well with a glass of cold soda as well.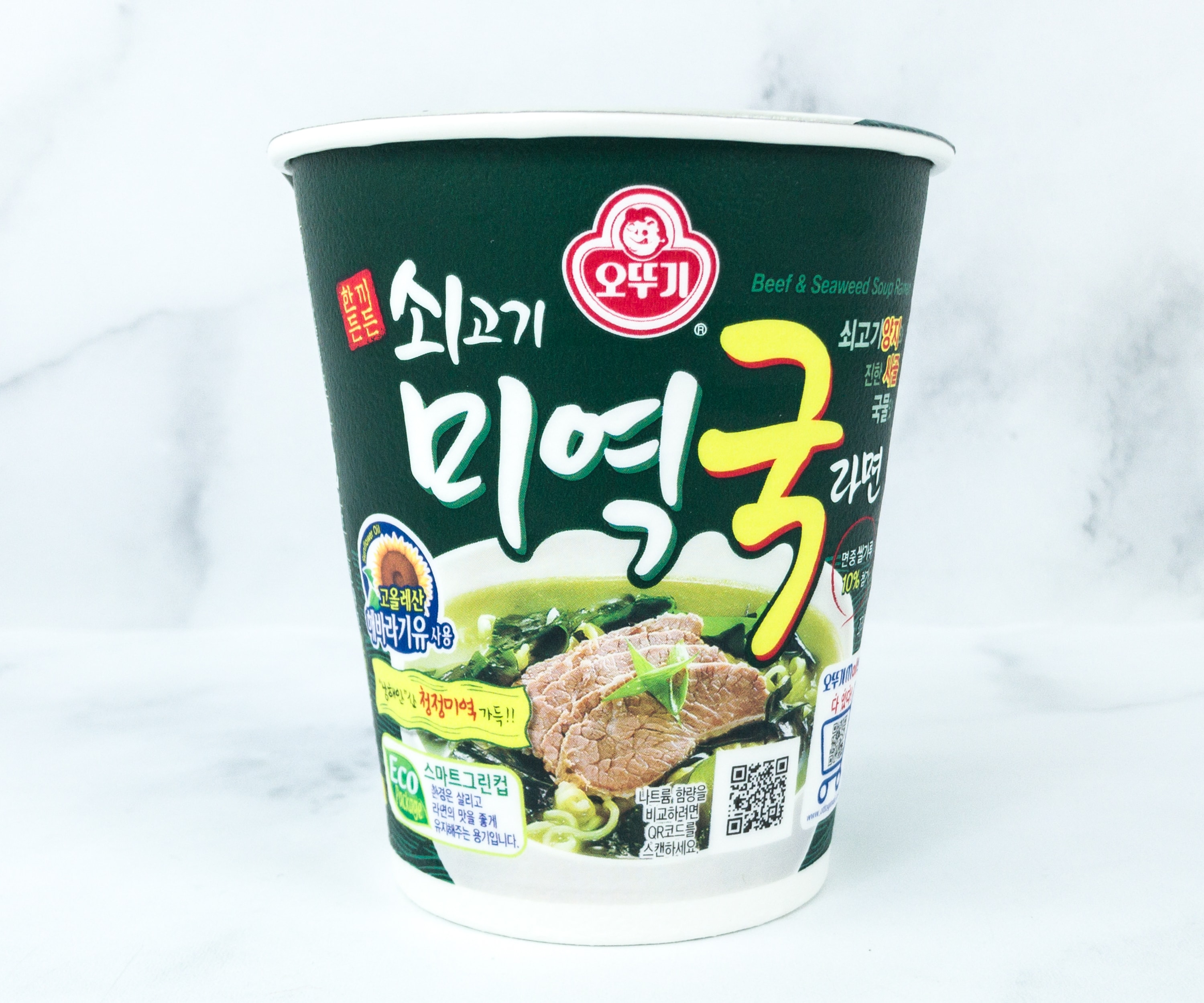 Seaweed Ramen. It's a cup of seaweed flavored instant noodles. We all know just how much Koreans love noodles and I can't help but get excited to try one of their favorites. To prepare, just add hot water, wait for a few minutes, and enjoy the warm noodles. It does taste like seaweed, but it's not overwhelming.
Jelly Drink. Subscribers will get 1 out of 3 variants of this jelly drink, and we got it in the strawberry-orange flavor. Well, it's not an actual drink but more like a cognac. Still, it tastes so good and refreshing.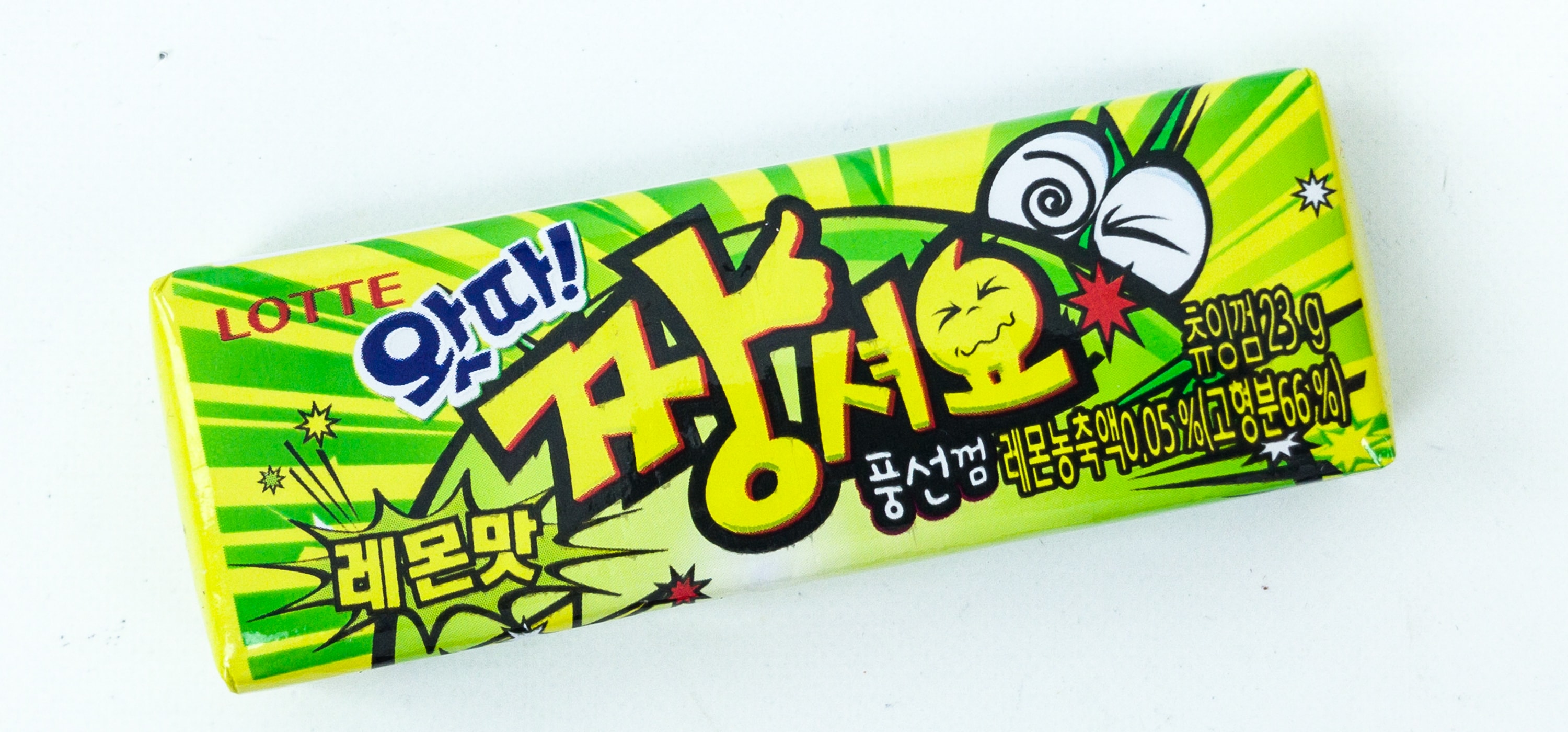 Jjang Sour Fruit Jellies. This pack contains 5 individually wrapped sour gums. They're fruity and the sourness really stands out, so it's hard not to squint while chewing on it.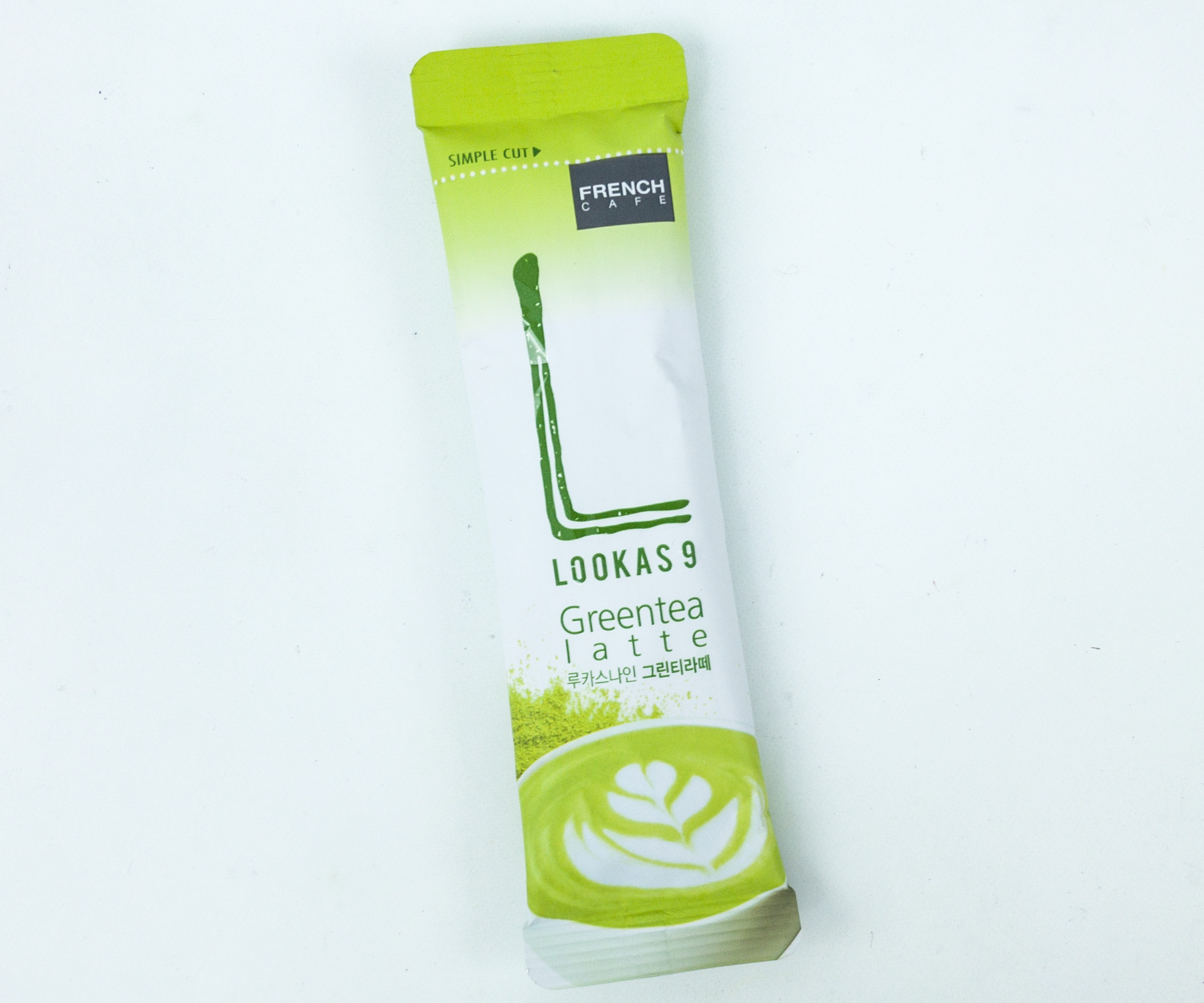 French Cafe Green Tea. Instant green tea latte anyone? This sachet contains a powdered green tea latte mix and all you need to do is to add water to enjoy. The booklet says that we should receive 2 sachets but we only got 1.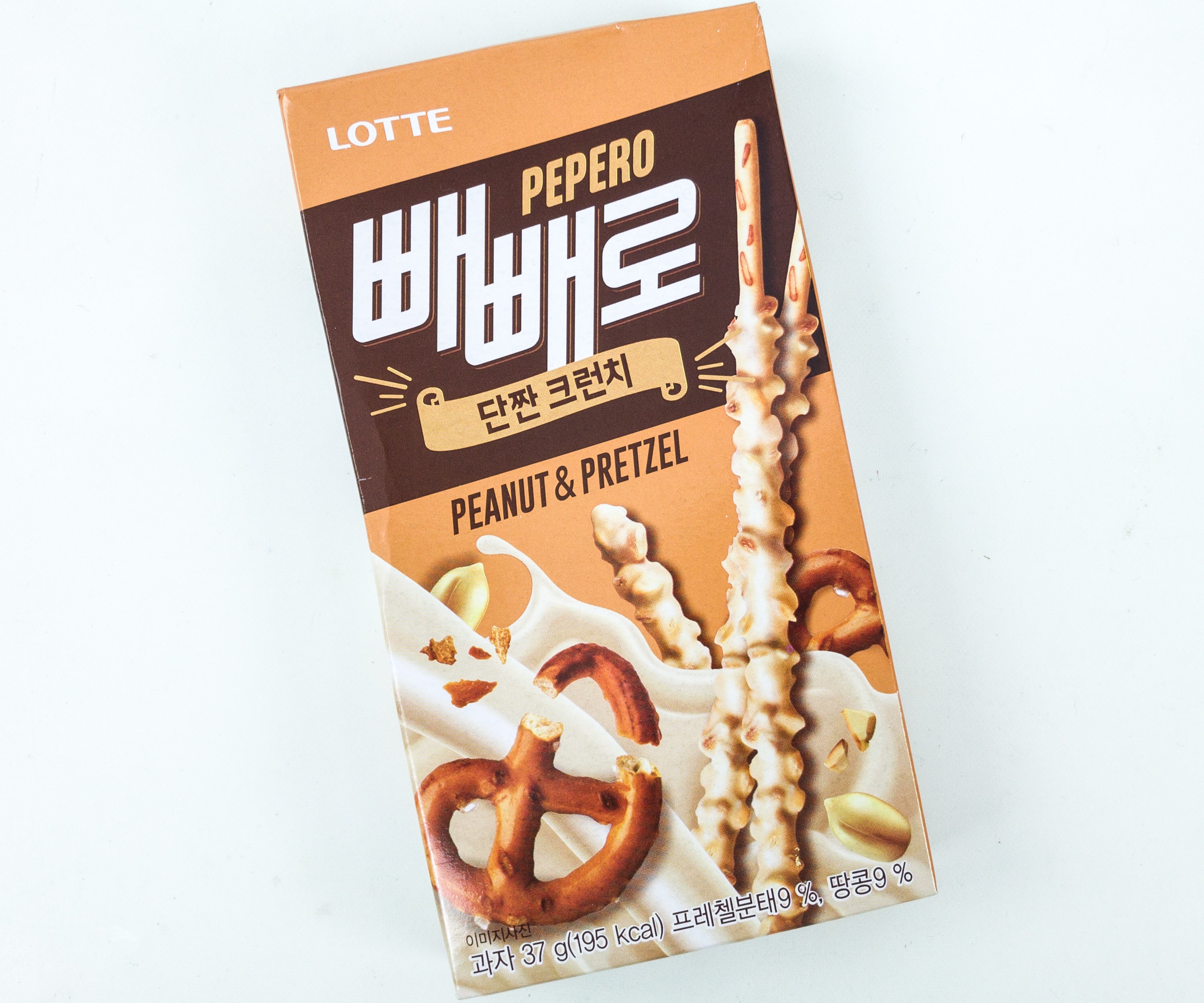 Pepero Danjjan Crunchy. Pepero is a popular Korean snack, and I'm fascinated by how they never fail to put a new twist to this well-loved snack. This time, the Pepero sticks we got features crunchy pieces of peanuts and pretzels with white chocolate. Talk about the perfect sweet-salty treat!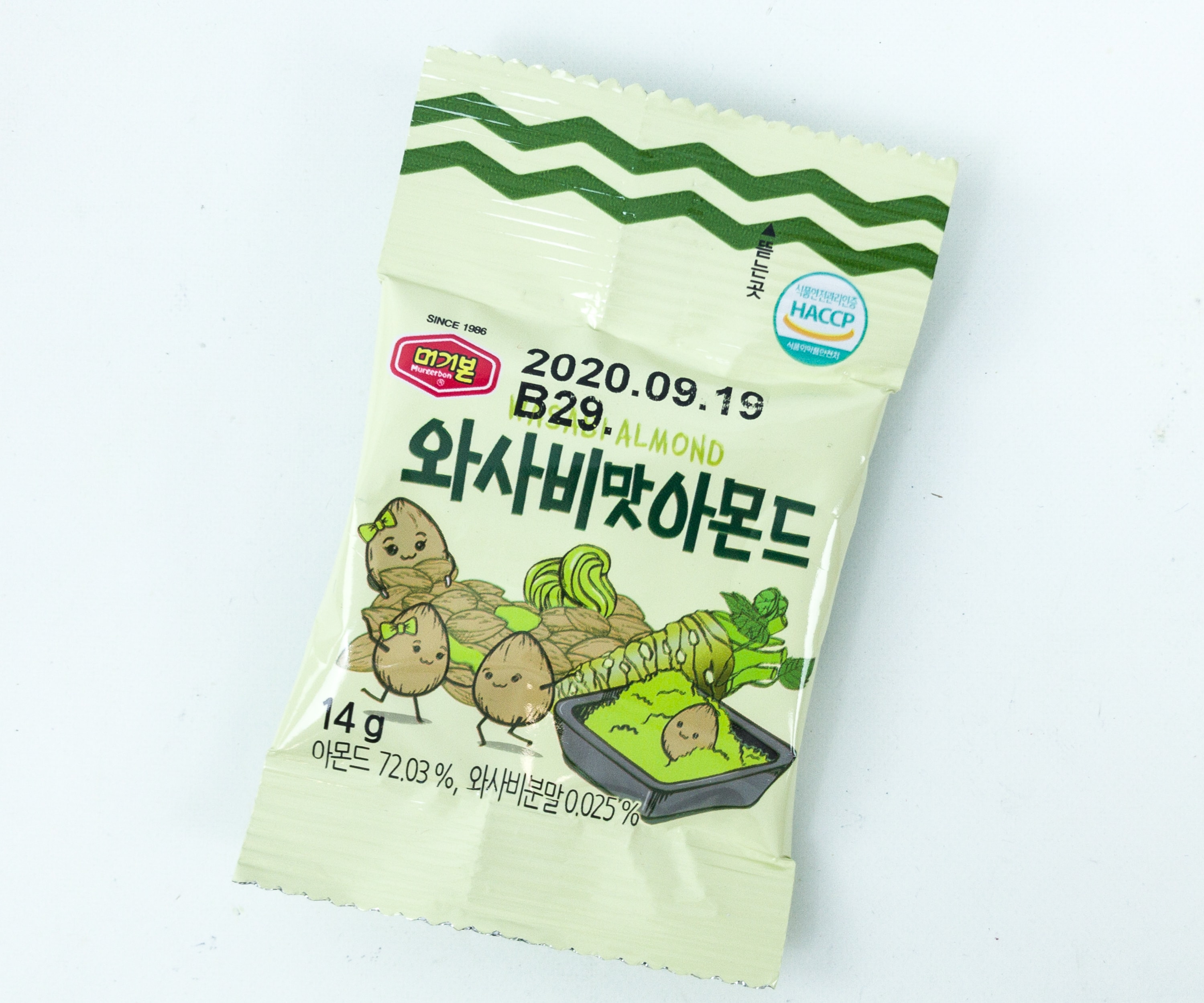 Wasabi Almond. If you're a fan of spicy food, this wasabi-infused almond snack is a must-try! The almonds are crunchy and fresh, while the wasabi flavor is intense and not for the faint-hearted. As for me, I enjoyed it and I think it's great when paired with a glass of beer!
Getting a bunch of Korean snacks on our doorstep every month makes us so happy! This month, they gave us new ones we haven't tried before as well as classic snacks we don't mind to try over and over. There's also a nice combination of savory munchies and candies. They even threw in a noodle snack, which we're so eager to try. It turned out to be one of our favorites this month, alongside other snacks like the wasabi almond and the kettle chips. The box made our tummies happy and we can't wait for more next month!
Have you tried Snack Fever?