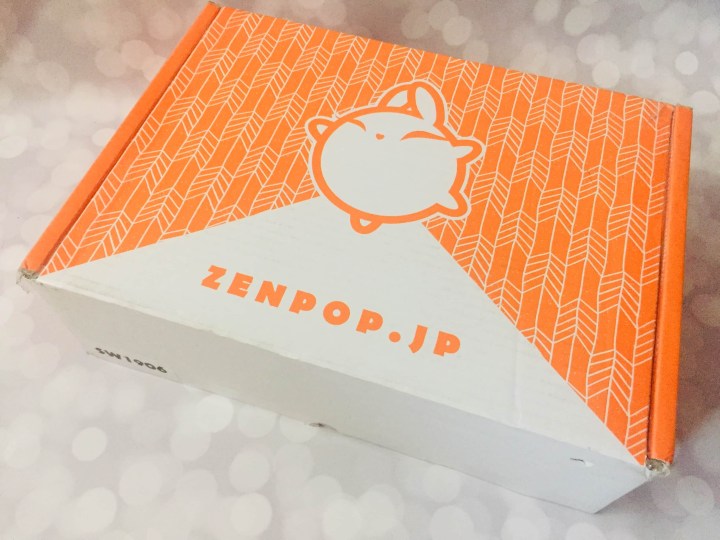 ZenPop Japanese Packs offers five different boxes from Japan — Sweets, Ramen, Sweets + Ramen, and Stationery! You can do a one-time box to try it out, or subscribe and save some money. I've reviewed a couple of their boxes before and was so impressed with the curation!
First look!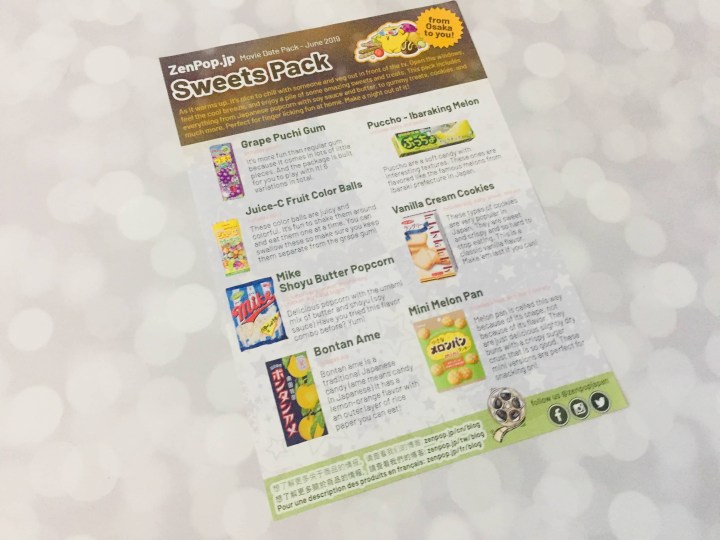 The information sheet is a standard size piece of paper; everything is described. The June theme is Movie Date Pack!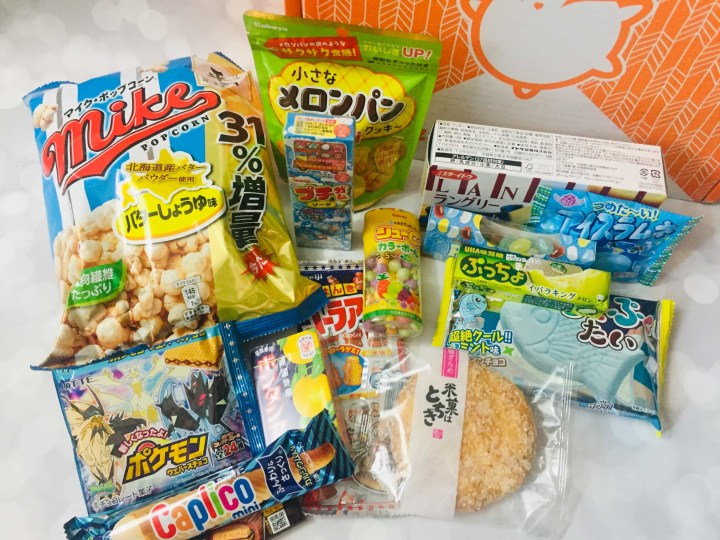 Here's everything in my box!
Shoyu Butter Popcorn — What better way to start off a movie date theme than with the classic snack, popcorn? With a Japanese spin, this is a generous bag of popcorn seasoned with shoyu (soy sauce) flavour. It's just as salty as movie theater popcorn, and just as buttery, but with that savoury soy sauce flavour that is just so addicting you can't stop snacking!
Puka Puka Taiyaki — Taiyaki, a traditional snack usually filled with red bean paste, is recreated filled with yummy mint chocolate instead. I've had strawberry chocolate and milk chocolate variations of this popular treat but the mint one was a first for me.
Melon Pan — Buttery mini buns with a crunchy, crispy shell.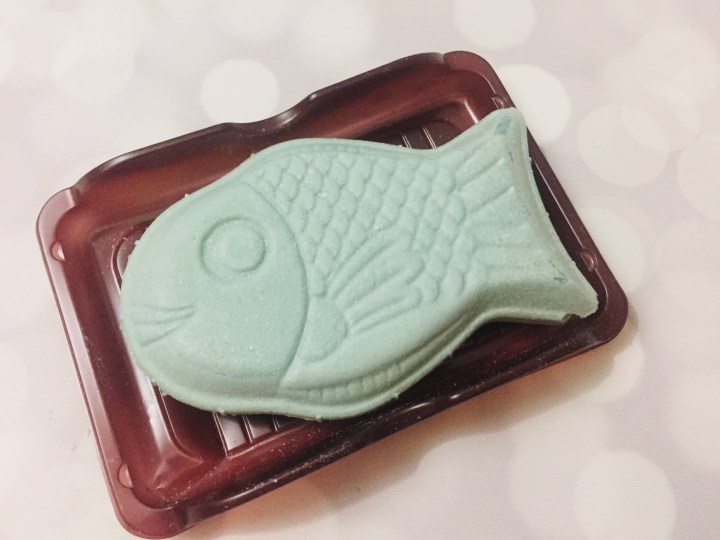 Here's the cute mint blue taiyaki cookie!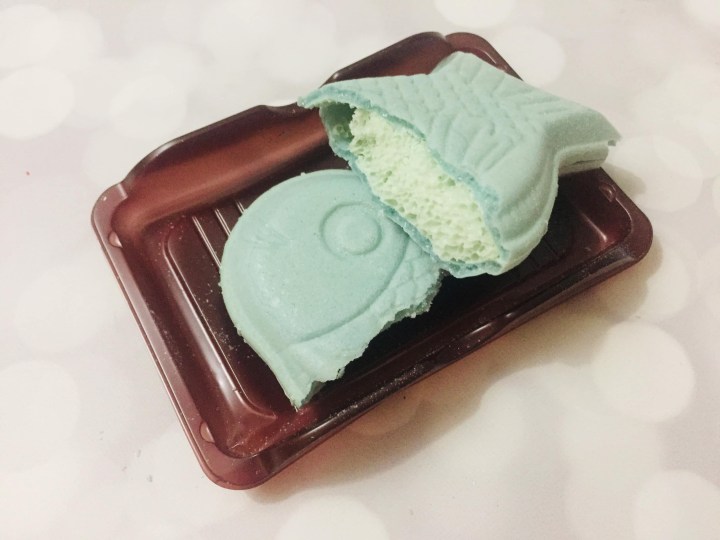 Broken so you can see the fluffy aerated chocolate inside the wafer shell.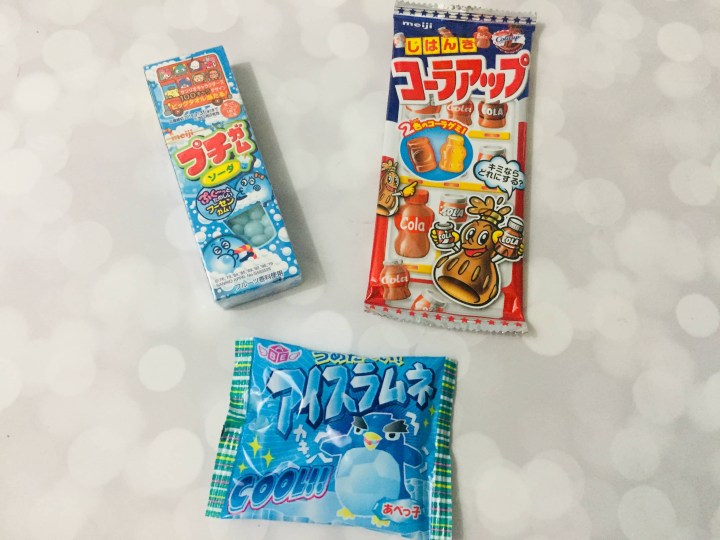 To go along with the movie night theme there were some fun soda-themed candies included.
Puchi Gum — Flavoured gum in a fun box with a maze puzzle on the reverse. These little pieces of gum were addicting to eat. The information sheet shos a grape flavour, but I think this blue design might be ramune, which is lemon soda.
Cola Up — Fun sticky cola gummies in various shapes of cans and bottles. These remind me of the coke bottle candies we enjoy to this day, only in a smaller, more cute design.
Ice Ramune — These were a very fun icy cool candy.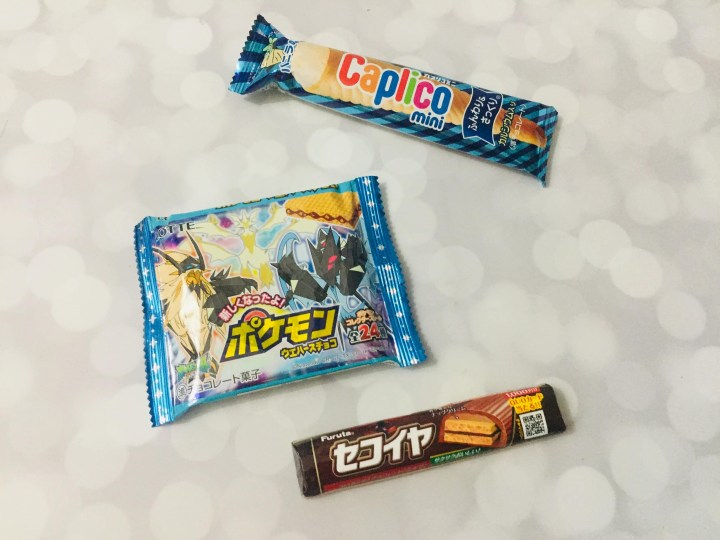 Caplico Mini — Caplico is known for their ice cream treats, which are ice cream cones willed with fluffy chocolate. This is a mini version, a small size to snack on and enjoy.
Pokemon Wafer — I admit I didn't enjoy this one myself, and gave it to a coworker for her son who LOVES Pokemon. It's a chocolate filled wafer that also comes with a collectible Pokemon card, too. What a cute surprise to get along with a yummy treat!
Sequoia Chocolate Bar — A simple chocolate bare with a combo of wafer cookie and creamy chocolate wrapped in more chocolate. The small size makes you feel less guilty.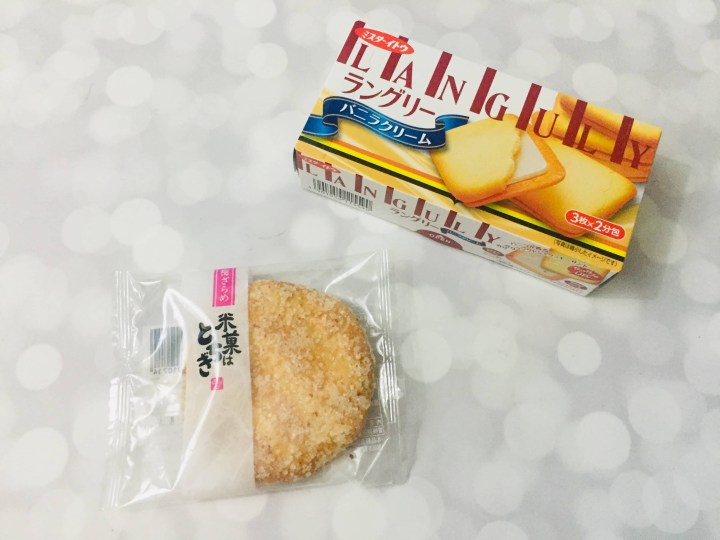 Vanilla Cream Cookies — These cookies remind me a lot of Shiroi Koibitotachi, a popular Japanese luxury from Hokkaido. However these have a sweet vanilla filling inside instead of chocolate but the delicious cookie is very similar. I love them!
Sugar Senbei — Rice crackers can be savoury and salty but this one is sweet with a hint of plum!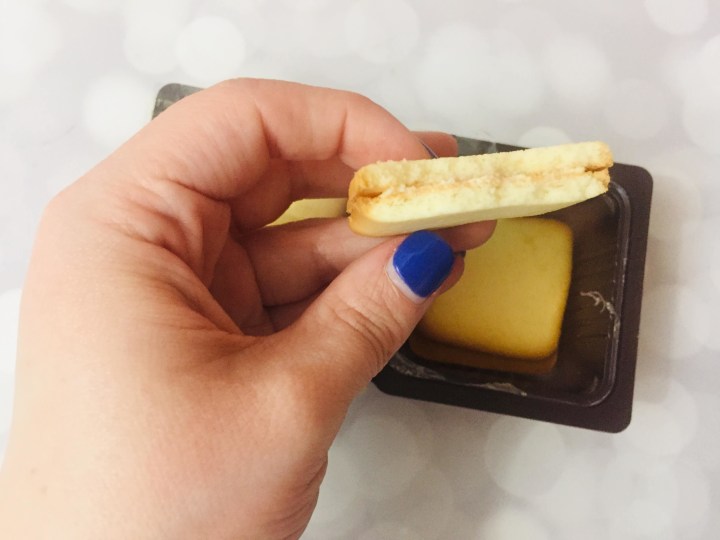 Cross section of the cookie so you can see that delicious yummy vanilla filling.
Poiful Drink Mix — One more soda snack to round out the amazing Movie Date Night box! These are chewy gummies that have a juicy soft filling flavoured like Japanese sodas. Cola, cider, white soda, and lemon squash.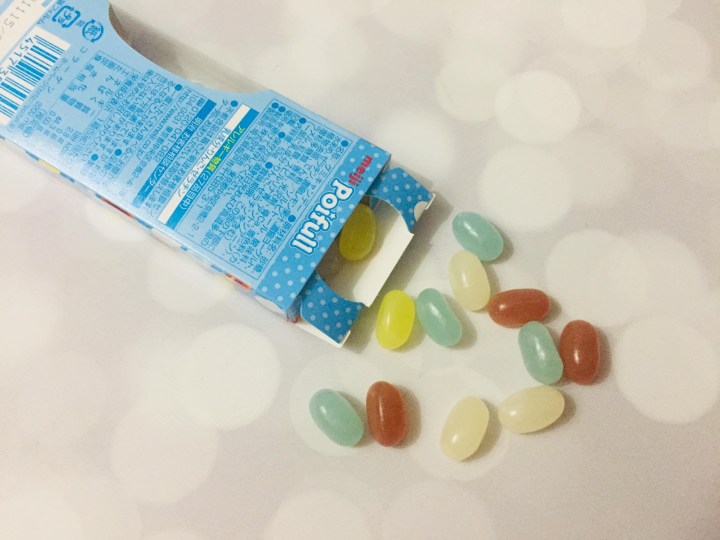 The cola ones were my favourite!
I think the Movie Night theme was SO much fun and such a creative idea. Japan has such creative takes on things which I consider traditionally American like popcorn — I would have never thought to try soy sauce popcorn before but there you go. Since I have a weakness for cola flavoured candies I definitely enjoyed the sweets aspect too. The Zenpop sweets box is so much fun and they did a great job with the theme.