Unplugged Book Box is a monthly subscription box that sends a new release book for adults plus items to help you unplug from your daily life and recharge. Self care goodies AND a book? Yes, please! You can choose from two levels: The Adult Box is $38 with 4-6 items, and the Young Adult Box is $33.25 with 3-6 items. I am reviewing the Adult version! What can you expect to find in the box?
4-6 bookish self-care or novelty products
Exclusive activities to help you unplug and focus on you!
Self-care & gratitude tools to help you reflect
One new release YA (hardcover) or Adult Fiction (hardcover or paperback) book per month
Adult or young adult books
DEAL:  Get 10% off on 3+ month subscriptions! Use coupon code HELLOUNPLUG10. Not valid on month to month plans.
First peek! The contents were sealed with a heart sticker.
The June 2019 Box theme was Pride. There are several definitions for the word "pride" but in this case it was specially picked for the month of June and celebrates the LGBTQ+ community.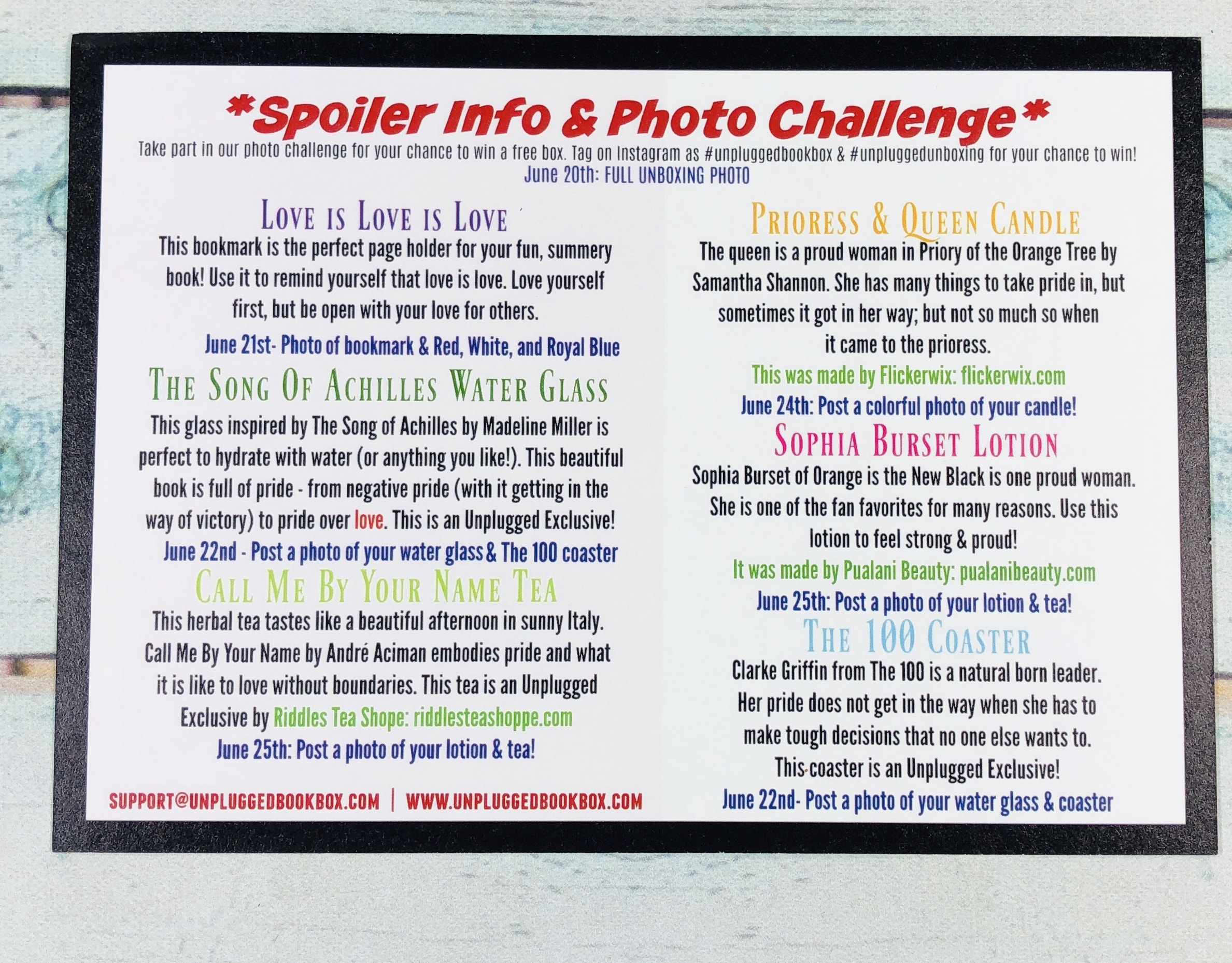 The back of the card listed the "spoilers", or items in the box. The items tie in with different fandoms, TV shows, and books. For instance, one of the items is inspired by Orange is the new Black. Most of the items can be found on Etsy. It also lists some unboxing challenges in case you want to share your photos on Instagram and possibly win a prize.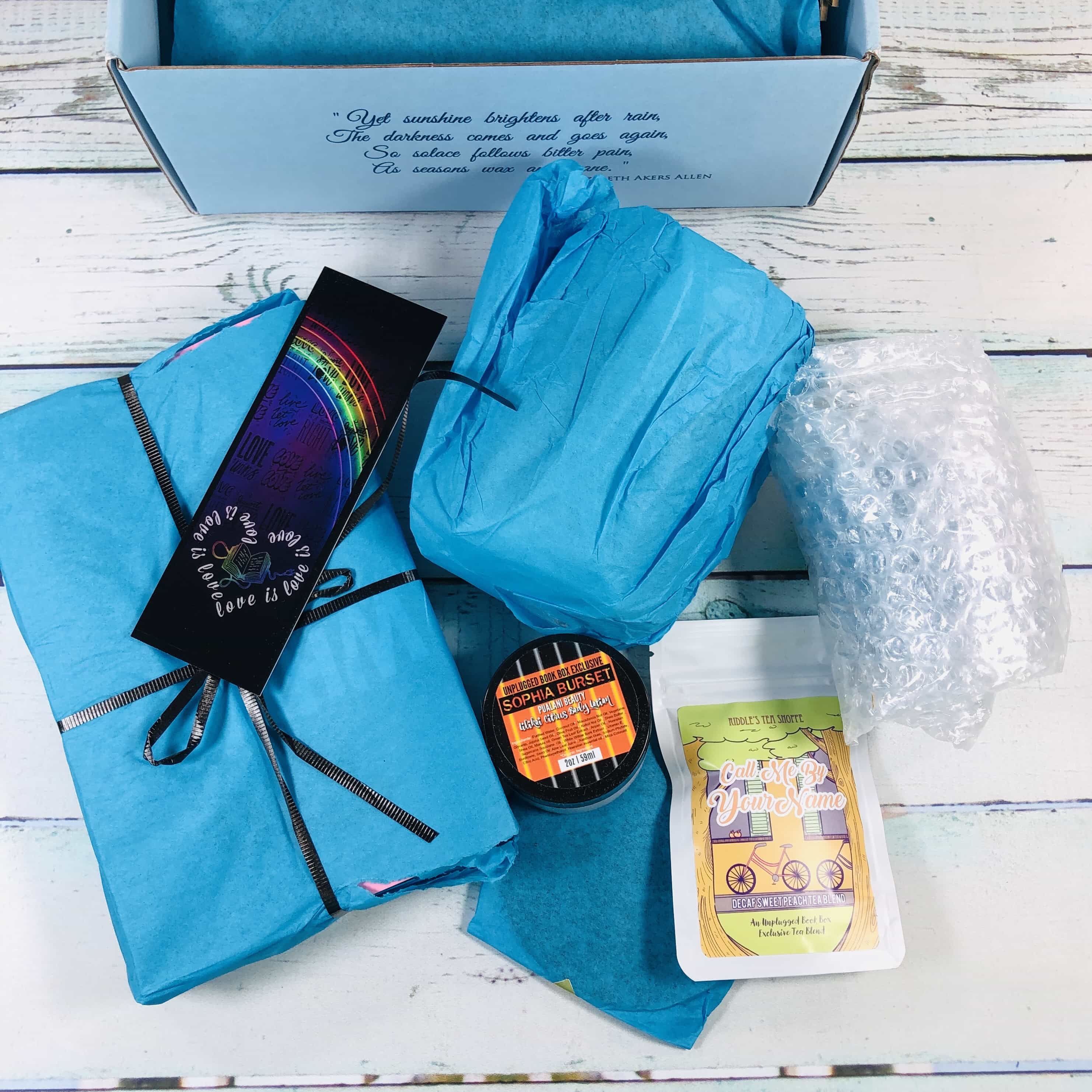 The items were cushioned by paper squiggles and some items were wrapped separately.
Everything in my box!
There was a card that gave reasons to have pride.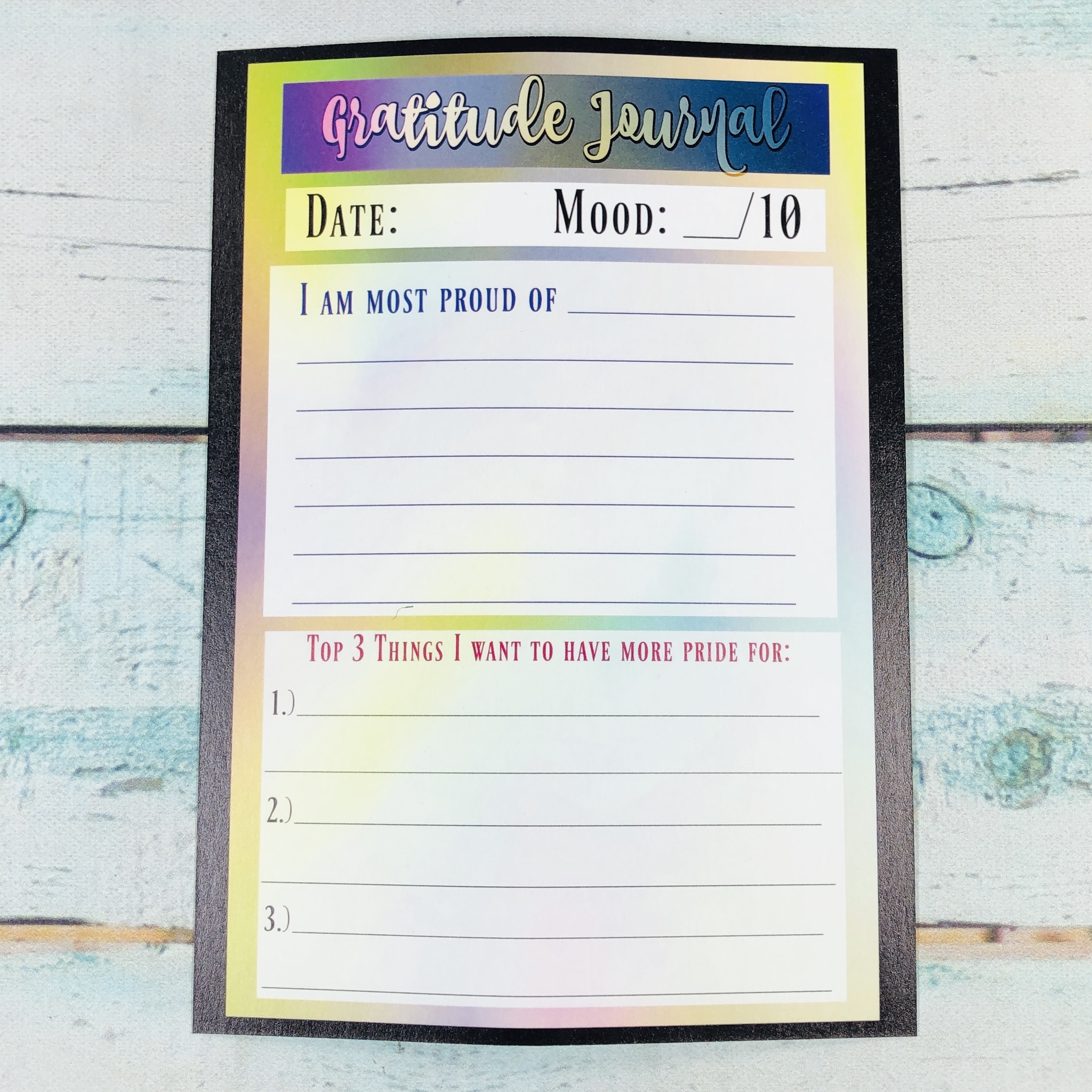 The back of that card had a gratitude journal, which can be pasted into a bujo.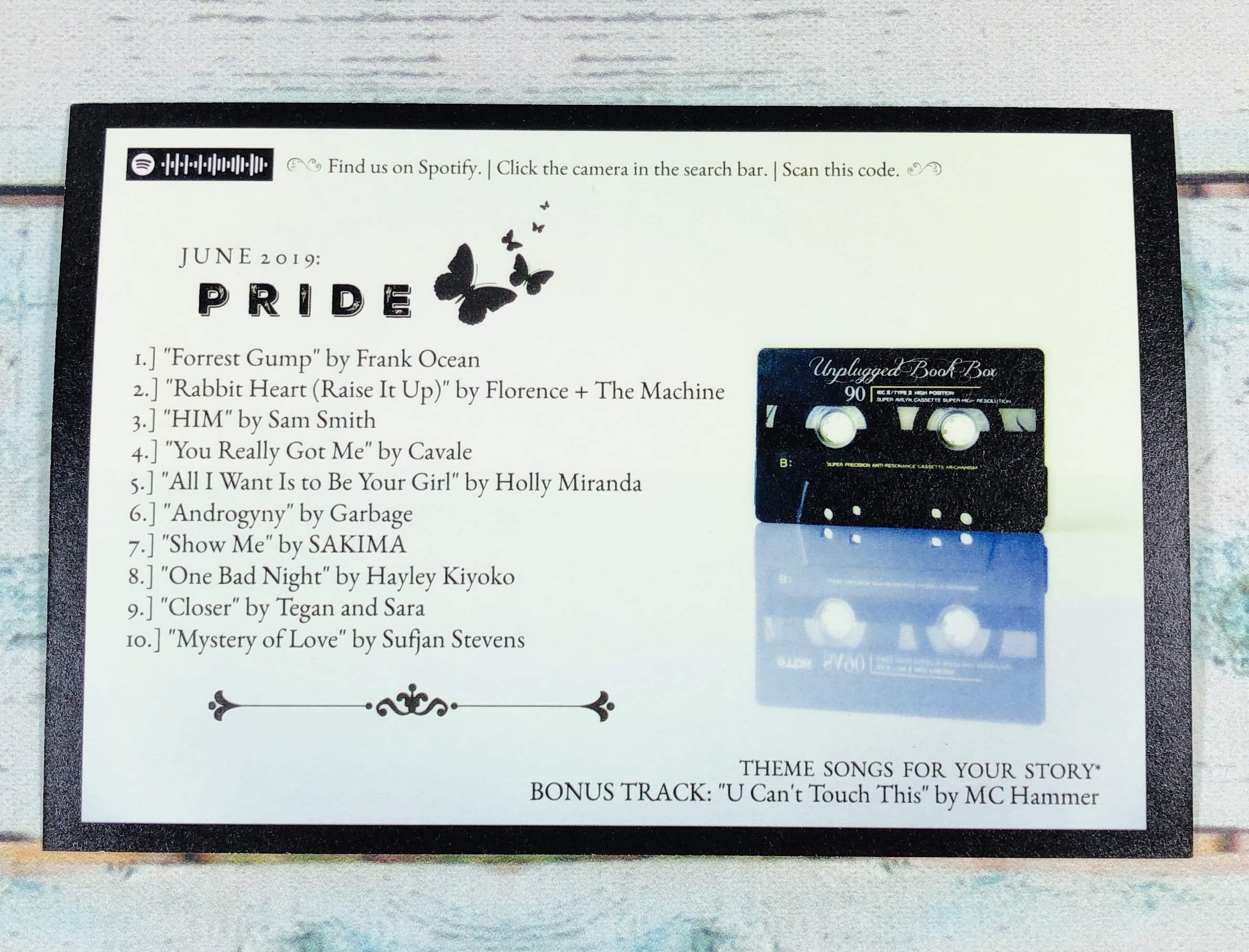 You can find a playlist on Spotify.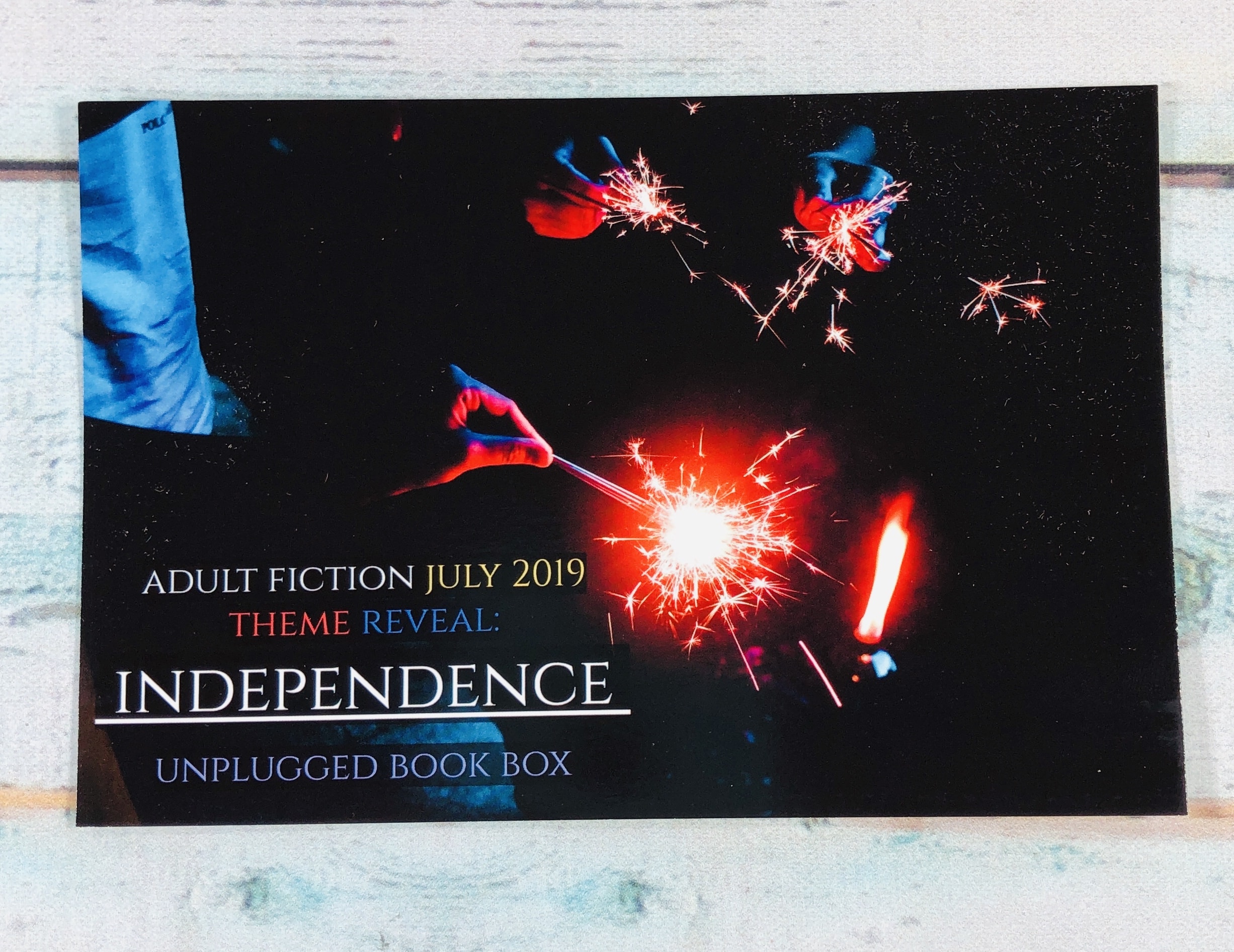 The theme for the July box was revealed on the back.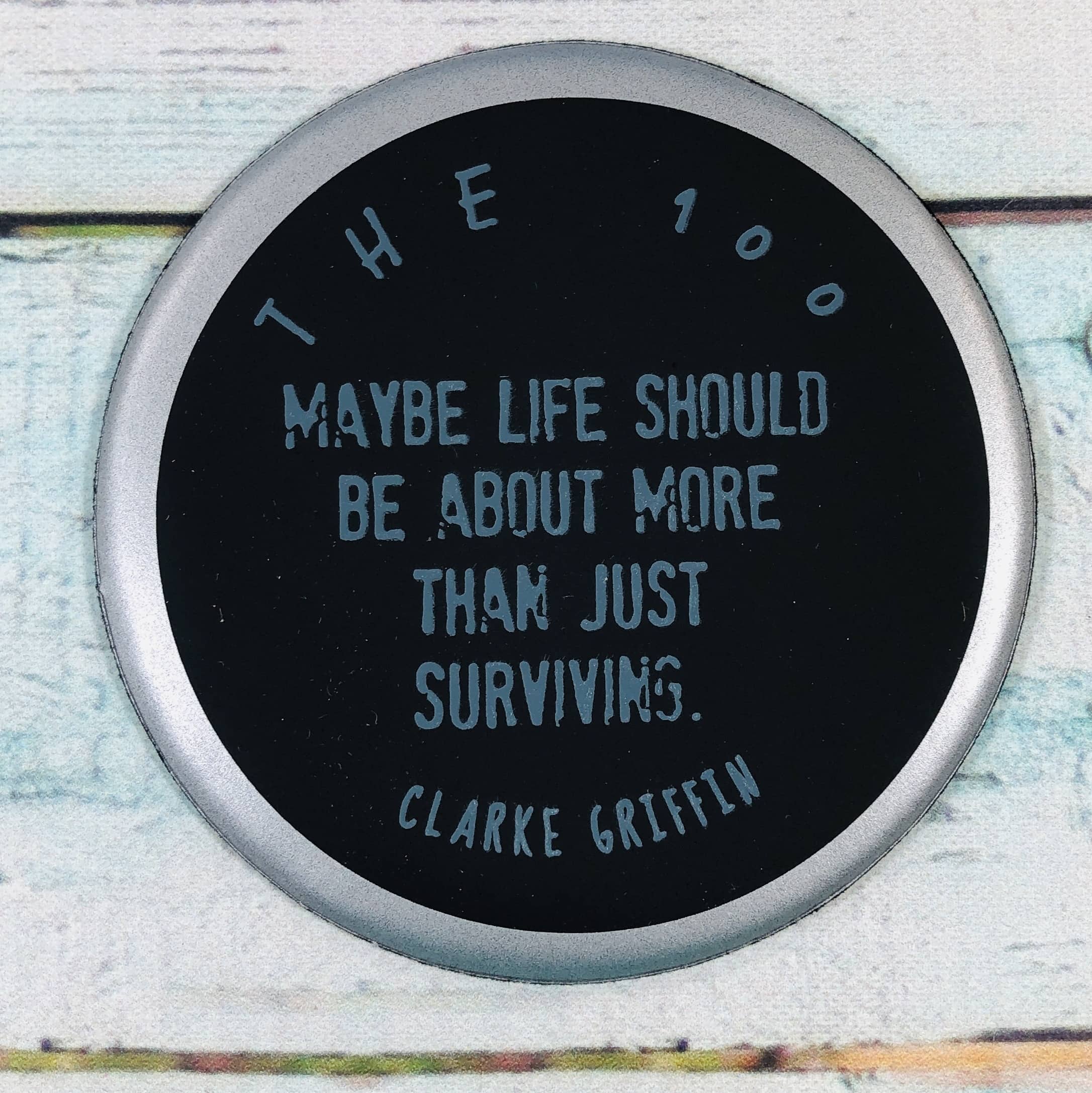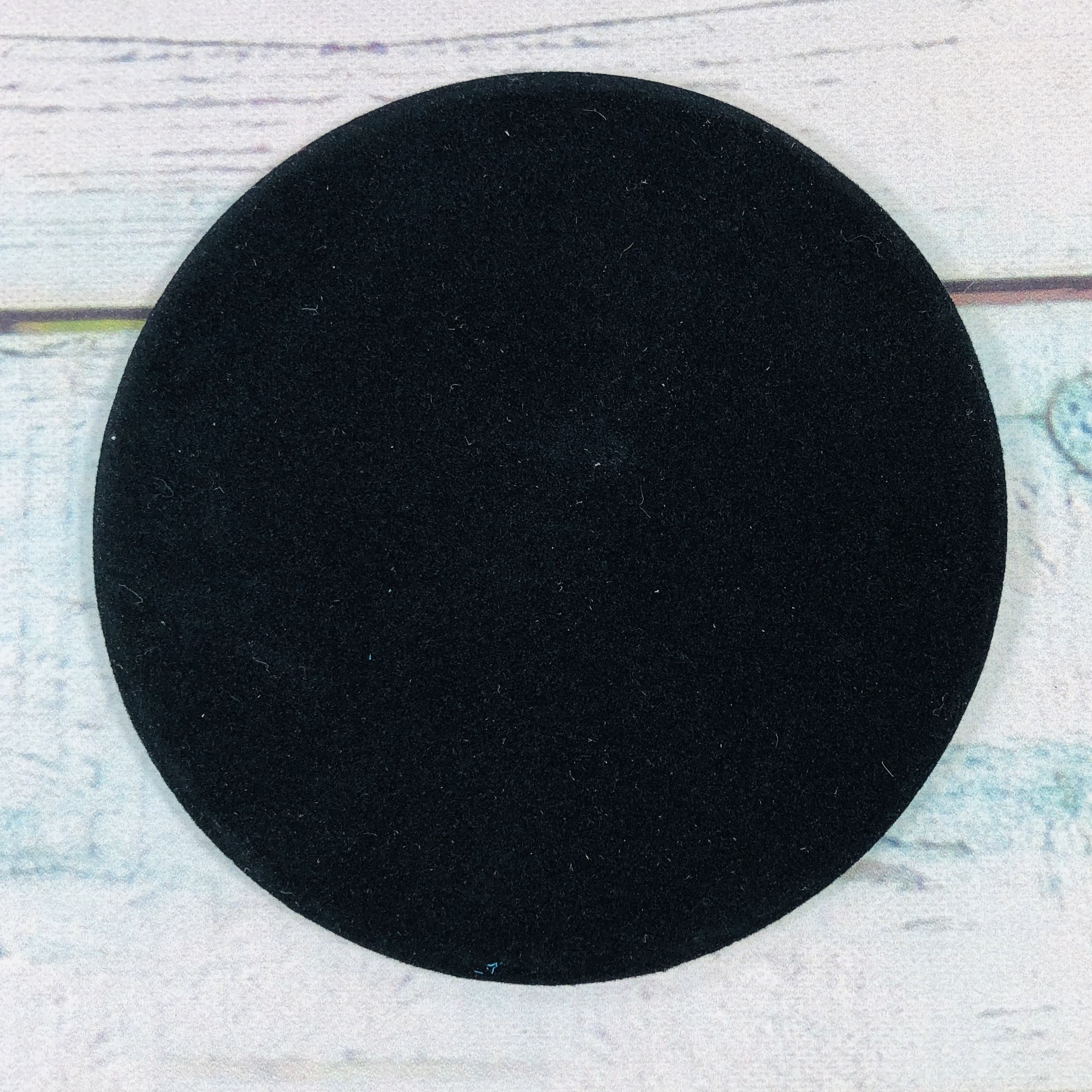 The 100 Coaster has velvet on the back to keep it from scratching up the furniture. It is an Uplugged Book Box exclusive item.
Riddle's Tea Shoppe Call Me By Your Name Decaf Sweet Peach Tea Blend ($2.75) is another Unplugged Book Box exclusive item. Tea is my beverage of choice and I want to point out that this tea isn't decaffeinated (meaning caffeine has been removed); it is caffeine-free, which means there was never any caffeine to begin with. Semantics, maybe, but just FYI.
Rooibos makes a lovely caffeine-free stand in for the usual tea leaves and makes a hearty cup of tea. I appreciate that the preparation directions are on the bag.
The tea smells like peach and that flavor carries over into the steeped tea, along with a hint of citrus. The rooibos is understated in this tea, which is OK by me.
Pualani Beauty Sophia Burset Lilikoi Citrus Body Lotion is another exclusive. Ingredients include coconut oil, macadamia oil, and shea butter.
The lotion was creamy and my skin absorbed it quickly. The scent was fruity and floral and reminded me of plums and was also more like perfume than natural essence. It's been several hours since I applied it and my skin is still lightly scented.
The Song of Achilles WaterGlass is, you guessed it, an exclusive item! It says "He is half my soul, as the poets say".
The design continues on the back of the glass. The glass holds about 12 ounces of liquid and feels very sturdy.
Flickerwix "The Queen & the Prioress" Candle ($12?) Ooh, I love candles!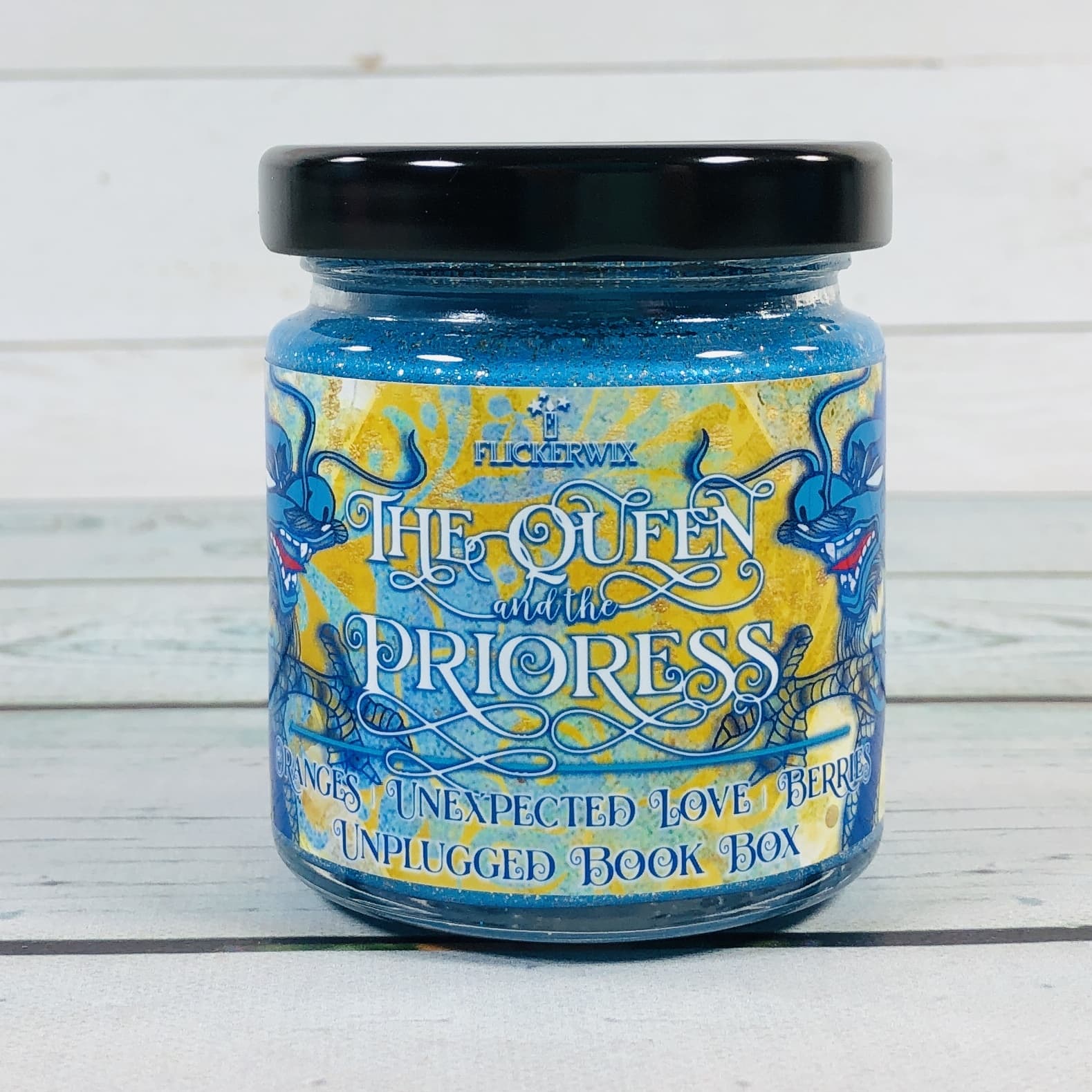 The scent for this particular version (an exclusive of course) is oranges, unexpected love, and berries. Smells like fruit punch to me!
Not only does it smell amazing, it is also absolutely stunning, the color is such a vibrant blue. Plus, sparkles!
Plus, glitter! I believe this is made of soy wax. I prefer the scent more when the candle is cold; while burning it gave off something that I found unpleasant.
Love is Love is Love Bookmark is simple but pretty and reminds us that love is love.
Red, White & Royal Blue by Casey McQuiston ($16.99 value, now $10.19) The featured book is about what happens when the the First Son and The Prince of Wales have to make nice to each other after an altercation but then they take it to the next level.
What happens when America's First Son falls in love with the Prince of Wales?

When his mother became President, Alex Claremont-Diaz was promptly cast as the American equivalent of a young royal. Handsome, charismatic, genius―his image is pure millennial-marketing gold for the White House. There's only one problem: Alex has a beef with the actual prince, Henry, across the pond. And when the tabloids get hold of a photo involving an Alex-Henry altercation, U.S./British relations take a turn for the worse.

Heads of family, state, and other handlers devise a plan for damage control: staging a truce between the two rivals. What at first begins as a fake, Instragramable friendship grows deeper, and more dangerous, than either Alex or Henry could have imagined. Soon Alex finds himself hurtling into a secret romance with a surprisingly unstuffy Henry that could derail the campaign and upend two nations and begs the question: Can love save the world after all? Where do we find the courage, and the power, to be the people we are meant to be? And how can we learn to let our true colors shine through? Casey McQuiston's Red, White & Royal Blue proves: true love isn't always diplomatic.
There was a signed bookplate from the author that can be placed inside the cover.
There was also a letter form the author introducing her book.
I usually pick a random page to showcase but I had to search around for one that didn't have any expletives.  After reviewing my picture I guess there was one I didn't catch.
Unplugged Book Box sent a pretty cool assortment of items in their Pride box this month. Most of the fandoms were ones inspired by LGBTQ+ characters and the main book also went along with the theme. My favorite was the candle, it smells so good (at least while cold!), but I also enjoyed the tea and lotion! Plus, bookmarks seem to grow legs and disappear around here so I can always use another!
Are you getting the Unplugged Book Box?