Spiritual Guru box is a new monthly subscription box of spiritually inspired items specifically picked to enhance your spiritual experience. Each box will contain a mix of 5-7 items that can include: spiritual or growth tools, a high vibration crystal or stone, essential oil spray or roll on, scented candle, boho jewelry, mala beads or other adornments, figurine or other mystical items. Many of the products are made by skilled artisans, natural or organic, cruelty-free, and eco-friendly. The box is 100% vegan and cruelty-free.
Every new subscriber will receive the initial "Raise Your Vibration" themed box. Previous boxes are also available as one-time purchase in their store.
Everything is lovelingly wrapped with a "Sending Good Vibes" sticker.
I see feathers!
This month's theme is Earth Elements. The information card explains how you could receive a free gift in your next box by sharing a picture of your box on Instagram.
Every month, we also receive our personalized oracle card and if you feel attracted to the deck, the introduction card tells us what deck it is from. This month is from the Archangel Power Tarot Cards.
My card is Knight of Gabriel. It's time to take action!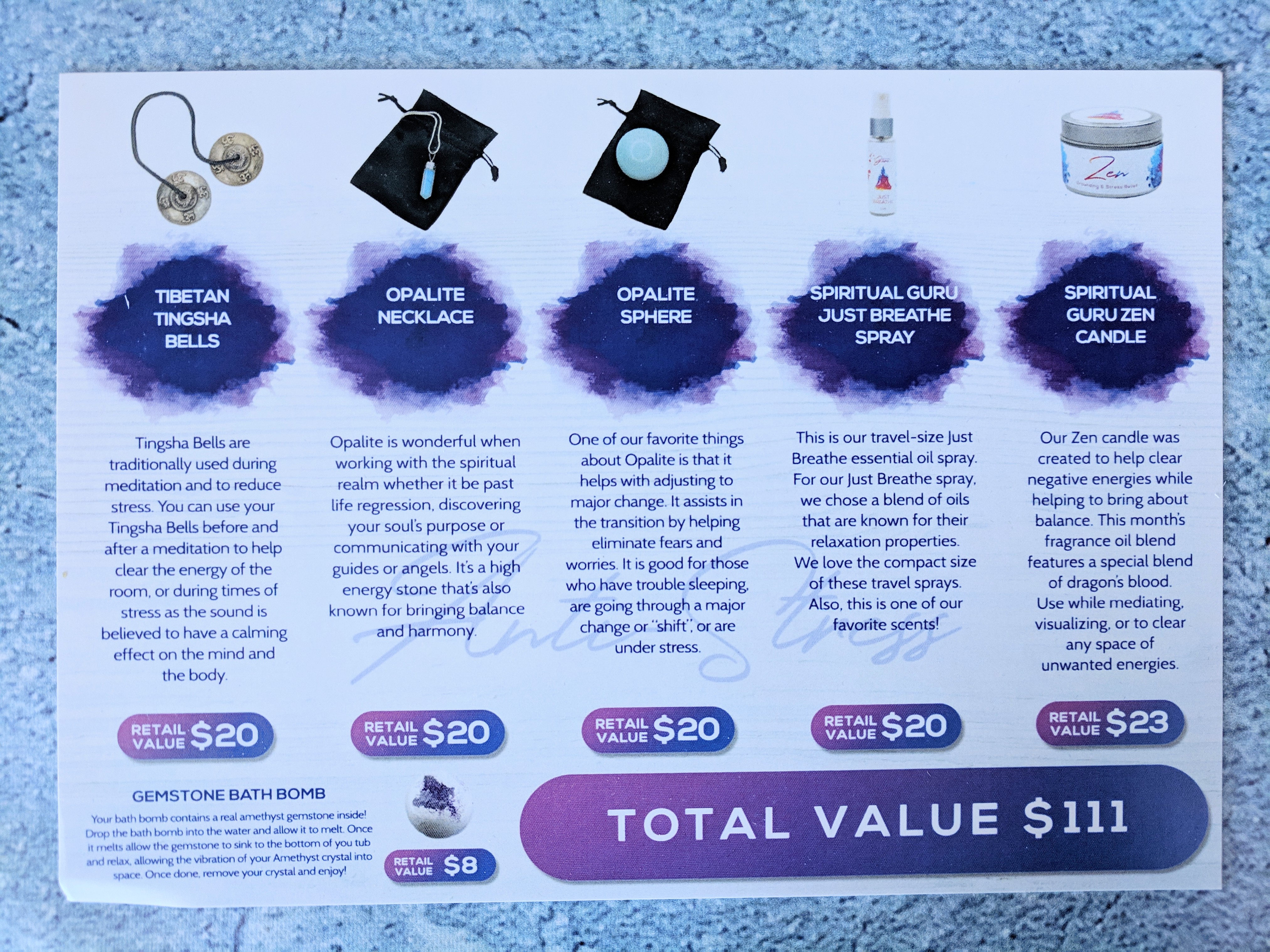 The information card details everything about this month's items.
Native Spirit Oracle Cards by Denise Linn. This deck was made to deepen our connection to the mysterious, natural forces around us.
It comes with a little book and the back of the cards features a lovely realistic landscape.
Each card has a two pages explanation. You have the meaning of the card, what your native spirit wants you to know, and the journey.
The cards themselves feature lovely pictures that gives a lot of thing to think about.
Dream Catcher. I've been in contact with dream catchers for as long as I remember and I've always been told that they were more of a "catch the evil and bad energies" than about dreams. Good energy, and good air, could pass through while everything bad would get caught in the web. In the morning, with the first ray of sun, everything caught would then disappear.
Tiger's eye bracelet. Tiger's eye is a very grounding stone, while reminding us of the sun rays. It's full of good energy and it's a tool for transformation.
It's a lovely bracelet with three different colors of tiger's eye. The beads are quite big, but it's not too heavy.
Choya Geode. This geode was split open and the inside polished. Some geodes will have a whole on the inside, mine has a tiny space where the crystals are a bit bigger.
I love the size of the stones we receive with this subscription. They are just big enough to fit in the palm of the hand and they are lovely when displayed in the house.
Grounding Scrub. A cleansing and moisturizing body scrub.
This "Balance and Recharge" is made with salt, sugar and essential oils. I'm terrible at recognizing the scents, but it's nice and grounding.
Earth Candle. This lovely candle has a fragrance oil blend of fir needle, cedarwood, eucalyptus, patchouli and cedar leaf that has been specifically chosen for their grounding properties.
Spiritual Guru Box have their own line of candles and I really enjoyed every single one we received in this box.
A different stone has been put in each candle, and you have a list of the possible stone and their properties.
The top of the candle is sprinkled with pyrite.
I'm always excited to receive my Spiritual Guru Box. I'm amazed by the variety of items, and they are things that I would have actually bought for myself (or wish I had!) I love the variety of items that we receive from different spiritual background. I'm so happy we received the Native Spirit Deck as it was something I was actually going to get soon!
What do you think of this subscription? Let us know in the comments!