LuckyVitamin's The Man Box is offered by the same company that has a similar Beauty Box for women! This version is full of personal care items you may not have heard of yet. This box promises a $50 value for only $9.99. LuckyVitamin sends cruelty-free products that are also paraben, sulfate, and toxin free.
Let's face it – whether in the office, at the gym, or out and about, smelling fresh and looking sharp is important for a man. If you don't want to be a scrub, you need to scrub away dirt and grime, plus take a few extra steps along the way! The Man Box is perfect for men looking to expand their hygiene horizons. It includes samples of the best natural grooming items for men, handpicked by LuckyVitamin's in-house experts. The Man Box is a $50 value for only $9.99, a deal even the thriftiest of men can appreciate.
My items were shipped in a big box and arrived on my doorstep.
I received a list of the items in the box and an intro to the items.
Everything in the box! The Method body wash leaked so there is a sticky mess on most of the items, but I am sure they will come clean with a good rinse.
Bull Dog Men Shave Gel ($0.15) has a blend of 8 essential oils to help skin feel refreshed after shaving.
Bull Dog Men Face Wash ($0.18) has those same 8 oils and is non-drying to the skin.
Bull Dog Men Moisturizer ($0.14) leaves skin lightly moisturized with a mix that includes aloe, glycerin, and konjac root extract.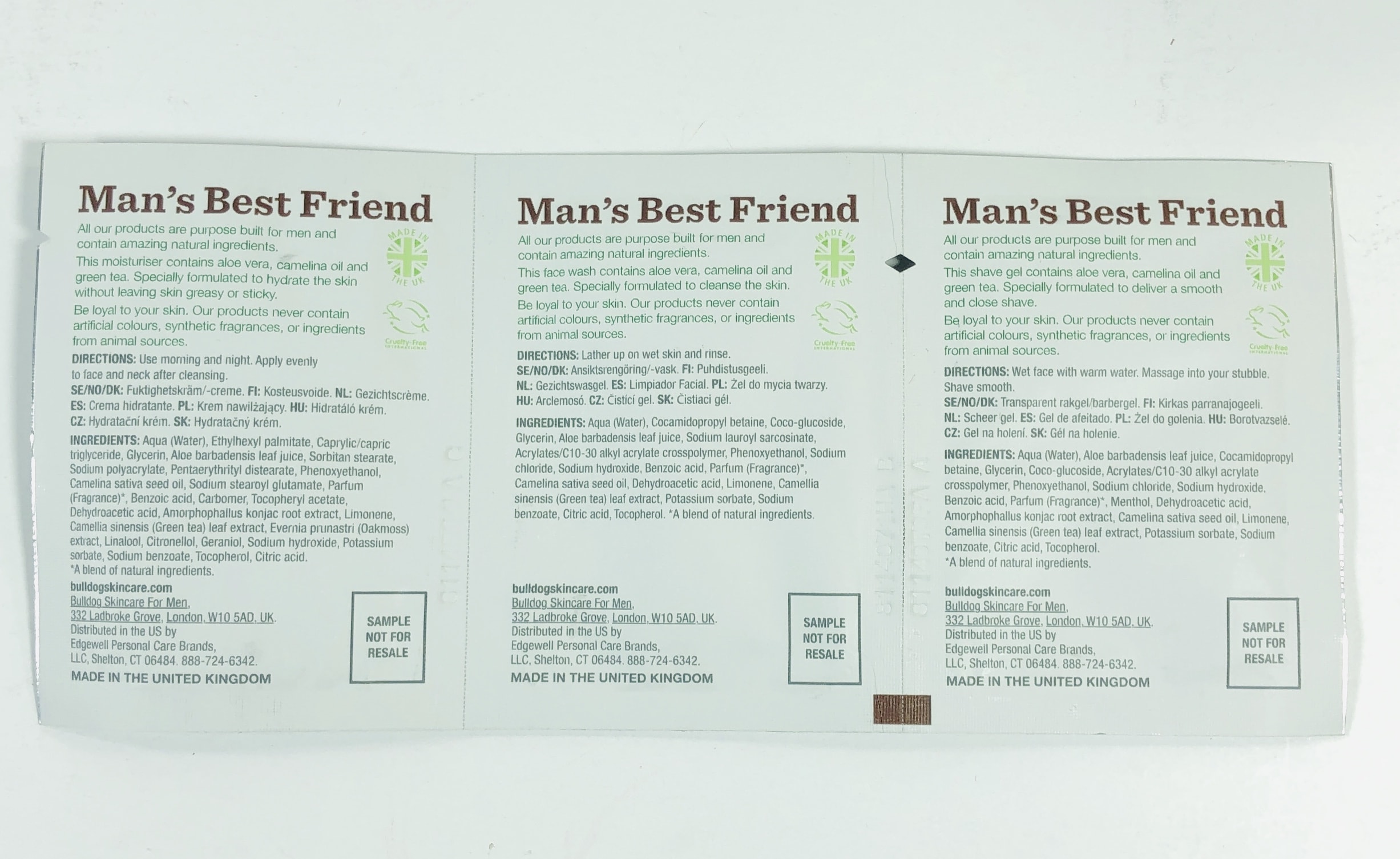 A full list of ingredients and instructions were on the back of the packs.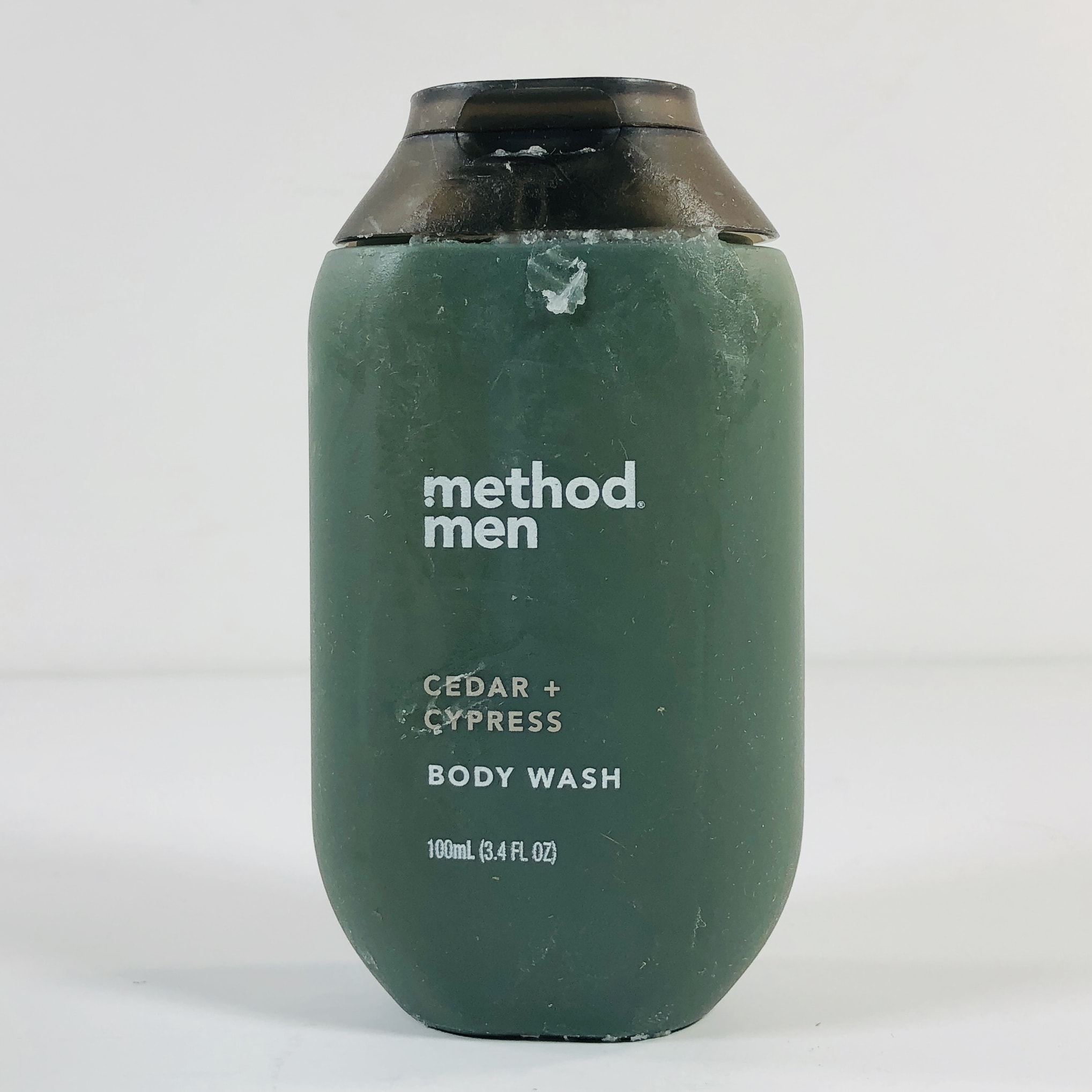 Method Men Cedar + Cypress Body Wash ($2.82) lathers well and then rinses clean and smells great while doing it, kind of fresh and clean with a hint of woods.
Ingredients include aloe to help sooth skin.
Herban Cowboy Forest Milled Soap ($7.99) smells fresh without smelling like an Irish spring. Plus the name is so cool!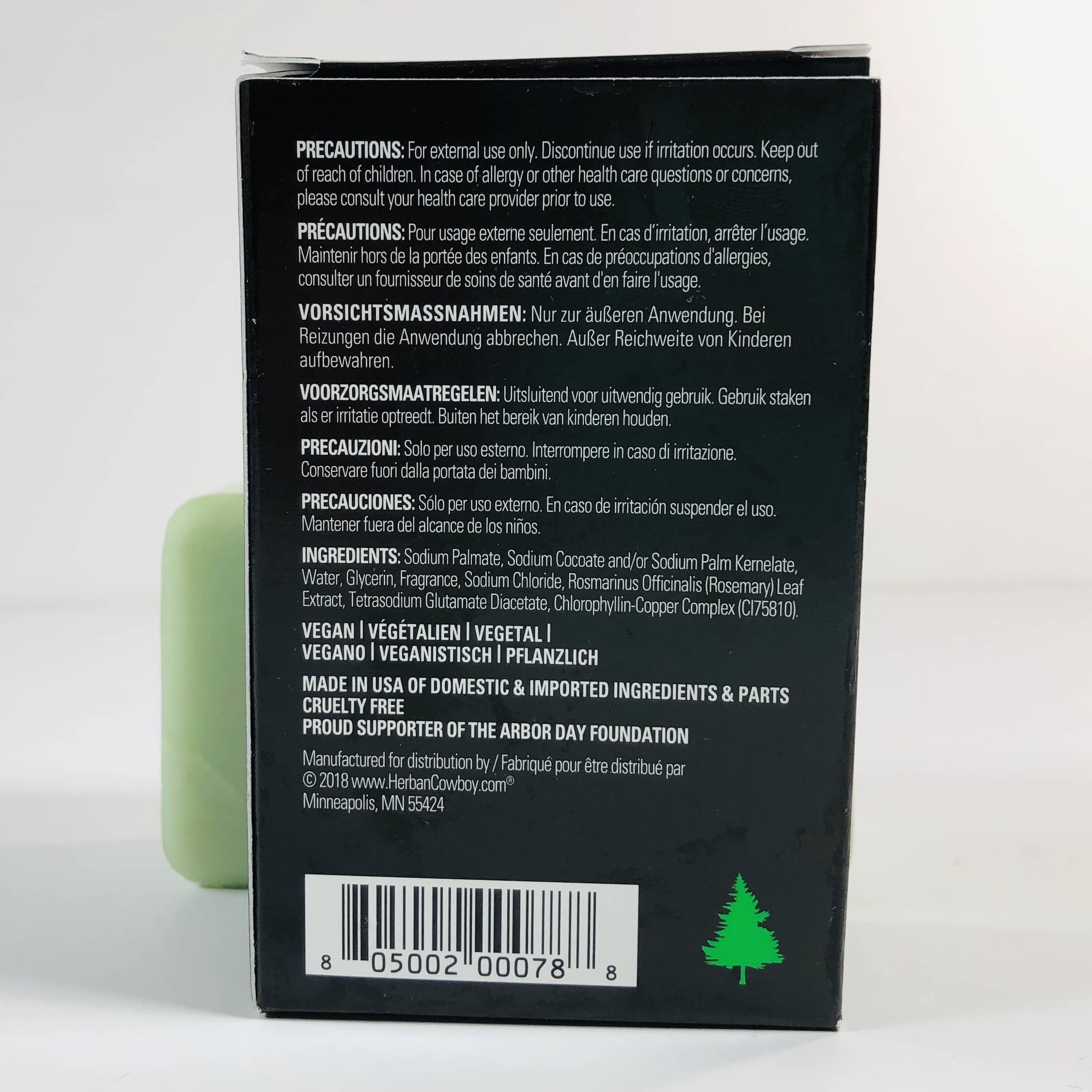 Rosemary and chlorophyll are a couple of the natural ingredients in here.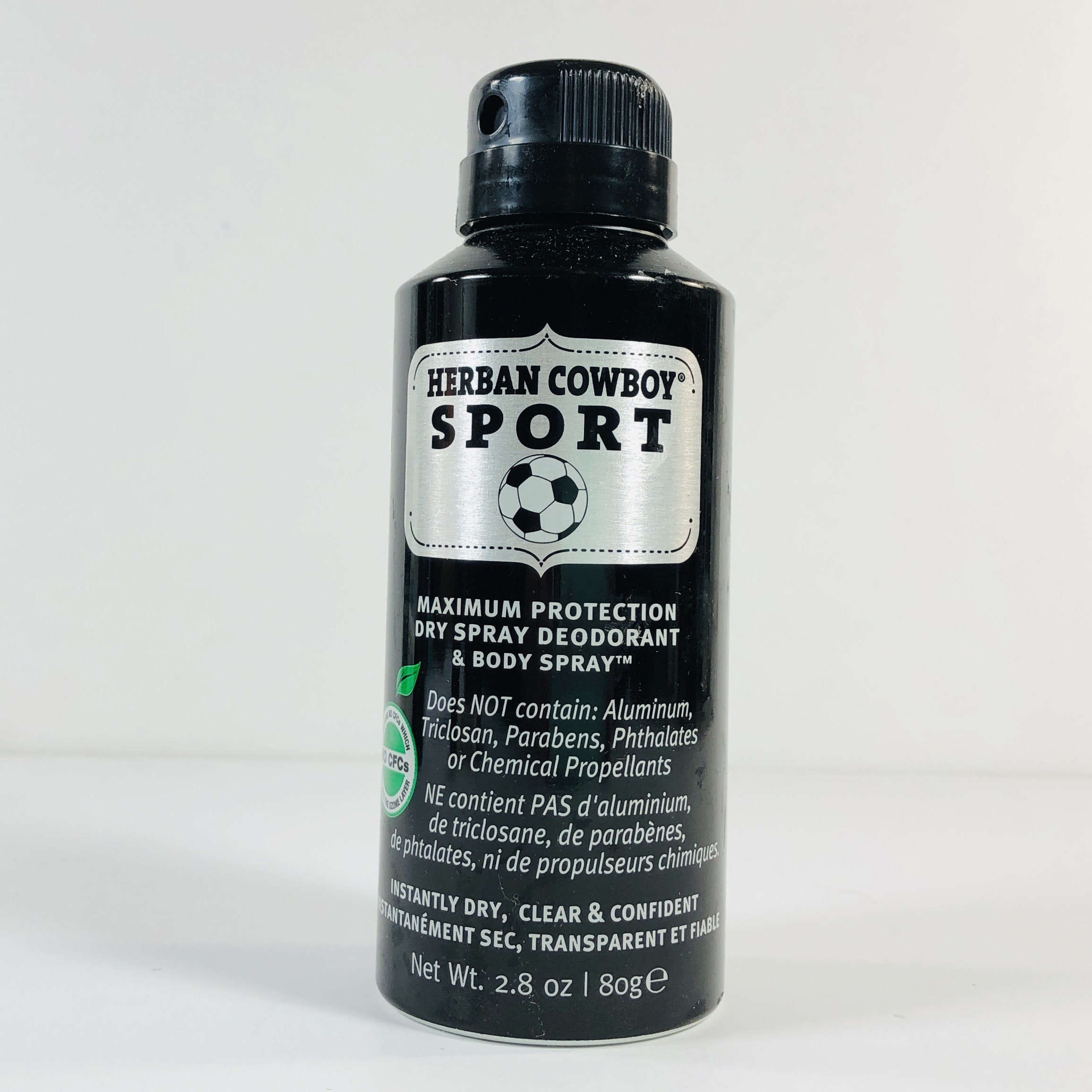 Herban Cowboy Sport Dry Deodorant Body Spray ($7.86) is a body spray that is supposed to dry instantly and help you feel fresh just when you need it.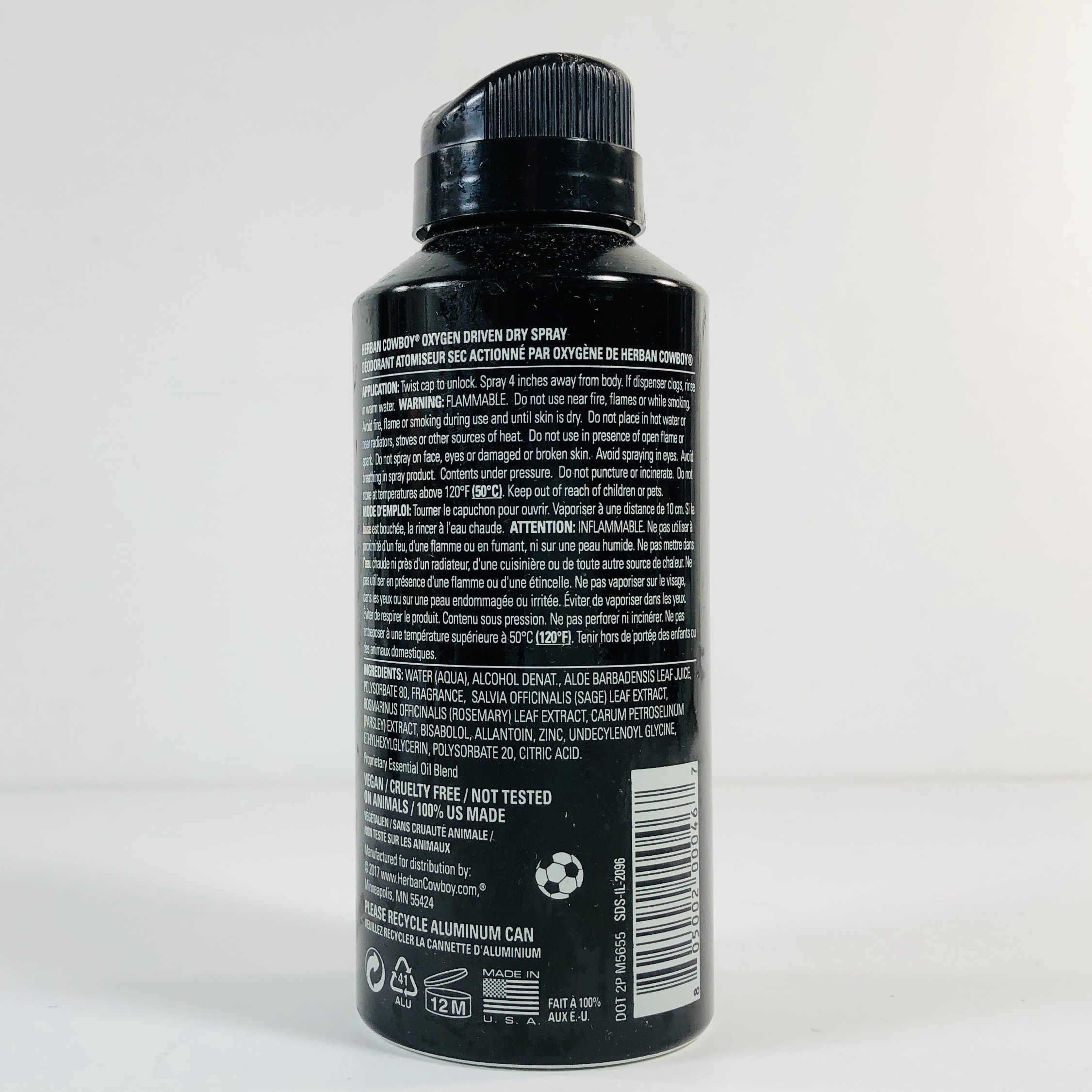 Sage and rosemary join aloe and I think it smells really nice, fresh and with a hint of lemon.
Shea Moisture Men Bourbon Commodore 4in1 All-Over Wash ($1.68) can be used on the hair and body.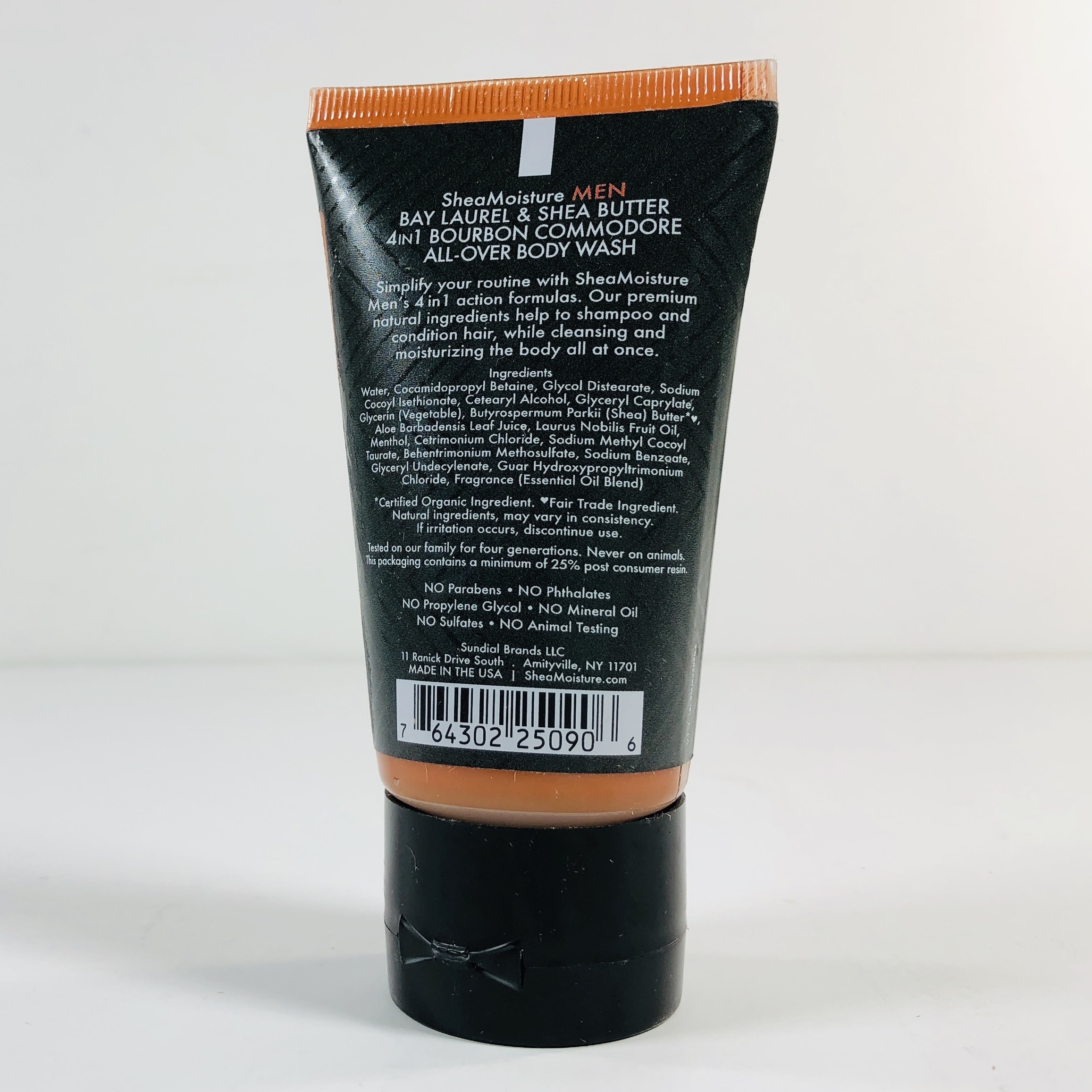 Shea butter, aloe, bay laurel, and menthol are some of the ingredients. Smells wonderful and I would imagine it would leave the skin feeling cool after rinsing off.
The Grandpa Soap Co Pine Tar Shampoo ($1) and The Grandpa Soap Co Pine Tar Conditioner ($3.88) both have pine tar oil and tea tree oils to help fight off dandruff and are gentle enough for daily use. They both have a smokey woodsy scent and I might just "borrow" these for myself!
The Grandpa Soap Co Pine Tar Body Wash ($1.04) has the same smokiness as the shampoo and conditioner but with a hint of peppermint. It also has pine tar and Atlas cedar and the added benefit of carrot seed oil for a hit of antioxidants. I used it to wash my hands and for a while I kept craving BBQ, my hands smelled just like sweet smoke!
Every Man Jack Deodorant in Cedarwood ($0.96) is aluminum-free and therefore it is a deodorant and not an antiperspirant. I don't think my hubby wants to sweat so I will pass this along.
Ingredients are listed on the back and include witch hazel, aloe, cotton, and Alpine lichen.
This is a clear gel deodorant and like everything else in this box smells manly and fresh.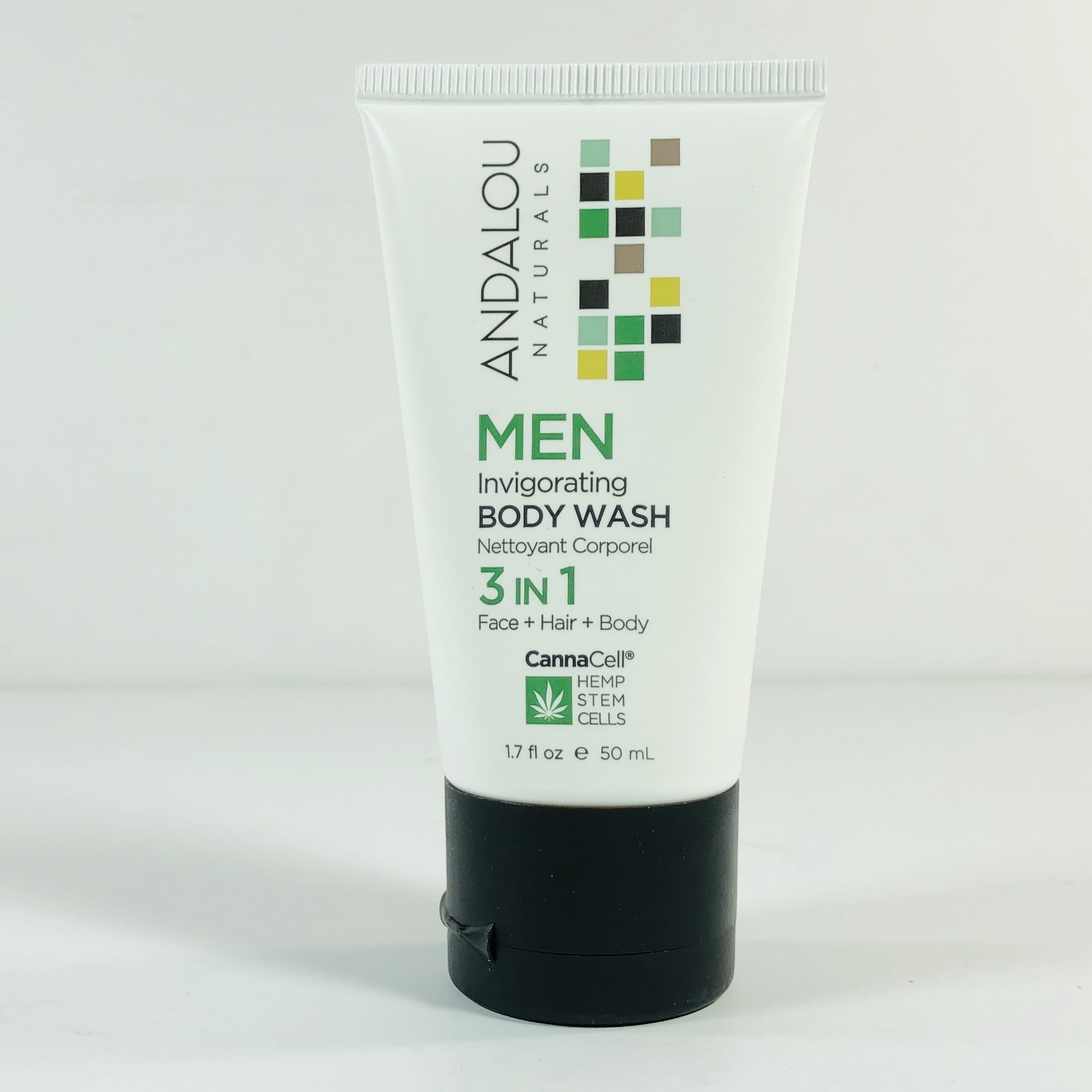 Andalou Naturals Men Body Wash ($1.78) Hemp seed is having its day and it is included in this body wash, which can also be used on the face and hair.
Aloe and panthenol plus essential oils for scent are in this fresh, orange-rosemary scented gel.
Badger Lip Balm ($4.99) Simple ingredients are all I ask for in a lip balm, like this one that is made with olive oil, beeswax, castor oil, and rosemary. That's it!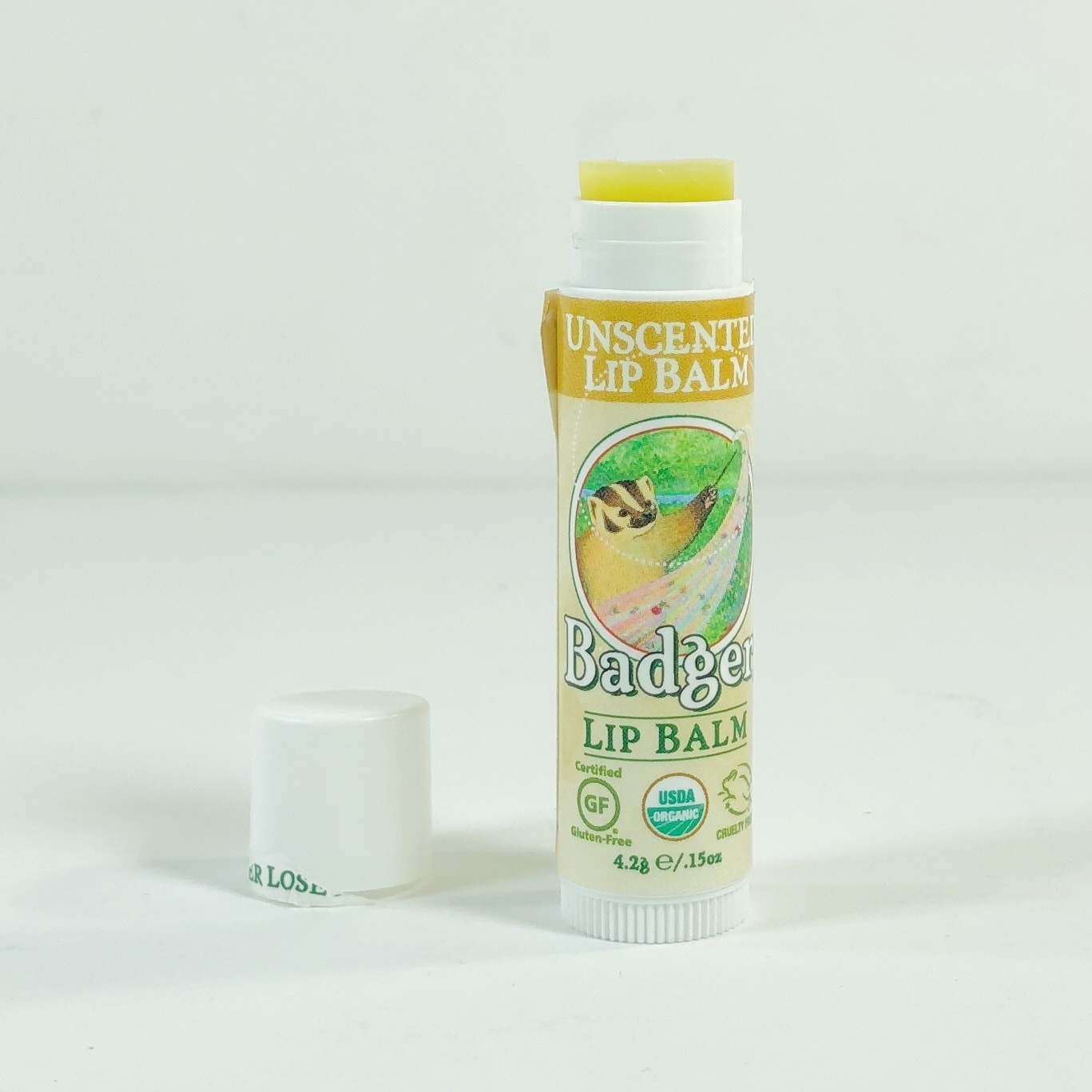 Although this is unscented, it isn't scent-free and smells a bit like honey.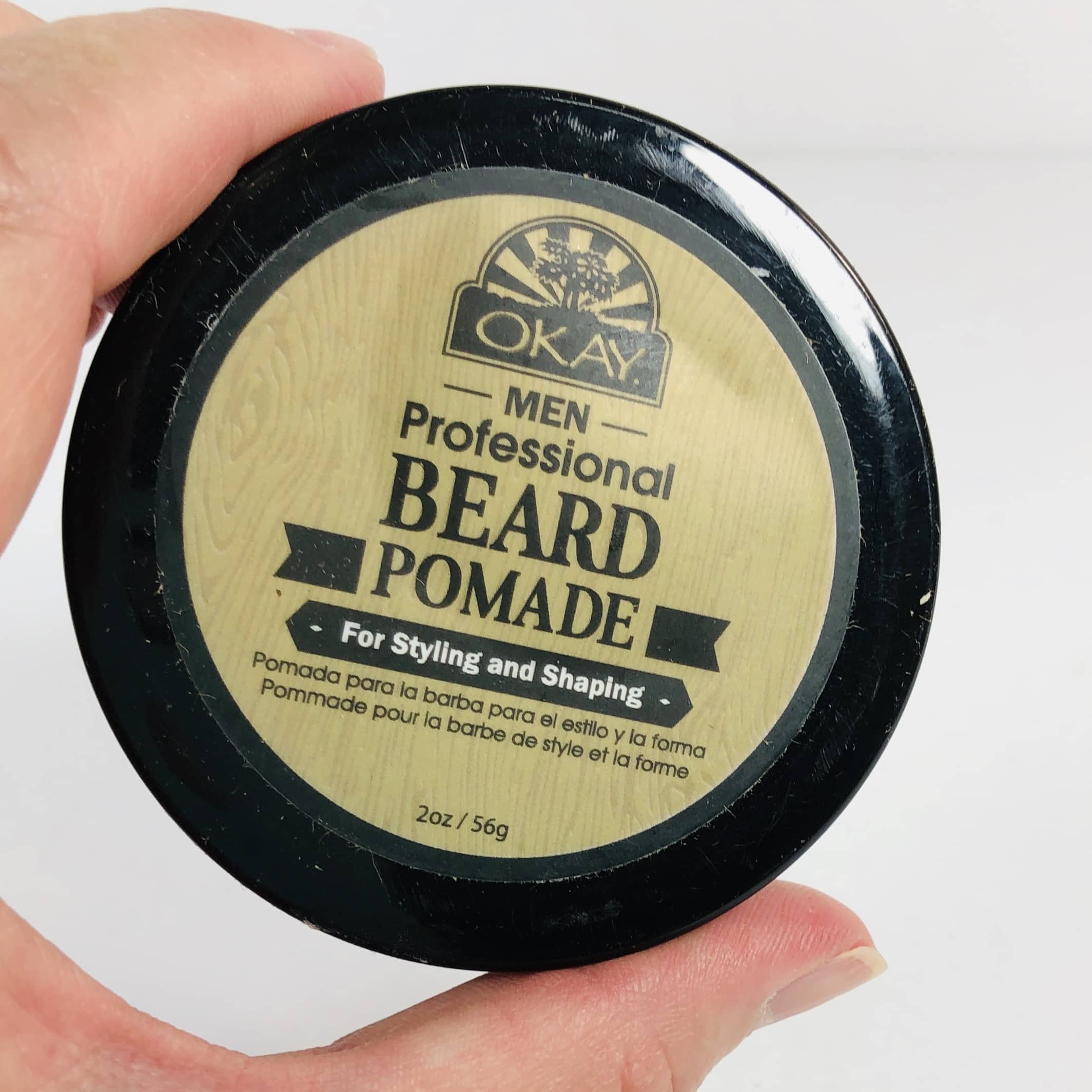 Okay Men Beard Pomade ($15.48) I think my husband was most excited about this product, mainly because he has grown a trim beard.
Ingredients are on the back of the container.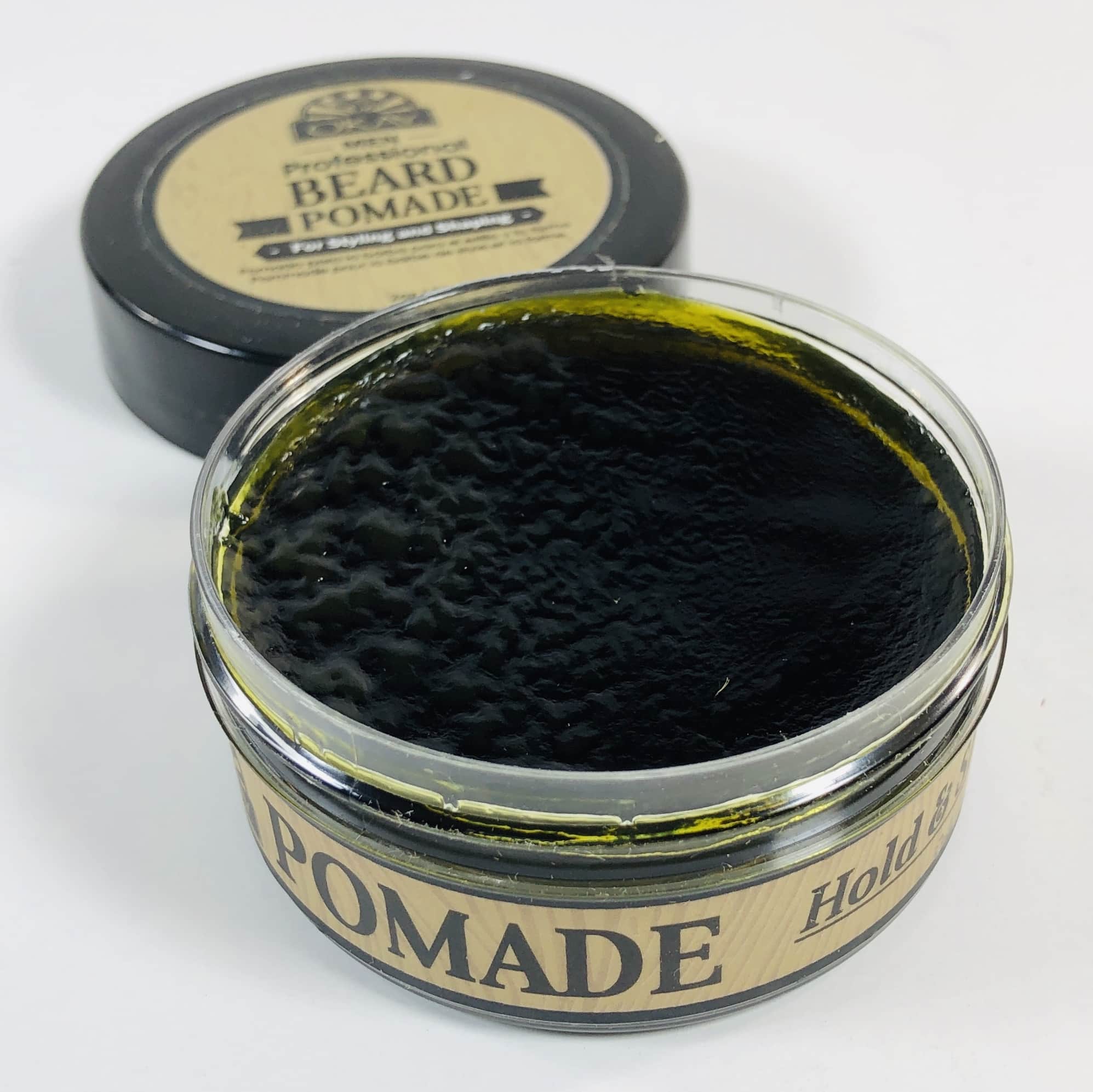 Simply scoop and use to style your facial hair as you wish. It has a light powdery scent.
I thought LuckyVitamin put together a wonderful selection of products for men to try out before they decide if they want to by the full-sizes in the future. There were a lot of body washes but then again, my husband showers every day so I think he would like to try something other than his usual liquid soap. The items also make great travel companions for the summer months. I think this would make a neat gift for a father or significant other (or yourself). The value for this box was around $49.95, which is pretty sweet for the $9.99 cost!
What do you think of LuckyVitamin's The Man Box?
Visit LuckyVitamin Beauty Bag to subscribe or find out more!