Love with Food Tasting Box sends 6+ surprise snacks from various healthy snack brands each month. It's an ideal sampler pack to jumpstart healthy snacking and to help you discover the most innovative food brands. This monthly snack subscription promises to only include snacks made with real ingredients and no added chemicals. The Tasting Box is $9.99 a month. Love with Food also offers other snack boxes such as Gluten-free and Deluxe.
DEAL: Get 40% off your first box with this link!
LIMITED TIME: Get your first classic tasting box FREE and just pay $4.99 shipping! No coupon code needed – just use this link to subscribe.
There's an information card on top of the snacks.
As always, the box is full to the brim!
This month's Love with Food theme is HAPPY SNACKING.
With every snack box delivered to you, Love With Food donates at least one meal to a family in need.
They also encourage you to share a picture of your box on social media for a chance to win 1,000 points toward free snacks!
Everything in my box!
Bright Cellars Gift Card ($45) It's a $45 gift card from Bright Cellars!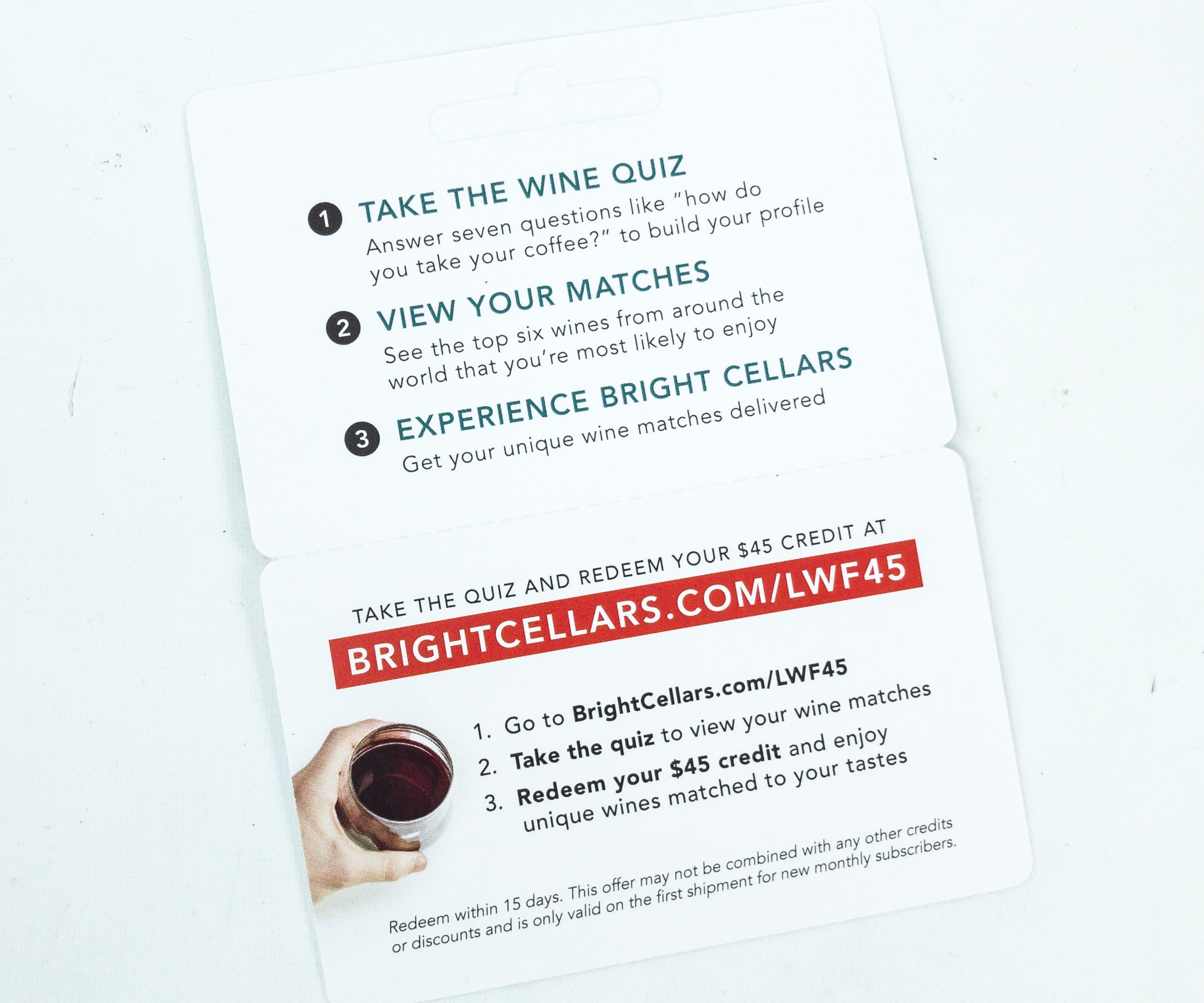 Simply take the quiz and redeem your credit using the exclusive Bright Cellars coupon code (or take $50 off with our link).
Another coupon card is from Bubbies Hawaii.
This card entitles you to a free pack of Bubbies Mochi ice cream with a retail value up to $7.49. Unfortunately these aren't sold where we live!
The third coupon is for 20% off your next purchase from More Labs.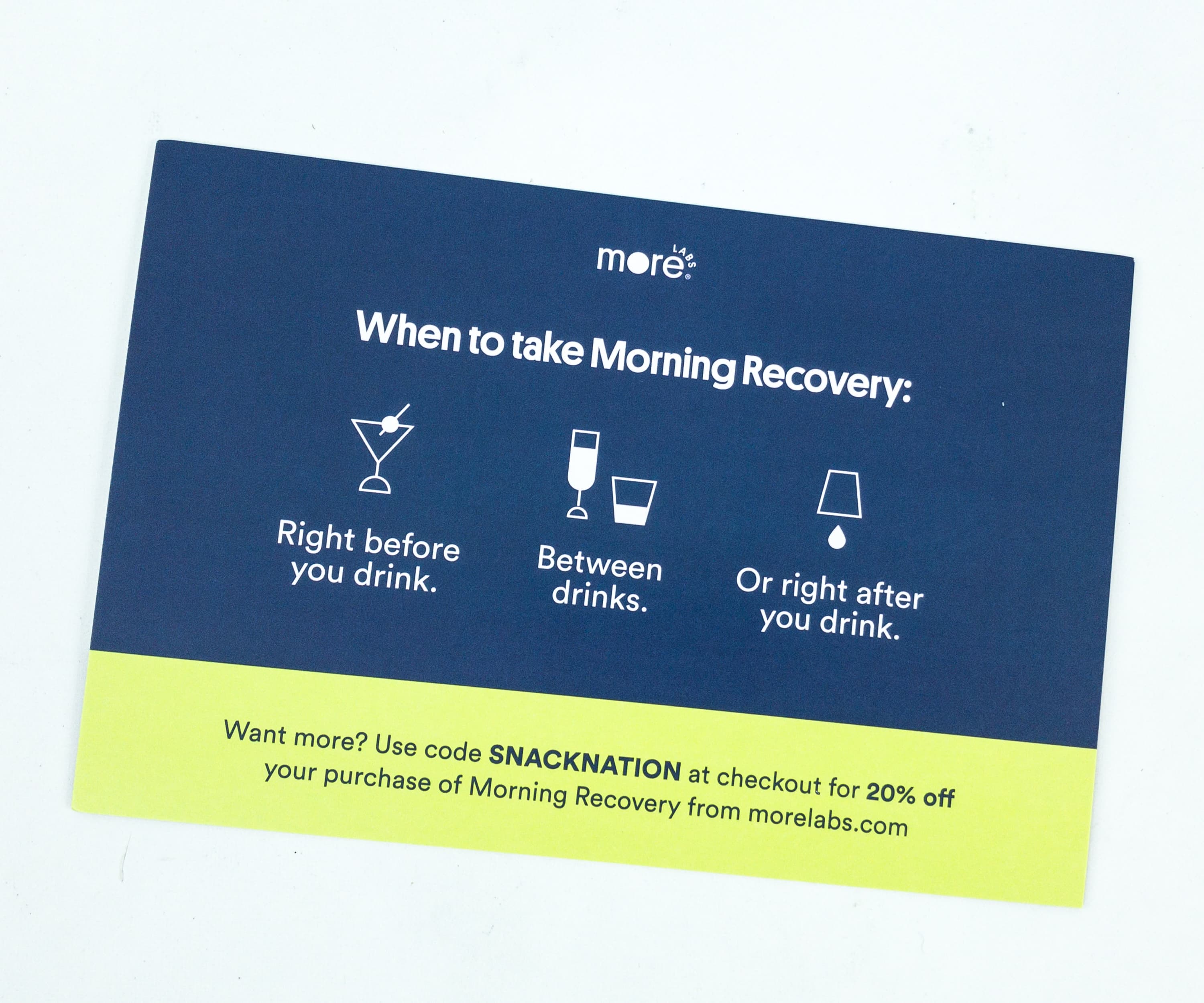 According to the card, Morning Recovery is best consumed before you drink, in-between drinks, and right after you drink.
More Labs Morning Recovery Dietary Supplement ($5.83) Morning Recovery is a caffeine-free, gluten-free, and soy-free lemon-flavored drink. It helps enhance your body's natural response to alcohol while restoring your vital nutrients and get you re-hydrated.
Zee Zee's Strawberry Grahamz Whole Grain ($0.85) These crispy whole-grain graham bites contain strawberry, making each bite even more scrumptious. They're also shaped like deep sea monsters, which captured the attention of my kids. Plus, it has no artificial colors, nuts, or dairy.
SeaSnax Organic Seaweed Snack Roasted seaweed is a yummy, low cholesterol snack. This one is also MSG-free, transfat-free, and gluten-free. Each piece features a crunchy texture and a salty taste.
180 Snacks Almond Rice Pops With Blueberries ($0.56) It's an oven-baked, nutty, and crispy granola cereal snack with just the right amount of sweetness. I got it in blueberry variant and it was amazing. The combo of pumpkin seeds and blueberries really hits the spot!
Bush's Best Roasted Garlic Chickpeas Protein and fiber-rich crunchy chickpeas make awesome post-workout snacks. This one's even tastier than the regular chickpeas I've tasted because of the strong garlic flavor. This is a perfect on-the-go snack too. If you don't want to snack on it as is, you can add it to your favorite soup or salad.
Go Organically Fruit Medley Fruit Snacks ($1.09) Organic food doesn't mean they are tasteless and this pack of organic fruit snacks are the proof that they can be very flavorful too. In fact, they are so tasty that I couldn't control myself from gobbling every bit of them. They're chewy and taste like real fruit. Plus, it has a good list of ingredients too!
Natural Cut Turkey Snack Stick ($1) A great source of lean protein, this snack stick is made with turkey, sea salt, sugar, mustard, and spices.
This is an ideal snack to keep you full until your next meal, especially when you're outdoors. It's also free from gluten, nitrate, MSG, hormones, and antibiotics.
Zee Zee's Mixzees Dried Fruit ($0.84) It's a tasty combination of chewy dried fruits and crunchy sunflower seeds. Each box contains a variety of tropical fruit including pineapple, raisins, cranberries, and apples.
It's filling, plus it's very portable too, making it the ideal snack to bring on-the-go!
Love with Food Tasting Box came with a new look, but still packed with delicious and satisfying treats! I love all the snacks we got this month, especially the almond rice pops. I also like the addition of a variety of coupon cards. This subscription makes it easier for me to switch from unhealthy options to healthier ones without losing any flavor. I'm looking forward to seeing what comes next!
What's your favorite snack this month from Love with Food Tasting Box?
Visit Love with Food Tasting Box to subscribe or find out more!