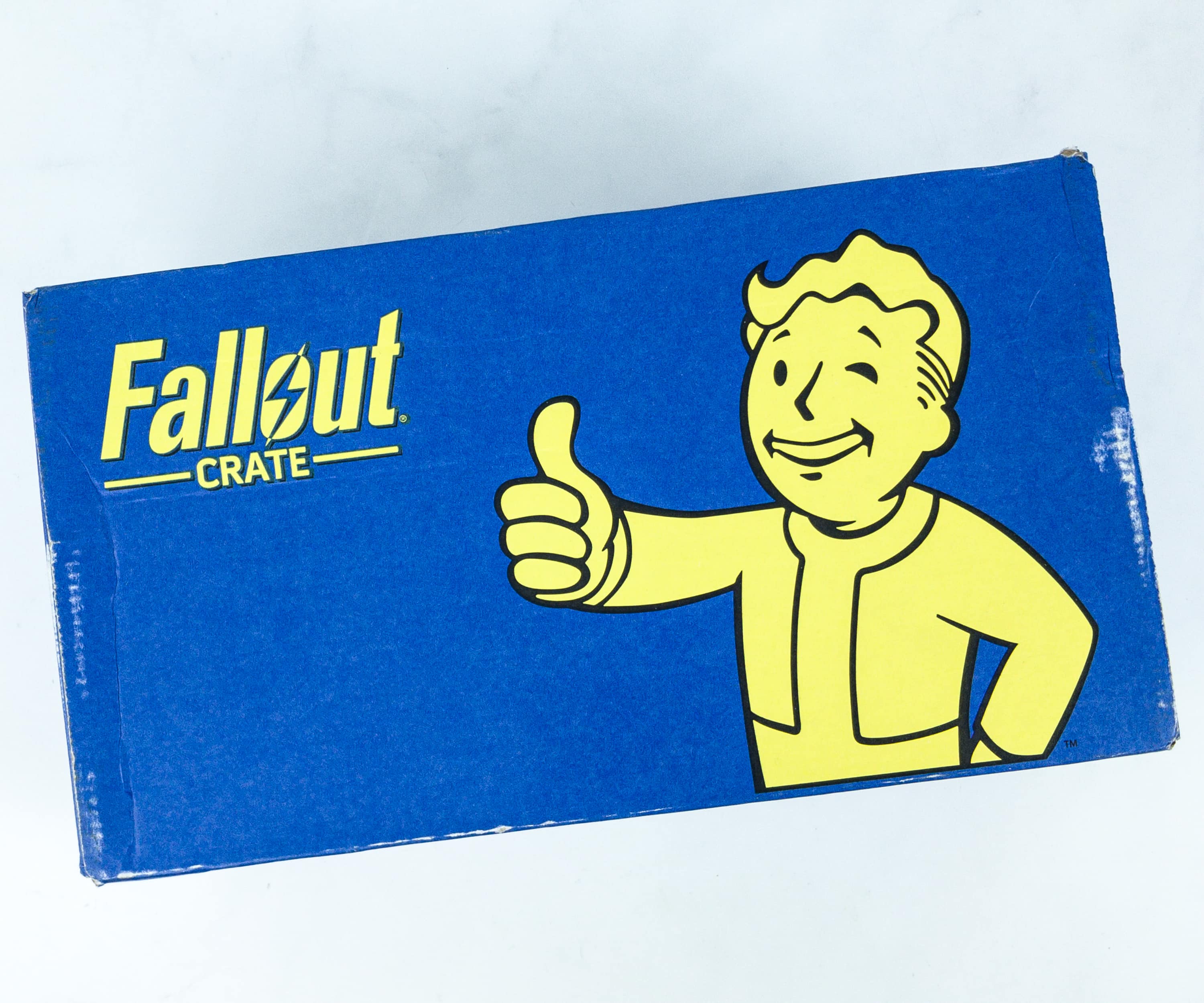 Fallout Crate is a bimonthly subscription box from Loot Crate that includes 4-6 items – each comes with an exclusive figure in every box plus a piece to a build-a-figure, along with other Fallout gear and collectibles. The subscription costs $34.95 + shipping bimonthly, or $49.99 international.
DEAL: Save 15% on any subscription when you use this link and coupon code HELLOSUBSCRIPTION15.
Get 50% off on new Loot Crate, Loot Crate DX, Loot Socks, Loot For Her, Loot Tees, Loot Undies, Loot Wearables, Loot Anime, Loot Gaming, Loot Fright, Deadpool Merc Club, Halo Legendary Crate, Hello Kitty and Friends, Fallout Crate, Wizarding World Crate, WWE Slam Crate, Marvel Gear + Goods, and Sci-Fi Crate, with coupon code SUMMER50. End 6/27 MIDNIGHT PT.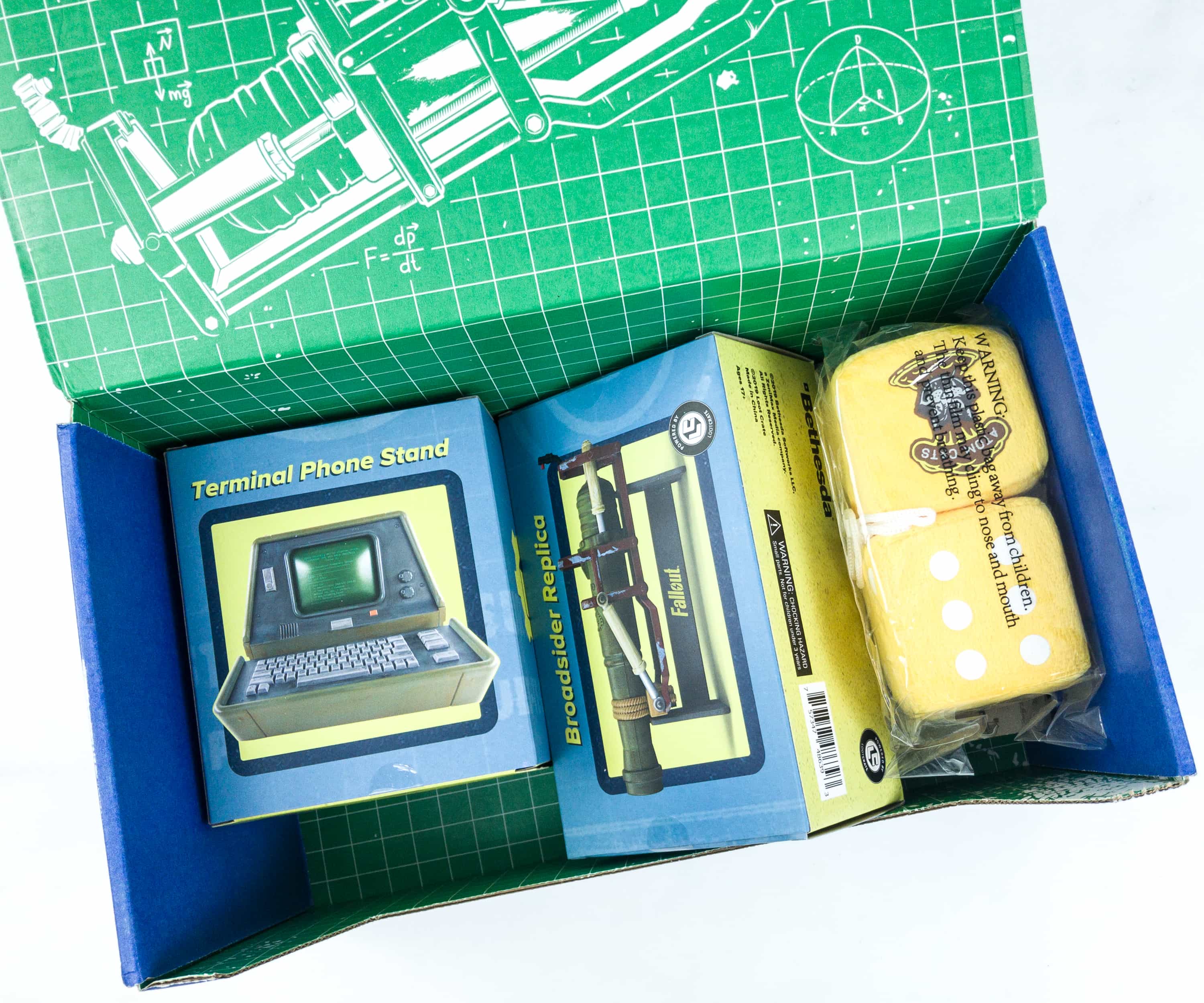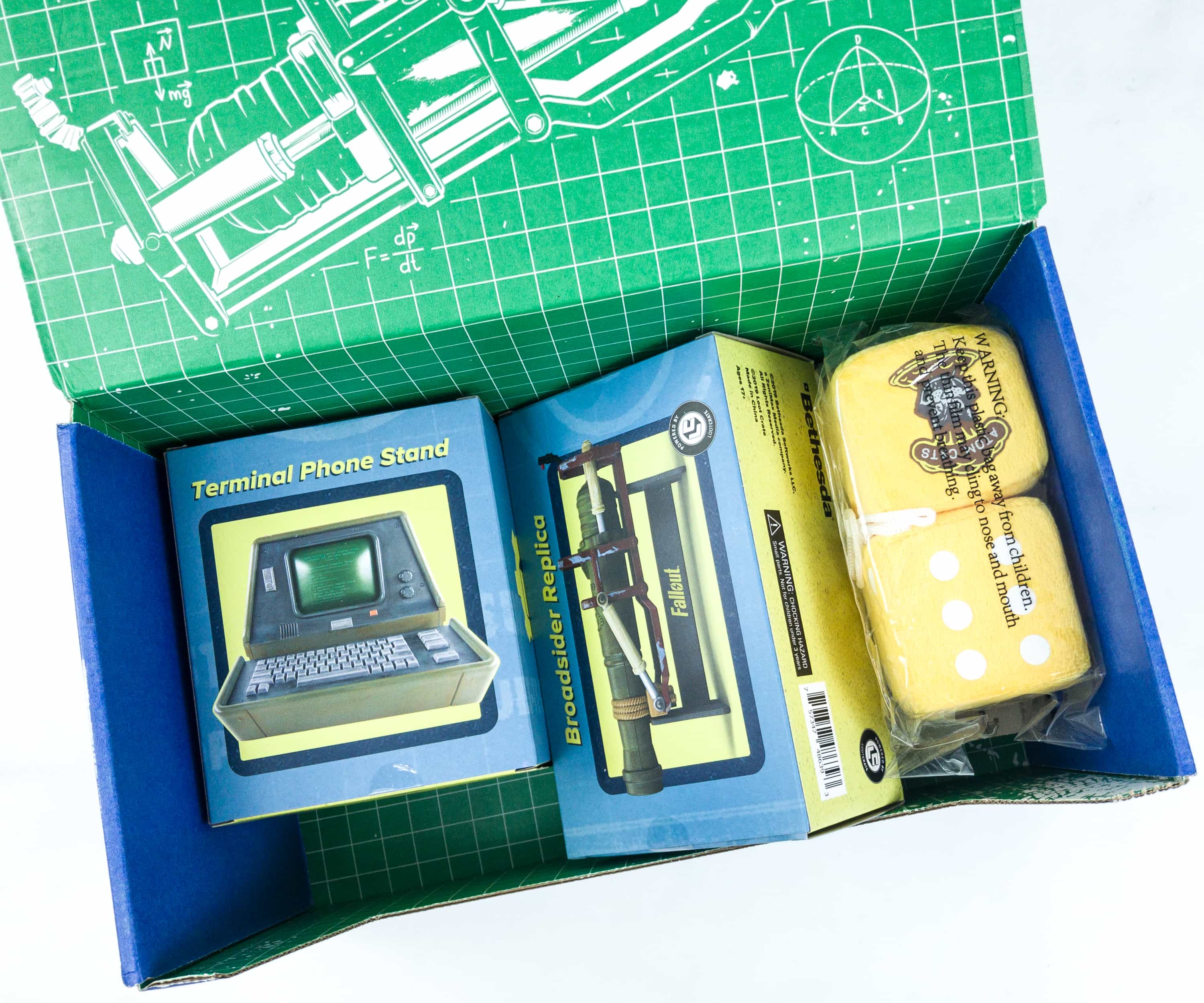 There are several boxed items inside!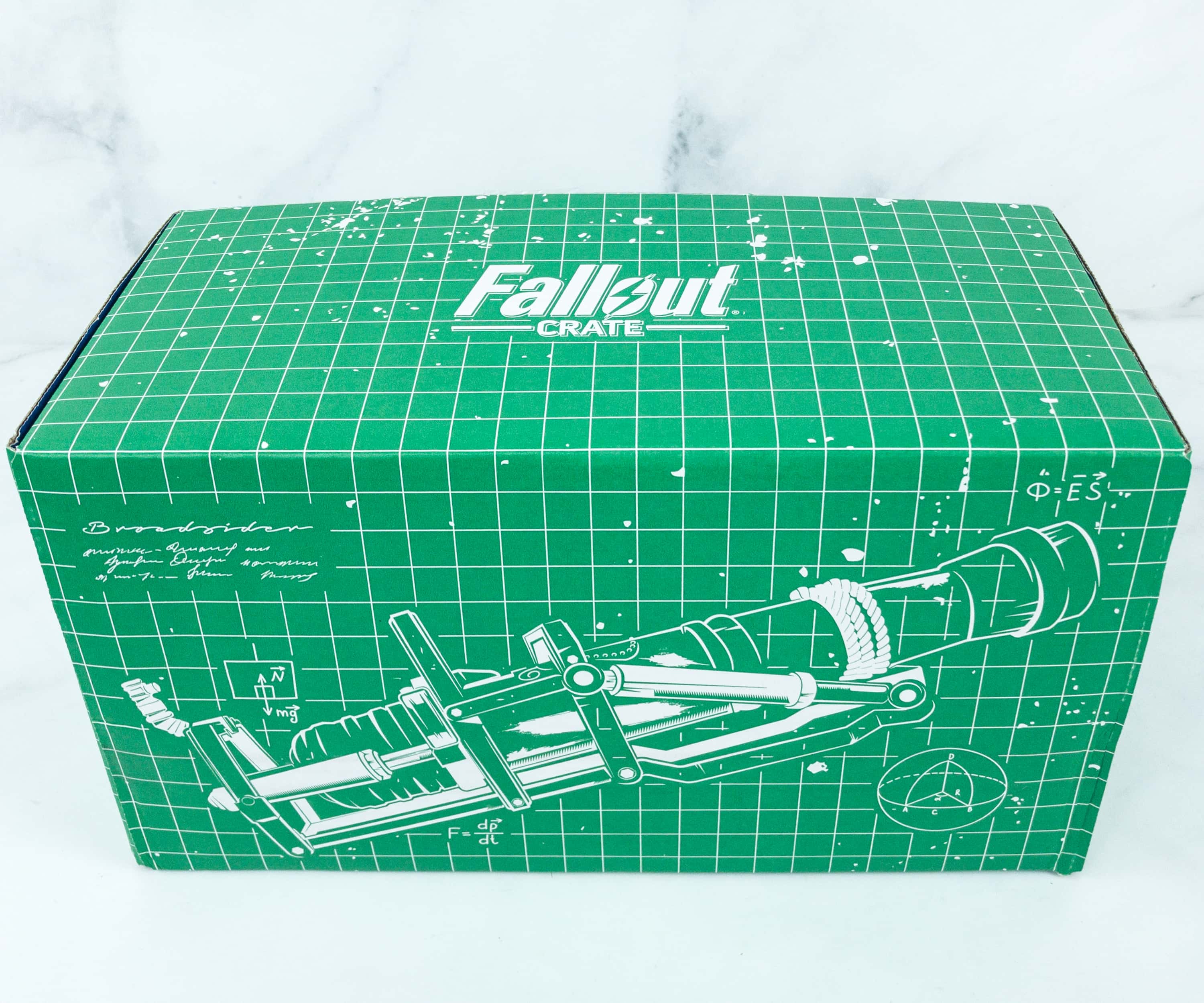 The box shows another blueprint of a weapon. In this case, it's the Broadsider!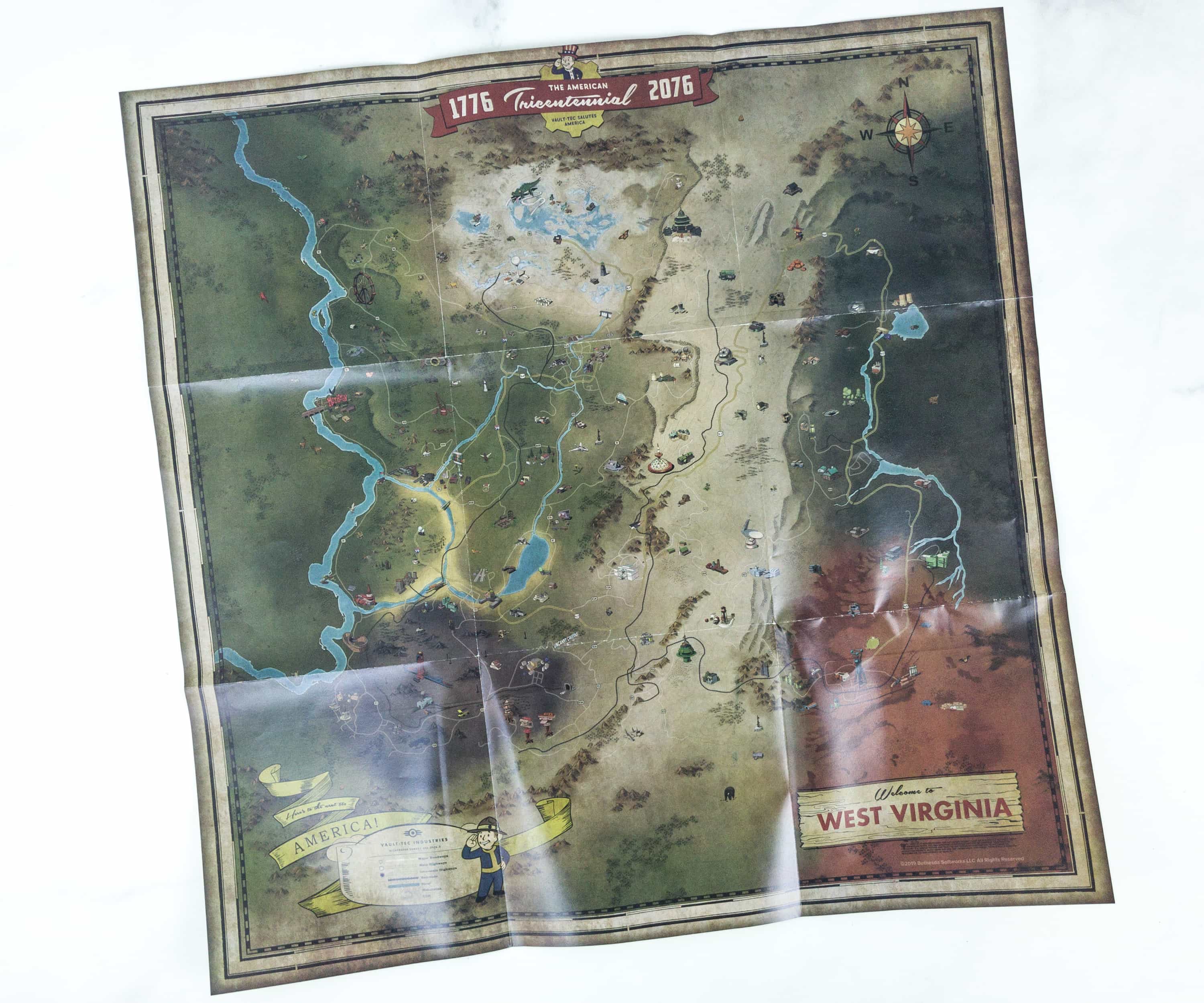 A poster is also included in the box.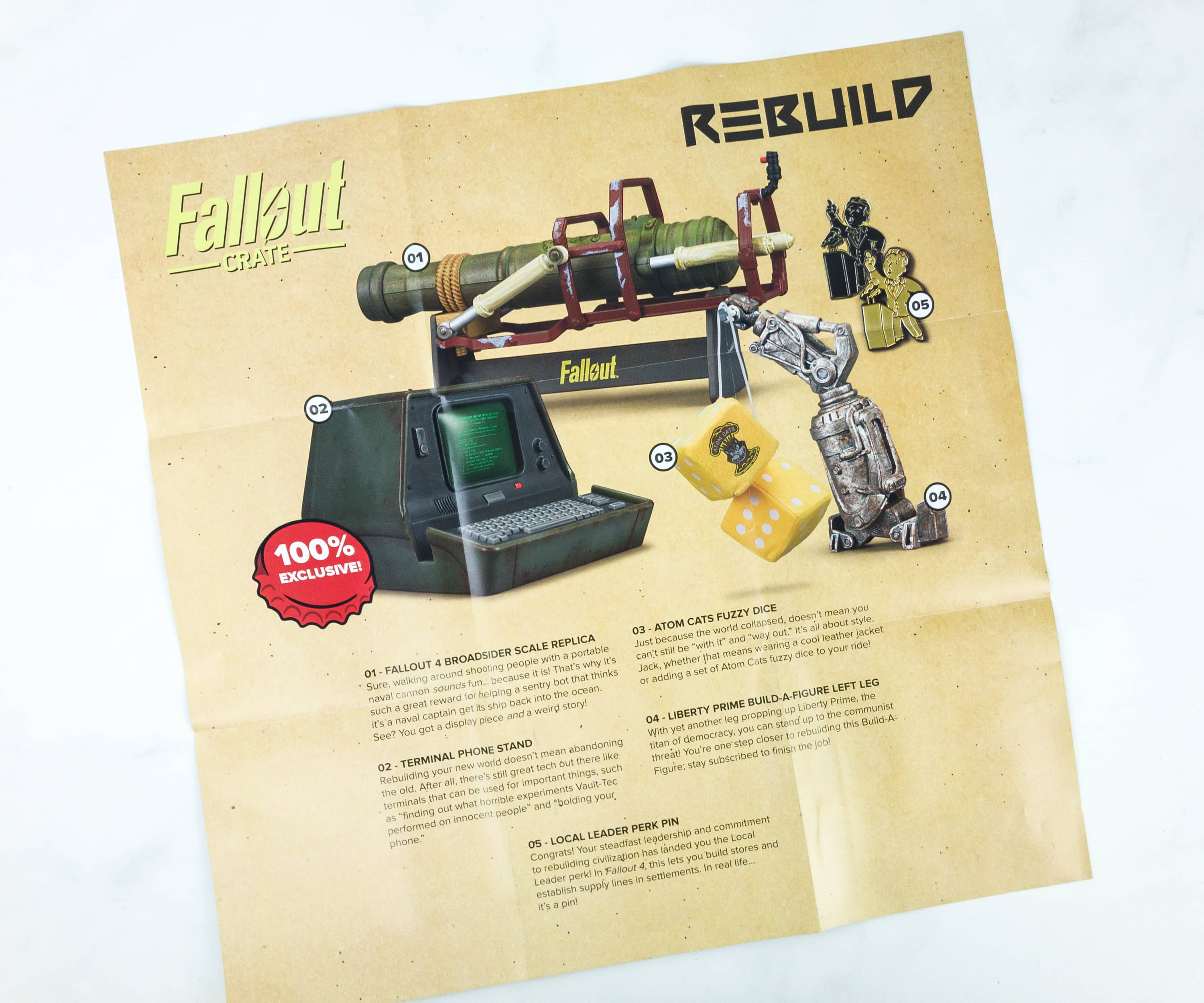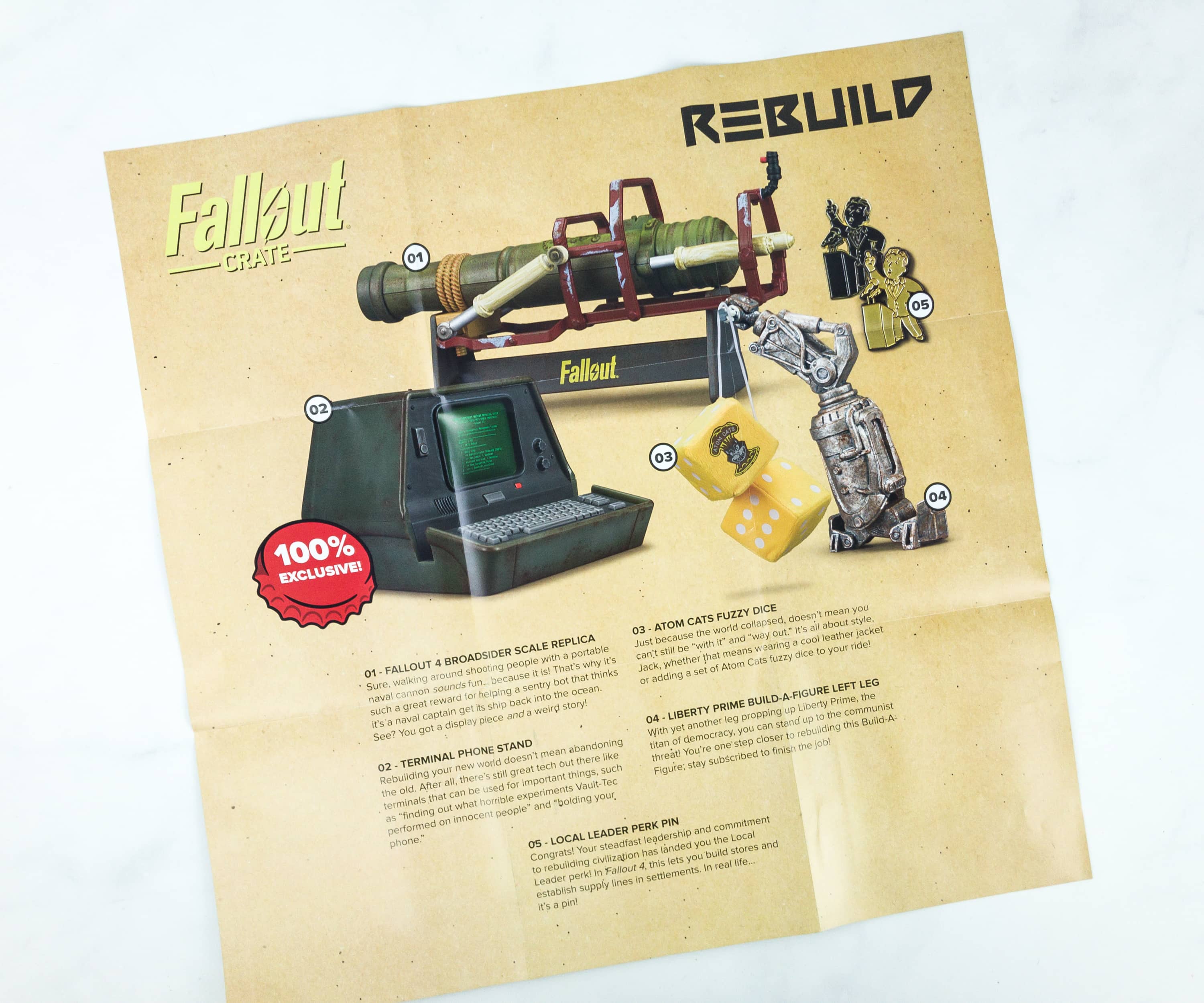 At the back of the poster, there's a list of all the items included in the box. This month's theme is REBUILD!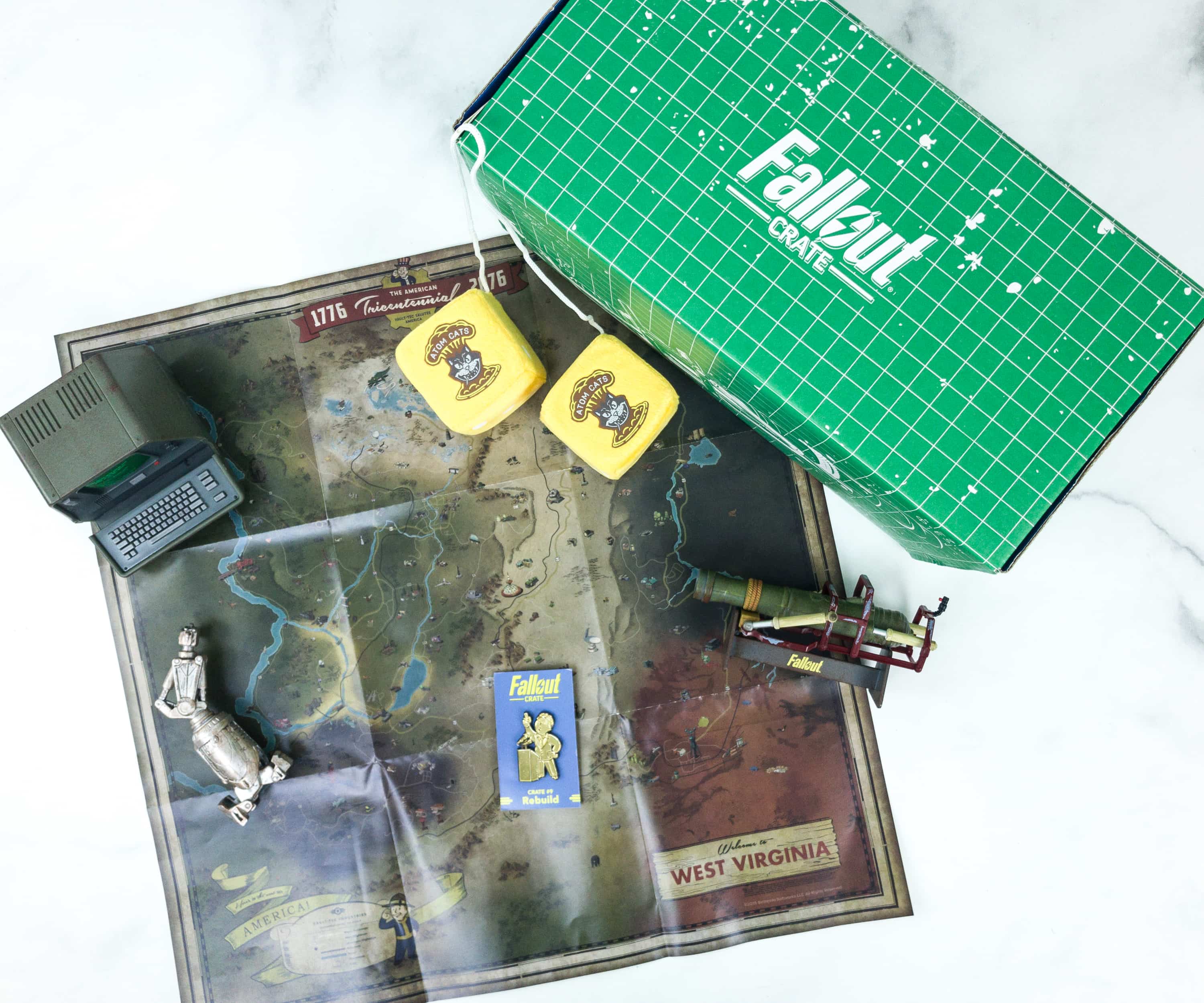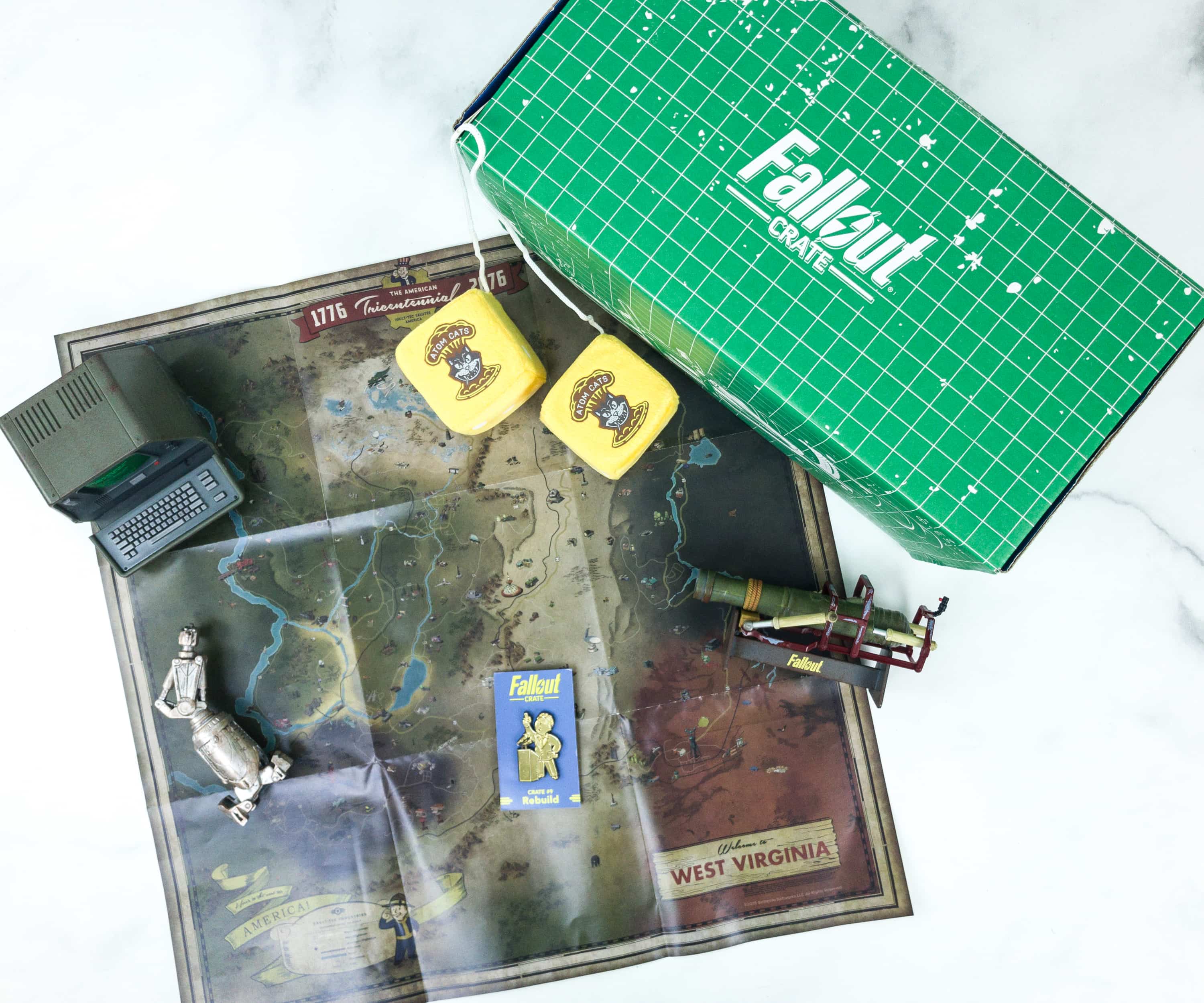 Everything in the April 2019 Fallout Crate!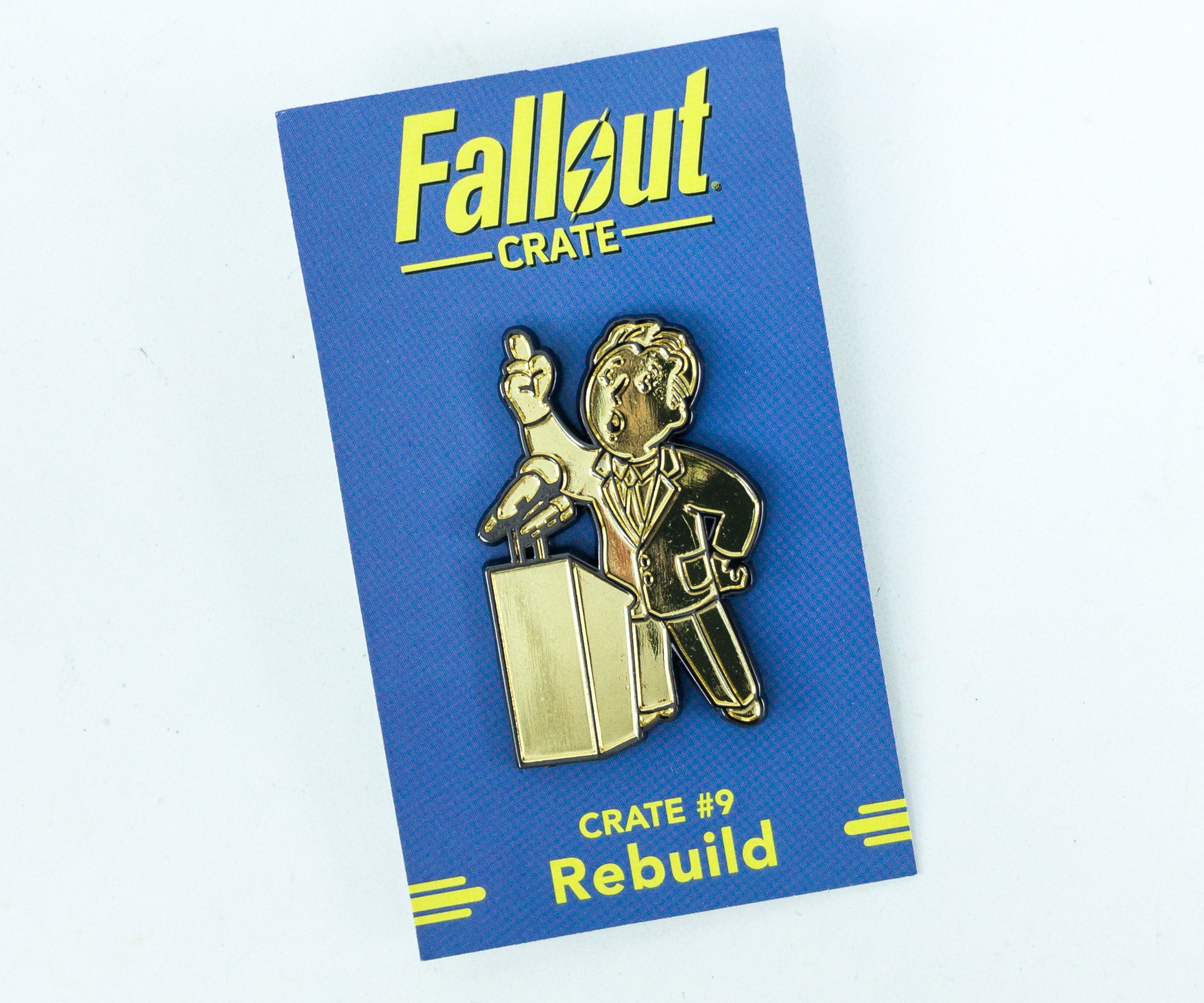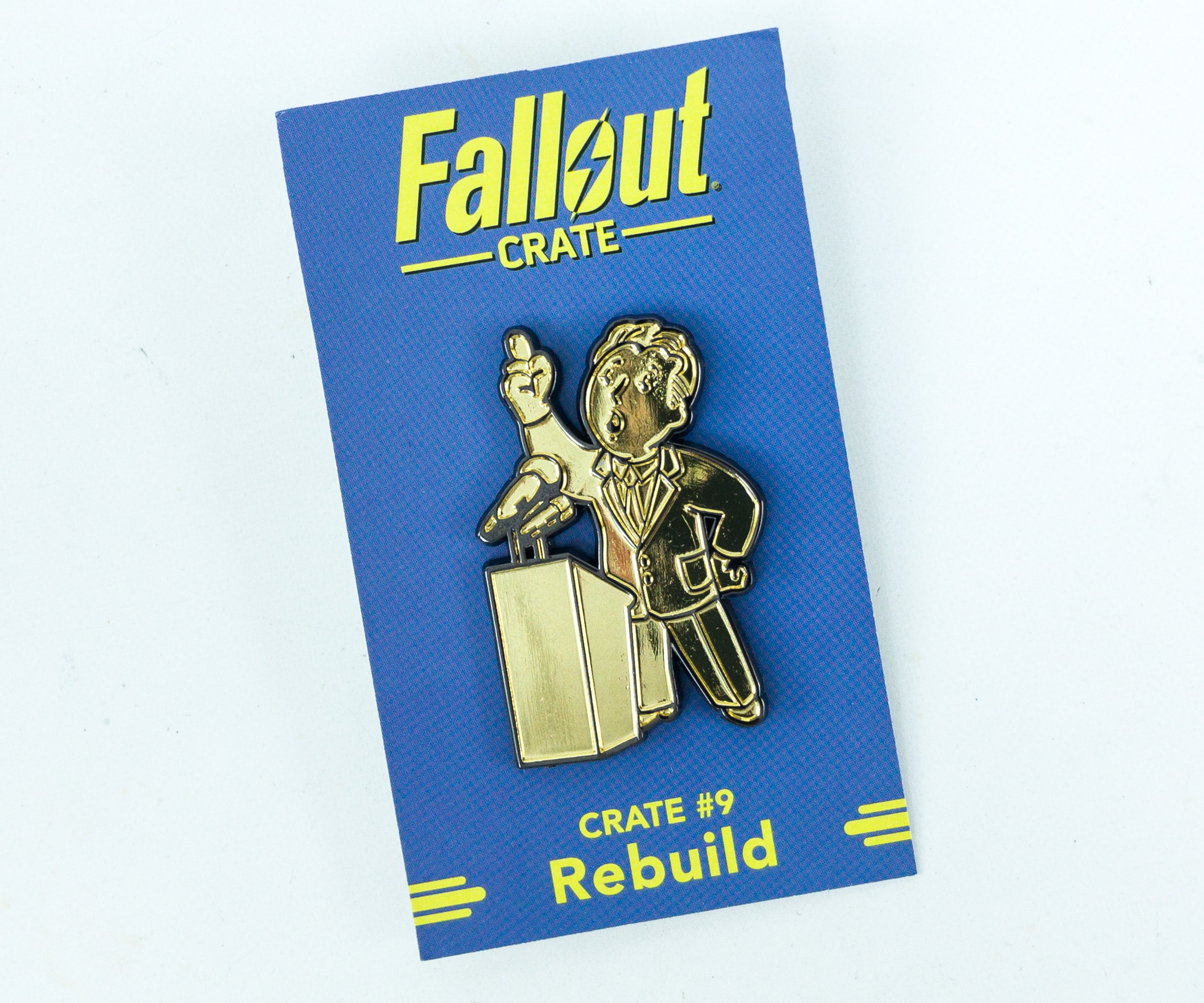 Local Leader Perk Pin. The perk pin for this month's crate is the Local Leader Perk Pin. Aside from the usual gold variant, you can also get it in a rare black variant if you're lucky!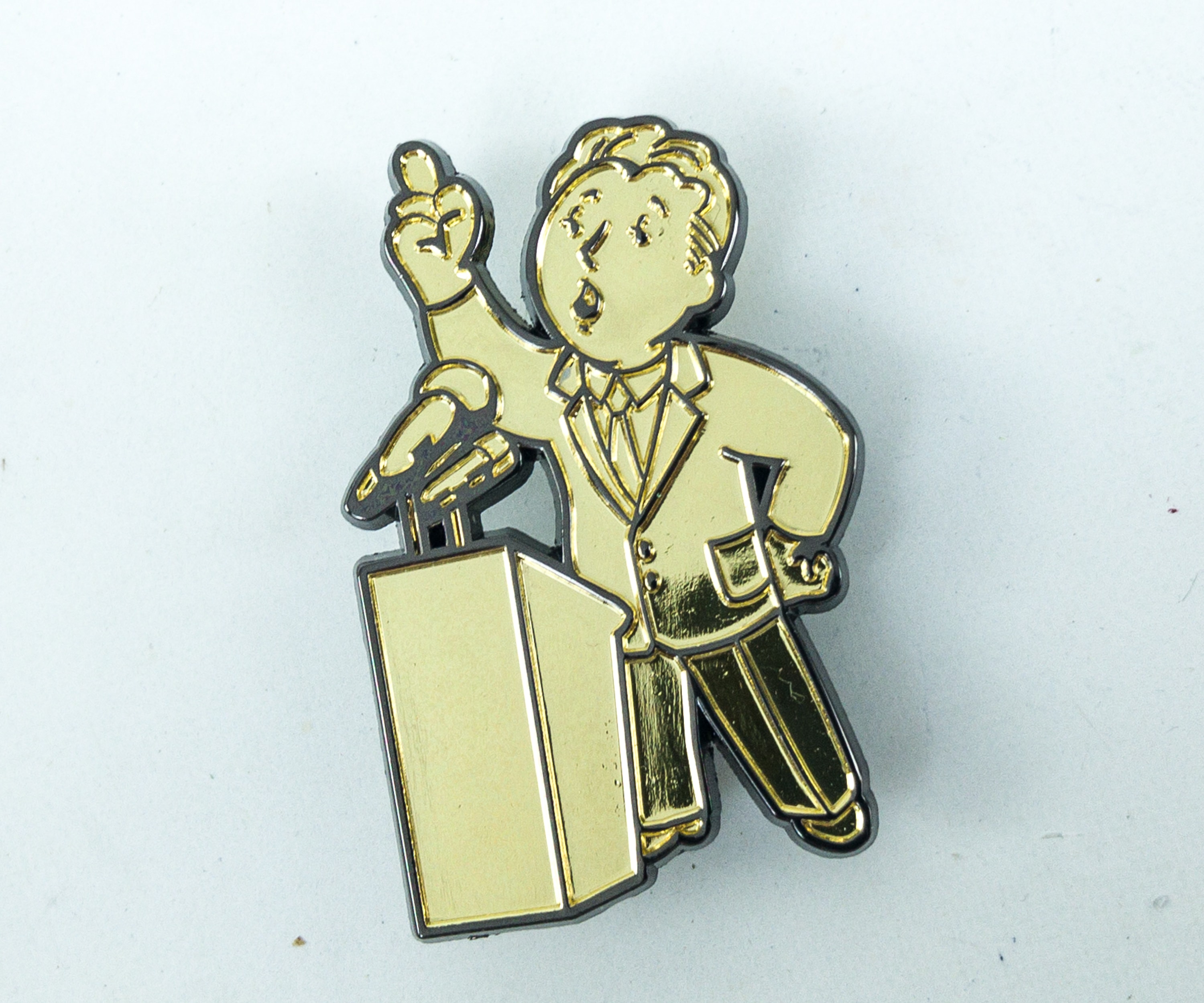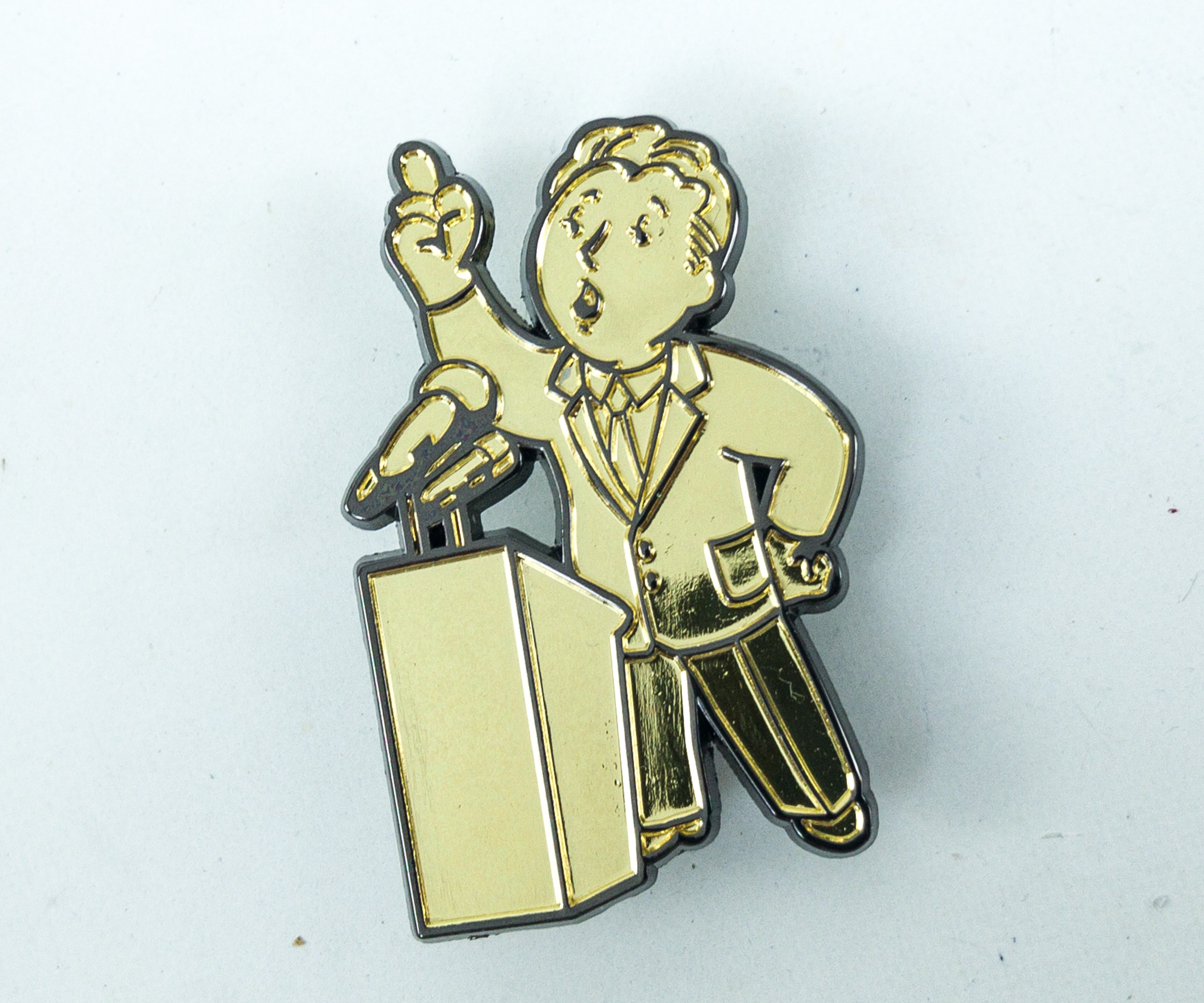 In the game, the perk enhances your workshop settlements and allows you to create shops, emporiums, stations, and more. It is an important perk to unlock as you work in improving the settlements you are running.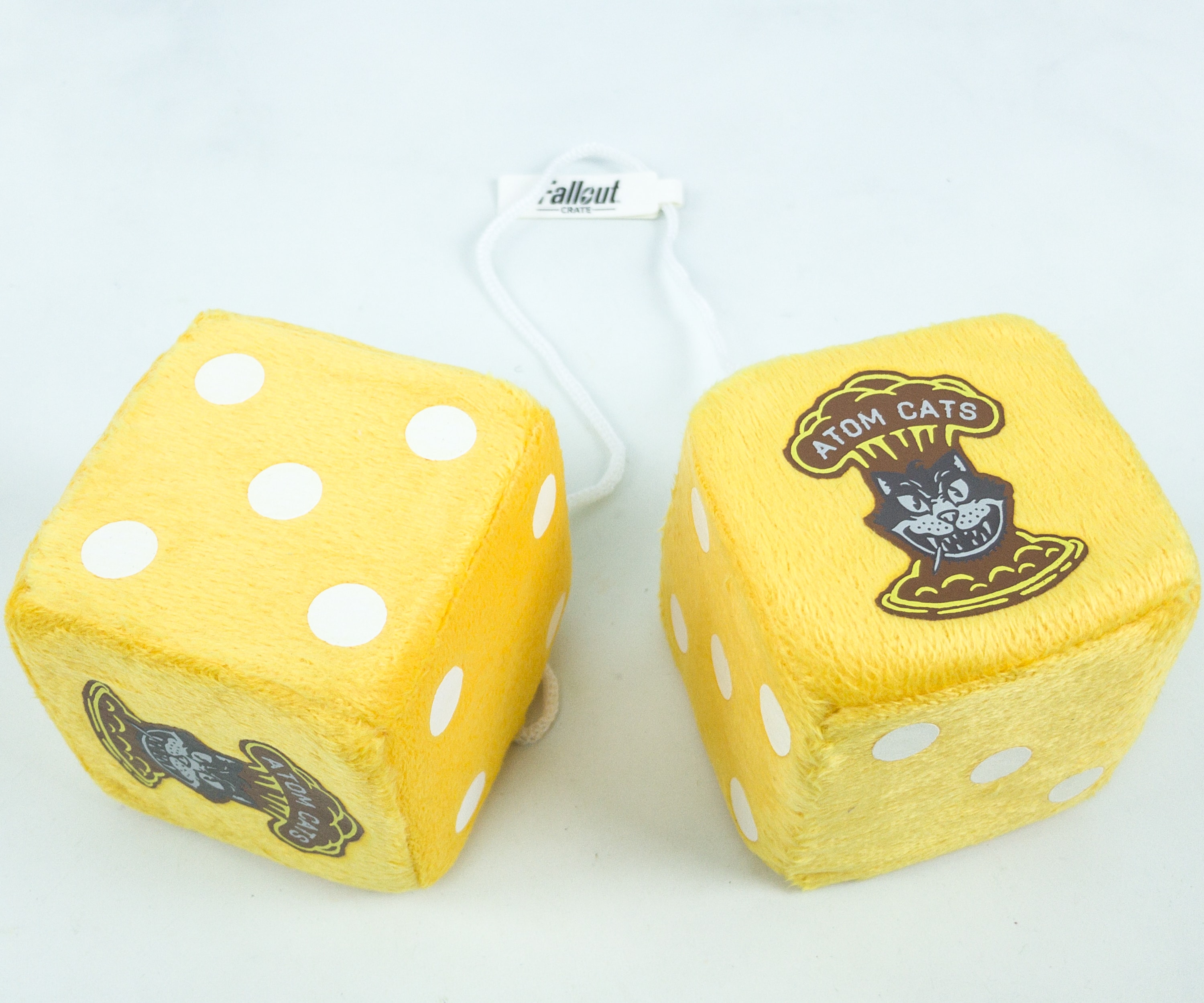 Atom Cats Fuzzy Dice. The Atom Cats is a minor faction in dedicated to the usage of the power armor in the game. These guys usually wear leather outfits and a hotrod-themed paint job on their power armor.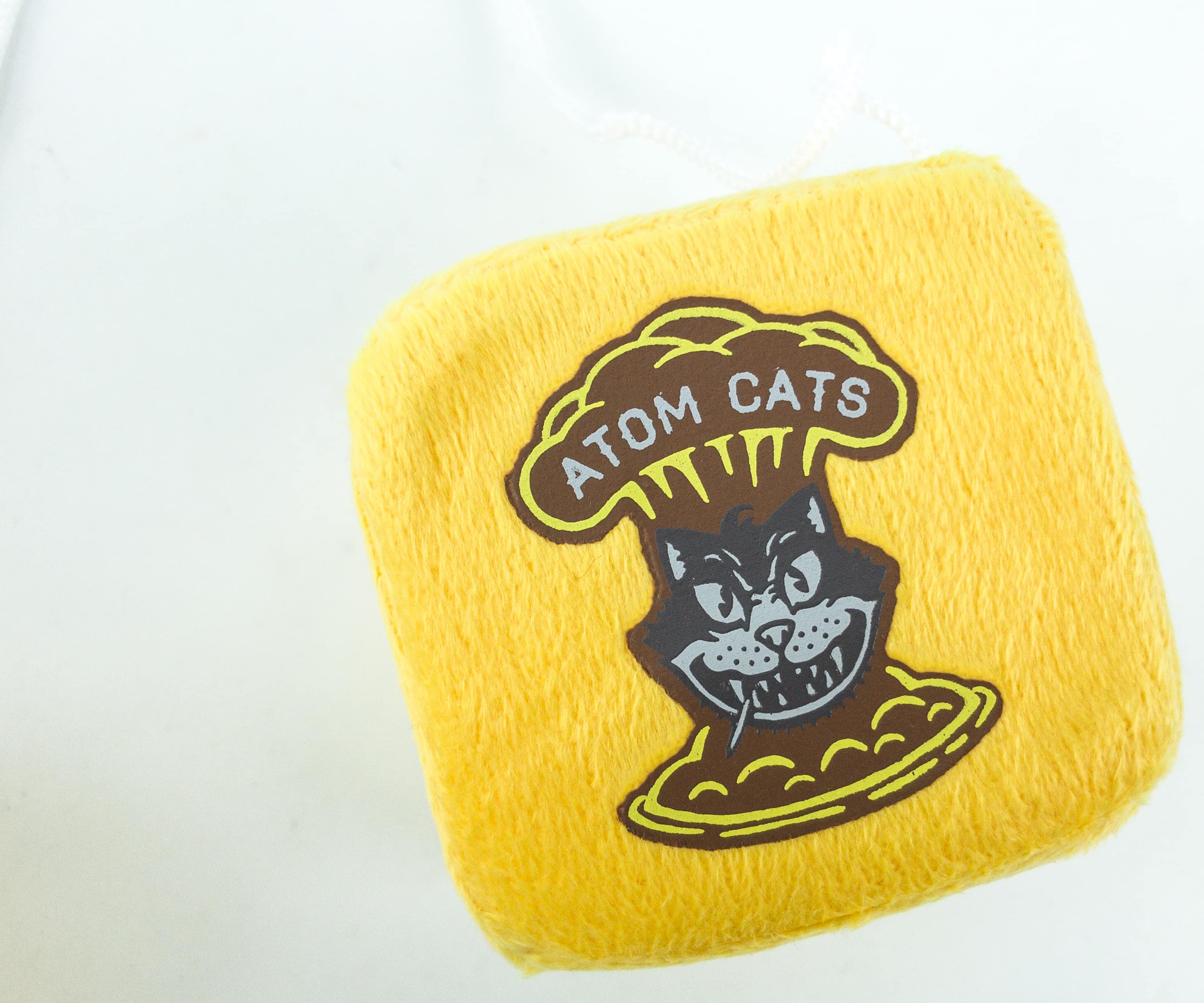 These fuzzy dice are soft and they can be hung somewhere, like your car rearview mirror. I love them and they can serve as little pillows that I can squish too!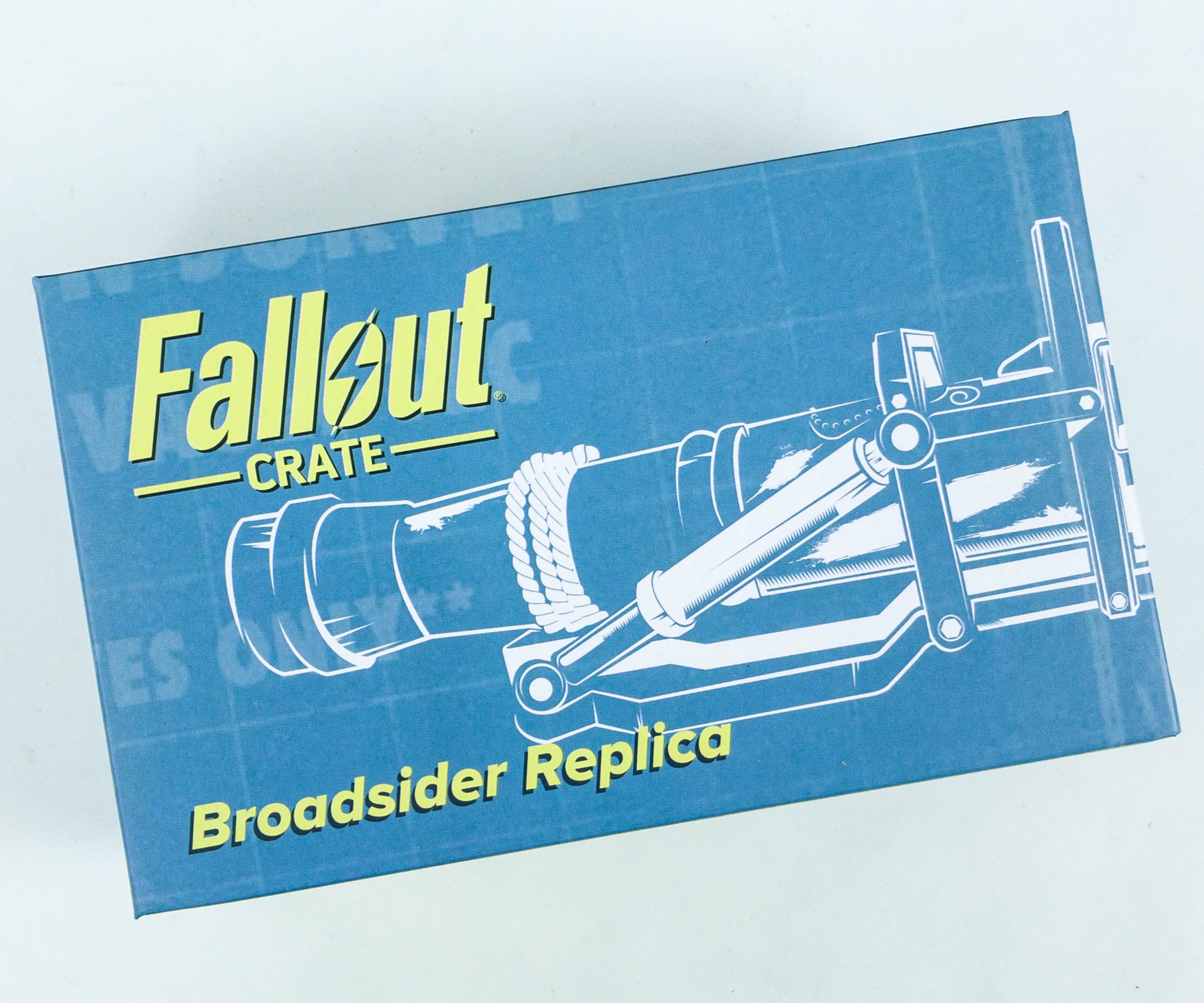 Fallout 4 Broadsider Scale Replica. The weapon replica we got this month is from Fallout 4, and it's the Broadsider!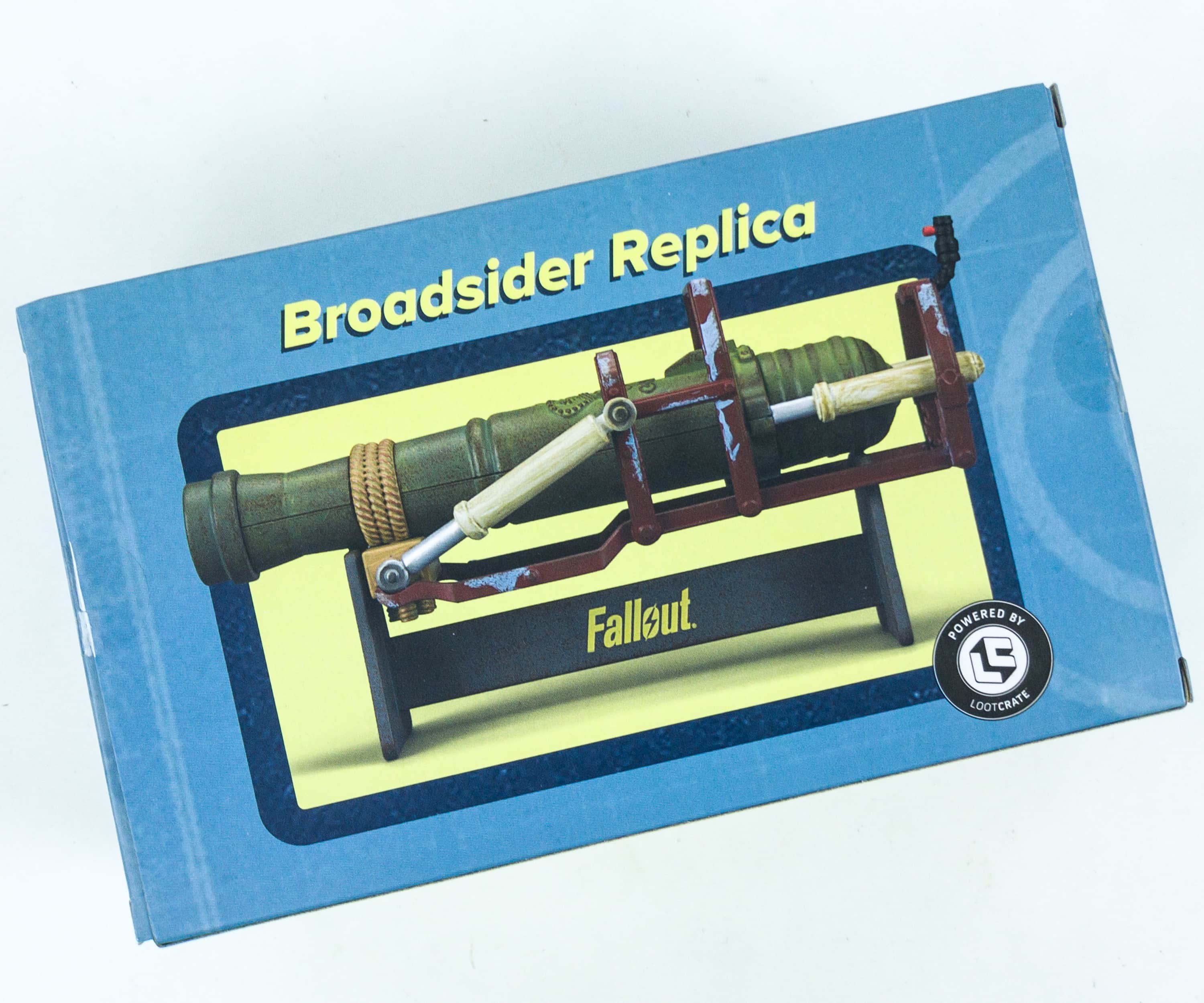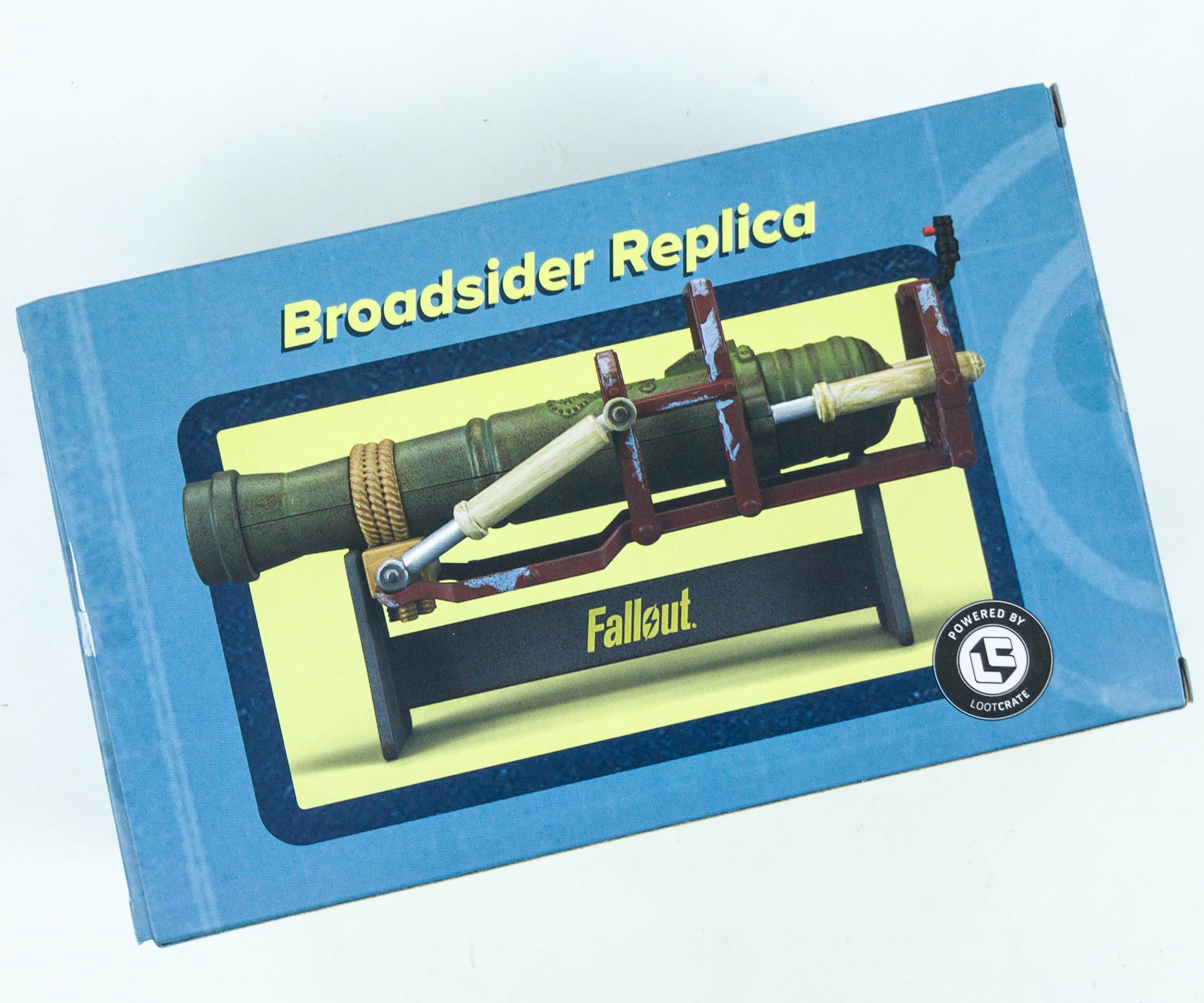 The Broadsider is a naval cannon that can be easily carried around to shoot things.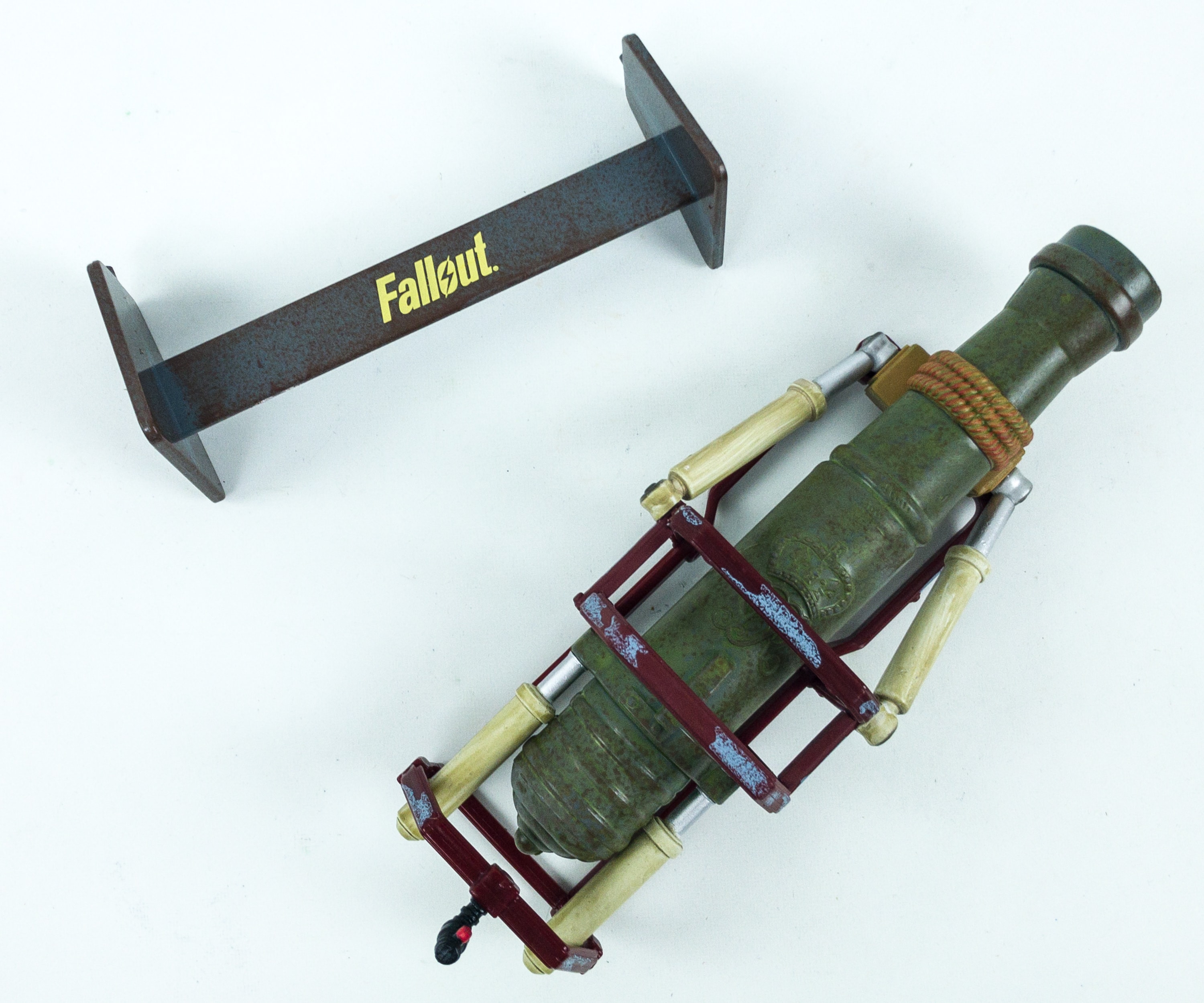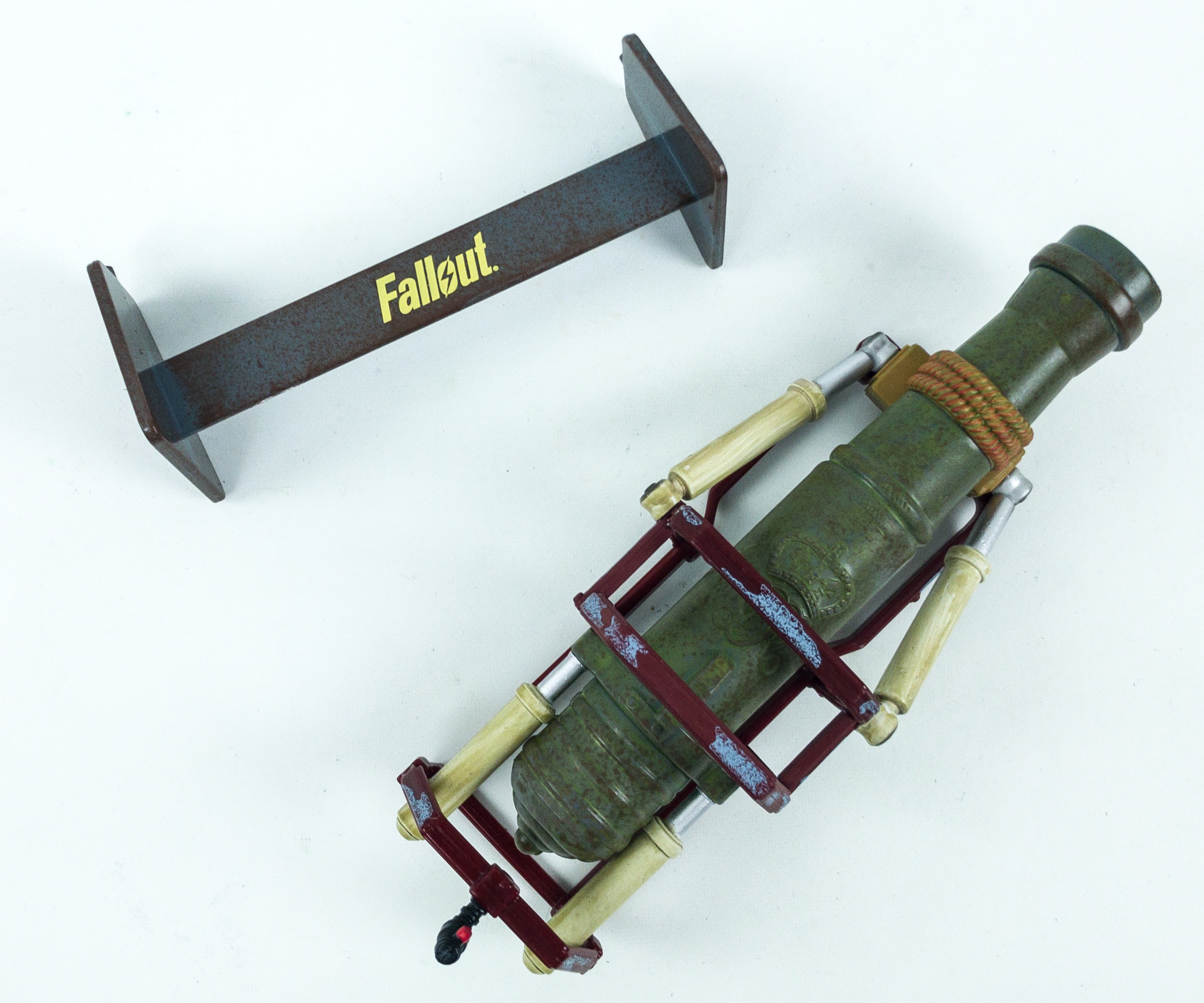 The figure consists of 2 easy-to-assemble parts. My kids wanted to work on this one too!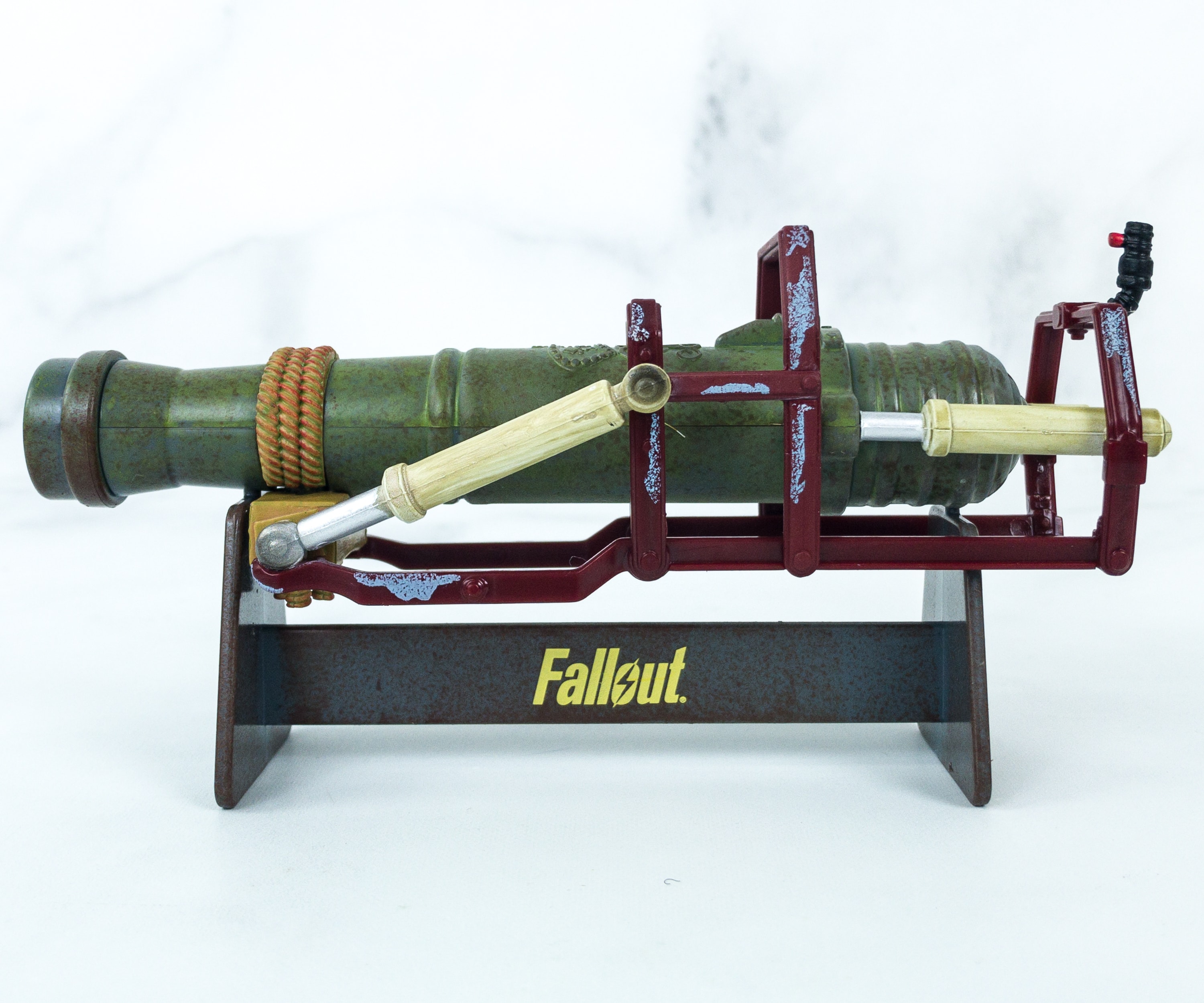 In the game, it is an unusually heavy weapon that is a mix of the 18th-century ordinance with the technology from the 23rd-century. The main body has a small old-fashioned naval cannon (a muzzle-loading swivel gun) which is strapped to a makeshift rig with metal rivets and ropes.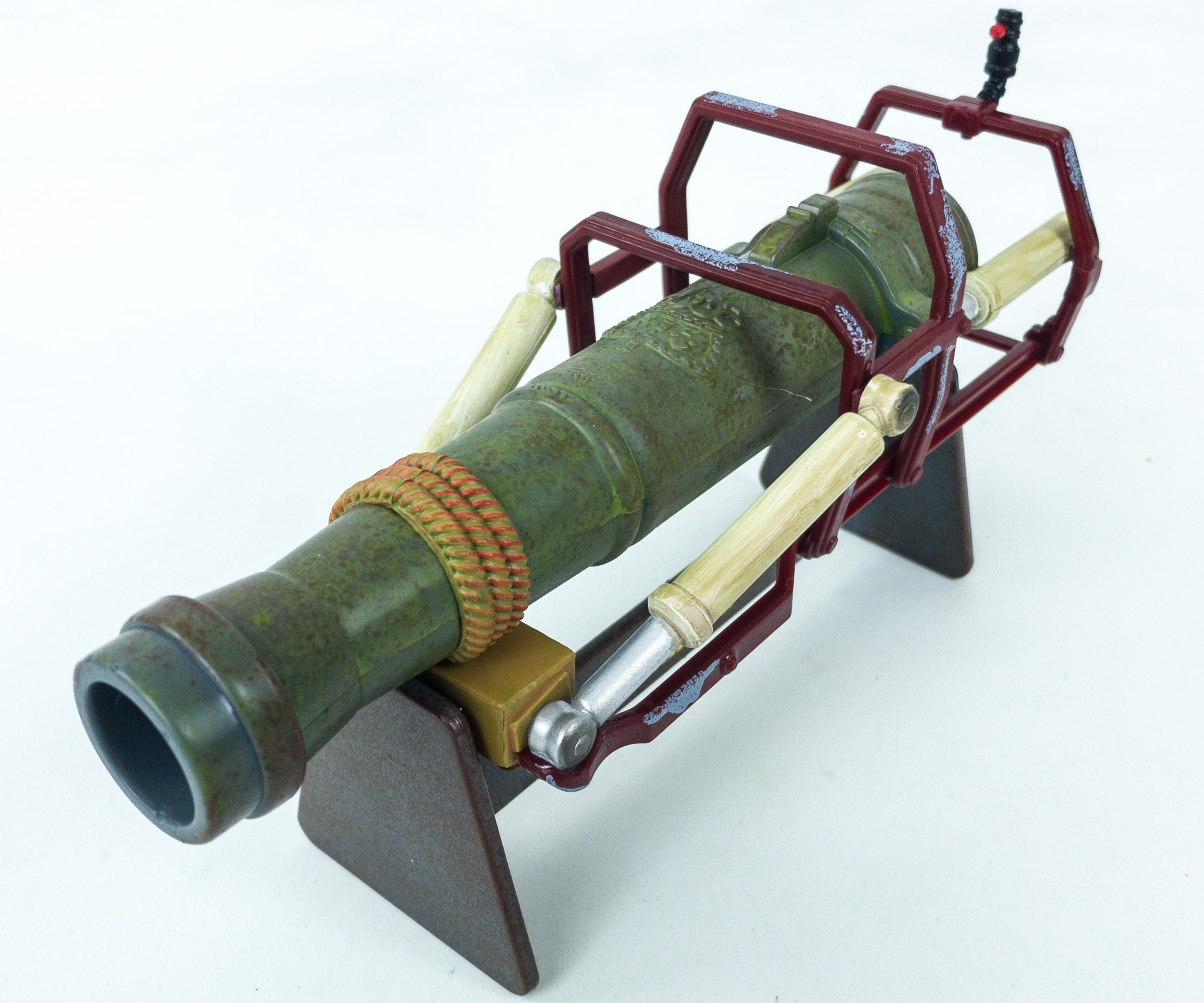 With the rig, it can be carried around with both hands easily, and it also includes a hinge allowing the cannon to be angled vertically for easy reloading. It fires explosive cannonballs through an electronic trigger taped to its back handle. It's really a powerful weapon, only surpassed by a fully upgraded Gauss rifle or Fat Man.
Terminal Phone Stand. When I saw this box, I got so excited to see that it looks like an old computer!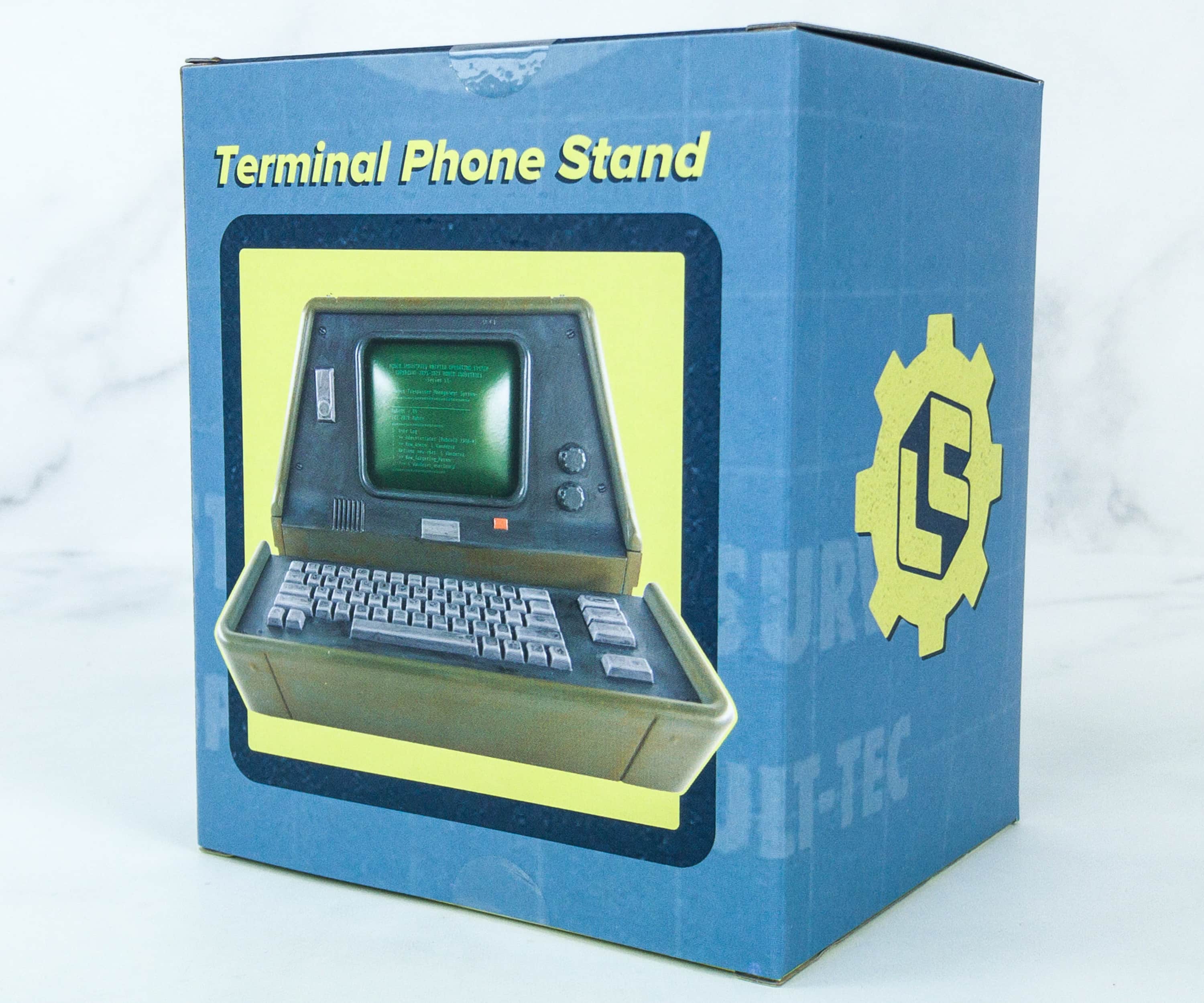 There's a photo of the item outside the box.
A terminal is a device used to interface various computers, such as those programmed for turrets, safes, doors, storing info and activating robots and other special equipment, while some are rigged to work as traps.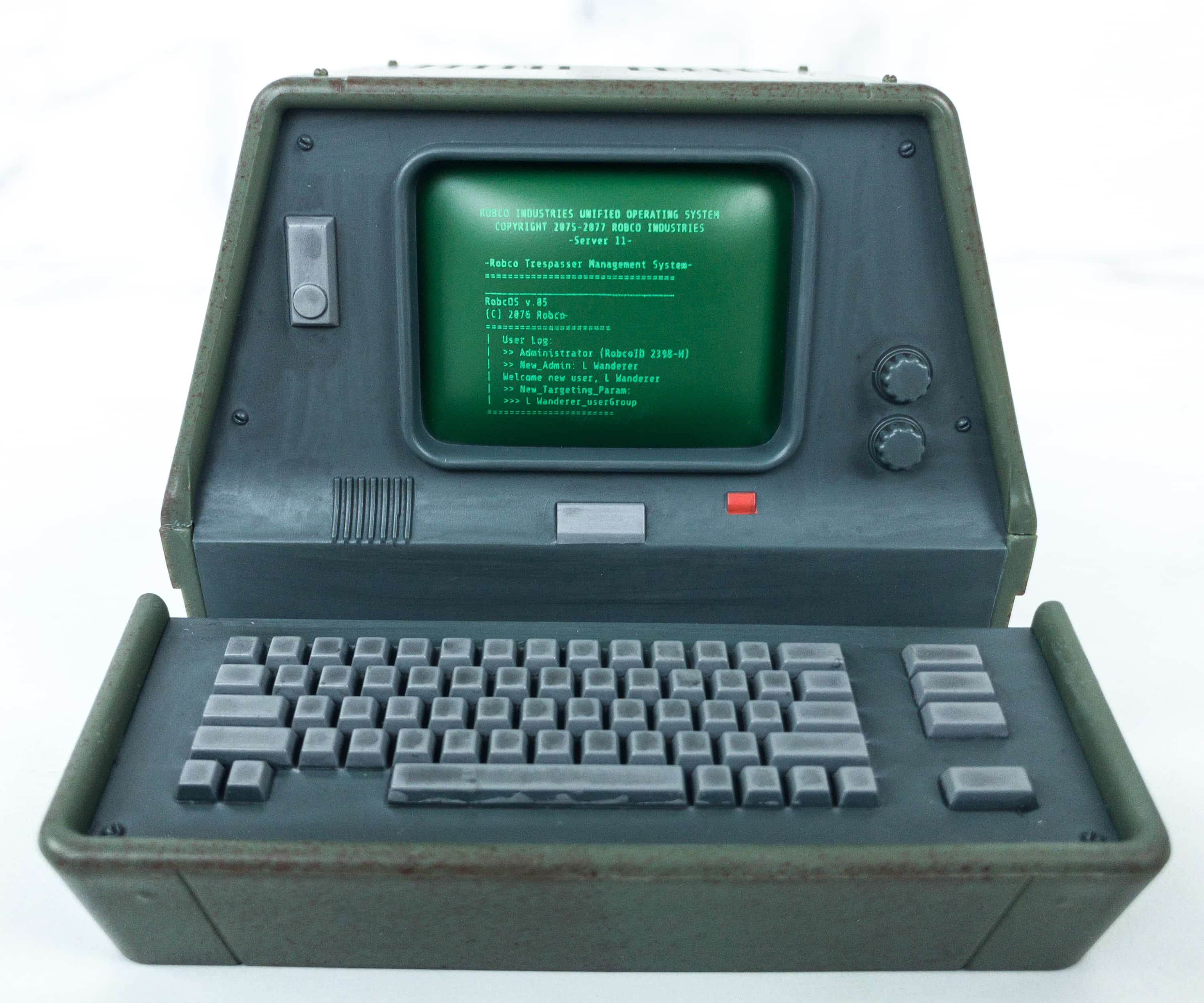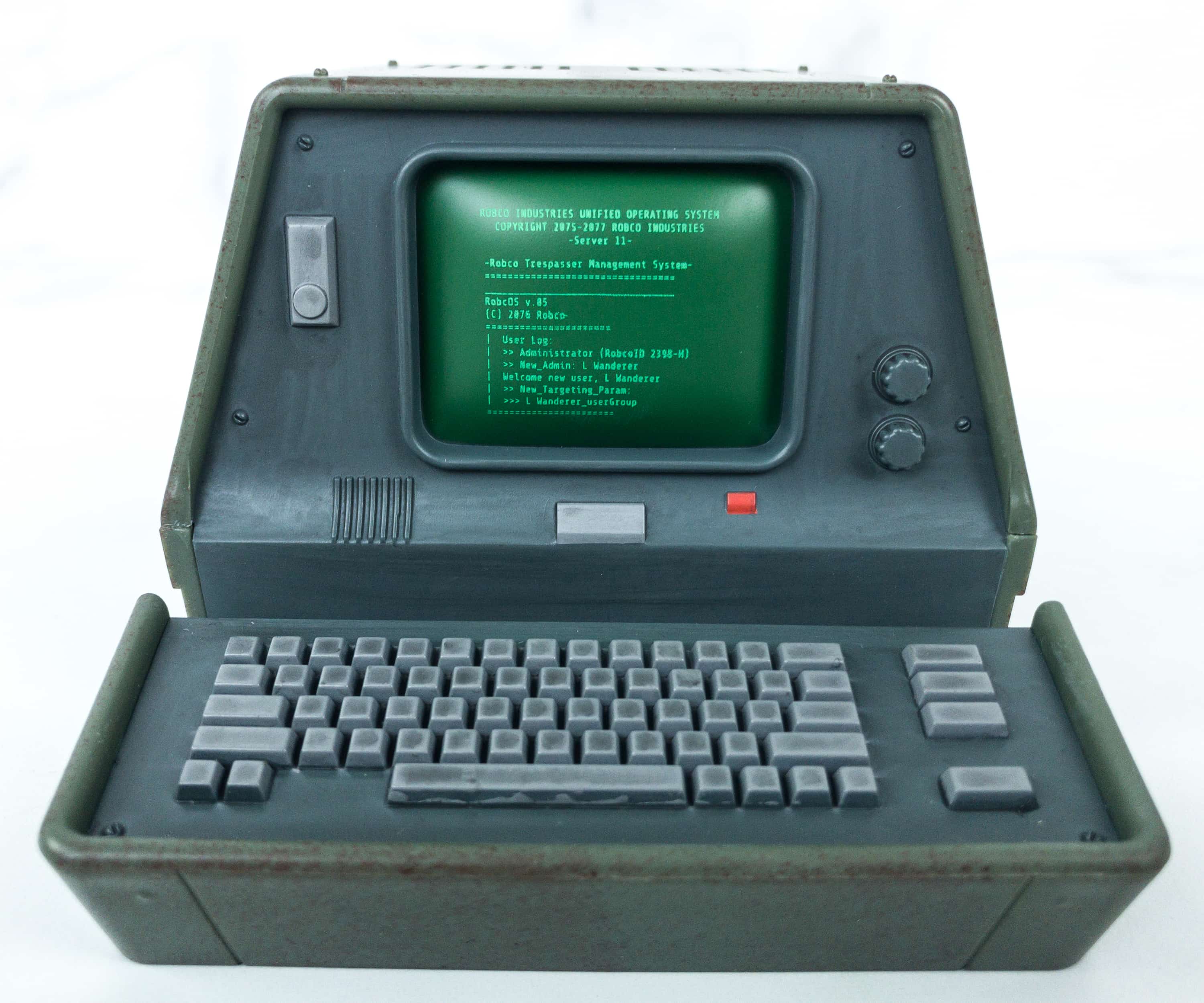 In the game, the operating system (OS) of a terminal is the Unified Operating System, published by RobCo Industries. They look like bulky laptops and work like them too.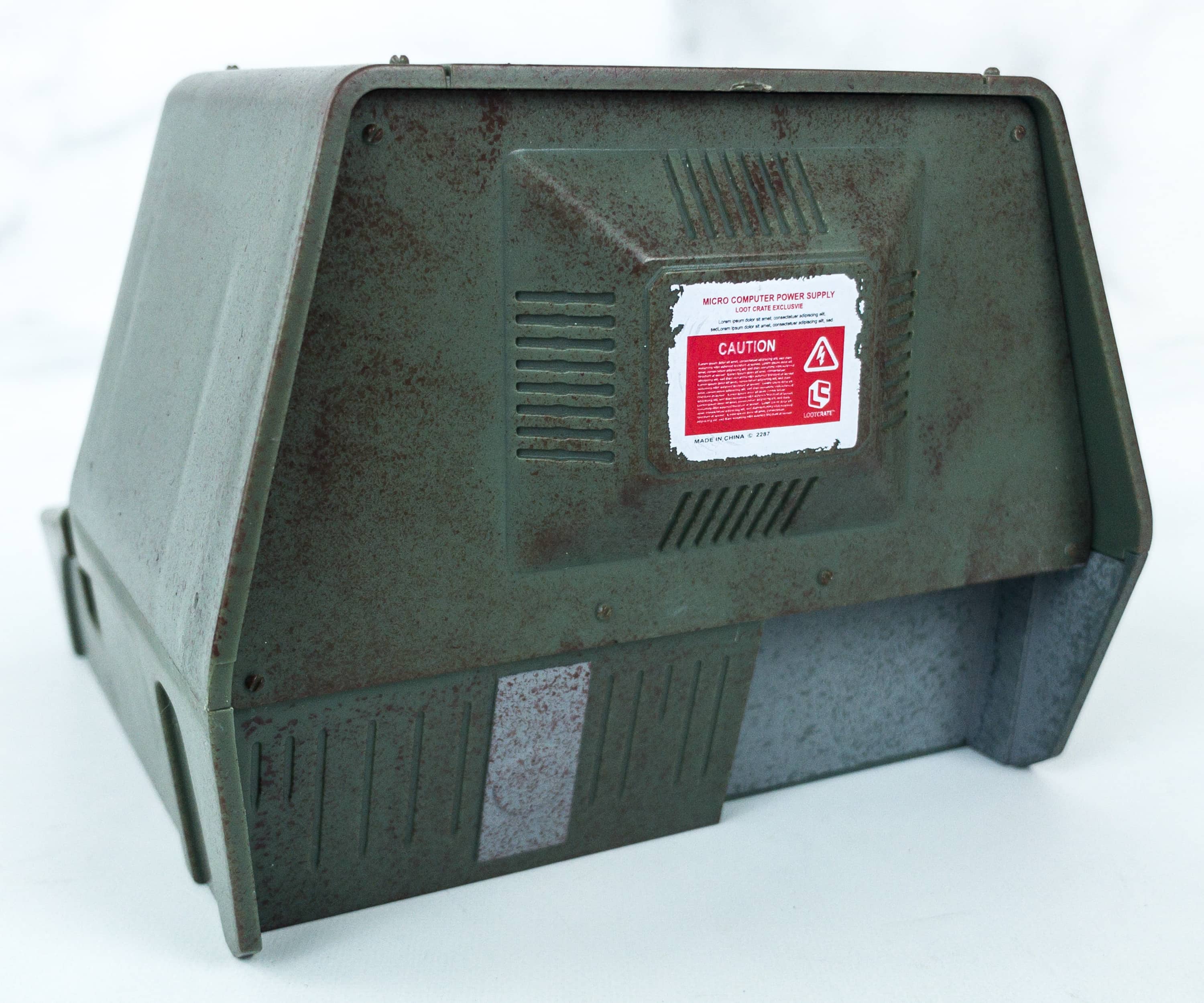 A typical terminal (like this one) has a keyboard for typing commands and a monochromatic monitor that displays data.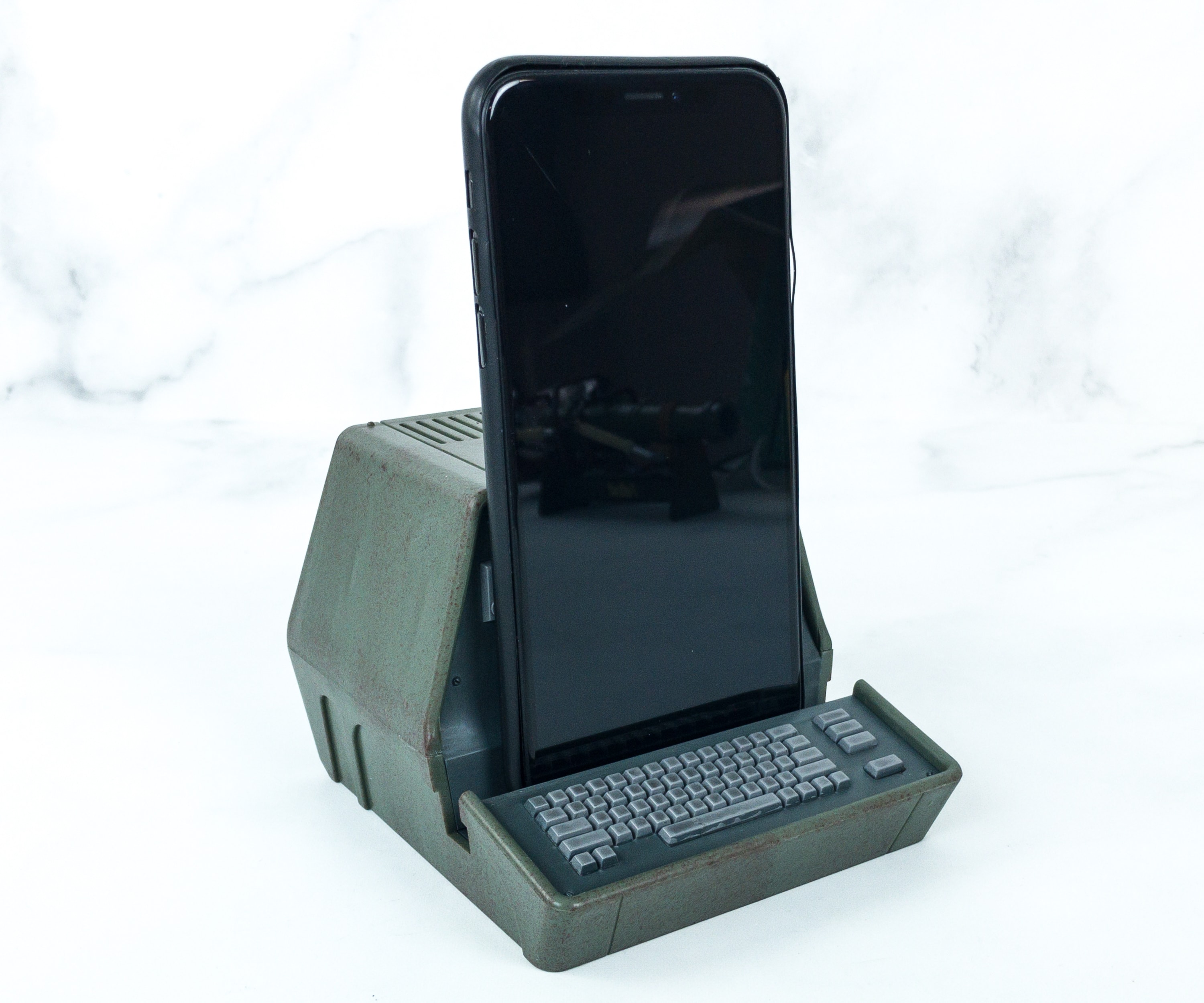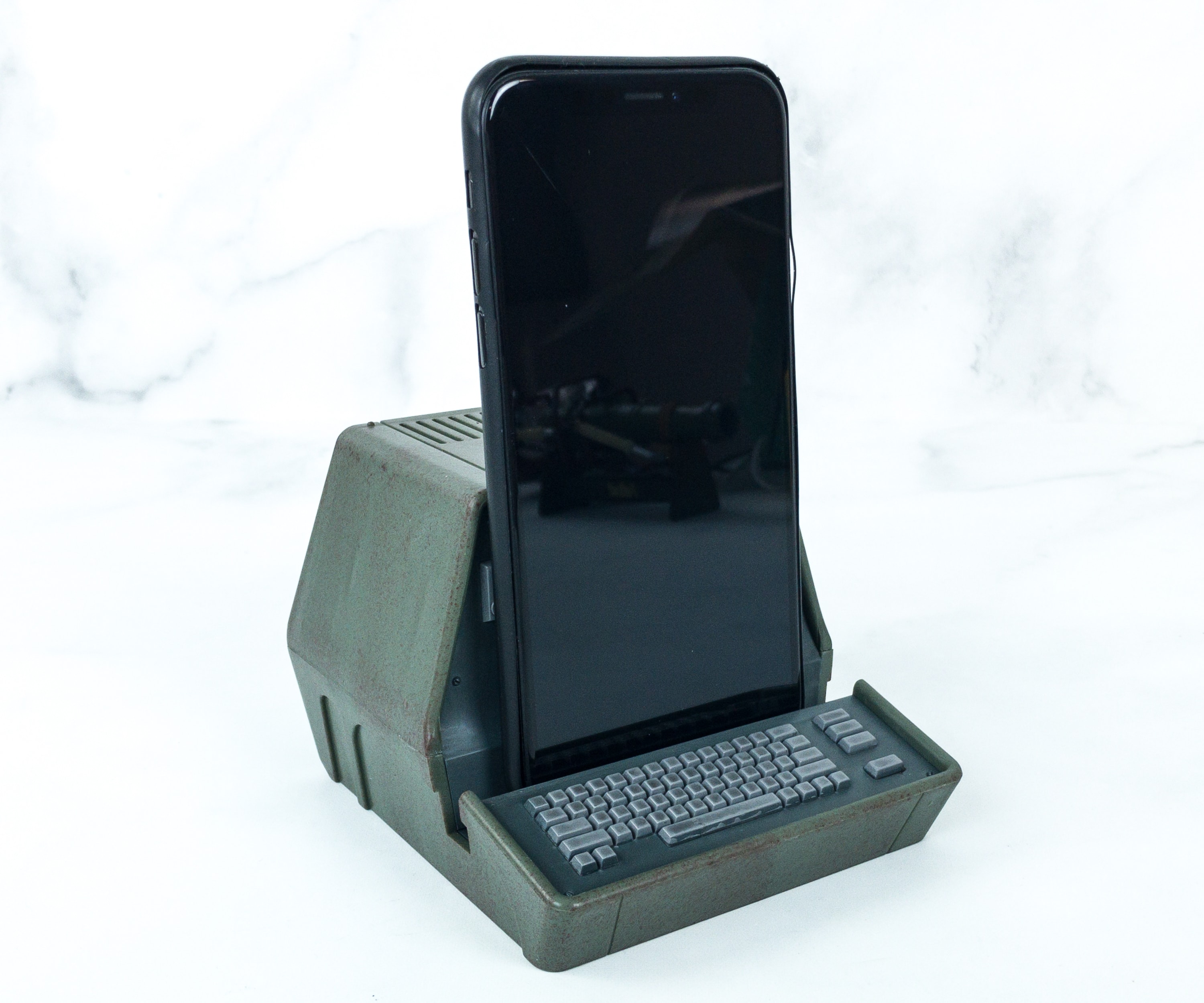 Here, it can hold any smartphone. I think it can also work for some thin gadgets like a tablet. It looks great, it's like the phone works as the screen for the terminal, while the keyboard looks like a working one if you type something on it!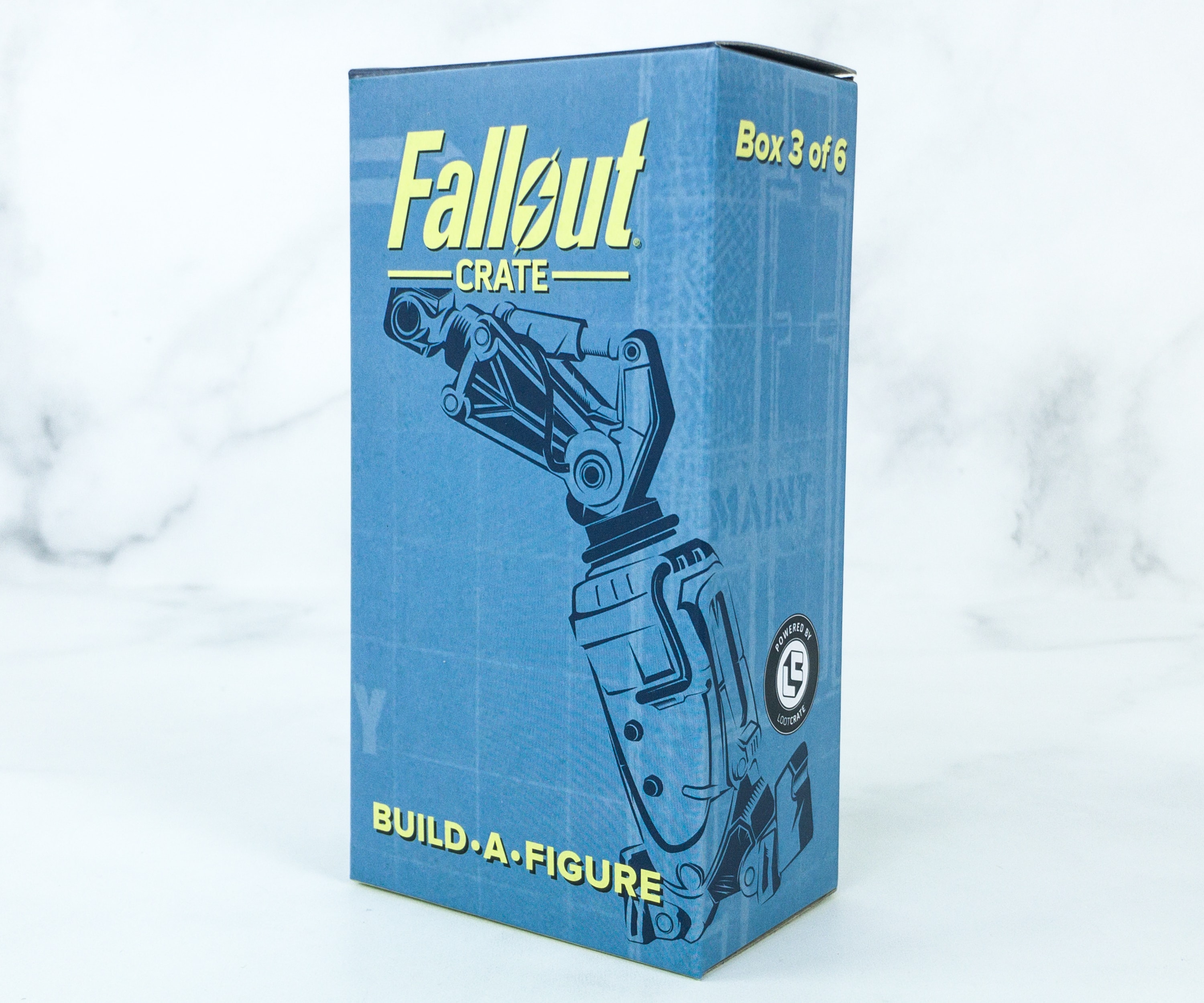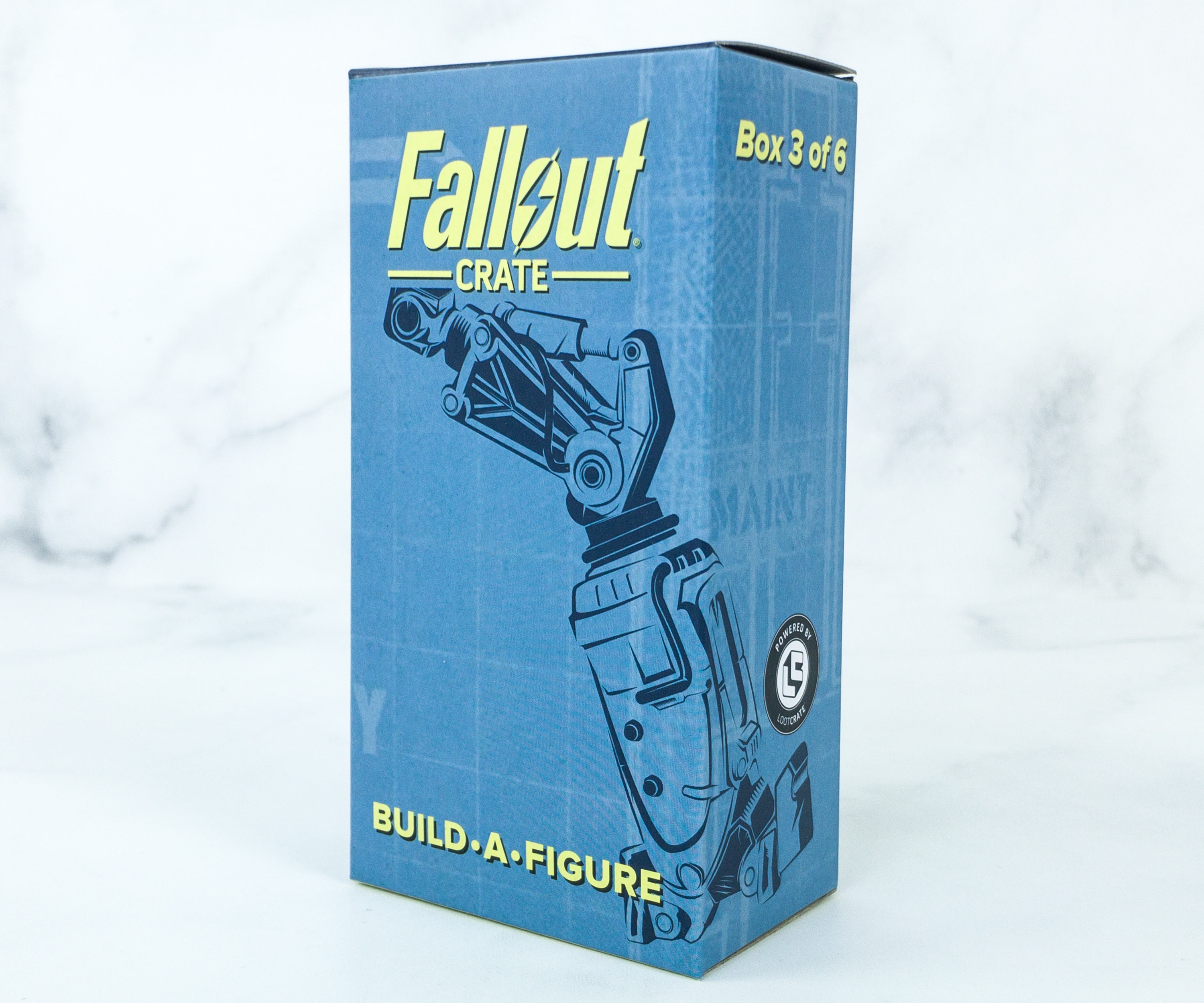 Liberty Prime Build-A-Figure Left Leg. Every Fallout Crate contains a part of the Build-A-Figure until it gets completed. After last month's right leg, this time, I got Liberty Prime's left leg!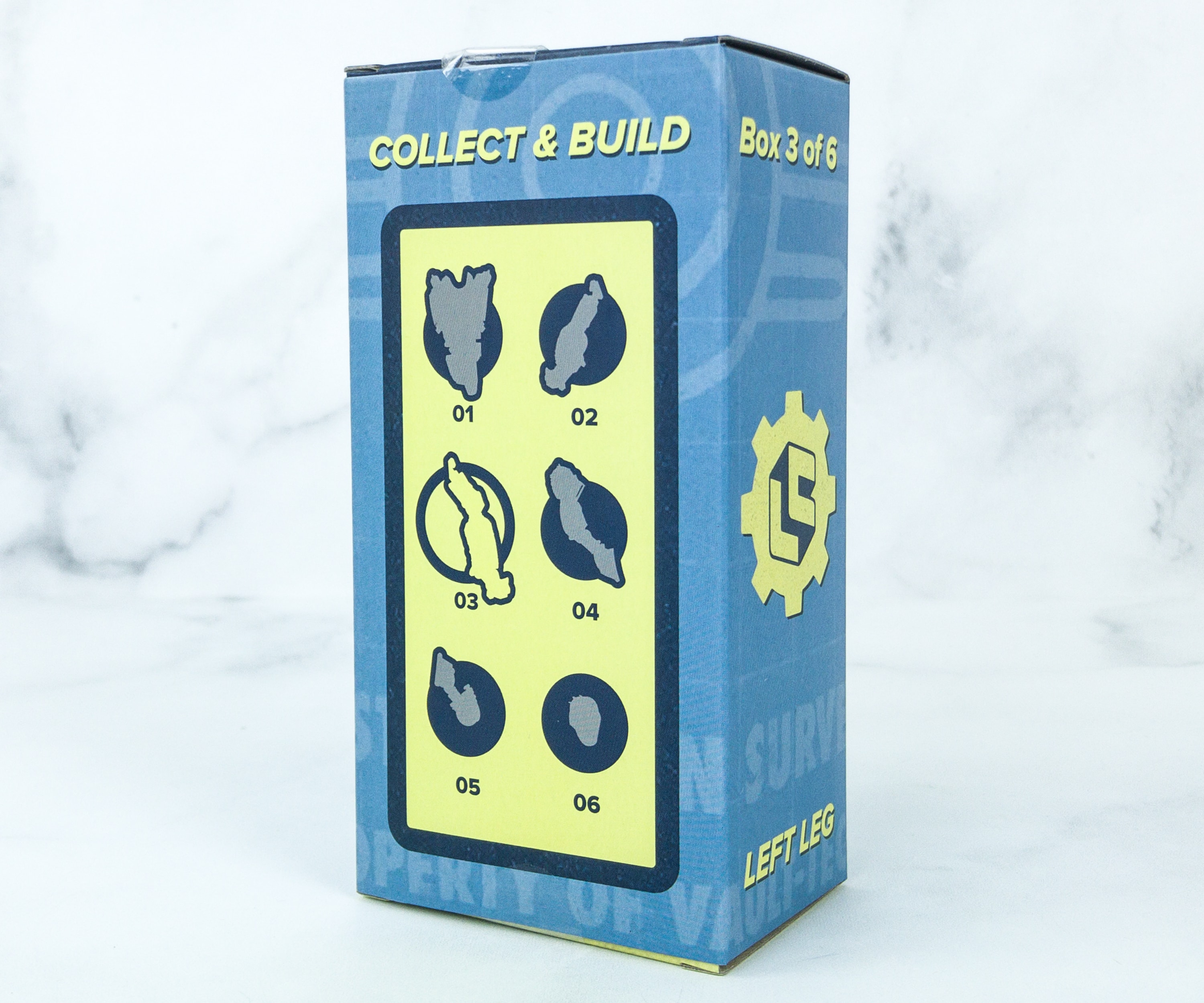 There's a total of 6 parts to complete this figure, and we're on part number 3! We're halfway in completing this figure!
Liberty Prime (later Liberty Prime Mark II if rebuilt) is a unique U.S. Army robot found at the Citadel. It stands 40 feet (12.19 meters) tall and is armed with a powerful eye laser and tactical nuclear bombs, making it a major combat asset.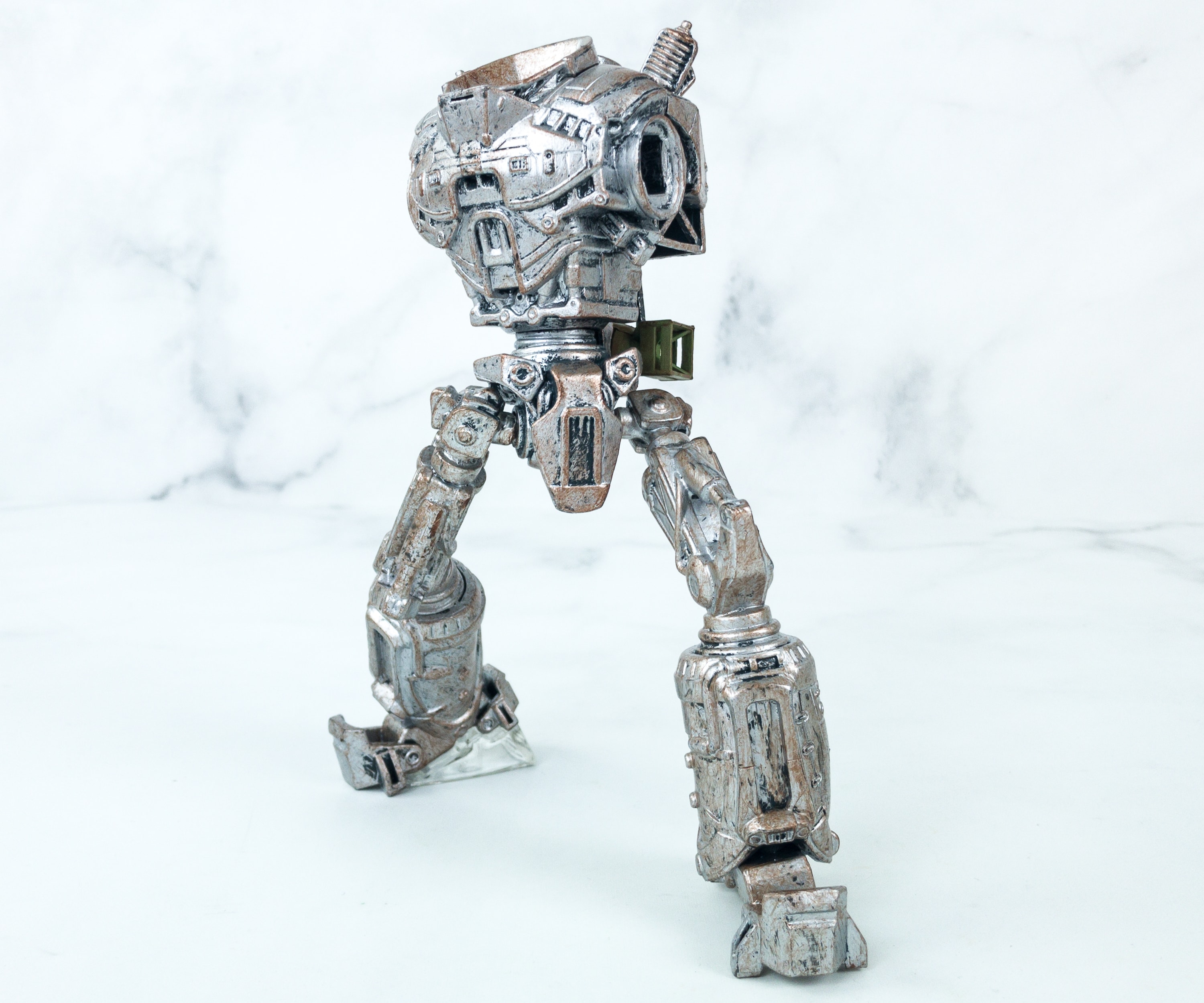 The figure has a rustic finish, so expect that if not all, most of the parts came in such condition.
I love seeing my figure slowly getting complete! I can't wait for the rest of the parts and I already fixed a spot for this figure on my display shelf!
Whenever this box comes, I always feel giddy and excited! My favorite part of the Fallout Crate is the Build-A-Figure series, and this edition's Liberty Prime is slowly turning into a great one. The other items are fantastic, especially the weapon replicas, the constant happiness-inducing perk pins. Another favorite of mine from this box is the phone stand. It looks nice on my desk! There may be no wearables this month but with this kind of content, it's pretty good – just be aware that Loot Crate has chronic shipping delays.
What do you think of this edition of Fallout Crate?