CatLadyBox is a monthly subscription box for us cat ladies and our cats! Each month you will receive cat-themed items for you and your cat (Crazy CatLadyBox), or you can order a box just for you (CatLadyBox). Each box could contain cat-themed shirts, jewelry, home decor, accessories, art, and more – all delivered in a box your cat can keep.
CatLadyBox is unlike any other cat subscription box out there. Each month, you'll receive a meowvelous selection of high-quality cat-themed items only available through us. From super-soft shirts and beautiful jewelry to inspired home decor and quirky cat toys, we pride ourselves in creating and delivering the ultimate ways show off your cat lady pride!
DEAL: For a limited time, save $5 off your first box with coupon code AMEOWZING! Valid on Crazy Cat Lady Box only!
TIP: Looking for a coupon code? Subscribe to notifications for CatLadyBox in the directory to get an email when the next one is released!
The box includes a cute cat-themed card.
They listed all the items at the back of the card, together with a brief description for each. There's also a coupon code from this month's Featured Cat Lady Artist.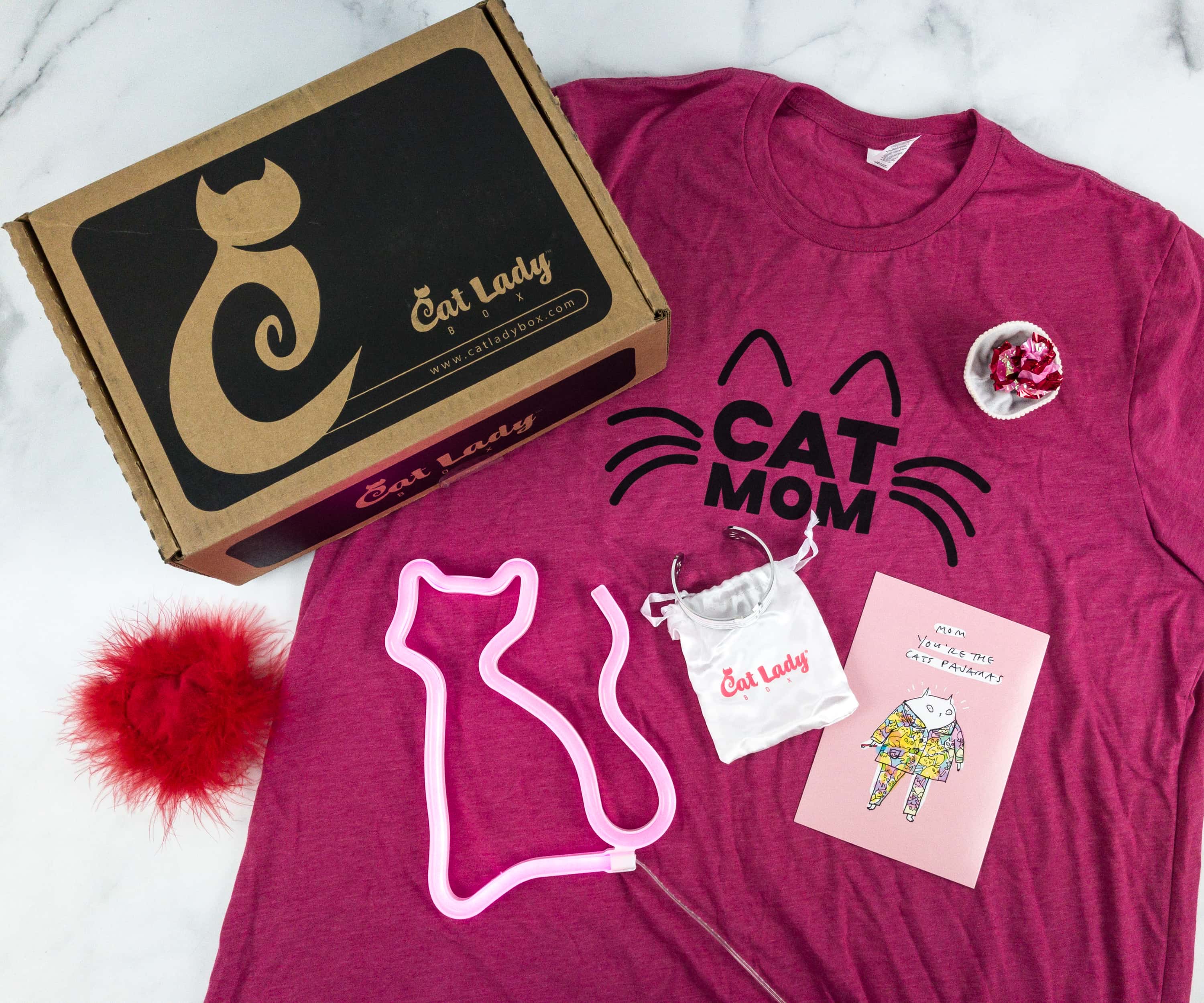 Everything in my CatLadyBox!
It's a promotional card for the CatCon 5th Anniversary!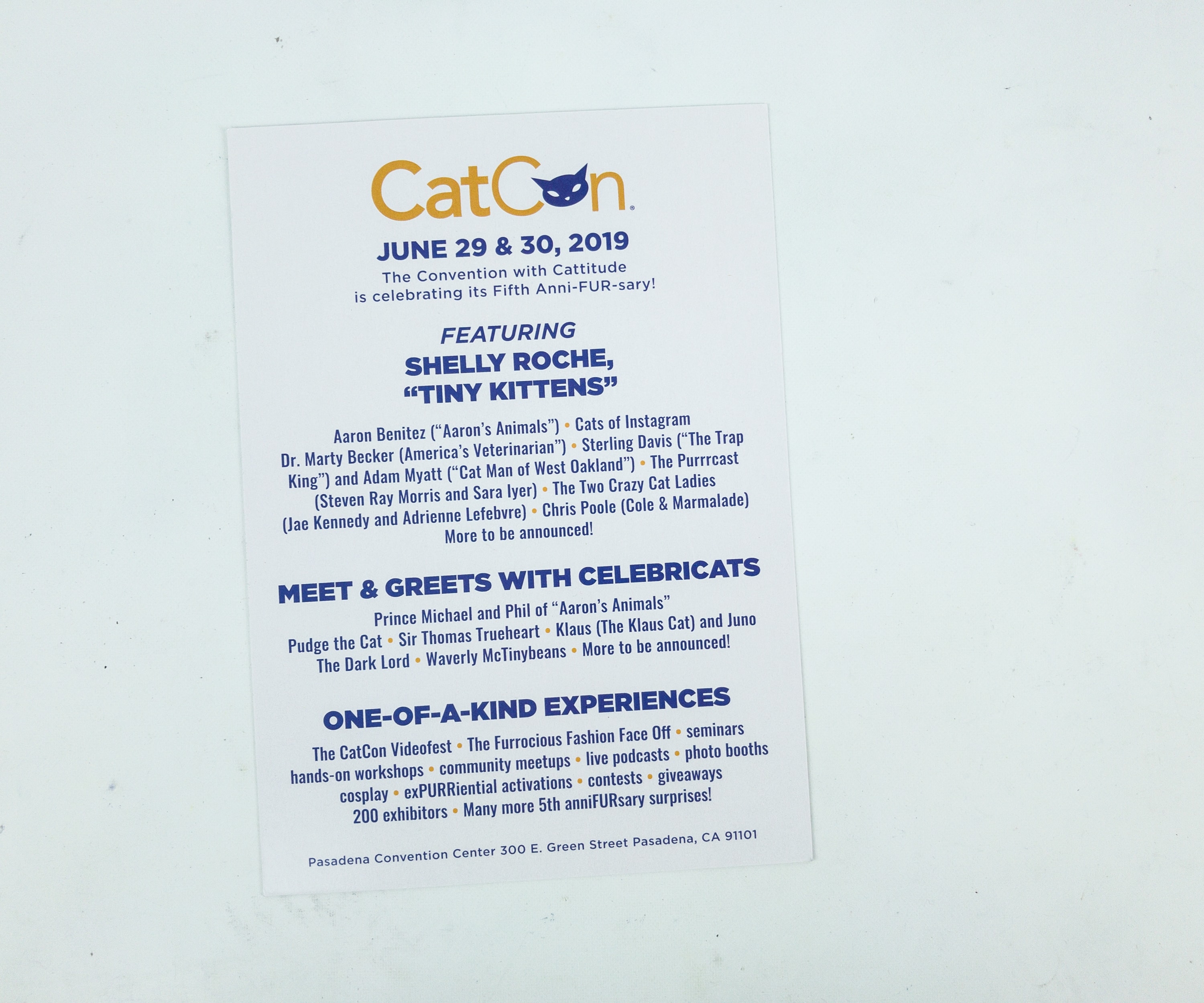 At the back, there's a list of things you can look forward to in the event.
Fluffy Catnip Heart Toy ($5.99) This fluffy toy is the favorite this month! Everyone wants it, even the dog!
Bands Of Cats Cuff Bracelet ($21.99) How pretty is this bangle? I've gotten so many compliments on it when I've worn it out! It arrived in a white drawstring pouch for safekeeping.
There are cat ears in the middle of the bangle.
There's also the CatLadyBox logo inside.
And on the ends are cat paws! So cute!
Crinkle And Catnip Cupcake Toy ($4.99) My kitty, Jace, loves to play fetch. He's been choosing this one as the toy to play fetch with since we unboxed it.
Crinkle and catnip is a perfect combination. Jace thinks it's purr-tastic!
Cat Mom Shirt ($24.99) This t-shirt is so soft! I really love the color too! It is every bit as bright as these photos.
It says "CAT MOM" and I'm proud to wear it!
Neon Cat Light ($14.99) How fun is this light? I have it set up on my TV stand. It makes me smile every time I see it.
It came in a black box.
There was a USB cable, but the batteries are not included.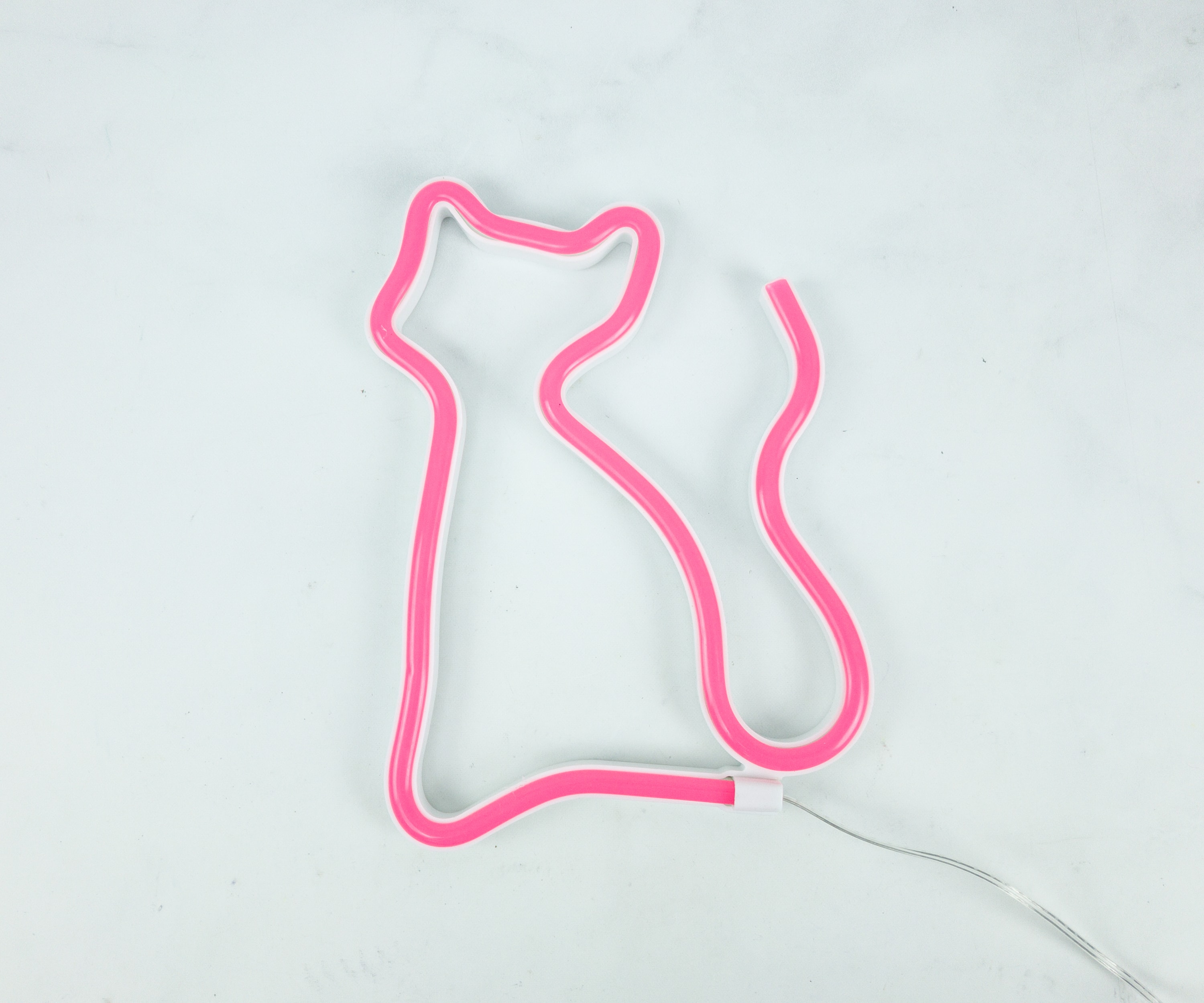 So pretty!
This is what it looks like when it's lit up!
This month's box was paw-fect! I love the cat-themed items for me, especially the bangle and the cat mom shirt. I immediately set up the neon cat light too, it's too pretty to ignore. My cats also enjoyed their new toys a lot. Everybody's happy, that's why we're giving this box 2 paws up!
What do you think of this month's box? Does your cat give 2 paws up?