Spiritual Guru box is a new monthly subscription box of spiritually inspired items specifically picked to enhance your spiritual experience. Each box will contain a mix of 5-7 items that can include: spiritual or growth tools, a high vibration crystal or stone, essential oil spray or roll on, scented candle, boho jewelry, mala beads or other adornments, figurine or other mystical items. Many of the products are made by skilled artisans, natural or organic, cruelty-free, and eco-friendly. The box is 100% vegan and cruelty-free.
Every new subscriber will receive the initial "Raise Your Vibration" themed box. Previous boxes are also available as one-time purchase in their store.
This month's box had it's lovely wrapping paper shredded, but nothing was broken. The stone we received this month is the culprit, but it's a lovely one!
This month's theme is Law of Attraction. The information card explains how you could receive a free gift in your next box by sharing a picture of your box on Instagram.
Every month, we also receive our personalized oracle card and if you feel attracted to the deck, the introduction card tells us what deck it is from. This month is from the Goddess Guidance Oracle Card.

My card is Prosperity, how appropriate for a Law of Attraction box!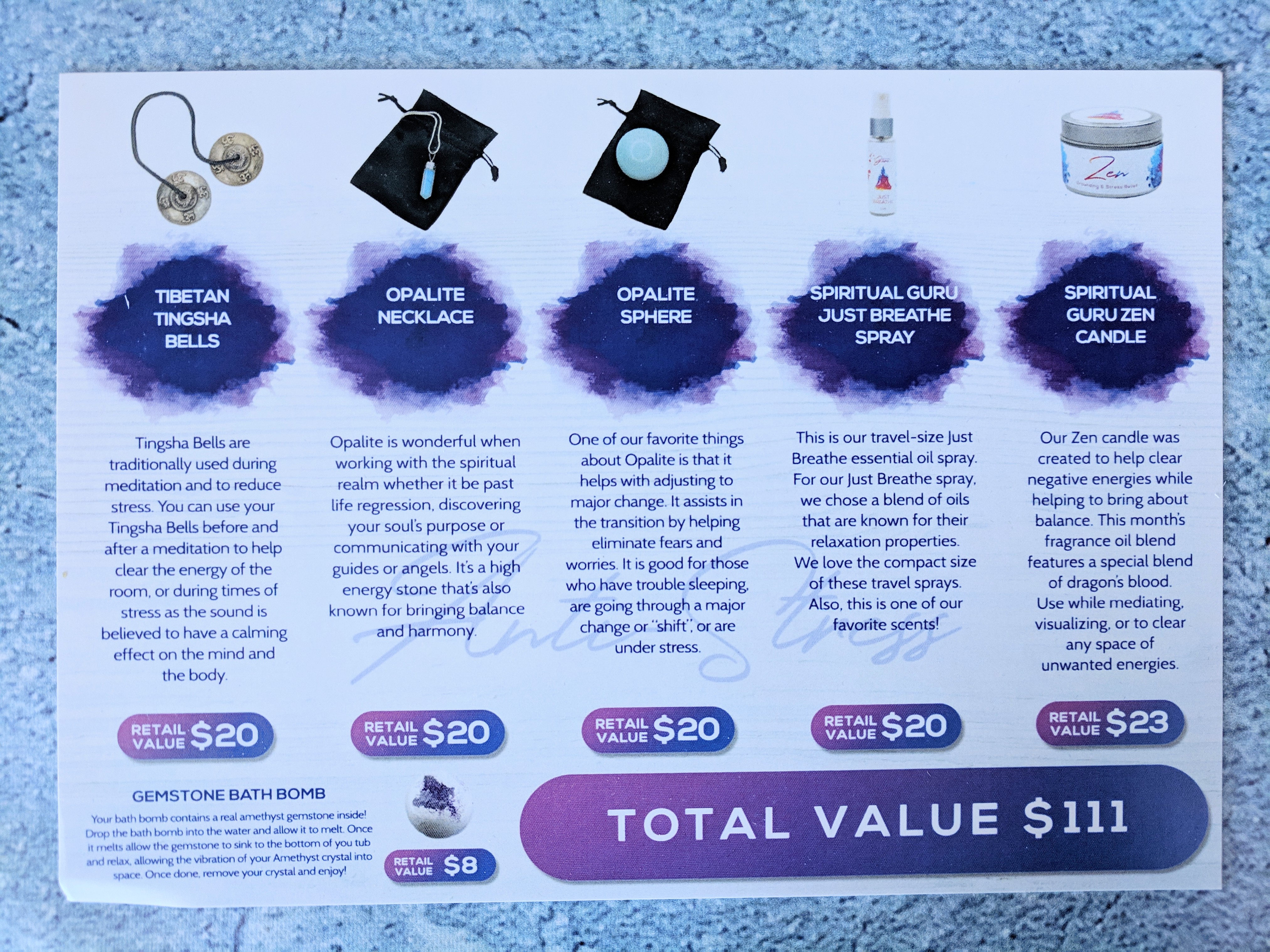 The information card details everything about this month's items.
Law of Attraction Planner – A 30 day journey creating your dream life. This undated 30 day planner is a reminder that you don't need to start something new on January 1st. Any day can be day 1!
The planner starts with a Roadmap to help us get the most out of this tool.

There's a nice list of positive affirmations based on our emotional vibration and one of action steps to feel better and increase our happiness.
Then we get in the section to highlight what is important to us and our journey.
Everyday has its own two pages spread that doesn't rely solely on time, but also on affirmations, habits, how you feel and what you want to accomplish. I love that there's room for spirituality, personal development, as well as things that needs to be done. I will be using it starting next Sunday as a way to set my week up to get all the things done! I think my favorite part on the daily spread is the Positive Habit Creator with everything I need in my day to feel happy and accomplished : Visualize, Gratitude, Affirmations, Meditation, Exercise and Love.
Pilot Frixion Pen – green. This pen feels likes a gel pen, but you can erase with the eraser at the top of the pen.

It's a really nice pen. The information card says you can use this pen in your planner and once you filled it up, you just have to heat your planner (don't leave it in the sun if you don't want to damage it) to erase the ink.

And the eraser works like a charm!

Citrine and Crystal Quartz bracelet. The citrine is used as a will power stone to help us accomplish what we want. It can be used for manifestation, prosperity and personal success. Citrine is associated with the Solar Plexus and the Navel Chakras, helping with personal power and creativity. It's also a sunny and uplifting stone.

I really like the addition of the rhinestone rondelles.
Pyrite Sphere. This is the stone that even though it was protected in a velvet bag, moved around in the box and made a mess of the wrapping paper! Pyrite is a strong and powerful manifestation stone. It's also a stone associated with wealth, success and protection and works well with citrine and clear quartz.

It fits nicely in the palm of the hand, making it a perfect tool to be used while meditating.
Angels of Abundance Oracle Cards. This 44-card deck will help you identify, heal and remove money worries blocking your path of greater well-being.

Look at the beautiful art work at the back of the cards!

Each card has keywords as well as a deeper explanation for the card. The artwork is also really nice and helps with visualizing answers.

The guiding book gives more information about the message received through the cards.

I'm always excited to receive my Spiritual Guru Box. I'm amazed by the variety of items, and they are things that I would have actually bought for myself (or wish I had!) I love the variety of items that we have, and the Law of Attraction Planner is the highlight this month and I can't wait to work with it. The bracelet is lovely and I'm so happy with my new pyrite sphere!
What do you think of this subscription? Let us know in the comments!