Macy's Beauty Box is a monthly subscription that delivers five deluxe beauty samples, one bonus item, and a collectible cosmetics bag for $15 per month. Beauty Box subscribers also get an exclusive $5 beauty coupon that can be used online and in-store.
New month, new pouch!
Each package comes with a Macy Beauty Box booklet.
Open. Have fun. Repeat.
There is a $5 off coupon at the back of the booklet. The coupon is valid in-store or online from 4/26/19 until 6/28/19. Check out these categories sorted from low to high price: Bath & Body, Natural Beauty, Makeup, Skincare, and Travel-size.
Unfortunately, Macy's has totally decimated this benefit by starting to charge shipping on beauty orders. This benefit is basically nothing unless you are looking to buy a $49+ item or you can use it in store.
The information booklet gives you a list of all the items included in the box.
Just looking at the list of brands they collaborated with makes me excited! It also includes a complete description of each item.
Everything in the May 2019 Macy's Beauty Box!
Clinique Pretty Easy Liquid Eyelining Pen ($11) It's hard to achieve a perfect eye line. I've tried so many liquid eyeliners with brush applicators, many of which lead to my dismay, but this one is different! Its tapered, precision brush allows me to create a clean line with one, steady sweep.
It has a pure, deep color that gives that smudge and budge-resistant wear that stays on for hours. It's also allergy-tested and fragrance-free.
Girlactik Invisible Shadow Primer/Eraser Liner ($17) If you struggle with mascara and eyeliner application, this eraser liner is absolutely useful. I tried using it to remove a mascara smear and it did pretty well. No more redos for me! You just draw it on the mistake and use a q-tip to remove
Montblanc Explorer ($1.78) I asked my husband to give this cologne a road test and he definitely loved it as well as I loved how it wears on him. It smells fresh, clean, sexy and masculine. We were impressed with its longevity and sillage too!
They used the rarest ingredients combined with craftsmanship and the use of the latest technologies in manufacturing this fragrance. The result is a unique woody-aromatic-leather concoction that's completely irresistible!
Marc Jacobs Eau So Sweet ($1.26) This scent is really for me. It has a nice amount of freshness and fruity sweetness of sparkling raspberries, crystallized blackberries, and bergamot in the opening notes and the floral aromas of daisy and jasmine flowers at the finish.
It reminds me of the blooming flowers in spring and of the fresh sunshine in the mornings. It's not too heavy, nor too light. I also appreciate that this sample can fit in my smallest pouch, which is pretty convenient.
Korres Greek Yoghurt Foaming Cream Cleanser ($3.48) This cream cleanser is formulated with the added boost of Greek yoghurt to deliver 2.5 times more skin soothing and nourishing proteins.
This product cleanses the skin without drying it out. Also, it helps remove stubborn makeup, leaving your face feeling clean and moisturized but with no tightness or lingering residue. We used it to remove stubborn mineral sunscreen!
Boscia Detoxifying Black Charcoal Cleanser ($6) With charcoal as its key ingredient, this warming gel cleanser works deeply into the skin, unclogging dirt as it minimizes the appearance of pores and brightens the complexion. It also has Vitamin C that helps remove excess oil and refine skin texture.
Caudalie Vinosource S.O.S. Thirst Quenching Serum ($16.17) Ideal for normal, oily combination and dry, sensitive skin types, this serum gives the skin that out-of-this-world glow and hydration, without making it too oily or too shiny. I also love how it  has a very light scent and how it layers with my other skincare products beautifully. I could see a visible difference with this serum and I think it's actually worth every penny!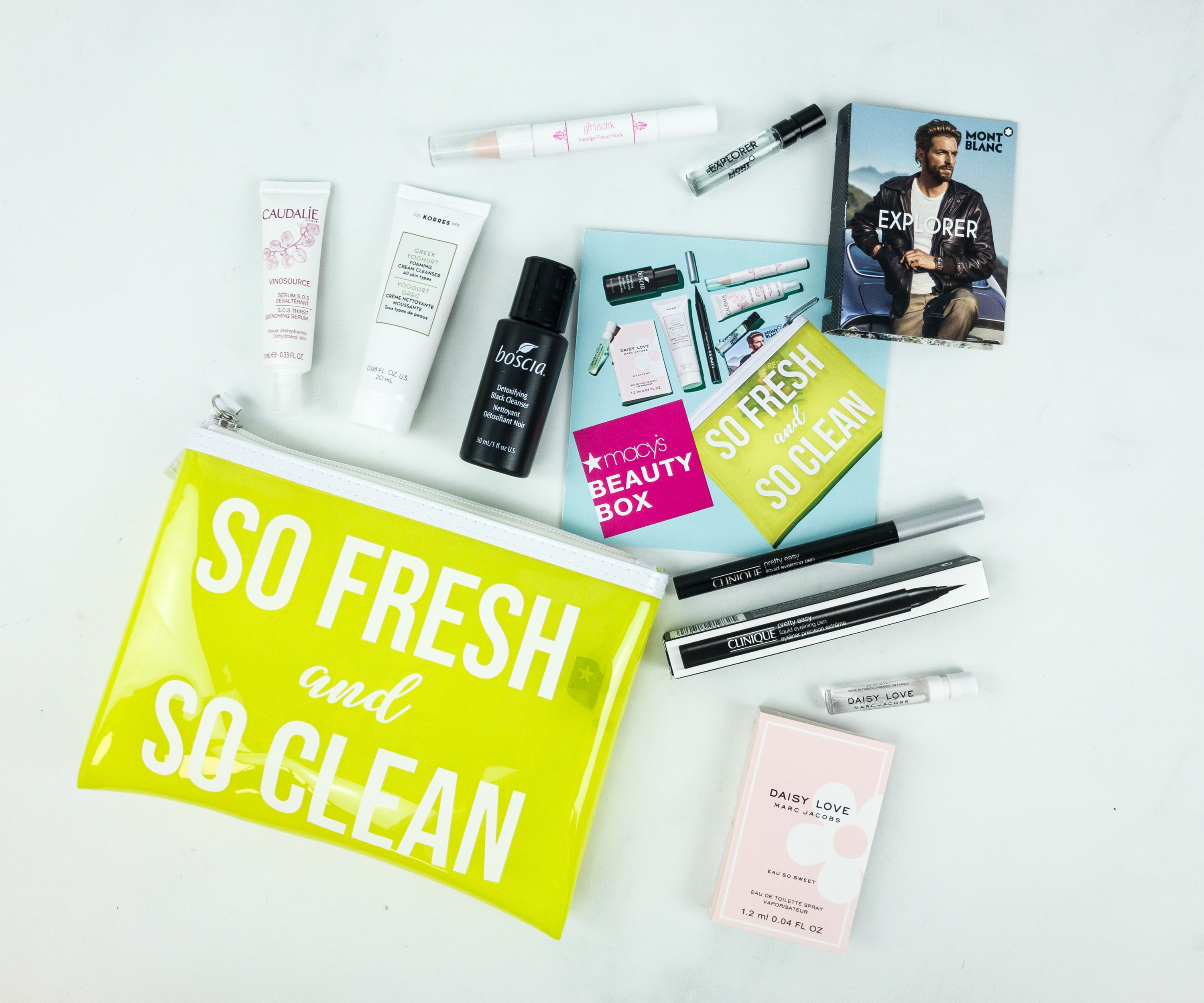 I was so delighted with this month's curation, which is about $56.69 in total. The beauty bag literally looks fresh and clean with its bright yellow and white color combination. All the items in the box fit in it too! The his and hers perfume and cologne samples both smell wonderful. The eyeliner is not just easy to apply, but it's also thick enough that I don't need to coat it several times just to get the depth that I want. Both the cleanser and the serum have a unique property that helps me get rid of my skin problems while keeping it extremely nourished. Lastly, the multitasking primer/eraser liner works miracles! I thought this was a really nice curation this month!
What do you think of this month's Macy's Beauty Box?