Flair & Paper is a monthly subscription of stationery and greeting cards. Each box costs $19.99 and contains 4 to 5 greeting cards and 1 to 2 stationery items.
DEAL: Get 50% off your first box when you sign up for a 3, 6, or 12-month subscription! Use coupon code WELCOME.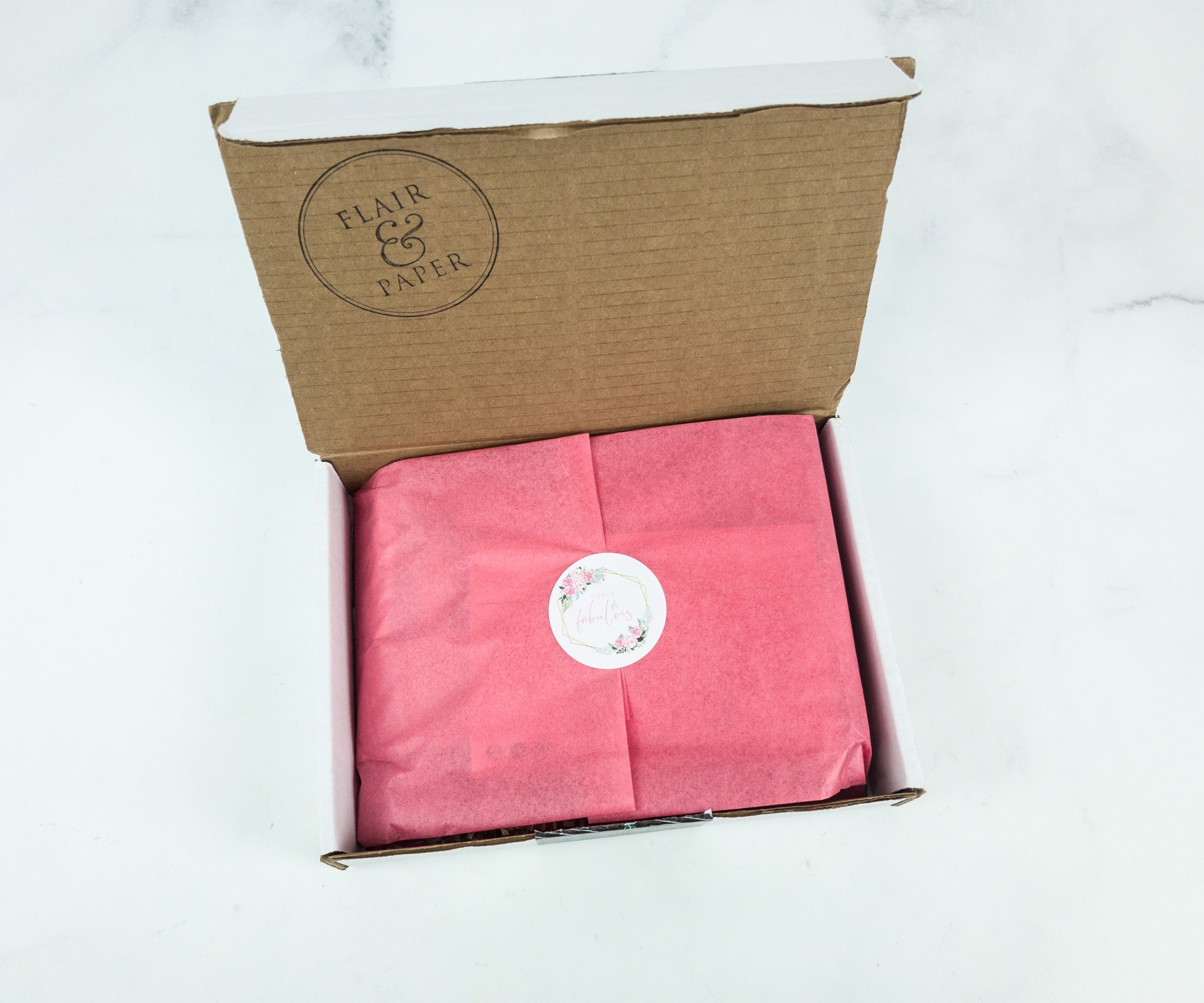 The items were wrapped in pink tissue paper and sealed with a sticker.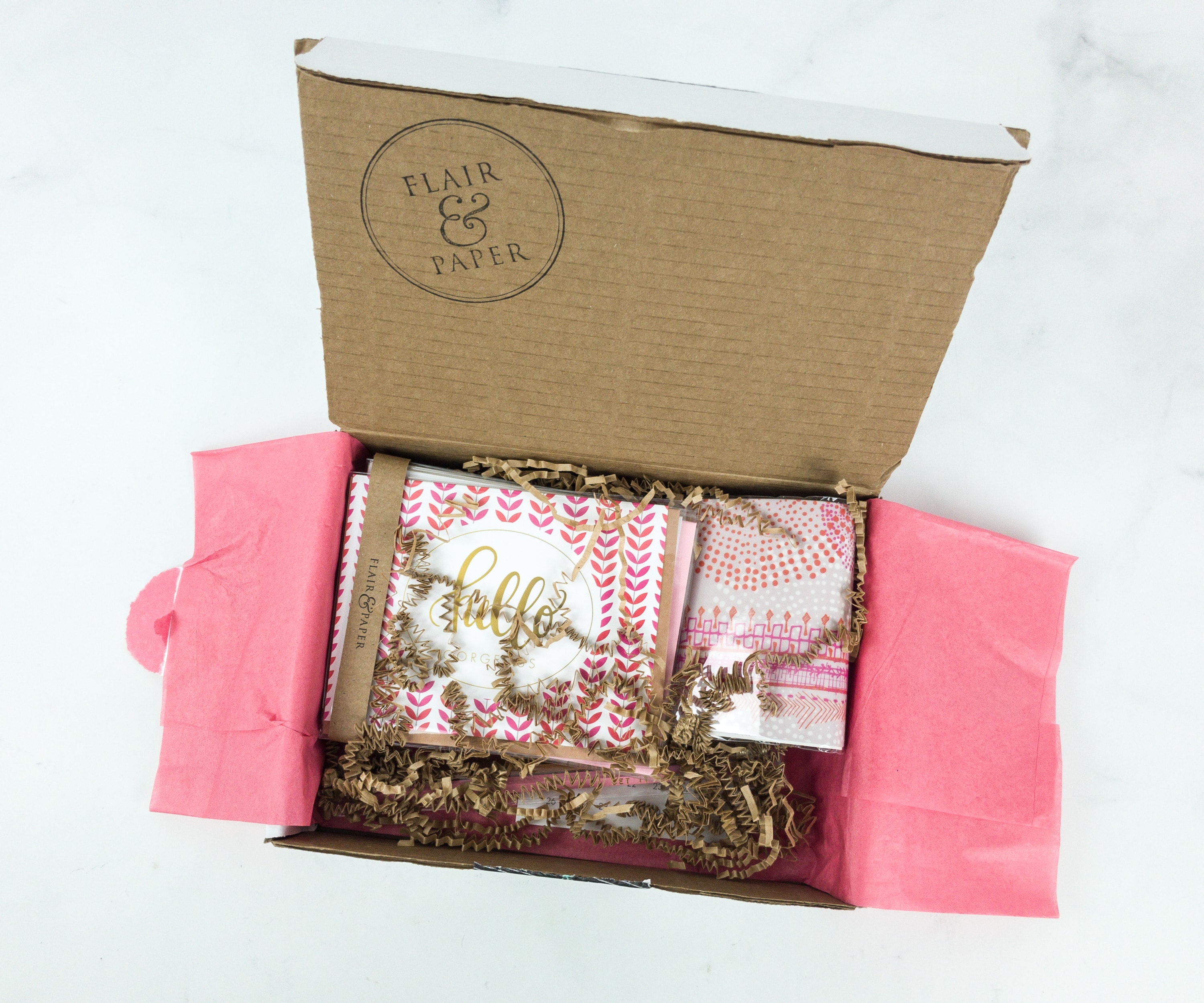 There are also squiggles that keep the items in place.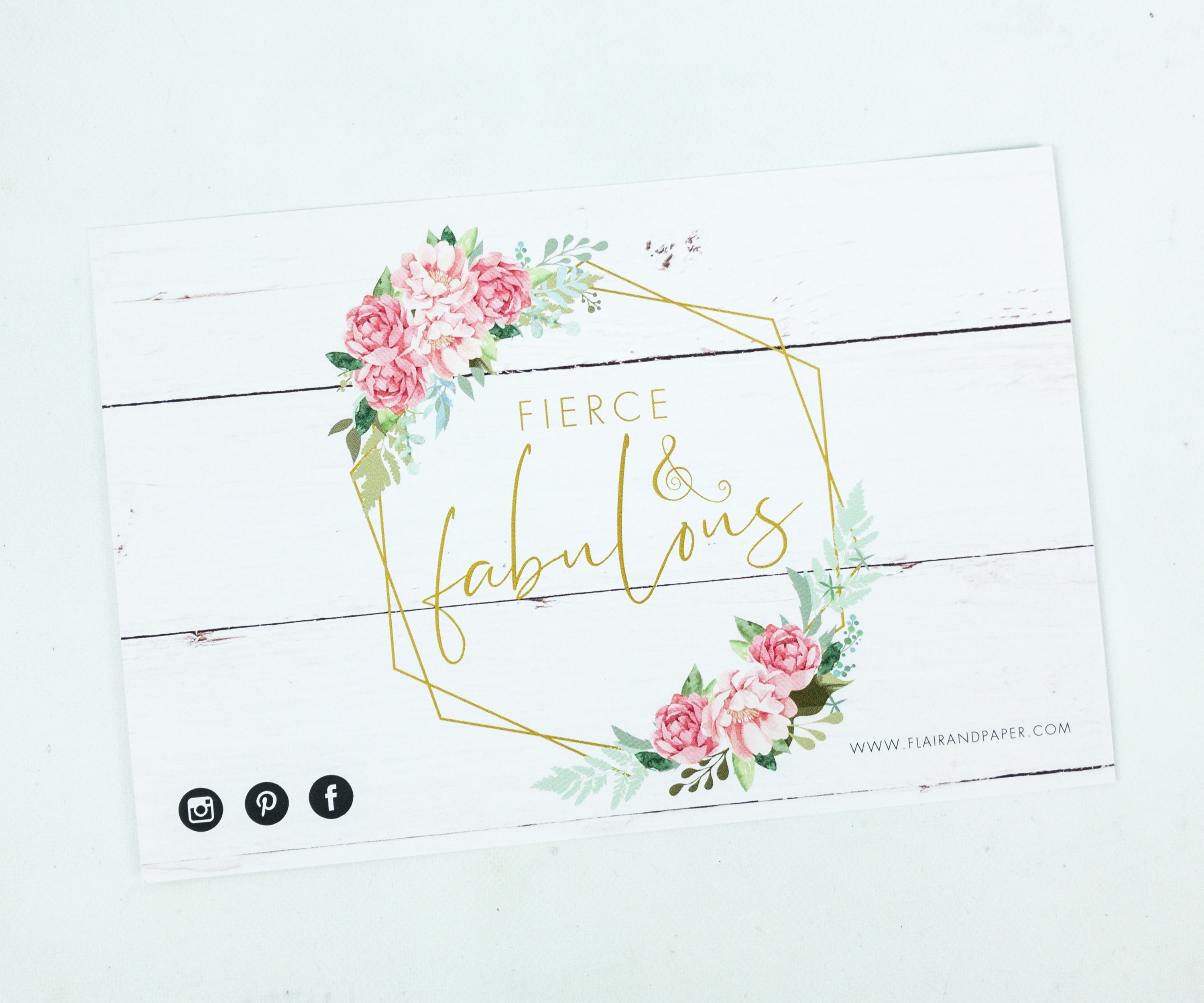 The simple and dainty aesthetics translates on the information card.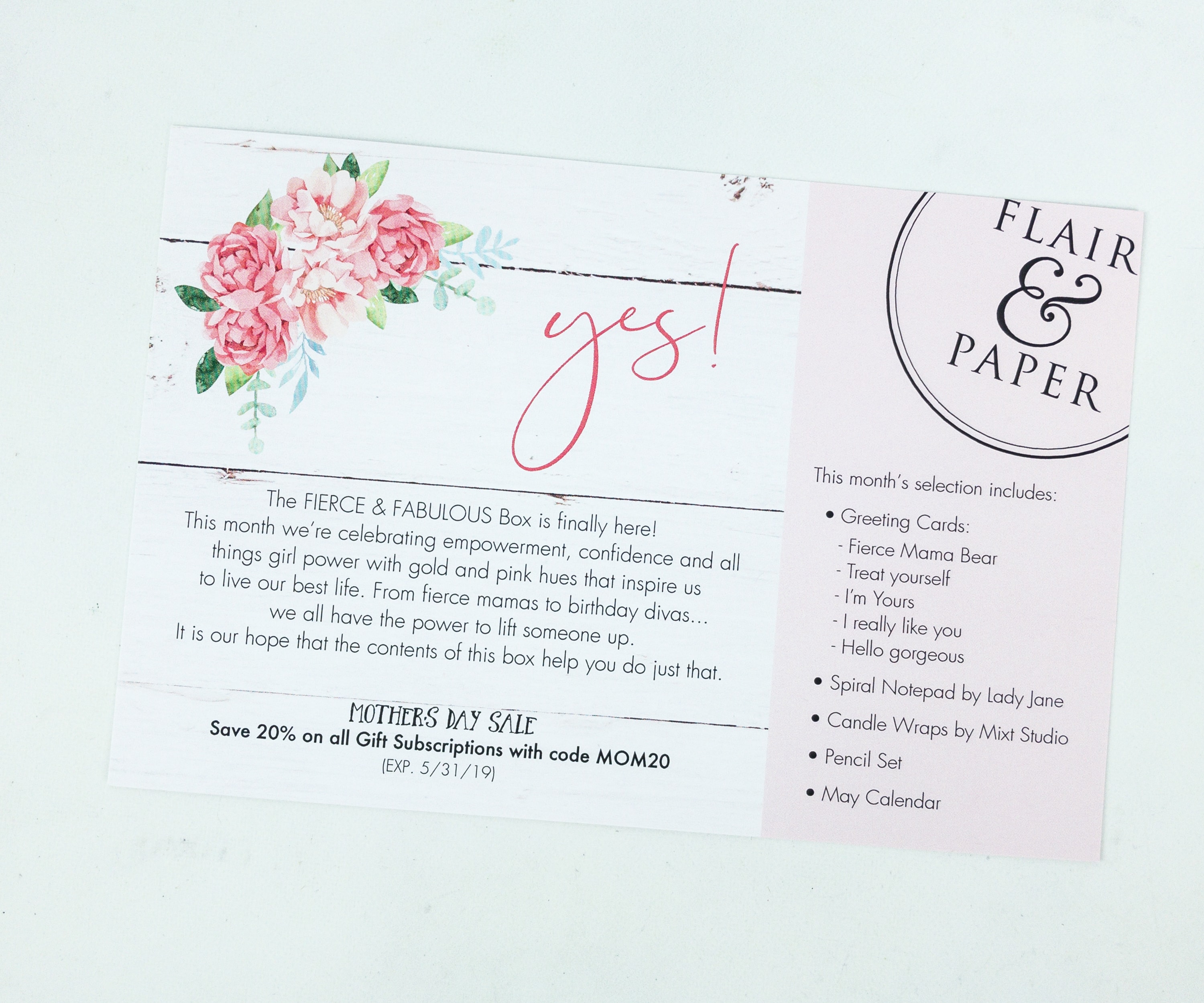 This month's theme is Fierce & Fabulous! We've got greeting cards, flat cards set, a wooden magnet, an adventure bag, and a calendar. I'm excited!
Everything in my box!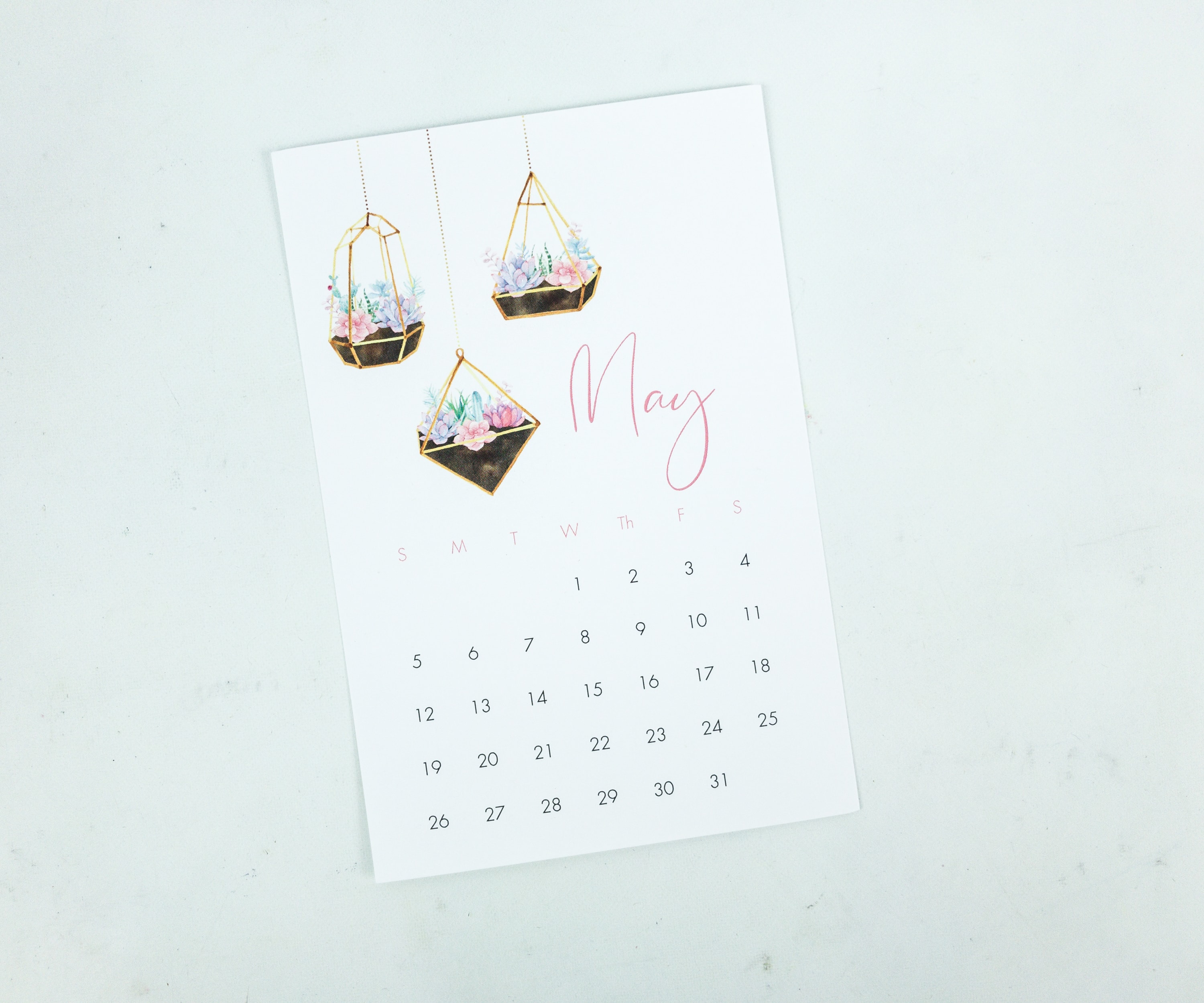 May Calendar. This May calendar is simple, yet charming. It has a minimalist design that can fit in any corner of the house or office.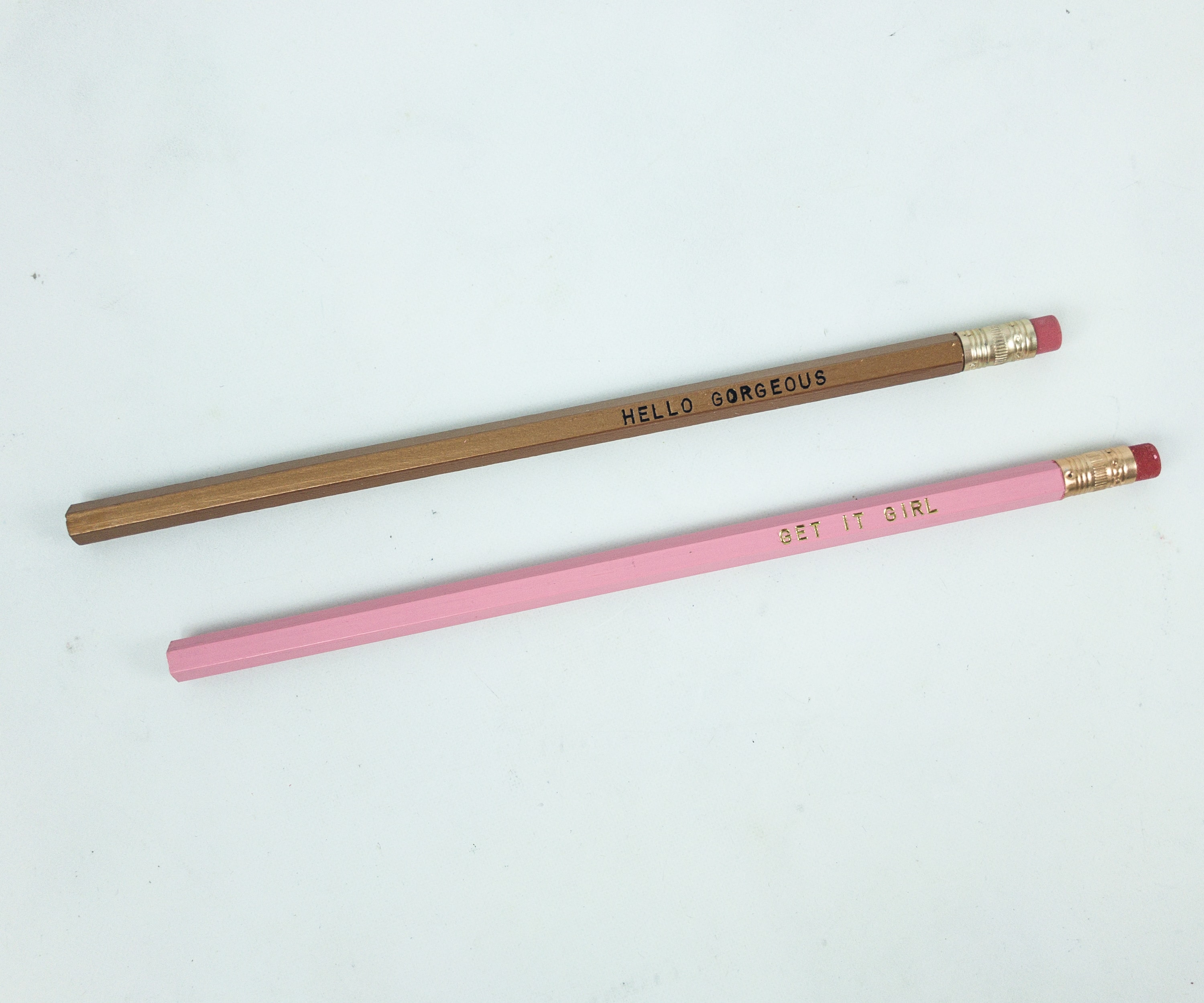 Pencil Set. Statements aren't just for bags or garments. They can also be carved on pencils, and we've got two that bear women-empowering lines. They don't just add a feminine vibe to my crafting tools, they also make a nice souvenir or gift to my girl friends!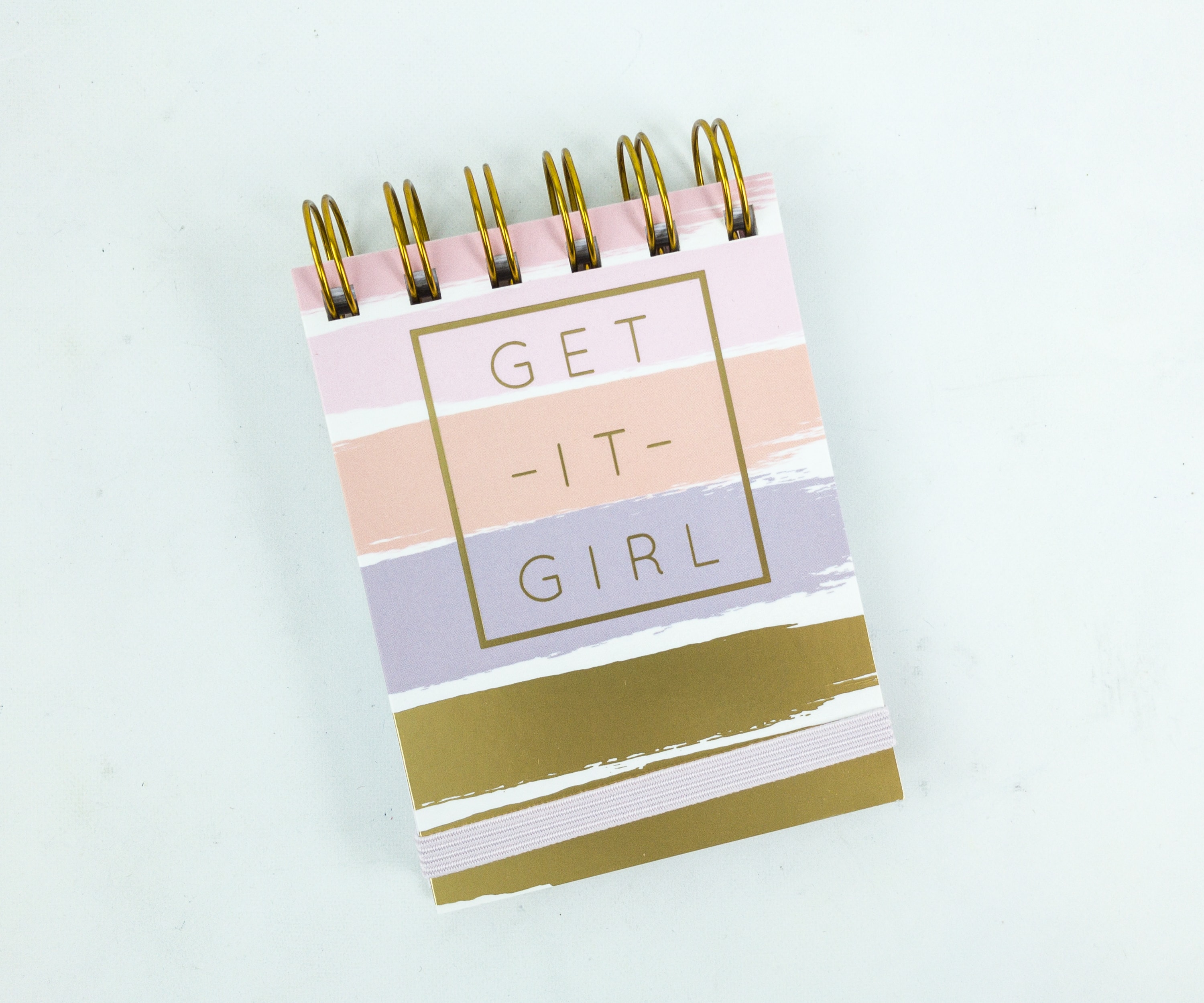 Spiral Notepad by Lady Jane. Another fierce and fabulous item in the box is this notepad with a vertical template. The paint palette background on the cover gives it an abstract feel. It also features an elastic closure.
The lined pages are bound with gold-colored metal rings, while the flip side of the cover also presents a lovely marble pink shade!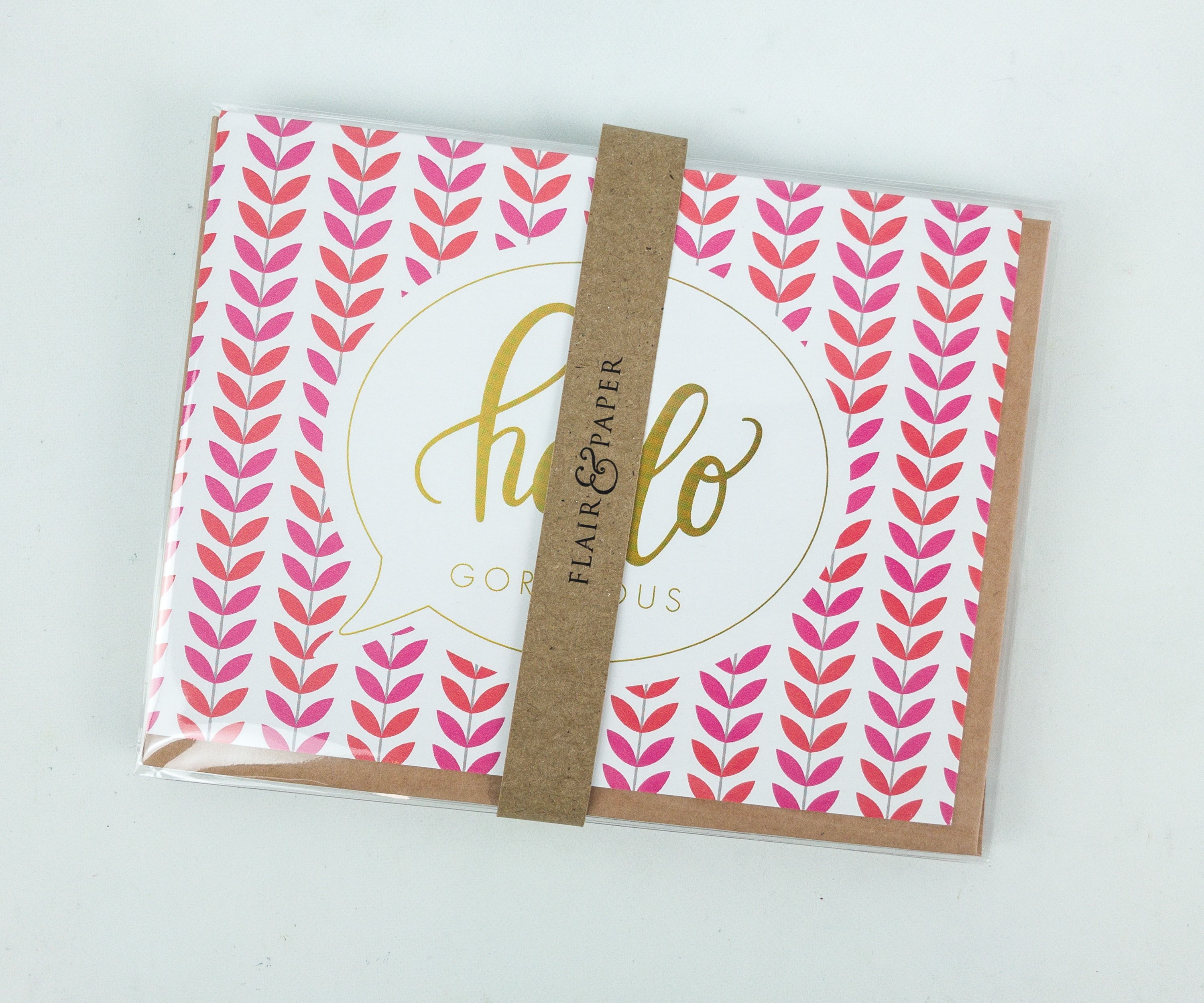 The next item is a bundle of lovely greeting cards.

I love the assortment of cards in different lengths and templates. The package is also complete with envelopes.
I'm Yours Greeting Card. The first card on the list is this vertical one with splotches of pink and orange colors for decoration. It's ideal for sending to your significant other on their birthday or during your anniversary. The sweet note says "I'm yours, what else could you possibly wish for?". You can write down more of your personal messages on the blank space provided inside.
Treat Yourself Greeting Card. Cake signifies a lot of occasions or events and the most famous ones are birthdays, weddings, and anniversaries. This card has a print of a nicely garnished cake which makes it perfect for sending good cheers. It will surely make that special someone smile. After all, everyone loves a piece of cake!
I Really Like You Greeting Card. If you don't have a knack for cheesy lines or admitting your feelings to that special someone, then you might need the proper card to do the talking for you, just like this one. It's simple, cute and straightforward!
Hello Gorgeous Greeting Card. Gorgeous is a word that we can associate with anyone. It can be a friend, a sister, a wife, and most especially, a mom. It's adorned with pink and red leaves with the message "Hello Gorgeous," written in gold inside a speech balloon. If I were to receive a card as beautiful as this, my heart would also melt. So go ahead, mail her this card and let her know that she's gorgeous in every way!
Fierce Mama Bear Greeting Card. We all know that behind a successful person is one fierce mama. So they deserve some love and thoughtfulness on their special day. What better way to do that than by taking a moment and pouring our hearts out on a wonderfully decorated card, right?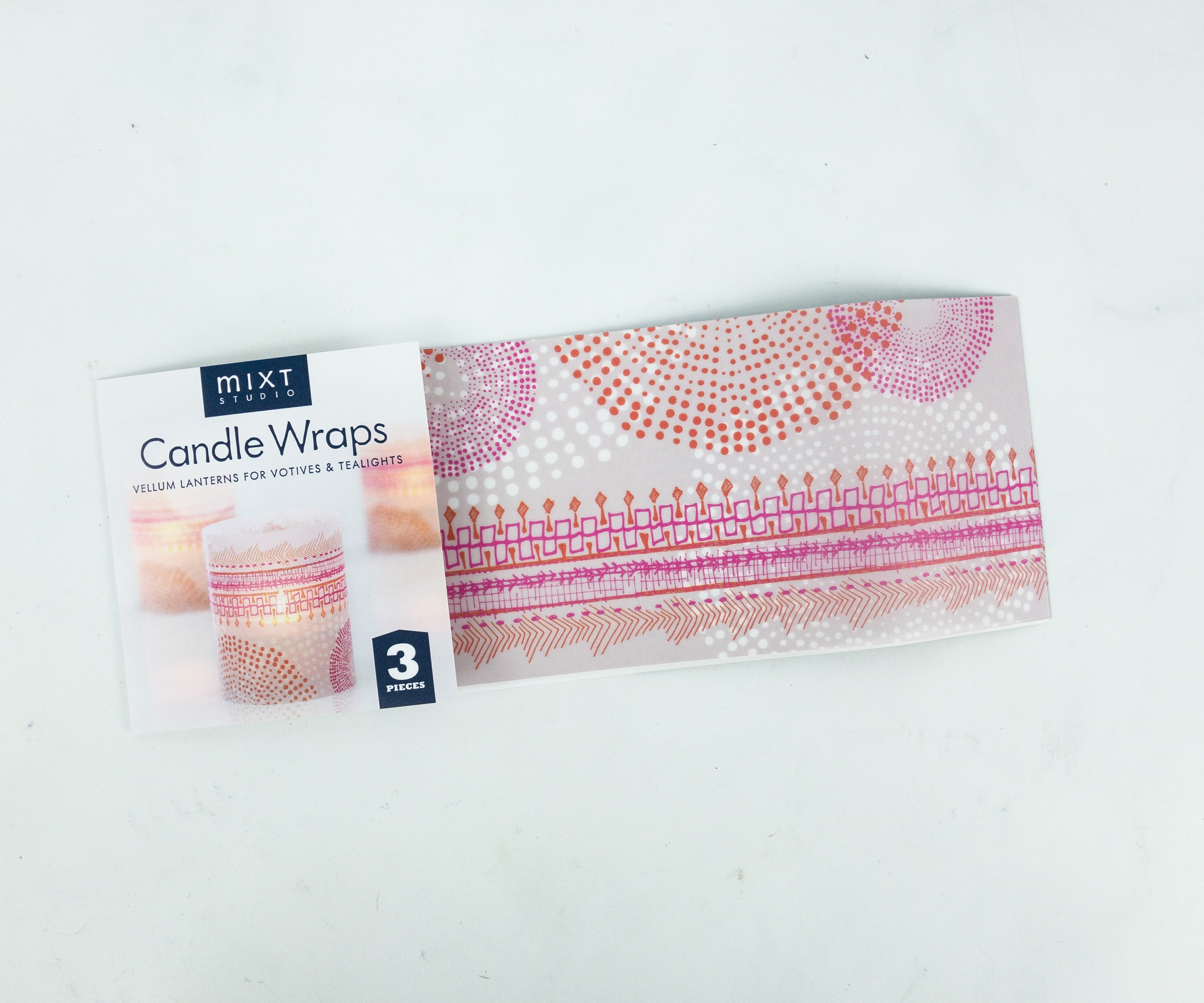 Candle Wraps by Mixt Studio. These wraps can make any candle look expensive and customized so they can go with any decor. Brilliant!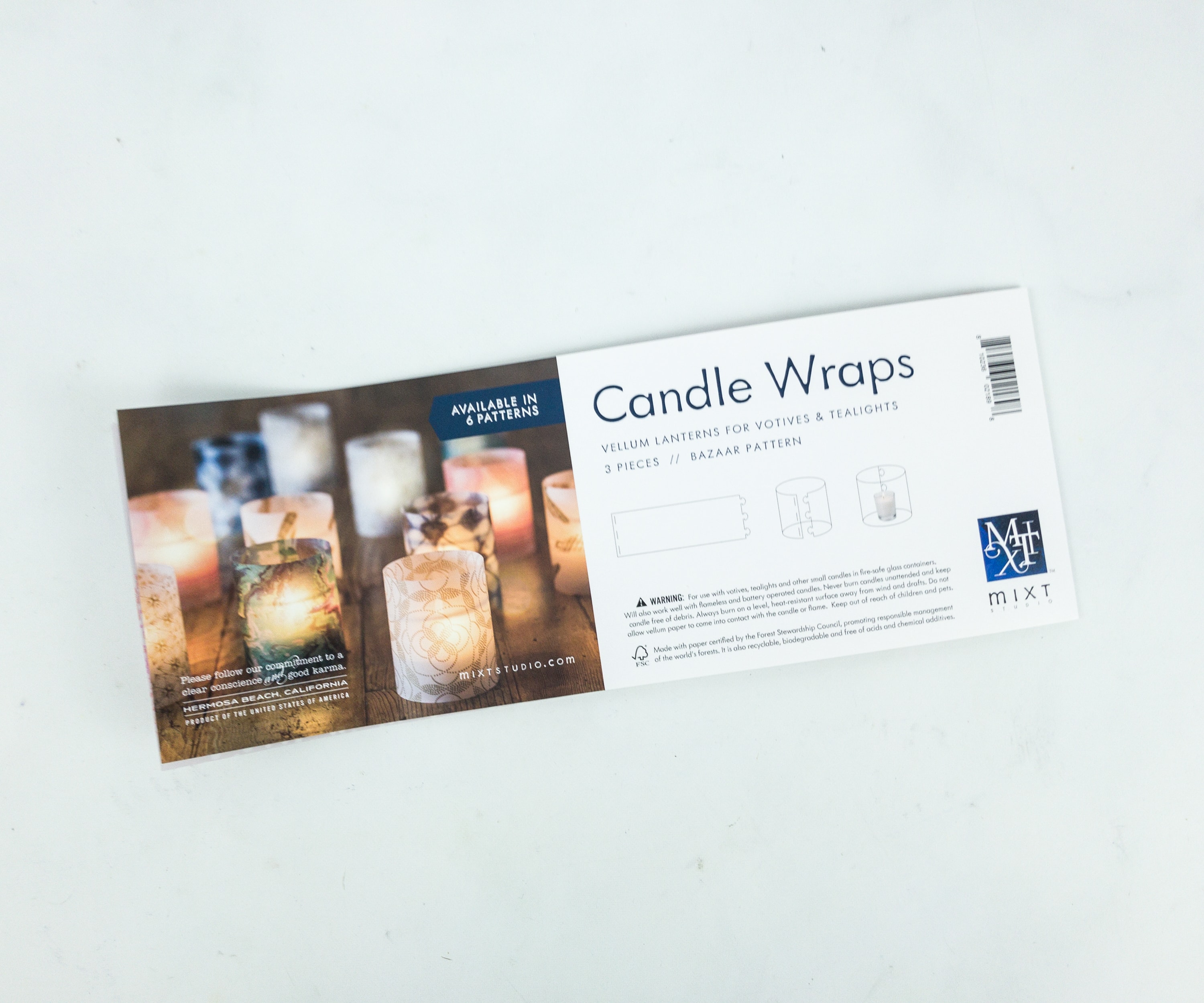 MIXT Studio offers these enchanting candle wrappers in six patterns. The one we received is in Bazaar print. This set includes 3 pieces of recyclable and biodegradable wraps, made of heavy vellum paper.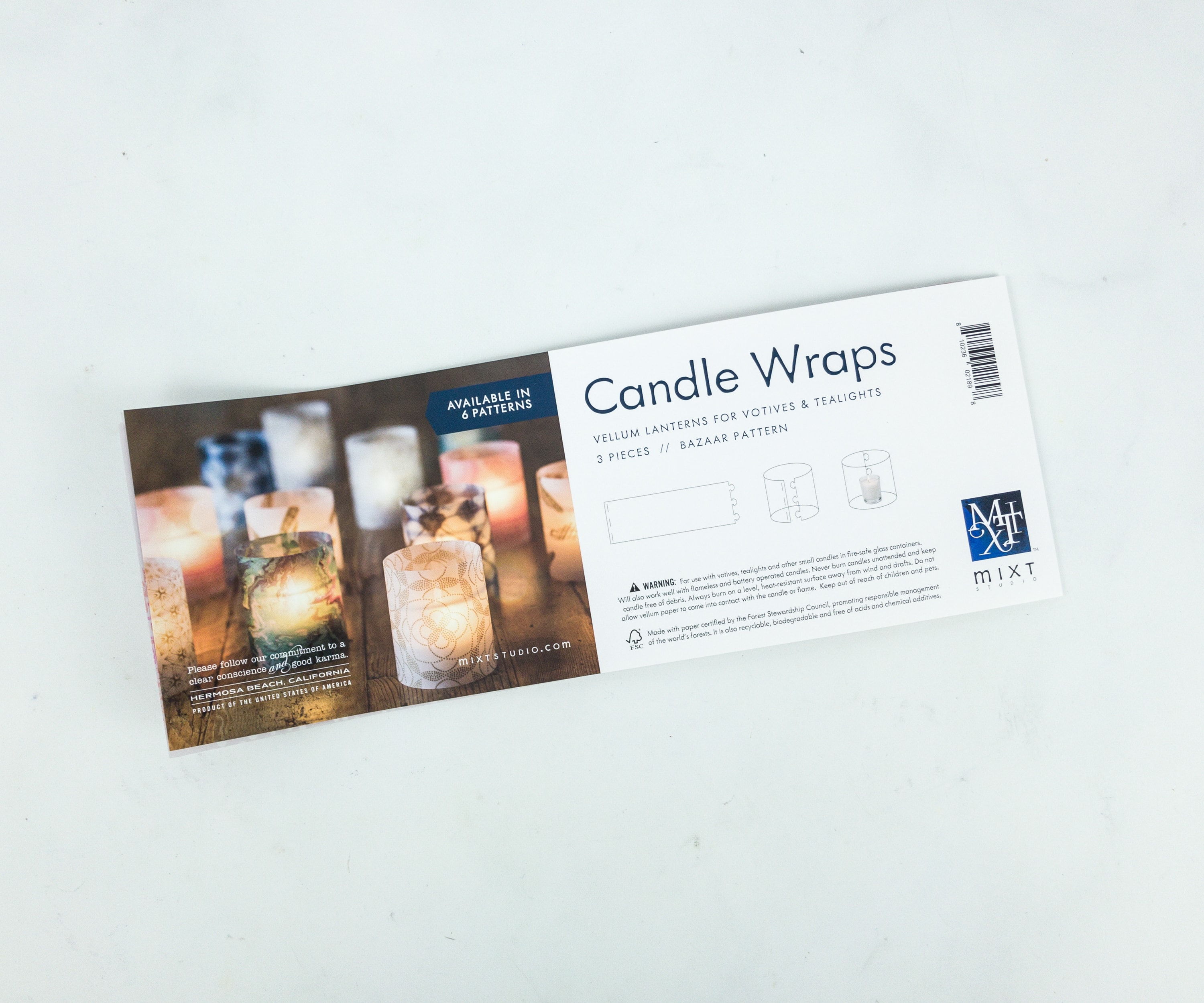 The candle wraps also came with an info card.
I tried to wrap them around my votives, glass jars, and tea lights to create a lantern-like look and a spa feel in the bedroom and on the bathtub. Each piece is designed with a die-cut shape that easily wraps around smaller candles and works well with flameless ones.
At only $19.99 a month, I can already get a set of new stationery goodies for the office and my home, plus charming, multipurpose greeting cards! I think it's a total win! This month's theme channels my fierce and fabulous personality and the products I received were so darn cute and fancy. I adore the candle wrap prints as well as the witty and comical greeting cards, the useful notepad, and the encouraging statement pencils. In short, I loved everything in it!
What do you think about Flair and Paper box?