Marianella is a monthly subscription box from soap and body care maker Jaboneria Marianella and features their products at up to 50% off retail prices. The subscription starts at $46 for the Indulge Me Box (3 items and over $100 value) and $86 for the Pamper Me Box (5 items and over $200 value). Subscriptions have a 2 month minimum commitment. I am reviewing the Pamper Me Box!
Each box ships monthly and it is curated with a seasonal assortment of our newest, freshest and funnest. No two boxes will be the same, fragrances will always be mixed and the product assortment will range through out our entire collection of Body Caviars, Face Serums, Golden Body Oils, Anti-Aging Soap Bars, Hydrating Washes, Jade Rollers and more awesome surprises!
 And of course if there is a new product launching soon you will get it before anyone else!
The presentation was very simple and my items arrived in a plain brown box. I opened it to find vibrant green tissue paper sealed with a sticker. My items were in a couple of gold mailer bags and no other protection was used.
I received a card introducing a new product. By the way, you can add additional products to your order at a discount.
⭐️Pamper Me Subscription Box Members Now you can Add-on any Marianella Products for 50% Off between the 1st and the 15th of the Month.

⭐️Indulge Me Subscription Box Members Now you can Add-on any Marianella Products for 20% Off between the 1st and the 15th of the Month.
Here is the back of the card.
I received a sheet sealed with a sticker and inside it had a list of all of the items I would find in my box and a bit of info on each plus retail value. I want to point out that the items I received are slightly different than the ones listed on the website and even on the sheet. The website lists a different eye mask with a retail value of $12. The sheet lists a body wash and I received a hand soap in a totally different scent. Two of the items (the face cream and the candle) are exclusively available to subscribers and might be available to the public after May.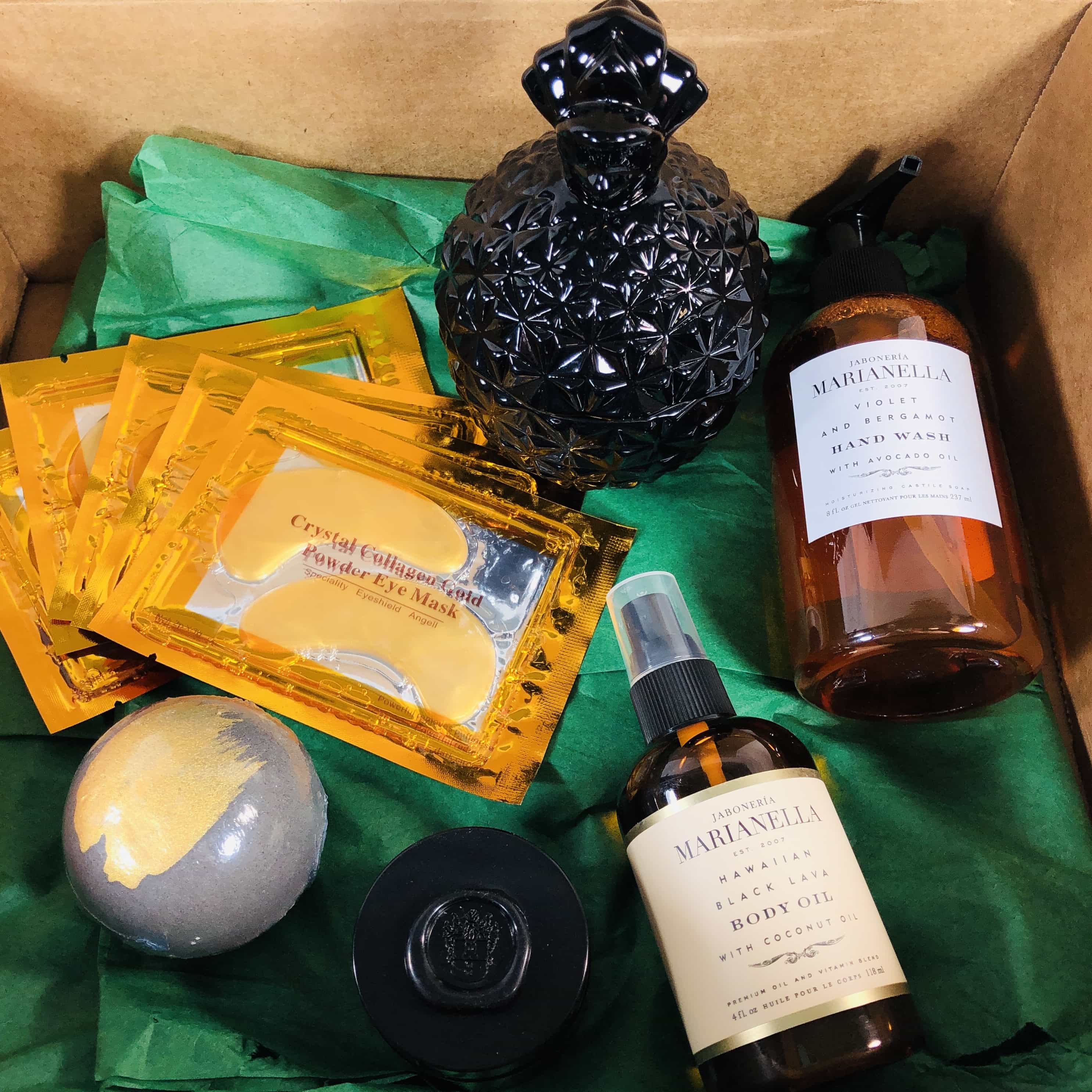 Everything in my box! I was surprised to find that two of the items (the body oil and hand soap) were in plastic bottles –  for the price I would have expected them to be in glass.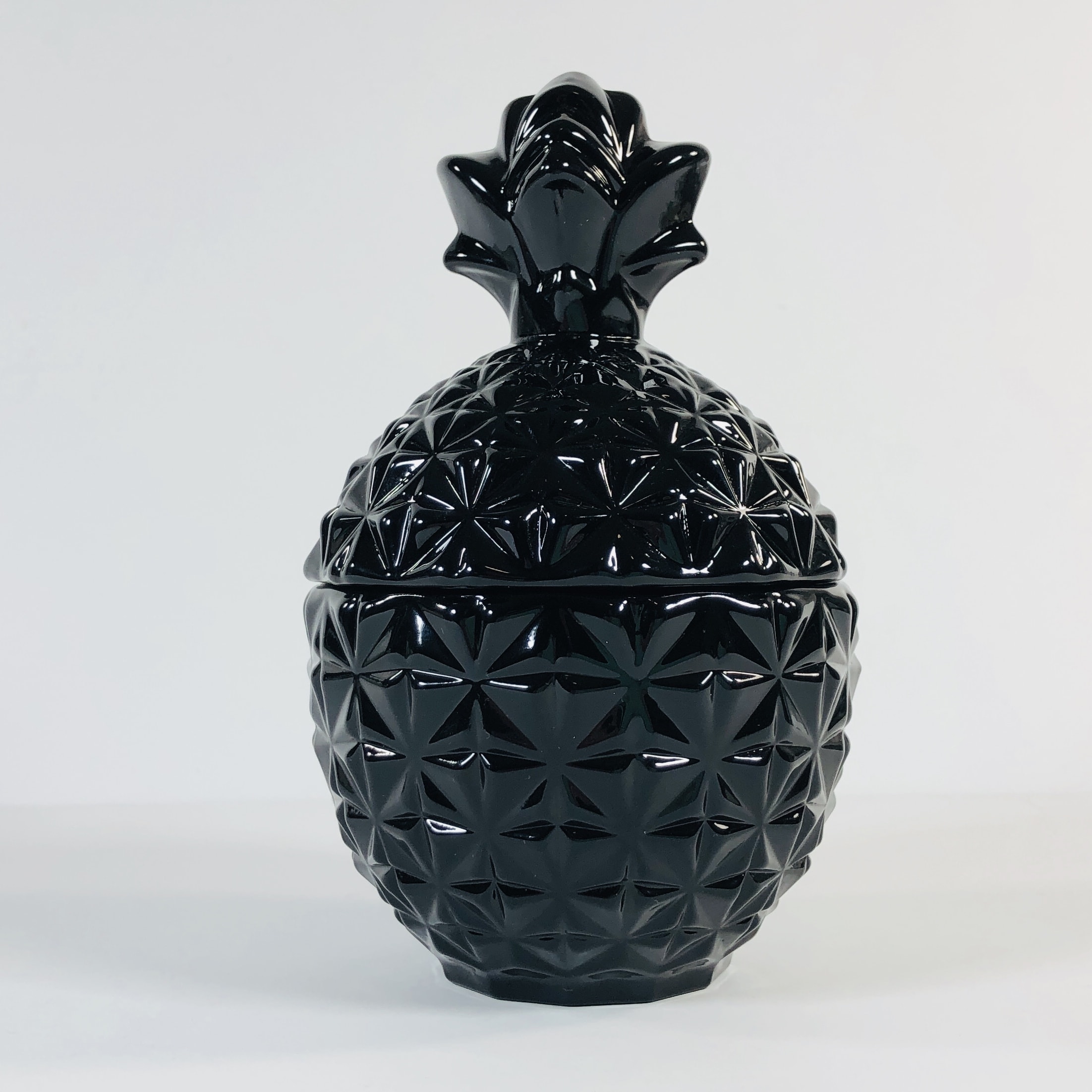 Marianella Soap Hawaiian Black Lava Candle (Listed value $68) According to Instagram, subscribers are supposed to receive a gold pineapple candle, but I received black. If you click on my link it will show a golden pineapple, but describes the black container.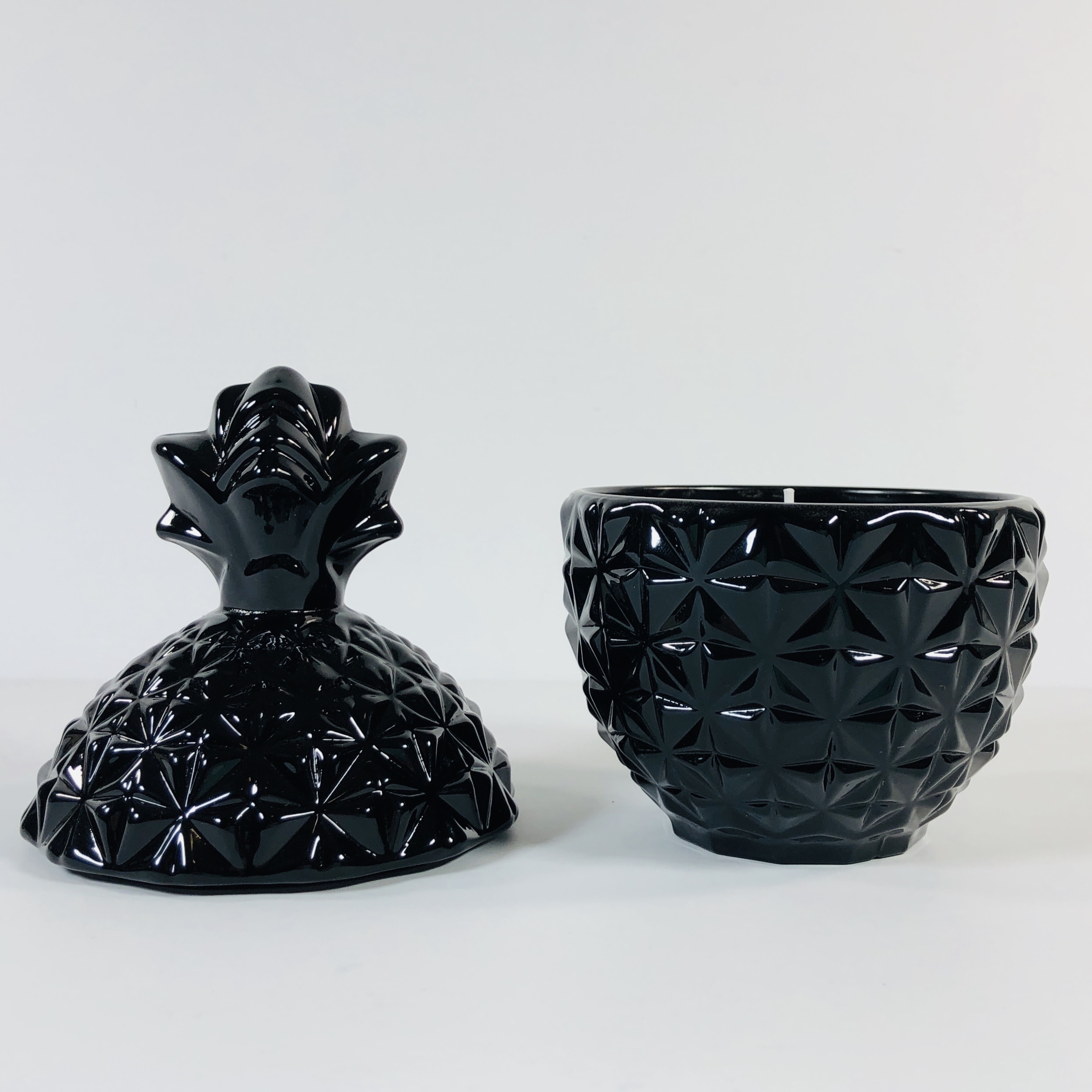 The info list says this is black lacquered but the website says black porcelain.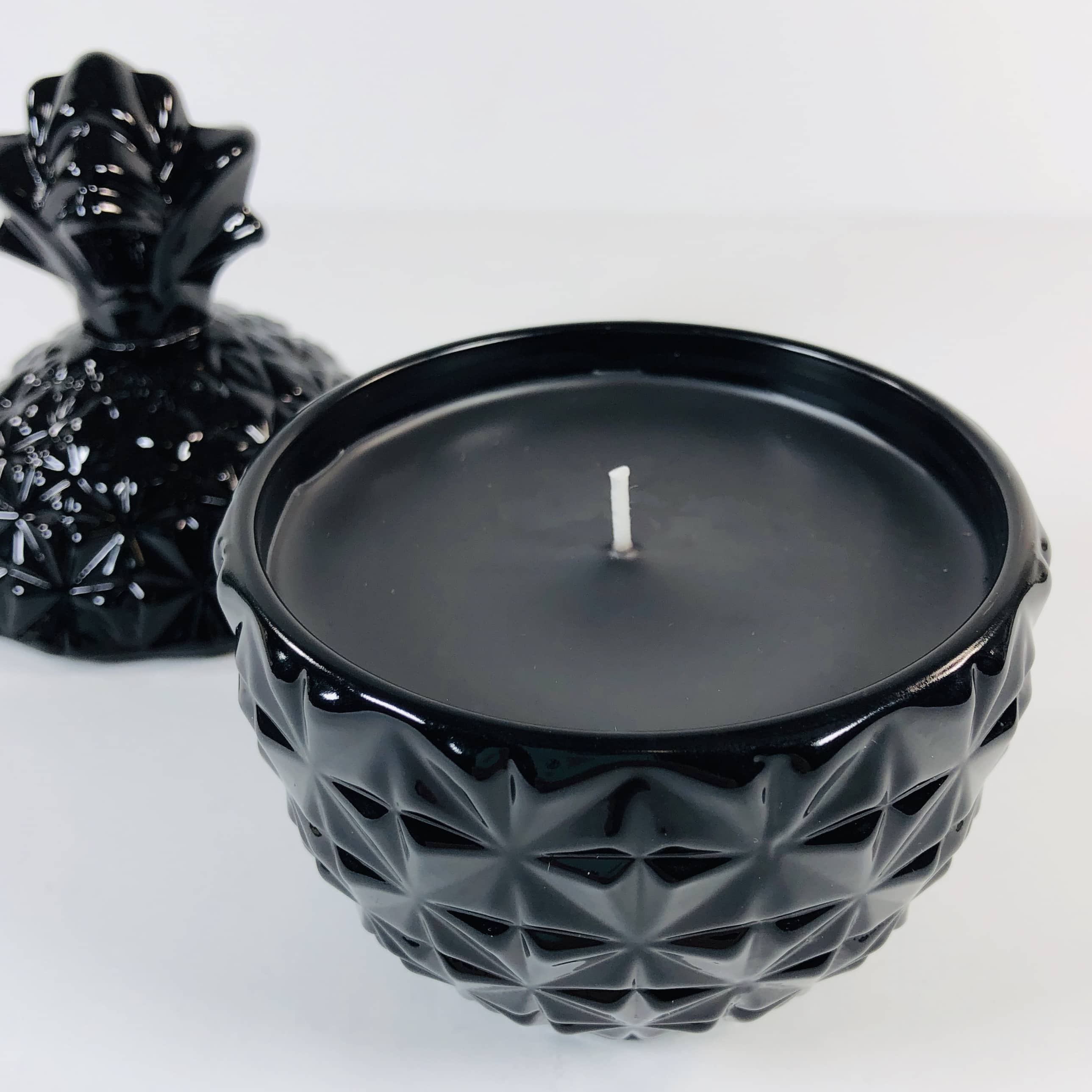 I've never owned a black candle before! The scent is Hawaiian Black Lava, which has a "musky essence of cedar and saffron". It is a warm floral with musky undertones and I really like it!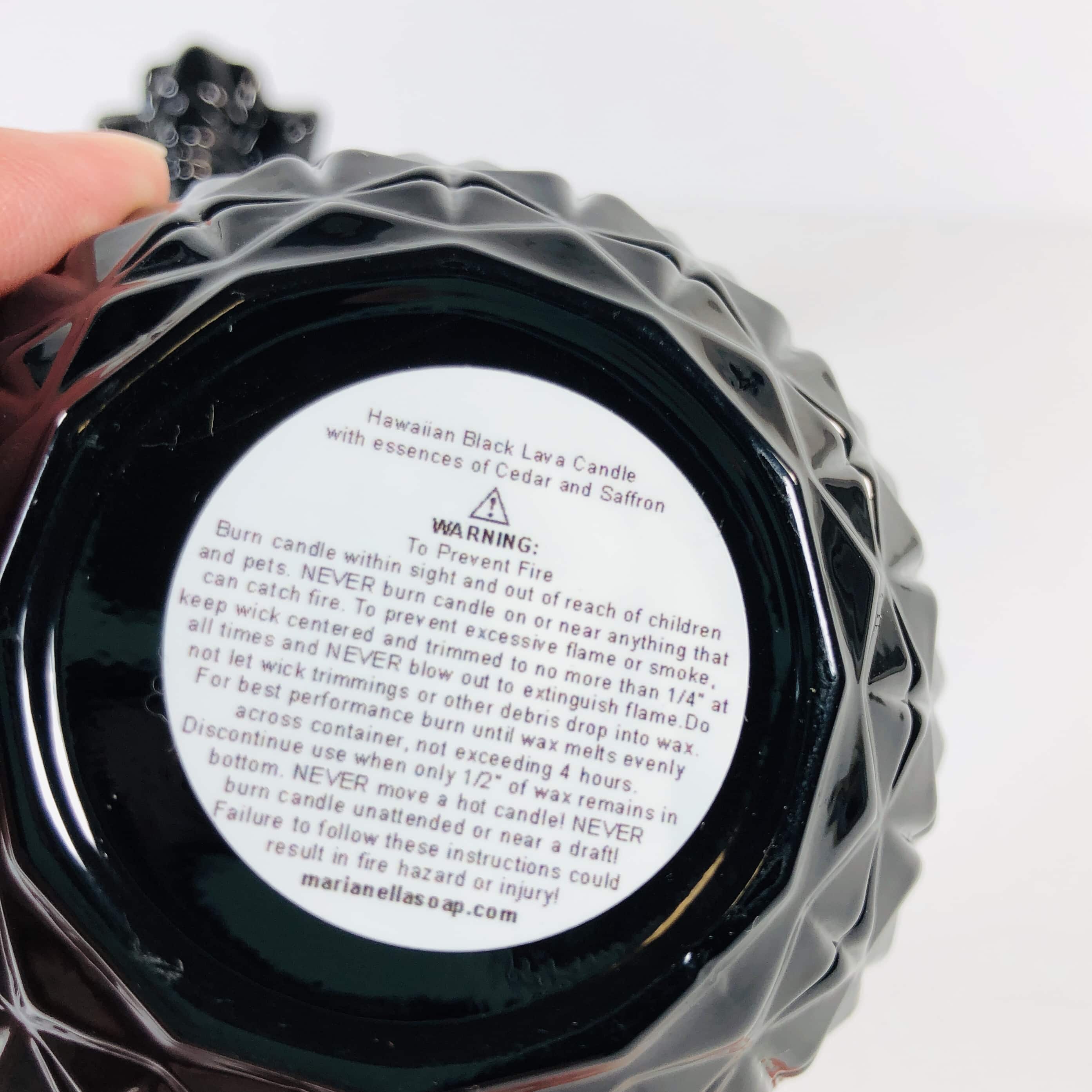 Keep safe while burning!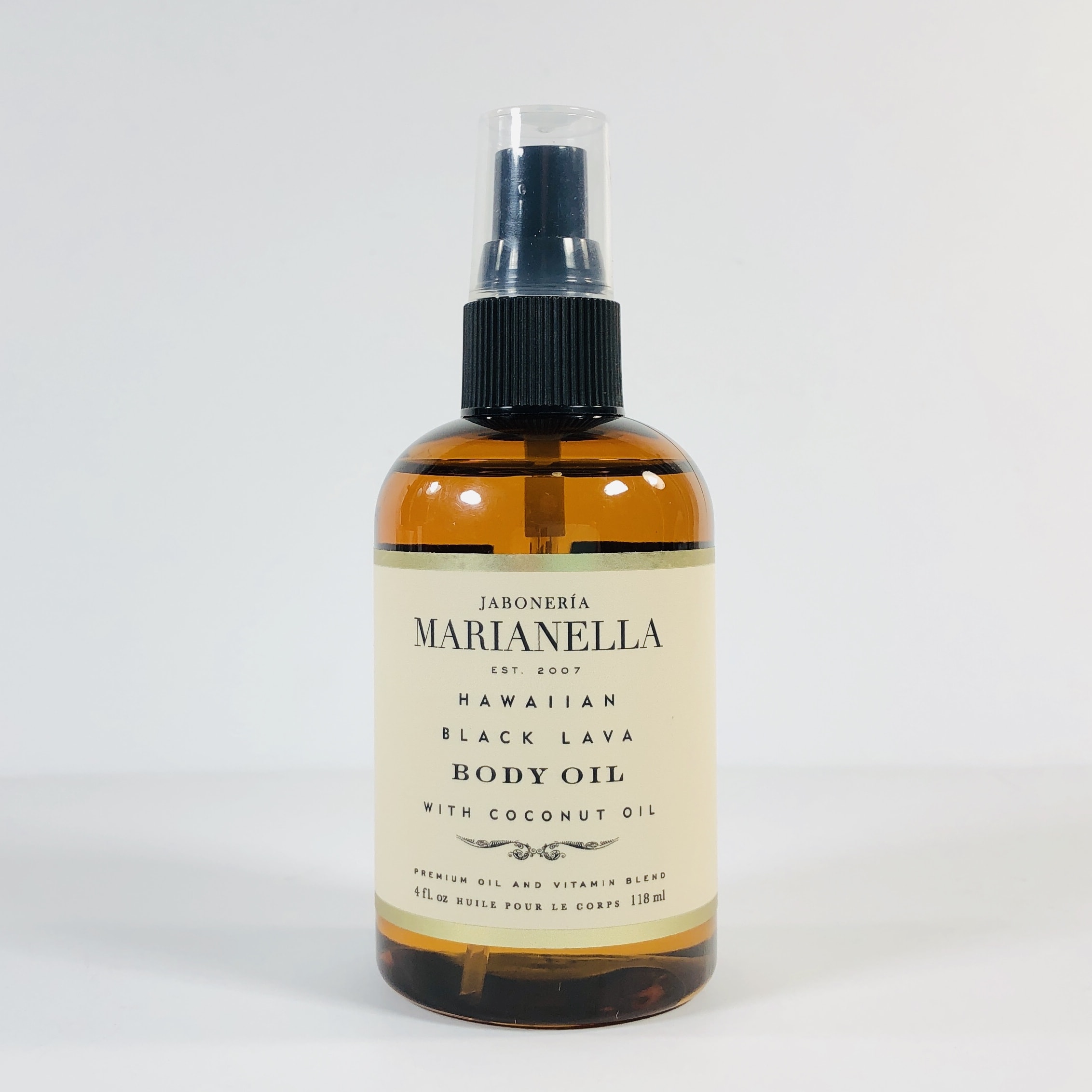 Jaboneria Marianella Hawaiian Black Lava Body Oil ($68) also features the Hawaiian Black Lava scent of the candle and apparently the scent was originally in their popular Body Caviar product (which sounds alluring).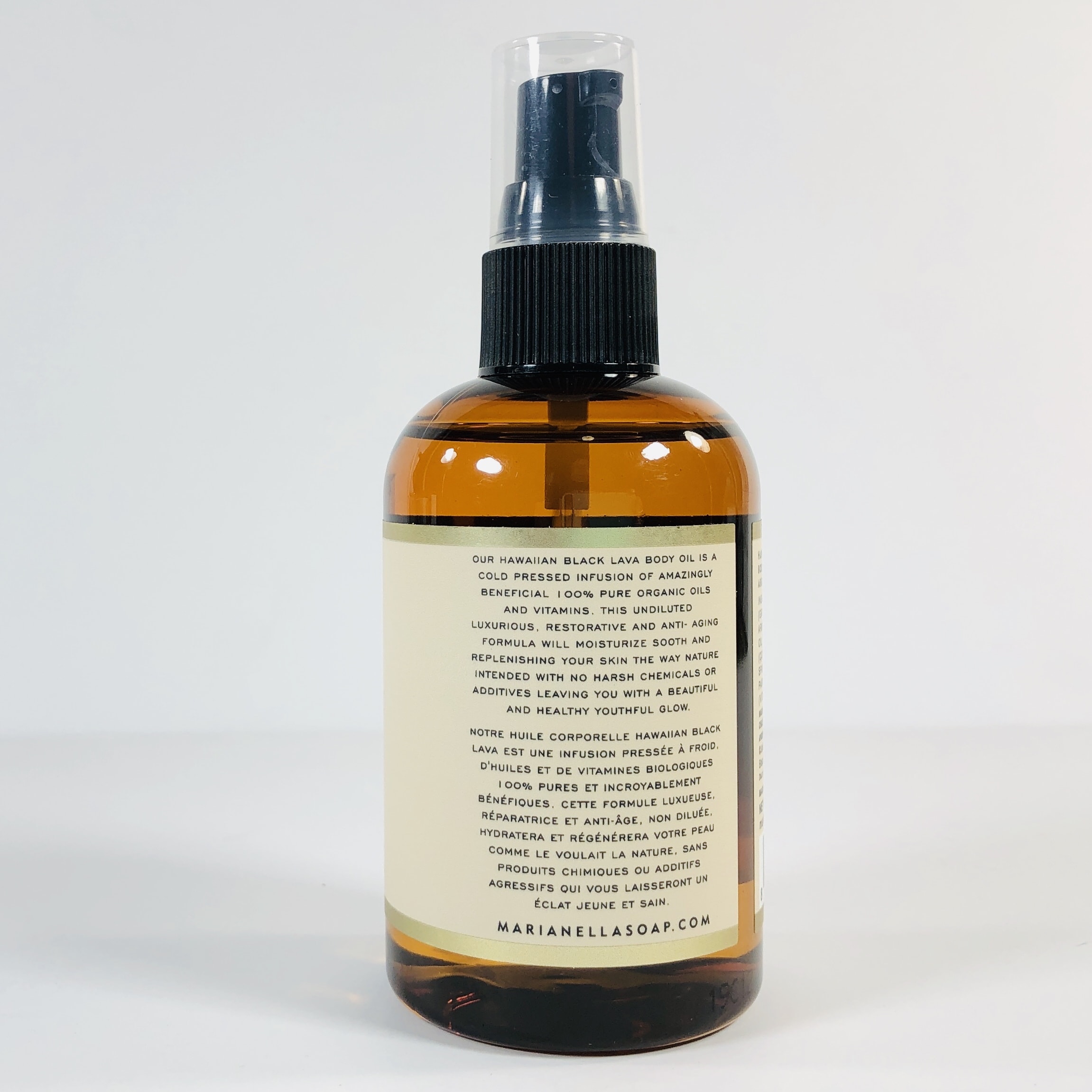 The oil is supposed to help replenish skin. You can add it to your bath or even run some through dry hair to seal ends. I applied it to damp skin as soon as I got out of the shower, and the scent was strong enough that I didn't need to wear perfume (although it wasn't super strong, it was just right) and it lasted for several hours.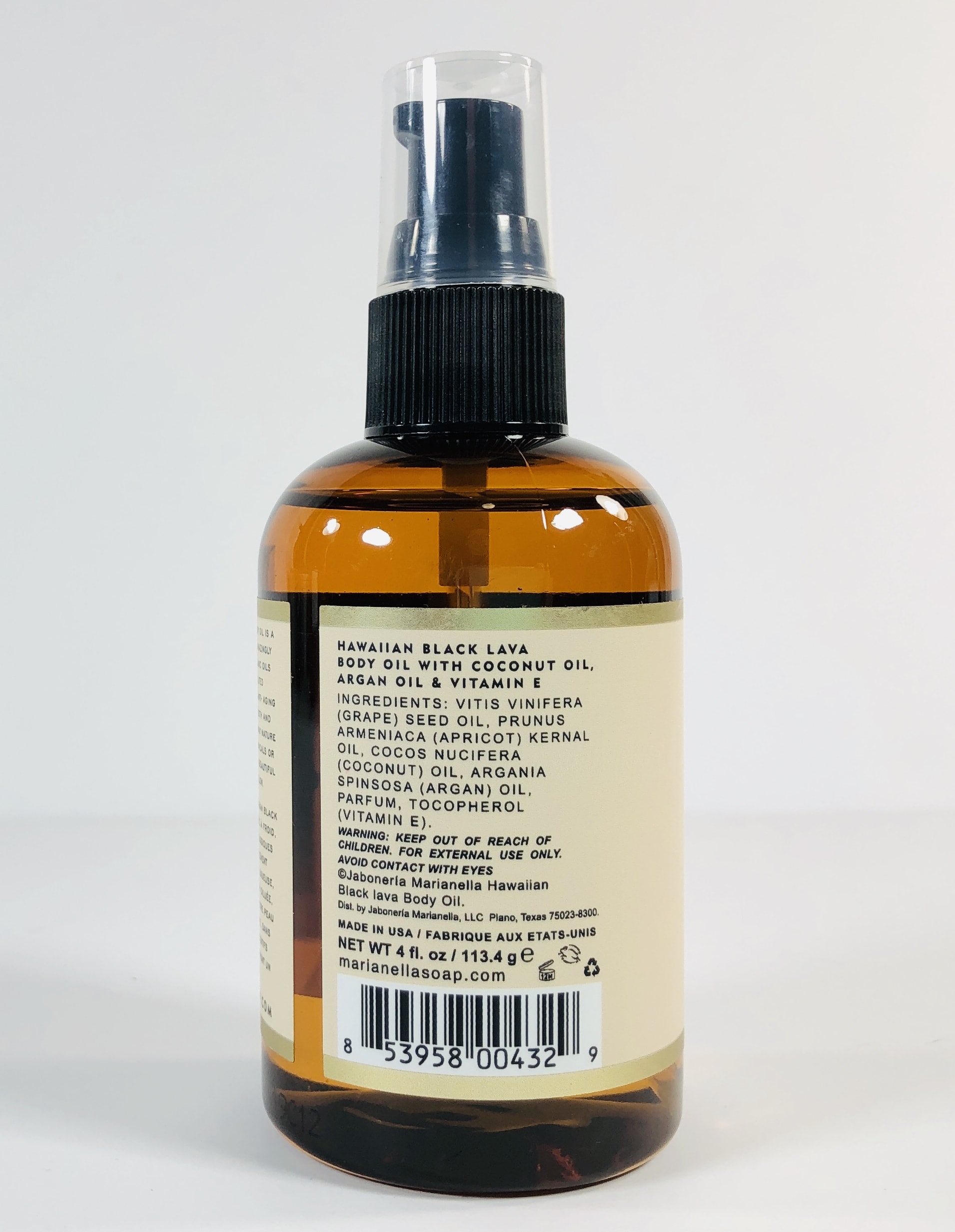 Grapeseed, apricot seed, and coconut oil are blended with argan oil and "parfum", which could mean just about anything but I would venture to say that this is typical perfume and not essential oils. I enjoyed the scent, which like the candle is warm, floral, and a bit musky.
Jaboneria Marianella Violet And Bergamot Handwash ($34) The info list said I would receive a body wash but instead I found a hand wash in the box. I placed it next to my sink and have been using it regularly.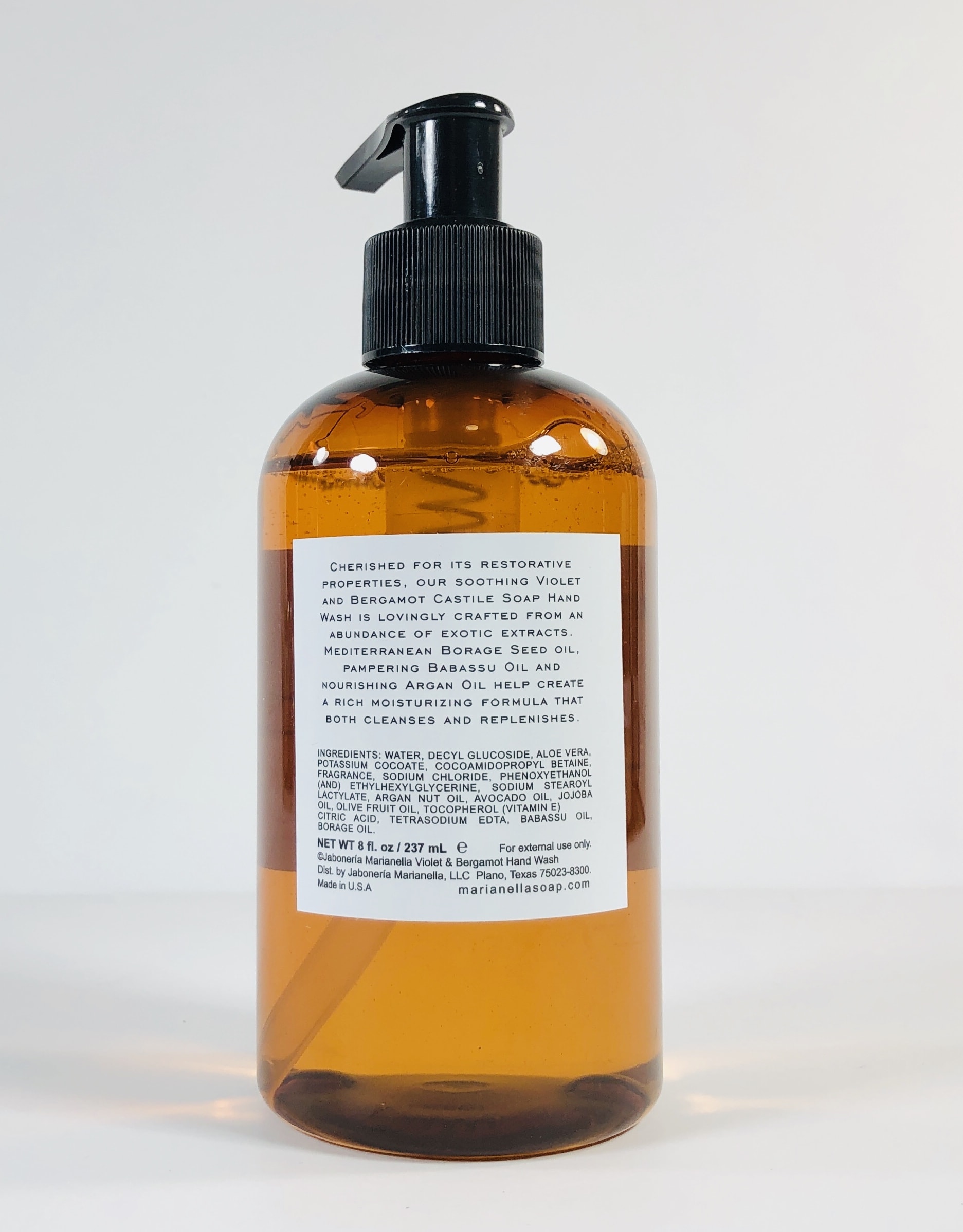 Ingredients are listed and feature argan, olive, avocado, and jojoba oil. Again, it is scented with "fragrance", which may mean authentic or synthetic ingredients. I am not sure what violets smell like but I did not pick up any citrus from the bergamot part of the name. The website even mentions that it has a hint of refreshing menthol but I am not picking that up either. In fact, it reminds me of the soap at the hospital where I gave birth to my daughters. I didn't feel like it was particularly moisturizing either.
The next item came in a mailer with a sticker on the outside.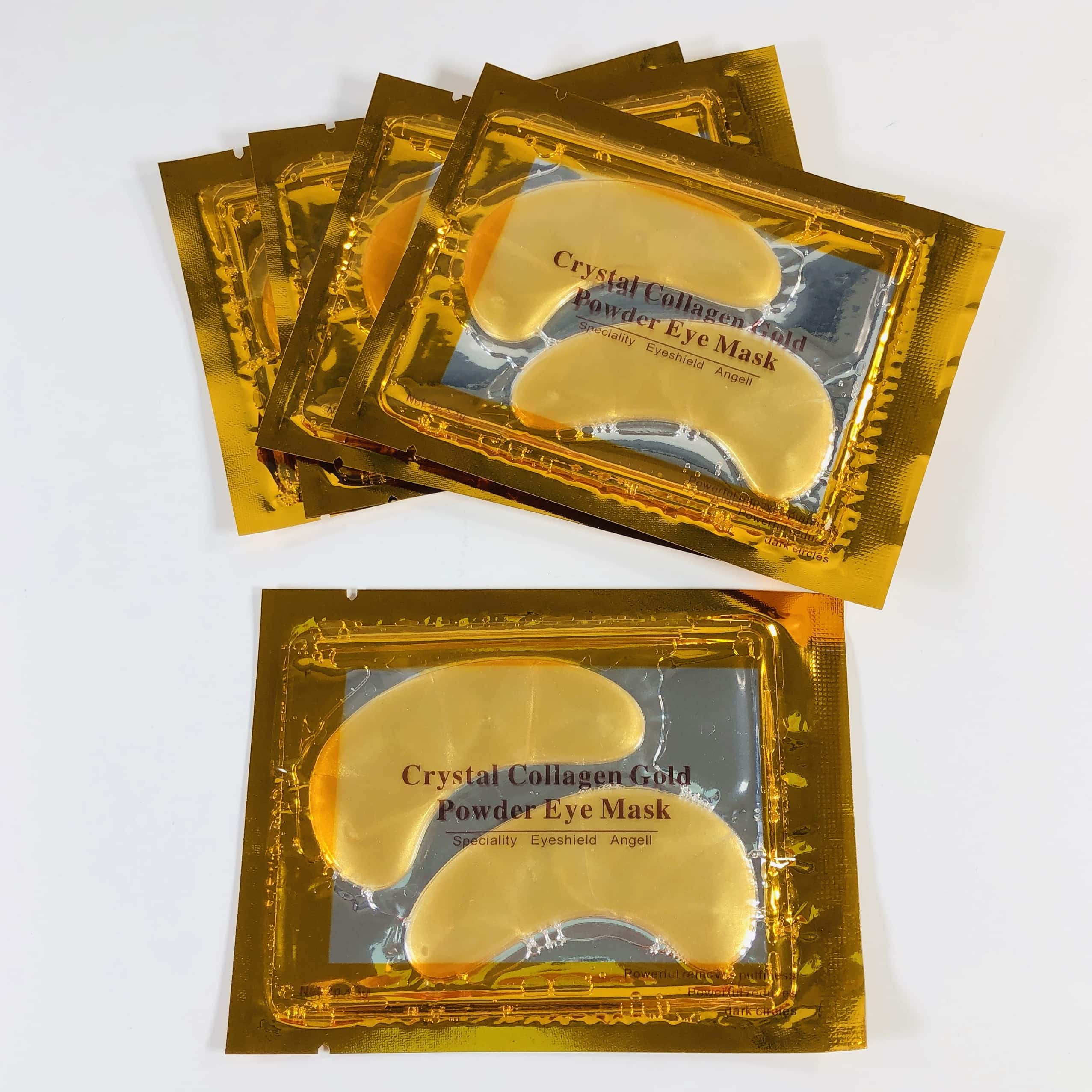 Crystal Collagen Gold Powder Eye Mask ($17.95) I was surprised to find that this item wasn't a Marianella item at all. While it is sold on their website, I linked to a different supplier since they actually listed the supposed ingredients.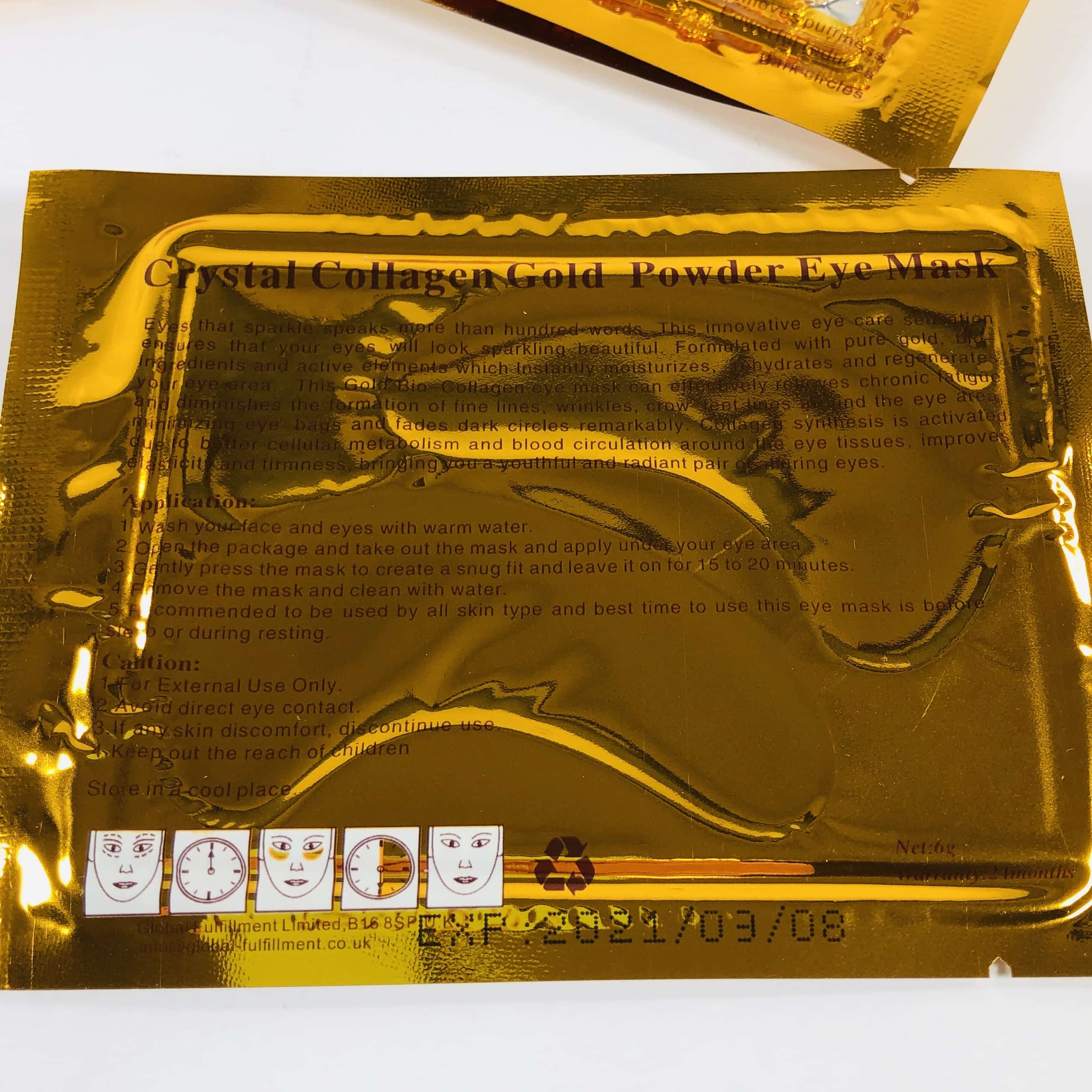 No ingredients were listed on the packs or the Marianella website, but collagen is made of animal products so if you are vegan I am sure you know to avoid this type of product. I also cannot find the country of origin, just a fulfillment center in the UK is listed.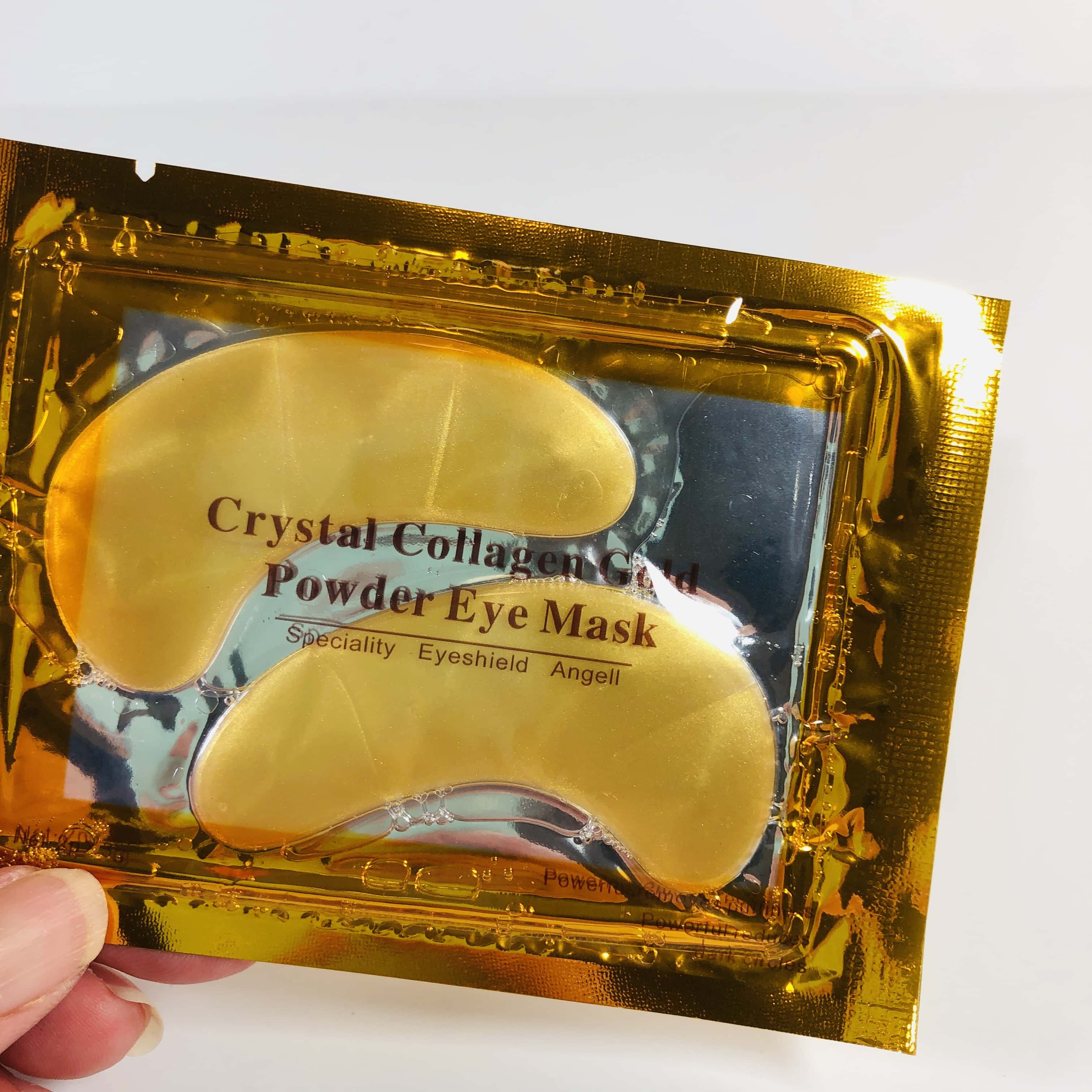 You can also grab 20 pairs for around $9.99 on Amazon, just click here. Directions are a little confusing since it says to use for 15-20 minutes and the visual shows a clock marking 30 minutes. It also says use before bed but I have puffiness in the morning. I didn't notice any scent and they were slightly cooling. One ripped as soon as I tried to take it out of the package. They stayed on even though I was sitting up. Selfies of people wearing these are all over social media so you could snap one of those too!
Jaboneria Marianella The Midnight Youth Face Cream ($86) Like the candle this product is available to subscribers only during the month of May.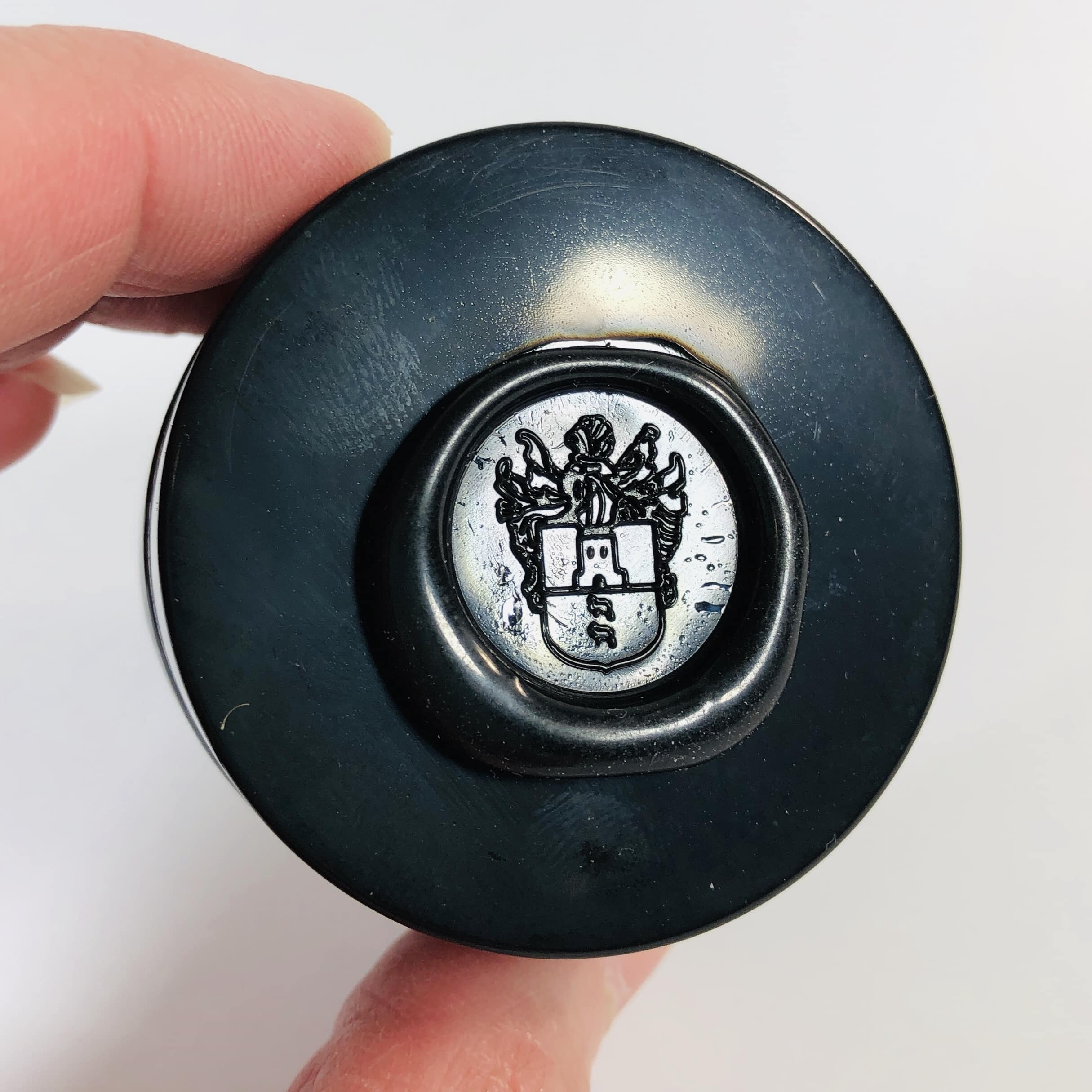 I like the emblem/crest on the top of the lid! This product is packed in a glass jar.
Lots of plant oils are in this product, including grapeseed and jojoba oils. It also has hyaluronic acid to keep skin moisturized and vitamin C to fight fine lines and plump the skin.
The formula is a cream gel and it has a soft fragrance (not perfumey at all) and reminds me of similar hyaluronic acid products, which means it's not especially creamy and my skin absorbed it quickly. I didn't notice any stickiness and my skin seemed to like it!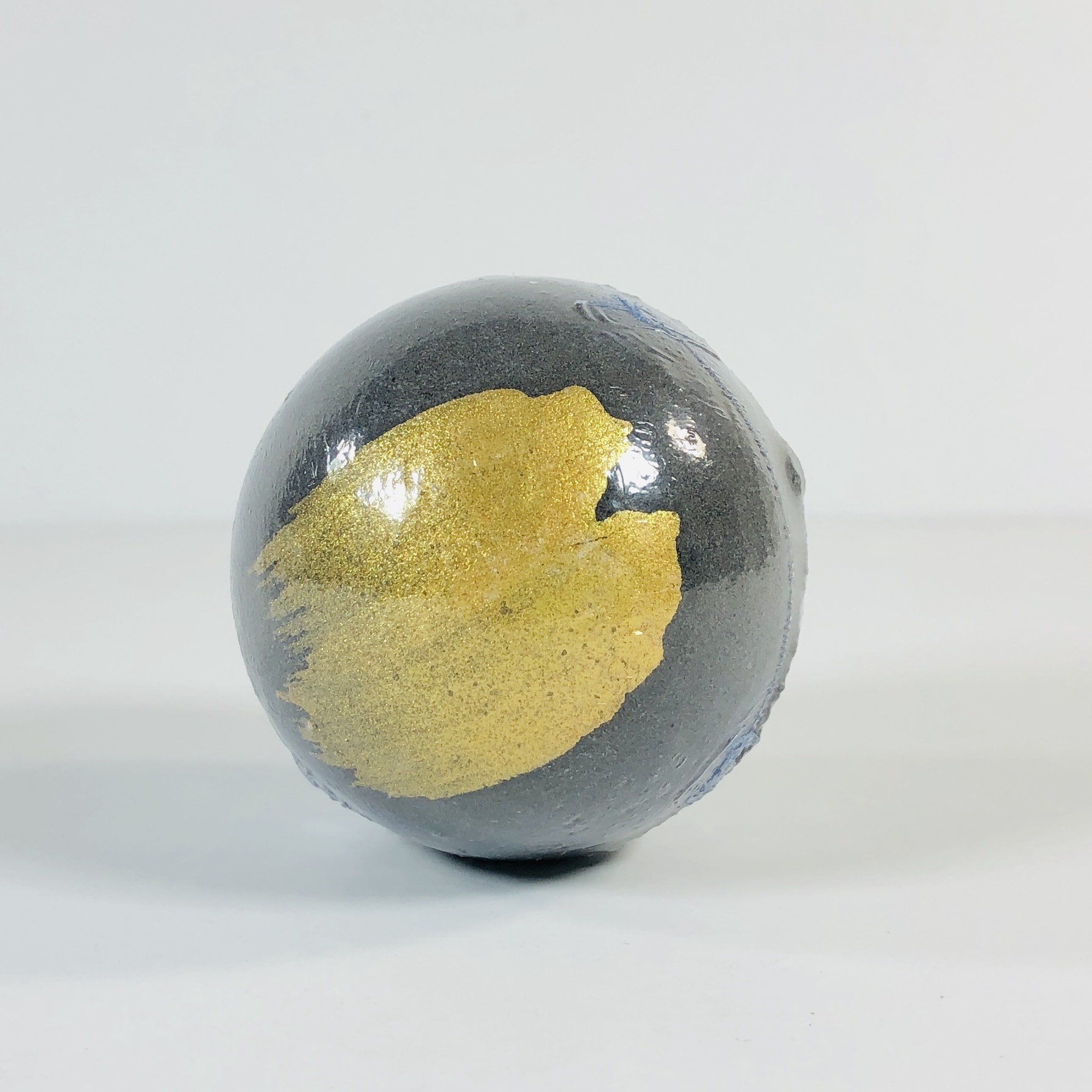 Jaboneria Marianella Brut Champagne Bath Bomb ($8) Once again the info sheet and the product do not match. The sheet listed the Demi Sec bath bomb, I received a Brut Champagne bath bomb. Either way it is listed as a free gift so I'm pretty happy about that!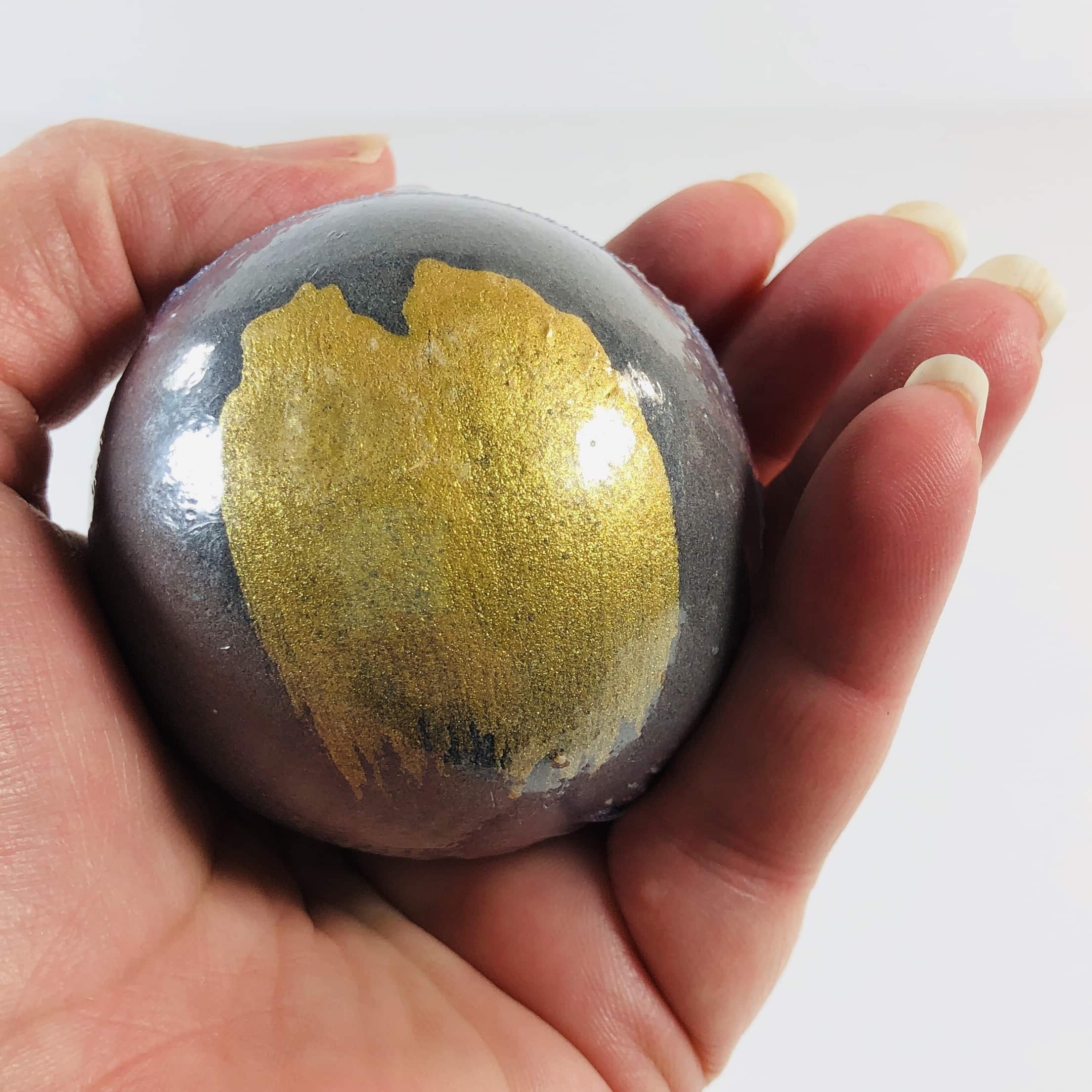 The bath bomb is pretty large and has a nice scent, which seems to be a combo of the Hawaiian Black Lava and the Almond and White Tea scents. Once again I couldn't find a complete list of ingredients but I will assume it has baking soda and citric acid plus shea butter, charcoal, and fragrance, which are mentioned on the website. I am not a bath person so I will share this lovely bath bomb with someone special.
Overall I enjoyed my very first box from Marianella! I thought the black, gold, and amber color scheme looked elegant and I really enjoyed trying the products, and especially adored the body oil. I think the presentation could be a bit more ritzy, since it came in an unmarked brown shipping box and opening it up to find gold shipper bags was kind of odd, although I must say I was surprised to find it kept the items safe so I guess it worked well. I also thought the oil and hand soap would feel nicer coming in a glass bottle, but then again, I don't have to worry about them slipping and breaking while in use. The candle is unlike any that I own, and the scents of most of the products were very lovely, I'm a fan of the Hawaiian Black Lava scent now.
What do you think of Marianella?
Visit Marianella Subscription Box to subscribe or find out more!