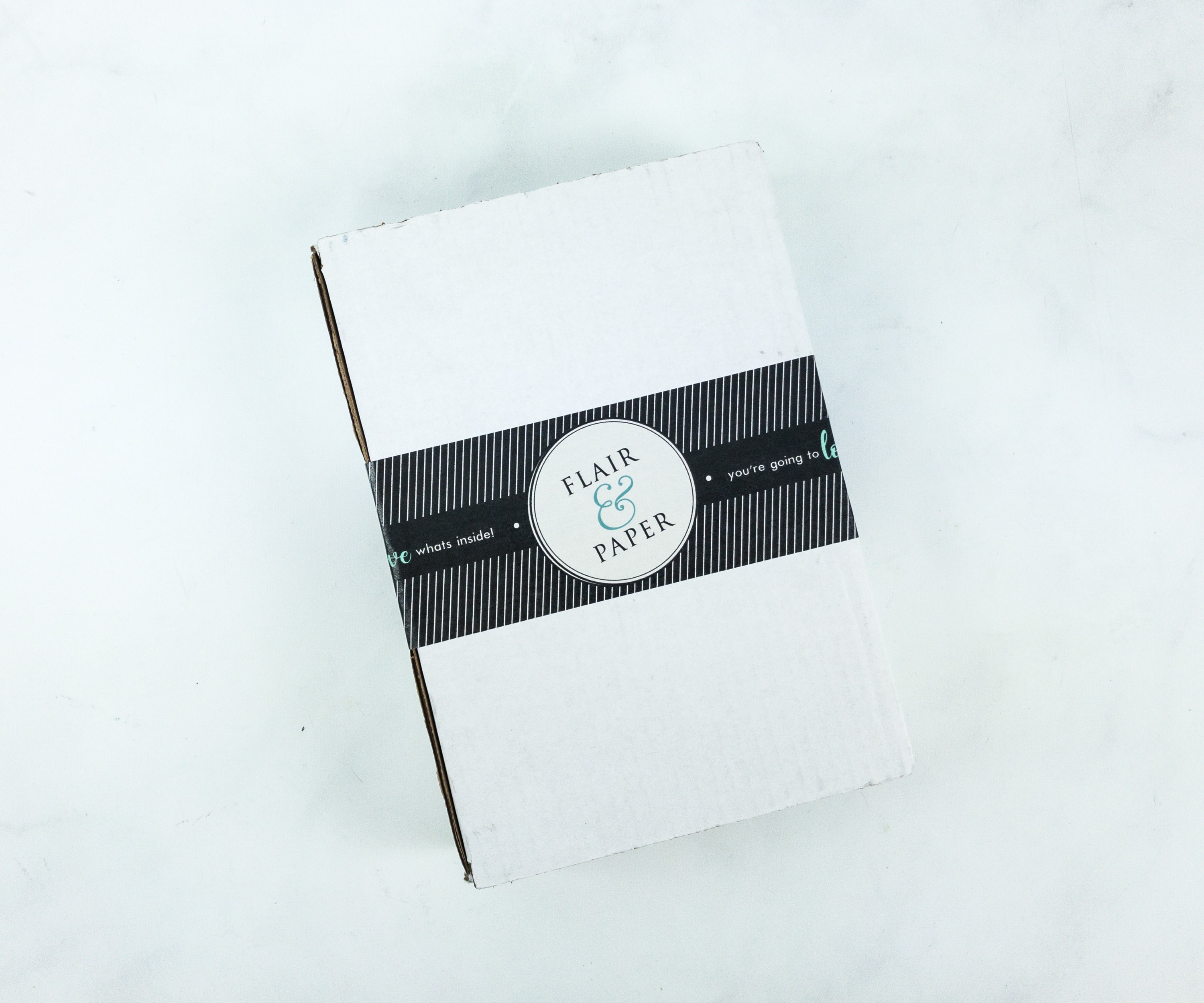 Flair & Paper is a monthly subscription of stationery and greeting cards. Each box costs $19.99 and contains 4 to 5 greeting cards and 1 to 2 stationery items.
DEAL: Get 50% off your first box when you sign up for a 3, 6, or 12-month subscription! Use coupon code WELCOME.
There's an information card on top of the items.
The items were wrapped in blue tissue paper and sealed with a sticker.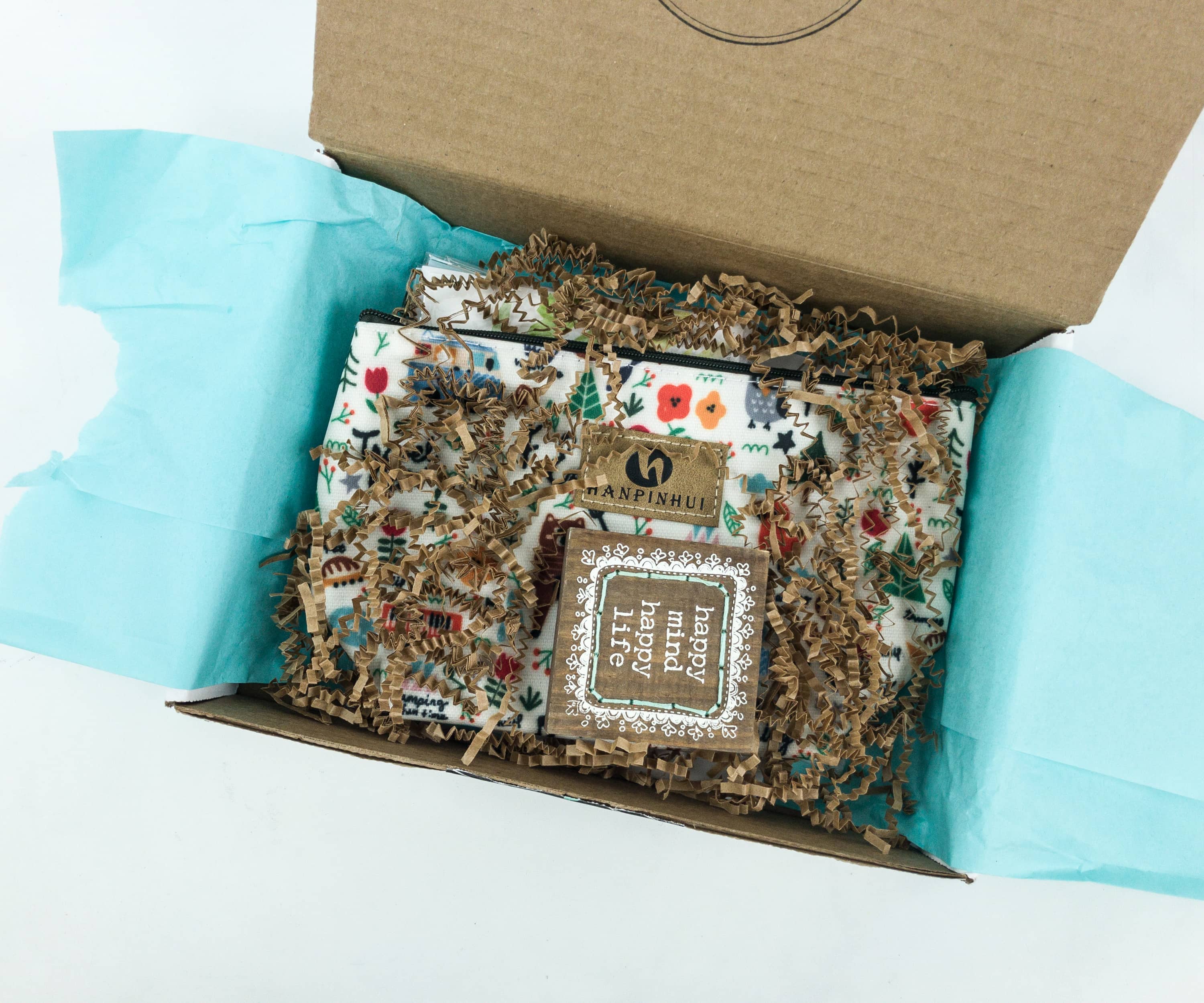 There are also squiggles that keep the items in place.
The simple and dainty aesthetics translates on the information card.
This month's theme is Wild & Free! I love the layout! We've got greeting cards, flat cards set, a wooden magnet, an adventure bag, and a calendar. I'm excited!
Everything in my box!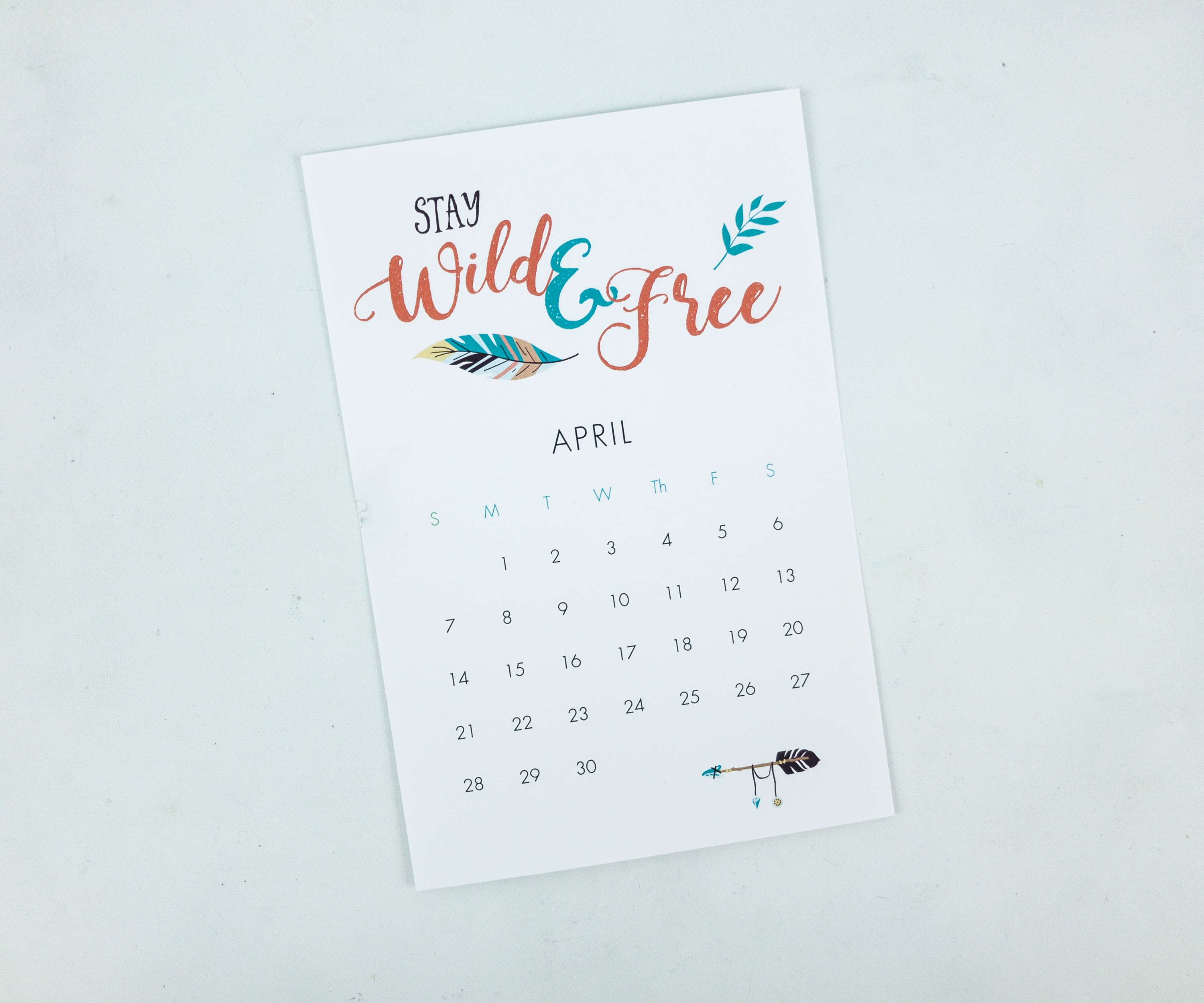 April Calendar. The April calendar card has a nice feather theme with beautiful calligraphy. It's in line with the spring season which makes it a perfect wall display in my room. It will also work as a tracker of my tasks and important schedules this month!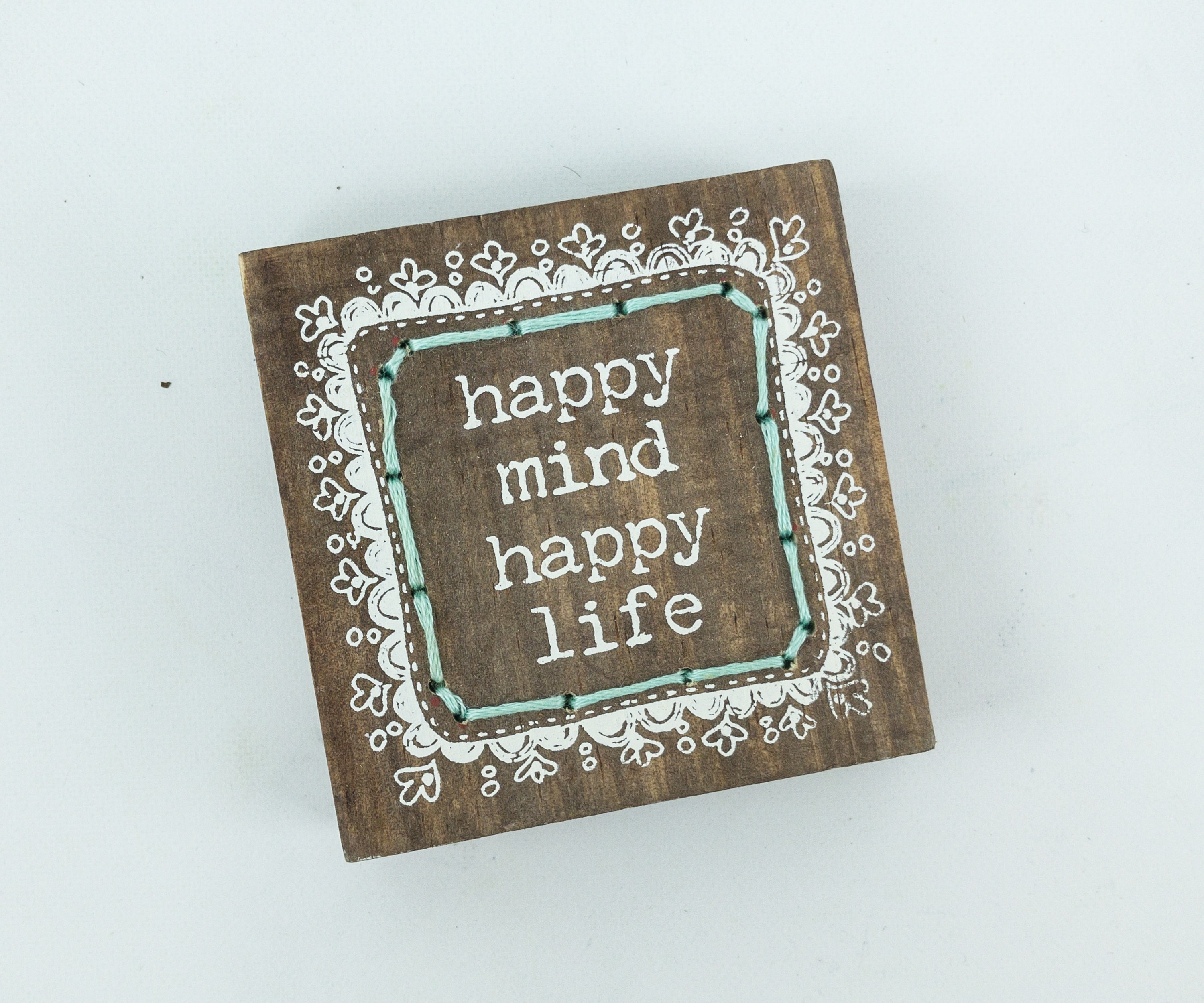 Wooden Magnet. It's nice to wake up each day with a reminder of how a positive mind affects our way of living. I will post this where everyone can see it and spread good vibes!
This square wooden block features a unique hand-stitched border accents and a strong magnet. It can be posted on a magnetic surface or let it stand alone.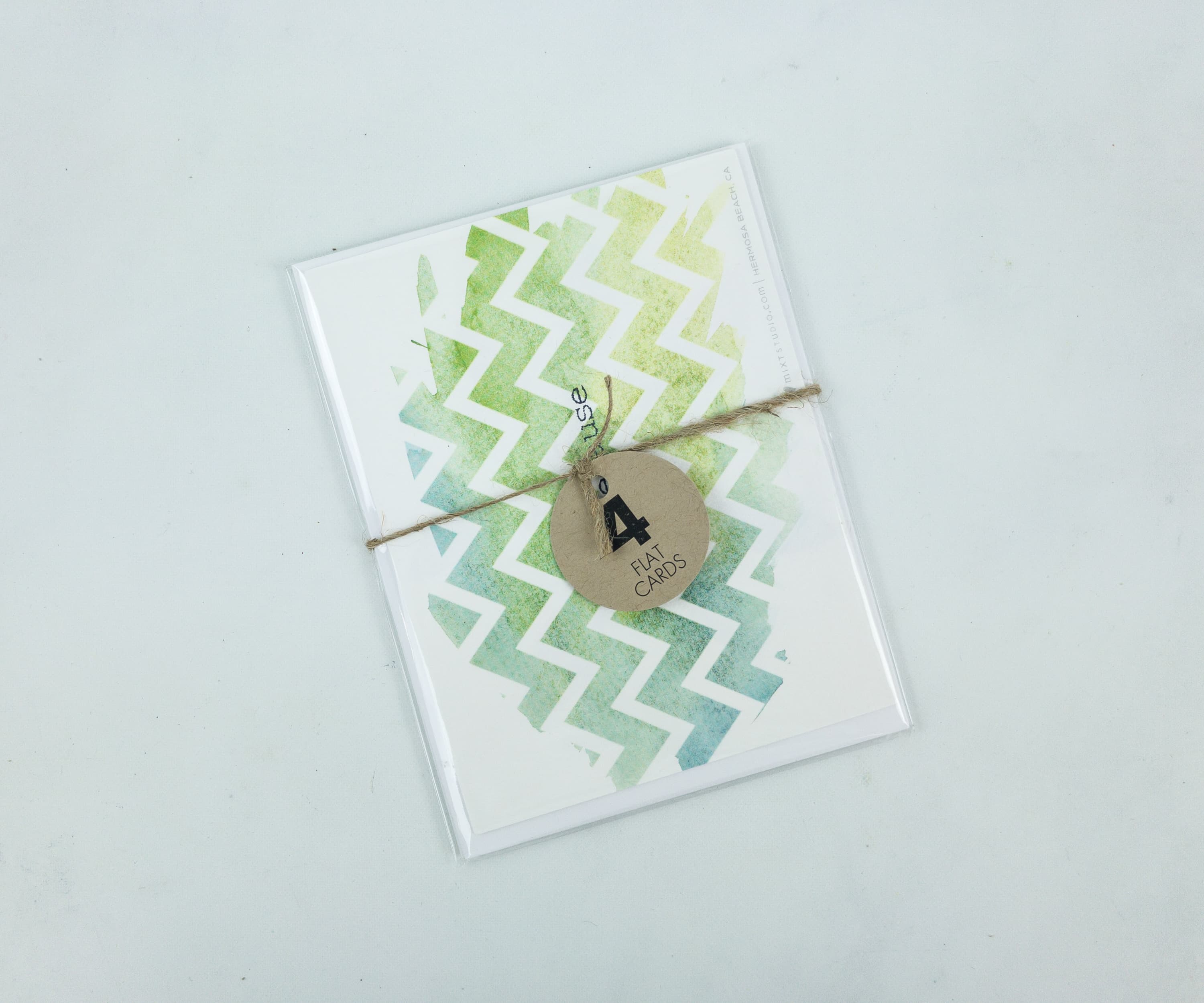 Set of Flat Cards by Mixt Studio. This pack contains 4 flat cards stacked neatly, sealed in plastic and bound with a brown string.
Each flat card has a different design. They are meant for sending on different occasions and reasons, but mostly to encourage and uplift a person's mood. They also come with envelopes!
Of course, we got our monthly stash of greeting cards too. This pack includes 4 of them.
The set is comprised of rectangular cards in vertical and horizontal layouts. Three of them are paired with brown envelopes while one has a blue envelope.
Let's Celebrate Greeting Card. This card can be used for birthday greetings or whenever there is something to celebrate. The image of a fox sitting on a three-tier cake is really cute!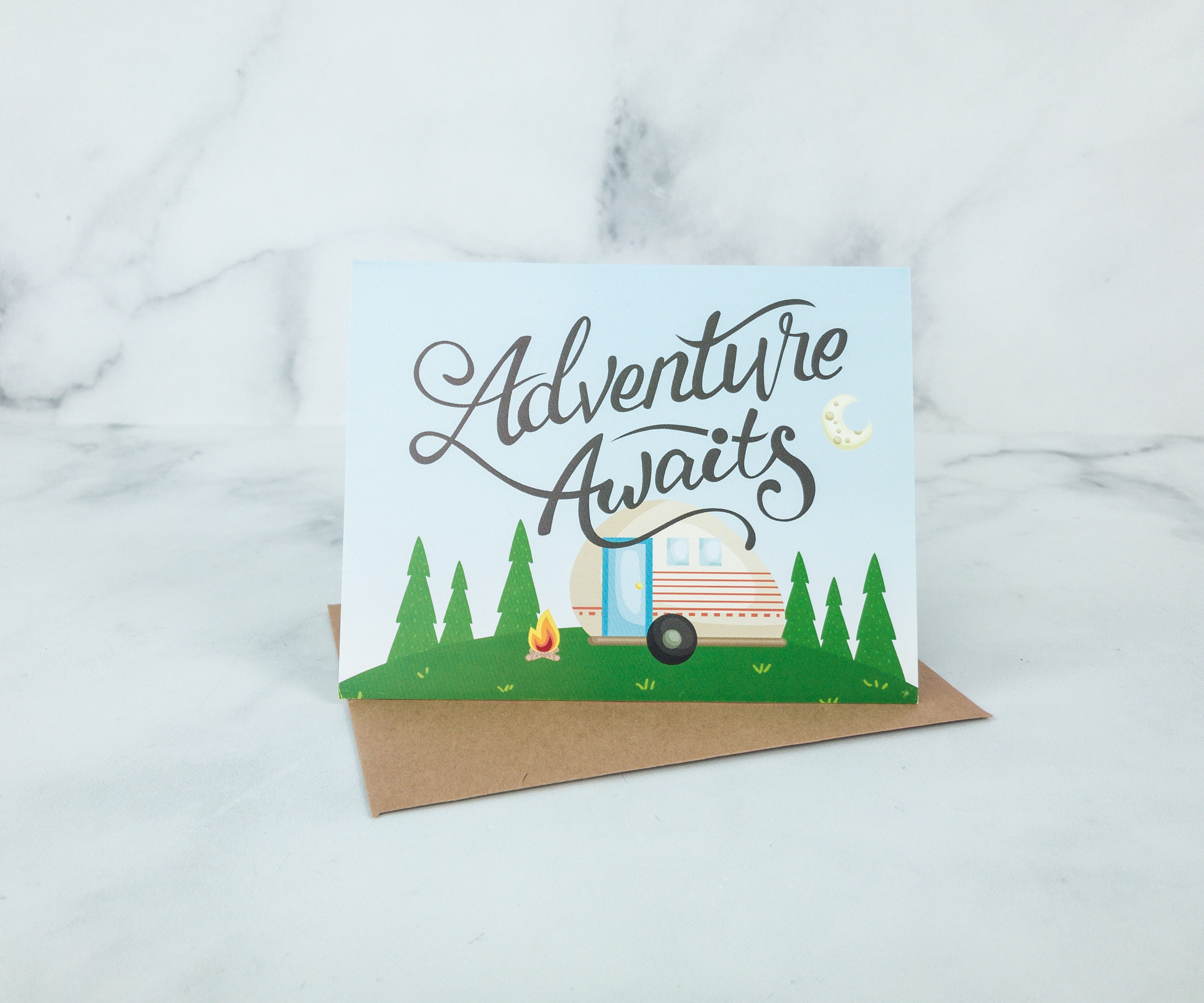 Adventure Awaits Greeting Card. This horizontal card sends good wishes to someone who is planning to move out and start an independent life. Or maybe for that person who needs some encouragement to go out there and have some fun. The design and the message "Adventure Awaits" will surely give them determination and courage to venture on a new journey.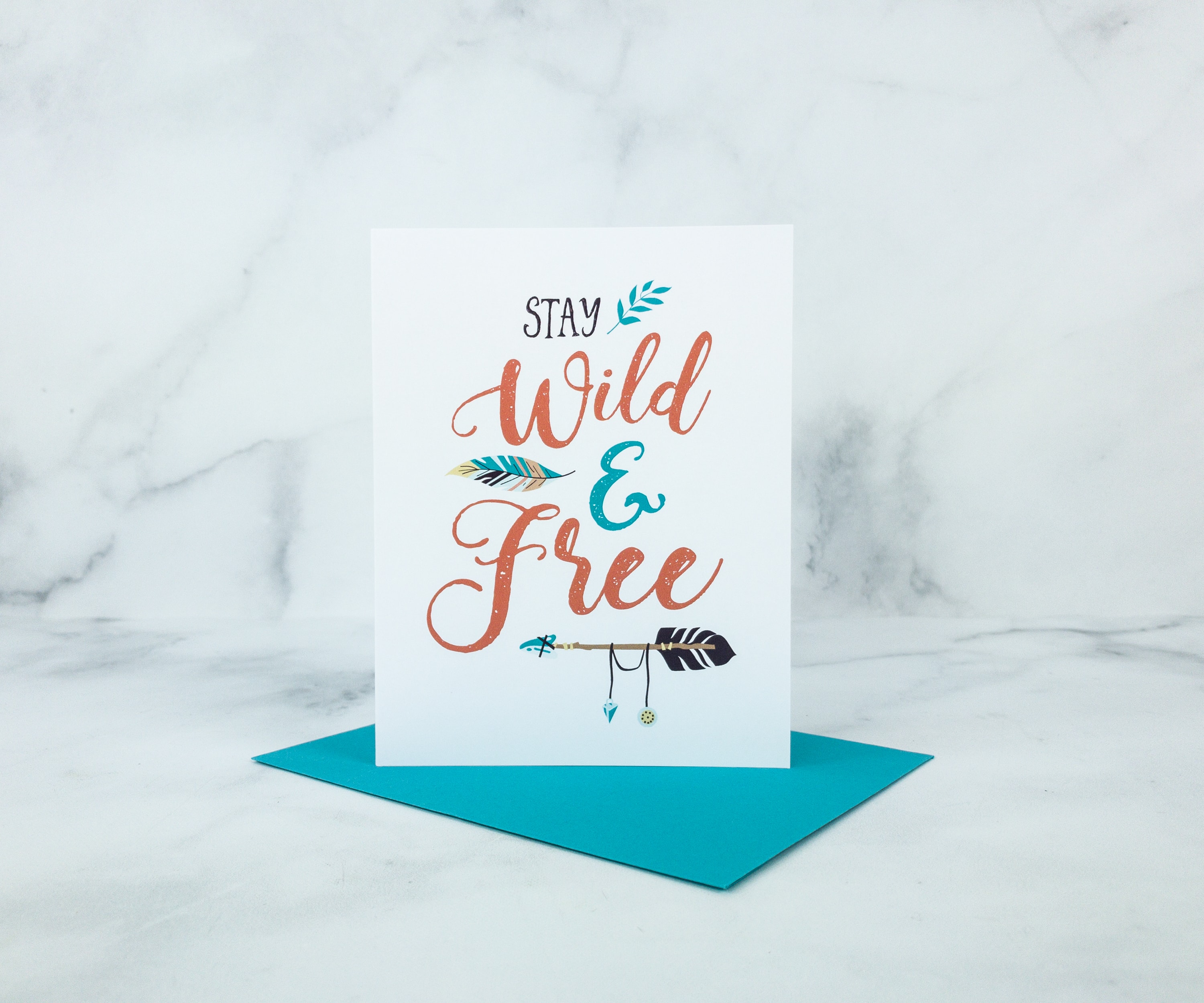 Stay Wild & Free Greeting Card. Do you know someone who is free-spirited? Then this card is for them. You can show your admiration of their wild and free personality by writing them a note using this statement card. The cute feather drawings add flair to the card, as well as the bright color combination.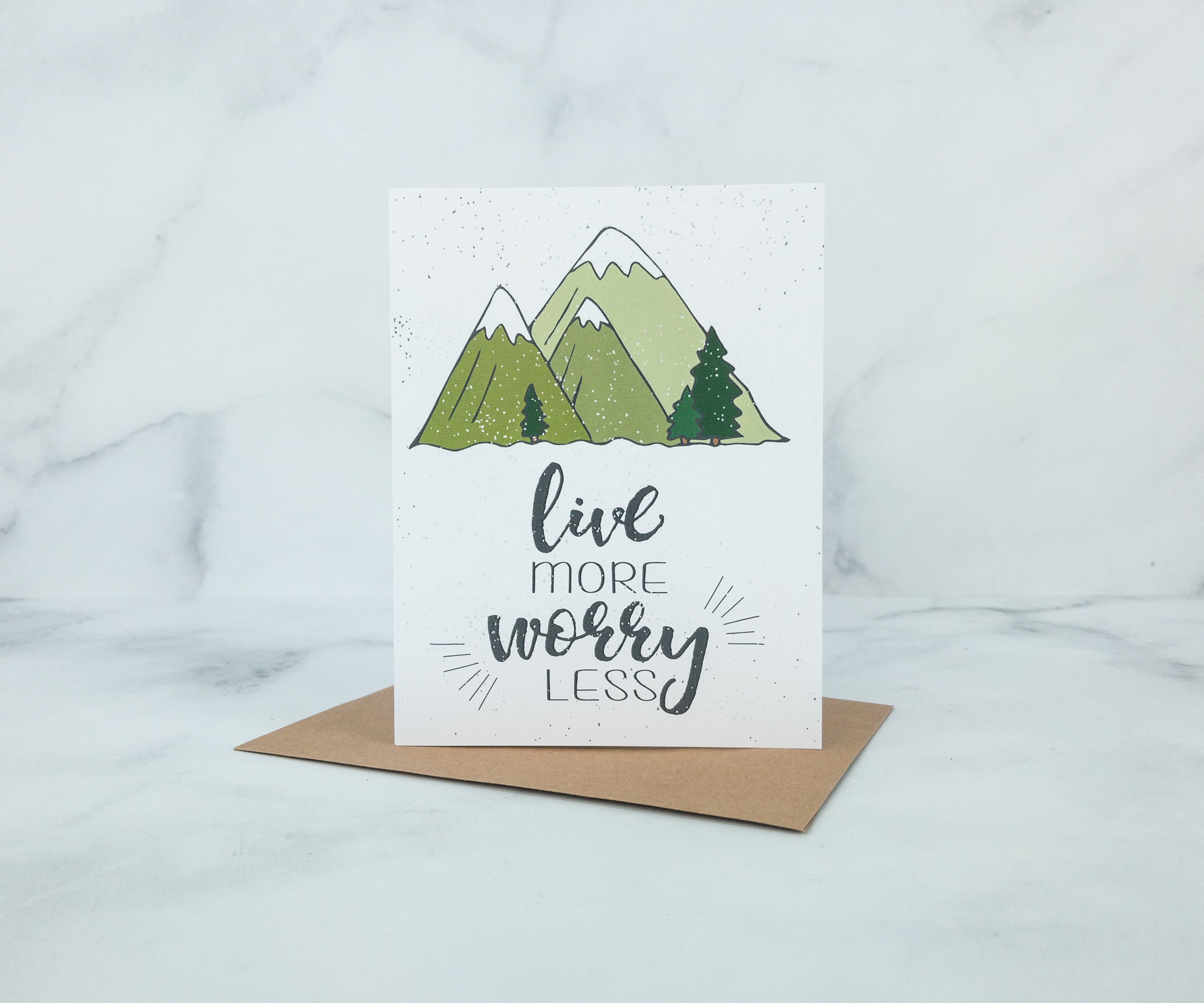 Live More Worry Less Greeting Card. Now for that downhearted friend, I'll be sending this card to help her see the silver lining in everything. "Live more, worry less" is a message that can help lessen the impact of worrying to someone and make them feel better.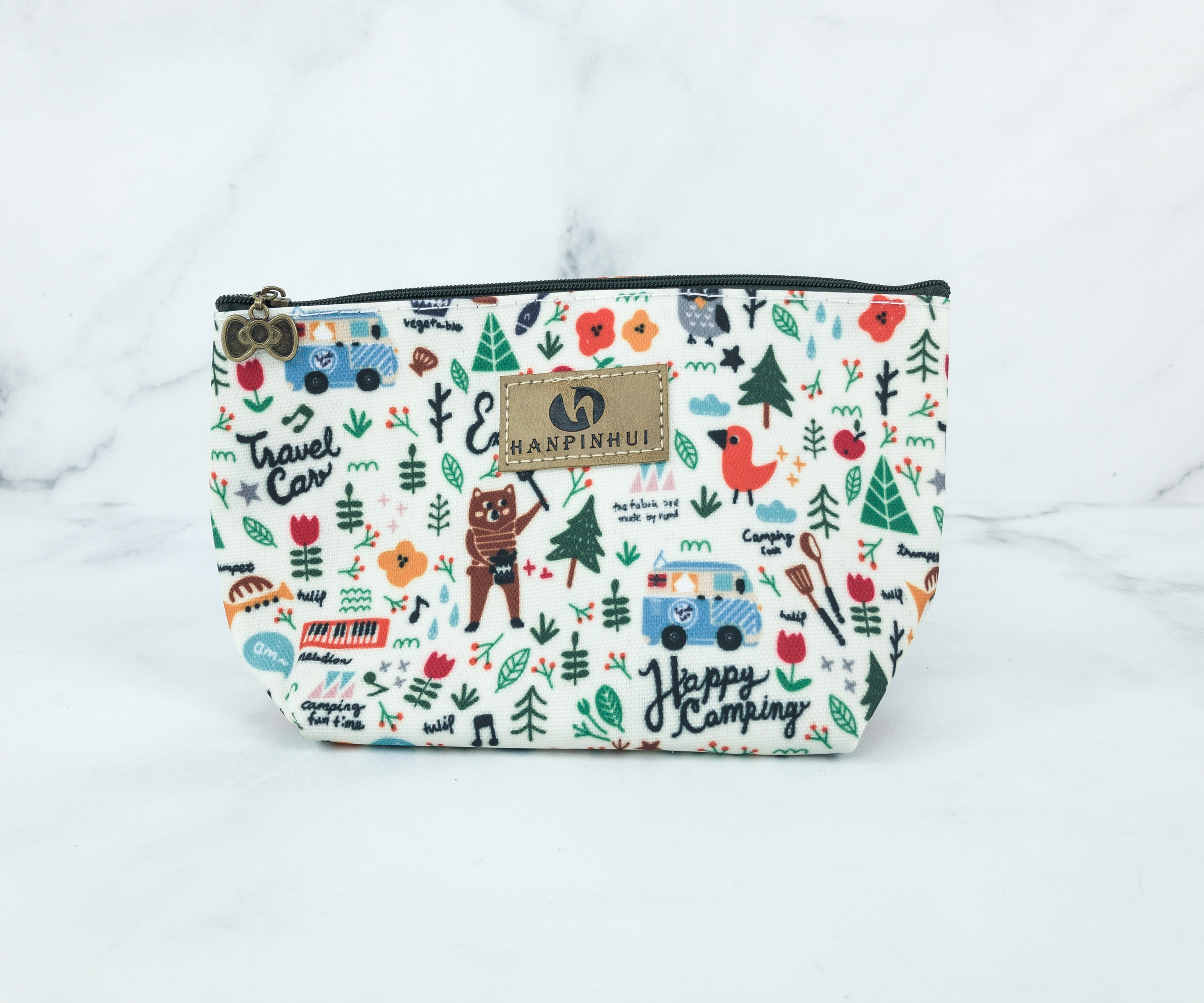 Adventure Bag. It's such a cute bag filled with adventure-themed drawings. I can use this as a pencil case or a grooming kit. It's made of durable and waterproof material and equips a zippered closure with a ribbon slider.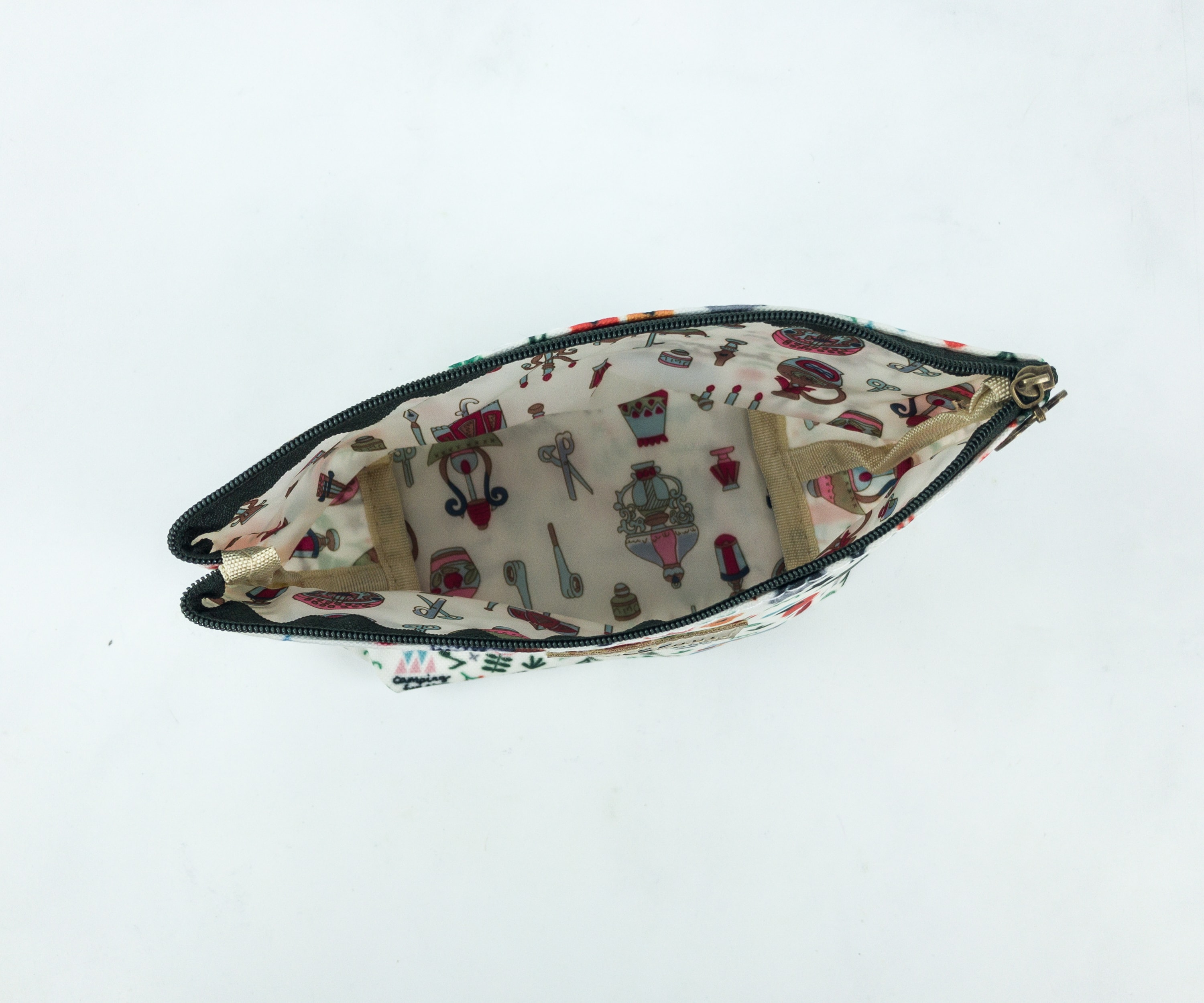 The inner lining has a different design. It also has a very spacious interior making it possible to stuff a number of items inside.
So, I have lots of wonderful cards to send out to my loved ones again and my hands are itching to write on them. I am sure they will bring joy and inspiration to anyone. I think this month's theme is an inspiration to be bold and carefree. All the designs and sentiments written on them did the trick. The best piece for me is the wooden magnet. I find it unique and uplifting. I just love all the stationery and artsy things Flair and Paper has been sending me every month and I am excited for the next one!
What do you think about Flair and Paper box?