Scentbird is a monthly perfume and fragrance decanting subscription, although you can now subscribe and receive makeup, skincare, body care, and even candles! With Scentbird, you get a thirty-day supply of perfume every month – Scentbird takes authentic perfumes and decants them into travel sprayers. There are over 450 fragrances to choose from and Scentbird adds new ones every month! You can save when you purchase a multi-month subscription, or even arrange to receive perfume every other month.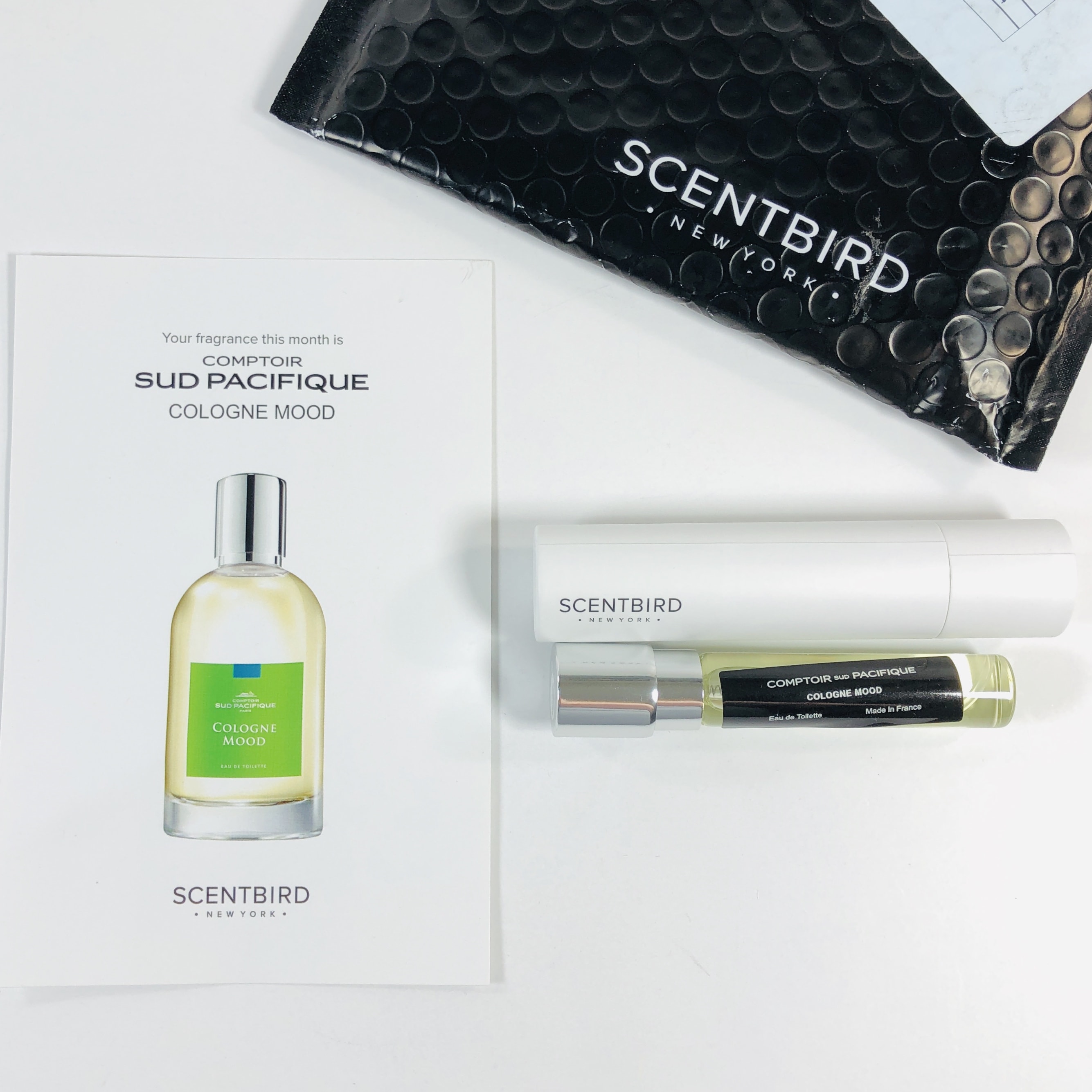 Everything in my box! You can go with the scent of the month, which for April will be Nest Wild Poppy, or fill up your queue with scents that sound interesting to you.
I received a card with my chosen scent listed.
The back of the card had a brief description and listed the ingredients.
My scent vial was shipped in a cardboard container that kept it safe on its journey.
Comptoir Sud Pacifique Cologne Mood Eau De Toilette ($16.95 for a one-time shipment, or $42 for a 1 ounce bottle on Amazon) I went with this unisex scent because it listed some scent notes that I like – citrus, patchouli, and rhubarb. Guess what, I can't smell most of them in this scent! It does smell fresh and clean, maybe a bit soapy. It is big on the citrus but not much else. Projection isn't very far and it wore off quickly. If you are looking for a fresh, clean burst of fragrance, then this is perfect and you can spray it on several times a day without offending anyone. It think it is truly unisex, I don't think it is sweet or manly.
Your first shipment comes with a holder for your scent, and then you just slide it into the container and twist until the sprayer is hidden.
Then twist it up when you want to spritz some scent. You can order extra cases from the online shop and I think Scentbird sends a new one every so often.
While you're browsing the Scentbird website you can see how other subscribers rated the fragrances. You can hover over some areas for more info. As you can see, Scentbirdies who took the time to rate this scent said it was mostly woody, with citrusy coming in second. They also said it was sexy, perfect for spring, and fresh. It does smell "green" to me and it makes me happy to spray it on.
I think it's great that Scentbird carries scents I can't find anywhere else, at least not in small sizes like the .27 ounces that they send. It helps me decide if I like a scent well enough to buy a big bottle, but most of the time I really just like to play the scent field and wear something different every day.
What's in your Scentbird queue? Let me know what scent you're wearing now in the comments!