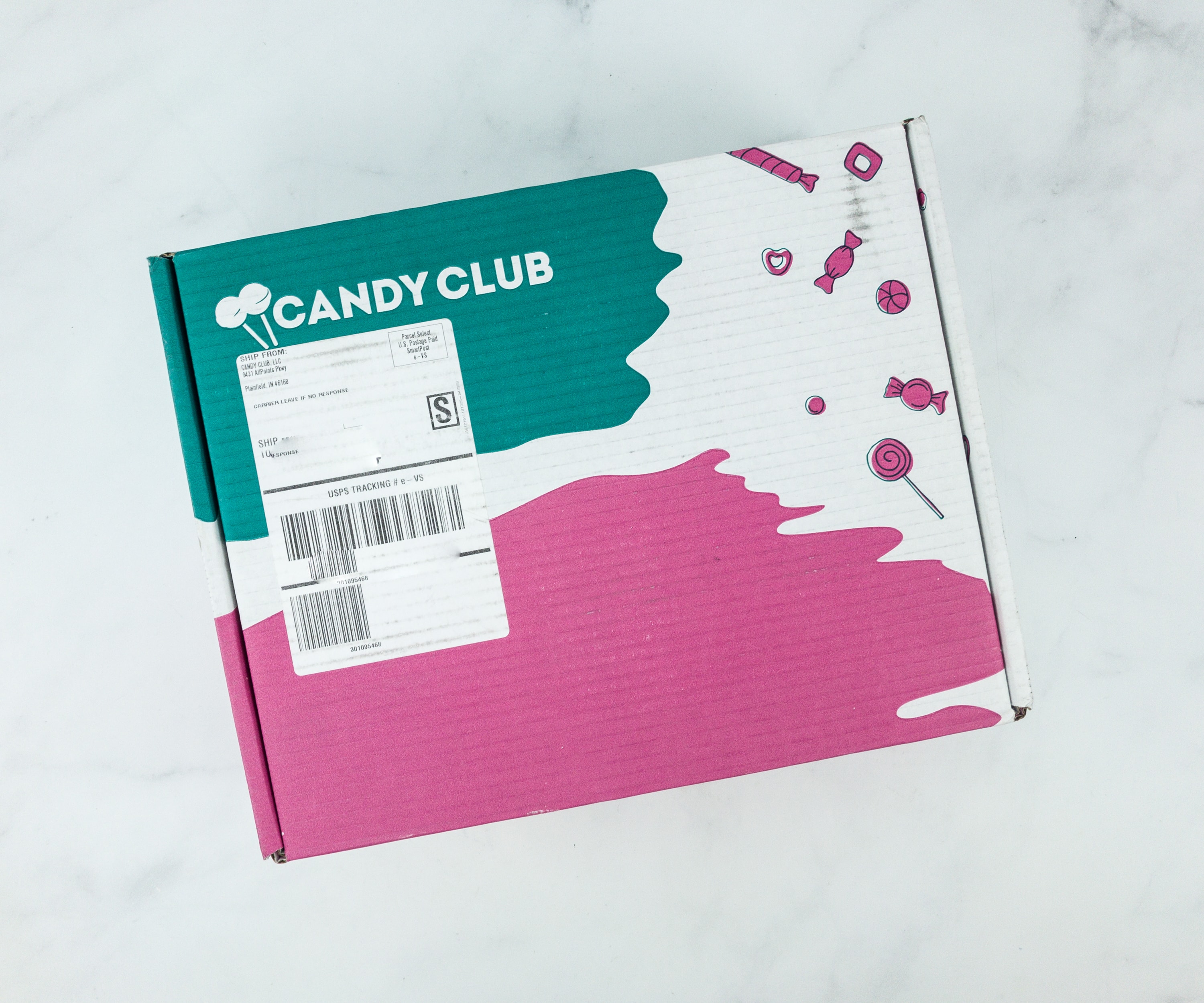 Candy Club is a premium candy subscription box. They bring the old-fashioned candy store (with candies both old and new) to your front door. They promise that their boxes will have an amazing variety of different candies for your snacking enjoyment.
Candy Club recently updated their box – now each box contains 6 containers of candy in smaller twist-lid jars, all with weights and printed nutritional info right on the jar.
The Candy Club Subscription Box is now $29.99 + $9.99 shipping per month. The Party Box size is also available for $49.99 per month + shipping.
DEAL: Save $12 on your first box! No coupon code required, just use this link!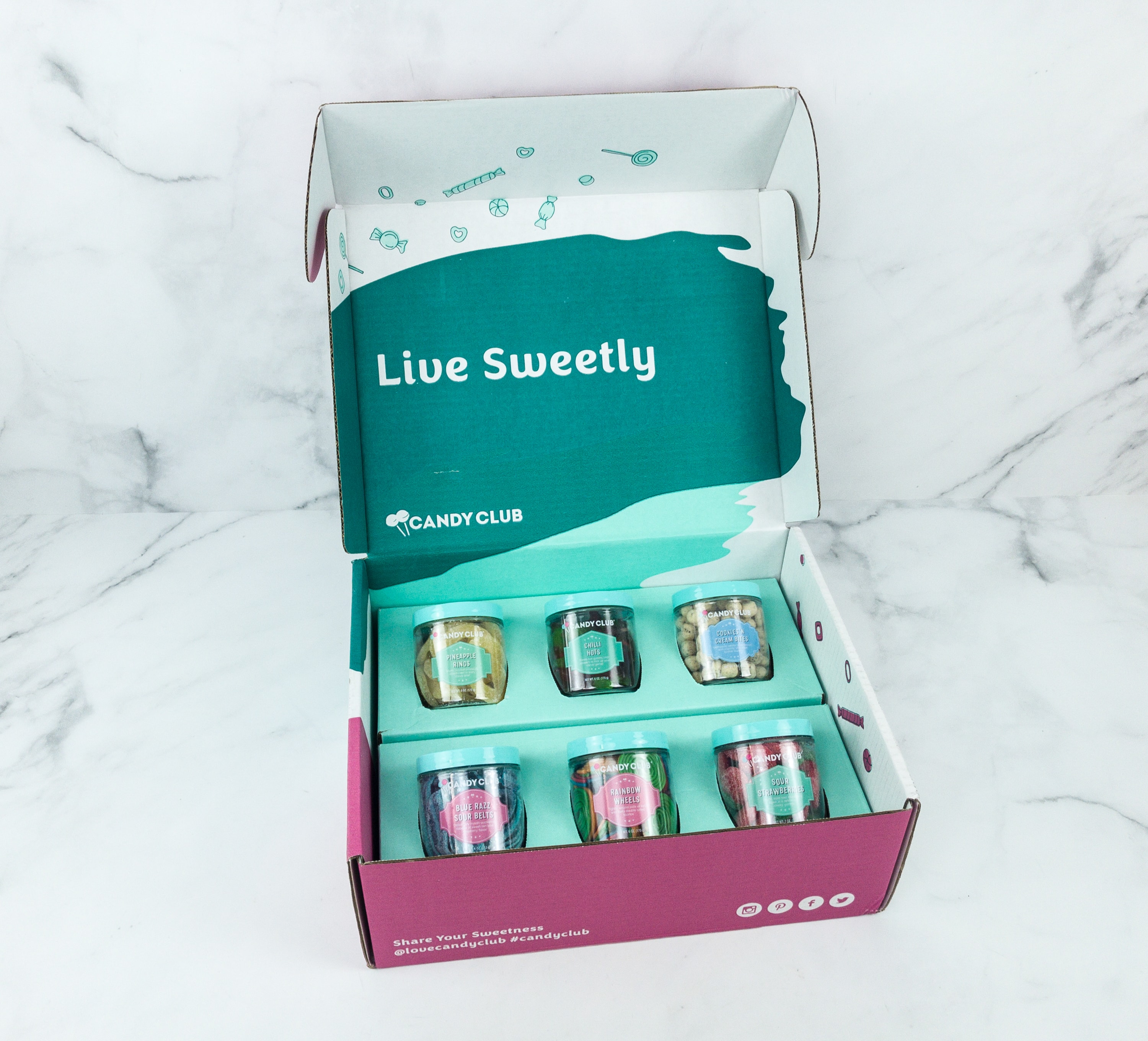 Inside the box, the candies are securely packaged in round plastic containers.
The containers are set inside a cardboard stand with holes cut out to hold them in place. It really makes for a nice display when you open the box. Also, the lids of the containers now have a solid aqua blue color, plus they're reusable.
You can now choose between Mostly Sweets or Mostly Sours for your taste profile, but you can no longer select particular candies. Our choice is Mostly Sours!
Everything in this month's box!
All we need to know about the nutritional facts and ingredients are on the jar label.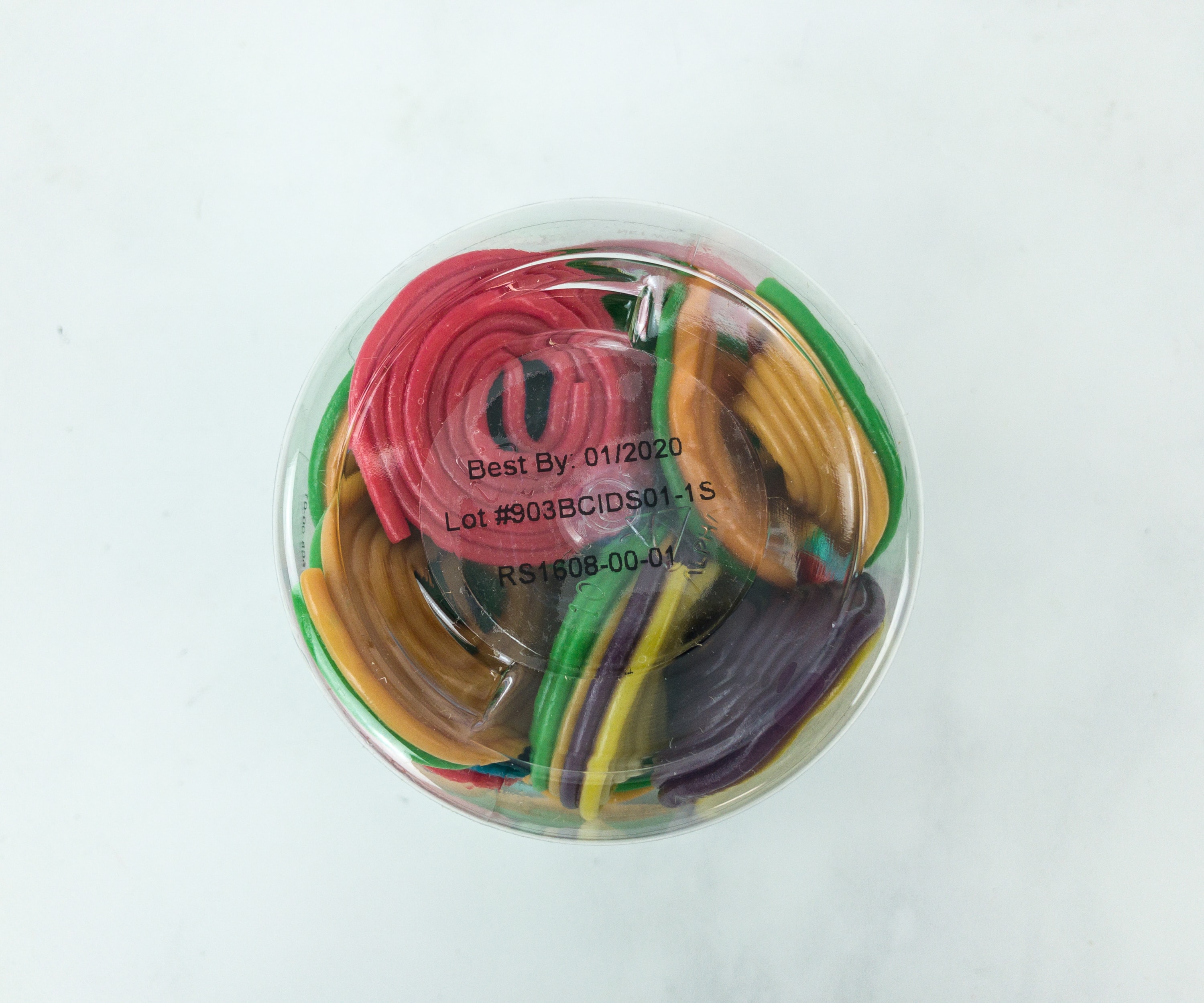 The expiration date is on the base.
Sour Strawberries. Each bite-size gummy piece is bursting with sweet and sour strawberry flavor for a mouthwatering mood boost! It's my kids' favorite!
Rainbow Wheels. It was a fun experience unrolling the sweet, soft goodness of these Rainbow Wheels! They're good for sharing or savoring all on your own. These twirled, chewy treats are always an aromatic feast!
Cookies N' Cream Bites. These creamy white chocolatey balls with crumbled pieces of cookie are a perfect movie night snack. They're even better than cookies 'n cream ice cream!
Chilli Hots. Beware of these soft and chewy hot chili pepper gummies!  Not only do they look like the real thing, but they taste like it too! Each pepper comes with a SERIOUSLY spicy kick. Chilli Hots gummy candy is a treat for those who are a little adventurous!
Pineapple Rings. These are delicious gummy rings featuring a tangy pineapple flavor with a dusting of sugar. Pineapple gummy rings are perfect for the candy dish at a tropical themed event or Luau party. These chewy yellow circles are so satisfying!
Blue Razz Sour Belts. It's a delicious mix of sweet and tart bliss! These chewy blue raspberry belts come dusted with sour sugar. So berry yummy!
This mix of fruity, sour, sweet and chili gummies bring a never-ending kind of fun!
This month we received a unique combination of confectioneries. They satisfied our sweet candy cravings and gave us surprising taste twists like the kick of spice from Chilli Hots candy and the fantastic spiral shape of the two-toned Rainbow Wheels! We all couldn't get enough of the premium candy experience!
Have you tried Candy Club? Are you thinking about trying the new version?