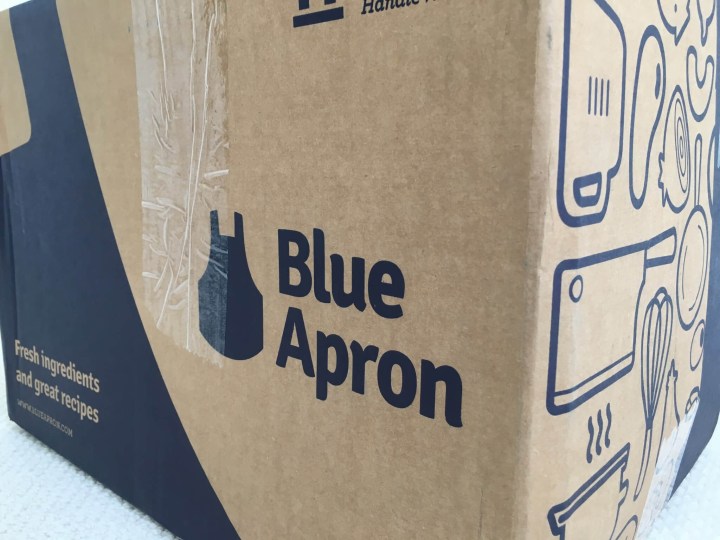 Blue Apron is a subscription box for making great meals at home. If you're like me, you periodically find yourself in a serious cooking rut. You make the same things every week, but the thought of researching a recipe and acquiring all of the ingredients is just too much work. Blue Apron is the solution! Each week, Blue Apron sends you a refrigerated box with all the fresh ingredients you need to make the included recipes. You can select the 2-person plan – 3 meals a week of 2 portions each – or the family plan – 2 to 4 meals a week of 4 portions each. The menus are set, but you can ask Blue Apron to avoid ingredients you don't eat – shellfish and lamb, in my case.
The Blue Apron website got a redesign recently, and you now have more options from which to choose for your meals.  It's easy to switch up or add meals to your box.
We got the Family Plan for 2 meals. I set the delivery date and it arrived right on time, securely packaged in a heavy-duty box. All of the ingredients are wrapped in an adorable insulated blanket and cooled with ice packs.
Pricing: 2-Person Plan – $59.94 for 3 recipes. Family Plan (serves 4) – $69.92 for 2 recipes, $139.84 for 4 recipes. 
DEAL: Save $50 over your first two boxes! Use this link – no coupon code required!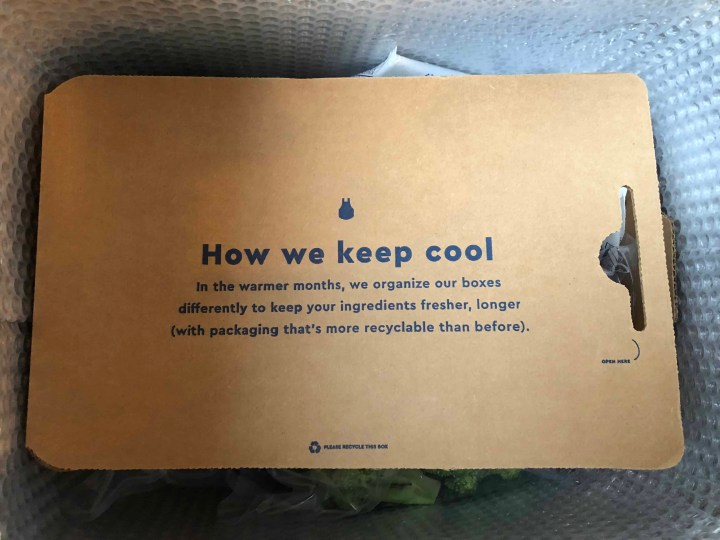 The meat is at the bottom, surrounded by still-frozen gel ice packs. Blue Apron is always aiming for optimization with the packaging, and packaging nerds like myself are into it.  The meat is now double-bagged in sealed packages, which is great for keeping errant meat juice inside.
It's March, with occasional pretty days while the trees try to kill us with their pollen spores.  And, of course, hours spent on the Little League field.  The perfect Saturday for cooking a delcious meal at thome.  First up, BBQ Chicken Sandwiches .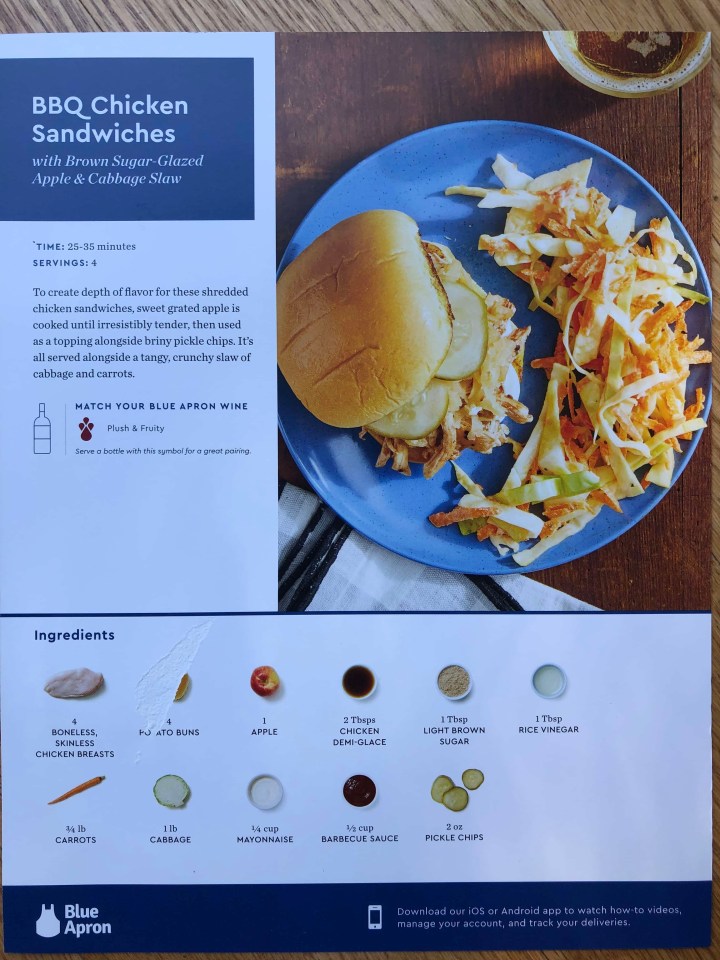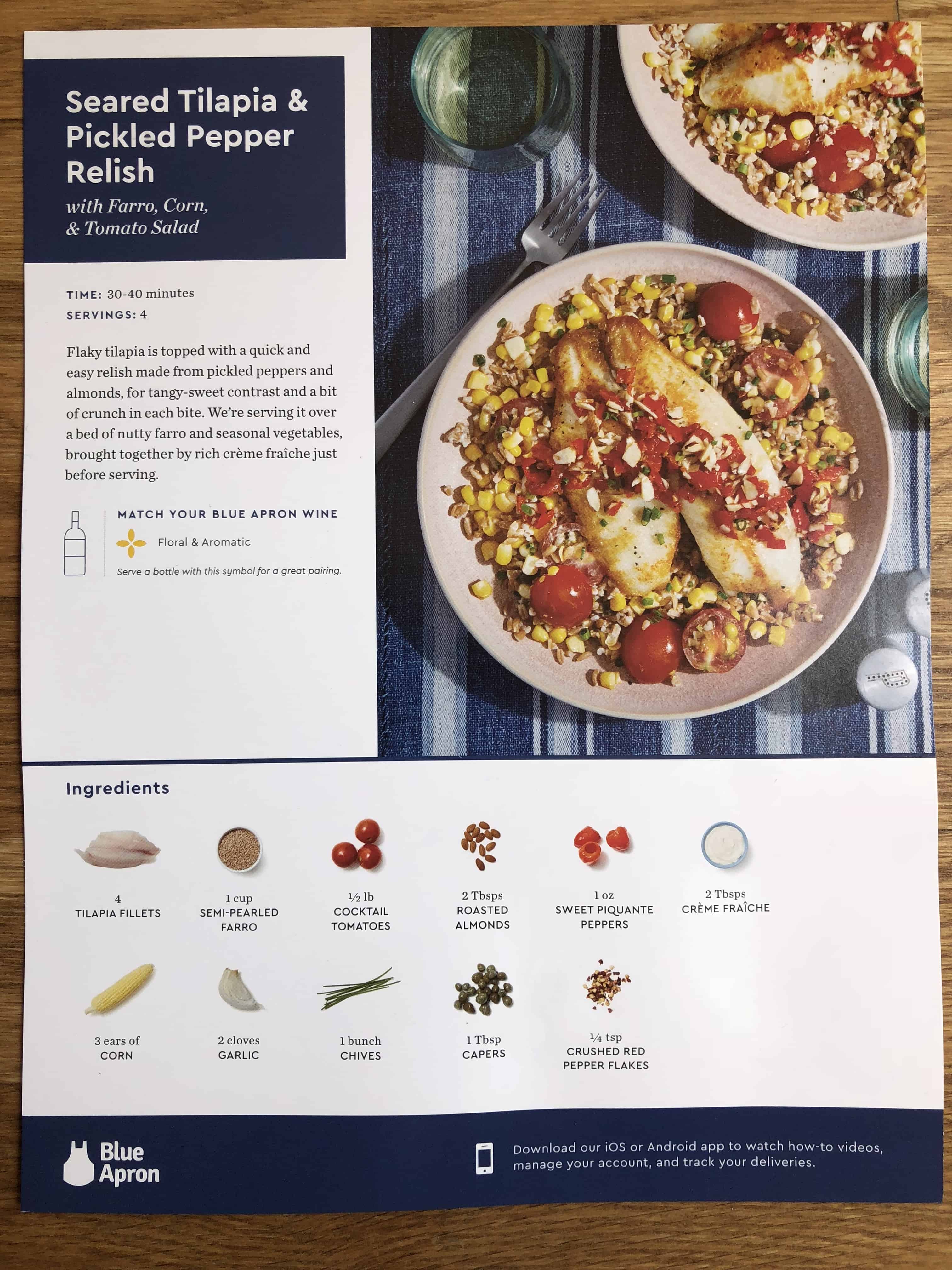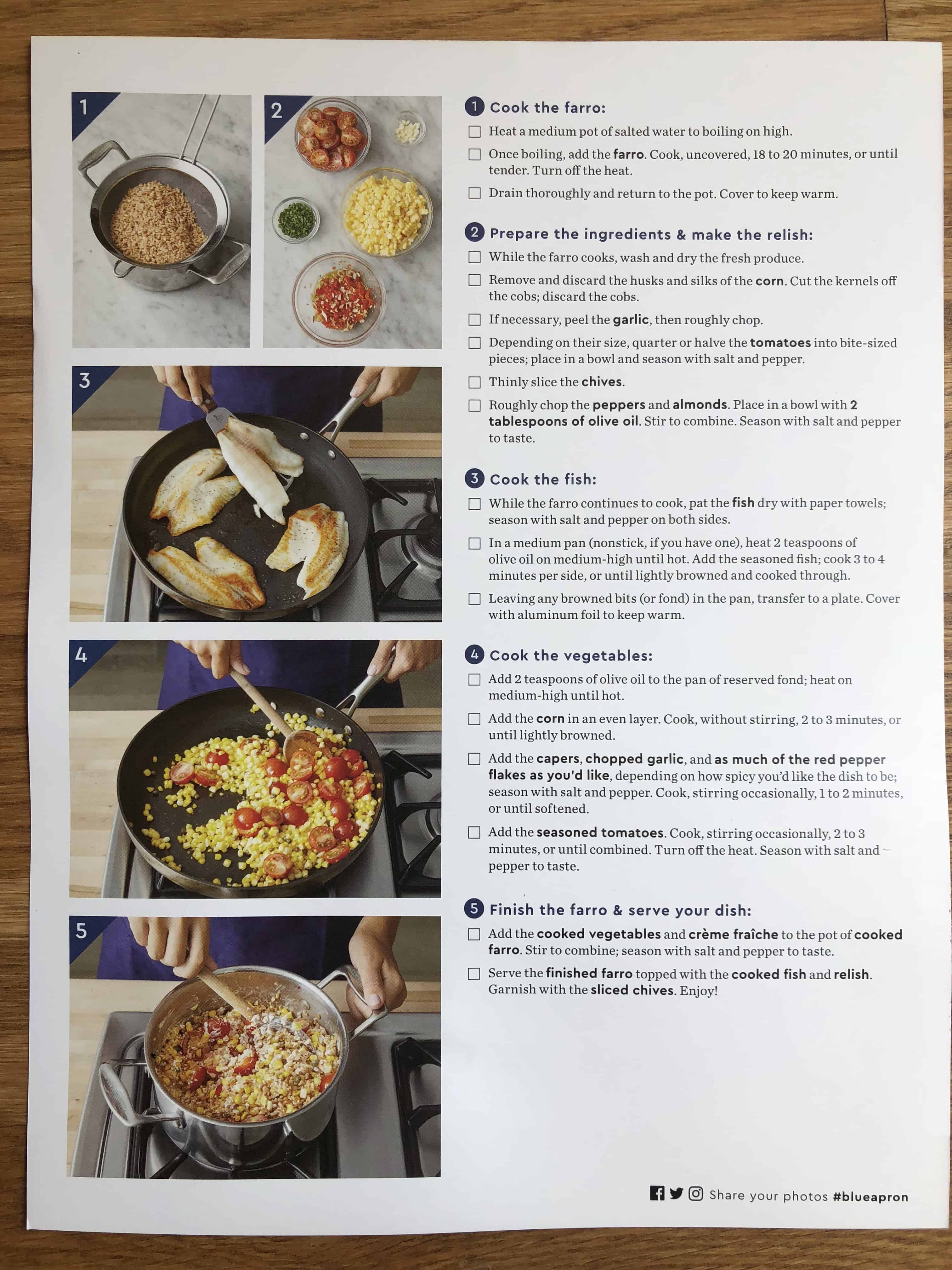 As usual, all of the ingredients were included.
Normally, the meals come with handy nutrition guides.  Either I missed the sheet in the box this month, or they did.  Mystery nutrition!
We've had a good run of prduce quality for the last several months, but I think this month's box must have been packed too early, because my produce looked a little worse for wear.  This cut cabbage head shows the unpleasant gray-black speckles of oxidation.  You can cut those off without harming the rest of the vegetable, but mine went pretty far in.  I wasn't in a position to replace my produce this month, so we had to do without the slaw side that was supposed to go with this meal.  Disappointing, to be sure.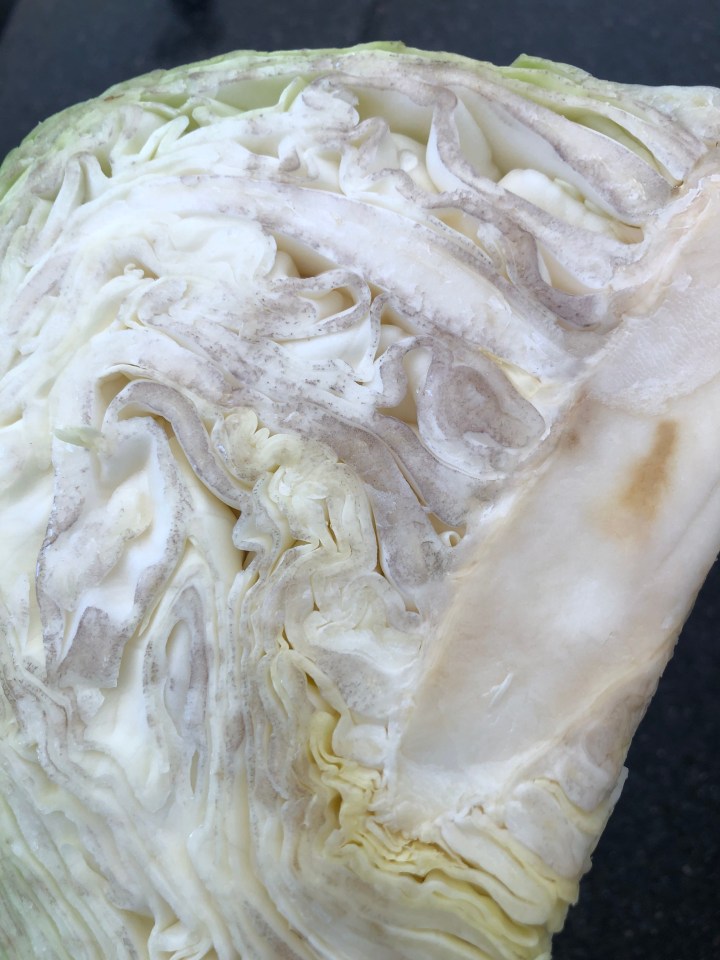 And. . .I hate to be that person this month, but the directions were nonsense.  Pan-cooking chicken on high heat that you're going to shred into bbq?  Good luck with that.  I baked mine in the oven, covered, at 400 degrees with the demi-glace and water until my meat thermometer hit 165.  It rested 15 minutes and then I shredded it in a bowl and added the sauce.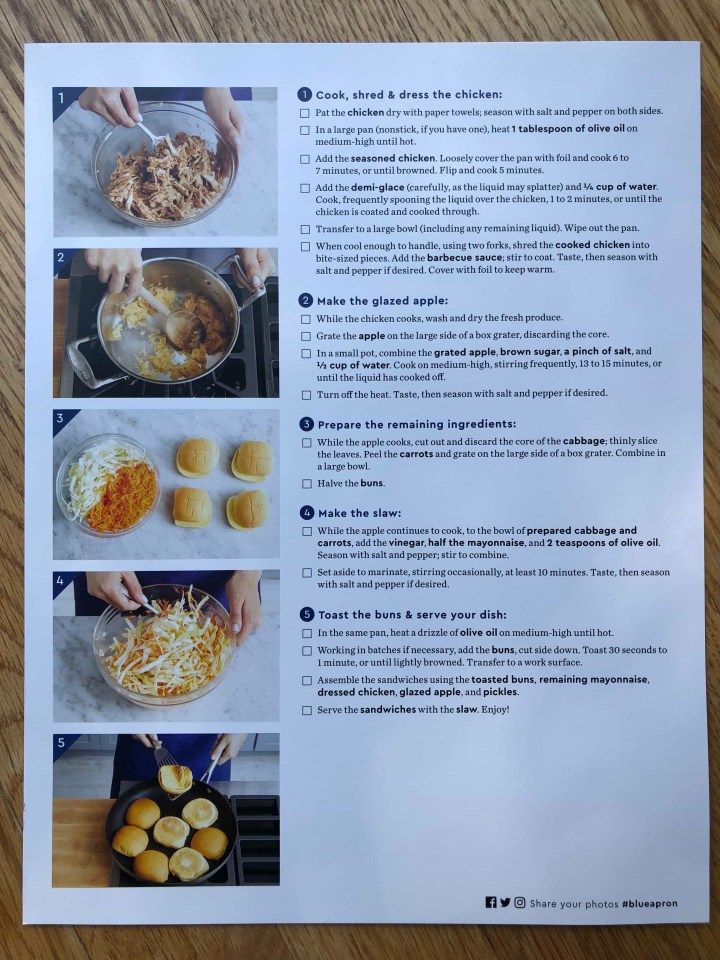 I roasted the excellent carrots that were supposed to go in the slaw with the potatoes I had leftover from Friday for a quick and tasty side. And, yes, that's a Blue Apron wine subscription bottle over there. (And a cat).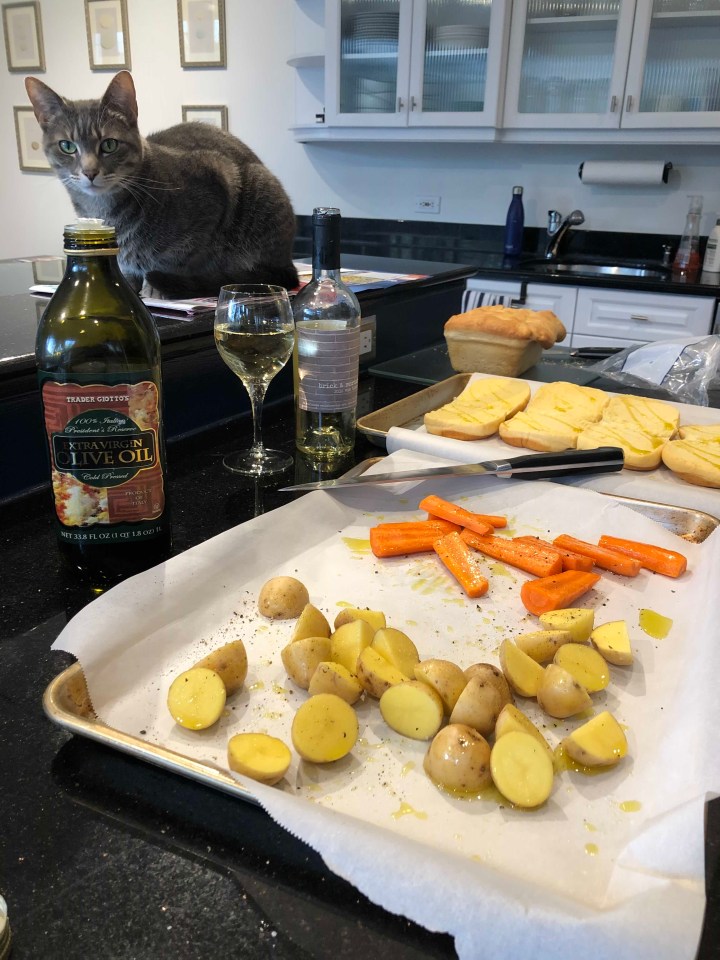 The recipe calls for the cheese to be melted onto the bread, which I'm sure was delicious, but the team here voted for broiling it on top of the meat, which was DEFINITELY delicious.  You're the boss of your kitchen!  Change it up if you want.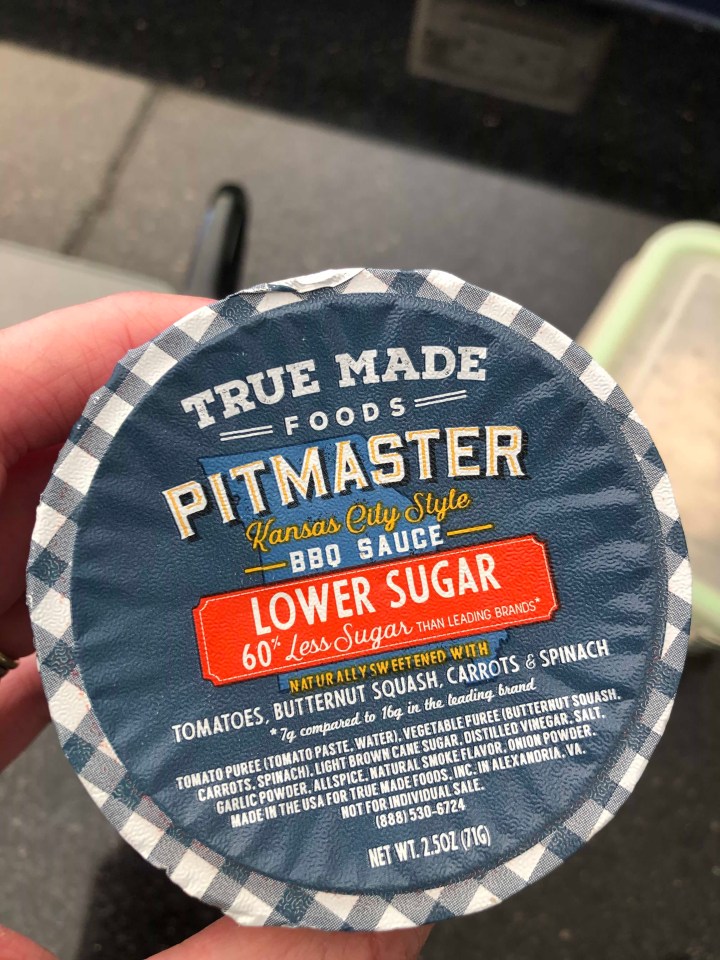 Speaking of barbeque sauce, this one was fun, with veg puree providing sweetness instead of some of the sugar.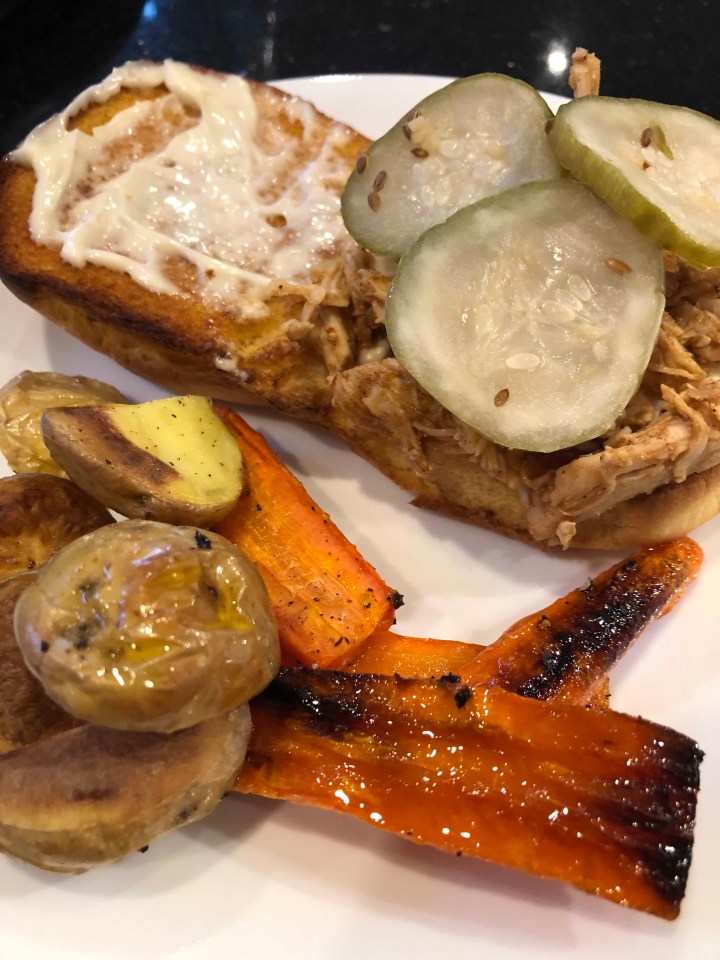 In spite of the changes (or because of them?), this meal was fairly easy and tasted great.  We had enough leftover chicken to have a complete second meal of it. (A few more buns than the 4 in the box would have been appreciated, though–the tween definitely wanted a second sandwich).
Our second recipe was .one of Blue Apron's featured "Best of the U.S" recipes, Jaleo-Inspired Meatballs and Rice.  I'm going to overlook the cringe-inducing photo of their (supposedly co-equal) chefs, with the woman looking adoringly at the man while he looks off camera smugly.  Actually, I'm not going to overlook it because, really, Blue Apron? Do better.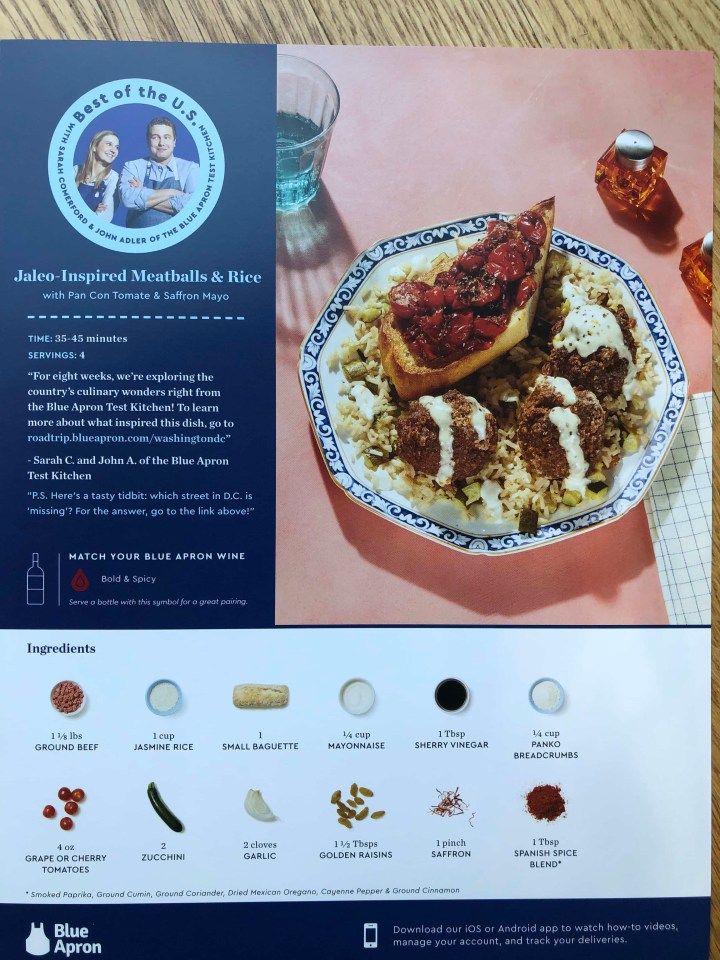 Okay, back to the food. I love that Neiman ranch beef.
The tomatoes, unfortunately, were another victim of age.  Too many moldy and deflated for us, so we didn't get to try the awesome-looking pan tomate in this recipe. If I were a regular customer, I could certainly contact Blue Apron and be refunded for this box and/or get a replacement, but I'm reviewing it, so I'm carrying on without the side item.  Fortunately, there was plenty to this meal and we didn't need it.
The saffron, though, was super cool.  I've never worked with it before, and I appreciated the floral funk it gave to the sauce. That's one thing I really like about Blue Apron–I get the chance to try things that I otherwise might be intimidated by in the grocery store.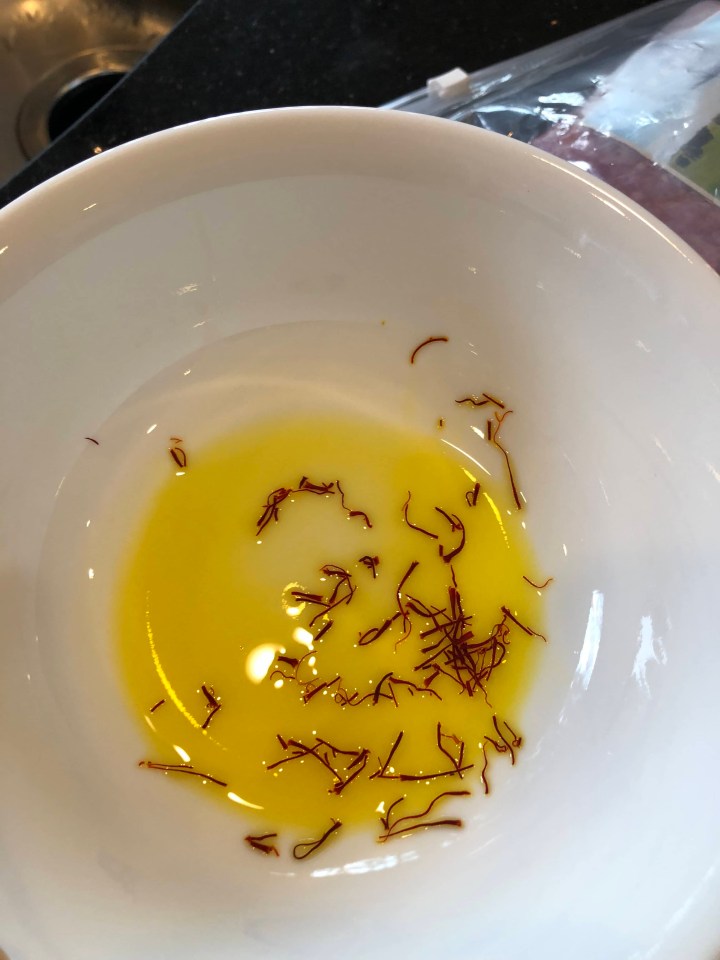 We got a bakers' dozen of meatballs from the mix, which was plenty for this meal and the next.
This turnd out fine; the meatballs were good and went surprisingly well with the rice. Don't skimp on the salt for the rice, though.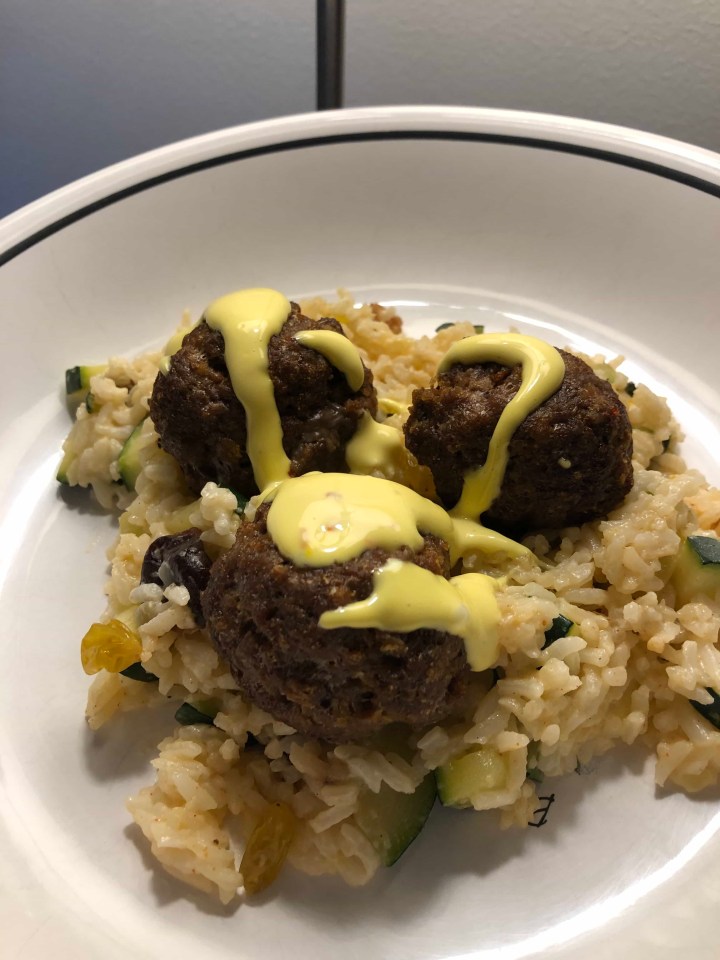 This month was a bit of a miss for us, with two side dishes scotched by spent ingredients. But everyone has an off-month now and then. We'll give it another go in April.
Hey, did you know that Blue Apron has a wine program now? It's super easy to match your wine to your meal, like the delicious white blend a we had with the chicken sandwiches.
It's nice to not have to decide "what's for dinner" all the time. Overall, Blue Apron has been enjoyable and gets us out of our boring dinner routine. Honestly, you can forget how fun cooking can be. Interesting ingredients, easy recipes, and delicious food. We can't wait to see what we get next time!
How's your spring cooking going?? Let us know in the comments below!