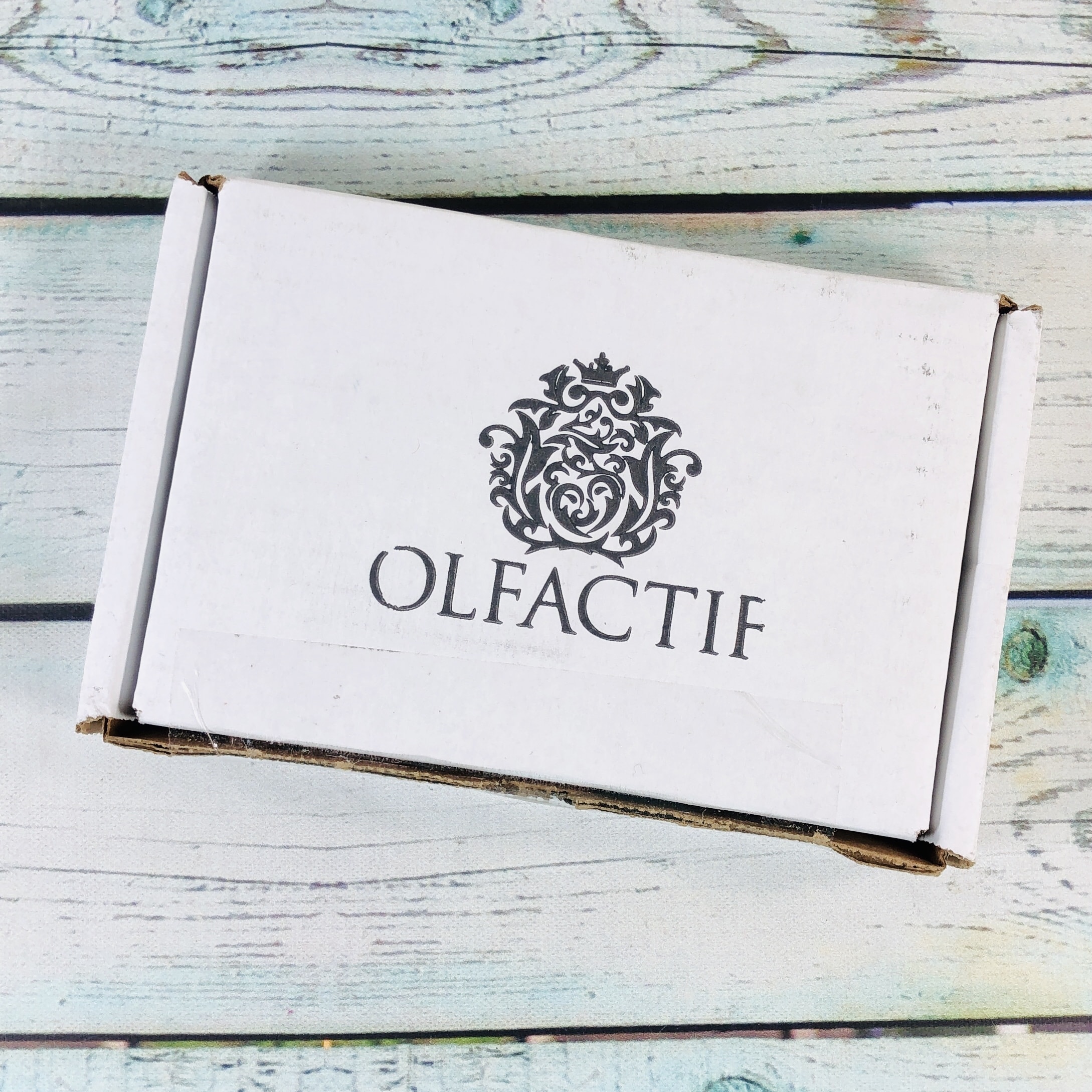 Olfactif is a monthly fragrance sampler subscription box that sends hard-to-find niche perfumes. Every month you'll receive 3 samples, each of which contains 2.5ml and gives around 40 applications of an independently designed perfume. Olfactif is $20 a month, or sign up for a longer subscription for a discount – prepay for a year and the price drops to $15 a box!
In addition to receiving a curated collection of 3 premium fragrances from around the world, members also receive: 20% off full bottles of every featured scent, 10% off all other full bottles, 10% off all à la carte samples, and earn free stuff with rewards points.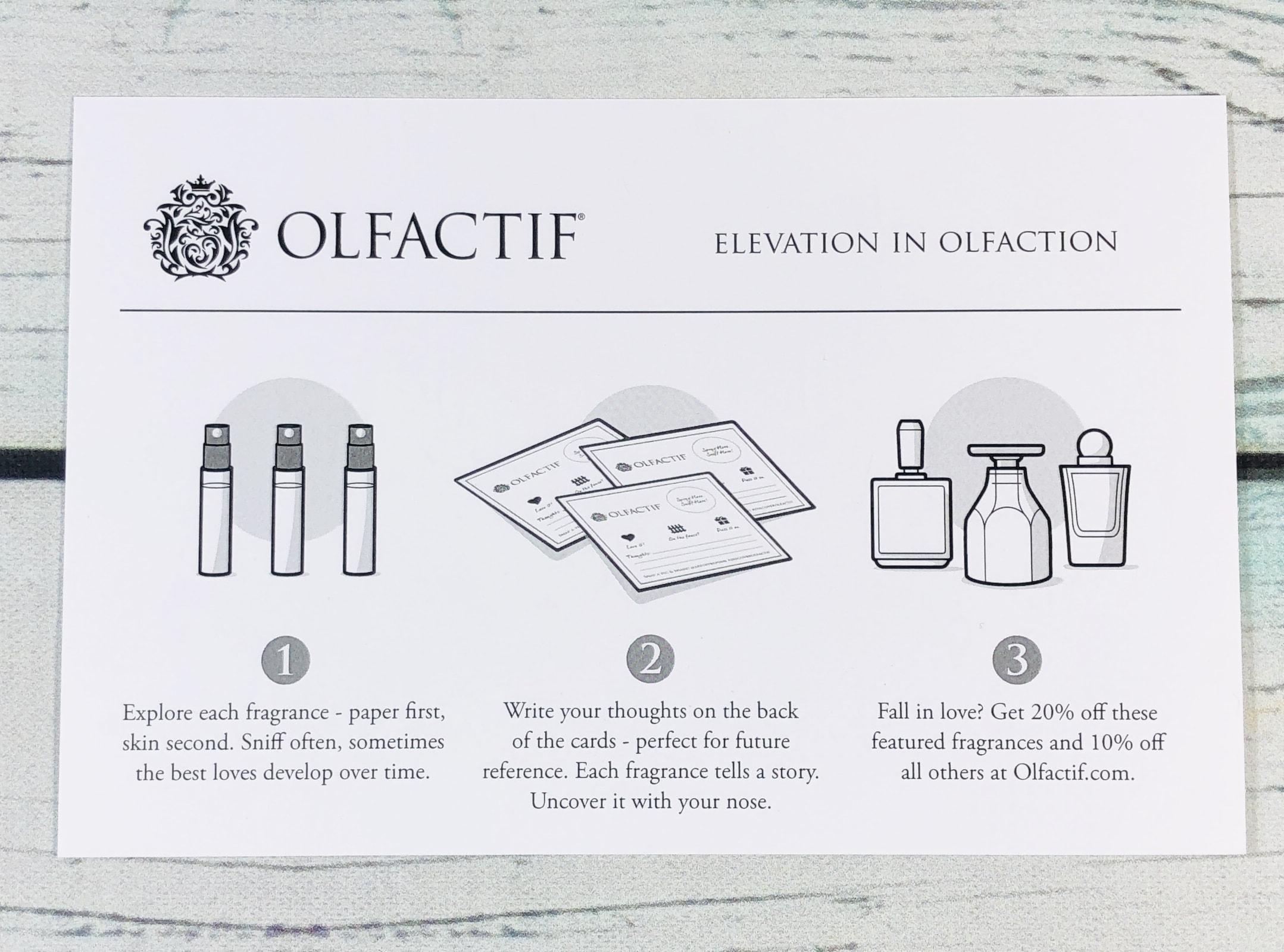 There was a card with a little info on the subscription. Olfactif now offers atomizers with samples, similar to other to-go fragrance subscriptions out there, but with a limited selection of niche fragrances, most of which are not available in other subscriptions. Prices vary depending on the scent chosen and you can choose from two colors of case – either Rosé or Stone. Each of those samples are 5ml.
The back told how you could win some free fragrance.
Opening my Olfactif box is like opening a special present: the presentation is simple and elegant. Olfactif has also introduced a rewards program so you can earn points when you review your scents, refer a friend, or make a purchase.
Olfactif sends their scents in a black box with a magnetic closure. Very classy. It's like the little black dress of the fragrance world.
On top I found a black envelope with the Olfactif logo.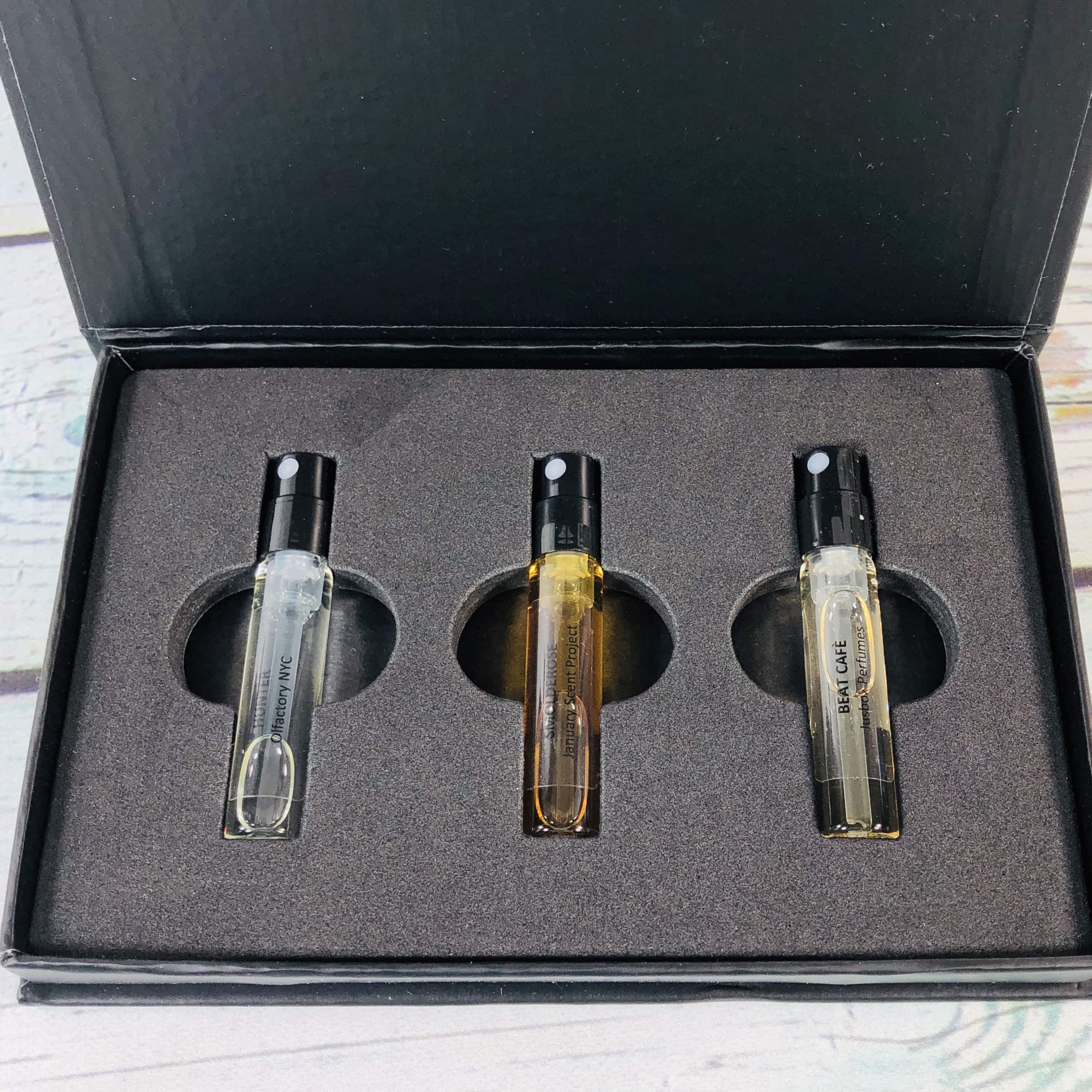 Olfactif focuses on niche fragrances – unique scents produced with higher quality and harder-to-find ingredients than you would encounter in a department store. When you subscribe you can choose from the Women's or Men's box. You can check out our reviews of Olfactif Men here.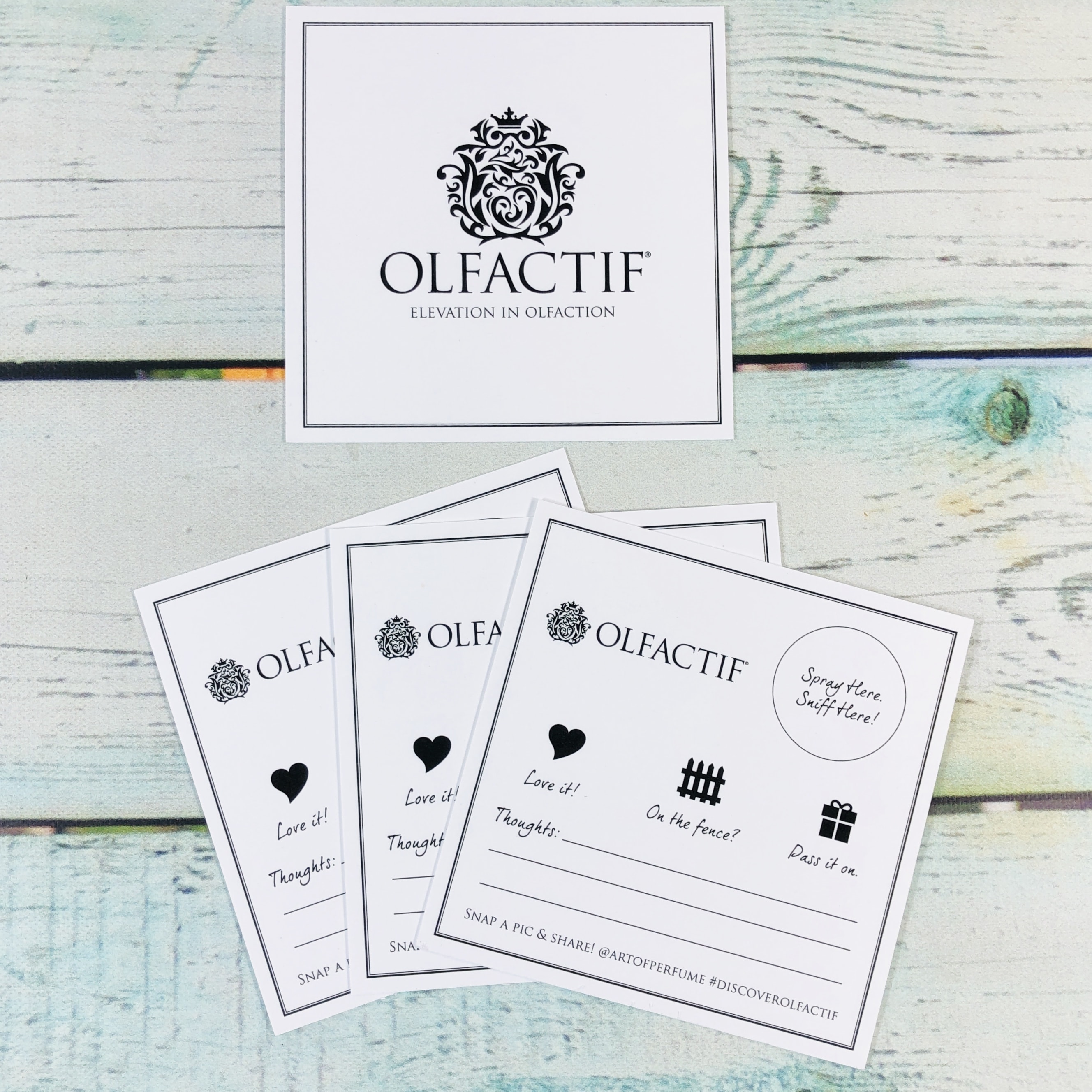 Inside I found four cards. You test your scents directly on the back of each scent's card. There's even space to write notes on what you thought of the fragrance.The first thing I do when I receive this box is spray each card with its scent, then decide which one to try on my body first!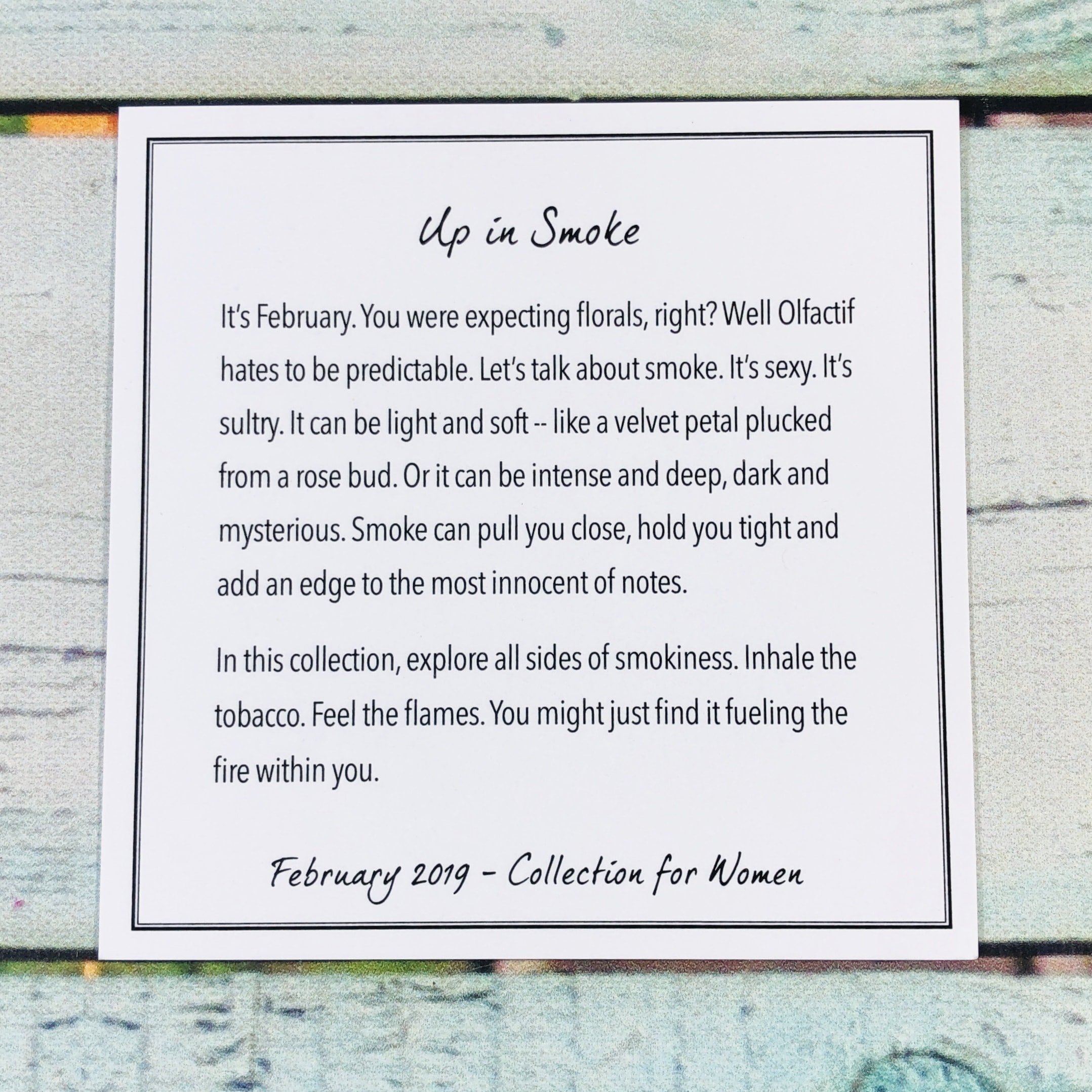 The theme for February's box is Up In Smoke. A note about my testing procedure: I always try each fragrance at least twice and on non-consecutive days. Sometimes what we eat may affect a scent and I want to make sure that last night's spaghetti dinner doesn't taint a scent.
Hunter Olfactory NYC ($50 for 50ml) I like the fact that you can create your own flanker of scent from Olfactory NYC by adding different accords to the base scent. Scent notes for the original include ambrette, vanilla, and musk. It is warm but not as deep as the scent below. I think it is sweet and smokey but the smoke in this scent, as with the others, is subtle.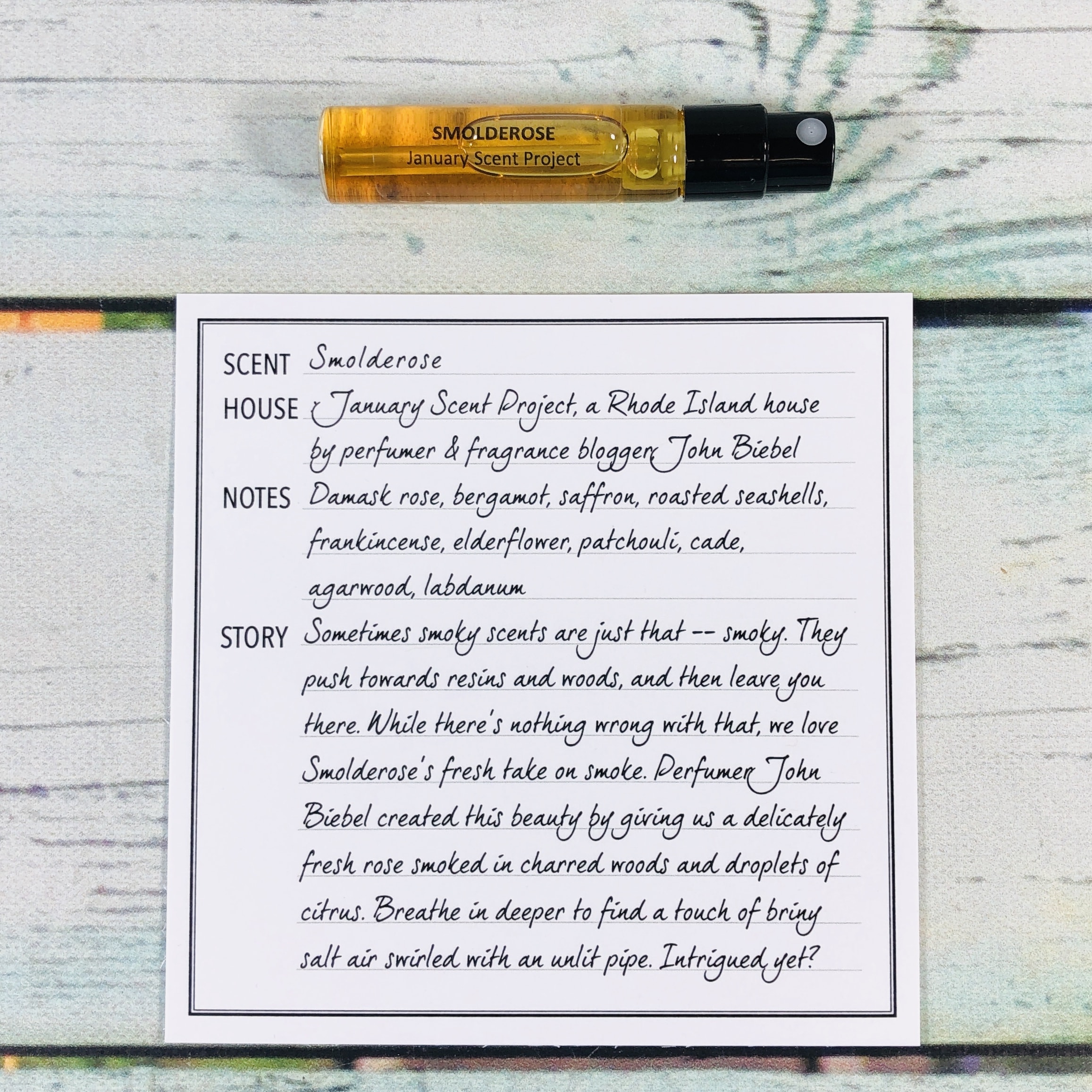 Smolderose January Scent Project ($65 for 30ml) Although I'm not a fan of straight up rose scents, I am discovering that I love the note in certain fragrances, like this sultry little number. It is an oriental floral with notes of Damask rose, labdanum, and frankincense. I caught a whiff of honey, smoke, and roses plus leather nuances. Overall it is deep, sweet, and mature. Wear it for date night but not to work; it's heady and seductive. Lasts all day too.
Beat Café Jusbox Perfume ($190 for 78ml) Beat Café was inspired by musician Bob Dylan and invokes the boozy, smokey atmosphere of music/poetry venues from the 1960's. Notes include cognac, tobacco, and cedar and the scent falls into the woody oriental/spicy category. It is warm, sweet, and deep. I picked up spices and a bit of leather and yet it seems more feminine than the notes might suggest. Very nice.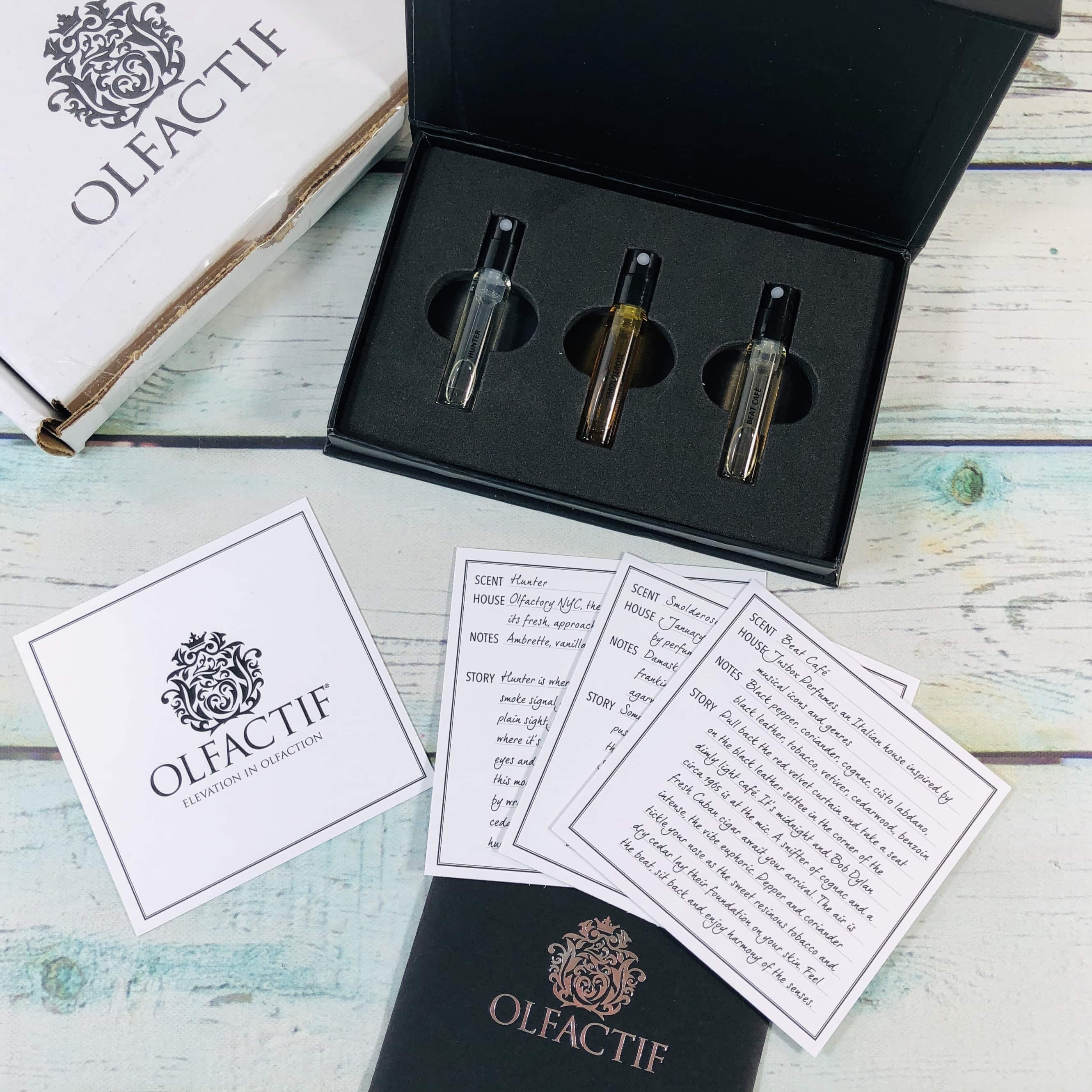 As always, I adored my February Olfactif! This is one of my favorite subscriptions, and it lets me sample new fragrances without having to drop a lot of money on full bottles of perfume. Plus, these are not your department store scents so unless you order samples from each perfume brand (if available), it would be hard to try before you buy. I have discovered so many new favorites thanks to Olfactif, and of course you get a discount when you purchase a favorite in the month you receive it. February's scent offerings were warm yet sweet, smokey but not overwhelmingly so, and just deep and rich. I can't wait to see what comes next month!
Have you tried Olfactif? Let me know what you think of this subscription in the comments!