Herb Stop is a locally owned small business out of Pine, Arizona that offers the AromaBox, a monthly essential oils subscription box. Master Herbalists Leilah Breitler and Natalie Hajdu curate their oils to a theme and all of their essential oils are 100% pure, although some of the more precious oils are thinned with jojoba oil.
AromaBox is $24.95 a month and that includes shipping, plus you can choose to receive this box once a quarter. You will receive 4 bottles of oils – 3 single essential oils (1/6 oz or 1/3 oz each) and 1 roll-on essential oil blend ready for use. Along with your oils, you will receive a flyer with details on each oil, 3 tips on using each oil, and safety information.
The Herb Stop insists that all ingredients must come from reliable and ethical sources. Leilah and Natalie believe that quality and high standards are essential to create life-enhancing herbal products that are unmatched.
DEAL: Save 15% on your first box with coupon code HELLO15.
FYI – AromaBox is always available through the end of the month, plus you can purchase previous boxes on their website!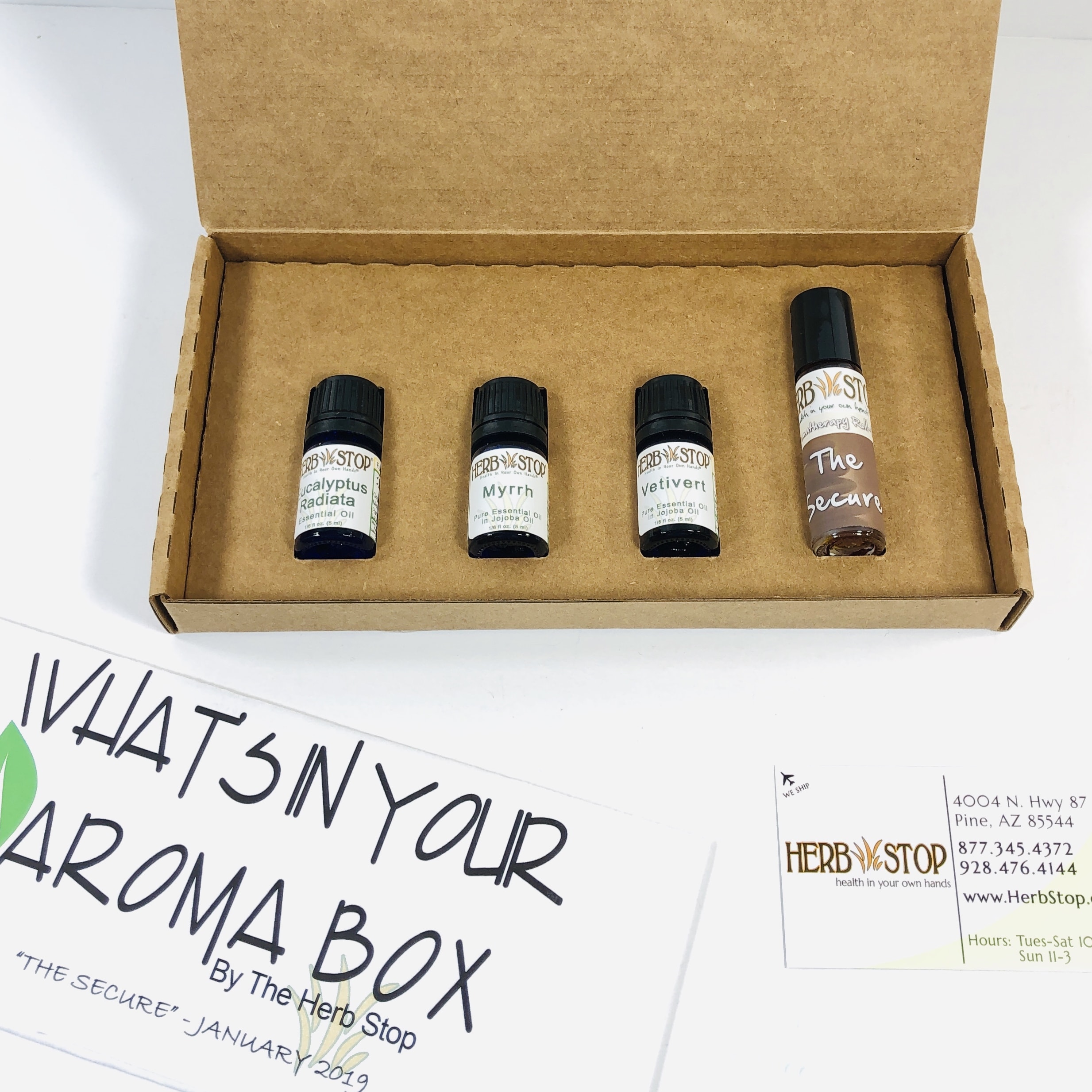 Everything in the box!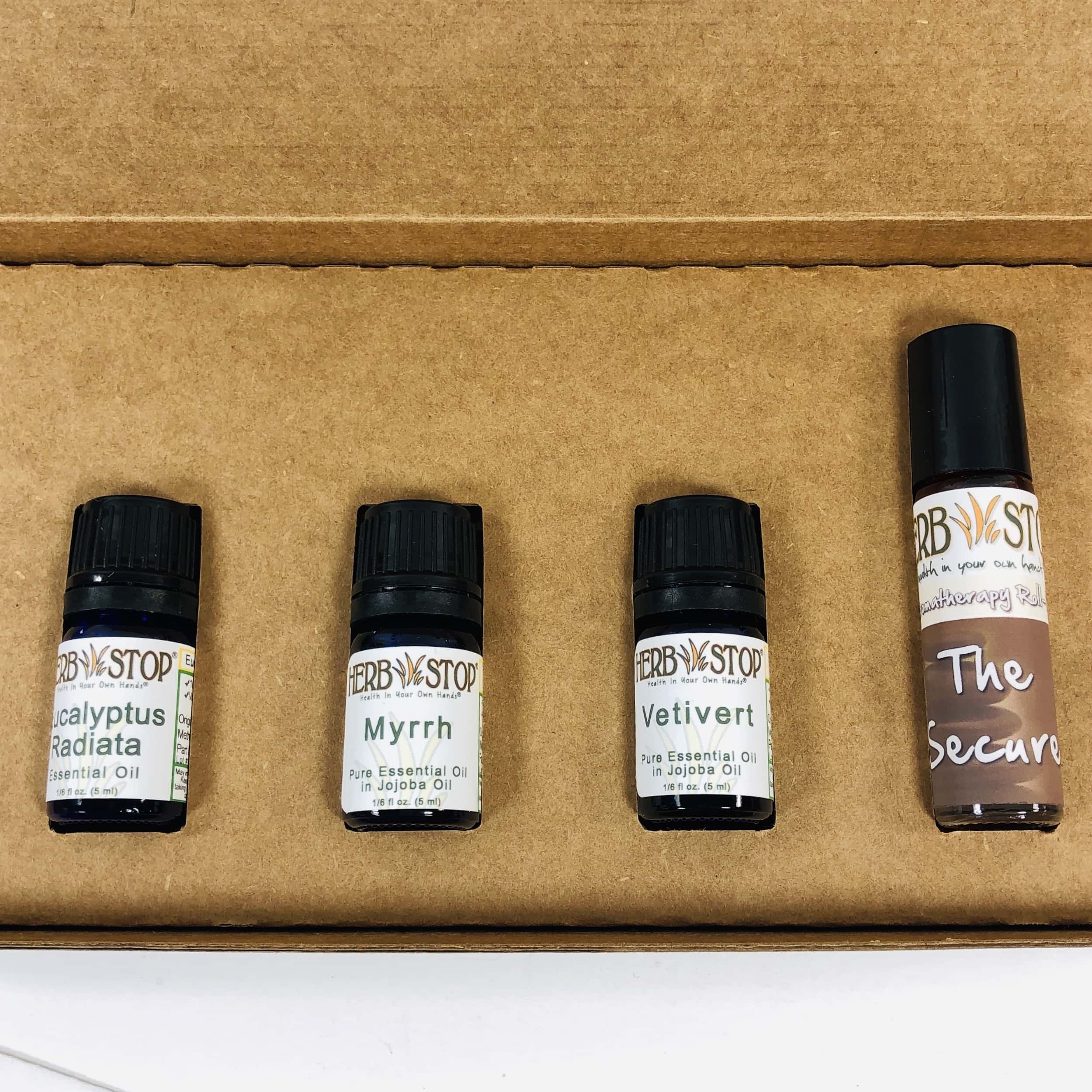 Everything arrived safely! How can you put your new oils to use? "Essential oils can be added to carrier oils, lotions, salves, soaps, massage oils, bath salts, or used in an aromatherapy diffuser. The options are endless!"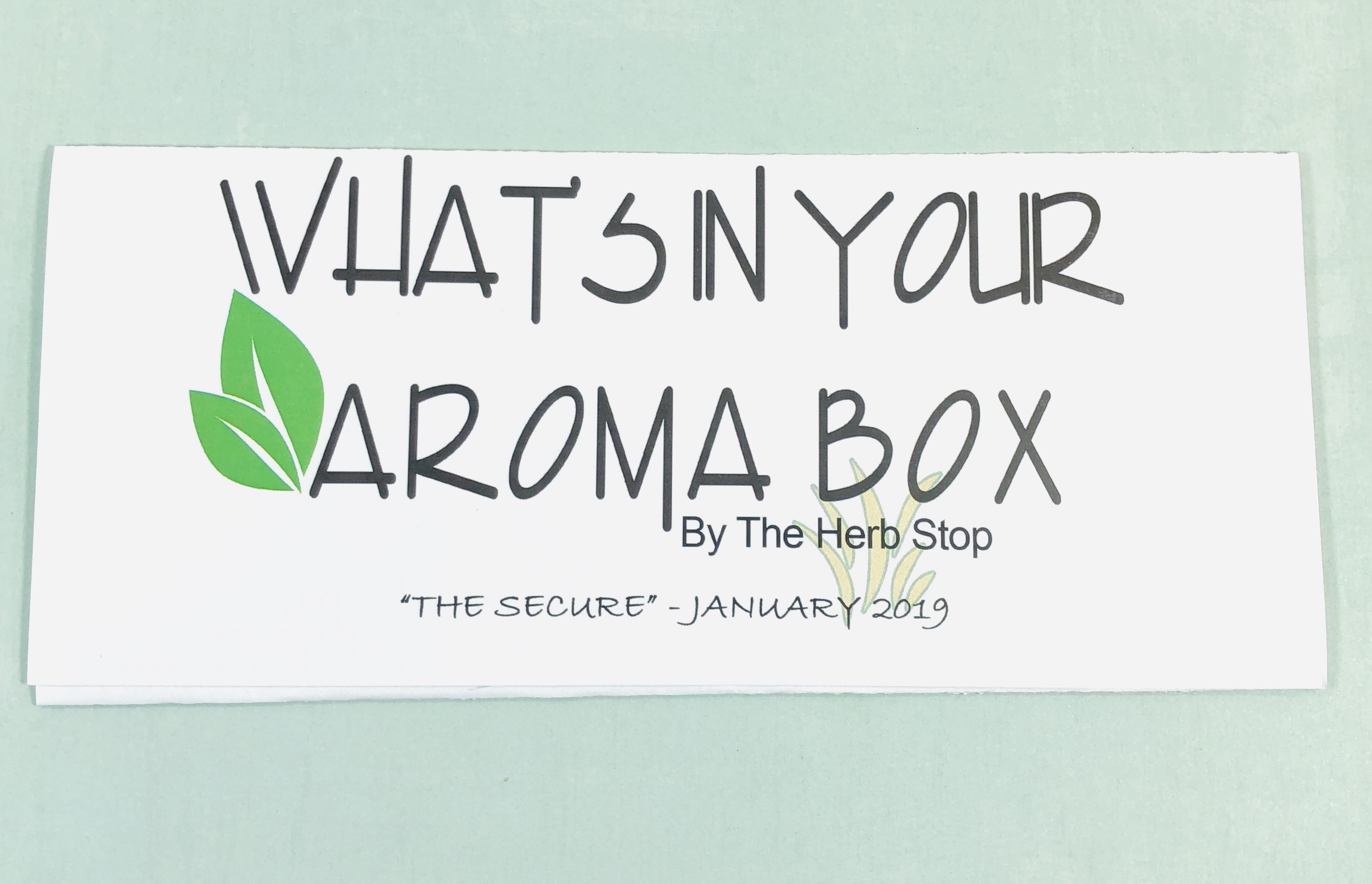 The theme for January's box was The Secure.
The flyer opened up to give more info on each oil. Each oil is described and then it gives you an aromatherapy tip, a tip from Leilah (a Master Herbalist), a tip from Natalie (also a Master Herbalist), and any safety precautions. There is a nice color picture of each herb and the details are easy enough for the newest essential oil enthusiast to understand. I also own an essential oil book that I can refer to but you can always find further uses on Google or Pinterest.
SAFETY NOTE: If you have any health concerns or are pregnant or nursing I would urge you to check with your doctor before using essential oils. The Herb Stop does not endorse the use of essential oils for internal use, unless under the supervision of a qualified practitioner skilled in oral administration of essential oils.
The back of the pamphlet gave info on the featured blend for this month and a recipe for a foot oil. It also had a coupon code for their shop.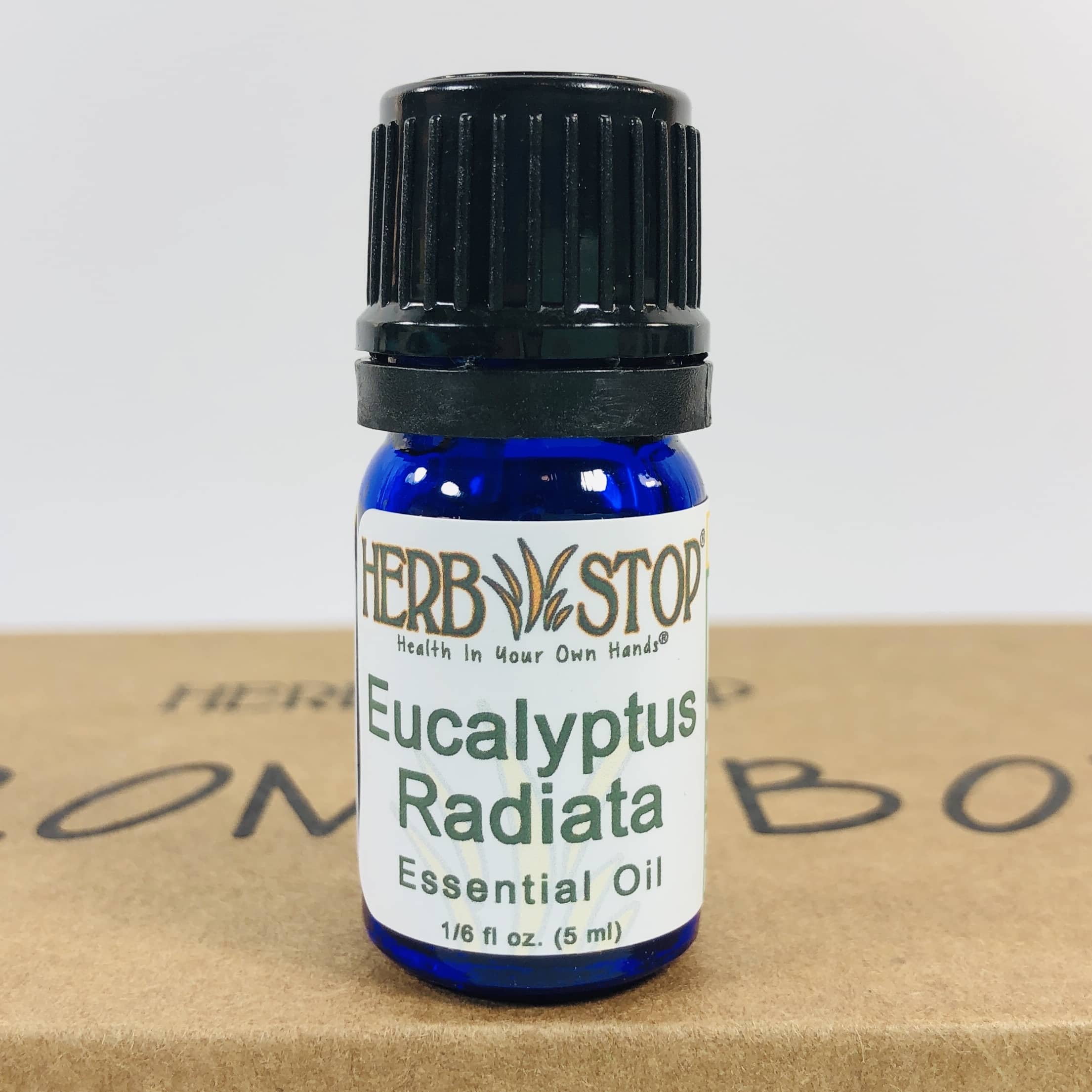 HerbStop Eucalyptus Radiata Essential Oil ($3.03) Who knew there was more than one type of eucalyptus oil available? This is from the Narrow-Leaved Eucalyptus, as opposed to Eucalyptus Globulus, which is from the Blue Gum Eucalyptus. There is also a Lemon Eucalyptus, too!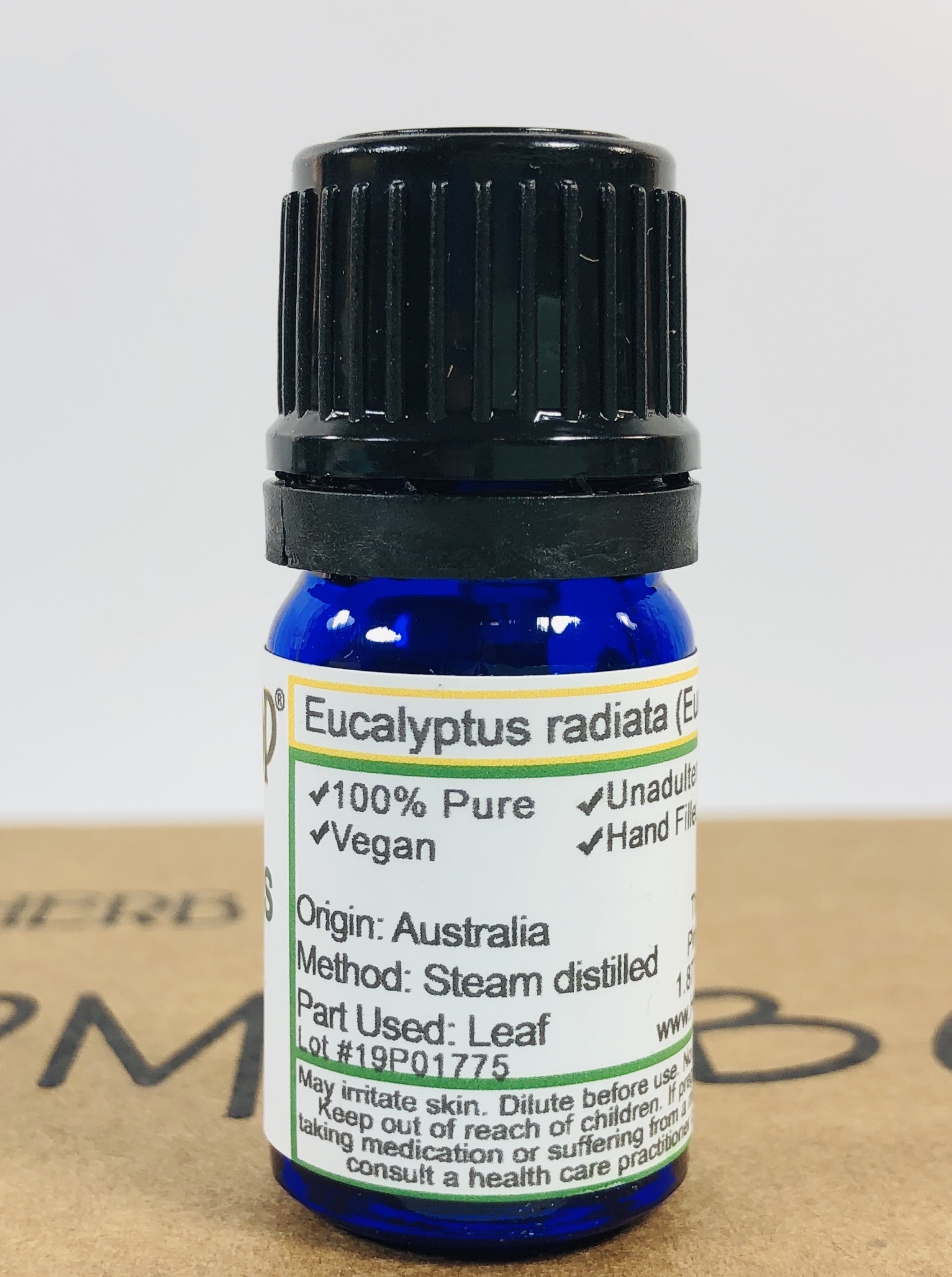 Each bottle has important info, such as the origin of the plant used in the oil, method of extraction, and part of the plant used.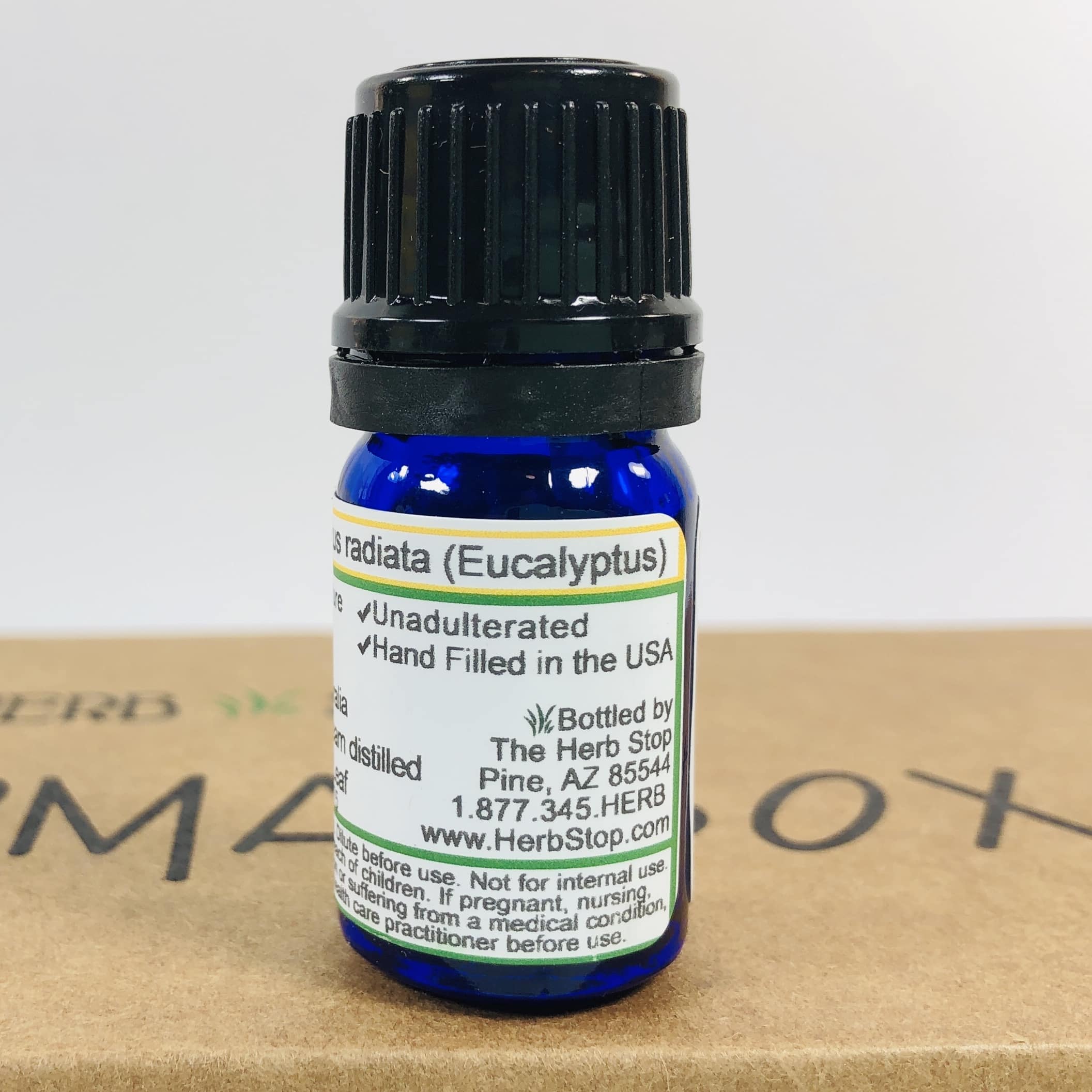 It also lists if the oil is pure or cut with an oil such as jojoba. This one is unadulterated, so it is pure.
The bottles have euro droppers.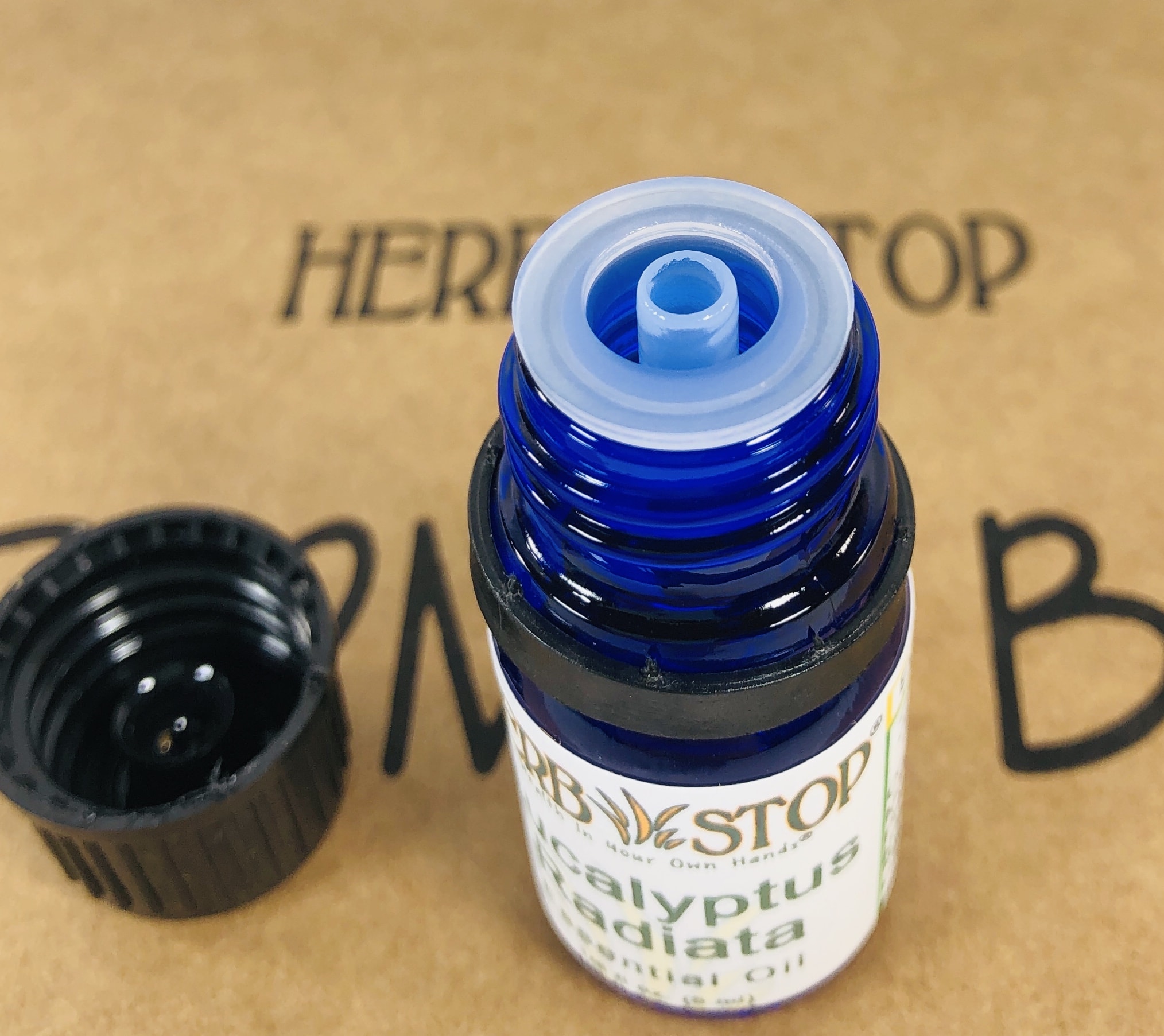 The euro droppers make it easy to remove the drops one at a time, without making a big mess. Eucalyptus Radiata can be used as a muscle rub, just make sure to mix with a carrier oil or unscented lotion. You can also diffuse it alone or in a blend for sinus congestion. The scent is very bold and uplifting and smells like Vicks. My daughter loves koalas and this is what they are supposed to smell like, since they eat the leaves of this tree!
HerbStop Myrrh Essential Oil ($26.80) is cut with jojoba oil, but you will need to dilute it a bit more before using on skin. It is supposed to be good for skin problems and may be anti-aging. Add it to the diffuser with eucalyptus to treat sinus problems and congestion. The scent is earthy, warm, and herbal.
HerbStop Vetivert Essential Oil ($16) I had a hard time opening the myrrh bottle and this bottle was even harder and my husband had to open it! Vetiver comes from Haiti and I often find it in perfumes, and it leaves a weird scent on my body, like Band-Aids! It would go great in a unisex perfume roll-on as it has a deep, earthy, and almost dirty, in a good way, scent.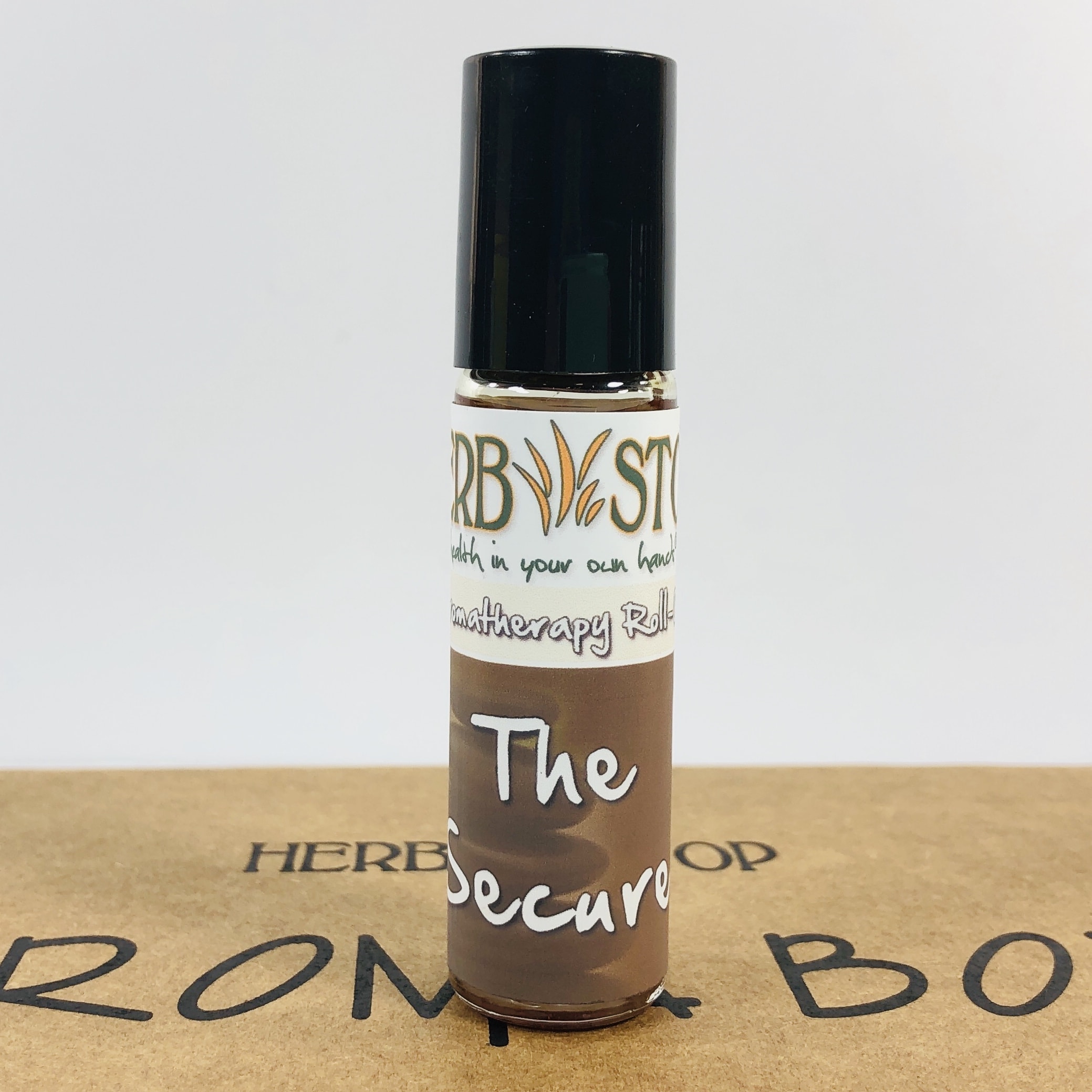 HerbStop Aromatherapy Roll-On The Secure ($16.95) The blends found in the monthly box are not available in the online shop, but there are lots of others to choose from!
Ingredients are Ho Wood, tangerine, Texas Cedarwood, and Atlas Cedarwood in a base of jojoba oil.
The blend is supposed to make one feel relaxed and uplifted. It smells warm and woodsy, with a hint of citrus, which becomes stronger as the other notes fall away. I love it for winter! I appreciate that the blend is ready to roll, so I get immediate gratification as soon as I open my box!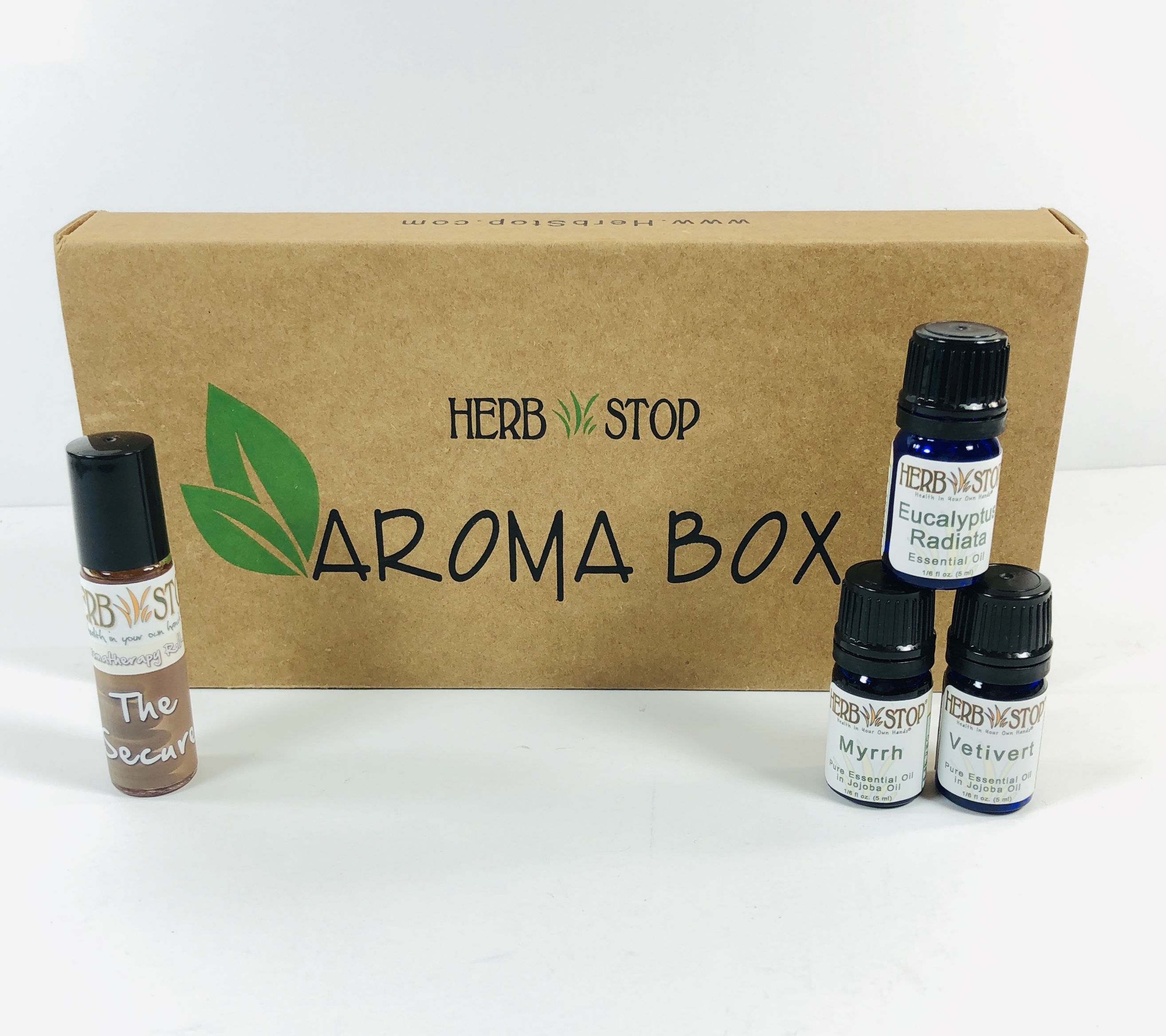 AromaBox is one of my favorite subscription boxes! I love learning about new oils as I receive them, and enjoy finding ways to put them to use. My diffuser certainly gets used thanks to this subscription, but there are other ways to use oils up too. The inclusion of a roll-on means I can enjoy a new scent right away, and I often reach for it at the end of the day, since I like to smell them on my body, but don't want something strong and lingering, like perfume, before bed.
What did you think of the AromaBox?
Visit AromaBox by The Herb Stop to subscribe or find out more!