Grove Collaborative is an eco-friendly subscription service that allows you to quickly pick your favorite high-quality cleaning and household supplies and set up a customized schedule for their shipment to you. Grove Collaborative carries a variety of brands including Method, Mrs. Meyers, Seventh Generation, Preserve, and more, including their own house brand. You can see right on the box that they're a Certified B Corp – this means that they meet certified standards for prioritizing social, environmental, and community wellbeing!
When you sign up for Grove, after your FREE 60-day trial, the VIP membership automatically renews for the $19.99 year rate. See more on that below!
DEAL:
Free Mrs. Meyer's hand soap & $10 credit! USE THIS LINK to get the deal.
OR When you start your subscription with a $20 purchase you'll get a new subscriber Mrs. Meyer's New Year's Set FREE.
OR Sign up with this link and you will receive a free Seedling Set with paper towels, bath tissue, and face tissue with your $20 purchase.
You might also qualify for additional free bonuses depending on your order size!
EXISTING Subscribers: Get a free Grove walnut scrubber sponges – just use this link! (Tip – check and make sure you aren't logged in, then click the link, then log in)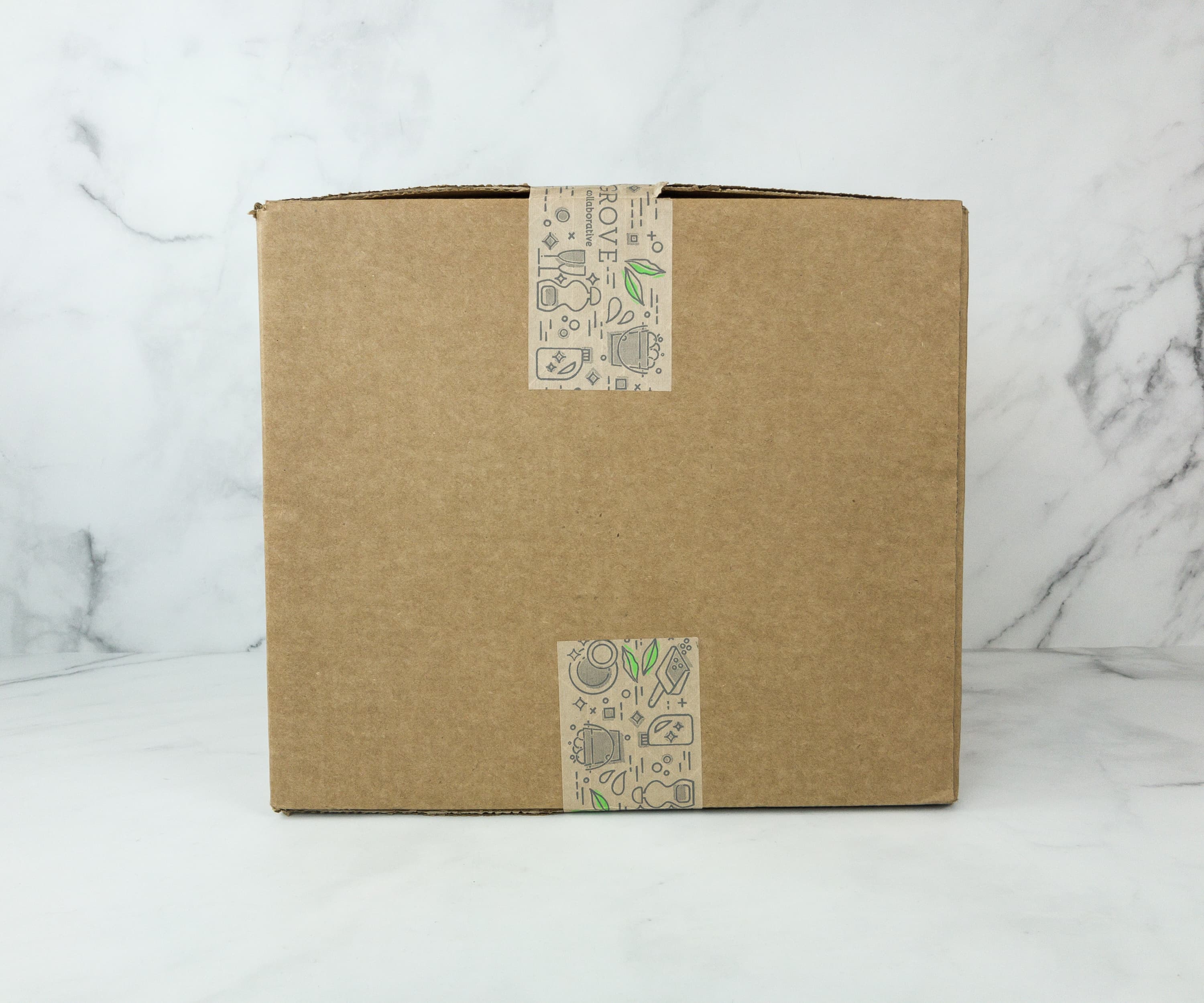 Here's how Grove Works:
Your bundle will ship every 30 days, with items selected based on your use frequency. You can switch this around at any time.
You'll pay the cost of the products (you can see the details on every product on the Grove Collaborative site), plus a $2.99 shipping charge.
It's super easy to skip, move around your dates, and change your products!
Your bundle needs to meet the order minimum! $10 for the regular automated shipment, $15 if you select Ship Now and you're a VIP Member, $30 if you select Ship Now and you're not a VIP Member.
The VIP membership fee is $19.99 annually. When you sign up you'll get a 60 day free trial to see if it's right for you.
With the VIP membership you'll get early access to exclusive and new items, extra bonuses, and more!
If you don't want the VIP membership, you'll be reminded via email before its charged – just be sure to follow up that you're not interested.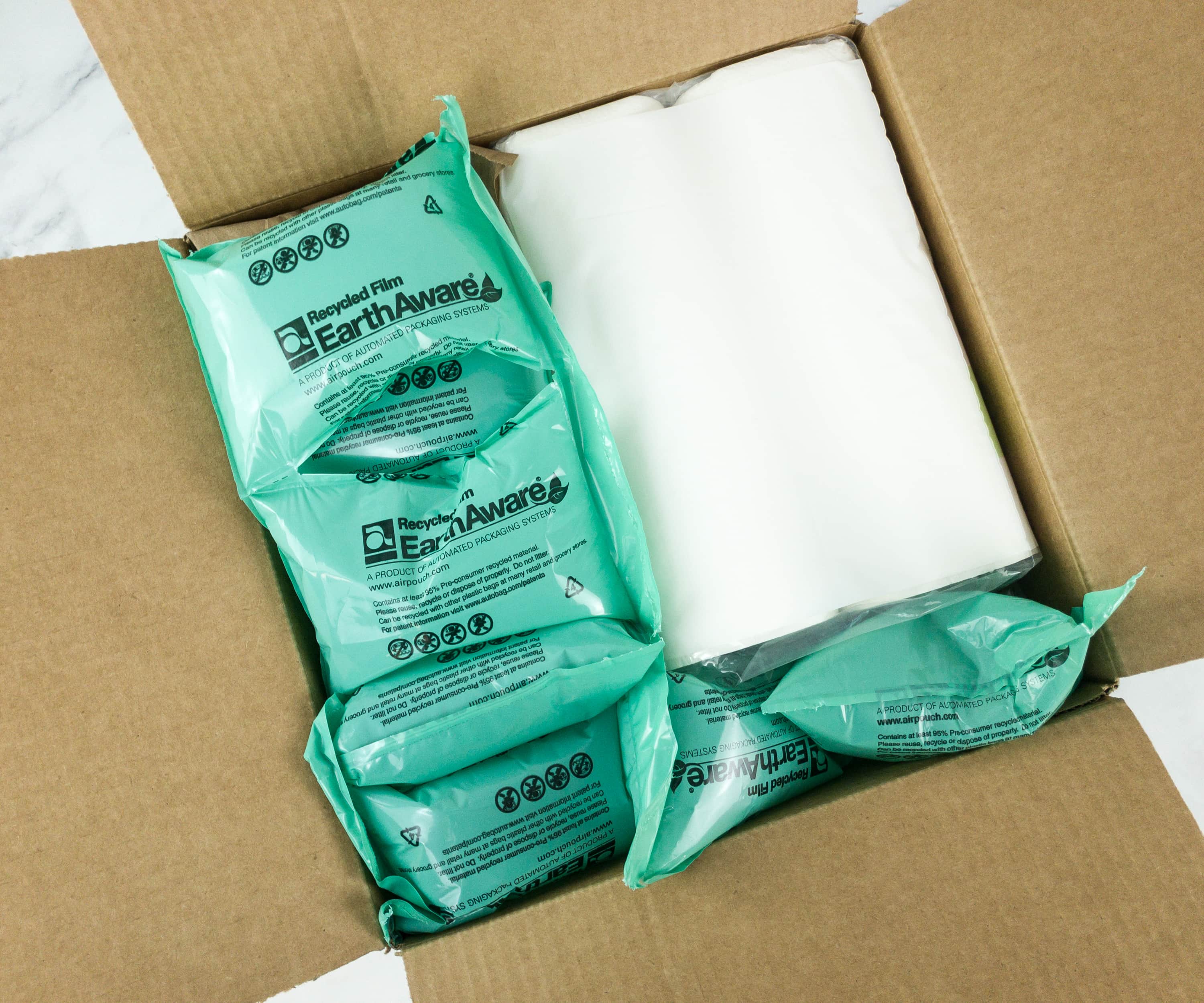 Our box was filled to the brim!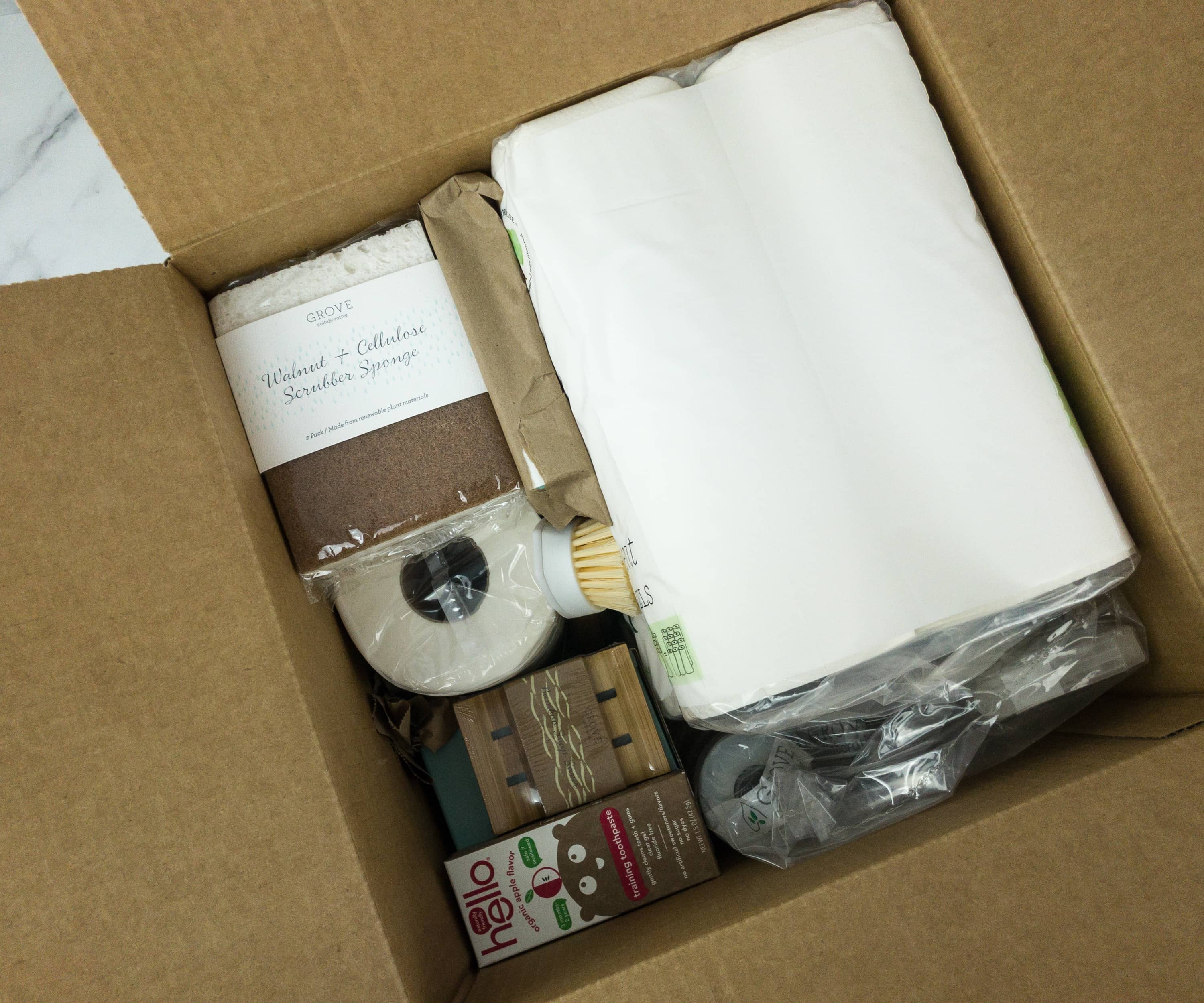 The liquid items were secured in their containers properly and there's no leakage. They put adhesive tape on top of the pumps to avoid unnecessary or accidental pressing.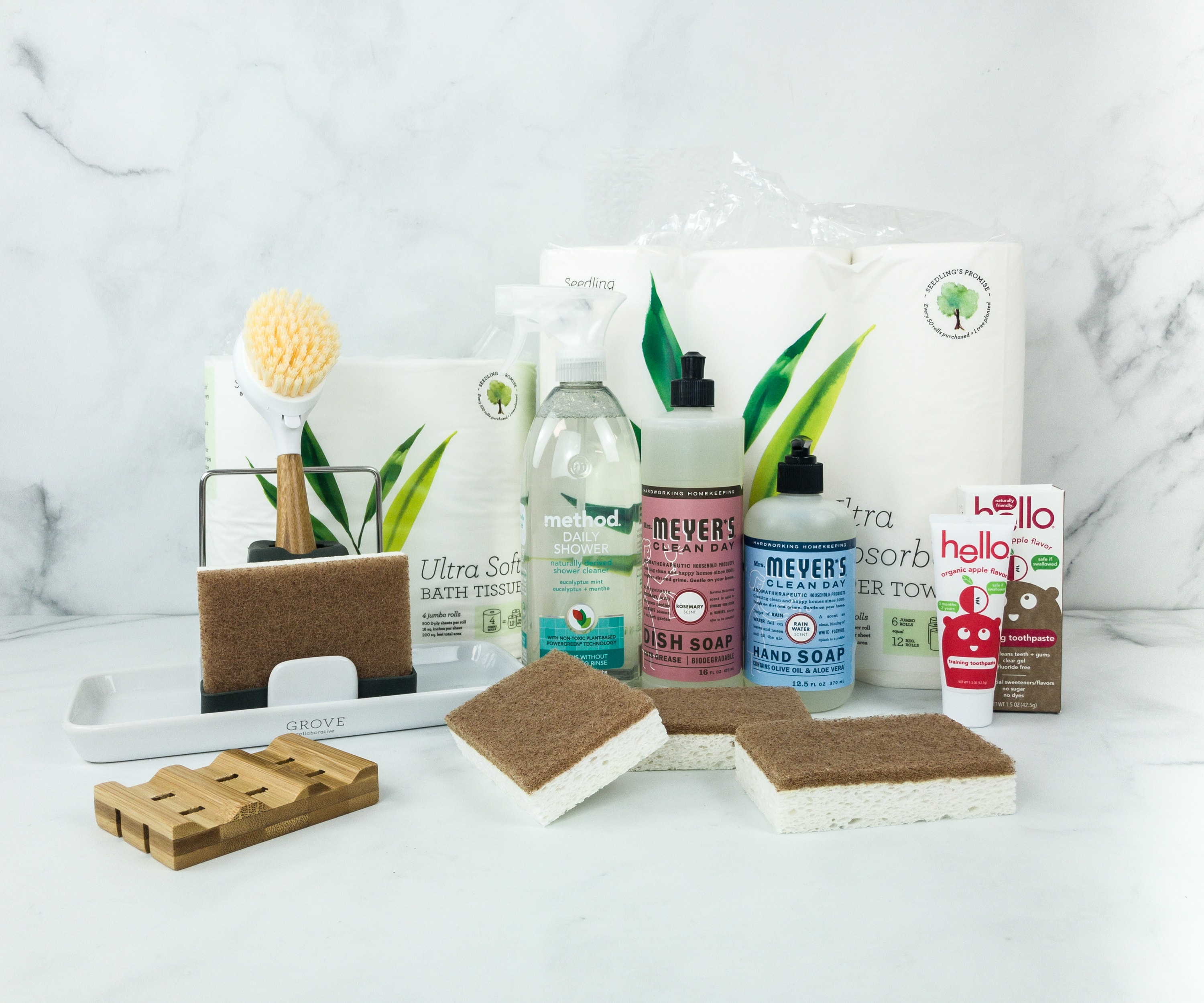 Everything in my box, which includes both the FREE Seedling set and my household purchases.
The free gift includes:
Seedling by Grove paper towels (2 pack)
Seedling by Grove bath tissue (4 pack)
Seedling by Grove facial tissue (1 box)
FREE VIP Trial & Free Shipping
You'll get this set FREE with a $20 purchase when you sign up with this link!
Seedling by Grove Collaborative Tree Free Paper Towel (6 Pack) ($9.95) First on the list is this pack of 100% tree-free paper towels. Its two-ply construction allows the absorption of more water spills without breaking down.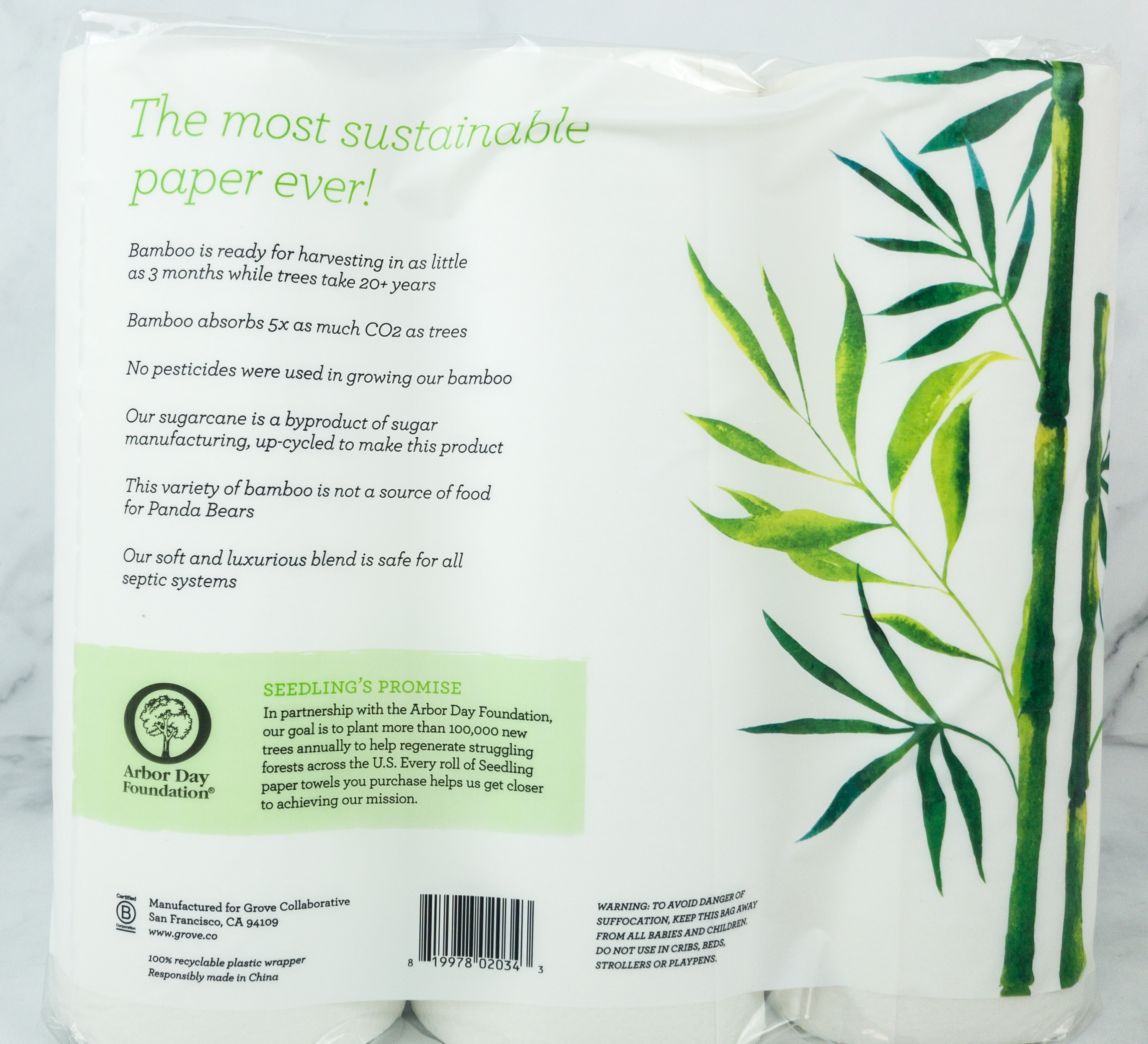 As part of the eco-friendly collection, Seedling by Grove Collaborative makes sure that they always take the environment into consideration through their elemental chlorine-free bleaching process. Moreover, every cube sold goes towards reforestration efforts in the US.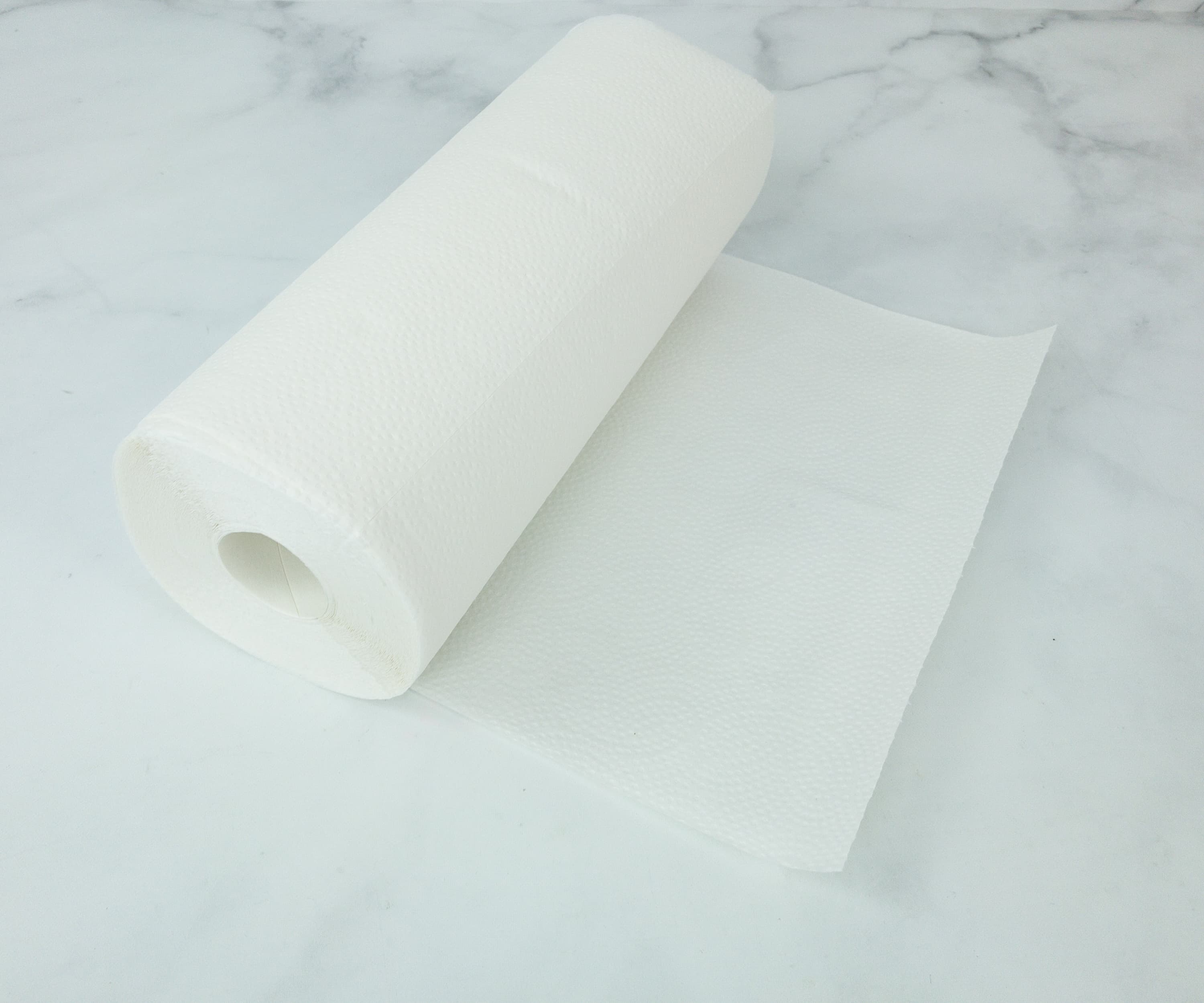 These snowy-white paper towels are made from bamboo pulp which is highly absorbent and can hold 3x its weight in water, no wonder it's a reliable cleaning aid. Other than that, each roll has 75 large sheets, which is equal to 150 normal sheets!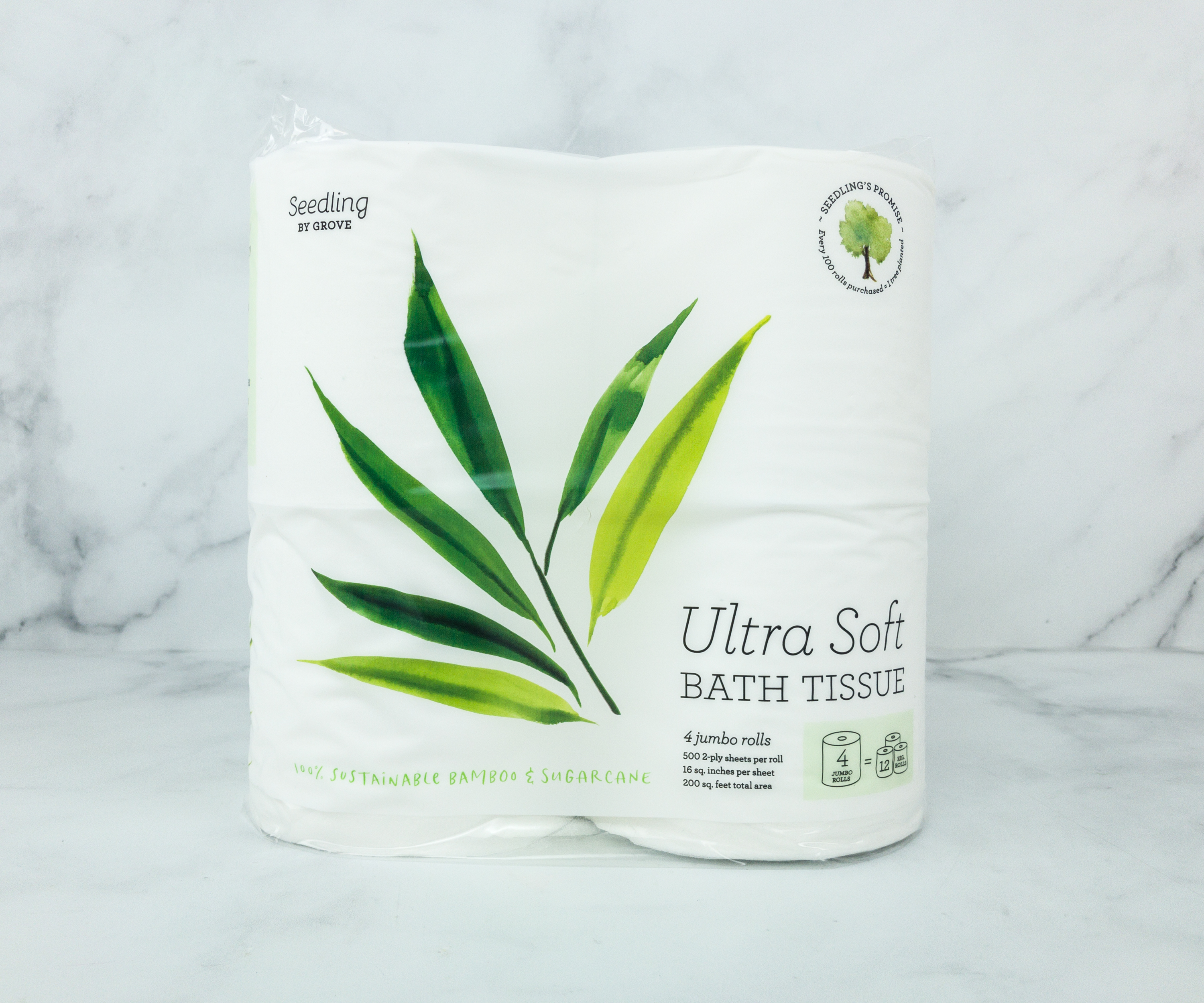 Grove Collaborative Tree Free Bath Tissue (4 Roll) ($3.95) If you prefer smaller cuts, they also have it in a four-roll pack. I feel great about using these because the weaving is so tight that they absorb a lot and hold up to use.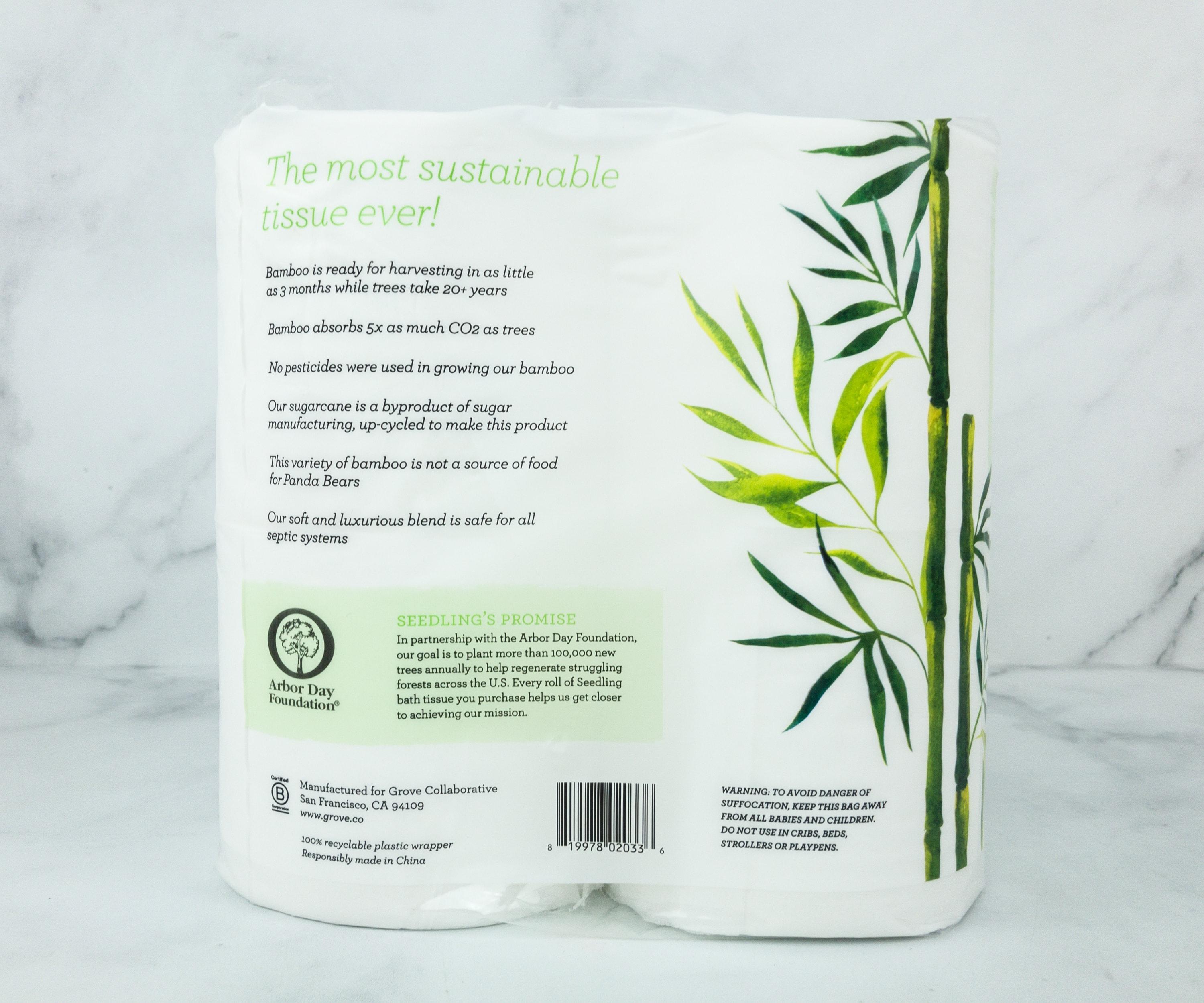 The label at the back indicates their advocacy on reforestration and how eco-friendly these paper towels are. They truly deserve recognition for that!
It's very soft and smooth! The plies do separate, FYI!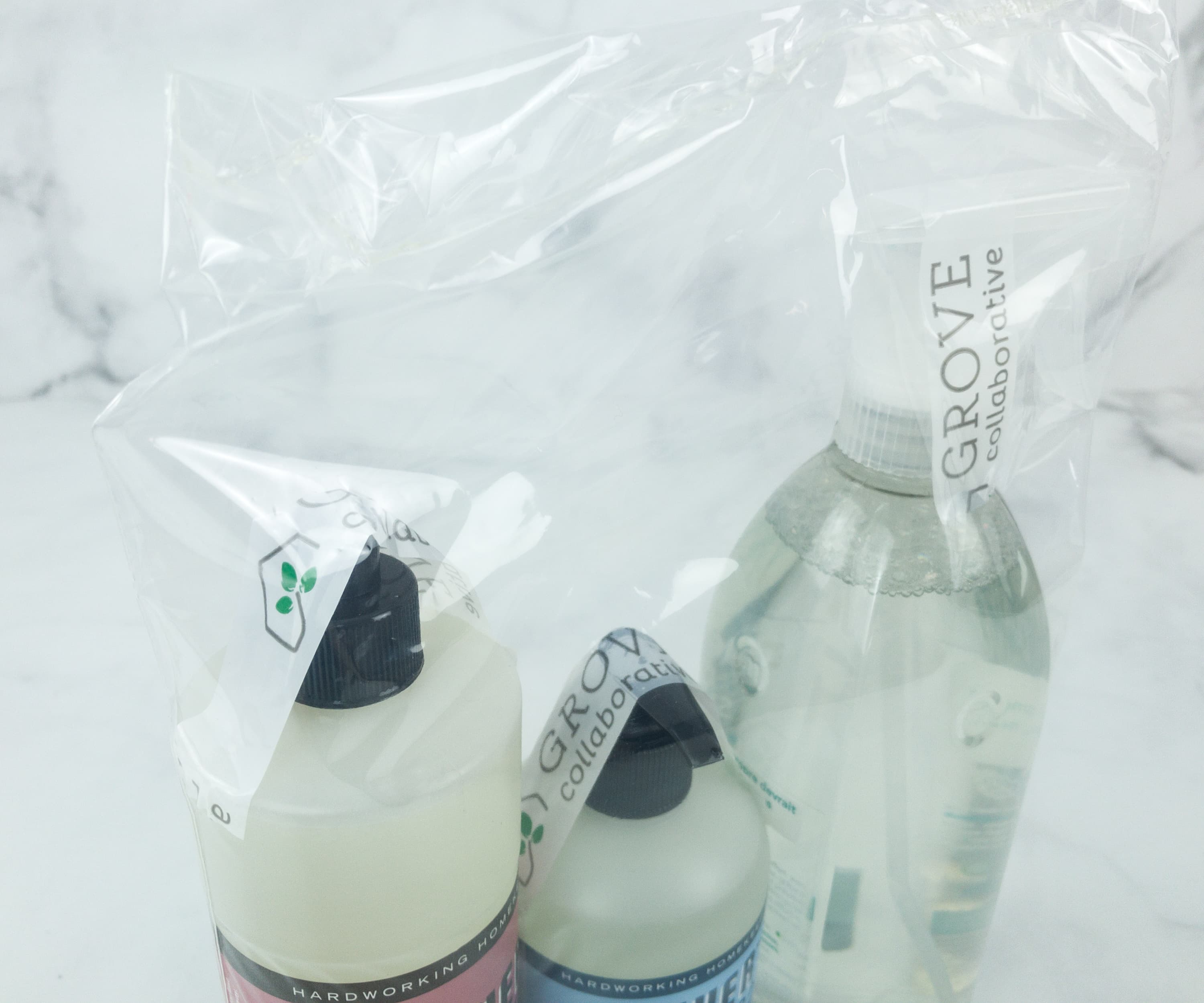 Here's the perfect kitchen and bathroom trio: Mrs. Meyer's hand and dish soap, along with Method Daily Shower Spray.
Mrs. Meyer's Hand Soap in Rain Water ($3.89) Grove is the first to introduce the newest scent from Mrs. Meyer's Clean Day: Rain Water!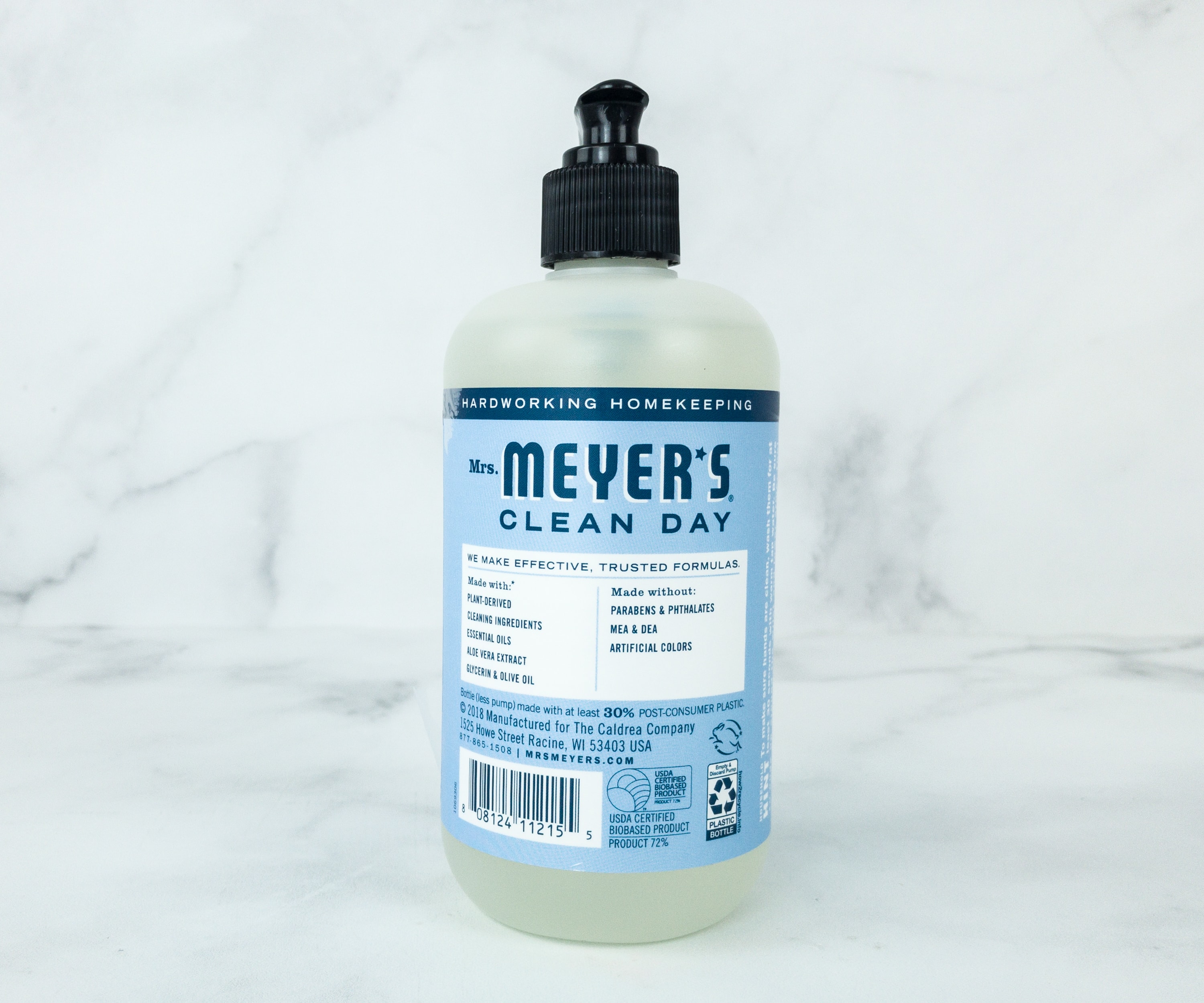 This hand wash was made without parabens and phthalates so it's gentle to the skin. It also contains essential oils and plant-derived ingredients giving it a perfect, light clean scent, that leaves a soothing feeling.
Mrs. Meyer's Dish Soap in Rosemary ($3.89) It's not your ordinary dish soap. It's rich, thick and makes grease disappear like nobody's business!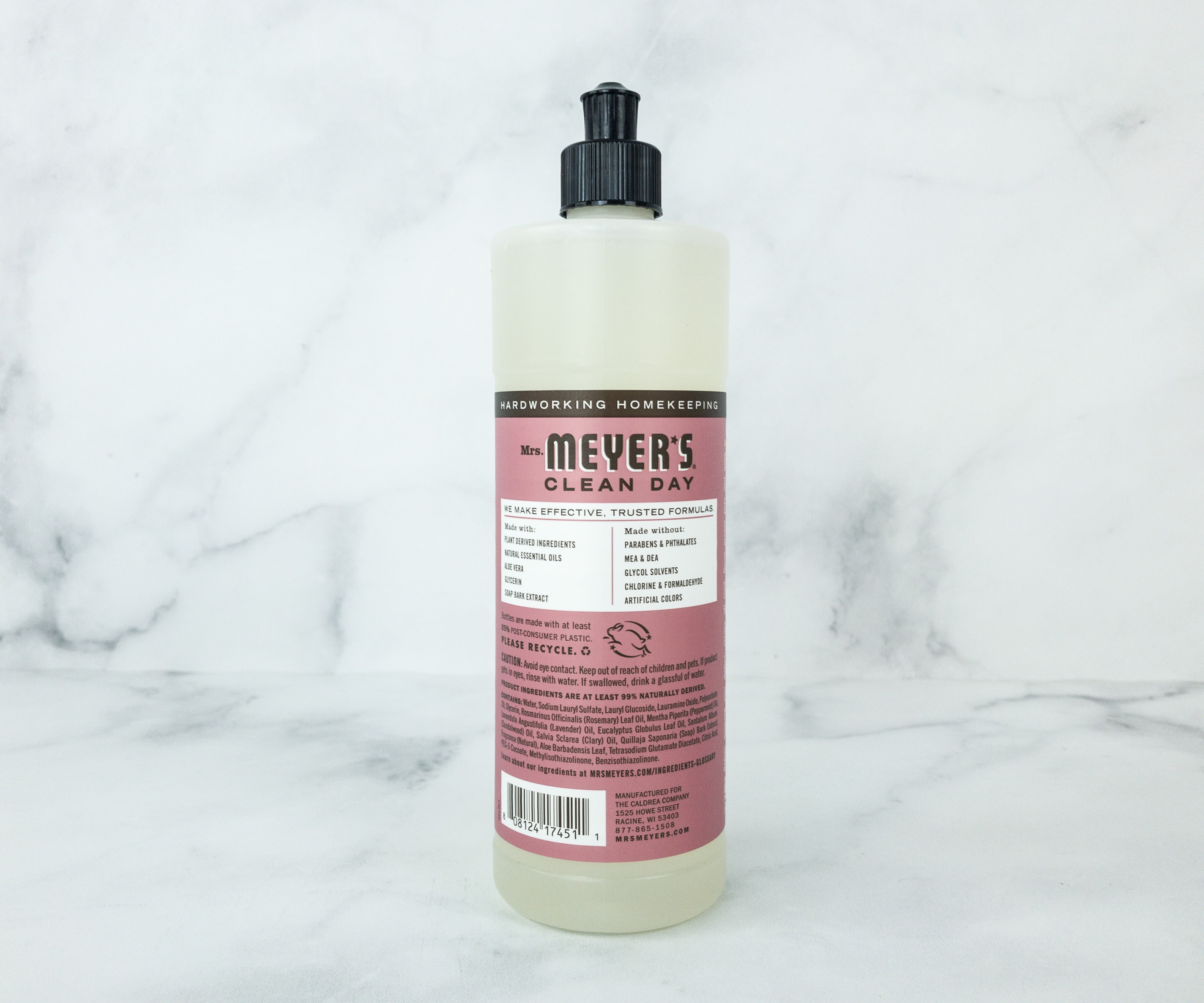 The ingredients are at least 97% plant-derived, including water content, which brings me to say that it's tough on germs, but gentle on skin. All it took is one or two squirts to clean my stack of dishes. We cannot live without it!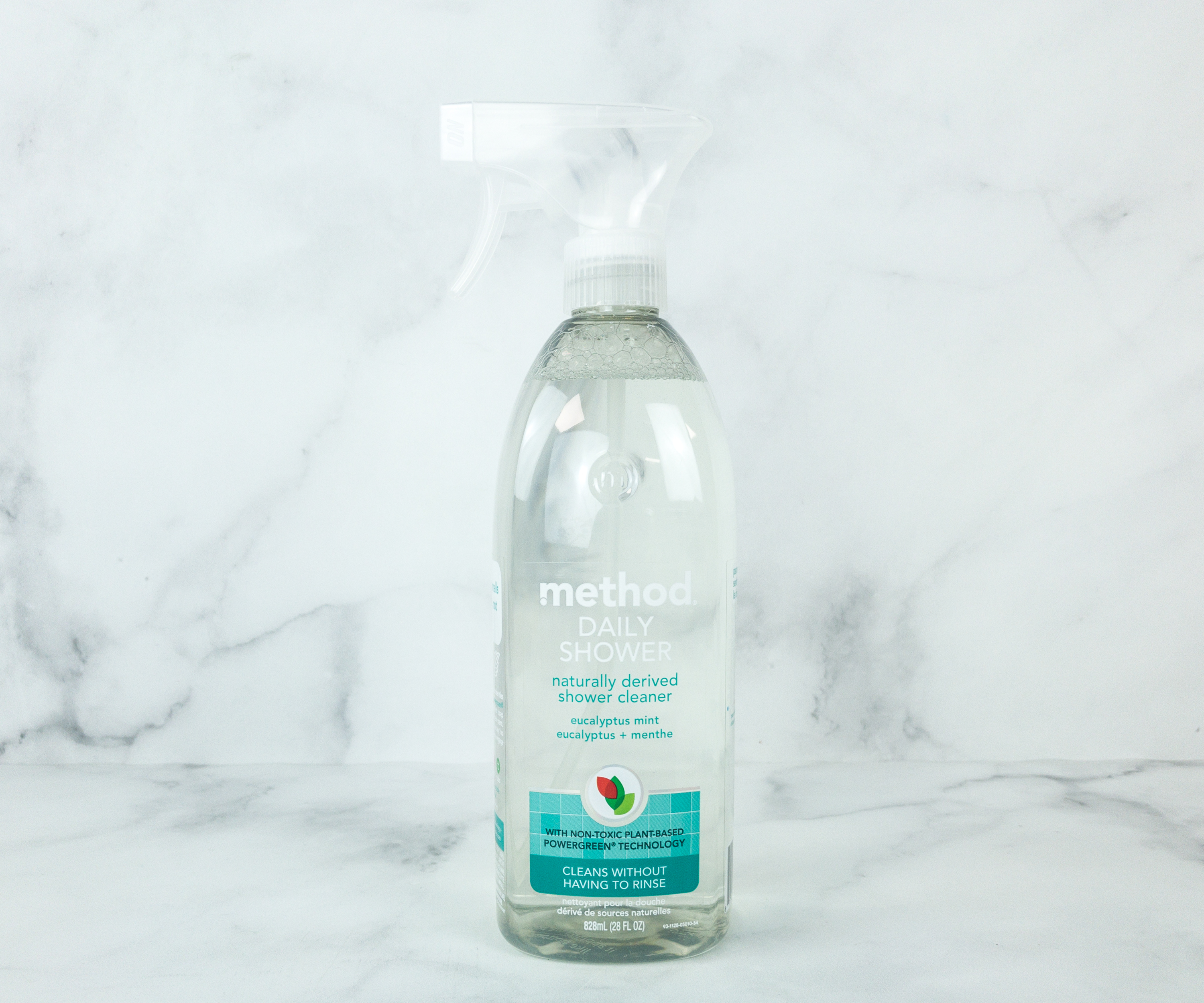 Method Daily Shower Spray in Eucalyptus Mint ($2.99) The scent can be so inviting, so I must warn you, it's not for the body! This shower cleaner leaves the bathroom squeaky clean and smelling terrific.
The eucalyptus mint aroma of this cleaner always makes me want to sing in the shower. Also, knowing that I won't have to scrub so hard to remove all the creepy residue, I might even set-up camp in my bathroom! We have a new bathroom with giant glass doors in our showers, and it really. works. It's amazing!
Grove Collaborative Sink Caddy ($14.95) For space-saving sink organization, a sink caddy is the best idea, and when I saw it, I knew I had to grab it!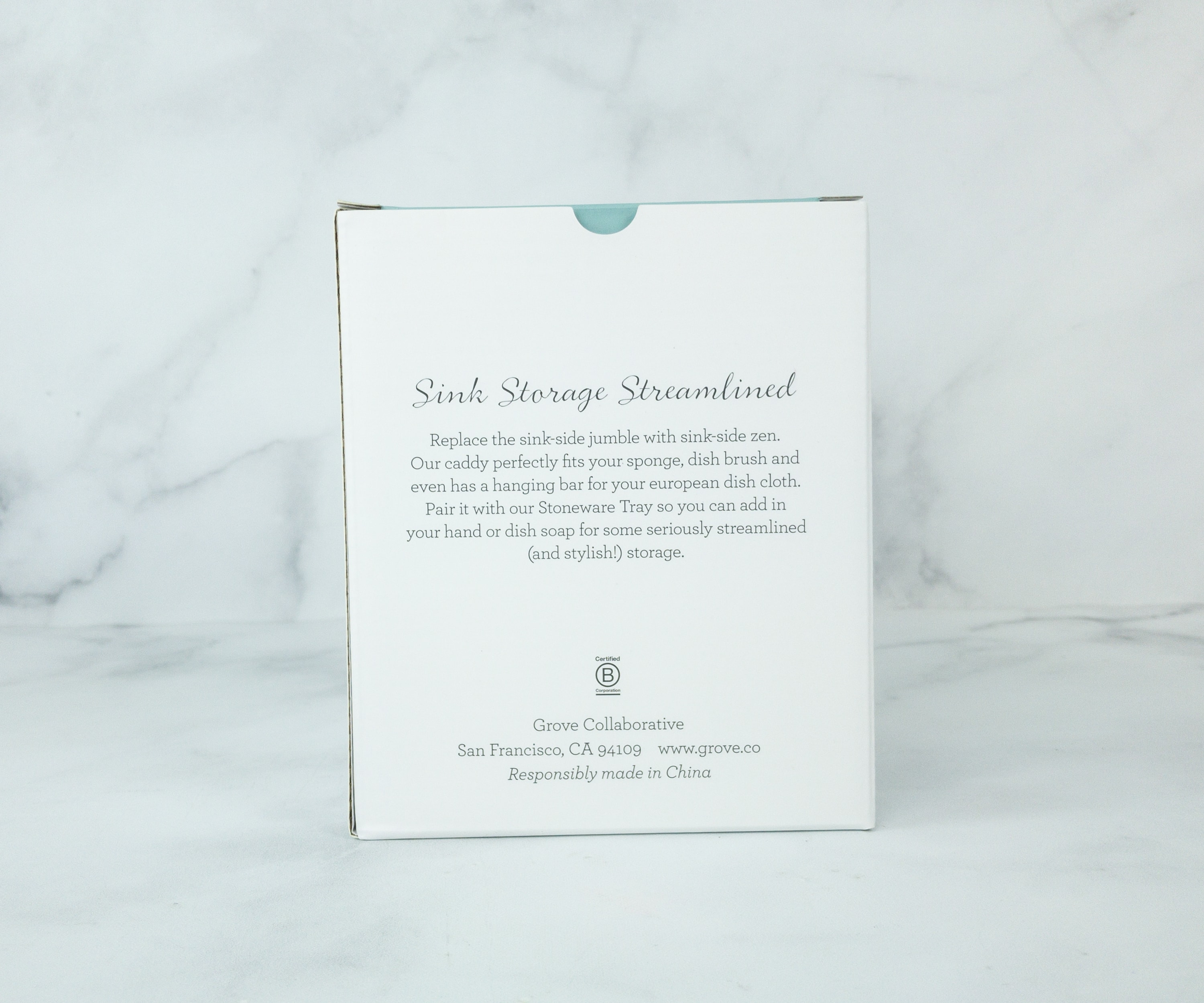 I actually picked this up as part of the money saving caddy-tray-dish brush set.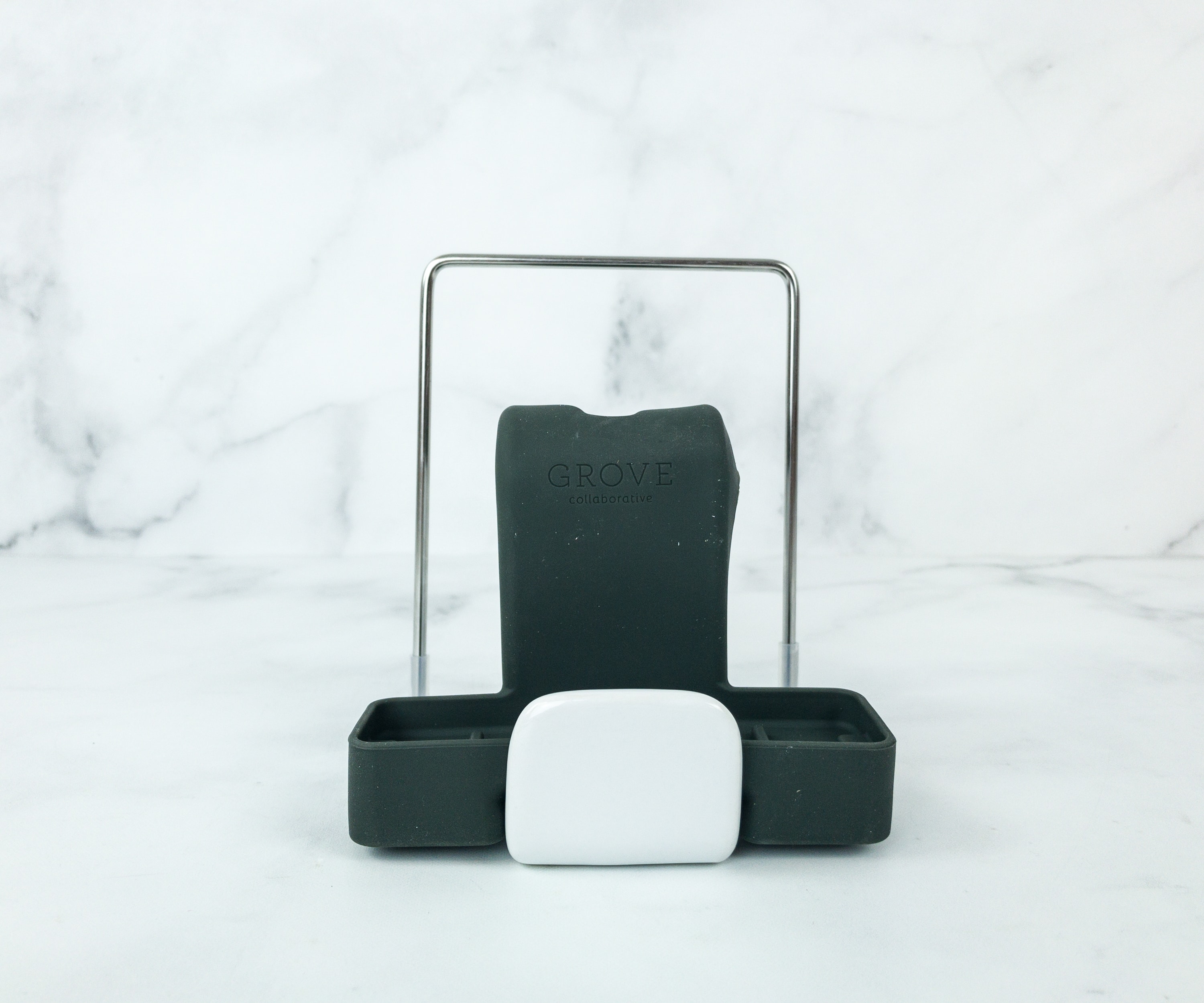 For me, it works great with the modern stone tray. It prevents water from getting all over the kitchen counter and I can think of more than ten different ways to use it!
Grove Collaborative Modern Stoneware Tray ($9.95) To prevent any damage from shipping, they wrapped the stone tray with a brown paper (which is also eco-friendly). That's some pro-packaging tip there!
Of course, they didn't forget to tuck it in their custom-made, rectangular, white box before wrapping.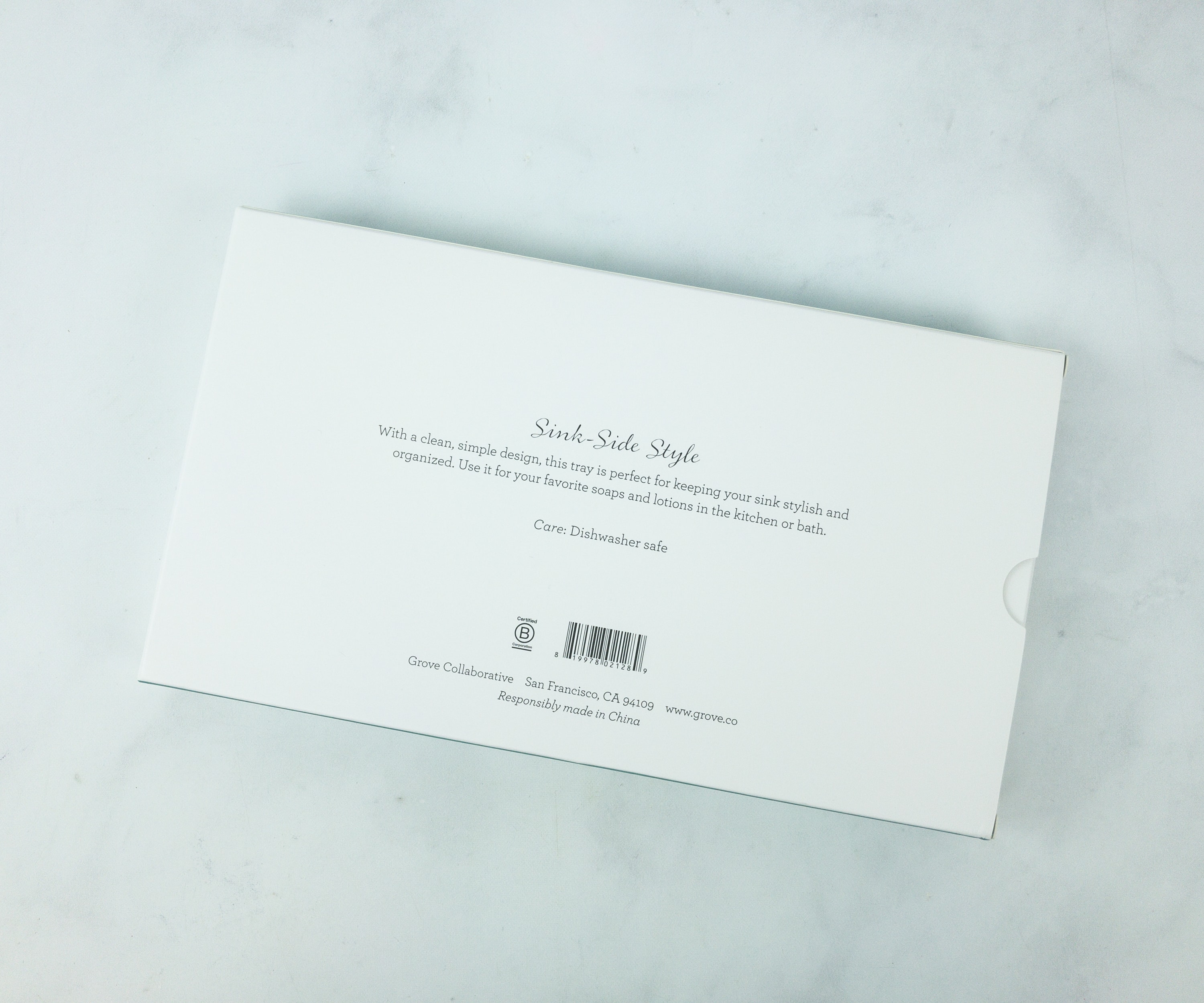 Always check the info label at the back. They're helpful!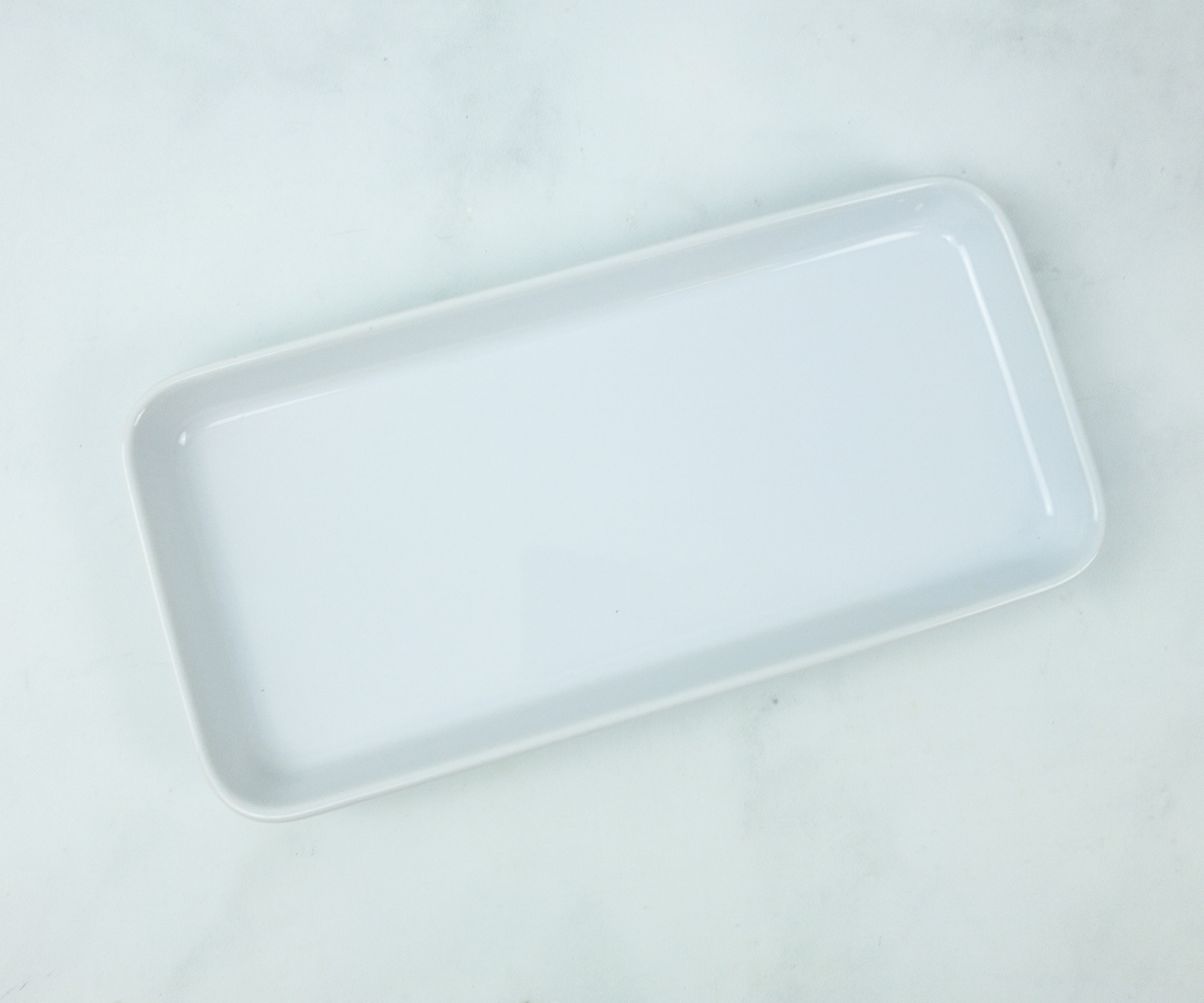 I was surprised by the way this tray fits my kitchen counter. Other than its neutral color, the rectangular shape also keeps the sink organized in style.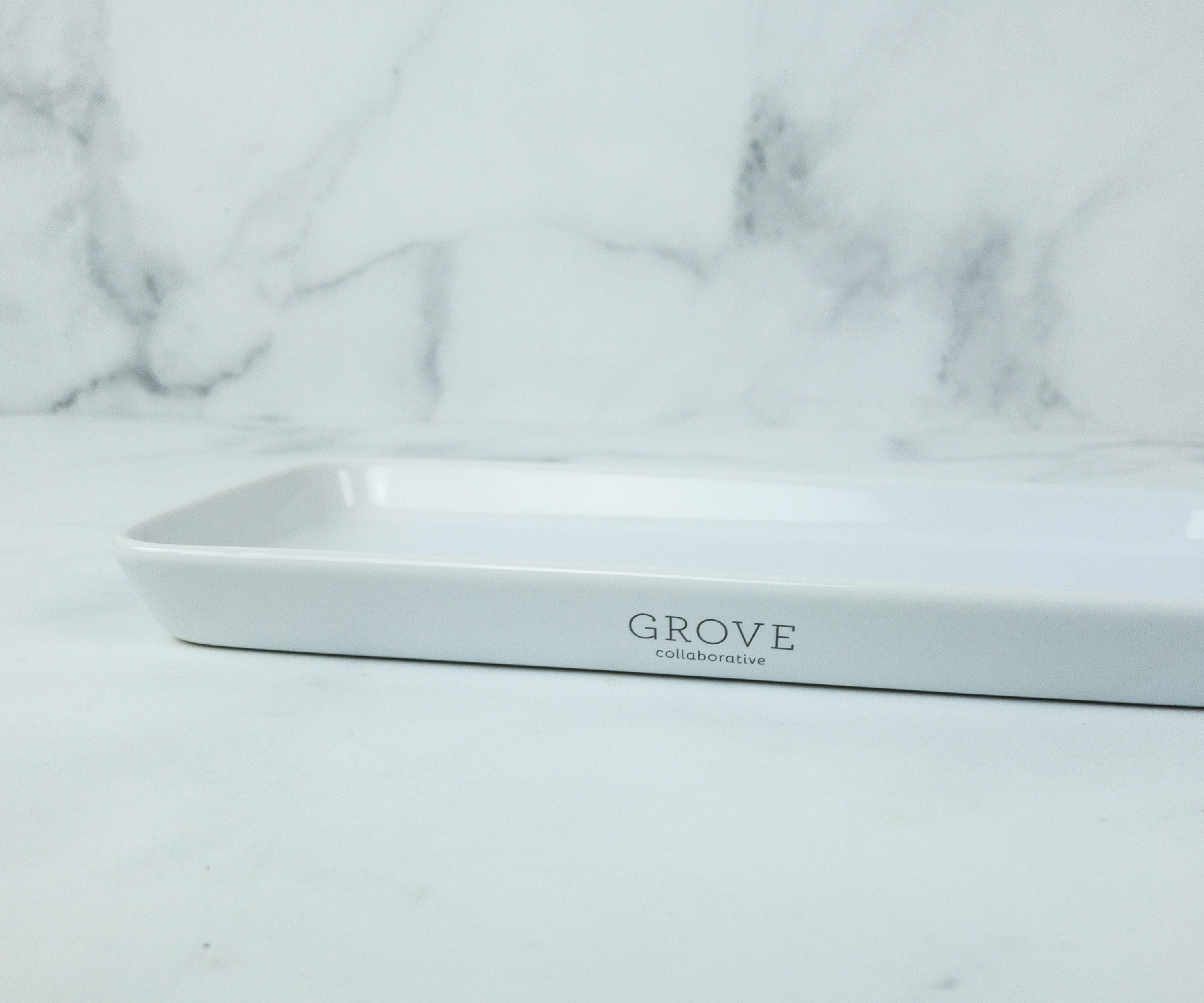 Simple, elegant, and modern. I adore it!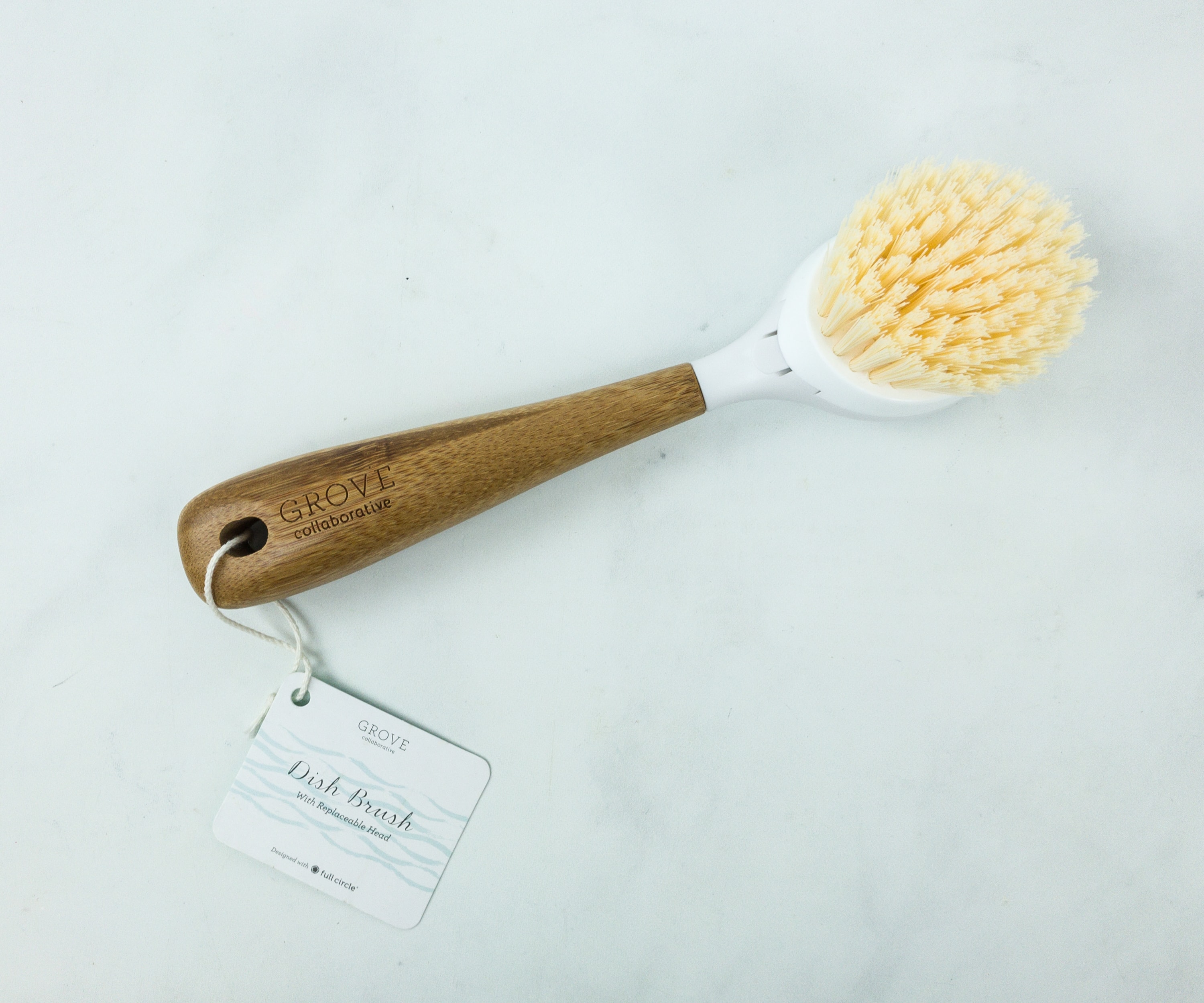 Grove Collaborative Replaceable Head Dish Brush ($6.95) Calloused hands from cleaning days are over. I have found the dish brush of my dreams! Believe it or not, it's super durable and my hands worked comfortably with it.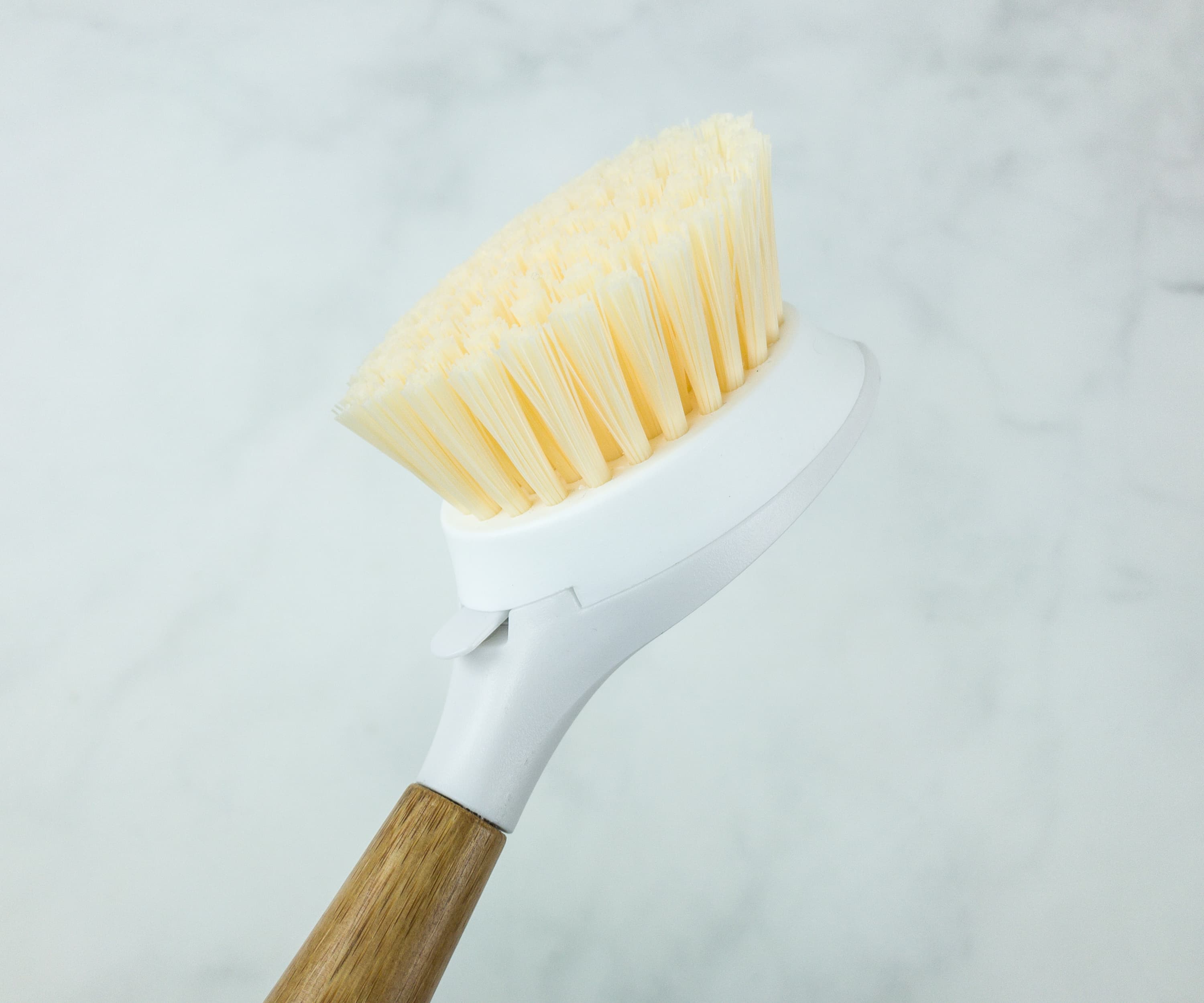 That's not all! The head is replaceable. Yes, that's right! A brush with a longer life-span, eco-friendly bamboo handle and curved bristles for effective scrubbing altogether. Excellent! The head didn't come off easily and we were a little afraid to really yank it off to test it, that it may not go back on after removing. We'll report when it's time to replace!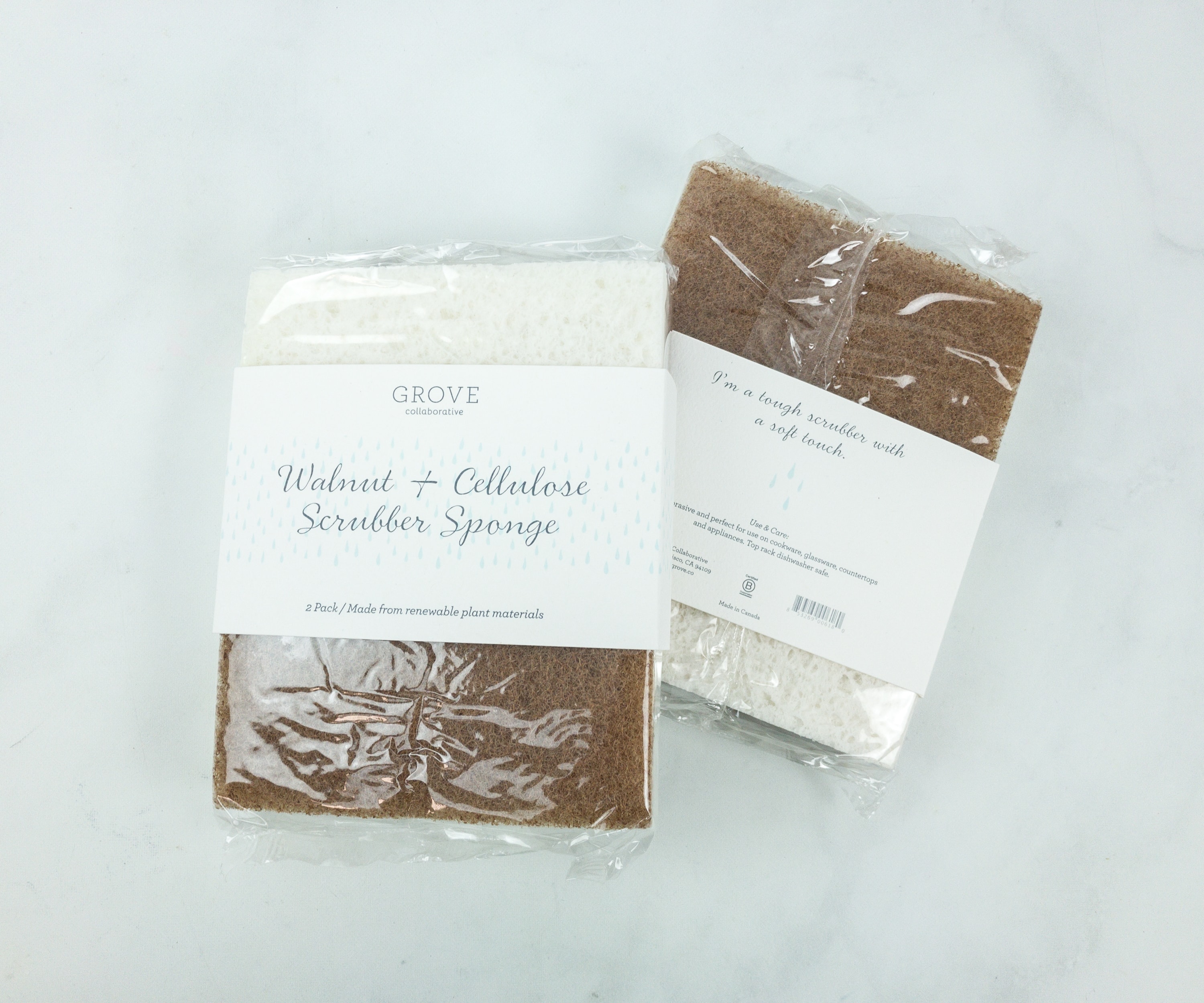 Grove Collaborative Walnut Scrubber Sponges ($3.95) What's unique about this sponge is that it's composed of crushed walnuts, providing a non-toxic, hypo-allergenic and non-abrasive way to tackle tough messes on dishes. However, it's not suggested if you have nut allergies.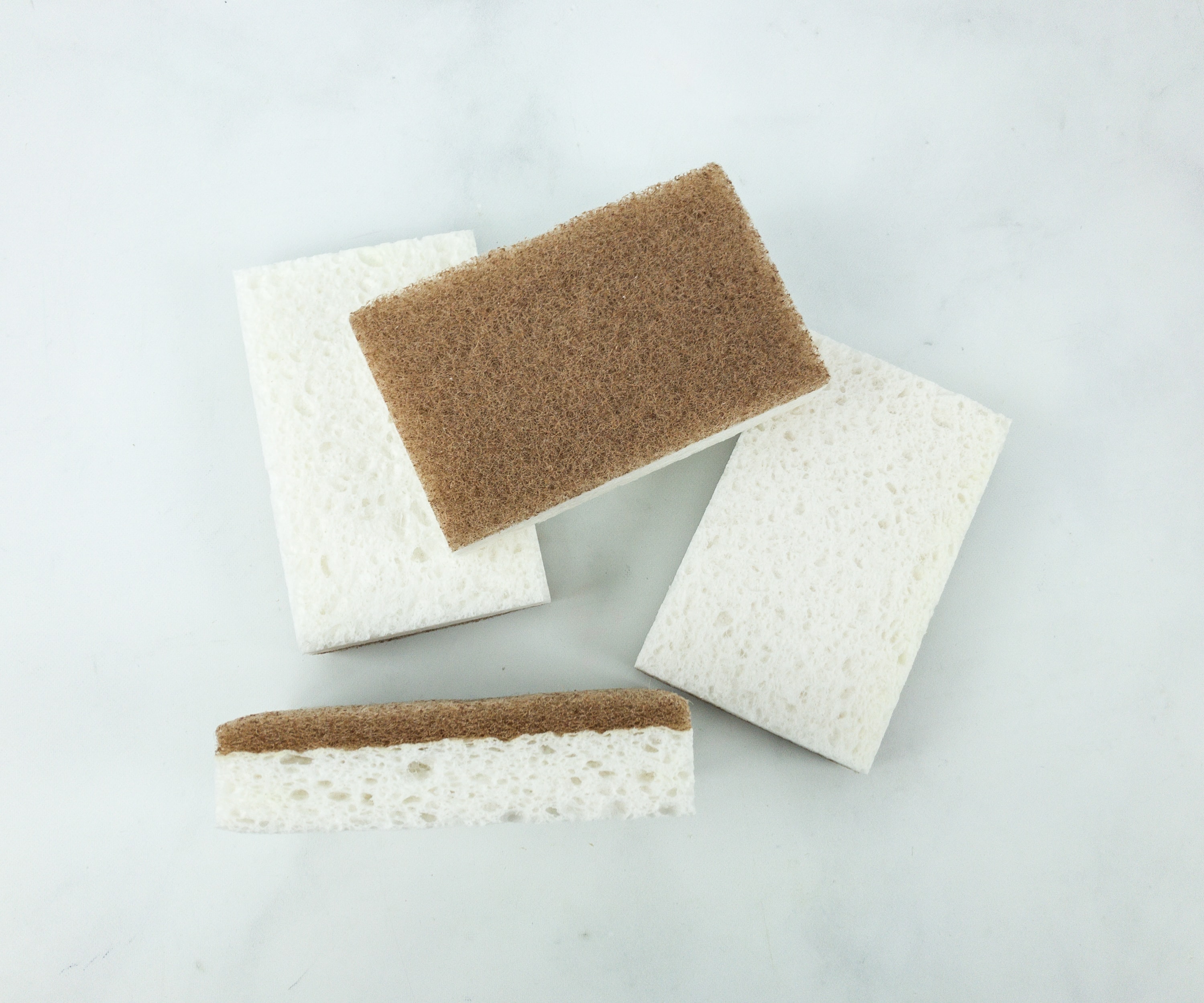 Natural vegetable cellulose was used to create this sponge and it still amazes me.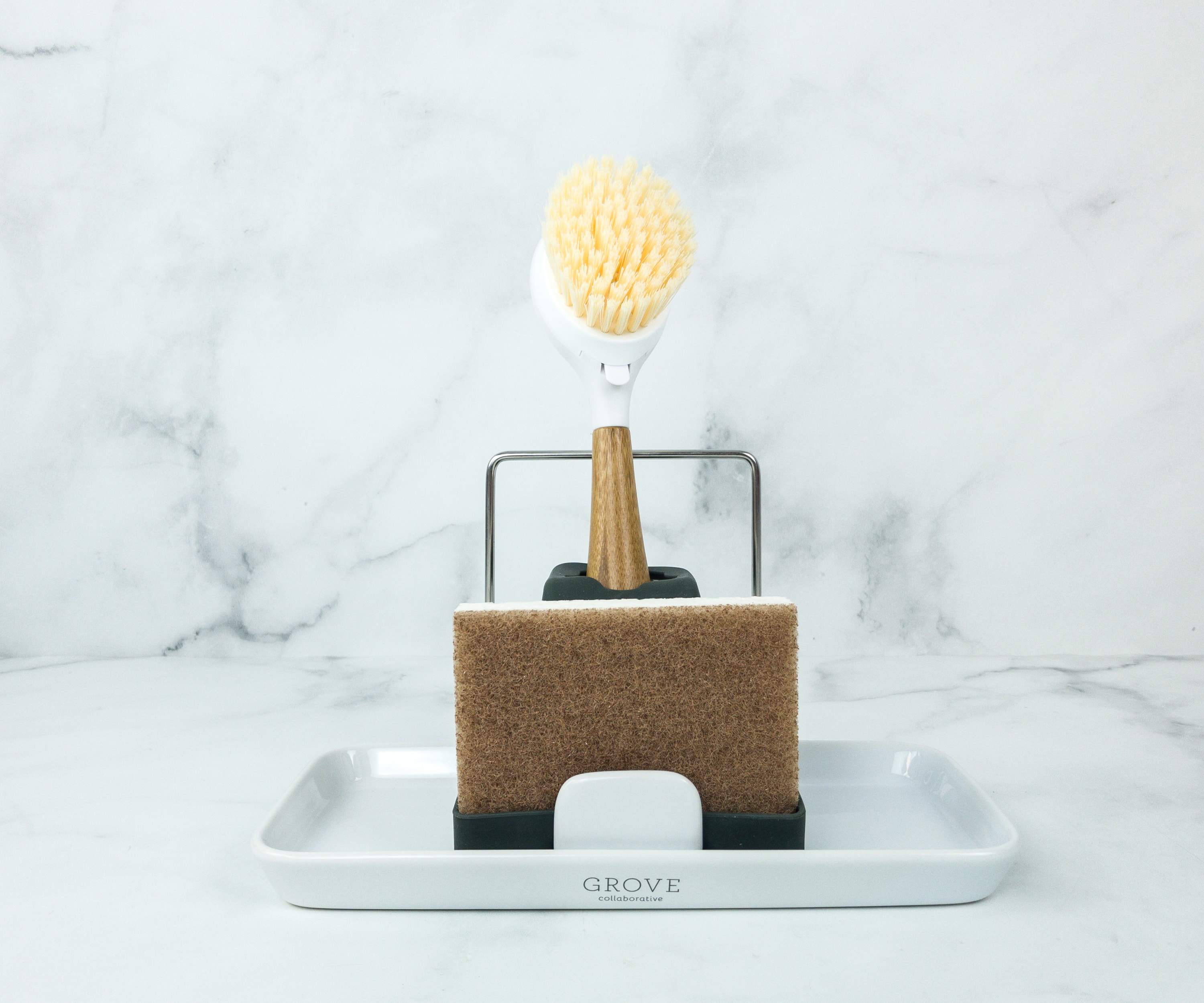 Look how lovely each item complements the other. This is one way to organize them.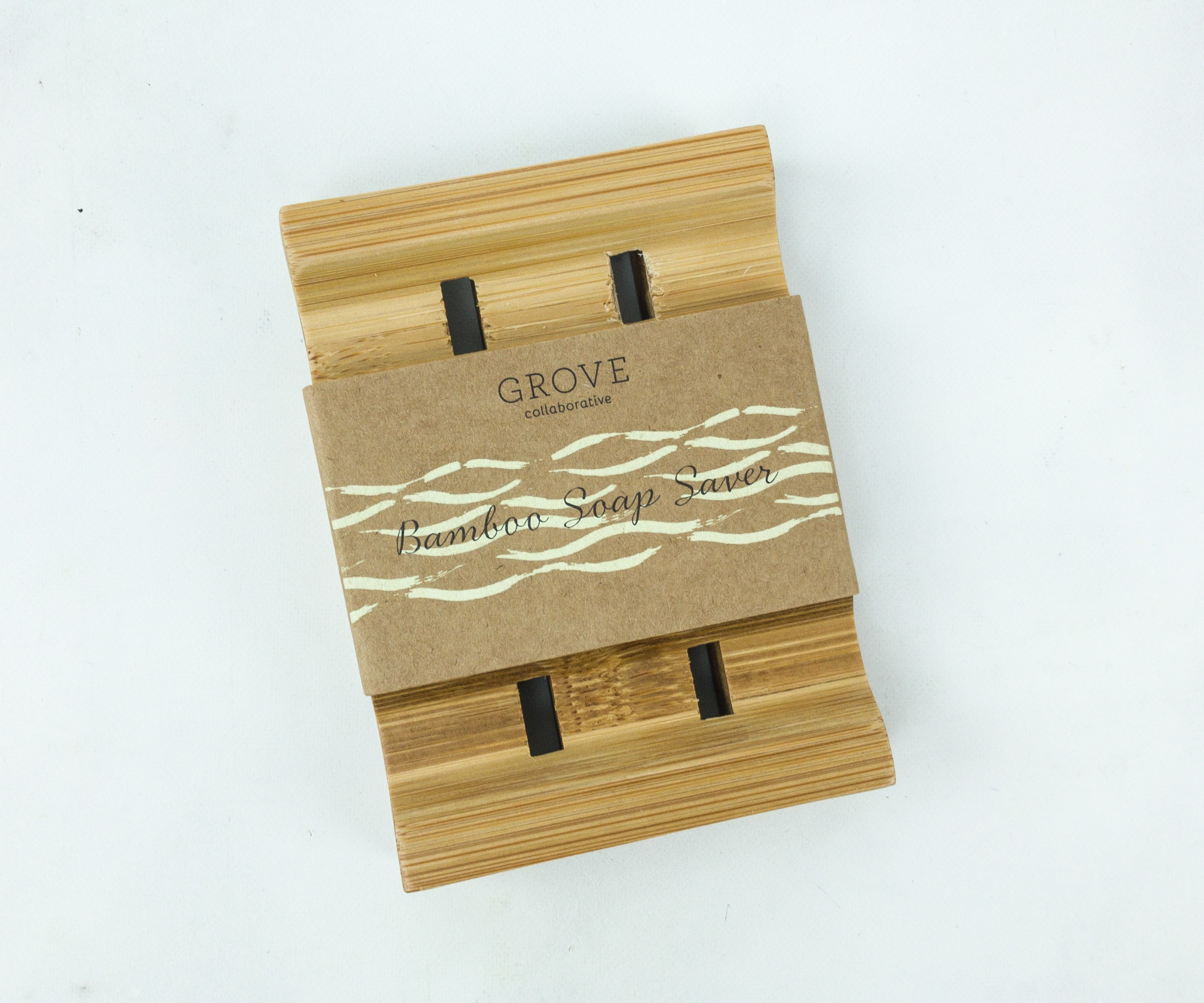 Grove Collaborative Bamboo Soap Saver ($4.95) Thought you've seen everything in the package? Not quite yet. This bamboo soap saver is really interesting too!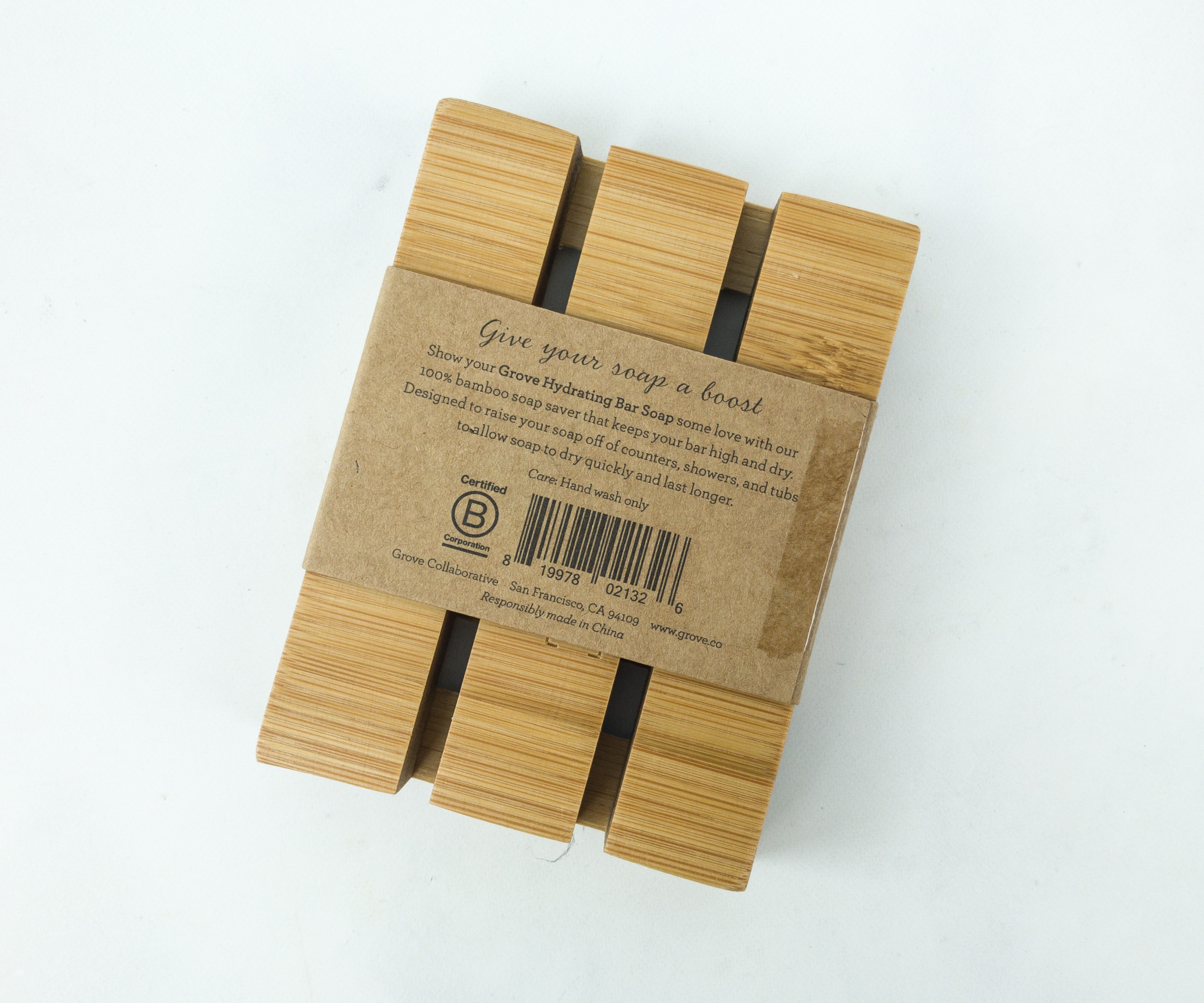 "Give your soap a boost," says the label.
What's the catch? Well, this soap saver's job is to keep your bar soap high and dry.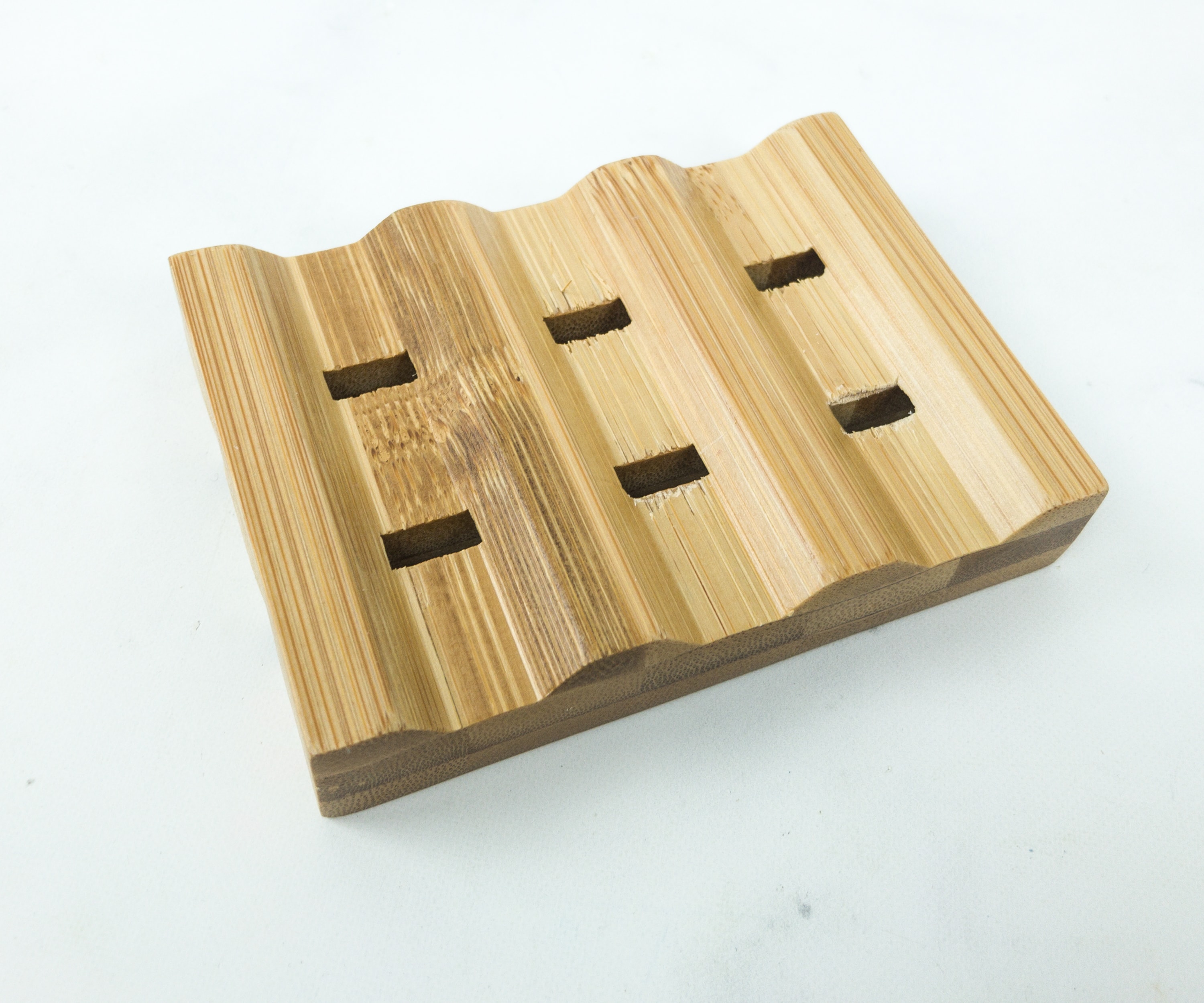 It's designed to raise the bar off of counters, showers, and tubs to allow it to dry quickly therefore making it last longer. Imagine how much you can save on soap! Unbelievably we ran out of soap dishes in our powder room, so I picked this one up so the kids' soap didn't go everywhere. It's working a charm!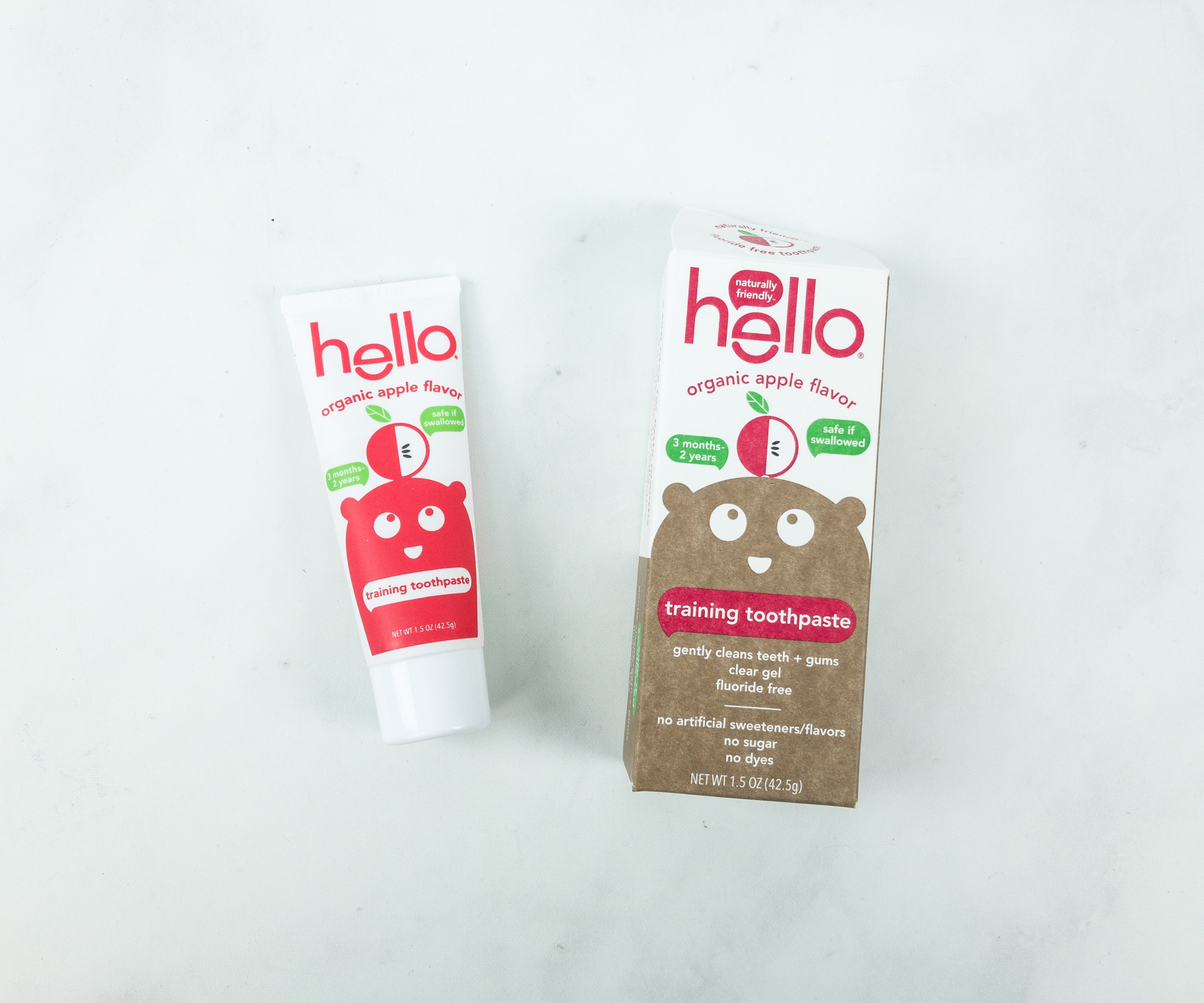 Hello Organic Apple Toddler Training Toothpaste ($3.99) I saved the cutest item for last. Say hello to naturally friendly organic apple toddler training toothpaste made with natural ingredients that are effective and delicious. It's gentle on the kid's gums and leaves a rainbow feeling in their little mouths.
Keeping your own place clean and well-organized is never easy, but not when you have the right tools to aid you. I know many of you would agree that not even a single item in this box is useless. My favorite item that I picked up this month is the shower cleaner, but everything is fab.
This month's deals and membership offers are totally awesome too! Check them out if you're in need of some cleaning tools for your home!
 When you start your subscription with a $20 purchase you'll get a new subscriber Mrs. Meyer's New Year's Set FREE.
OR Sign up with this link and you will receive a free Seedling Set with paper towels, bath tissue, and face tissue with your $20 purchase.
Have you tried out Grove Collaborative?
Visit Grove Collaborative to check it out and personalize your own subscription!