CatLadyBox is a monthly subscription box for us cat ladies and our cats! Each month you will receive cat-themed items for you and your cat (Crazy CatLadyBox), or you can order a box just for you (CatLadyBox). Each box could contain cat-themed shirts, jewelry, home decor, accessories, art, and more – all delivered in a box your cat can keep.
CatLadyBox is unlike any other cat subscription box out there. Each month, you'll receive a meowvelous selection of high-quality cat-themed items only available through us. From super-soft shirts and beautiful jewelry to inspired home decor and quirky cat toys, we pride ourselves in creating and delivering the ultimate ways show off your cat lady pride!
DEAL: For a limited time, save $5 off your first box with coupon code AMEOWZING! Valid on Crazy Cat Lady Box only!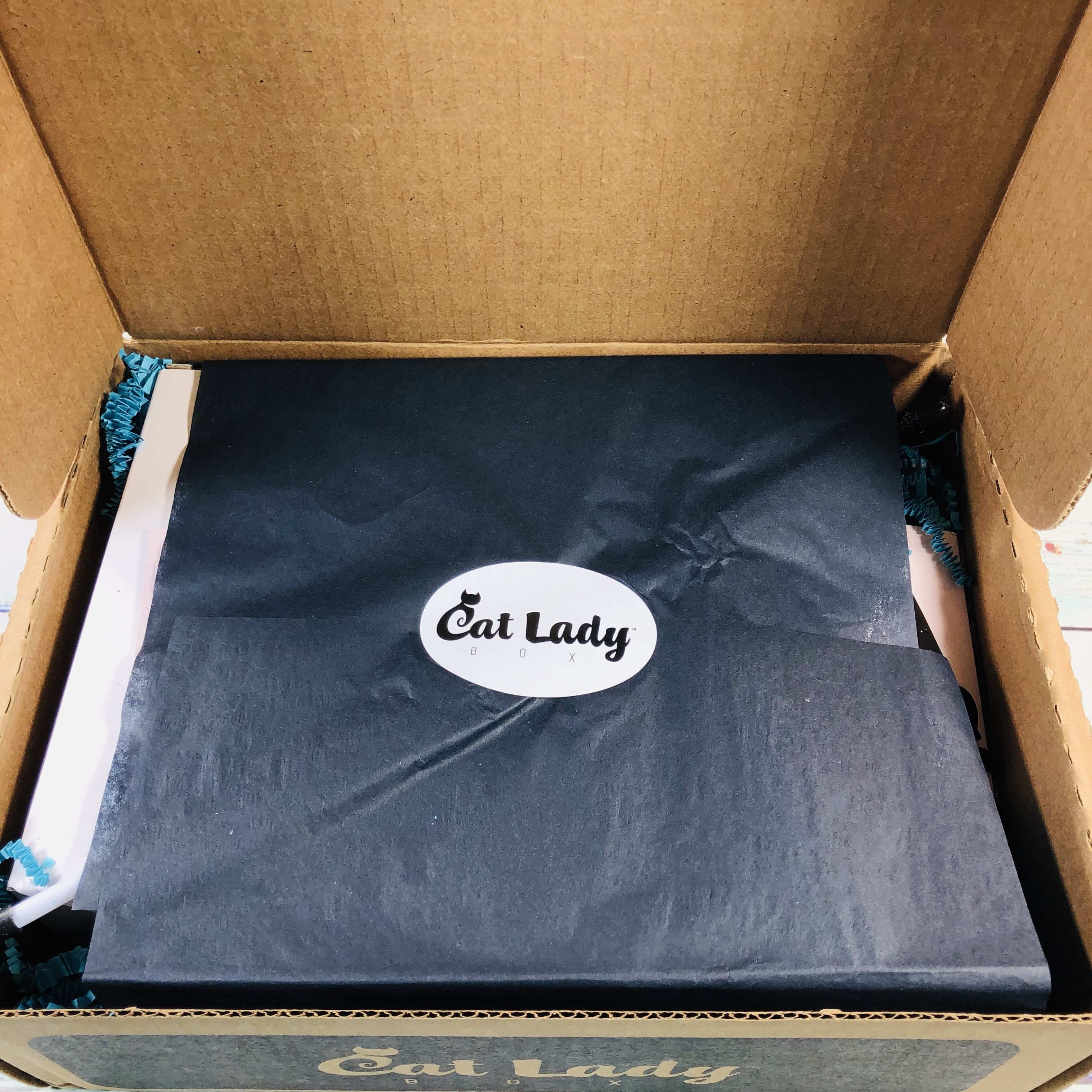 TIP: Looking for a coupon code? Subscribe to notifications for CatLadyBox in the directory to get an email when the next one is released!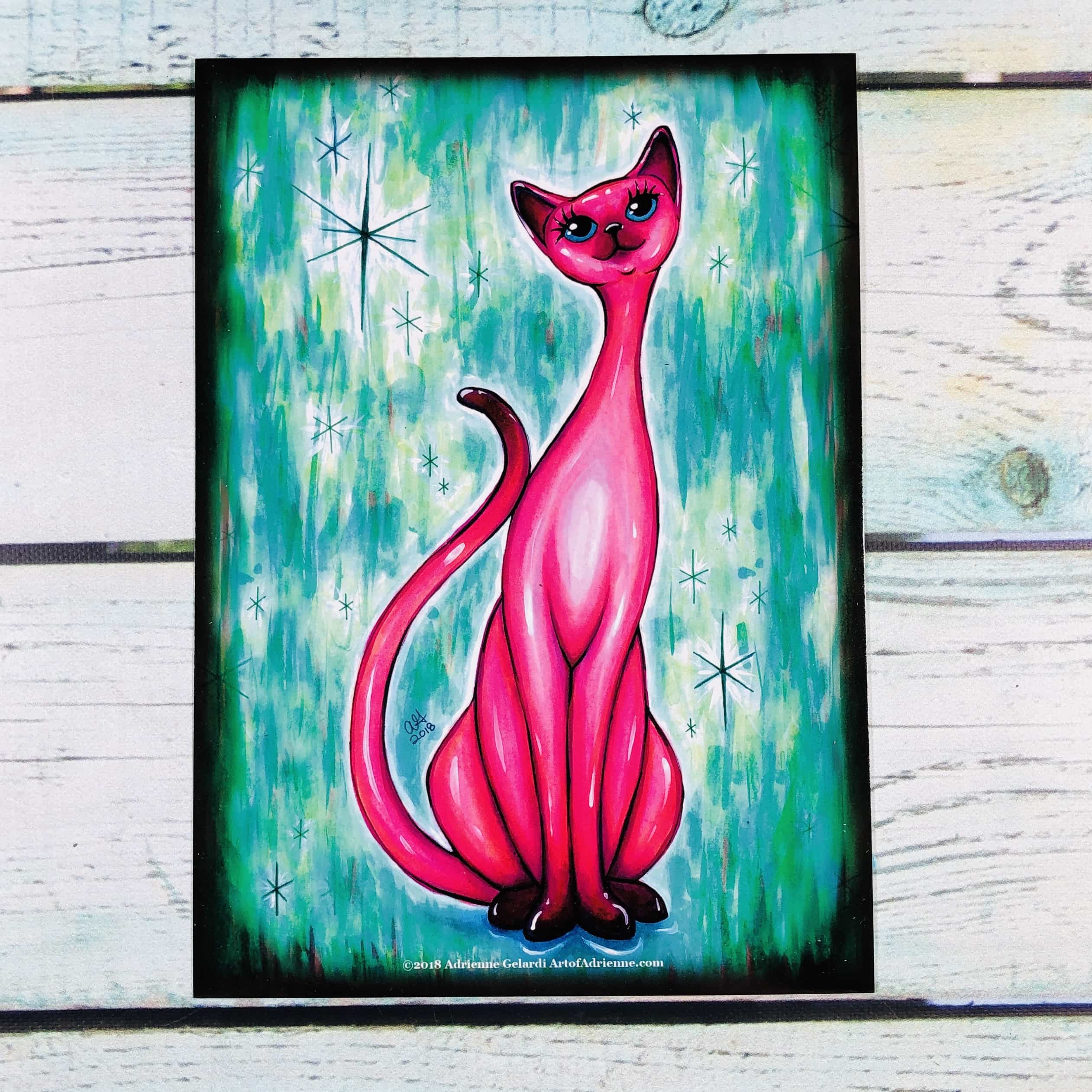 I received a card in my Crazy CatLadyBox.
The back of the card lists all of the items in the box and their suggested retail price. Keep in mind that CatLadyBox sells their own line of products so the prices are from their online store.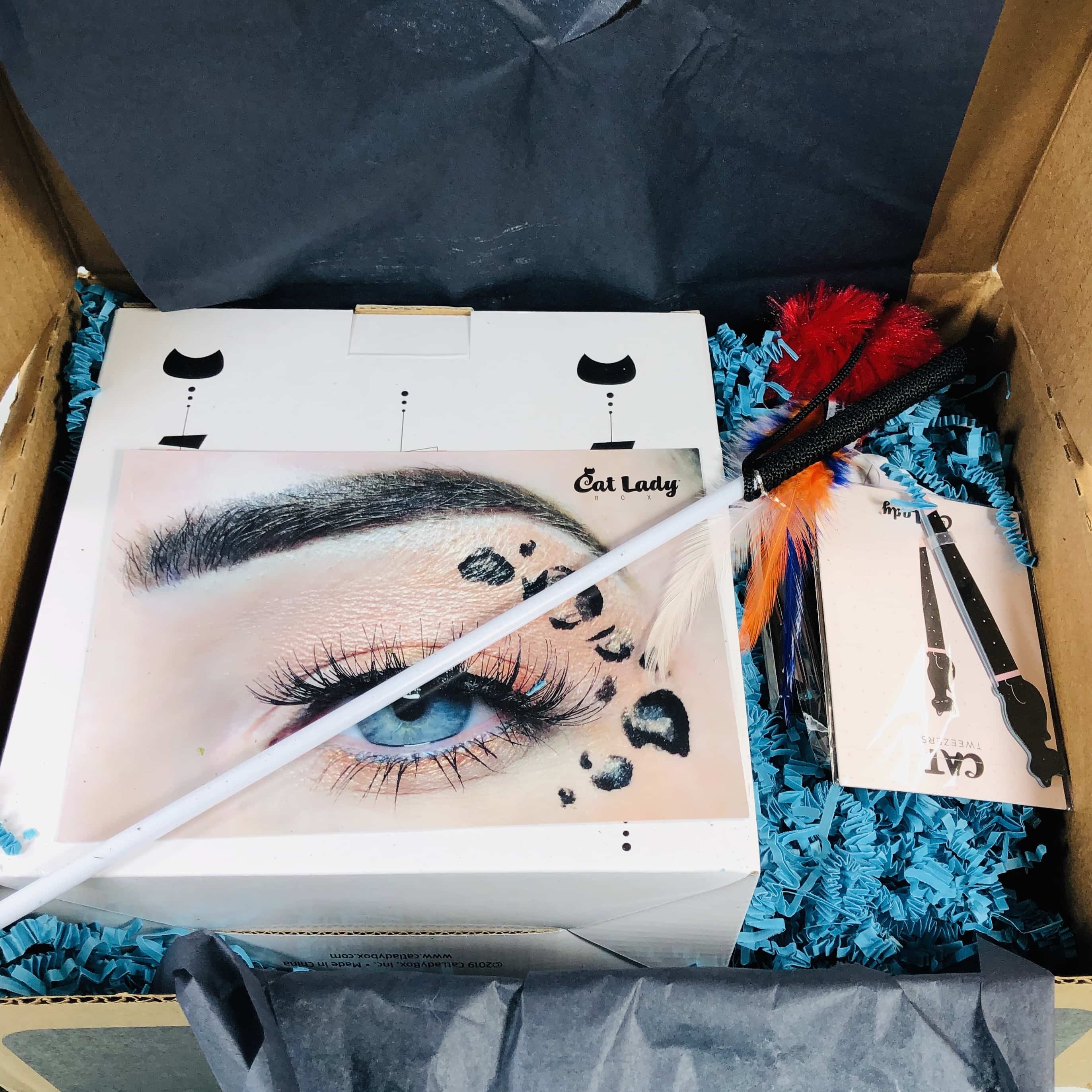 I found my items covered by tissue paper, and some of the items were wrapped in plastic or placed in boxes.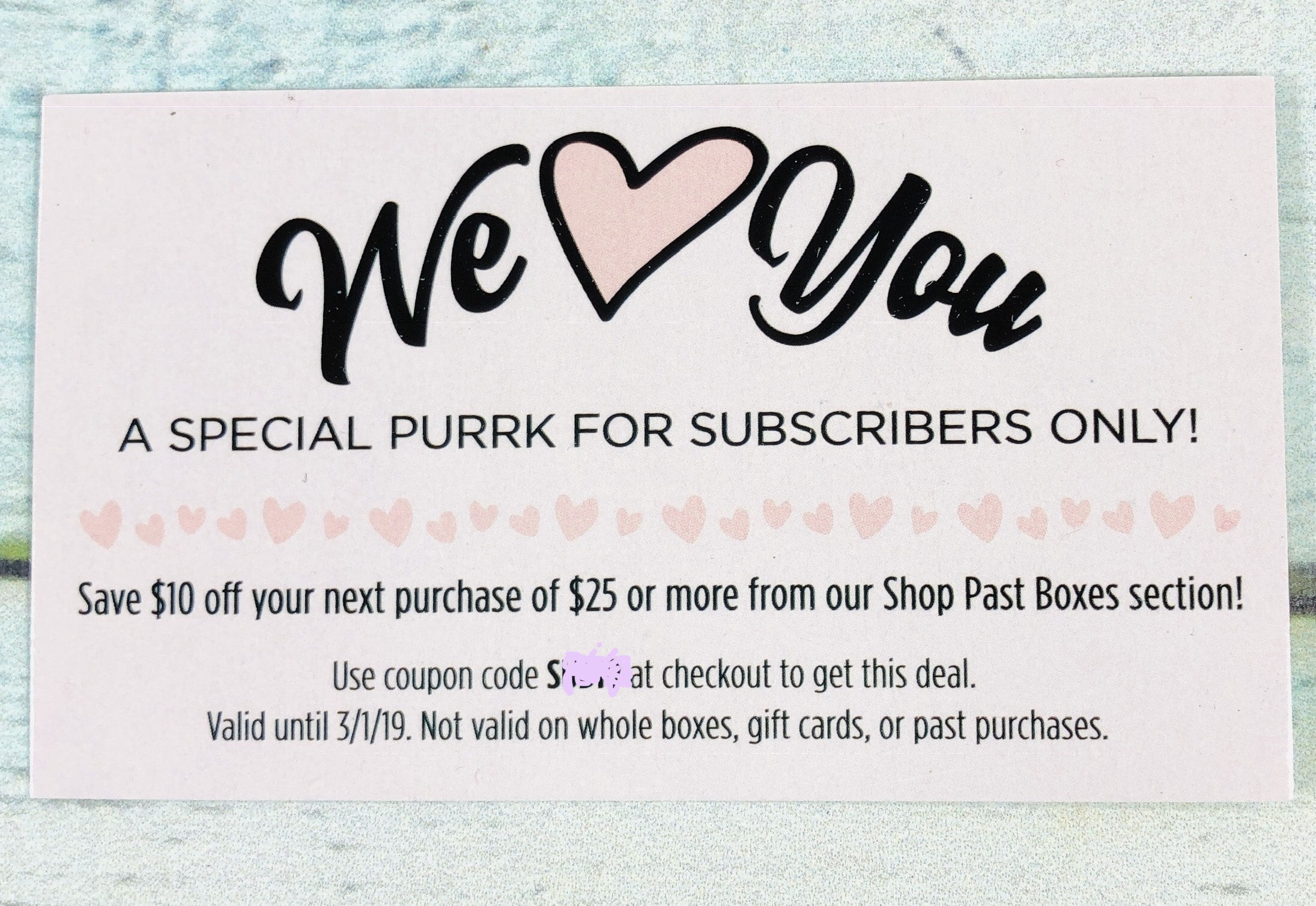 Want to puchase a past box? Subscribers received a coupon code to do just that.
Everything in my box!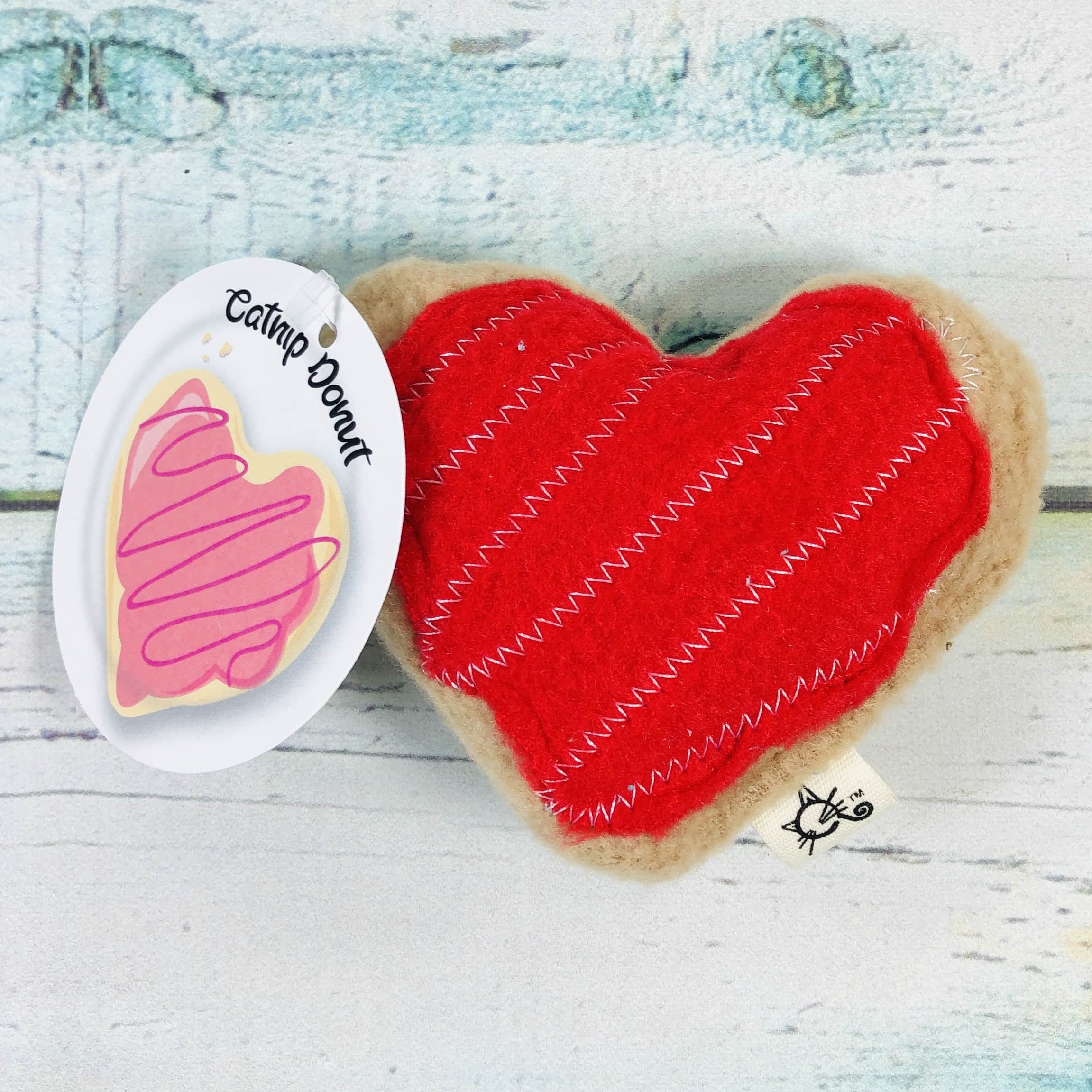 Catnip Donut Heart ($5.99) is a heart-shaped donut with catnip inside.
Sunny gave it a sniff but that was about it. Sorry about the blurry cat pictures today, I think I needed more light on this dark day.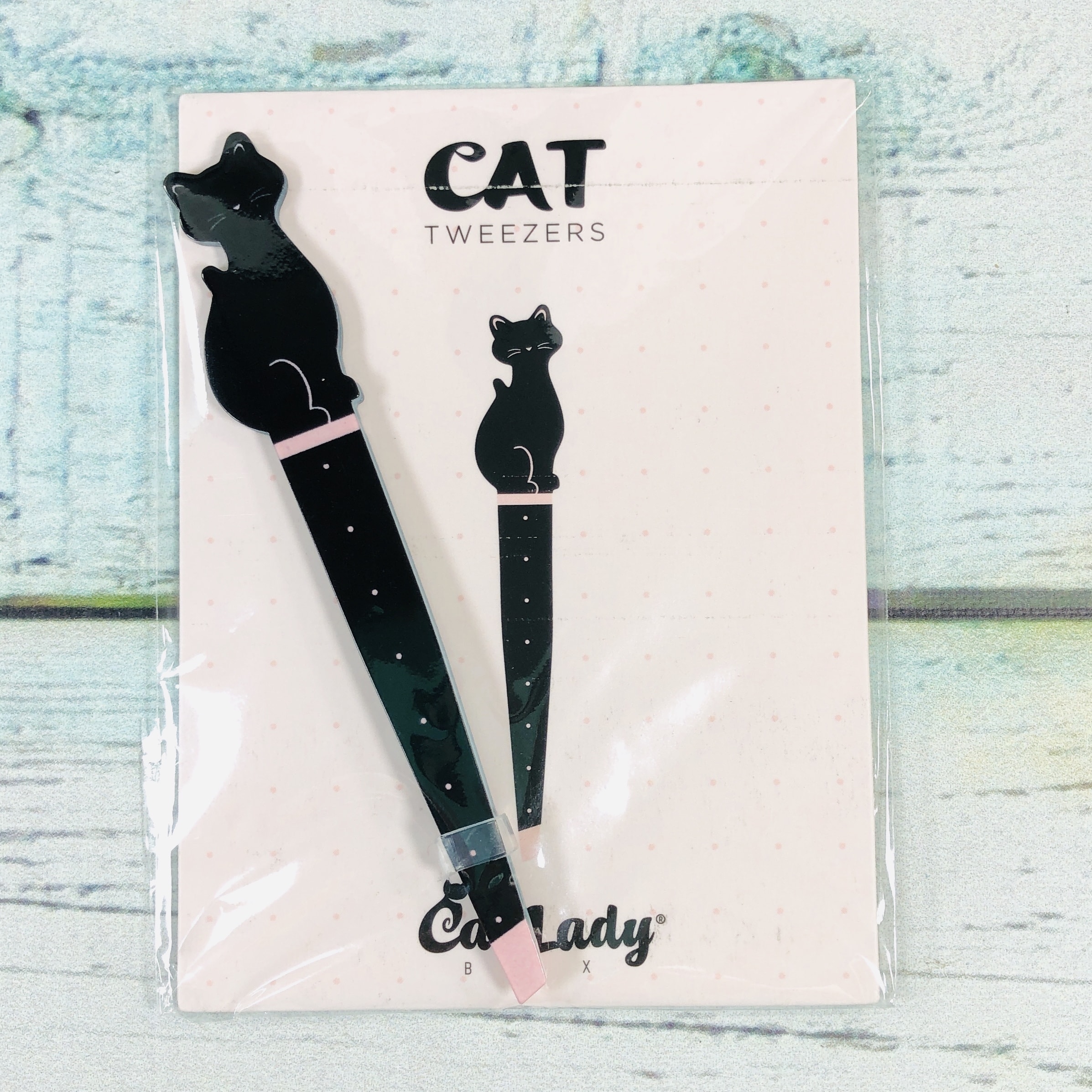 Kitty Cat Tweezers ($8.99) I have misplaced my usual tweezers so this showed up when I really needed it.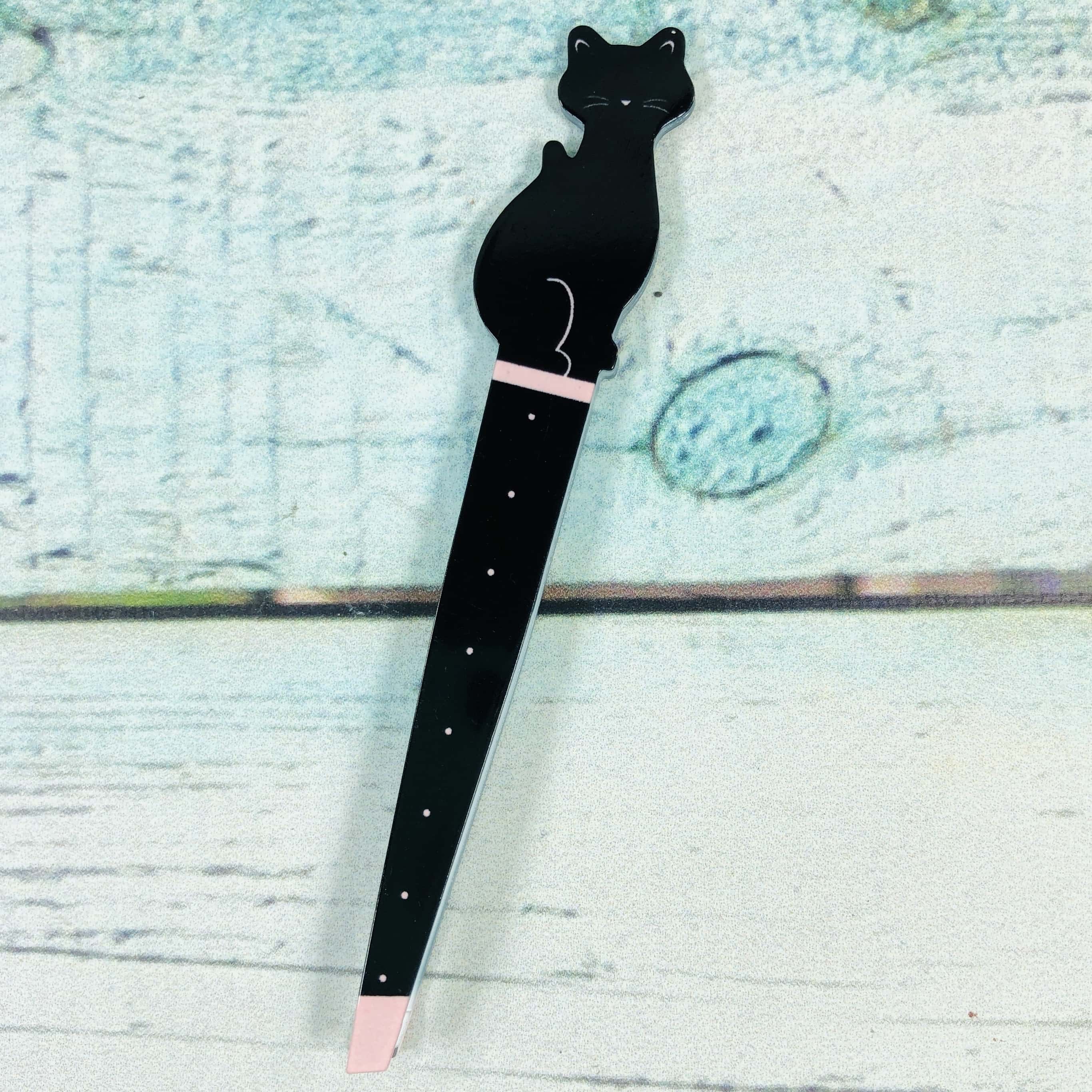 These are slant-tipped and I prefer pointed-tip but they will do in a pinch.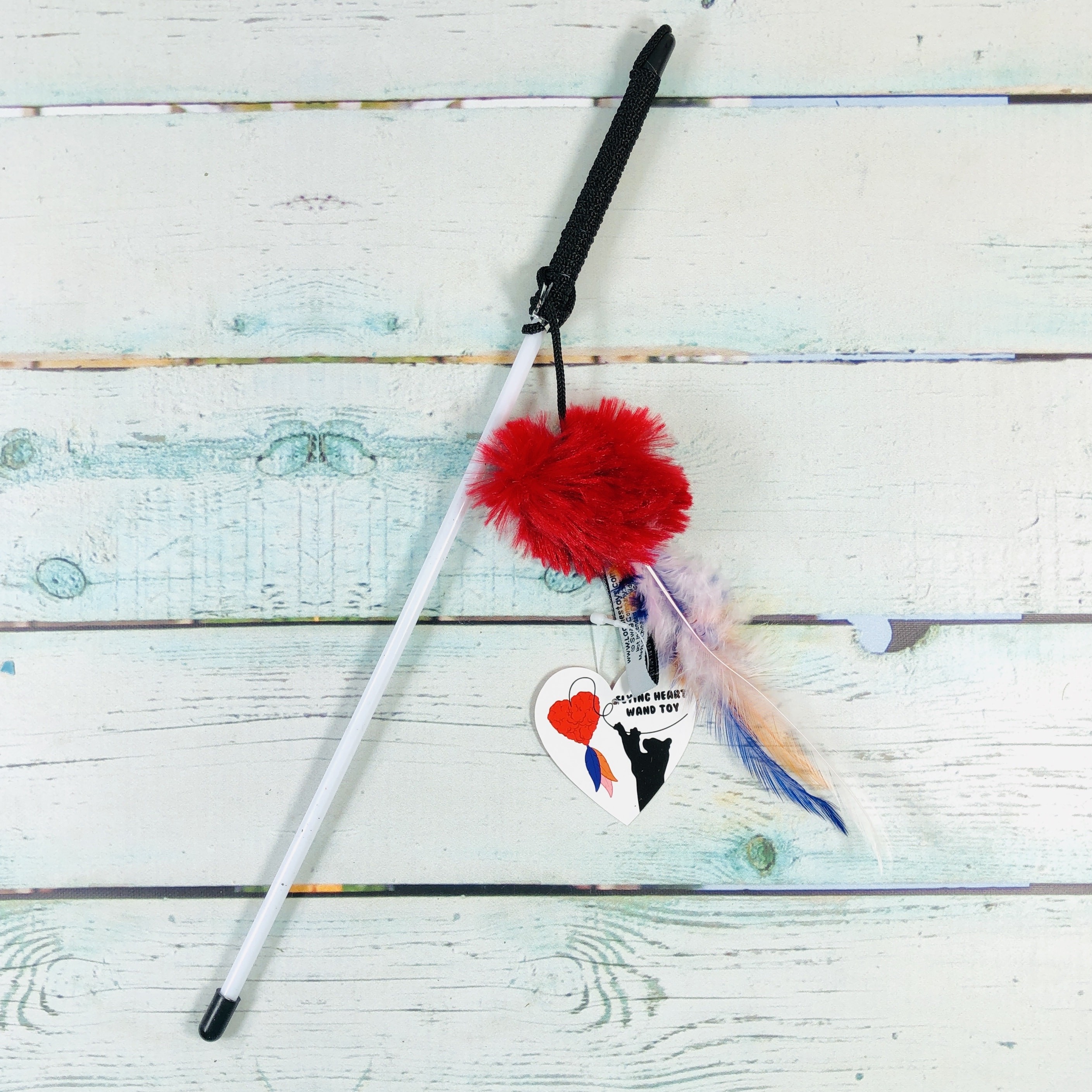 Heart Wand Toy ($5.99) My cats love wand toys, and feathers, so this should be a big hit.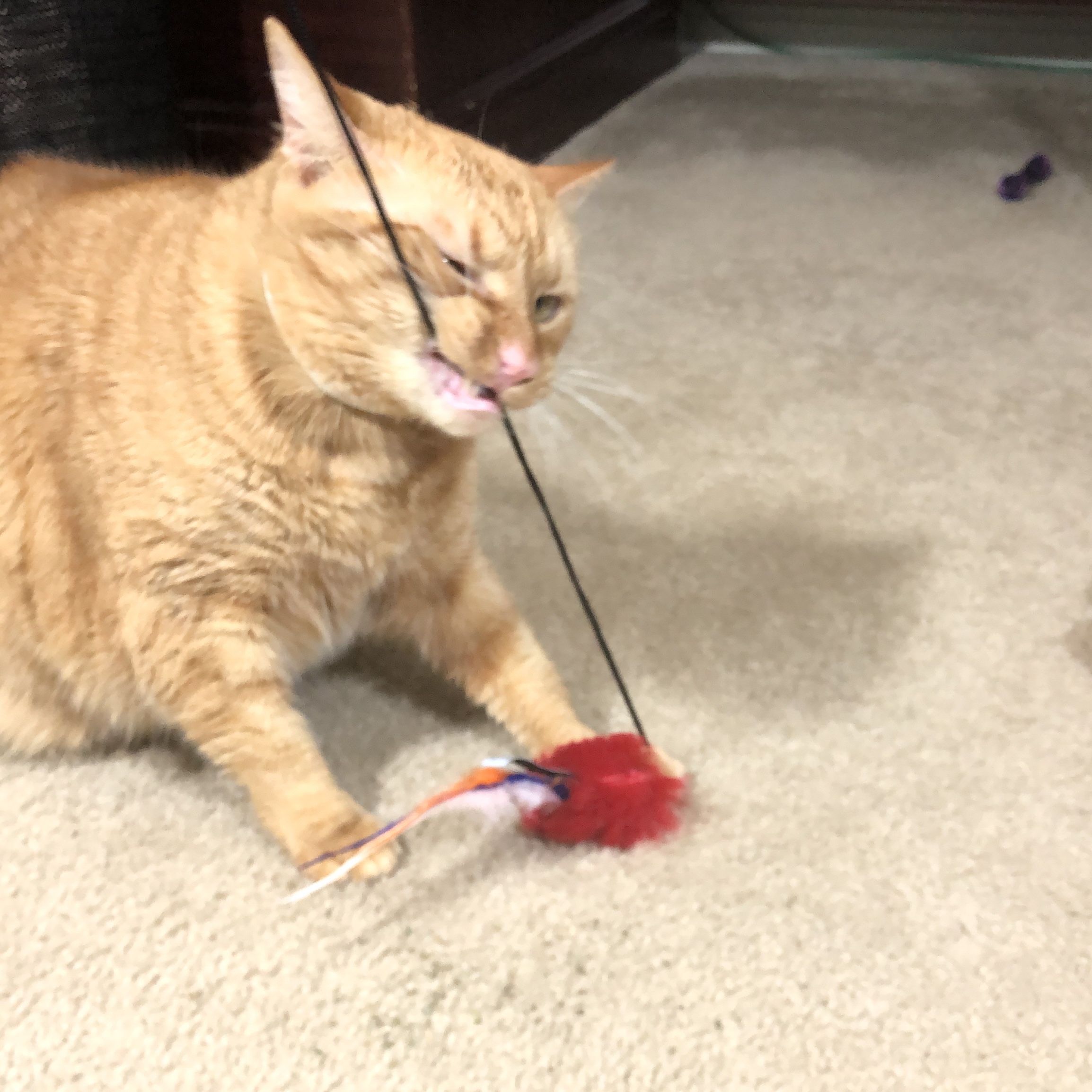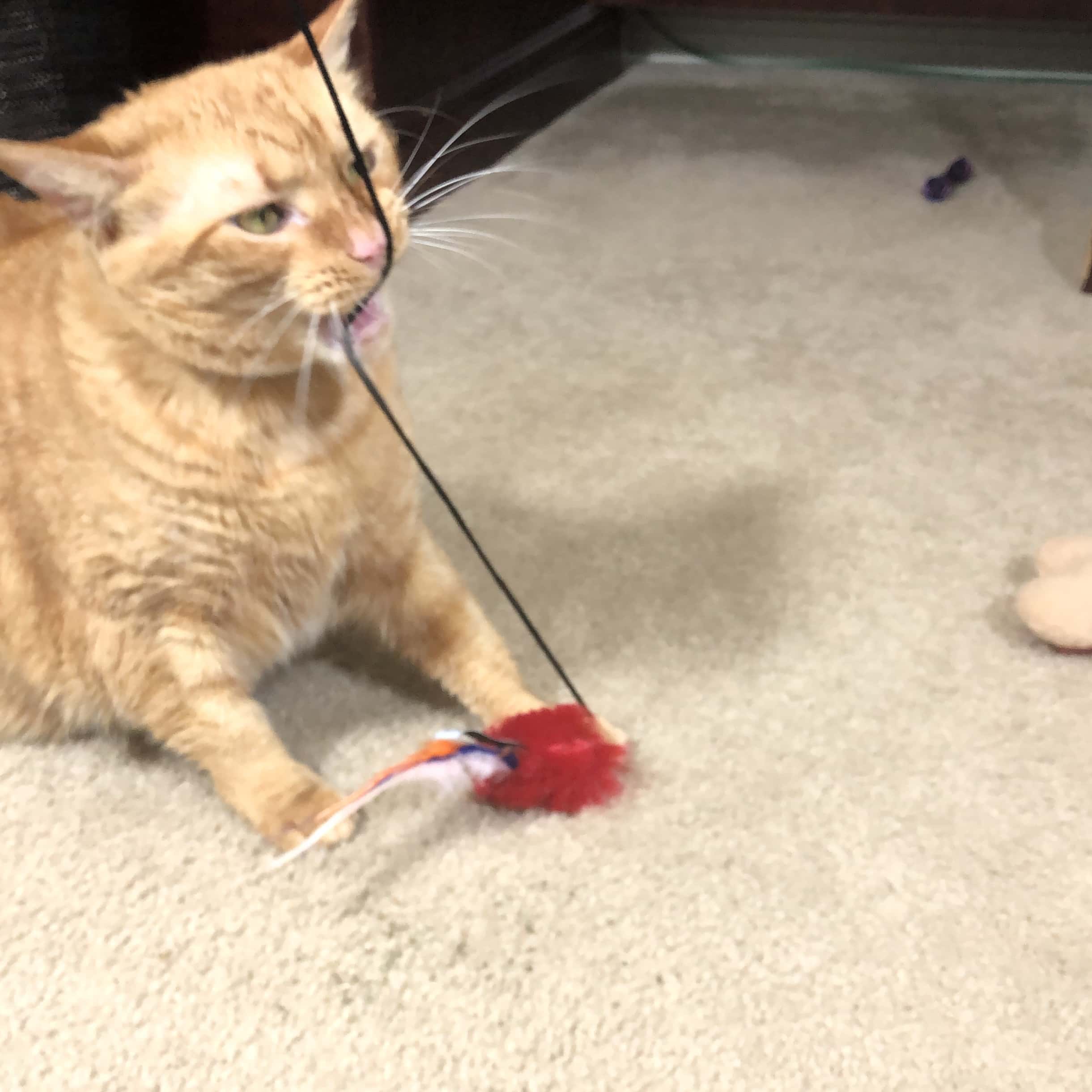 Yep, Sunny loved it!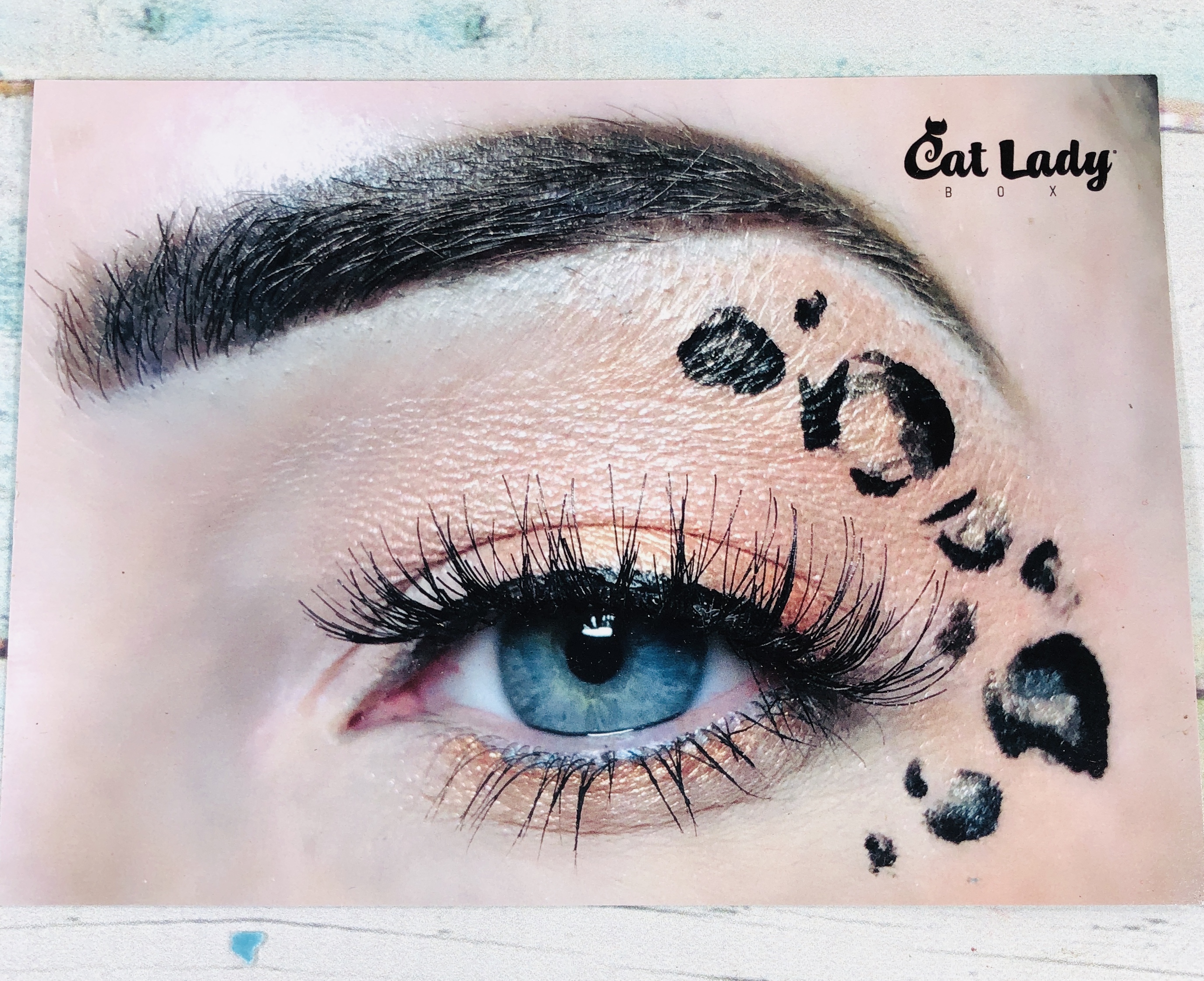 There was a card showing some looks that can be made with the next item. CatLadyBox came out with 4 eye shadow palettes and subscribers received 2 out of 4 of these sets inspired by cat color patterns.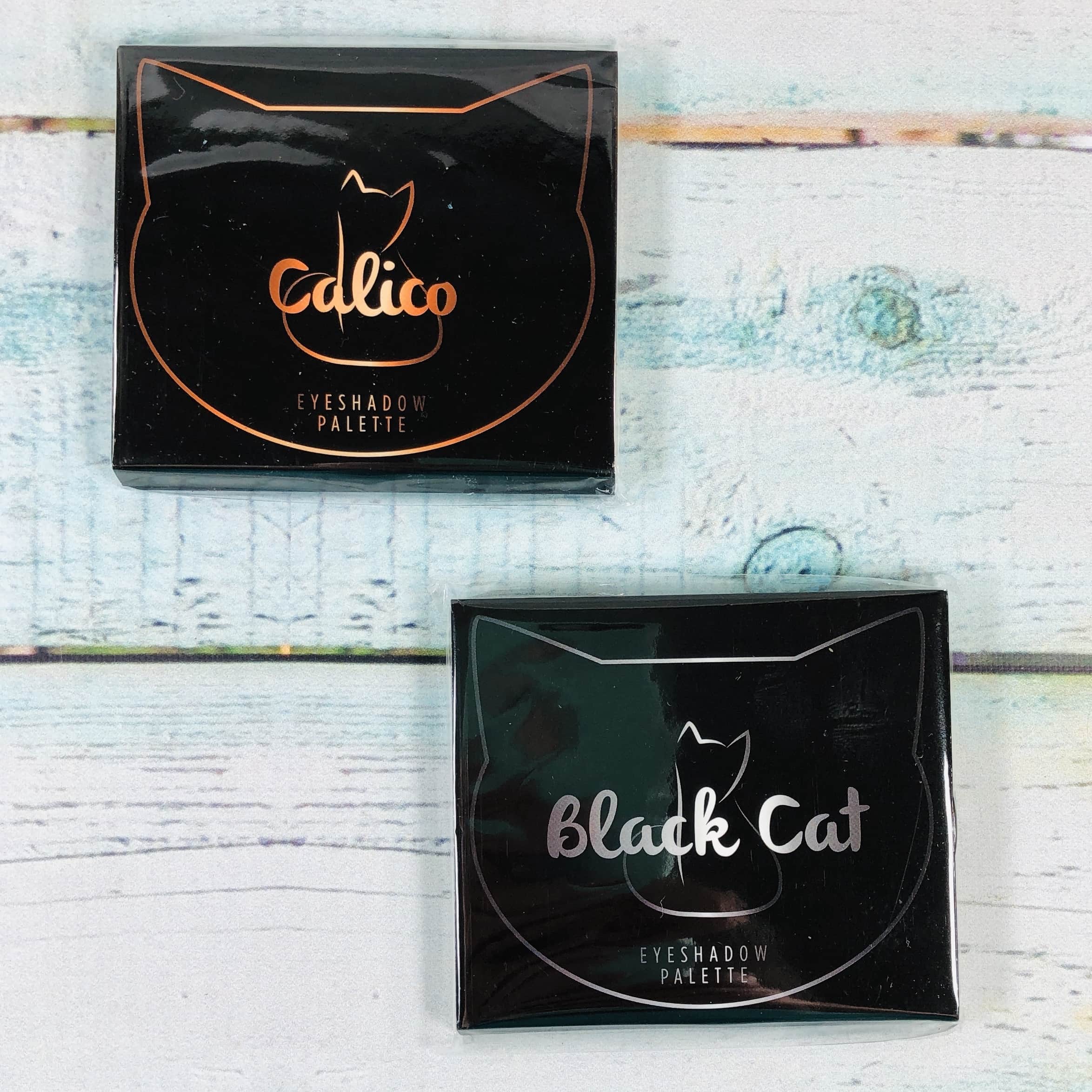 Cat Eyeshadow Palettes ($9.99 each) Both palettes came in a mini box.
The back of each box has the ingredients. The shadows are cruelty-free but not necessarily vegan: it depends on whether the squalane is derived from shark livers or vegetables, and this doesn't say. Also, as far as I can tell there is no ingredient called "demeticone". It is either "dimeticone", which kills lice and their eggs, or "dimethicone", which is most likely.
Calico has warm shades. I used the lighter and darker shades to create a look, and avoided the yellow and reds as those are too bright for my liking. The shadows had fallout but not too bad, but these weren't the easiest shadows to blend. The compacts themselves are made of paper, not plastic, with a magnetic closure to keep the lid closed.

Here they are swatched.
Black Cat has darker shadows for a smoldering, smokey eye.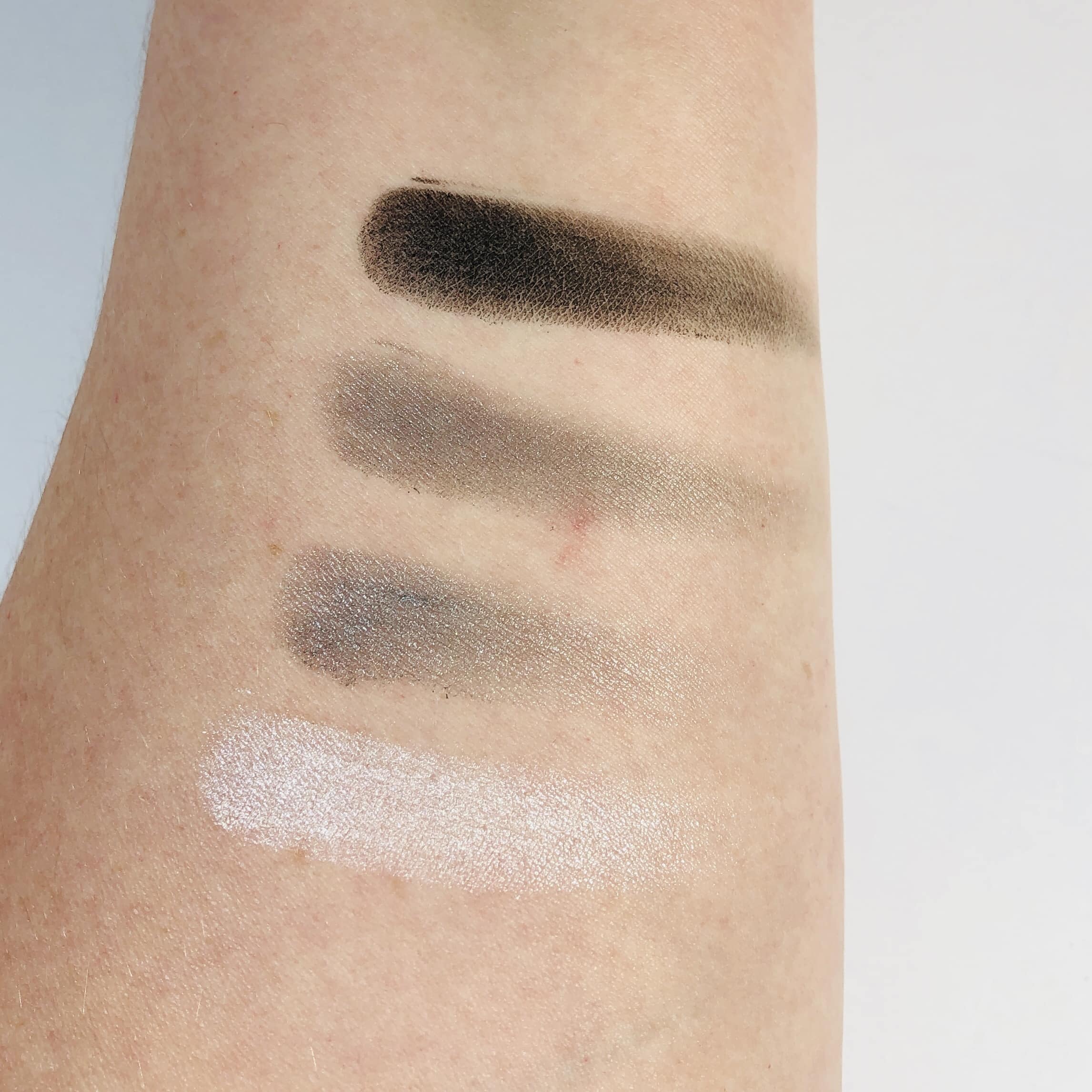 Here they are swatched!
Kitty Cat Highball Glasses ($19.99) The next item came in its own box with styrofoam packing.
There were two 16-ounce glasses with a retro look about them. I love the pink and black colors and the kitty cutouts! They are very lightweight for glasses and I think I may need to use some TLC so they won't break.
I think CatLadyBox is great for those who like to have everything, even everyday items, with cats on them! Most of the items are going to have CatLadyBox branding on them. I'm not sure that I want to receive CatLadyBox makeup in a lifestyle box, although I have no objections to other types of cat-themed beauty items, like tweezers. As for the value, all the amounts came from the CatLadyBox website, although you may be able to find similar items elsewhere.
What do you think of this month's box? Does your cat give 2 paws up?