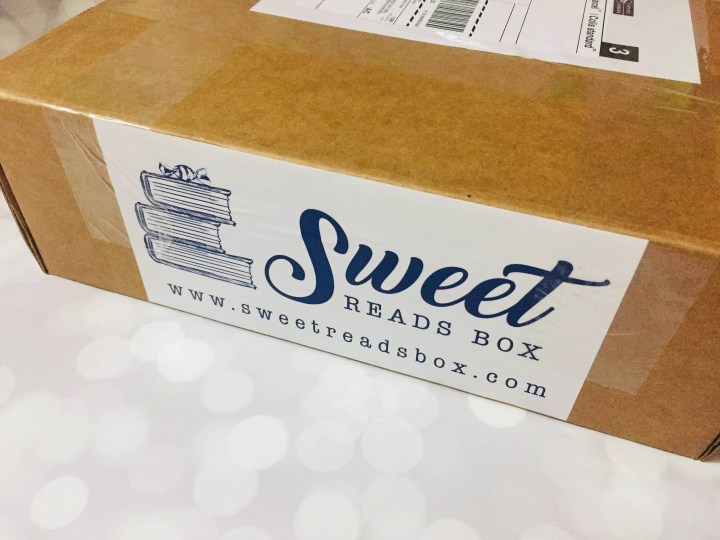 Sweet Reads Box is a Canadian subscription box bringing a curated selection of a bestselling book along with complimentary items to enhance the experience. The box is $54.99 CAD ($42 USD) for one month, and drops slightly when you purchase a 3 or 6 month subscription as well.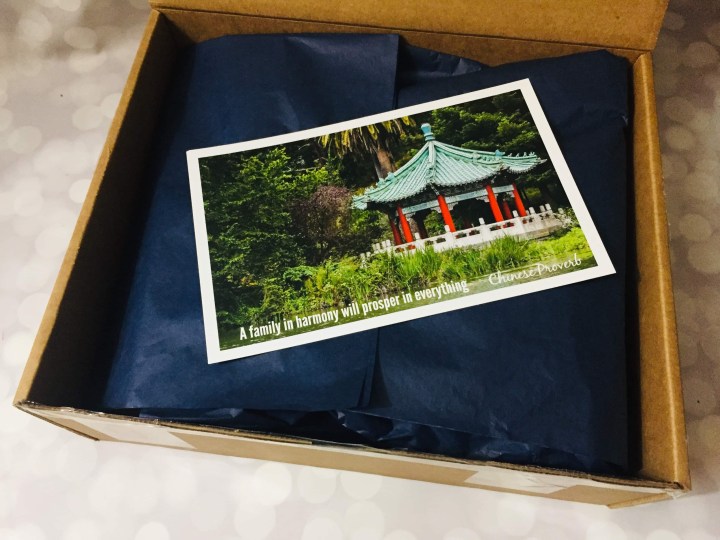 On top is the information card.
DEAL: Get 10% off your first box! Use coupon code LOVEBOOKS.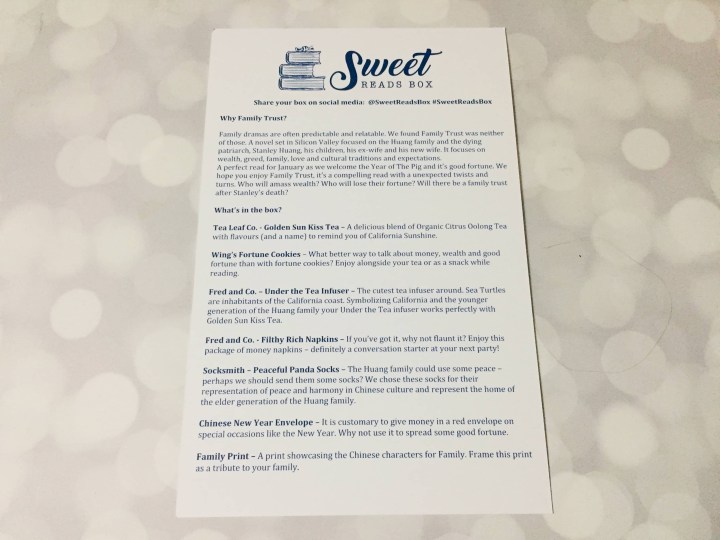 The back of the card has information about the month's book selection as well as the other items included, and how they all tie into the theme.
Family Trust by Kathy Wang ($16.97)
Meet Stanley Huang: father, husband, ex-husband, man of unpredictable tastes and temper, aficionado of all-inclusive vacations and bargain luxury goods, newly diagnosed with pancreatic cancer. For years, Stanley has claimed that he's worth a small fortune. But the time is now coming when the details of his estate will finally be revealed, and Stanley's family is nervous.

For his son Fred, the inheritance Stanley has long alluded to would soothe the pain caused by years of professional disappointment. By now, the Harvard Business School graduate had expected to be a financial tech god – not a minor investor at a middling corporate firm, where he isn't even allowed to fly business class.

Stanley's daughter, Kate, is a middle manager with one of Silicon Valley's most prestigious tech companies. She manages the capricious demands of her world-famous boss and the needs of her two young children all while supporting her would-be entrepreneur husband (just until his startup gets off the ground, which will surely be soon). But lately, Kate has been sensing something amiss; just because you say you have it all, it doesn't mean that you actually do.

Stanley's second wife, Mary Zhu, twenty-eight years his junior, has devoted herself to making her husband comfortable in every way—rubbing his feet, cooking his favorite dishes, massaging his ego.  But lately, her commitment has waned; caring for a dying old man is far more difficult than she expected.

Linda Liang, Stanley's first wife, knows her ex better than anyone. She worked hard for decades to ensure their financial security, and is determined to see her children get their due. Single for nearly a decade, she might finally be ready for some romantic companionship. But where does a seventy-two year old Chinese woman in California go to find an appropriate boyfriend?

As Stanley's death approaches, the Huangs are faced with unexpected challenges that upend them and eventually lead them to discover what they most value. A compelling tale of cultural expectations, career ambitions and our relationships with the people who know us best, Family Trust skewers the ambition and desires that drive Silicon Valley and draws a sharply loving portrait of modern American family life.
The back of the book compares it to Crazy Rich Asians, which I haven't read or seen yet.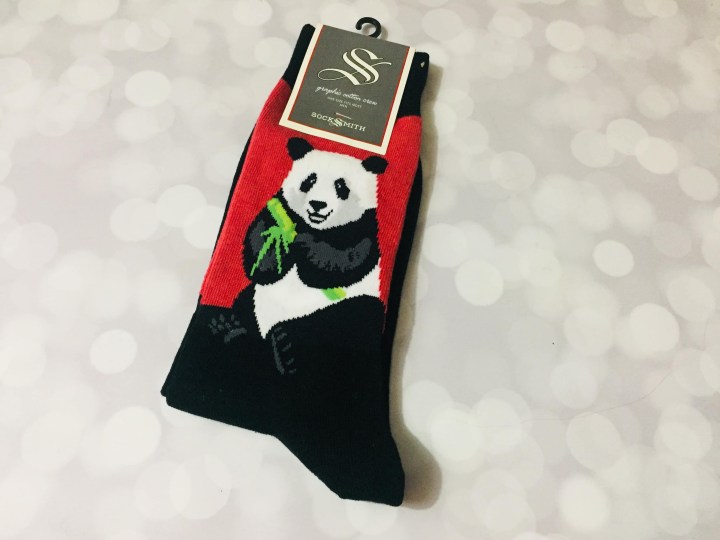 Panda Socks — Cute panda socks. These are warm and cozy and I've been wearing them under my boots. Pandas are a pretty iconic image when you think of China, though maybe a bit stereotypical!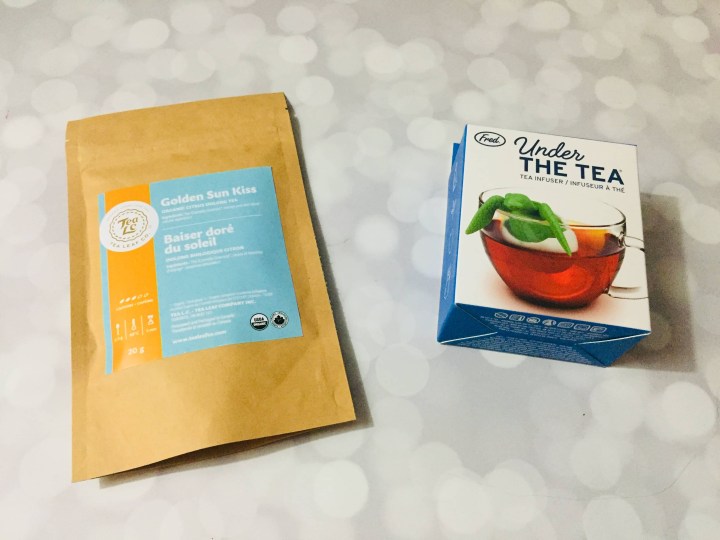 Golden Citrus Oolong — Oolong is a Chinese tea, and this is lightly flavoured with citrus. It's looseleaf so it pairs perfectly with the next item…
Sea Turtle Infused — OMG how cute it this? It's a silicone tea filter that hangs on the edge of your mug.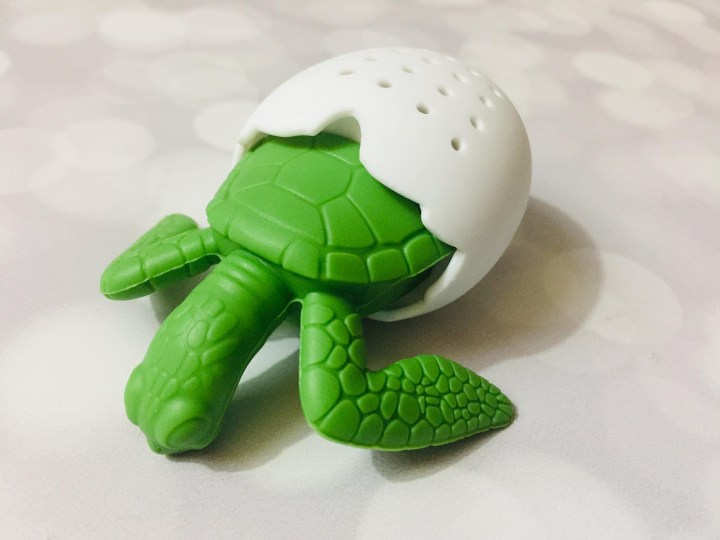 He's hatching from his egg!
New Years Envelope — For Chinese New Year it's a tradition to give friends and family envelopes with money. This is an adorable envelope featuring Maneki Neko which is the Japanese fortune cat. It's absolutely adorable!
Fortune Cookies — I love fortune cookies, like I actually love the taste of them. And it's fun to open them for the corny fortune inside.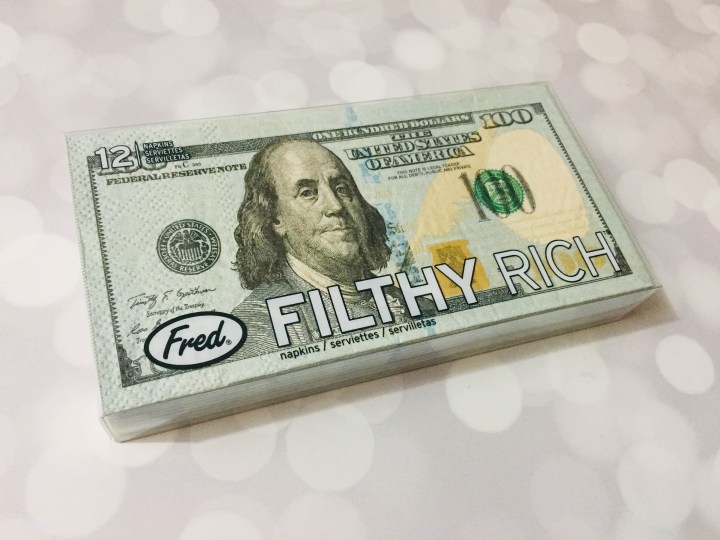 Filthy Rich Napkins — Oh, I wish this stack of hundreds was real… but instead they're super funky cocktail napkins so you can make it rain in a much more cost-effective manner!
I really liked the January box, though it did feel familiar to the box themed around Japan from a few months ago (including infusers, tea, etc) but honestly for me and my personal interests that's not a downside! Give me all the tea and fortune cookies, please. I think Sweet Reads Box is just a really fun and cohesive box, and for me it challenges me with books I wouldn't pick out for myself. I'm excited to start reading Family Trust.
What did you think of this month's book selection?