The KissMe Lipstick Club is a monthly liquid lipstick subscription from LiveGlam. Every month for $19.99 you'll receive 3 new exclusive liquid lipsticks – all long-lasting, highly pigmented, and deliciously scented!
LiveGlam also offers the MorpheMe Brush Club + ShadowMe Eye Shadow subscriptions.
DEAL: Get a FREE lippie with any subscription plan during the sign-up process! You'll also save $10 on a 6-month plan or get a free month with an annual subscription! Just use this link to activate the offer! You can save 10% in the shop with coupon code HELLOBOXES.
January 2019 theme is PAWLLYWOOD!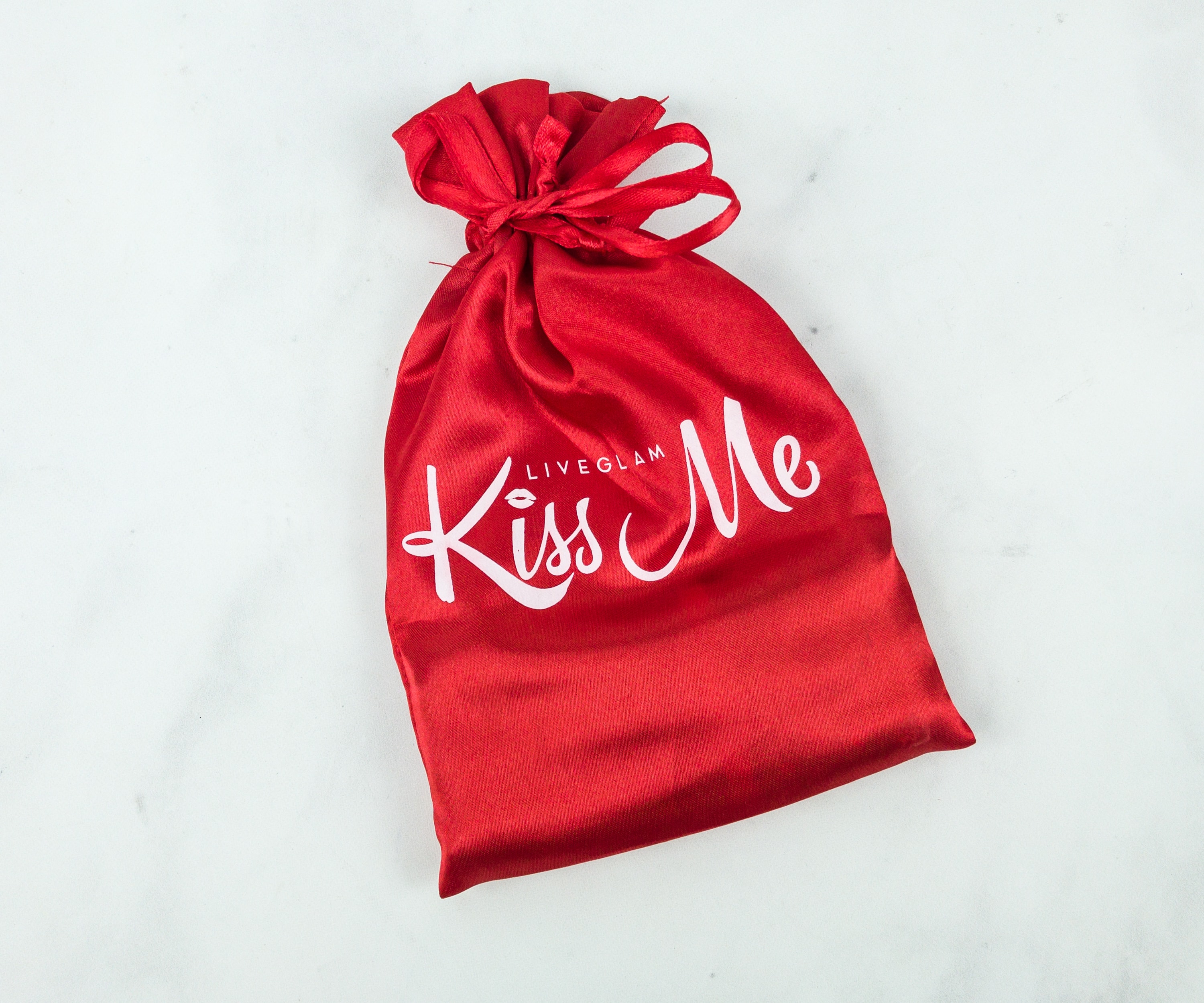 I love the red satin pouch where the lippies are stored because it is reusable.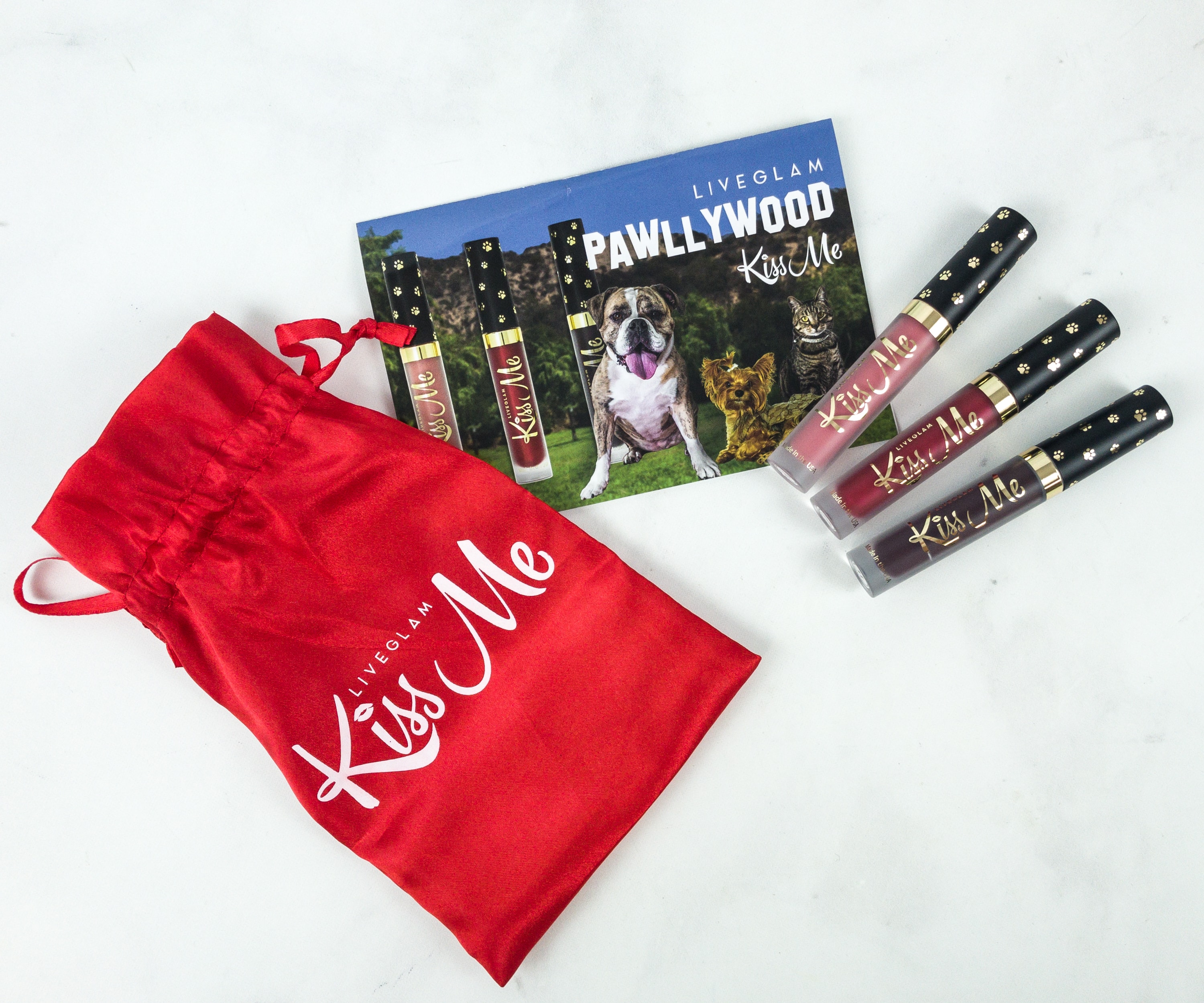 All the lipsticks this month!
And when I thought the packaging cannot be any cuter, they released this collection.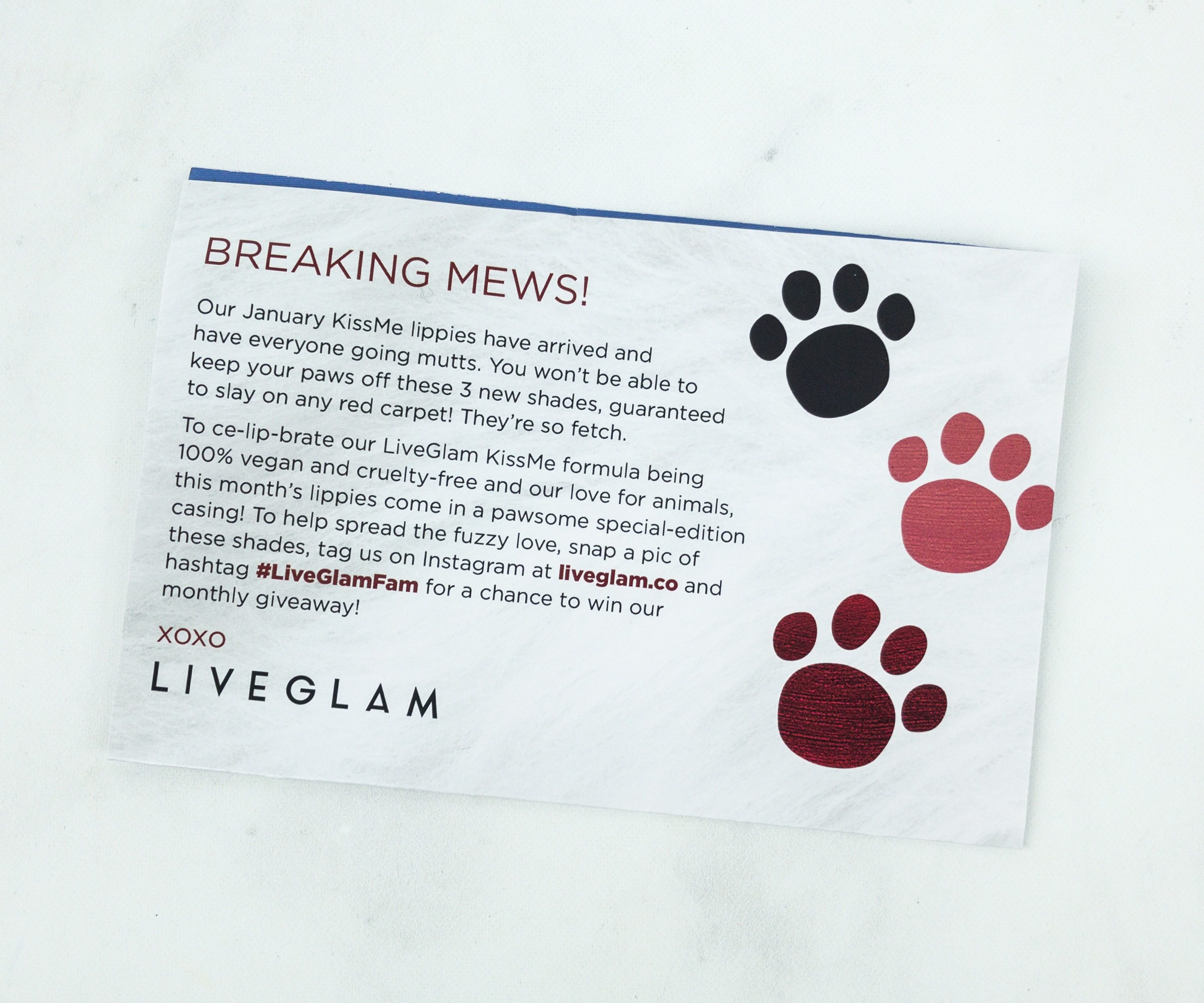 They want to send some love to the pups and it translated to the lipsticks' pawed caps.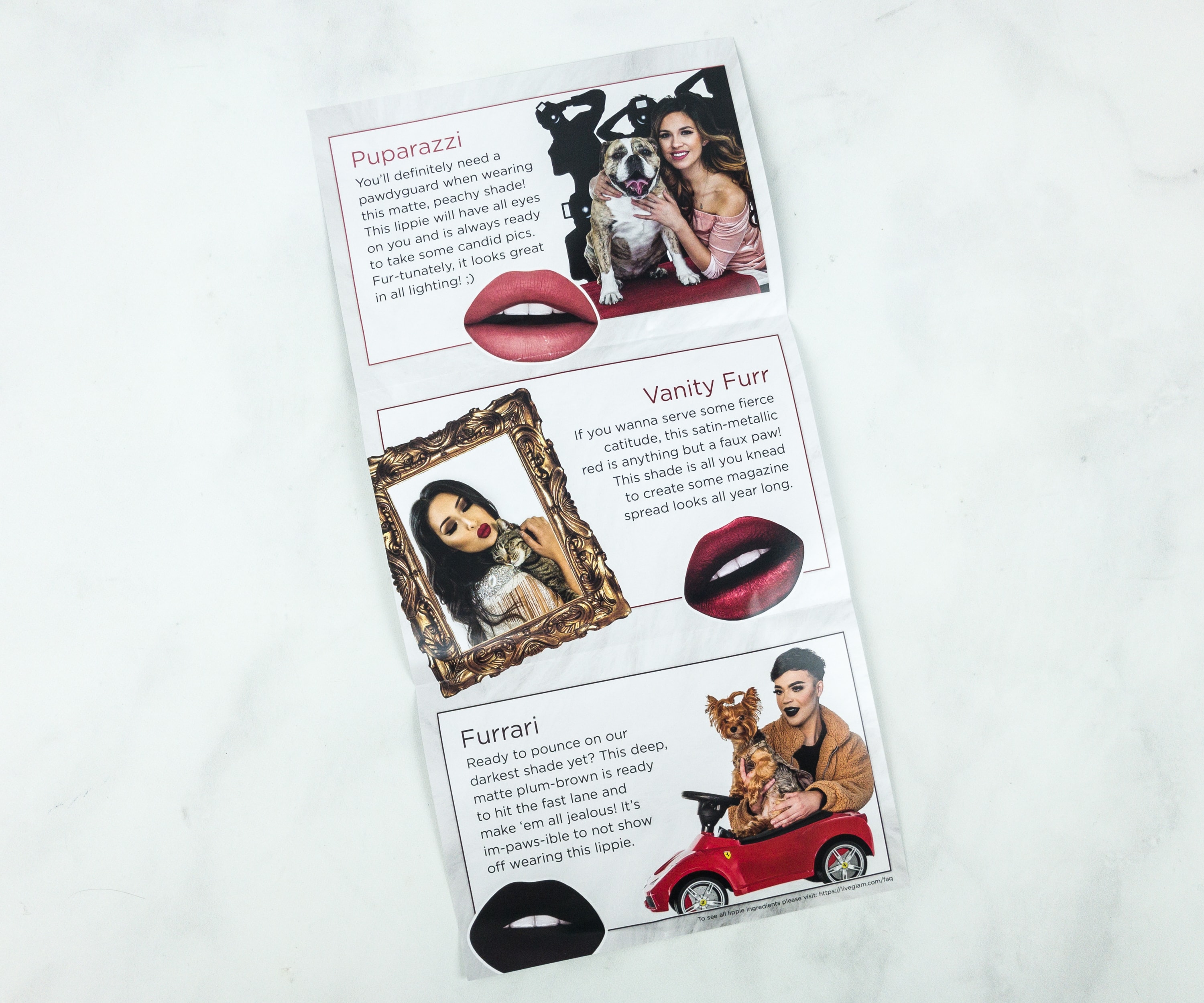 We have a card that described every shade this month.
The shade names are paw-tastic! There's Puparazzi Matte, Vanity Furr Metallic and Furrari Matte.
Puparazzi. It's a good thing they always send a subtle shade in every mix. This is easily a go-to shade – a nice matte pink that is well, just super Kardashian.
Vanity Furr Metallic. It's so good that these lipsticks are long-lasting, it means I can use them for a long time and they got me covered for a whole year worth of party! I love this sultry satin red color!  It has a great metallic sheen and it's perfect for Valentine's!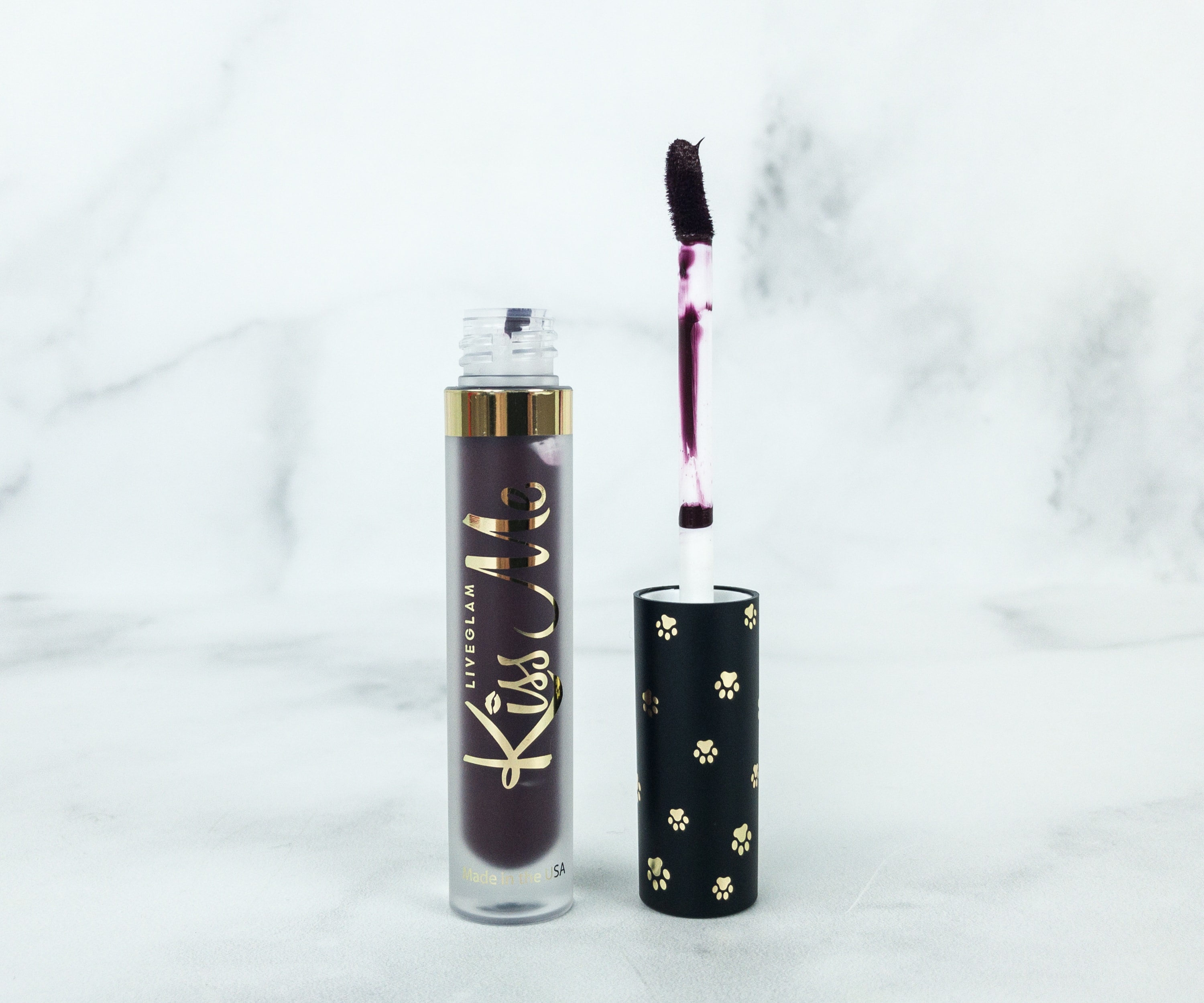 Furrari Matte. Wow, this has been the darkest shade of plum lipstick they'd ever given and I love it! Sure, I have to choose the occasion where I would wear it but I just get a very cool badass vibe with it. Based on the spoilers I honestly thought it was going to be black, but I was pleasantly surprised with this shade!
Look at how rich and pigmented they all are. The middle shade is an every day fierce red for me, also perfect for parties. The pink is really a go-to, and the purple? That's for letting your wild side out!
I love the adorable black caps with gold paws. I also love that they also challenge the subscribers to come out of their shell and explore new colors. The satin red is special! It's my fave out of the three. Even though the pigments can be different, the formula is the same. They are still the soft, full coverage, and lightweight lipstick I know. But it' even better because it's 100% vegan and Leaping Bunny certified now!
Any thoughts on this month's colors?