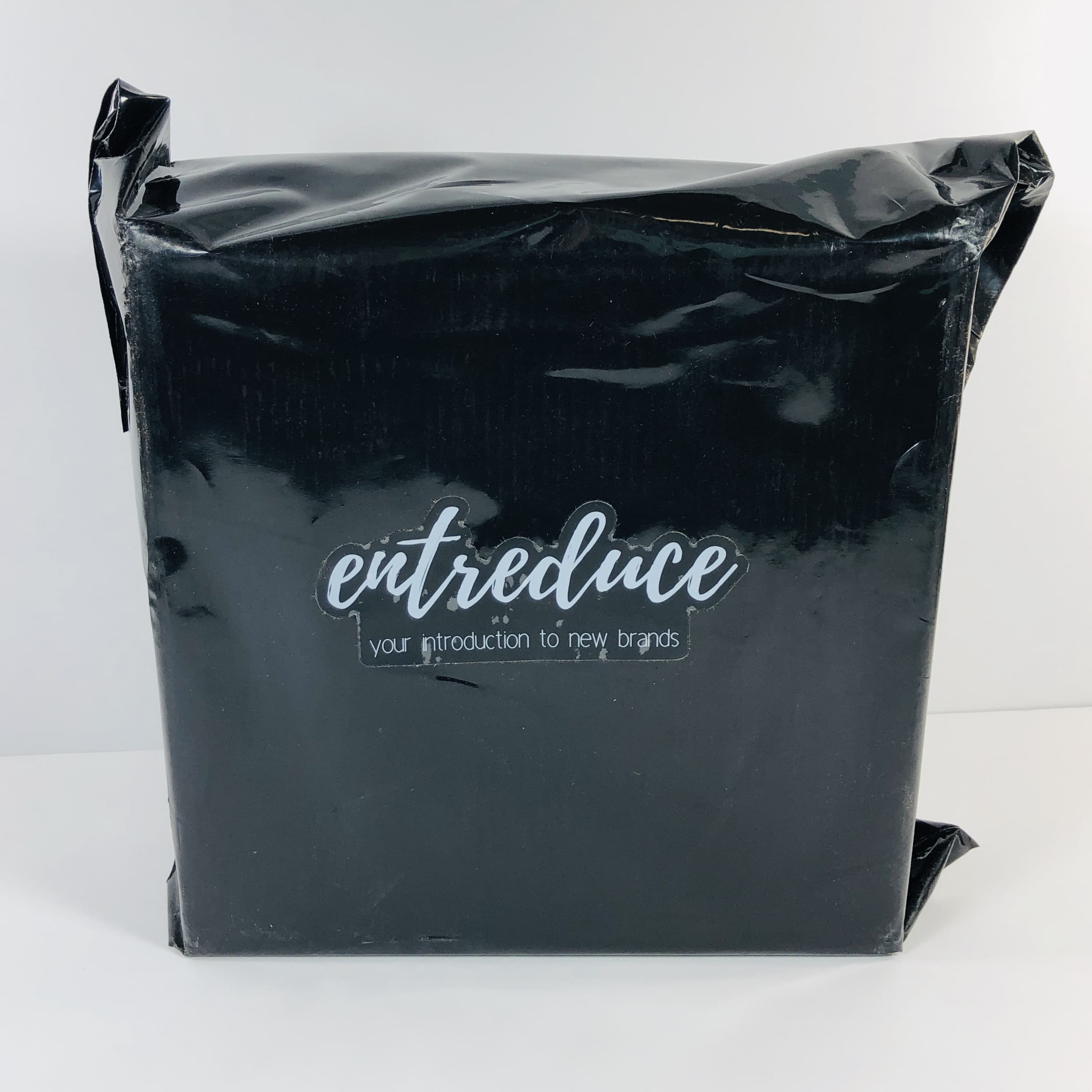 Entreduce is a new monthly lifestyle subscription box that introduces you to new and up and coming brands and products from entrepreneurs. The products are curated to a theme and will be from smaller brands that use cleaner, simpler ingredients. Entreduce is $39 a month but the price drops with longer terms, down to $35 a month for a 6-month subscription.
We want to introduce you to as many products and brands from new or up and coming entrepreneurs and startups.
DEAL
: Get 10% off your first box with coupon code 
FIRSTBOX
!
Oh, hello!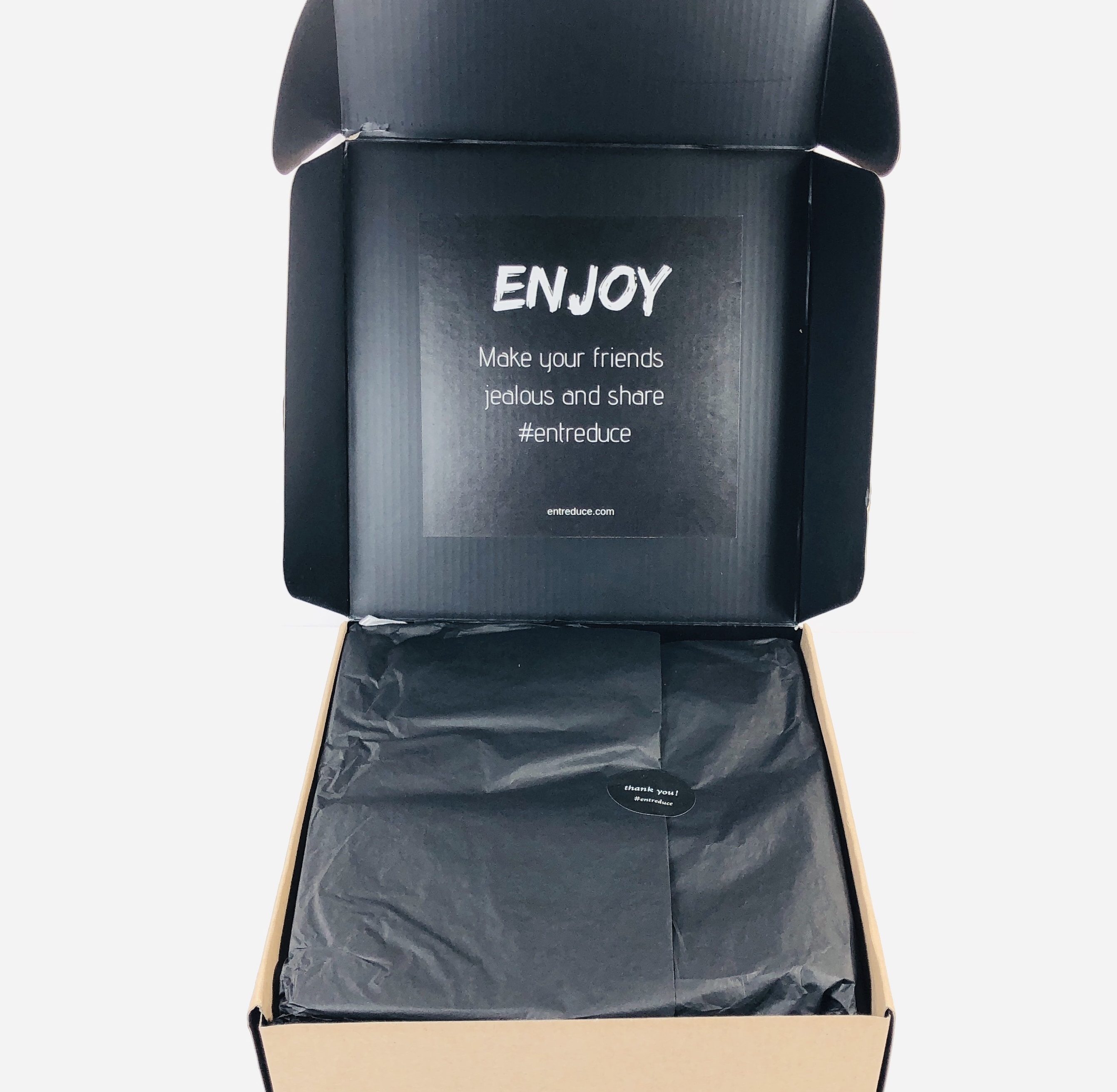 The presentation is simple, just black tissue paper and a sticker closure.
A personalized card is always welcome.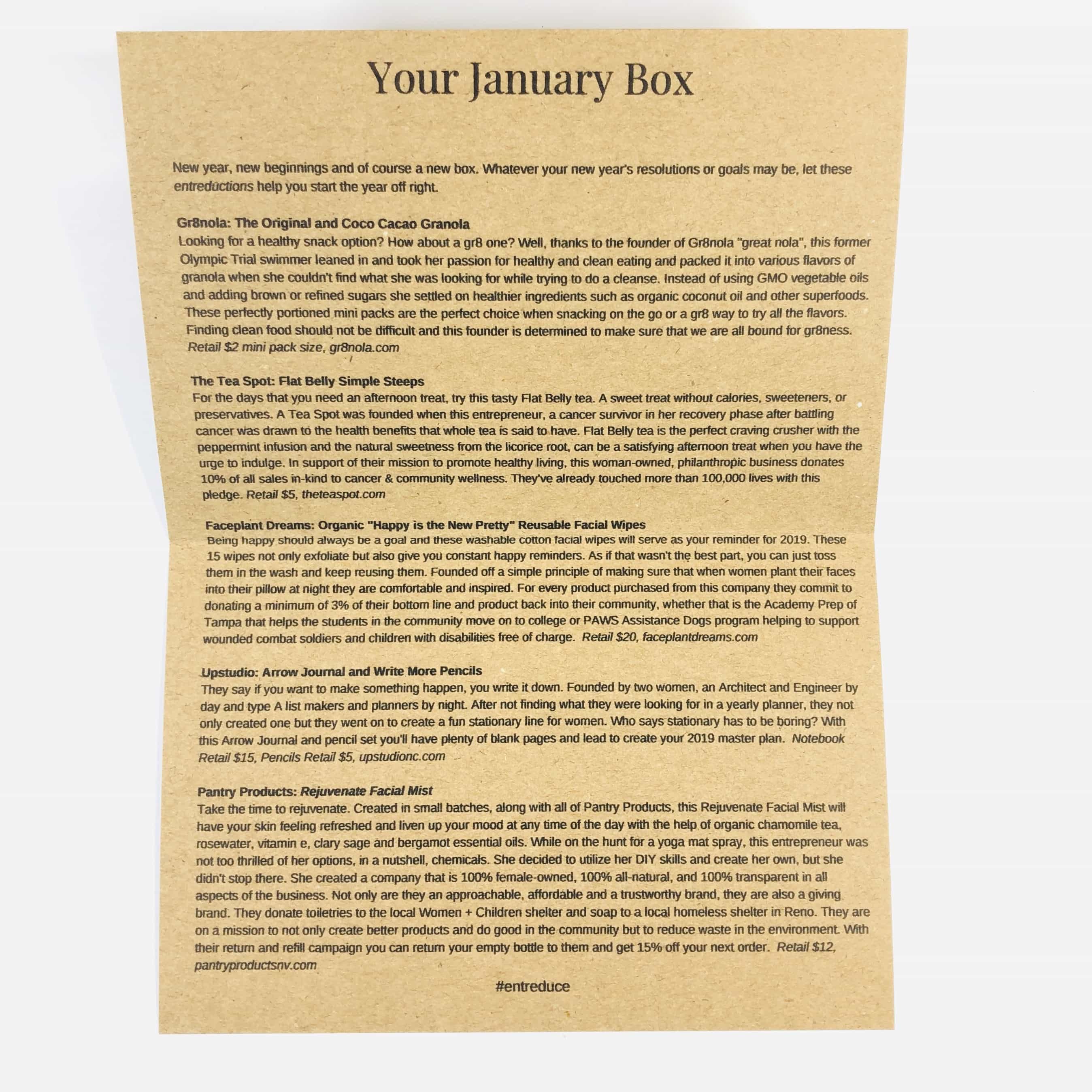 Inside I found info on all of the products in this box. The theme was "New year, new beginnings".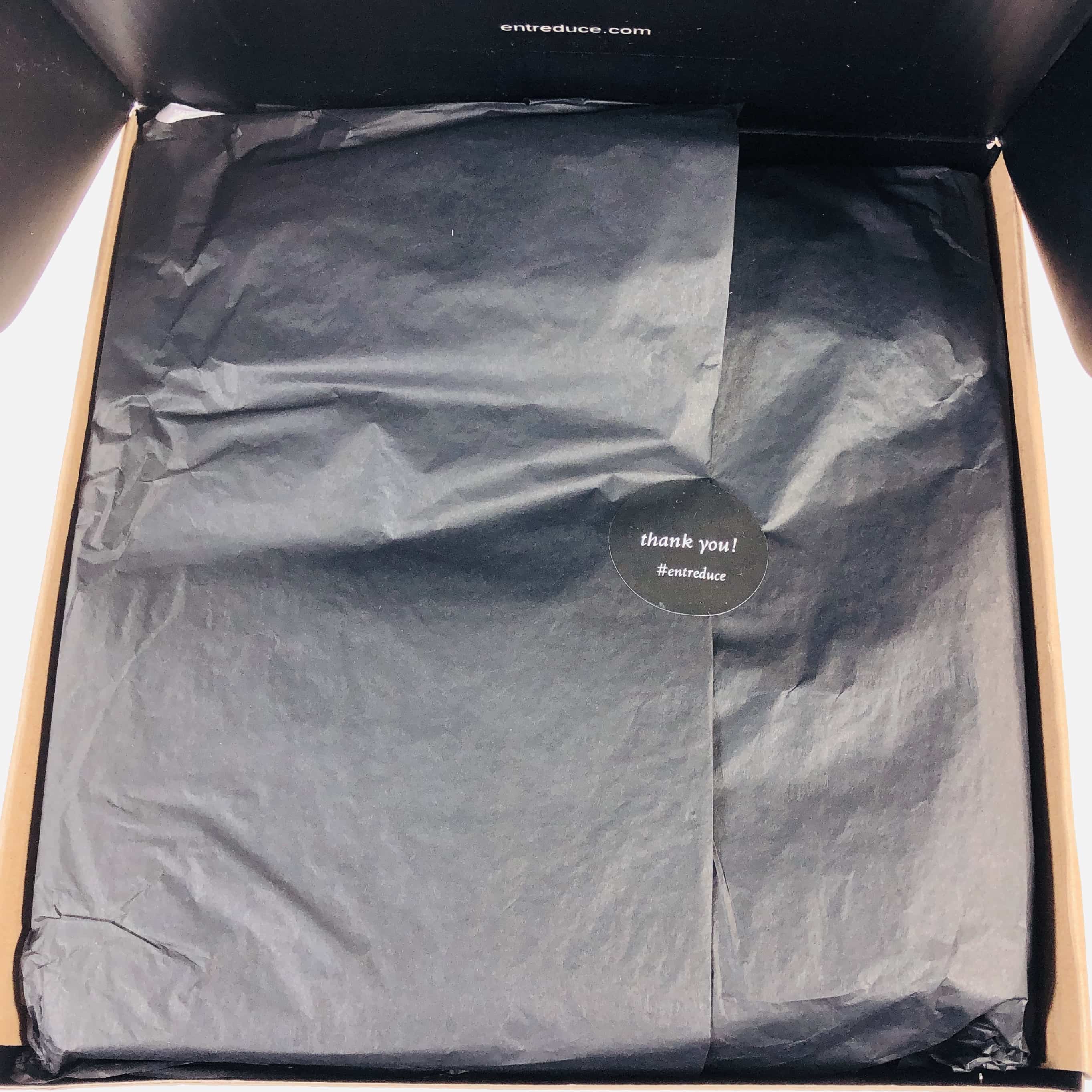 I wonder what is inside?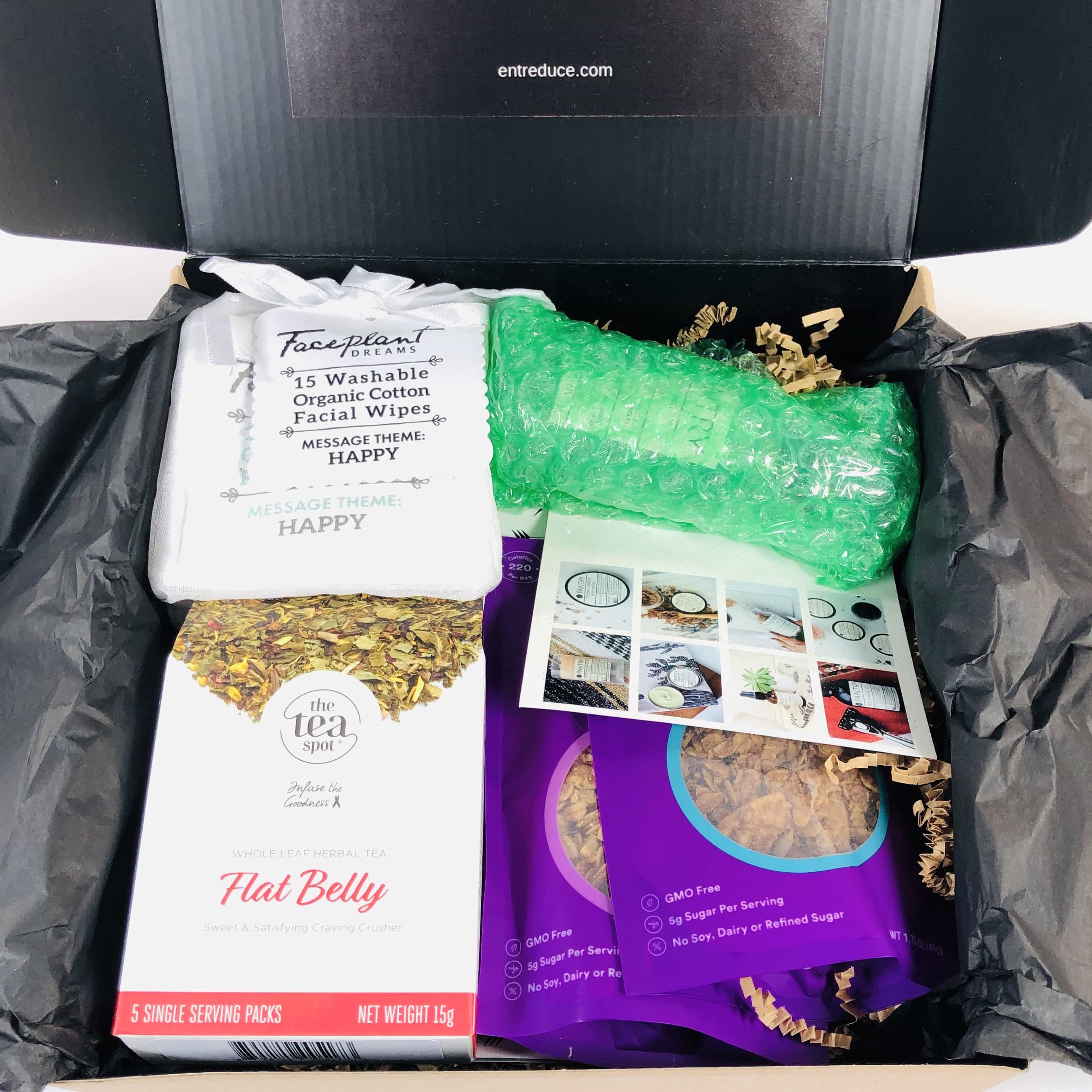 First look! There was a breakable item but it was safe and sound in bubble wrap.
Everything in the box!
UPStudio Arrows Journal ($15) A new year calls for a new journal for jotting down all those plans you want to accomplish in the next 300+ days.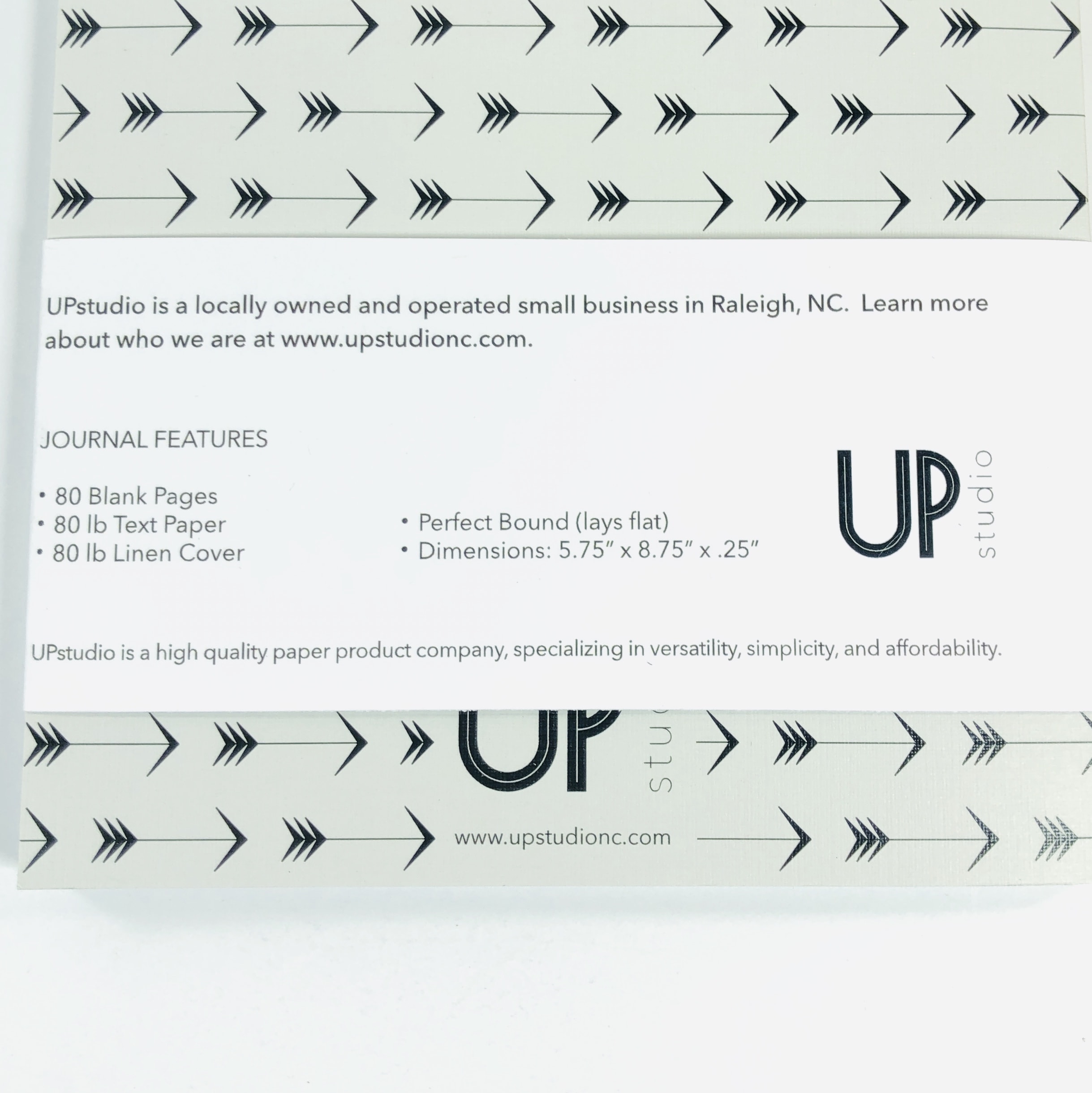 The dimensions and number of pages were clearly marked on the journal. I was skeptical that it would lay flat but it did, just push it down and it will stay.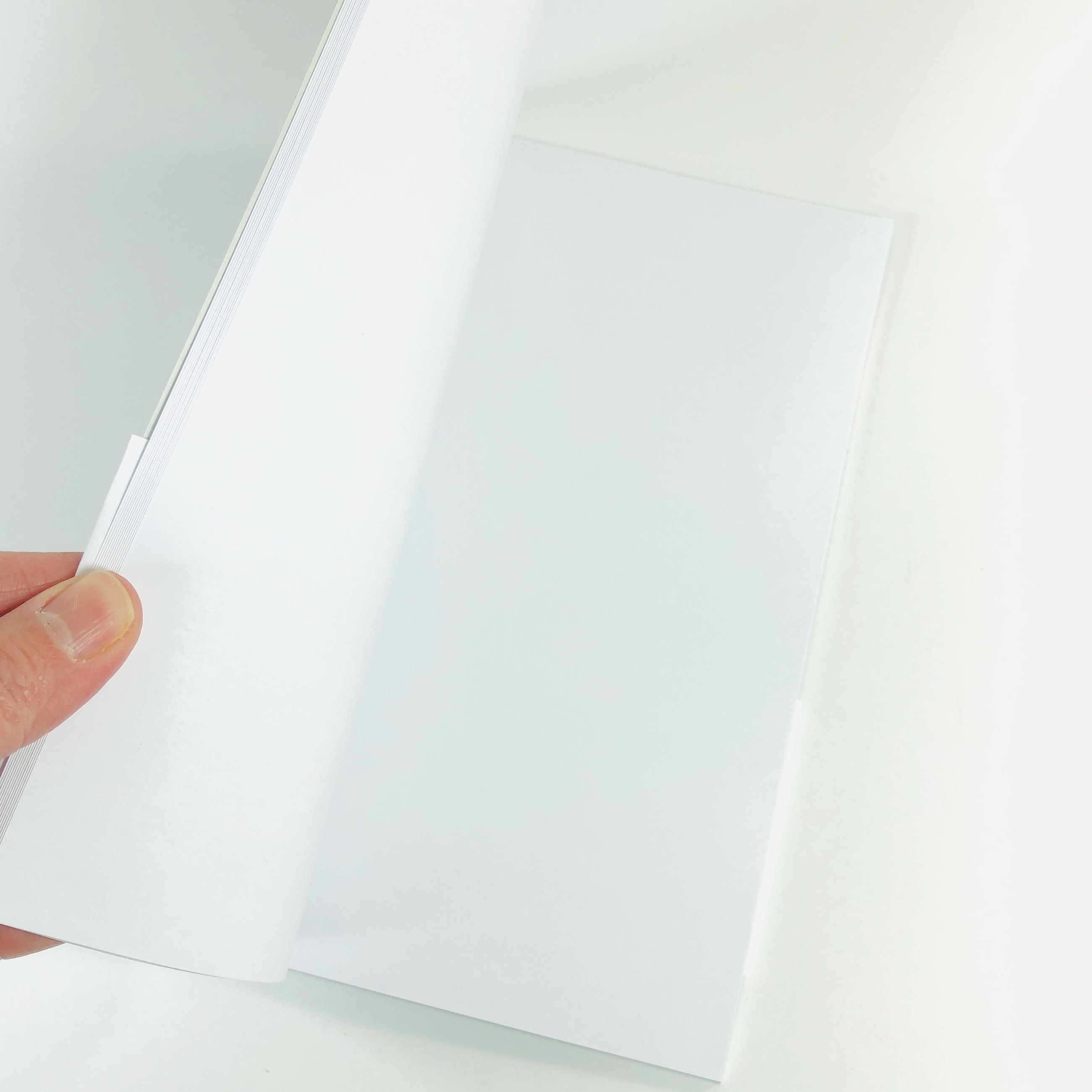 The pages are blank and unlined, and if you choose to order one you can get one with dots for a bullet journal.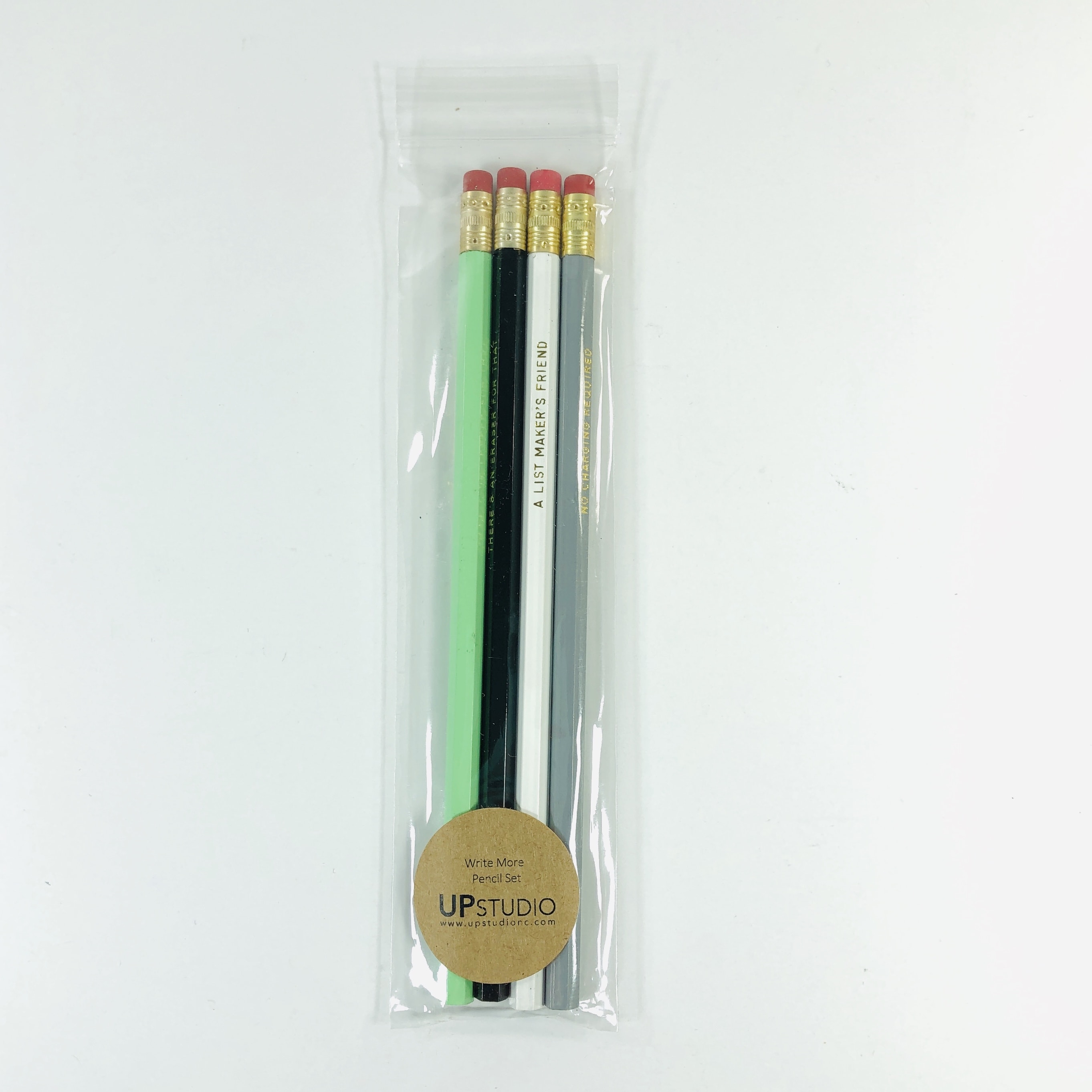 UPStudio Write More Pencil Set ($5) Four new pencils were also included to get you started in the journal.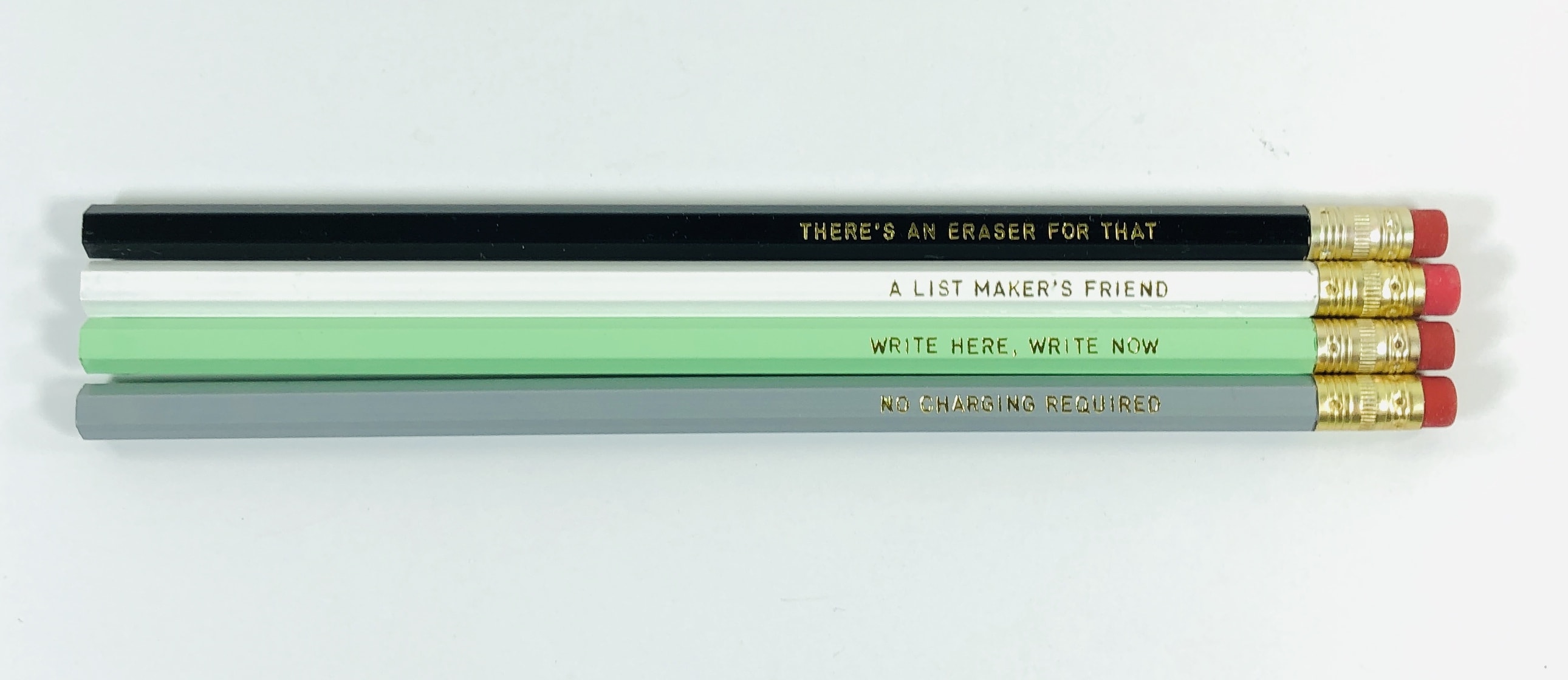 Just in case you were wondering, these are #2 pencils! For some reason that was always a big deal in school, gotta have a #2 pencil.
Here are some funny motivational words to kick off that writing session.
The Tea Spot Flat Belly Tea ($4.95) is an herbal tea to help crush sugar cravings.
Ingredients and steeping instructions were listed on the back of the box, and you can find that info on each individual pack, too.
Hibiscus, peppermint, and licorice are the only ingredients and you may re-steep the tea if you wish. I was expecting this to have a tea bag inside but it was loose leaf tea so you will need either a tea bag or strainer. You also use 16-20 ounces of water instead of the usual 6-8 ounces, so you could use half as much water and half of the tea to make it last longer. Of course, if you drink the whole 16 ounces then yes, you will probably feel fuller than if you only drank 8 ounces. This had a minty hibiscus flavor, like minty cranberry juice, and it didn't taste at all like licorice.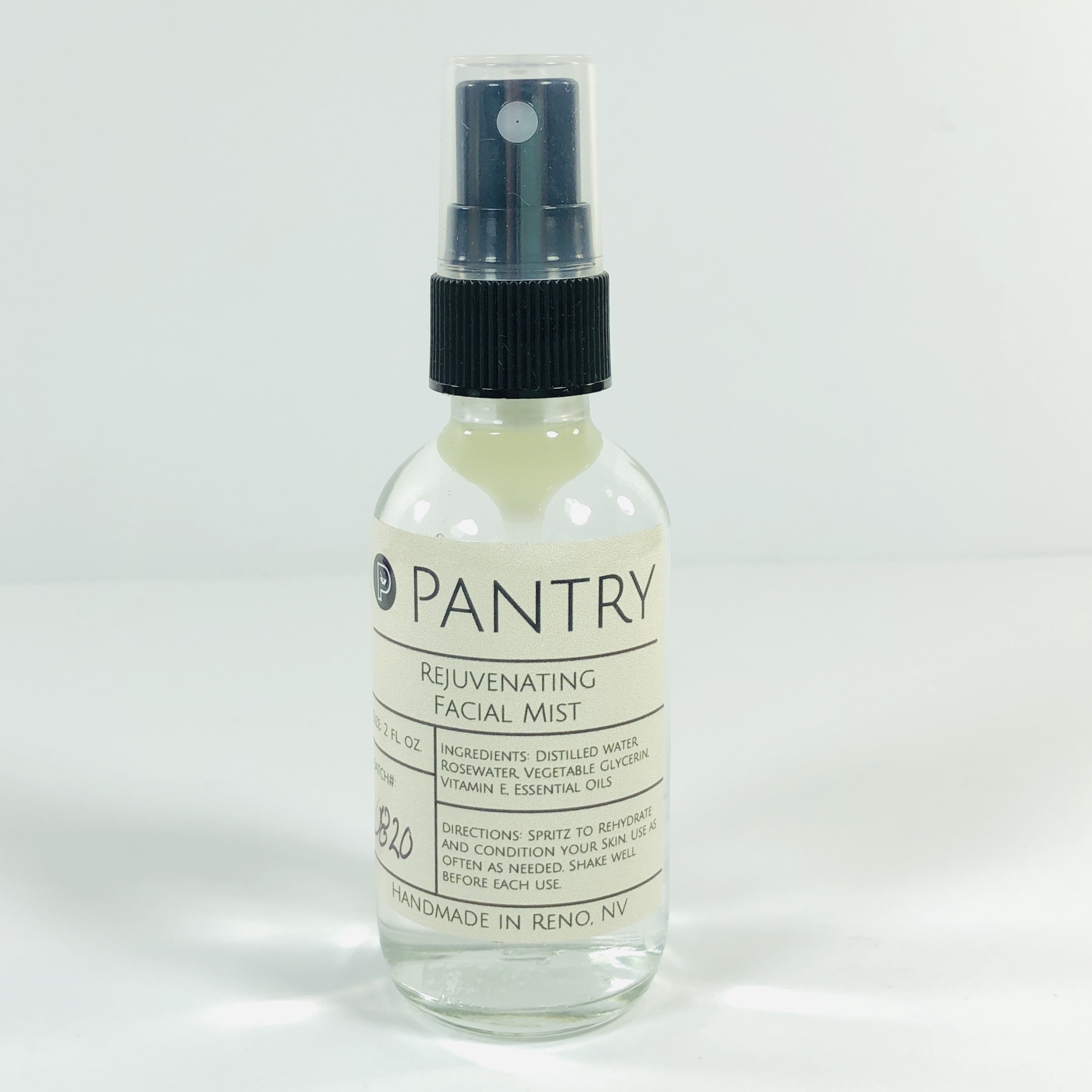 Pantry Rejuvenating Facial Mist ($12) can be worn under or over makeup, either as a toner or as a facial refresher throughout the day.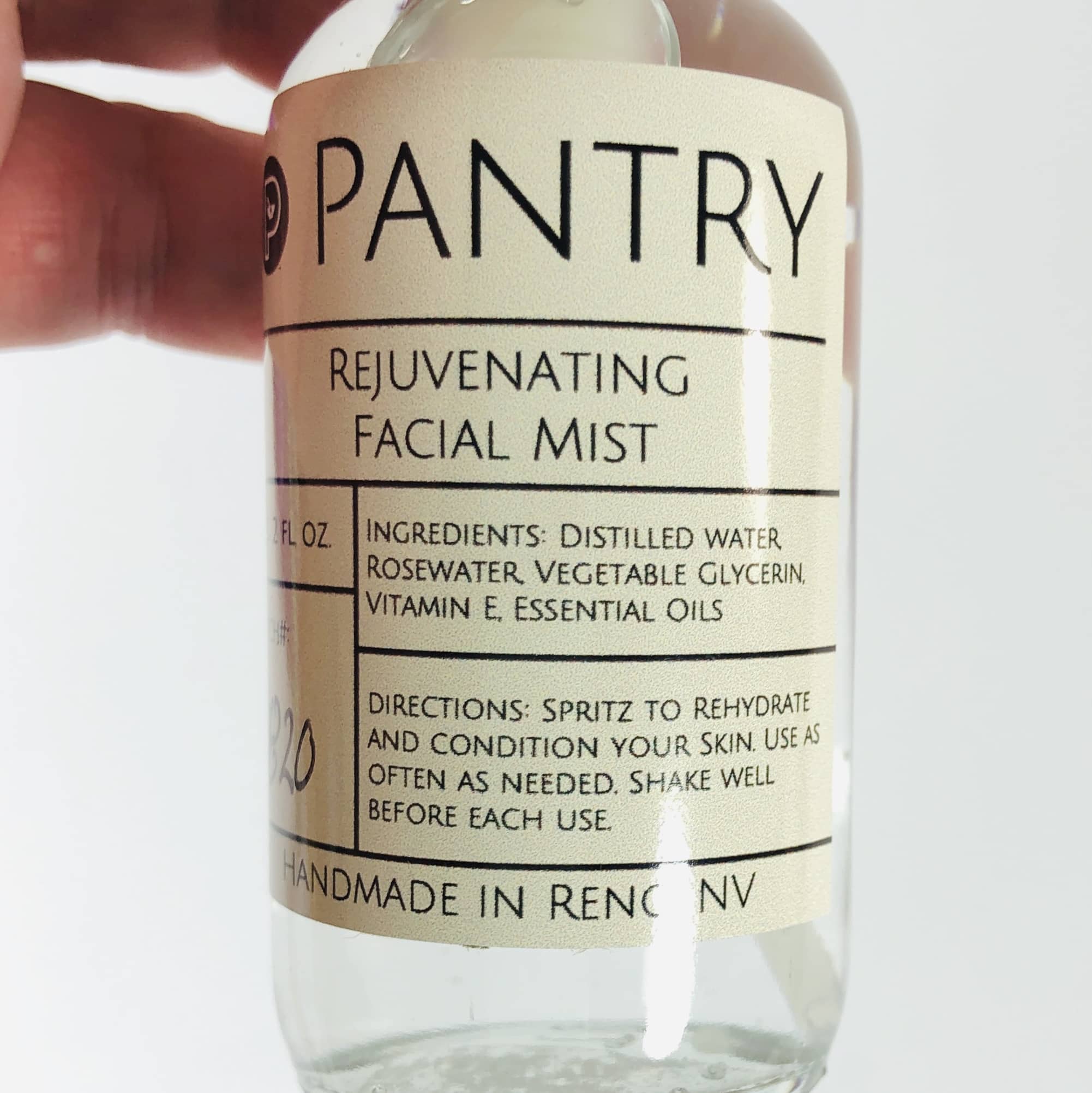 The ingredients on the bottle and the website are not quite the same, but then mine also had a sticker on the bottom that says $10, so maybe there was a change along the way. According to the website the Rejuvenating toner has clary sage and bergamot essential oils but mine smells like jasmine or maybe ylang ylang. Smells good!
Gr8nola The Original & Coco Cacao ($2 each) I love granola! I was so excited to see two flavors of granola to try, yum!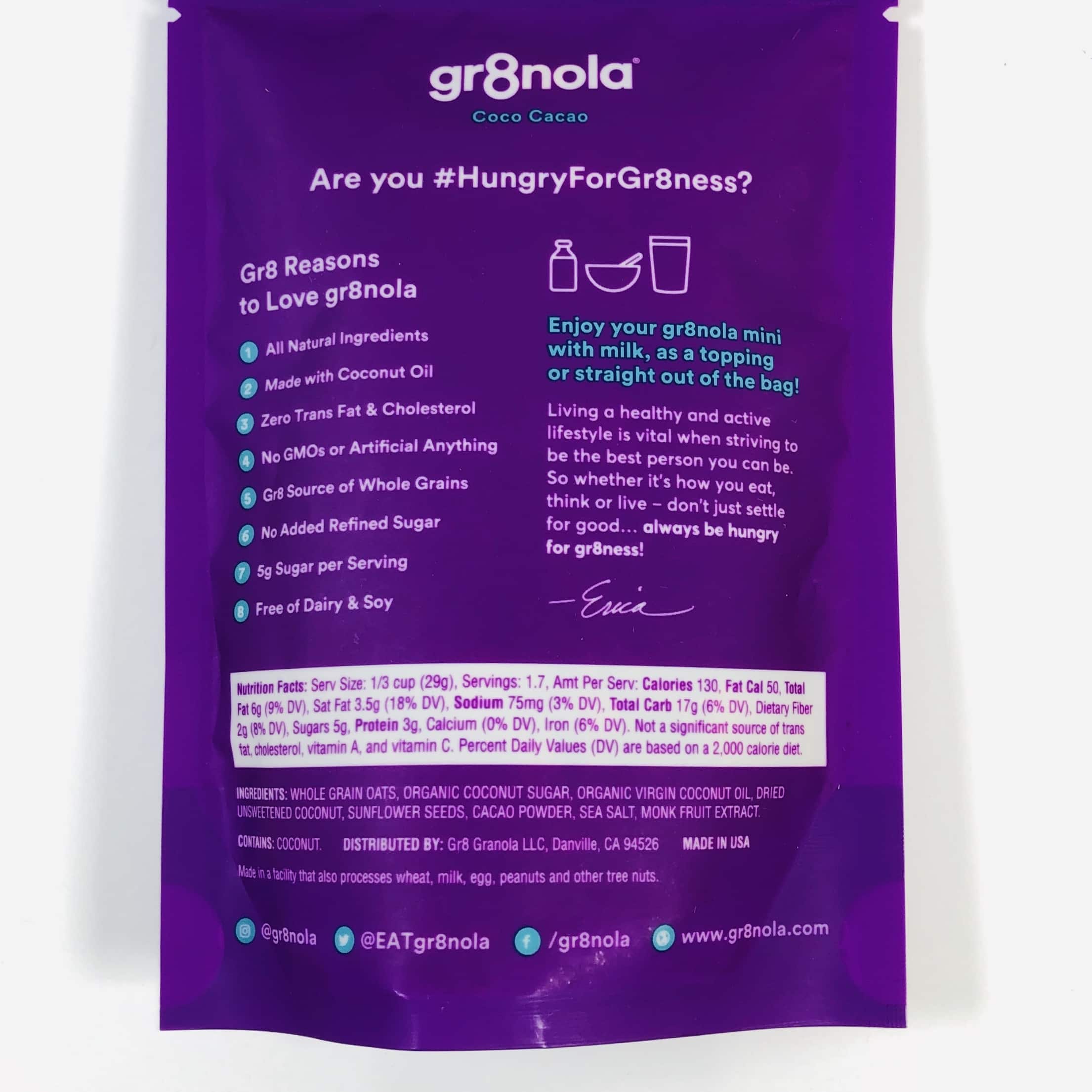 Granola is a calorie-heavy food but I ate it out of the bag, like trail mix. The Coco Cacao had just a touch of chocolate flavor. The only thing I didn't care for was the aftertaste from the monk fruit extract, and I don't think it really needs it anyways. Maybe they did that to keep it vegan friendly but I would prefer to add my own honey at home.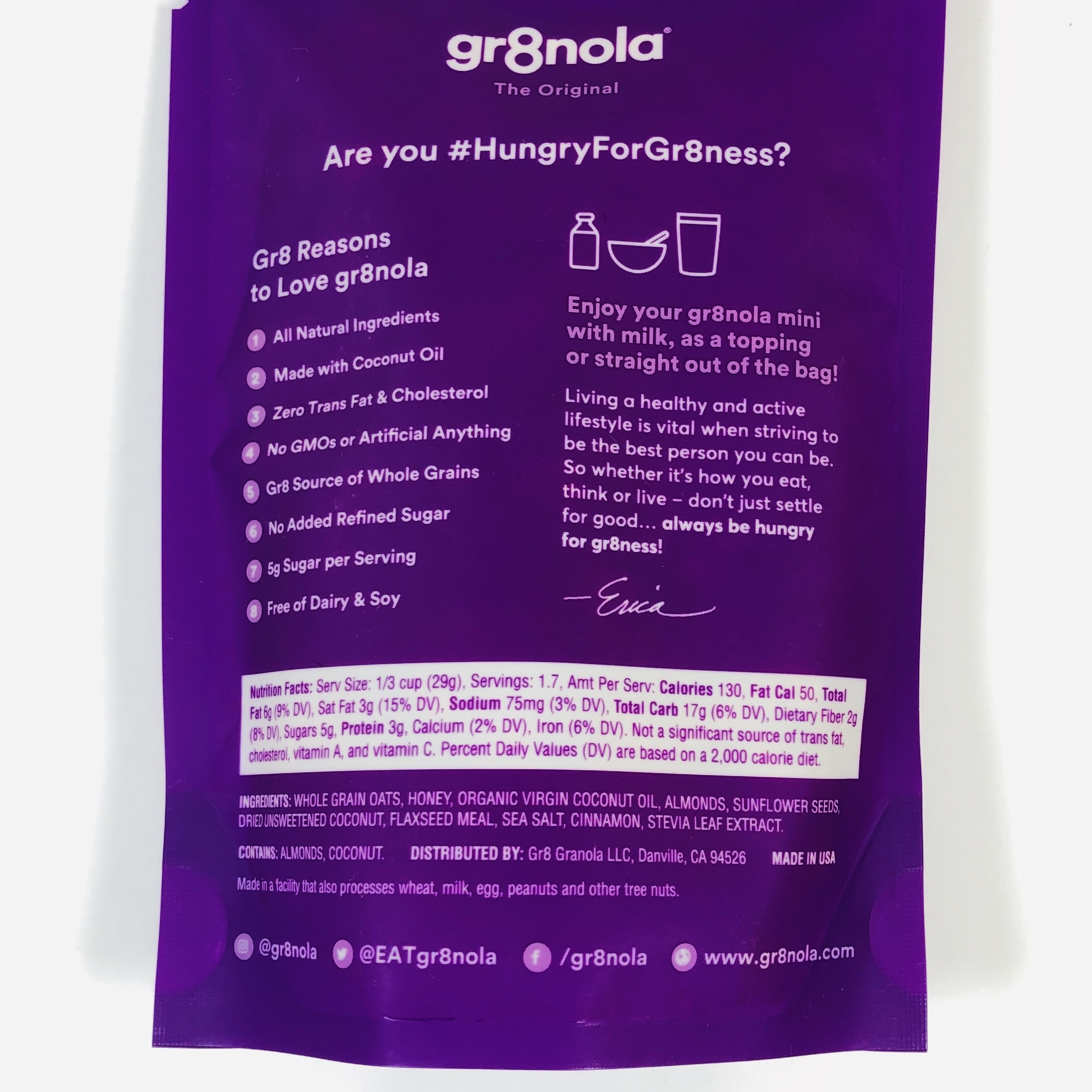 I liked this flavor better, but again, it has stevia extract as a sweetener and again, it had an aftertaste. I do like the clean ingredients in both products but for whatever reason my taste buds just can't handle those sweeteners. I confess I continued to chow down on both snacks because they are fresh, crunchy, and otherwise really tasty. If they had sweetener-free cereals I would stock up!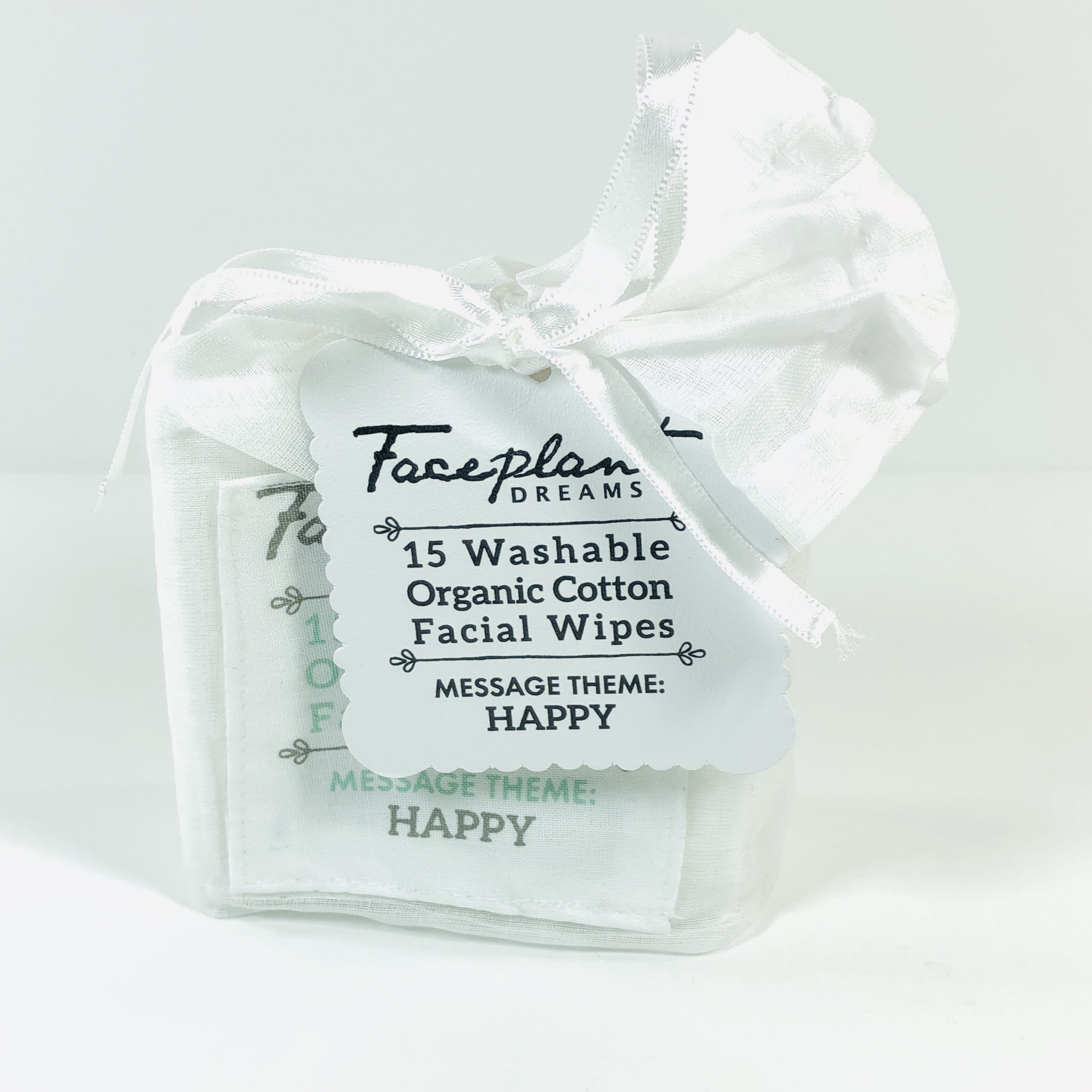 Faceplant Reusable Cotton Pads ($19.95) It looks like the only difference between the version I linked to and the one I received is maybe a renaming and a color change, and I prefer the colors I received, they are so pretty!
Even the message on the tag was inspiring, plus the packaging is adorable!
All of the messages on these little squares are listed on the package, and there are two other sets to choose from online.
There were 15 cloths in the bag.
Each cloth is made of organic cotton and is approximately 3.25″ x 3.25″.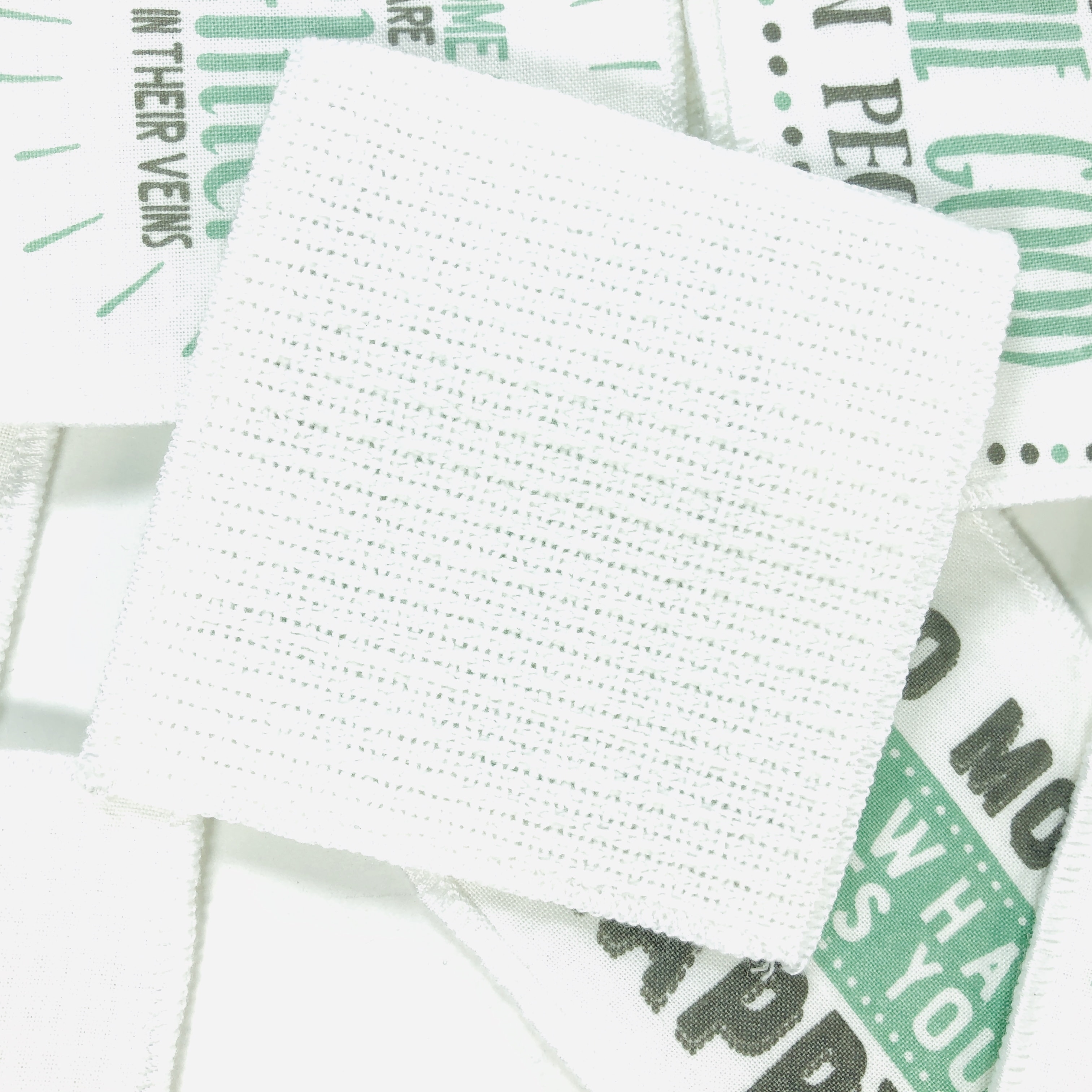 The back of the cloth has a waffle weave that helps to gently exfoliate skin. I washed my face as usual and then went over it with the waffle weave side and it removed makeup that I thought my cleanser had supposedly removed, oops! Throw in the wash after using and tumble dry.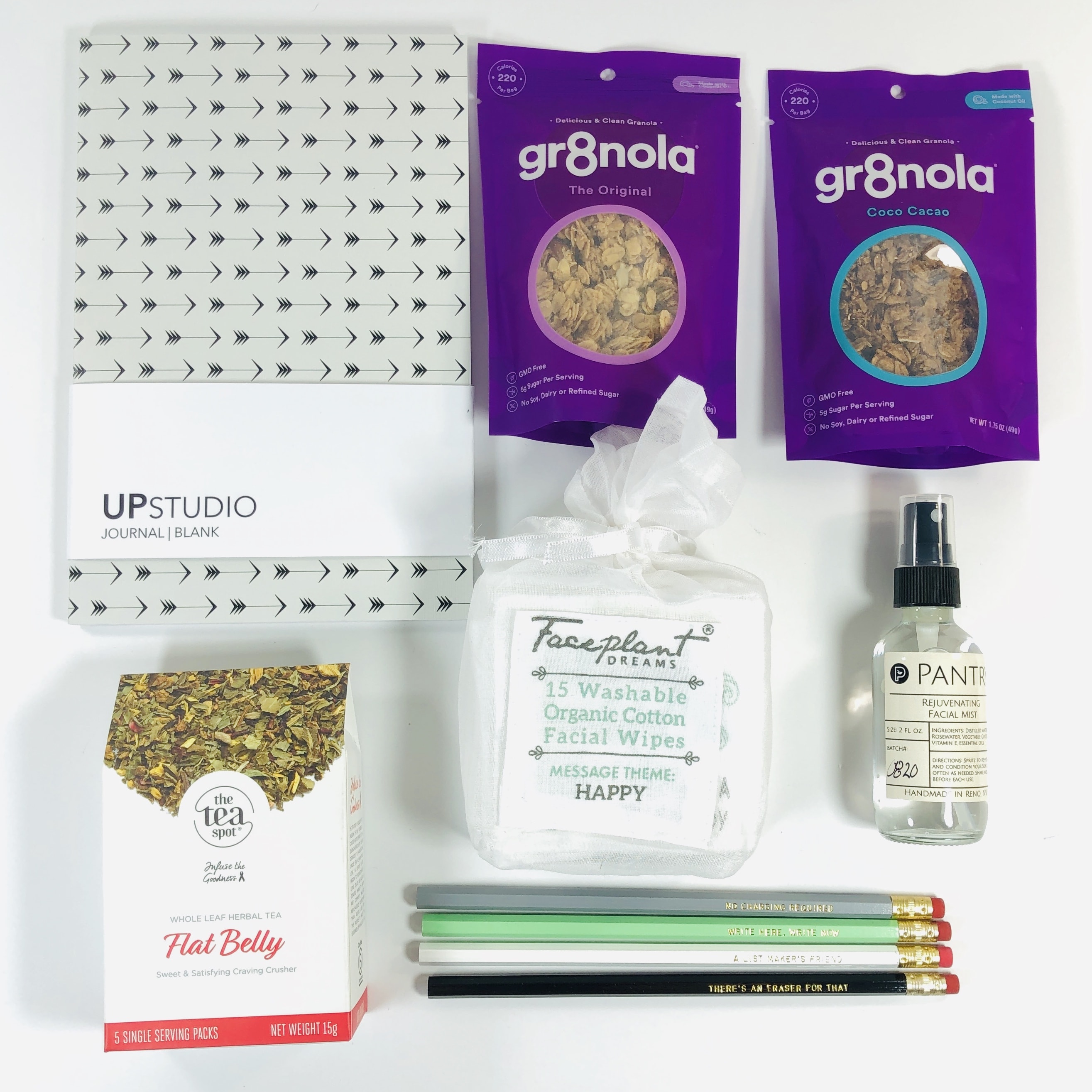 This was the second box from Entreduce and I was so surprised that I have only ever encountered one of these makers before (The Tea Spot) so Entreduce did indeed introduce me to new products and businesses! I thought the New Year, New You theme was a good one for January and a journal (plus pencils) is a good way to put down plans for the year. If you are looking to make healthier choices then you could use the journal as a food and exercise tracker. Speaking of eating healthier, the box had a tea to help curb sugar cravings and some granolas to try out. Finally, there were some cleansing pads and a toner/refresher to help clean up your nightly skin care routine, in case you slacked off during the holidays. I like the variety of items in the Entreduce box, and appreciate that they are cleaner products, that has become increasingly important to me. The January box had a value of around $60.90, or at least $20 more than the price paid for the subscription!
Are you getting the Entreduce box?