Tasu is a Canadian yoga and wellness subscription box. Every month, you will receive 4-6 products handmade and curated by Tasu. These products will range from clean and non-toxic skin care, aromatherapy, tea, yoga jewelry, healthy snacks, books, essential oils to yoga accessories to support and enhance your wellness lifestyle. The box is CAD $36 with CAD$8 Shipping for both Canada and the US.
DEAL: Get 10% off your first box! Use coupon code HSB10.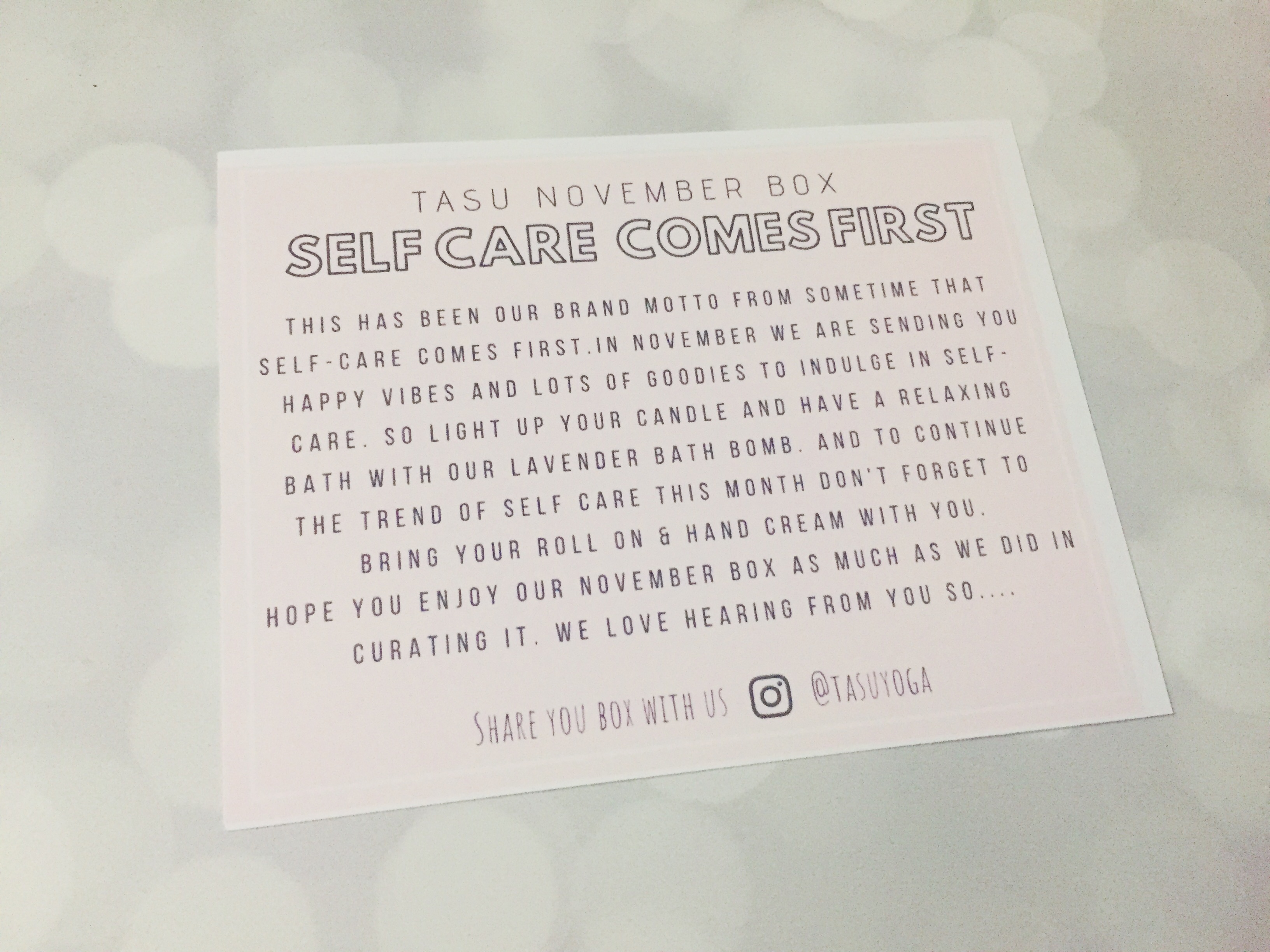 November's theme is Self Care Comes First. Whether it's taking a small moment for yourself or the whole day, self care is so important and not enough people are mindful about practicing it when you need it!
The reverse of the info card has information about the items included. Tasu creates their own products to include, from skincare to aromatherapy experiences, but this month they included an Rx Bar as a snack, too!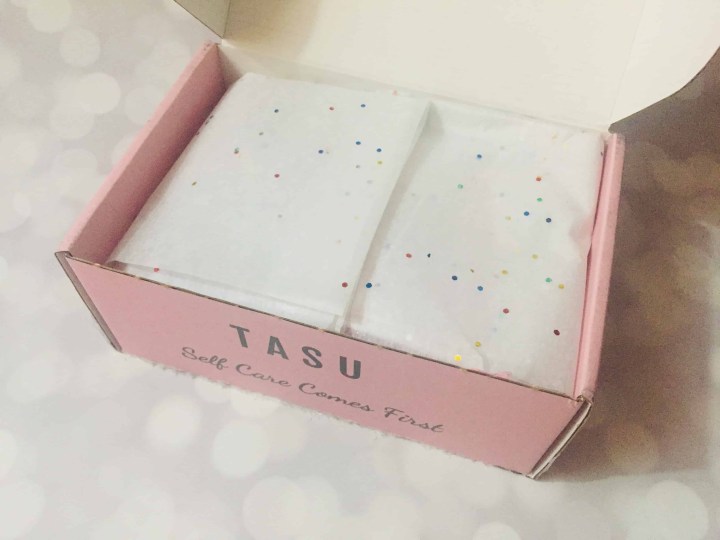 First peek! The small details like the glitter on the tissue make me happy.
Sandalwood Orange Candle — A soy candle with a cozy citrus scent. You can really smell the woodsy base notes from the sandalwood, and it's the perfect scent to burn as fall moves into winter!
Meditate Aromatherapy Roll On — A blend of rosewood, lavender, eucalyptus, and frankincense in a coconut oil base. Tasu is 2 for 2 with their aromatherapy roll-ons, which isn't an easy task since I'm not a member of the "I love lavender" fan club. But the added rosewood and eucalyptus added a warm, earthy and woodsy scent that I couldn't stop smelling on my wrists. This box is giving me major fall warm fuzzies, and I'm so here for it! I found this scent wore longer than the October scent (citrus always fades on me!) so applying in the morning meant it lasted throughout the day a lot longer.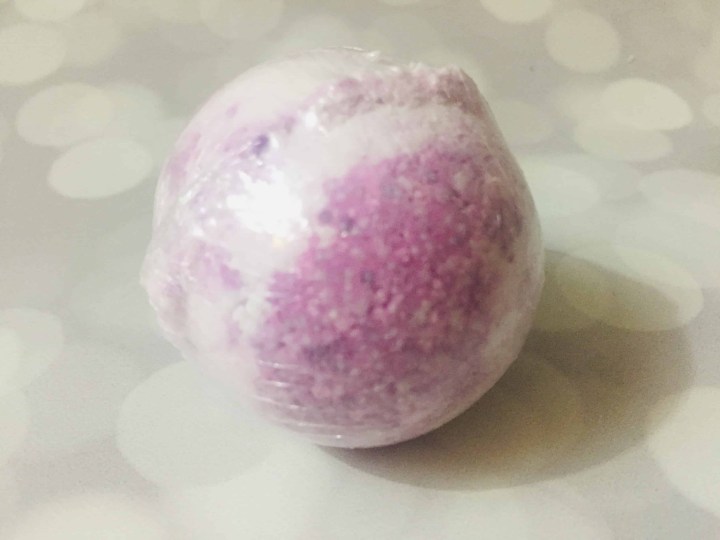 Lavender Bath Bomb — Ah bath bombs. I can't get enough of them. This one is a good size and should give your bath a good fizzle! Lavender is a great scent for a bath before bed, as it helps relax and calm.
Geranium Neroli Hand Cream — Subscribers were sent either this scent or lavender orange… honestly, I'm not crying that I didn't get the lavender one! LOL! The hand cream has a refreshingly short ingredient list, including shea butter, grapeseed oil, and the essential oils that make up the delicious smell. Since it has shea butter, it can be a bit greasy, but I didn't notice it too much after rubbing it in for a few extra seconds. Shea butter is an amazing ingredient for cold weather!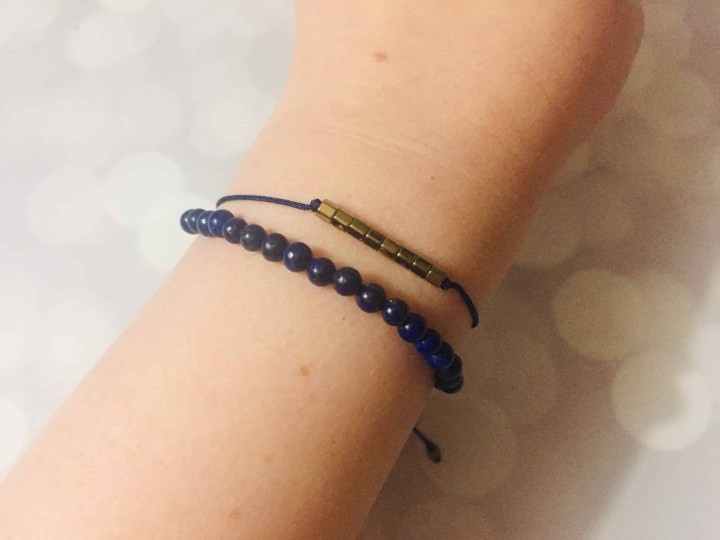 Lapis Lazuli Bracelet Set — I was soooo excited when the spoiler for these came out. Lapis is one of my favourite stones ever, since bright royal blue is my favourite colour. Fellow Hello Subscription reviewer Catherine actually made me a bracelet with lapis lazuli in it last year, and I can't wait to stack these. The stones and beads are a lot smaller than anything I've worn before, and I love how dainty they feel on my wrist.
Rx Chocolate Sea Salt Bar — I've tried a few Rx bar flavours before, including this one, which is honestly probably one of the few I actually like! Chocolate and sea salt — you really can't mess that up! This bar goes well with the other items in the box, as chocolate is a staple for me when I'm needing to have a bit of self-care. Their bars are all full of healthy, clean ingredients to keep you going going going.
Seriously, Tasu, you already wowed me with the October box — but I'm falling in love all over again with the November box. I love that we were sent new products to try, and the bracelet duo is just a stunning addition to the box. As much as I love bath bombs, and skincare, you eventually run out… but my bracelet will be worn for months to come. This is such a fun box if you or someone you know is into yoga, wellness, or just clean and natural beauty.
What did you think of the November Tasu box?