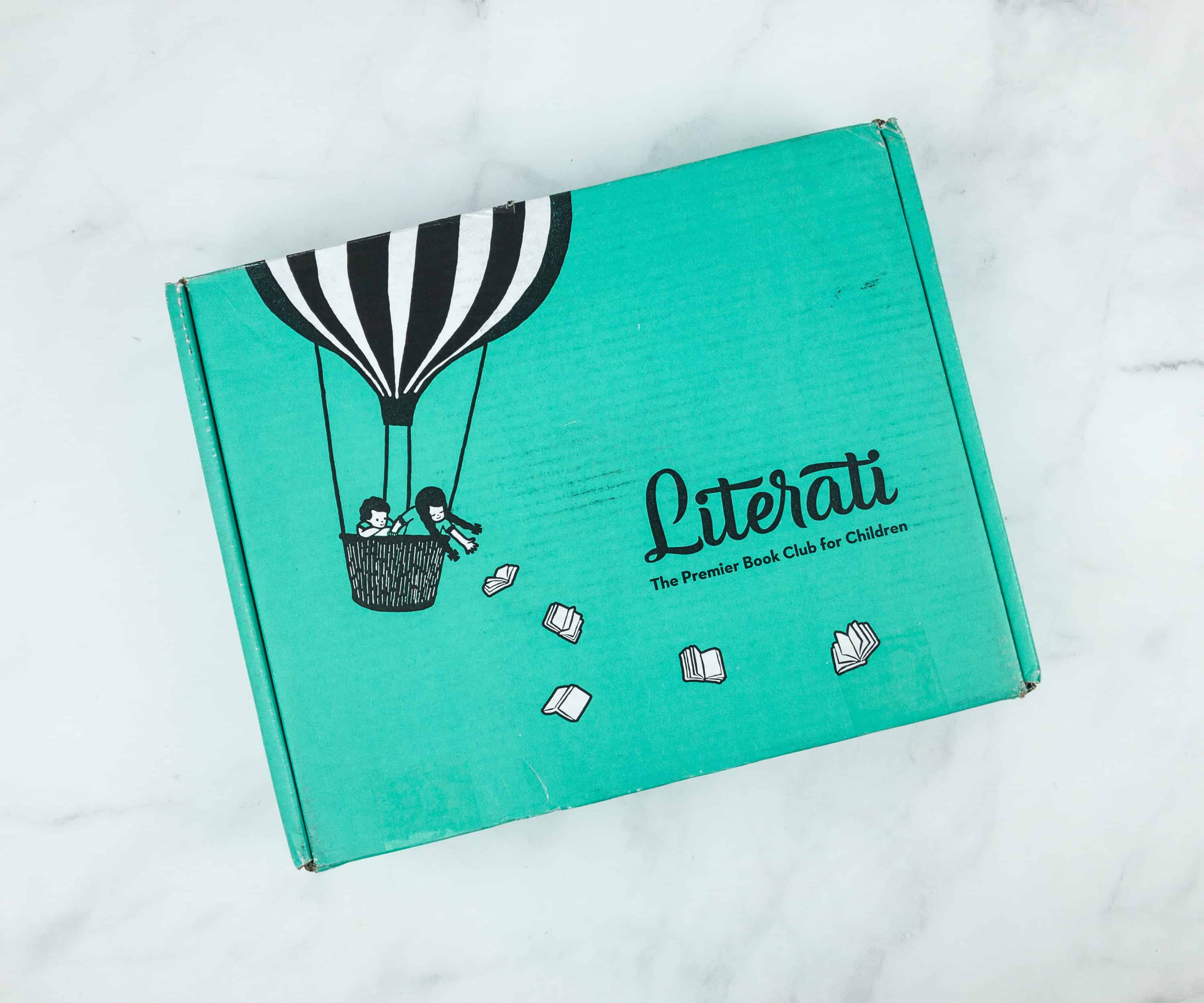 Literati is a monthly book subscription box for children that works similar to Stitch Fix. For a monthly fee of $9.95, you'll receive 5 books to try out for a week. You can purchase the ones you love and return the rest (in totally new condition) in the enclosed prepaid mailer (shipping is free in both directions).
You can get 5% off when you decide to keep all the books! There are also categories for each age bracket: Club Neo is for newborn to 1 year; Club Sprout is for children ages 2-3; Club Nova is for kids 4-6, and Club Sage is for those 7-8 years old.
This is a review of the Club Nova box for kids 4-6.
The featured illustrator creates new artwork for the monthly themes. This month's illustrator is Isabelle Arsenault.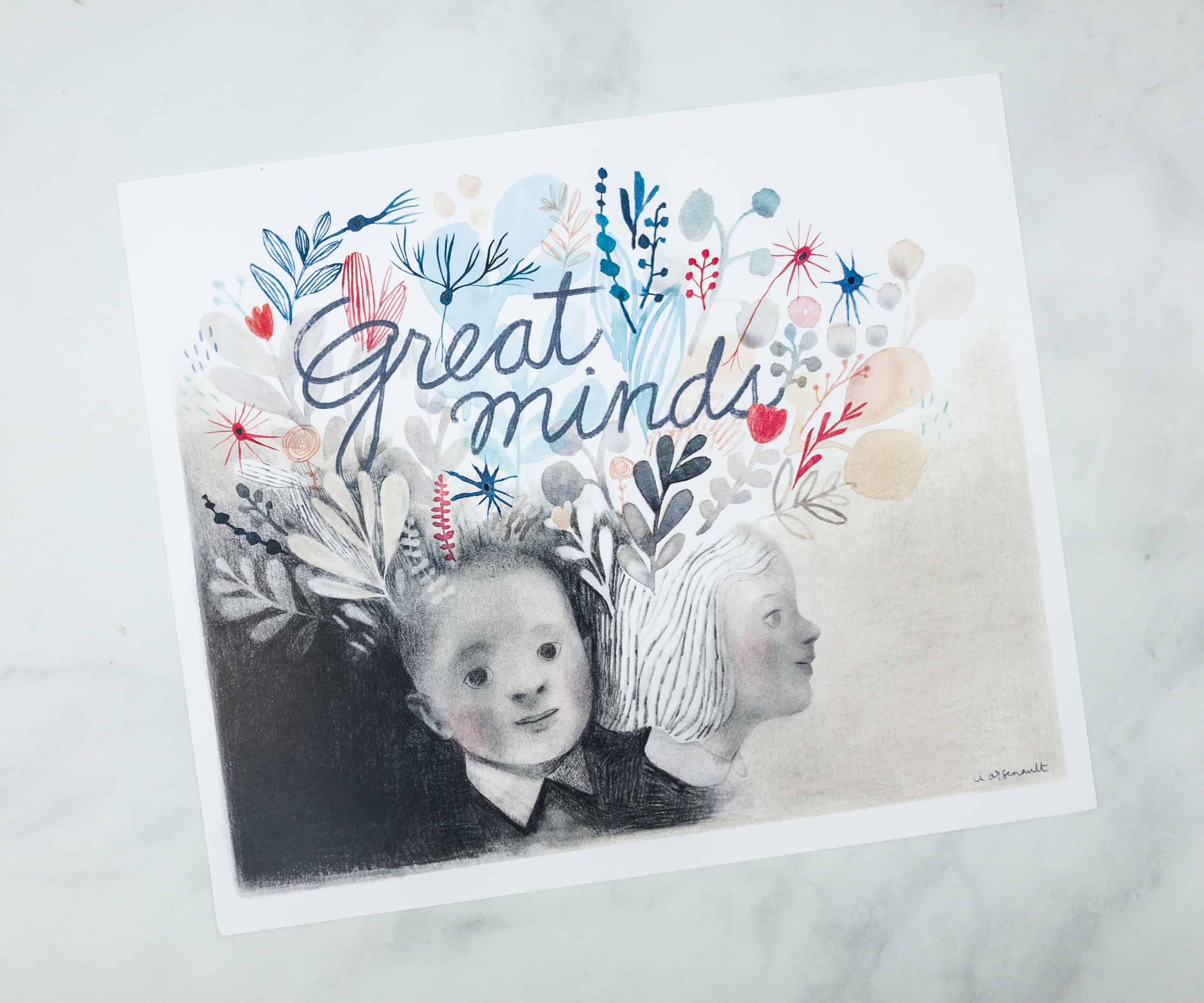 A full-size print comes with the box, along with free shipping. Although I don't love that the fee doesn't apply to a full box purchase, this high-quality print makes it more worth it. Also, the theme for this month is Great Minds!
They included a sheet to help us label the books, and let others know that they're ours when we decide to keep them. They're really adorable!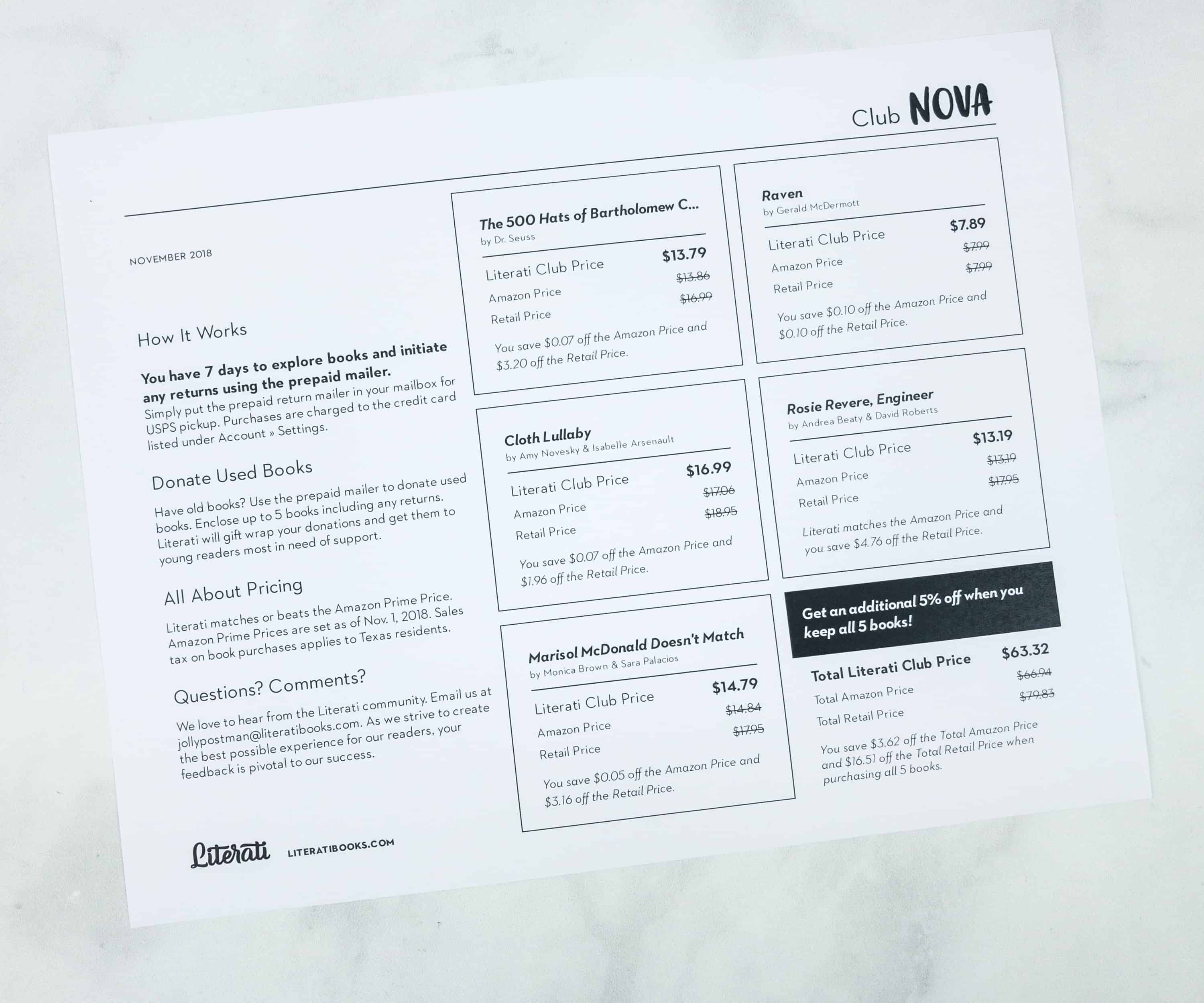 There's also a listing of the book prices. If you decide to keep everything, you'll get 5% off. The subscription has a $9.95 non-refundable fee. According to Literati "it covers shipping both ways, allows the curators to invite a new world-renowned illustrator each month to draw personalized bookplates and a unique print for members, and covers other themed surprises that are included in the box." Since the print is now full size and high quality, we are digging that change. It includes the shipping back and forth too.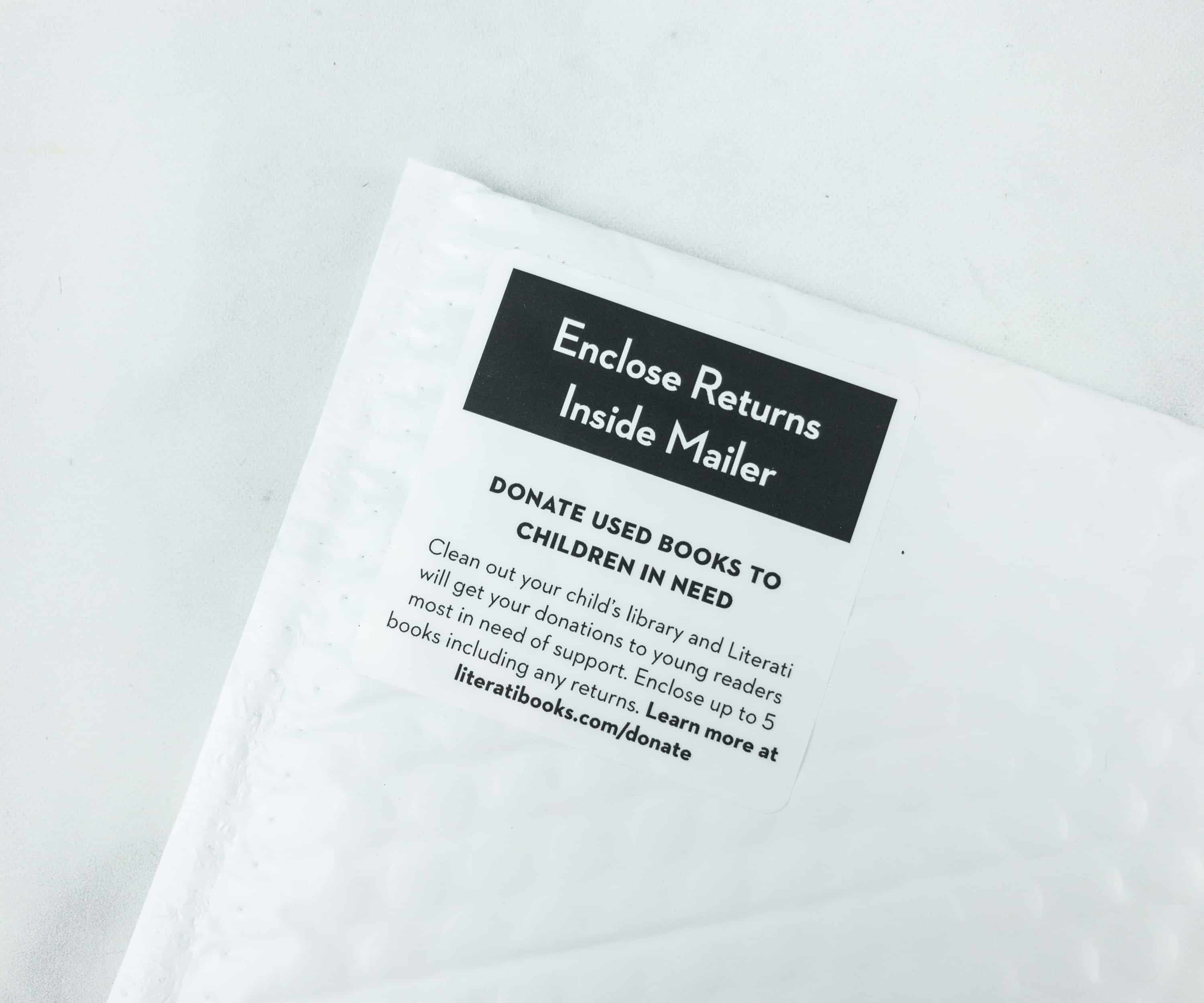 There's also a padded mailer if you want to return some of the books. You can also return your own gently read books (up to five total in the mailer) for donation.
DEAL: Get $25 in account credit to put towards books when you sign up! USE THIS LINK to get the deal.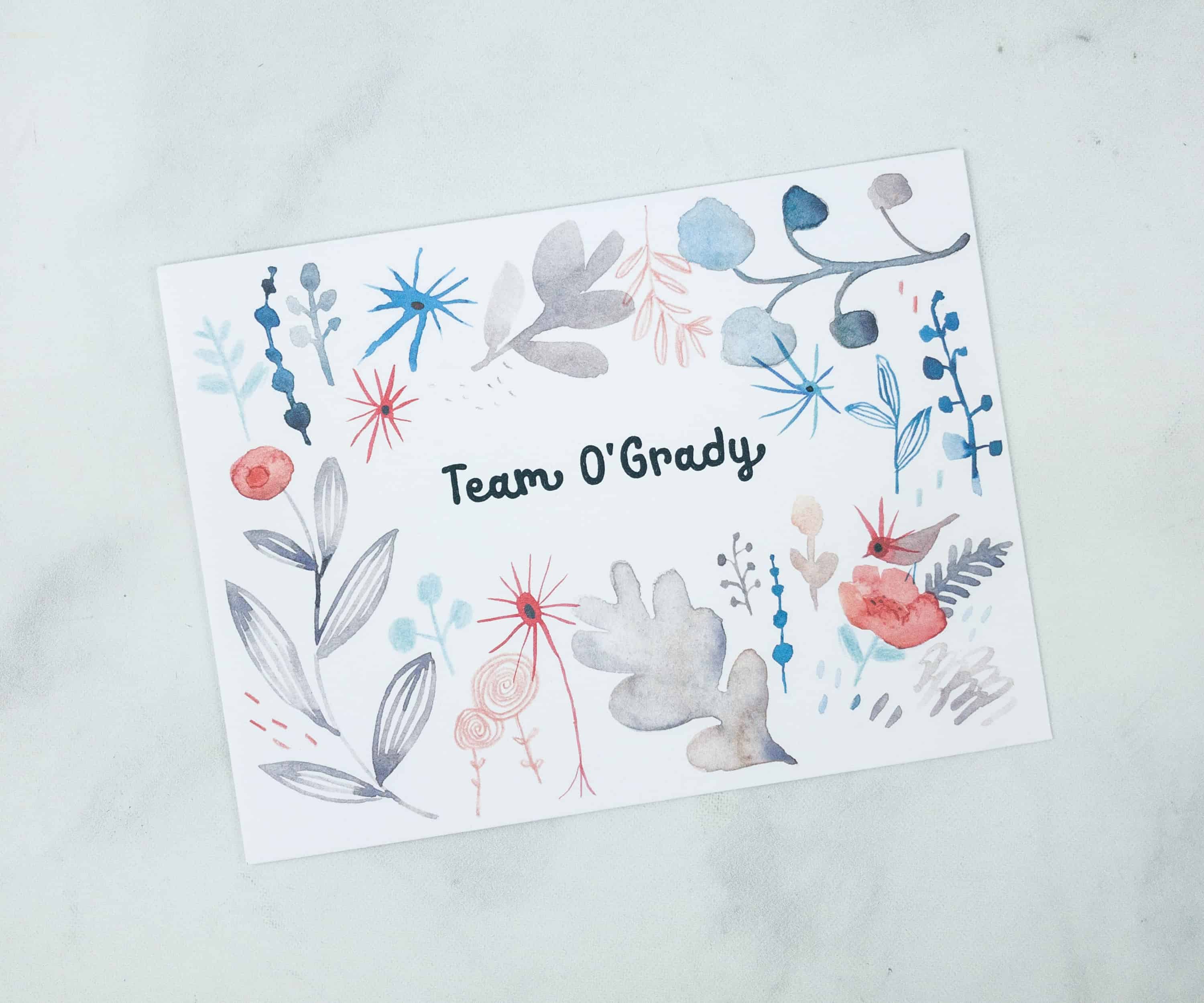 There's a cute note from Team Literati.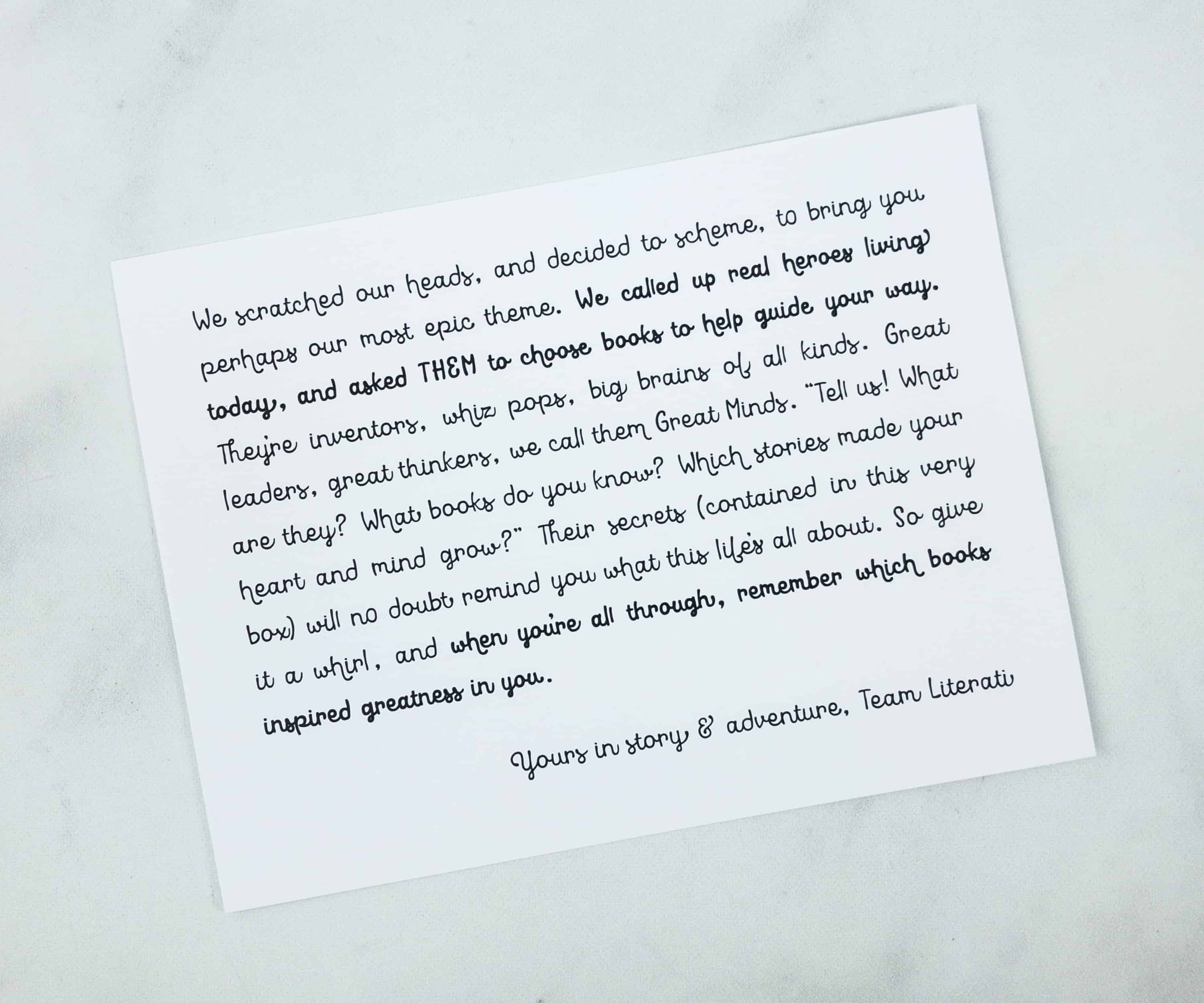 This month, Team Literati promises that the theme will be EPIC!
They also included this Tangram Puzzle which is a traditional Chinese puzzle. It consists of 7 geometric pieces called tans, and they're put together to form different patterns such as people, numbers, shapes, or even animals!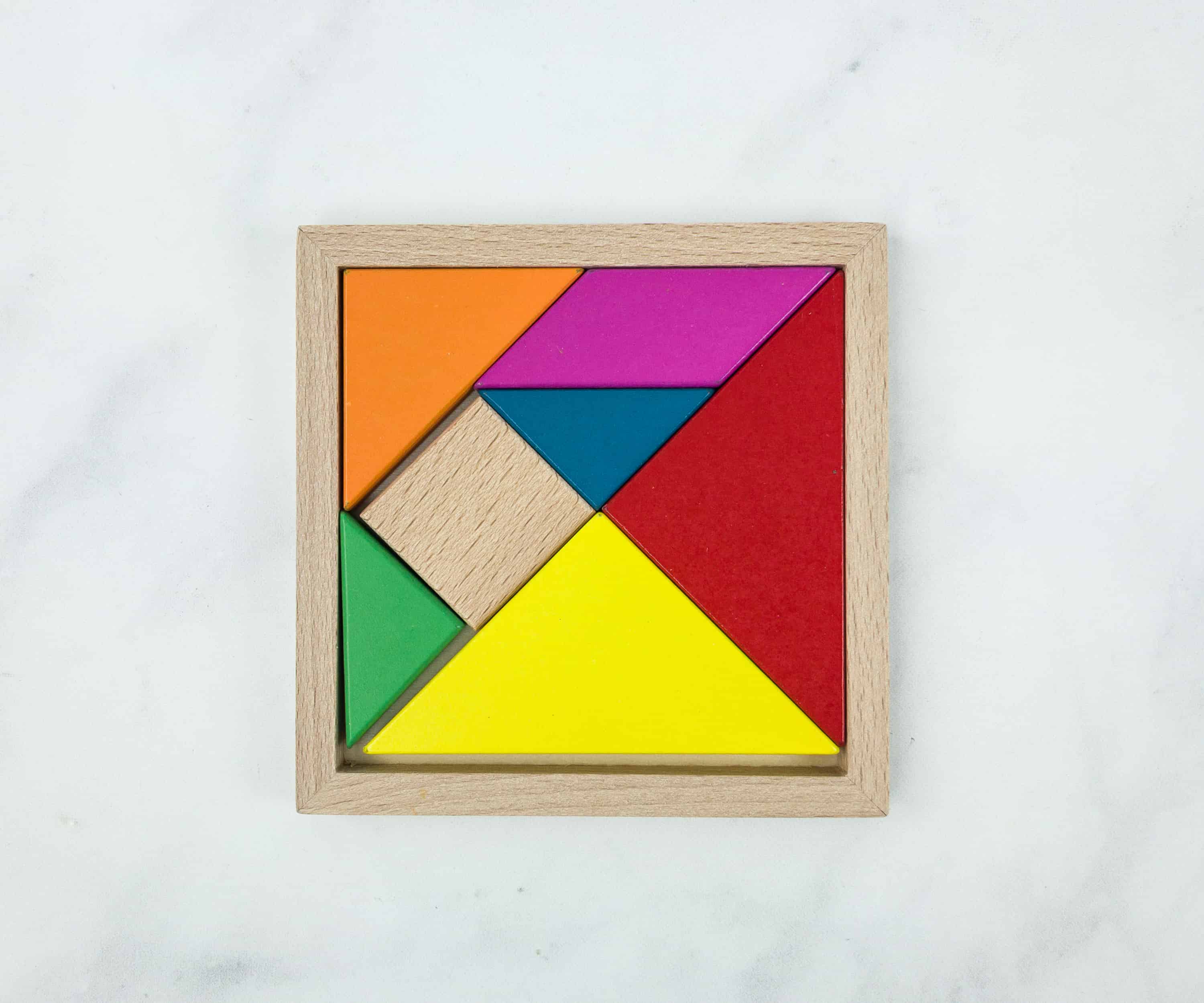 Here's the cool puzzle! You can start off by copying the shapes pictured on its packaging.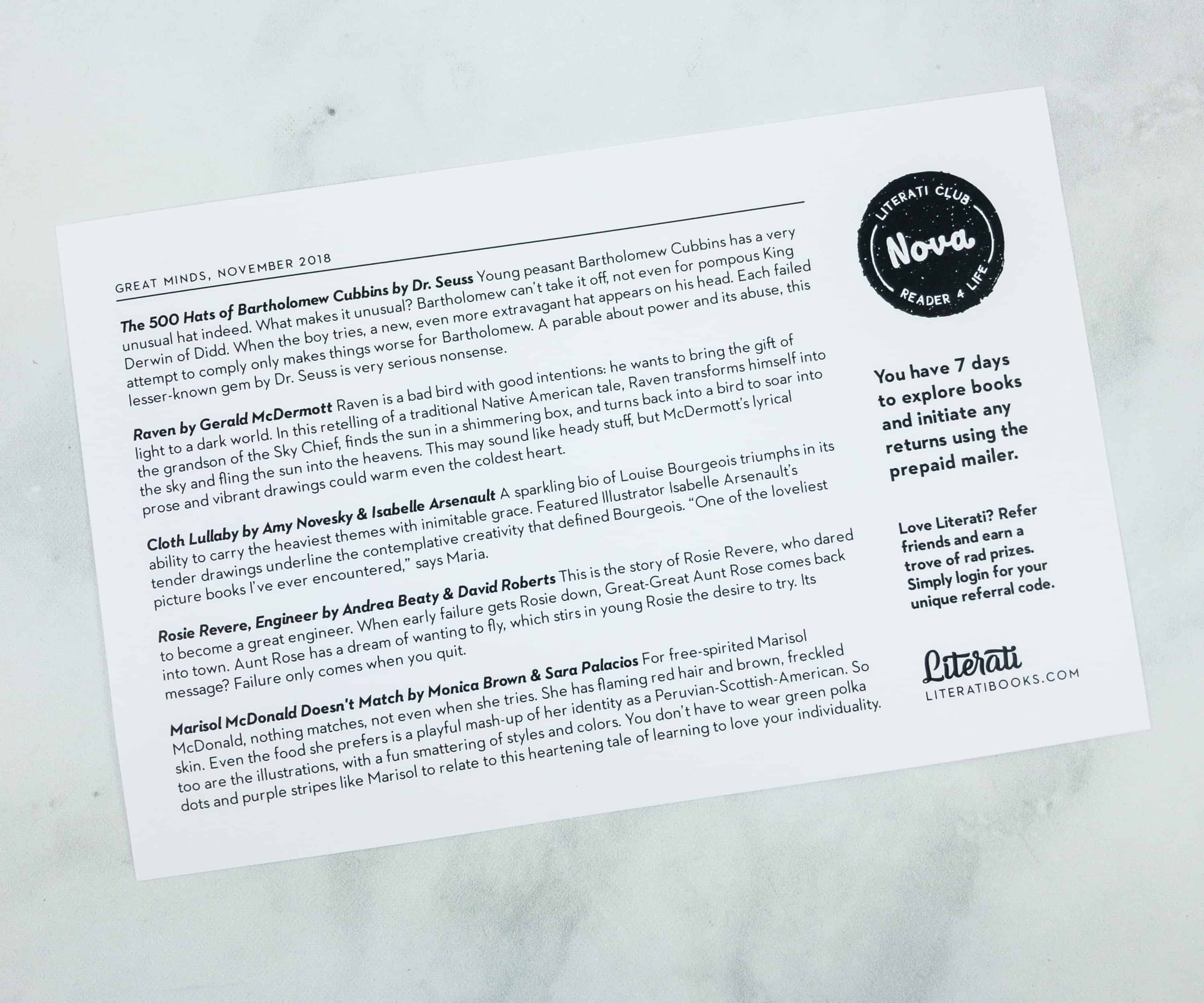 There's also an info card about the five books sent to us this month. The card lists the titles with a brief description for each.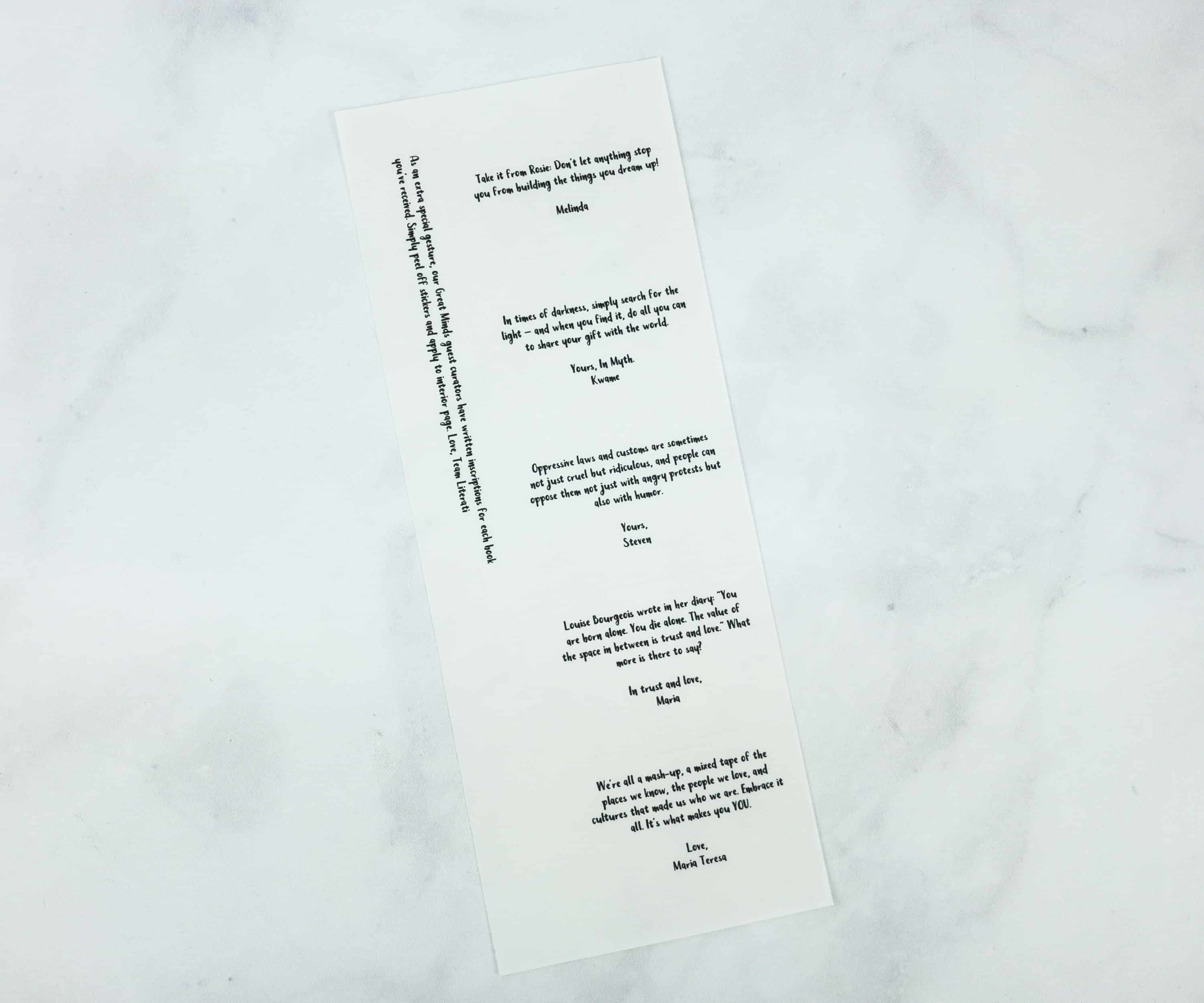 Since this month is all about Great Minds, here are some thoughts to ponder from the "great minds" behind this month's edition of this book subscription!
There's also a mini booklet that pictures people with great minds!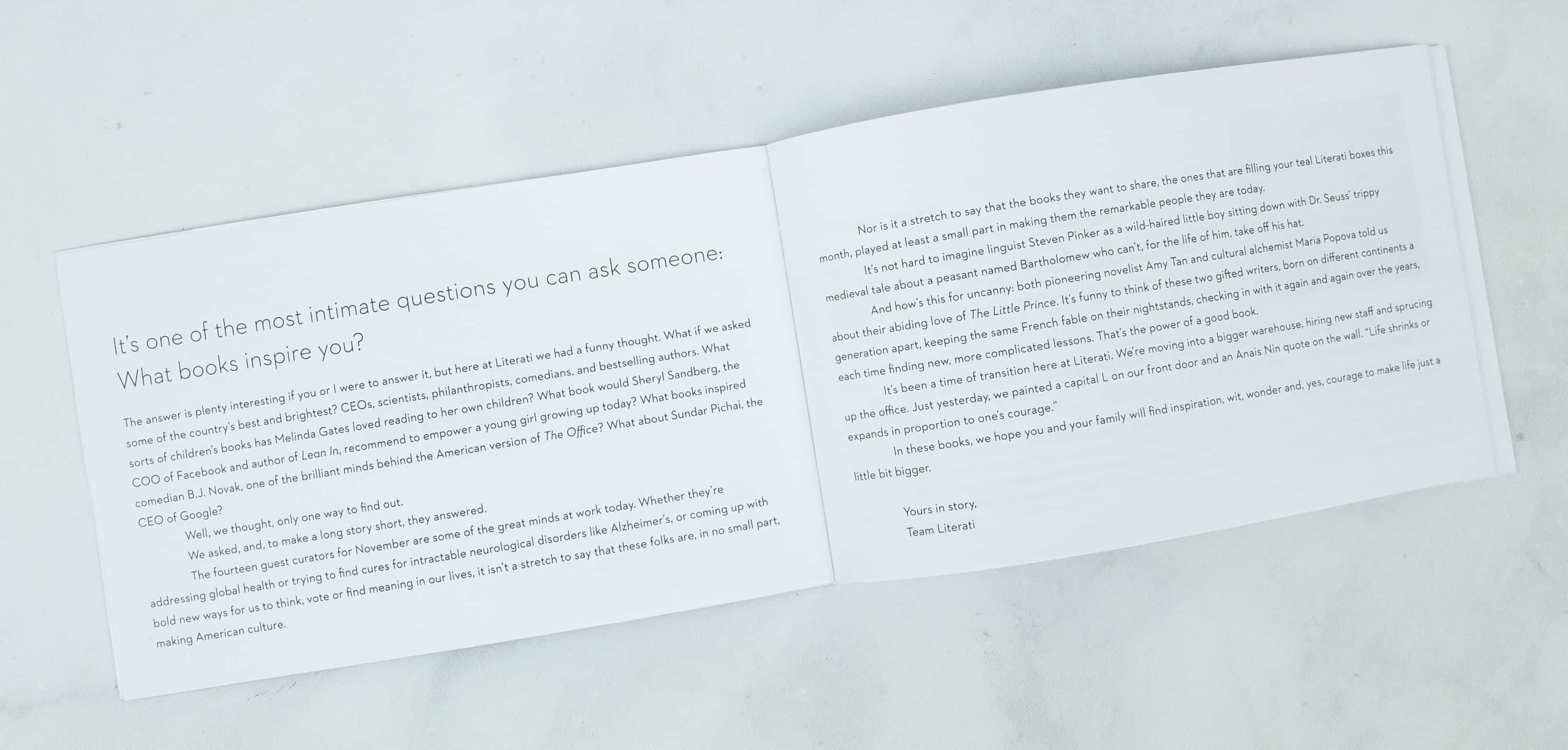 What books inspire you?
The pages contain information about the curators, the causes they support,  and the books they curated.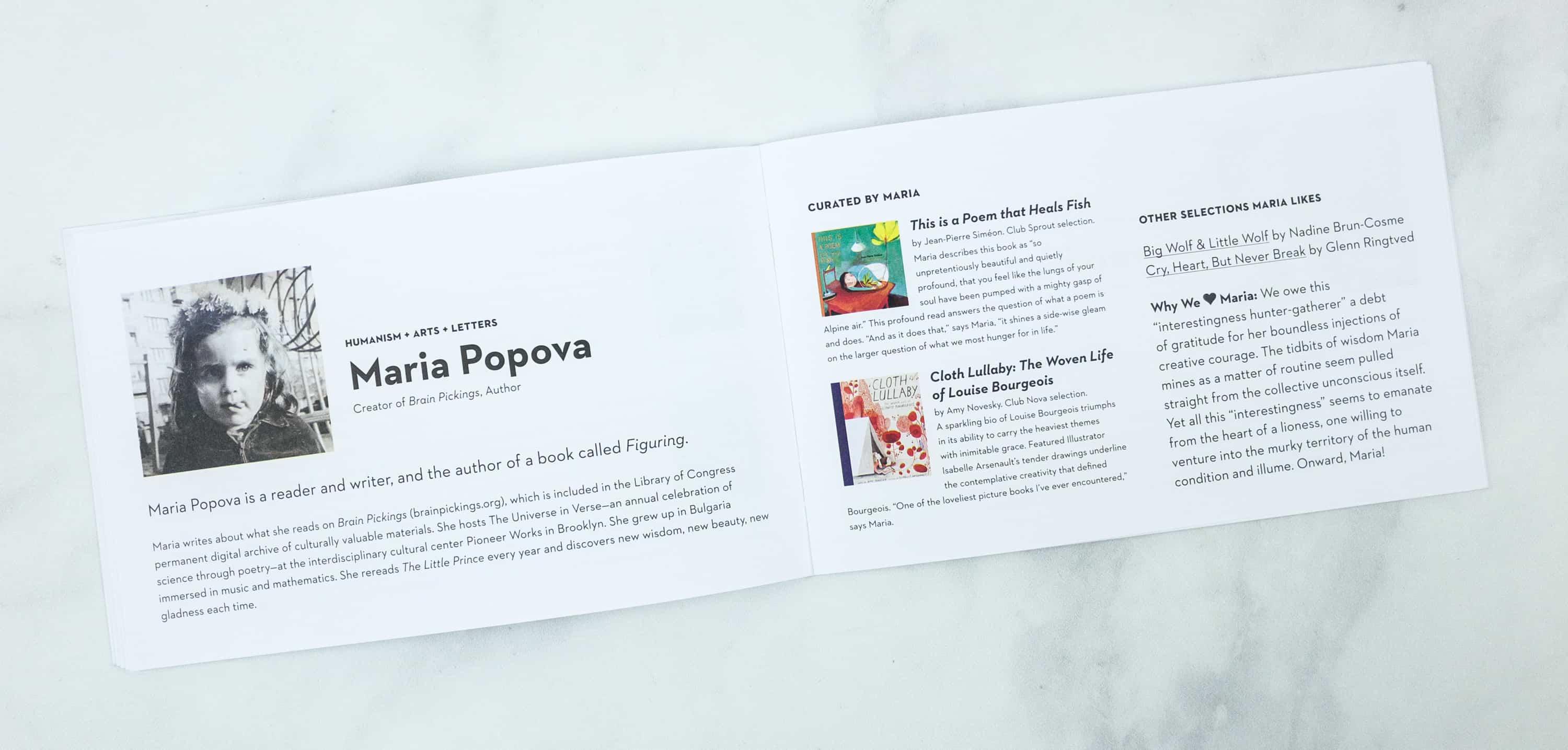 This page tells us about Maria Popova, an author, and creator of Brain Pickings.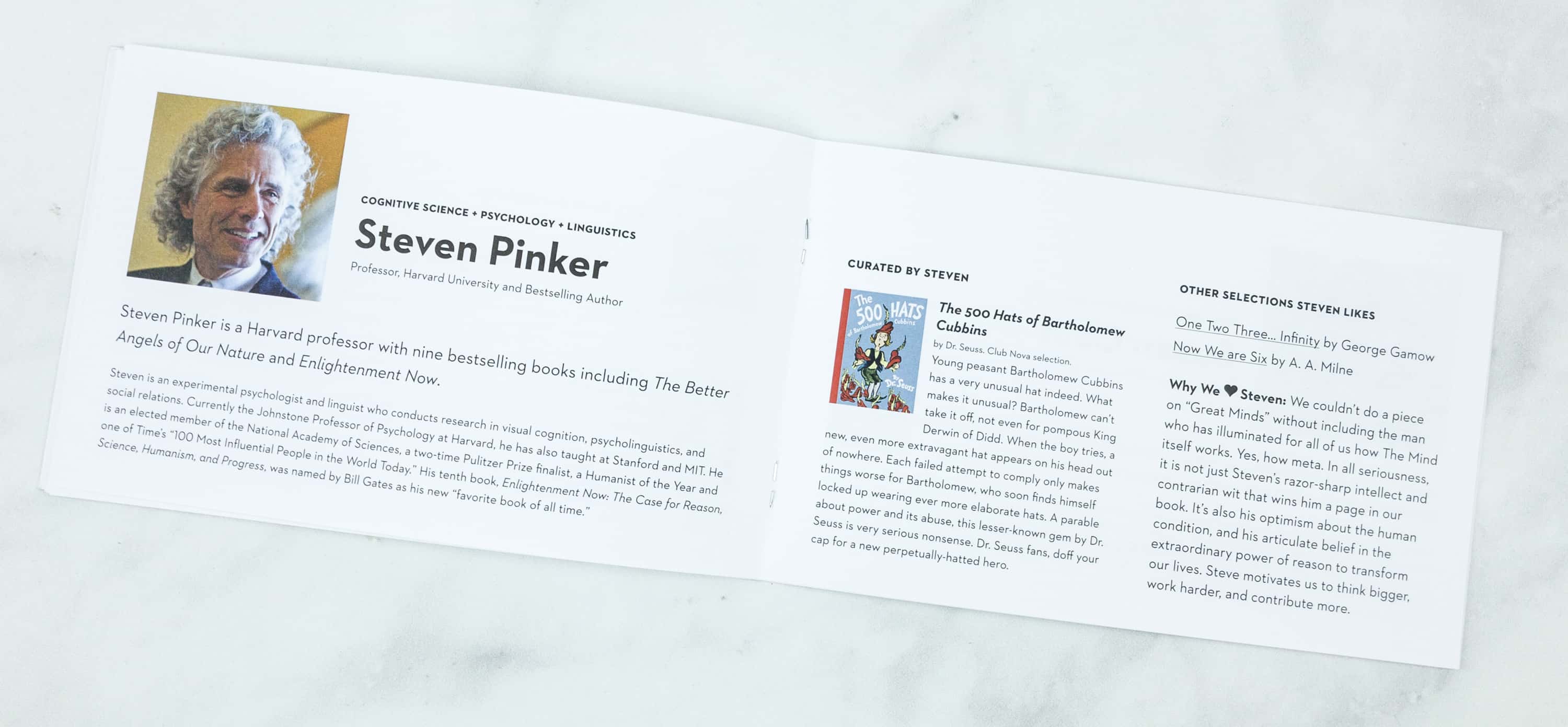 Here's Professor Steven Pinker from Harvard University, who is also a bestselling author. One of his bestselling books is The Better Angels of Our Nature.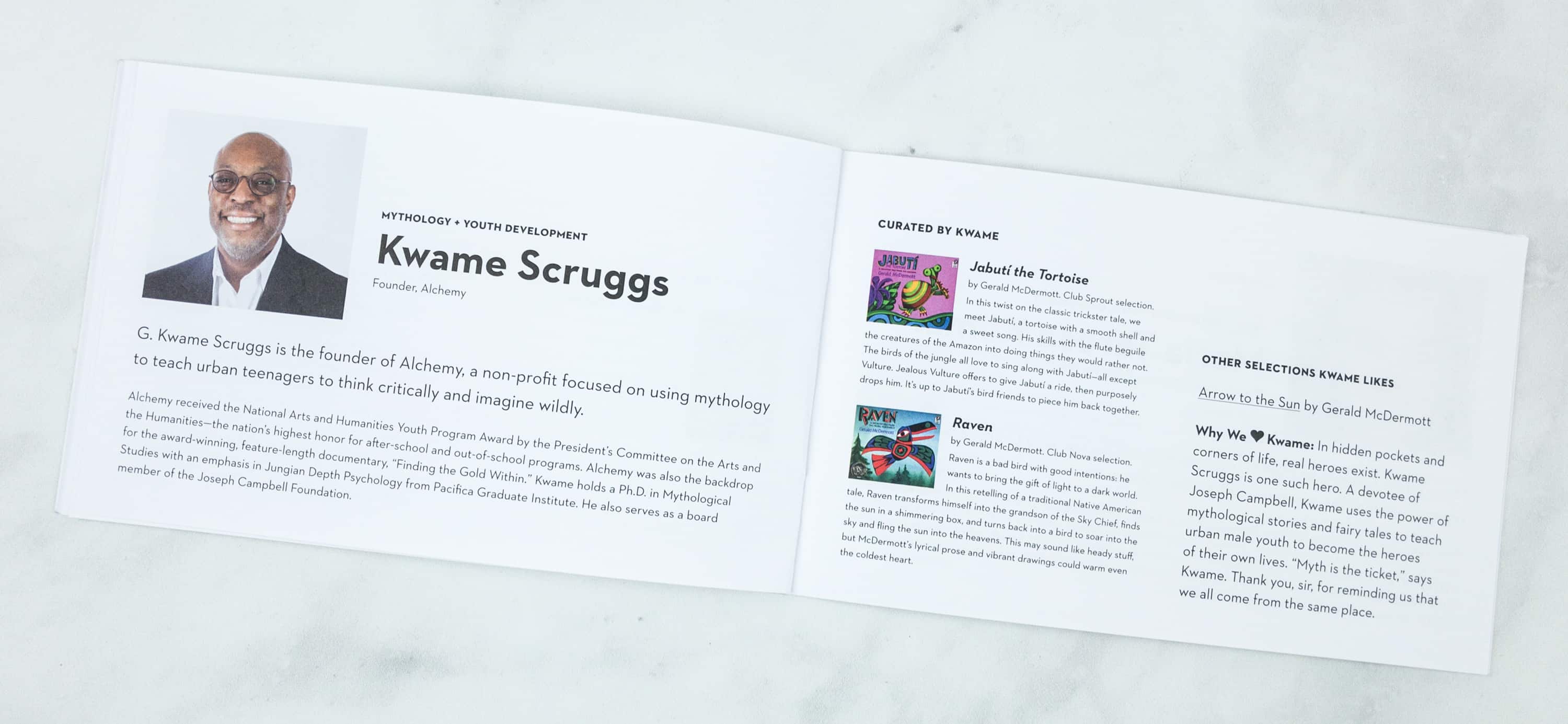 Kwame Scruggs is the founder of Alchemy, a non-profit focused on using mythology to teach urban teenagers to think critically and use their imagination.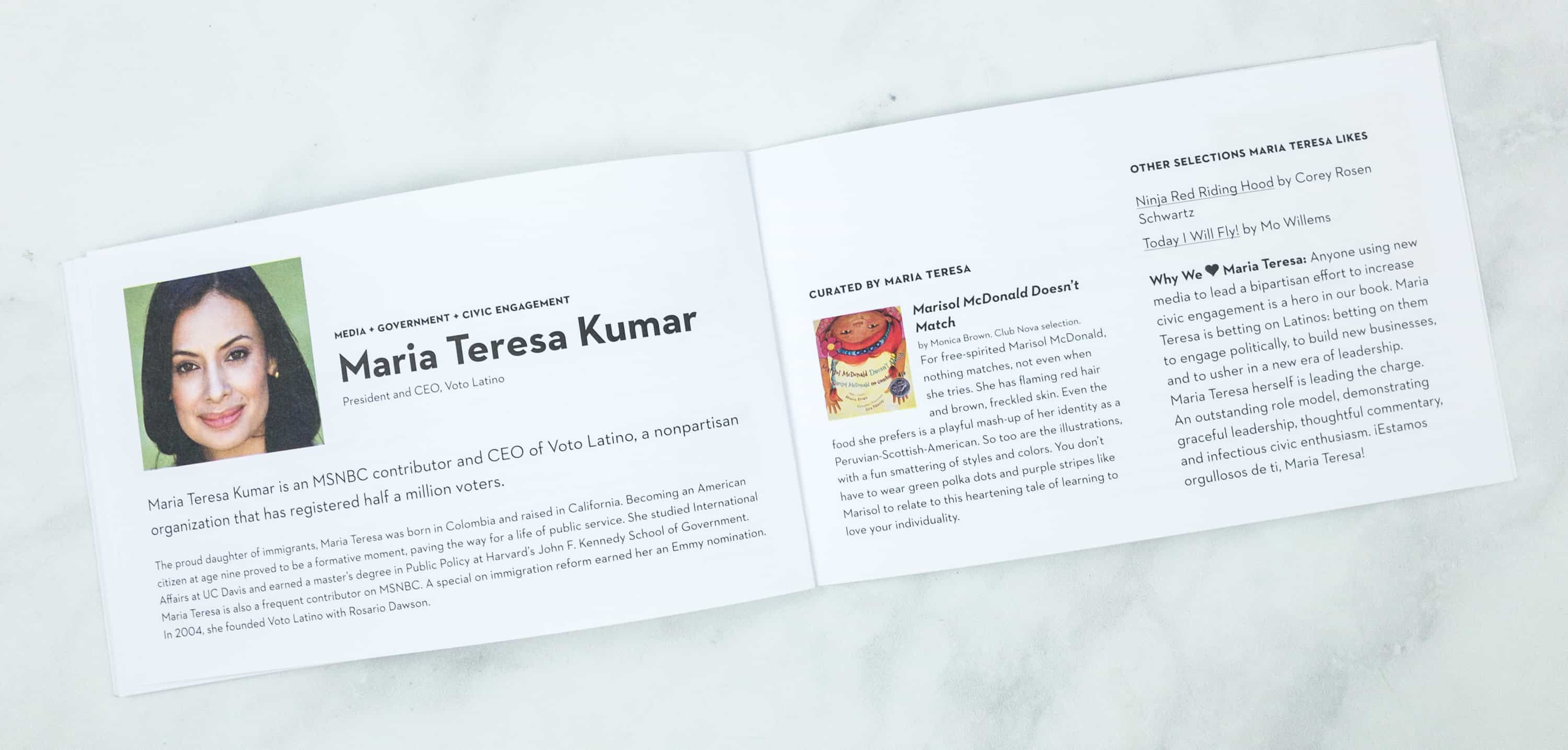 Maria Teresa Kumar is the CEO of Voto Latino, a nonpartisan organization founded in 2004, and its primary aim is to encourage young Latino and Hispanic voters to register, vote, and become more politically involved.
Everything in the box!
The 500 Hats Of Bartholomew Cubbins by Dr. Seuss ($13.86)
This classic treatise on bullying by Dr. Seuss features a foil cover and color-enhanced illustrations! As topical today as when it was first published in 1938, The 500 Hats of Bartholomew Cubbins is the story of a young peasant (the same as in Bartholomew and the Oobleck—a Caldecott Honor Award-winner), and his unjust treatment at the hands of King Derwin. While The 500 Hats is one of Dr. Seuss's earliest and lesser known works, it is nevertheless totally Seussian and addresses subjects that we know the good doctor was passionate about throughout his life: the abuse of power (as in Yertle the Turtle and Horton Hears a Who); rivalry (as in The Sneetches); and of course, zany good humor (as in The Cat in the Hatand the 43 other books he wrote and illustrated)!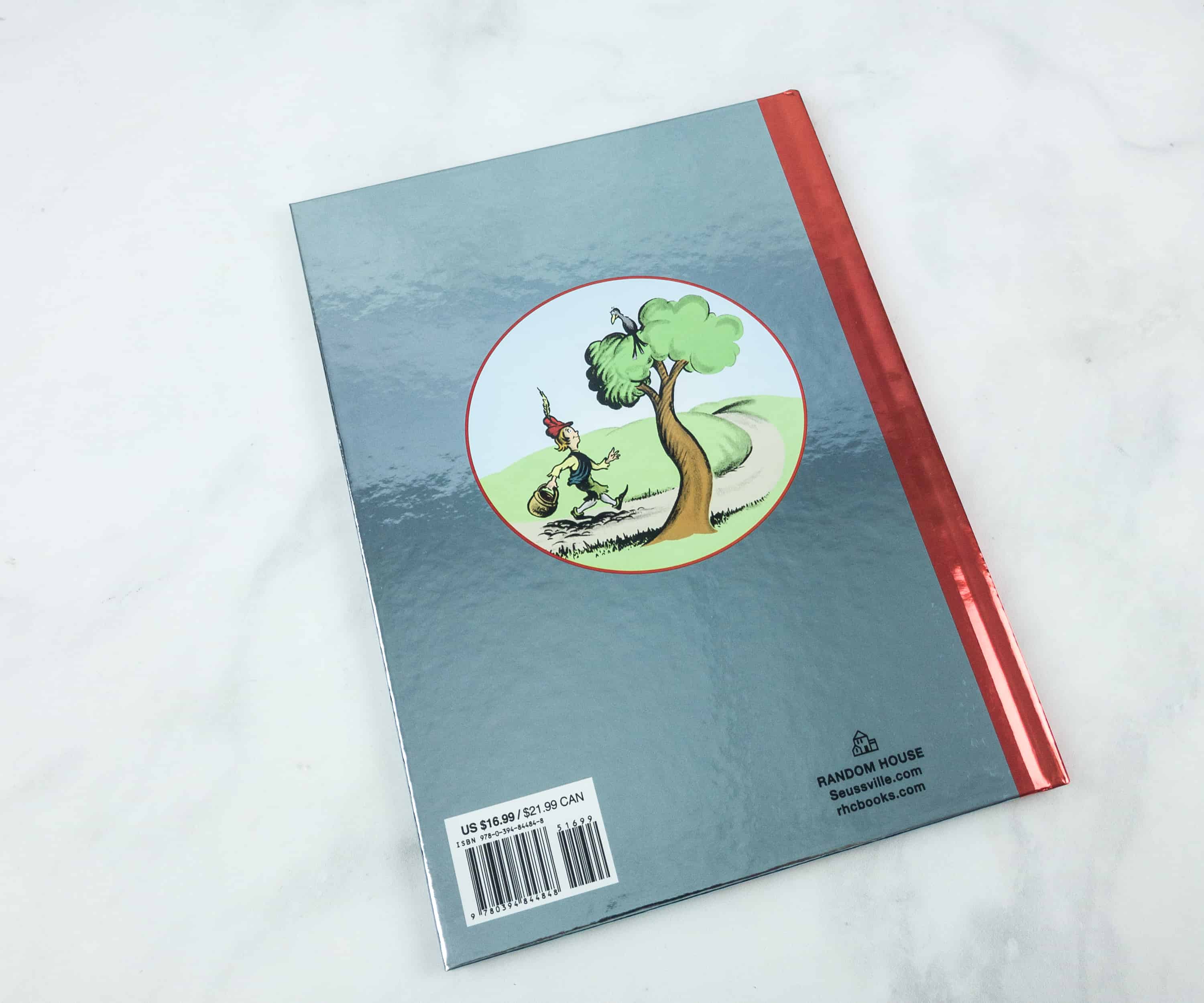 Like most of Dr. Seuss' works, the story focuses on the abuse of power, which may be a little dark for young kids.
Instead of the rhyming text that Dr. Seuss is known for, this book instead is in a form of narrative which is written in a very exciting way.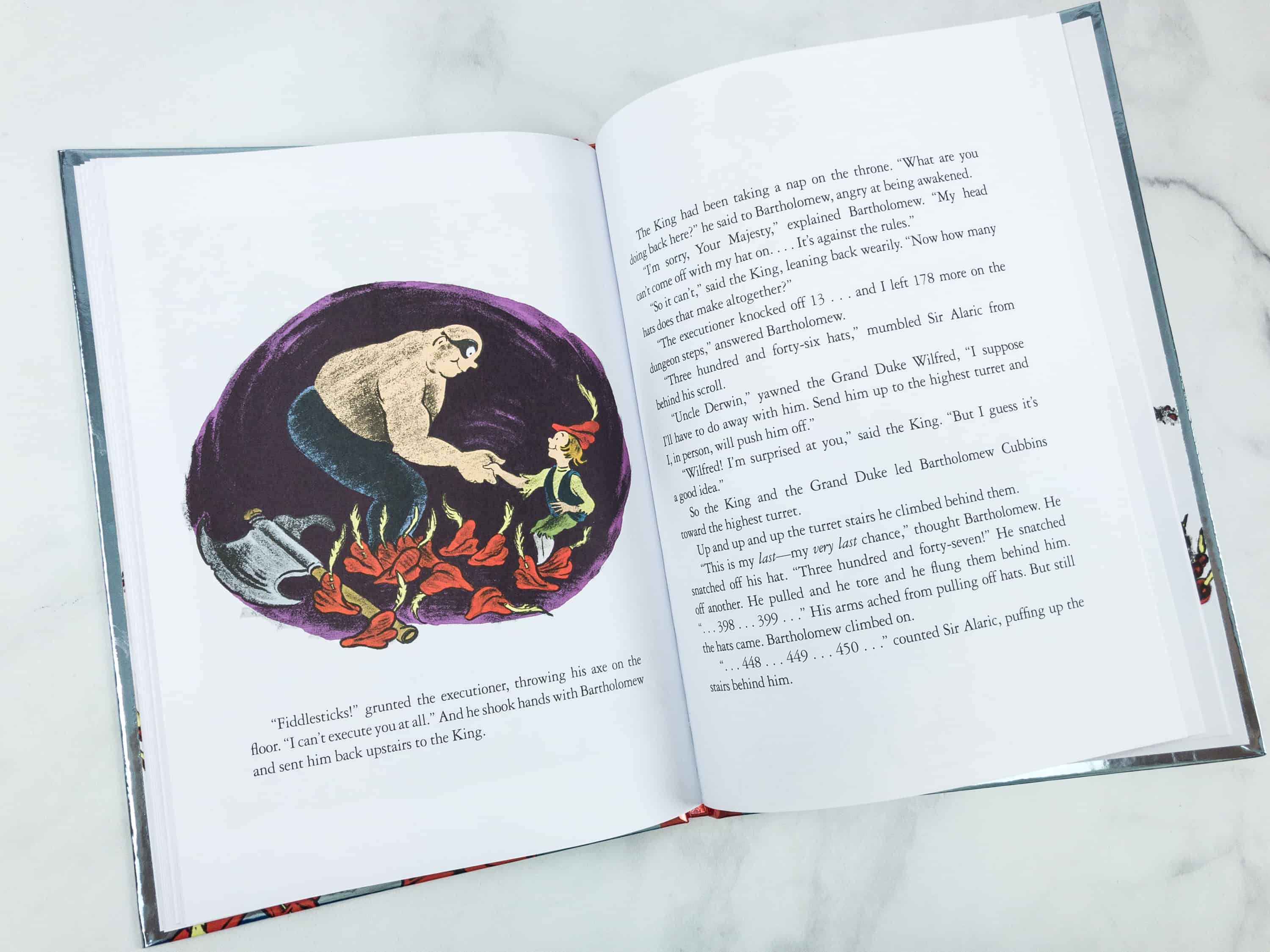 The book also has beautiful illustrations. It's really a different Dr. Seuss book experience as it is the only prose that he has written, which is way different from the rhyming texts of his other works.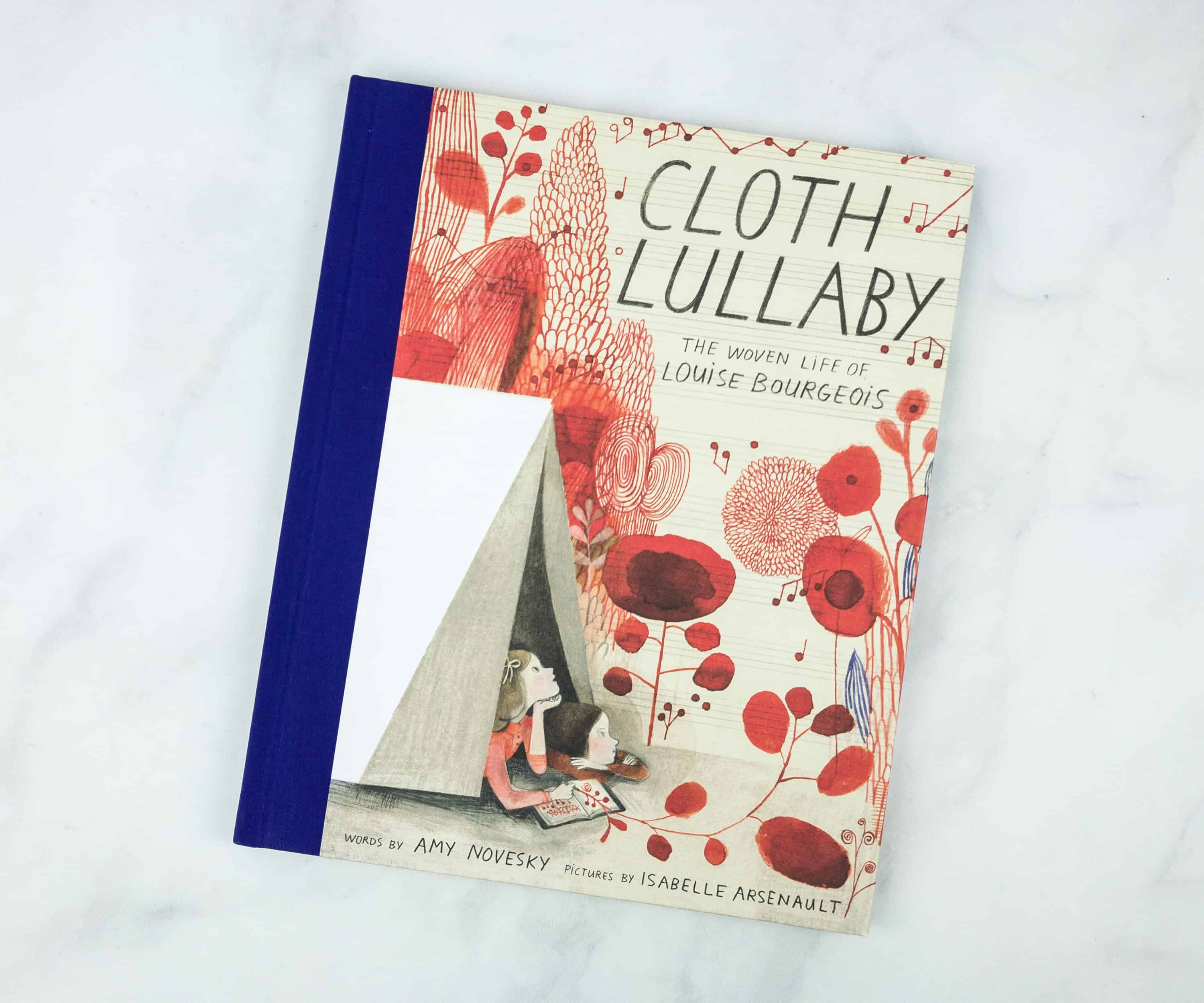 Cloth Lullaby The Woven Life Of Louise Bourgeois by Amy Novesky ($18)
Louise Bourgeois (1911–2010) was a world-renowned modern artist noted for her sculptures made of wood, steel, stone, and cast rubber. Her most famous spider sculpture, Maman, stands more than 30 feet high.

Just as spiders spin and repair their webs, Louise's own mother was a weaver of tapestries. Louise spent her childhood in France as an apprentice to her mother before she became a tapestry artist herself. She worked with fabric throughout her career, and this biographical picture book shows how Bourgeois's childhood experiences weaving with her loving, nurturing mother provided the inspiration for her most famous works. With a beautifully nuanced and poetic story, this book stunningly captures the relationship between mother and daughter and illuminates how memories are woven into us all.
Here's a book with the works of this month's featured artists, Isabelle Arsenault.
The lovely illustrations make it easy to feel and understand the beauty of the story which is about the relationship between a mother and her daughter, and how she influences her child to do her best in her craft.
Marisol McDonald Doesn't Match by Monica Brown ($14.84)
My name is Marisol McDonald, and I don't match. At least, that's what everyone tells me.

Marisol McDonald has flaming red hair and nut-brown skin. Polka dots and stripes are her favorite combination. She prefers peanut butter and jelly burritos in her lunch box. And don't even think of asking her to choose one or the other activity at recess—she'll just be a soccer playing pirate princess, thank you very much. To Marisol McDonald, these seemingly mismatched things make perfect sense together.

Unfortunately, they don't always make sense to everyone else. Other people wrinkle their nose in confusion at Marisol—can't she just be one or the other? Try as she might, in a world where everyone tries to put this biracial, Peruvian-Scottish-American girl into a box, Marisol McDonald doesn't match. And that's just fine with her.

A mestiza Peruvian American of European, Jewish, and Amerindian heritage, renowned author Monica Brown wrote this lively story to bring her own experience of being mismatched to life. Her buoyant prose is perfectly matched by Sara Palacios' engaging acrylic illustrations.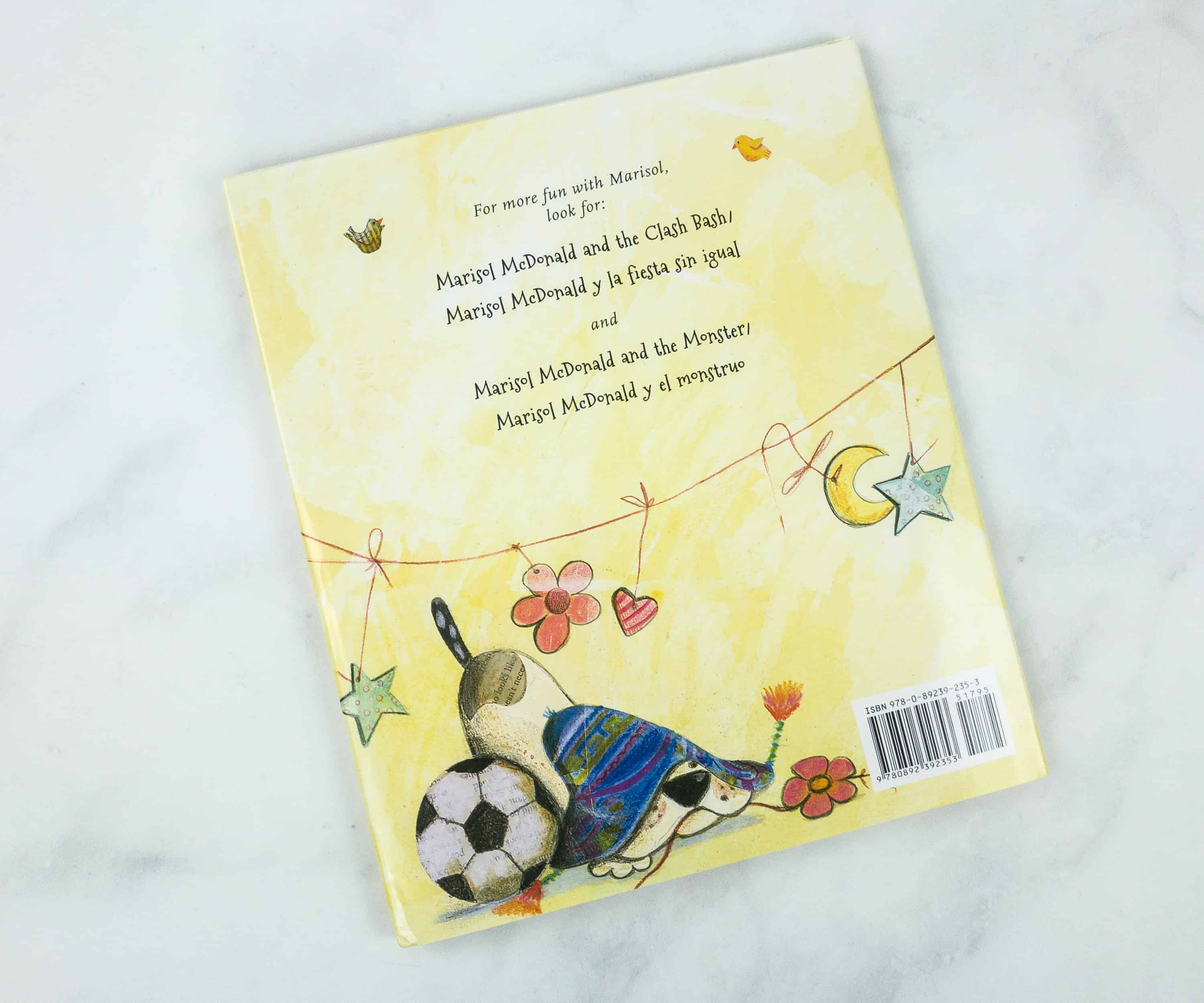 The back of the book also lists other Marisol McDonald titles.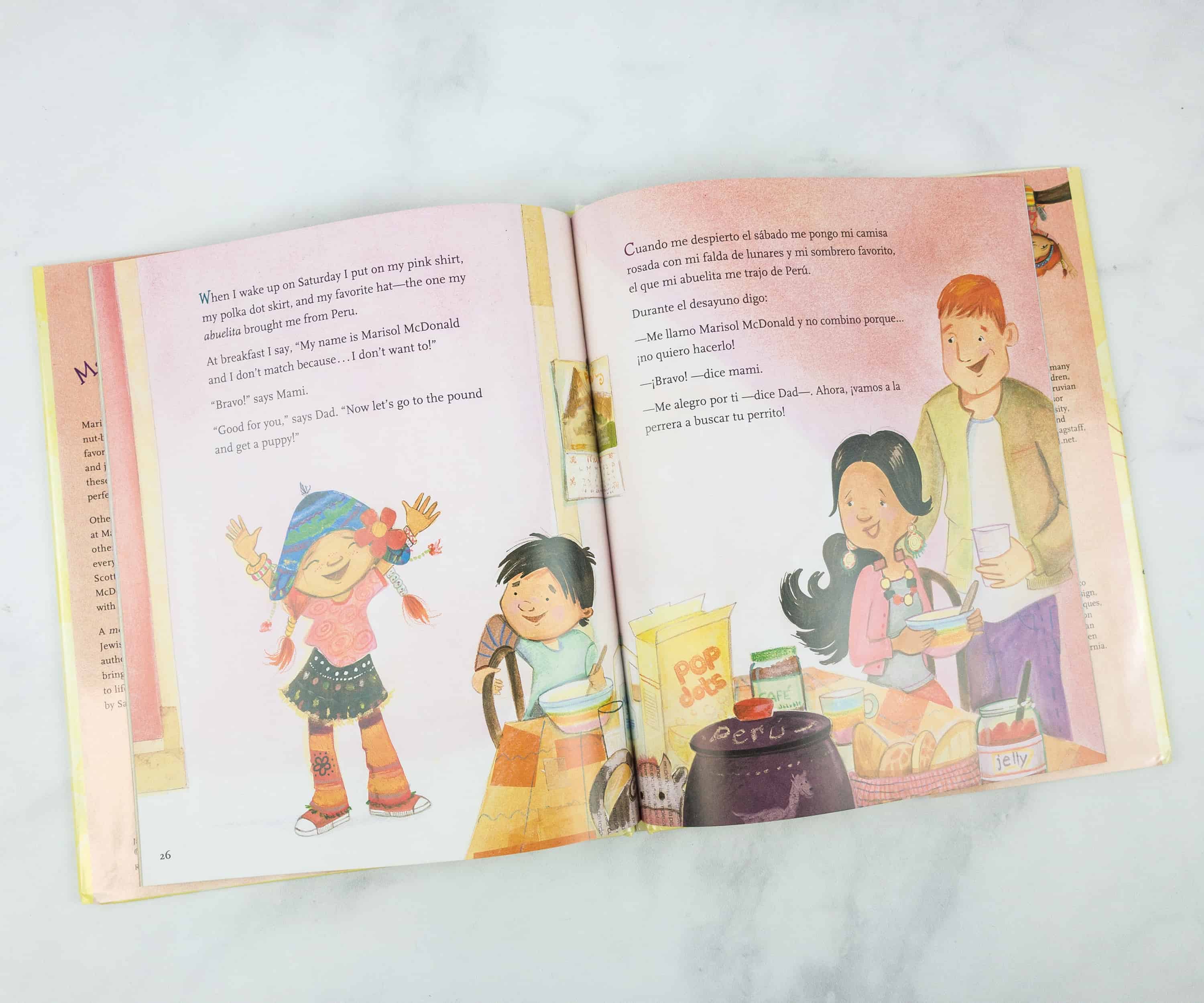 The book is all about being unique, and that it's okay that some things that don't seem normal to others are totally fine with you!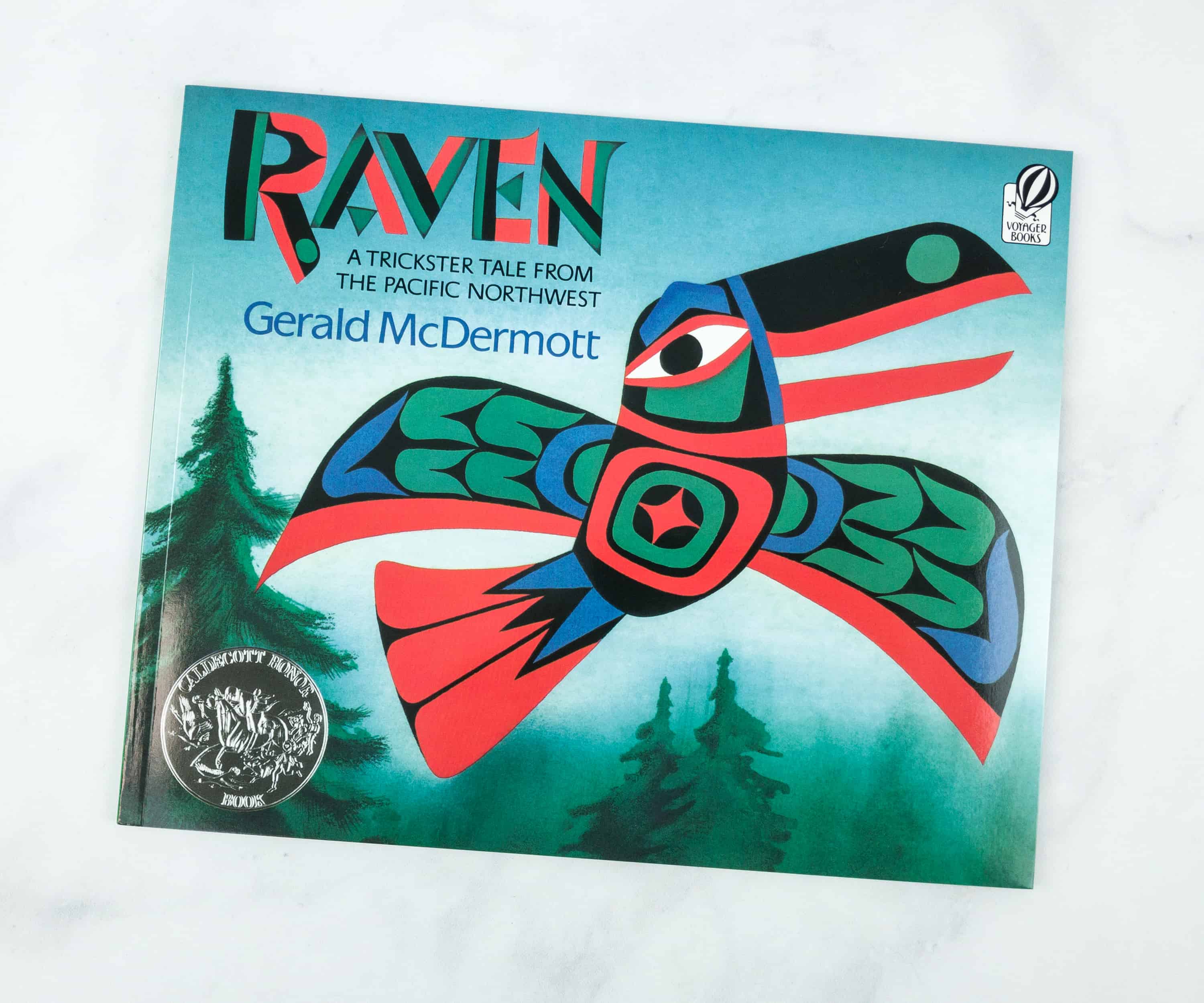 Raven: A Trickster Tale From The Pacific Northwest by Gerald McDermott ($7.99)
Raven, the trickster, wants to give people the gift of light. But can he find out where Sky Chief keeps it? And if he does, will he be able to escape without being discovered? His dream seems impossible, but if anyone can find a way to bring light to the world, wise and clever Raven can!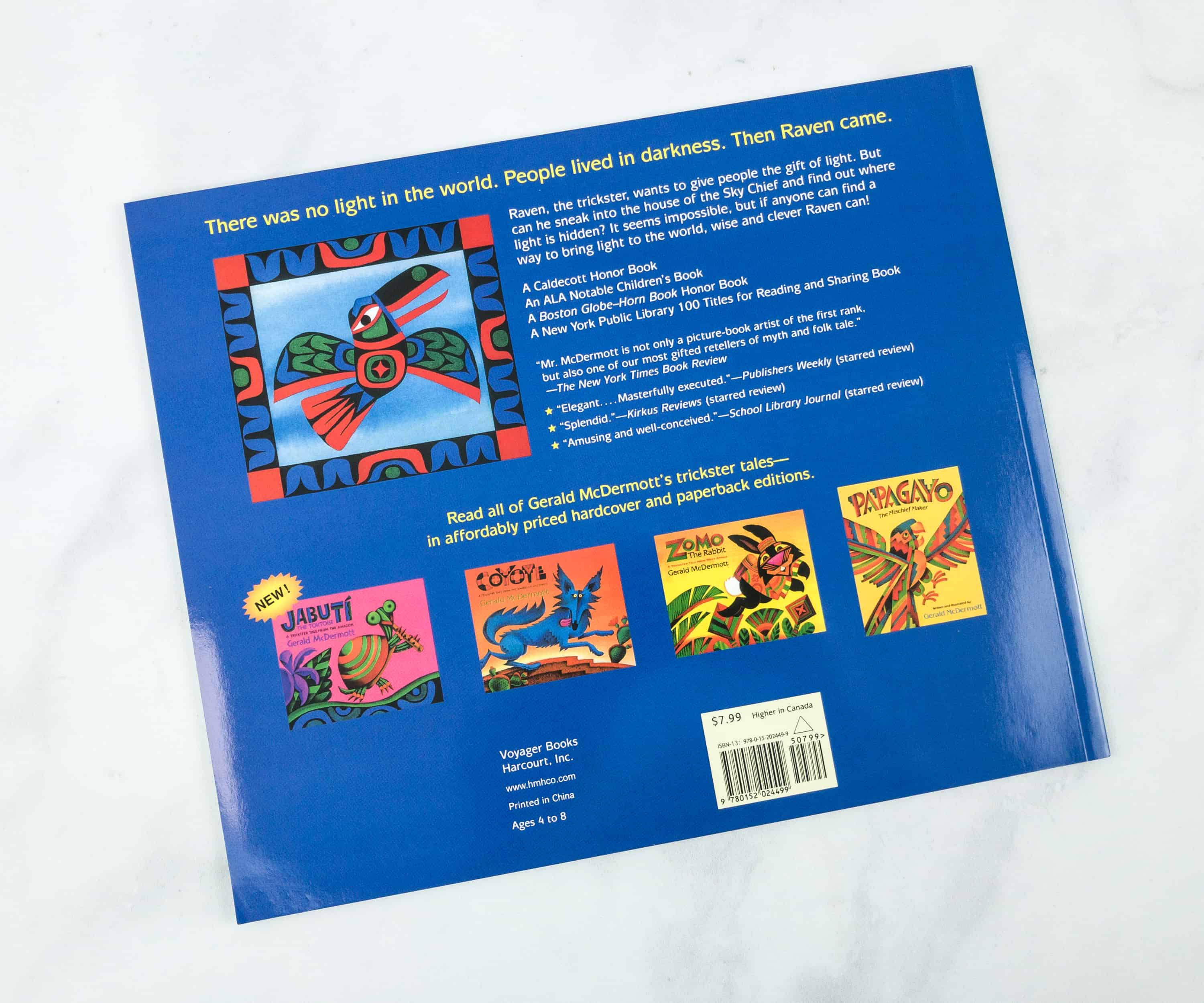 There are also other books by Gerald McDermott that come in both hardcover and paperback editions.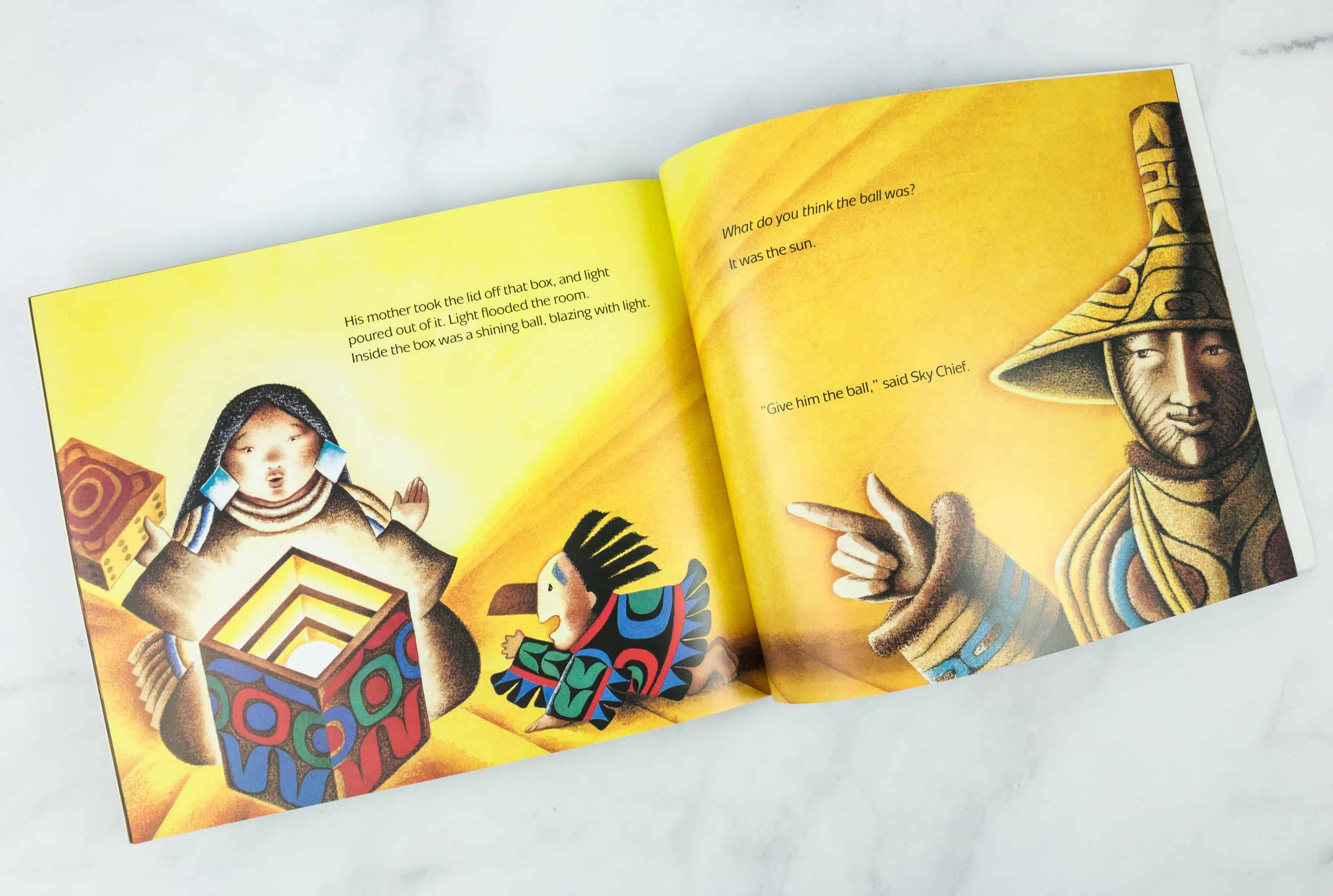 This trickster tale is about Raven who wants to bring light to the world, but he must first find out where the Sky Chief is keeping it.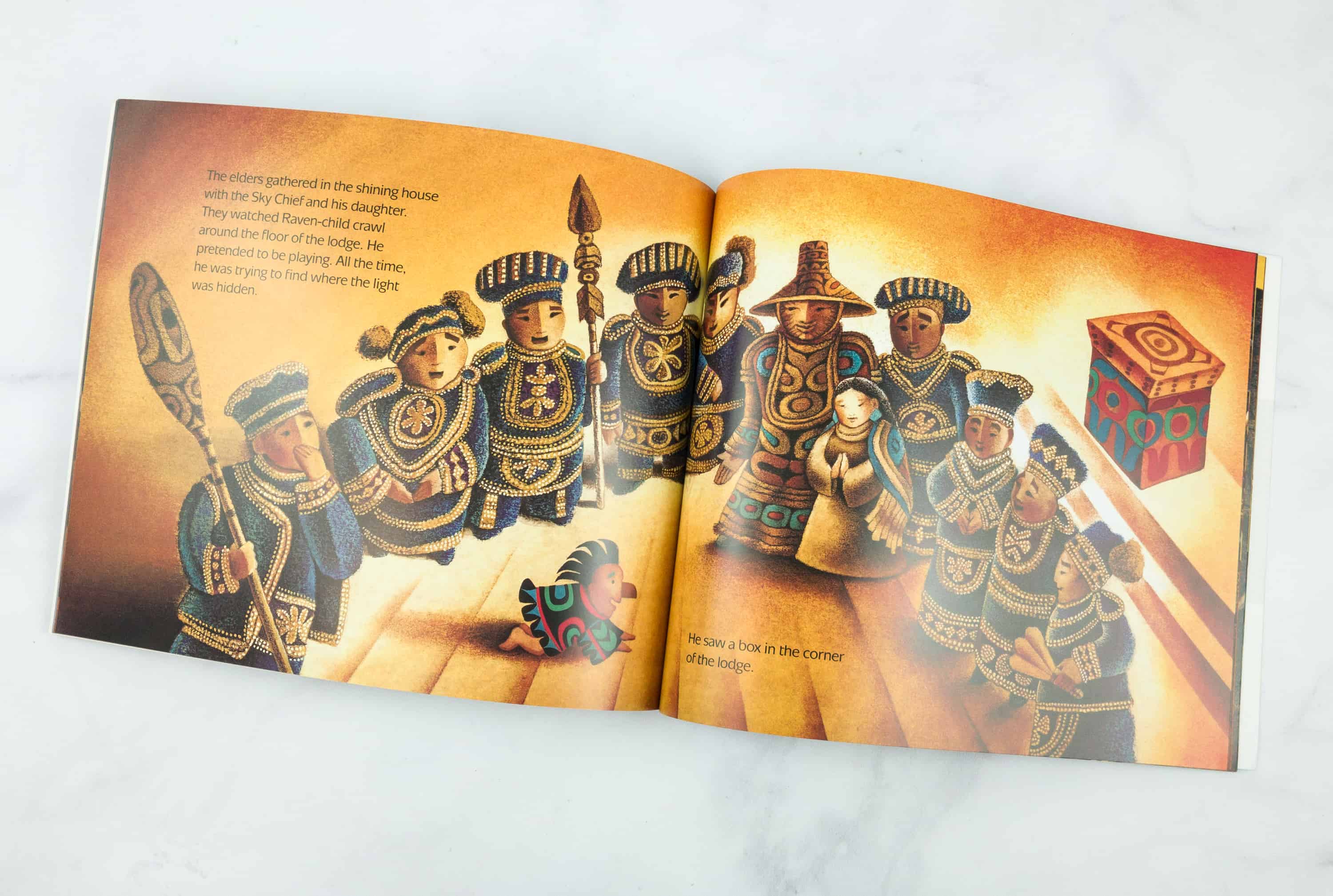 The pages are all colored and glossy. We love that this picture book is less text with more great artworks!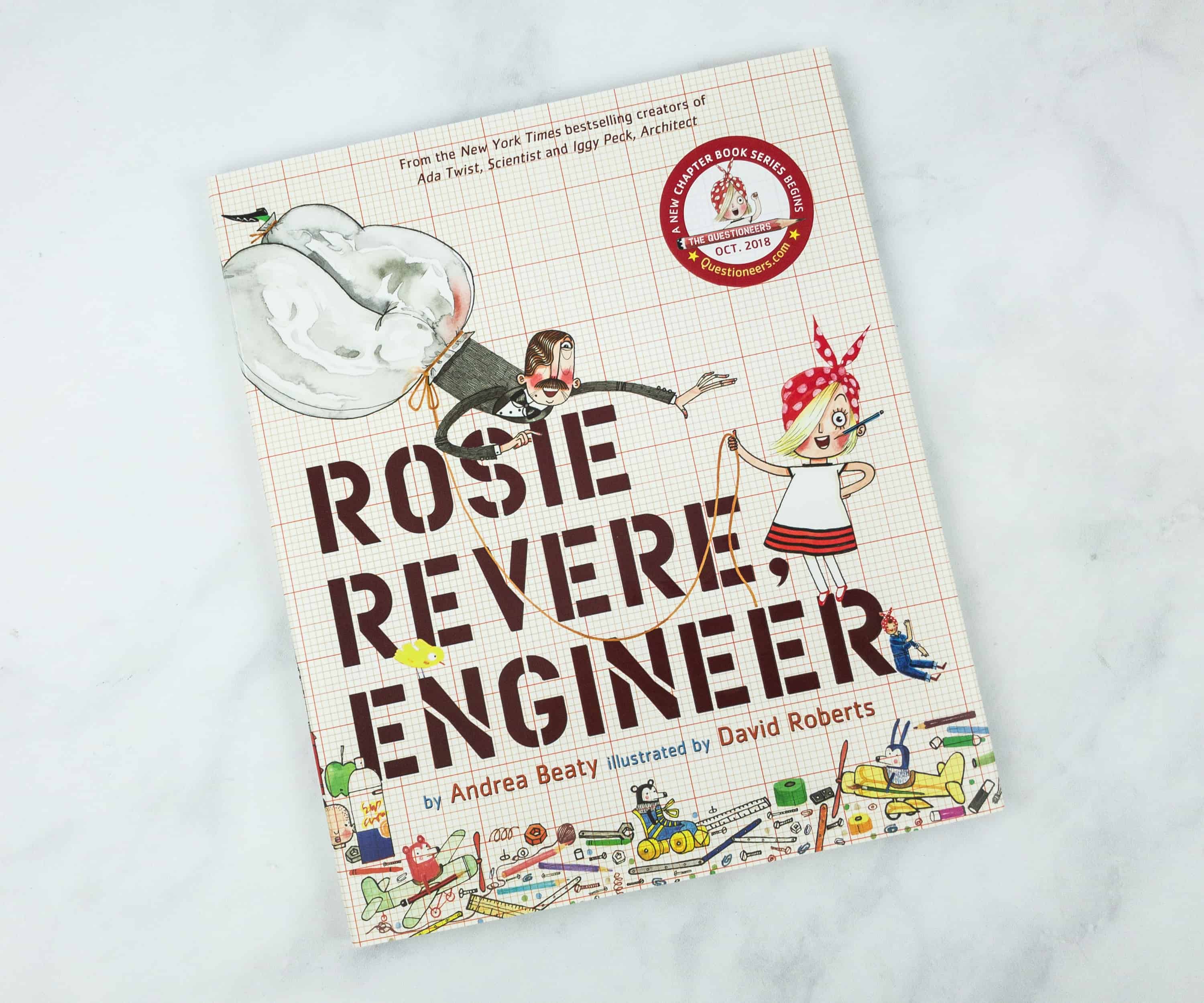 Rosie Revere, Engineer by Andrea Beaty ($8.97)
The beloved New York Times bestselling picture book about pursuing one's passion with persistence and learning to celebrate each failure on the road to achieving one's dreams.

And now you can follow Rosie's further adventures—with her friends Iggy Peck and Ada Twist—in the instant New York Times bestseller Rosie Revere and the Raucous Riveters, the first in a BRAND-NEW chapter book series, The Questioneers!

Rosie Revere dreamed of becoming a great engineer. Where some people see rubbish, Rosie sees inspiration. Alone in her room at night, shy Rosie constructs great inventions from odds and ends. Hot dog dispensers, helium pants, python-repelling cheese hats: Rosie's gizmos would astound—if she ever let anyone see them.

Afraid of failure, she hides them away under her bed. Until a fateful visit from her great-great-aunt Rose (AKA Rosie the Riveter!), who shows her that the first flop isn't something to fear—it's something to celebrate. And you can only truly fail, if you quit.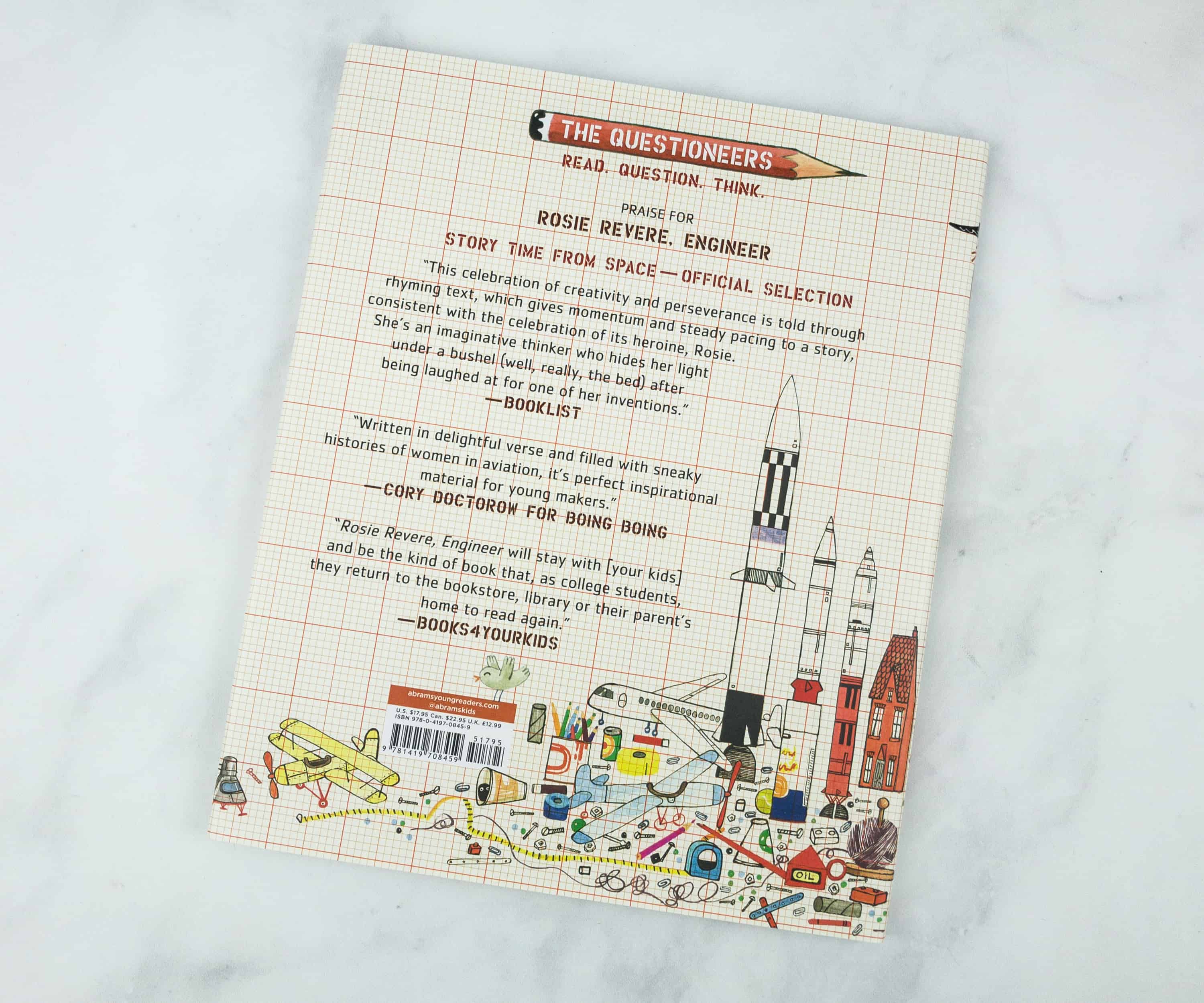 The back of the book presented some critics comments about the book, and these may spark your interest.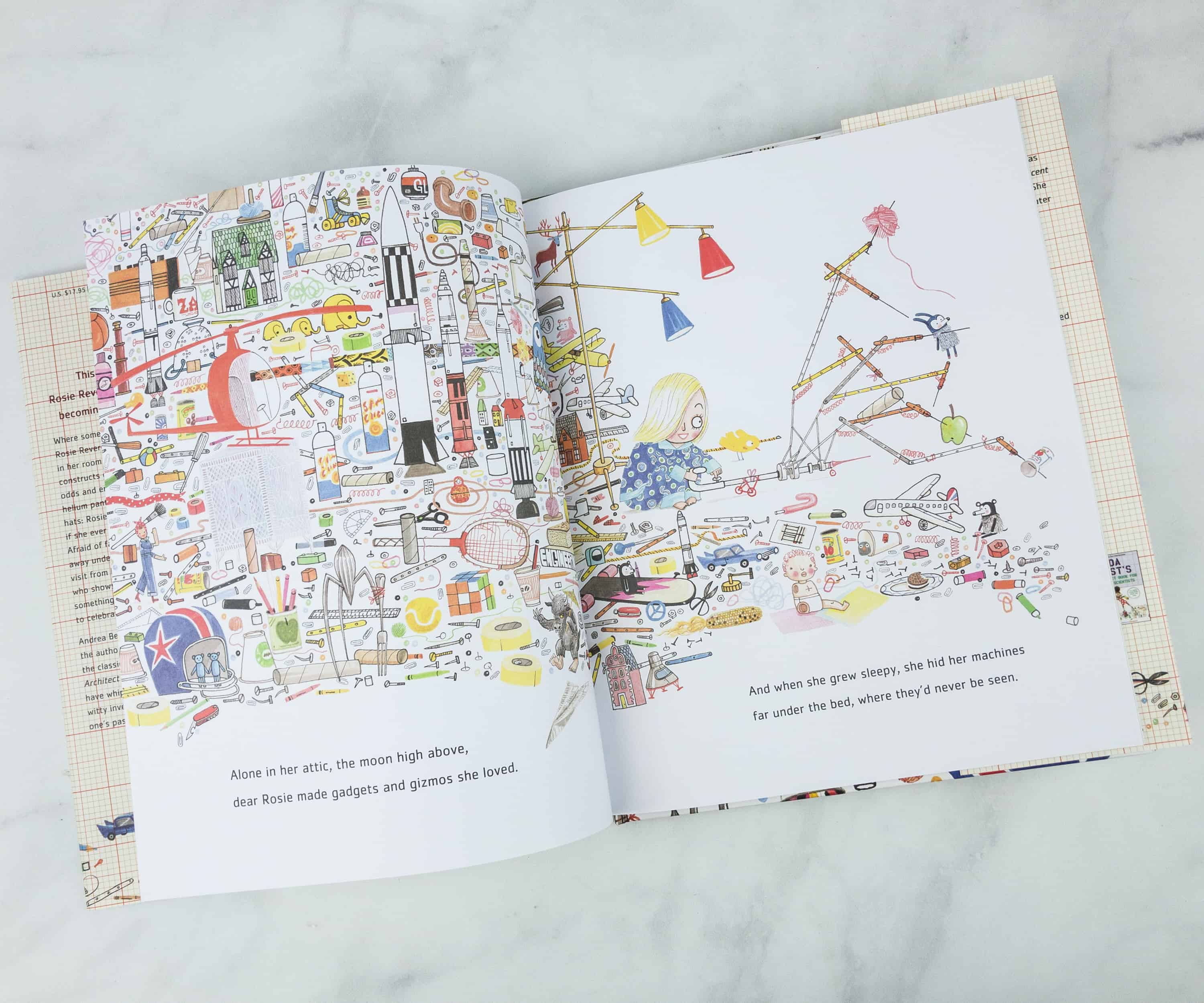 It is another book written as poetry, and it tells us about the importance of failure, how to try and strive harder when you did experience it.
It's cleverly written, plus it has wonderful illustrations. We had to pass on this one – we've read this one via Epic Books!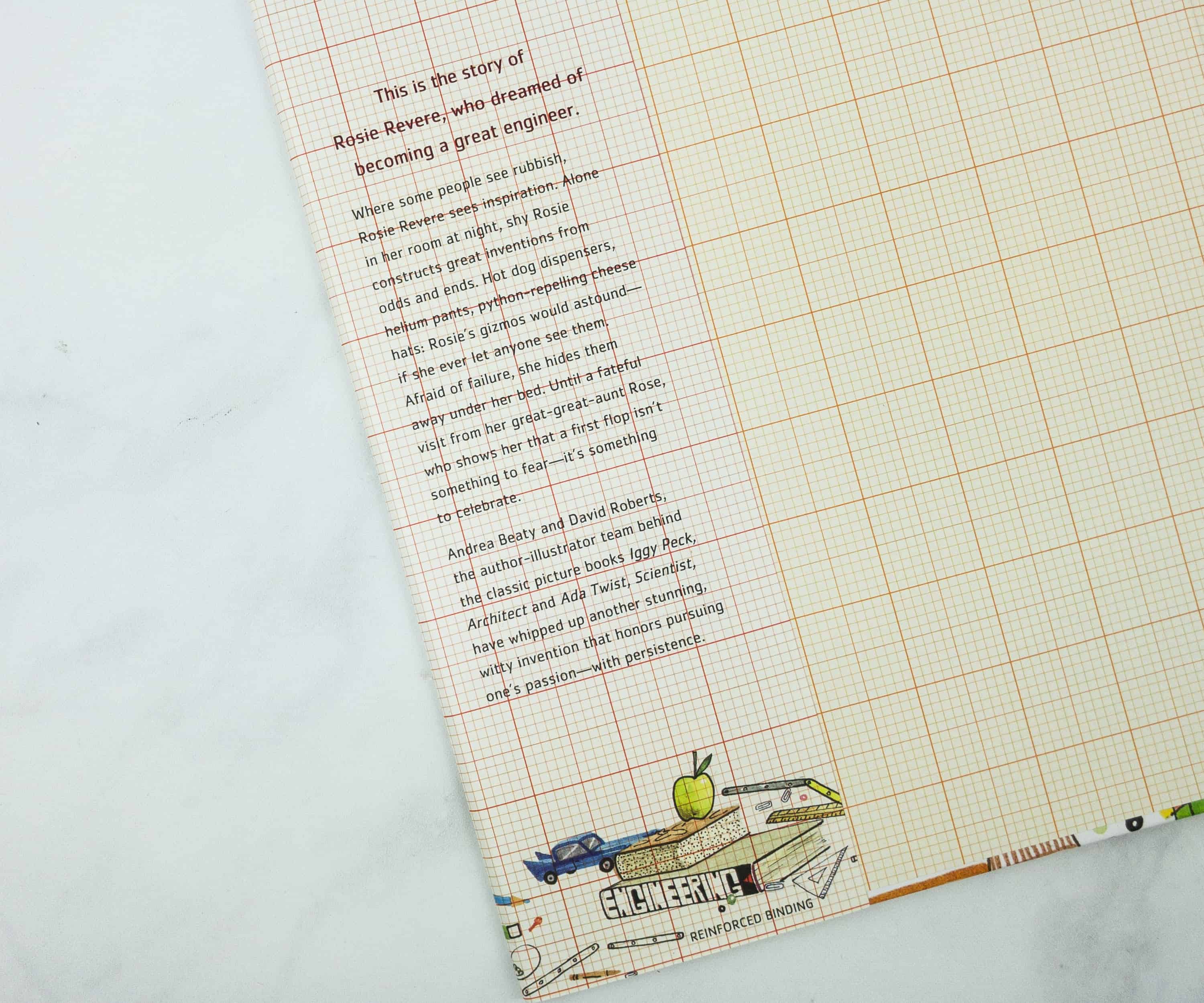 I also love the covers, it truly is in line with the protagonist's career!
This month's titles are great, and the what we noticed most about the books is how good the artwork is! My kids definitely love the last book. It has a great moral lesson not just for young ones, but also for grownups. Also, Dr. Seuss' book is a way different experience as it comes in prose form. Each and every title has something to offer, so this is a great book subscription for us to fill our shelves!
Any thoughts on Literati?