Hello Fresh is a meal kit subscription box with complete recipes and ingredients to make 3 meals every week, with each meal feeding either two or four people, depending on the plan you choose.
Though it is a subscription, you can pause your deliveries when needed – whether you are out of town, have other dinner plans, or just aren't in love with that week's selections. The standard subscription provides high-quality meats (free-range chicken, antibiotic meats, etc.) to use in the recipes.
This review covers the Vegetarian box! Though we do eat meat, we cook vegetarian three times a week. Thankfully, Hello Fresh has a vegetarian subscription for both casual and dedicated vegetarians.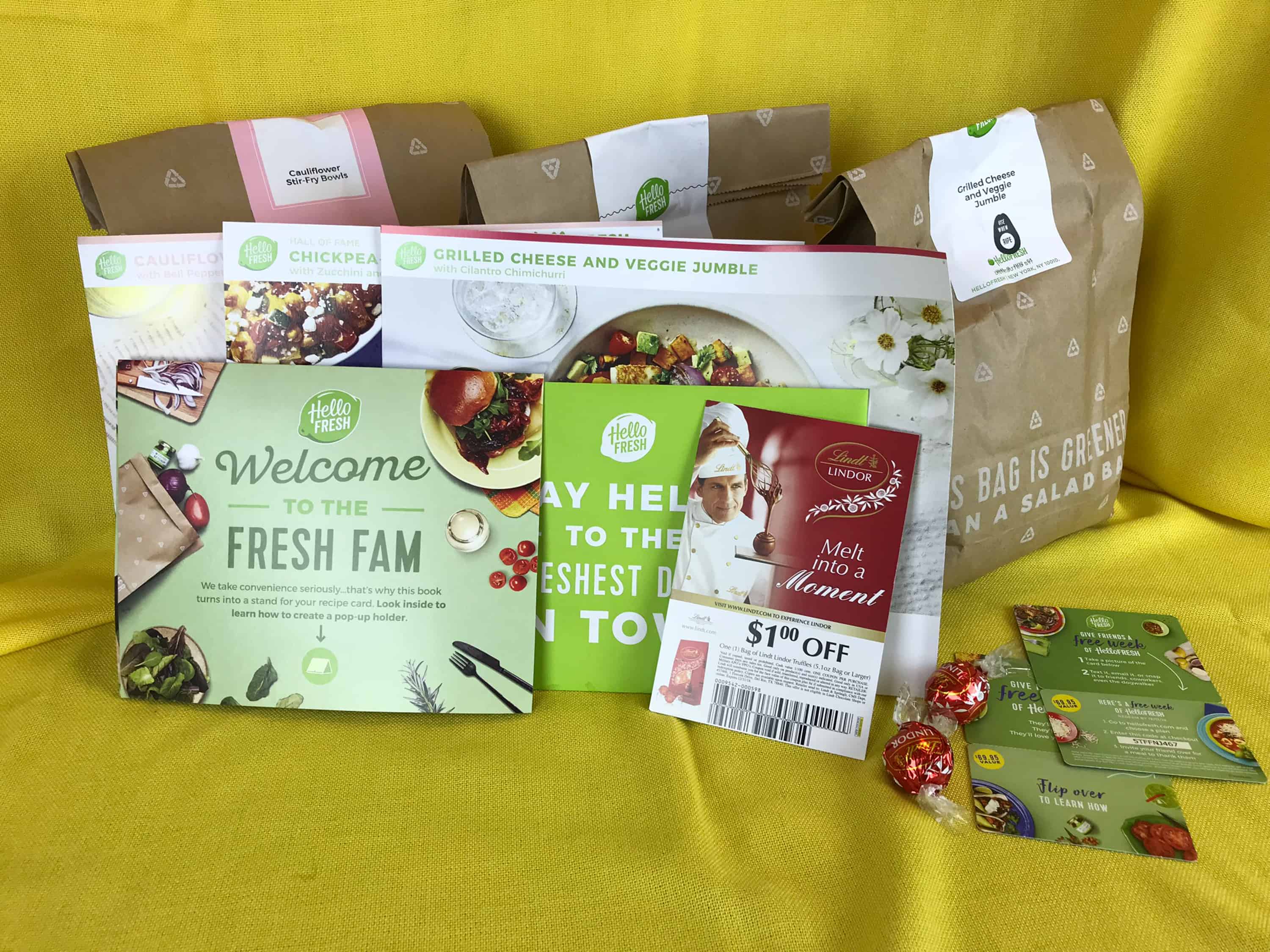 The bags used by Hello Fresh keep all the ingredients for the recipes in order, and they stack nicely in the fridge. Within each box, everything but the largest vegetables is separately packaged and is packed at the bottom. Condiments and canned goods are provided in high-end, commercial packaging. Hello Fresh usually provides spices in their own, pre-measured branded packaging.
DEAL: Get $60 off your first 3 boxes, $20 each box schedule. Deal applies automatically, just VISIT AND SUBSCRIBE.
This month's box included a couple of Lindt chocolates and a $1 off coupon.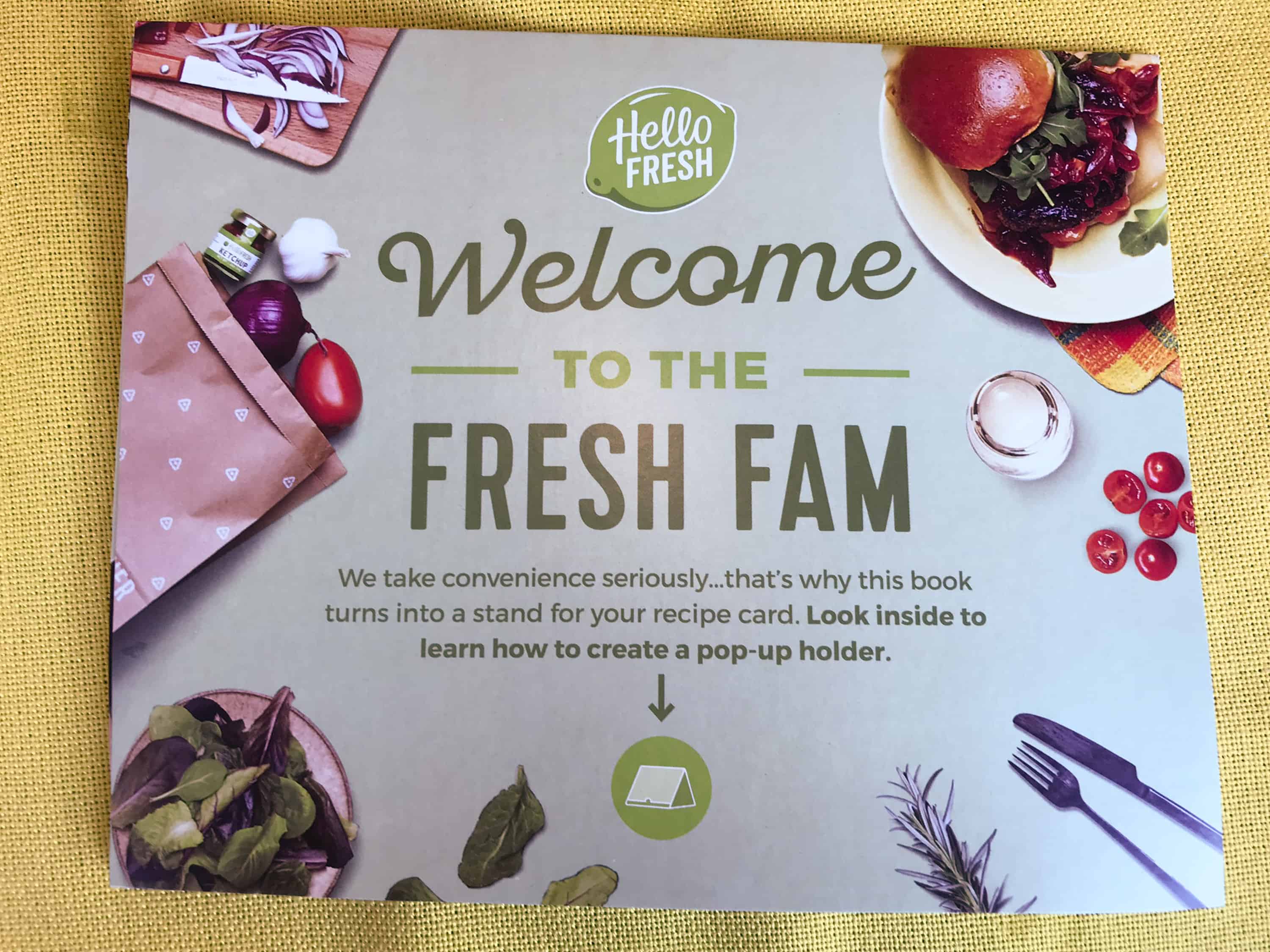 This book turns into a pop-up holder for the recipe cards. How convenient!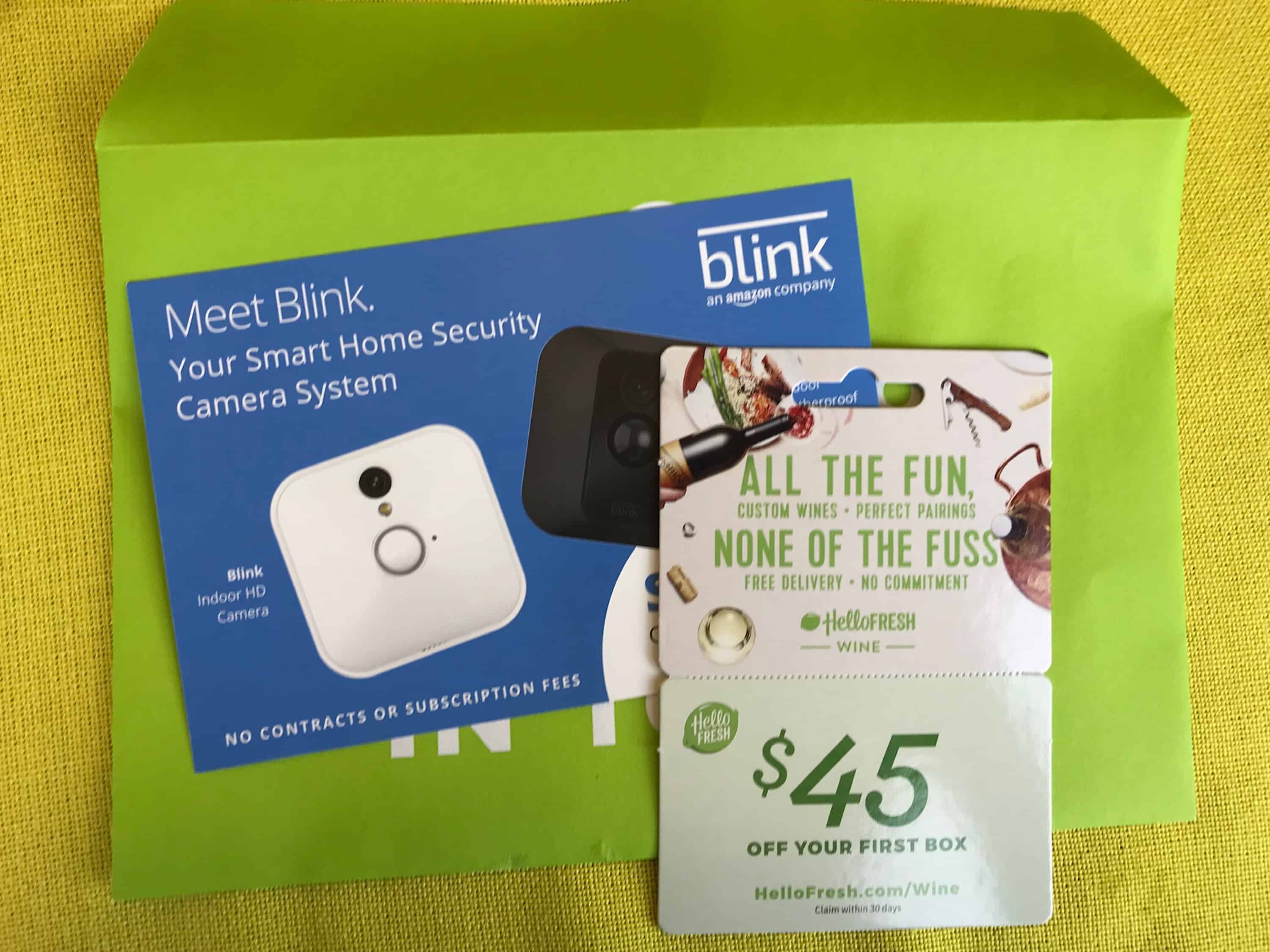 There's also an info card from Blink and a $45 off coupon from Hello Fresh Wine.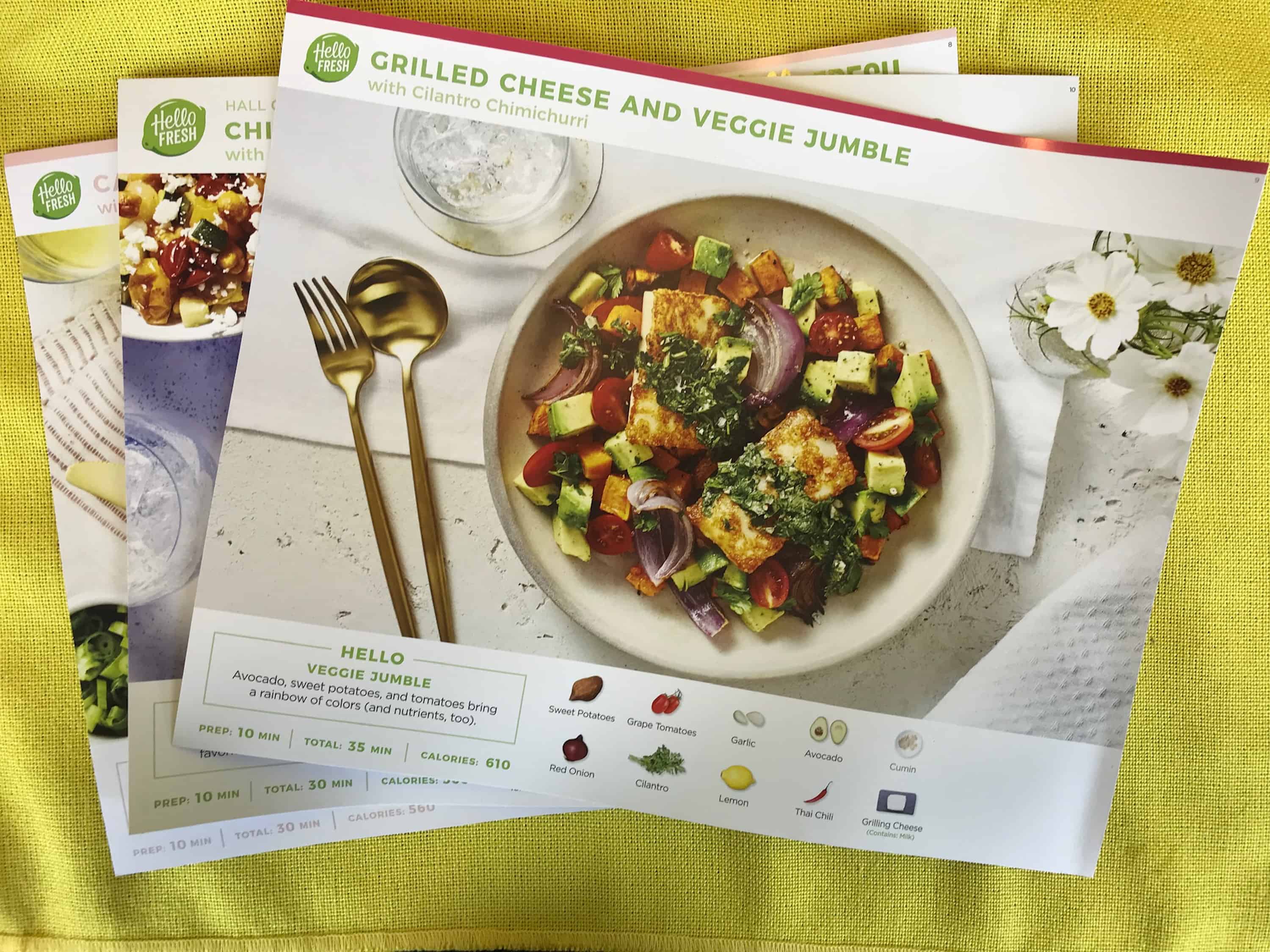 Hello Fresh has great instructions, and they are easy to follow even if you are an inexperienced cook. Each recipe includes several pictures so you maintain a sense of how the dish should look as you go along.
There are even some kitchen tips included in the information card.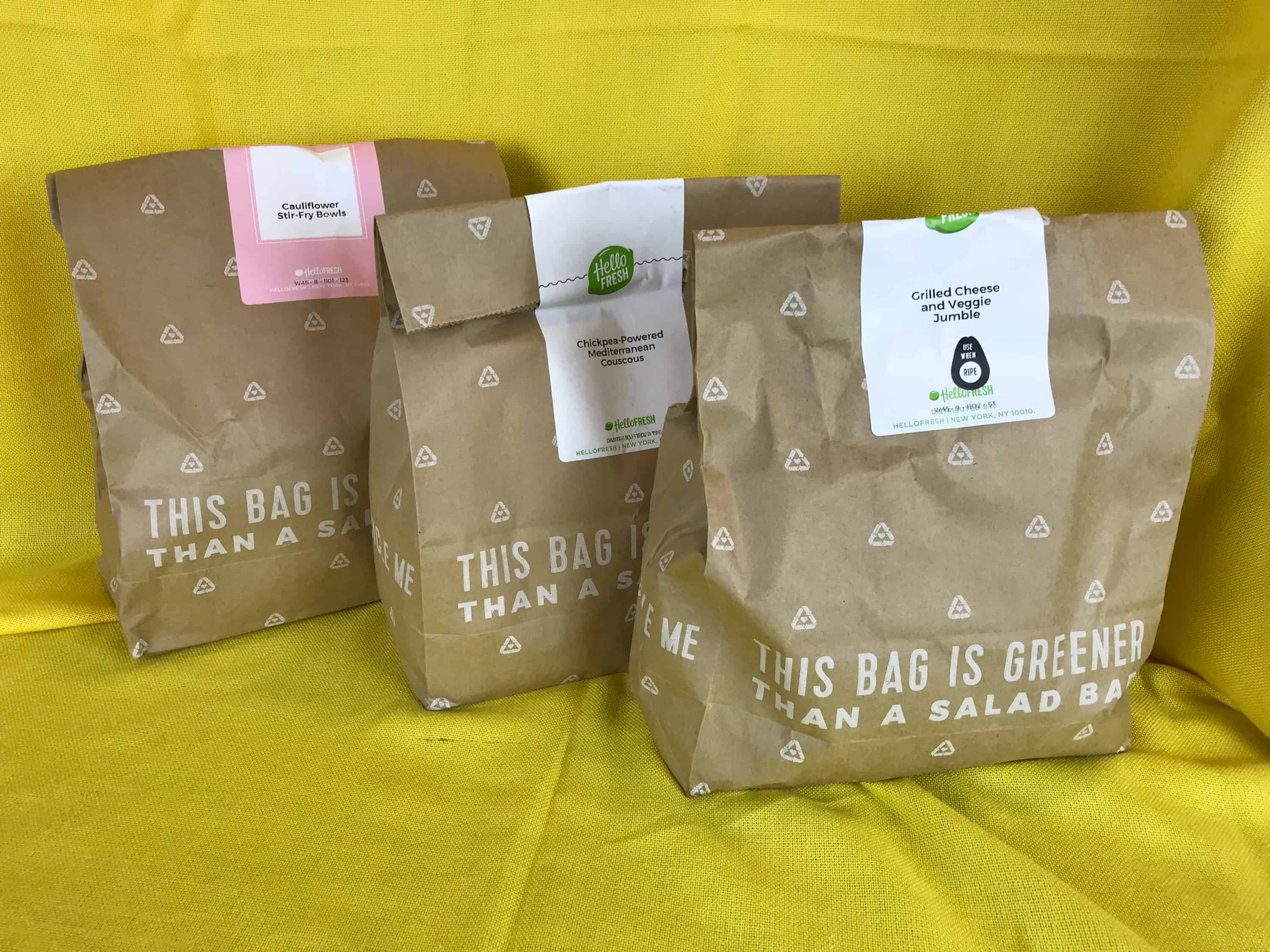 Last month when I reviewed my Hello Fresh box I was traveling with my husband from Florida to Vermont for a wedding and cooking my meals in our 21' 5th wheel RV.  Hello Fresh is that versatile, easy to transport and cook just about anywhere.
Who knew then that I'd become part of an earth-shattering event for my area of Florida. The last review was written on October 8.  On October 10 hurricane Michael hit my home of Callaway, Florida (right outside of Panama City). While my home had damage we had everything we needed in our RV.  Donations come in quite quickly and for us, food was never an issue BUT it's all canned. And the Red Cross came around offering hot meals, again nothing fresh but mind you I wasn't complaining just glad to get food. Know what I wanted more than anything (besides the nightmare to go away) fresh veggies! I missed my Hello Fresh by the second week. I kept looking to see UPS trucks but it took them until the 4th week to deliver and I was quite happy!
Cauliflower Stir-Fry Bowls with Bell Pepper, Pineapple, and Heirloom Grape Tomatoes – 30 minutes, Level 1, 560 calories per serving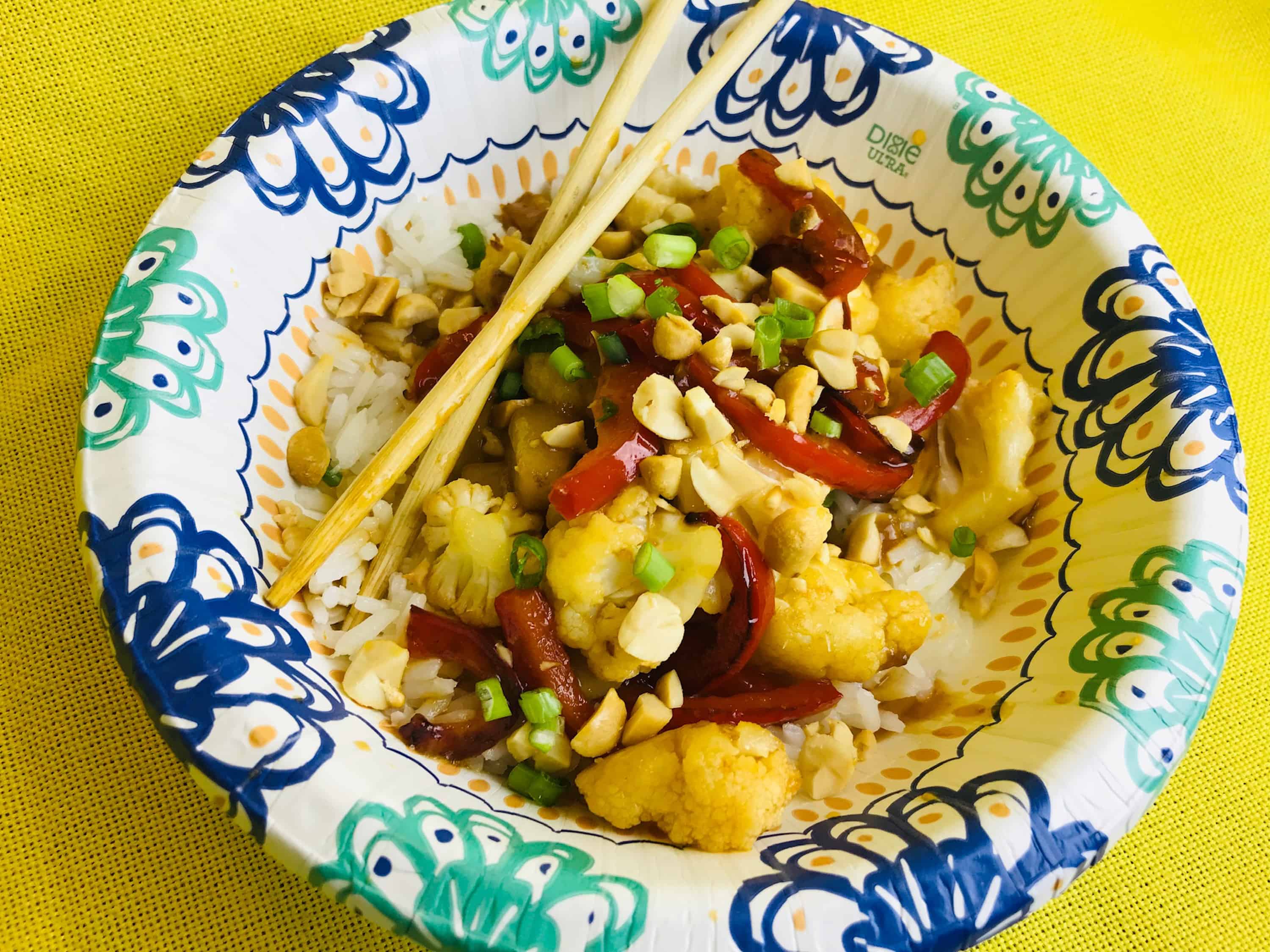 This cauliflower meal is a first meal by Lauren and it was quite good. My 17-year-old granddaughter liked it.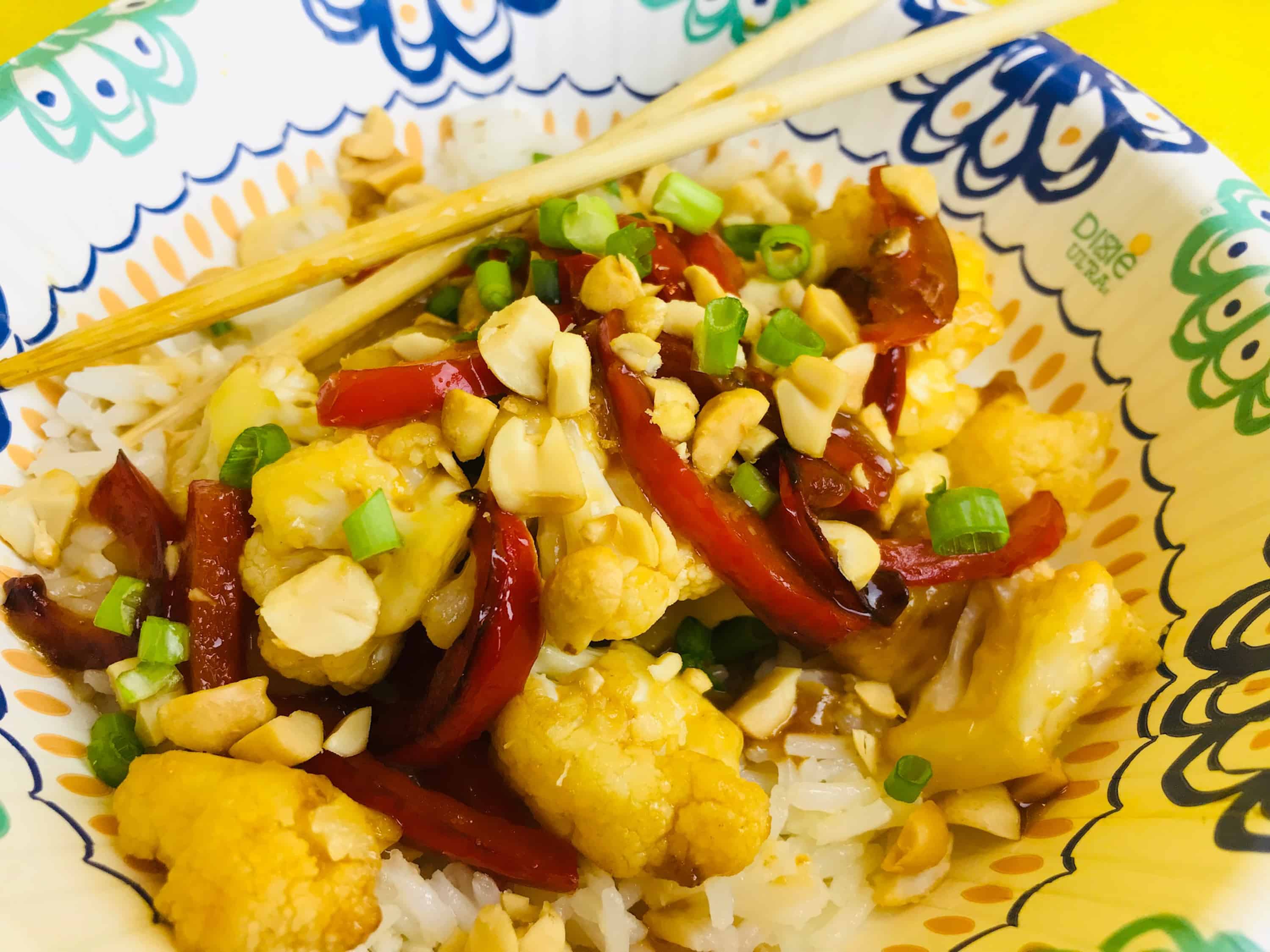 My husband liked the sweet and sour and I was happy to be cooking a "normal" meal. Things are just different when you're living in a disaster zone.
Grilled Cheese and Veggie Jumble with Cilantro Chimichurri – 35 minutes, Level 1, 580 calories per serving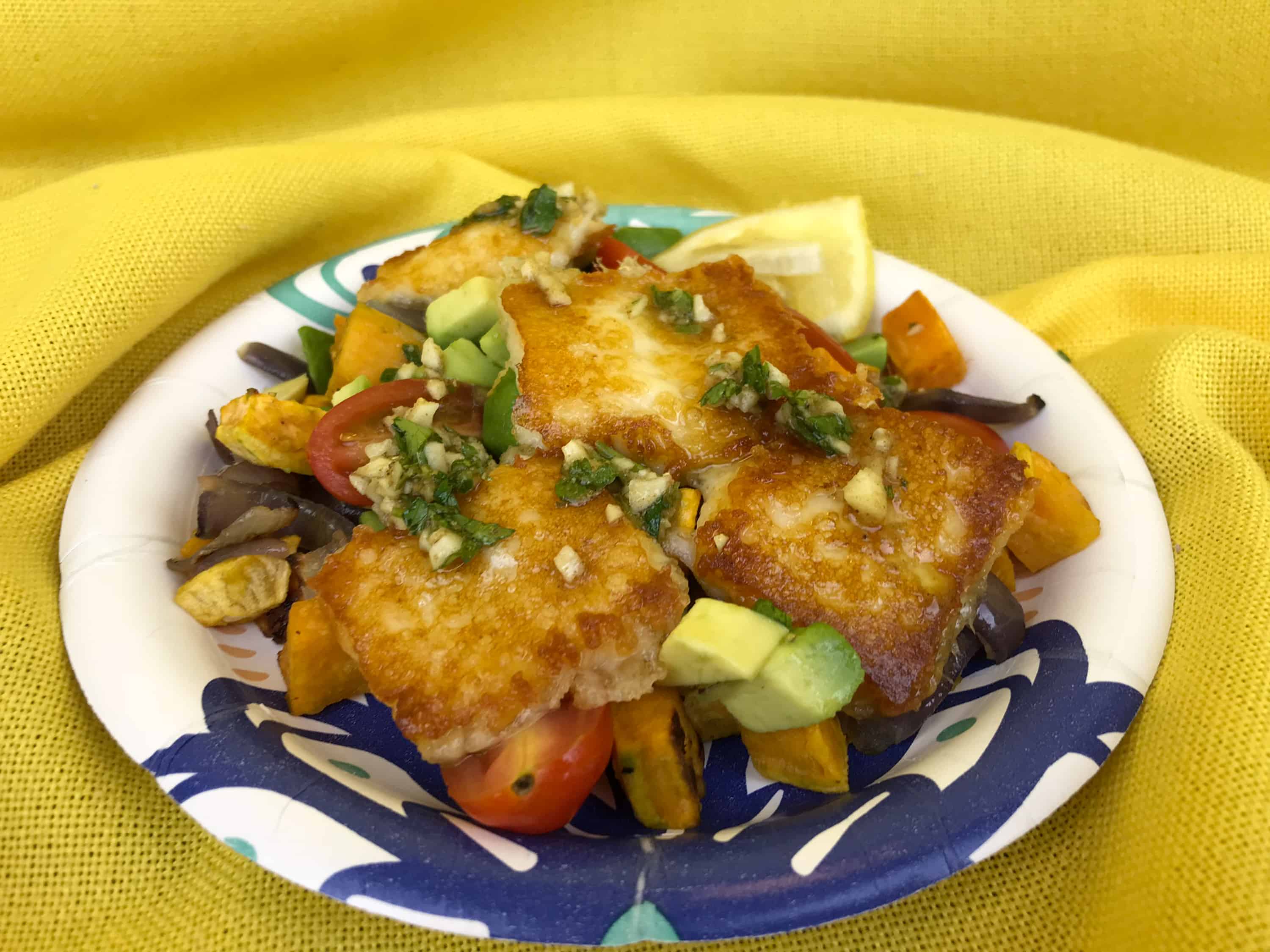 When I made this meal I had my parents, 3 grandkids, my husband and myself for dinner.  I made this meal because it's a favorite of 1 granddaughter and my dad's. I added a few sides, some chicken strips and my mom brought a dessert. (We got electricity at the end of week 2.)

I used all the ingredients even though the recipe says to use only 1/2 of the cheese. There was plenty of the Jumble for those who wanted it. I love that Hello Fresh has generous portions. Ahhhh, the grilled cheese is soooo good especially paired with the chimichurri sauce.
Chickpea-Powered Mediterranean Couscous with Zucchini and Heirloom Grape Tomatoes –  30 minutes, Level 1, 590 calories per serving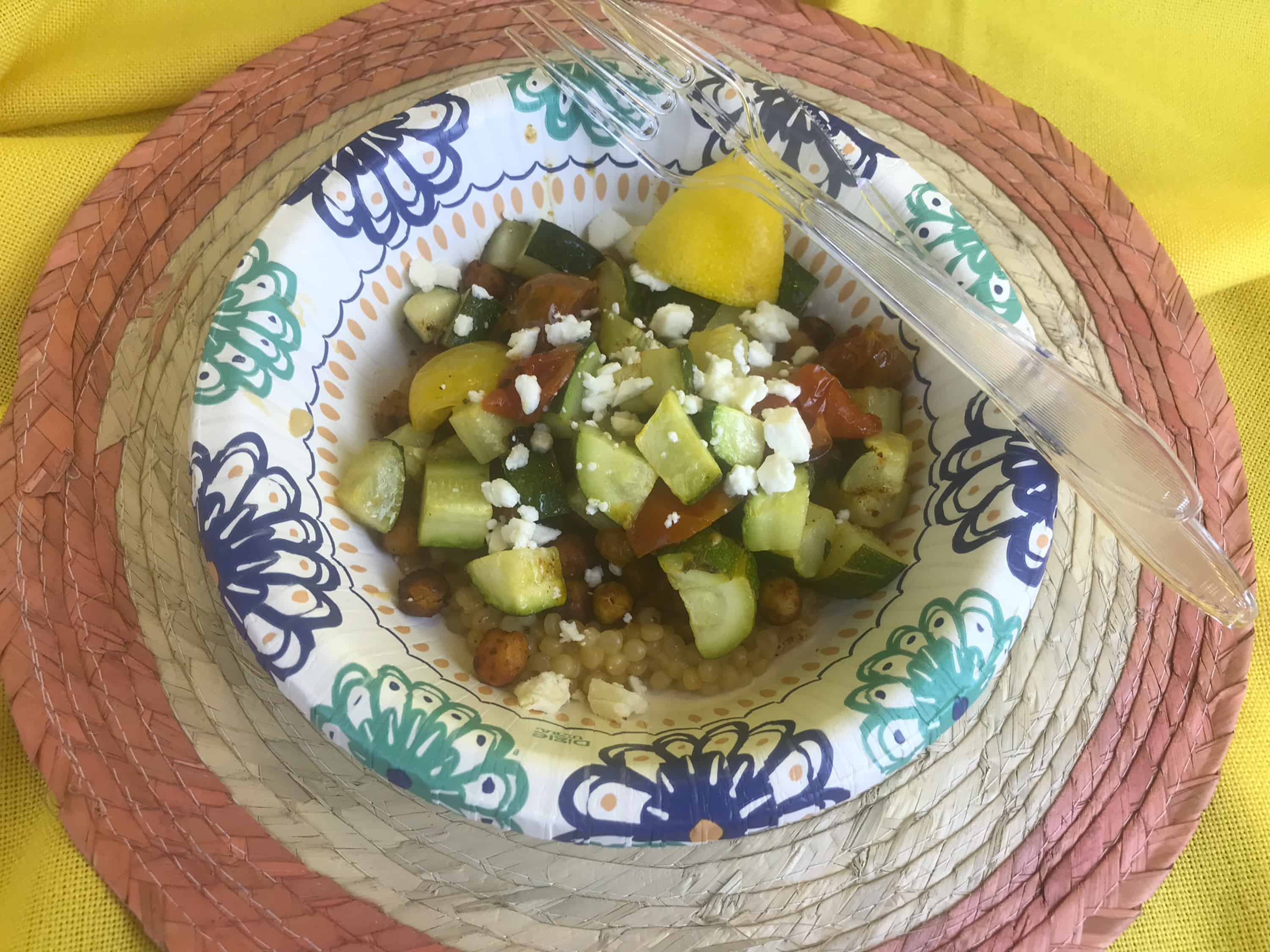 One of the things that makes Hello Fresh meals so good is the ease and quickness of prepping the meals. Right now I need meals that are no-brainers because I'm living in a disaster zone. My days are filled with working outside cleaning up the debris from Hurricane Michael.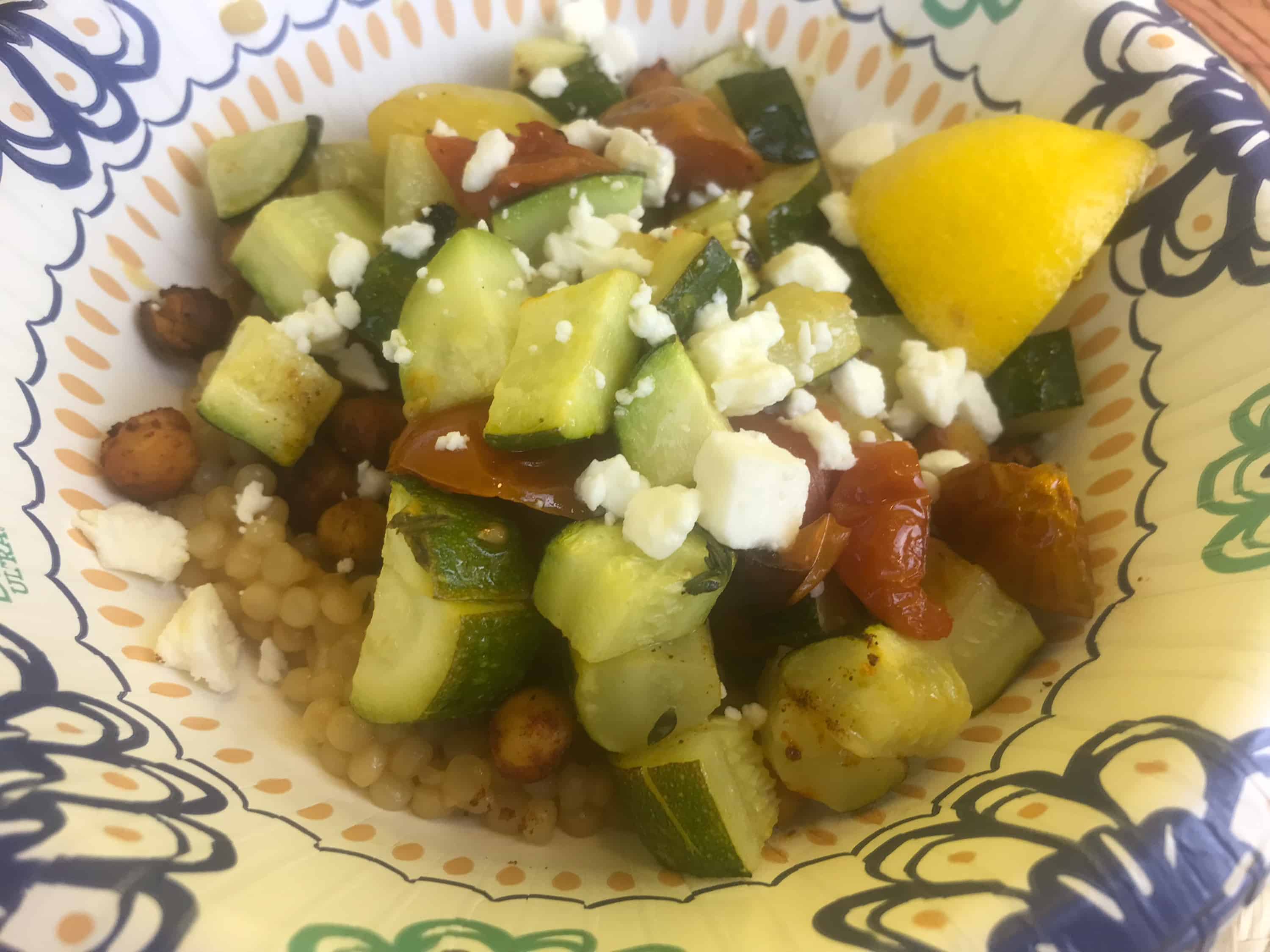 This all-star recipe was so quick to make and the outcome is fabulous in spite of that! The garlic butter browned couscous is so tasty and topped with the roasted chickpeas and veggies that you have a feast for the taste buds.
Normally, I save the leftovers for the next day but due to my daughter's new job, she stopped by and took them home.  Since the hurricane, my family's lives have drastically been altered but Hello Fresh has helped bring some normal back.
What can you say about the vegetarian recipes in our box?