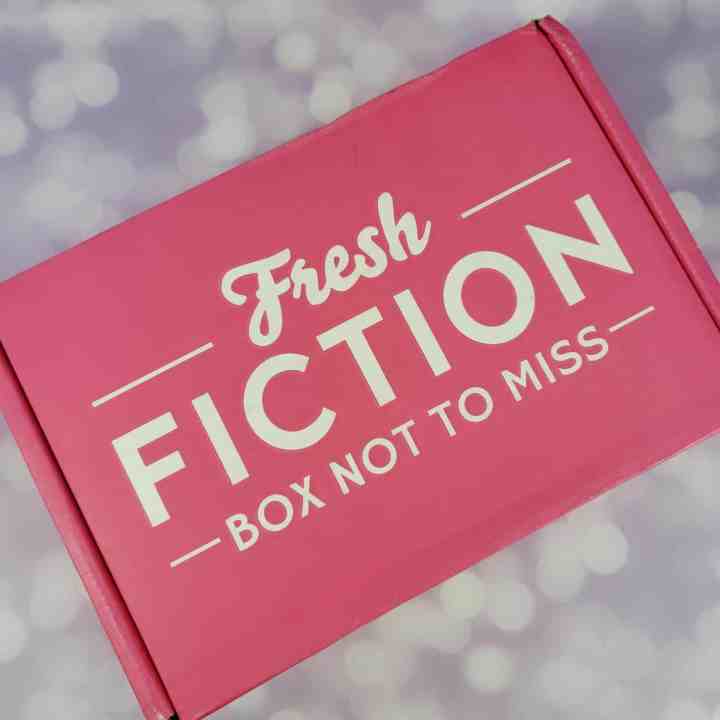 Fresh Fiction Box Not To Miss is a monthly book subscription that sends 5-7 new release books for $25.95. Shipping is free to the U.S. but they also ship worldwide. You can choose from a 1 or 3-month plan and both plans auto renew. Alternatively, you can also buy a one-time box from their online shop. They send 3-5 new release print books and codes for 2-3 downloadable ebooks! Most of the books will be from the romance genre but they may occasionally send mystery, erotica, YA, and paranormal books too.
DEAL: Save $3 on your first Fresh Fiction Not To Miss box with coupon code HELLO.
Everything in my October 2018 box! I received 4 paperbacks and codes for 4 e-books. Fresh Fiction sends different box variations each month so keep in mind that your box may vary from mine!
The Royal Runaway by Lindsay Emory ($11.00) – The royals are always all the rage and a modern one who is a bit daring and sassy is so fun. Then toss in a mystery and I'm in. This will be a great read in front of the fire when I'm chilling out for the night.
For fans of The Princess Diaries and The Royal We comes a fun and daring novel about a modern-day princess who teams up with a spy to find out what happened to the fiancé who left her at the altar—and who just might get her own fairytale in the process.

Princess Theodora Isabella Victoria of Drieden of the Royal House Laurent is so over this princess thing.

After her fiancé jilted her on their wedding day, she's finally back home after spending four months in exile—aka it's back to press conferences, public appearances, and putting on a show for the Driedish nation as the perfect princess they expect her to be. But Thea's sick of duty. After all, that's what got her into this mess in the first place.

So when she sneaks out of the palace and meets a sexy Scot named Nick in a local bar, she relishes the chance to be a normal woman for a change. But just as she thinks she's found her Prince Charming for the night, he reveals his intentions are less than honorable: he's the brother of her former fiancé, a British spy, and he's not above blackmail. As Thea reluctantly joins forces with Nick to find out what happened the day her fiancé disappeared, together they discover a secret that could destroy a centuries-old monarchy and change life as they know it.

Funny, fast-paced, and full of more twists and turns than the castle Thea lives in, The Royal Runaway is a fresh romantic comedy that will leave you cheering for the modern-day royal who chucks the rulebook aside to create her own happily-ever-after.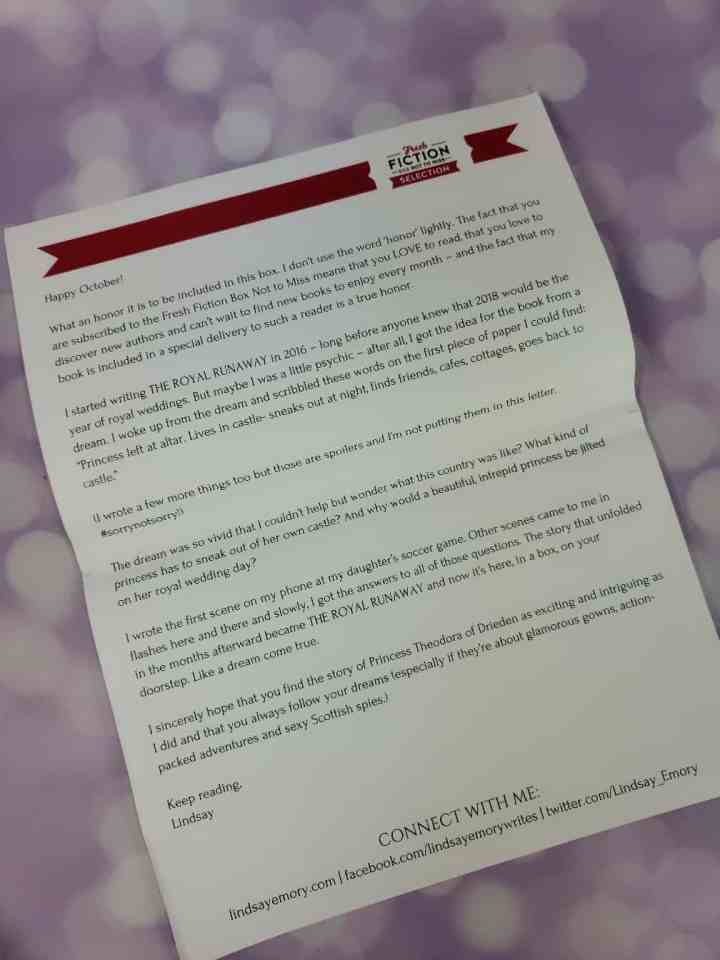 With The Royal Runaway being my featured book of the month I got a note from the author.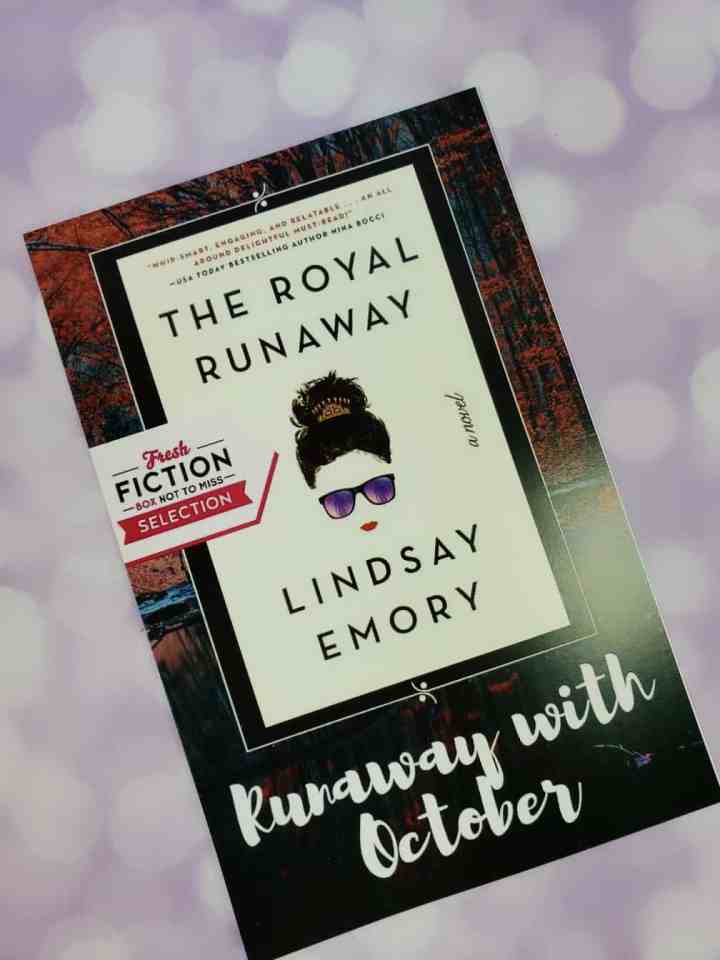 The card announcing the theme of the month with the featured book.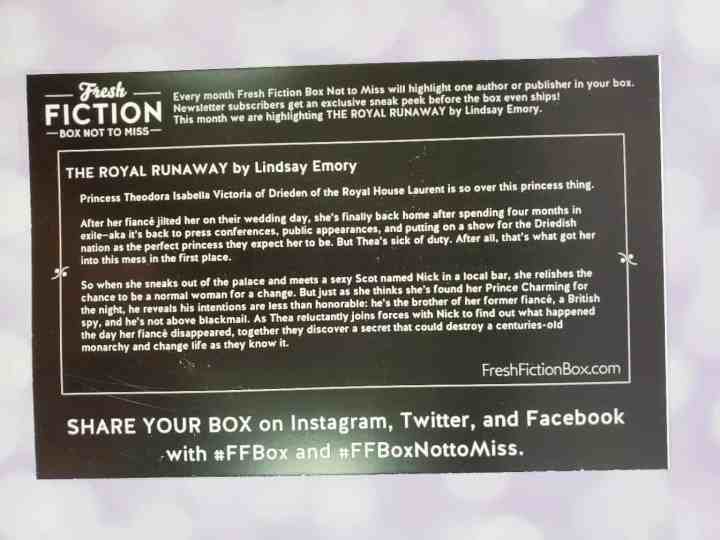 The back of the theme card gives a quick note about the book.
Undercover Memories by Lenora Worth ($12.99) – I often think amnesia is a cop out for a tv show but I loved when they used it on Bones when Brennan was in New Orleans and this sounds a lot like that. It's not being used to rewrite history but to propel along the mystery. I can be in for that.
Her most important mission…

and she can't remember what it is.

After amnesia strands private investigator Emma Langston in Dallas, only Detective Ryder Palladin can stop the men trying to kill her. But protective custody on Ryder's family ranch has its own risks, like falling for the handsome cowboy. Before she can untangle her feelings for Ryder, Emma must recover her memory…because she's sure someone's life depends on it, even if she can't remember whose.
The Gold Pawn by LA Chandler ($10.97) – Interesting that this twists between two different cities in a time way before the internet and cell phones.  Since I am old I do remember a time before having the world at my fingertips and I love reading novels set in days gone by that seem so glamorous and seeing how things have changed so much.
November 1936. Mayor La Guardia's political future buckles under a missing persons case in New York City. Simultaneously, Lane unravels devastating secrets in the outskirts of Detroit. As two crimes converge, judging friends from enemies can be a dangerous game . . .
 
Finally summoning the courage to face the past, Lane Sanders breaks away from her busy job at City Hall to confront childhood nightmares in Rochester, Michigan. An unknown assailant left Lane with scattered memories after viciously murdering her parents. However, one memory of a dazzling solid gold pawn piece remains—and with it lies a startling connection between the midwestern tragedy and a current mystery haunting the Big Apple . . .

Meanwhile, fears climb in Manhattan after the disappearance of a respected banker and family friend threatens the crippled financial industry and the pristine reputation of Lane's virtuous boss, Mayor Fiorello "Fio" La Guardia. Fio's fight to restore order leads him into more trouble as he meets a familiar foe intent on ending his mayoral term—and his life . . .

Guided by overseas telegrams from the man she loves and painful memories, only Lane can silence old ghosts and derail present-day schemes. But when the investigation awakens a darker side of her own nature, will she and New York City's most prominent movers and shakers still forge ahead into a prosperous new age . . . or is history doomed to repeat itself?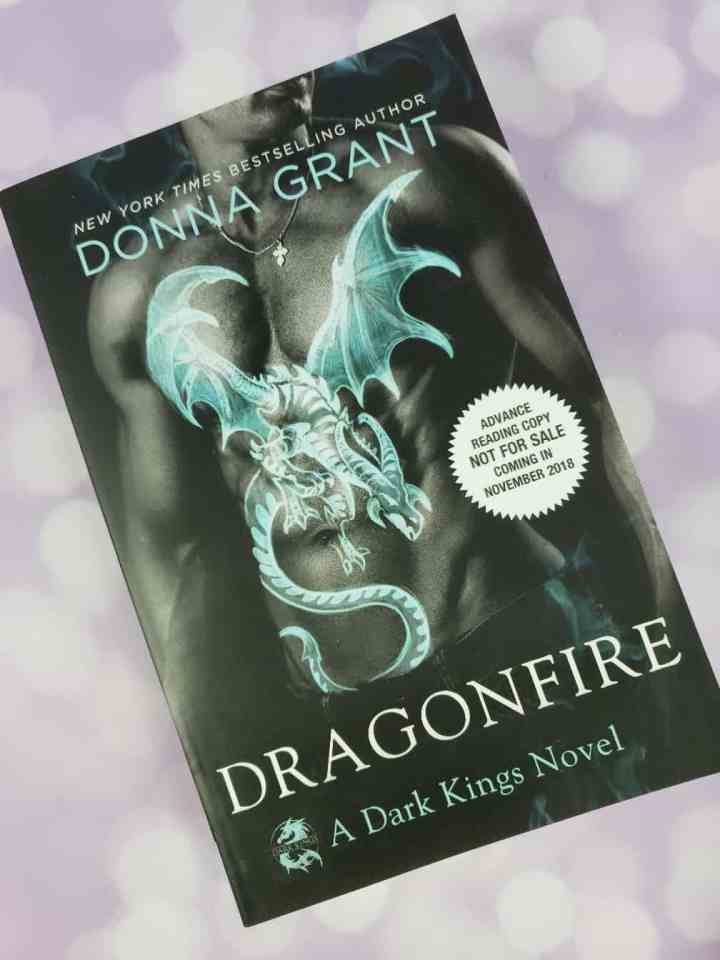 Dragonfire by Donna Grant ($6.47) – Yes!!! Have any of you read the Black Daggar Brotherhood series? It is a true Paranormal Romance and this sounds right along those lines.  Really anything that starts with whispers of desire and the need, the hunger sounds like a book that goes near the top of my to be read pile.
Passion burns hot in Dragonfire, the next Dark Kings novel from New York Times bestseller Donna Grant. 

It was a soul-deep longing, one that got into his bones and settled there, sending whispers of desire through him. The need, the hunger, grew tenfold with every breath. . . .

As a Dragon King, Roman is sworn to protect all mortals―even though they no longer believe in dragons. But deep in the Carpathian Mountains, he discovers a beautiful and mysterious gypsy who possesses the power to see into his very soul. To reignite the fire in his heart. And to help him find the long-lost sword that could save the dragons forever…

Sabina remembers the stories her grandmother told her. Legends of dragons and kings, fire and ice. And she's never forgotten the dark prophecy that filled her ancestors with fear―a fate they tried to prevent by stealing a Dragon King's sword. Sabina knows that helping Roman is dangerous. He is a dragon betrayed, and more powerful than any man. He could destroy her in a single fiery embrace. But how can she resist the longing in his eyes―or the feelings in her heart―when their destinies are bound by desire?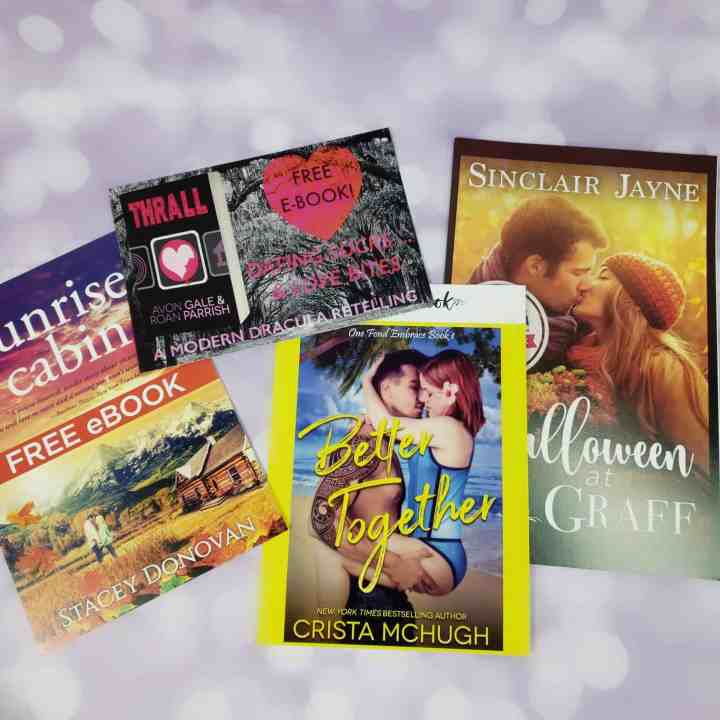 We got four codes for Free e-books this month!
Fresh Fiction Box Not To Miss sent another great box for me this month. The books look interesting and right up my alley for ones that I would pick. I've said before that I love to read but I do get stuck in my ruts and when I go to a bookstore or order online I stick to authors and series I already know. Fresh Fiction sends me new authors and series to discover each month and keeps me well stocked with books to read.
What did you think of this month's book selection?
Visit Fresh Fiction Not To Miss to subscribe or find out more!