Bibliophilic Excursions Signature Journey Subscription Box is a monthly subscription of carefully curated books and goodies from a featured destination. At $49.99 per month, you will receive 2 books, one fiction and one non-fiction, along with goods that will make your reading experience one-of-a-kind. Sample items include Parisian jams and crepes, green tea from Japan, hand-woven baskets from Kenya, and even pasta from Italy!
You can choose to get this box monthly or quarterly!
DEAL: Save $5 off the Ladies at Lunch box with coupon code POST5.
The blue box looks neat. It was carefully taped up to prevent the box from opening during shipping.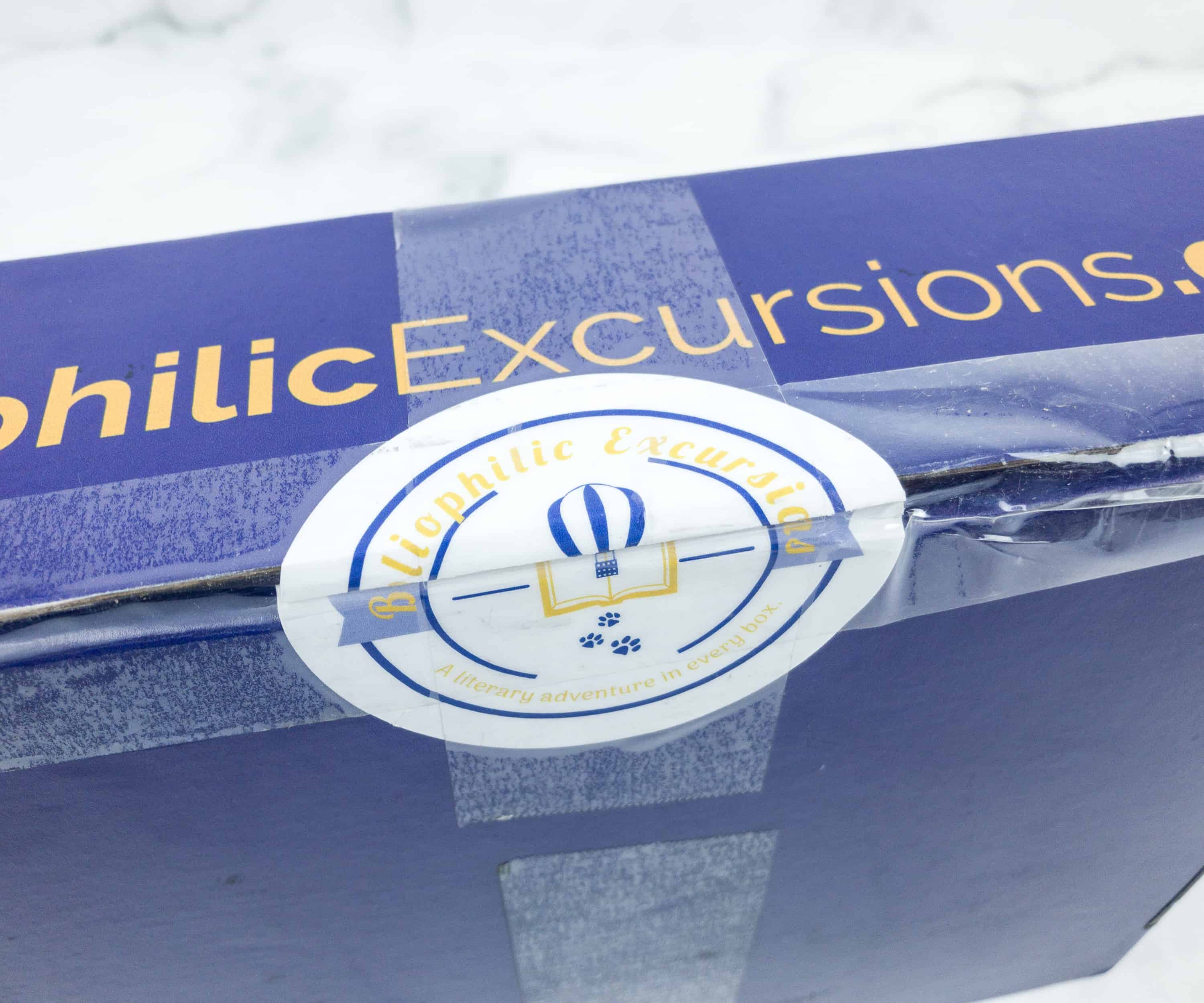 It has an additional tape on top of the seal.
The underside of the cover really catches the eye and has a little note from the curators too.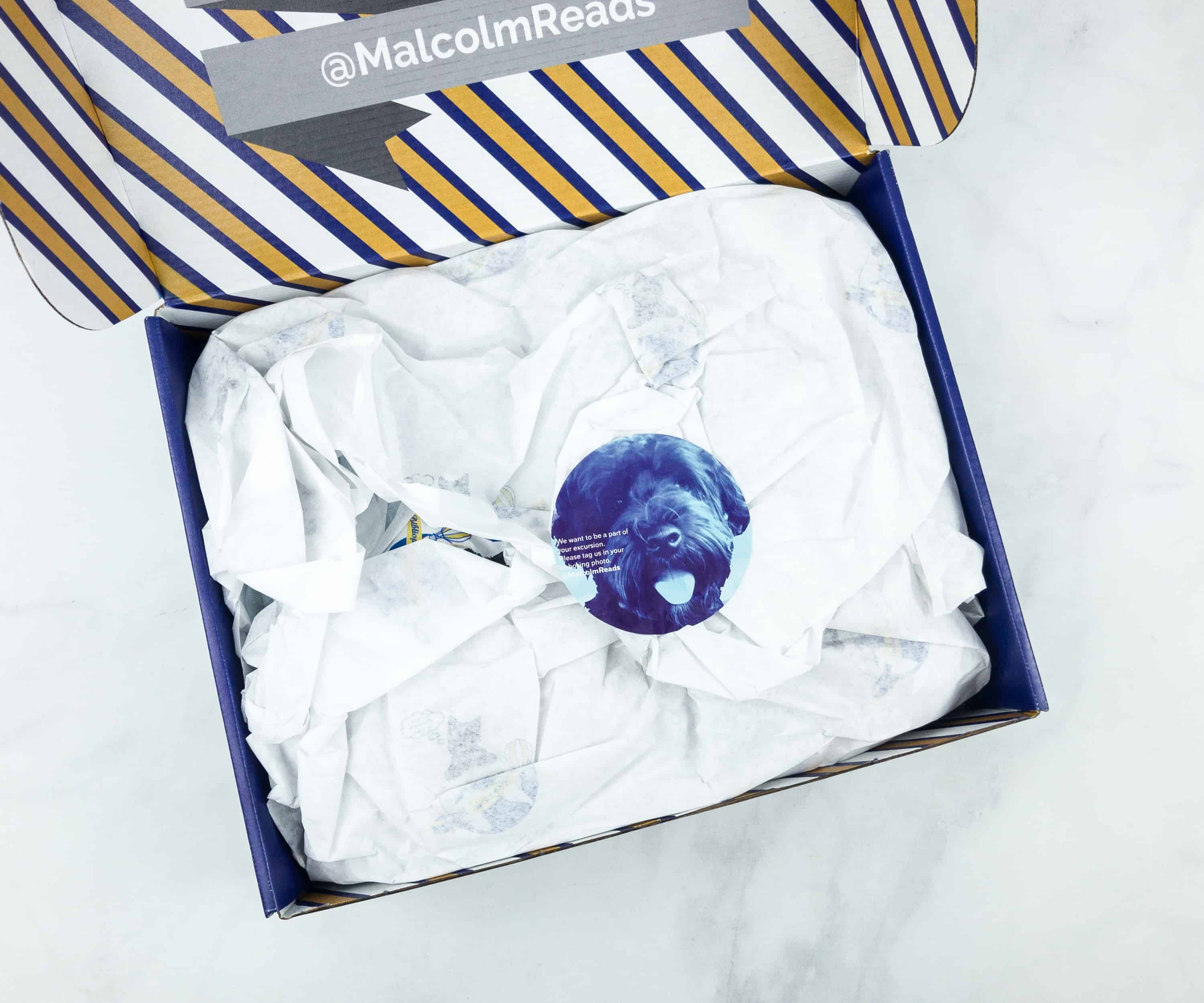 All the items are wrapped inside the white tissue paper with a sticker seal on it.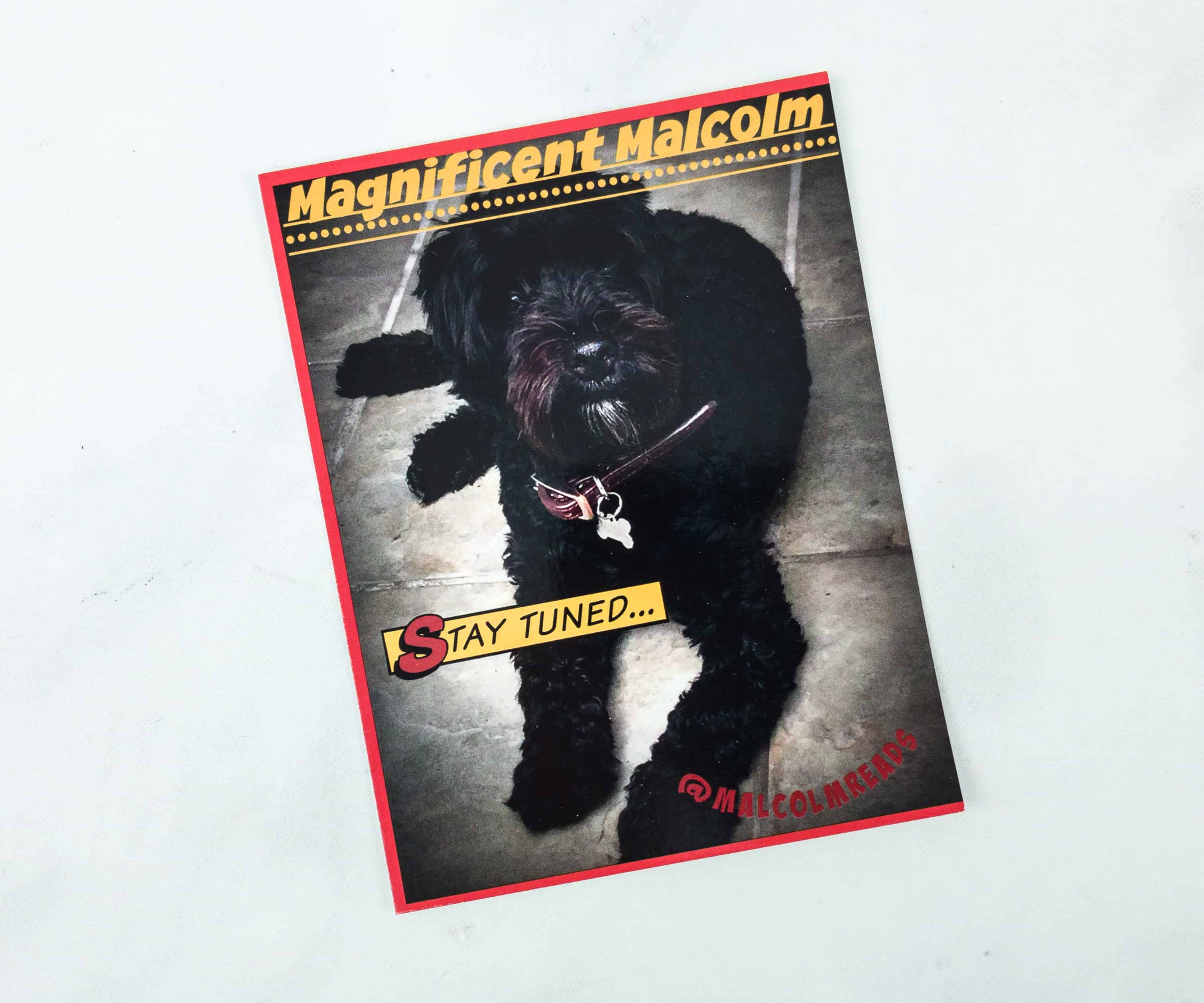 They gave us a cute promotional card featuring a black dog – their "expert packer"!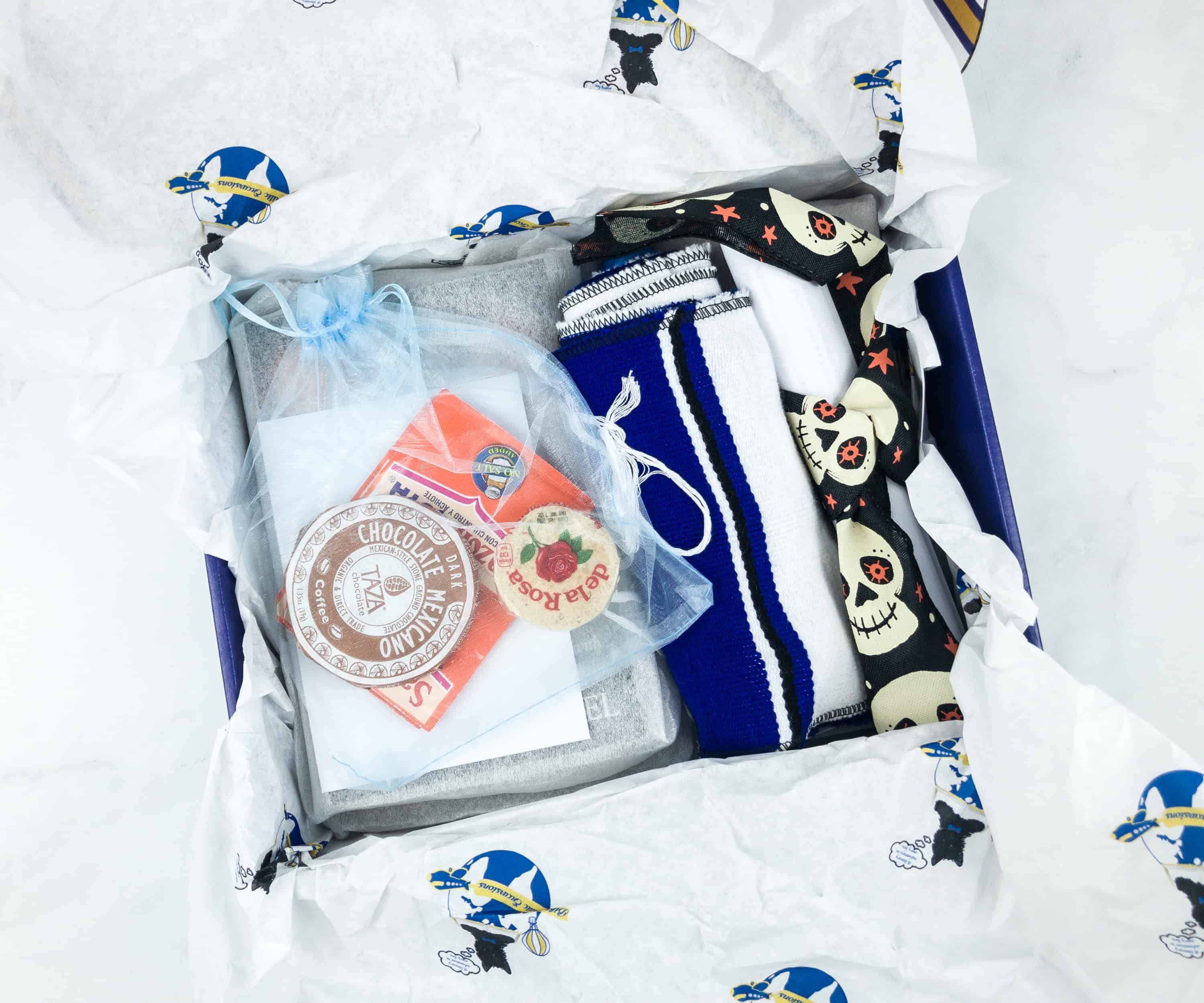 The neatly arranged items welcome us and tempt us to dig in! Love that the tissue paper wasn't plain after all, it has Bibliophilic Excursions cute logos on it!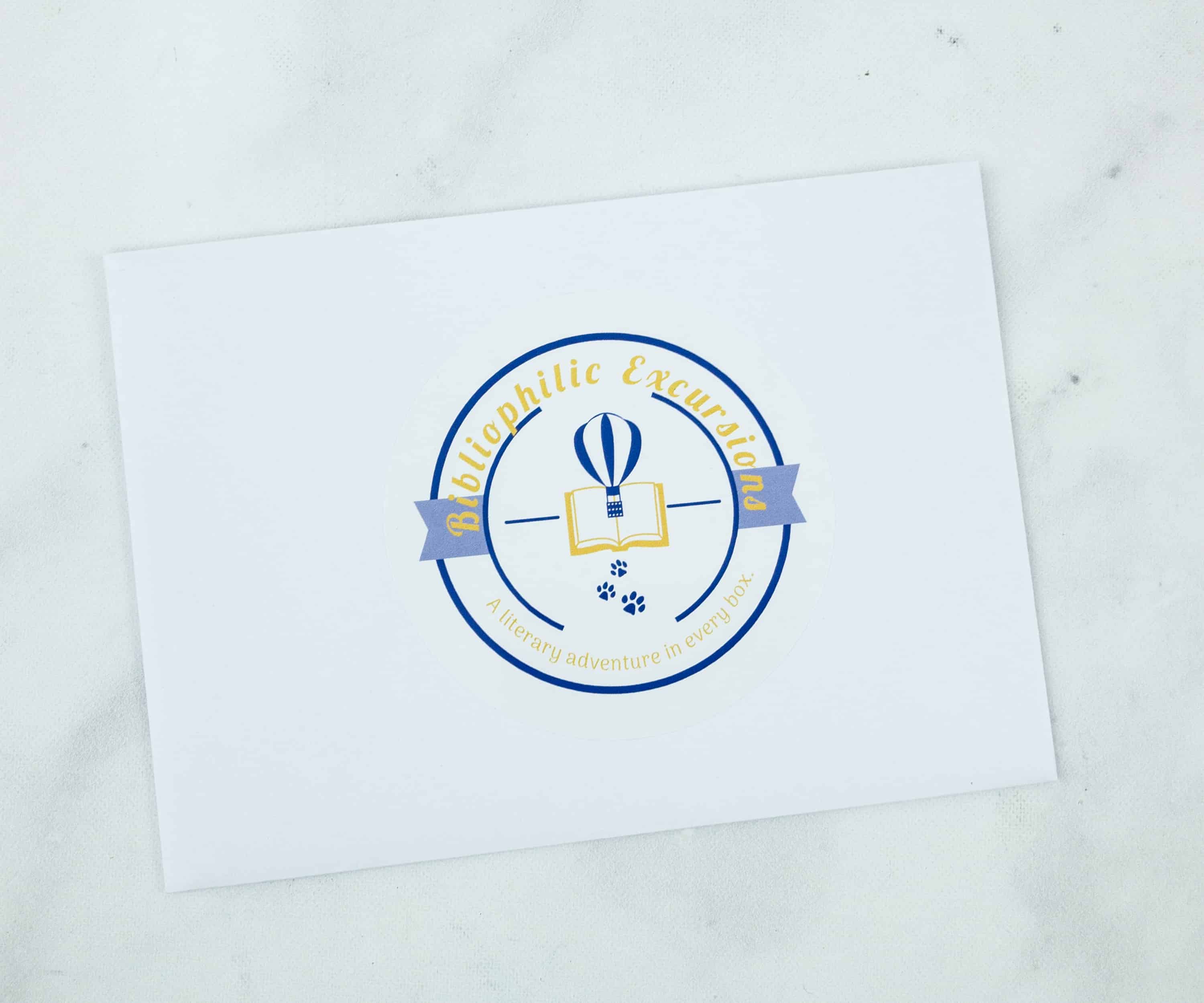 We also got an envelope…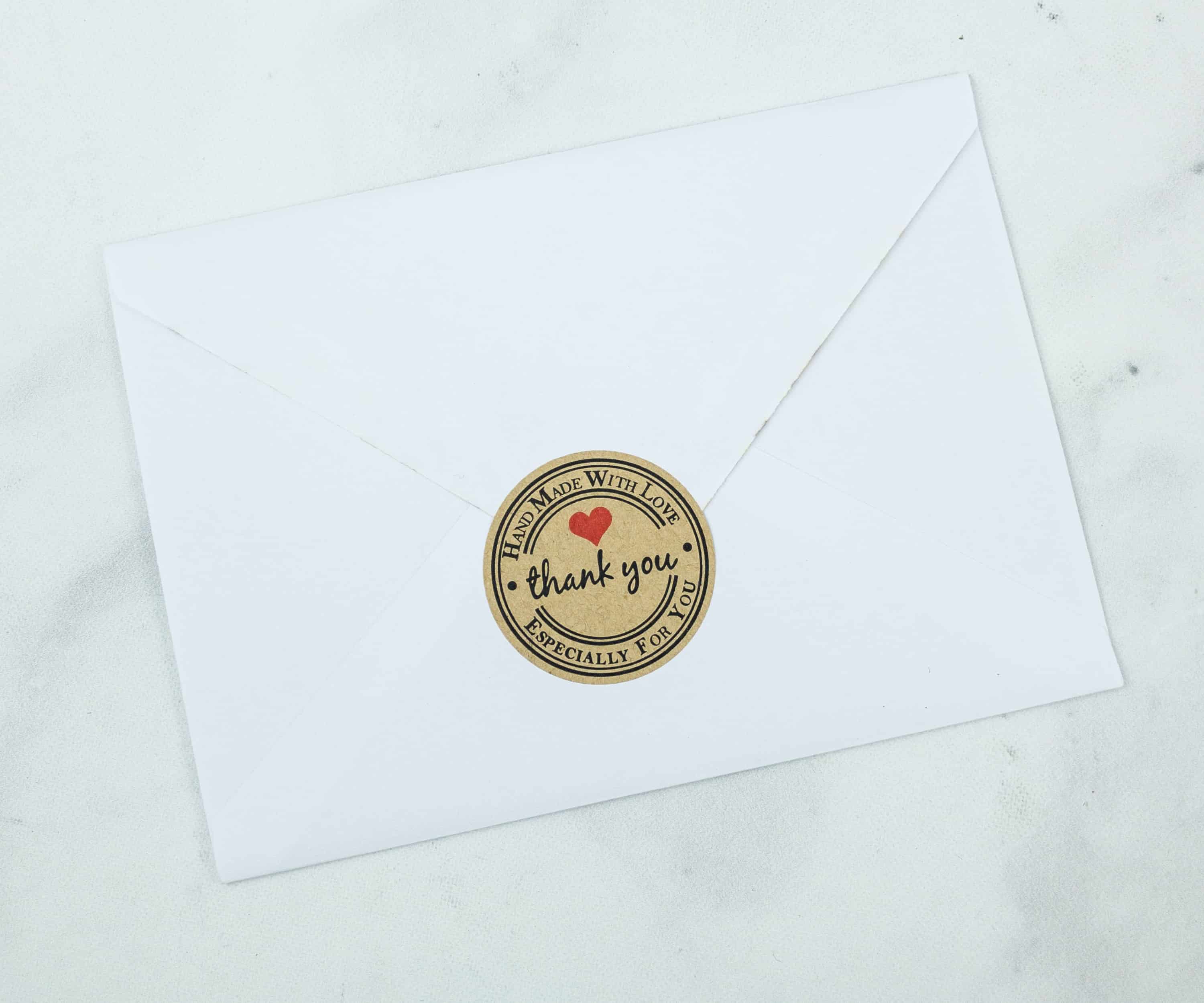 …sealed with a thank you sticker. I love everything handmade so I'm really excited about this box!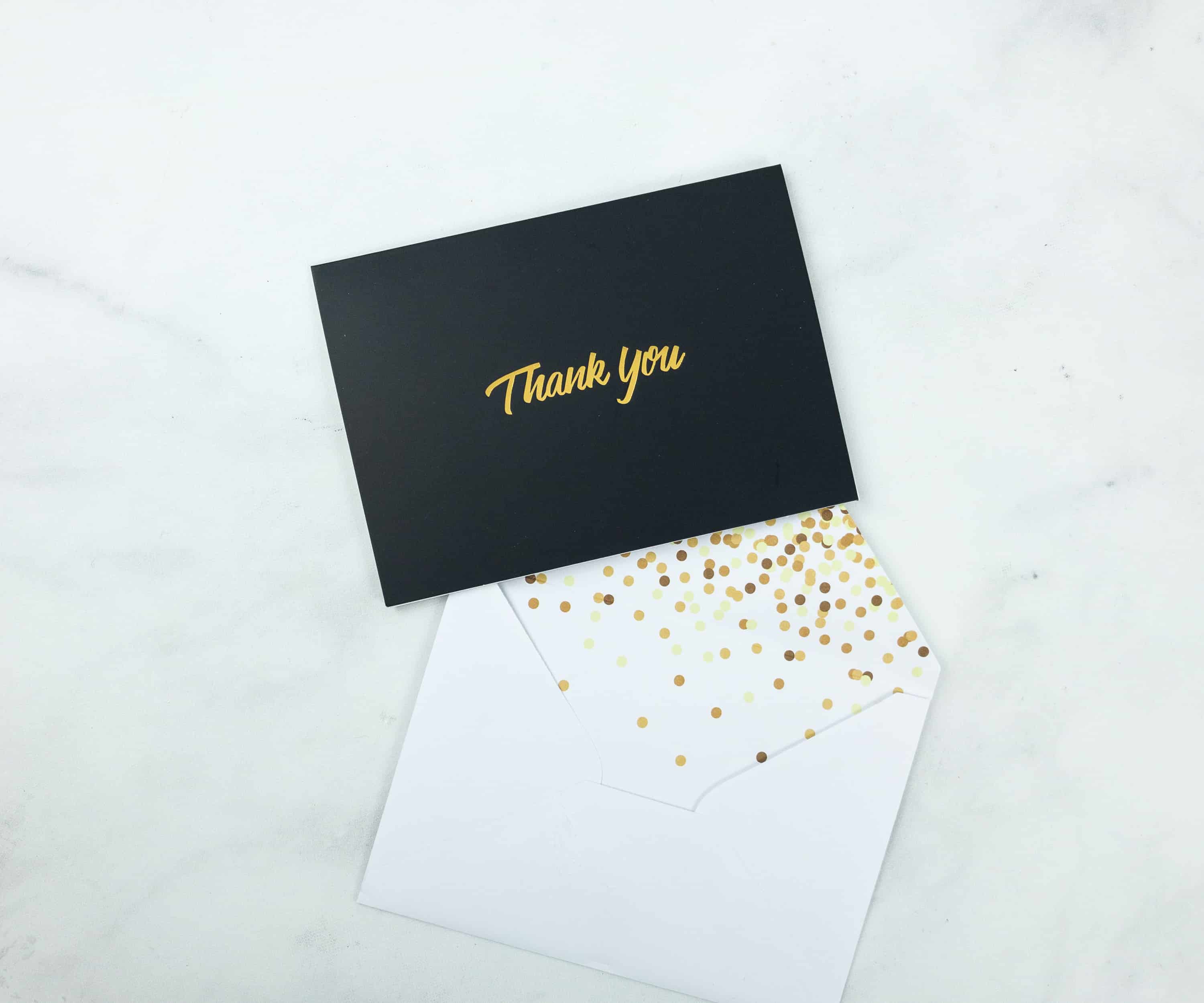 The envelope contained a thank you card from Bibliophilic Excursions! I feel like I am going to be taking off to a new reading adventure with this design.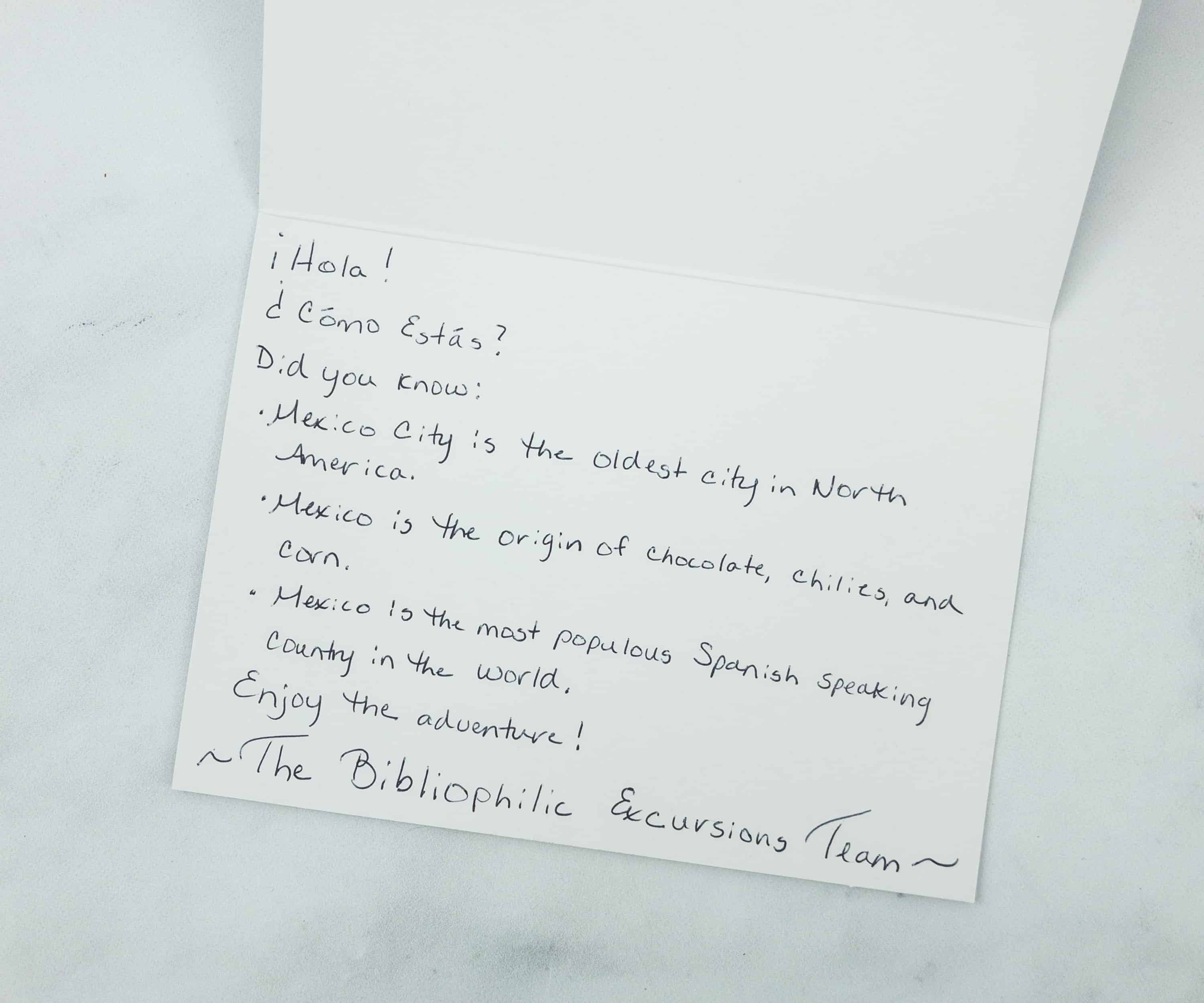 There was a personalized note that explains what this month's box is about. It appears that we will be traveling around Mexico!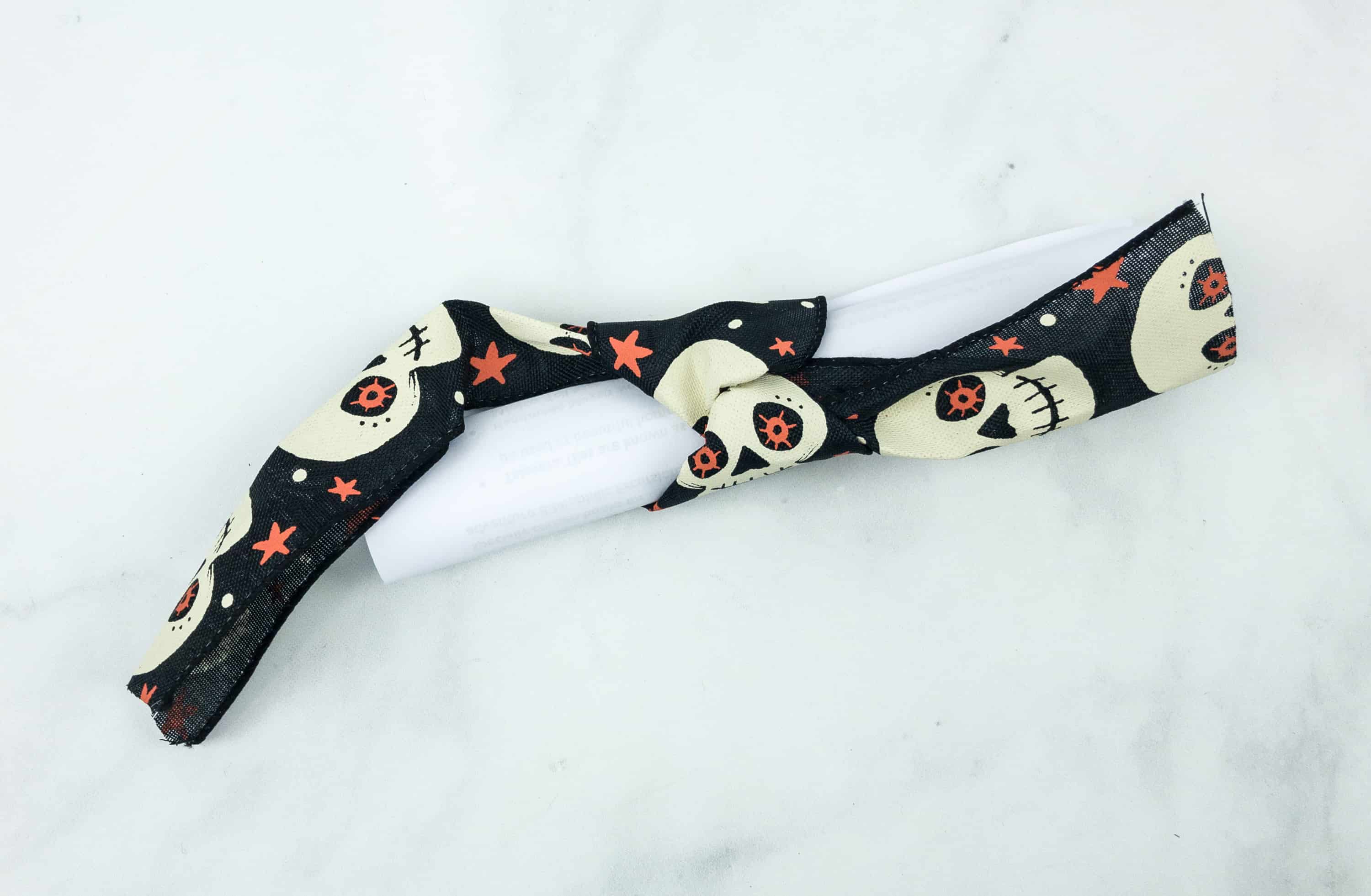 They gave us a letter about the theme of the box! It's tied with a ribbon having La Calavera Catrina design which is a decorative skull that is used in Mexican celebration of Day of the Dead.
So that we won't go in blindly, they gave us some information about the products inside.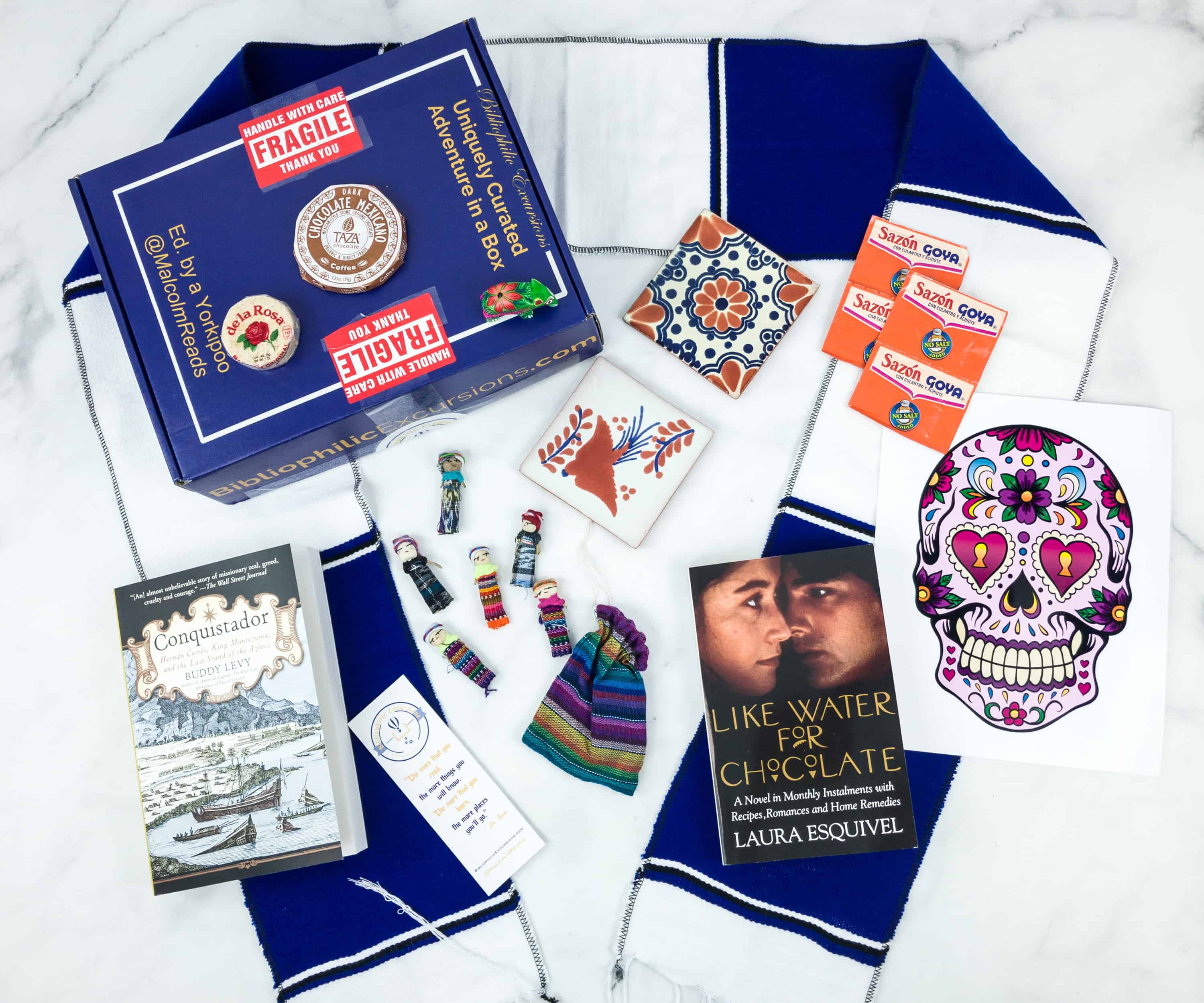 Everything in my box!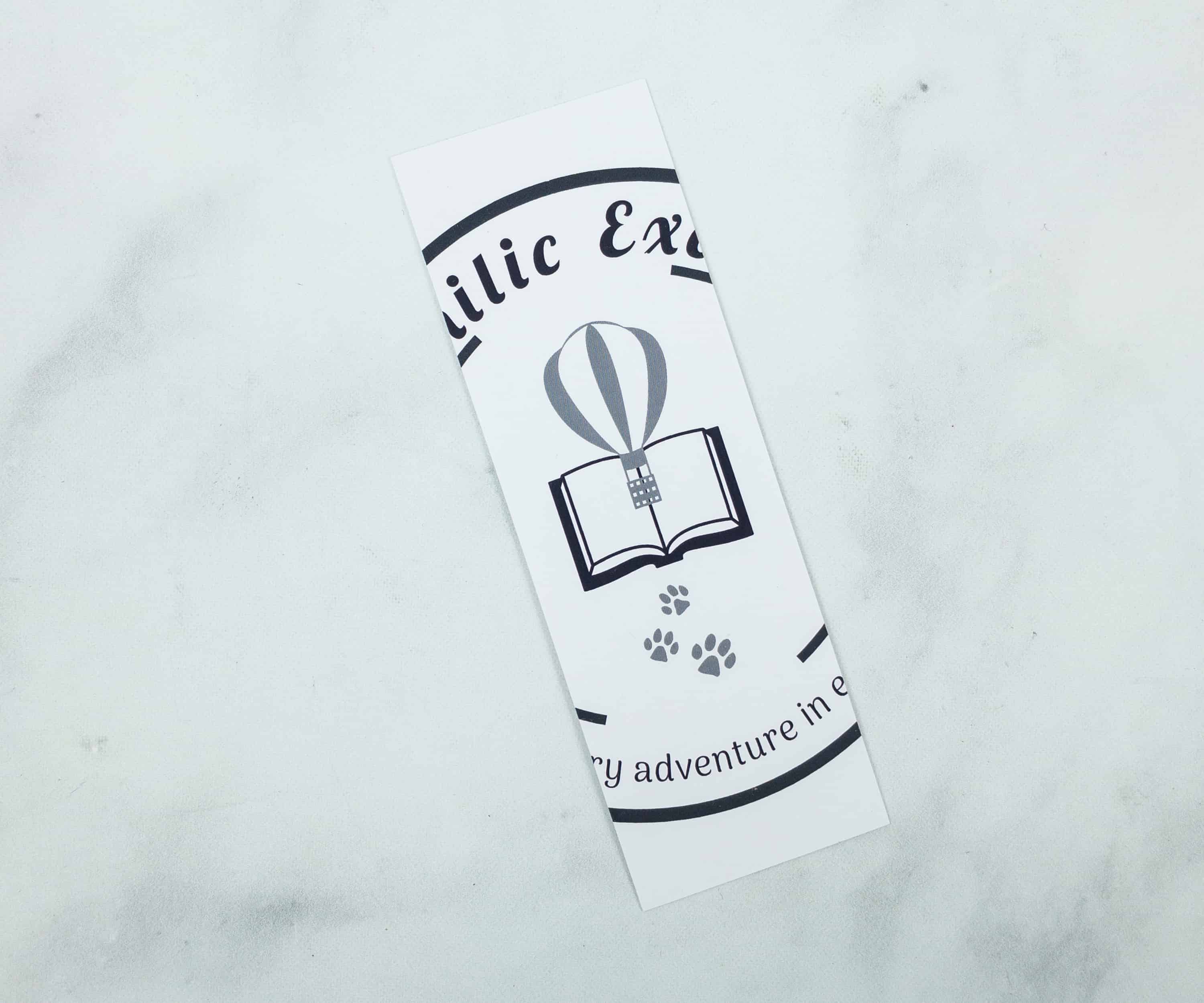 Bookmark. They gave us two books which automatically makes this bookmark useful.
The more that you read, the more things you will know. The more that you learn, the more places you'll go.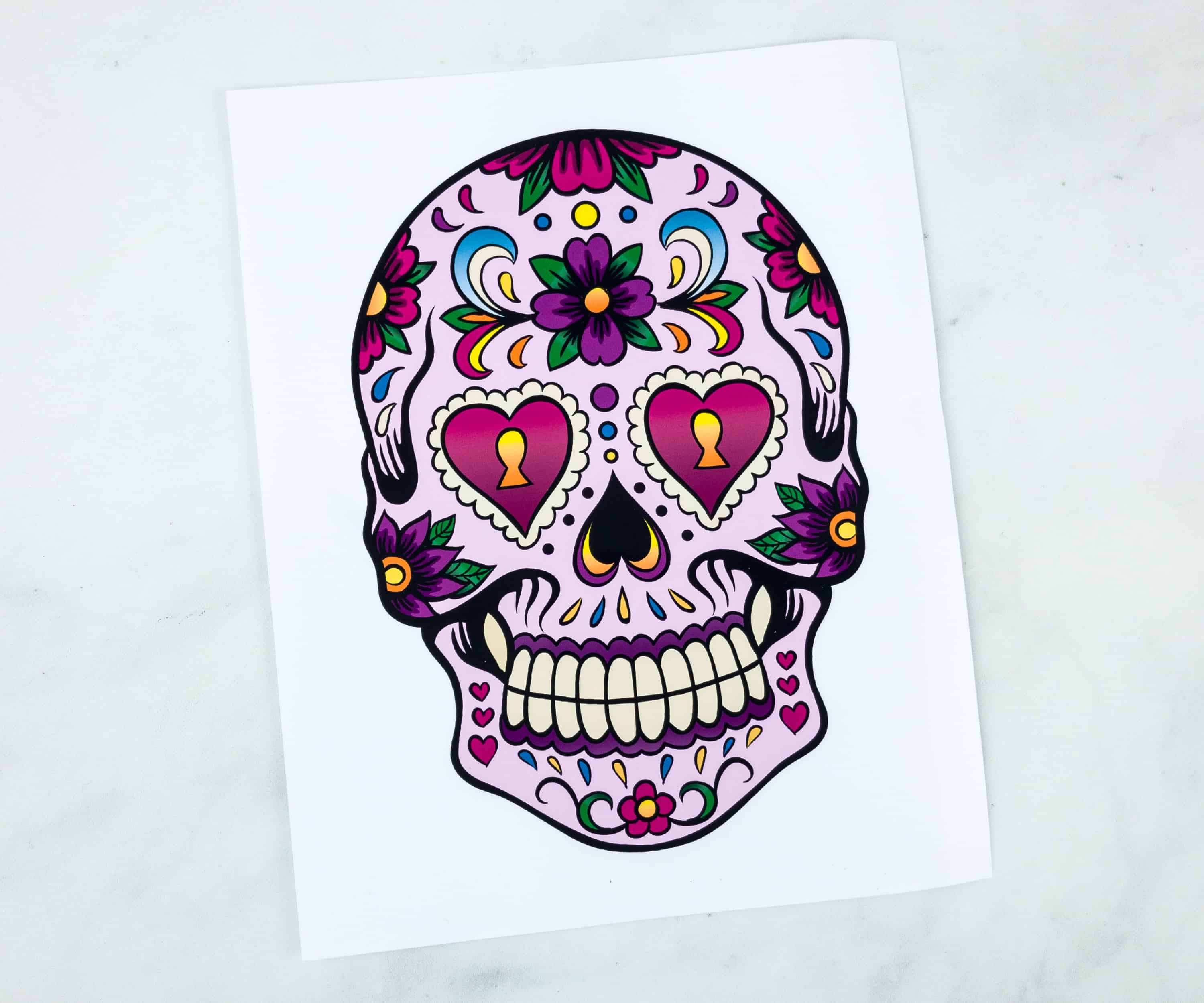 The Catrina Drawing. The Catrina makeup is used as face painting during the Day of the Dead. It represents honor for all those who passed on in Mexico and Latin America.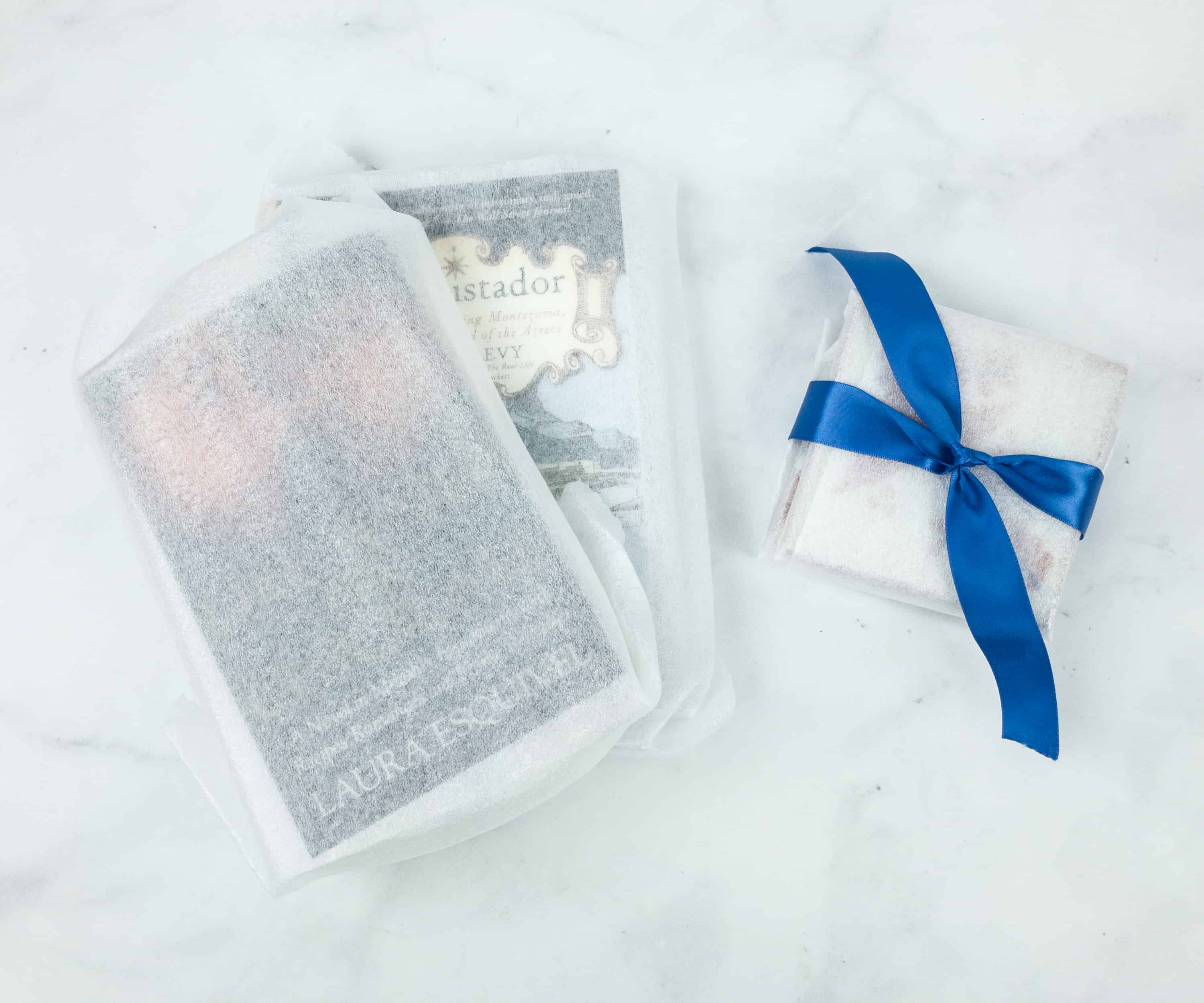 They are very generous with the packaging. The books and tiles are also covered with thin white sheets. The tiles are tied with a blue ribbon to keep them in place.
Talavera Tiles. Also known as Mexico's chosen skin, each tile has an elaborate hand-painted design.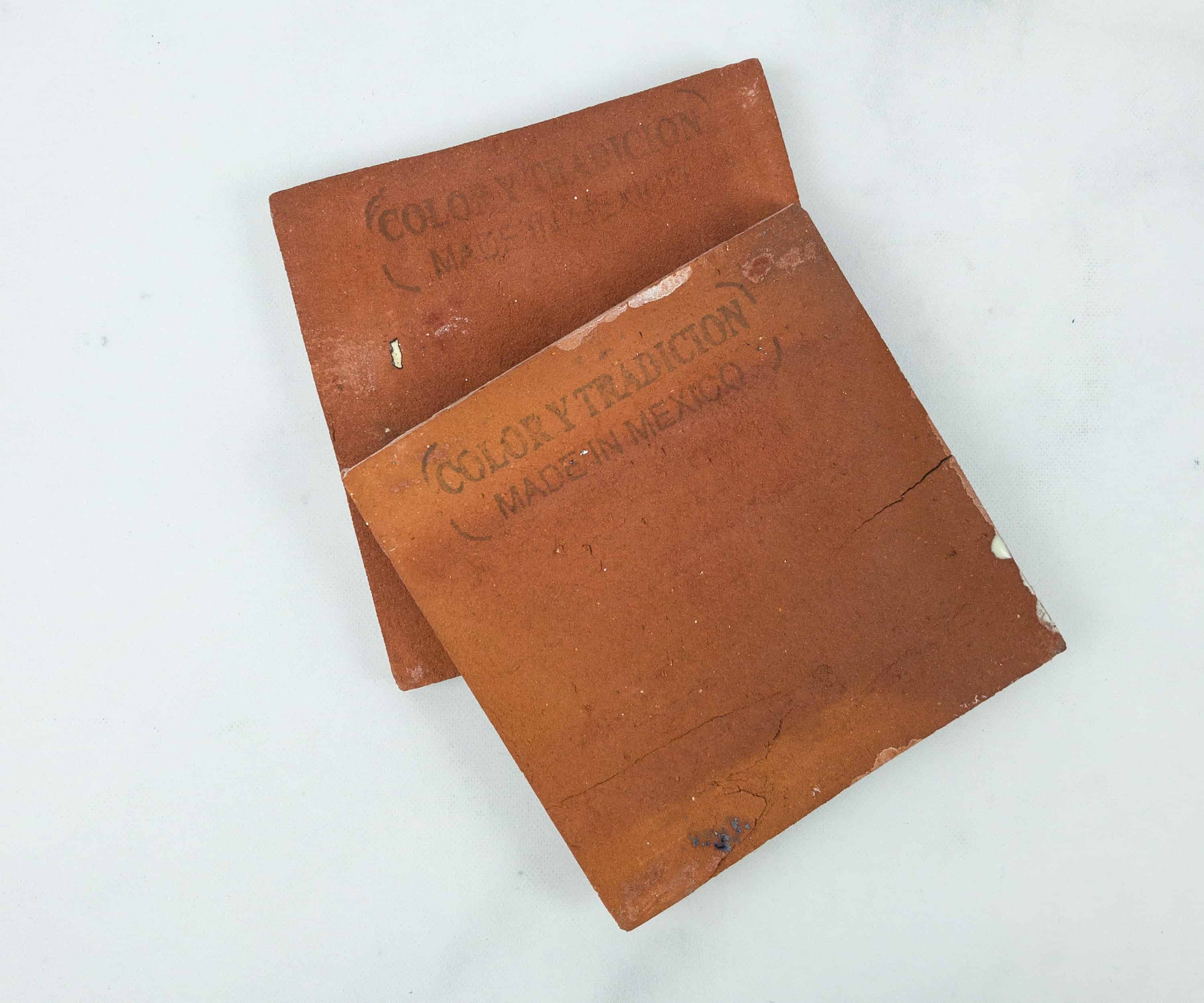 It looks beautiful when you have a lot of tiles you can piece together as home decoration. These are also great as coasters.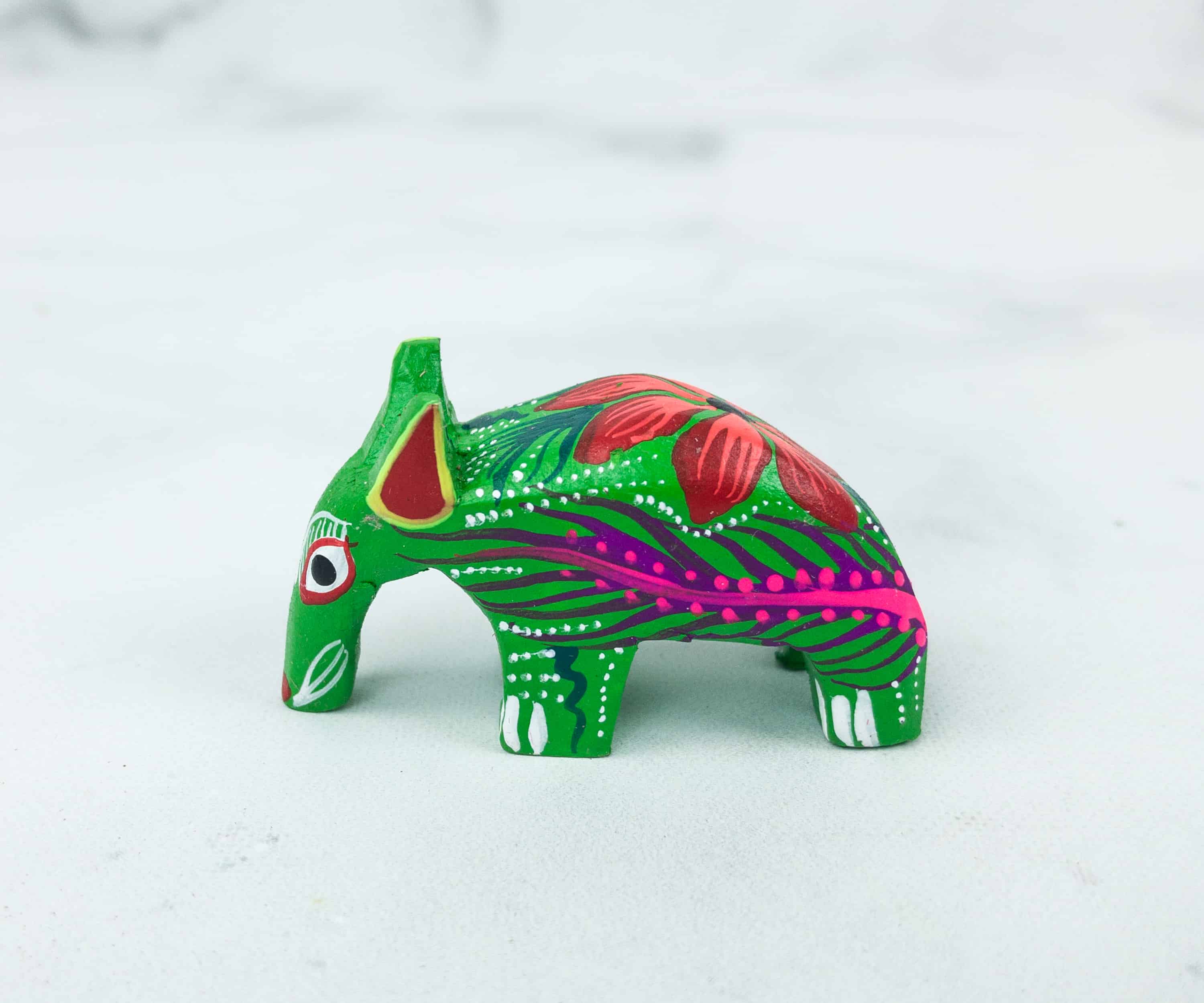 Alebrijes. It's a traditional folk structure based on mythical animals. Axel Palacious, an artist from Mexico City, made this by hand. He learned the traditional art form from his father.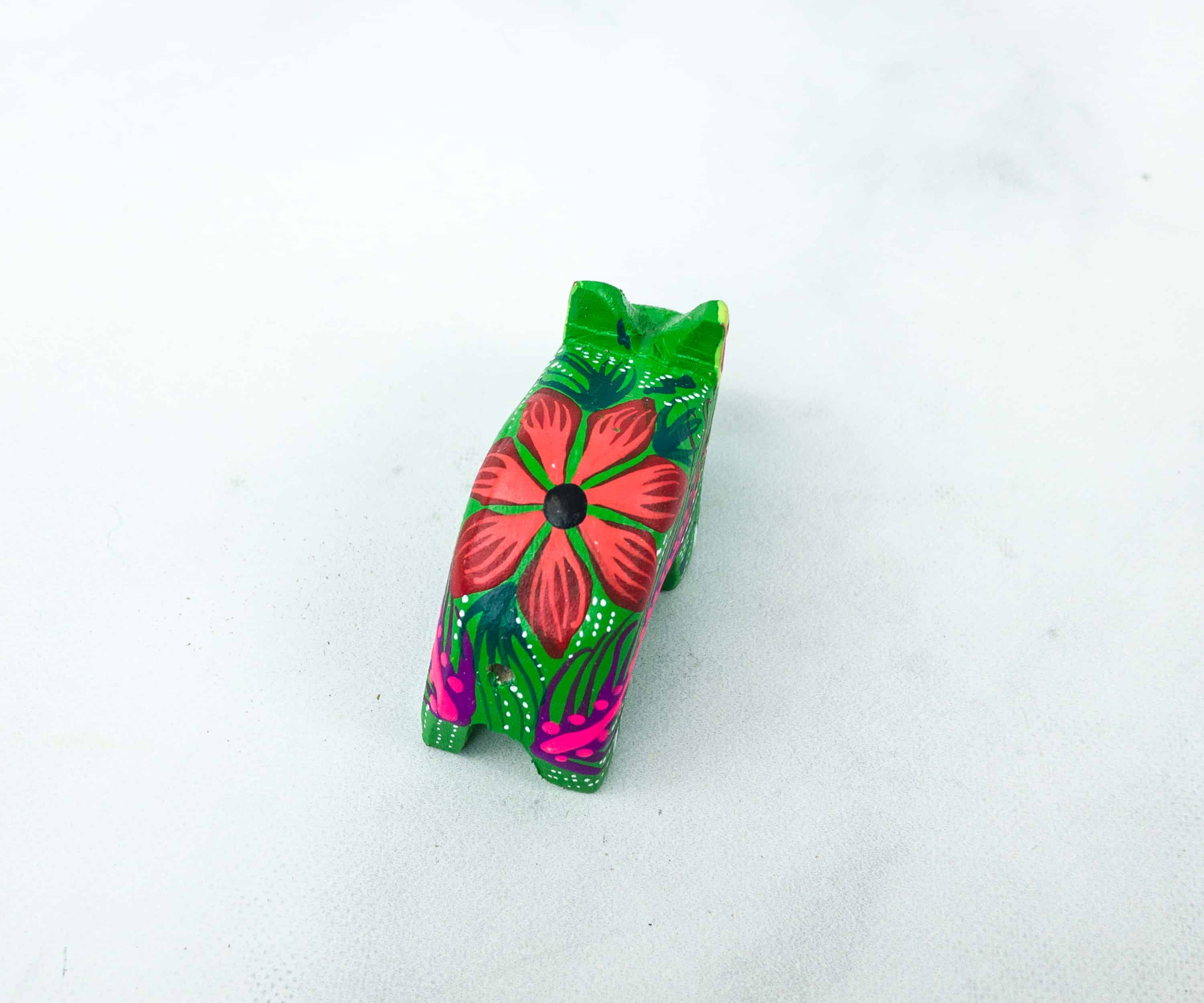 Alebrijes are popularized by artists like Diego Rivera and Frida Kahlo. I love the intricate details and the vibrancy of colors. Nature really came to life with this mythical creature.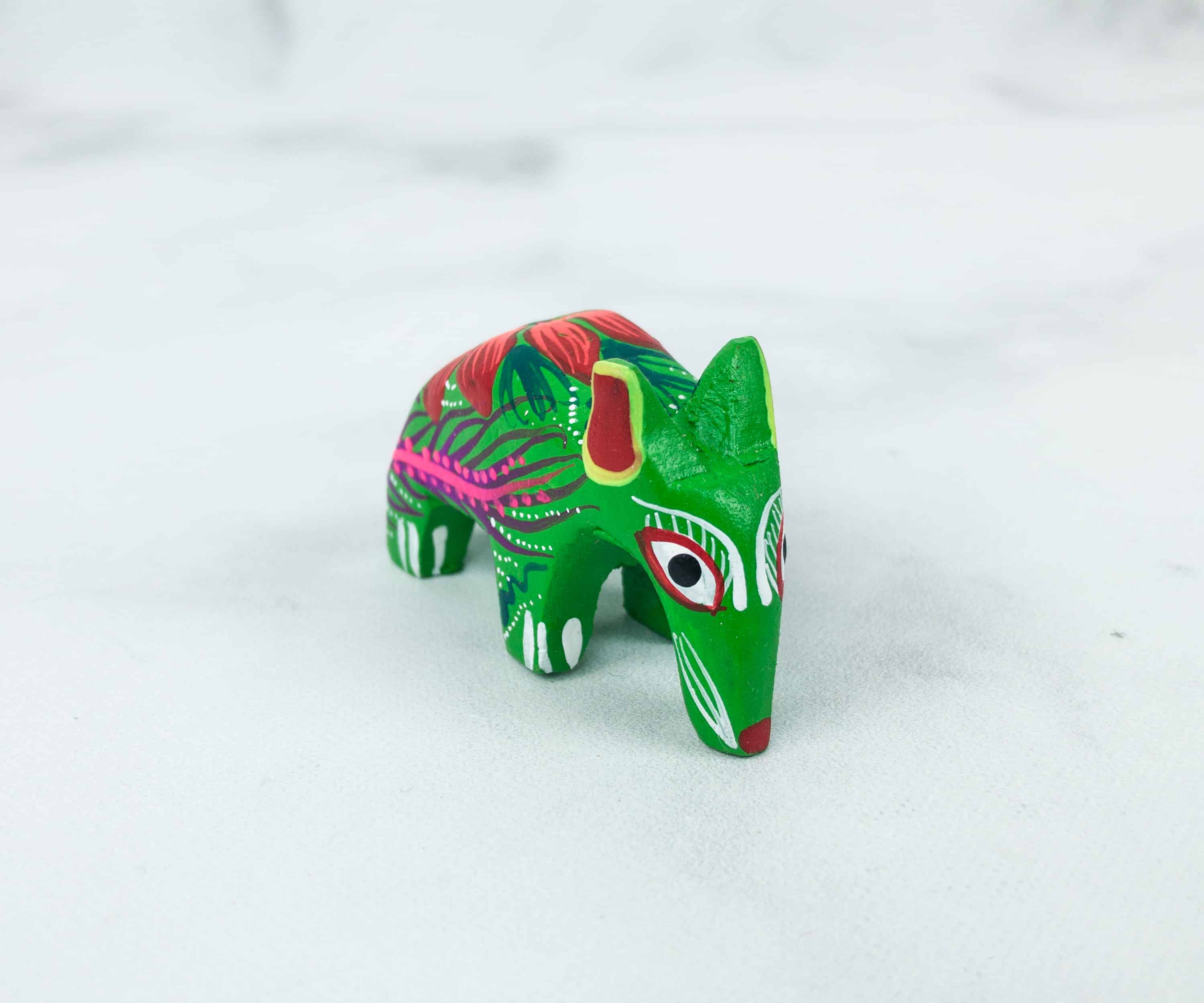 It's a cute figurine to have and to decorate your home with. It can add magic to your desktop as well.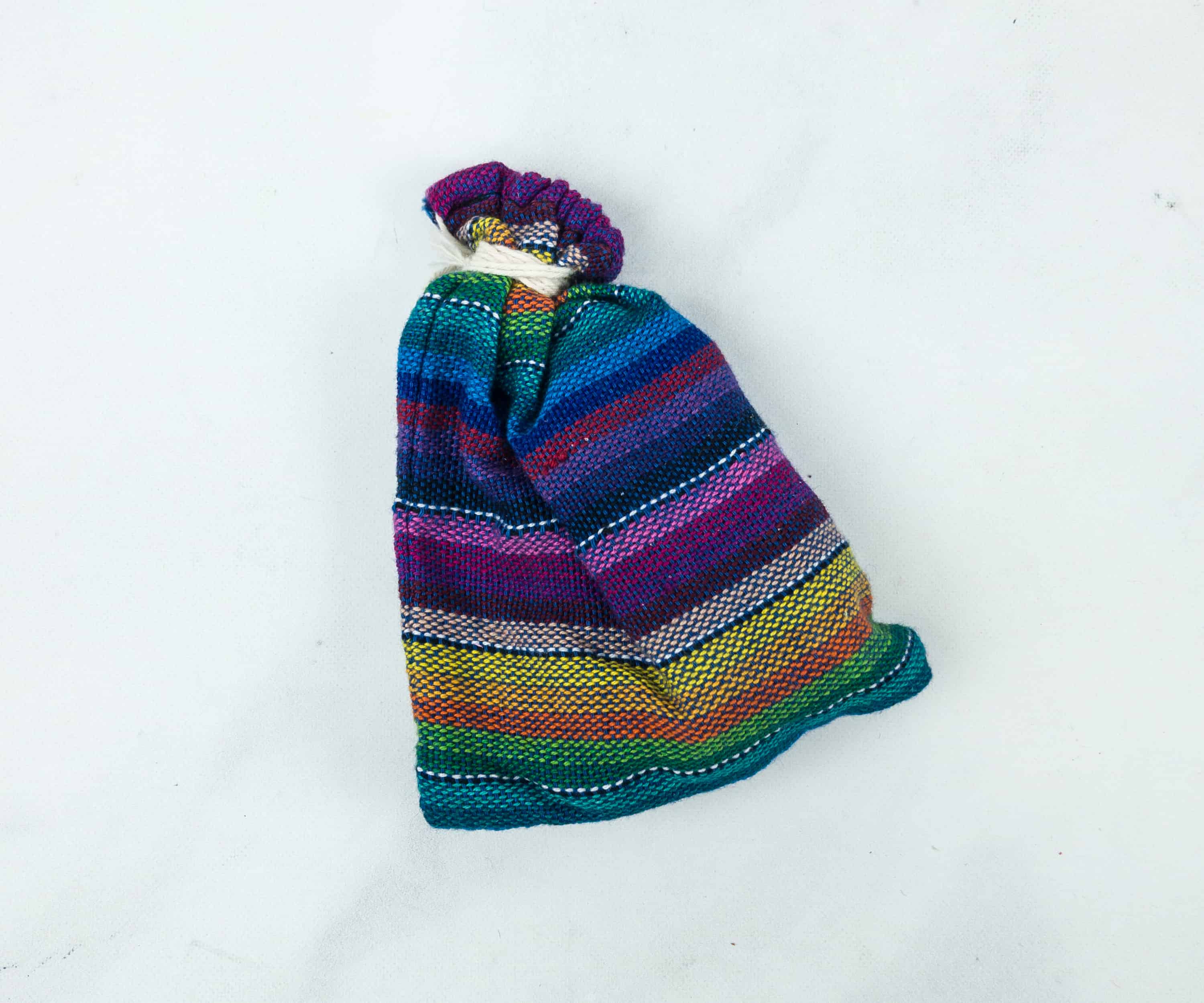 This colorful pouch is beautifully made.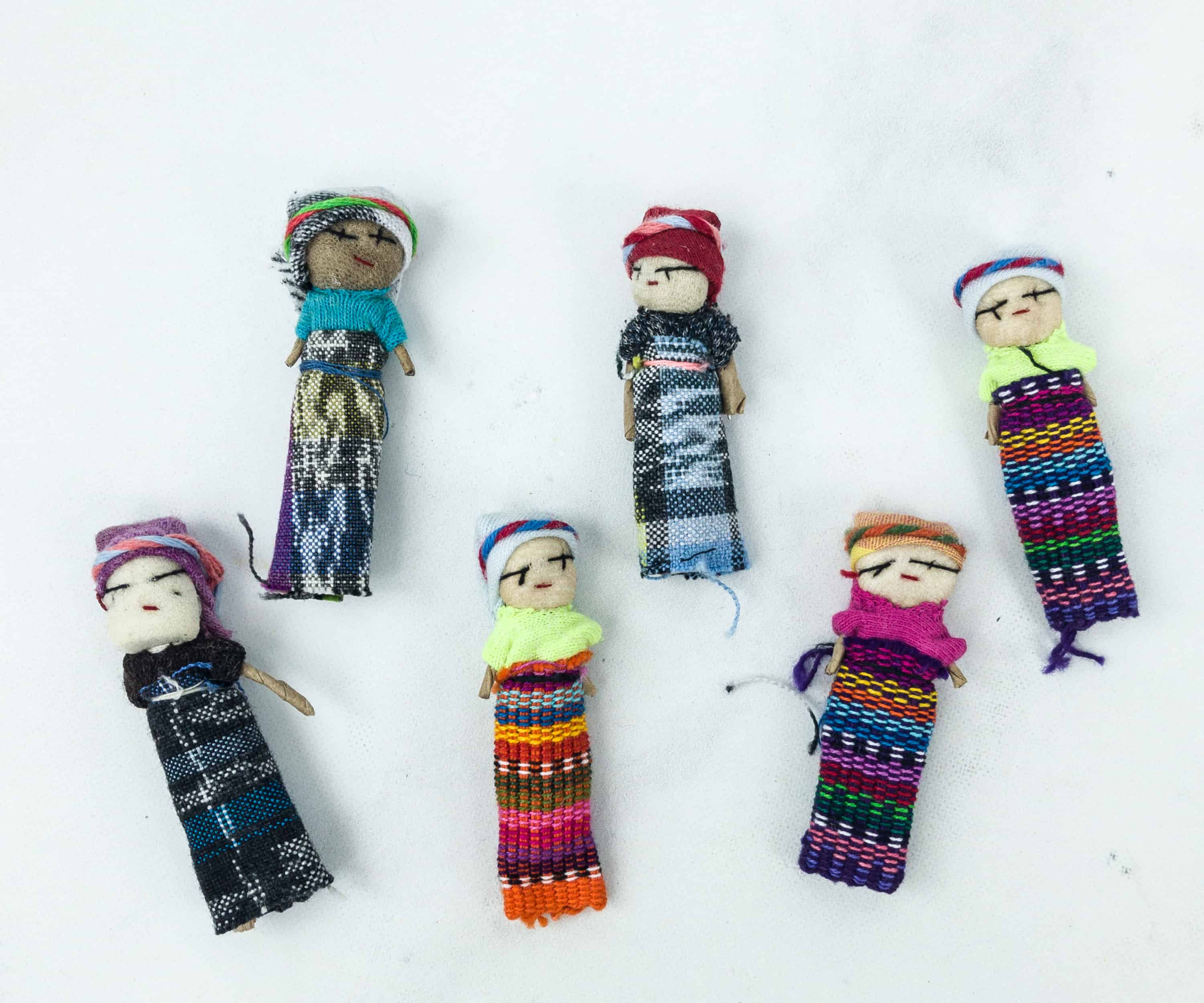 Handmade Mayan Worry Dolls. It is believed that when you tell these dolls your worries and put them under a pillow, they will take away those worries the next day. We got six of these handmade dolls which are made by the indigenous people of Guatemala and Mexico.
They have different multi-colored outfits, like people having different characters. They really made me smile – my aunt and I used to gift worry dolls to each other each Christmas!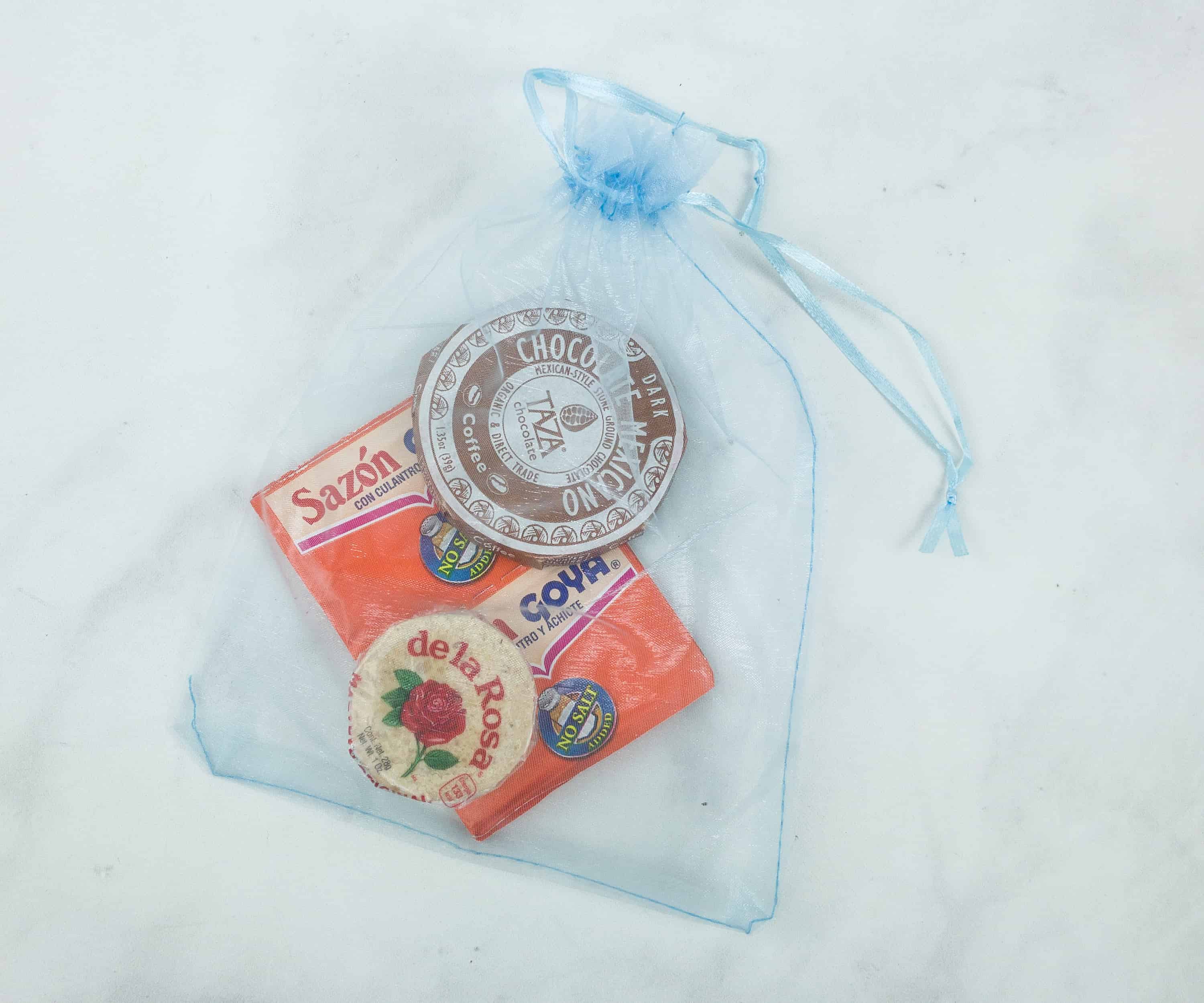 The food items are all wrapped in a separate bluish organza pouch.
Taza Dark Chocolate Mexicano Coffee – Chocolate is wonderful on its own or you can treat it as a spice. It can be the main ingredient to traditional Spanish mole sauce, or it can be made into a hot chocolate drink just by melting it or whisking a disk into warmed milk. I am personally not a giant fan of the (very authentic) stone ground texture of Taza, but it's perfect to use as a chocolate molé base. Because this has coffee in it, I'll probably use it to season beef.
De La Rosa Peanut Marzipan – YUM! This traditional Mexican candy is formed like a crumbly marzipan, but made only of peanuts.
Goya Sazón con Culantro y Achiote – HOLLA! Ok, if you ever make any Mexican food that you have been taught to make by your friends, you know this is the only Sazon to use. I love using it in fresh salsa.  You can season anything with it, but fresh salsa is the winner for me. This product was totally icing for me – I knew when I saw it that the curator had gone out of her way to find authenticity in the products she included. I thought it was thoughtful to include the salt-free kind because you get more seasoning and you can dump on your own salt.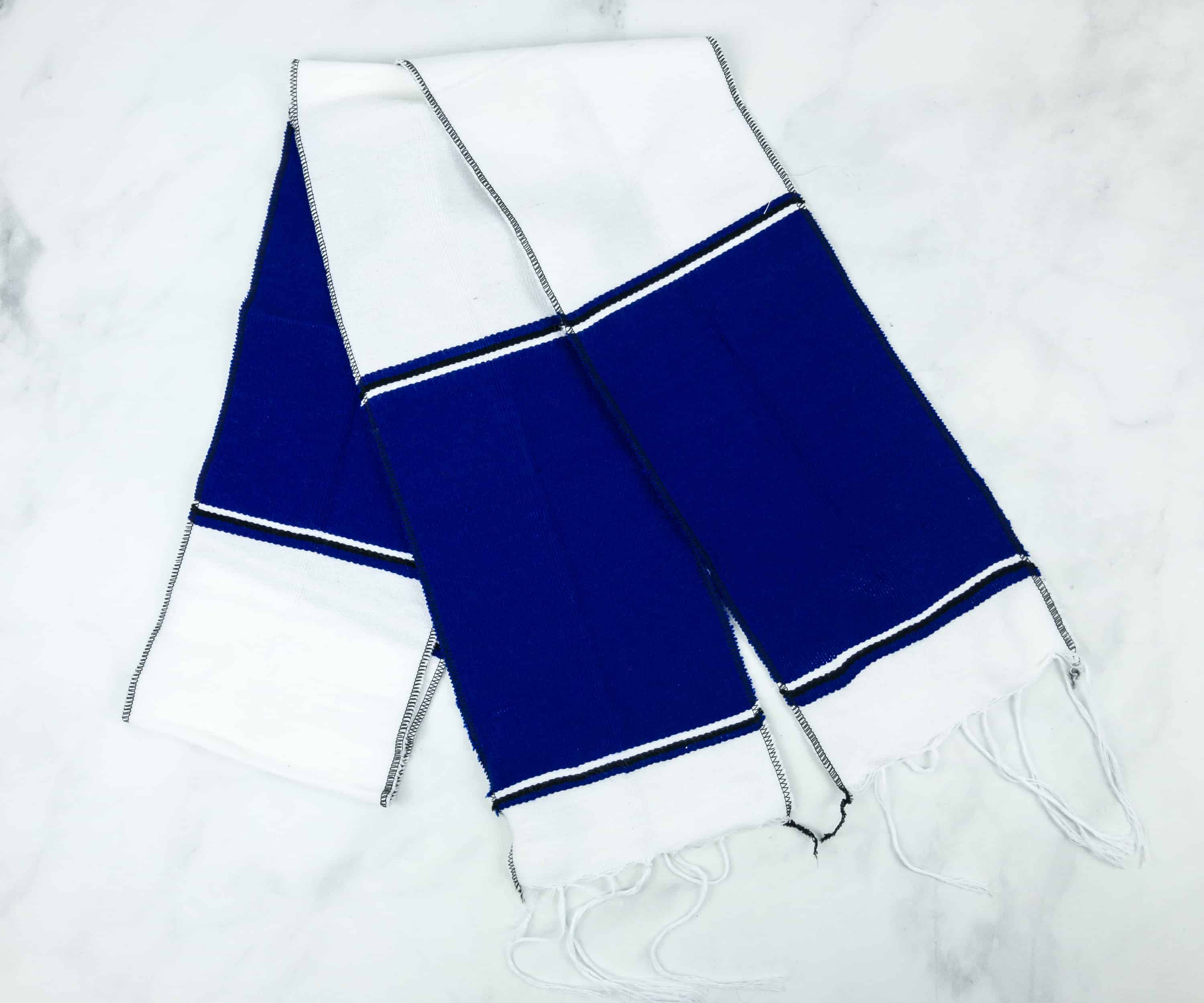 Serape. The serape is traditionally worn as a shawl or scarf. It's usually bright-colored and fringed at both ends. A fun way to experiment with your winter wardrobe!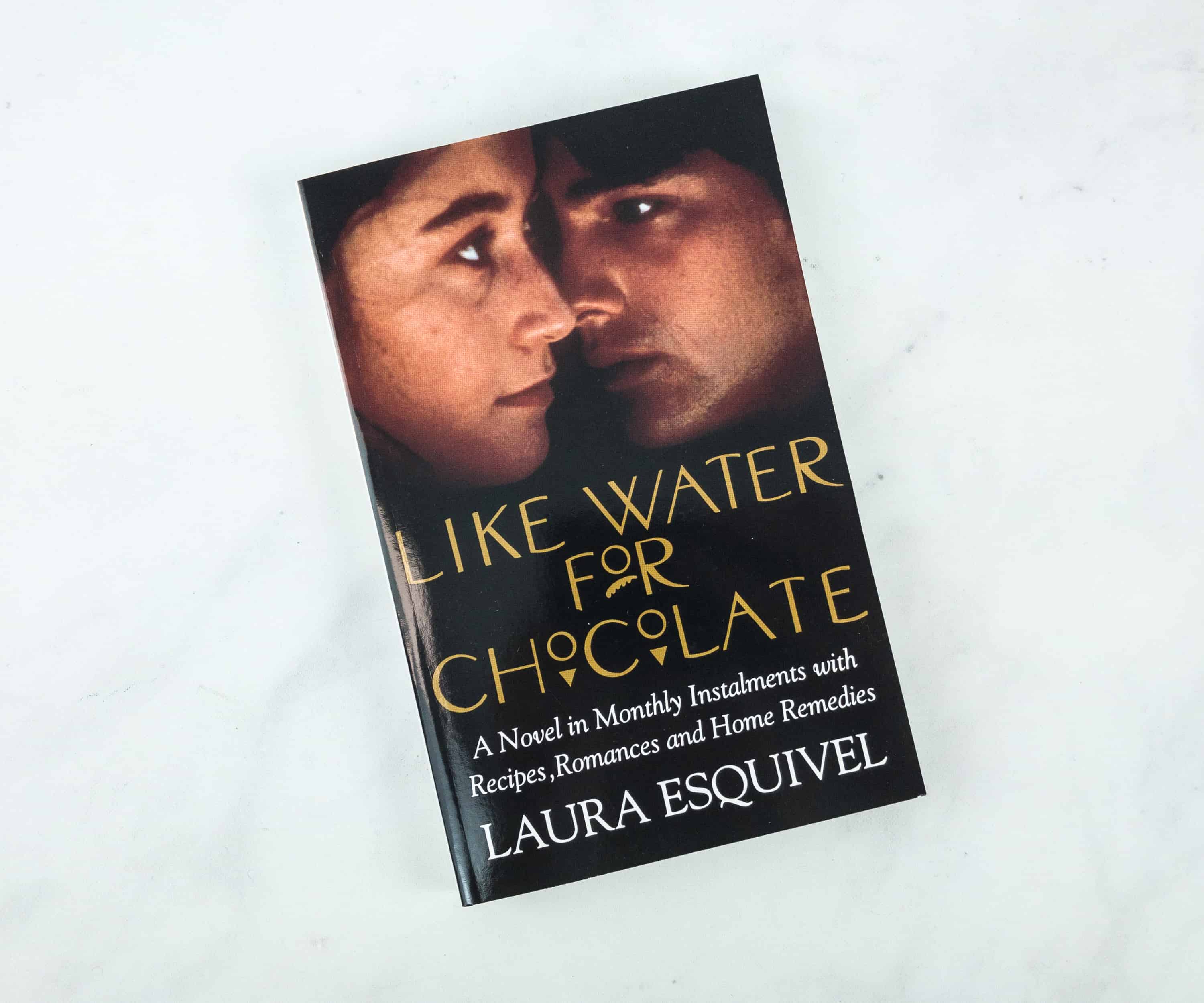 Like Water For Chocolate By Laura Esquivel ($13.01)
Earthy, magical, and utterly charming, this tale of family life in turn-of-the-century Mexico became a best-selling phenomenon with its winning blend of poignant romance and bittersweet wit. The classic love story takes place on the De la Garza ranch, as the tyrannical owner, Mama Elena, chops onions at the kitchen table in her final days of pregnancy. While still in her mother's womb, her daughter to be weeps so violently she causes an early labor, and little Tita slips out amid the spices and fixings for noodle soup. This early encounter with food soon becomes a way of life, and Tita grows up to be a master chef. She shares special points of her favorite preparations with listeners throughout the story.
The excerpt of this novel is enticing!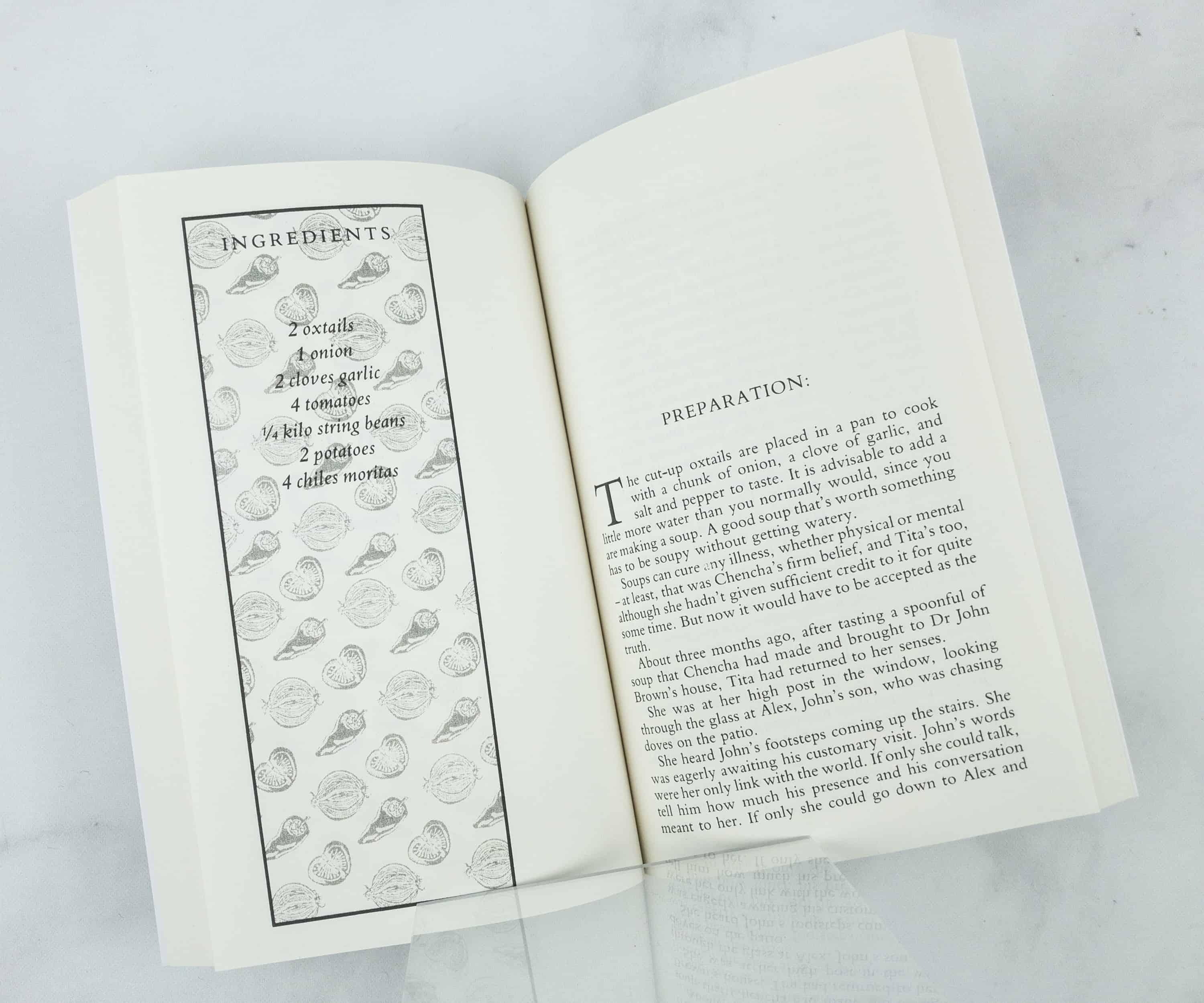 The cooking and preparation are the heart and soul of the story. The food is deeply involved in the whole story that it's like another character maneuvering what happens next.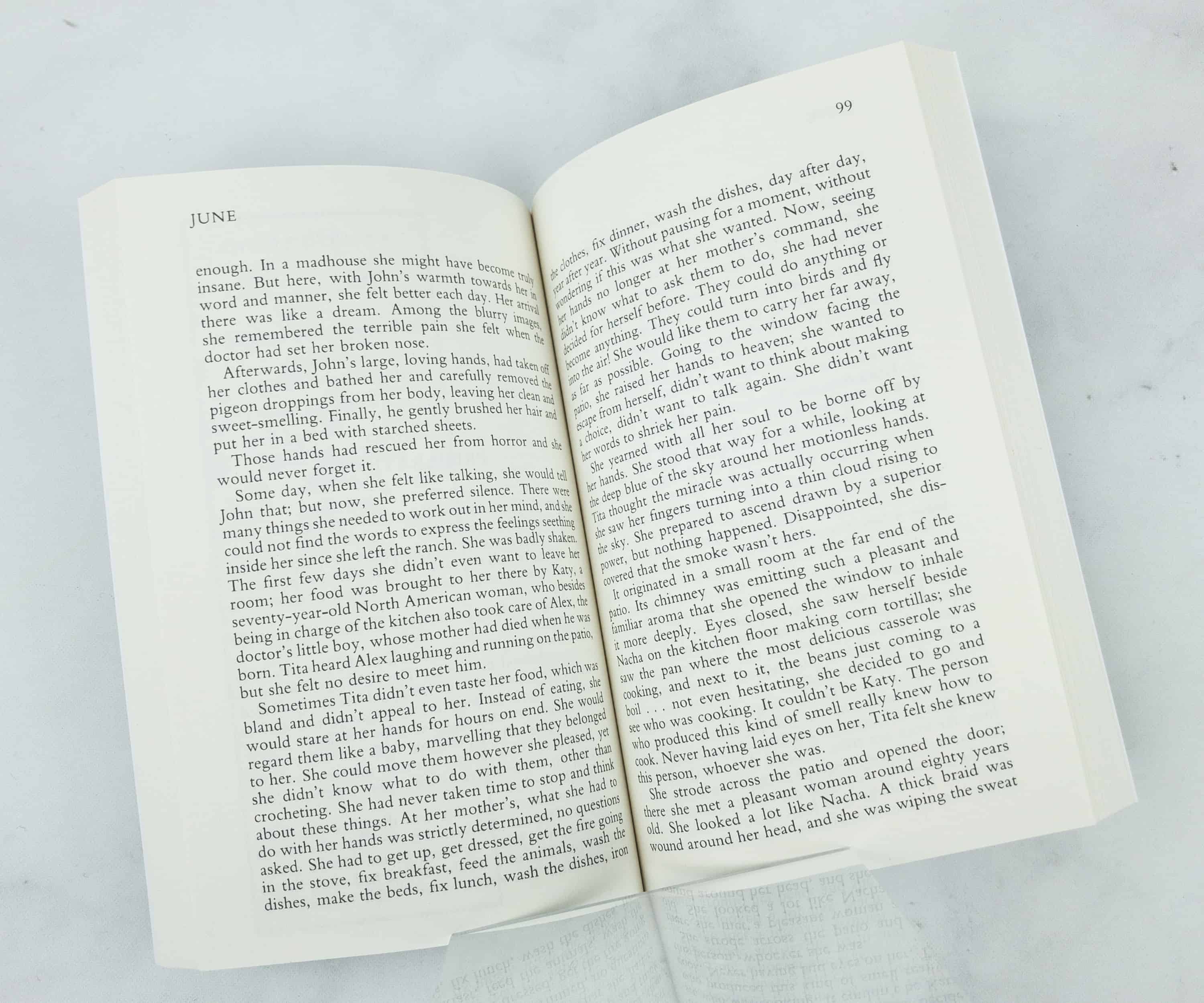 Because of the different style and tone of the novel, you can't really put down this book once you start reading. The story just draws you in. I haven't read this book for a very long time but it is glorious. A wonderful selection.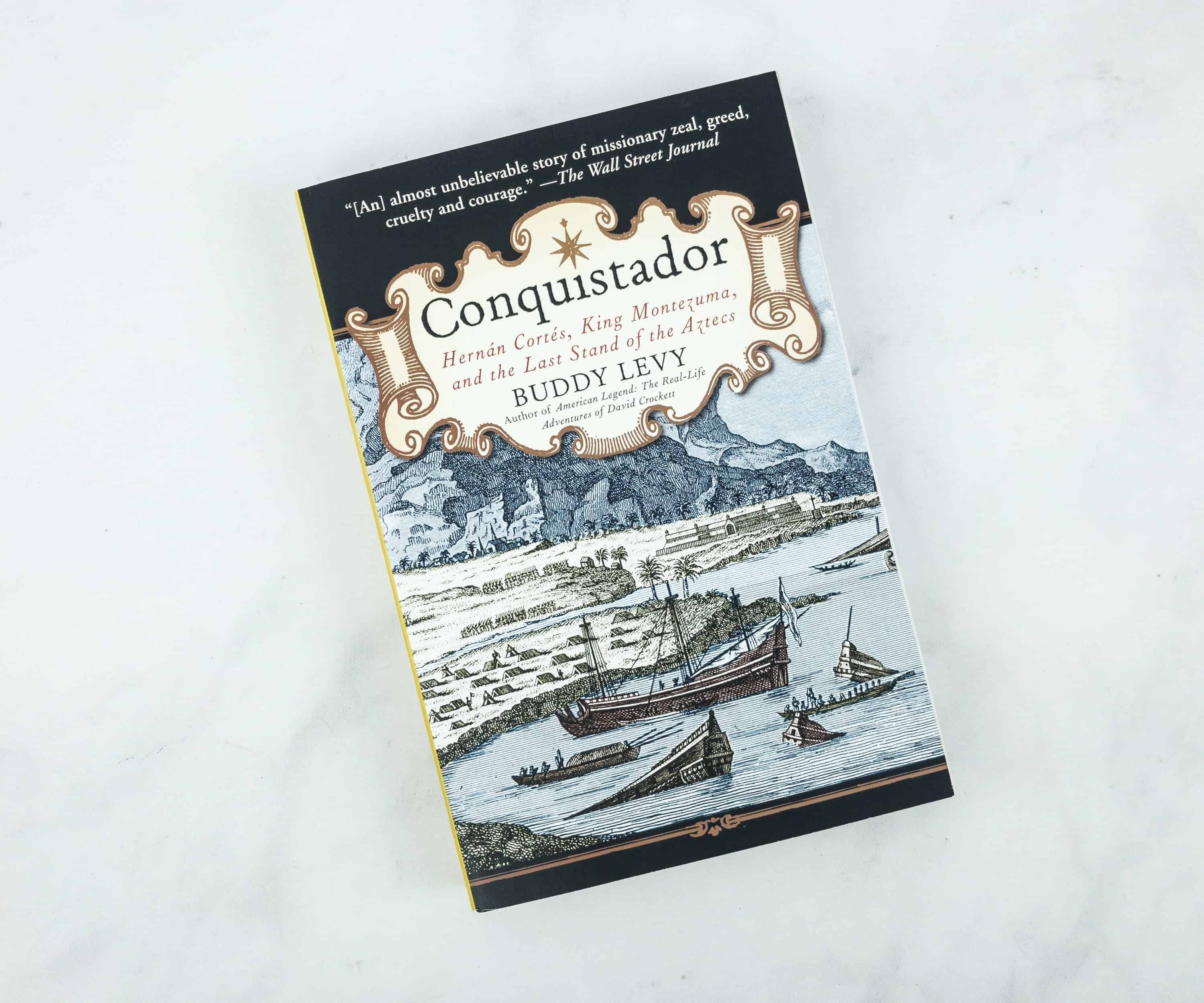 Conquistador by Buddy Levy ($18)
It was a moment unique in human history, the face-to-face meeting between two men from civilizations a world apart. In 1519, Hernán Cortés arrived on the shores of Mexico, determined not only to expand the Spanish empire but to convert the natives to Catholicism and carry off a fortune in gold. That he saw nothing paradoxical in carrying out his intentions by virtually annihilating a proud and accomplished native people is one of the most remarkable and tragic aspects of this unforgettable story. In Tenochtitlán Cortés met his Aztec counterpart, Montezuma: king, divinity, commander of the most powerful military machine in the Americas and ruler of a city whose splendor equaled anything in Europe. Yet in less than two years, Cortés defeated the entire Aztec nation in one of the most astounding battles ever waged. The story of a lost kingdom, a relentless conqueror, and a doomed warrior, Conquistador is history at its most riveting.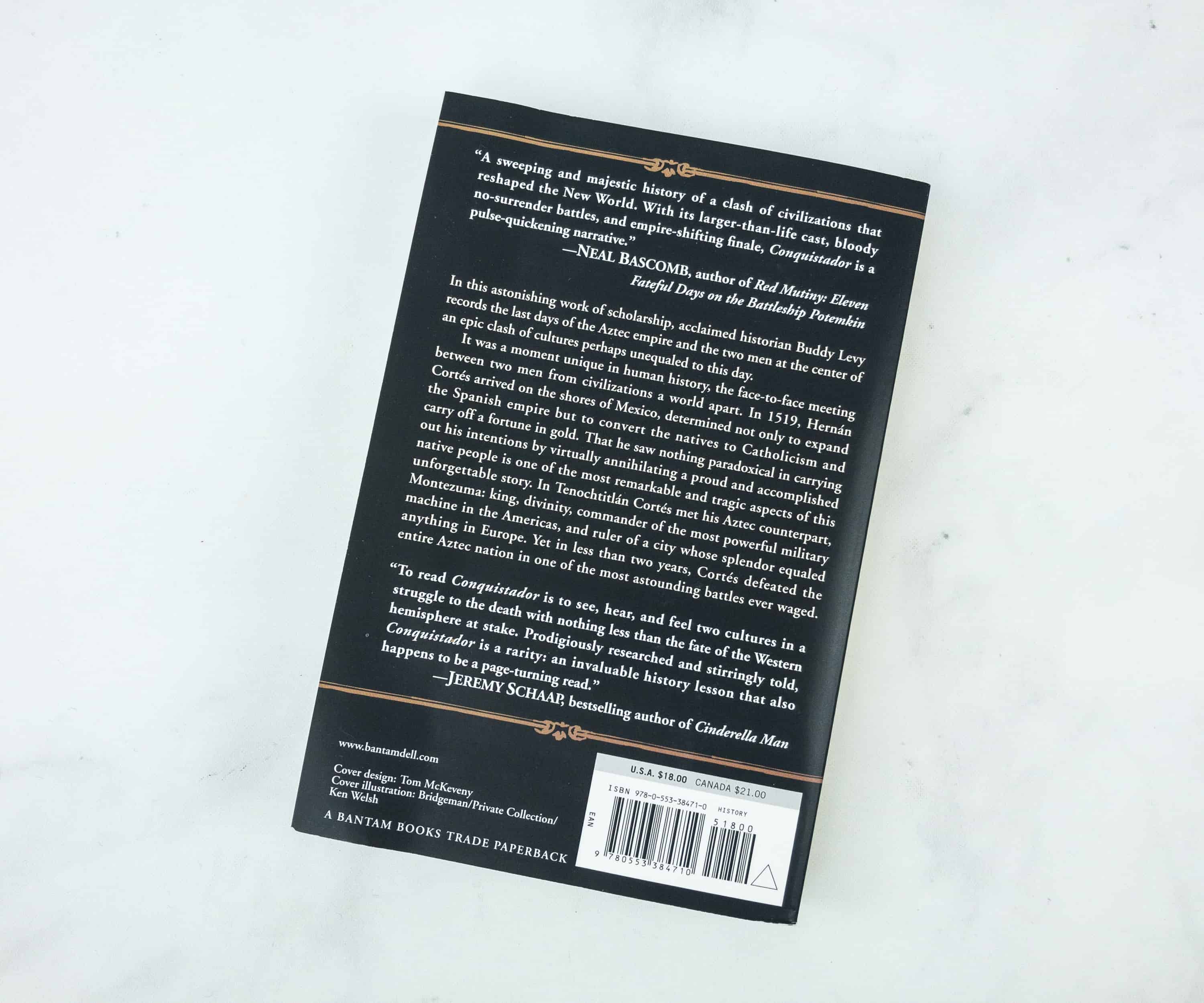 It's definitely not a calm walk down the memory lane but an exciting depiction of history.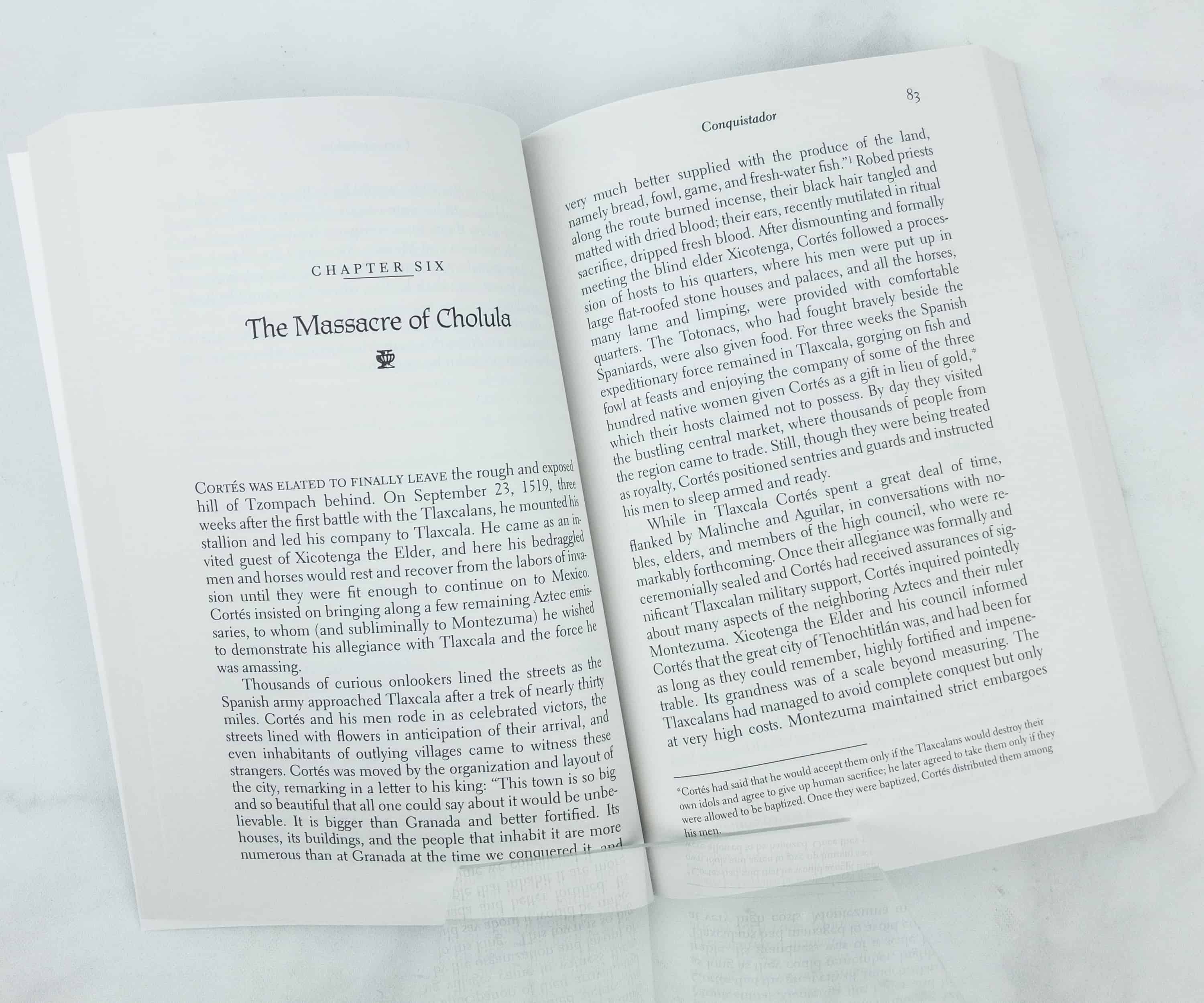 The book centered on Cortes' quest and the Aztec Emperor, Montezuma. They both have ideas and principles that they fought for. It is sad that it happened that way.
On a lighter note, the book has illustration pages to further explain the characters' differences. My husband and I have spent many hours fighting over who gets reading time in on this one – we are both reading it and have found it really fascinating.
Everything goes well with the theme. They really dug deep and gave us even the little details of Mexican culture. My favorites out of the bunch were the two books: a non-typical love story and an exciting non-fiction book. Both have references to Mexican culture. And of course, my precious Sazón!  I also like the traditional Mayan dolls. The others, like the goodies and scarf, will be handy during this cold season. We learned a lot from this box, definitely, and felt like we really just got back from a trip to Mexico!
What do you think about this month's box?
Visit Bibliophilic Excursions to subscribe or find out more!