The Vegan Kind is the UK's most popular subscription boxes for vegans. The Beauty Box delivers a mix of vegan skincare, cosmetics and beauty products quarterly.
UPDATE: Since February 2018, The Vegan Kind Beauty Box is shipping bimonthly. Read more about it here.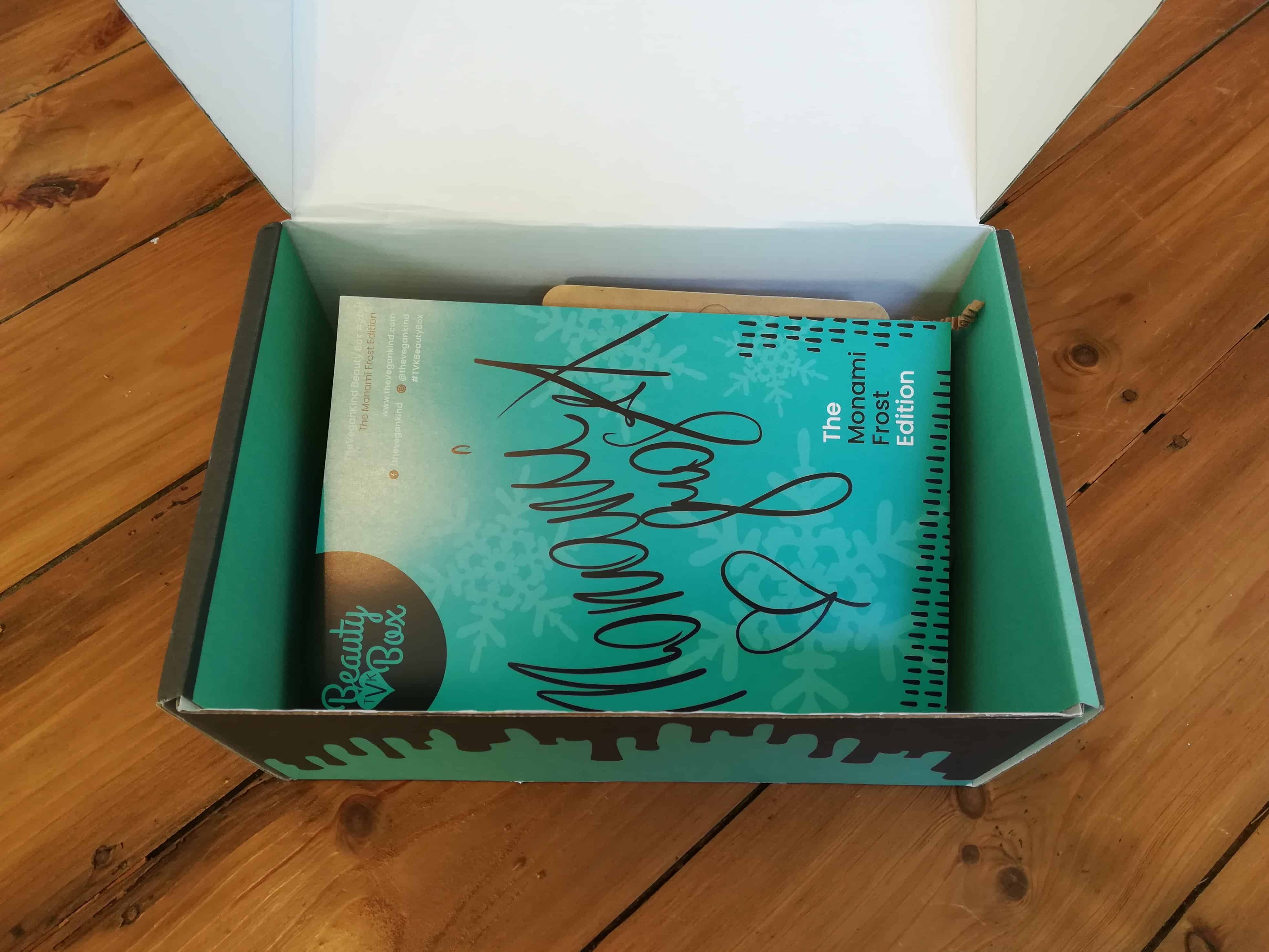 This quarter's TVK Beauty Box is a collaborative effort with Monami Frost, influential YouTuber, Instagrammer, owner of a Streetwear clothing company and of the upcoming vegan burger place Frost Burgers.  The sturdy little box has a adopted a pretty, sort of gothic black and teal look to reflect the theme.
DEAL: Get £5 off your first box! Use coupon code VEGAN.
The Monami Frost Edition includes six items.

The What's Inside Your Box sheet includes details about the box contents.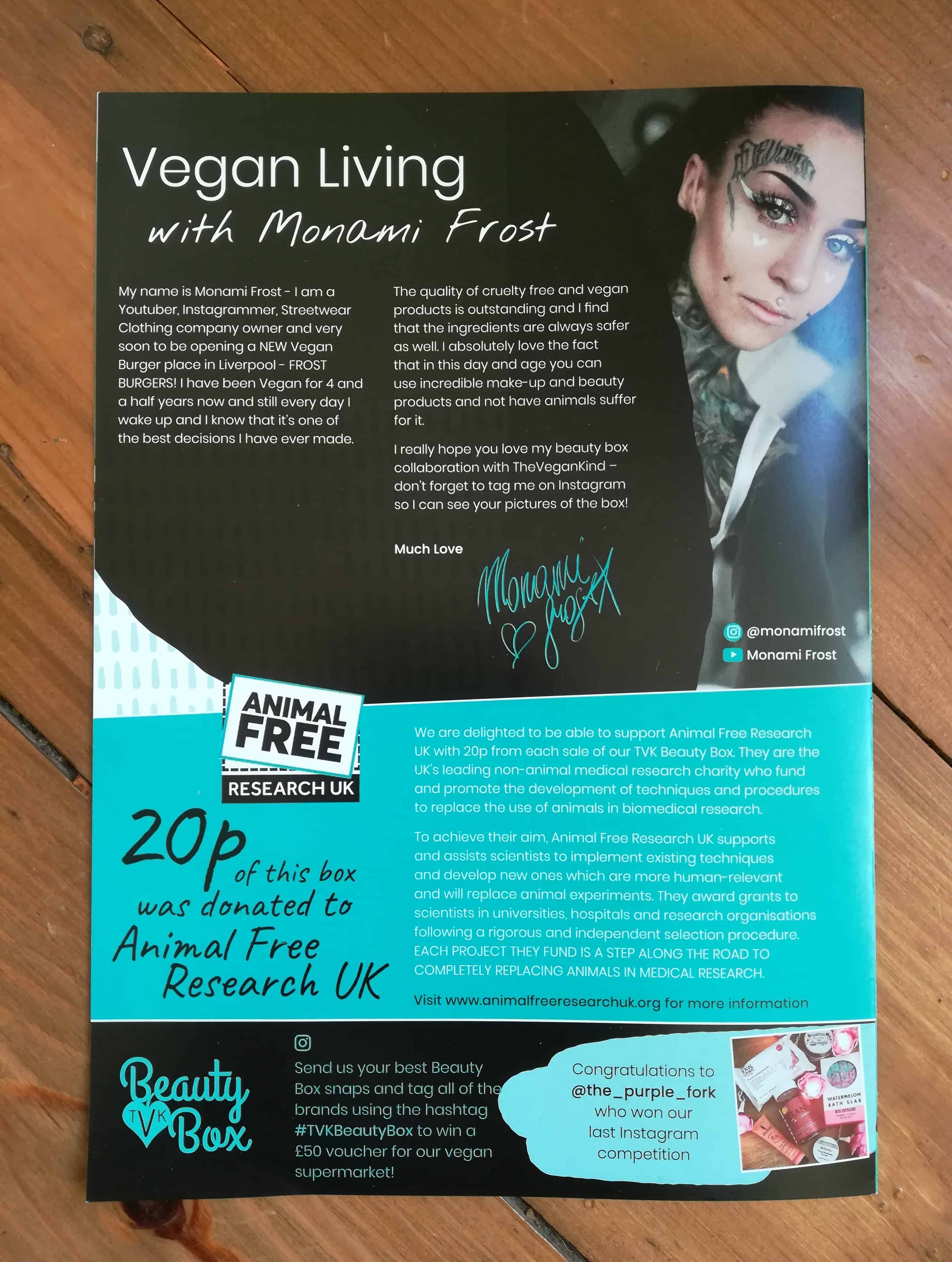 As always, 20p from the sale of each beauty box goes to Animal Free Research UK which supports the development of techniques and procedures to replace the use of animals in biomedical research – a worthy cause indeed!
First up is Siskyn Lemon and Sea Buckthorn Brightening Night Oil 30ml (RRP £38.00). This blend of 17 pure plant oils is designed to fade skin discolouration, brighten the complexion and even skin tone.  As the bottle says, and as you would expect for a skin oil, this product is best for mature, dryer skin tones. The lemony scent is pleasant and soothing and the oil is great at hydrating skin – one little squirt is more than enough to use on the entire face.
MEMI Expert Liner 25ml (RRP £10.00) is an intensely pigmented liquid liner. This product is top-notch for applying liner precisely thanks to an ultra-fine tipped felt pen applicator. It's also smudge proof and water-resistant, so it really stays in place.

Each Beauty Box contains one shade of Nabla Creme Eye Shadow (RRP £11.00). I received the Husky shade. It is super sparkly, so ideal for evening but a bit much for or a day in the office. This shadow has a nice smooth consistency allowing for easy application and the waterproof formula really stays in place. All in all, this is a great eyeshadow.
Umberto Giannini Miracle Worker Serum (RRP £8.00) de-frizzes and adds shine to unruly, dull hair. It also offers heat protection for styling. The bottle recommends 4-8 pumps of product, and I thought 4 pumps was more than enough for this stuff to do its job on medium-length hair. I used the serum on my towel-dried hair before styling and it made my hair noticeably softer and shinier. It's a winner.
Natura Avocado Sheet Mask (RRP £4.95) contains avocado oil to hydrate and repair sensitive skin types in 15-20 minutes. I am too sensitive to smells at the moment to dare trying this face mask (which isn't a criticism of the scent at all, I simply didn't think I could last 20 minutes with a mask on my face and I didn't want to waste it!) I look forward to giving this mask a try in the future.
As a definite reflection of the collaboration with Monami Frost, each box has a set of Unicorn Cosmetics Dragon Faux Silk Vegan False Lashes (RRP £9.99). I received the Enchantra Dragon Lashes. These are great looking lashes, very long and fluttery, and they are good for up to 15 wears if properly cared for. The packaging is fun too!
The Vegan Kind Beauty Box remains at the top of my list of favourite beauty subscription boxes. There is always an interesting mix of top quality products to suit all kinds of beauty routines. I think this subscription box is a great value and highly recommend it for vegans and non-vegans alike.
What do you think of this month's The Vegan Kind Beauty Box?
Visit The VeganKind Beauty Box to subscribe or find out more!