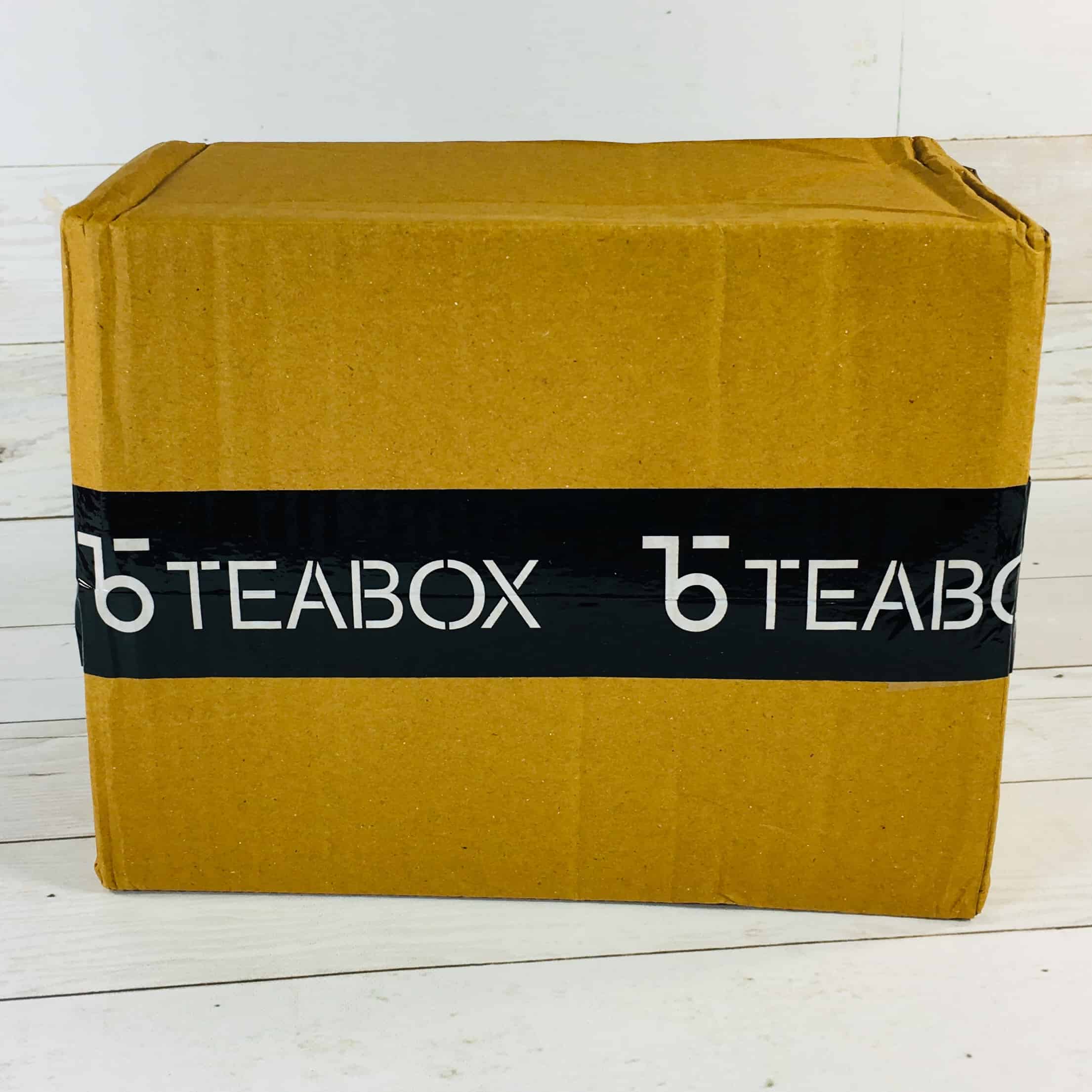 Teabox is a monthly tea subscription from India that sends the freshest teas from Darjeeling, Nilgiri, & Assam. The box is sent by priority mail within 24 hours of your first order, and monthly shipments will come about a month after the first. This subscription is $29.99 a month with discounts for longer subscriptions and no extra charge for shipping.
Whole, loose leaf teas, these are bound to become your daily companion with their addictive flavors. From healthy greens to rare whites, and all natural ingredients and blends, these are perfect cups of comfort to speckle your days with each month. Get 5 new teas every month based on the theme of the month and enjoy free shipping too.
DEAL: Get 20% off Teabox subscriptions! Use coupon code TEACLUB20.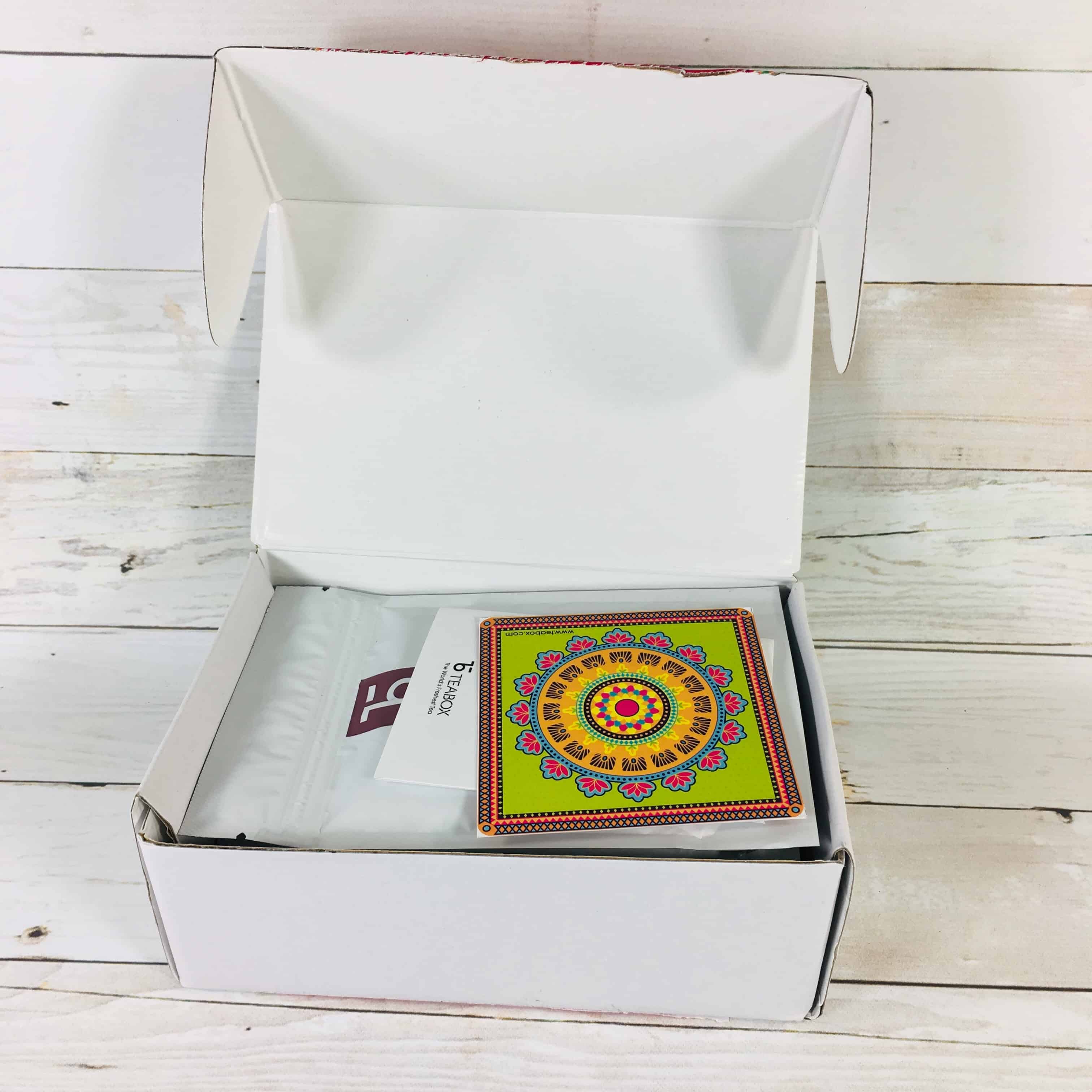 Teabox curates their teas to a theme and October's theme was The Diwali Box. Diwali is the Hindu celebration of lights and is about goodness overcoming evil.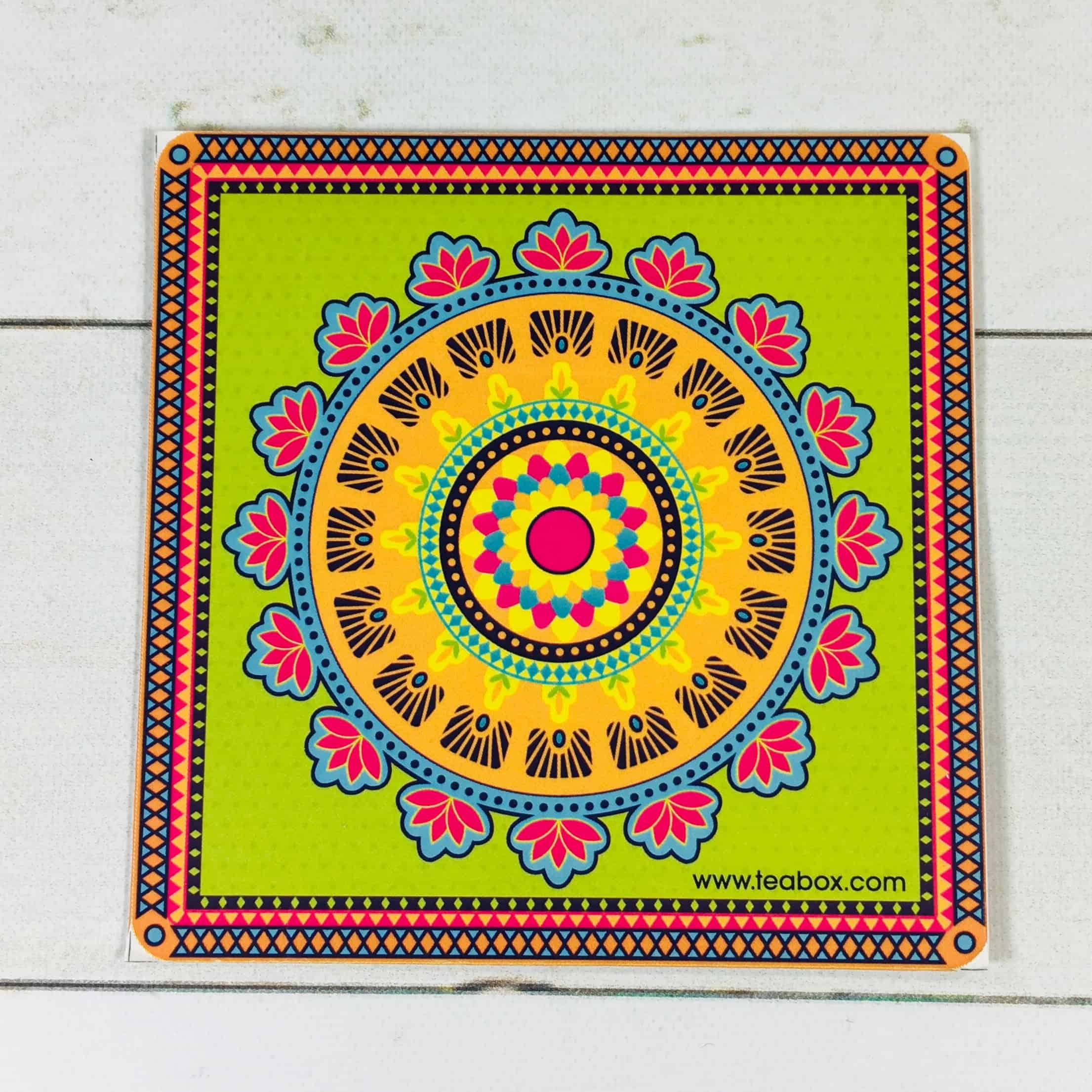 The bonus gift this month was a Diwali themed coaster.
Both sides were decorated with colorful flowers.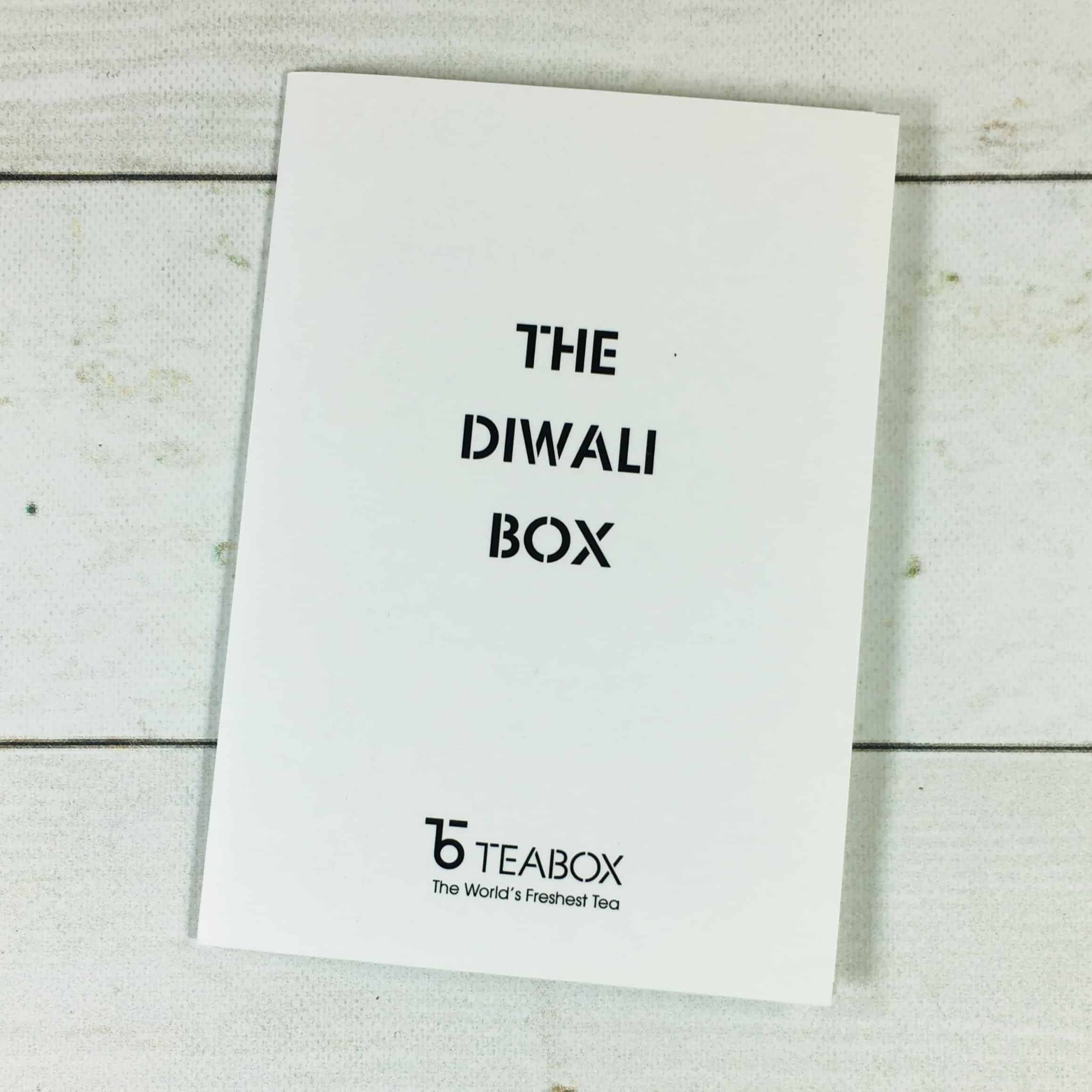 I received a card introducing the box. This month it's all about Diwali.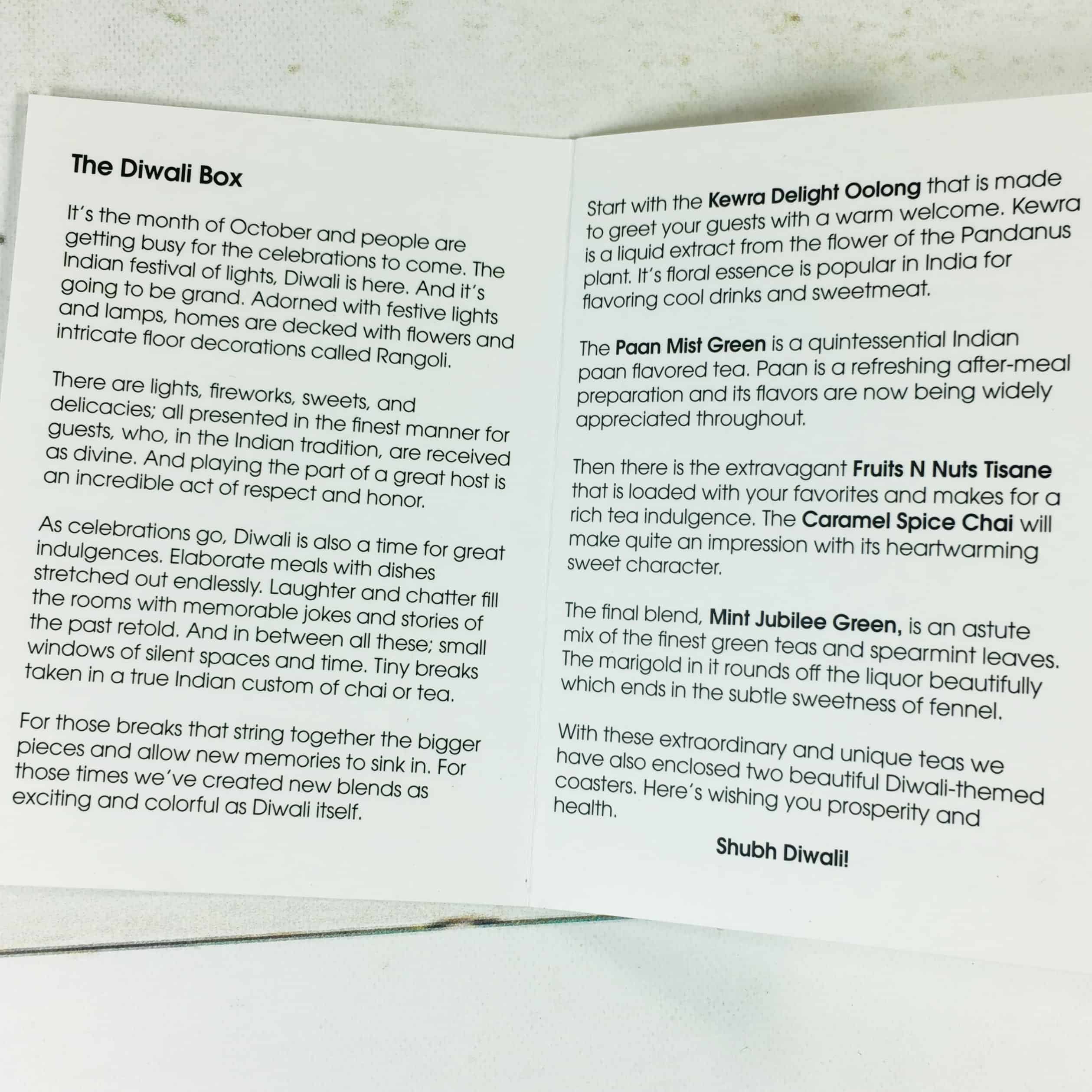 The inside of the card gave a little bit of background info and listed the teas in this shipment. Just when I thought Teabox was all about black tea, I received a box of blends that included green tea and even an herbal.
The back of the card mentioned what makes Teabox teas so fresh and told how to reach them on social media.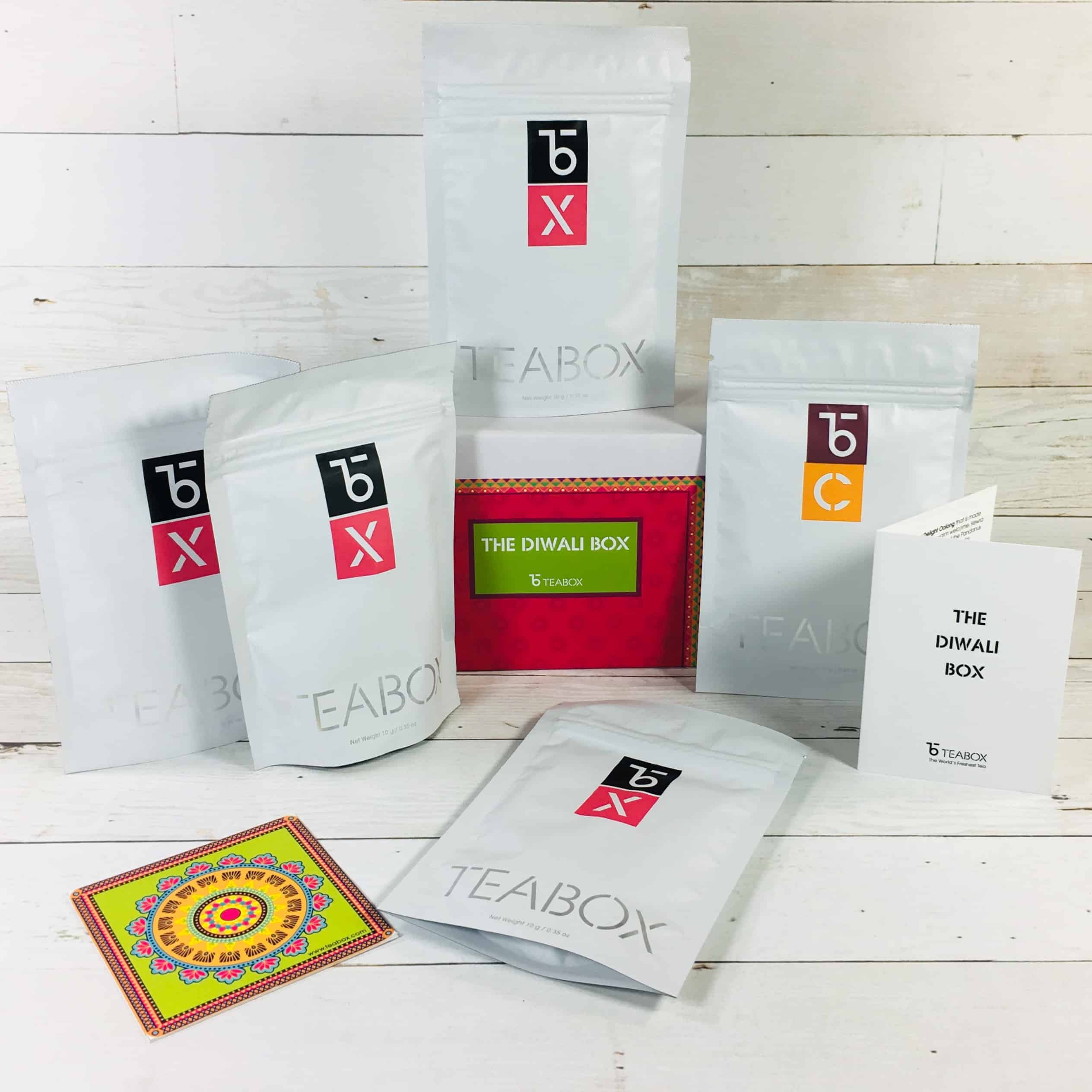 Everything in my box! I received 5 bags of tea with complete steeping instructions on the front. The bags have enough for a lot of cups of tea.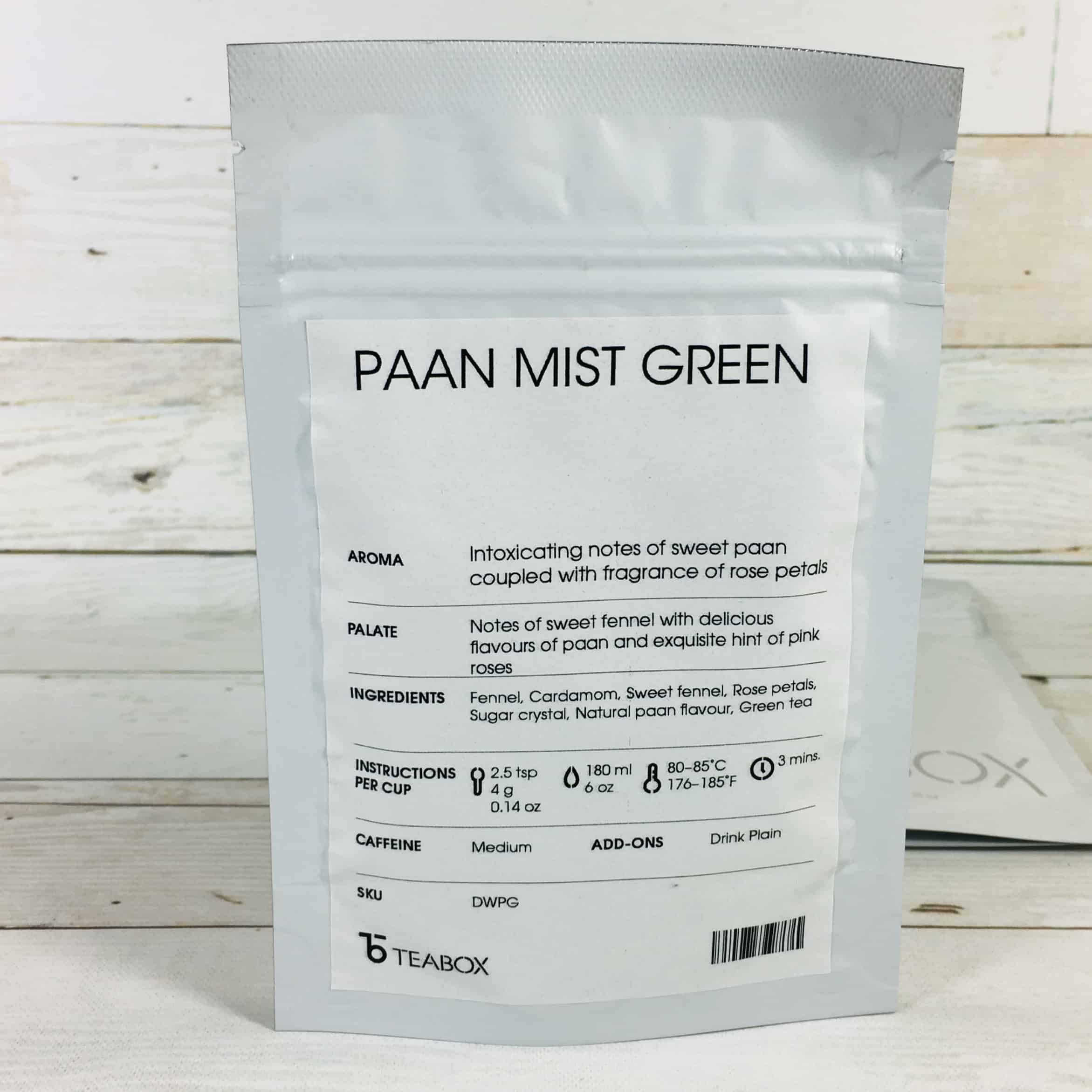 TeaBox Paan Mist Green ($3) I had never heard of paan before and am not sure that I want to add it to my diet (it can be carcinogenic). I would suggest reading up on it before consuming, and avoid it if you are pregnant or nursing. Some reports state it may be beneficial to health, so I'll let you make up your own mind.
The tea certainly looks lovely – check out those rose petals and sugar crystals. I did try a bit of this tea and found it to be a touch bitter and I'm not going to sugar coat it, it tasted like potpourri! When it cooled off I could pick up the cardamom flavor.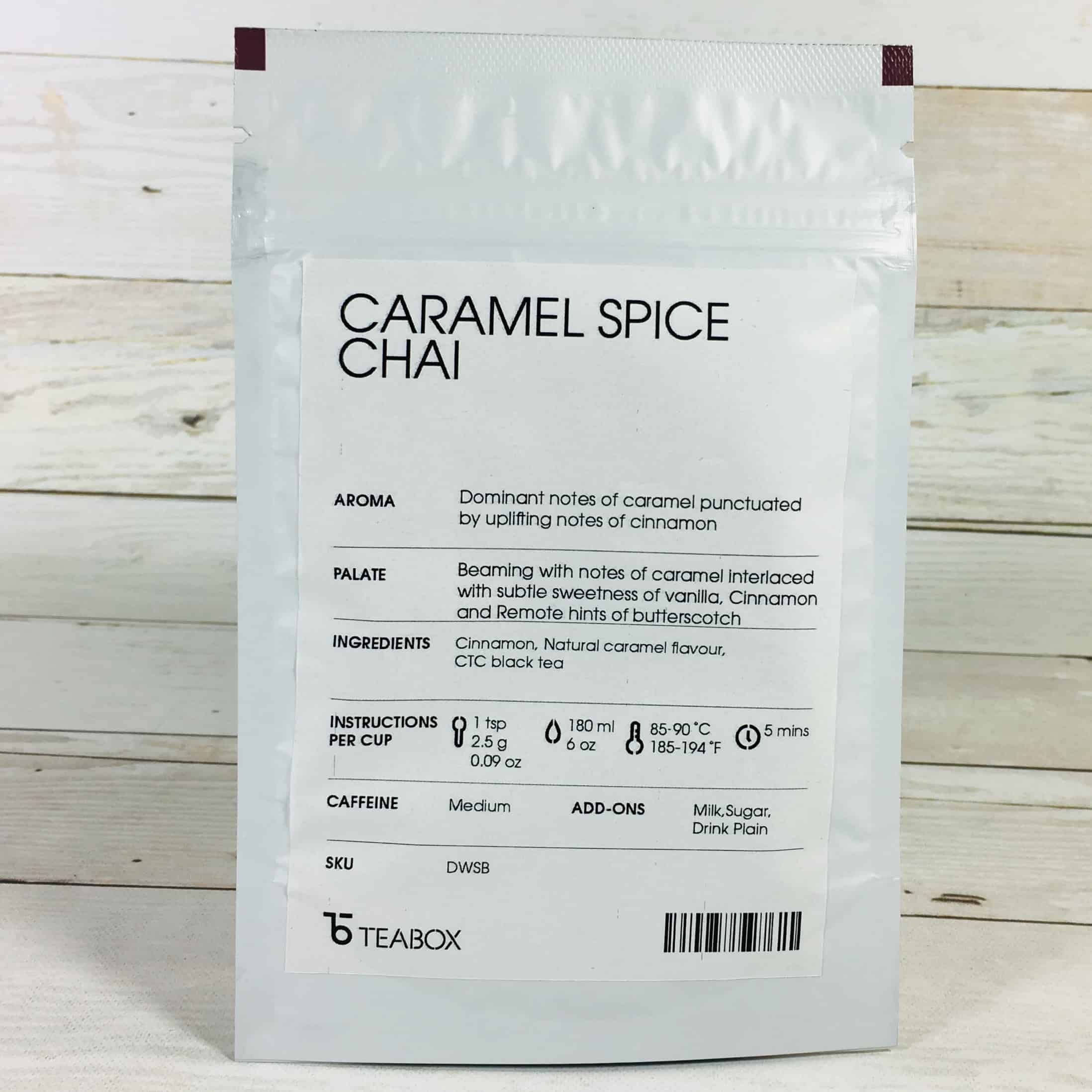 TeaBox Caramel Spice Chai ($3) was one of the tastiest teas I've ever tried! I prepared it just like a regular cup of tea and then added milk and sugar and it reminded me of a caramel macchiato from Starbucks, but made with tea instead of coffee.

Although cinnamon is one of the ingredients, I didn't really pick up much of that flavor, but it could be because of the lingering effects of a cold. It was sweet and full of caramel flavor.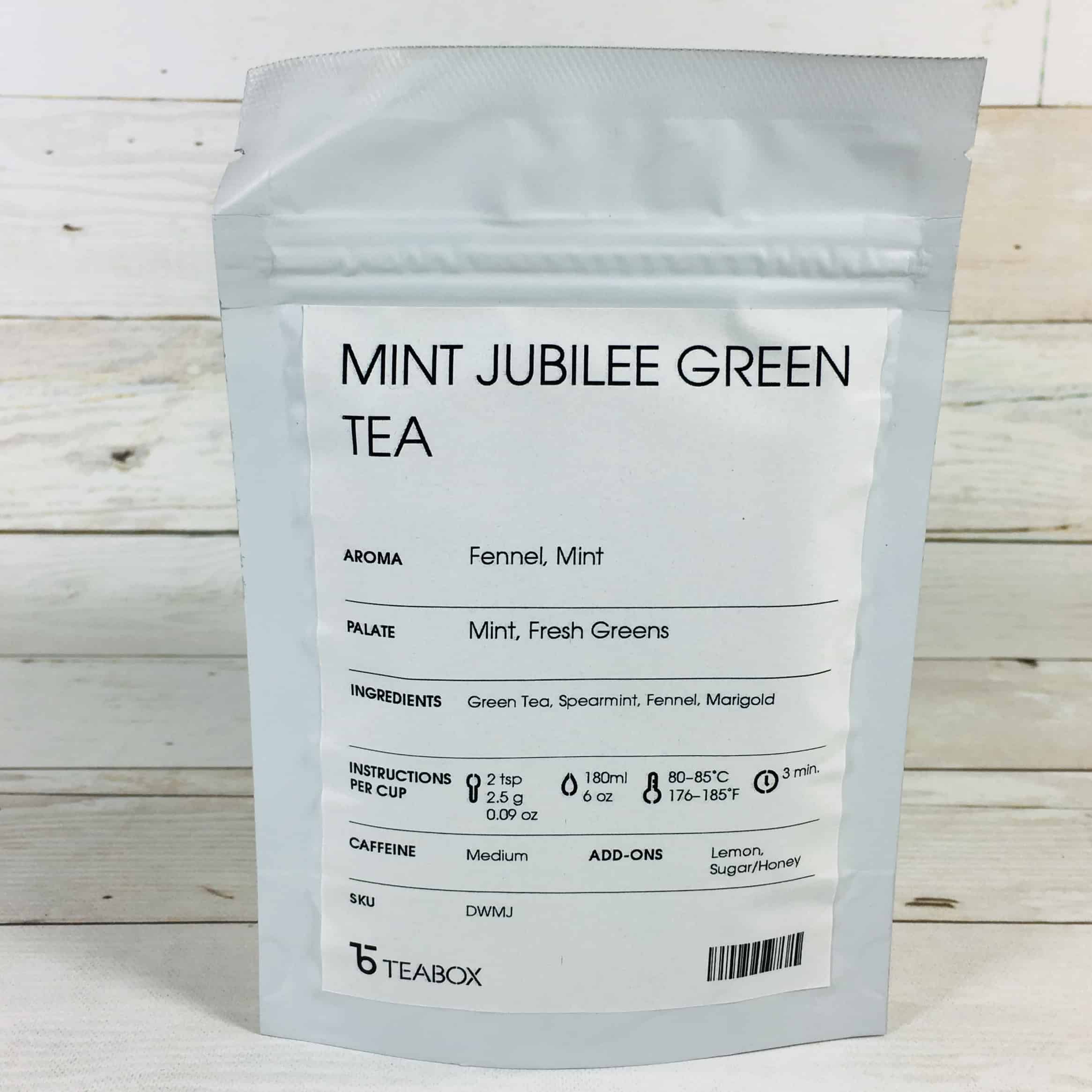 TeaBox Mint Jubilee Green Tea ($3) is a refreshing drink for midday or afternoon.

It is another pretty tea, see the marigold petals? The mint made for a reviving flavor.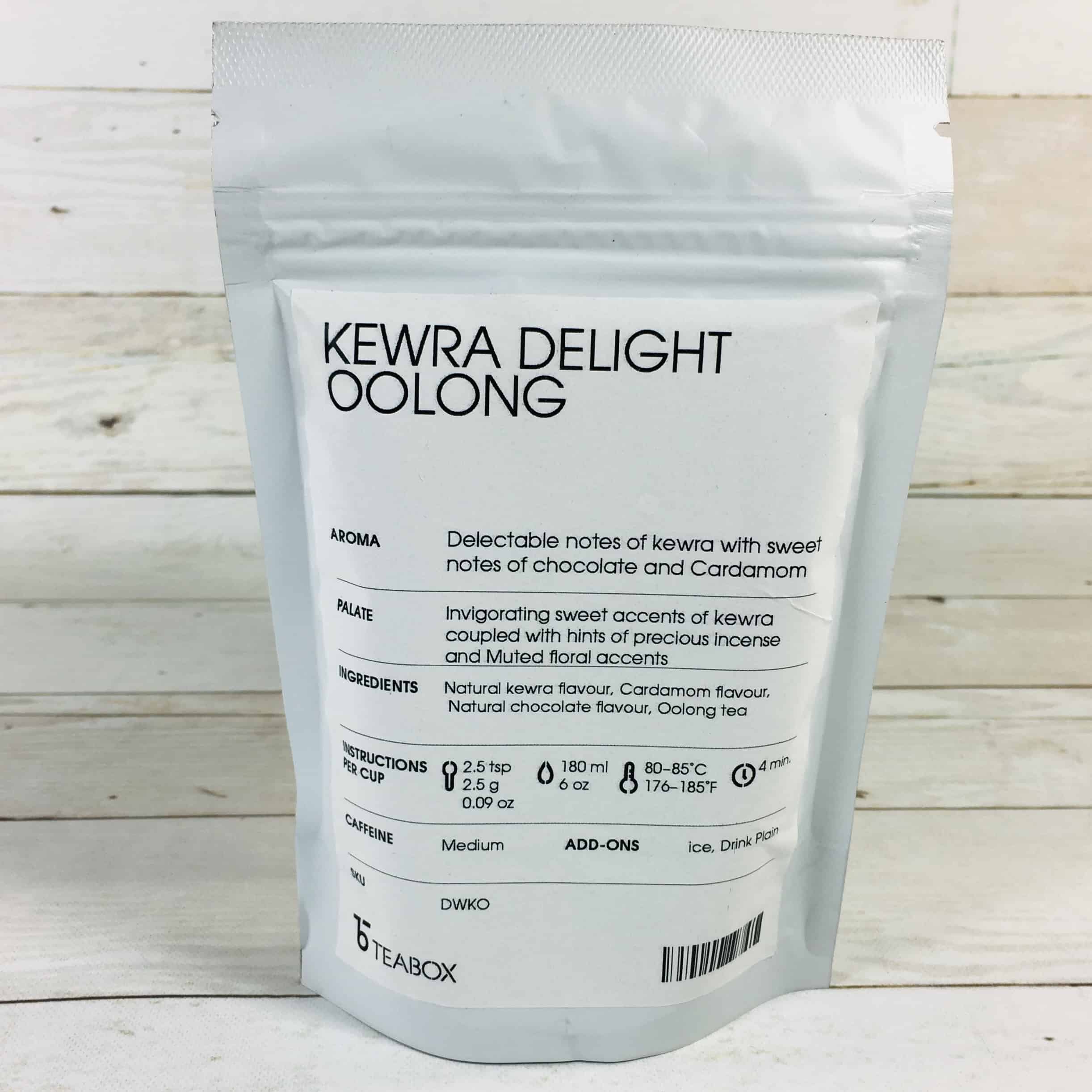 TeaBox Kewra Delight Oolong ($3) was a unique tasting tea. The scent that greeted me when I opened the bag reminded me of chocolate mint.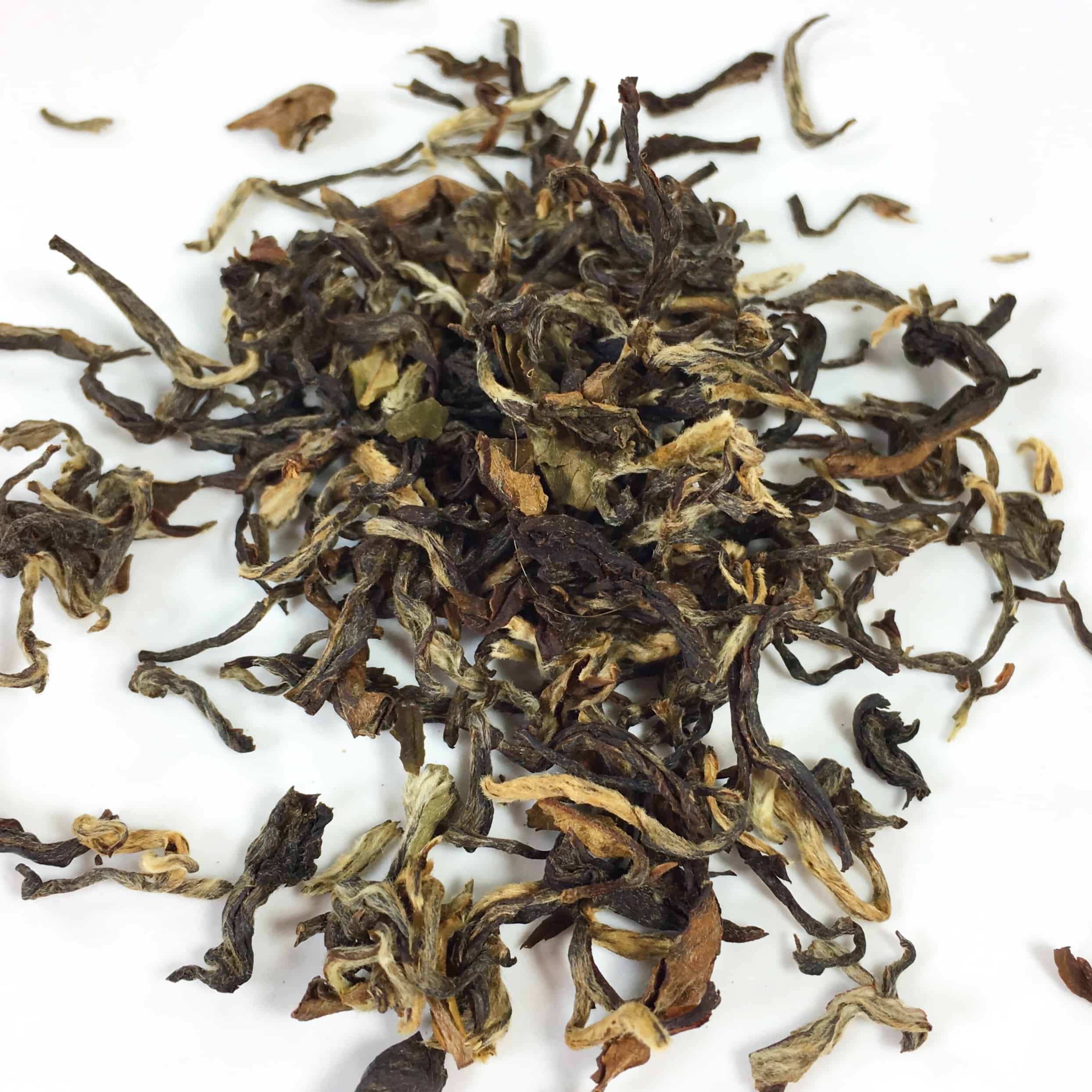 Oolong is somewhere between a green tea and black tea in terms of aging. This tea was mild and I didn't feel the need to add sugar. As mentioned in the notes on the bag, this tea had a light incense flavor!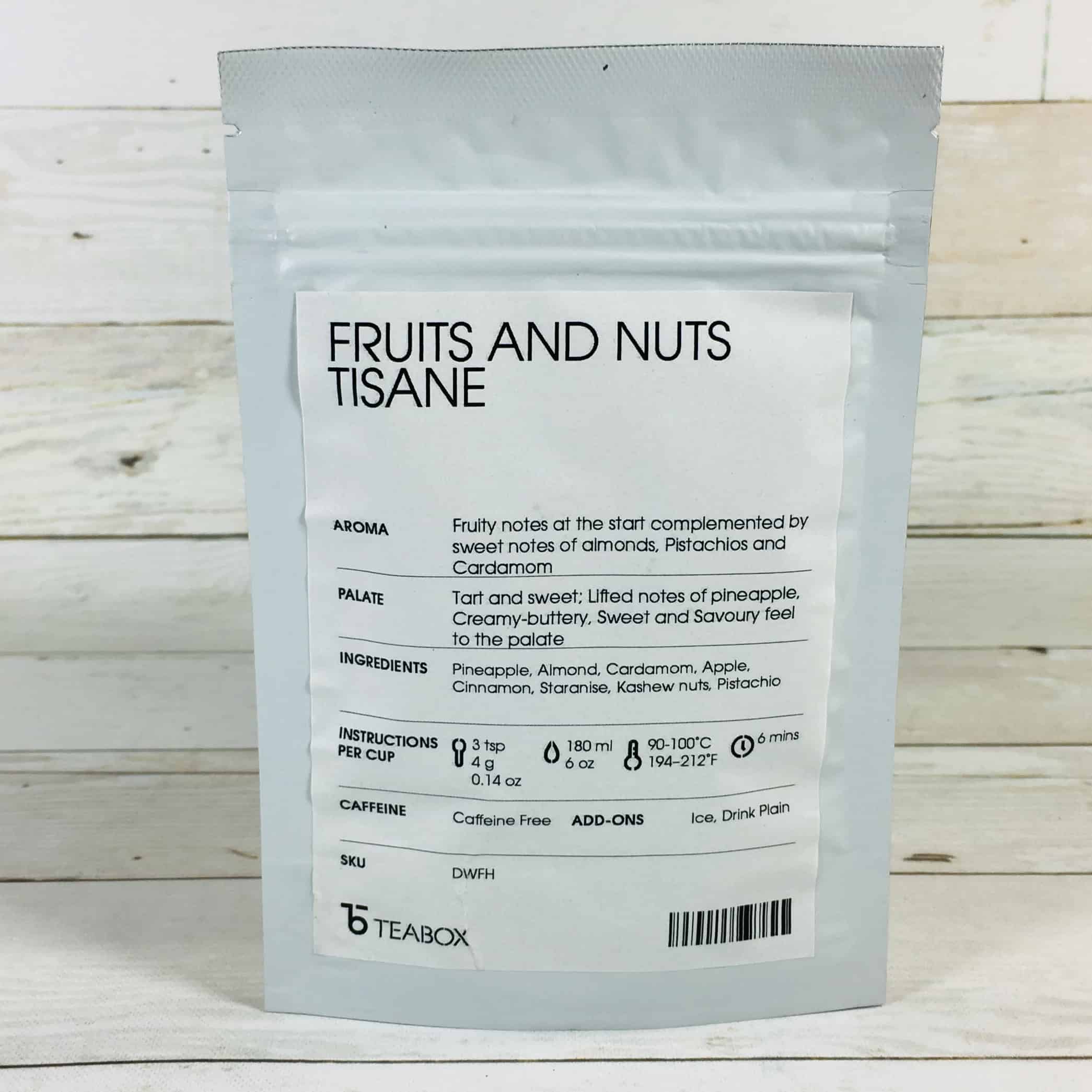 TeaBox Fruits & Nuts Tisane ($3) In case you were wondering, a tisane is a warm drink similar to tea but made without actual tea leaves, so it is in almost every case caffeine-free!
When I opened this up I didn't know whether to steep it or eat it – it reminded me of trail mix! It has nuts, spices, and dried fruits such as pineapple. It made for a cloudy tea and had a strong flavor from the spices.
This was certainly a different direction for my Teabox! I appreciate that Teabox sent a variety of tea types and flavors, and was happy to try an herbal tea. My favorite this month was the Caramel Spice Chai, which was the only tea this month made with black tea, which is my favorite type of tea!
What do you think of Teabox? I'd love to know your thoughts about this box!