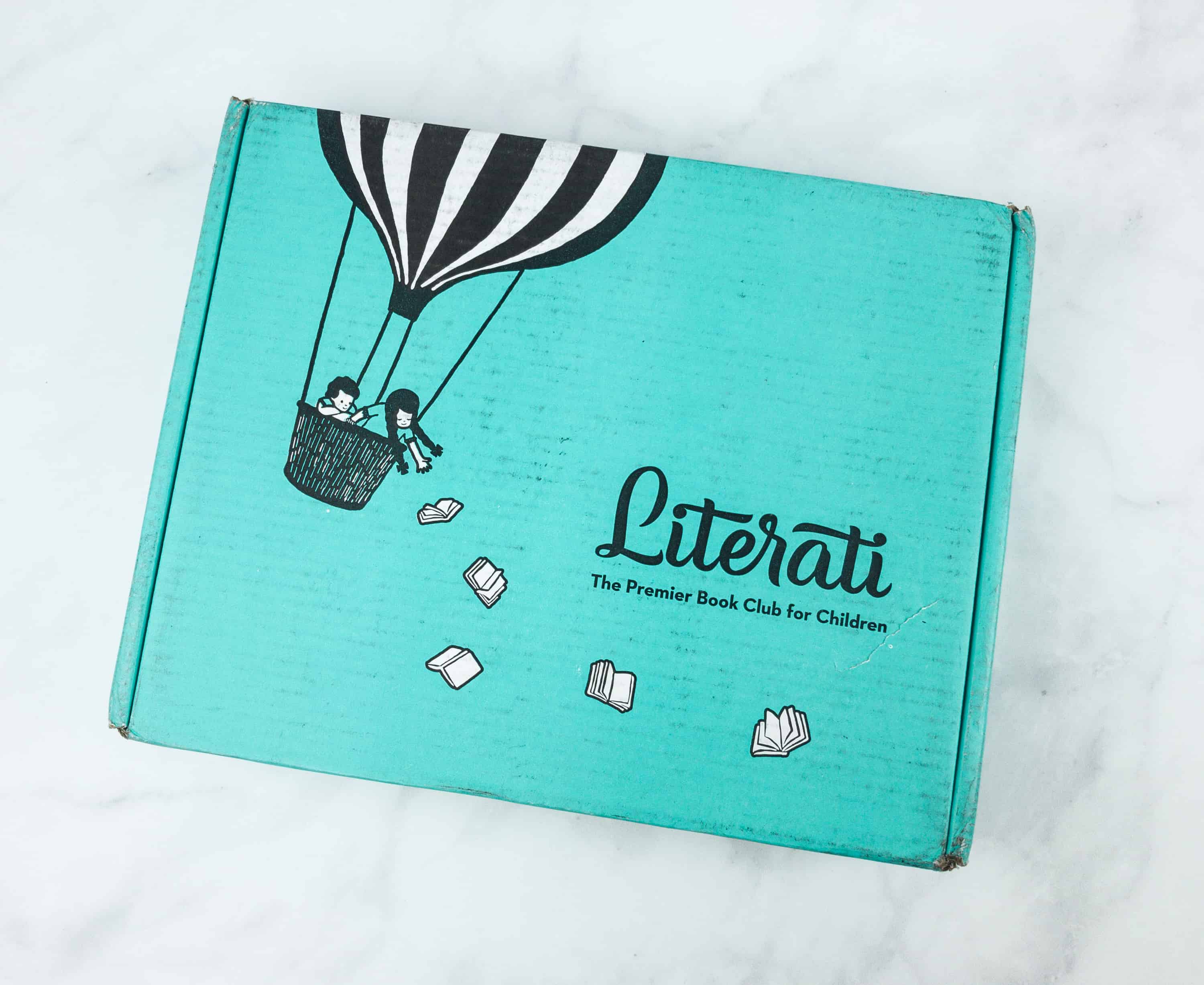 Literati is a monthly book subscription box for children that works similar to Stitch Fix. For a monthly fee of $9.95, you'll receive 5 books to try out for a week. You can purchase the ones you love and return the rest (in totally new condition) in the enclosed prepaid mailer (shipping is free in both directions).
You can get 5% off when you decide to keep all the books! There are also categories for each age bracket: Club Neo is for newborn to 1 year; Club Sprout is for children ages 2-3; Club Nova is for kids 4-6, and Club Sage is for those 7-8 years old.
This is a review of the Club Sage box.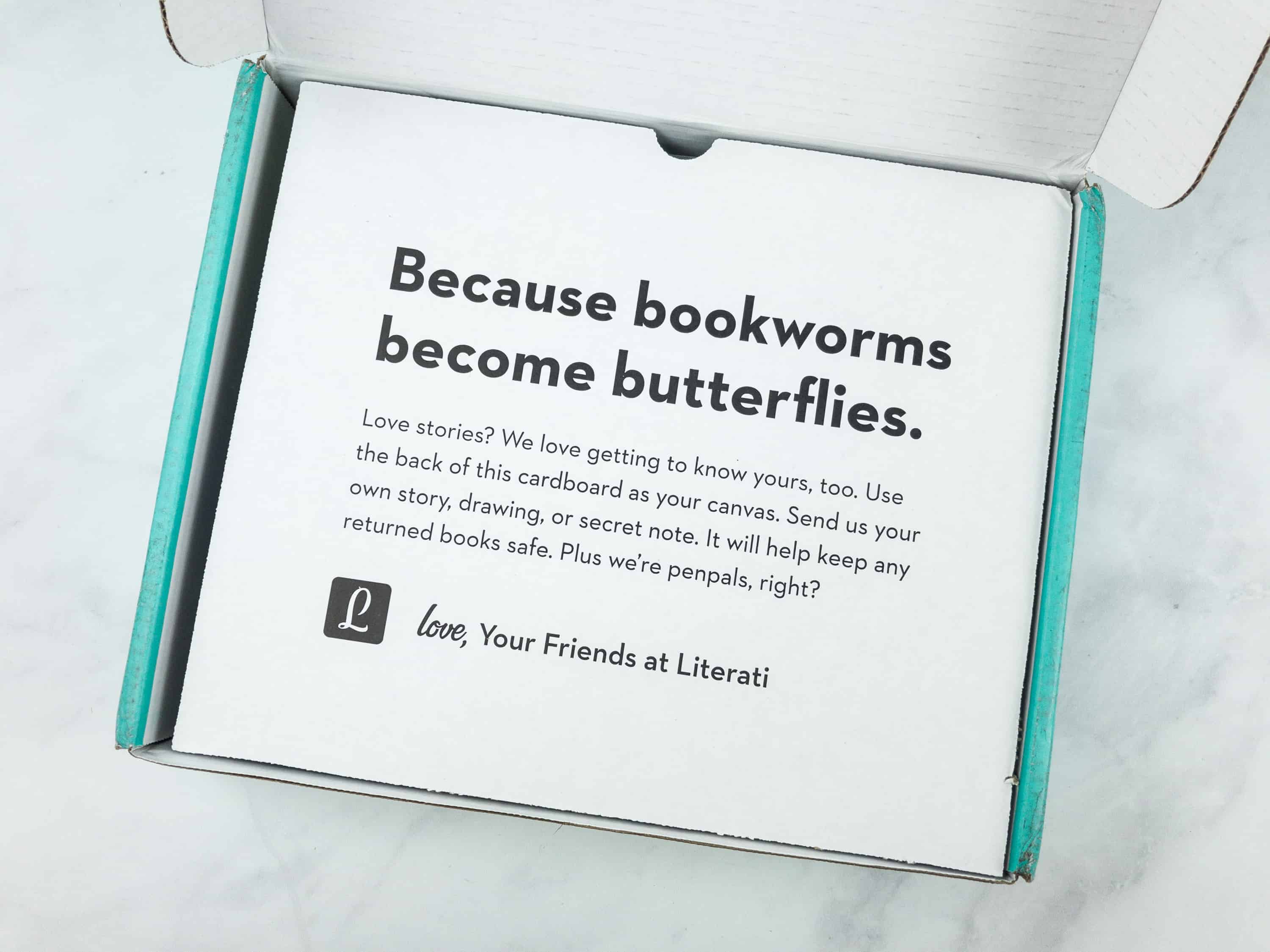 Because bookworms become butterflies.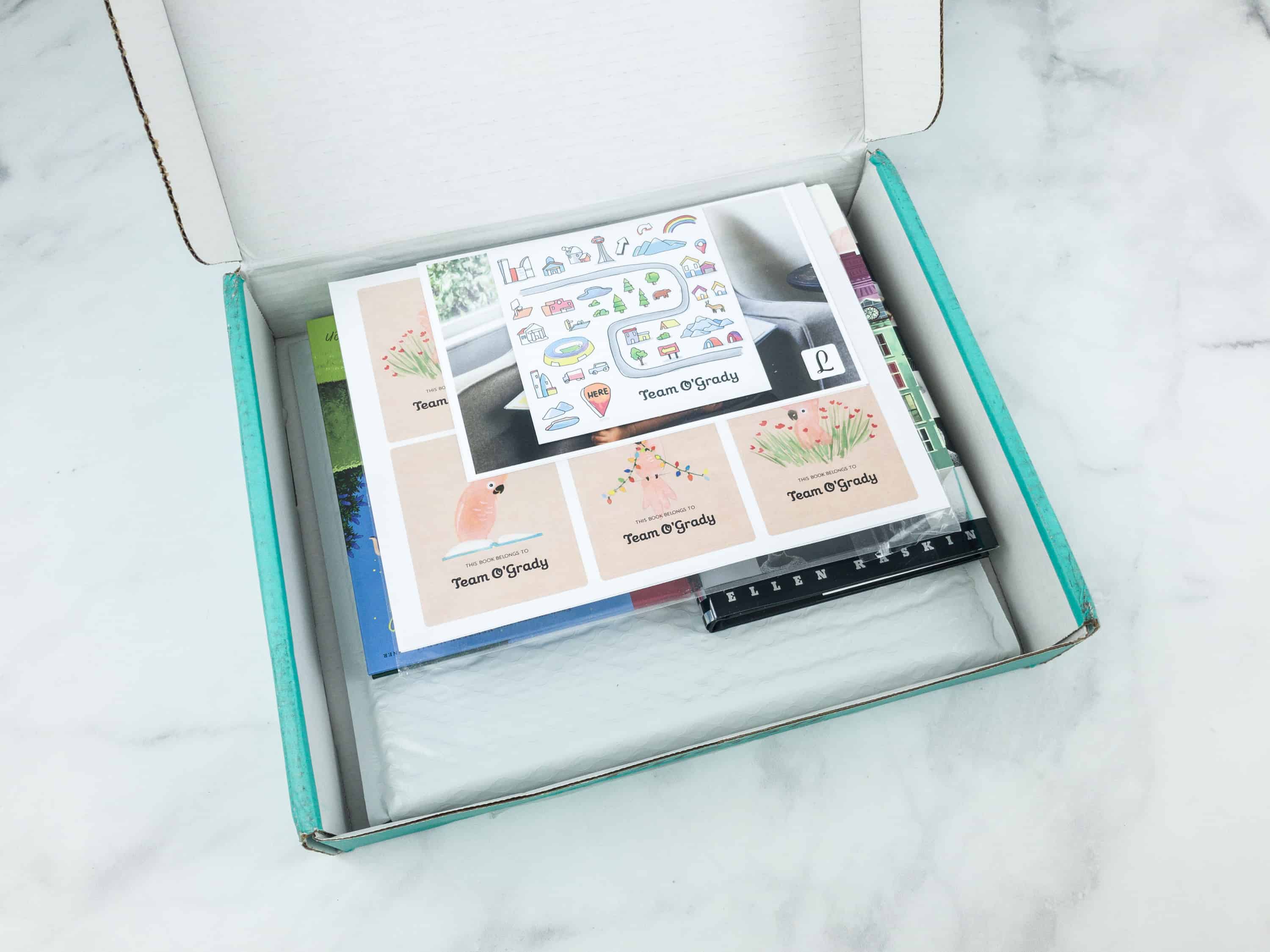 There are lots of books in store for us!
There's also a padded mailer if you want to return some of the books. You can also return your own gently read books (up to five total in the mailer) for donation.
DEAL: Get $25 in account credit to put towards books when you sign up! USE THIS LINK to get the deal.
The featured illustrator creates new artwork for the monthly themes. This month's illustrator is Jessica Love.
There's a little Q&A with the featured illustrator at the back of the card.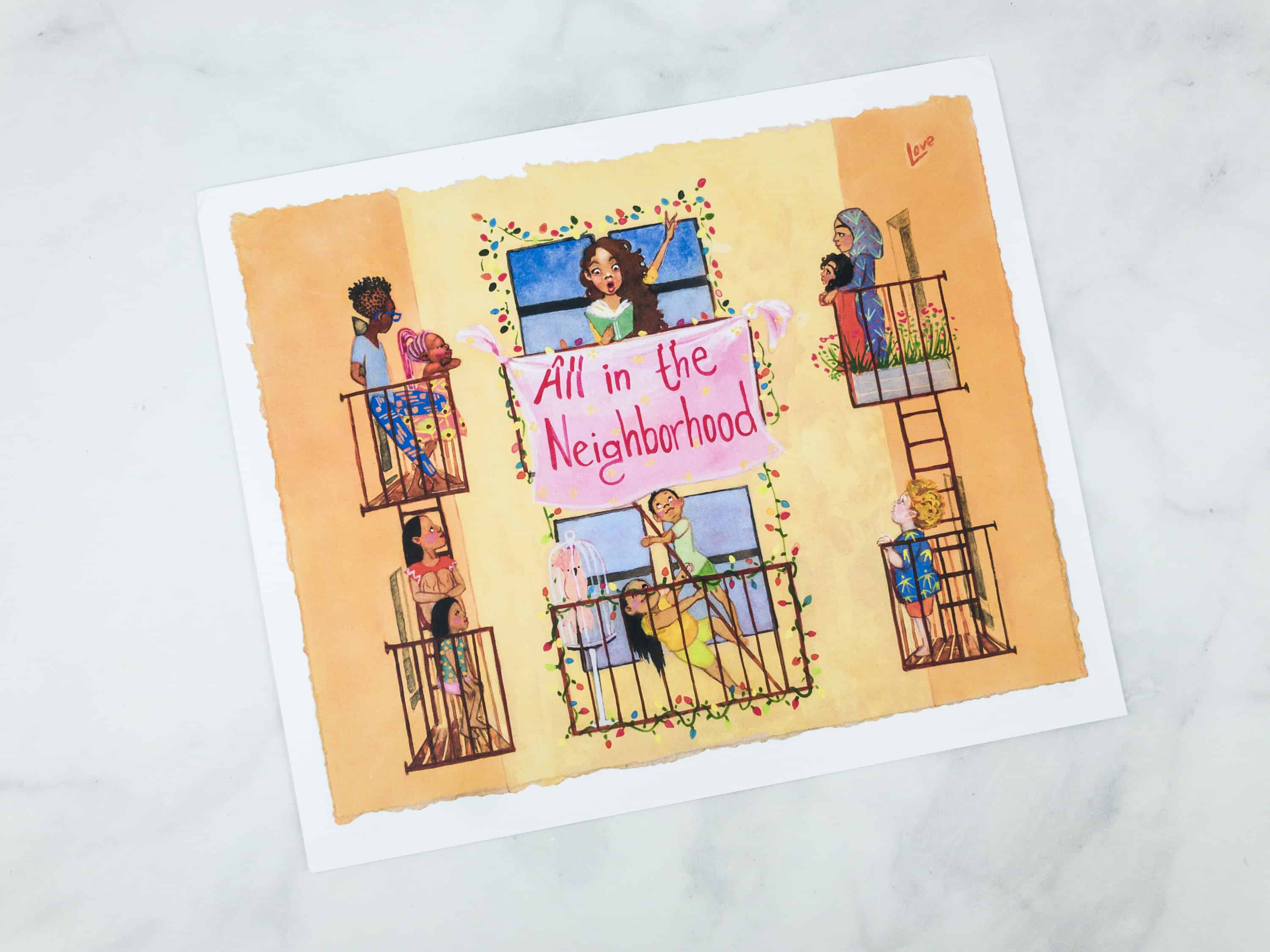 A full-size print comes with the box, along with free shipping. Although I don't love that the fee doesn't apply to a full box purchase, this makes it more worth it.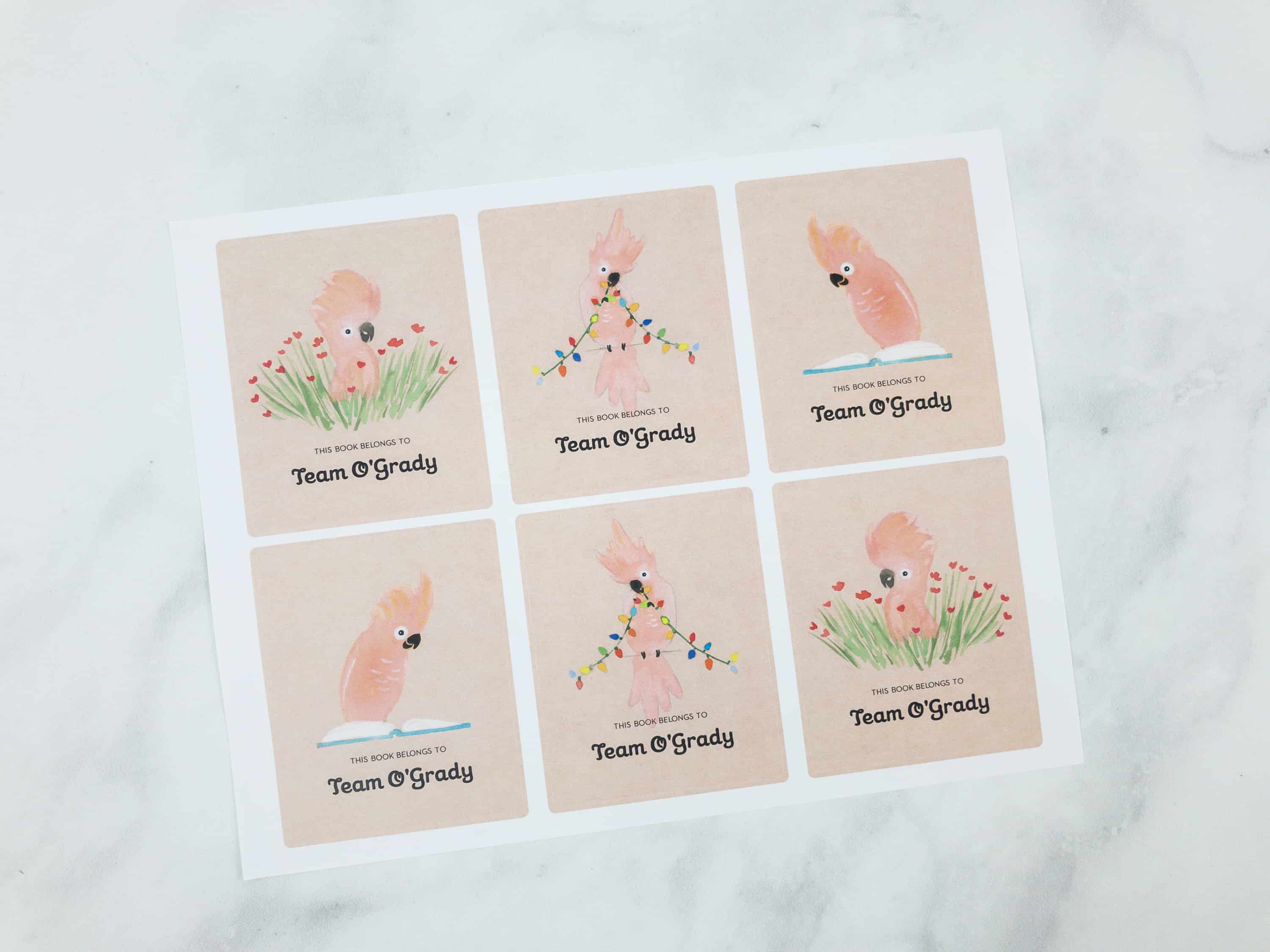 They included a sheet to help us label the books, and let others know that they're ours when we decide to keep them. And this month, it features forest animals!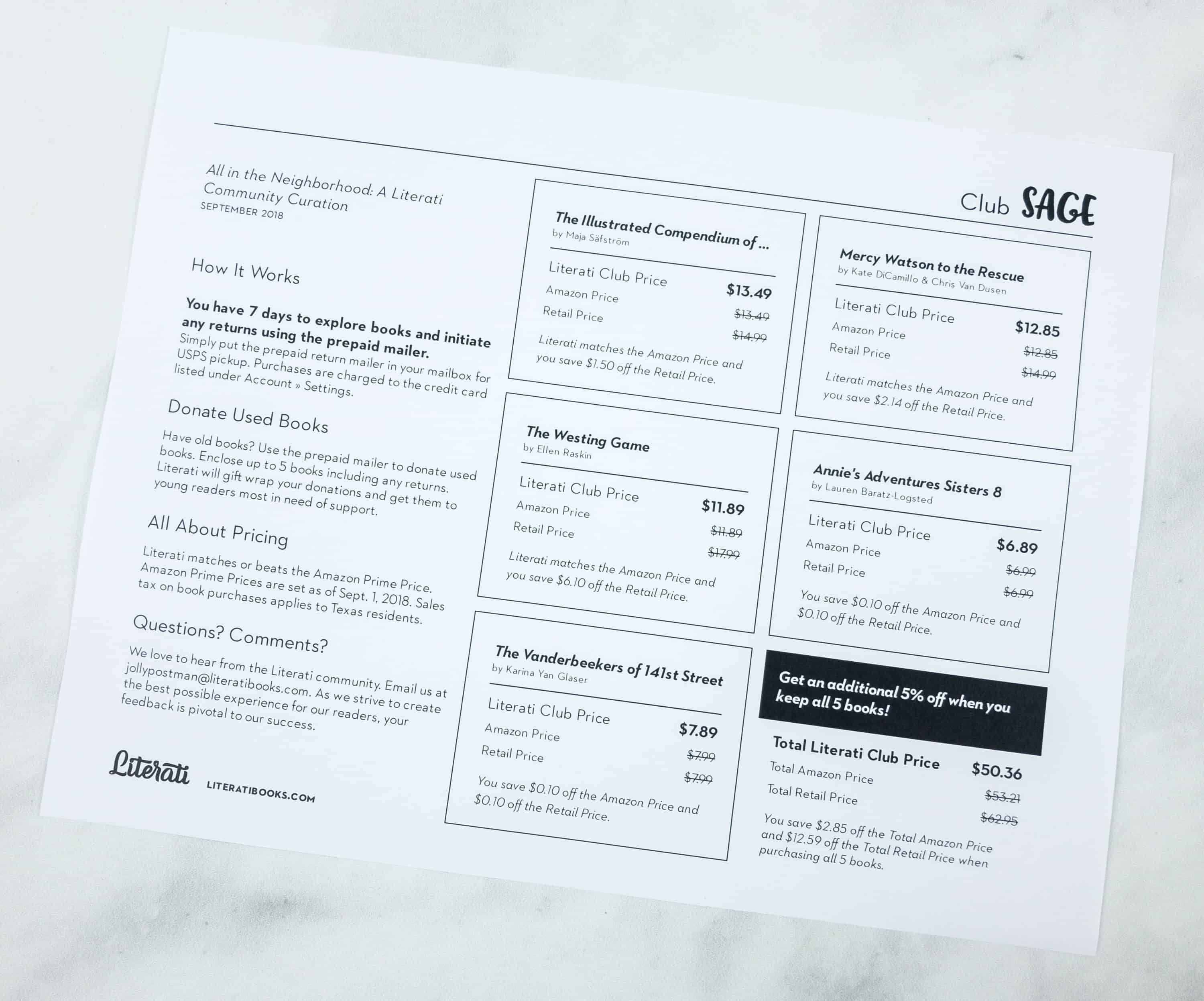 The information sheet lists the titles with a brief description for each.
There's also a listing of the book prices. If you decide to keep everything, you'll get 5% off. The subscription has a $9.95 non-refundable fee. According to Literati "it covers shipping both ways, allows the curators to invite a new world-renowned illustrator each month to draw personalized bookplates and a unique print for members, and covers other themed surprises that are included in the box." Since the print is now full size and high quality, we are digging that change. It includes the shipping back and forth too.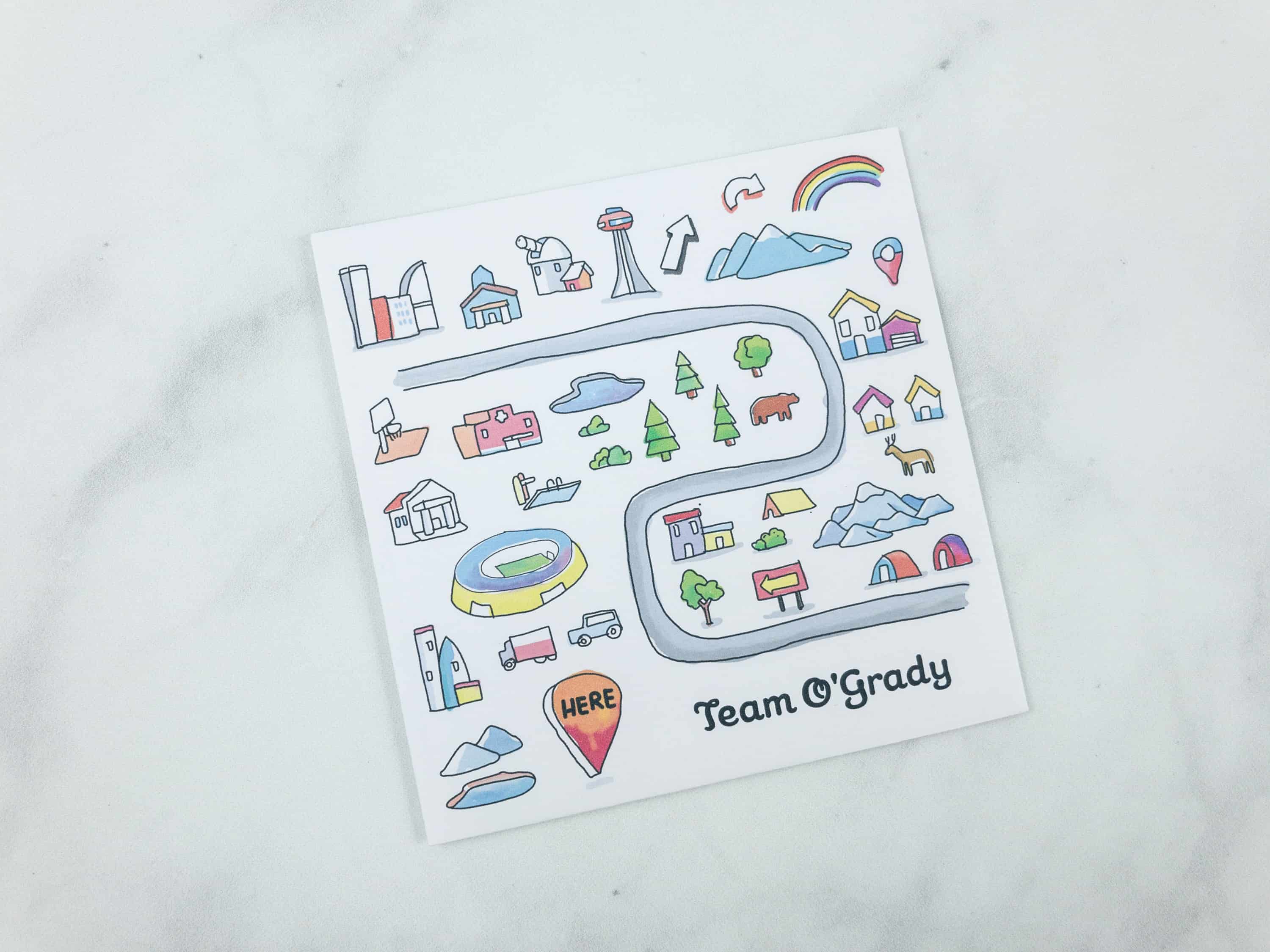 There's also a personalized card and note from Literati.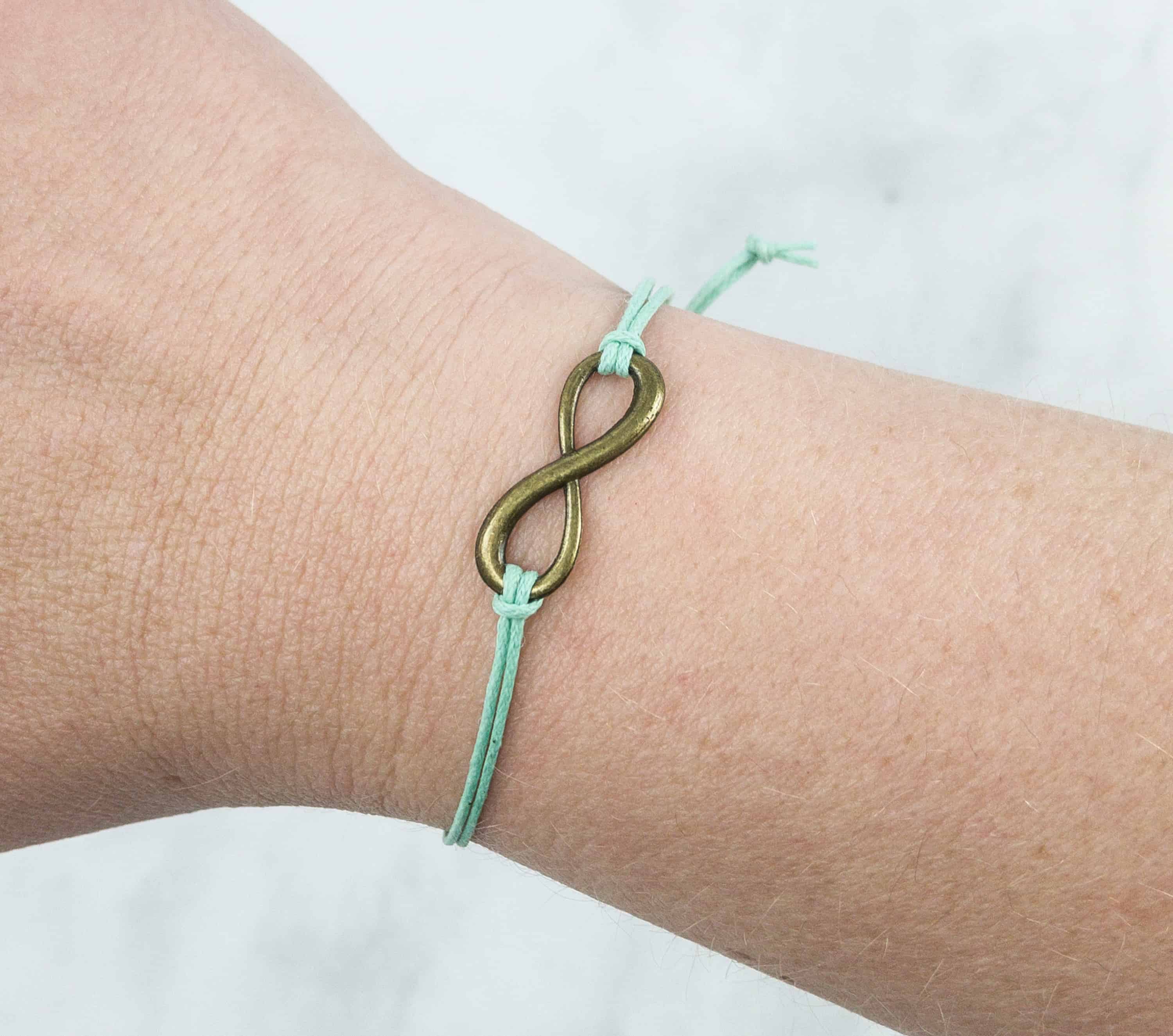 The box has an infinity charm bracelet! I like the mint green color and you can stack this with other stylish bracelets. (And also… moms can wear it too!).
There's a card letting us know about the F. Fox Fitzgerald Prize.
If you're able to refer a friend, you'll get the super readerly, ultra-soft Literati t-shirt.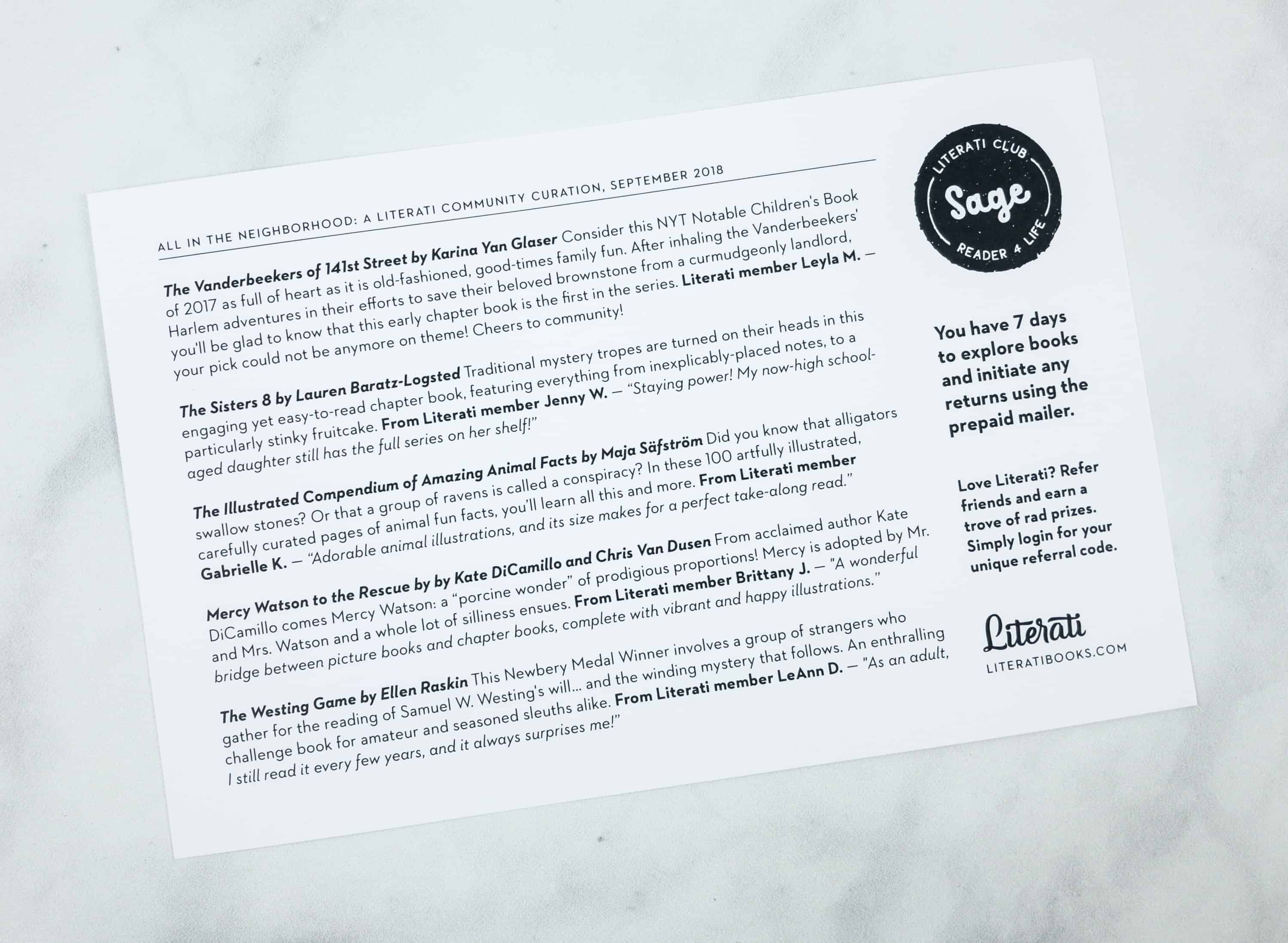 It's an info card about the 5 books sent to us for Club Sage for kids aged 7-8 years old.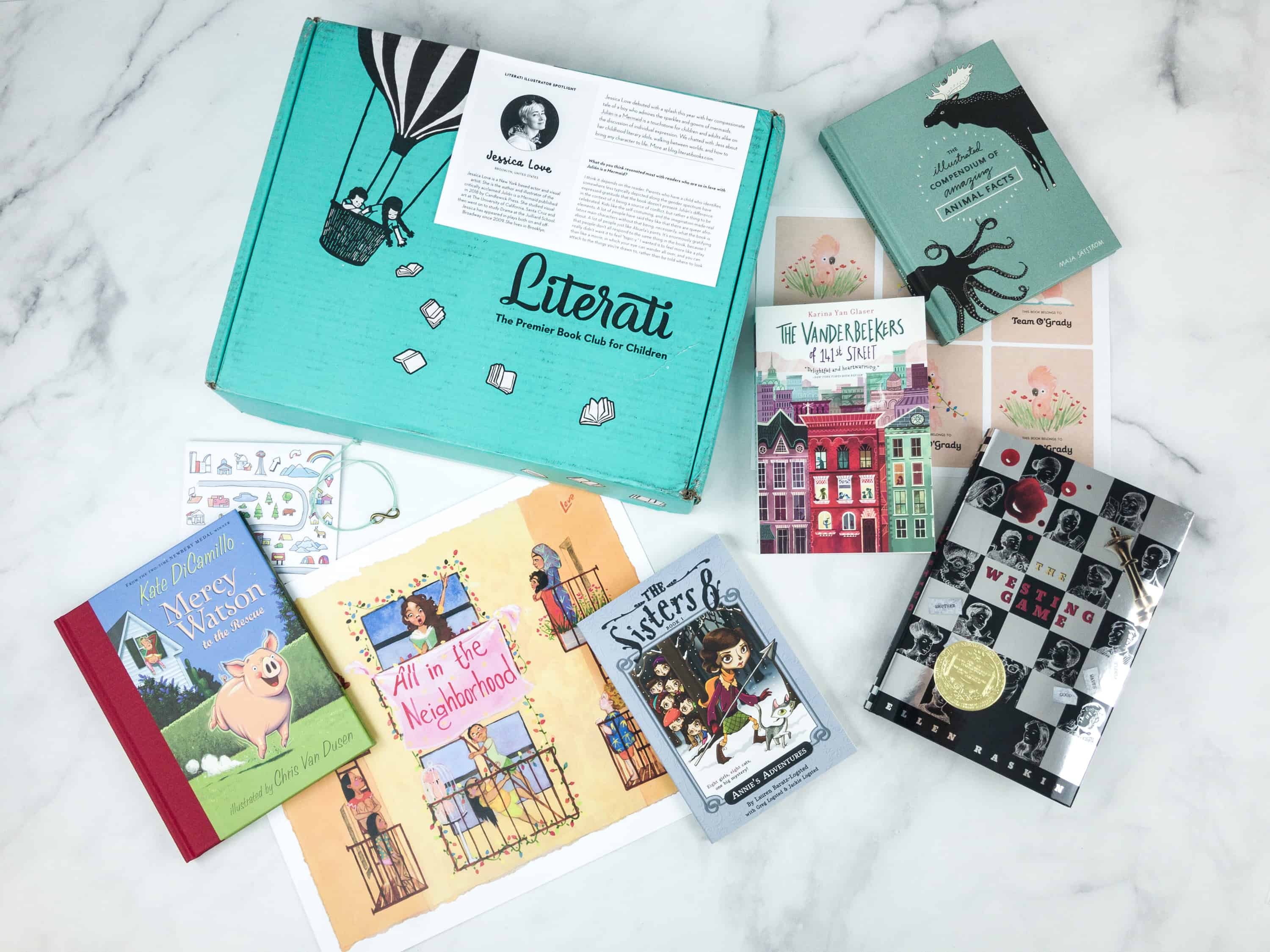 Everything in the box!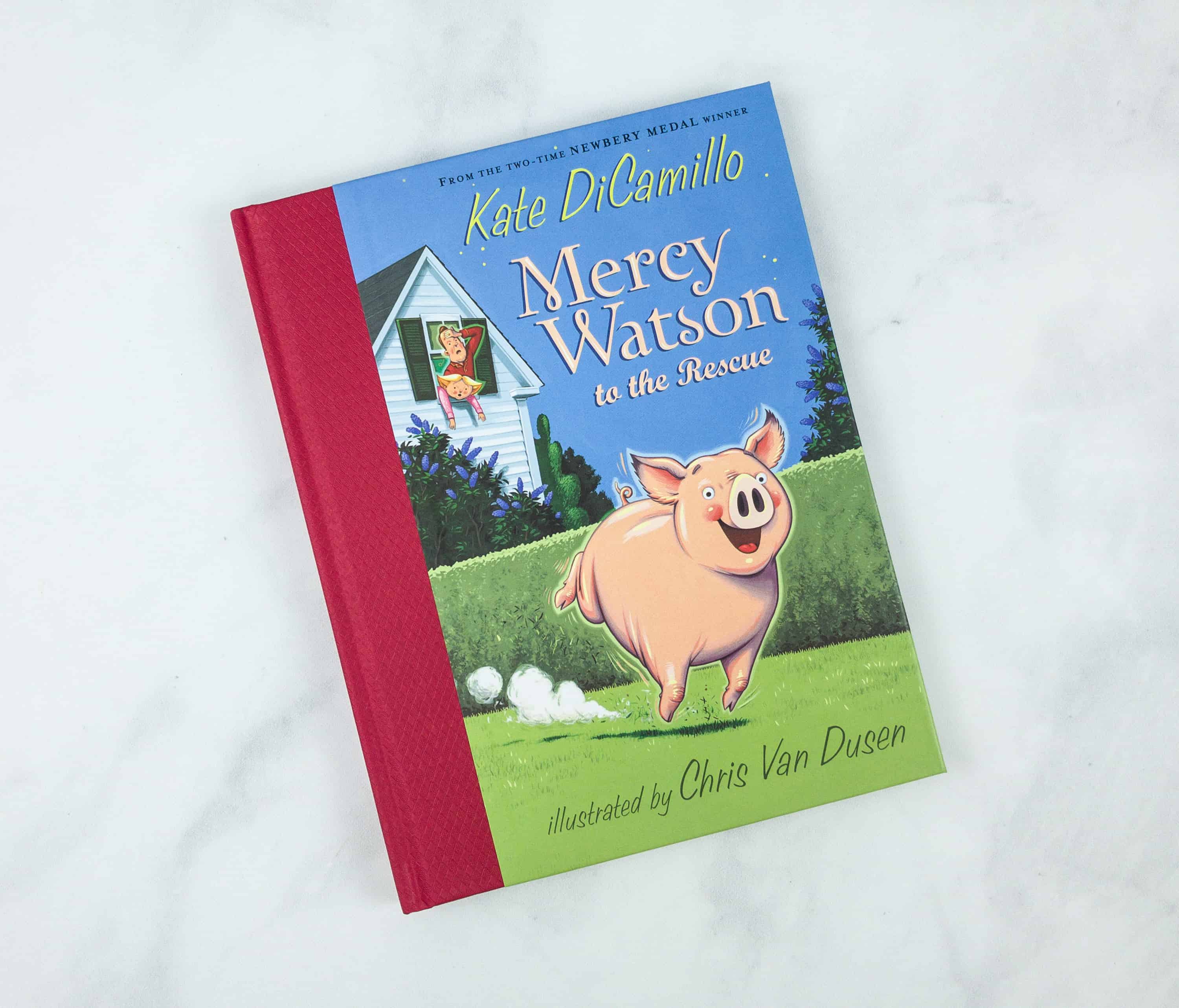 Mercy Watson To The Rescue By Kate DiCamillo ($14.99)
From the one and only Kate DiCamillo comes an irresistible new hero for early chapter book readers, brightly captured with comic nostalgic flair by Chris Van Dusen.

To Mr. and Mrs. Watson, Mercy is not just a pig – she's a porcine wonder. And to the portly and good-natured Mercy, the Watsons are an excellent source of buttered toast, not to mention that buttery-toasty feeling she gets when she snuggles into bed with them. This is not, however, so good for the Watsons' bed. BOOM! CRACK! As the bed and its occupants slowly sink through the floor, Mercy escapes in a flash – "to alert the fire department," her owners assure themselves. But could Mercy possibly have another emergency in mind – like a sudden craving for their neighbors' sugar cookies? Welcome to the wry and endearing world of Mercy Watson – an ebullient new character for early chapter-book readers in a series that's destined to be a classic.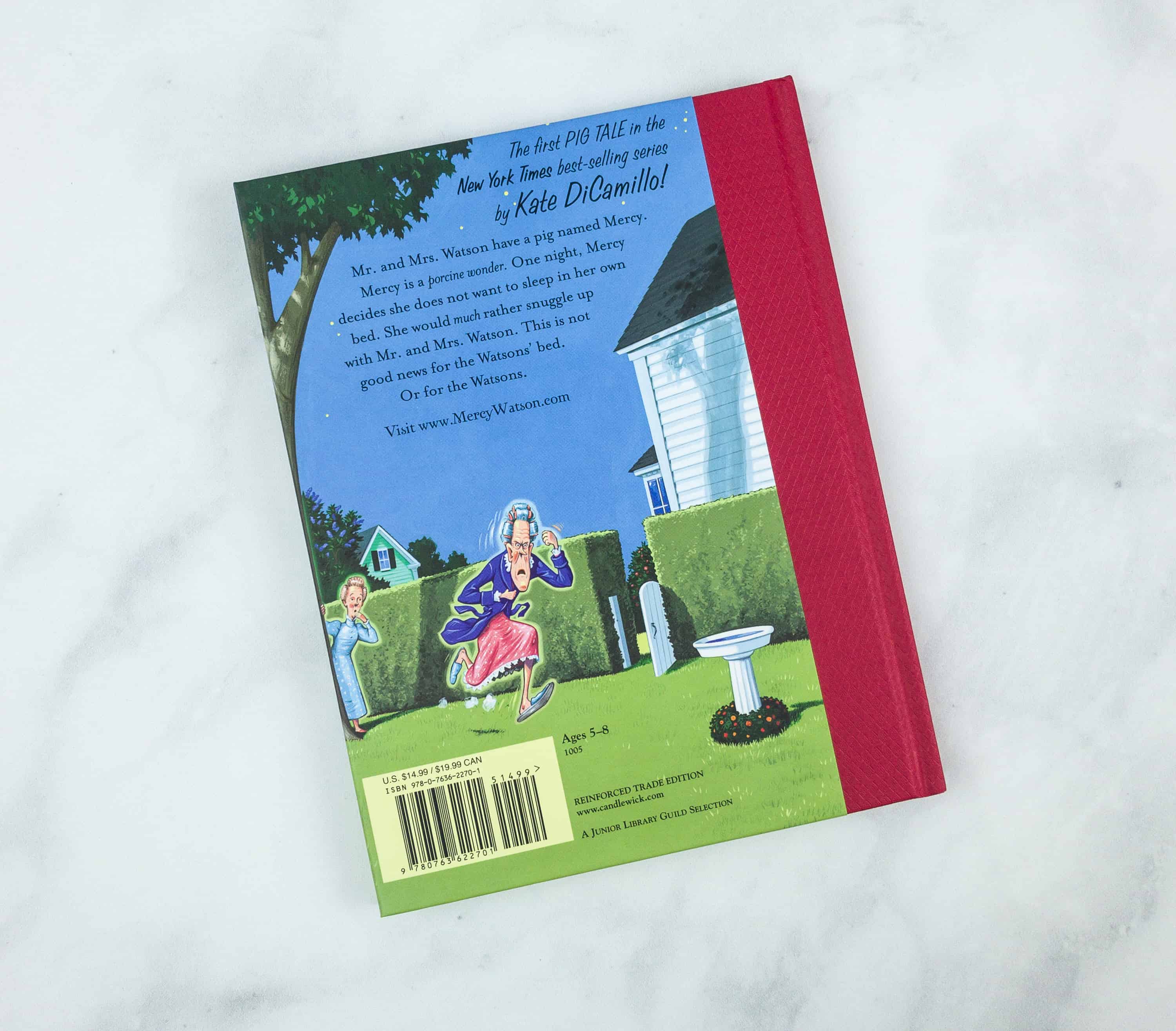 It's a funny bedtime story that makes the kids want you to read to them over and over.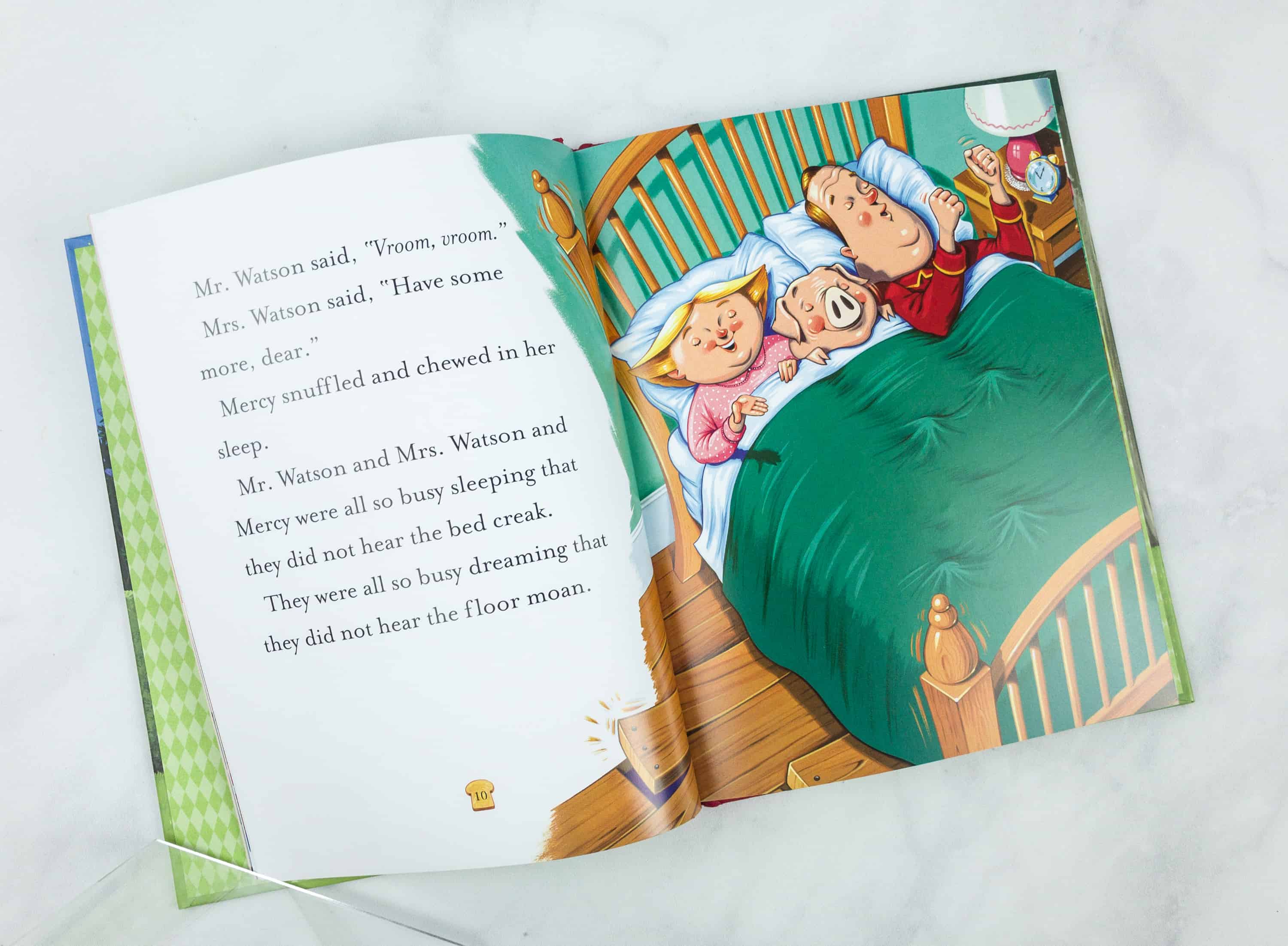 The illustrations are bright and engaging, it makes the book more enjoyable to read. See that little toast? Your kids will be obsessed with buttered toast after delving into the Mercy Watson series!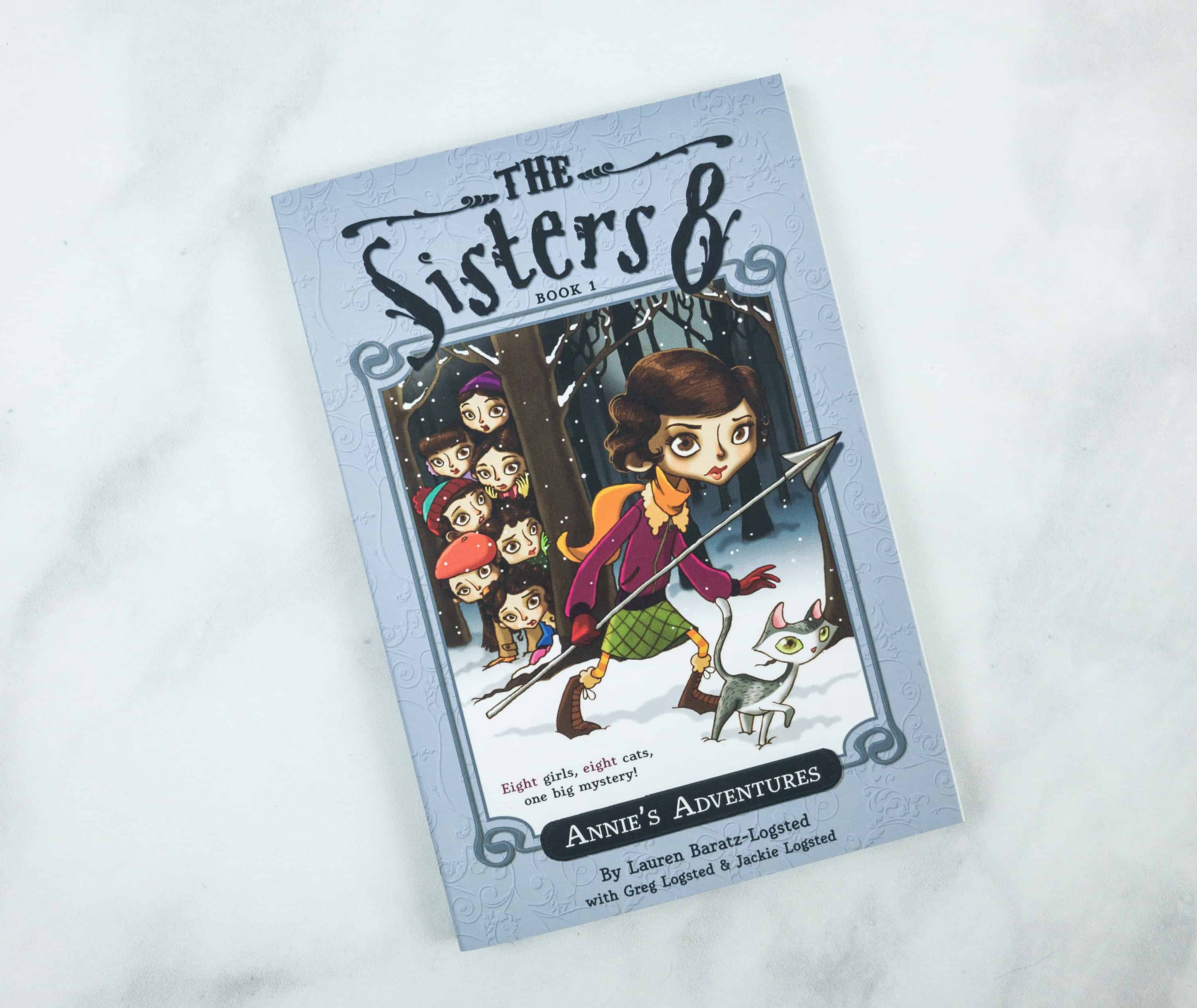 Annie's Adventures (The Sisters 8 Book 1) By Lauren Baratz-Logsted ($5.96)
A rather large problem has befallen the Huit girls. (Sisters, actually. Octuplets to be exact.) One particular New Year's Eve, the girls wait for their mommy to bring them hot chocolate and their daddy to return with more wood for the fire. But they don't. Mommy and Daddy, that is. They're gone. Poof! Maybe dead—no one knows for sure.
You must see the problem here. Eight little girls on their own, no mommy or daddy to take care of them. This is not a good thing.
So now these little girls, must take care of themselves. Get to school, cook the meals, feed the cats (eight of them, too), and pay the bills. They can't ask for help, oh no. Any self-respecting adult would surely call in social services, and those well-meaning people would have to split them up. After losing their parents, being split up would be completely unbearable.
At the same time, the question remains:What happened to Mommy and Daddy? The Sisters Eight (as they are called, affectionately and otherwise) are determined to find out. Luckily, they do seem to have someone or something helping them. Notes keep appearing behind a loose brick in the fireplace.
It's a good old-fashioned mystery with missing (or dead) parents, nosy neighbors, talking refrigerators, foul-smelling fruitcake (is there any other kind?), and even a little magic. Eight little girls, eight cats, and one big mystery—let the fun begin!

Annie's Adventures, wherein the girls' parents go missing (or die) and the girls learn each one has a power and gift. Annie, being the oldest, is the first to discover hers.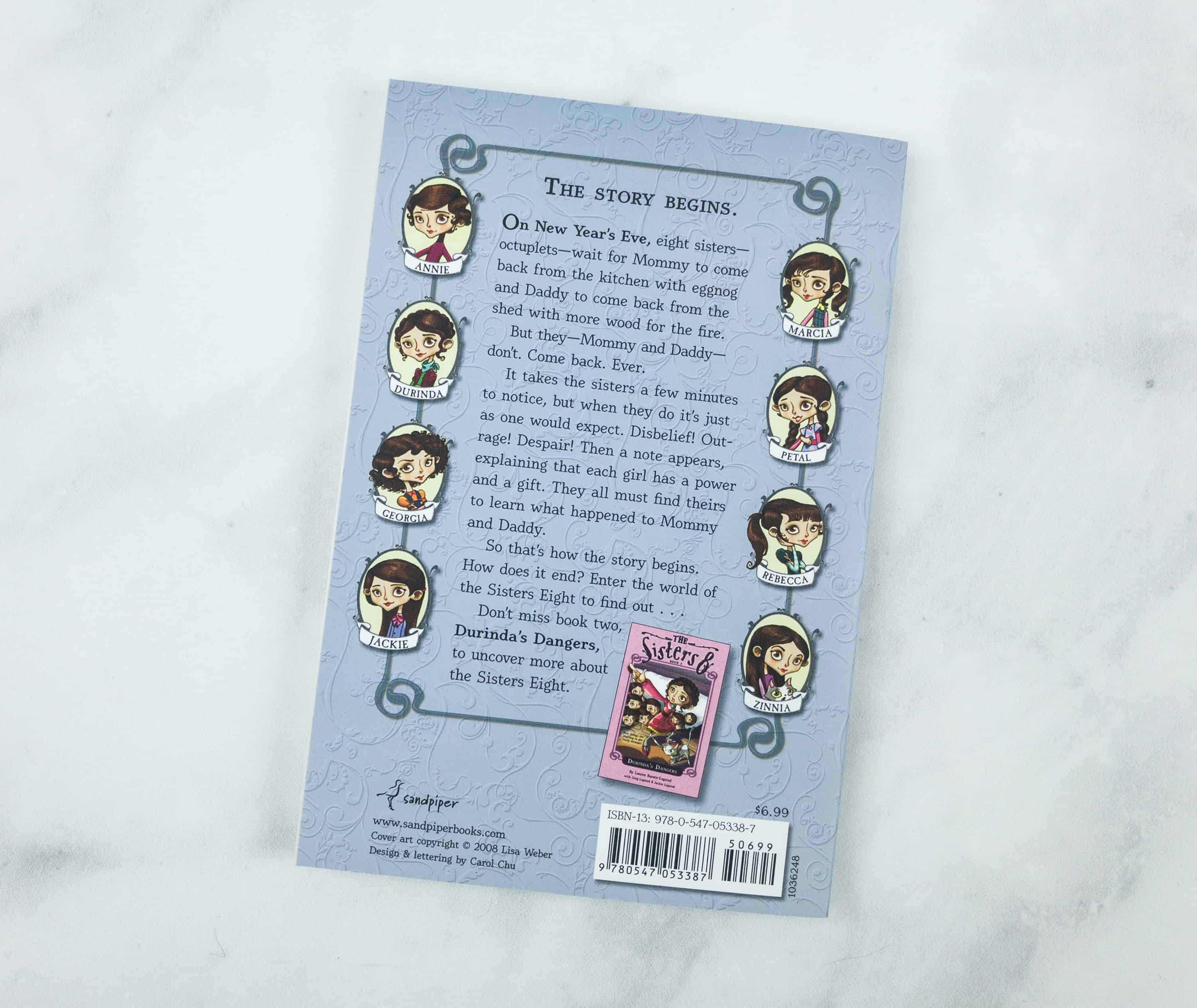 We are introduced to these 8 young marvelous girls, some wise beyond their years. We can find something in each of them that are relatable and endearing. When you read the synopsis, it seems to tackle a big problem of missing the children's parents but the light and funny storytelling makes the idea bearable and unterrifying.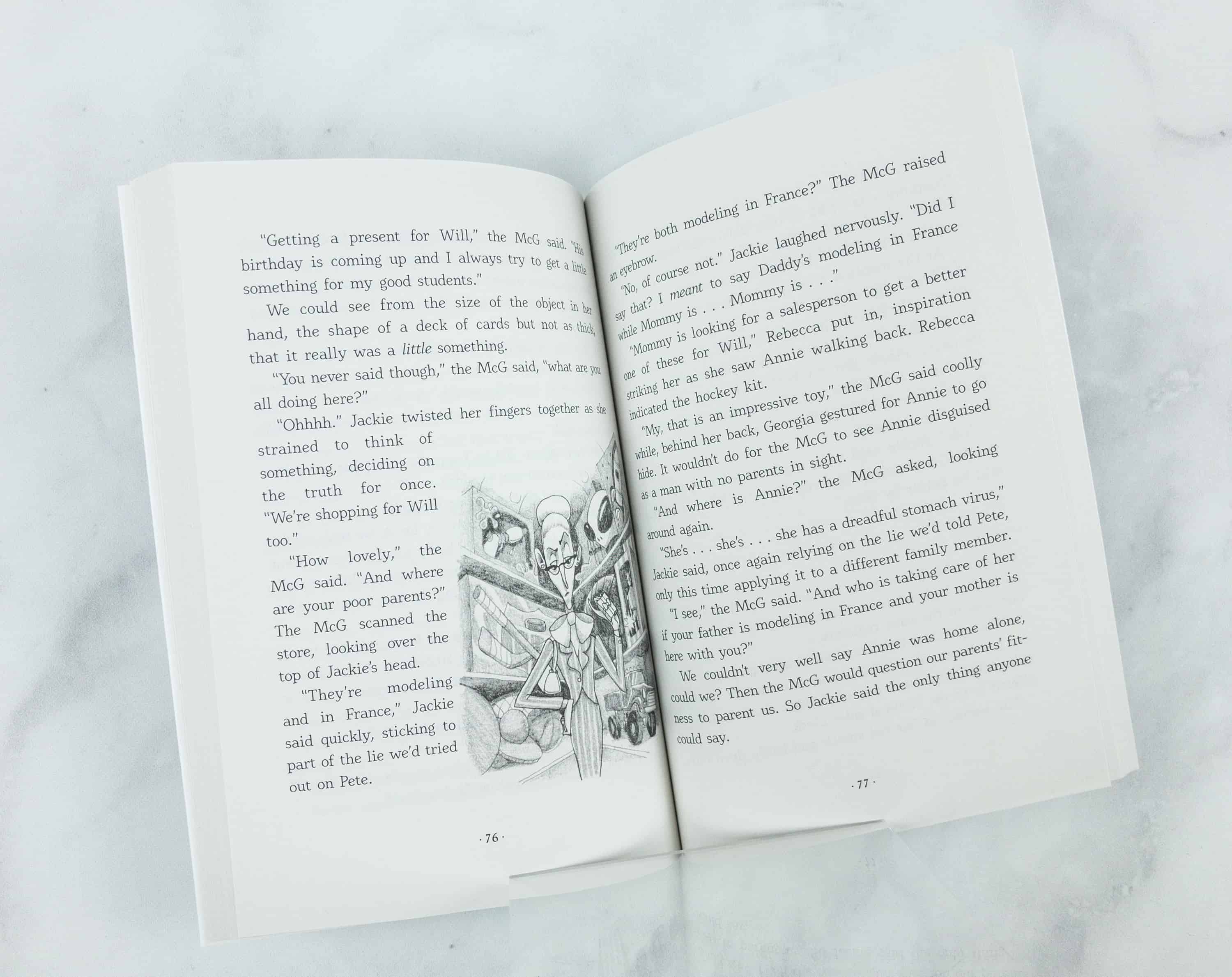 I just worry that the kids might get the wrong idea of keeping or handling problems amongst themselves as opposed to confiding with an adult. I think we have to explain that further. This box would be even more useful if it came with a reader's guide.
There are some illustrations that fill out some portion of the page making the layout of the book refreshing.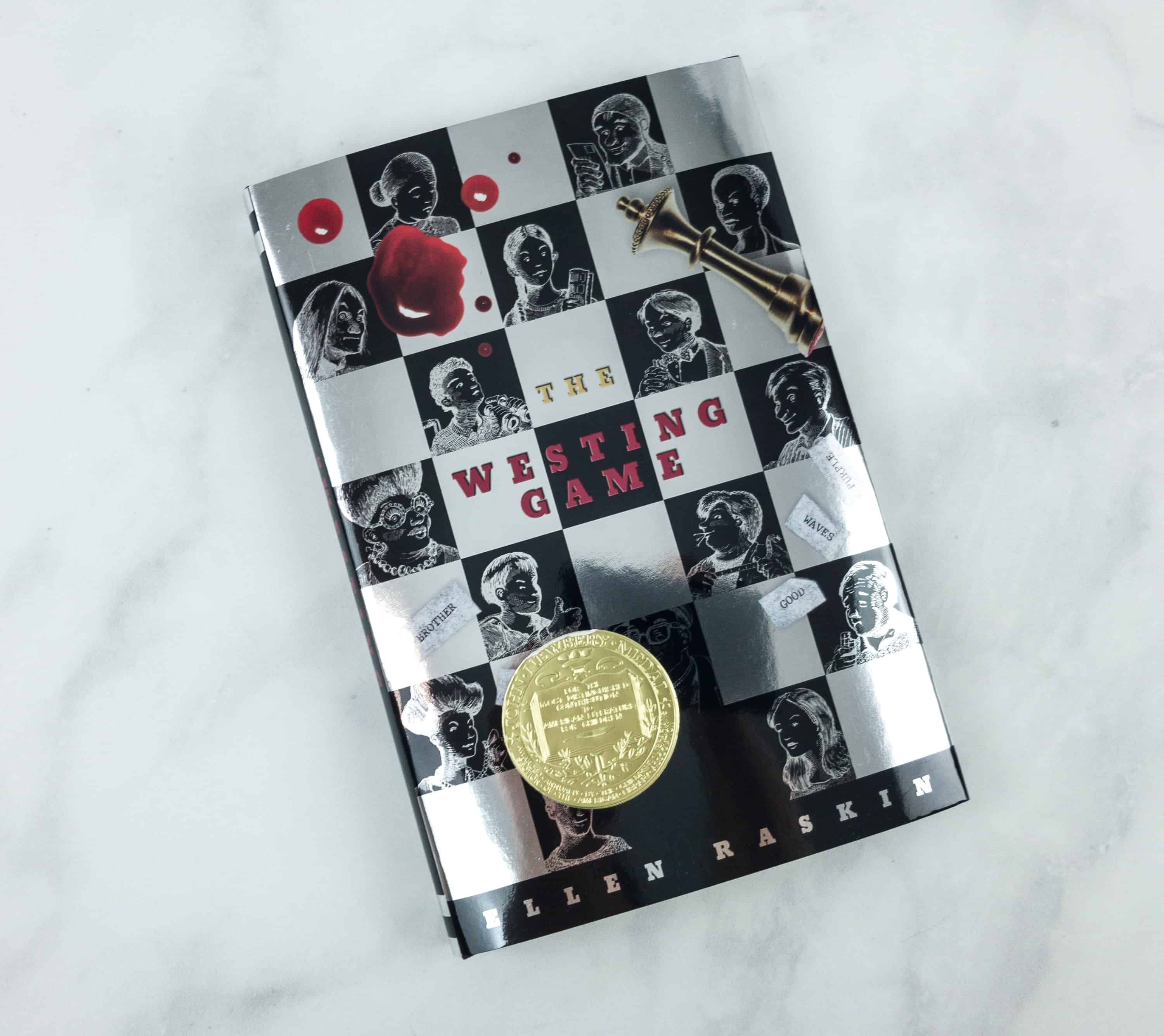 The Westing Game: The Anniversary Edition By Ellen Raskin ($16.19)
For twenty-five years, Ellen Raskin's Newbery Medal-winning The Westing Game has been an enduring favorite and is now being reissued with a brand-new jacket by Kevin Hawkes and an introduction by Ann Durell.

This highly inventive mystery involves sixteen people who are invited to the reading of Samuel W. Westing's will. They could become millionaires, depending on how they play the tricky and dangerous Westing game, which involves blizzards, burglaries, and bombings. Ellen Raskin has entangled a remarkable cast of characters in a puzzle-knotted, word-twisting plot filled with humor, intrigue, and suspense.
It is a cleverly written and well-plotted story. It deserves the hype that it gets as everybody, even the adults, can't get enough of it.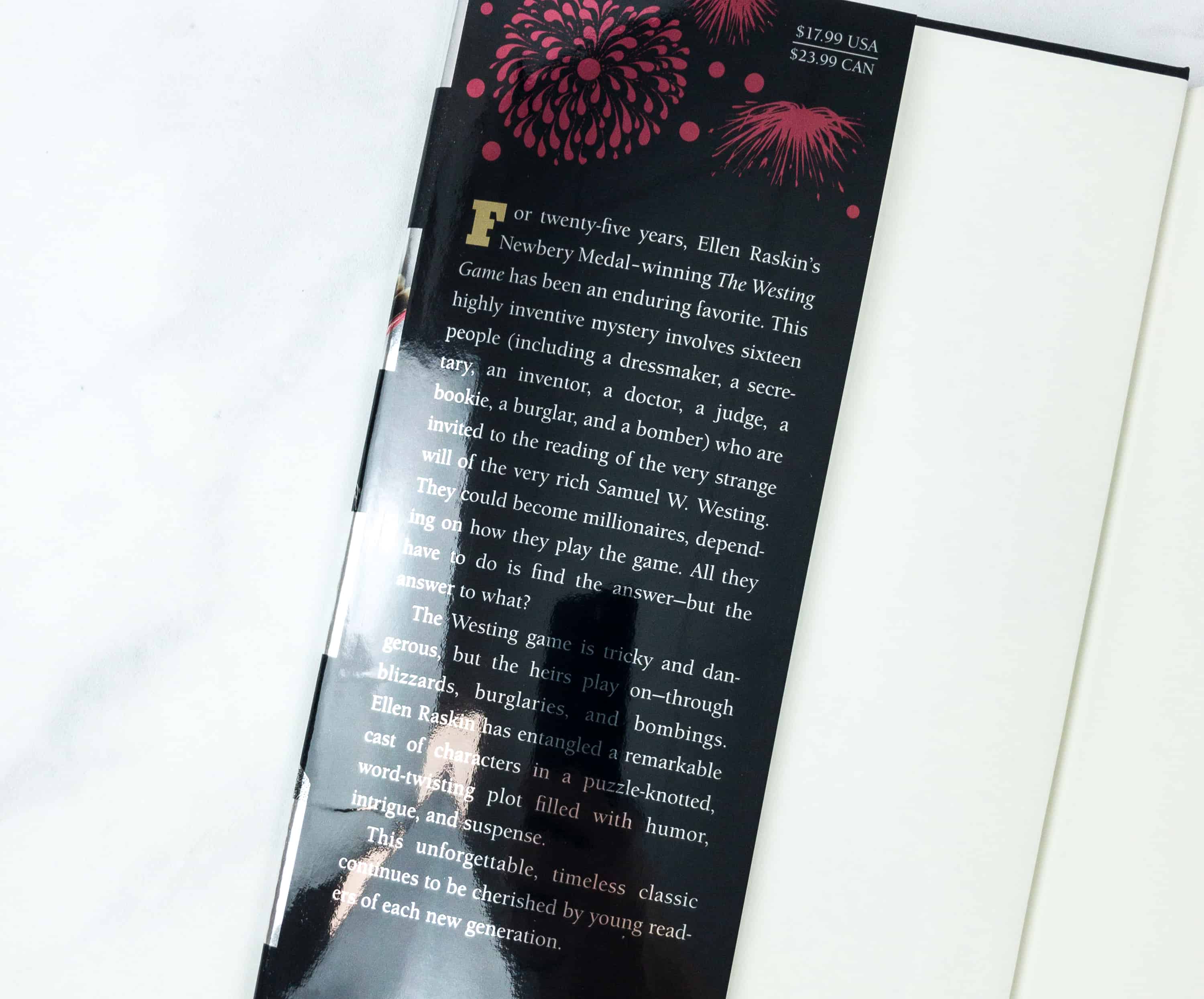 I'm glad the box included this book. I get my dose of suspense, intrigue, and humor in one story!
There are a lot of characters to follow but it is exciting to analyze each behavior and character descriptions. You get to read some pages repeatedly and be involved in the fun of the mystery too. If your kids enjoy this book, they'll also love The Magic Misfits from Neil Patrick Harris.
The Vanderbeekers Of 141st Street By Katrina Yan Glaser ($13.33)
One of The New York Times'  Notable Children's Books of 2017: "In this delightful and heartwarming throwback to the big-family novels of yesteryear, a large biracial family might lose their beloved brownstone home, but win it back with an all-out charm offensive."

The Vanderbeekers have always lived in the brownstone on 141st Street. It's practically another member of the family. So when their reclusive, curmudgeonly landlord decides not to renew their lease, the five siblings have eleven days to do whatever it takes to stay in their beloved home and convince the dreaded Beiderman just how wonderful they are. And all is fair in love and war when it comes to keeping their home.
Some unexpected turn of events in life can bring people together. You can read the love and camaraderie happening in their family and in the community that makes it resonate to readers.
The story just warms the heart and makes you restore your faith in humanity. This book has a brand new sequel, which is why it was included in the box (community curated… I don't know about that!).
The Illustrated Compendium Of Amazing Animal Facts By Maja Safstrom ($13.07)
An artfully playful collection of unexpected and remarkable facts about animals, illustrated by Swedish artist Maja Säfström. 

Did you know that an octopus has three hearts?
Or that ostriches can't walk backward?
Or that a group of owls is called a parliament, or that they have three eyelids?

Sea otters hold hands in their sleep, bees never sleep, and penguins laugh when they're tickled!

This charming compendium contains over 100 pages of fascinating facts about the animal kingdom illustrated with whimsical detail.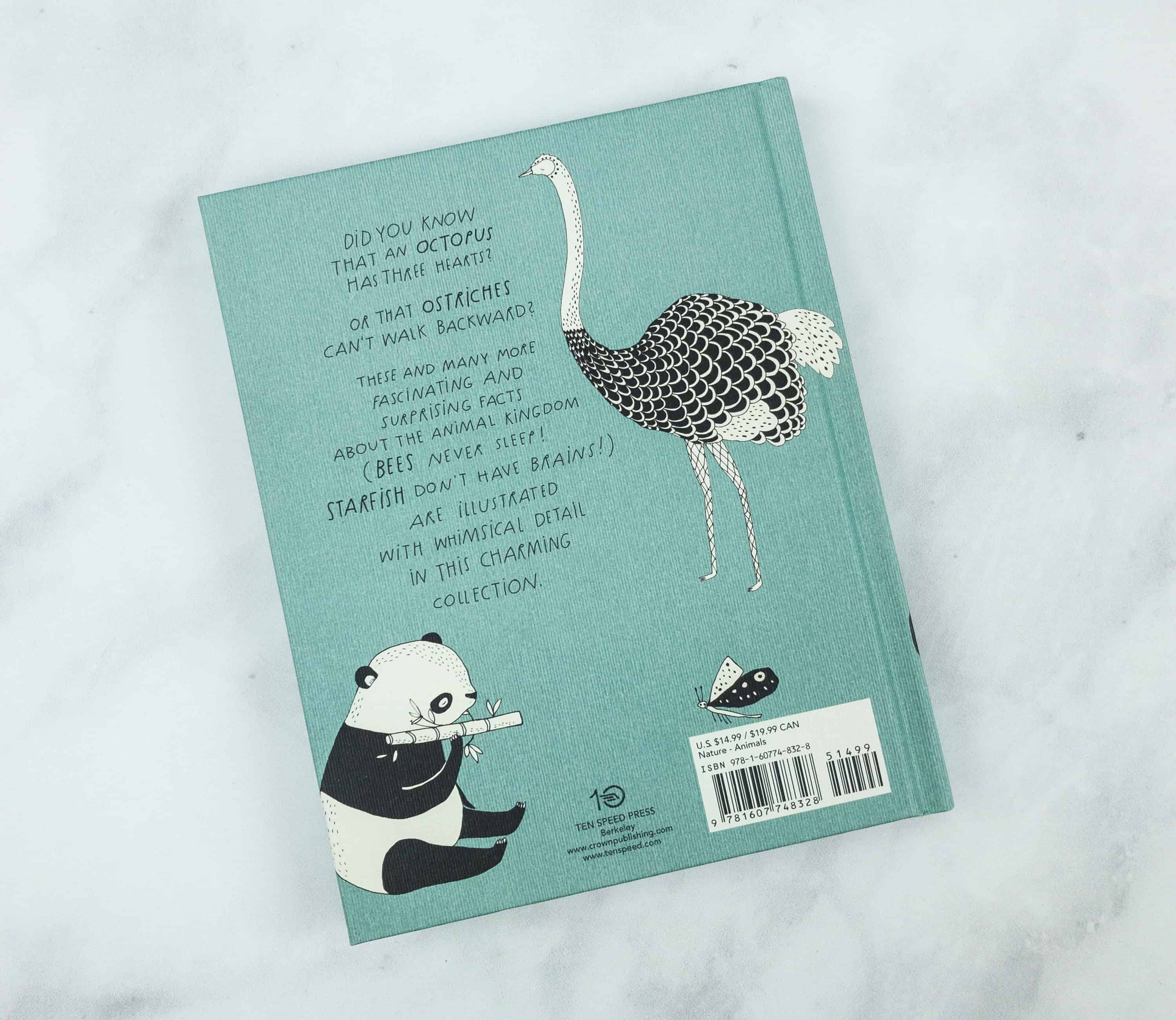 Well, you never know when these fast facts might come in handy. You can never know too much trivia. The kids are interested in knowing more about the animals.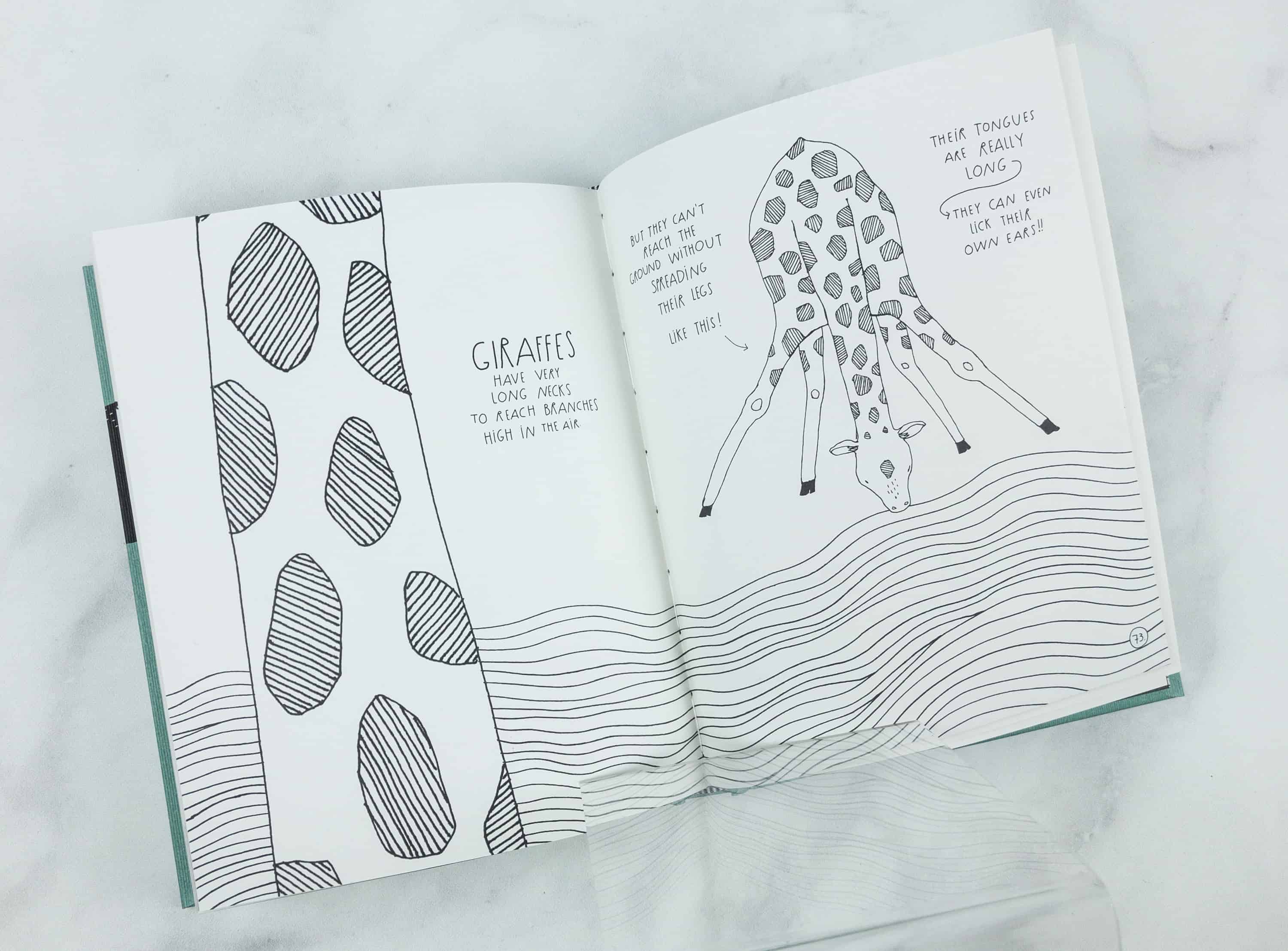 The illustrations of drawings are simple but engaging. It draws you in and gets you hooked onn the information.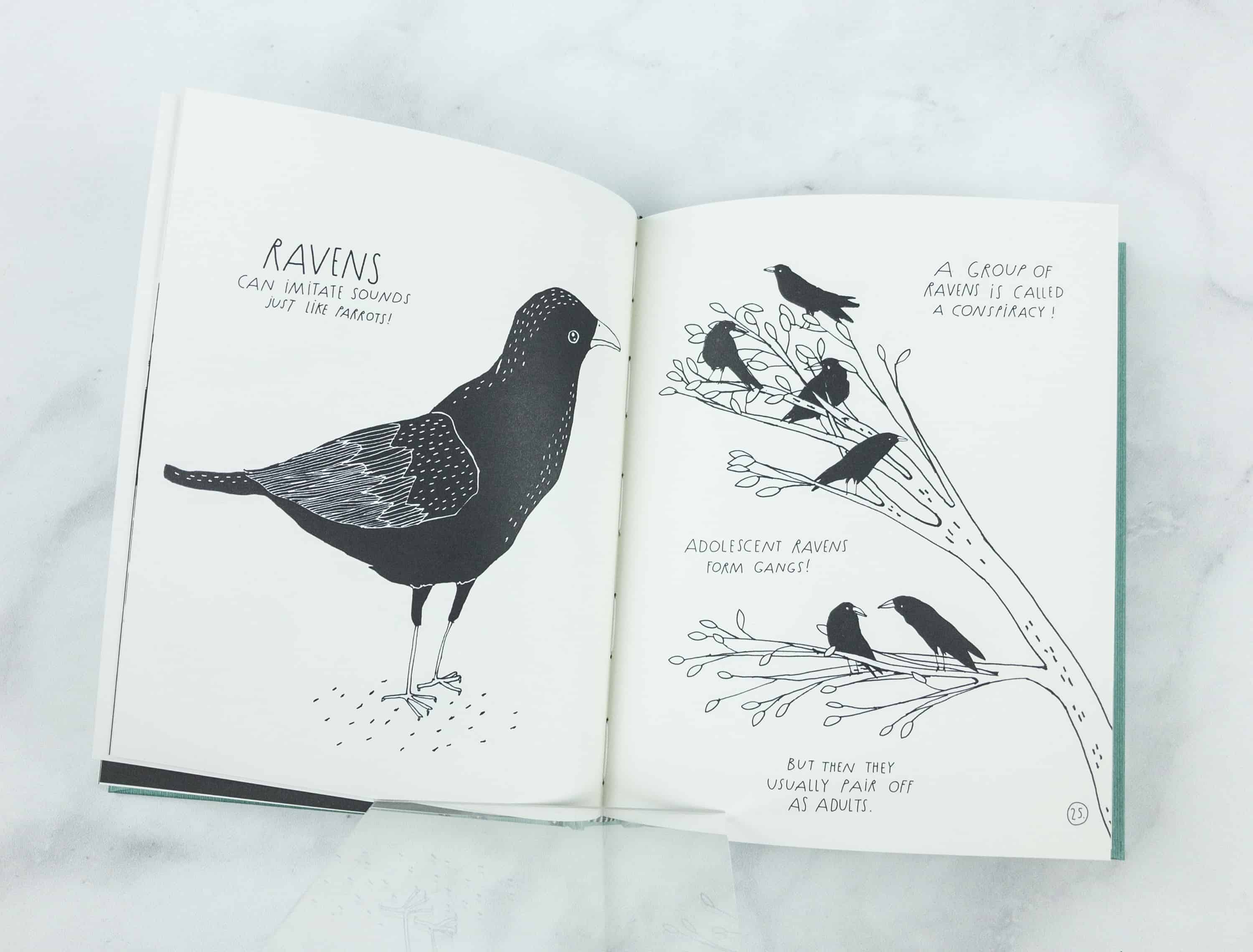 It's a light read and perfect for those bonding nights where you can read the facts out loud and everybody gets to learn something new. I can also see this being a fun activity book – it's all black and white, but high quality pages. Why not decorate them?! (Yes, it's allowed!)
We had fun reading all the books because they are all different from each other. So it's an exciting experience everytime we pick up a book from this month's box. They are all age appropriate but I think it is appropriate to have a conversation with the kids to ask them what they think about the book and guide them accordingly. The main denominator I can see with this curation is that they all talk about family and the novels require a lot of character analysis. This subscription is a good catalyst to get the kids interested in reading books and not fully depend on social media and electronic devices. They will realize they can still find hidden gems in pages.
Any thoughts on Literati?