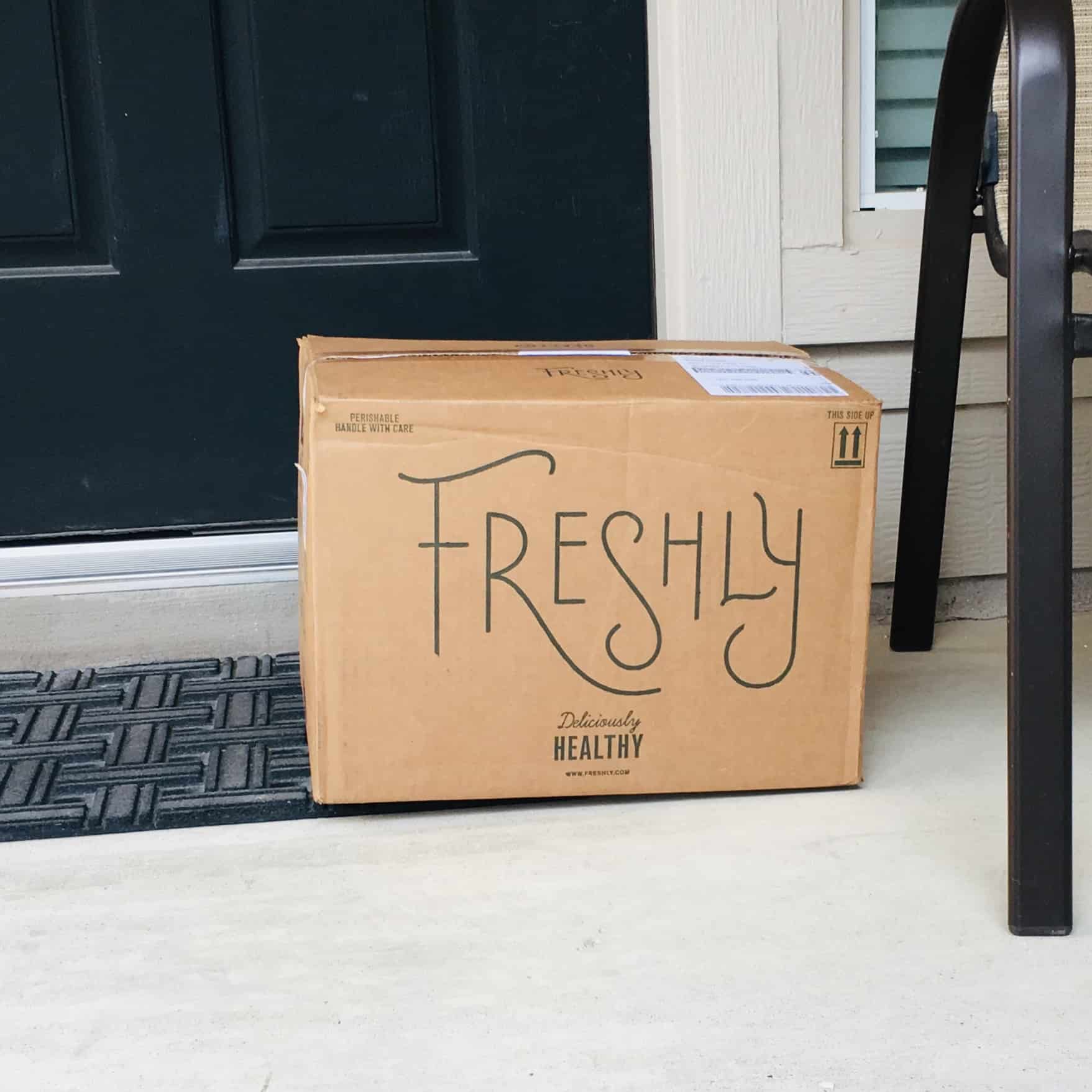 Freshly delivers deliciously healthy food right to your door – premade, prepackaged, and never frozen. This is a great subscription for people who want to spend less (i.e. no) time cooking but still want healthy foods. Freshly meals are free of gluten, refined sugars, and artificial ingredients. When you sign up for Freshly, you'll be able to select the number of meals you want per week plus the exact meals you want. You're able to skip weeks right from your account.
The food comes in a refrigerated box, surrounded by ice packs, and snuggled up in an insulated blanket made from recycled denim. The insulation and the rest of the packing are all recyclable. Since it's biodegradable, I am considering putting it in my compost pile and/or using it as mulch!
DEAL: Get $60 off your first four weeks of meals when you use this link and coupon code LAUNCH15.
These were the biggest ice packs I've ever seen! I've placed them in my chest freezer to be used in my ice chest. The ice packs were still frozen solid when they got here.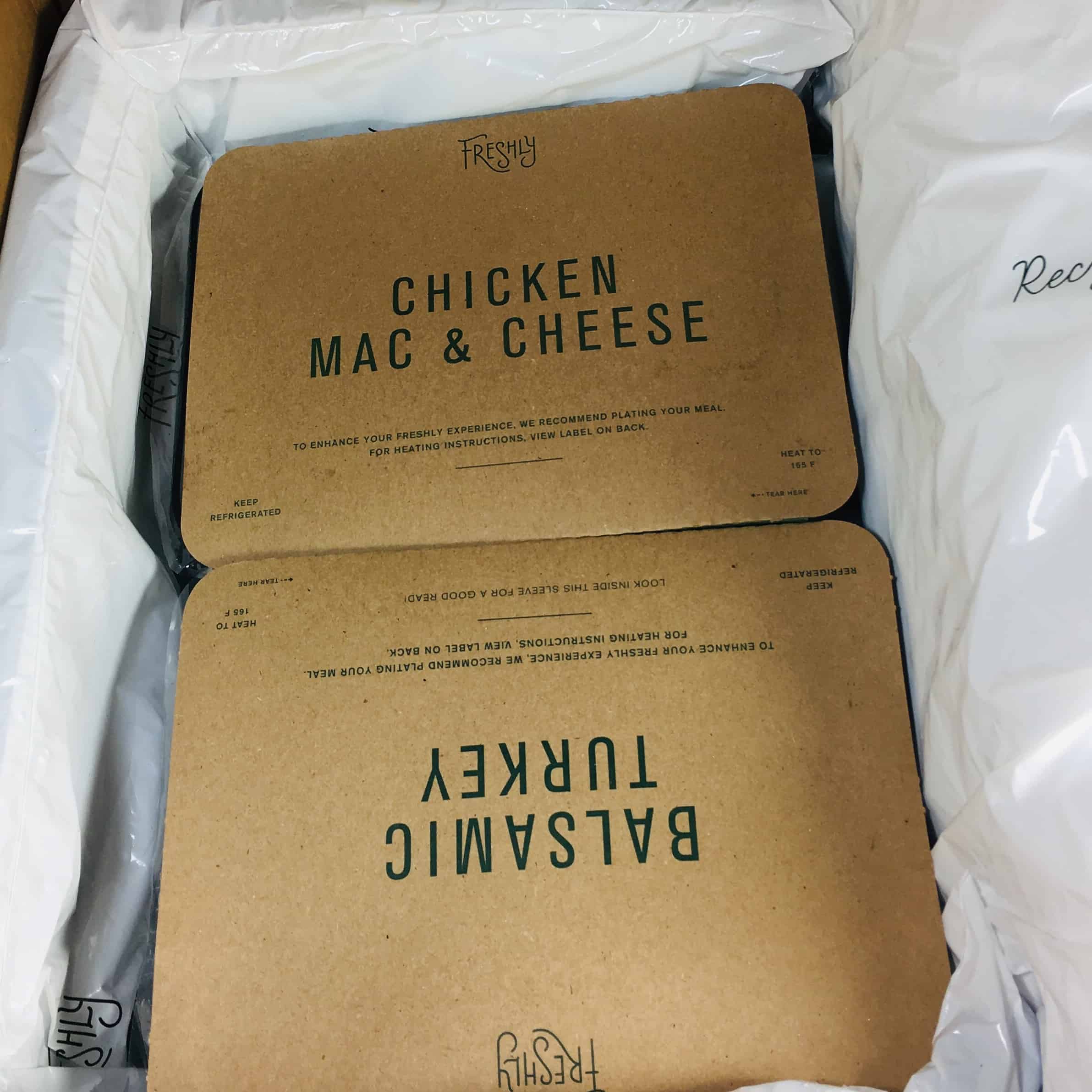 I received 6 meals and there was an ice pack in between the meals. My meals went straight into the fridge. For best results, do not freeze. The 6 meals per week plan is $59.99 a week ,which works out to $9.99 a meal. Freshly has options for more or less meals per week, so the price per entree varies depending on which plan you choose.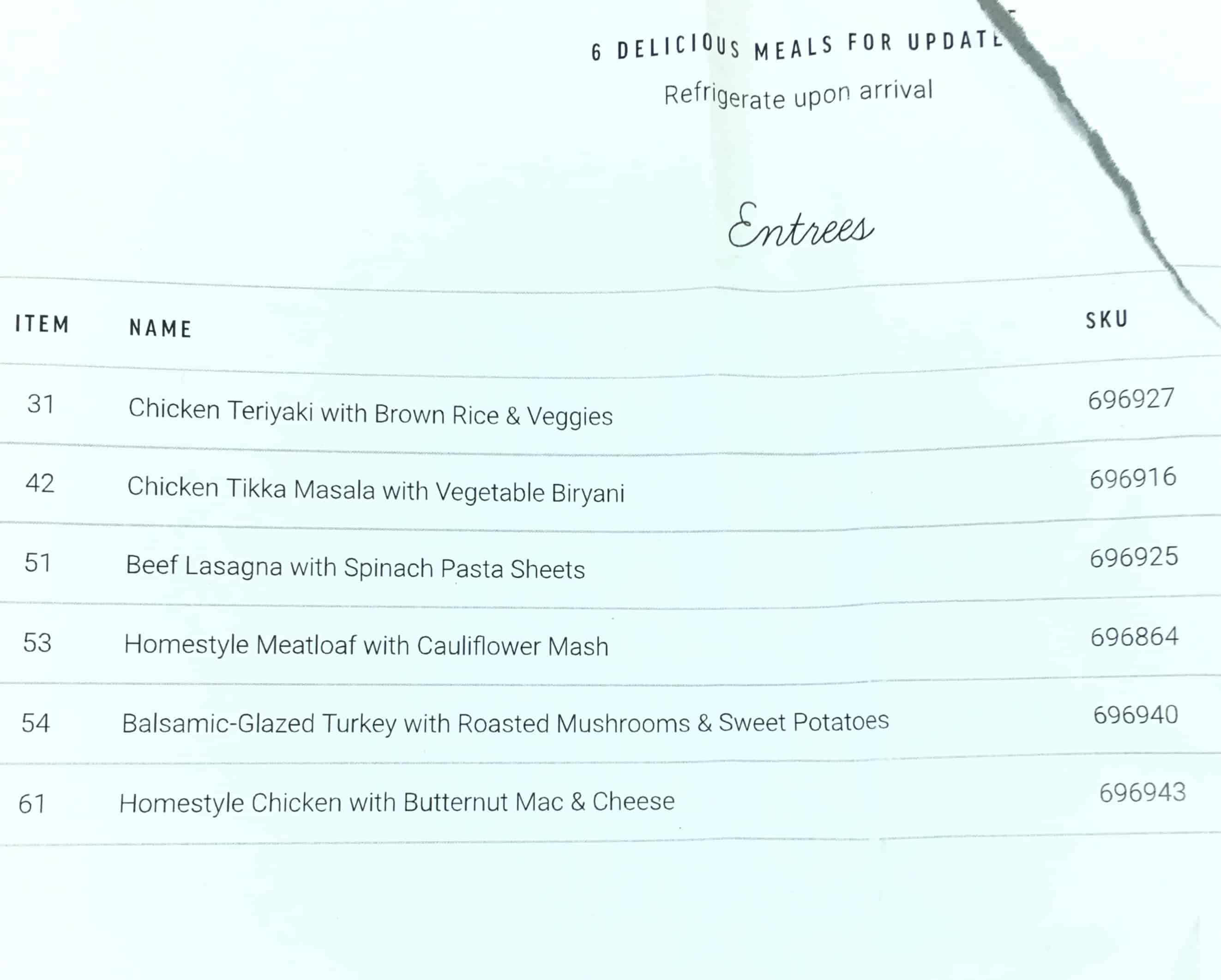 I found a list of all the meals in my box. I didn't see any other literature.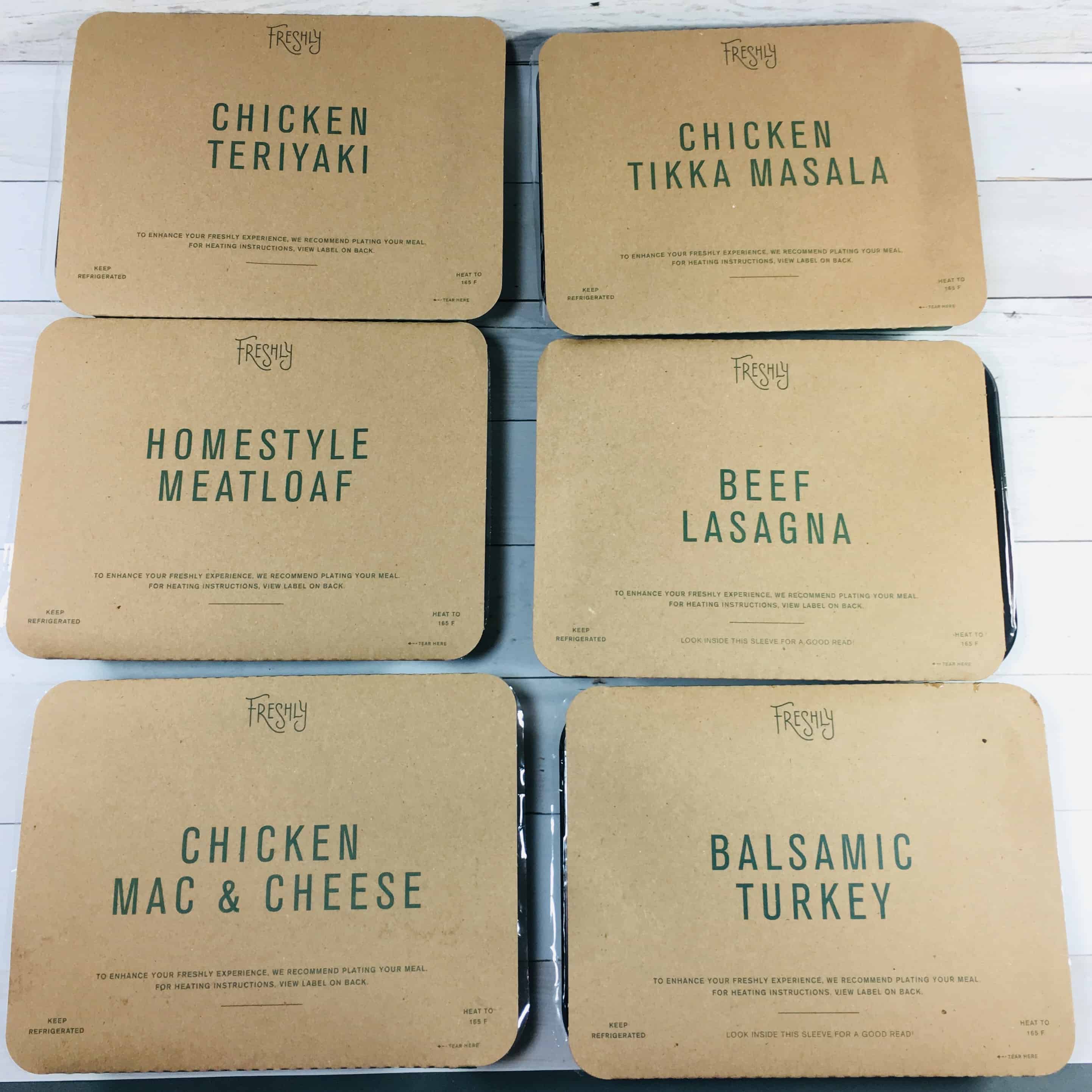 I picked 6 meals out of the 30 options, and there were even a few breakfasts available too.
The meals came in cardboard wrappers with info all over, even on the inside of the box!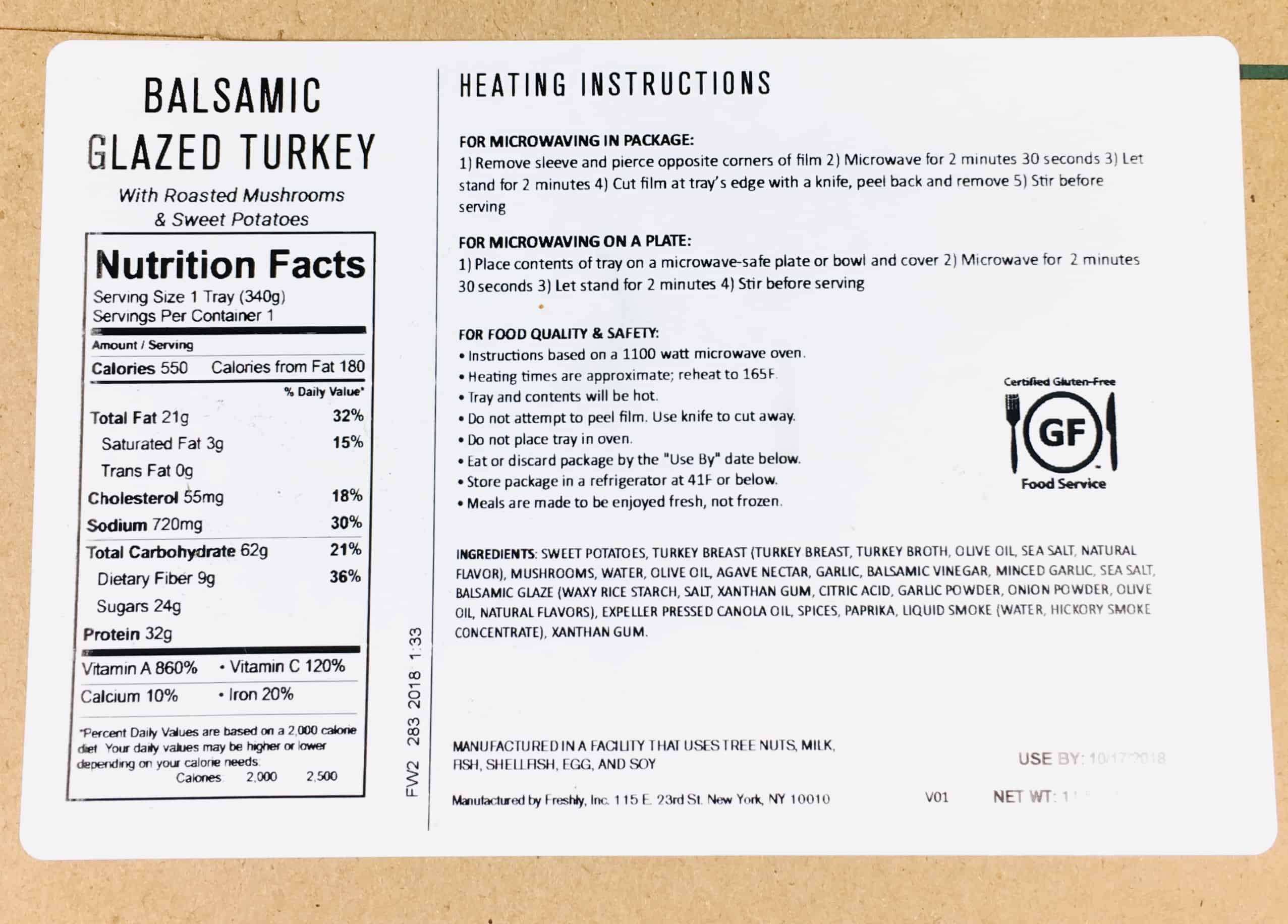 I found nutrition information, ingredients, allergy warnings, and heating instructions on the back of the box, along with a "use by" date.
The underside of the wrappers have mini-essays on nutrition and wellness. I only found this on some of the wrappers. For some reason a few of the boxes were blank on the inside.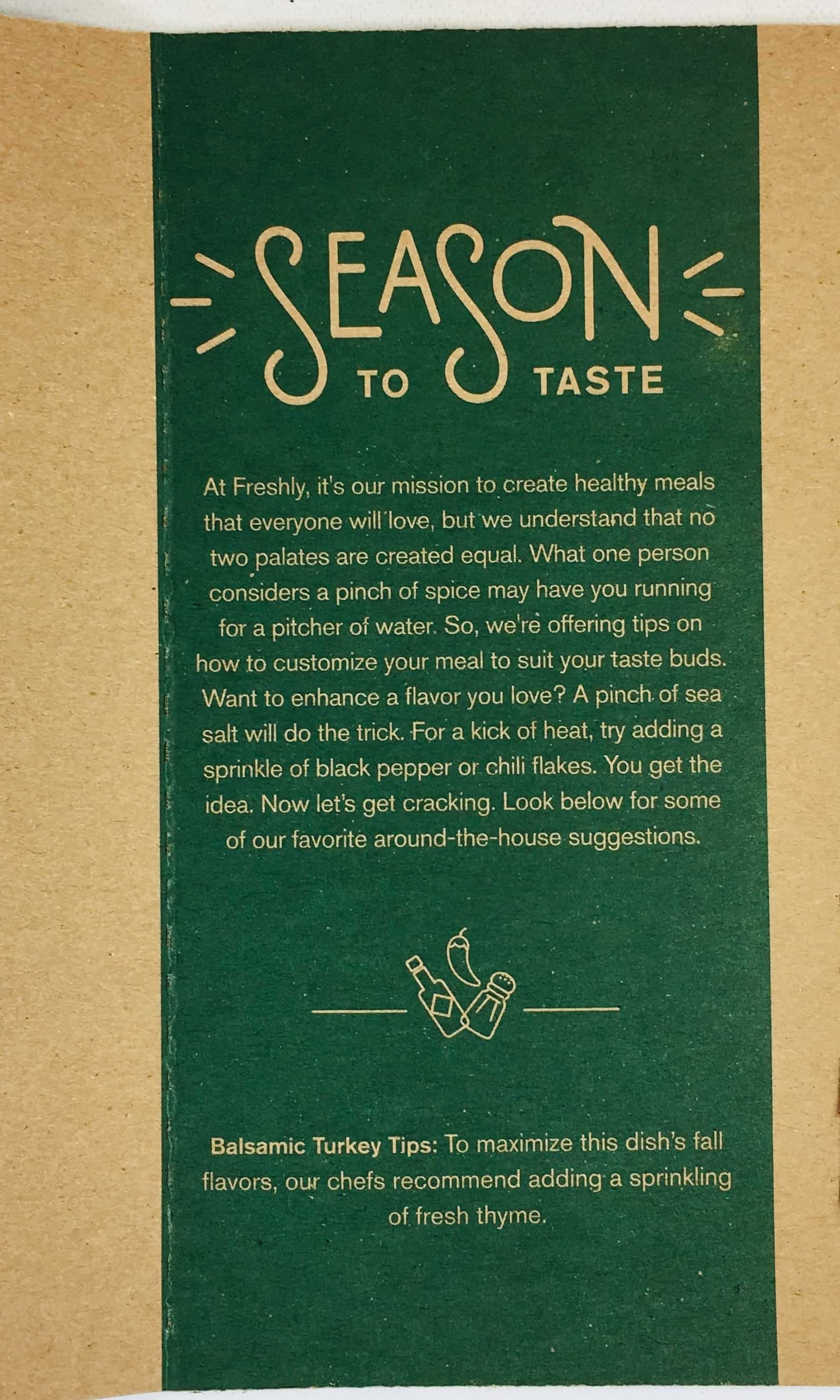 Finally, each meal had a serving suggestion. Everybody has different tastes so they were mainly just hints on how to improve flavor. Unfortunately, I didn't receive serving suggestions for every meal as some of the boxes were blank inside. Luckily, the serving suggestions are usually tips to help the color or flavor pop but I don't think it's necessary as the entrees are tasty as is!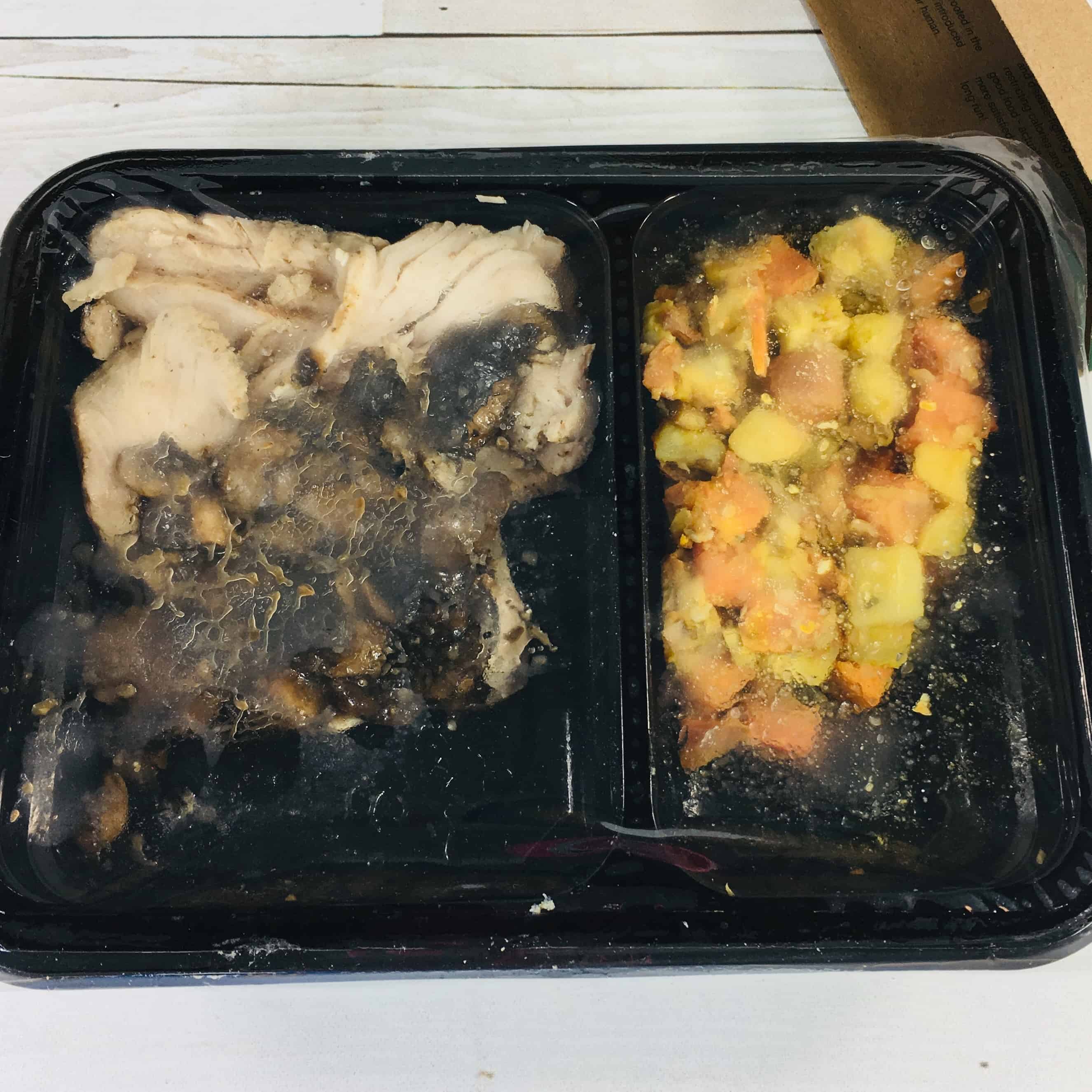 Each entree comes in a microwave-safe container sealed with wrap. Just puncture the wrap on two of the corners, place in the microwave, and heat as directed. You will need a knife to cut the wrap off, so keep that in mind if you plan on eating this somewhere other than home. You can also heat the food up on a plate if you prefer.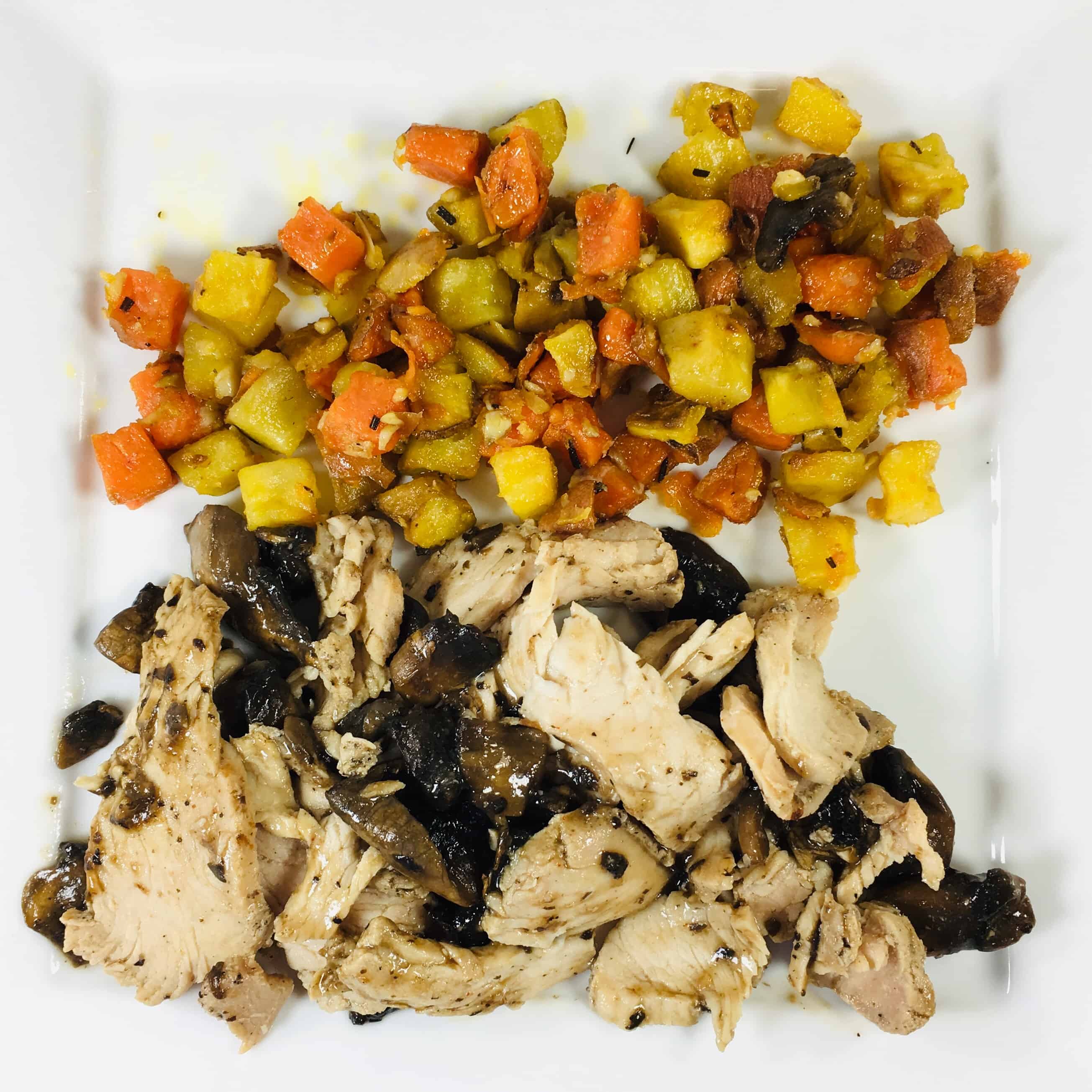 Balsamic Glazed Turkey with Roasted Mushrooms and Sweet Potatoes was very tasty. I recognize the orange sweet potatoes in the picture, and I don't see white potatoes listed so maybe the yellow chunks are a different type of sweet potato? The flavor of the potatoes was delicious and there was just a hint of sweetness in the mushroom sauce on the turkey.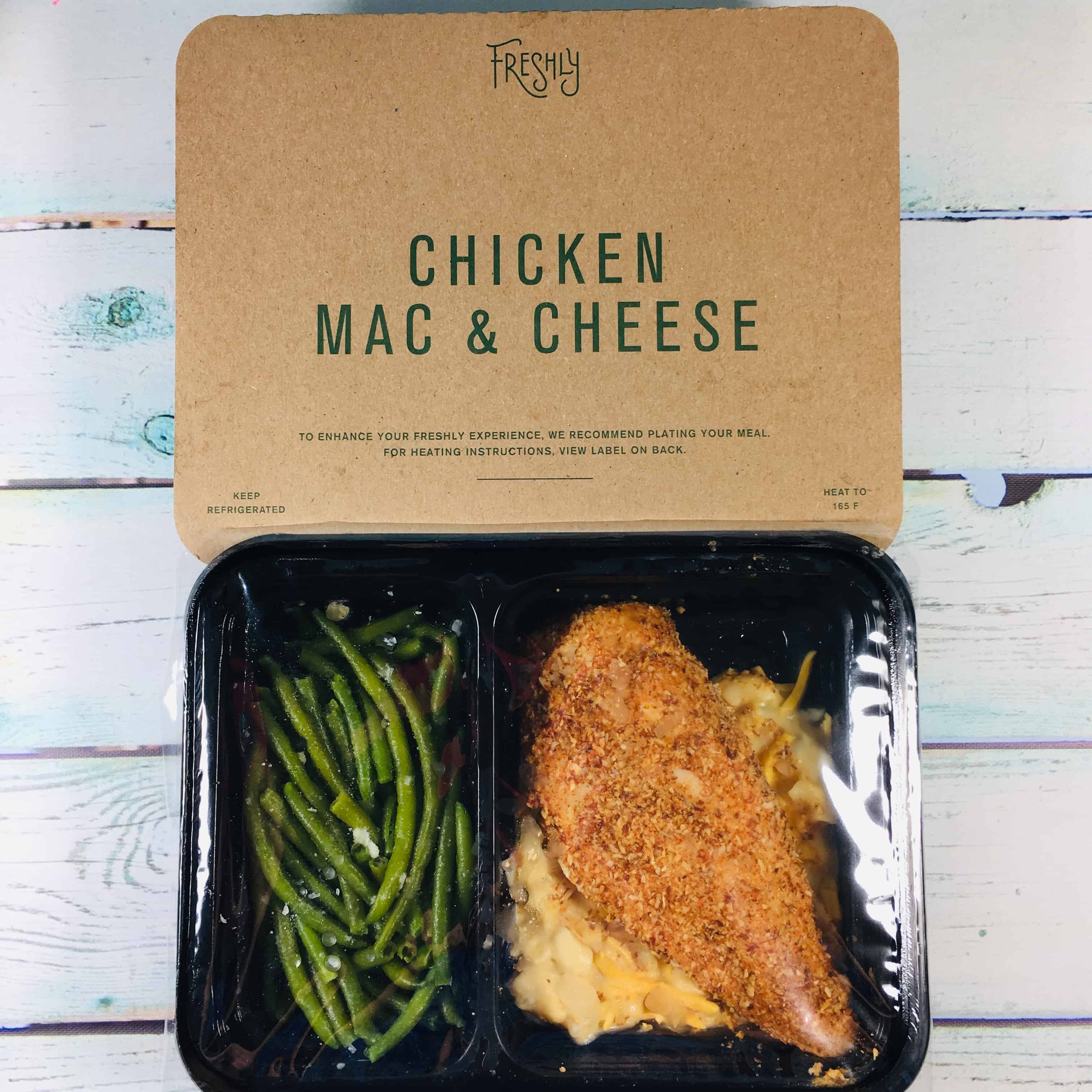 The inside of this box was blank for some reason.
Homestyle Chicken with Butternut Mac & Cheese was so good! The chicken was tender and moist and had a nice coating that included nuts. The green beans were prepared similar to how I make them myself, but the mac and cheese was the star here! I did not expect it to taste so cheesy and yummy. I am not normally a fan of this side dish but here it is so good. I couldn't believe that it was made with gluten-free rice noodles and where exactly are they hiding that butternut squash? It disappears in this side and just leaves behind the classic comfort food.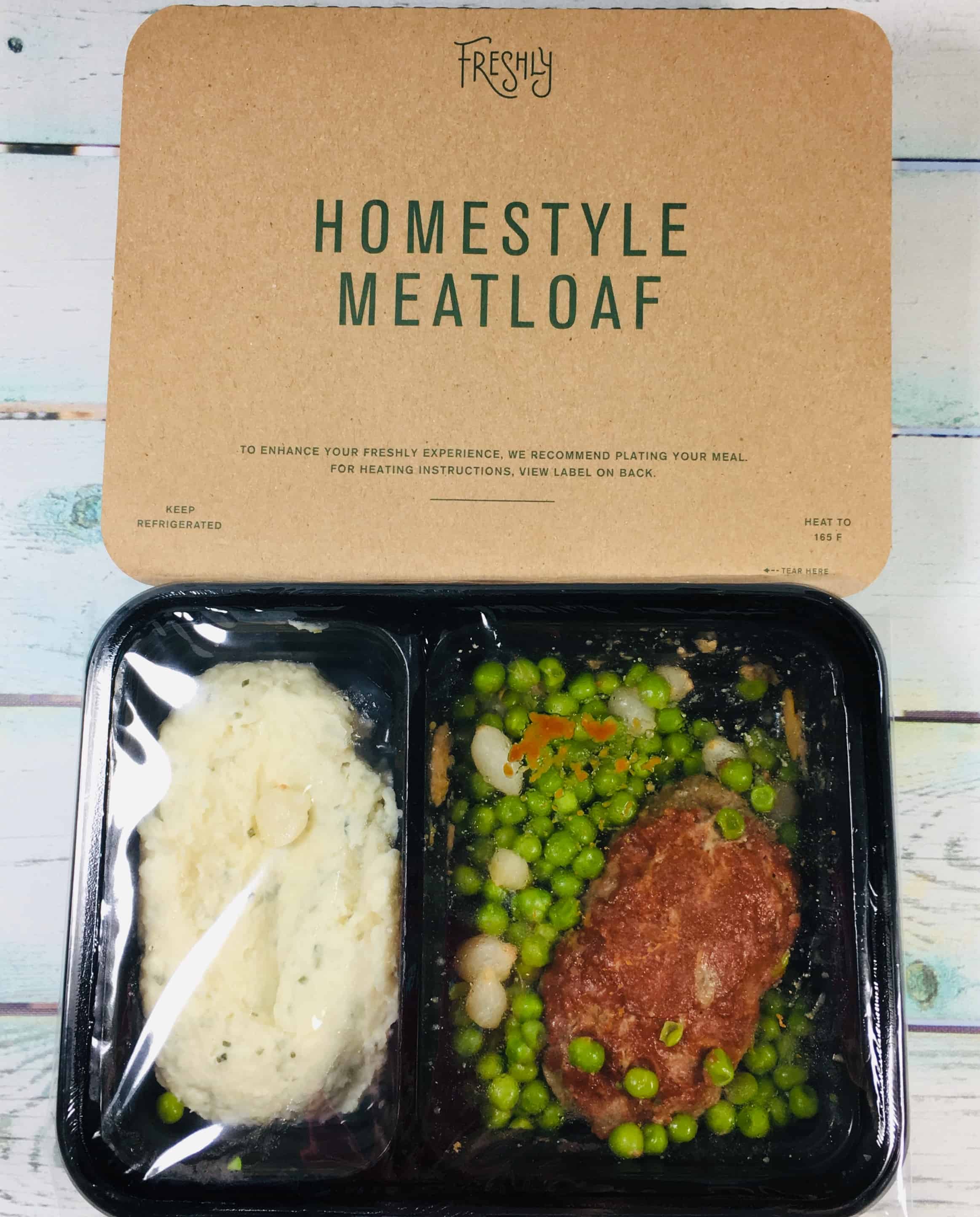 Again, the inside of the box was blank so no reading material for this meal!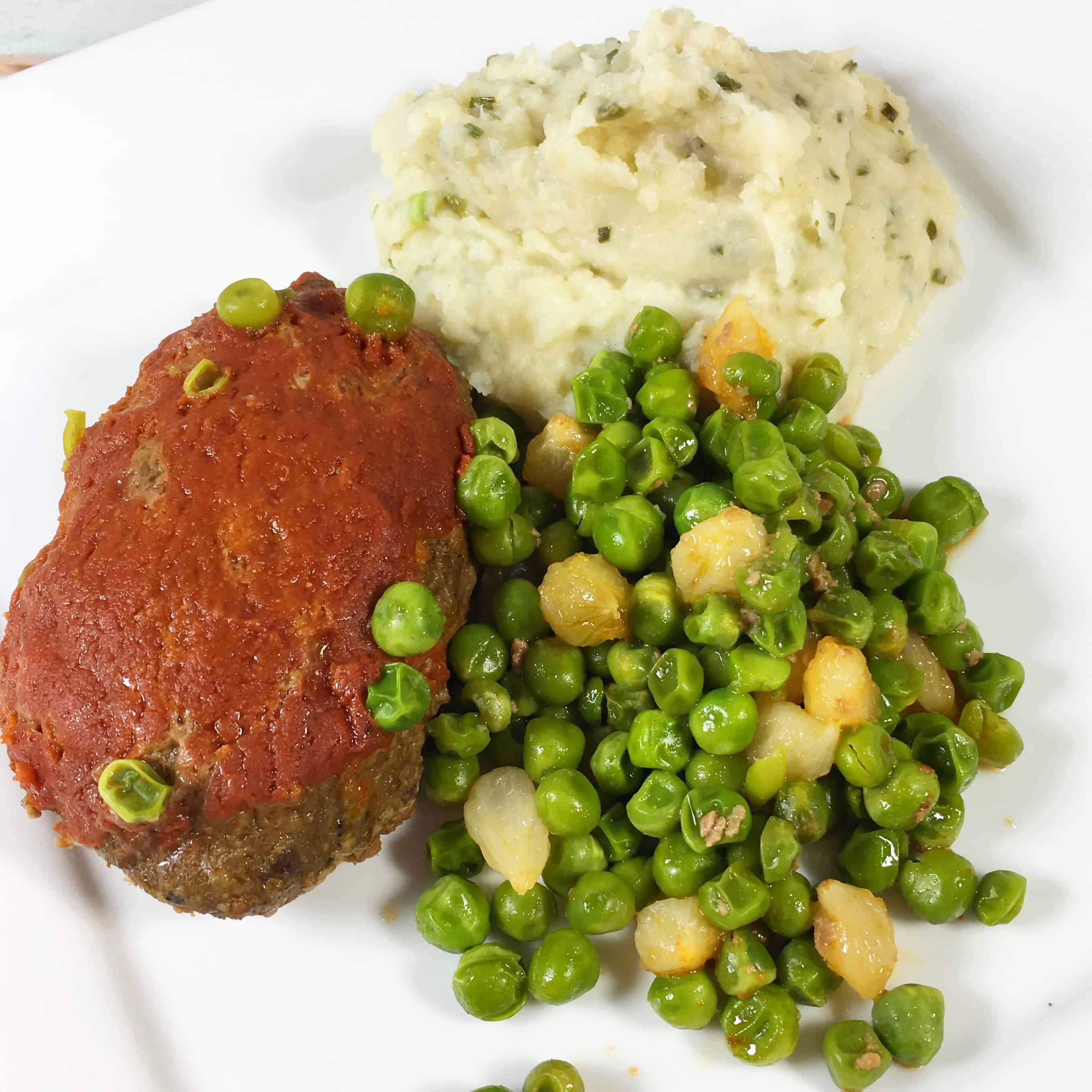 Homestyle Meatloaf with Cauliflower Mash More classic comfort food! I enjoyed this on a cold, rainy day and it warmed me from the inside out. The peas were similar to the frozen ones I often prepare, and definitely not canned. The meatloaf was tasty with a hint of herbs, and I just plopped some extra ketchup on the side of my plate for dipping. As for the cauliflower mash, it was so buttery and creamy good, who knew cauliflower could taste so good? If I didn't know better I would have thought it was potatoes, but the texture gave it away without detracting from the taste.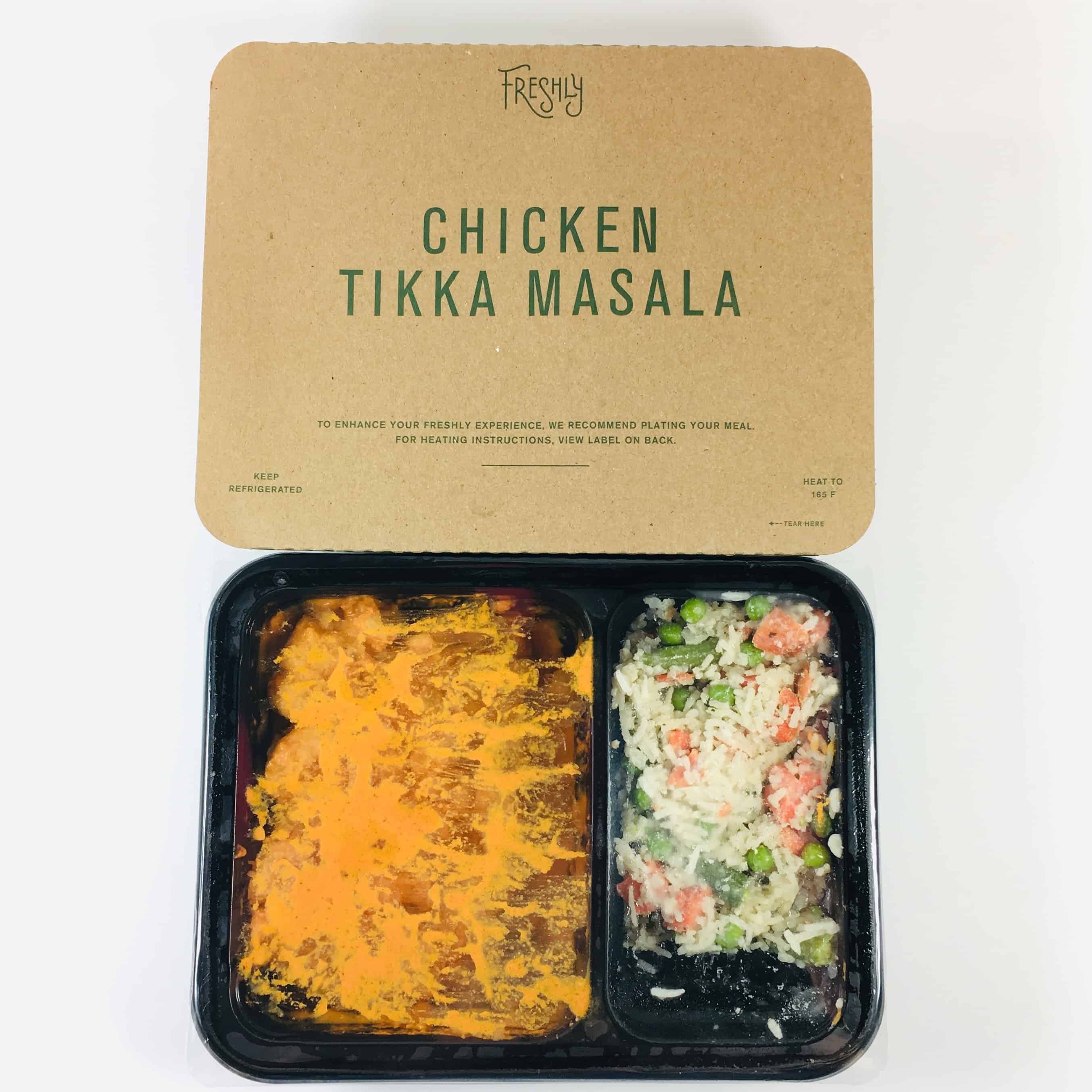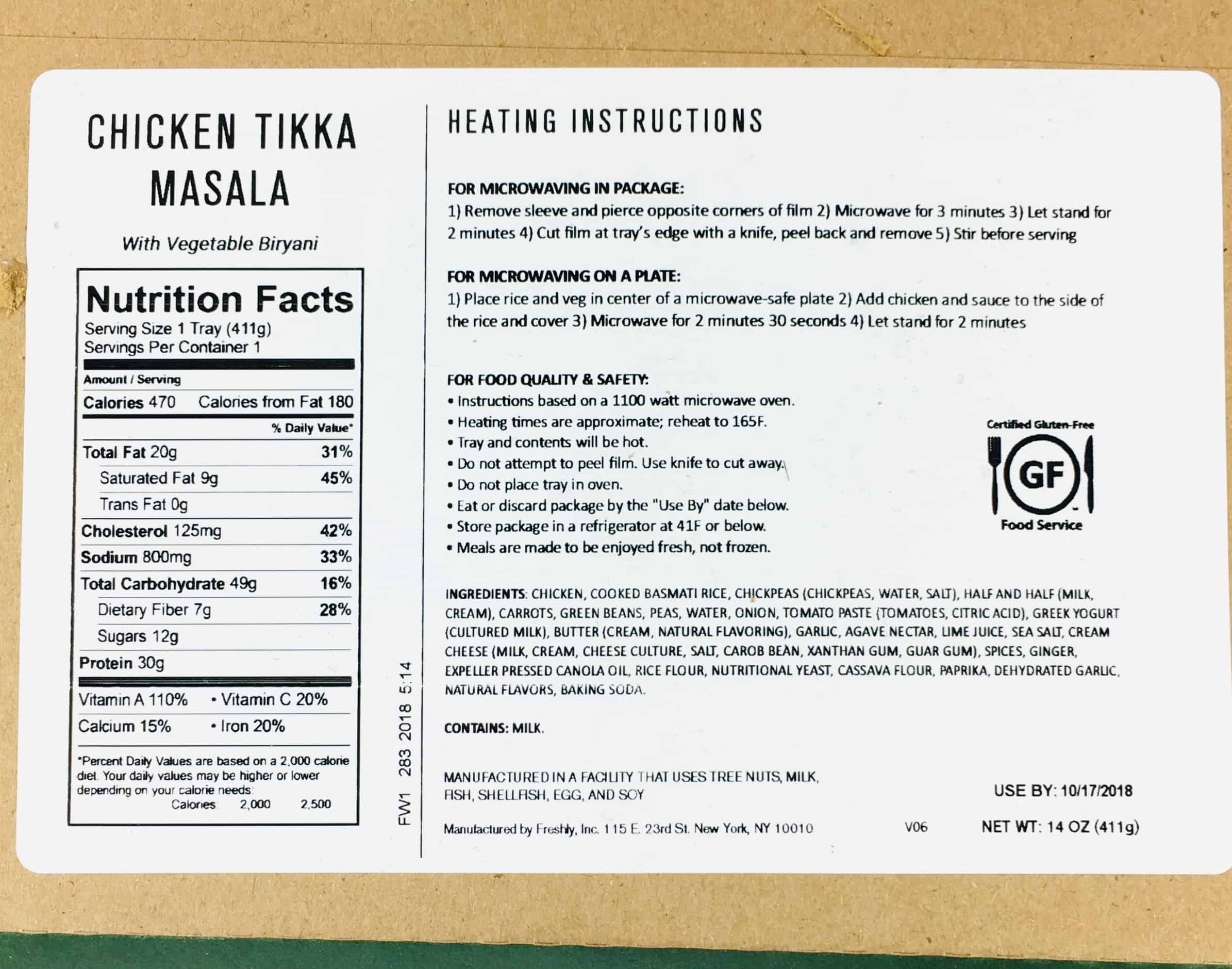 Chicken Tikka Masala with Vegetable Biryani was a choice that I made to push myself out of my comfort zone, since I'm not a fan of Indian food (with the exception of food that was made for me by friends from India, that stuff rocked!). This dish was very tasty and luckily wasn't overly spicy. I liked the creaminess of the chicken and the touch of grilled flavor that came across. The vegetables and rice were also creamy and the vegetables were cooked perfectly and not mushy.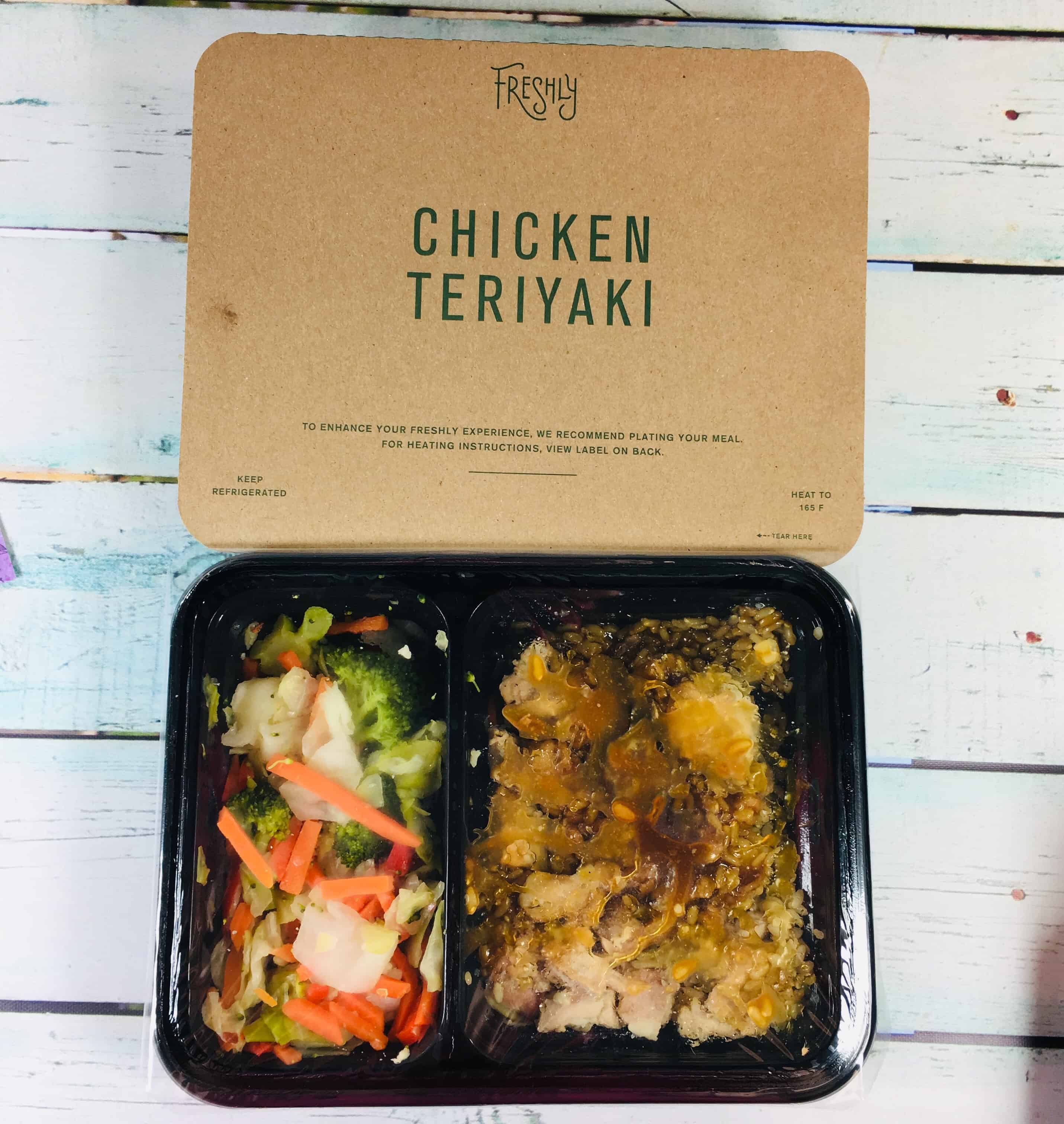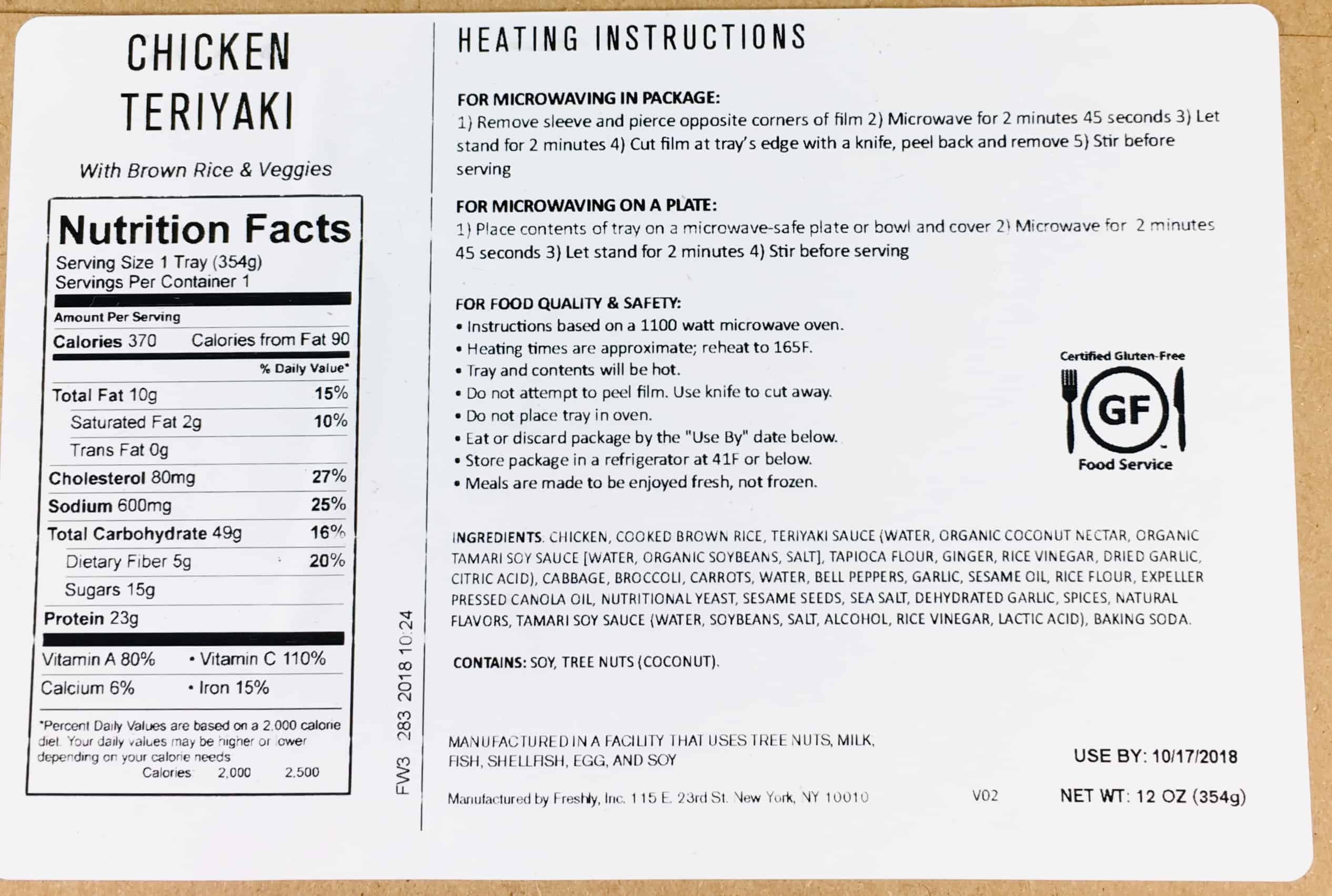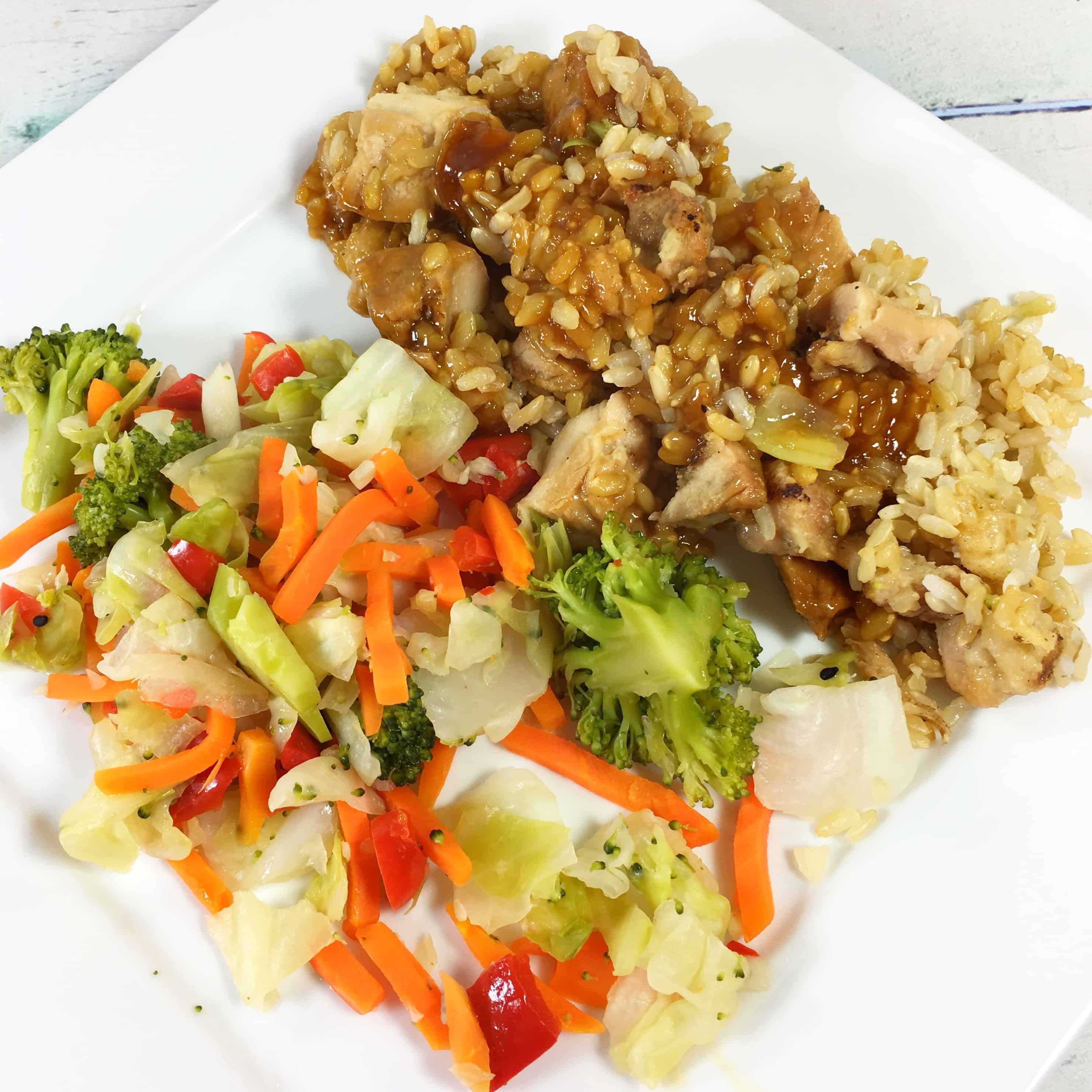 Teriyaki Chicken with Brown Rice and Vegetables had that classic sweet sauce with a touch of ginger while the vegetables contained a hint of sesame oil. I thought this had a good dose of fiber for a meal, 5 grams, and yet the rice was tender and not tough.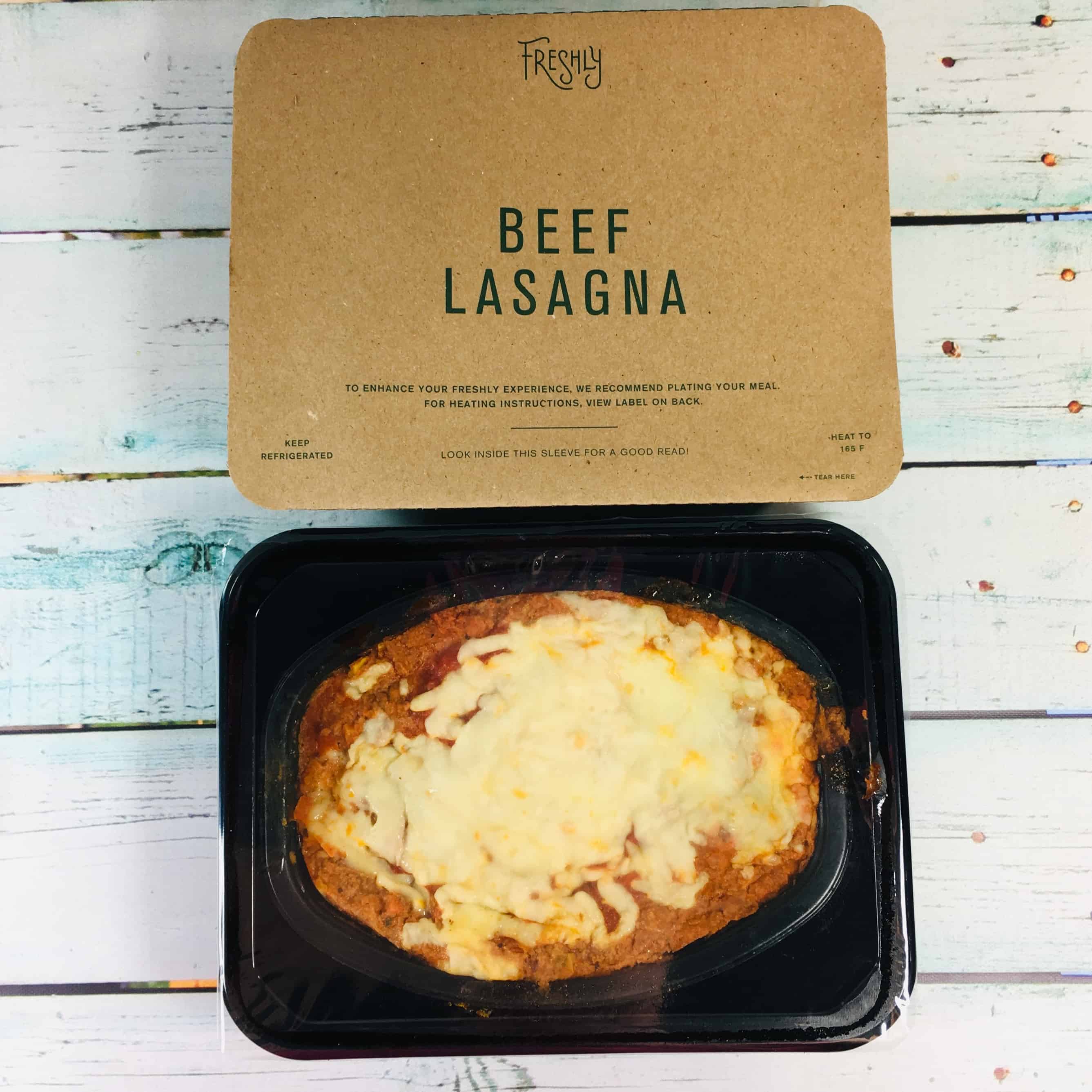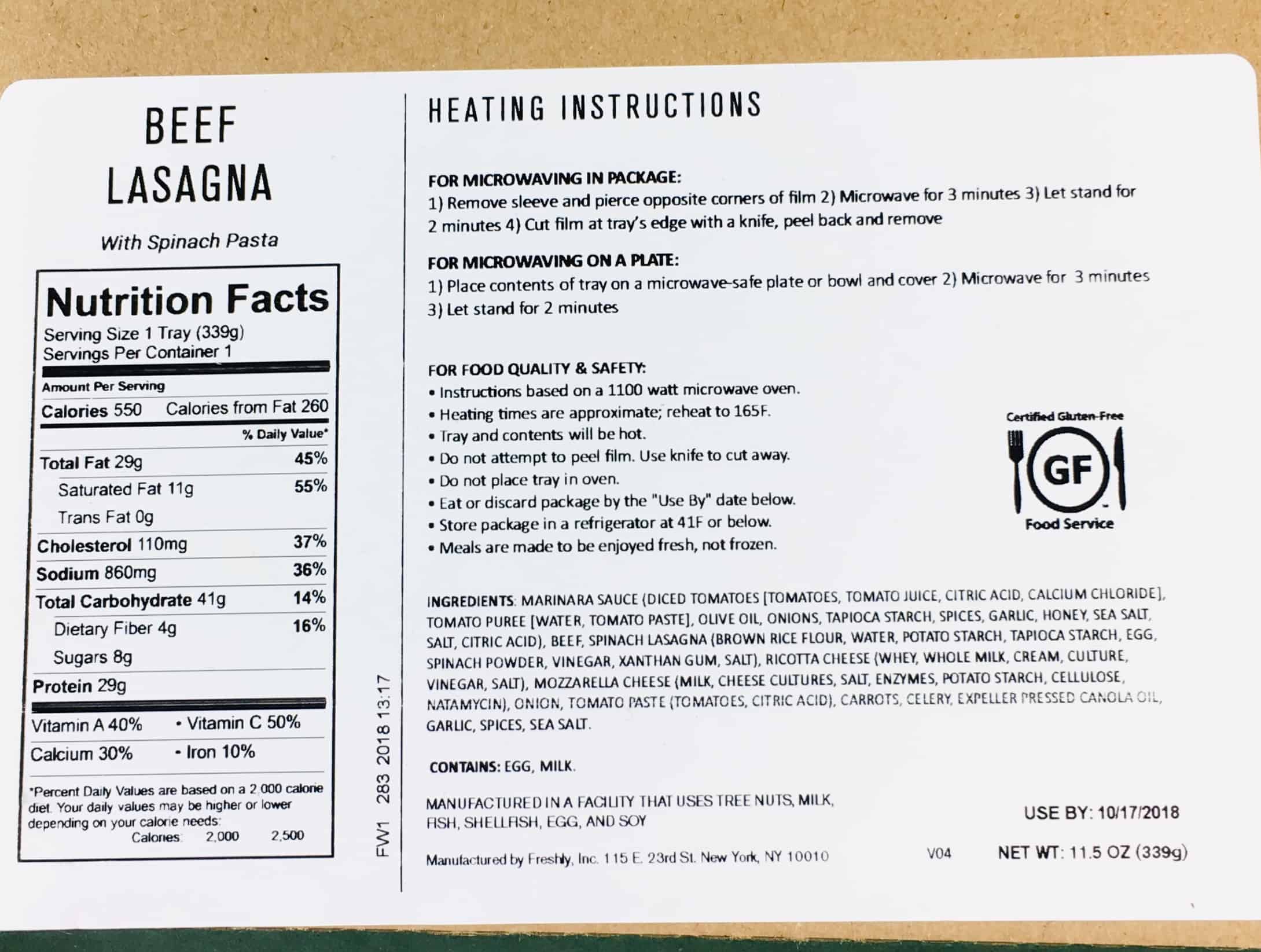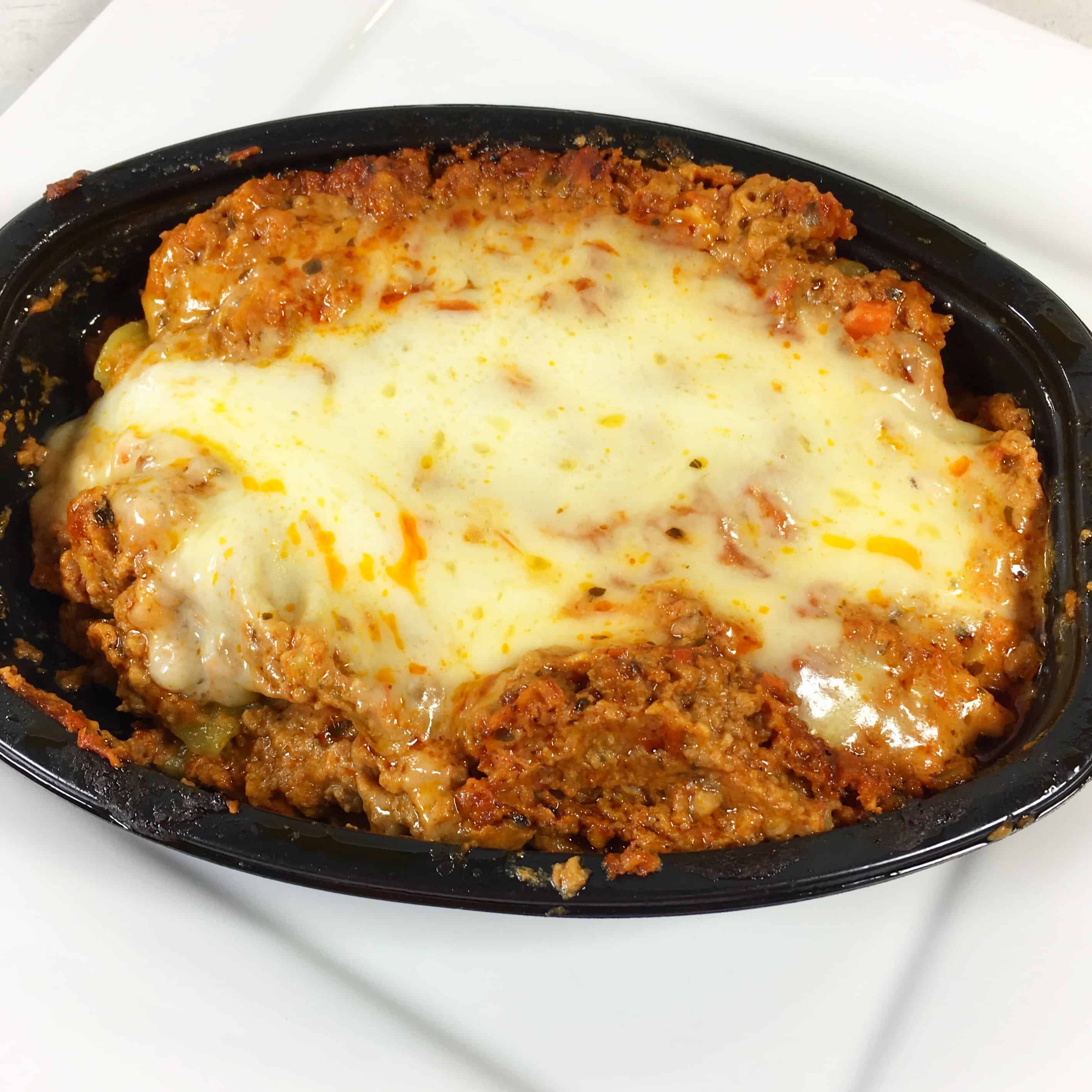 Lasagna with Spinach Pasta isn't on the menu this week, which is too bad, because it was so good! I left it in its container because I think it would have looked messy on a plate. There were pieces of carrot in the marinara sauce, which gave it some sweetness, the meat was very tender, and the cheese on top was so tasty. This was the only other box that had info on the inside and plating directions, which suggested serving with a side of spinach.
I love the meals that I have tried from Freshly! My favorite this time around was the lasagna and that mac and cheese side dish was incredible! I appreciate the convenience of having the meals delivered to my door, as well as the heat and eat aspect of it all. The portions were bountiful and in most cases I couldn't finish the whole meal since I was stuffed.
Are you getting the Freshly Box?