BOXYCHARM is a makeup and beauty subscription box that sends out 4-5 deluxe and full-size samples every month. In the past, the items have been mostly full-size products and the boxes have been able to maintain an amazingly high value.
The items are neatly packaged. Everything, including the box, is in black and white color scheme.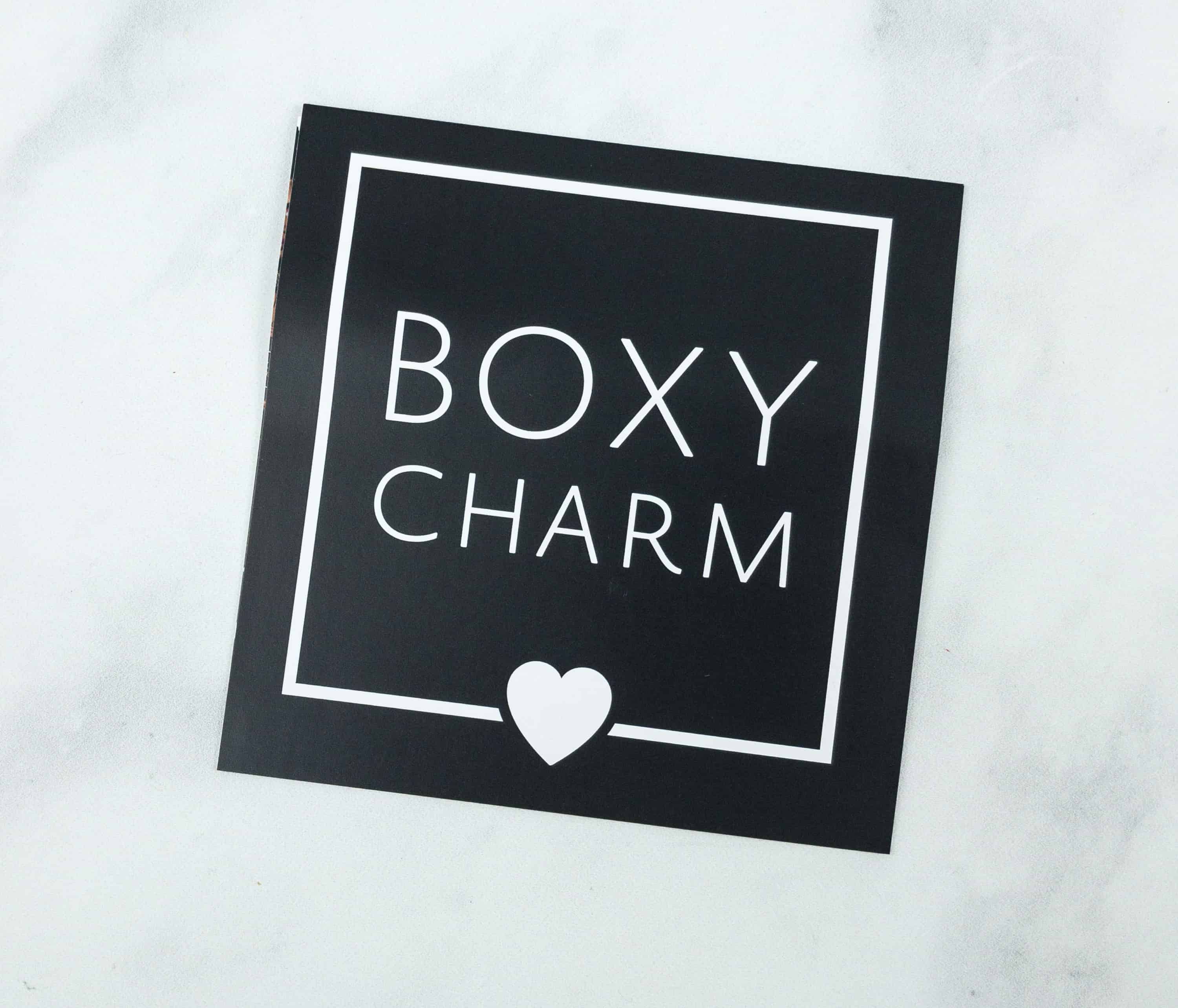 There's a card and it contains the theme info and links to their social media accounts.
The October 2018 theme is ALTER EGO!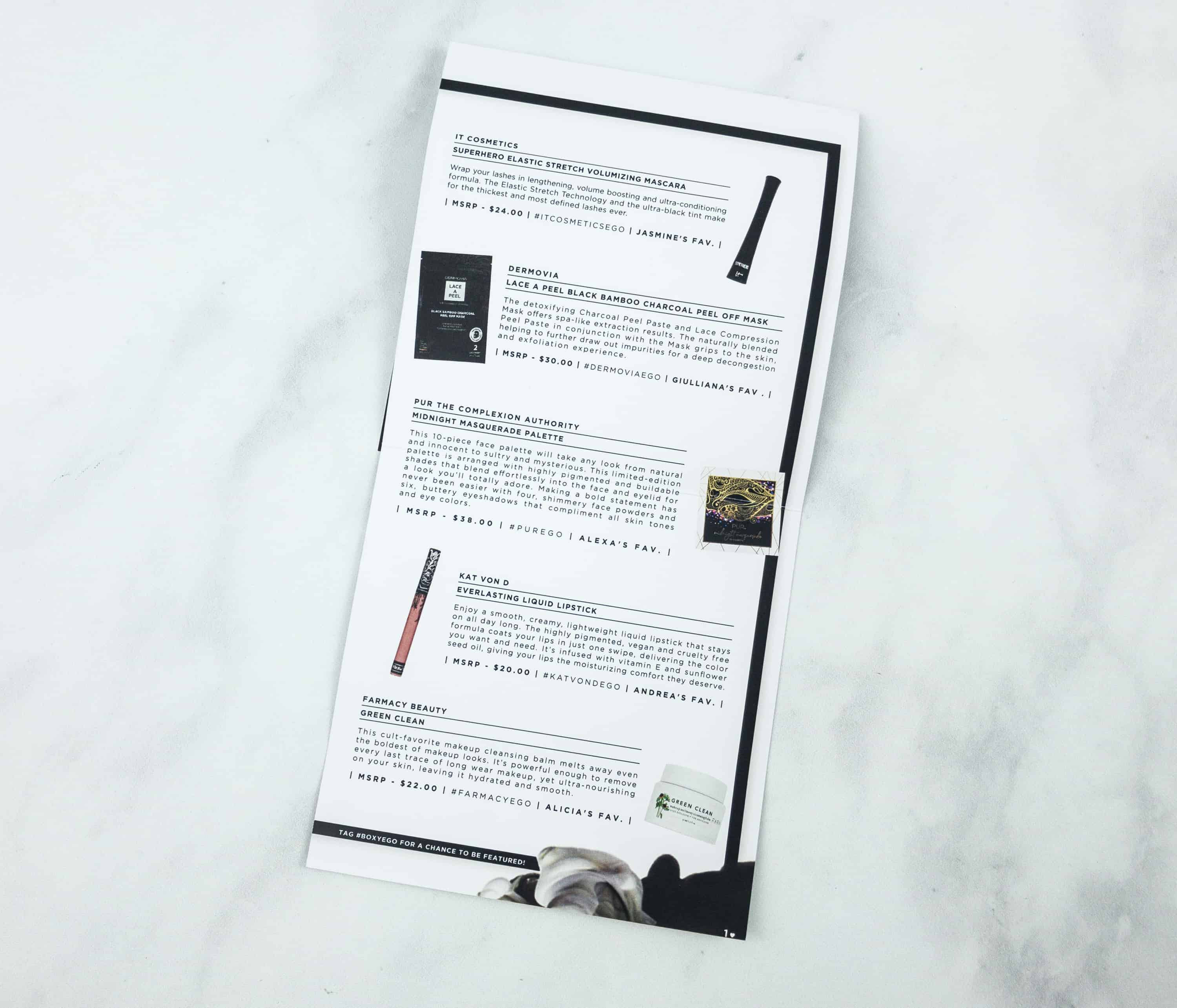 The information card lists all the products in the box, together with a brief description.
They gave us a promotional card for discounts on our future purchases.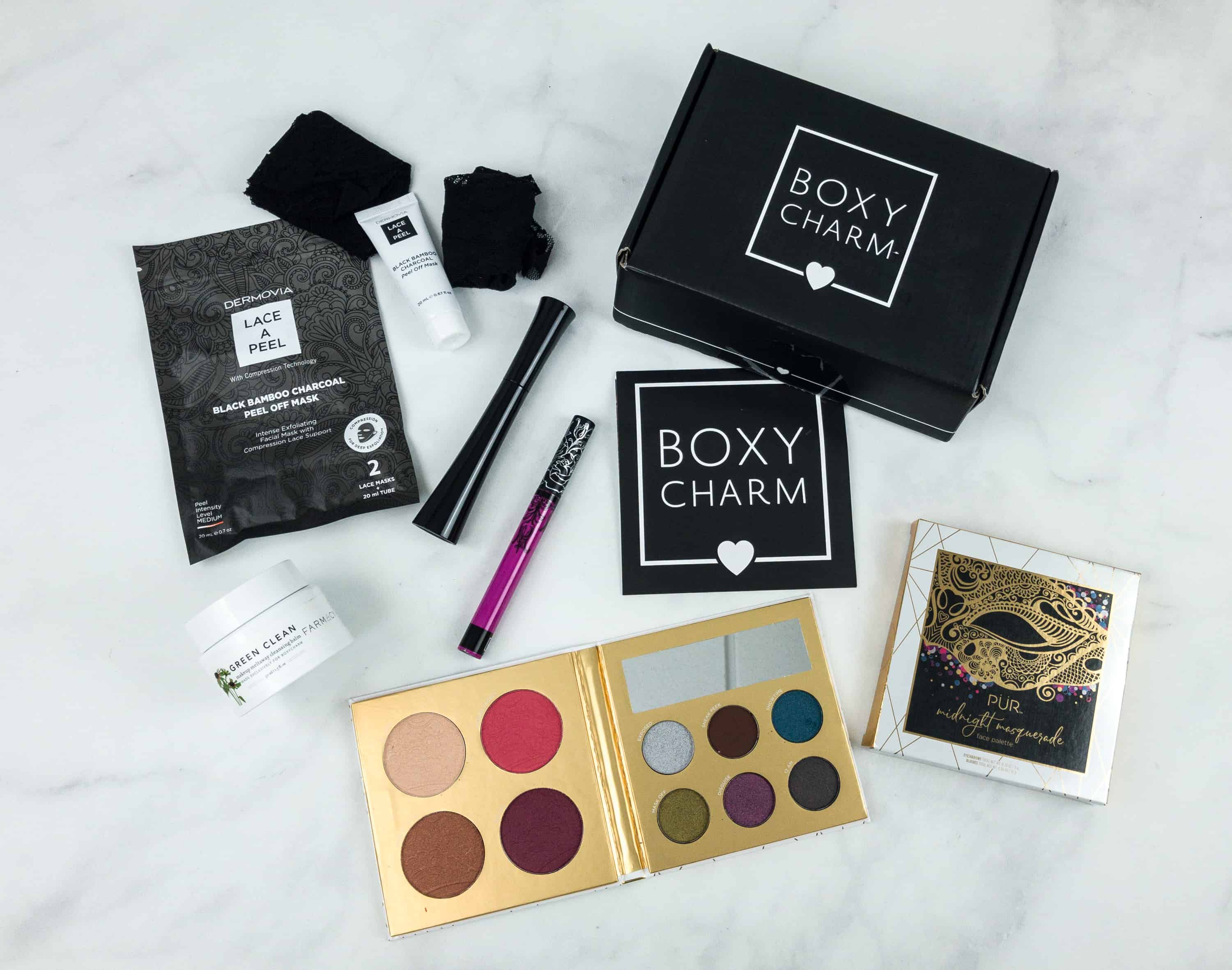 Everything in my October 2018 BOXYCHARM! There are variations in the box – see them here.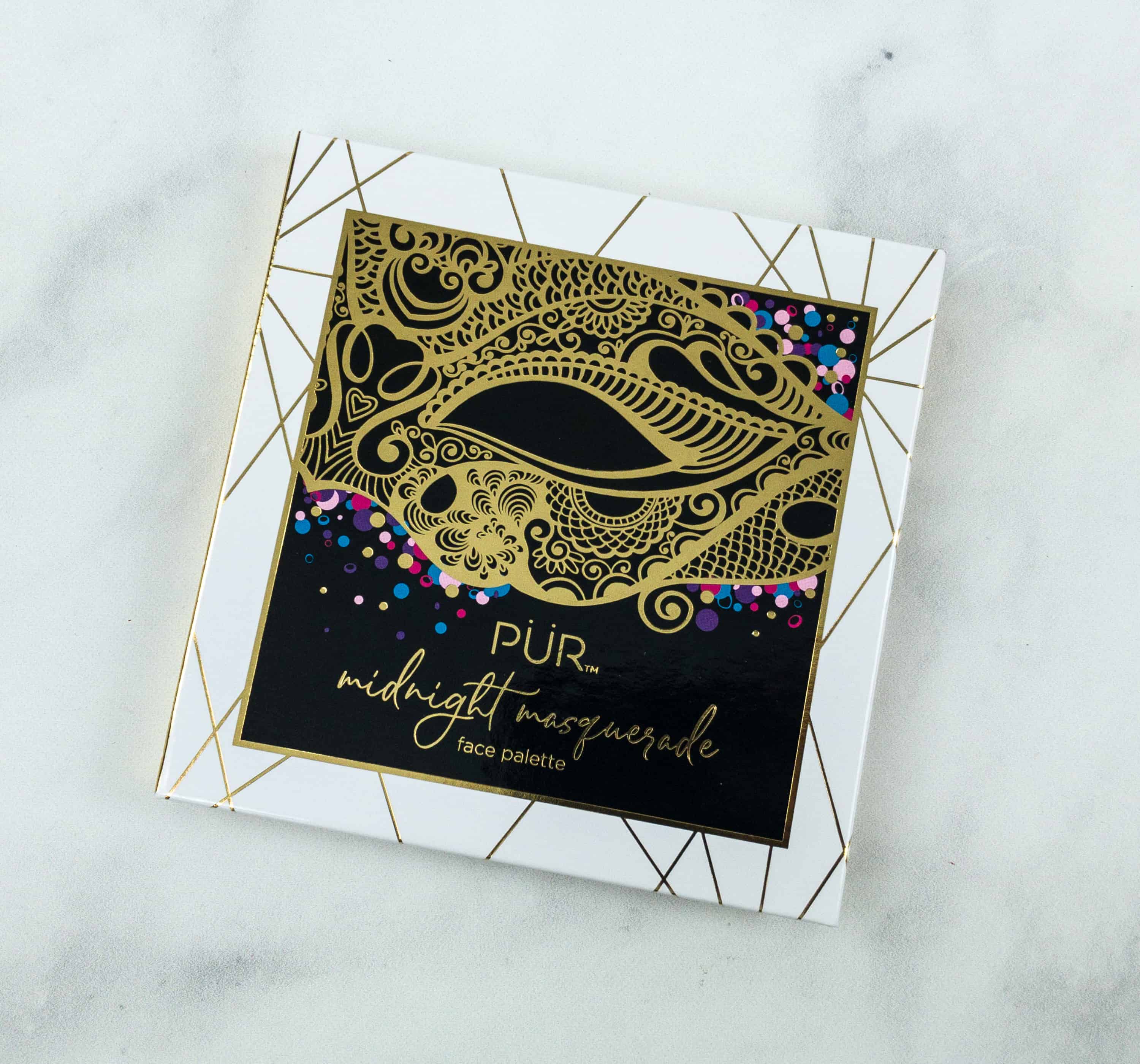 Midnight Masquerade Palette By Pur The Complexion Authority ($38.00) This palette completes your masquerade fantasy with 10 dreamy shades that are not only versatile but also contain ingredients that are safe on the skin. The colors are highly pigmented, so you can achieve different looks.
Regardless of whether you are a pro or just starting out with wearing makeup, you can make natural and bold looks with four shimmery face powders and six buttery eyeshadows that complement all skin tones and eye colors. There's something for everyone in this palette that you can explore creatively and flawlessly.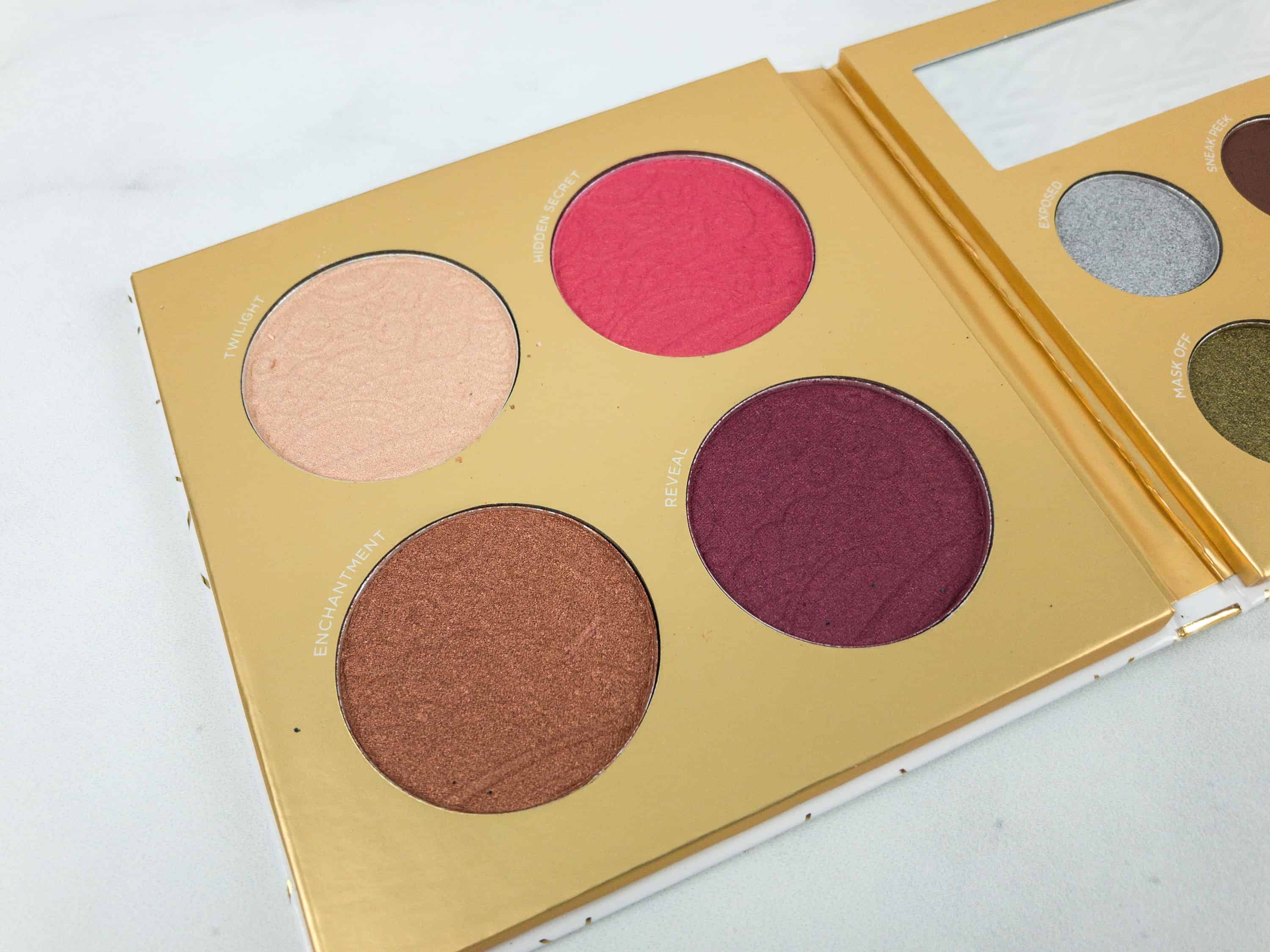 You can dust the Hidden Secret or Reveal shade for a natural or fierce flush of blush on the apples of the cheek. You can also apply Twilight or Enchantment as eyeshadow in the inner corner of eye or highlighter to the high points of cheek, Cupid's bow or center of the nose.
These pigments can be packed on your lids, preferably the deeper shades on the crease and blend until there are no harsh lines. We have 3 matte eyeshadows and 3 shimmer ones.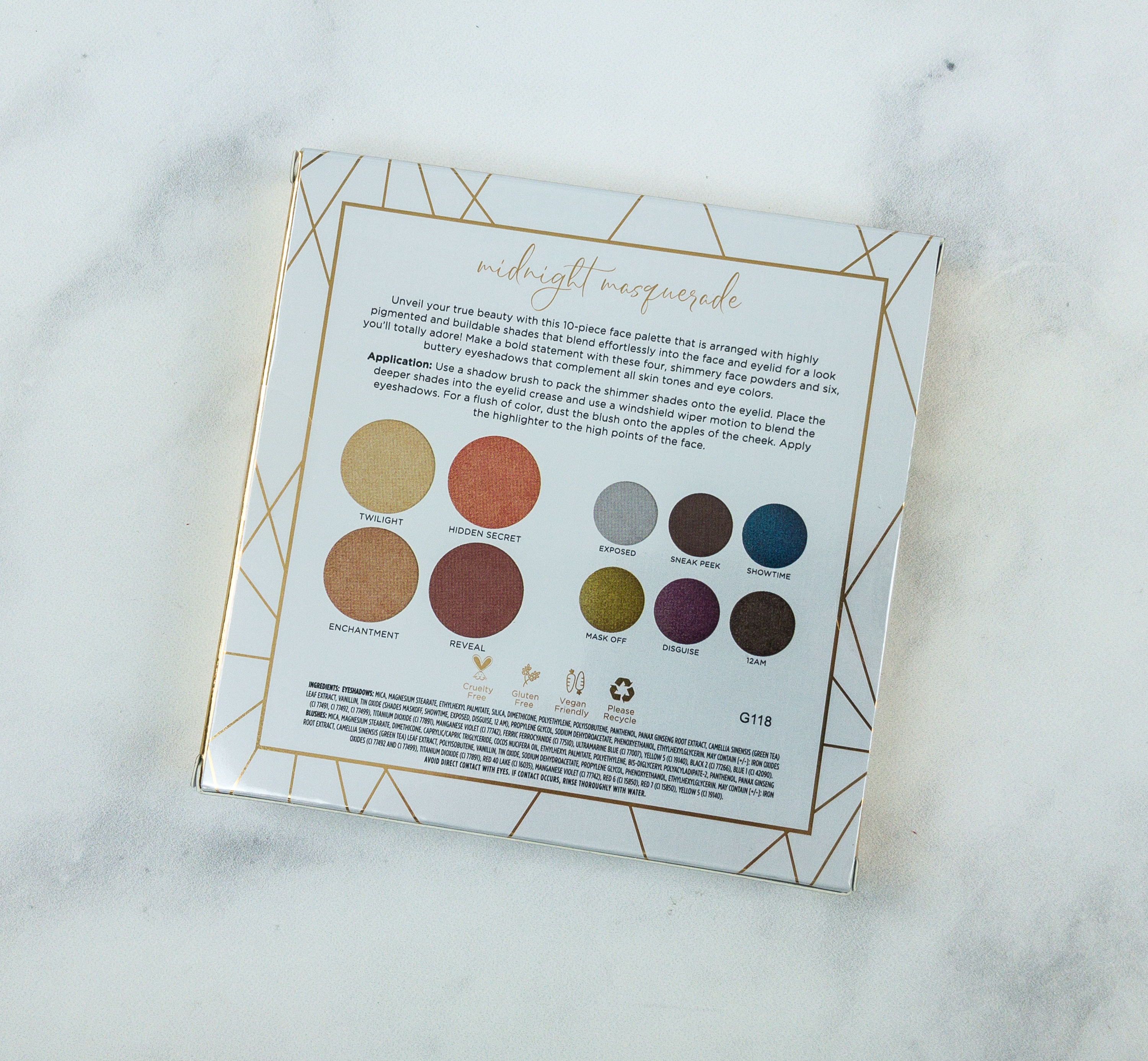 The palette is infused with energy complex of ginseng, vitamin B and green tea so they help the skin metabolism and a healthier-looking complexion even after makeup comes off.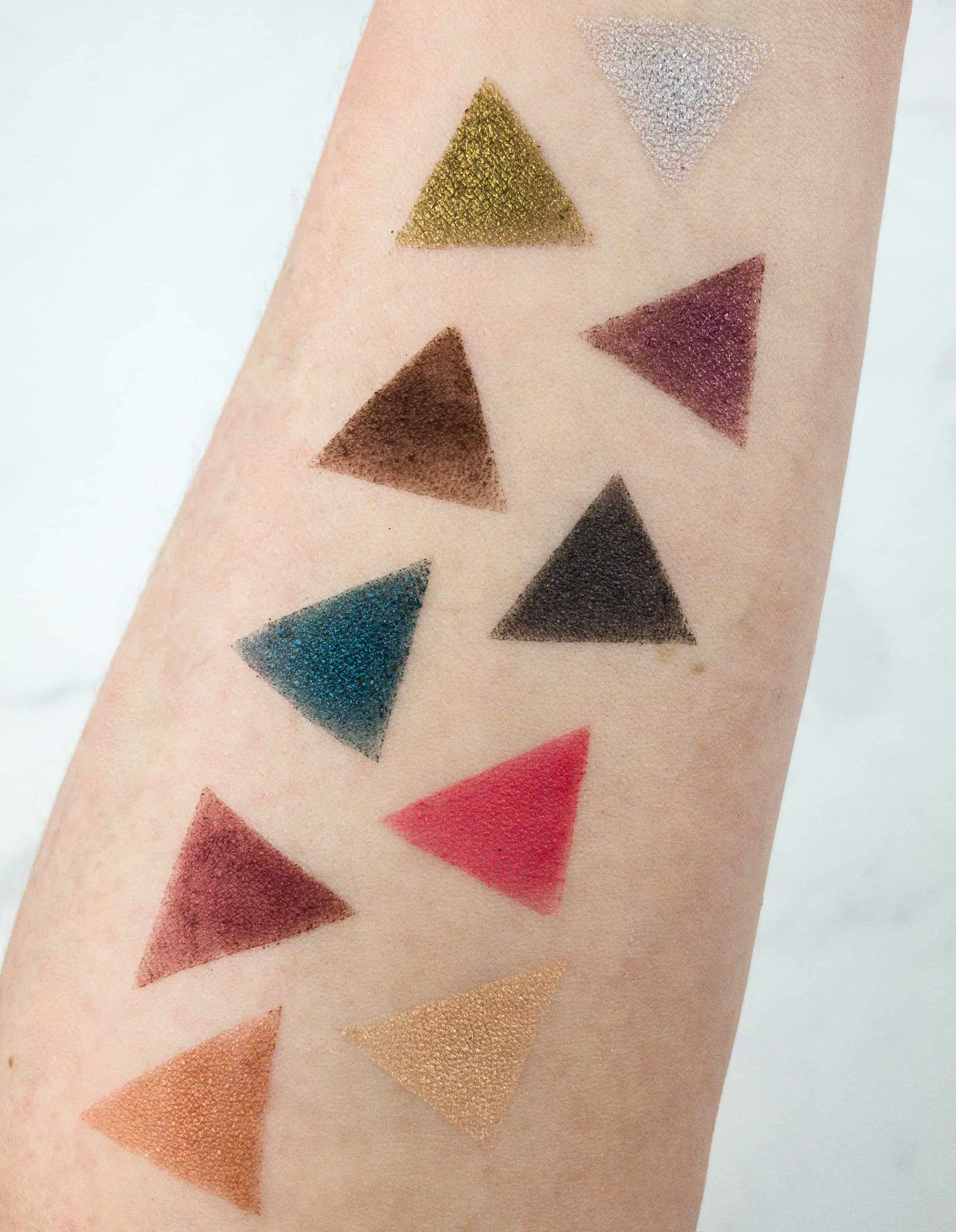 They're all pigmented for sure but some matte shades are patchy in the swatch. It's a different game when you put them on the eyelids though.
Dermovia Lace A Peel Black Bamboo Charcoal Peel Off Mask ($22) It's an impressive facial mask that cleanses the skin with a unique and sexy flair. It removes any dirt, dust, or build up on the pores without causing irritation.
After cleansing the face, apply the peel paste and avoid the eye area, hairline, lips, and eyebrows. Place the mask securely by pulling the ear slot around the ears and pull the ends of the chin over ears. Wear the mask 15 to 20 minutes and gently peel off downward and rinse residue with warm water.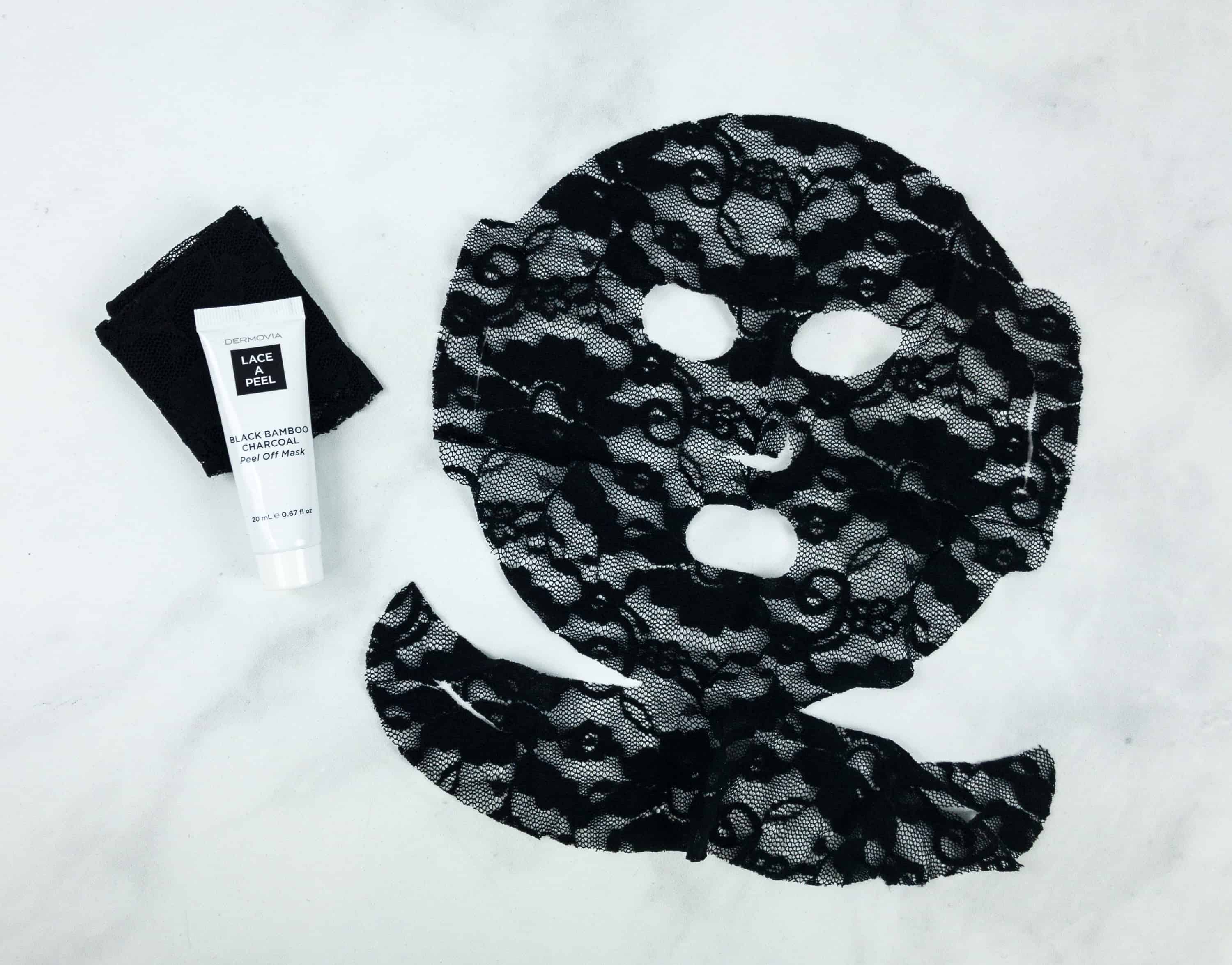 The peel paste formula is separated in a tube and we are given 2 sheets of masks in the pack. The peel paste is made with bamboo charcoal that is said to deeply cleanse the pores, exfoliate dead skin debris, prevent breakouts, and heal blemishes. The compression fuses the peel paste to the lace face mask to grip the skin. It then draws out the impurities and works wonders with exfoliation and detoxifying. This was a fun treatment and I felt detoxed after!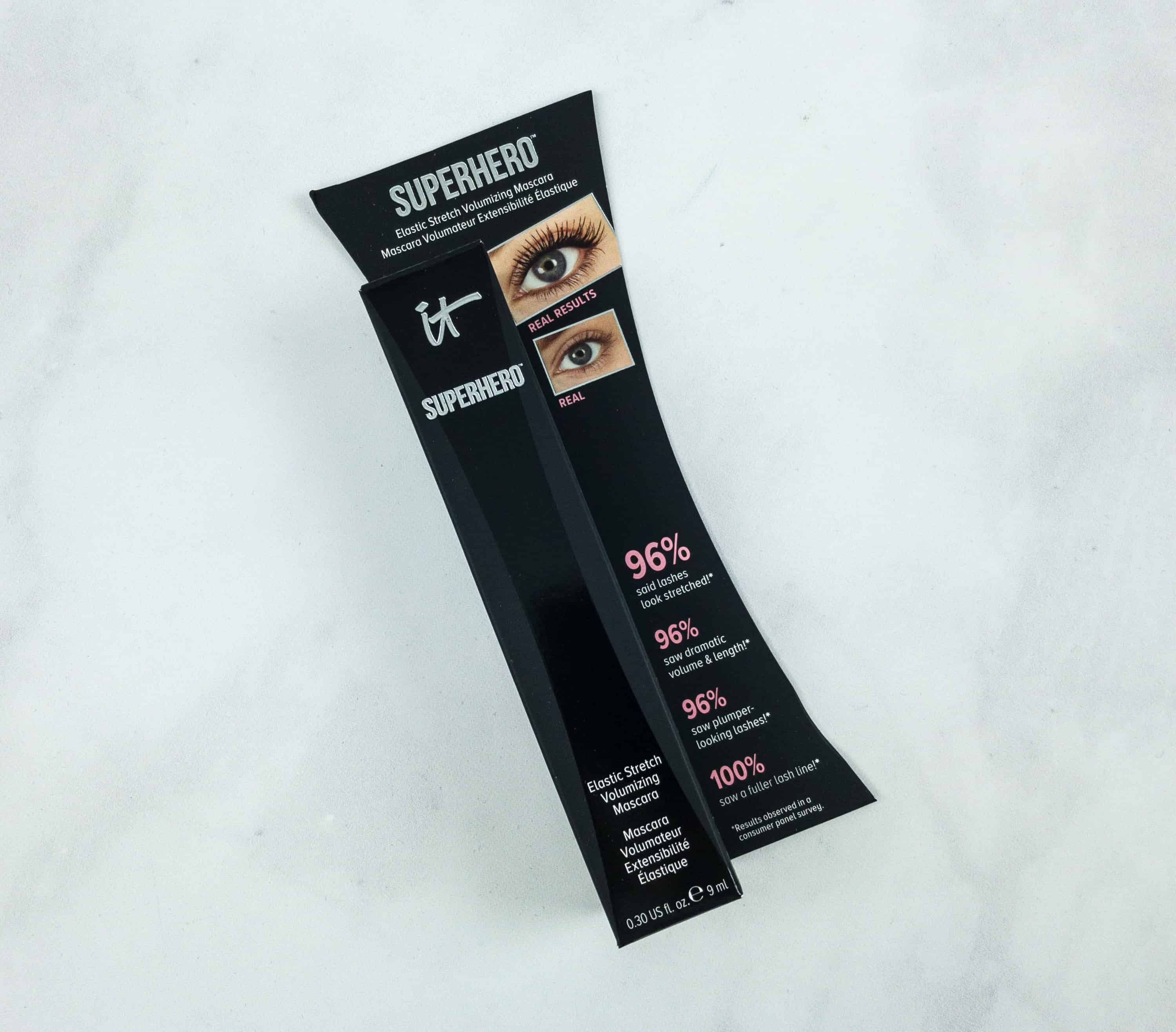 Superhero Elastic Stretch Volumizing Mascara By It Cosmetics ($24) If you want to add volume to your lashes and make them appear longer, this Superhero elastic stretch mascara doesn't clump up even when applying multiple coats.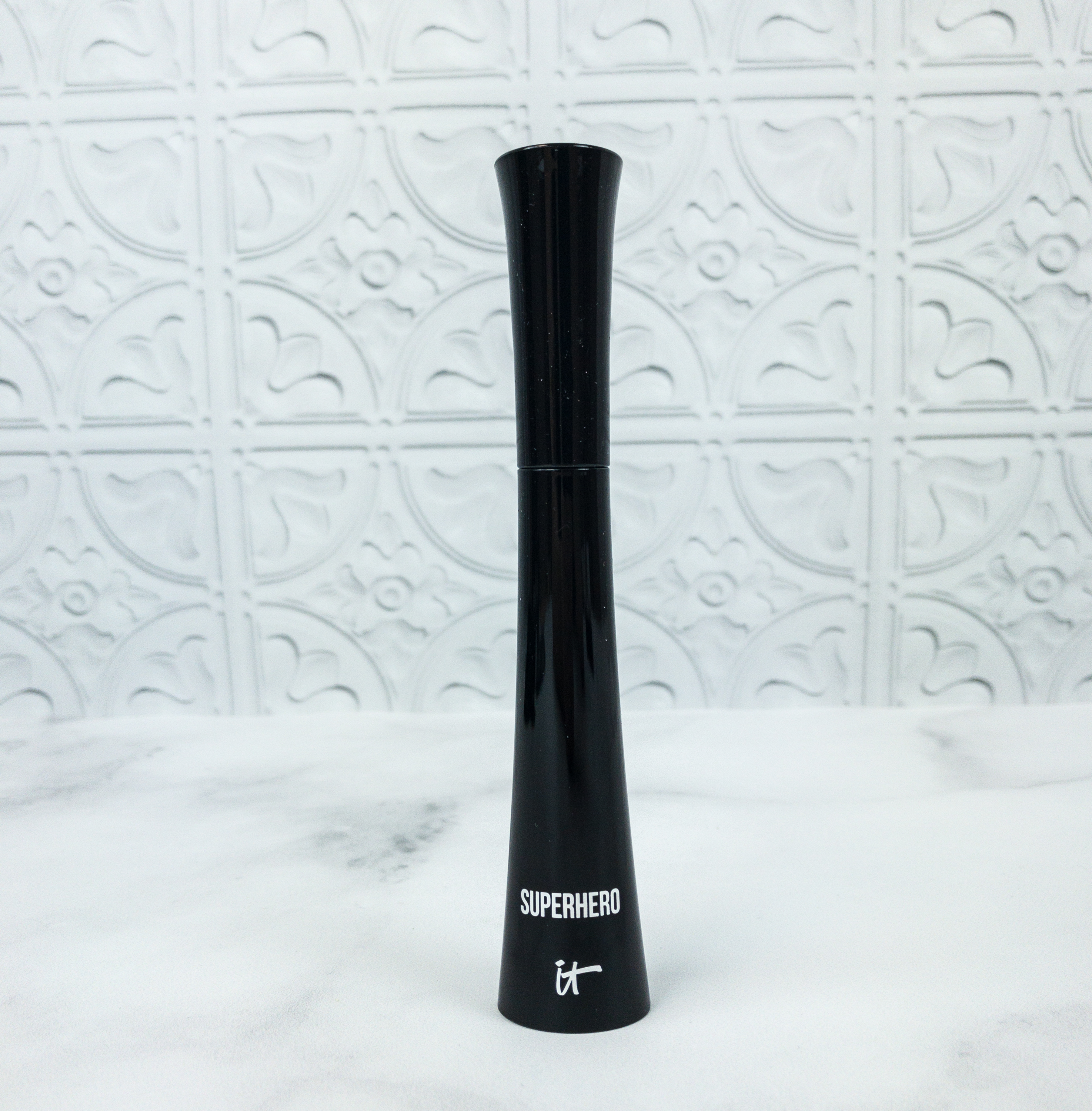 The packaging is simple and sleek.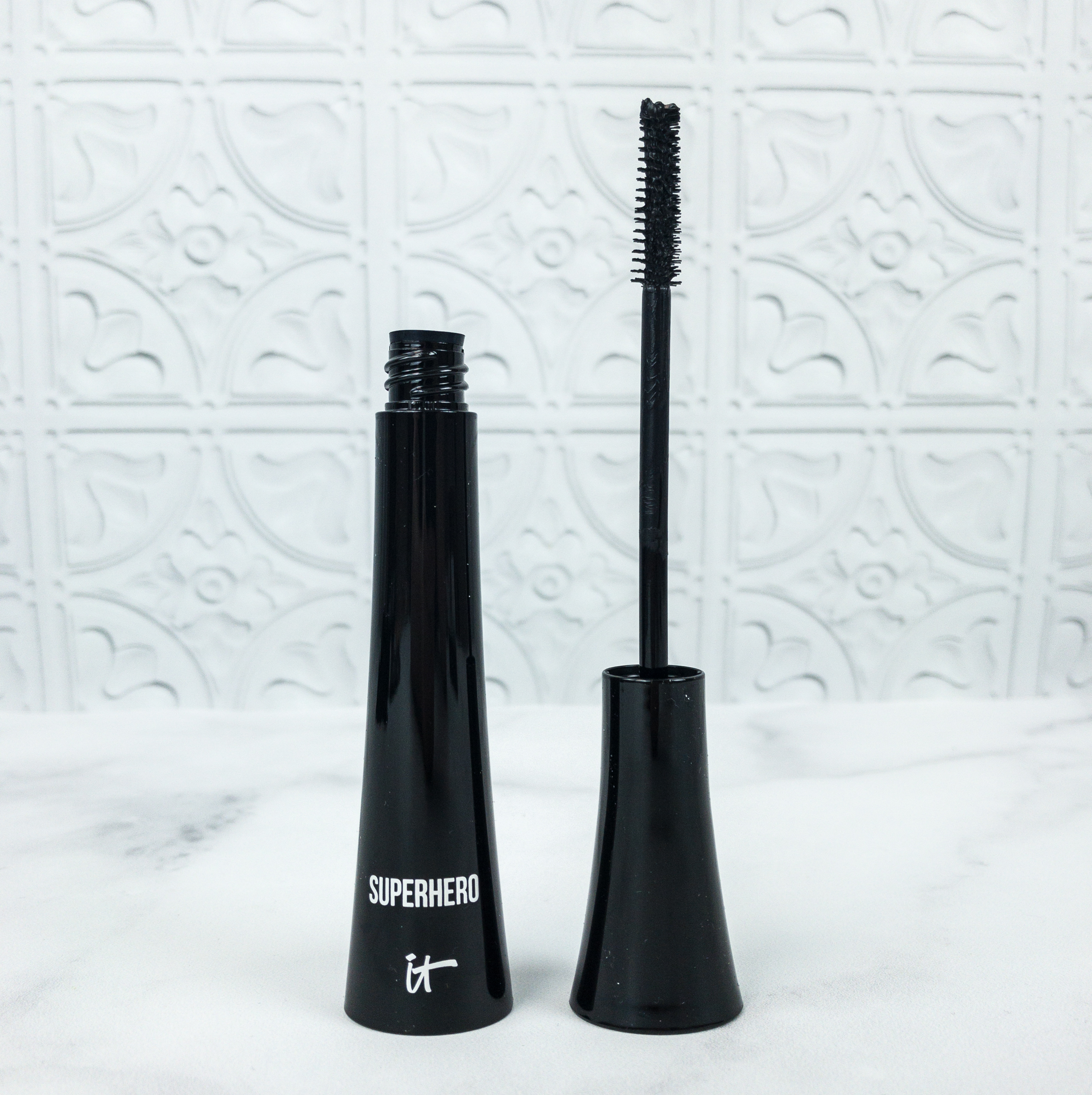 I like the way the simple straight brush gets all the product on my lashes and spread them evenly for the perfect look, although my perfect mascara includes a ridiculous brush!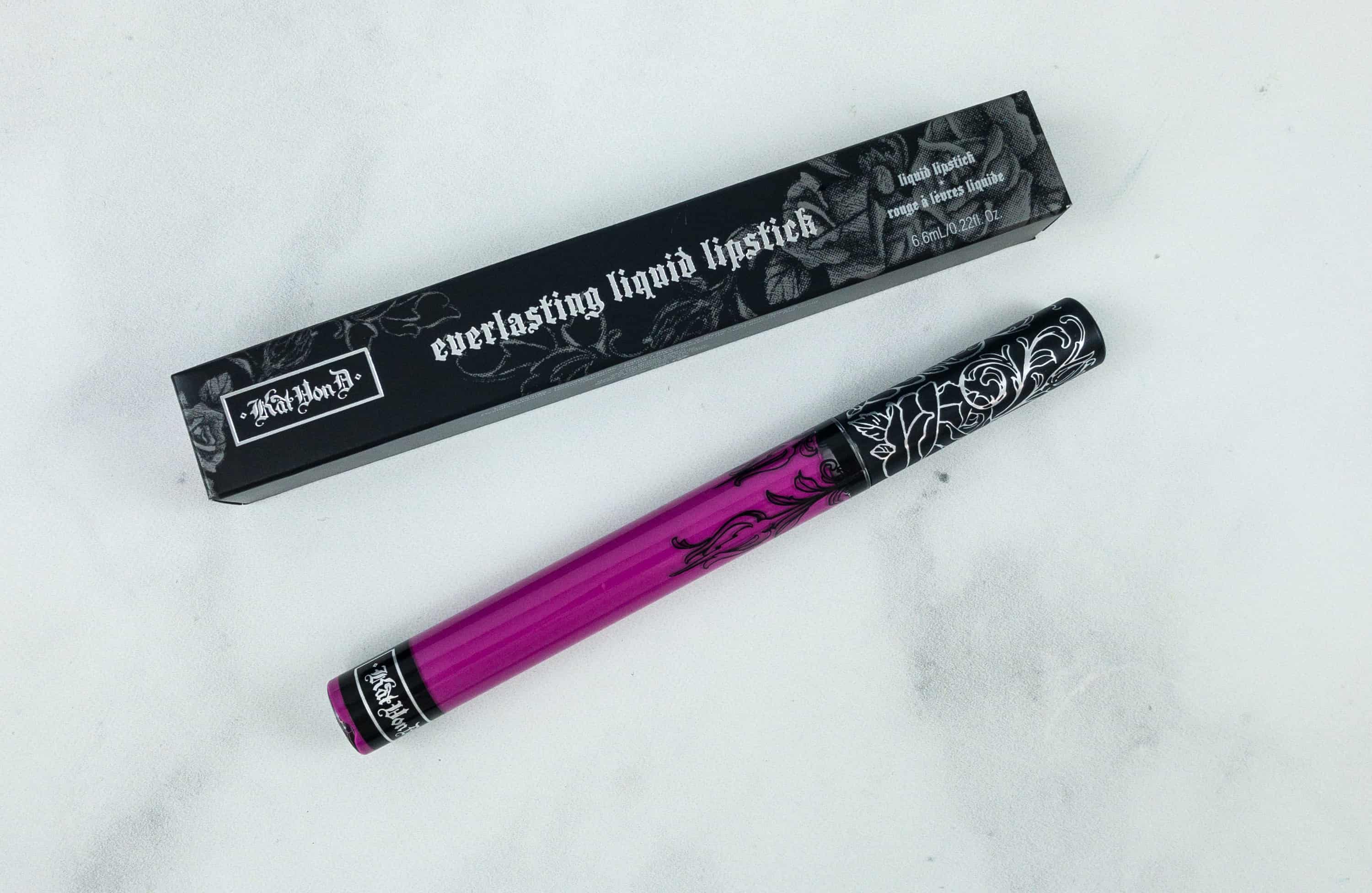 Everlasting Liquid Lipstick By Kat Von D ($20) I'm ambivalent at seeing Kat Von D's brand here in BOXYCHARM. The formula of this lipstick is true to its name as it lasts long hours without drying the lips. It's safe to be long-wearing as it is vegan and paraben-free. It's a very bold pink that is perfect for my alter ego.
It comes with a wand that makes it easier for you to apply the liquid lipstick with precision. It has a creamy formula as it glides effortlessly on the lips and then dries to a lightweight matte finish. It is also infused with vitamin E, sunflower seed and natural comfort-enhancing ingredients. As for my ambivalence, Kat Von D isn't what I'd call controversy-free.
The swatch looks divine!! It's a flash of pink fantasy, very eye-catching.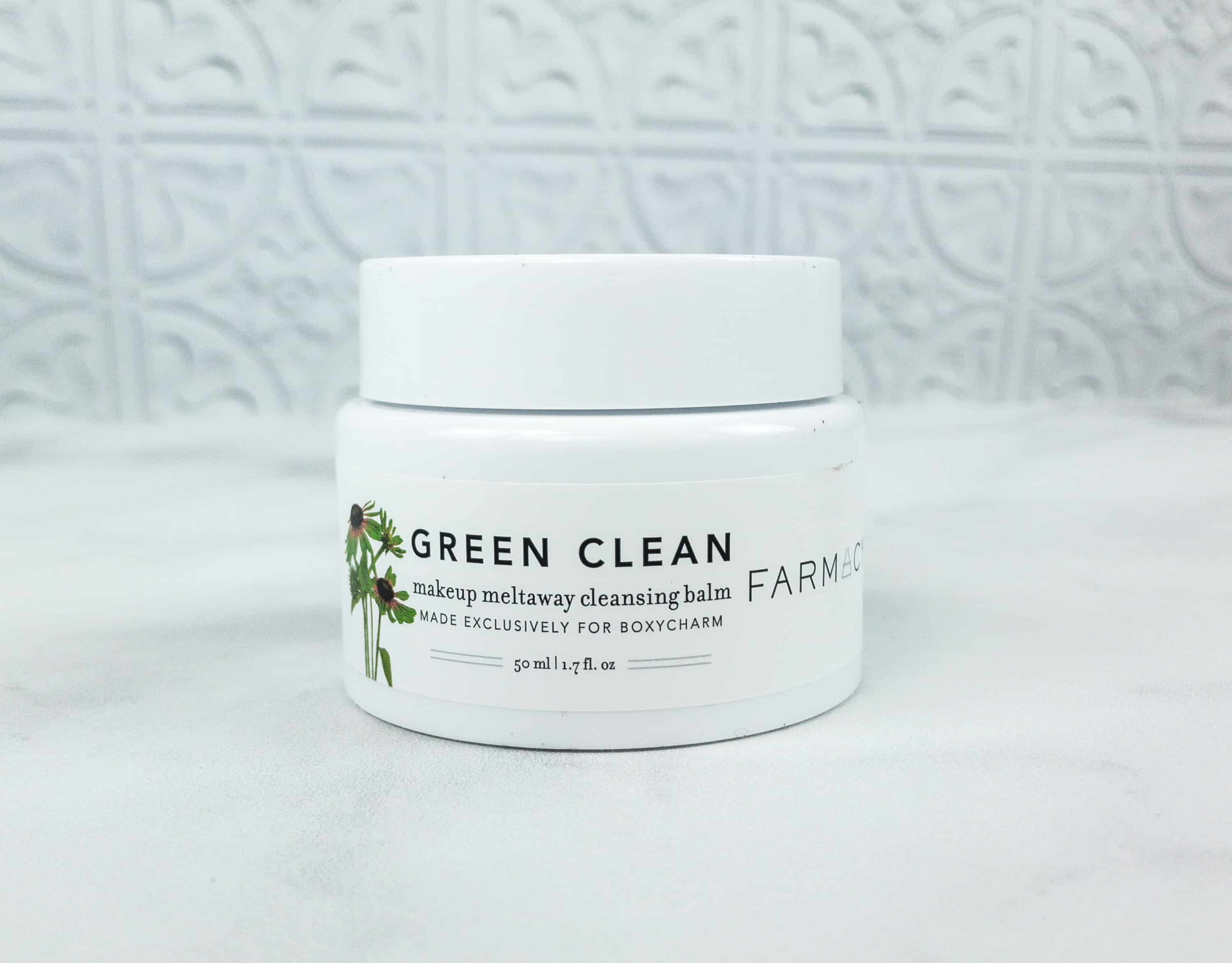 Farmacy Green Clean Makeup Meltaway Cleansing Balm ($18.06) It's a nourishing cleansing balm that instantly melts into skin, dissolving away even the most stubborn makeup easily. Perfect for all skin types, the formula is infused with fruit extracts, essential oils, and potent natural antioxidants. It makes way for even skin tone, and revitalizes skin and transforms into healthier and radiant-looking skin.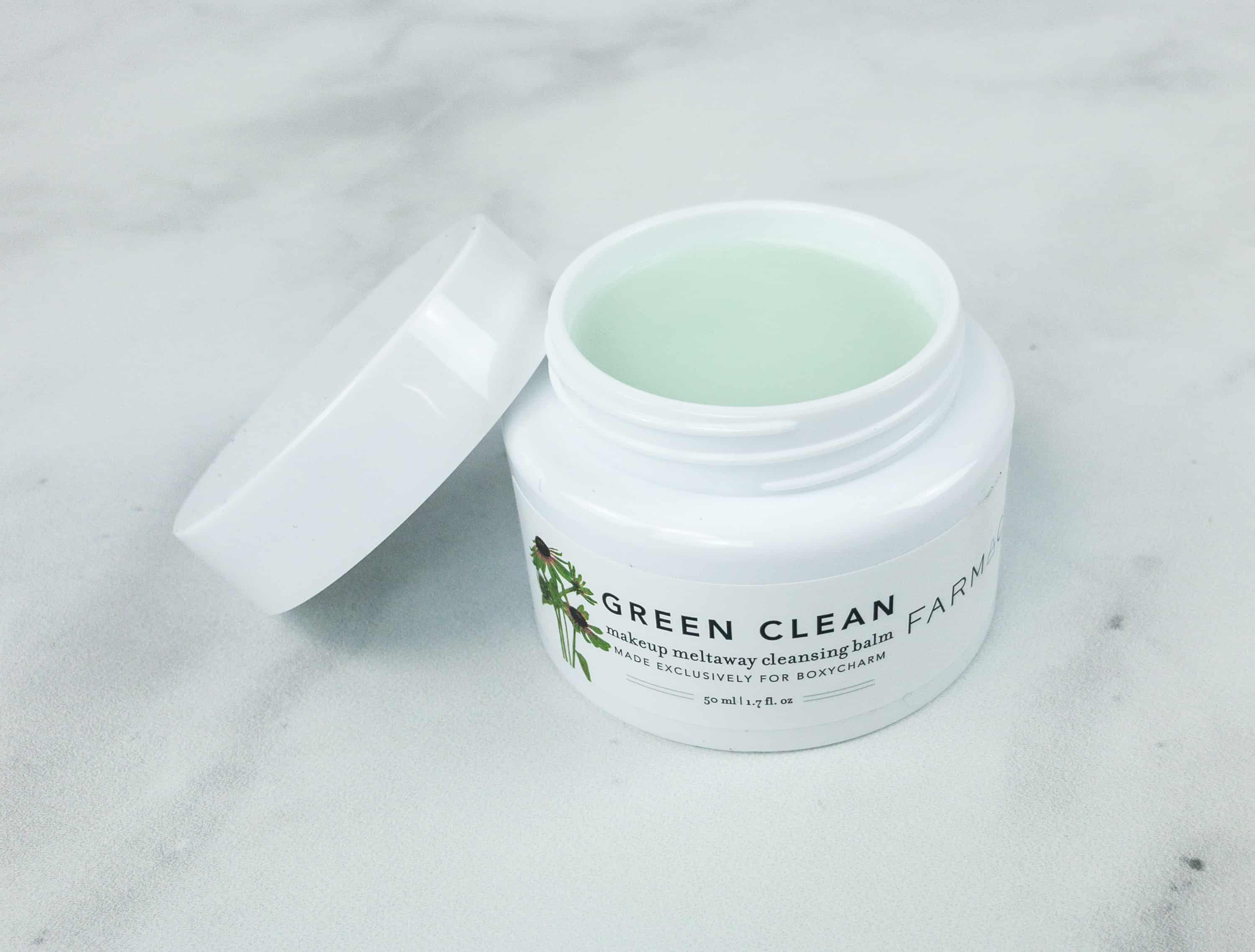 Scoop a generous amount with the spatula and massage into skin with gentle upward and outward circular motions. Rinse off with a splash of water or wipe with a warm damp washcloth. Apply to closed eyes and wipe off by downward to outward sweeping motion with a warm, damp washcloth. You guys, this is my holy grail makeup remover that removes every. single. swatch. And it never irritates my skin. I was thrilled for this!
BOXYCHARM really want to persuade us to unleash our alter ego and collaborated with cool brands to bring us luxurious and hyped makeup products. It was fun to try out the most unique lace face mask I've ever seen with an innovative way to brighten the face. The straight brush mascara is also a breath of fresh air from the usual curved ones. The Kat Von D liquid lipstick is a pretty addition and I love the fierce color and the formula. The colorful palette is enough to have a full face look having eyeshadows, highlighters, and blush in one. At the end of the day, you can wipe them all off with the meltaway cleansing balm. Overall this box is a hit with $123 worth of products.
What's your favorite item in this month's BOXYCHARM?