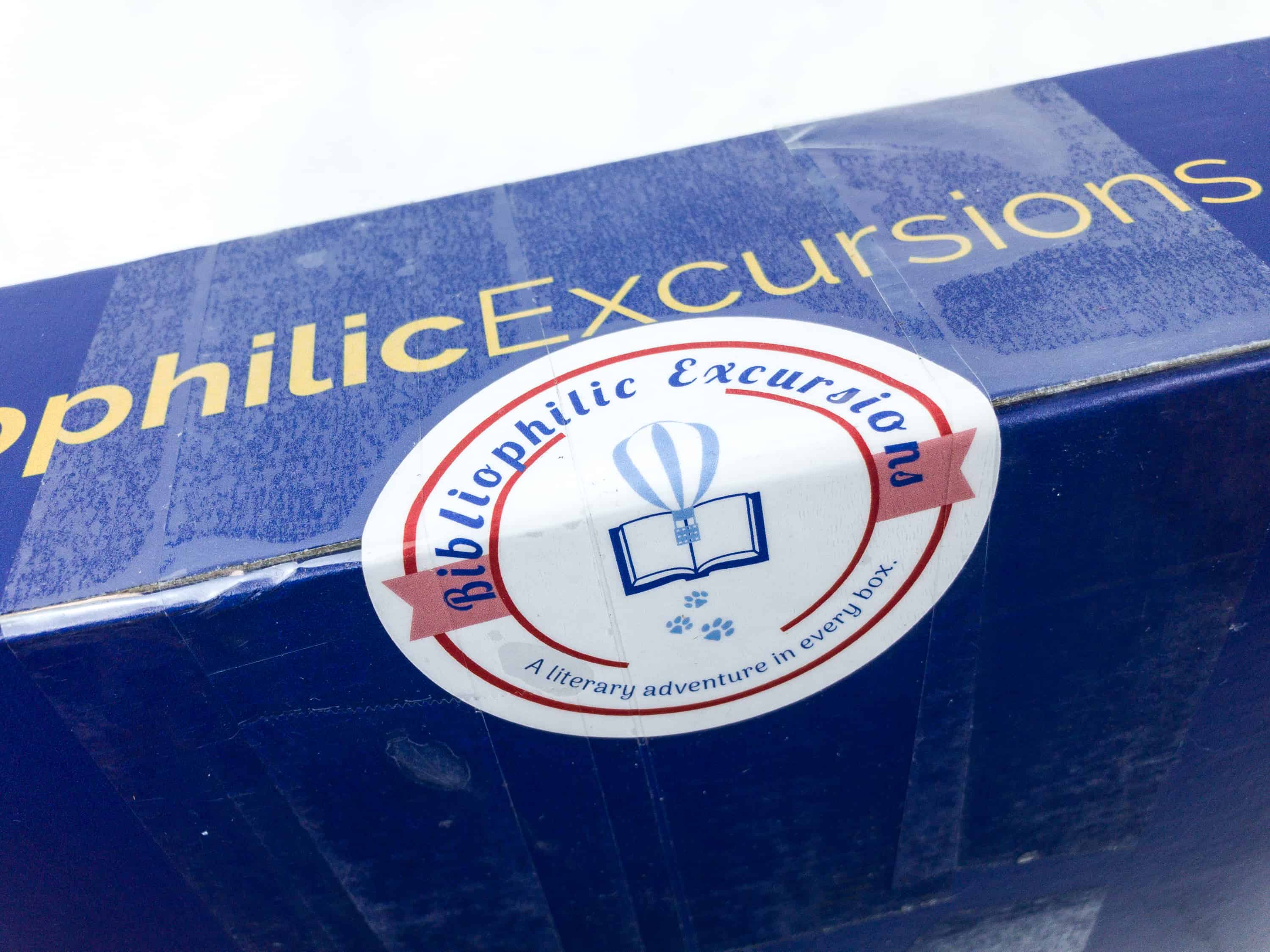 Bibliophilic Excursions Signature Journey Monthly Subscription Box is a monthly subscription of carefully curated books and goodies from a featured destination. At $49.99 per month, you will receive 2 books, one fiction and one non-fiction, along with goods that will make your reading experience one-of-a-kind. Sample items include Parisian jams and crepes, green tea from Japan, hand-woven baskets from Kenya, and even pasta from Italy!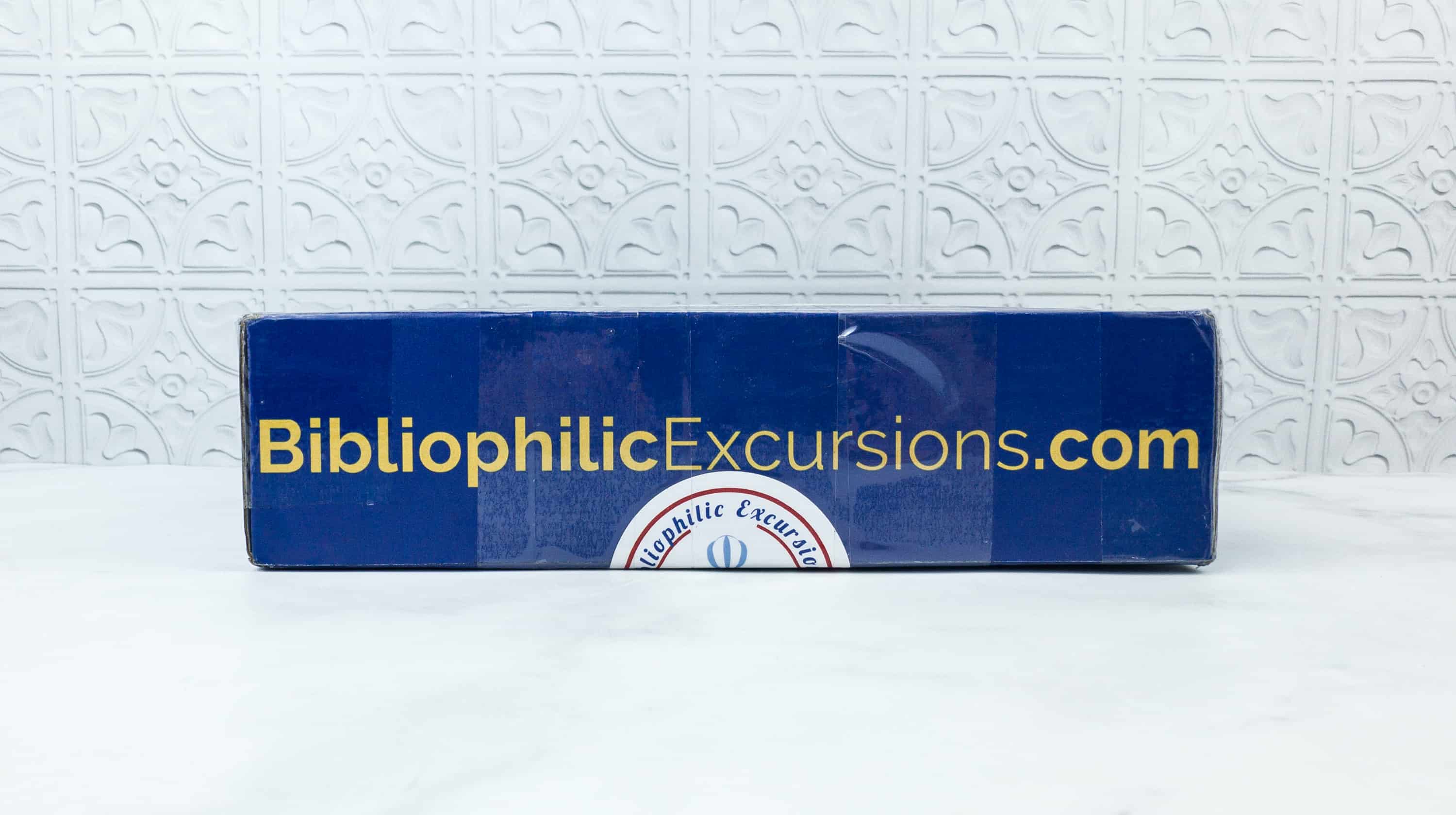 The blue box looks neat. It was carefully taped up to prevent the box from opening during shipping.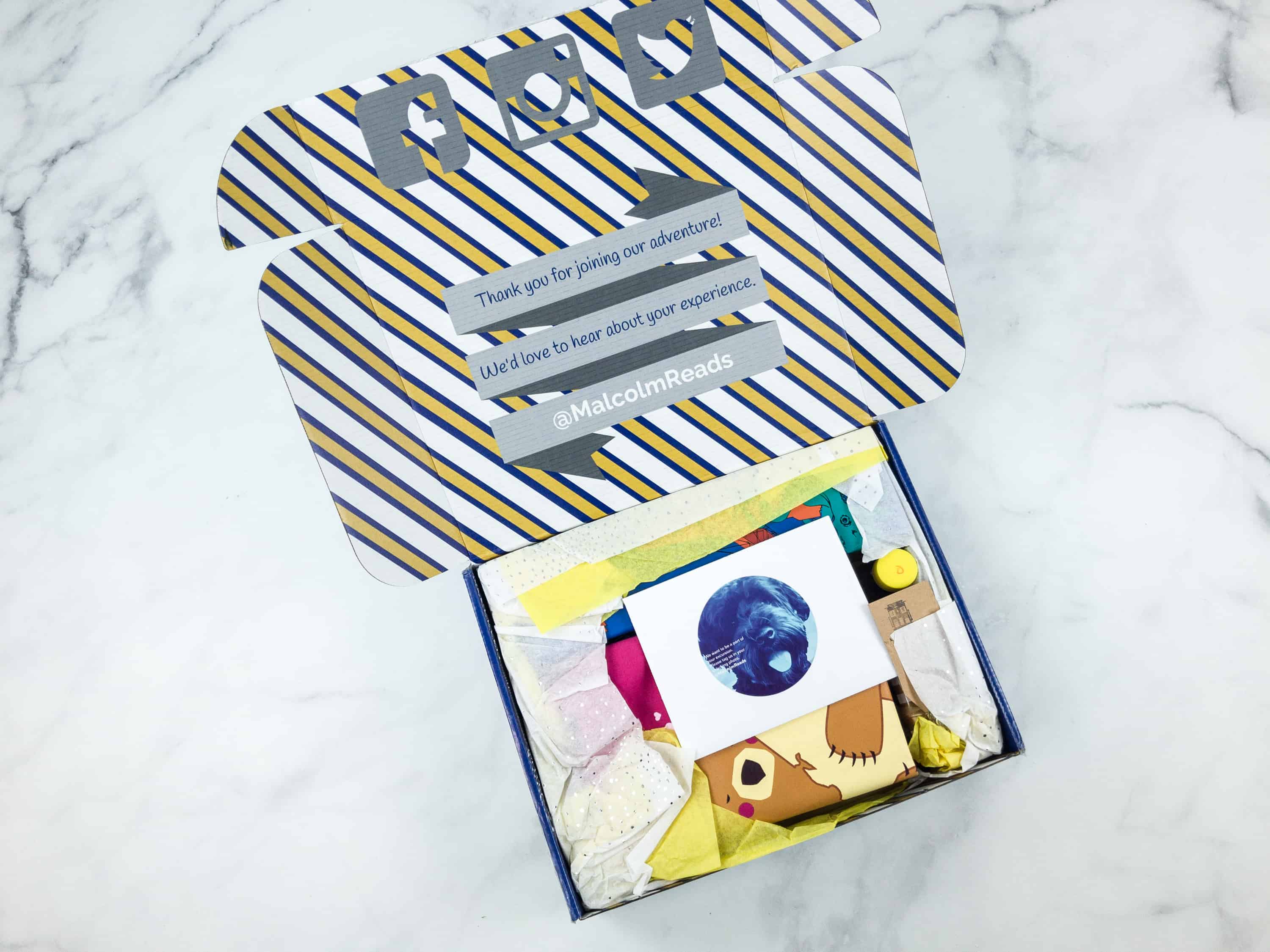 The underside of the cover really catches the eye and has a little note from the curators too.
We also got an envelope…
…sealed with a thank you sticker. I love everything handmade so I'm really excited about this box!
The envelope contained a thank you card from Bibliophilic Excursions! I feel like I am going to be taking off to a new reading adventure with this design.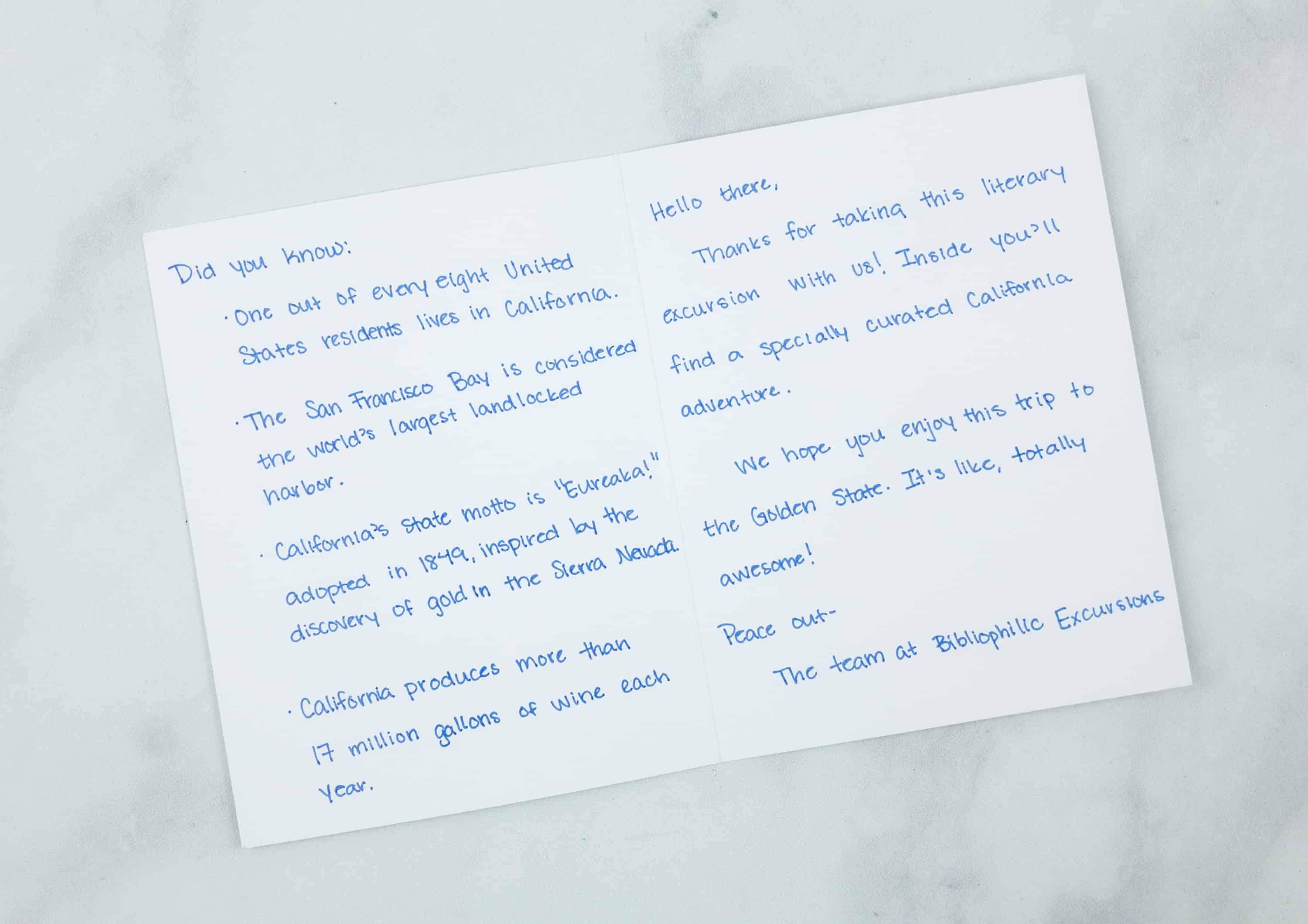 There was a personalized note that explains what this month's box is about. It appears that we will be traveling around California!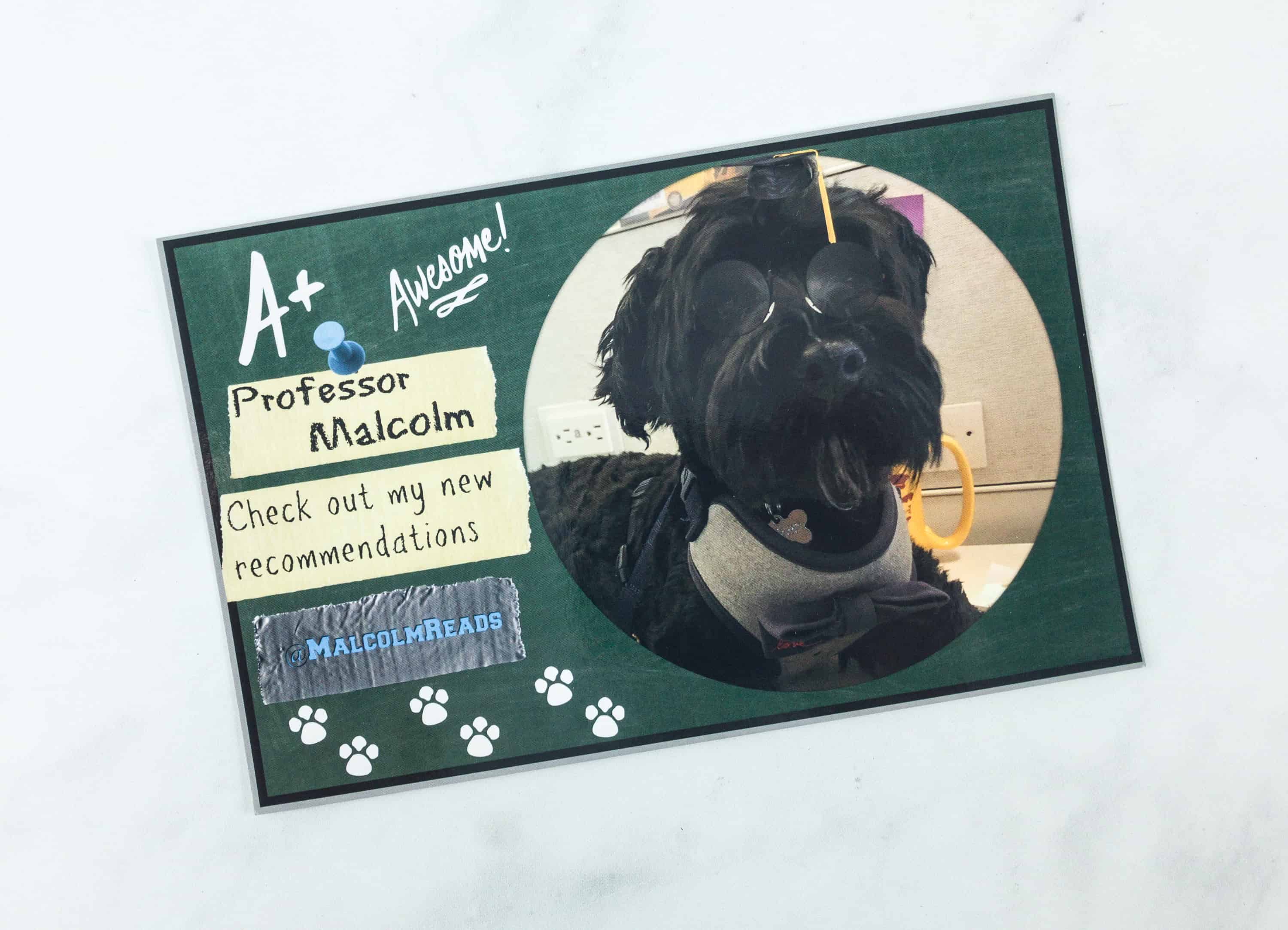 This box got an A+ from Professor Malcolm. I wonder what his next recommendation will be.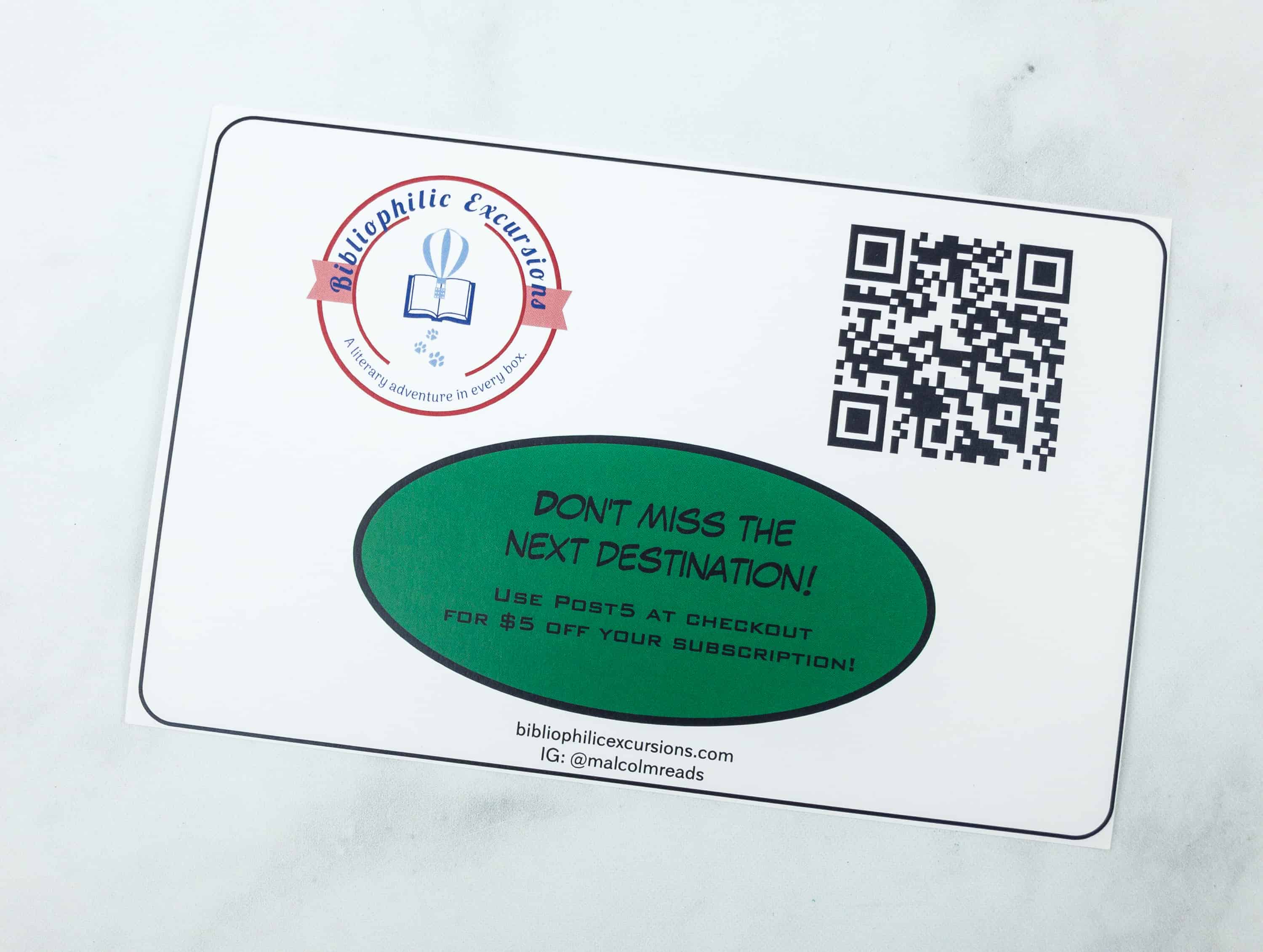 At the back of the card is where you will find the discount code that you can use upon checkout.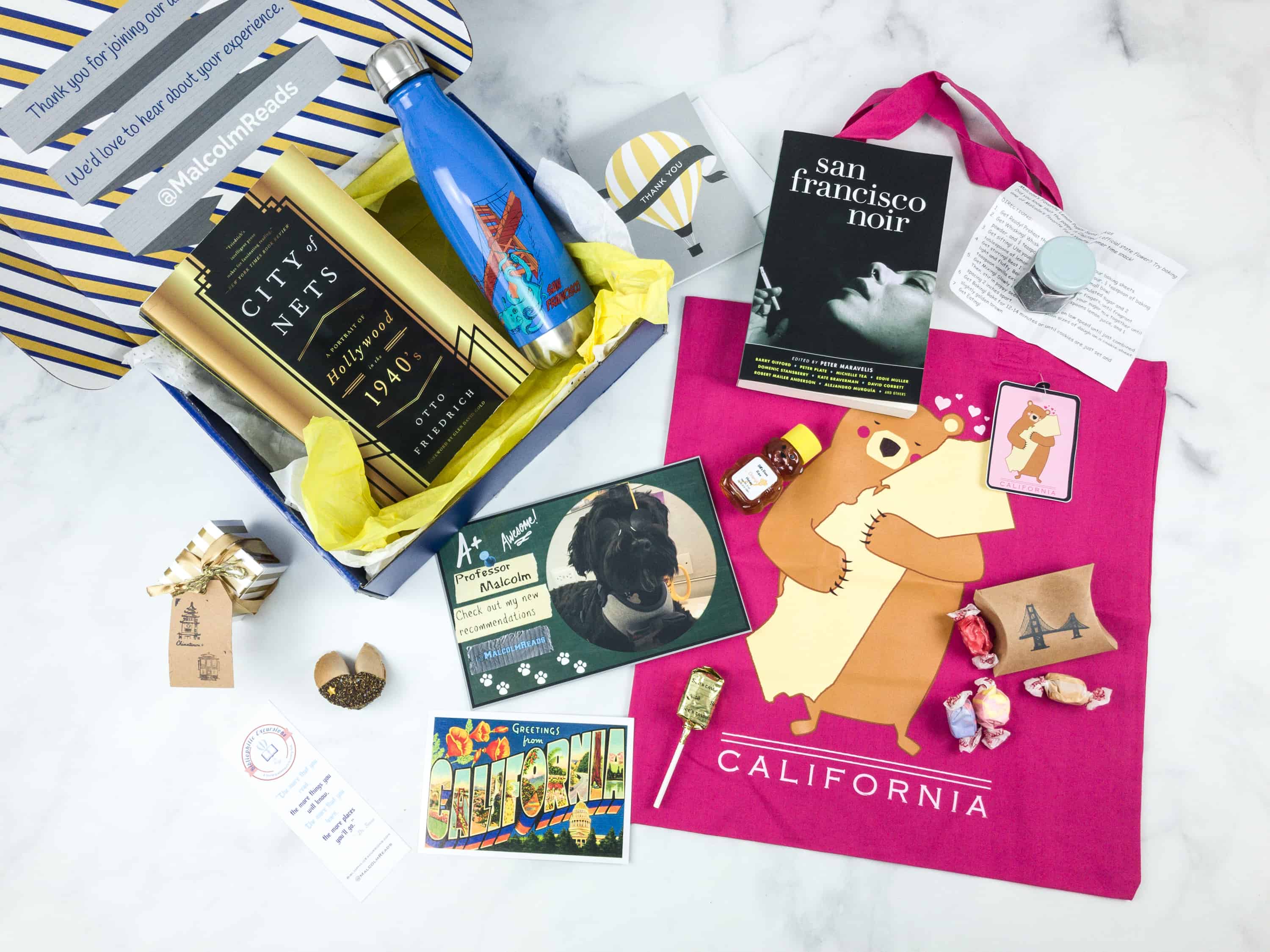 Everything in my box!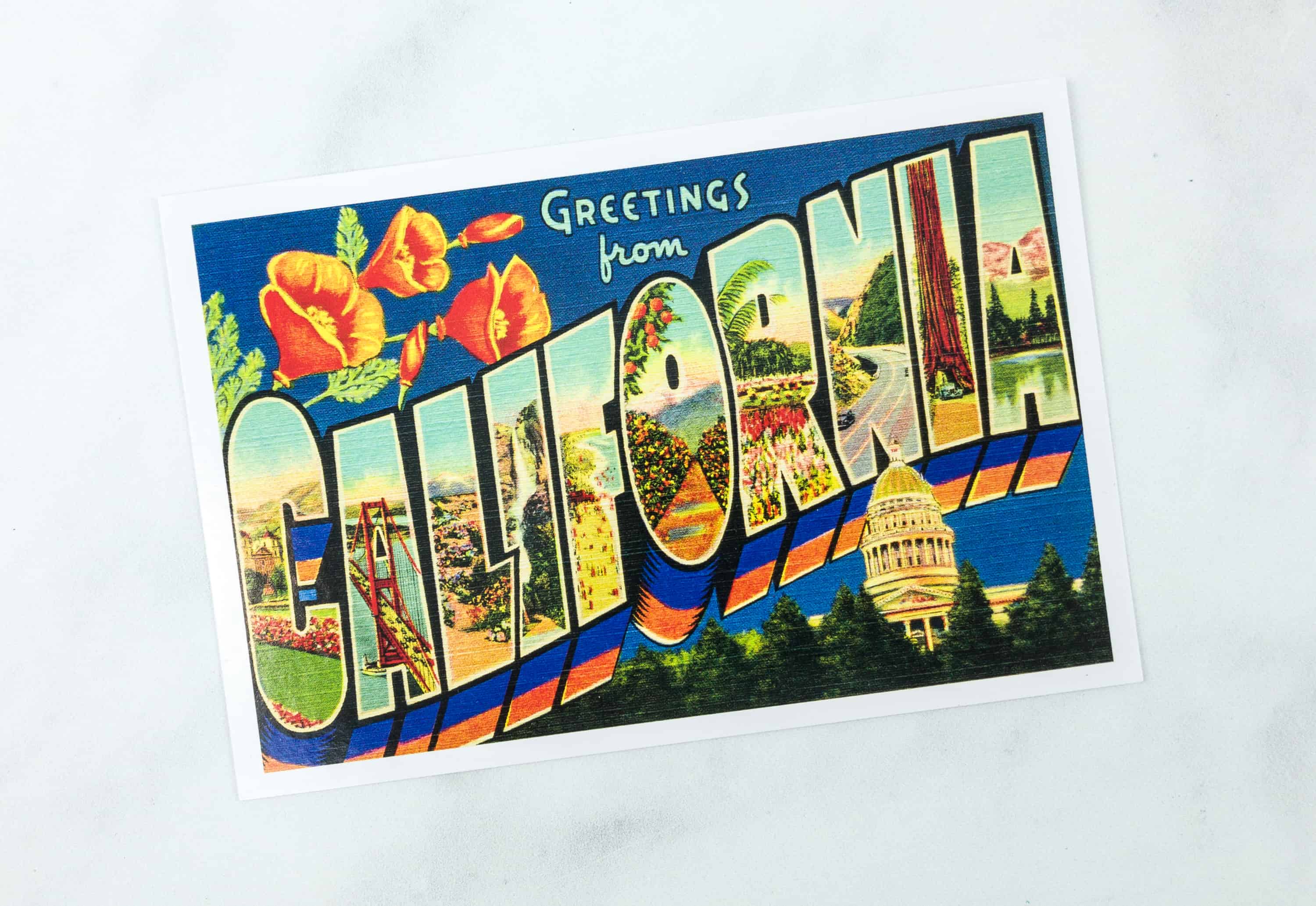 California Postcard. The first item in the box is a cool postcard featuring different sights in California. It looks so vintage!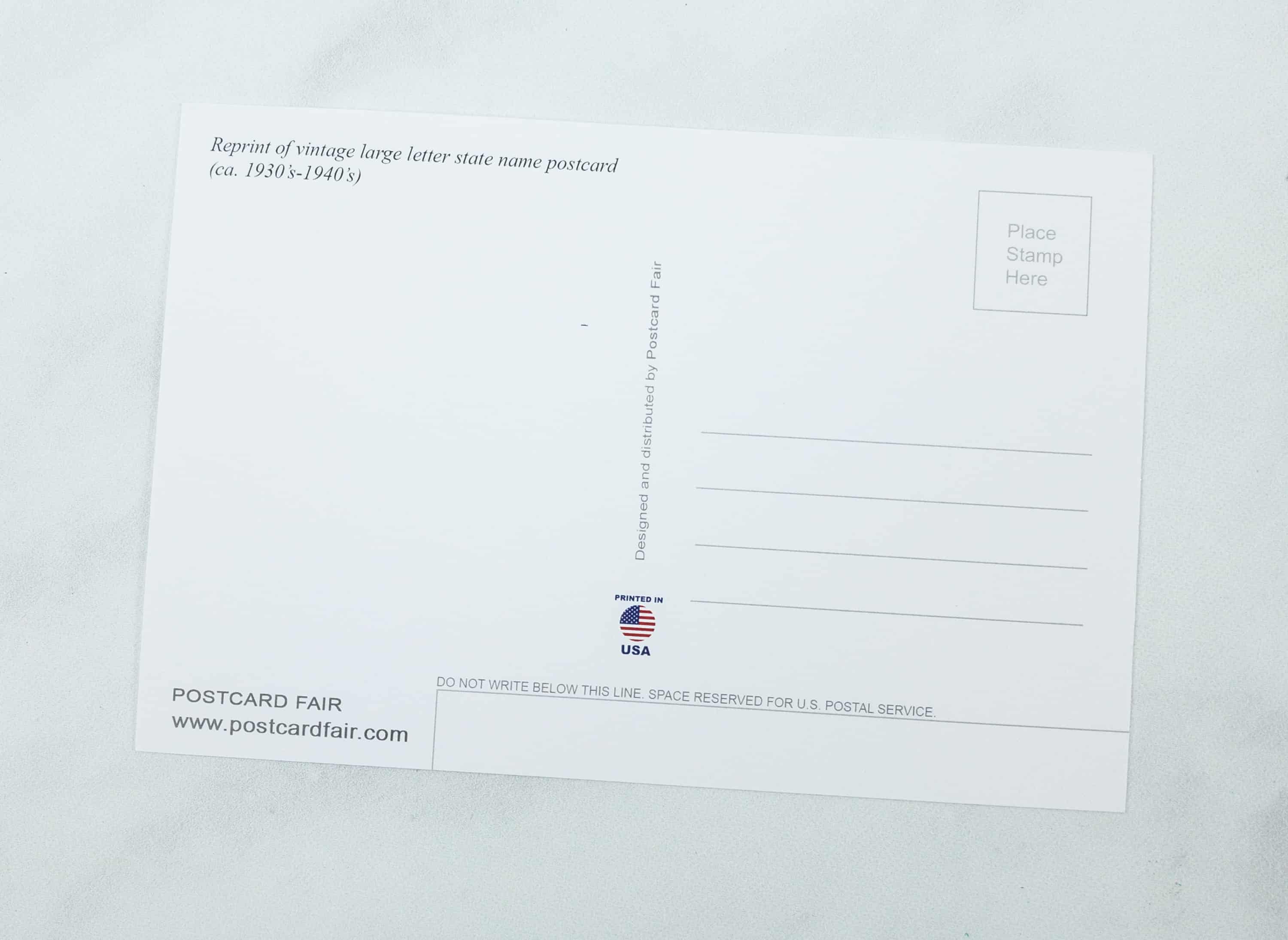 This is a cool souvenir to keep, but if you want to send it out, there's plenty of space at the back for you to write on.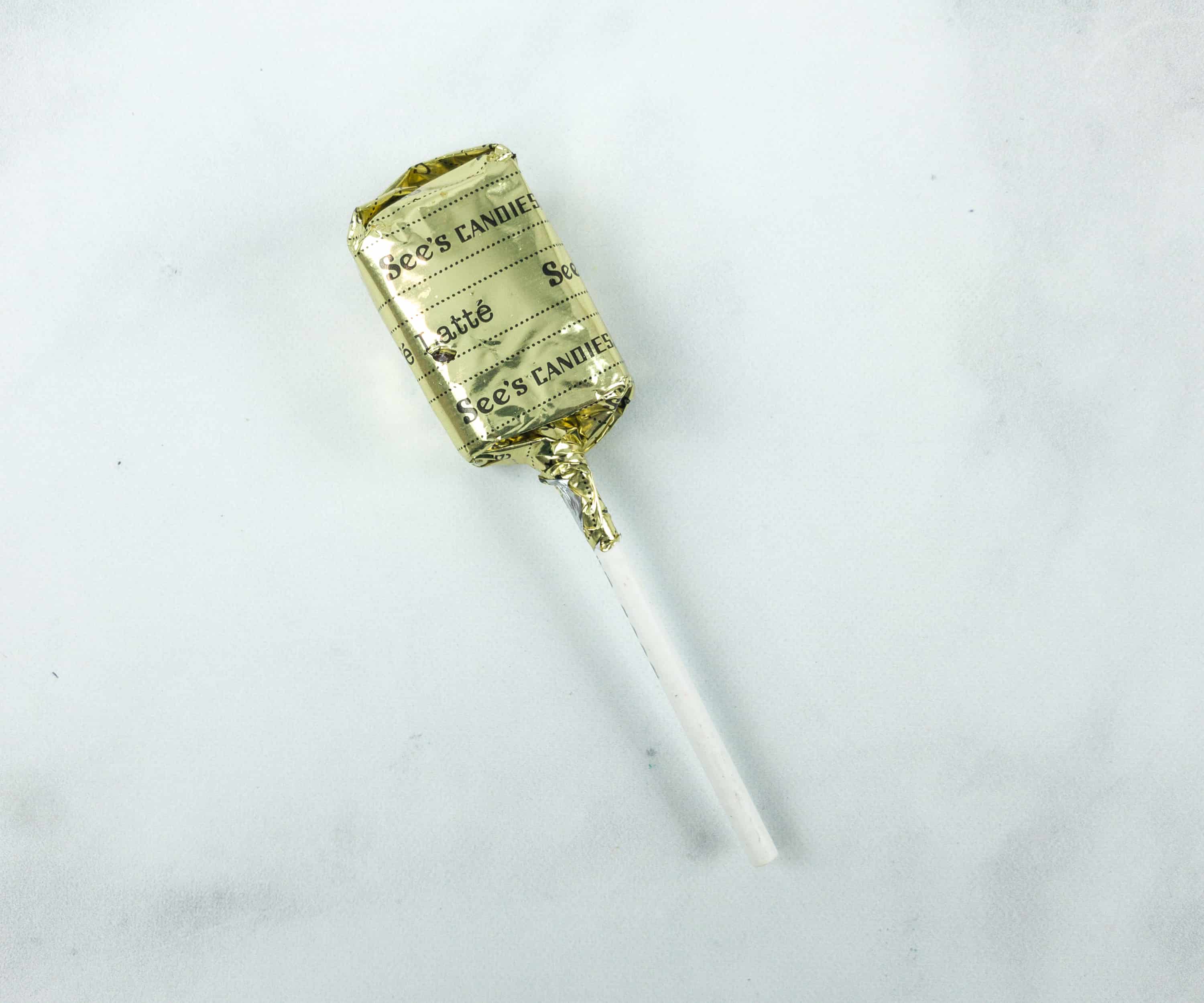 See's Candies Cafe Latte Lollipop ($0.65) It's a coffee flavored gourmet lollipop. Ingredients include heavy cream, butter, and Colombian coffee.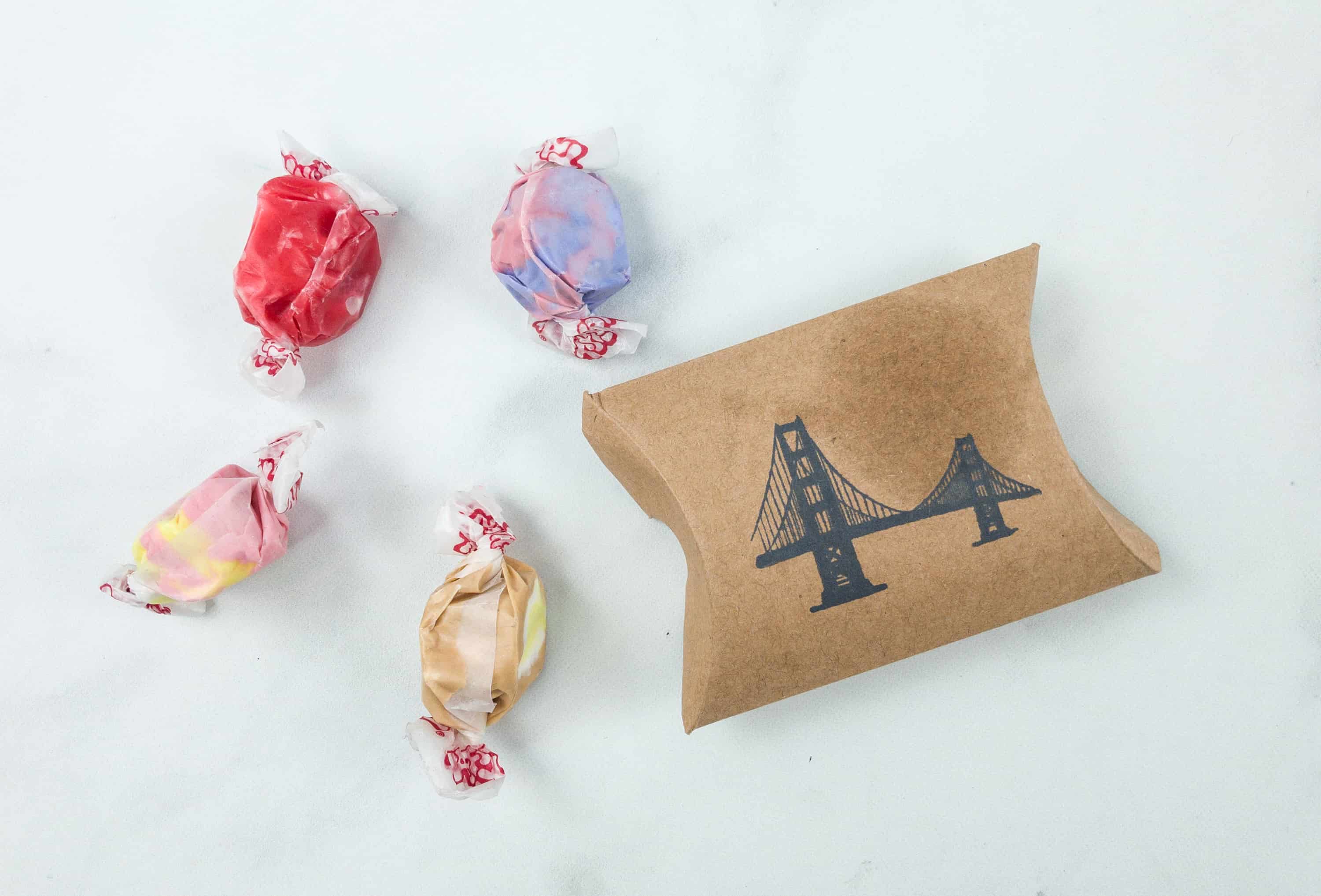 We got four pieces of taffy candies too. They were packed in a kraft pouch featuring the Golden Gate Bridge.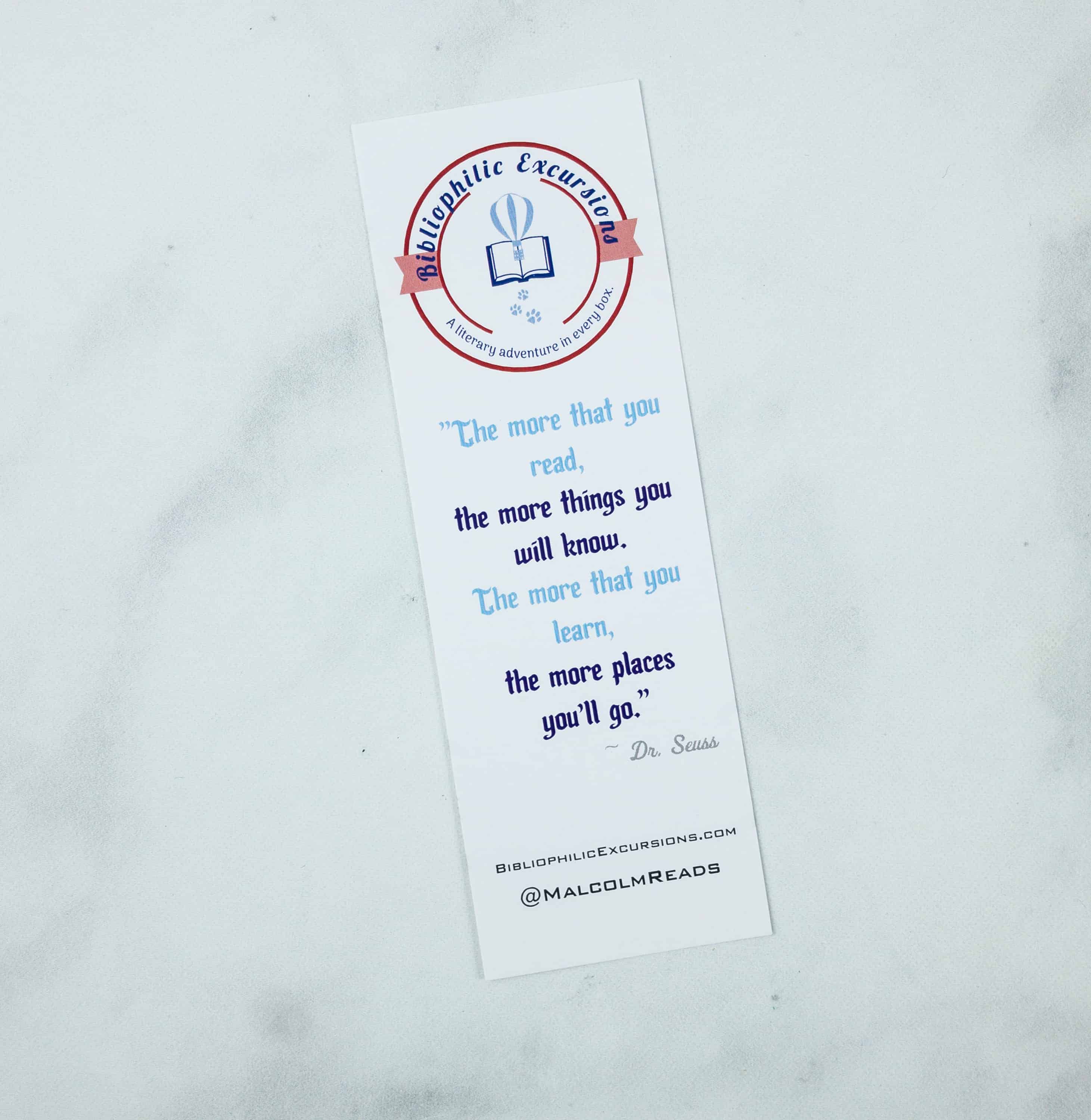 Bookmark. The bookmark has a quote from Dr. Seuss!
The more that you read,

the more things you will know.

The more that you learn,

the more places you'll go.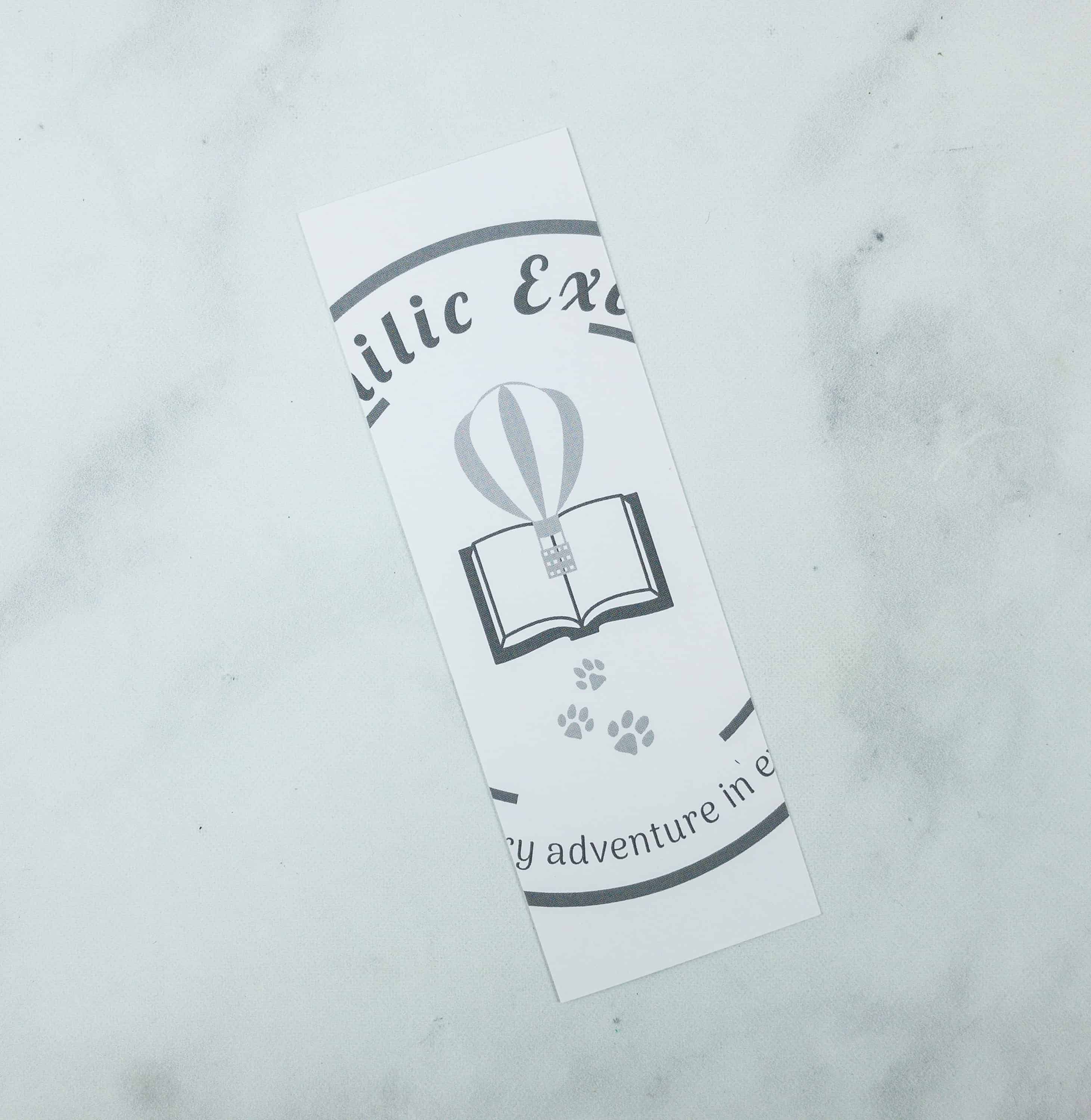 The Bibliophilic Excursions logo is printed at the back.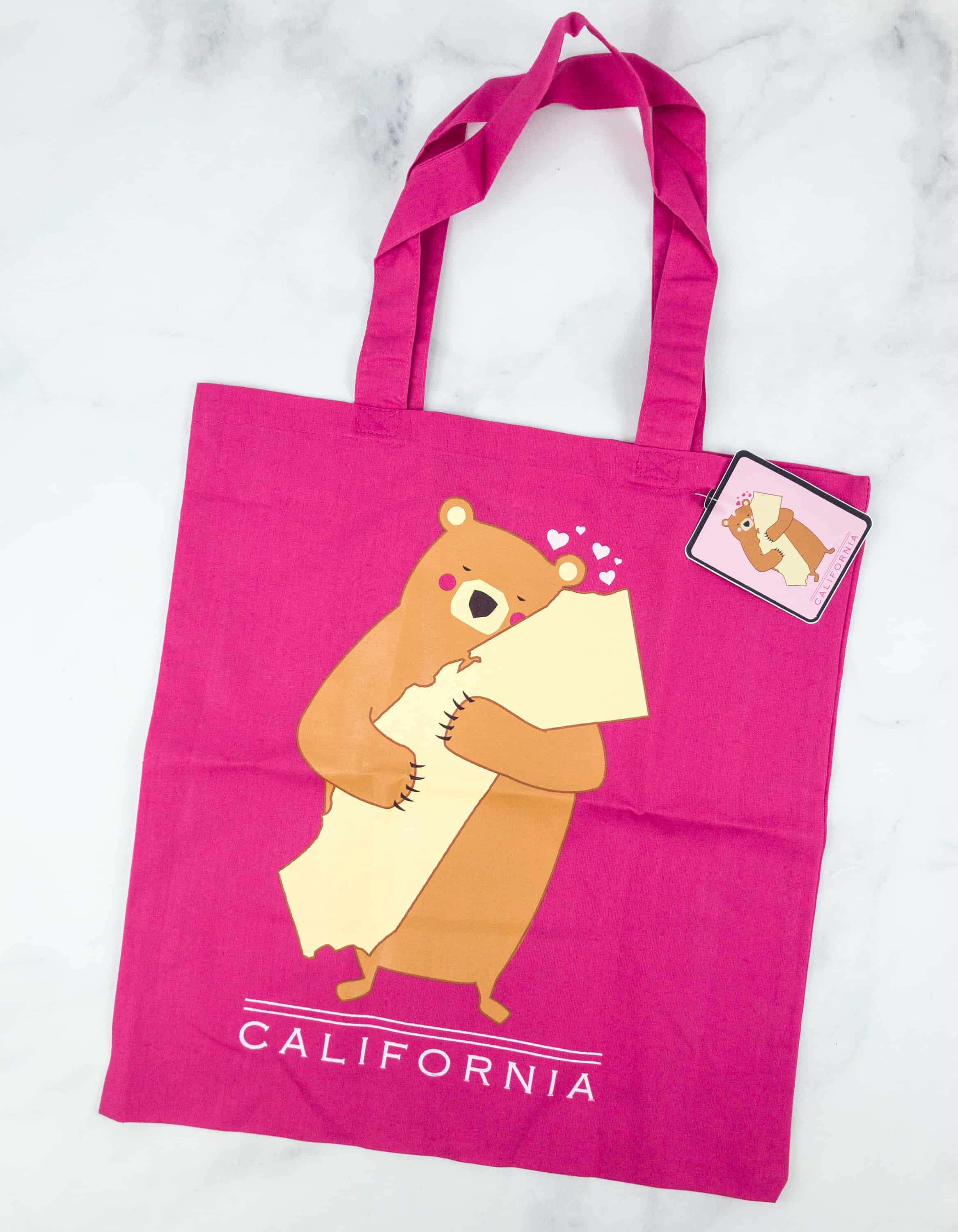 California Tote Bag. It's a bright pink tote bag featuring a bear holding California! It looks like it is so in love with it, don't you think? I love the bold color and the print fits it nicely too.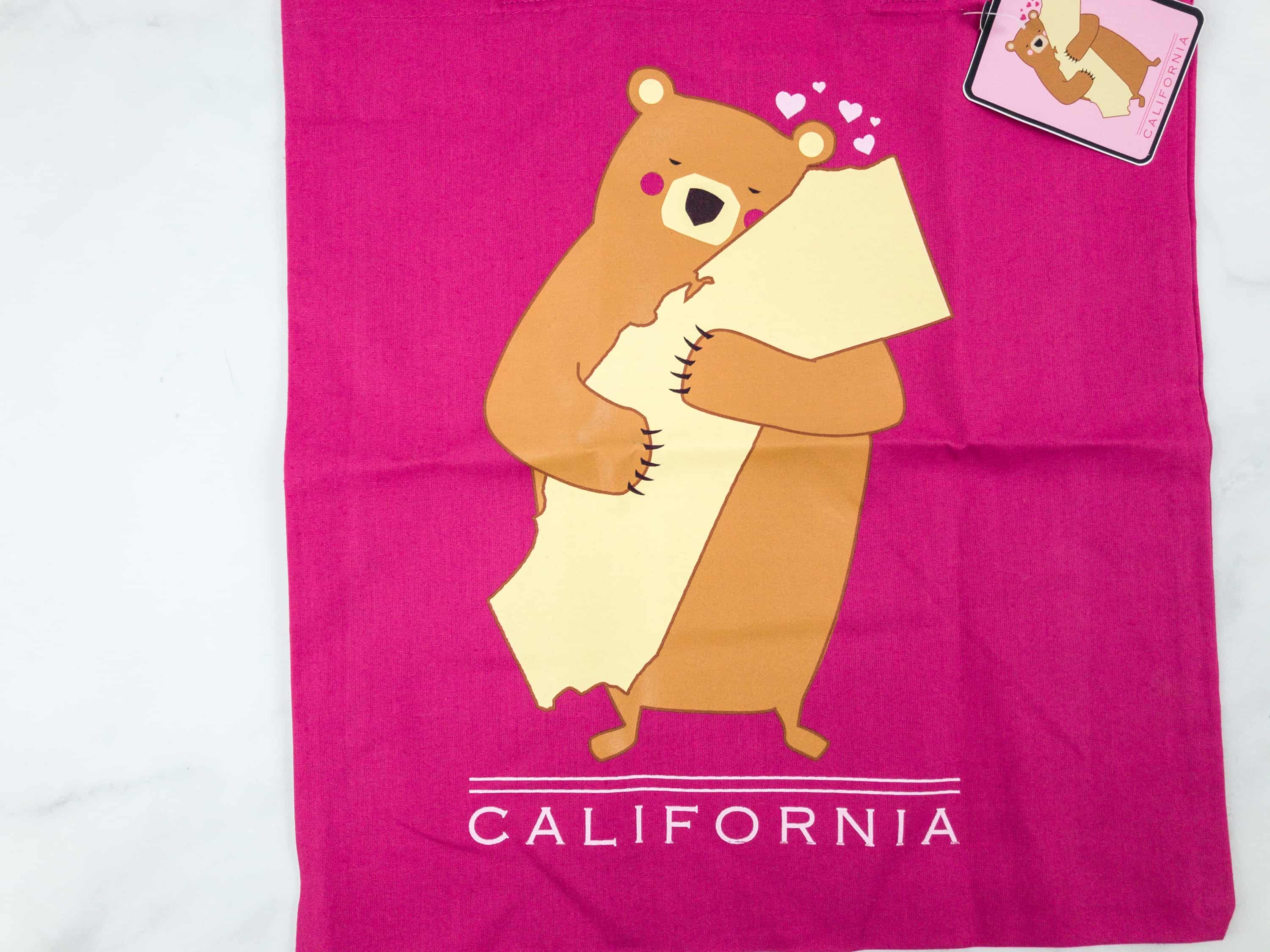 Tote bags are handy especially when shopping. Perfect for California lovers!!
Water Bottle. It looks like a monster from the deep is taking a hold of the Golden Gate Bridge. I like the unique design of this water bottle!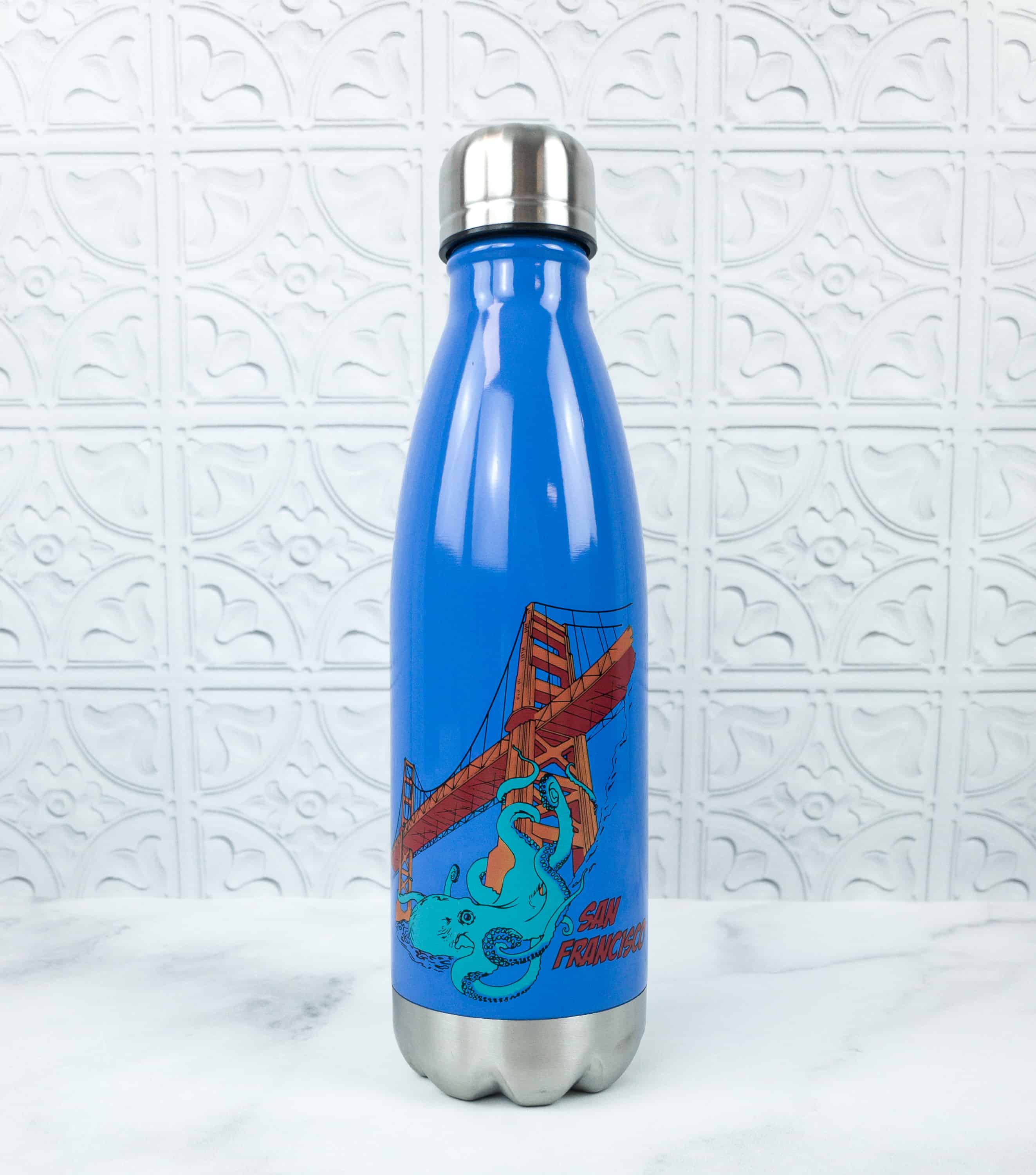 This is a handy water bottle with its screw cap top and the witty design is great.
Bill's Bees Raw Orange Honey ($3) We got an edible item too, a small bottle of raw orange honey. Raw, organic honey can be used for cooking, mixing drinks, and making desserts. Plus points for the extra cute bottle!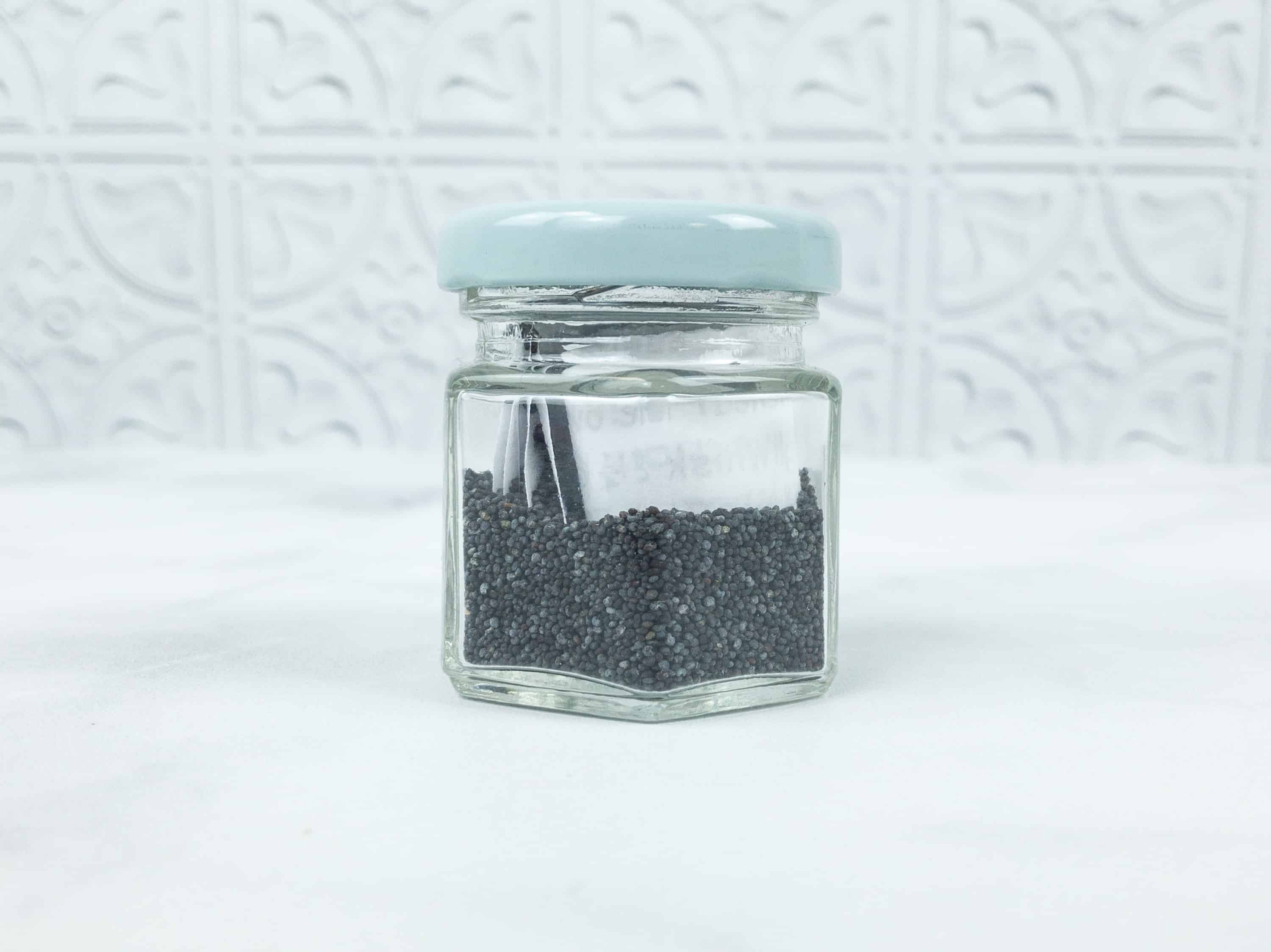 They also included this bottle of poppy seeds in the box.
Poppy is the official flower of California and Malcolm is suggesting that we make some lemon poppy seed cookies. The recipe is included in the bottle.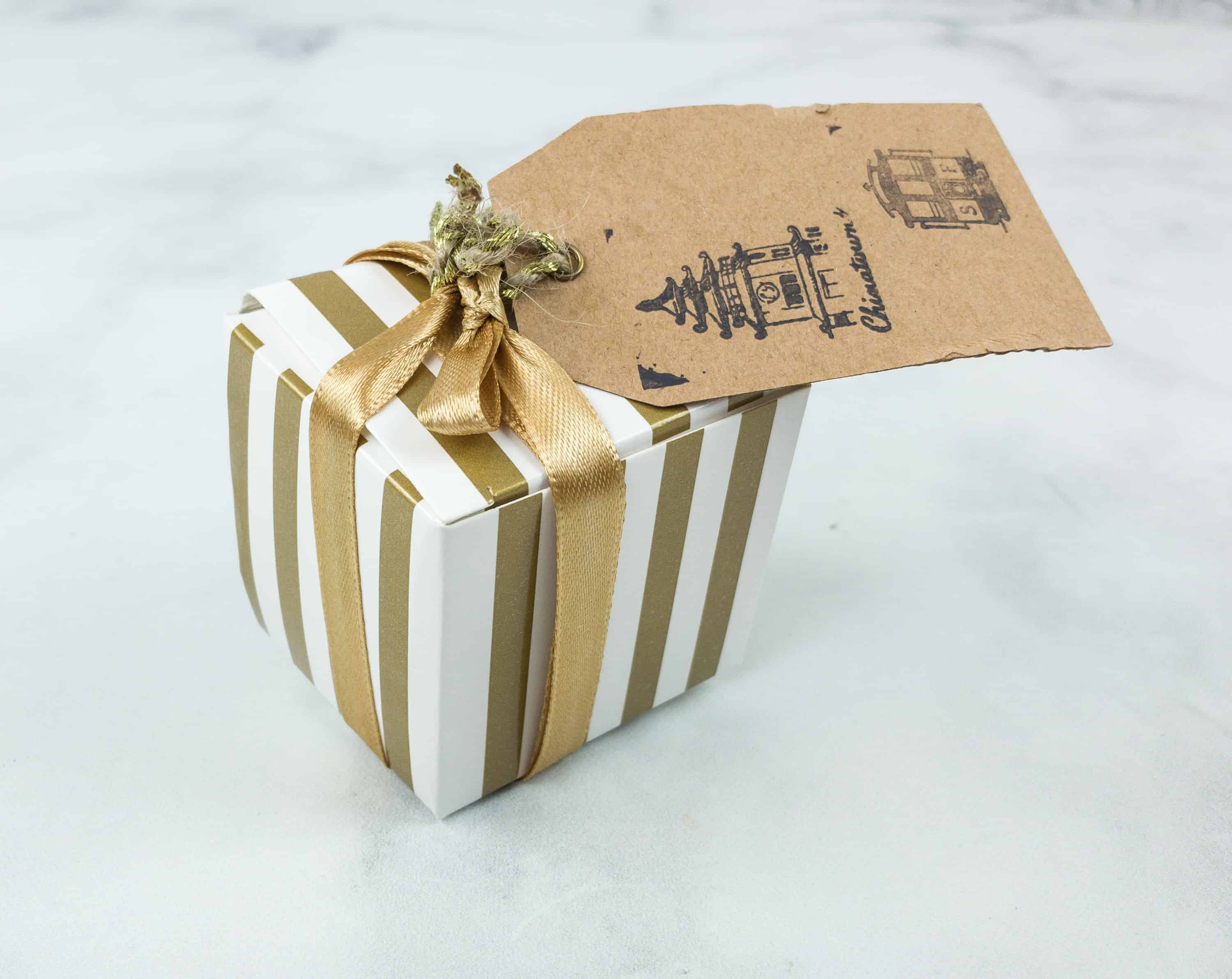 Fortune Cookie. The fortune cookie was packaged beautifully in a striped box with a golden ribbon. The tag has an image of a Chinese restaurant.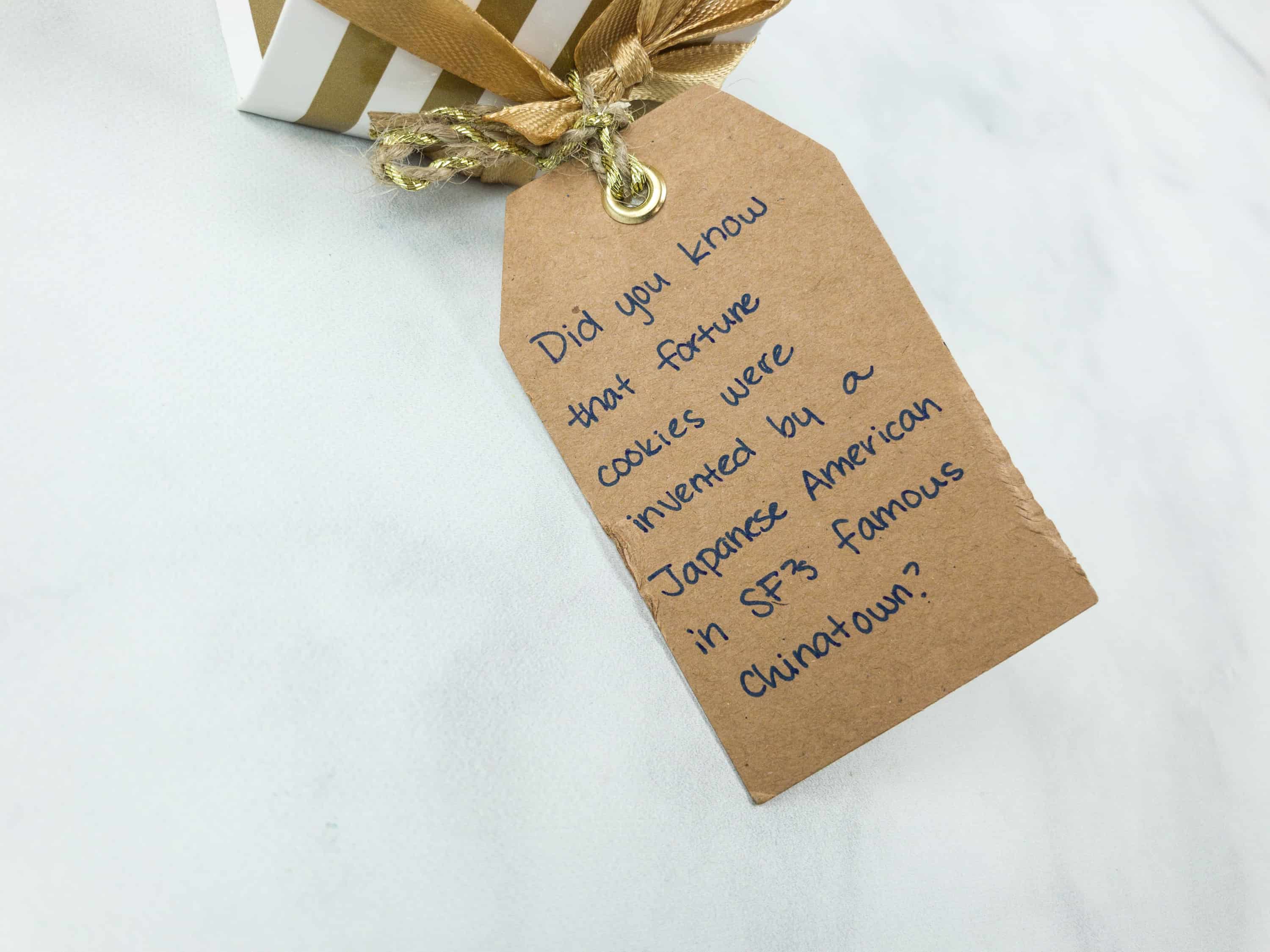 Apparently, fortune cookies were invented by a Japanese American who resided in China Town in San Francisco!
Inside the box is a fortune cookie that looks dipped in chocolate. It's packed well to preserve its freshness.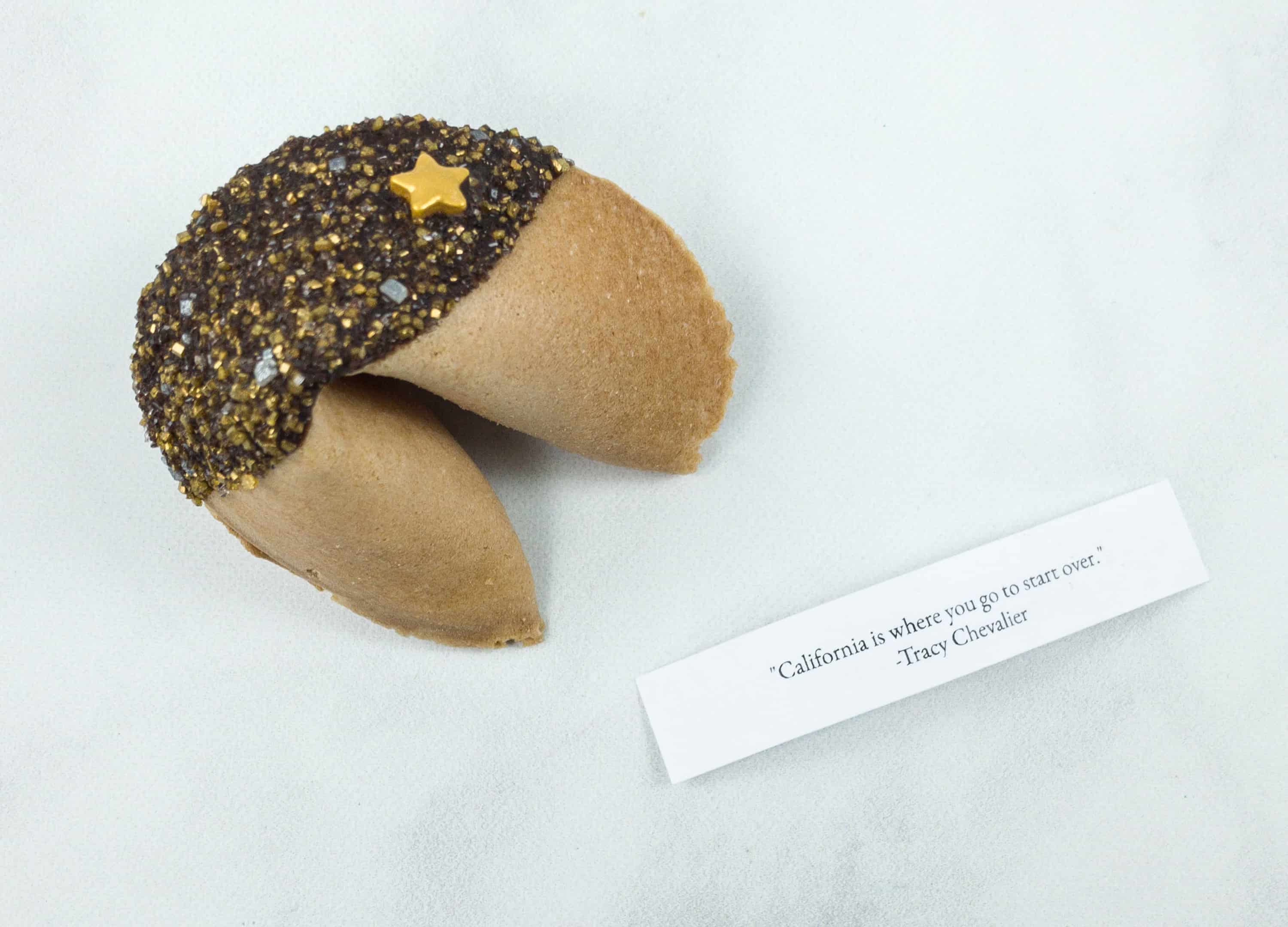 I love that this fortune cookie is not your usual one as this one comes dipped in chocolate and sprinkles at the bottom. As with any fortune cookie, there is a message in a small piece of paper.
California is where you go to start over.

– Tracy Chevalier
Yes, this is true, and the quote that we repeated on our 5 day cross country relocation trip over 10 years ago! We miss it!
At the back of the paper is the box name and their hashtag, #AdventureAwaits.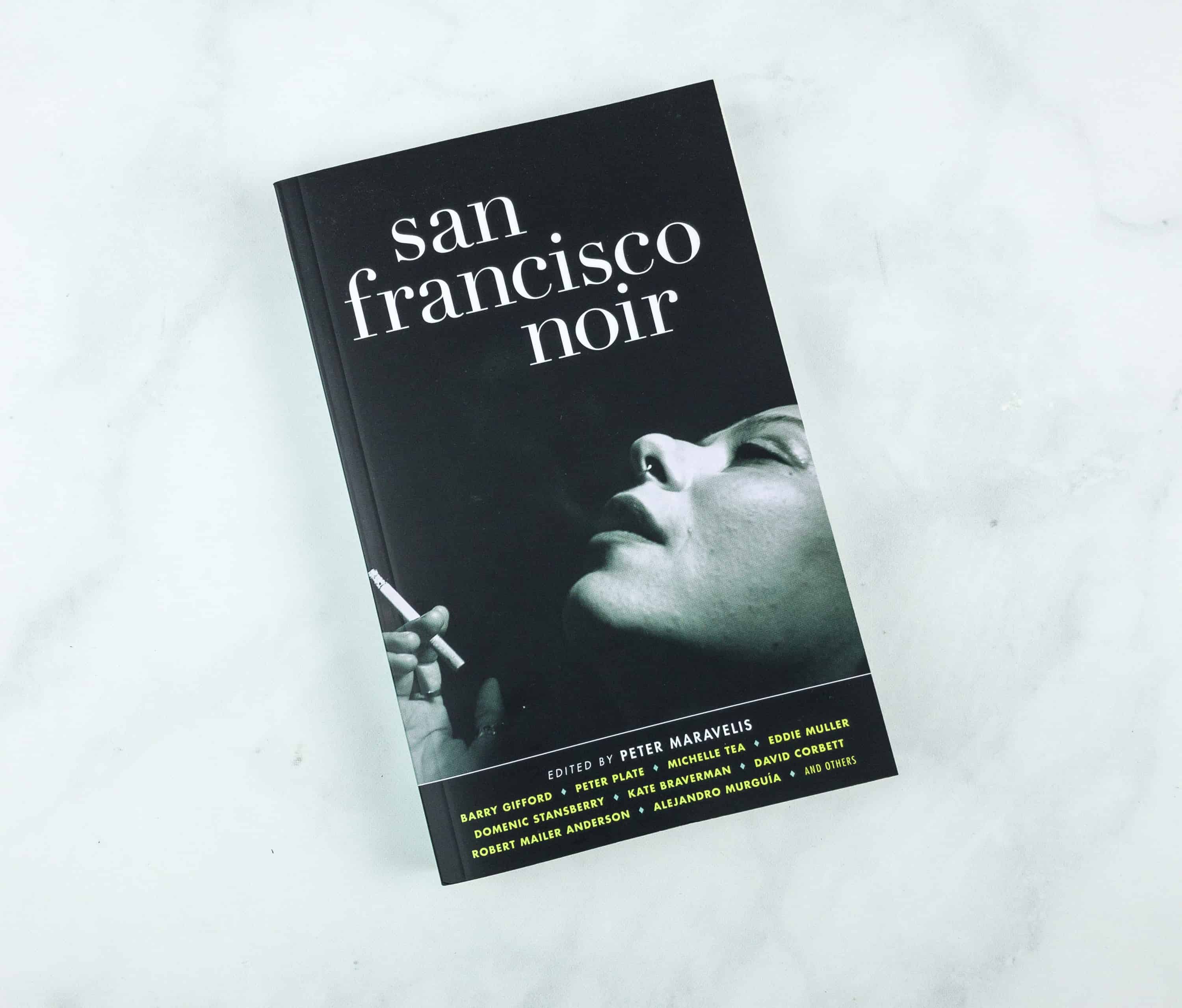 San Francisco Noir By Peter Maravelis ($15.95) San Francisco Noir is a compilation of short stories by writers such as Will Christopher Baer, David Henry Sterry, Dominic Stansberry, Eddie Muller, Peter Plate, and more.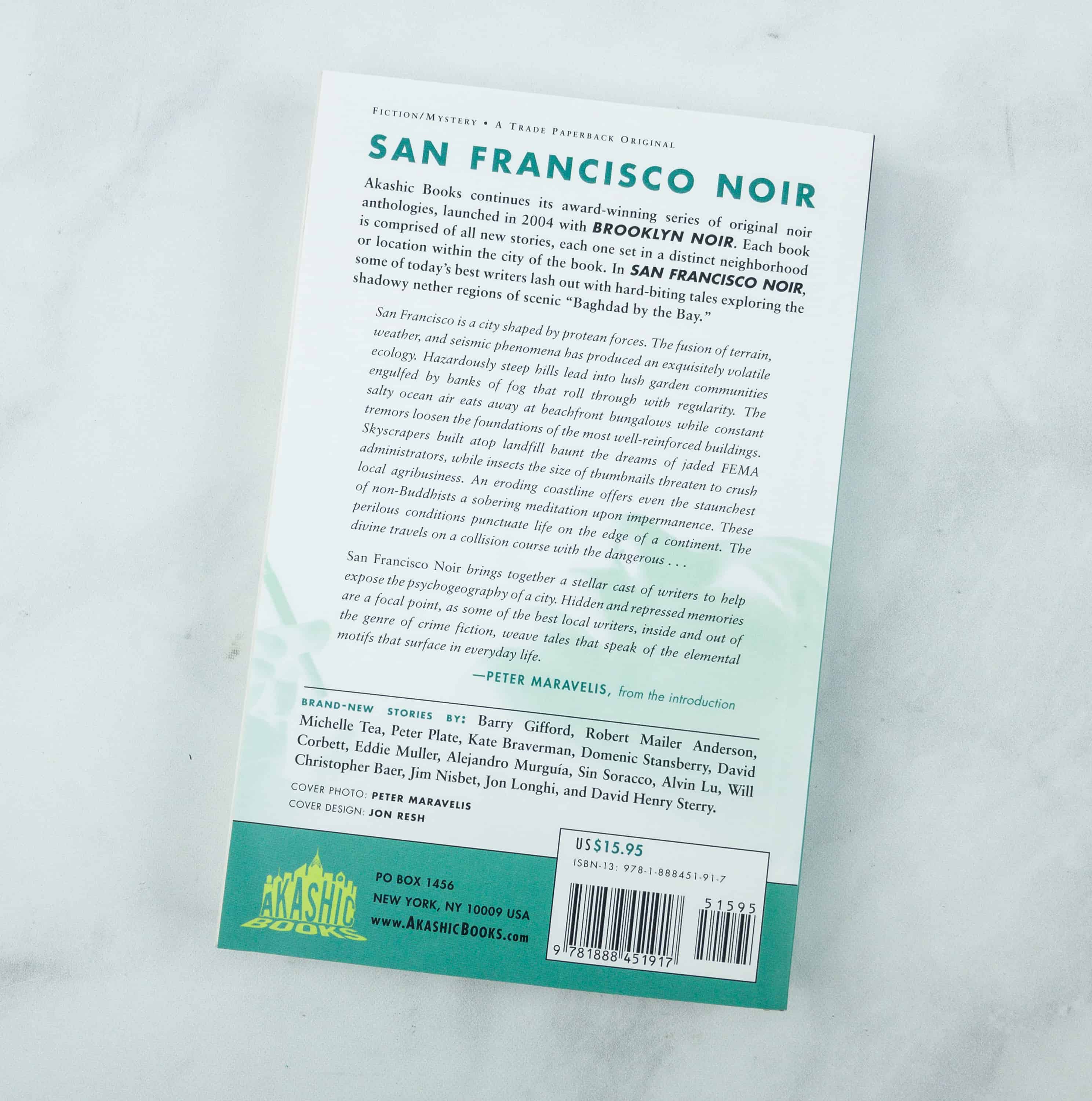 Here, they share stories from San Francisco's inner city boroughs and outlands that paint the state in a different light.
This book is great for slow reading. Some stories are entertaining and humorous, while others are dark and intriguing!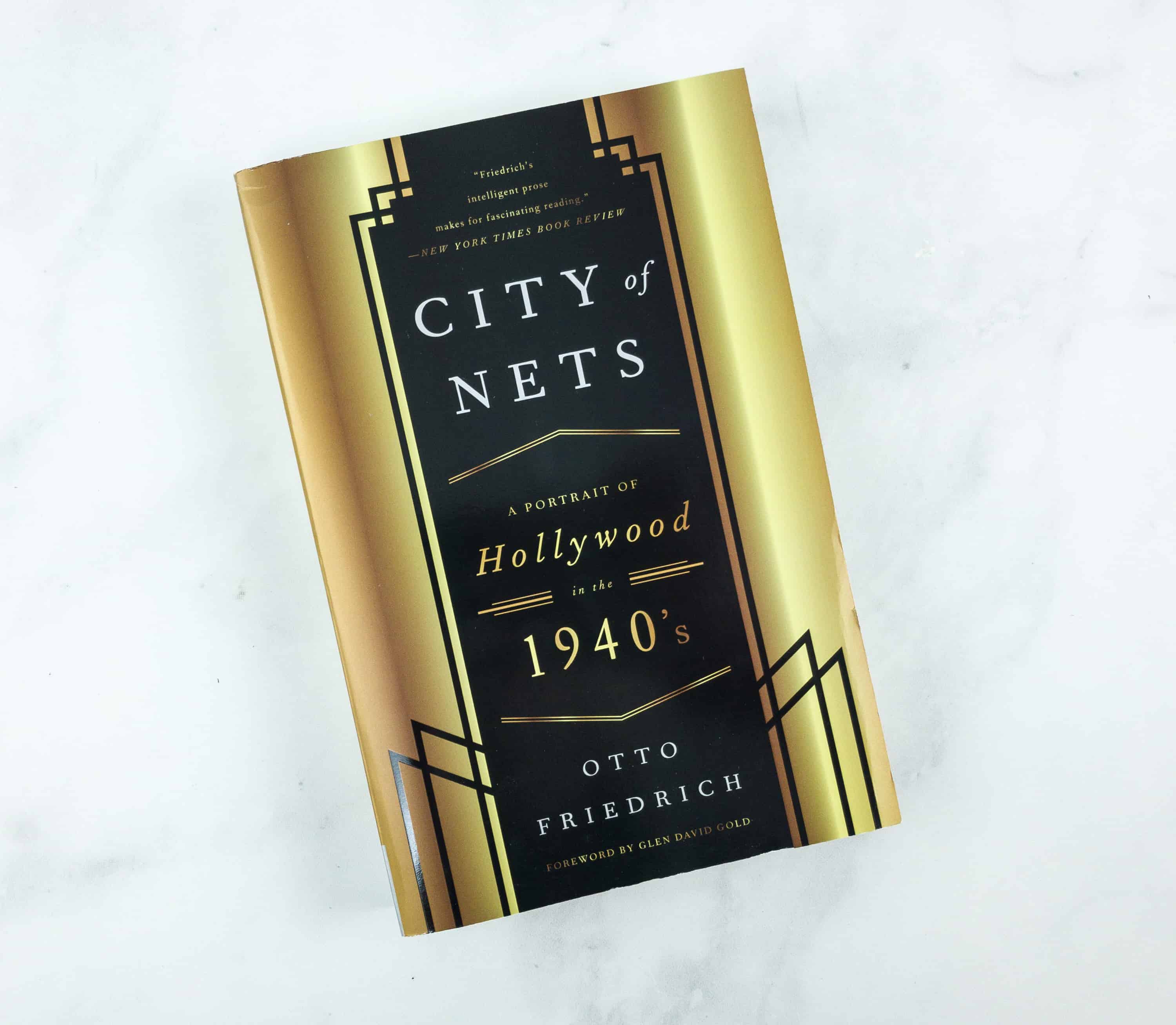 City Of Nets By Otto Friedrich ($17.97) Another book from this month's box is the City of Nets by Otto Friedrich who described the rise and fall of Hollywood in the 1940s and its effects on the A-listers. With his vivid writing, Friedrich will take you through the turbulent years that Hollywood experienced including an all-star cast by individuals who played a part in this time.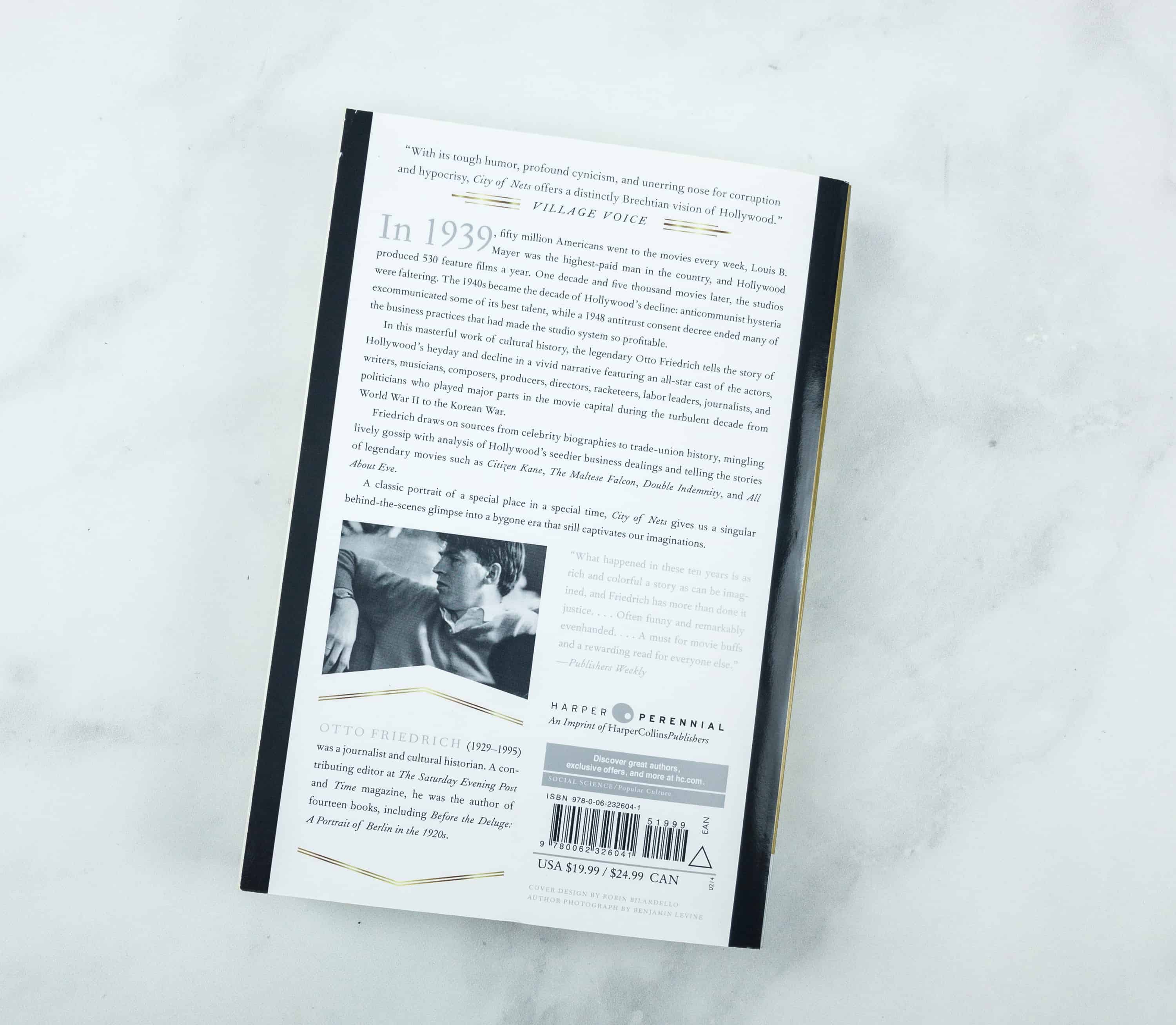 With Hollywood producing movies until now, this book gives insight on the other side of the glitz and glamor that we often associate with Hollywood.
Friedrich has also included actual photos in his book.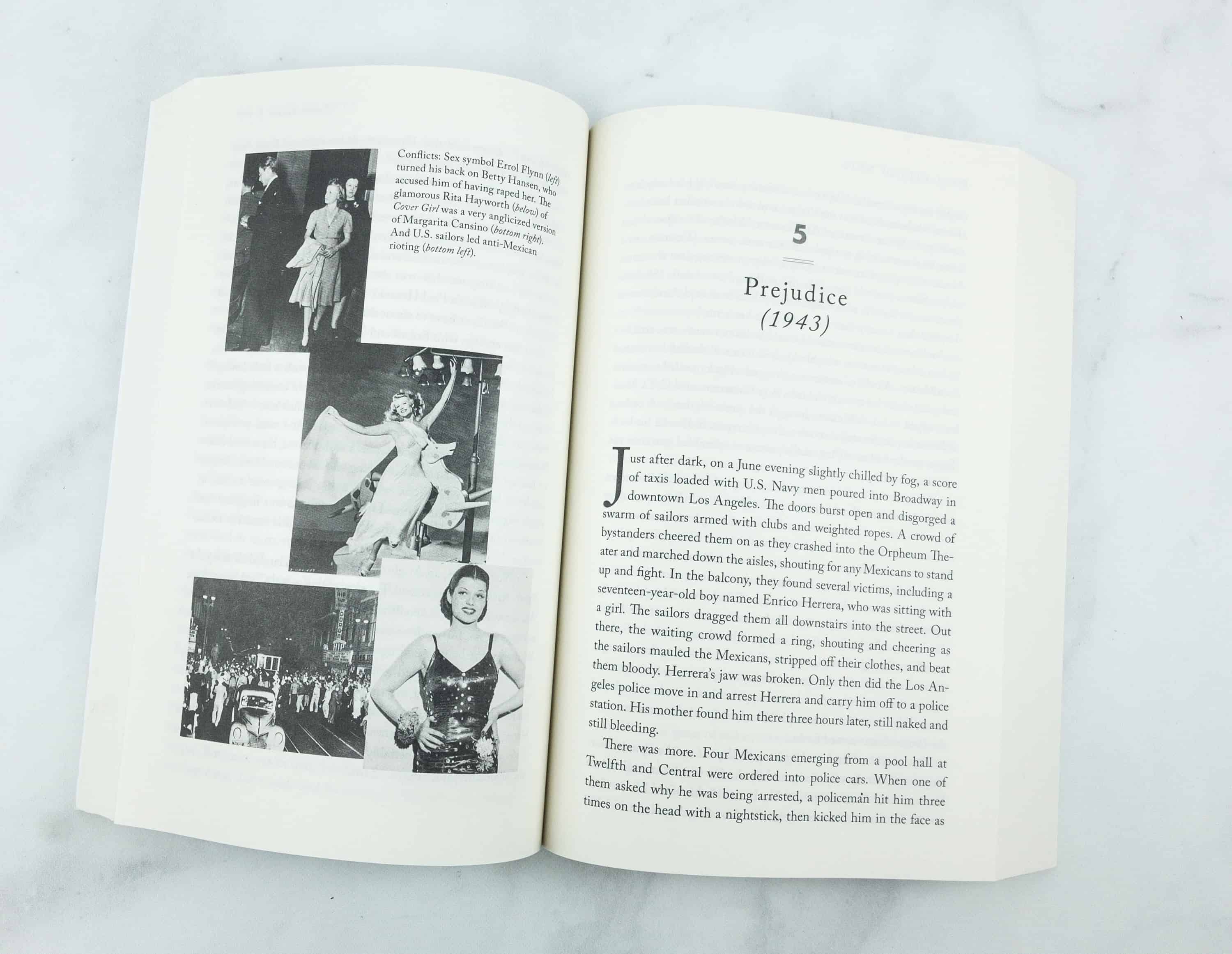 Although the photos are in black and white, they still evoke Hollywood's heyday.
Bibliophilic Excursions Signature Journey is impressive, to say the least with its choice of treats for me. I love the honey and the poppy seeds that they included. The tote and water bottle are also going to be useful for me. The books really piqued my interest. Kudos to the people behind this subscription box as they made sure that their readers received engaging selections!
Any thoughts about this box? Let us know what you think!
Visit Bibliophilic Excursions to subscribe or find out more!