Bette's Box of Blessings is a subscription made with Christians in mind. It gives you a collection of gifts for yourself to help you grow in your faith and items to share your faith with friends and family. The boxes start at $29 per month.
DEAL: Get $5 off your first month's box! Use coupon code HELLO.
The theme for September is "Sharing." This month's Bible verse is
We loved you so much that we are delighted to share with you not only the gospel of God but our lives as well, because you had become so dear to us. 1 Thess 2:8

Phoenix, our son's cat, had a huge interest in this box and wrinkled the letter by laying on it.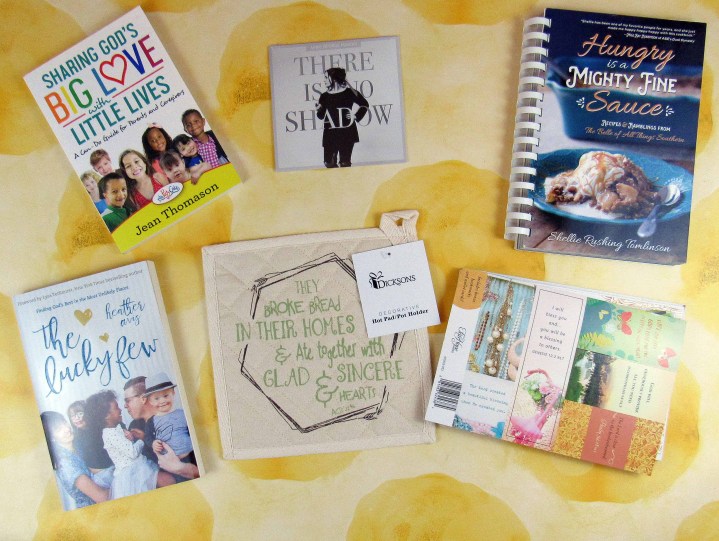 Here are the items in the September Bette's Box of Blessings.
Jean Thompson, aka Miss PattyCake and Bette's friend, wrote Sharing God's Big Love with Little Lives: A Can-Do Guide for Parents and Caregivers ($14.99 List Price, $9.48 Amazon.) Amazon describes it as
In this eagerly anticipated guide for parents, grandparents, and caregivers of little ones, Jean Thomason, known as the lively Miss PattyCake character, shares her insights gleaned from more than twenty years in children's ministry. Sharing God's Big Love with Little Lives will affirm that God has put a child or children in your life on purpose. Using Scripture, humorous anecdotes, and insightful research, Jean equips you with fresh ideas and enthusiastic encouragement to help guide your kids as they grow into all God has created them to be. This book is a spiritual toolkit you can refer to again and again.
I found it to be a delightful read and will be sharing it with mothers of younger children.
The Lucky Few: Finding God's Best in the Most Unlikely Places ($16.99 List Price, $10.43 Amazon) by Heather Avis is a heart-warming story about her family's journey. Amazon described it as
These are the faces that call me "mom," the three children who made me a mother.

When I started my journey into parenthood I never thought it would look like this. I never planned on having three adopted children, and I certainly never imagined that two of them would have Down syndrome. But like most of the things God does, once we stepped into the craziness and confusion of the unknown and unplanned, we quickly realized that we were indeed among the lucky few.

When my husband and I decided to grow our family ten years ago, we were surprised to find that getting pregnant was not as easy as we had thought it would be. And as we navigated the ups and downs of infertility, God led us down the path of adoption. Of course, we would adopt! Not what we had originally planned, but certainly a wonderful option.

But just as we began to get a comfortable grasp on growing our family through adoption, God introduced us to Macyn Hope, a very sick little girl with Down syndrome who desperately needed a family. As we continued to follow God's calling, first with Macyn, and later with Truly and then August, we found ourselves further and further from the comfortable paths we thought our lives would take, and instead moving down some very scary, and often painful roads.

Even though at times His plan seemed terrifying and even downright foolish, little could we have known how much goodness, blessing, and joy would flow out of loving these three little people He's put into our lives. No, it's not been easy: not the open-heart surgeries or the challenges of raising two children with Down syndrome or the complexities of dealing with birth-families or the struggles we've had with the public education system. But through it all, every new and uncomfortable situation has only proven to be another chance to see how very good God's plan is for our lives and how downright lucky we are to be able to live it out.

It's only the lucky few that recognize that the most beautiful things in this life are often found in the differences. What some would see as misfortune, I've learned to see as nothing more than pure luck.
It's an incredible story, and the pictures touched my heart.
I enjoyed listening to the There is No Shadow CD ($5.94 for MP3 album) which has four original songs and two cover songs. The four original songs describe Abbie George Maggio's college experience year by year. My favorite song is the prayerful ballad Father's Heart. I am listening to the CD again as I write the review. Phoenix, our son's kitty, is being lulled to sleep by the music as he lays in the Bette's Box of Blessings box.
I adore receiving cookbooks that include stories. The Hungry is a Might Fine Sauce: Recipes & Ramblings from the Belle of all Things Southern by Shellie Rushing Tomlinson ( $16.99 List Price, $11.96 Amazon ) is going to keep me entertained and busy in the kitchen throughout the fall season.
My husband is already dreaming about the peanut butter pie!
I can't wait to start laughing at the humorous stories as I cook my way through the cookbook.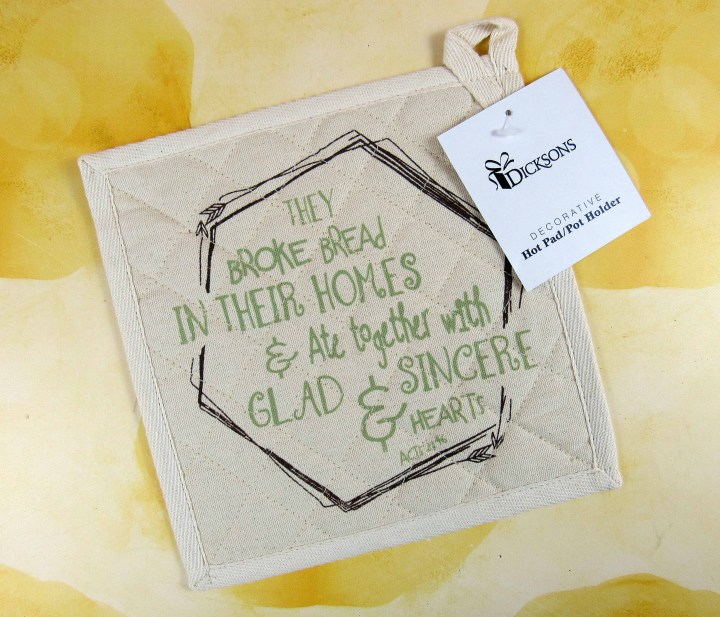 I also have a new potholder to assist me in my cooking. The quilted cotton canvas Dicksons Potholder ($14.99 Amazon) reads
They broke bread in their homes & ate together with glad & sincere hearts Act 2:46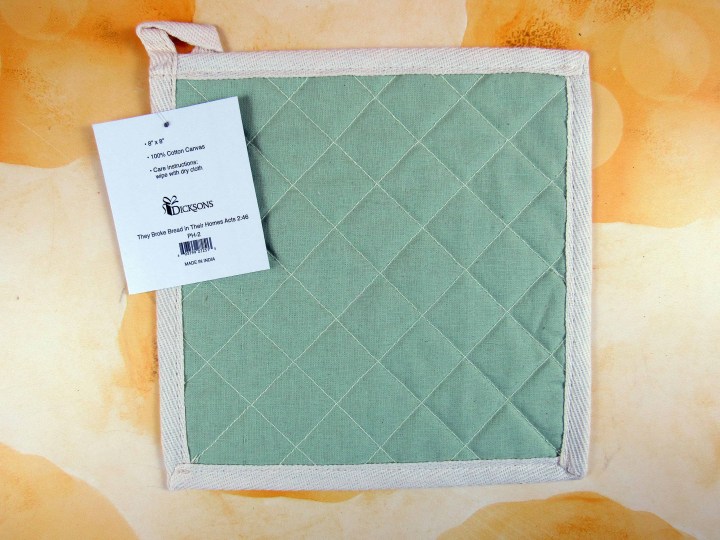 The decorative potholder will be put to good use.

It's time to checkout this month's Fairhope Encouragement Cards (10 cards, $14.95.) I am glad that it includes bookmarks because I need to replace the ones I lost.

Included is my very first crossword puzzle card. I can't decide if I should keep it or send it. I better send it out in honor of this month's theme "sharing."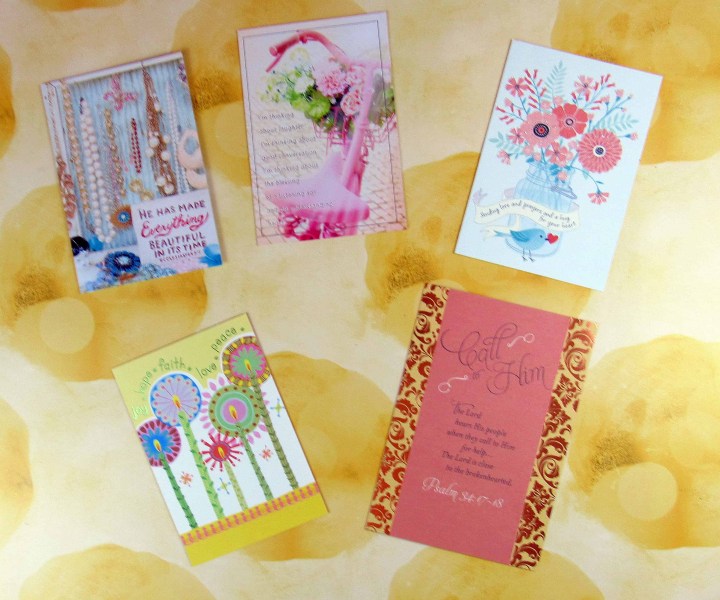 I look forward to them every month.
Colorful envelopes add to the enjoyment of card sending.
The September Bette's Box of Blessings inspired us to think about different ways to share our lives with others. Bette's closing paragraph in her letter gave us great starting points in sharing: the Gospel, our lives, and sending out cards/Bette's Box of Blessings. The items are in its original packaging and can be enjoyed by the subscriber or gifted. It's a beautiful box for those that are seeking an uplifting Christian box to encourage you and others throughout the month.
Did you like this box? Let me know in the comments!
Visit Bette's Box of Blessings to subscribe or find out more!