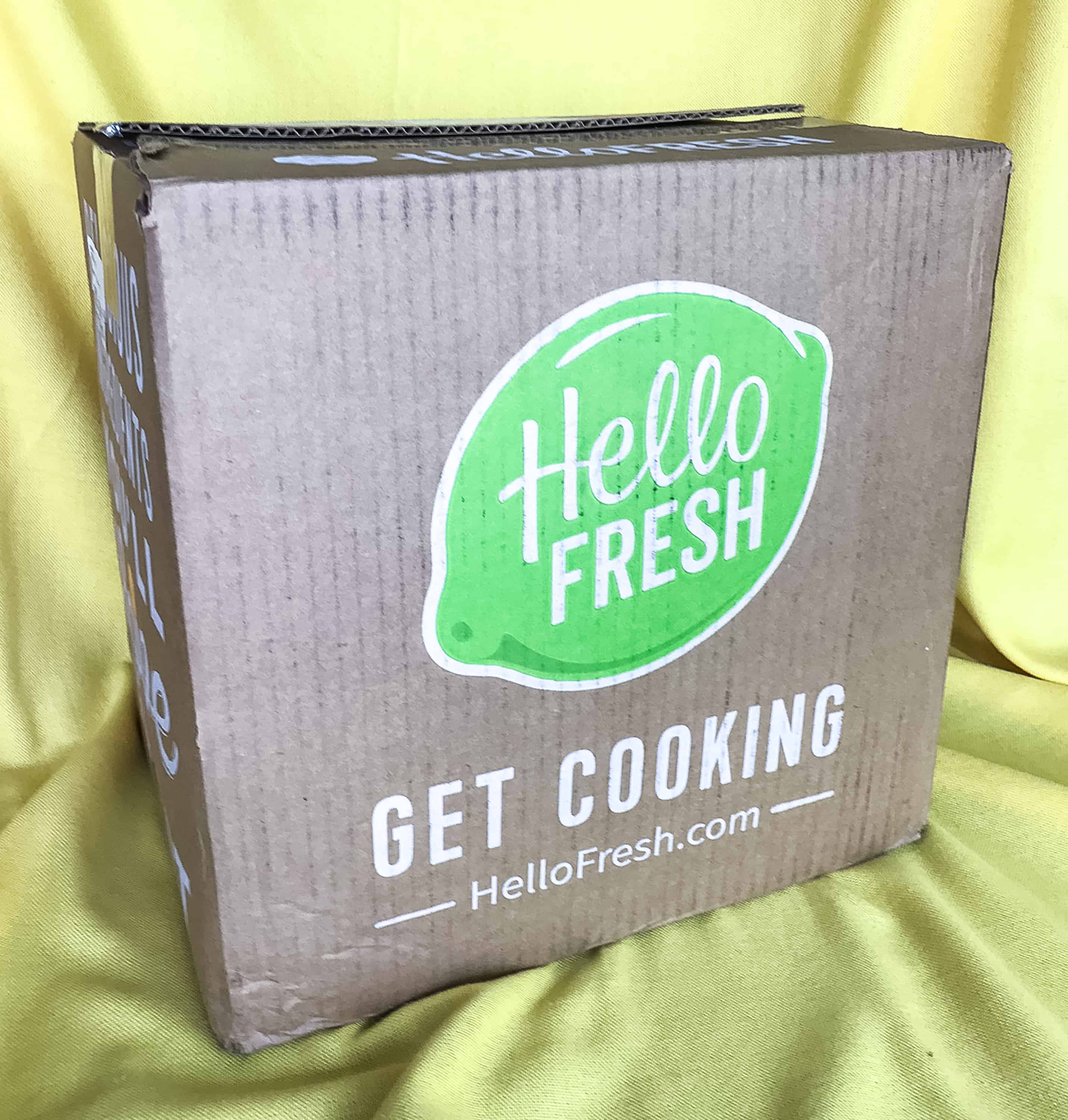 Hello Fresh is a meal kit subscription box with complete recipes and ingredients to make 3 meals every week, with each meal feeding either two or four people, depending on the plan you choose.
Though it is a subscription, you can pause your deliveries when needed – whether you are out of town, have other dinner plans, or just aren't in love with that week's selections. The standard subscription provides high-quality meats (free-range chicken, antibiotic meats, etc.) to use in the recipes.
This review covers the Vegetarian box! Though we do eat meat, we cook vegetarian three times a week. Thankfully, Hello Fresh has a vegetarian subscription for both casual and dedicated vegetarians.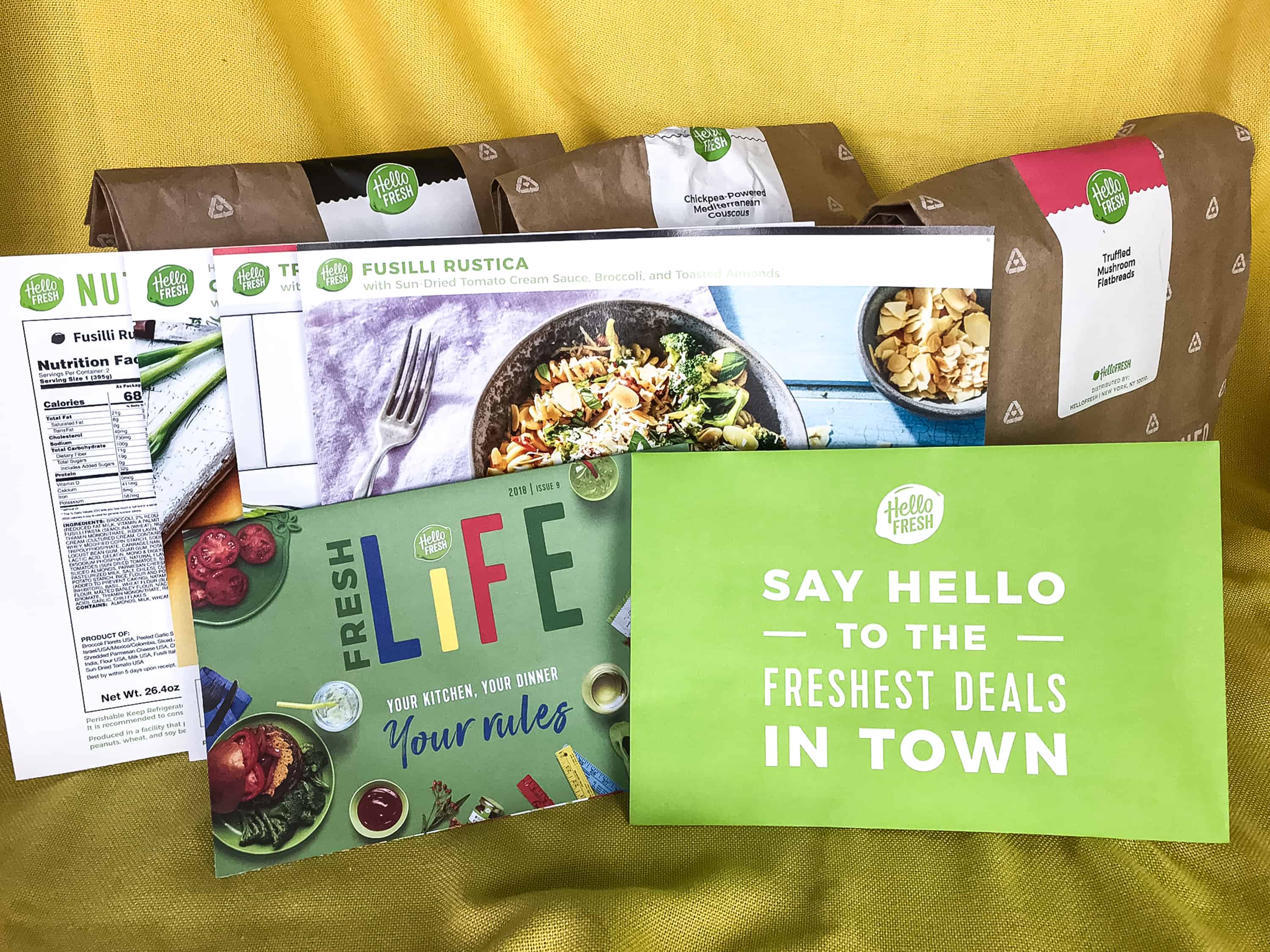 Hello Fresh packs the food with reusable and/or recyclable ice packs. I take these out to my road with a sign, "free ice packs." They're normally gone in a few hours. The packing materials are also reusable/recyclable, I've taken the plastic coating off and used it for flower pot liners. And of course the cardboard boxes, I recycle. Thanks, Hello Fresh, for being environmentally friendly.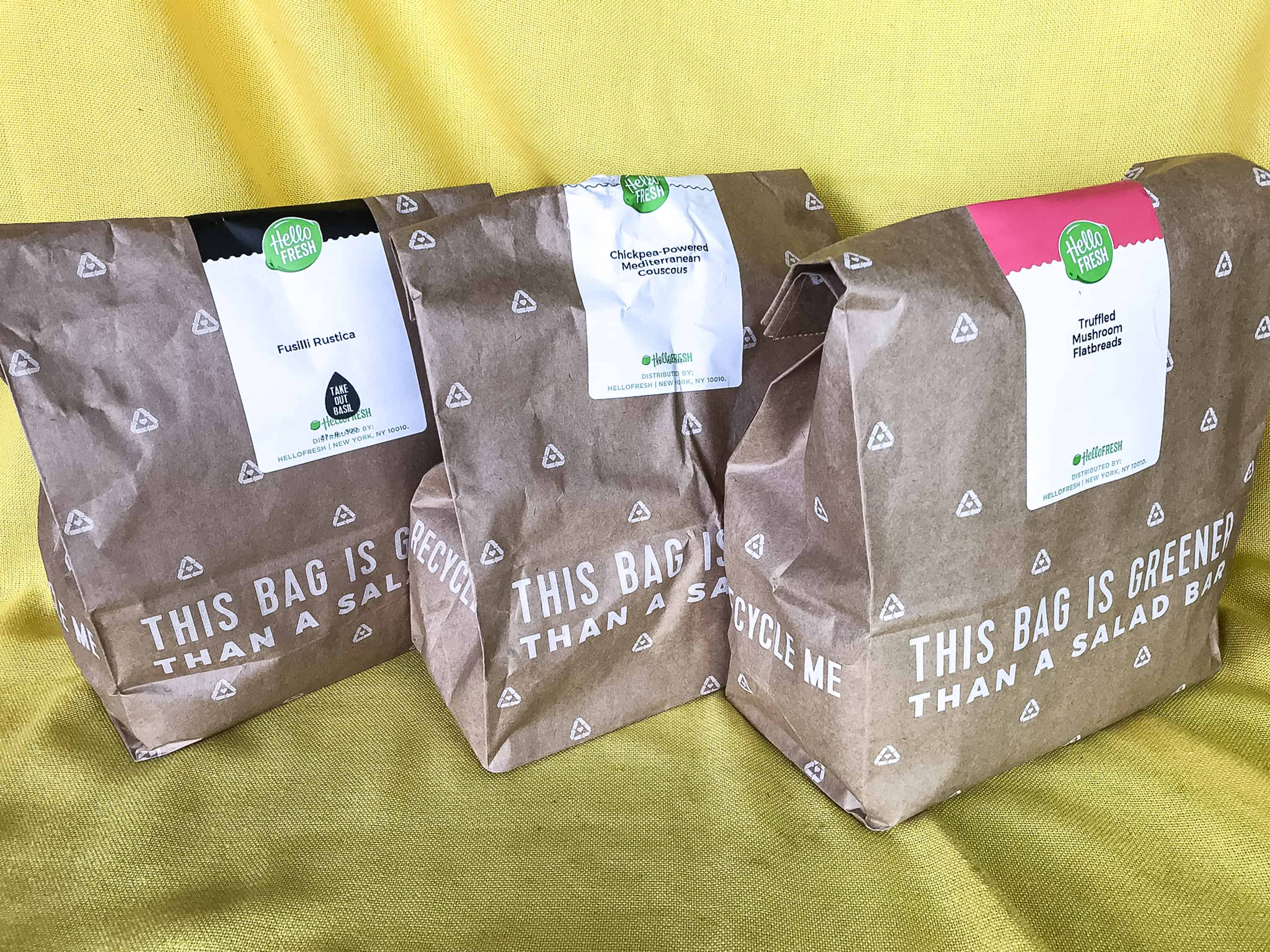 The bags used by Hello Fresh keep all the ingredients for the recipes in order, and they stack nicely in the fridge. Within each box, everything but the largest vegetables is separately packaged and is packed at the bottom. Condiments and canned goods are provided in high-end, commercial packaging. Hello Fresh usually provides spices in their own, pre-measured branded packaging.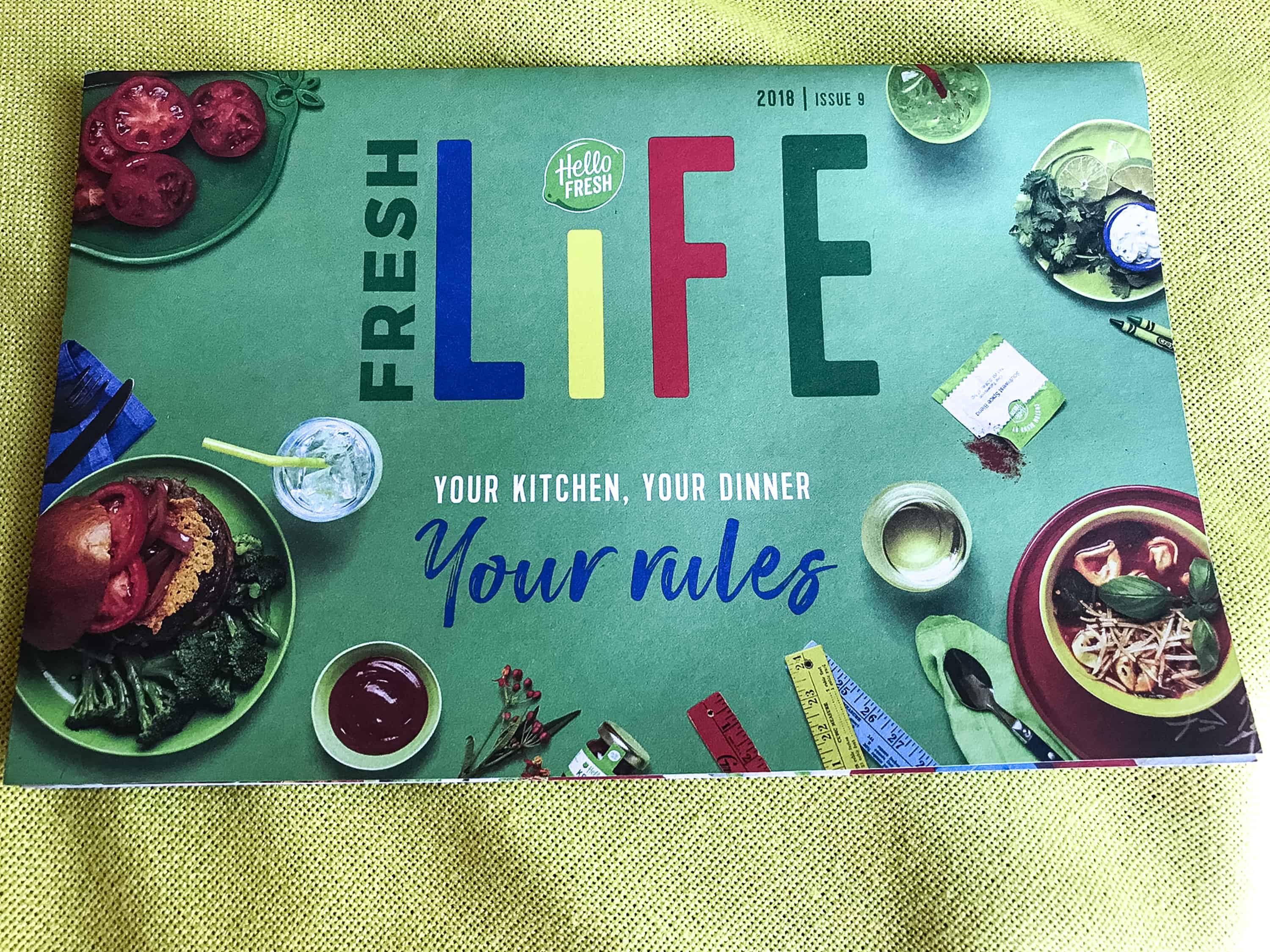 I received a copy of Fresh Life Issue 9!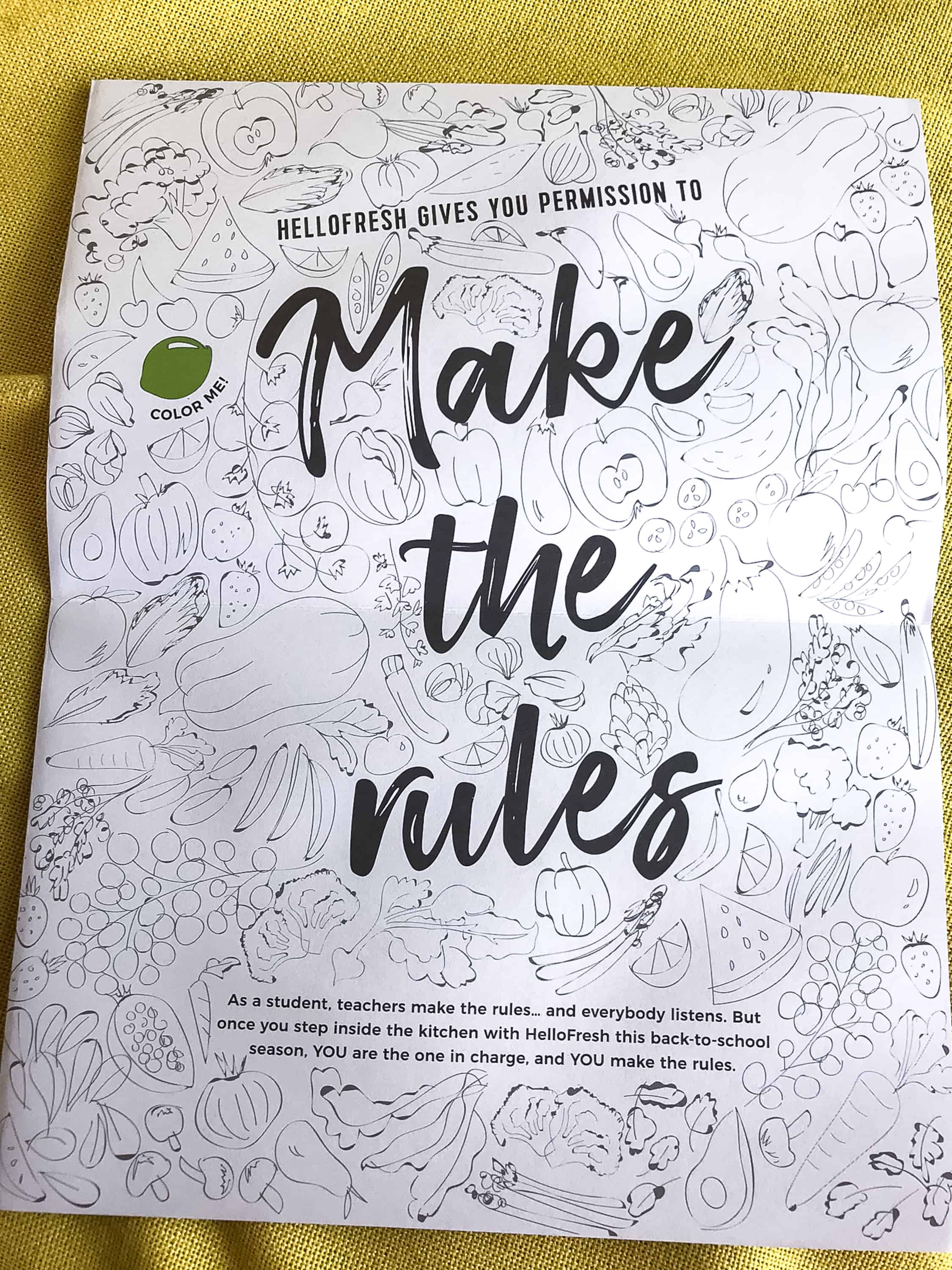 They even included this page which can be colored as you please.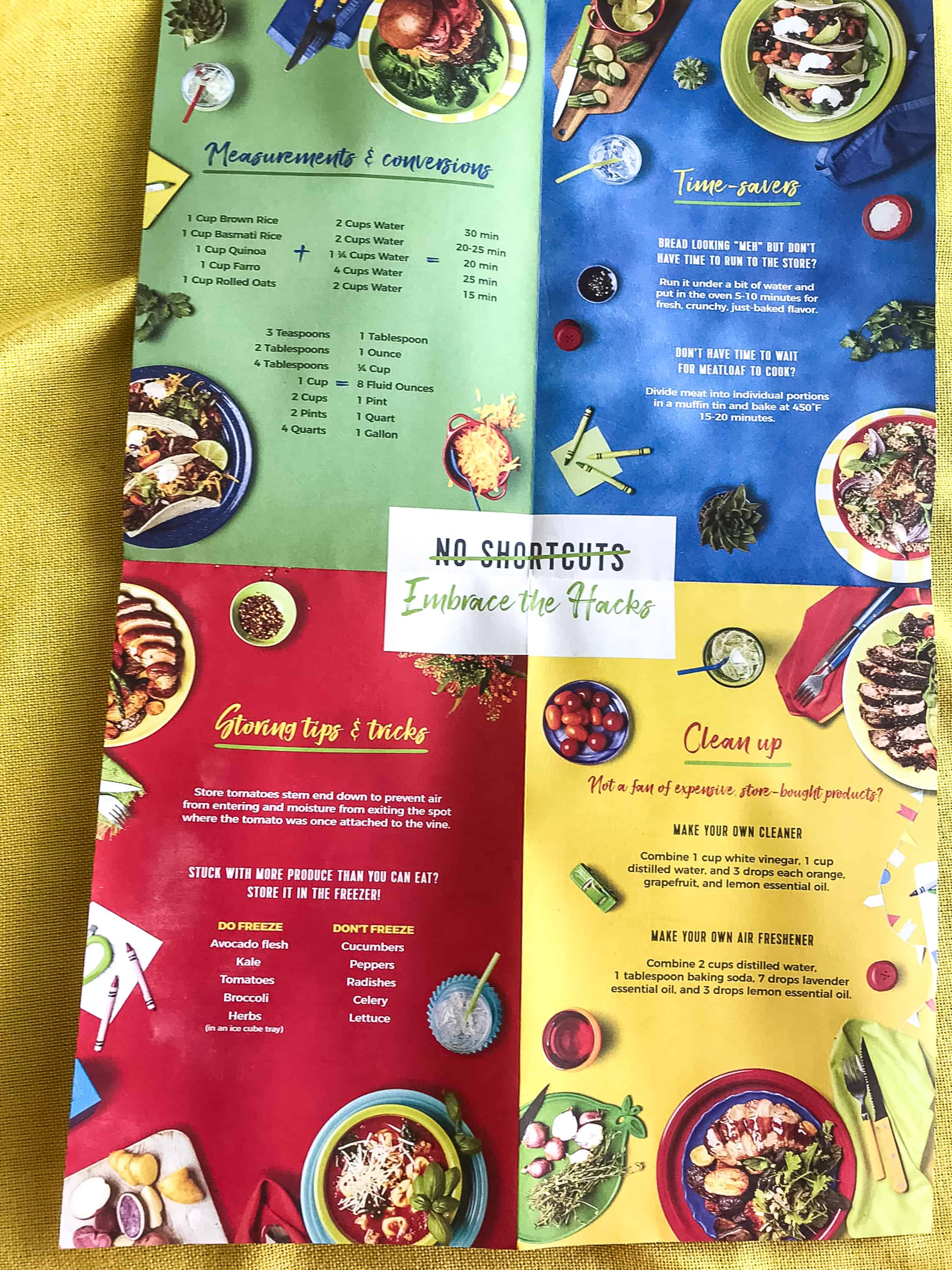 Another spread contains useful tips, such as measurements and conversions, time-savers, storing hacks, and cleaning how-tos.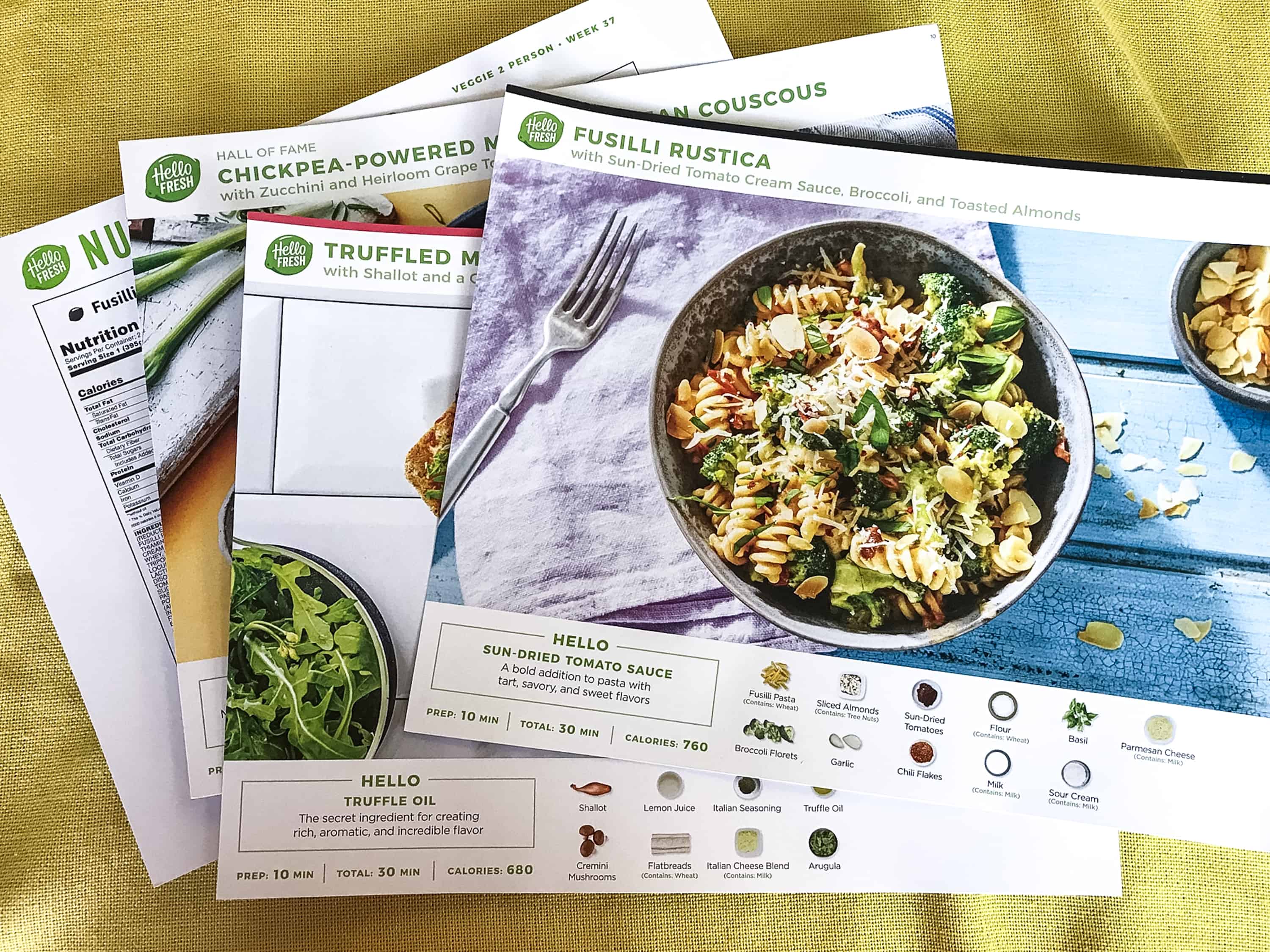 Hello Fresh has great instructions, and they are easy to follow even if you are an inexperienced cook. Each recipe includes several pictures so you maintain a sense of how the dish should look as you go along.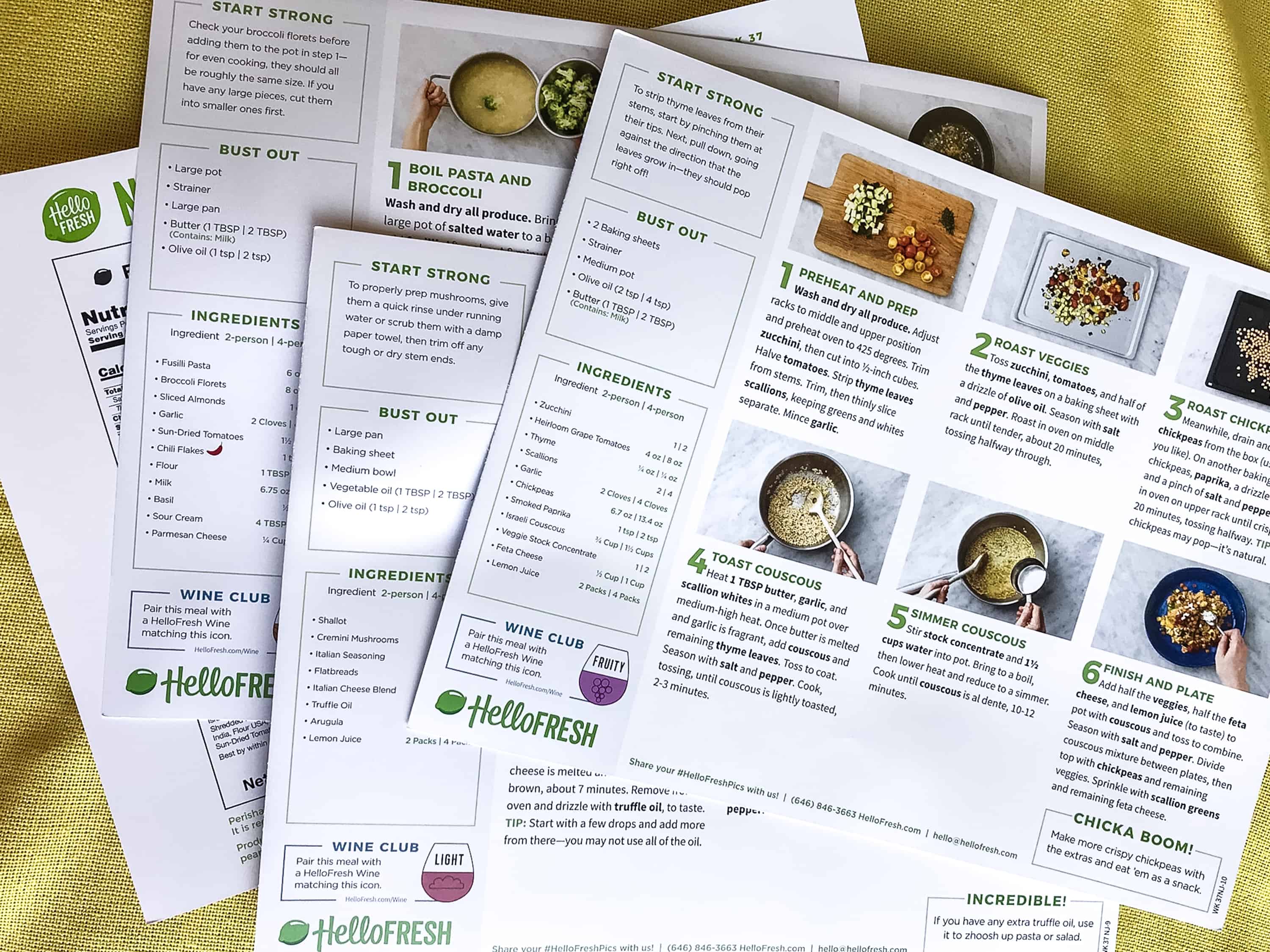 There are even some kitchen tips included in the information card.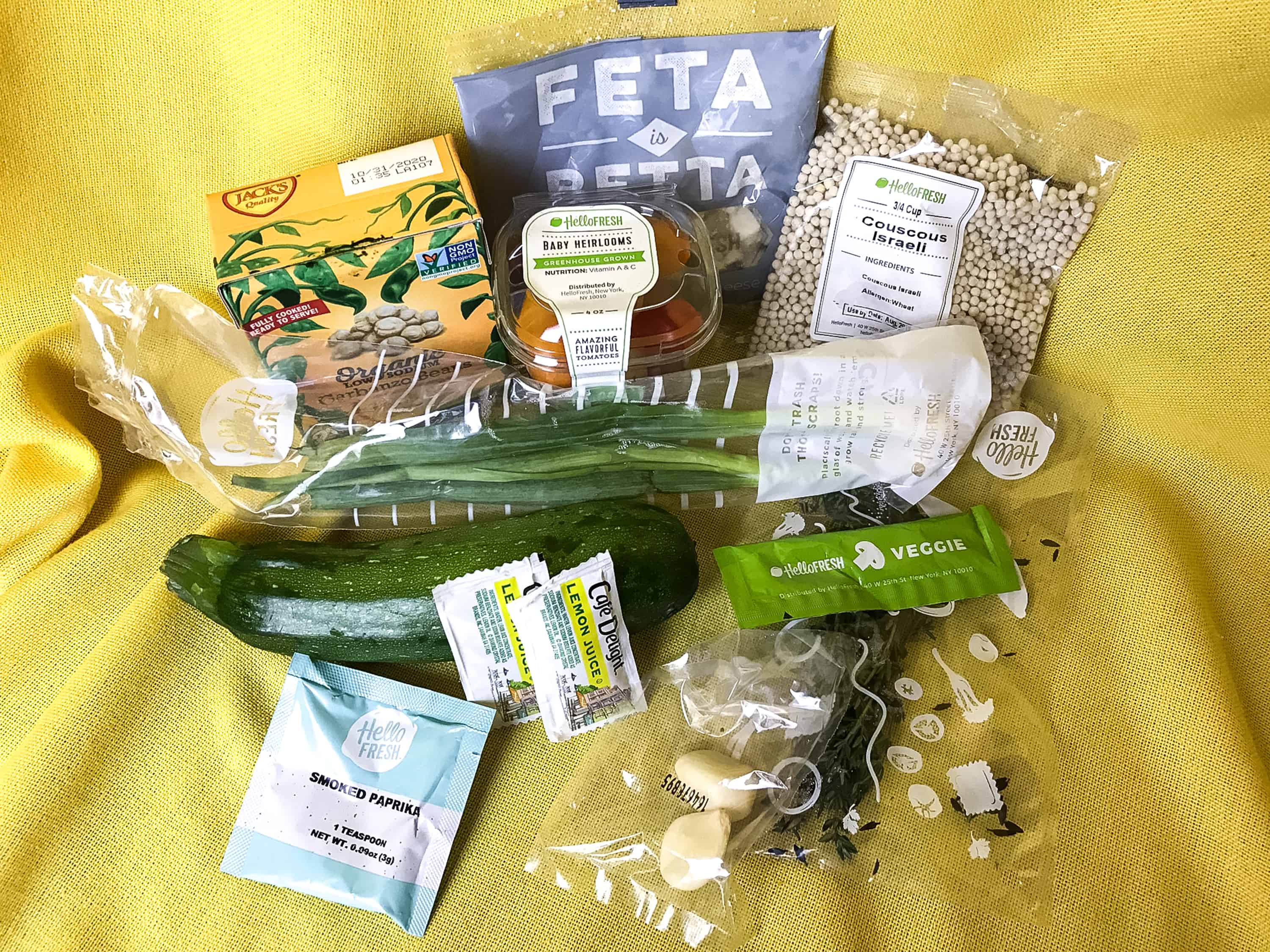 Chickpea-Powdered Mediterranean Couscous – 30 minutes, Level 1, 610 calories per serving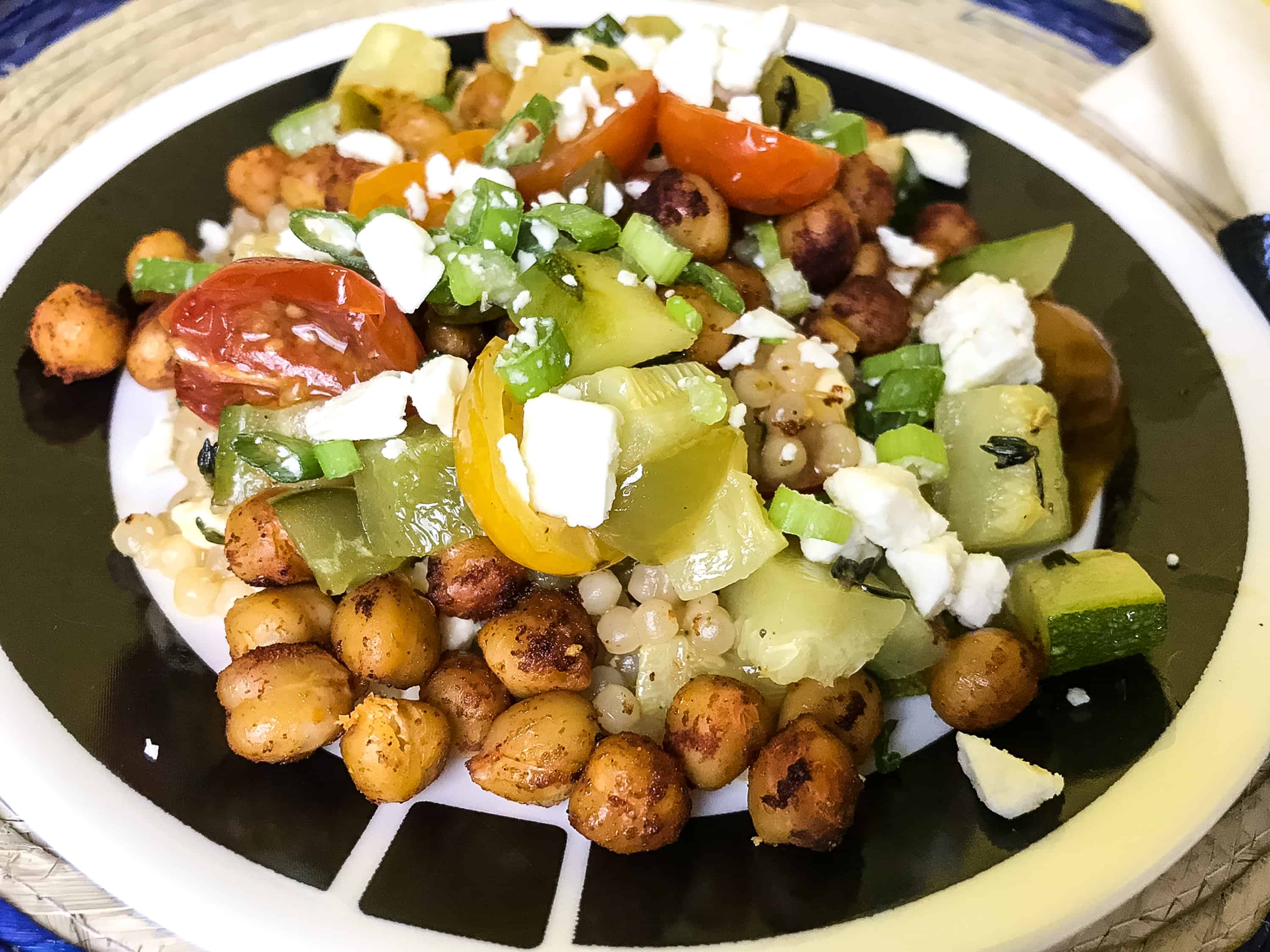 This is an all-star favorite recipe of Hello Fresh and I can tell you why.  It is easy, only 10 minutes prep time (except we are a tad bit slow on getting the thyme leaves off of the stems).  30 minutes cooking time and at 550 calories, not a bad meal at all!  And this is tasty with a few simple items like: smoked paprika, garlic, and lots of thyme.
Now for me and mine, I start an hour before actually making a meal to get ready. With 2 grandkids in the house waiting on their mom to pick them up, you just never know when something will happen and you have to stop. If you have kids/grandkids you know what I mean.  When the grandkids aren't around and my husband helps, it sure goes a lot faster, so we have a glass of wine and take our time cooking. It's nice that I can tell my husband, "please start #3 (whatever #)."  The recipe cards are so very helpful, numbered and with pictures.
Hello Fresh provides all ingredients except olive oil, butter, S&P, and sugar. I'm not sure why but I've been amazed at what they do send: fresh eggs (not one of mine has ever been broken, knock on wood), milk (in little cartons just like at school) and the cutest little bottles of liquids. Easy, tasty and filling, it just doesn't get much better than that!
Fusilli Rustica – 30 minutes, Level 1, 760 calories per serving
This was a recipe I hadn't tried before. I'm a big basil fan and this used a bunch of basil, so it was great for me. Now about those sun-dried tomatoes…love! For my taste buds, I could have used double the amount but my husband liked it as it was. That's the great thing about Hello Fresh, keep the recipe cards and make it again but make it to your taste preferences. I've done that many times. And speaking of those sun-dried tomatoes again, I'd never tried them until I started receiving Hello Fresh. Hello Fresh has introduced me to lots of different foods and flavors.
I served this meal to my husband and I and my folks. I've mentioned it before but let me mention it again. We're older, 58-85 years of age, so we don't need as much food. We divide all our meals into 4 servings. One day a week I invite my parents over, they get to try new foods and they bring a dessert. What a great way to share a meal. My dad is a little on the picky side but he has enjoyed trying out new items, he loves the recipes with couscous!
This meal included sun-dried tomato, cream sauce, broccoli, and toasted almonds. Yummy!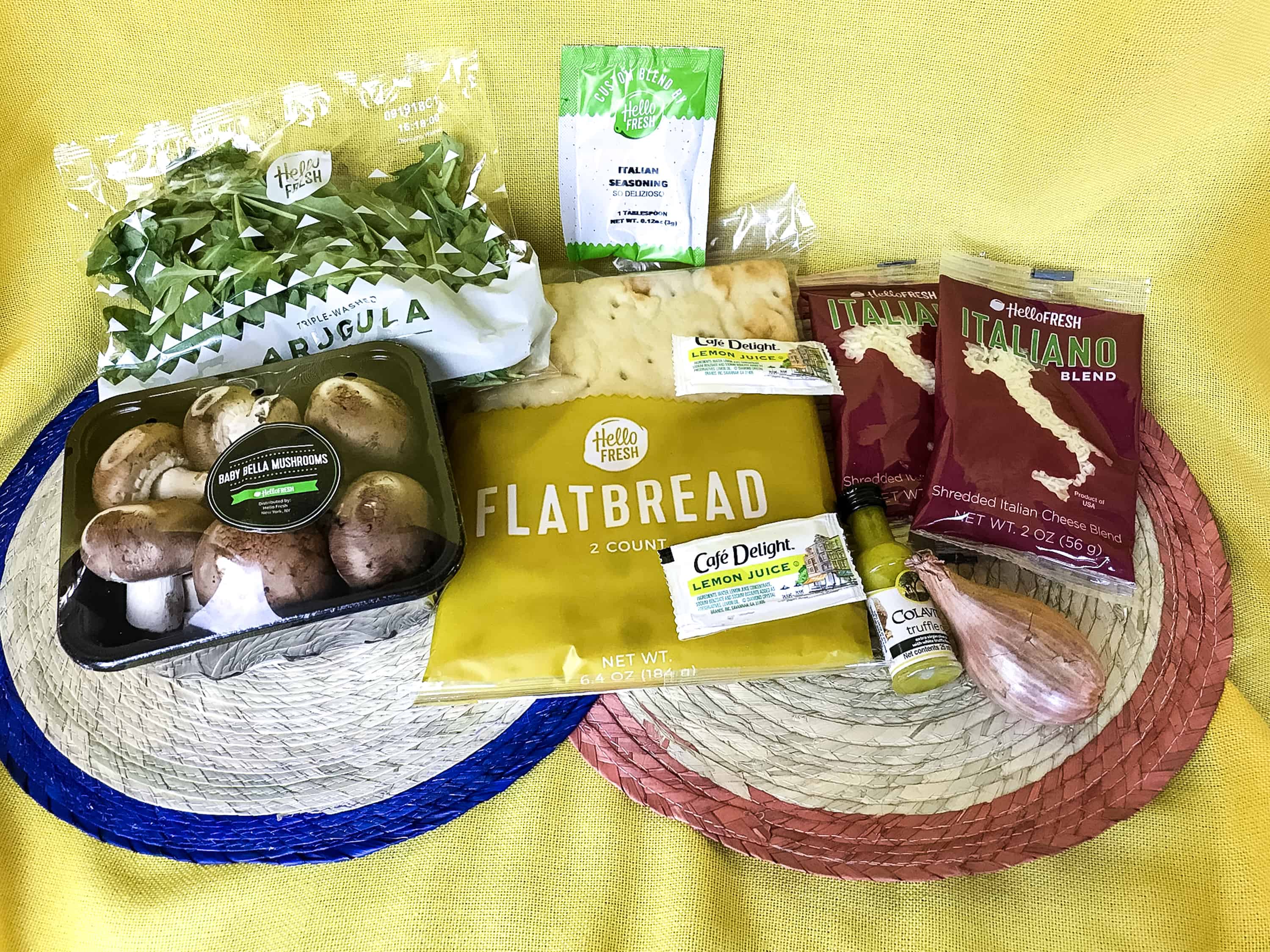 Truffled Mushroom Flatbreads – 30 minutes, Level 1, 710 calories per serving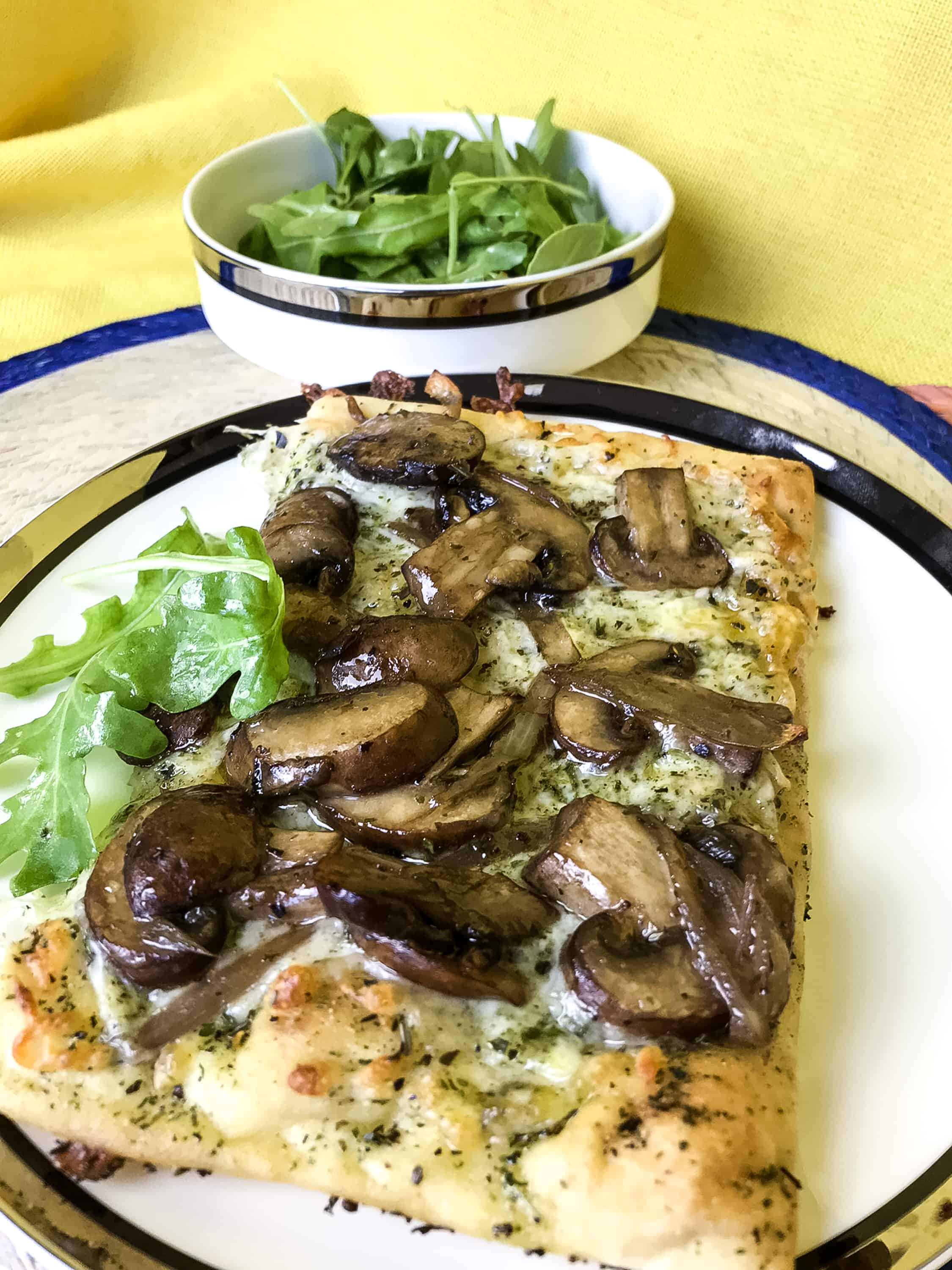 We've had many variations on flatbreads all of which my husband loves.  It's similar to pizza and that's a favorite food for him.  I never knew you could put so many different items on flatbreads.  If I didn't receive Hello Fresh every week I think I'd try a new version!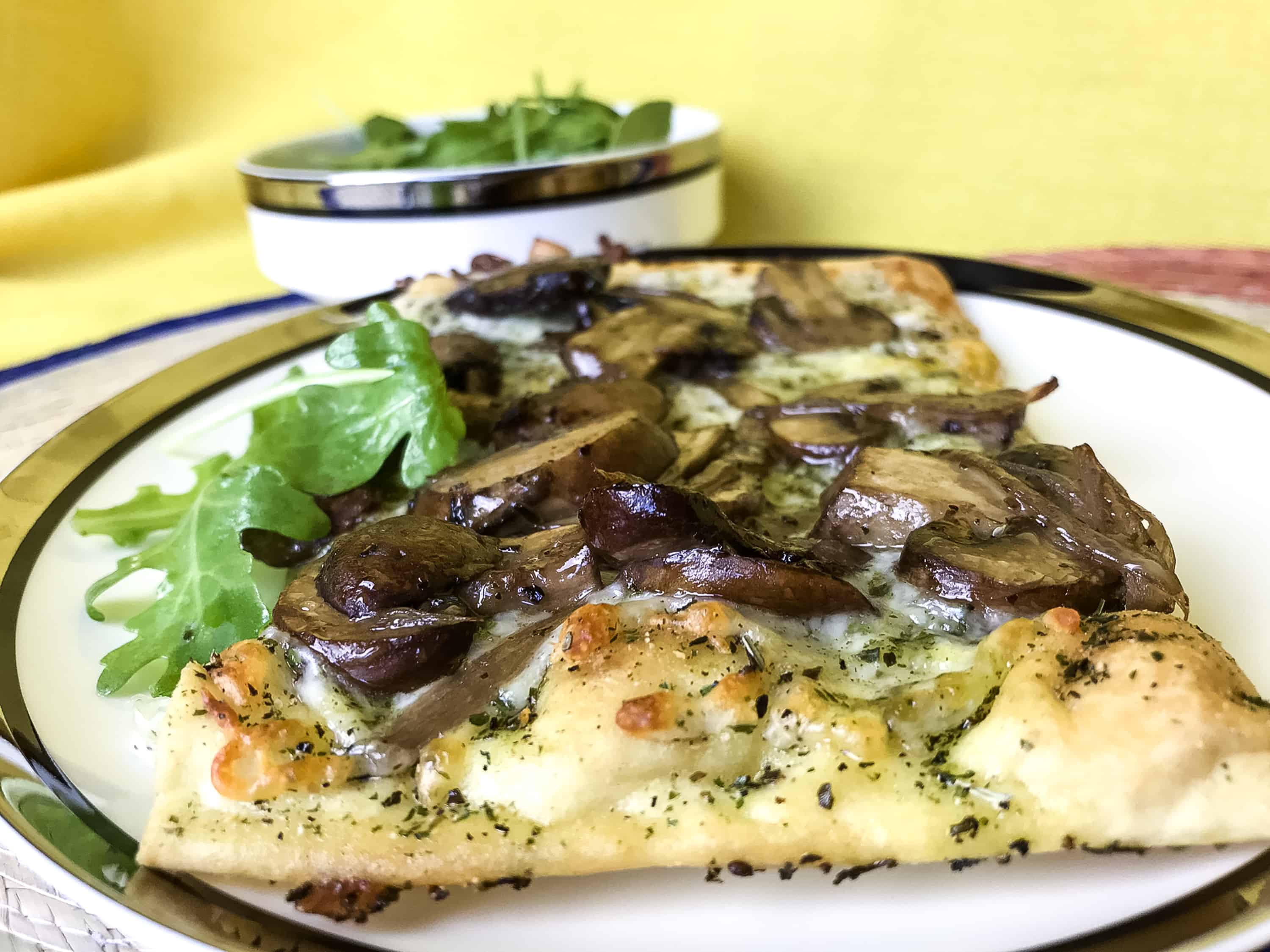 Very simple recipe with few ingredients. Truffle oil is used and I had to google it, it's olive oil that's been infused with white or black truffles. It was tasty! And the cremini mushrooms were delicious. Not counting the arugula and lemon juice, used with olive oil on the arugula, there were only 6 ingredients for the flatbread.
Thanks Hello Fresh for another great week of meals!
What can you say about the vegetarian recipes in our box?