Field to Cup is a monthly tea subscription that lets you try several wonderful teas and provides a steeping guide so you can get the best cuppa. They have 5 different subscription options available at varying price points and with different amounts of tea. I am reviewing the Explorer Box, which is $14.97 a month. I had the option of choosing black or low-caffeine, and I chose black. This box provides enough tea for 20-32 cups, depending on whether or not you re-steep your teas.
DEAL: Get 10% off any tea subscriptions! Use coupon code HELLO10.
The first thing to do is pick which of the subscriptions you would like to receive! Two of the subscriptions give you the choice of black or low-caffeine, giving you 5 different subscription options.
There was a quick guide to the perfect cup on the inside of the lid.
The presentation was simple. I found 4 bags snuggled in black tissue paper and each bag featured all of the pertinent information. The bags are resealable and will keep the tea fresh for a while.
I received a card…
…with the name of my subscription listed. It spelled out what I would find in my box.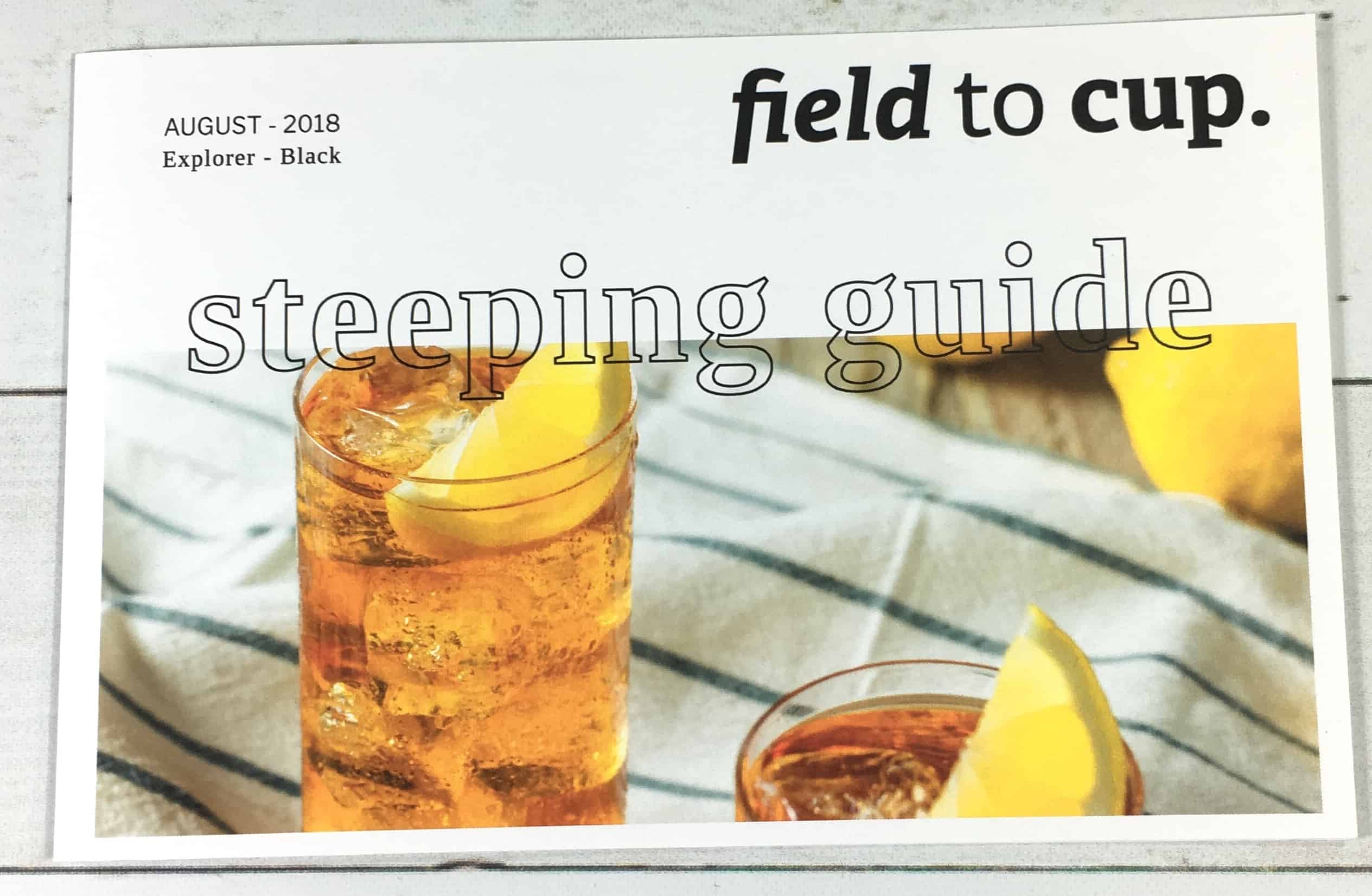 I also received a steeping guide.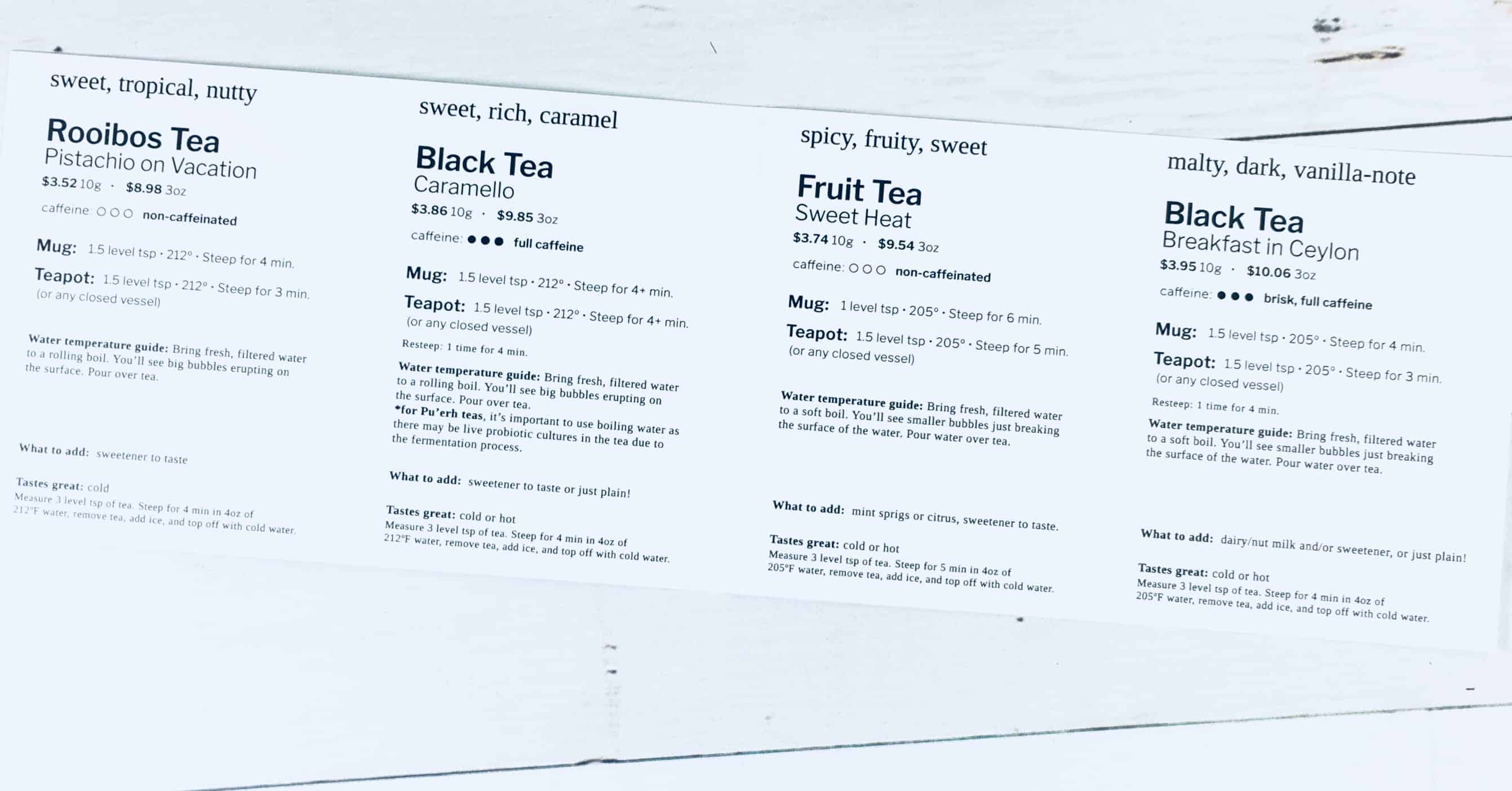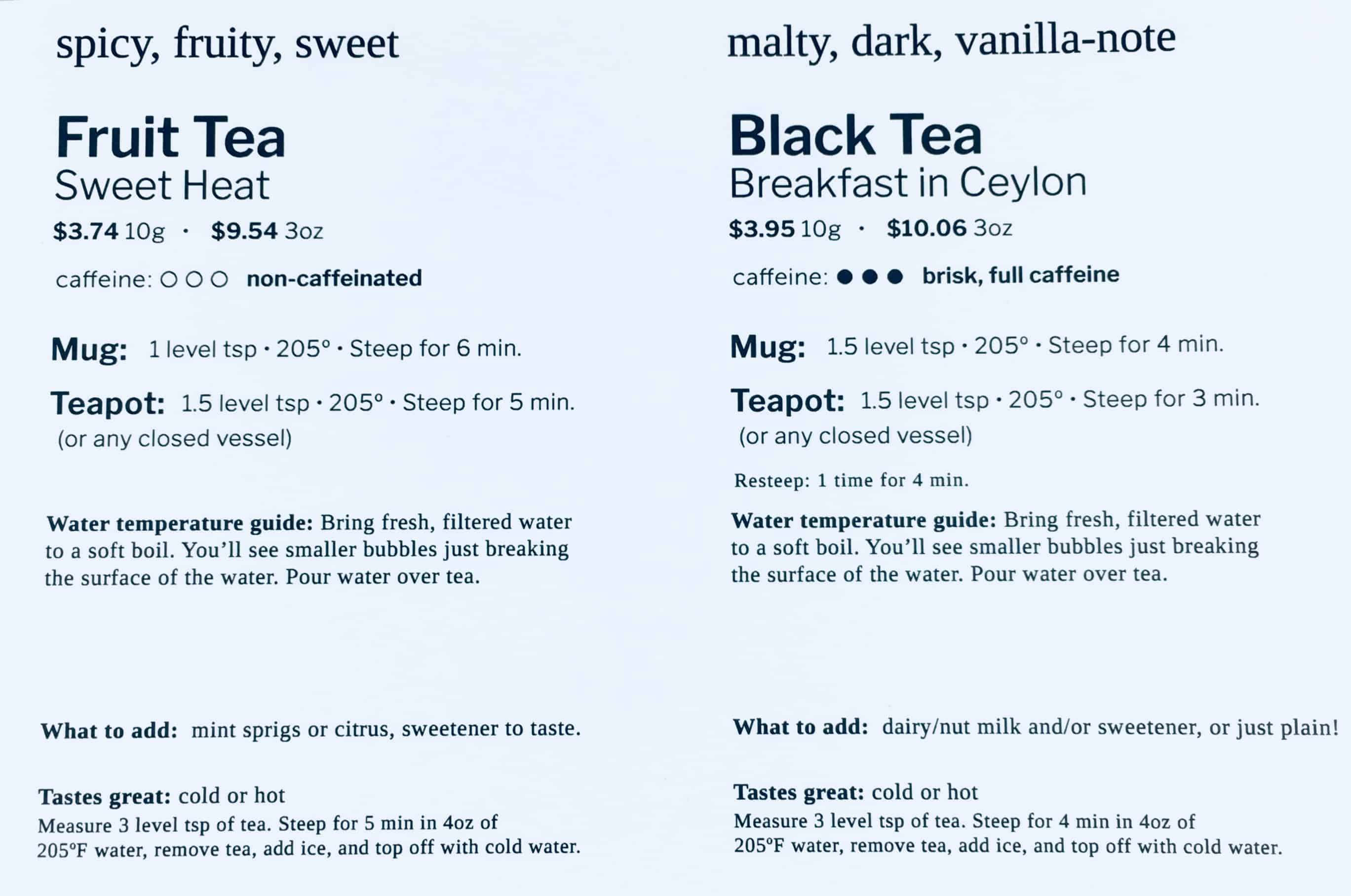 Each tea was listed, along with flavor notes, value, amount of caffeine, steeping tips, and iced tea directions.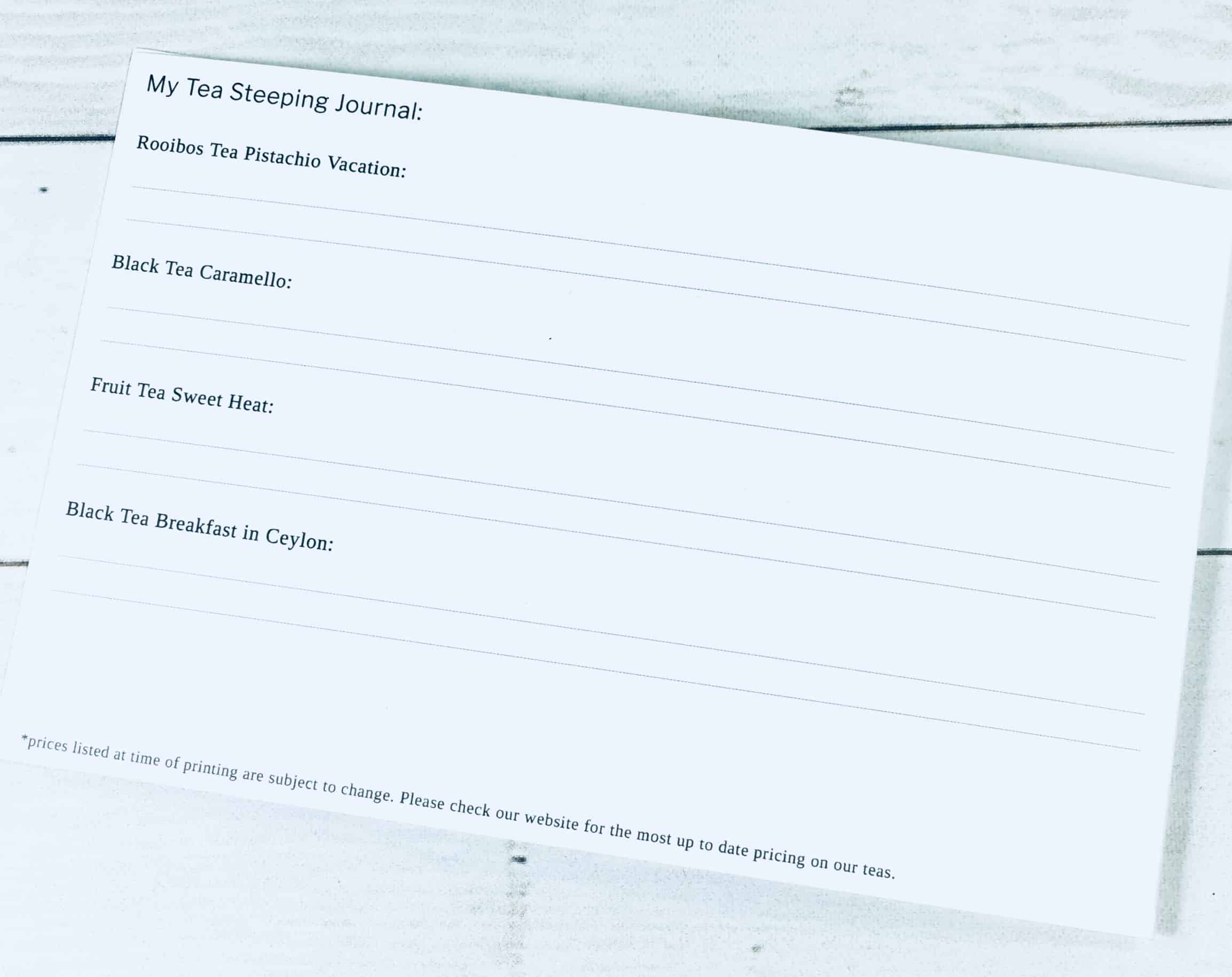 The back of the guide had a place for me to jot my own tasting notes.
I received some disposable filter bags, similar to the ones found here.
All four of my teas! Steeping instructions are found on all of the bags, along with hints on getting the water temperature right in case you don't have a thermometer or programmable kettle.
Black Tea Caramello ($3.86) is made with pu'erh tea, a fermented black tea. Sometimes it smells a little earthy. All I know is that I've tried a few different pu'erh teas and always enjoy its robust flavor.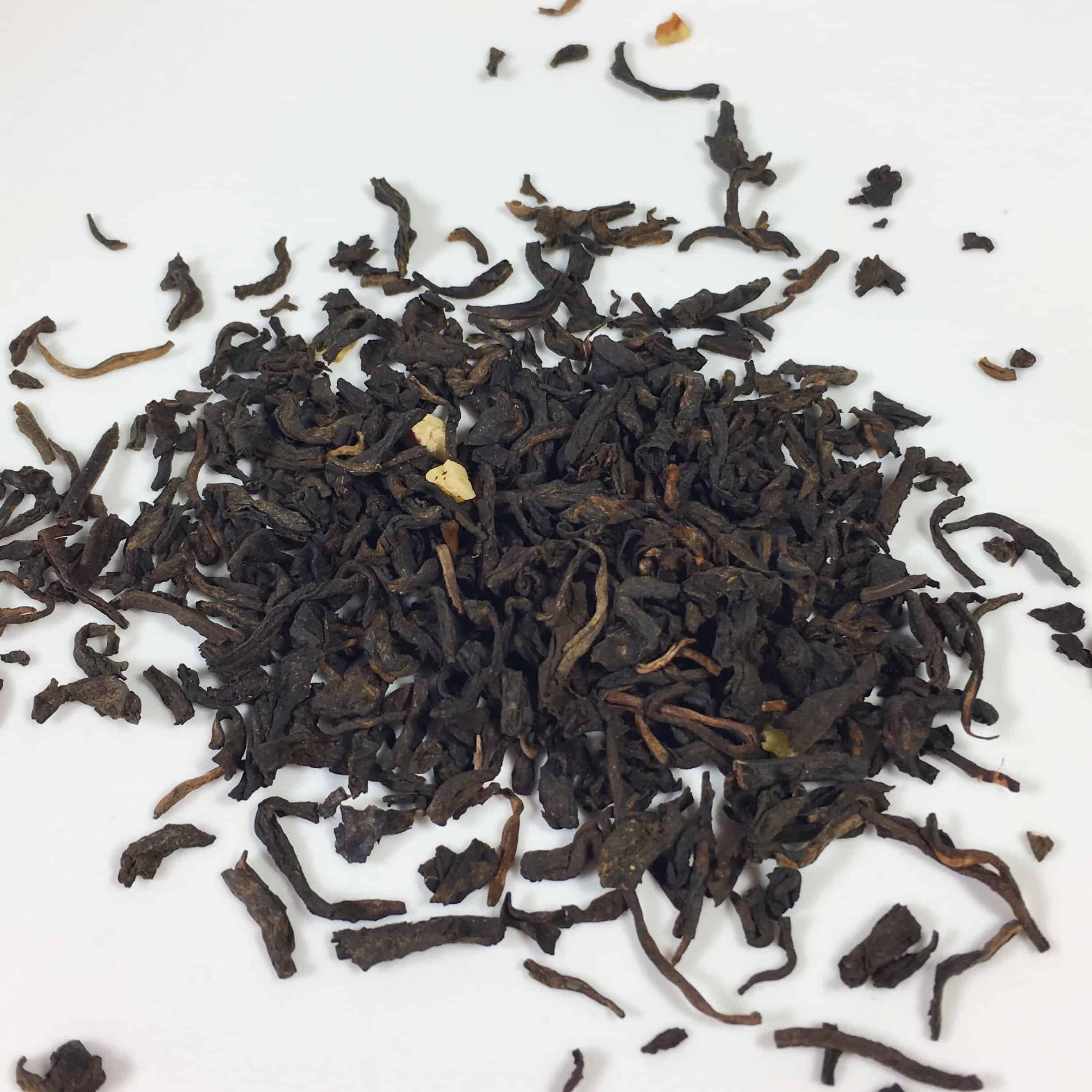 Caramello made for a wonderful cup of tea. I rarely drink coffee but this was reminiscent of a caramel macchiato, but with tea instead of coffee. I added milk and sugar and my cup was sweet and just a touch musty (as pu'erh often is).
Fruit Tea Sweet Heat ($3.74) I had never even heard of fruit tea until I found Field to Cup, and they have some amazing fruit teas!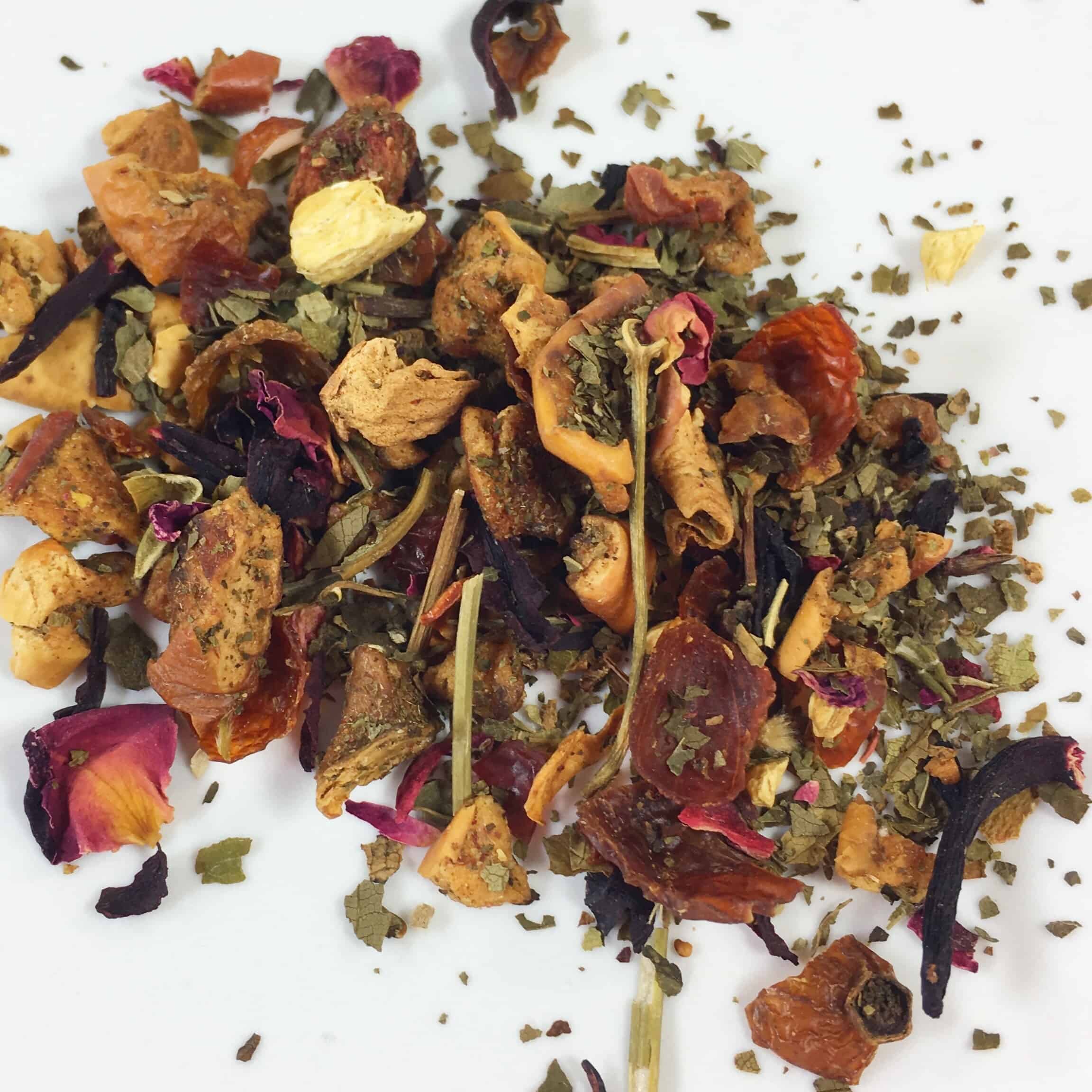 Fruit teas are caffeine-free and Sweet Heat didn't have much heat, but was fruity and sweet.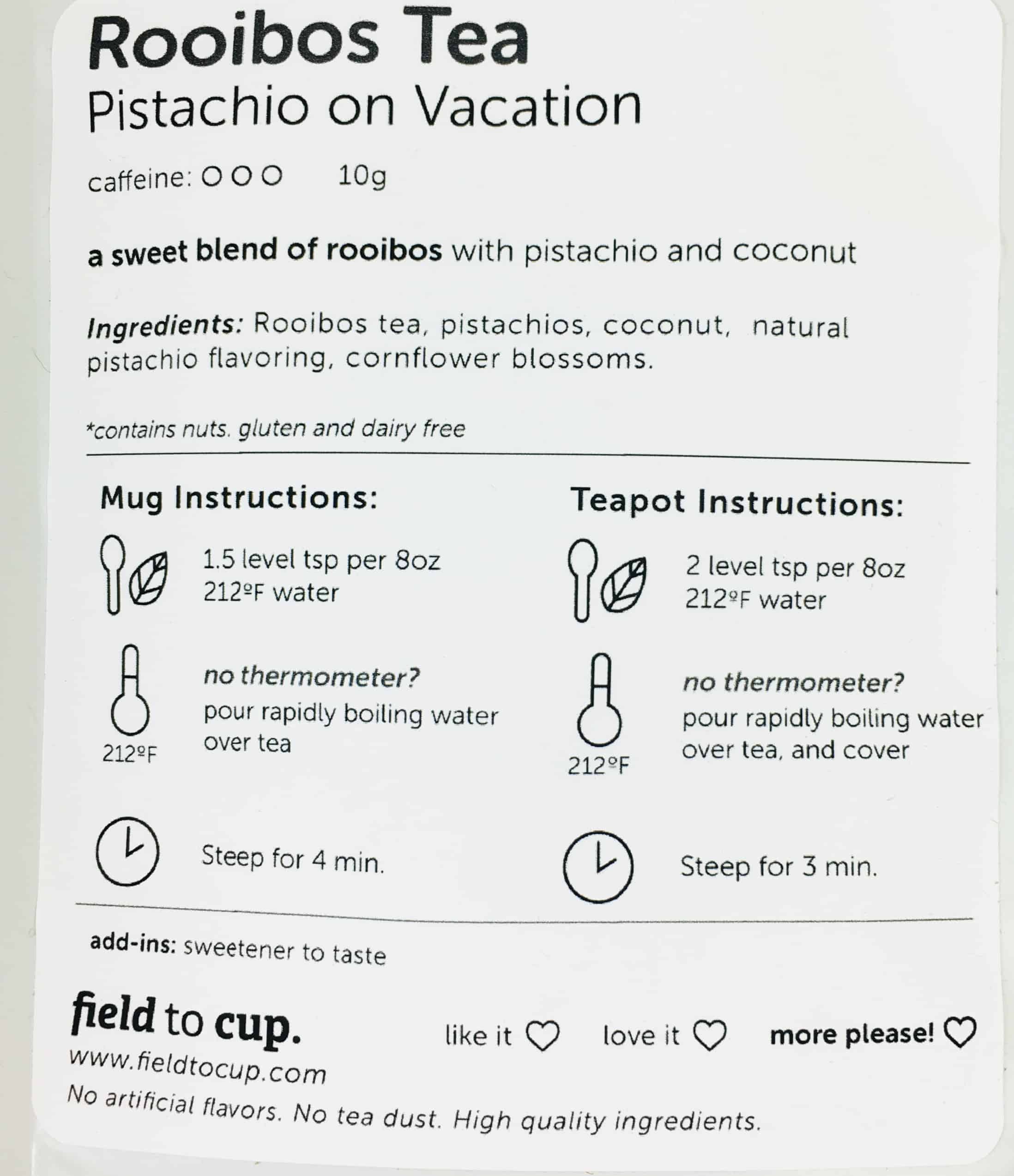 Rooibos Tea Pistachio On Vacation ($3.52) Rooibos is a caffeine-free stand-in for tea leaves for more robust cups of herbal teas.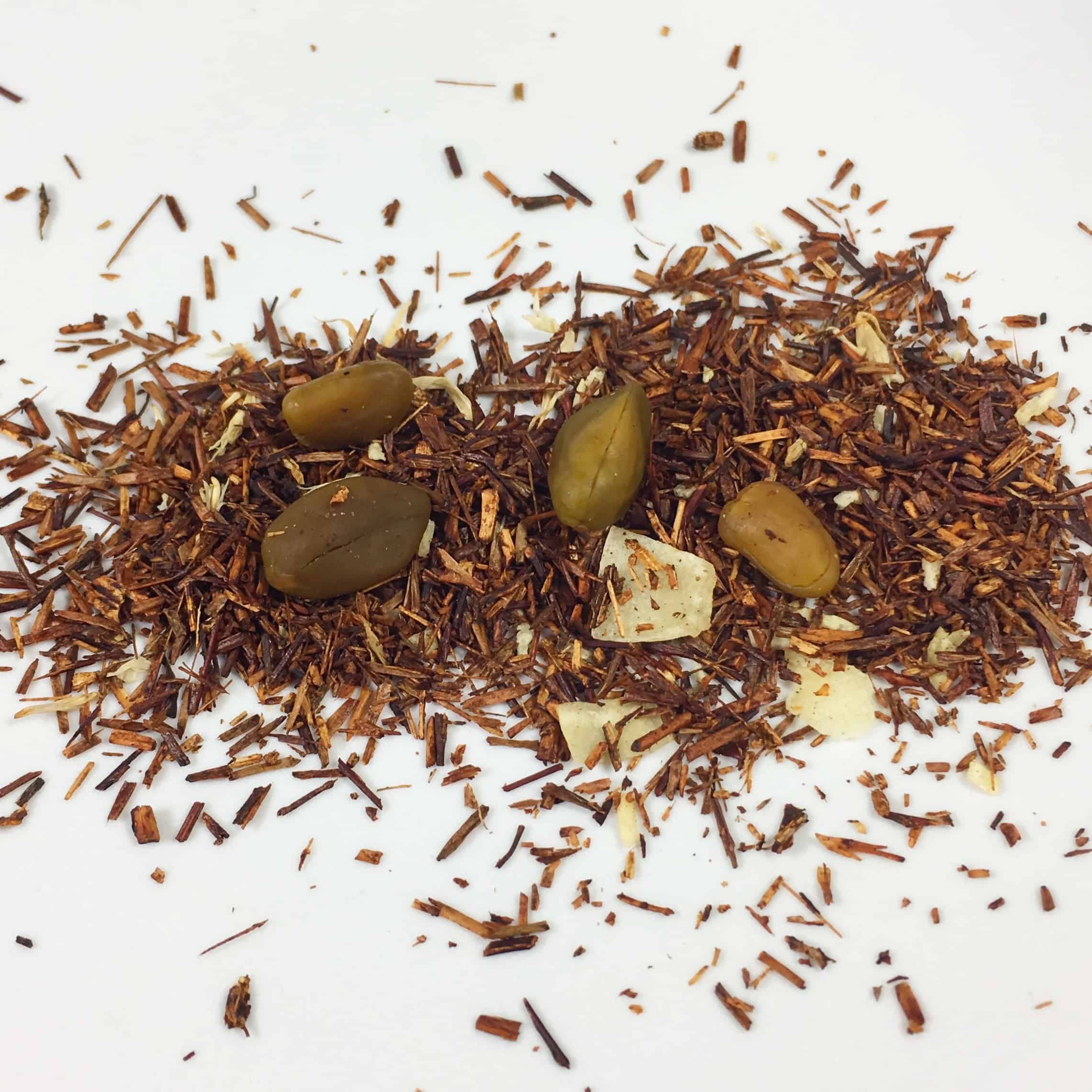 Coconut and pistachios add nutty and tropical nuances to this cuppa. I like to drink herbal teas in the evening and this one helps summer last just a bit longer.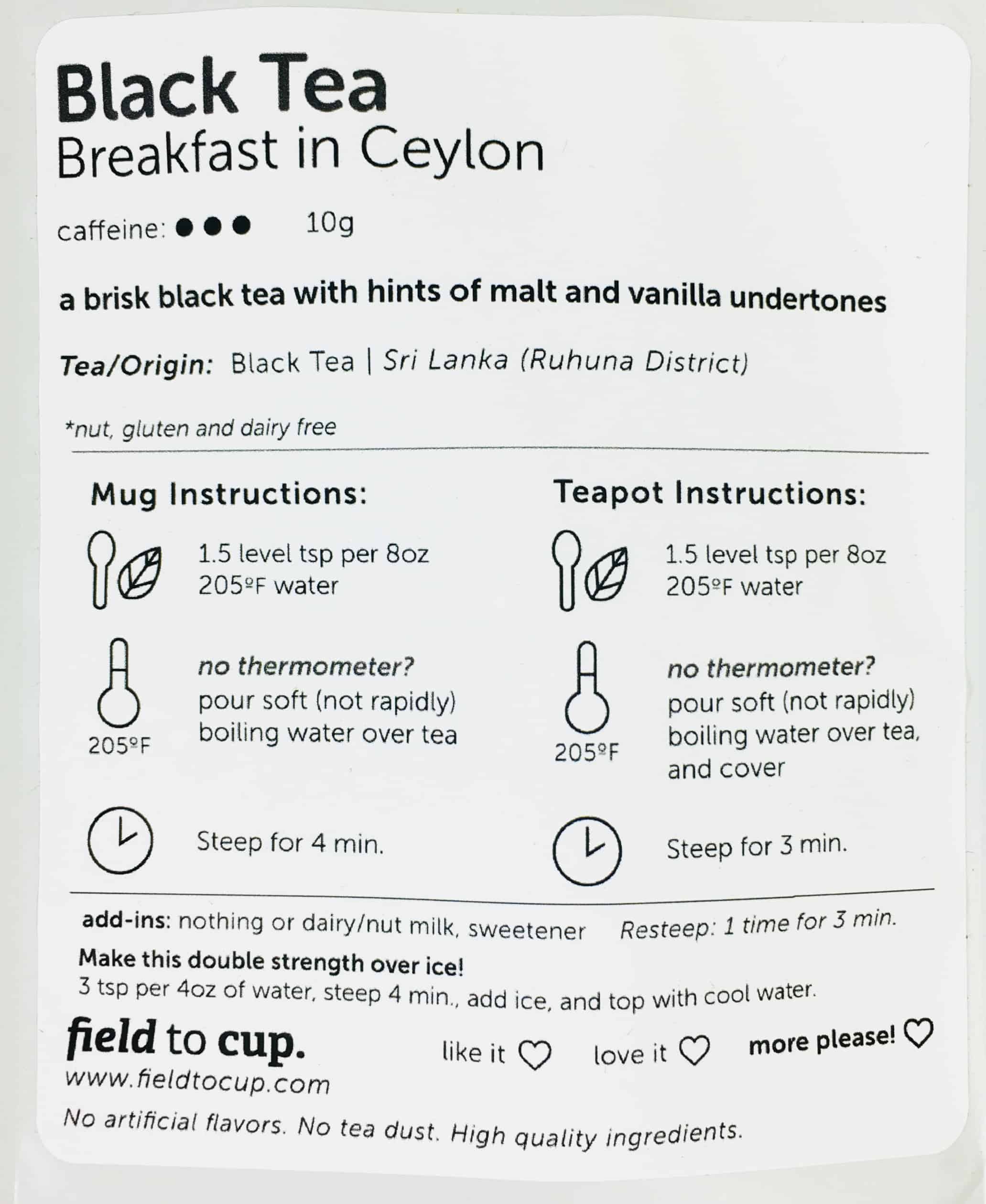 Black Tea Breakfast In Ceylon ($3.95) is straight-up black tea, nothing else added.
Breakfast Ceylon was very nice, almost fruity (I thought it smelled a bit like rhubarb!). I steeped it as directed and needed to add sugar and milk, but then I always add those to a cup of black tea.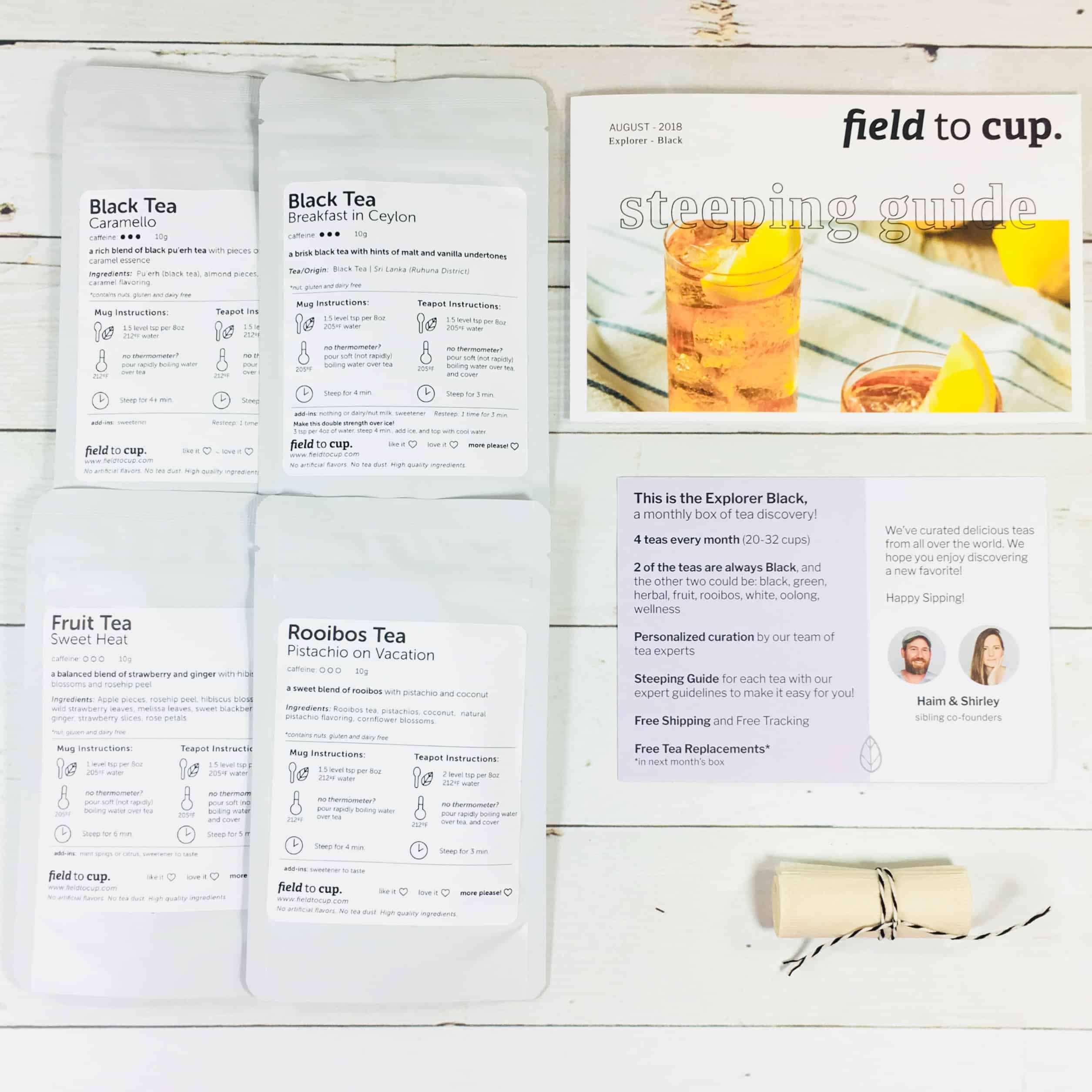 I love the teas sent by Field to Cup! They are fresh and have amazing flavors. Even the black teas are anything but basic! My favorite this month was Caramello, but then I love pu'erh. I like that I had black teas to get me going in the morning, and herbal teas to help me relax in the evening. This is also a good subscription if you are just getting into teas, since the steeping instructions are precise – you will eventually learn that temperatures that work for black or herbal teas are far too hot for white or green tea. If you ever receive a selection that's not your cup of tea, then Field to Cup will replace it in your next box.
What do you think of this month's box?
Visit Field to Cup Tea Discovery Box to subscribe or find out more!