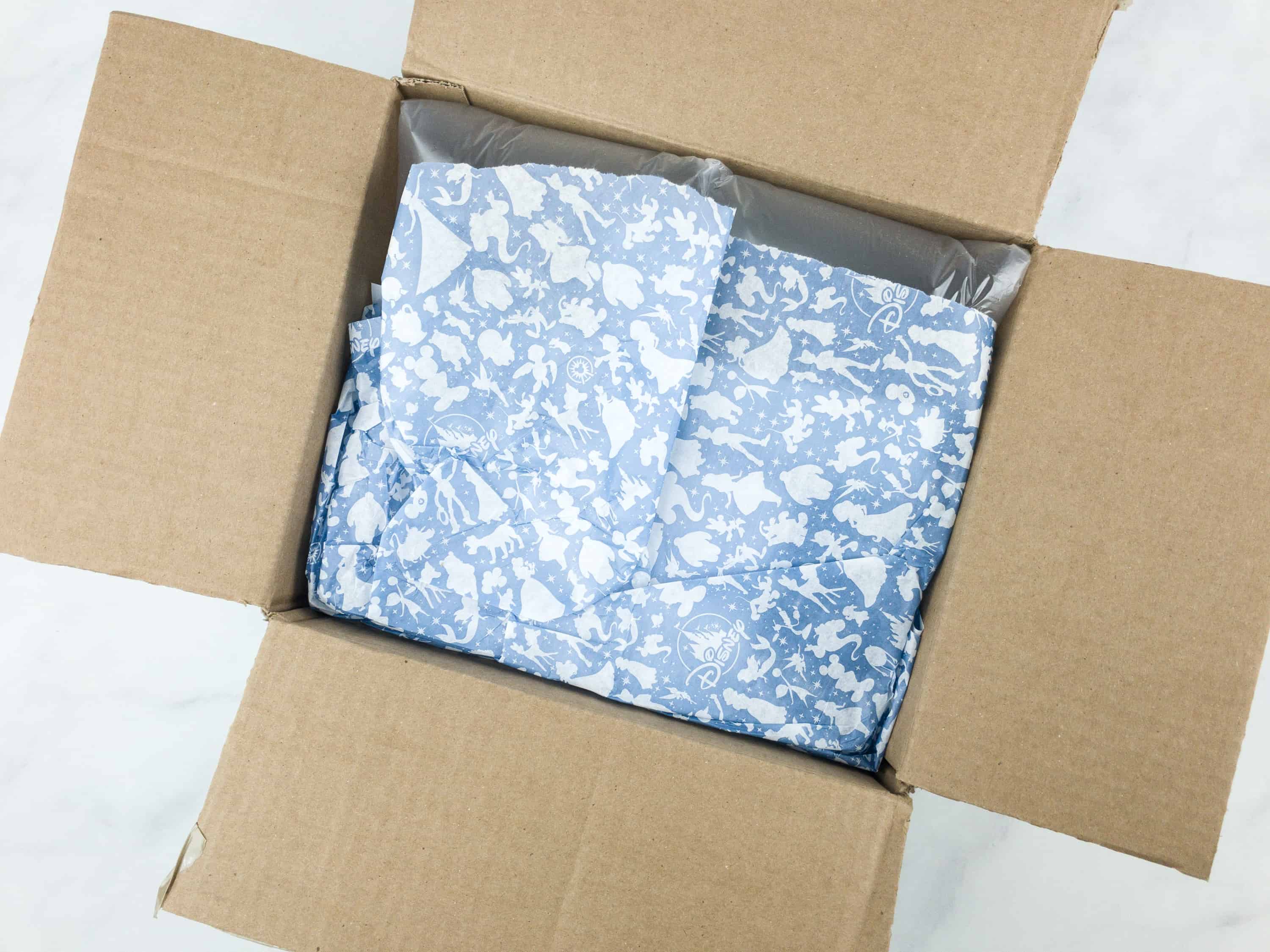 Disney Park Pack: Pin Edition 3.0 is a monthly limited edition enamel pin subscription from shopDisney. Every month in this subscription you'll receive three hand-picked, blind-boxed Limited Edition Disney Pins from Parks Attractions, Star Wars, Marvel, and more.
This box has recently returned from an extended hiatus – they just decided to stop the subscription for a few months while they reorganized the subscription. Now each limited edition pin has only 3 variants.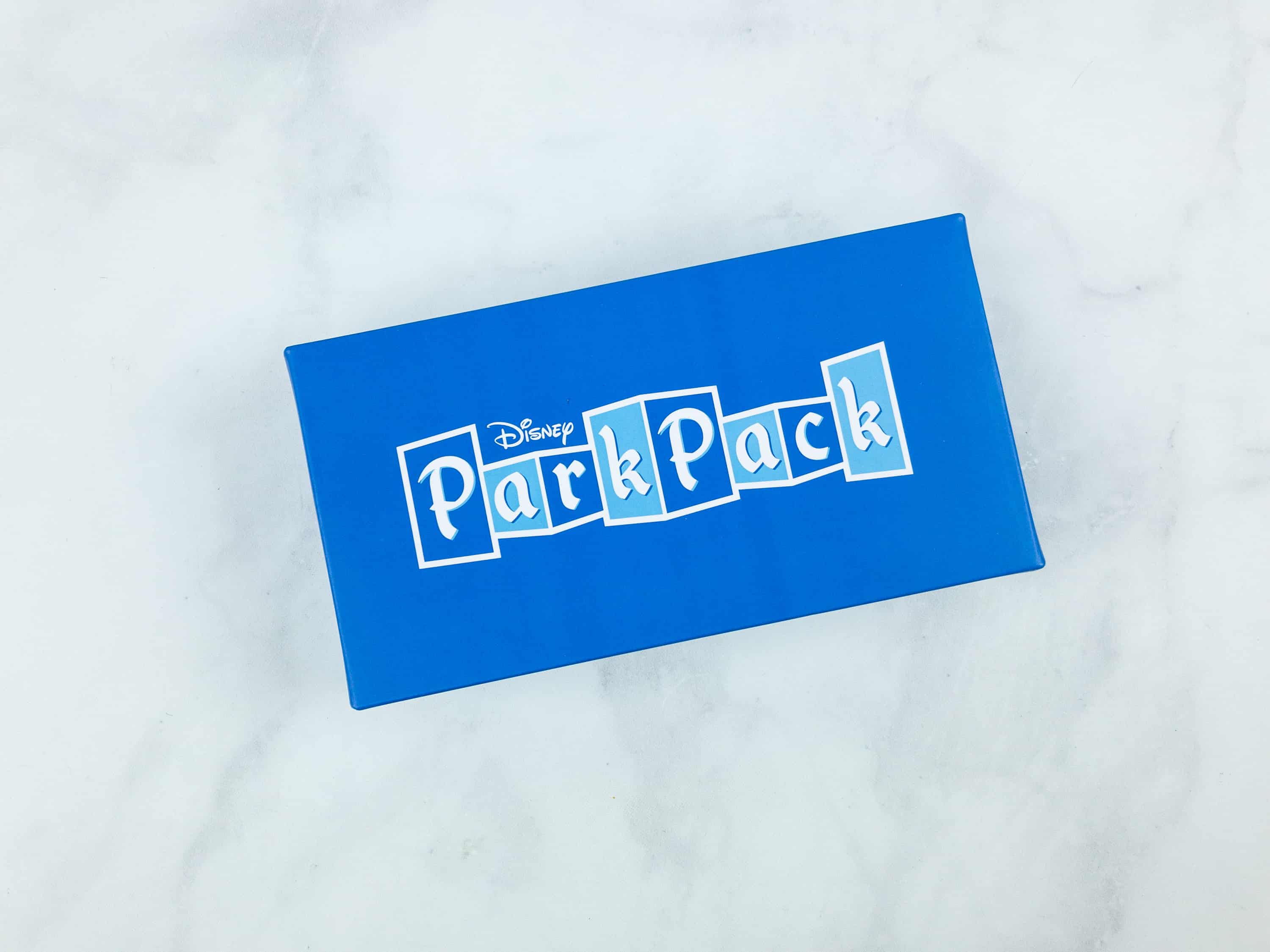 With the Pin Trading Edition 3.0 each pin is a Limited Edition of 500 and each monthly box of three pins will all be themed together!
Here are the Park Pack 3.0 pins for August 2018!
There is no information card for this box, and I always wish they'd include a curator's note – maybe with names for these pins and perhaps a matching exclusive postcard or a free lithograph like Disney Movie Club.
The Disney Park Pack Pin Edition 3.0 theme for this month is TANGLED.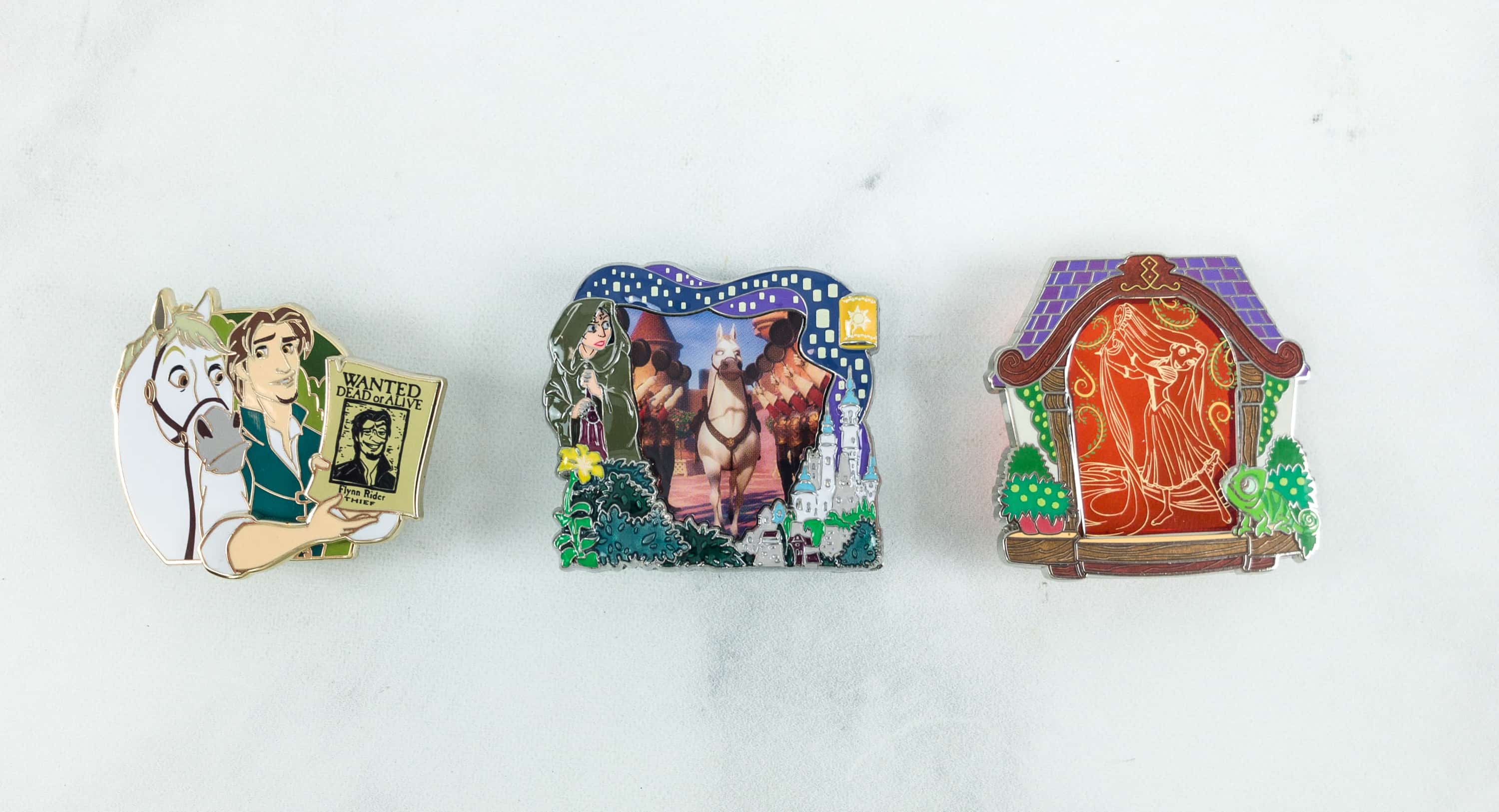 Everything in my Disney Park Pack!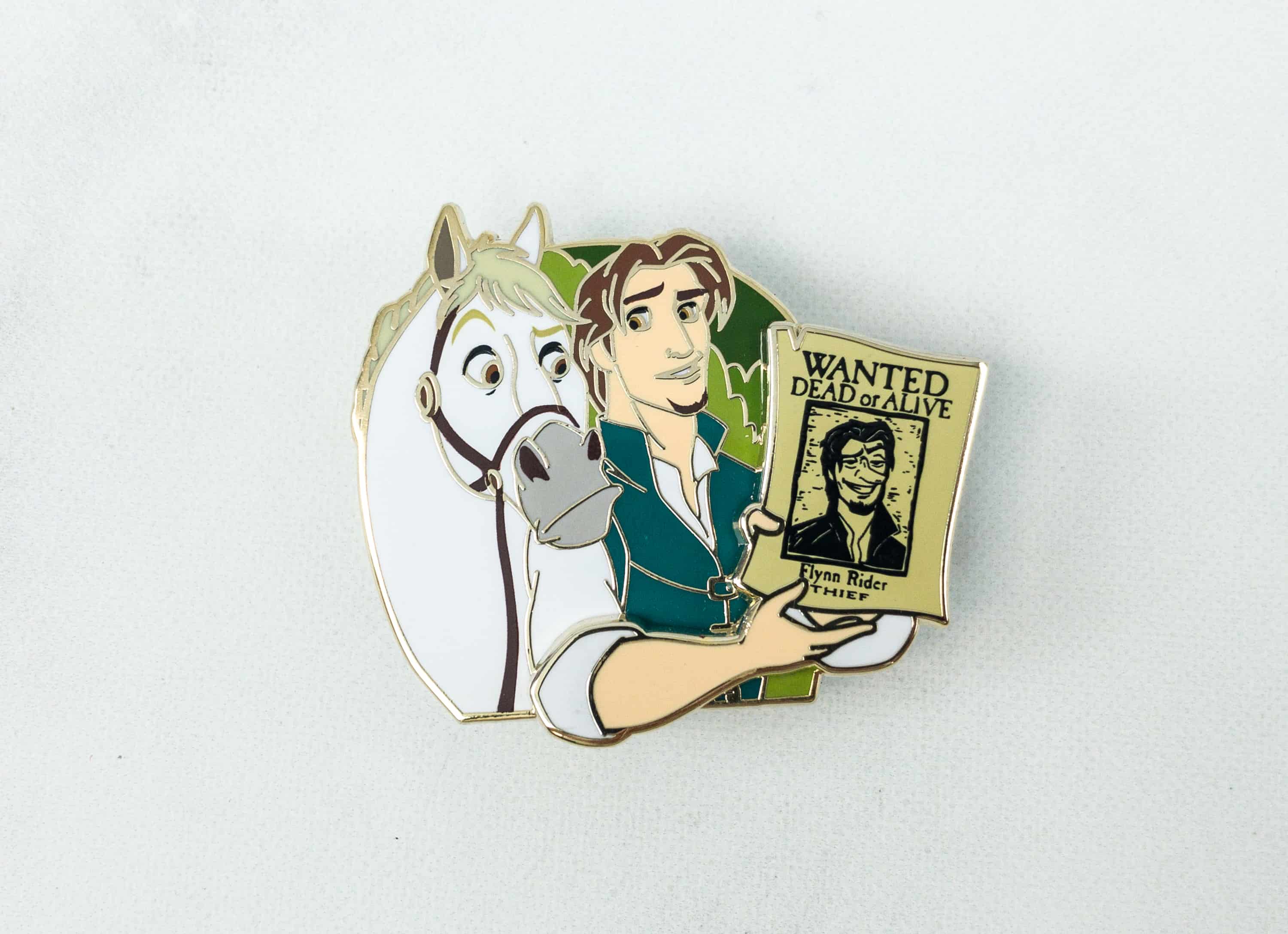 Flynn Rider Pin. Here's the dashing Flynn Rider whose real name is Eugene Fitzherbert. He's a thief who's ready to steal your heart, along with Maximus! This pin shows the funny Wanted sign for Flynn – it's wrong! The variations show different noses.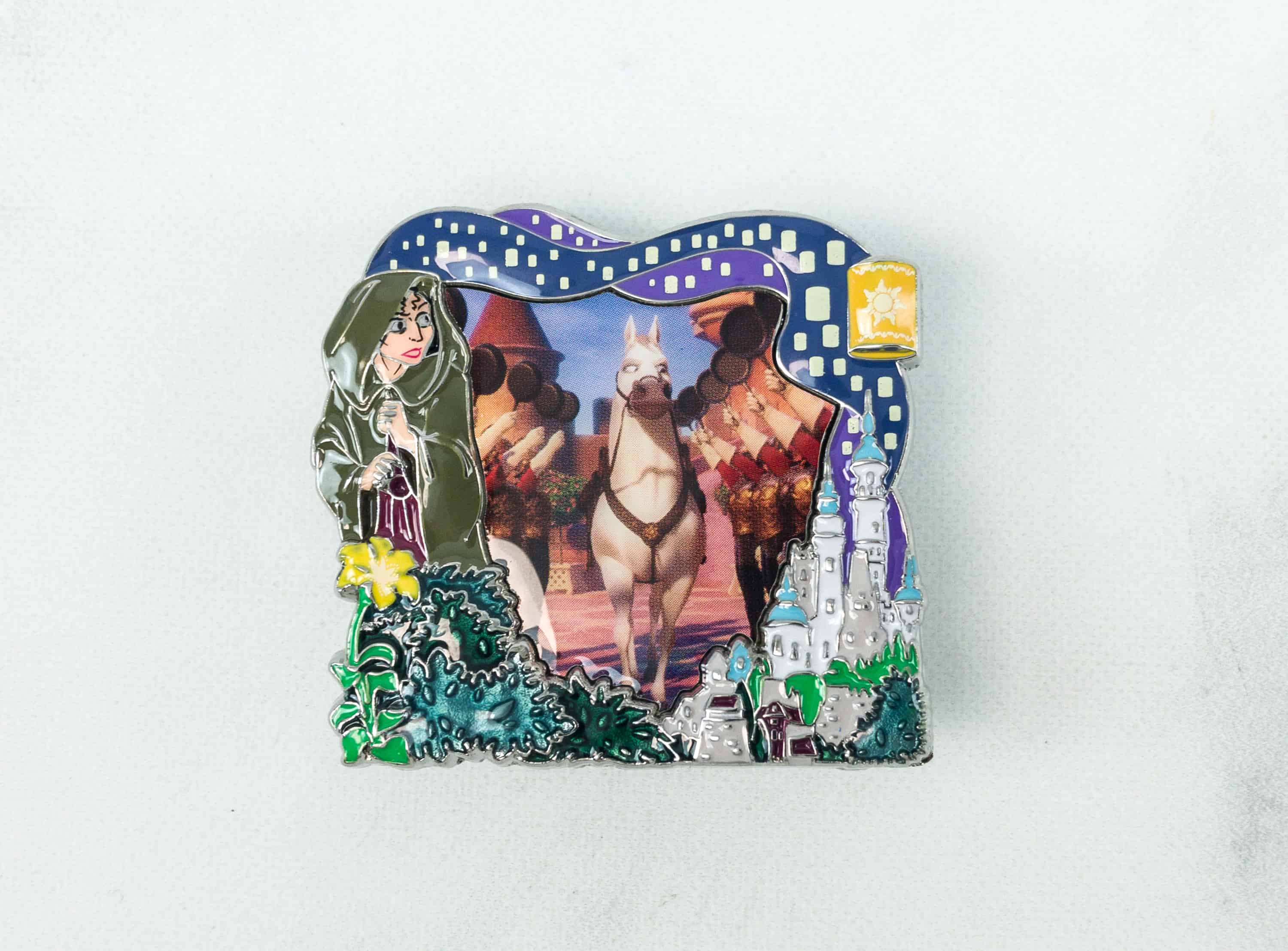 Gothel & Maximus Pin. In all his glory, here's Maximus making a great entrance featured in this framed pin, while the frame consists of some of the important stuff from the movie. At the right are Rapunzel's family castle and the lantern-filled night sky, while the other side has the controlling Mother Gothel and the magical flower! The variations are the scenes shown.
Rapunzel & Pascal Pin. Of course, the gang won't be complete without the Princess and her pet chameleon! Here's Rapunzel brushing her 70 feet golden hair, and outside the little house where she's in is Pascal, and it seems like he's guarding her! Variations are the background color and figure pose.
All the pins this month came with two posts that fit a rubber Mickey pin back. There are 3 variants of each pin, and 500 of each.
And here's all the variations, assembled by Nateeter on the Disney Pins Forum!
Tangled is one of the funniest and adventure-filled Disney animated films, and we had fun watching it. It's an easy favorite with all the adorable characters, and Flynn Rider may not be princely, but he's really a cool lad! All the pins from this subscription are excellent  quality and they're the perfect pins to collect, and can take you back on how good Disney animations are!
What did you think of the Disney's Park Pack Pin Edition 3.0?
Visit the Disney Park Pack: Pin Trading Edition landing page to find out more.