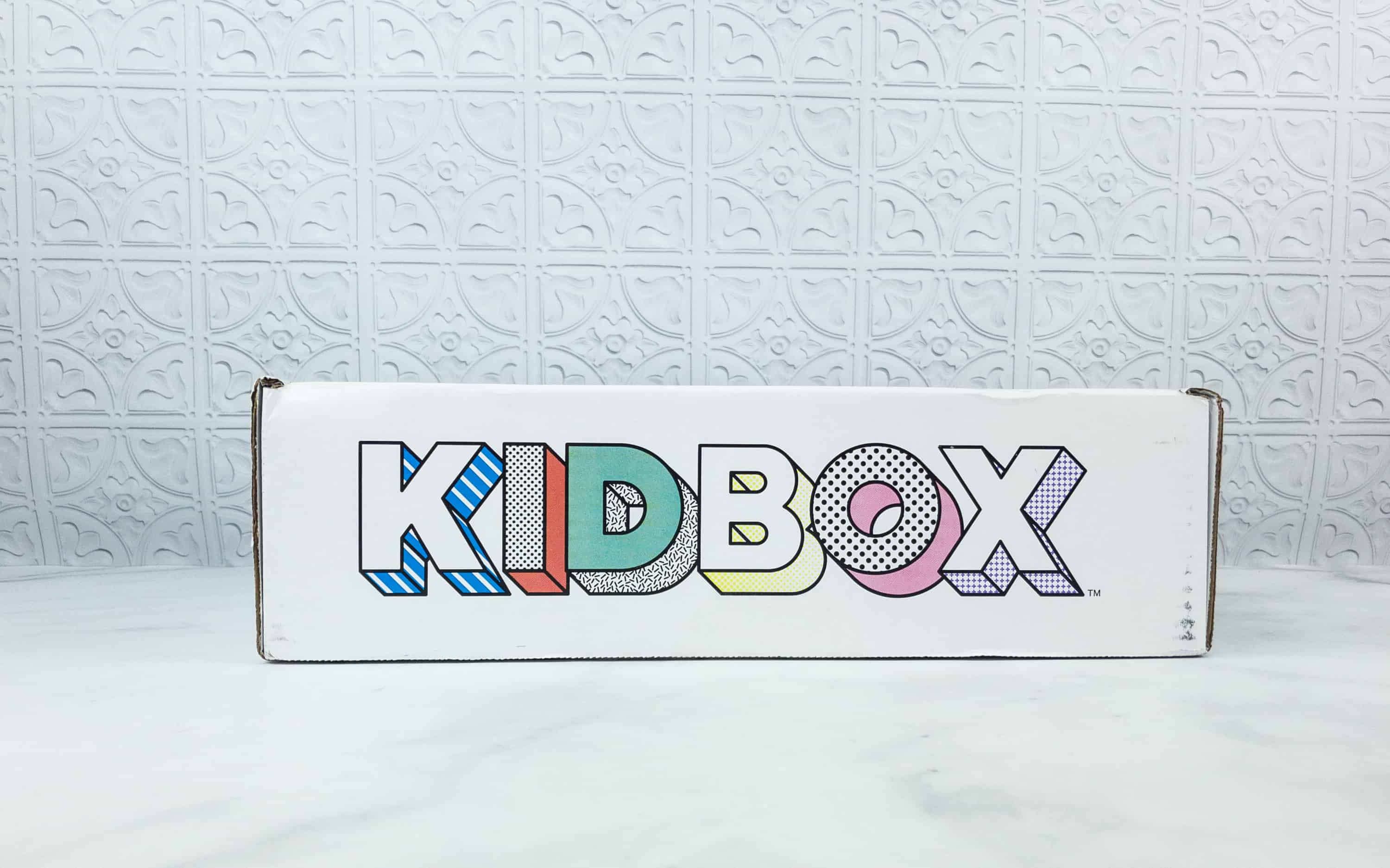 Baby by KIDBOX  is a styling subscription box for babies containing premier baby clothes & accessories averaging $11-13 per item if you keep each piece. You will be sent a box up to 5 times per year at no cost, and you'll only be charged once you picked the items you want to keep. There's also no return fee to send items back, so your kids can ultimately decide which items are theirs to keep.
DEAL: Get 10% off your first box + free shipping & returns! Use coupon code TRY10.
Get $10 off your first box + free shipping & returns! Use the coupon code BTS10 to get the deal through 8/31.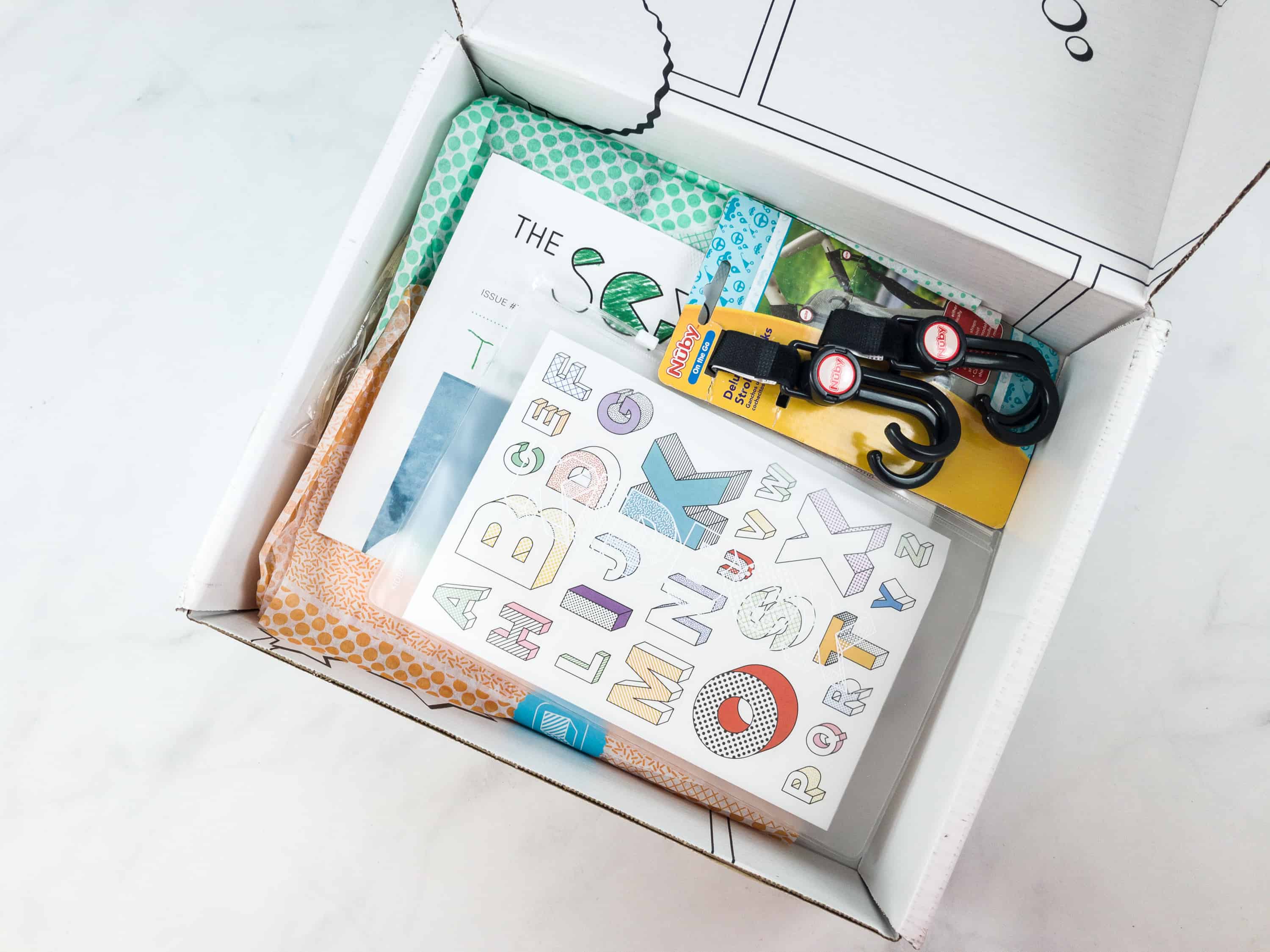 If you like everything, you can get to keep it at a discounted rate. On the other hand, if you are only going to take a few pieces, you can return the rest. Plus you get to pick a charity to help out too when you subscribe to this box.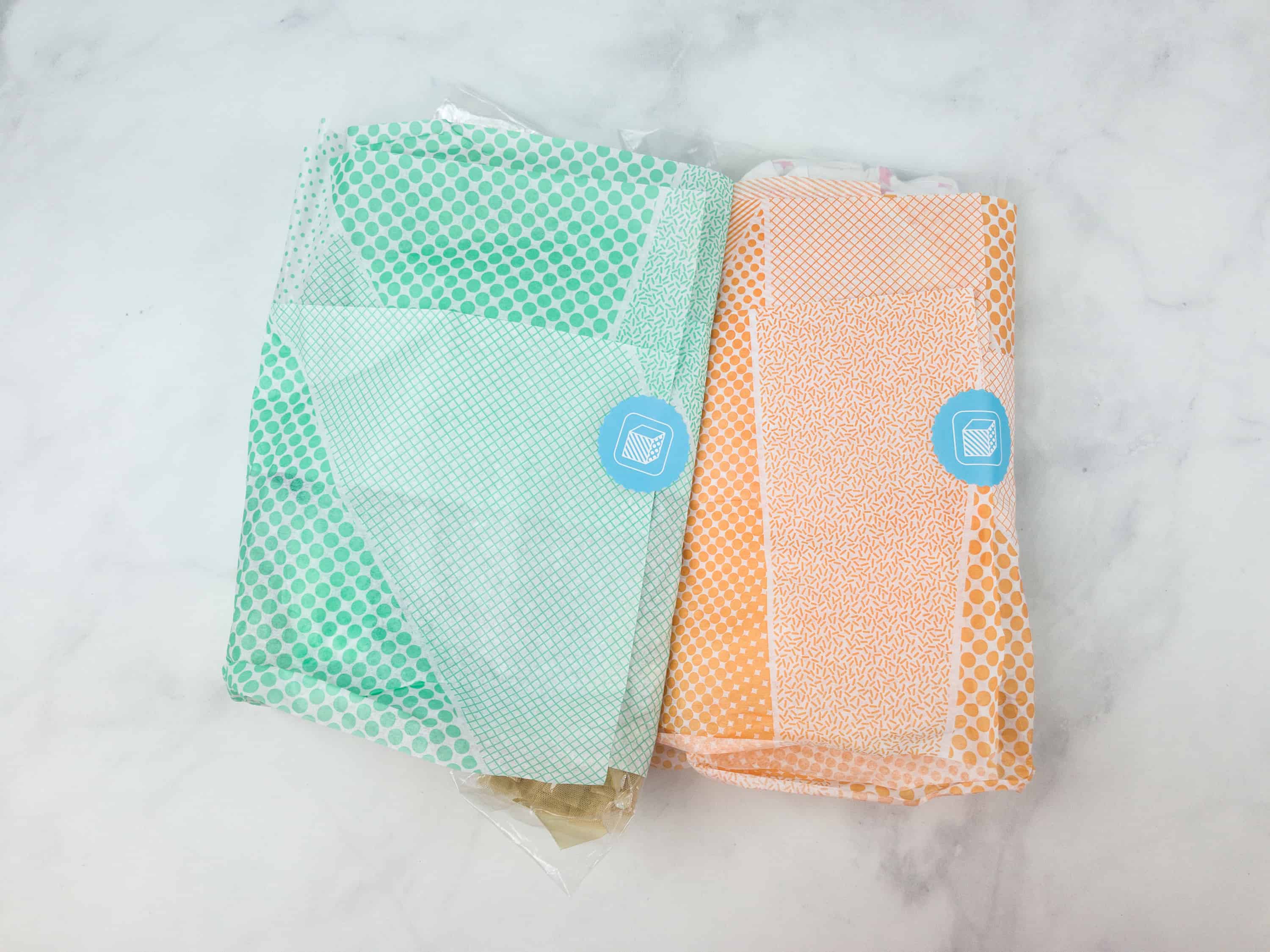 The clothes were well wrapped.
The Scribble is a regular magazine for kids where you and your child can get plenty of information. The topic for this month's box is Green Generation.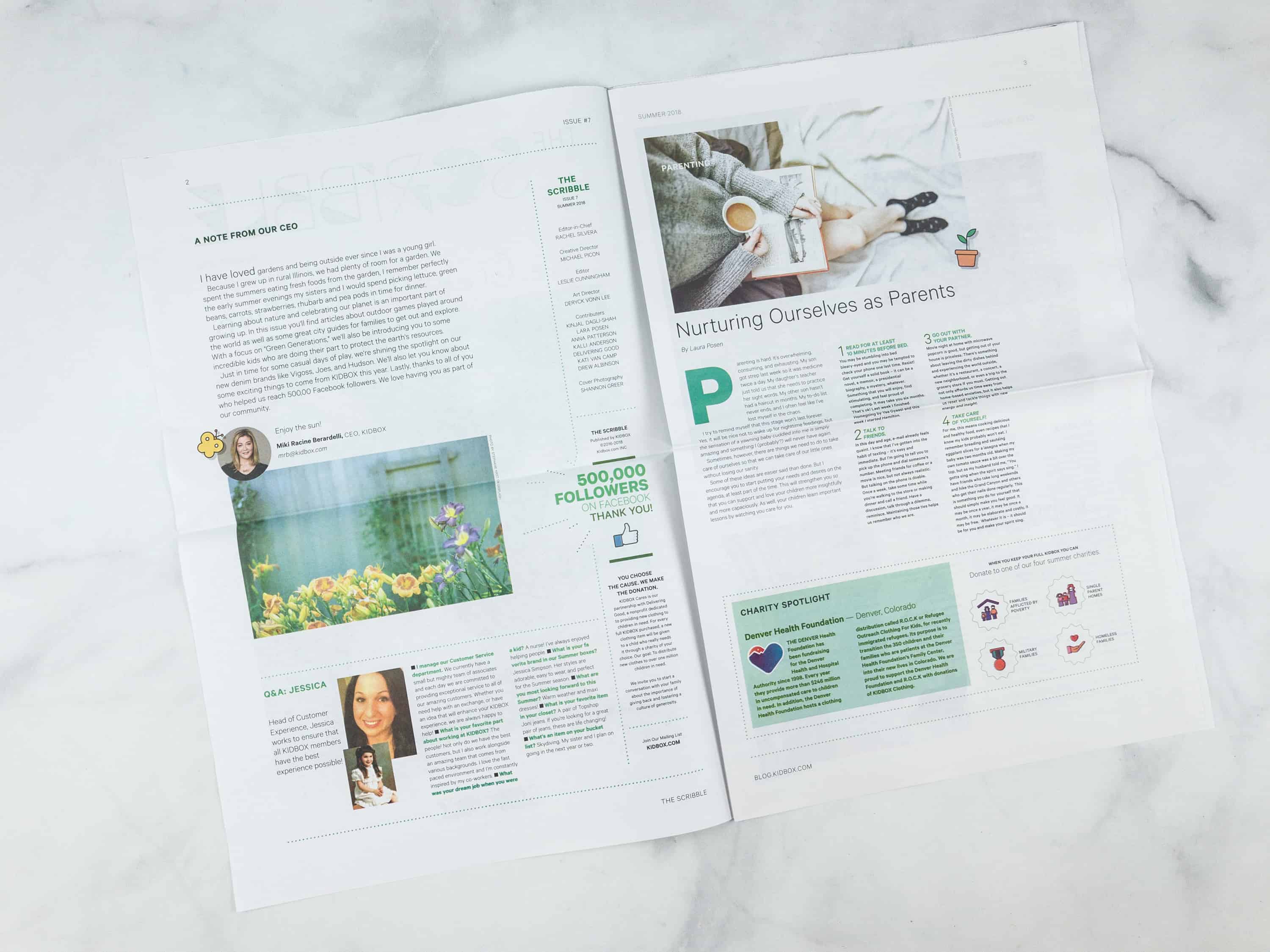 I love that there is an educational material added to KidBox and it is not only good for kids but for parents too.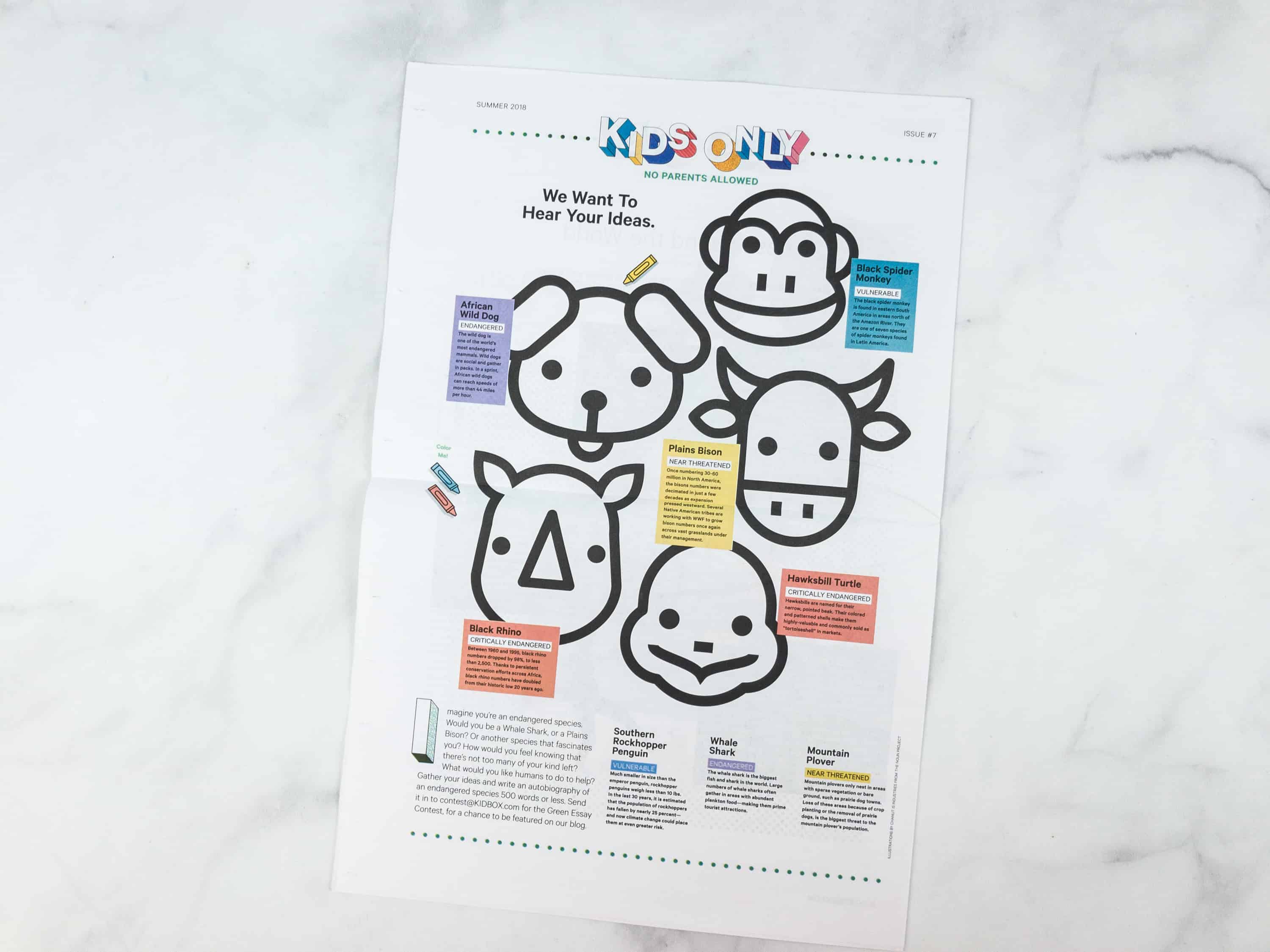 Kids are also encouraged to share their ideas on how to care for the environment. This is really more applicable to the bigger kids boxes – see all our reviews for Kidbox to see those!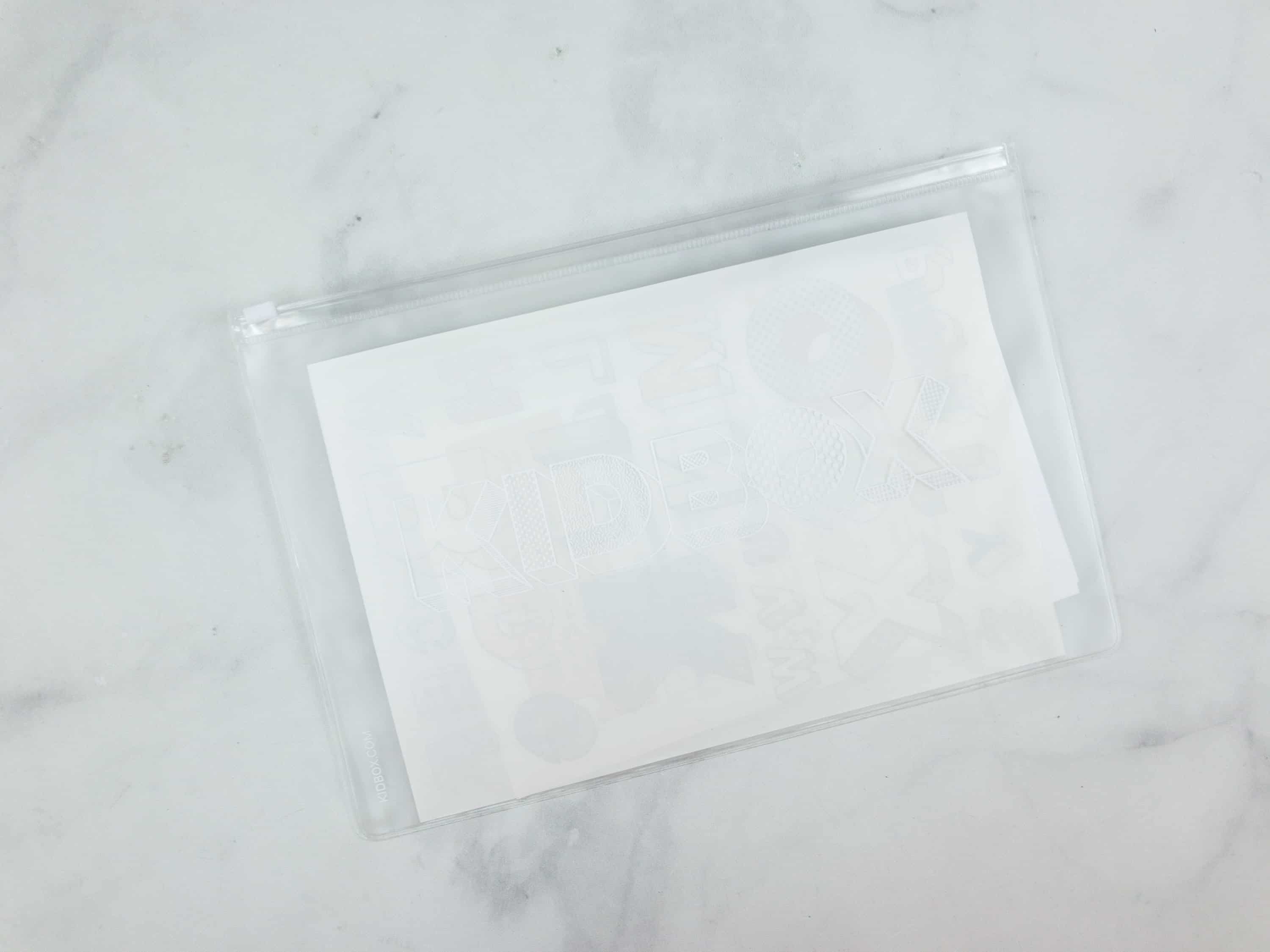 The transparent pouch that contained the extras is reusable.
The alphabet stickers come in different sizes.
The booklet features a welcome letter from our personal KidBox stylist.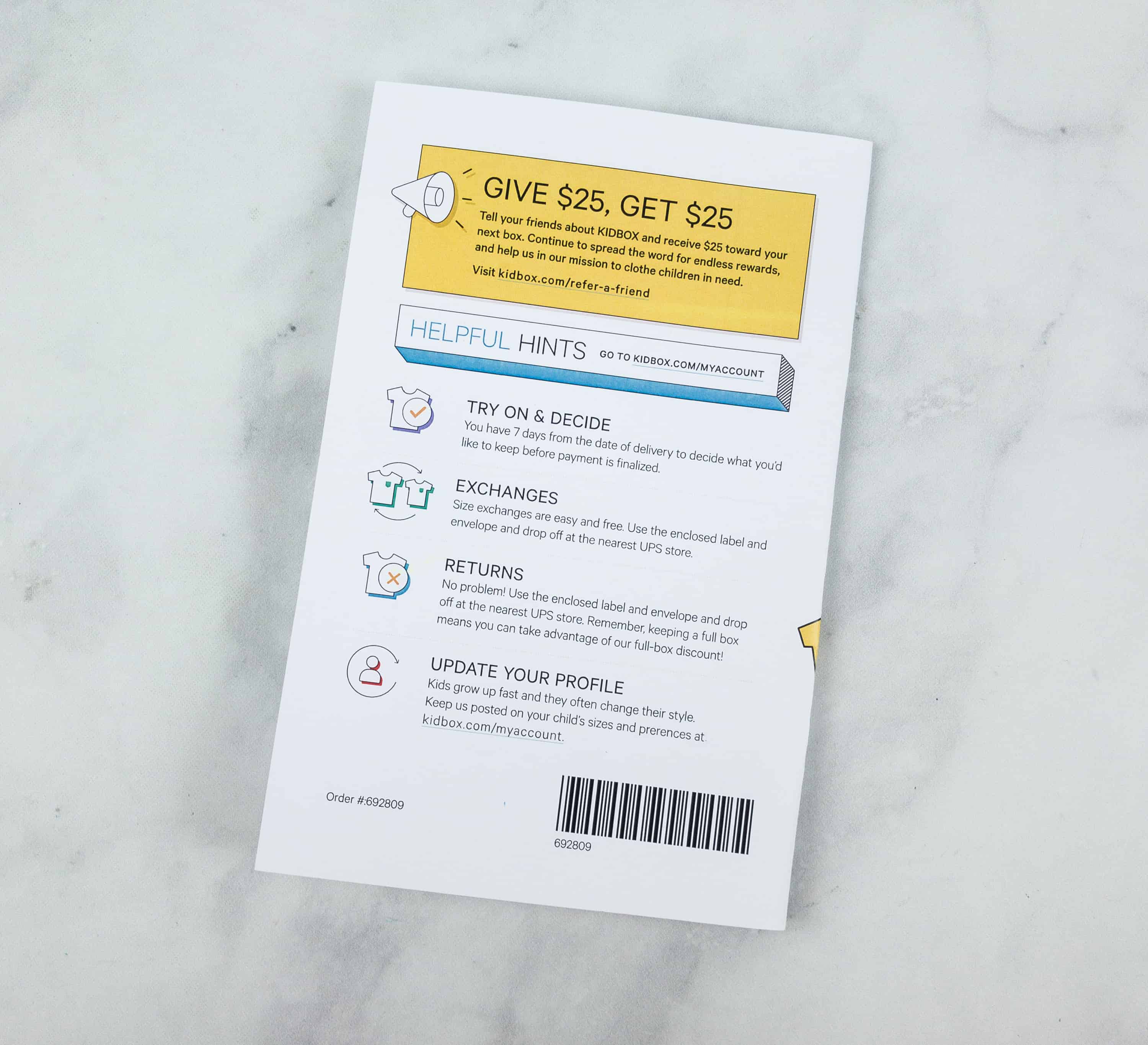 There are also helpful hints about exchanging and returning items.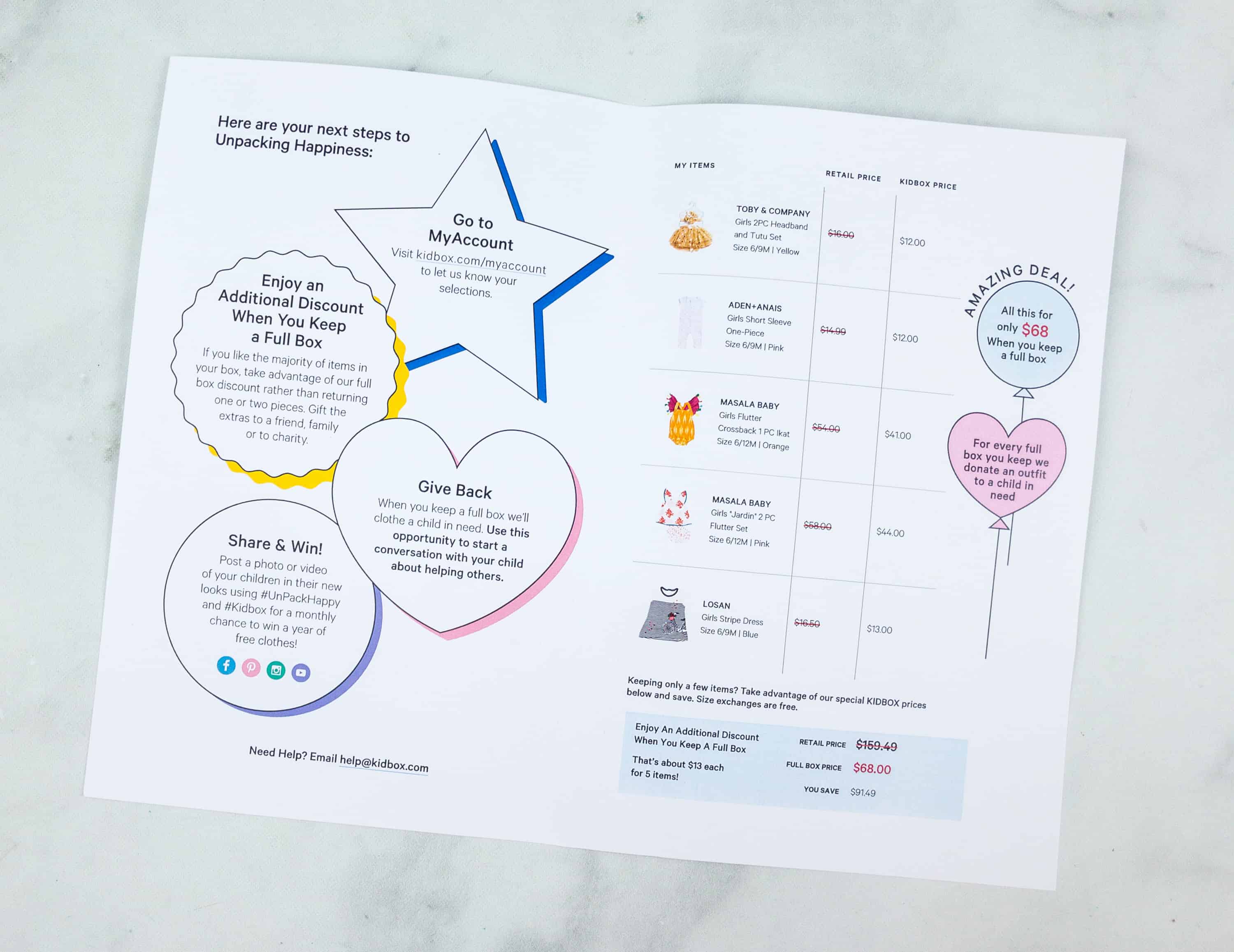 They even provided information on how to unbox KidBox properly, as well as a breakdown of all the items. You can see why it's crazy not to keep the whole box for just $68. Size exchanges are free.

When you sign up, there's a short survey to categorize your preferred style. You can now completely update your profile right inside your account, which also accommodates multiple kids!
All the clothes in this box!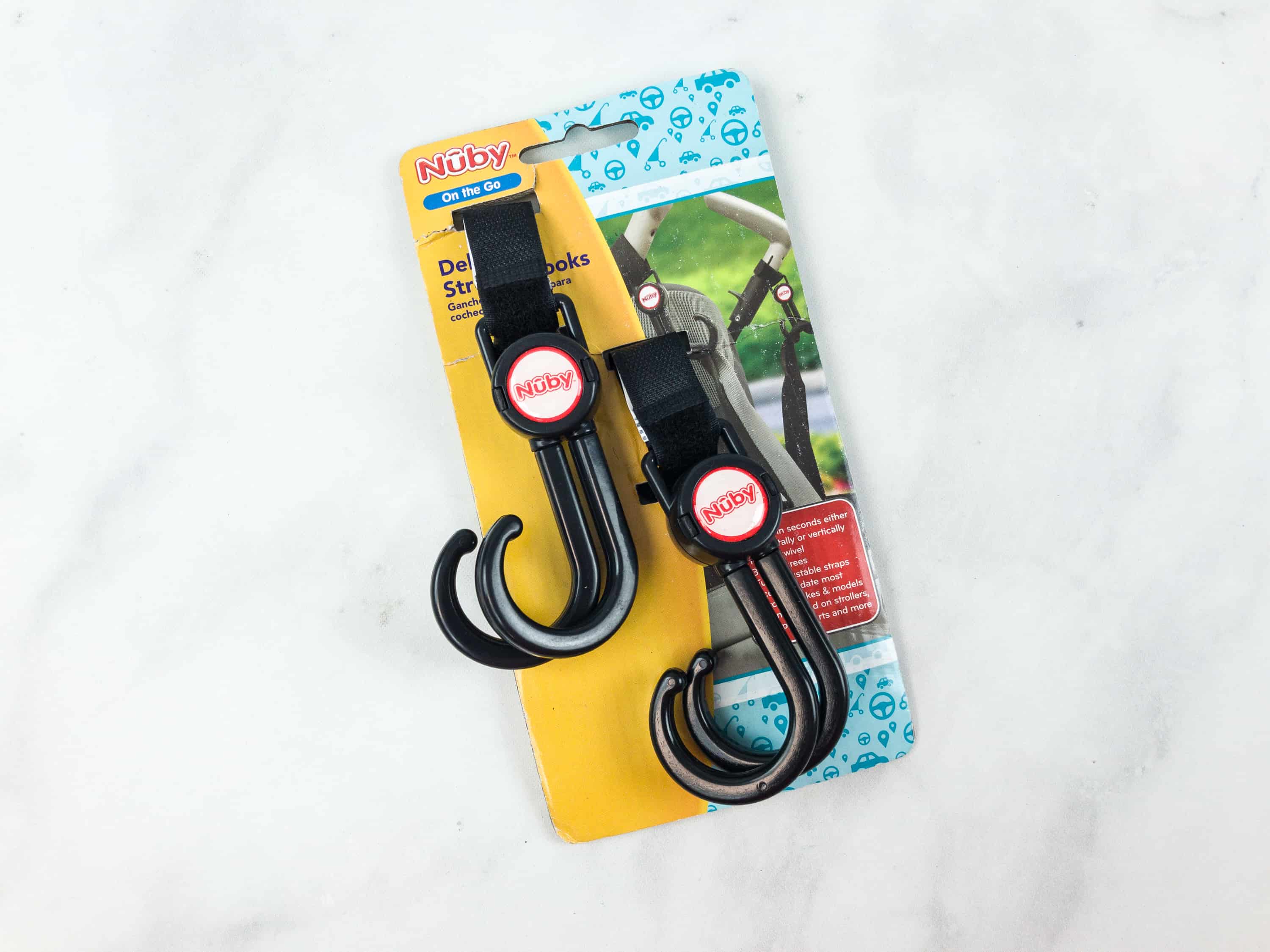 Nuby On The Go Deluxe Stroller Hooks. BONUS! This pair of hooks is going to come in handy as I walk my little one around in the stroller. As a parent, you probably have tons of stuff to bring with you but not enough hooks or storage to put them in.
These hooks are easy to install on your baby's stroller thanks to its hook and loop strap. Simply wrap it on the handle of the stroller and you are good to go!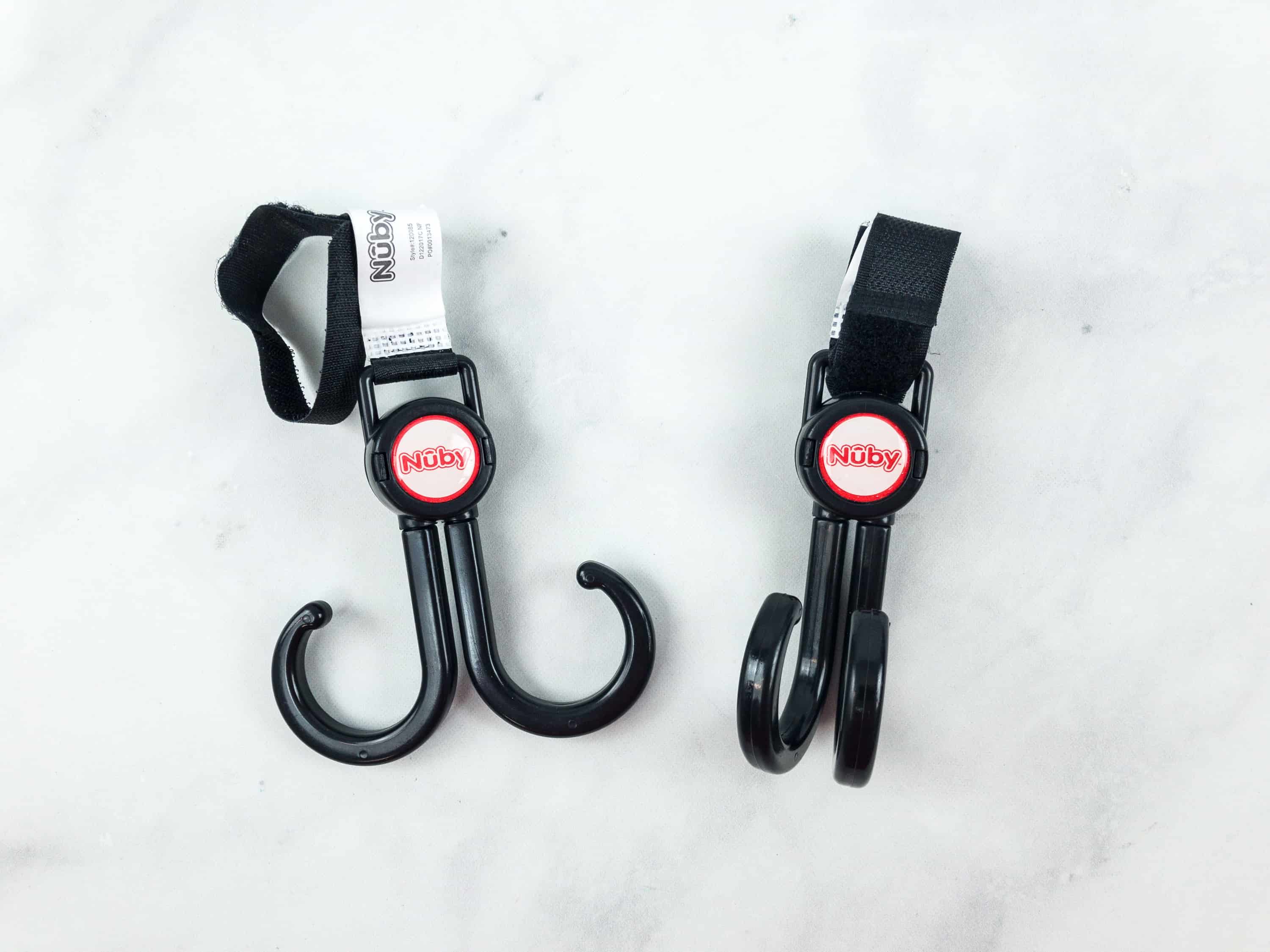 I like that these hooks are sturdy because it means that they can carry the loads that I usually bring with me when my baby is in tow. They are a lifesaver! Just be careful with umbrella strollers!
Toby & Company Girls 2PC Headband & Tutu Set ($16) I fell in love with this set right from the start! What's not to like about this tutu and headband? It comes with different sized metallic dots that add to the whole effect. You can easily tie the tutu around your little one's waist with the ribbon placed at the waist.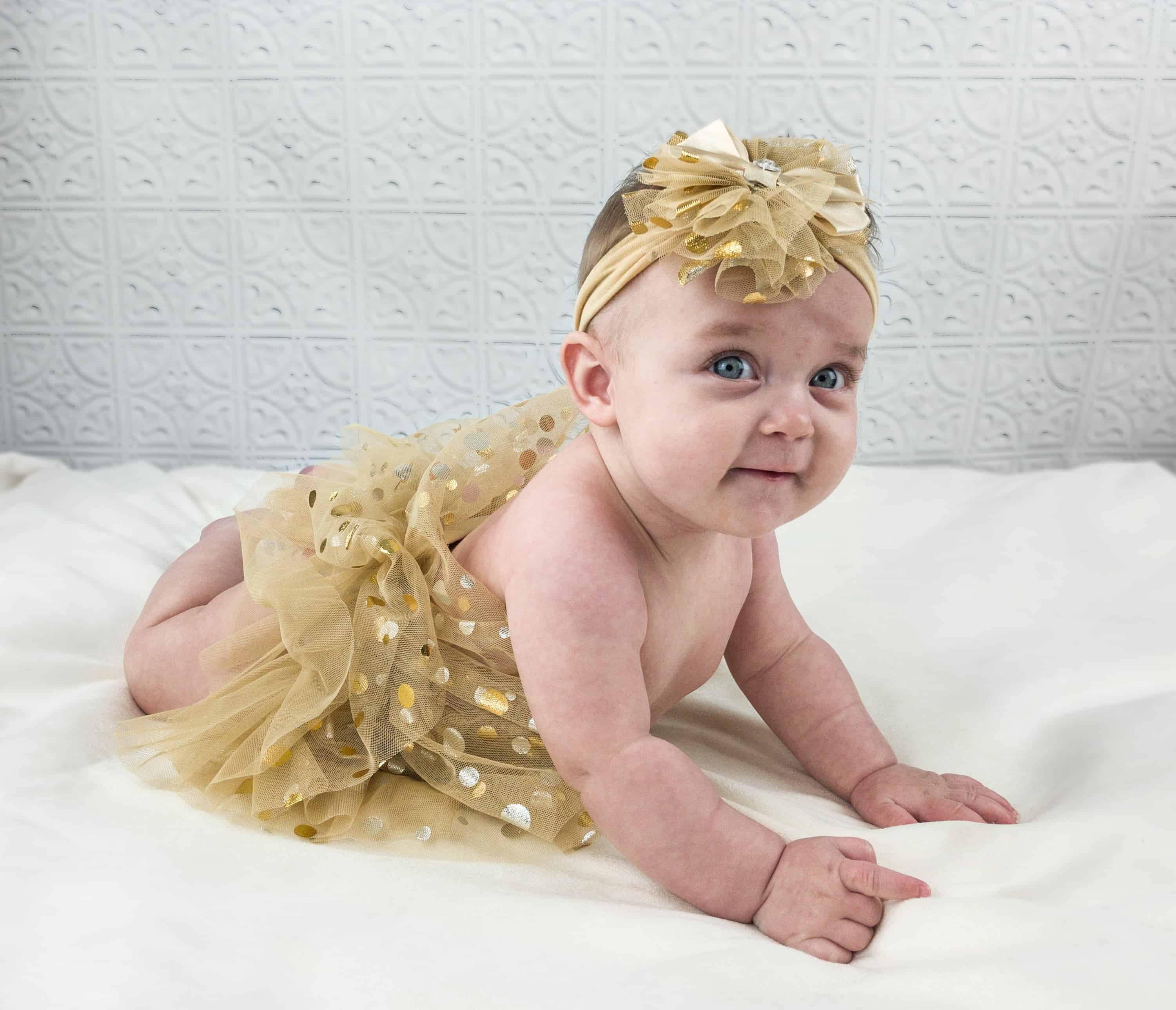 I love the golden color of the tutu and headband. The headband can be adjusted as you see fit. I just love the overall design and my baby enjoyed it too! This is the most darling!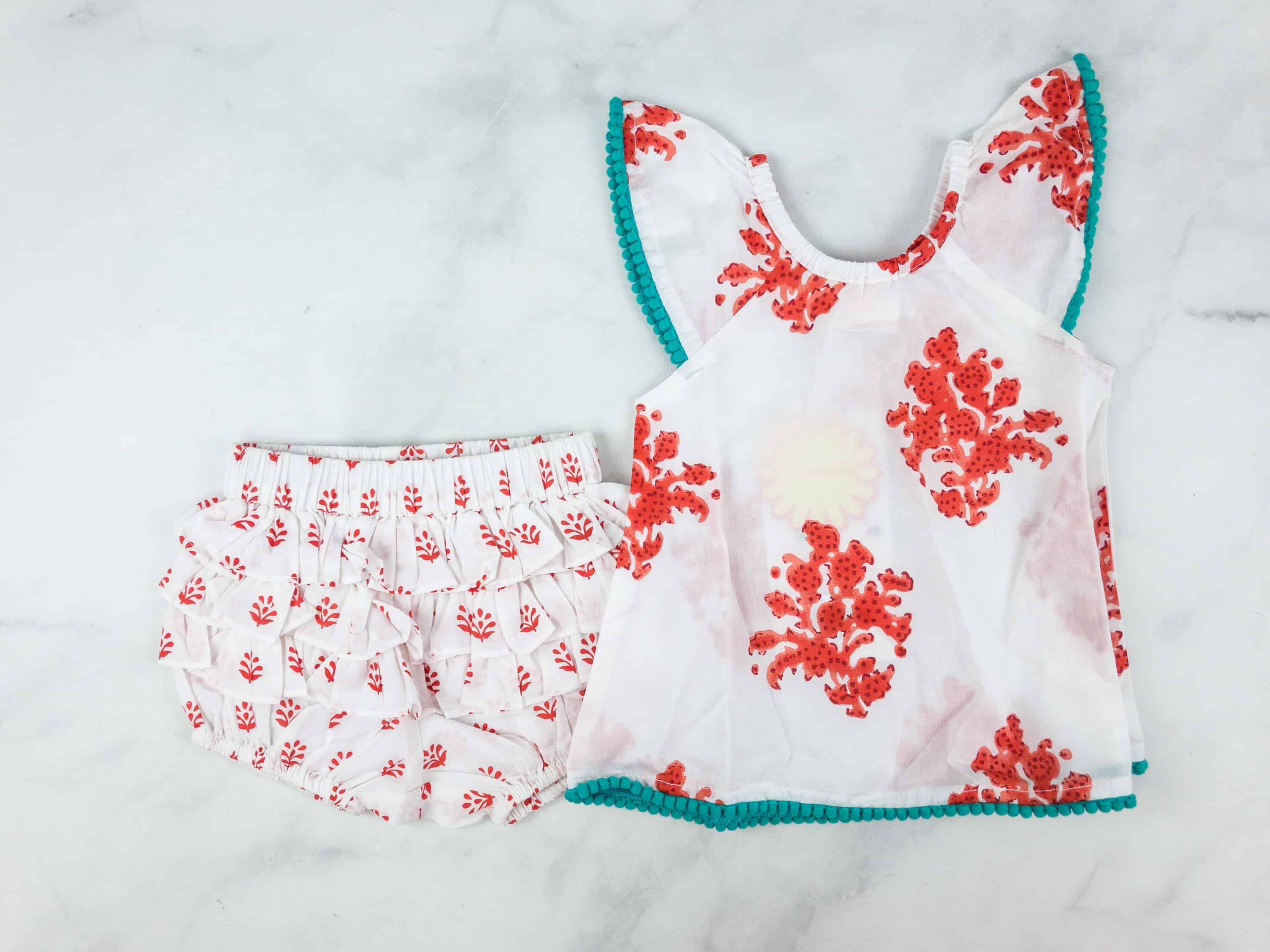 Masala Baby Girls 2PC Flutter Set ($58) Another set included in the box is this cute flutter piece in white and red. The fabric is breathable which means a lot, especially in this summer heat. The shorts are in white with red plants printed on it.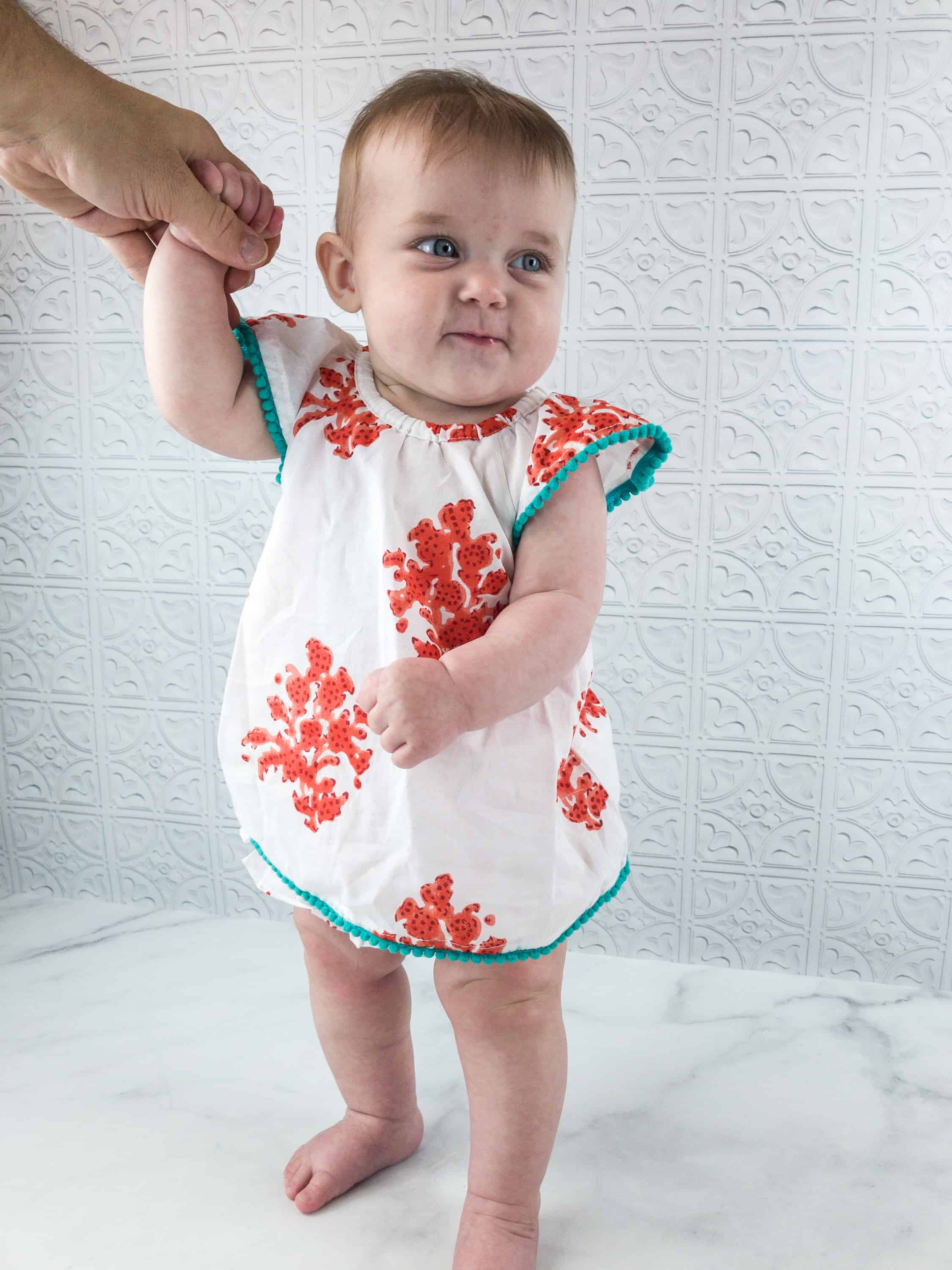 I love how the sleeves look in this set because they allow more air to circulate inside. She looks happy with her new outfit, don't you think?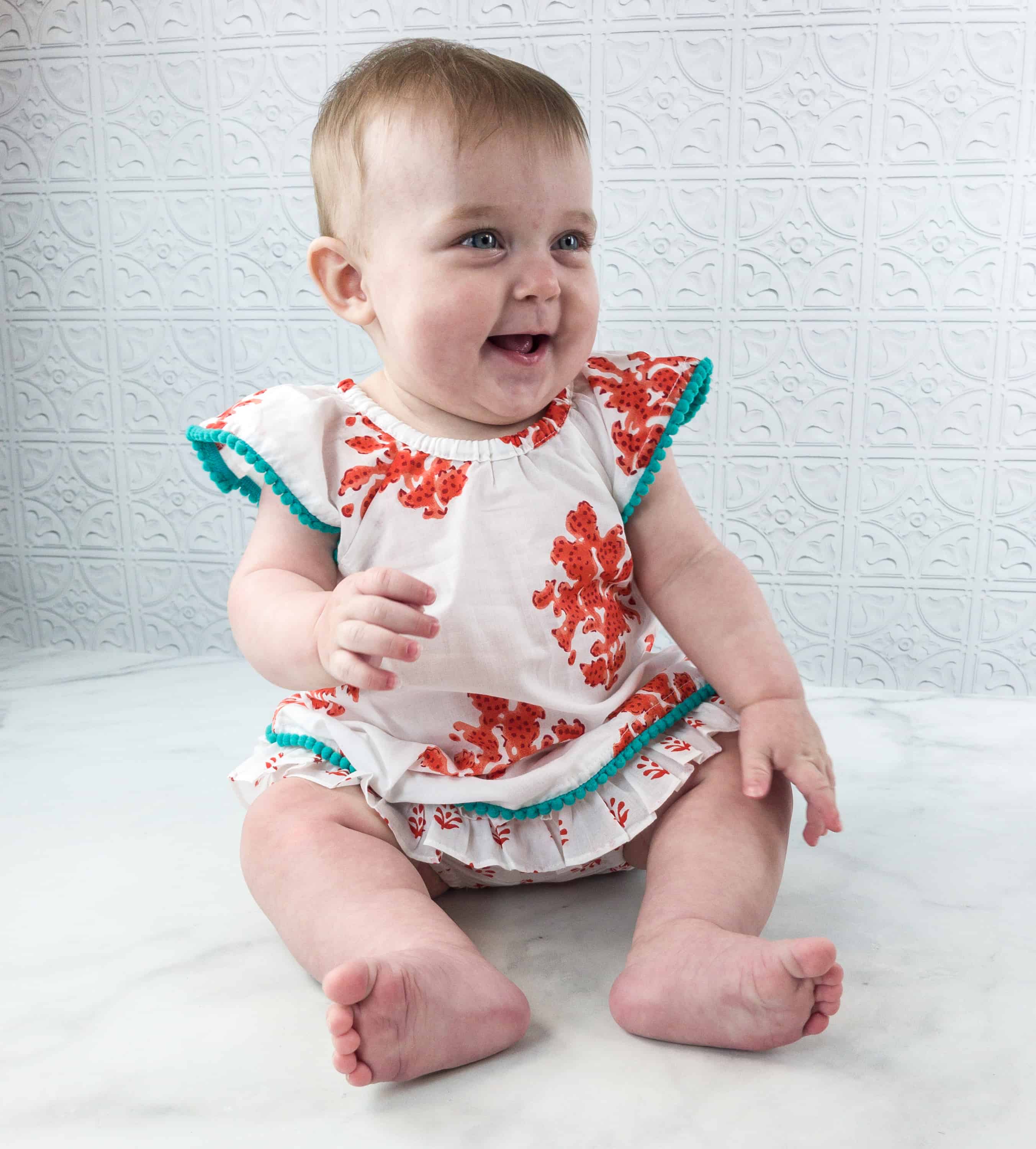 The combination of colors is really pretty!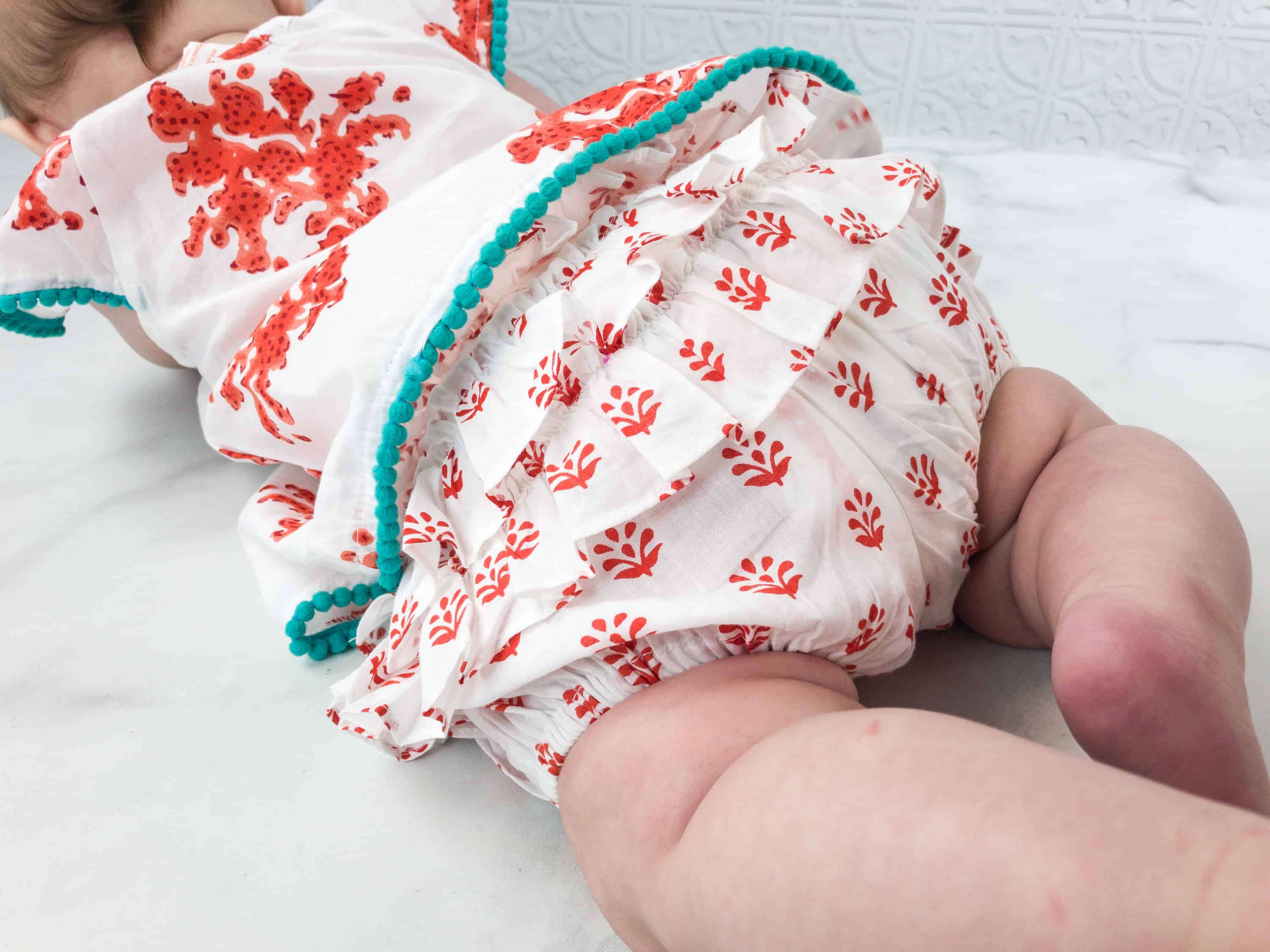 I like the bottoms even more because of the ruffles that it comes with. It's great that the fabric is breathable so there will be no moisture getting trapped around the diaper area.
Aden+Anais Girls Short Sleeve One Piece ($14.99) Onesies are adorable and this one is a great addition to my baby's collection. It is adorned with colorful stars on white background. It's short sleeved too. And it's Aden+Anais! It's just about perfect.
This star-studded footless sleeper looks comfortable on my baby and she seems to like it very much too. I love that it's not that difficult to put it on and it gives her just enough warmth.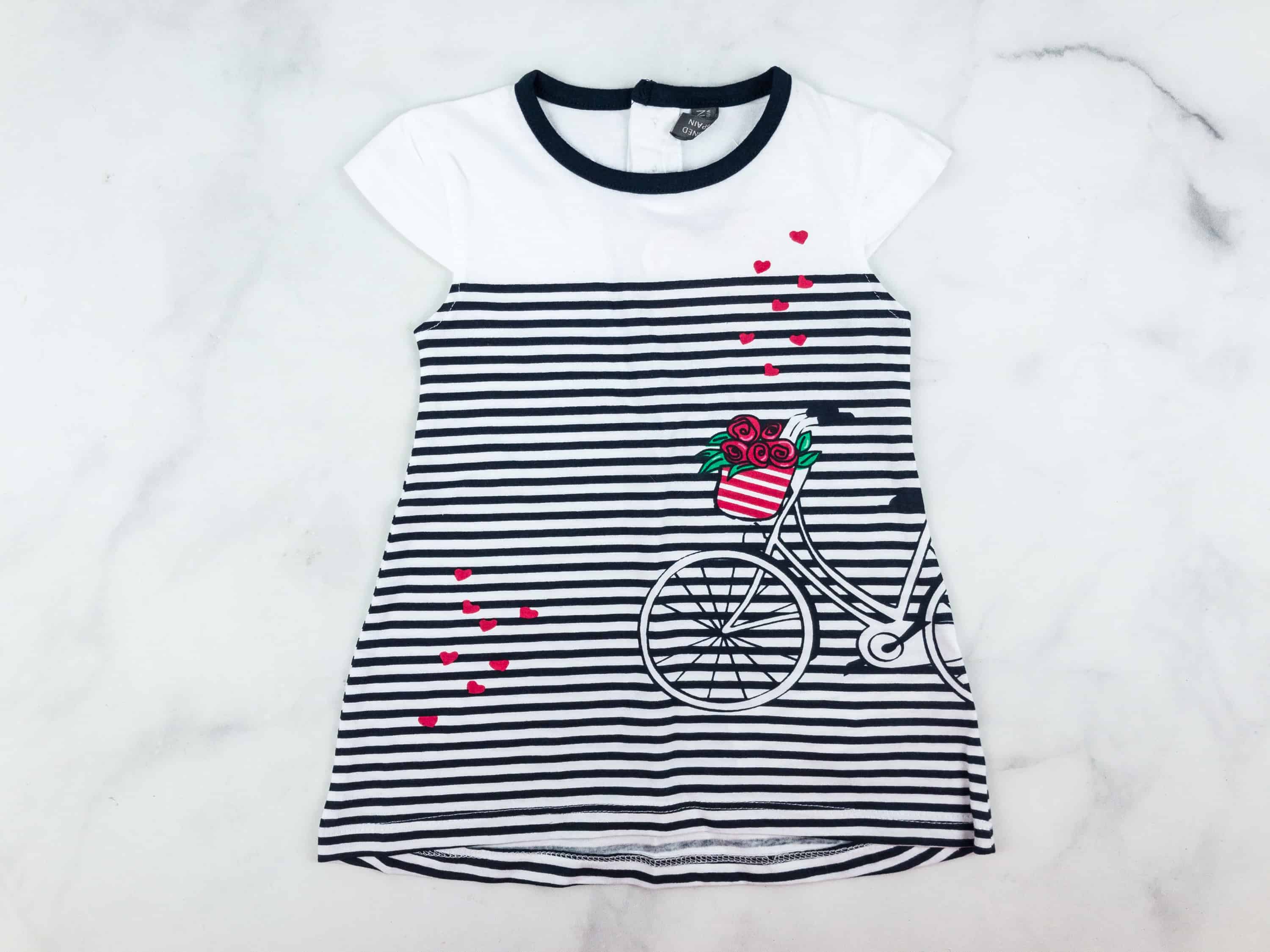 Losan Girls Stripe Dress ($16.50) It's a black and white striped dress with an image of a bike printed on the side which gives that French vibe to its overall look.
There are three buttons at the back of the dress so you won't have a hard time putting this dress on your baby.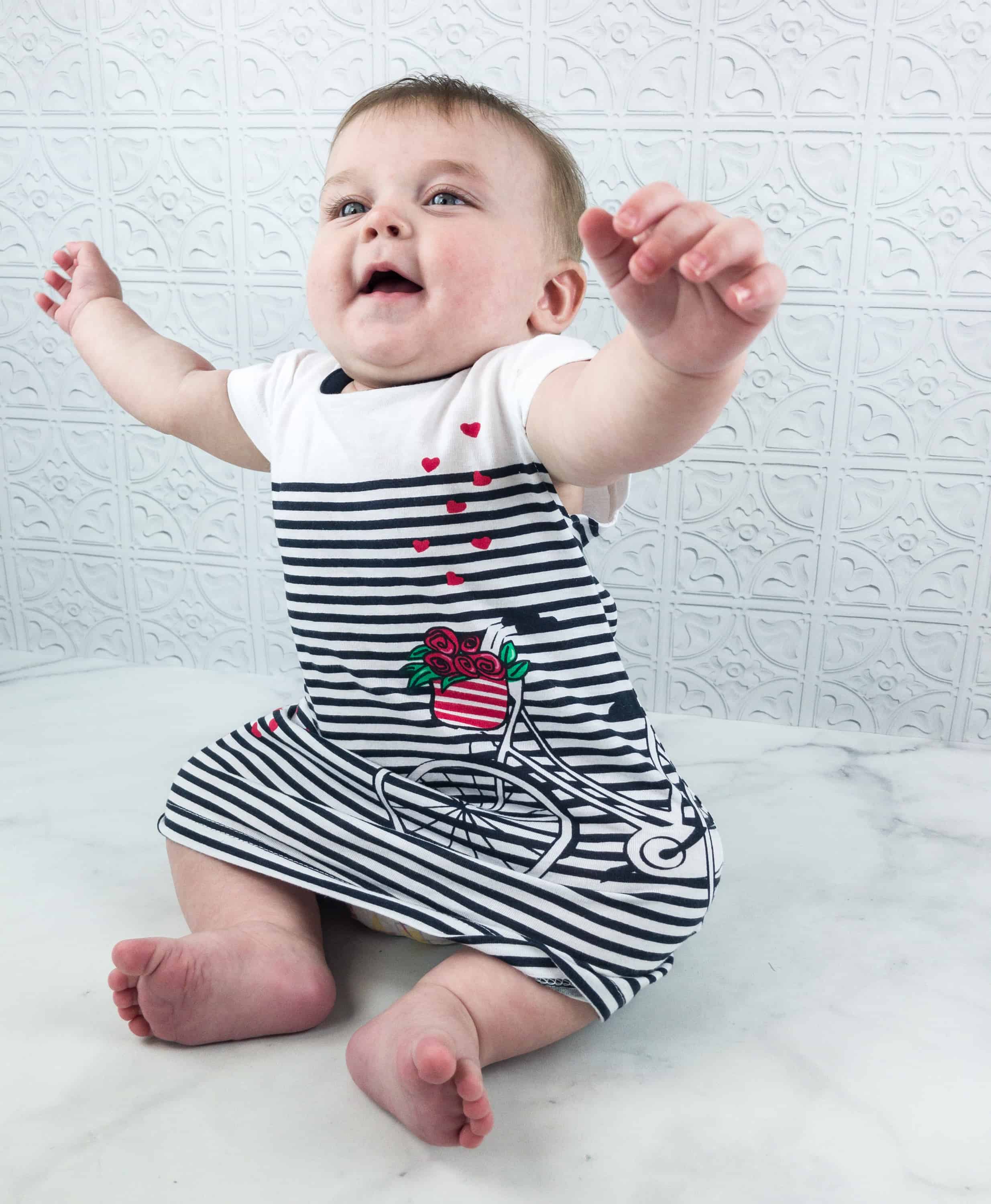 It is a perfect fit, folks! My daughter looks like a little French girl with this outfit and I love that it doesn't restrict her movements too much. The armholes are big enough for her arms to go through plus, I love the hearts that appear to be rising up from the dress.
Masala Baby Girls Flutter Crossback ($54) Another cute item is this fiery flutter cross back bodysuit. There are a lot of things to like about this outfit. For starters, the fiery orange color falls perfectly with the summer theme. The sleeves are where things got interesting. The colorful sleeves with tassels feel like my baby girl is going out to a party. And why not? Summer is all about get-togethers and this is a great outfit to wear!
You can see the cross back design at the back of the outfit. Everything looks seamless!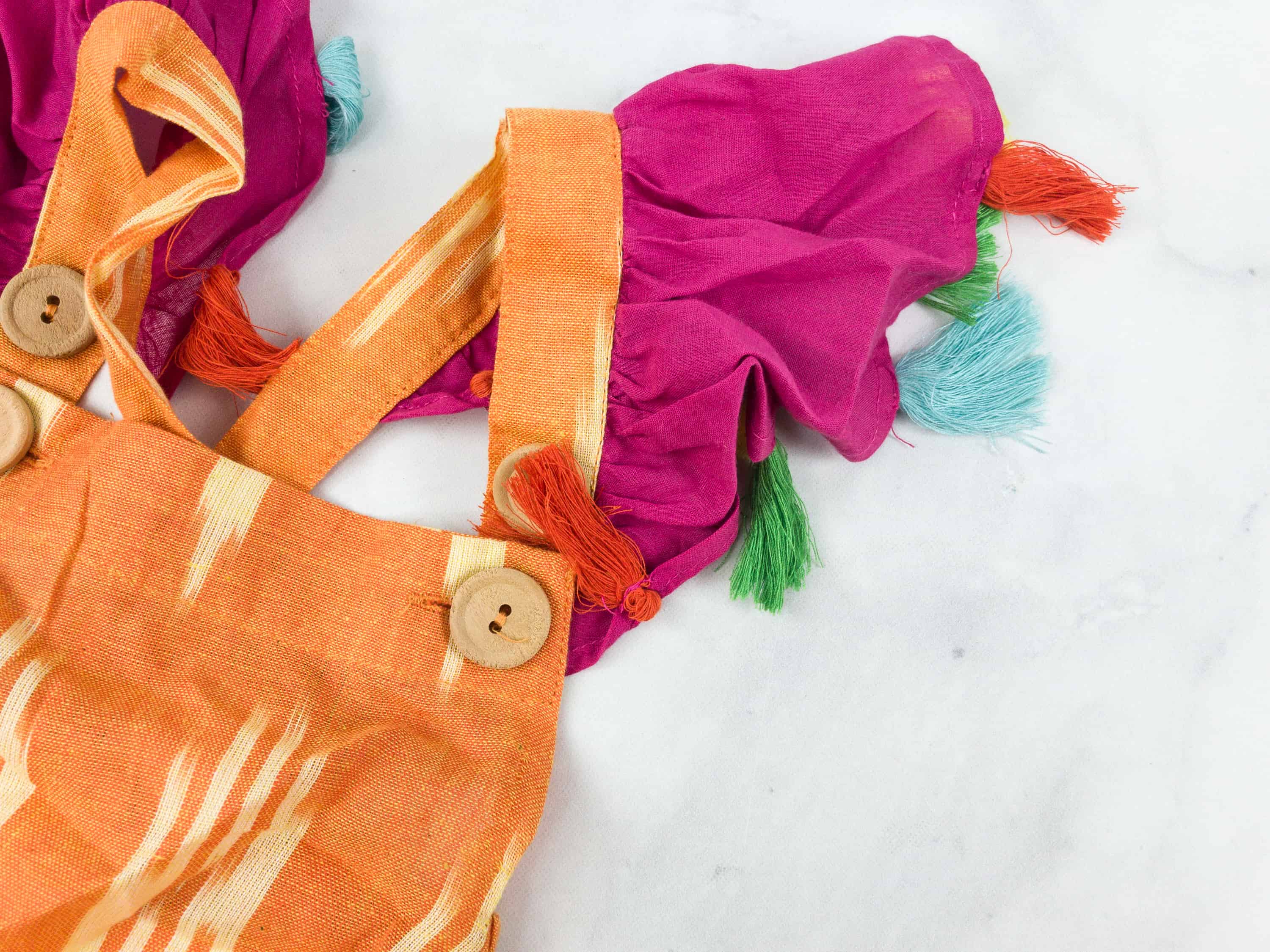 The sleeves are where all the fun stuff is happening because, aside from the maroon colored sleeve, there are multicolored tassels included as well. If you won't wear tassels, please put them on your baby, because they are devastatingly adorable.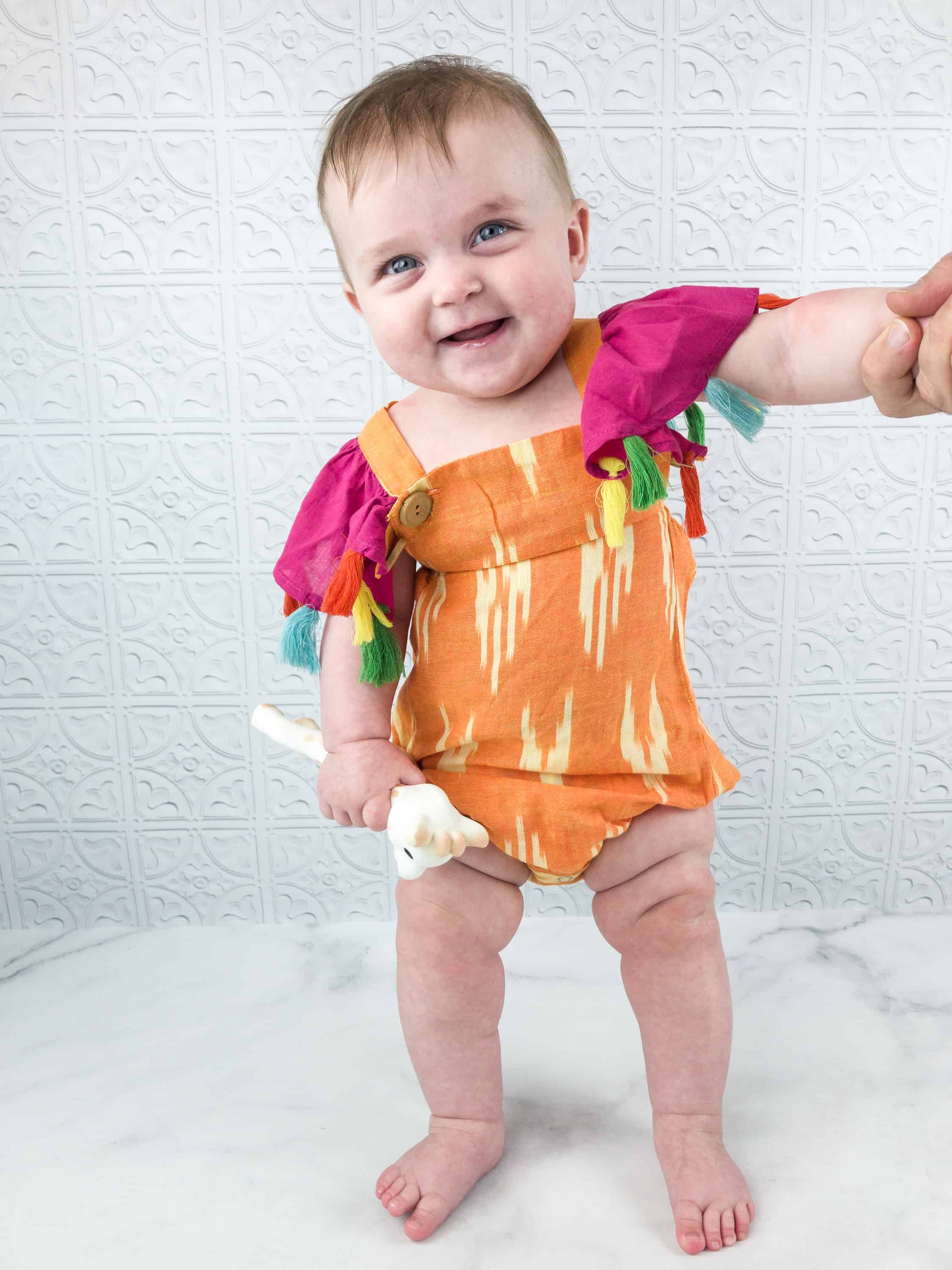 Doesn't she look adorable with this outfit? Can you get over the rolls? I CANNOT!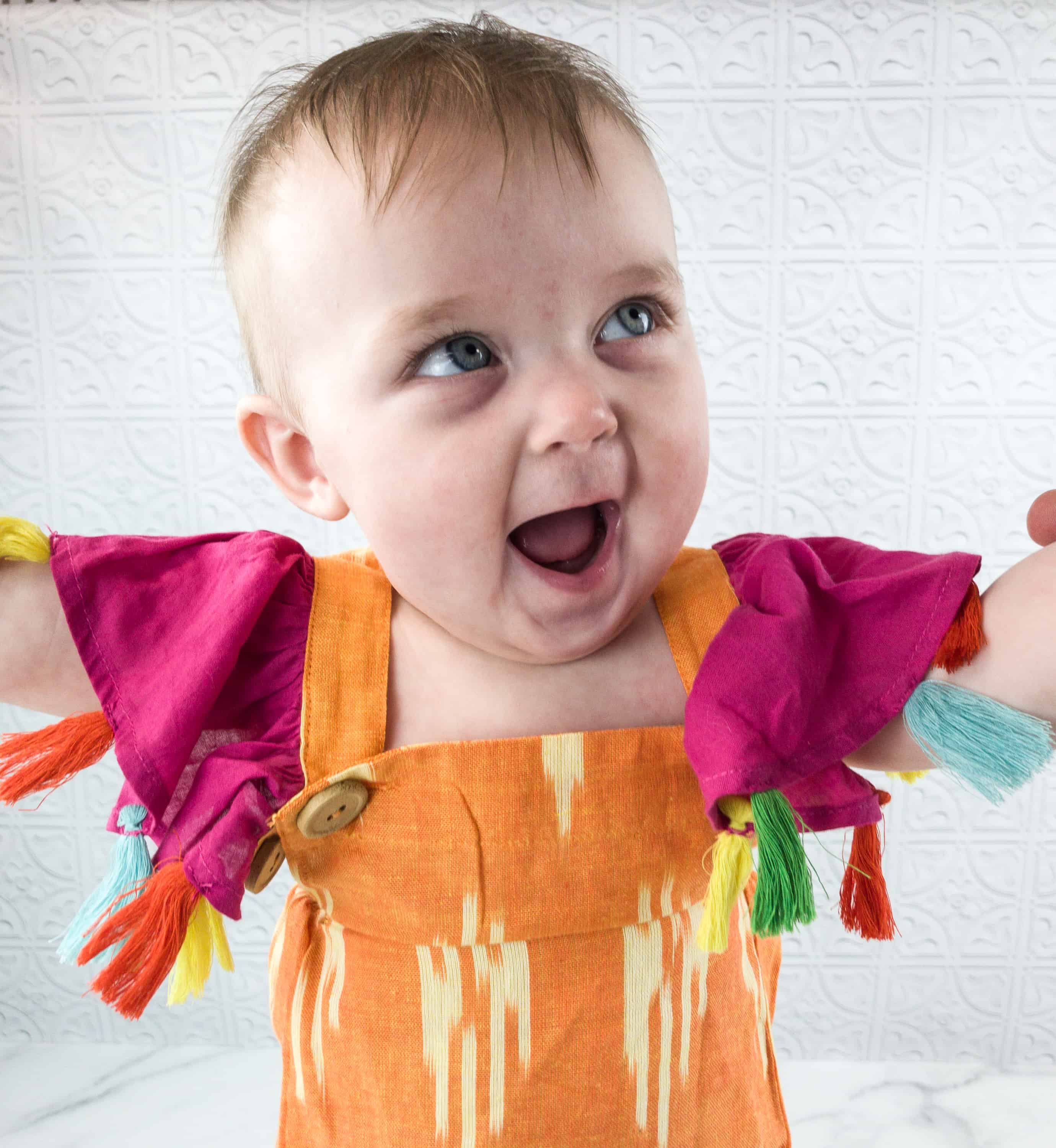 She seems to be having fun with her flutter cross back! (She then proceeded to eat a tassel, which is how it should be!)
KidBox is a great subscription of clothing for kids! The summer collection was well received by my baby. My favorite is the Losan Girls dress because she looked so fancy in it. The pajamas helped her settle down at night and it doesn't need much design to it because the colored stars are quite enough. As for the cross back, this one I am going to keep for those summer get-togethers! All in all, the pieces are all fun, enjoyable, and comfortable to wear in this kind of weather so it's a win! Plus boutique clothing at a discount price without lugging a 6 month old around plus 3 other kids? Priceless!
What do you think about Kidbox?