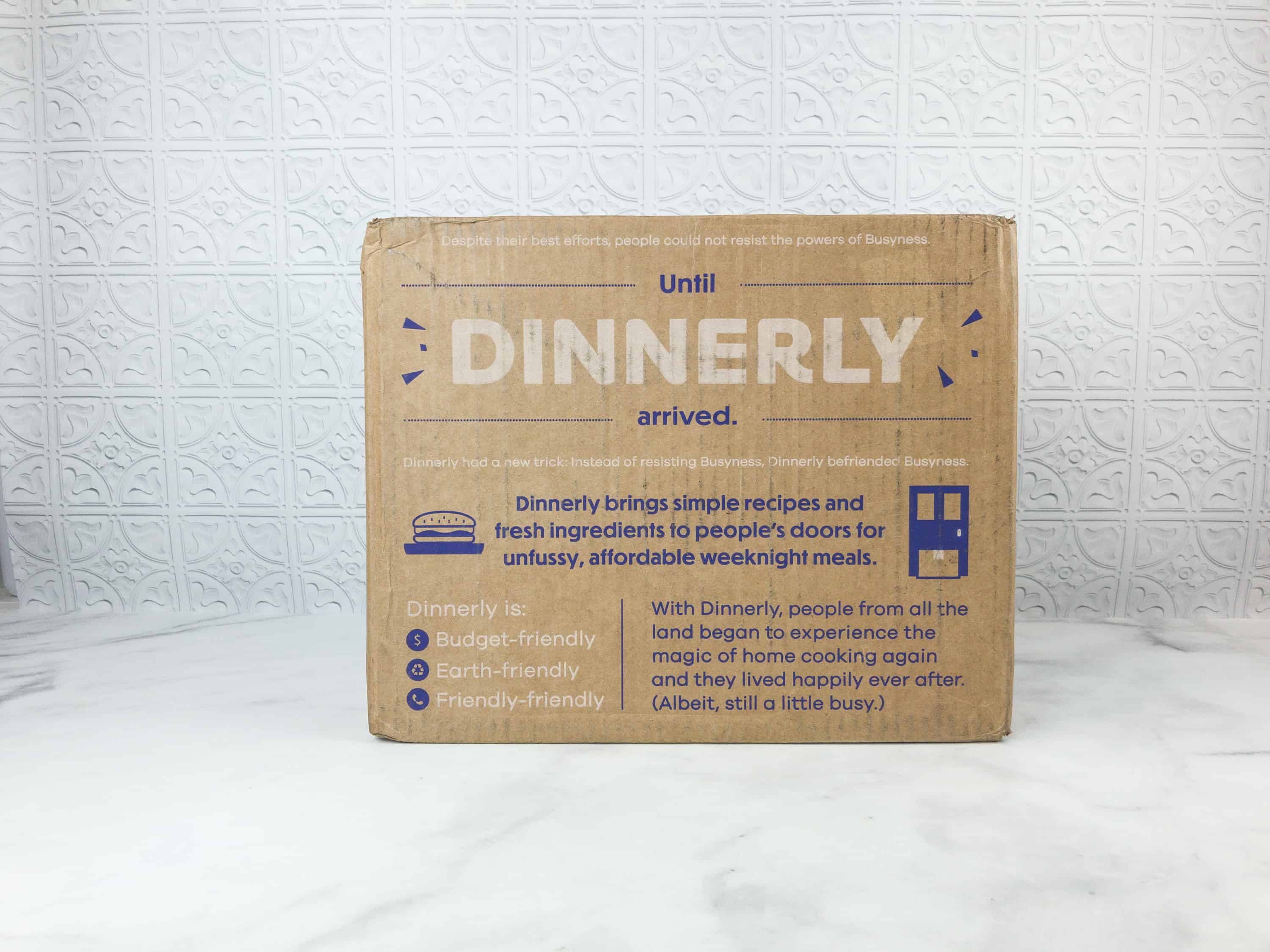 Dinnerly is a dinner meal kit subscription that allows subscribers to pick the delivery day and their preferred recipes. They have digital recipe cards instead of paper, and fewer ingredients per dish. Subscribers can also skip any week that doesn't work for them and change the number of portions they'd like to receive. Boxes start at $30 per week + $8.99 shipping. You can also get a family plan for $60, and switch out your recipes between 3 meat-based recipes and 3 vegetarian recipes.
DEAL: Free shipping on your first box! Use coupon code AW18DINFREE or use DLRJUL10N to save $10!
The rigid inserts both insulate and protect the food from any damage to the external box. No ice pack explosions this month!
Everything in my box!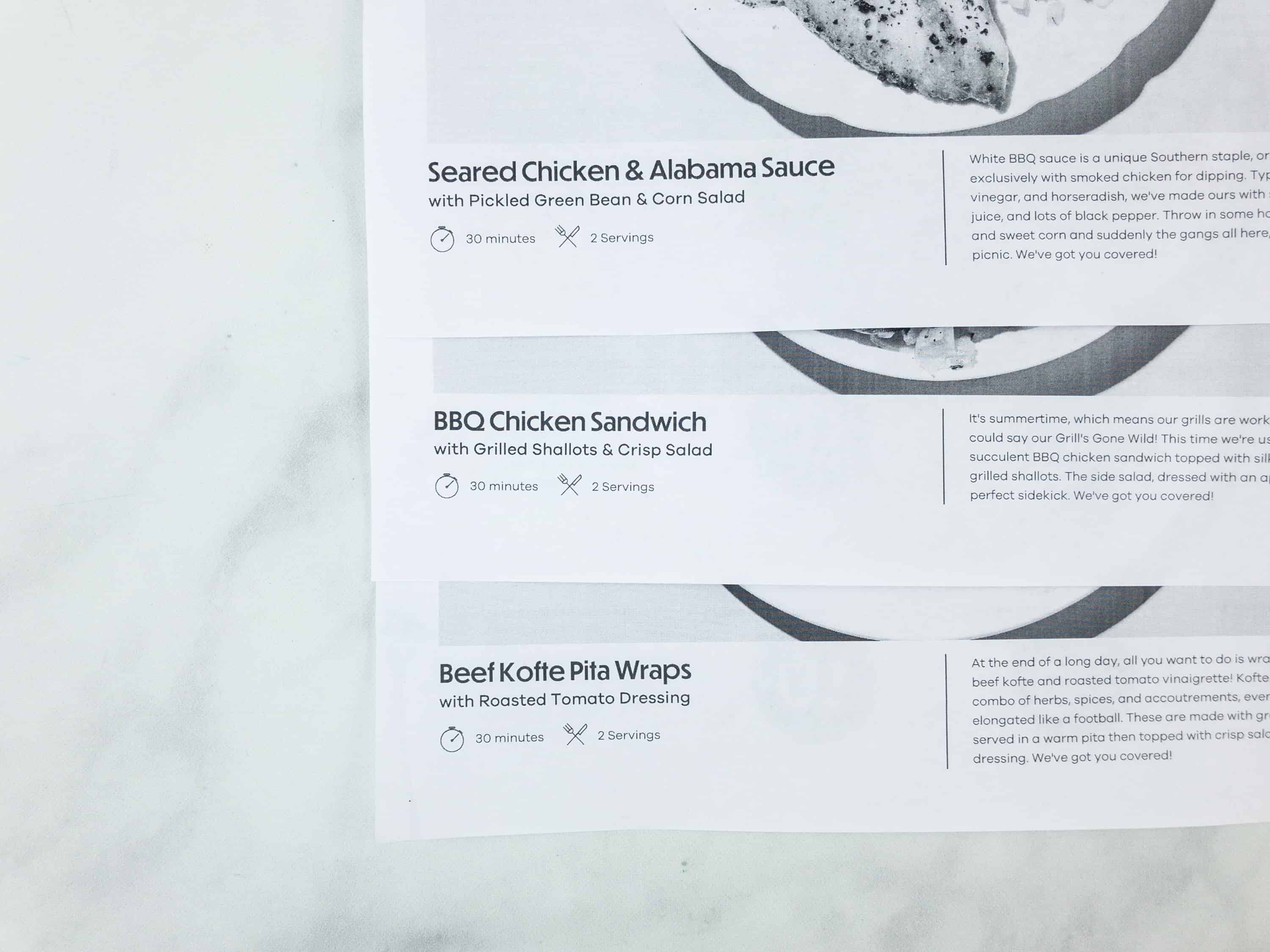 There are also no information cards, so you either have to print them out or use your phone. We had a little easier time accessing the PDFs this week – from your order list click for cooking instructions and click the orange button that says that AGAIN. Why they don't just say PDF on the orange button? Beyond me!
They send a whole garlic head to add more flavor to the food – you use it for all the recipes. My husband usually does all the cooking but I find it easier to butt in when we get a Dinnerly Box – less chopping! I still make him mince that garlic though.
Beef Kofte Pita Wraps With Roasted Tomato Dressing – 30 minutes, Easy, 784 calories per serving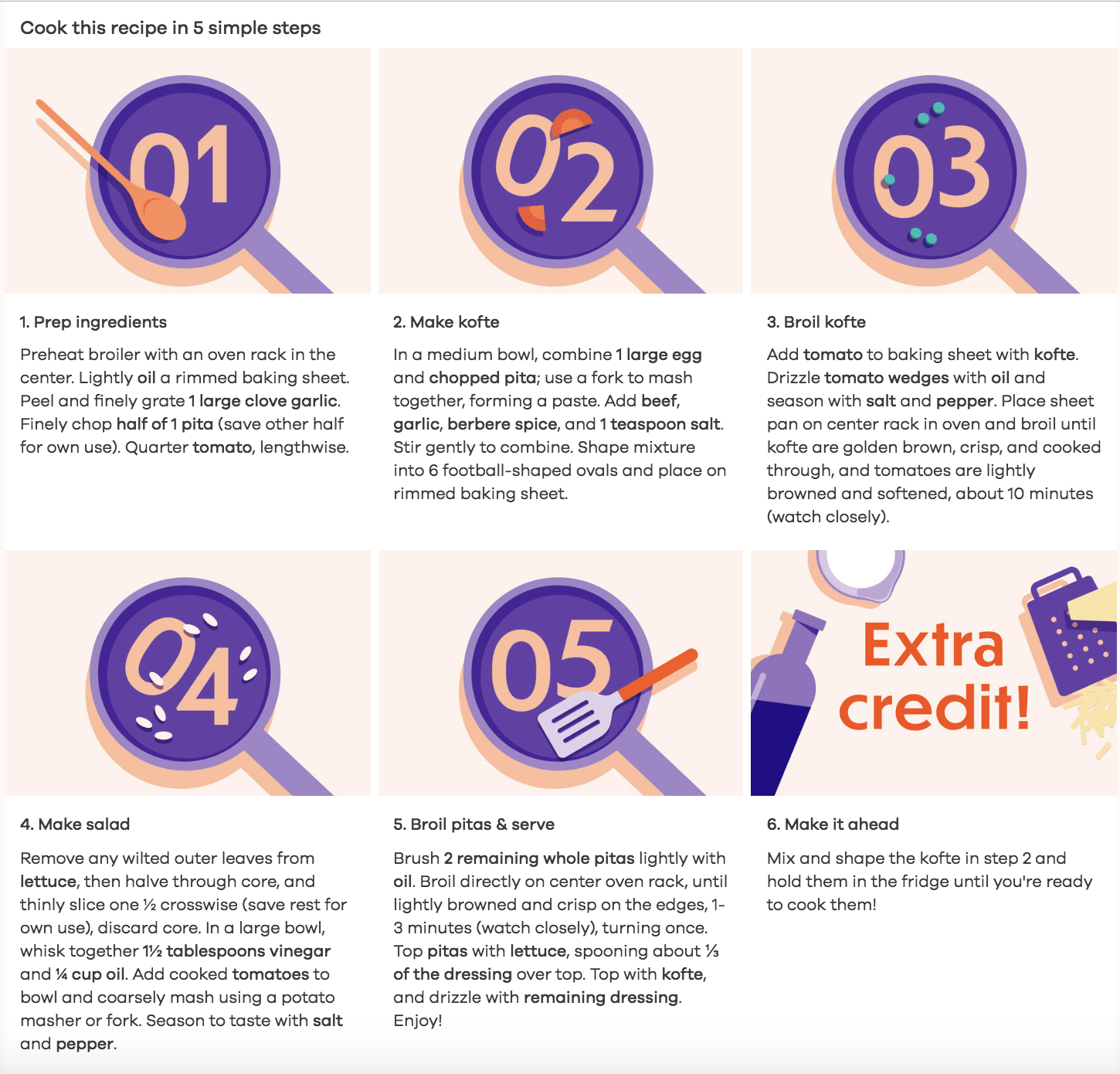 Dinnerly suggests to mix and shape the kofte and hold them in the fridge until you're ready. This makes the whole process even easier.
This wrap sandwich is made flavorful by the ground beef. The lettuce added a nice crunch, while the fresh tomatoes were there to balance it all. The pita bread was soft! This makes such a quick and easy weeknight dinner, and it was so quick and easy and delicious.
BBQ Chicken Sandwich With Grilled Shallots & Crisp Salad – 30 minutes, Easy, 467 calories per serving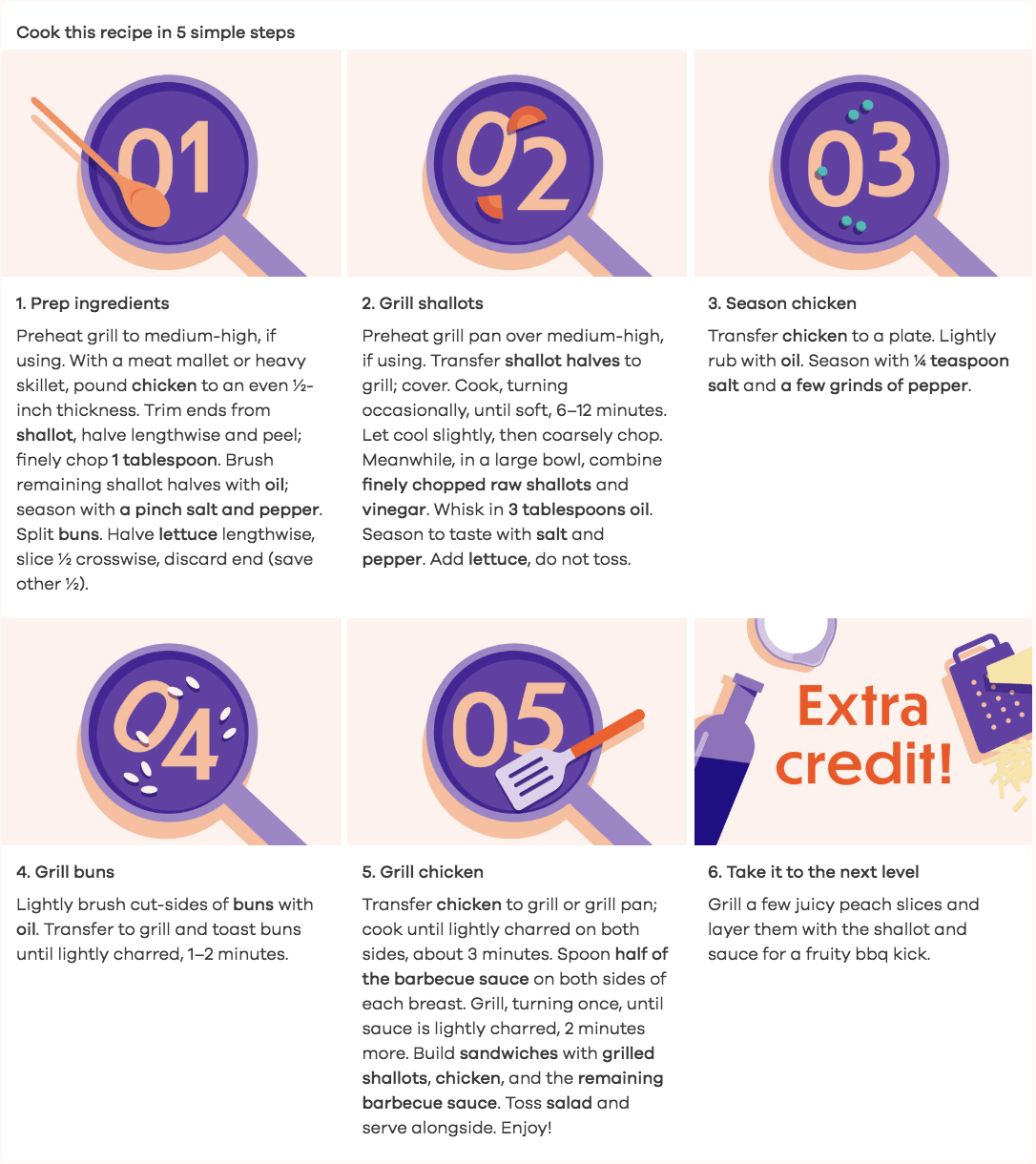 According to Dinnerly, you can grill a few juicy peach slices and layer them with the shallot and sauce if you want to put a fruity twist to the dish. The lack of these items in the box is one of the things that makes it cheaper than other meal boxes.
Grilled chicken is the best! To make it more filling, the grilled chicken is added to a sandwich with shallots and a side salad. The sauce is already provided, so that's one less thing to do. It had the classic barbeque taste that pulled the meal together.
Seared Chicken & Alabama Sauce With Pickled Green Bean & Corn Salad – 30 minutes, Easy, 302 calories per serving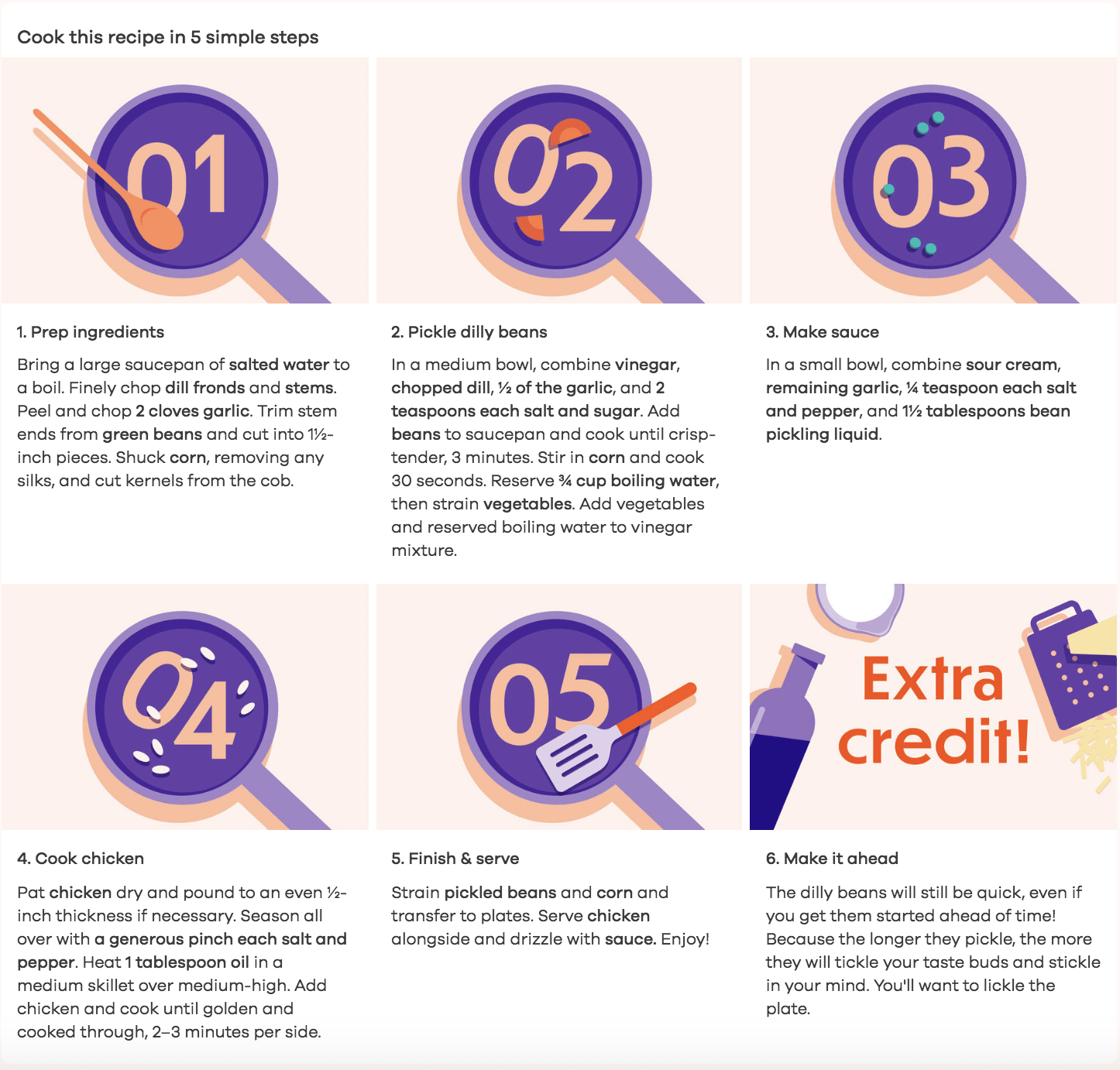 Dinnerly suggests to pickle the dilly beans ahead to make it more tasty!
The chicken tasted amazing with the white barbecue sauce, which was perfectly creamy and sour. It was made even more wonderful with pickled beans and corn side dish. Overall, it's a refreshing meal and I can imagine recreating this dish over and over!
Recipes from Dinnerly are always easy to prepare and cook. Each dish is filling enough for two people, and I just love that they cut down the steps into just five. They also provide helpful tips to make cooking even easier. This was a good week of recipes from Dinnerly, we loved it! You're not going to get the leftovers like other boxes, and some parts of it are more of a hassle (no cooking cards, no separation of items), but if you're looking for an inexpensive meal box this one does the trick!
What do you think of Dinnerly?