Nom Nom Cats delivers fresh and healthy cat food on a weekly or monthly schedule. The meals are specifically formulated to fit a feline's unique dietary needs: high in protein and naturally high in water content. The cat food is already pre-portioned and is measured and sealed in its own bags.
DEAL: Get 20% off your first order when you use this link to subscribe!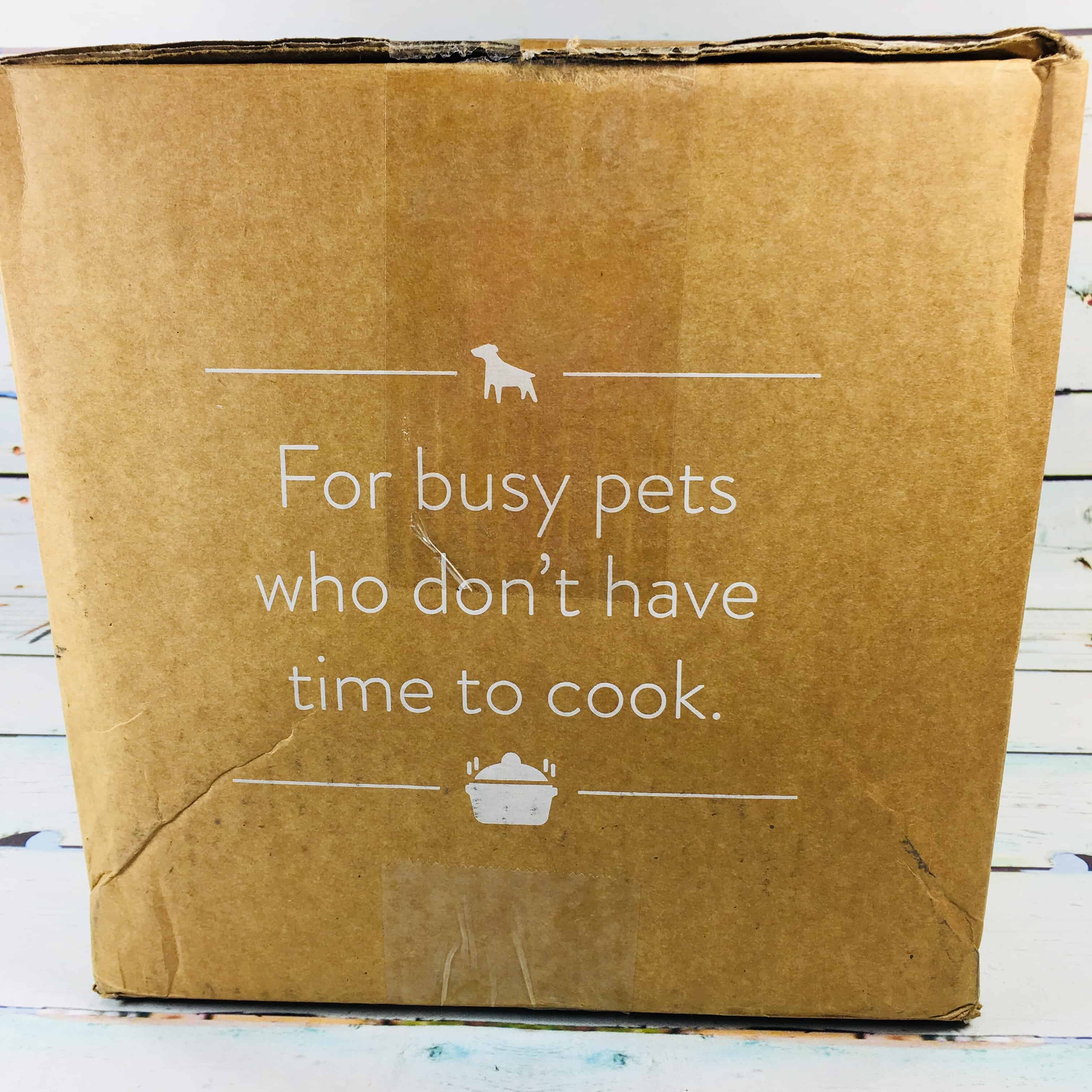 My cats, Sunny and Zoey, are way too tired after a day of napping and occasionally trying to trip me up to cook for themselves. They can't even catch a mouse on their own (but I have found a lizard in my kitchen, proudly guarded by Sunny.)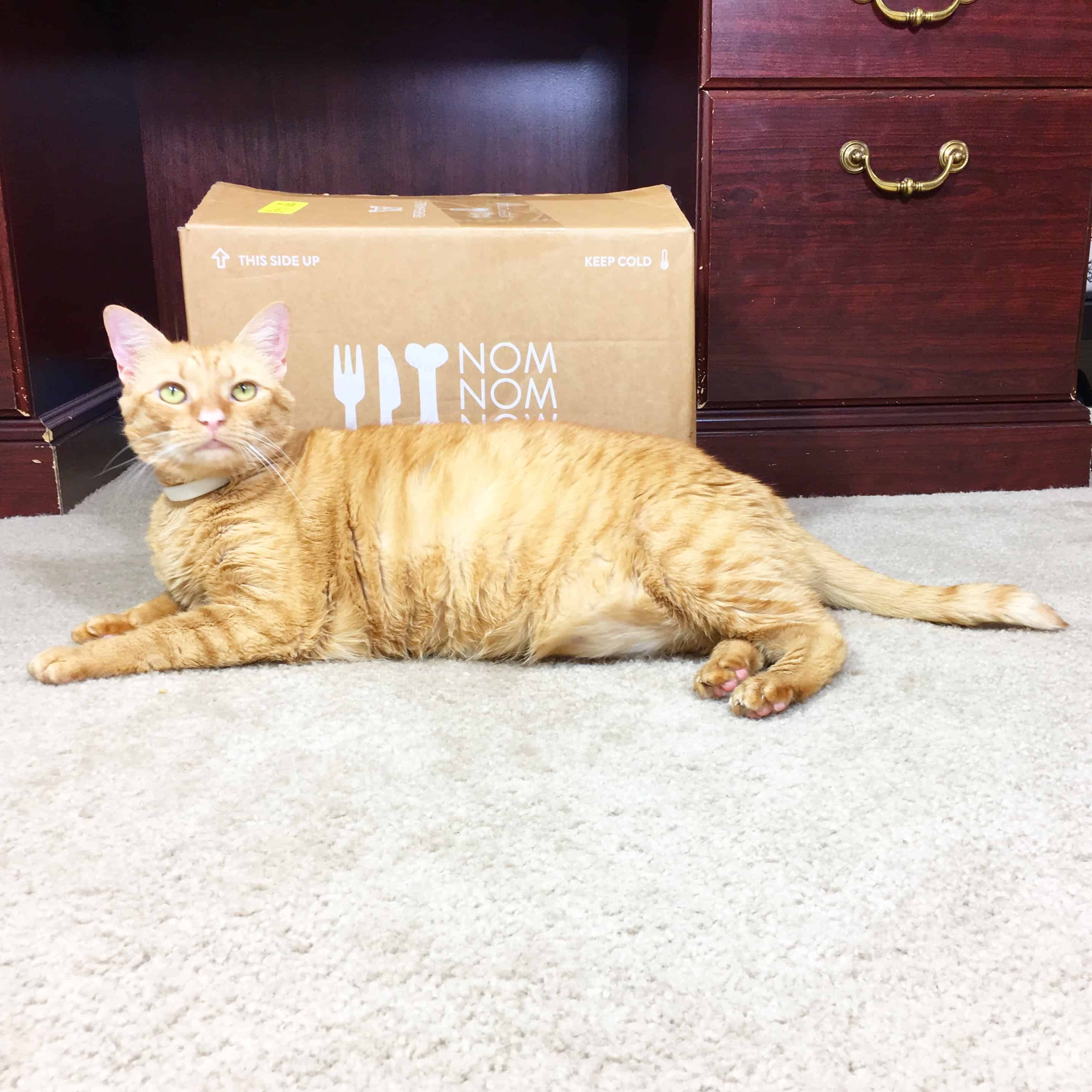 Sunny was happy to help me write this review and I couldn't have done it without her help, since I'm not really into eating cat food. Also, I'm not an actual cat.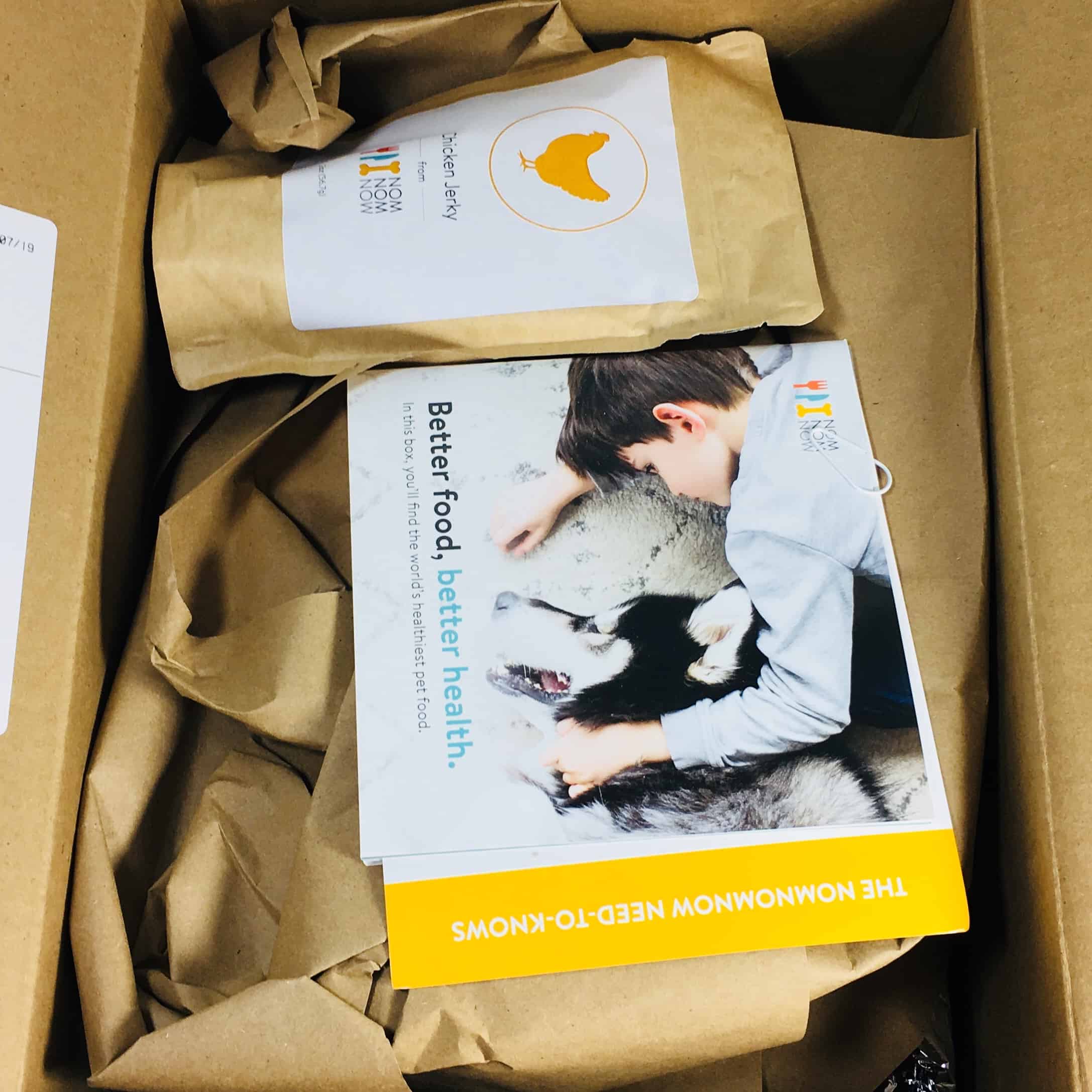 I found some literature as soon as I opened the box.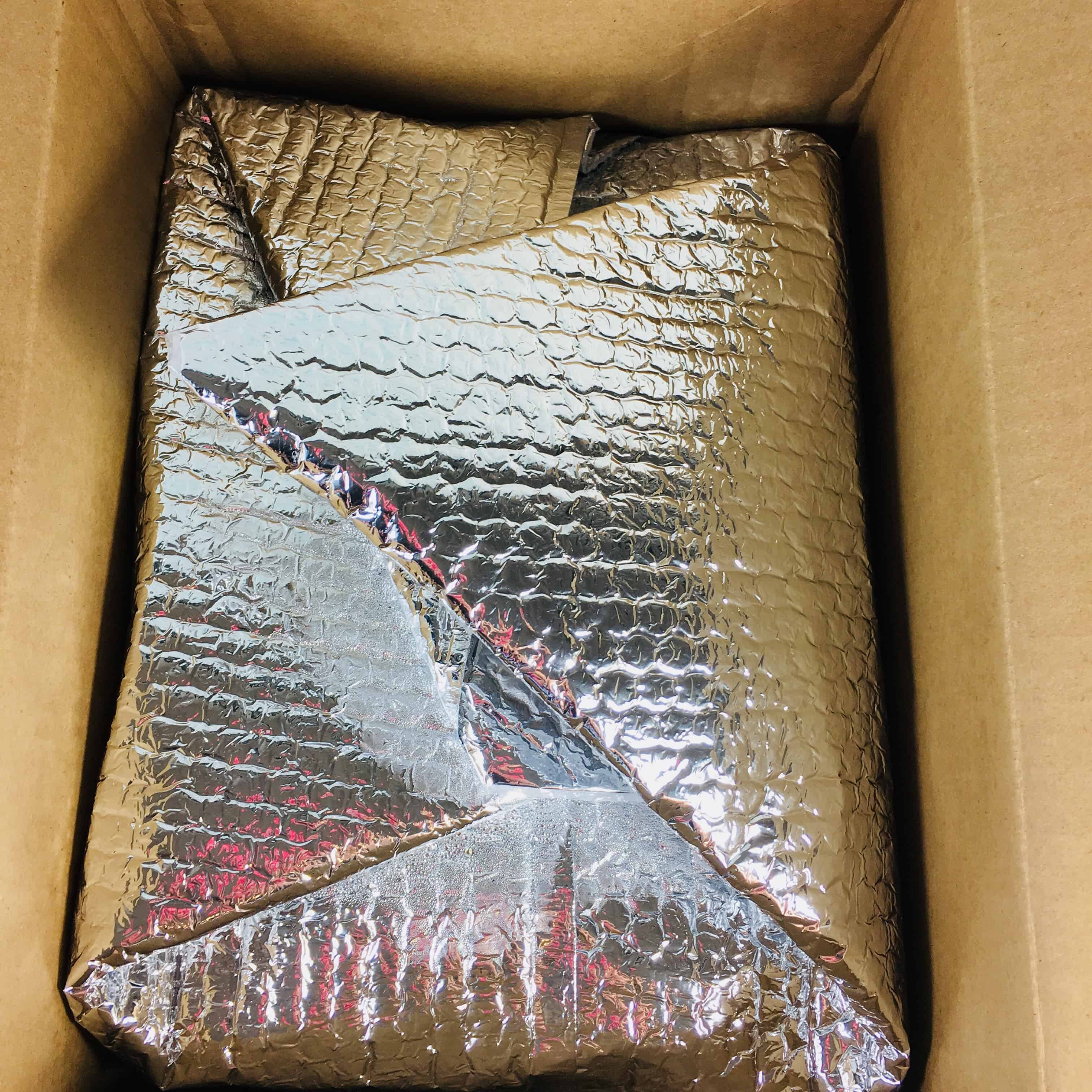 Inside was a big silver insulating wrapper.
There were two huge ice packs, one on top and one on the bottom. They were still almost completely frozen.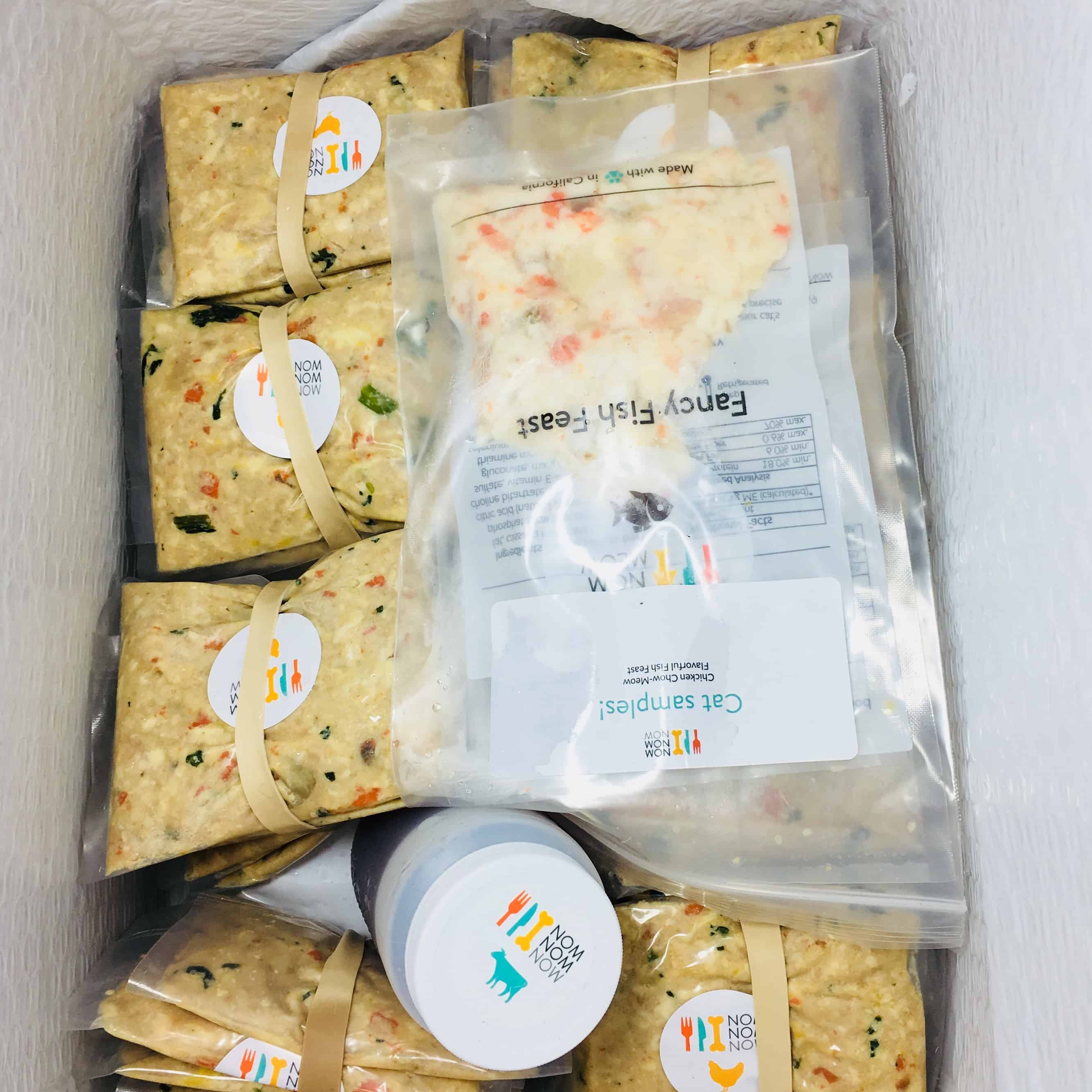 All Nom Nom Cats meals are proportioned into individual meals!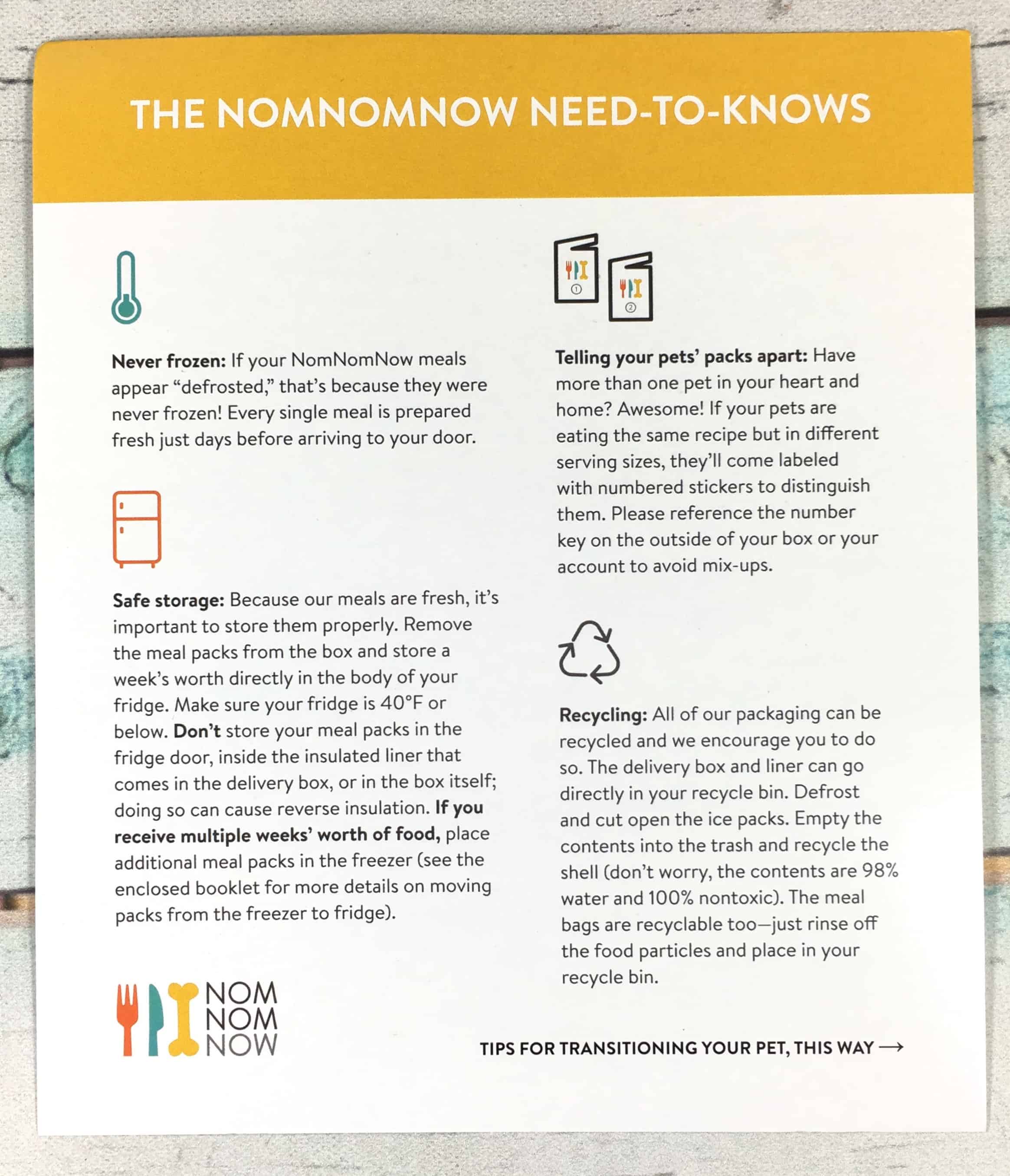 I received a card on "The Nom Nom Need-To-Knows." If you are getting meals for more than one cat then they will be numbered so you can feed them the correct amount for their size.
The back of the card said how you can transition your pet to their new food.
There was another card with a sample of Flavor Flakes.
The back of the card mentioned how to use the Flavor Flakes (and Buster's Beef Broth, also included) to help your cat get used to their new food. Sunny really enjoyed the beef broth add-in and I know she will like the fish powder.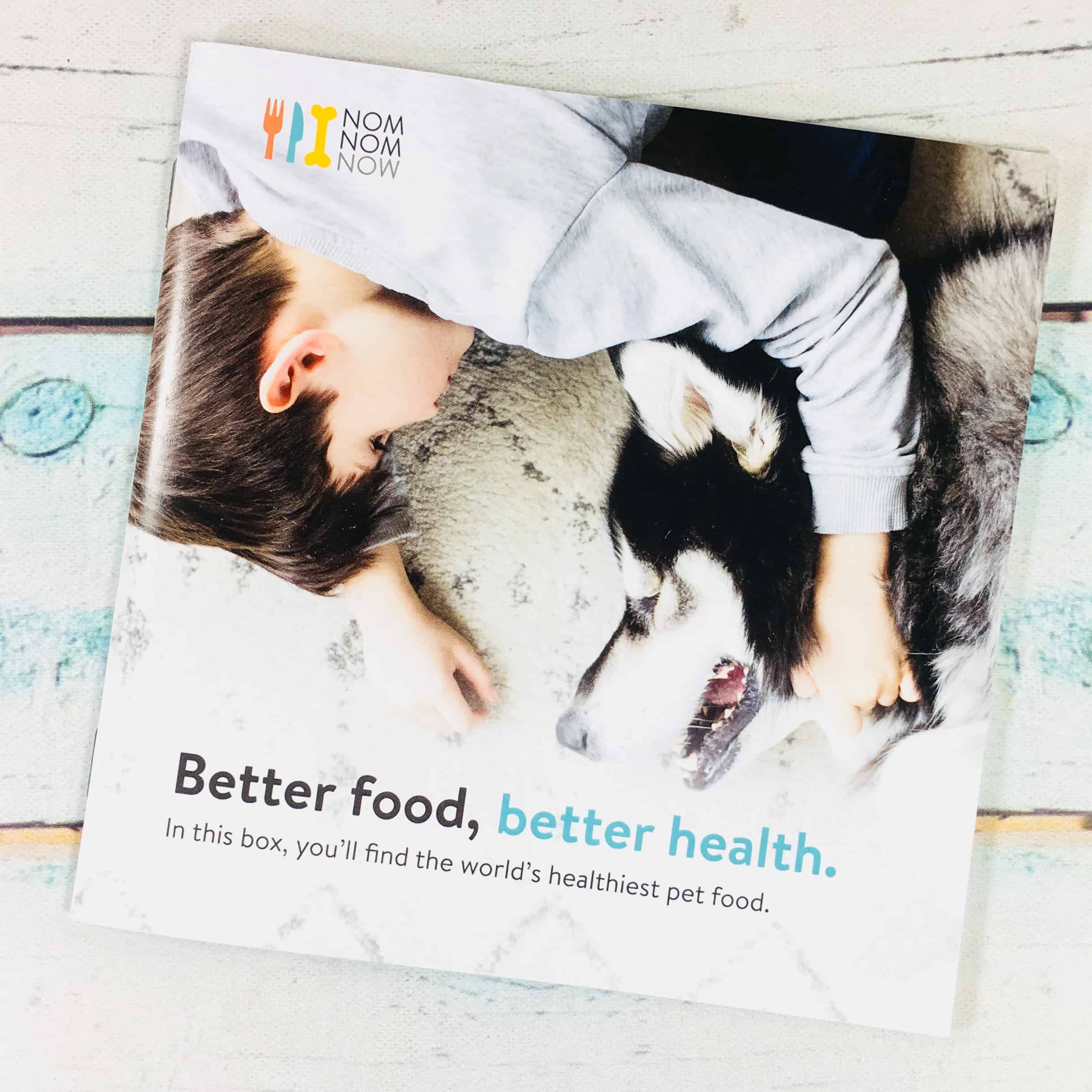 There was a 32-page booklet with lots of info on the food and important info on the Nom Nom plan.
It told how to correctly store the food.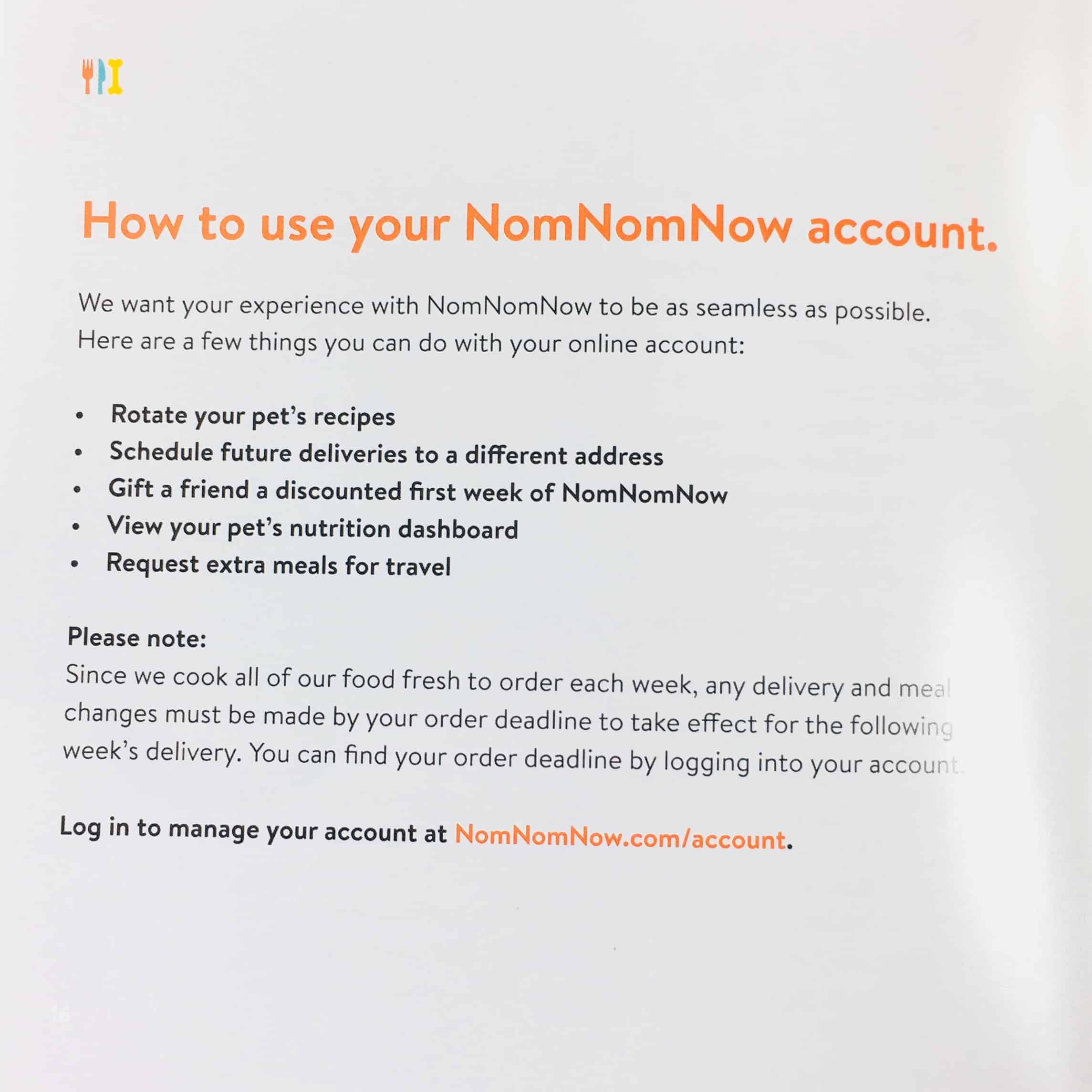 Plus it had info on your account. Nom Nom has two different flavors of cat food, but they also have plans for dogs, who get 5 different entrees to choose from.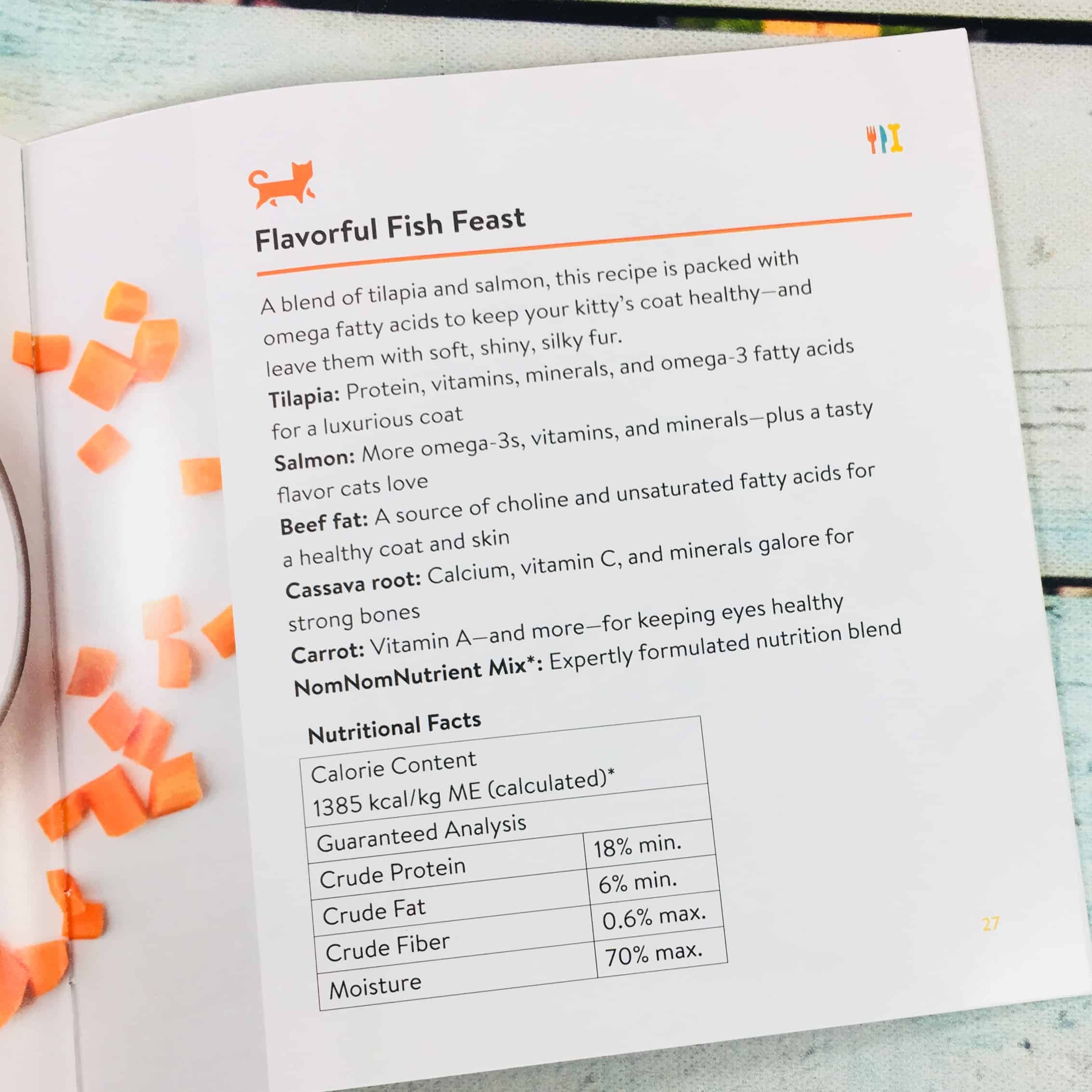 Info on the ingredients and nutrition breakdown could also be found here.
All the cat meals we received! I received a month's worth of meals plus a treat, a mix-in flavor enhancer, and a sample.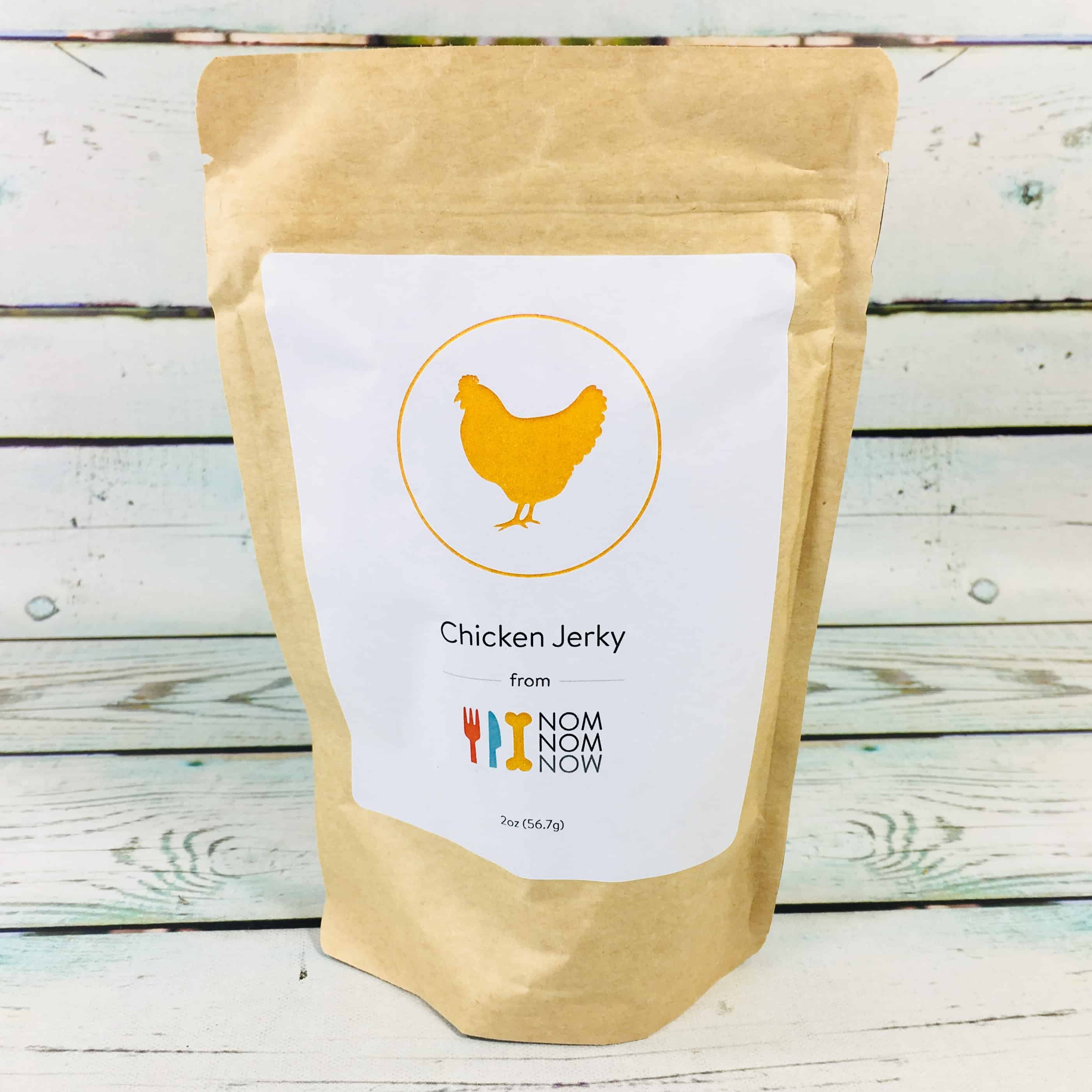 Chicken Jerky Snack Aside from the cat food meals in a pouch, we also received a bonus jerky snack!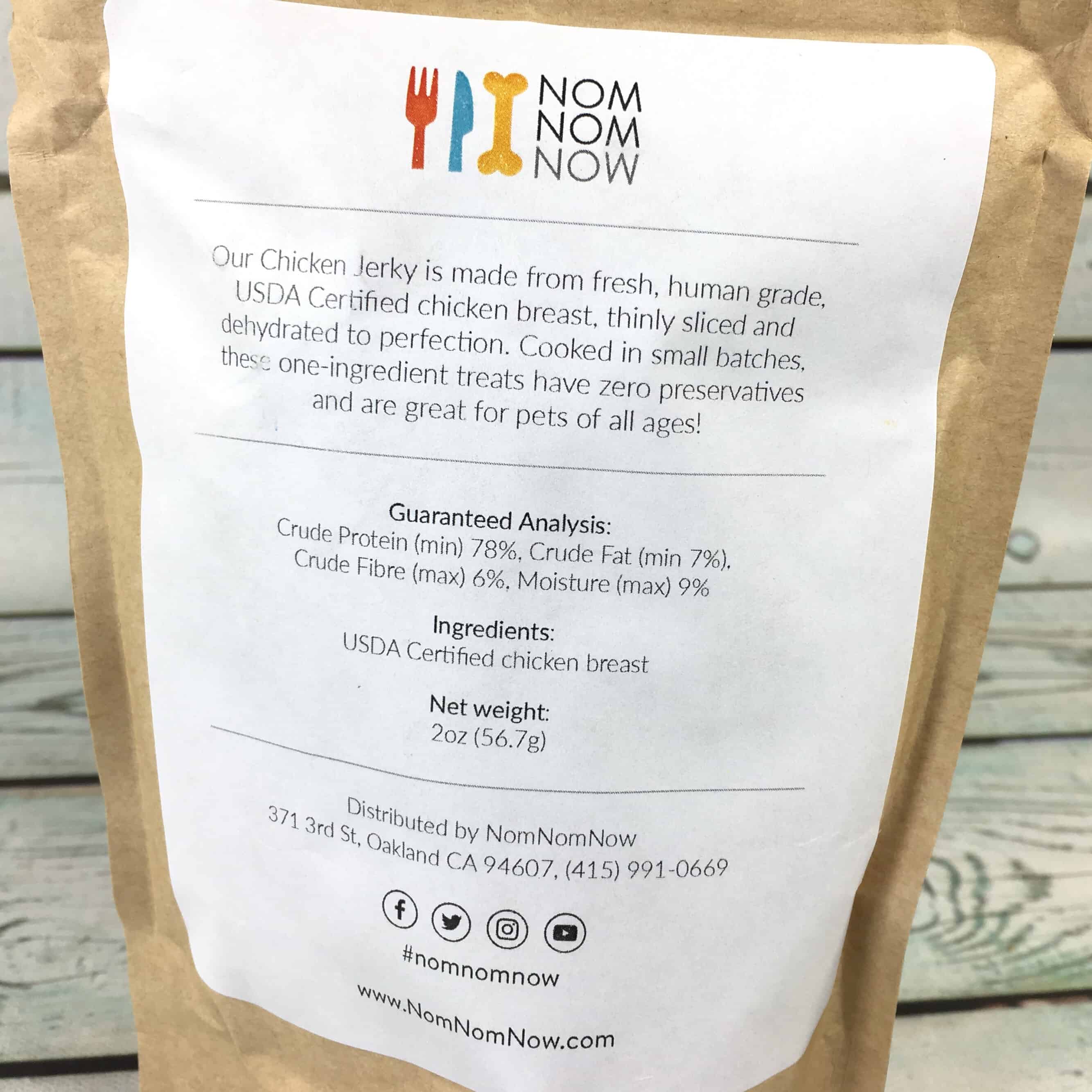 This chicken jerky treats from Nom Nom are made from fresh, human-grade chicken breast. That's it!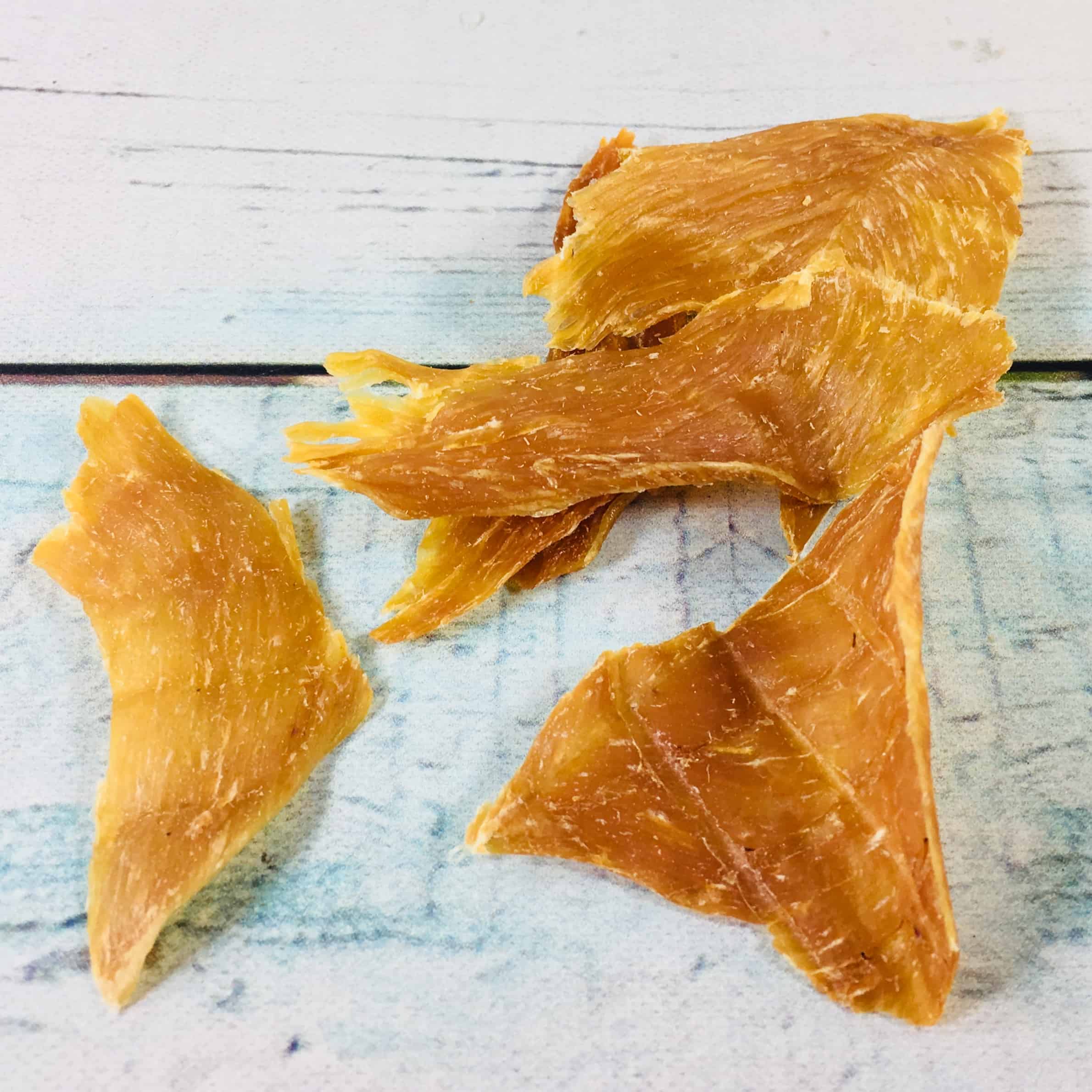 Each piece is thinly sliced and dehydrated. I broke off pieces to feed to my cats.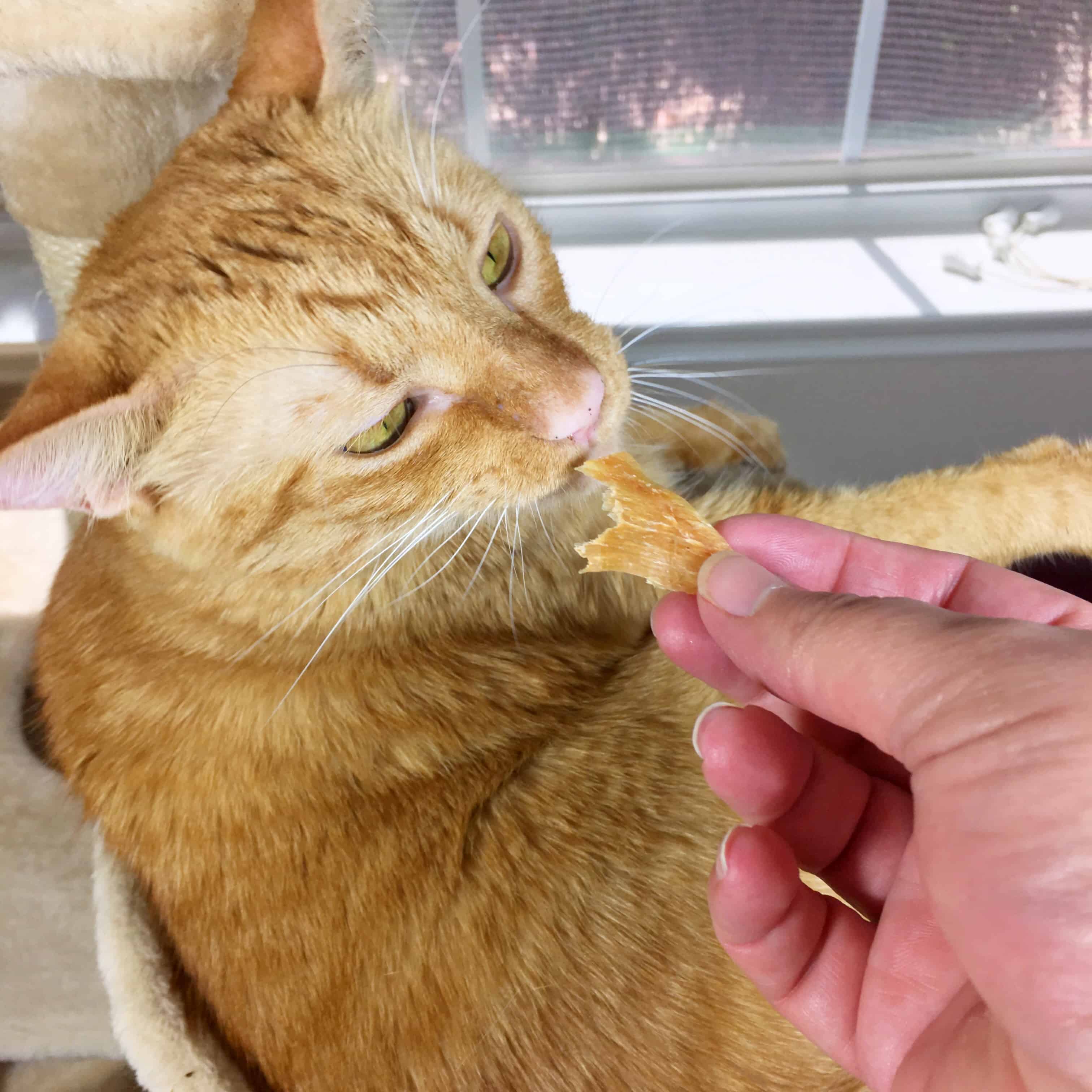 Sunny was definitely interested. She sniffed it.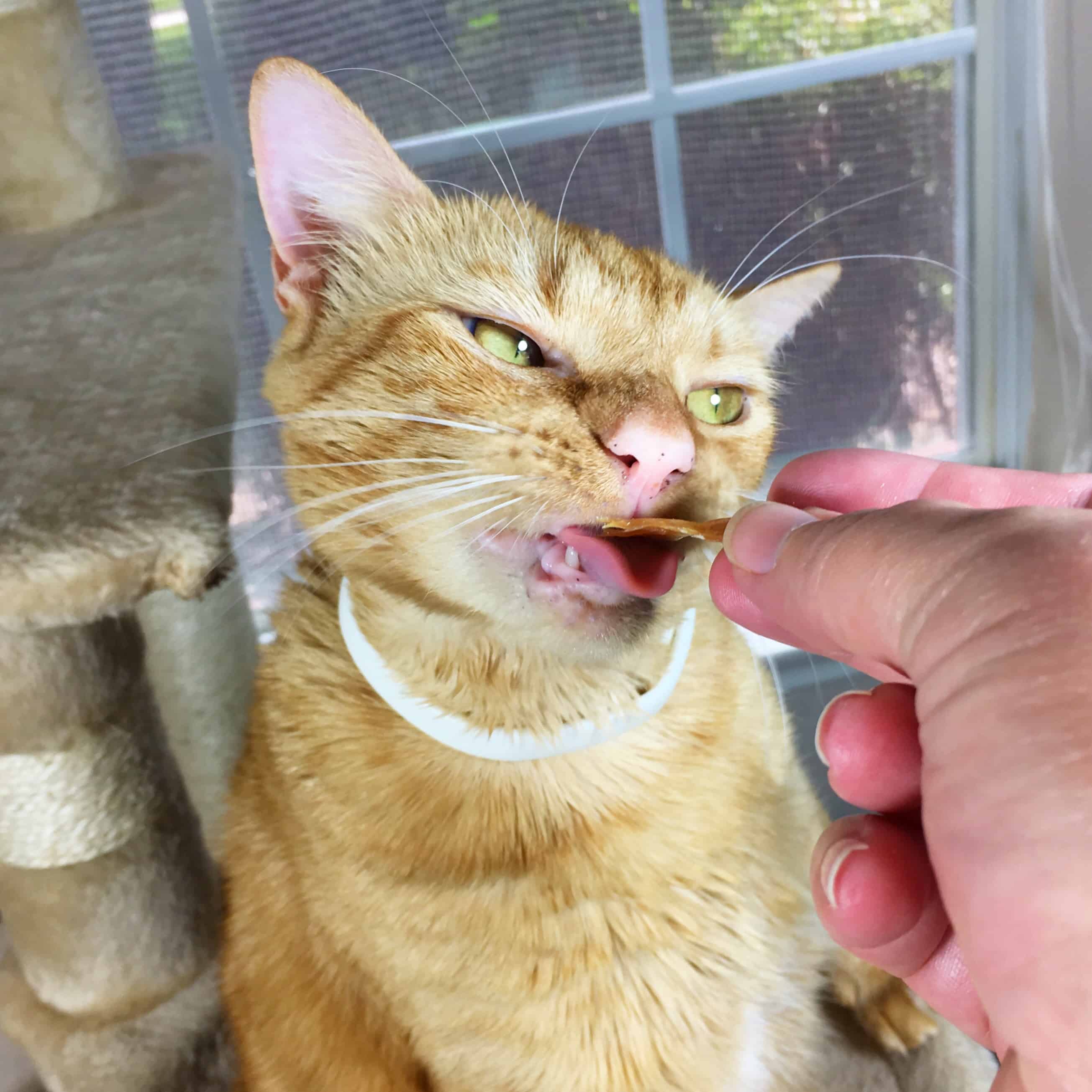 She tried several times to bite it.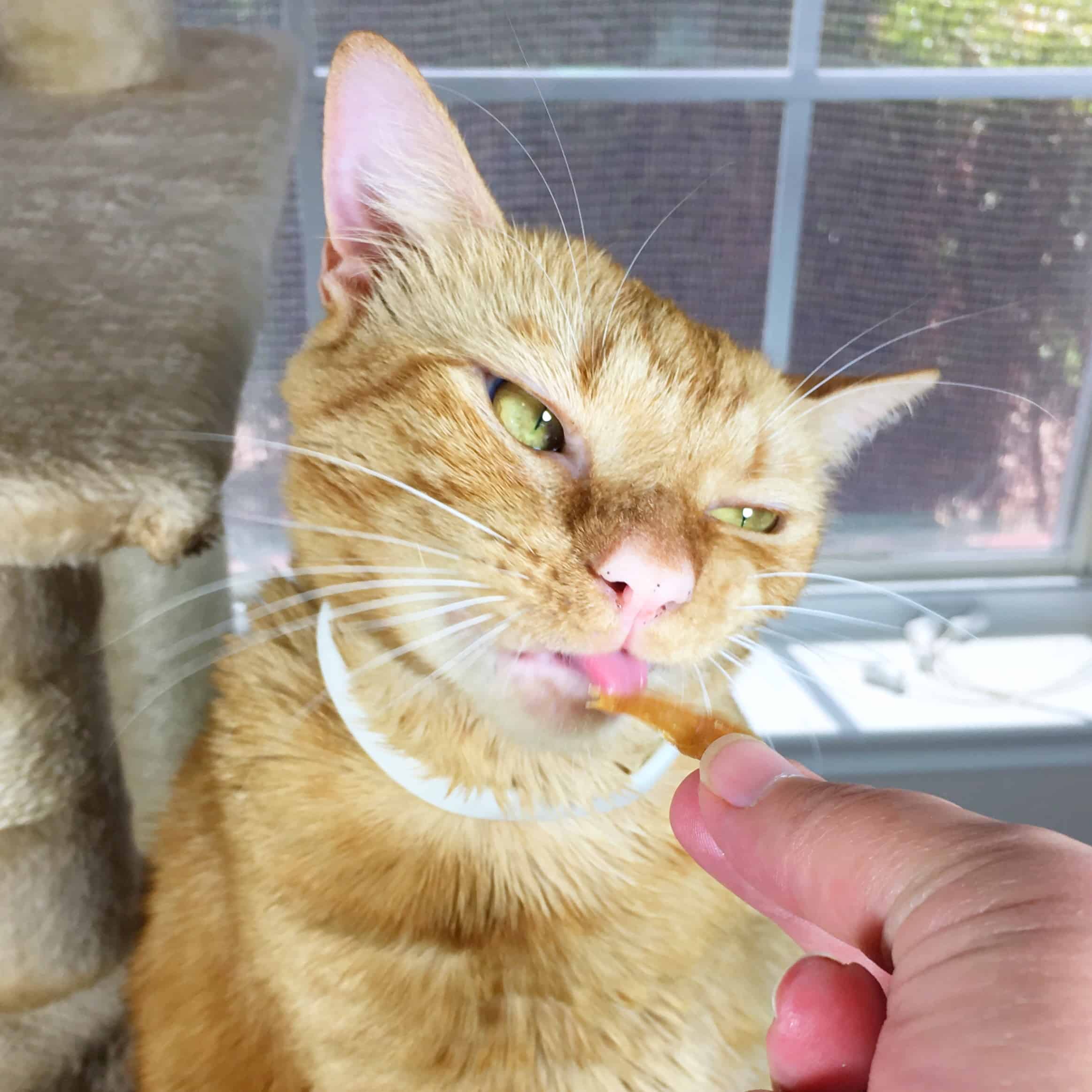 She licked it.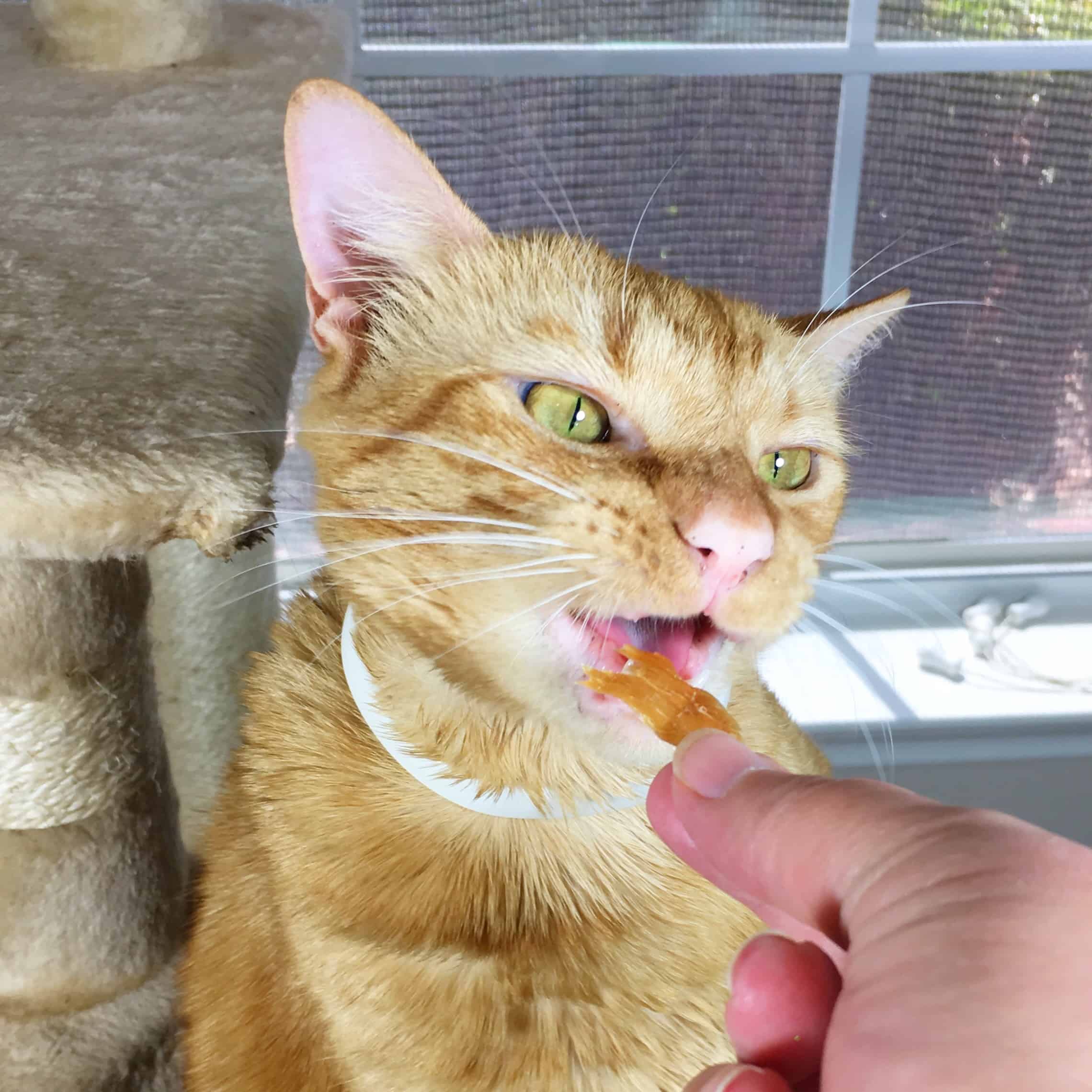 Her face is starting to look happy!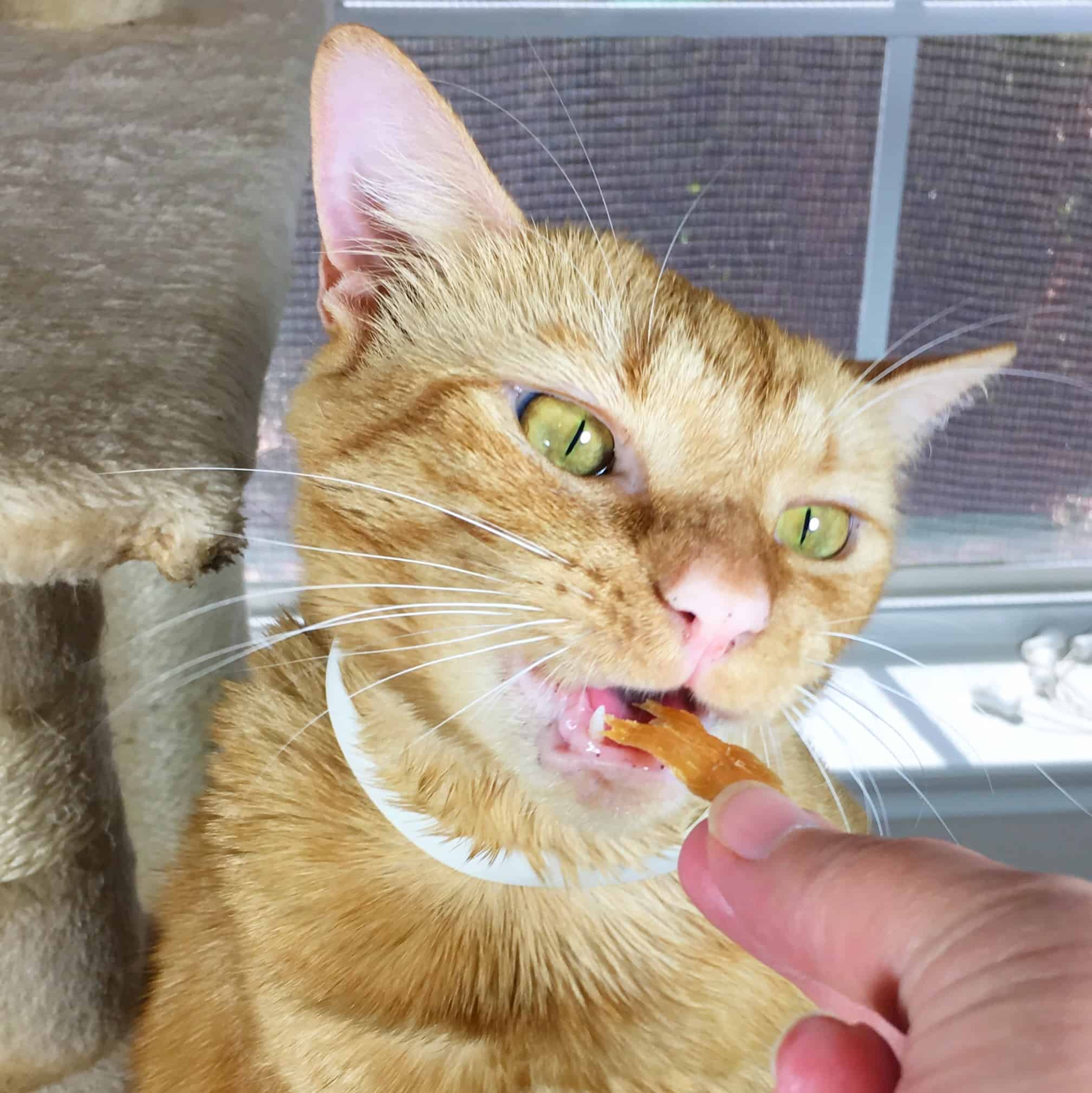 If cats could talk, I think she would say "oh yeah!". In the end, she didn't eat it, but she sure liked licking it!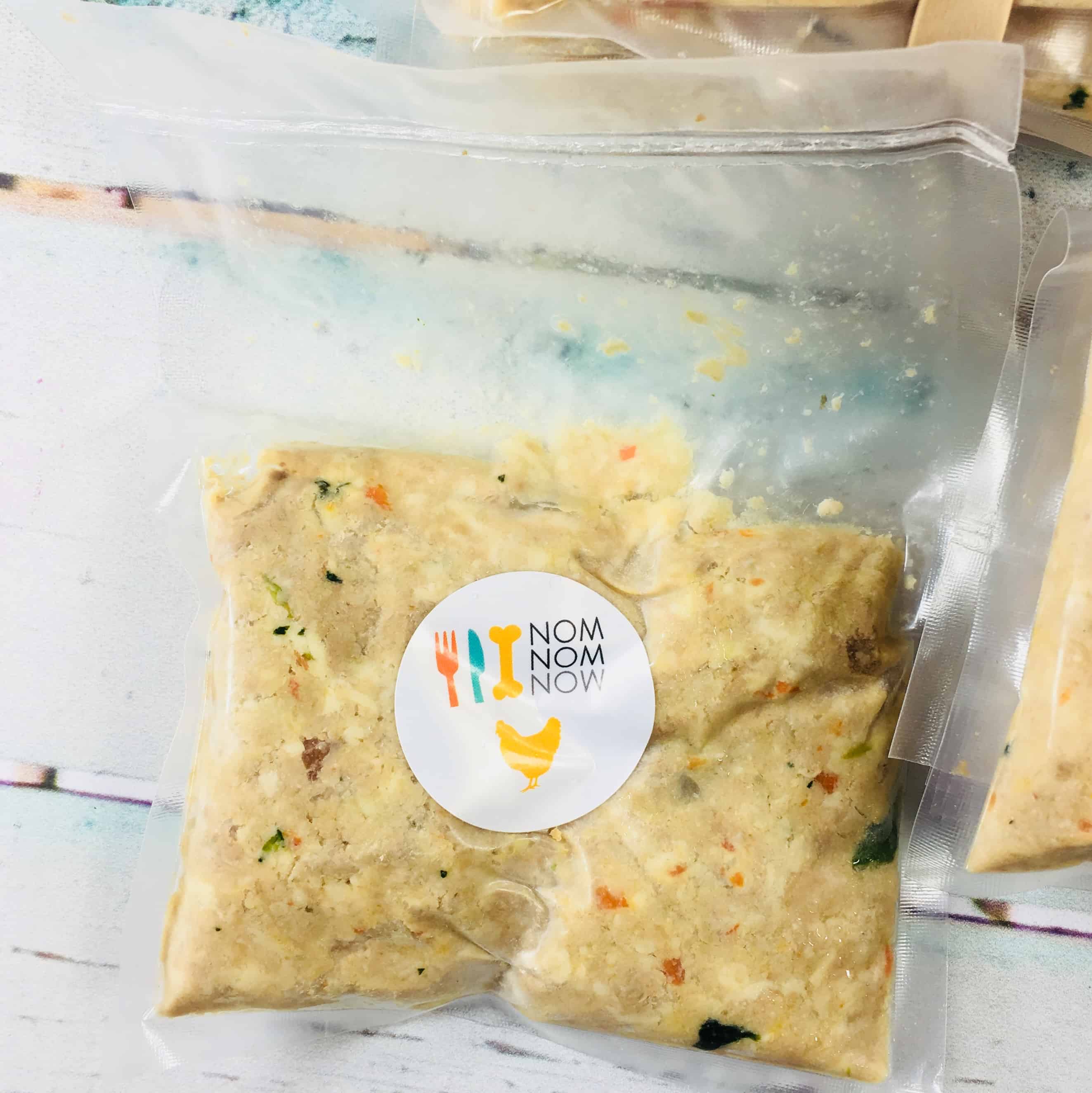 I love that the meals are prepackaged! Place a week's worth of meals in the fridge and freeze the rest. You can feed it directly from the bag as is, or add one of the two included mix-ins. If you want to heat it up a bit, then place the pack in a bowl of warm water for a minute to take the chill off.
All the ingredients were listed on the package. One package is one meal, and you can feed two packs a day.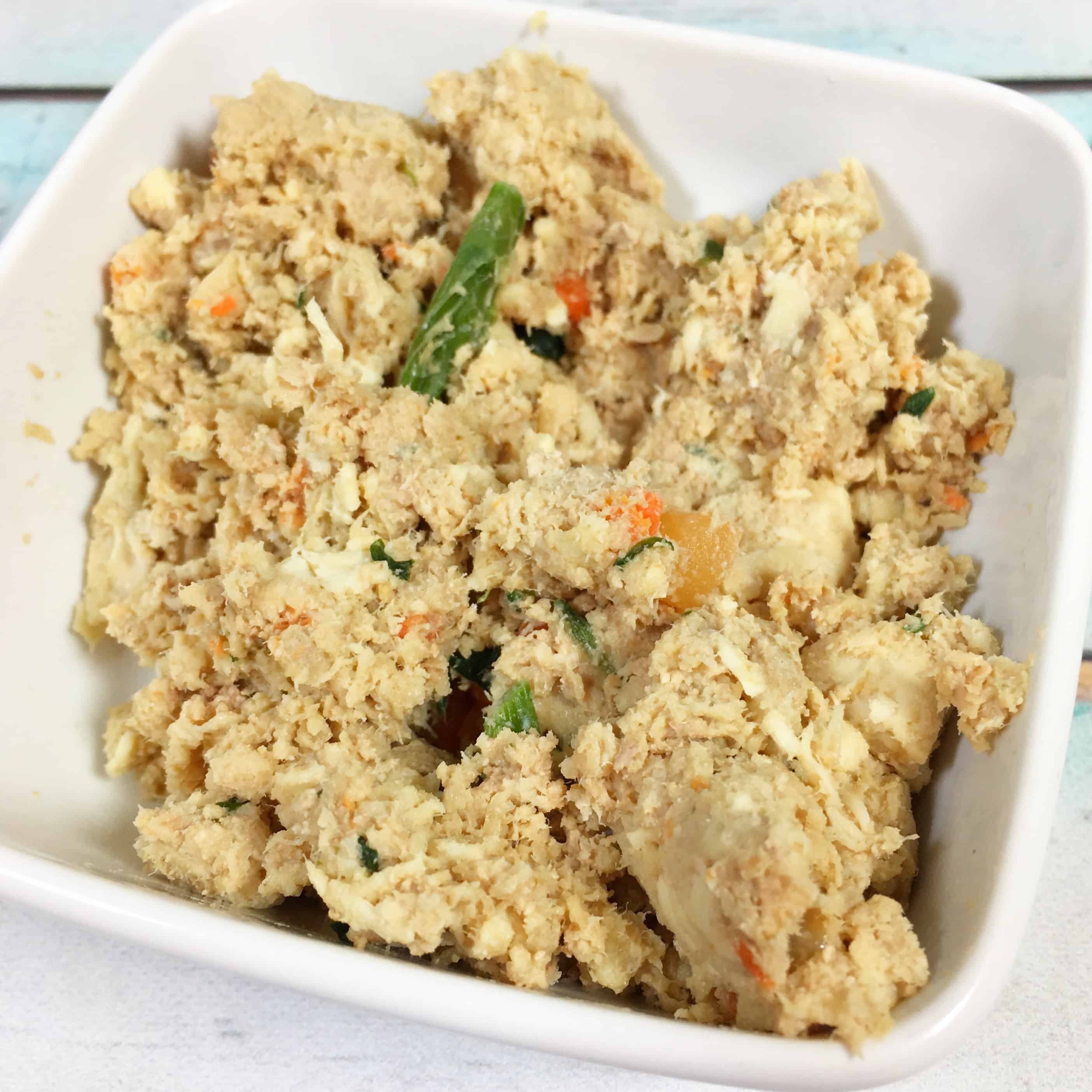 The ingredients are human-grade so if my cats don't care for it then I'm going to roll it in breadcrumbs and fry it up as croquettes. Just kidding, but it doesn't smell anything at all like the stuff from a can at the store.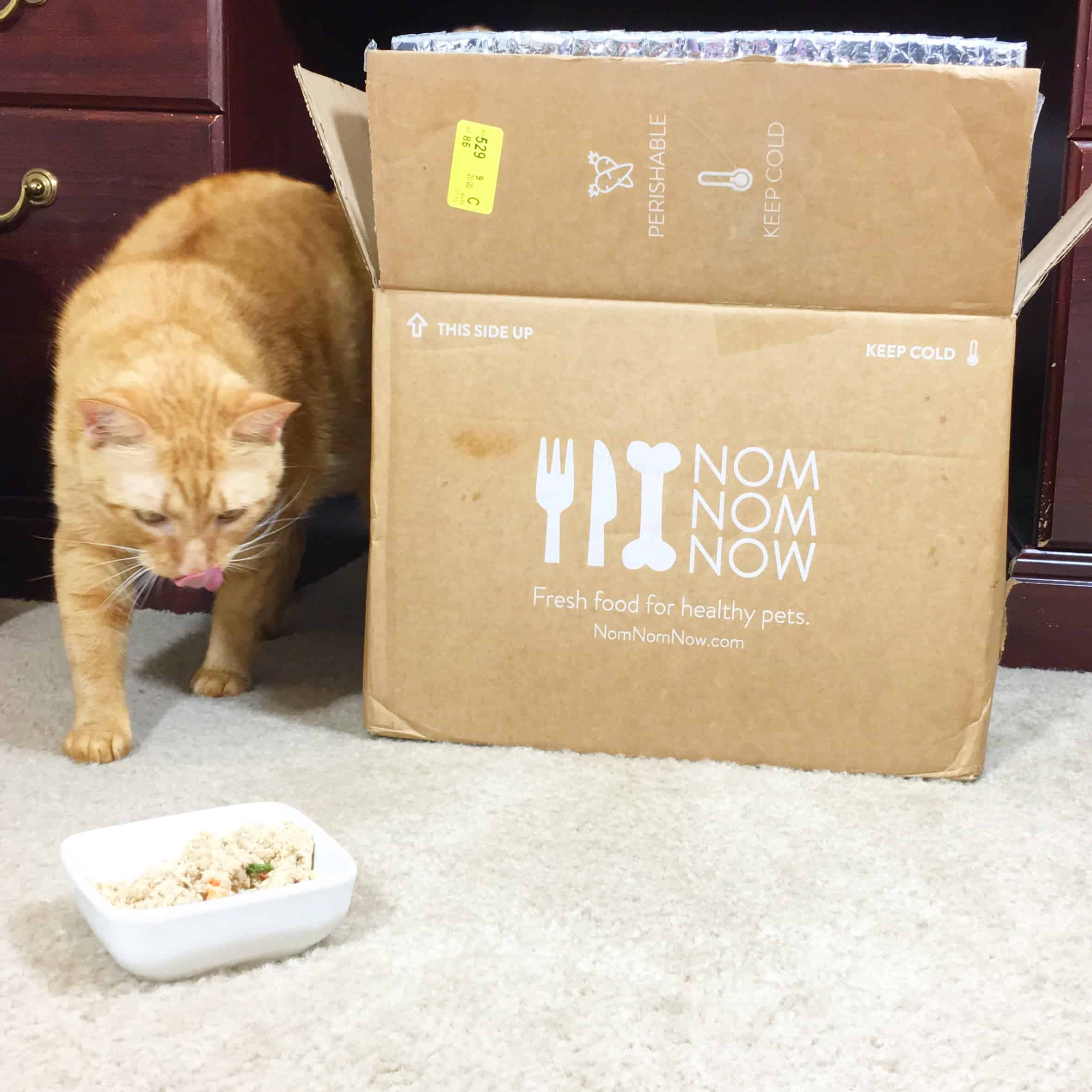 Look at my crazy cat licking her chops!
Nom nom nom. Nom Nom!
Sunny seemed very pleased with her food!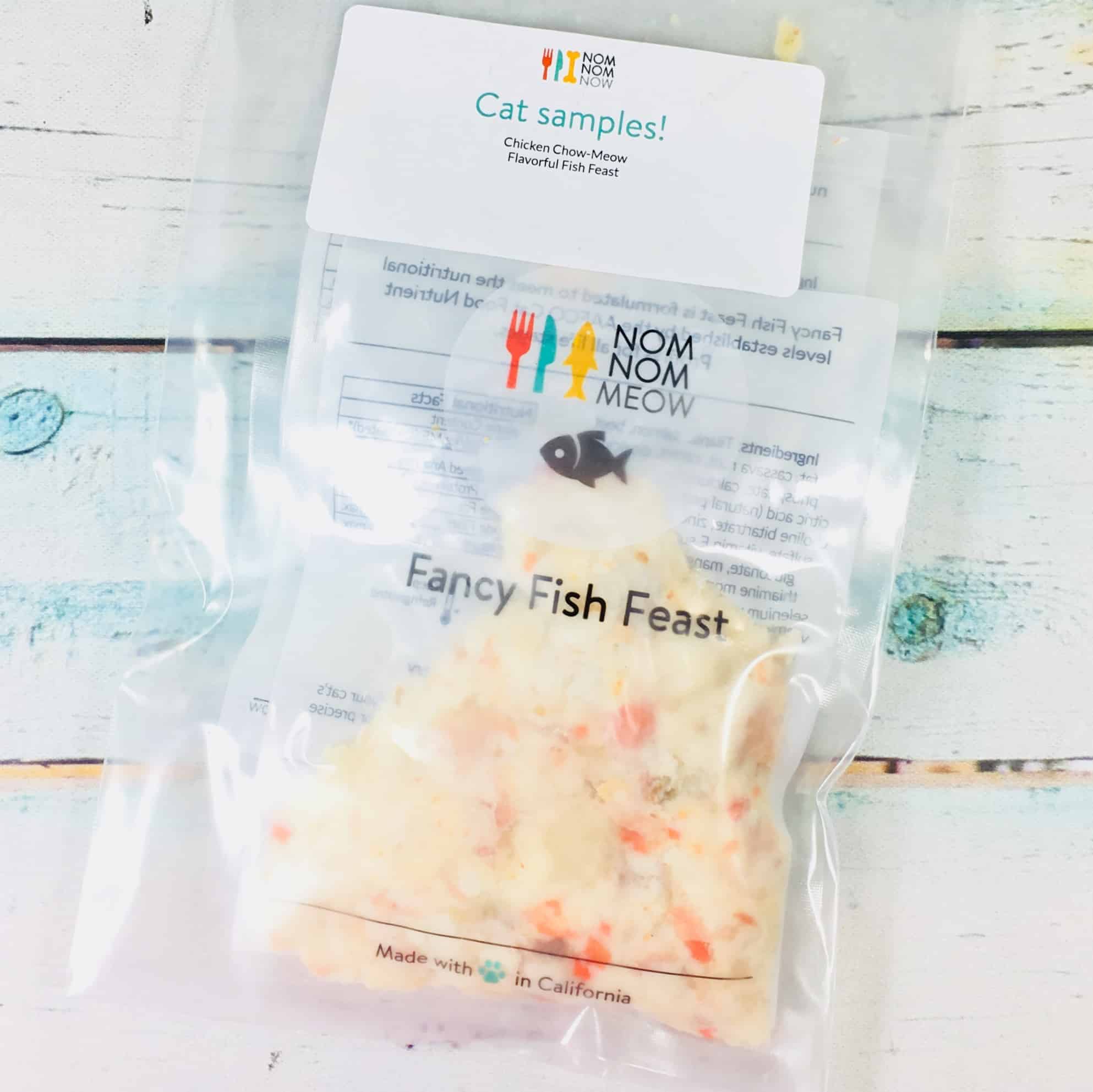 I also received a bag of samples.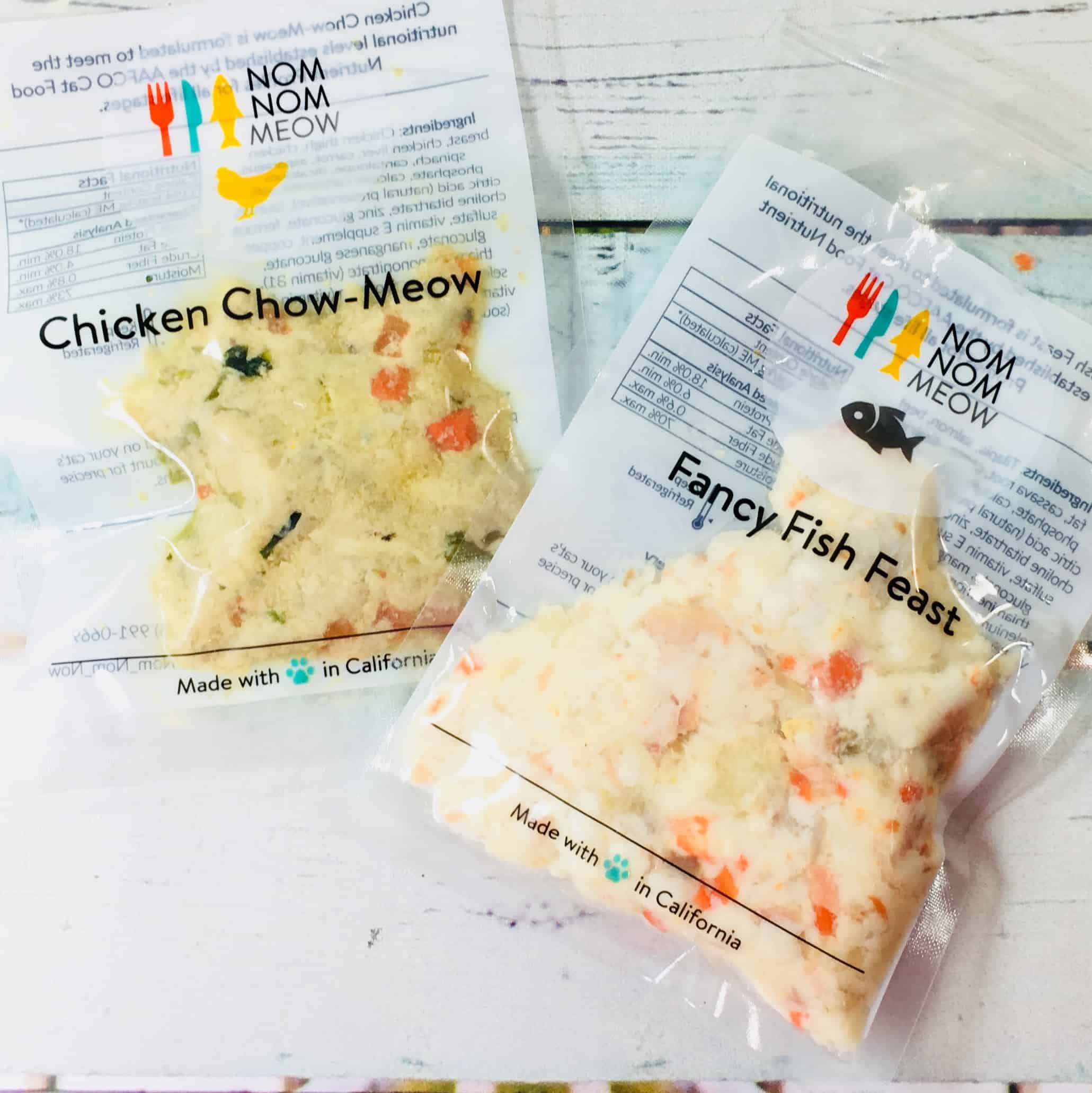 One bag had a sample of the food I already received, the other was a sample of the Fancy Fish Feast.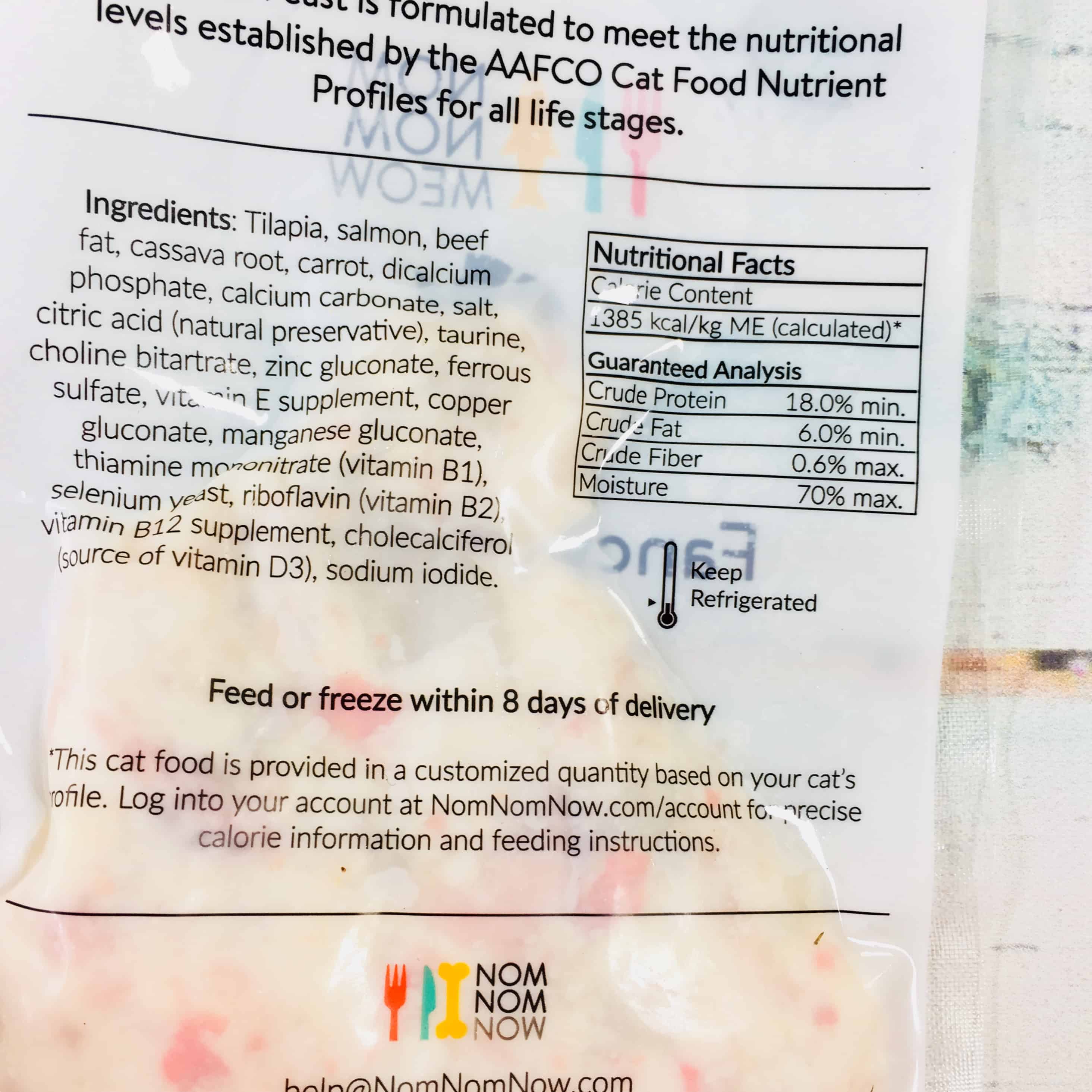 Ingredients were listed on the back.
Looks good! Sunny loved it too.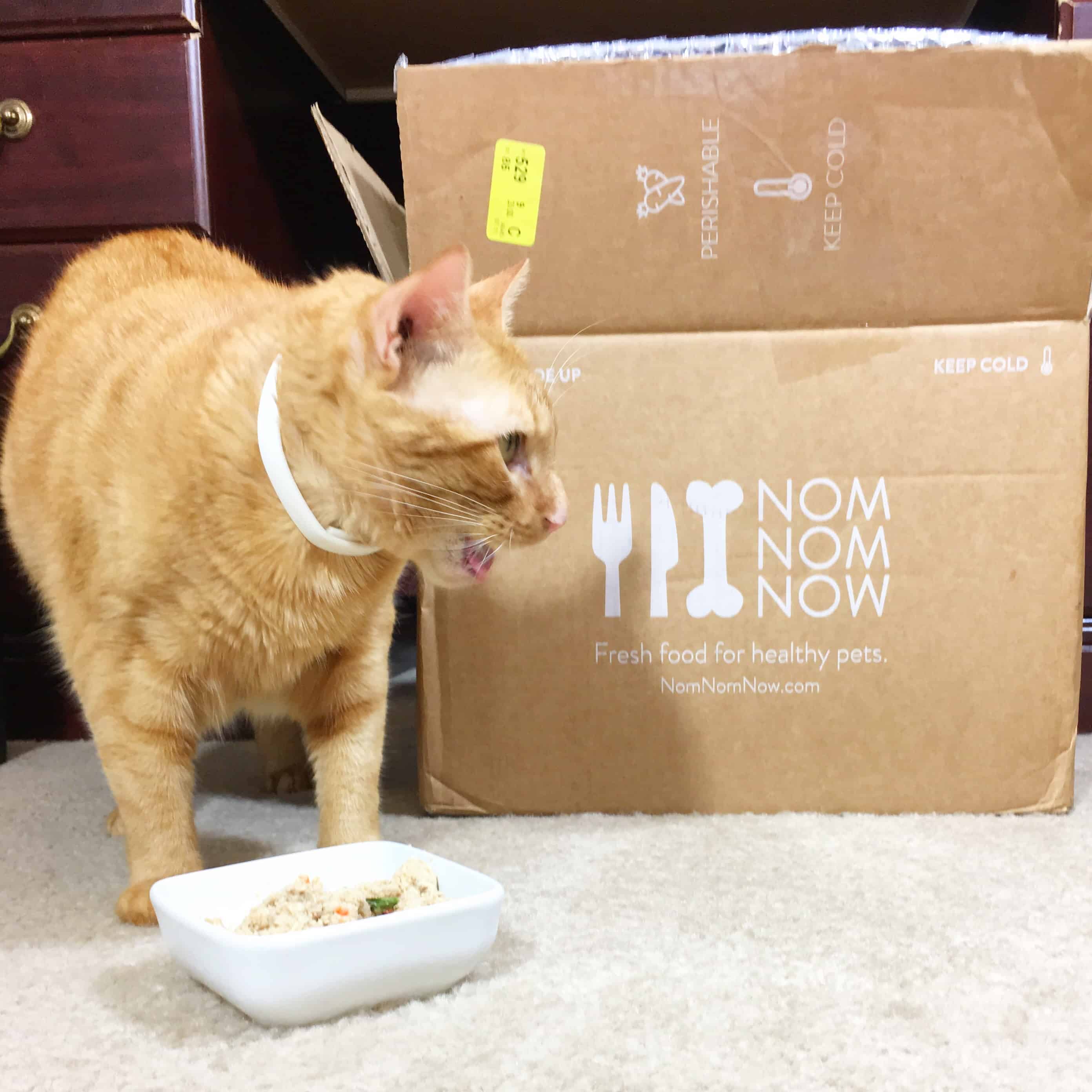 I think she was trying to say something here. More, please or something like that.
Sunny thought Nom Nom was cat-tastic and was purr-fectly pleased with her meals. I liked the convenience factor and appreciate that the packets can be frozen for future use. The food didn't look or smell like the stuff in cans and I am happy knowing my cat is getting all the nutrition she needs to keep her healthy for a long time. Sunny couldn't finish all of the food at one time, and wouldn't eat from it later, plus having it sit out all day is kind of gross, so I might try feeding her half of a pack at a time. I also continued to keep dry food on hand since my older cat, Zoey, refuses to eat wet food, and Sunny would still eat the dry food.
Are you getting Nom Nom Cats?