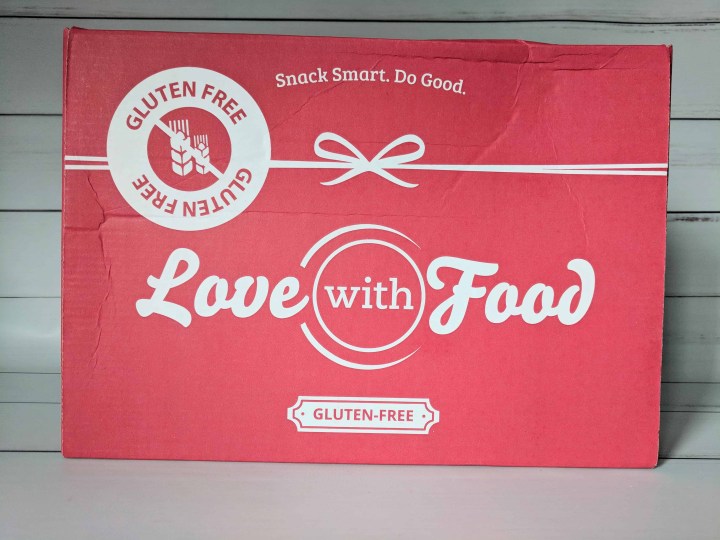 Love with Food is a popular snack subscription that also carries a gluten-free option! It is a fun snack discovery subscription available in three versions: classic tasting box, deluxe/family size, and gluten-free. This version is the gluten-free box, but you can see our reviews of the other versions too.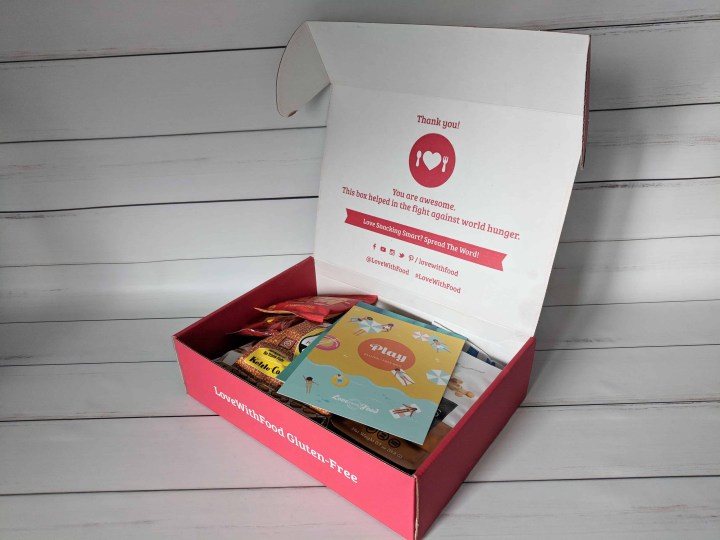 DEAL: You can save 25% on your first Gluten-Free box by using this link, no coupon code required!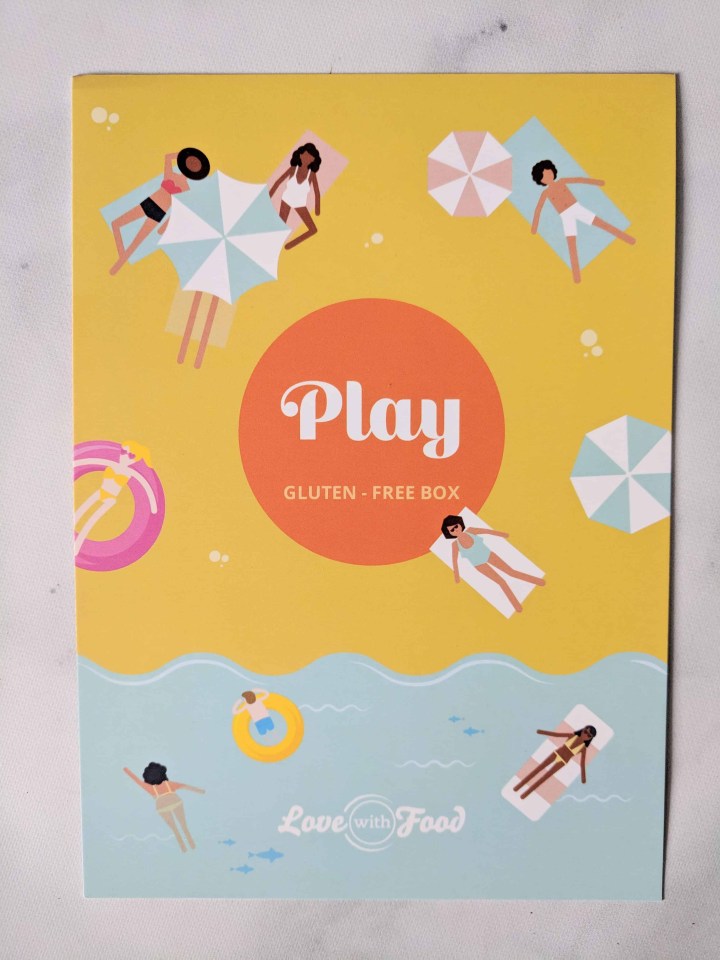 This month's theme is Play.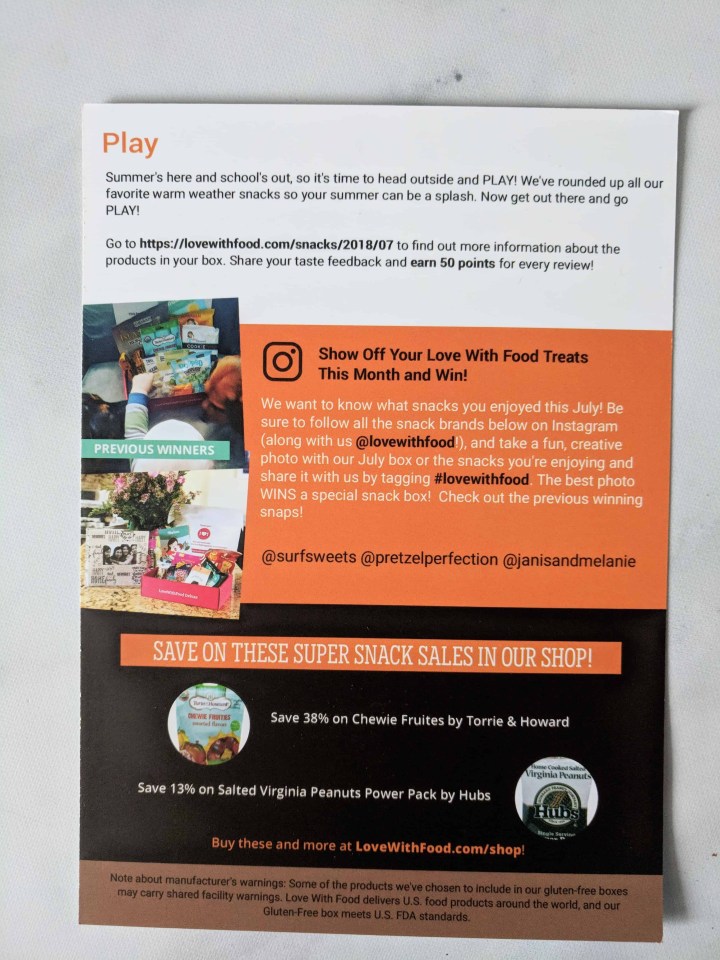 They don't include details on the product card, but the info is available on their website.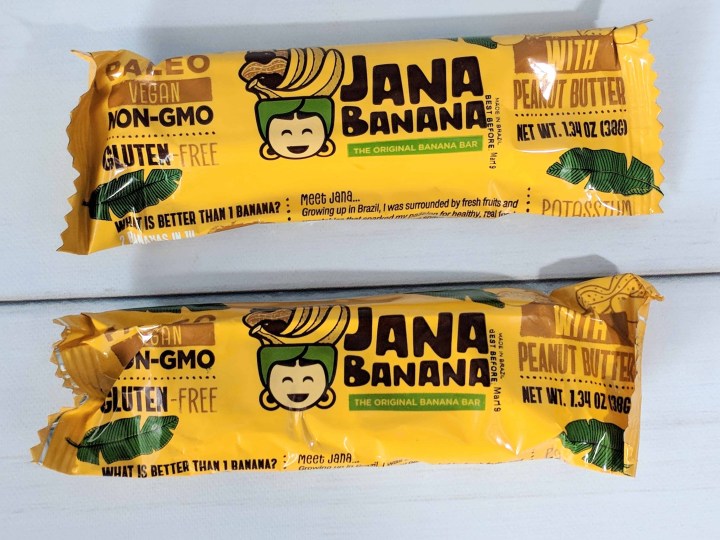 Paleo Vegan Jana Banana Banana Bar With Peanut Butter. It's like a moist banana bread with some peanut butter.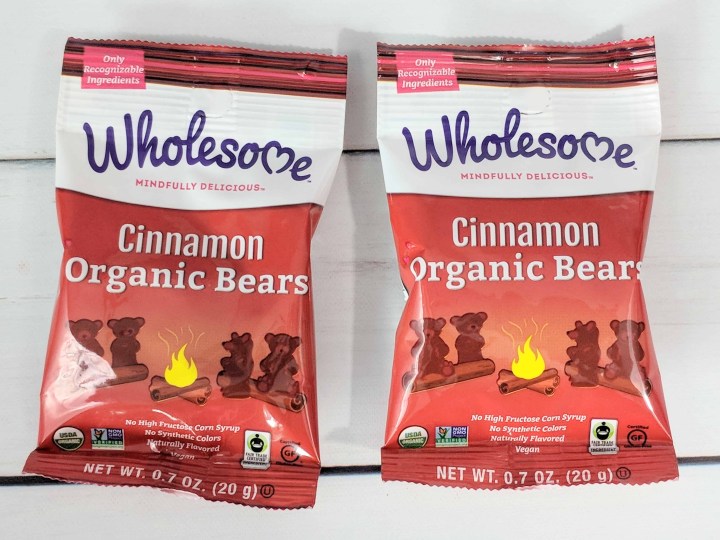 Wholesome Cinnamon Organic Bears. Delicious cinnamon flavored gummies!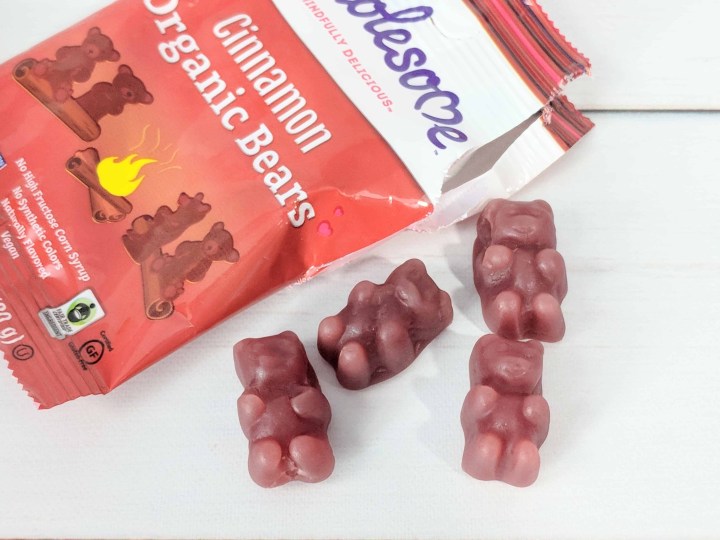 There were only four little gummies per bag, but I loved them! They were sweet and with that great cinnamon flavor, but not the fake spicy one that you usually get in candies. It was quite mellow (for cinnamon), but the heat was still present! I loved them!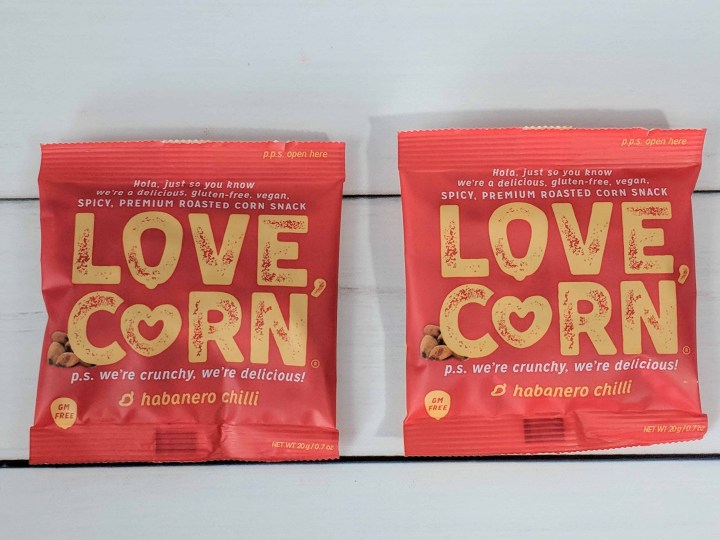 Love, Corn – Habanero chilli. Roasted Corn with a lovely heat from the habanero chili! My fingers were quite spicy after! The corn was quite crunchy, but not enough to fill like my teeth would break!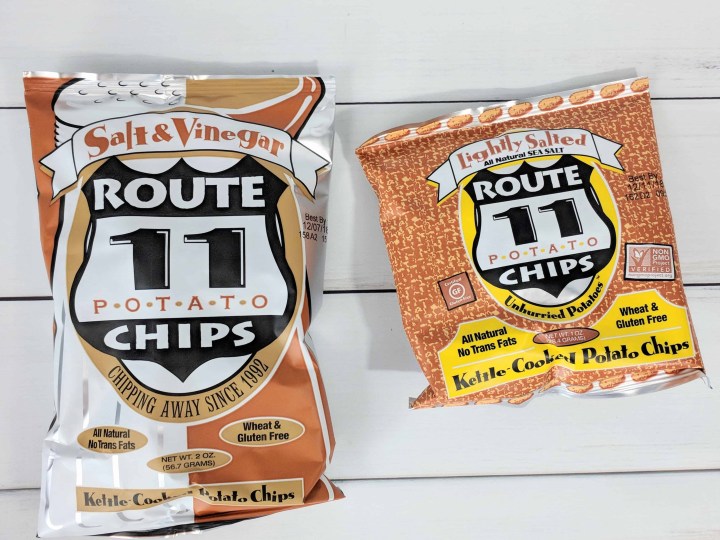 Route 11 Potato Chips – Salt & Vinegar and Lightly Salted. I'm a huge fan of salt & vinegar chips and these weren't shy about their flavor! It was deliciously vinegary! I was surprised to see that lactose and cultured buttermilk were on the ingredient list.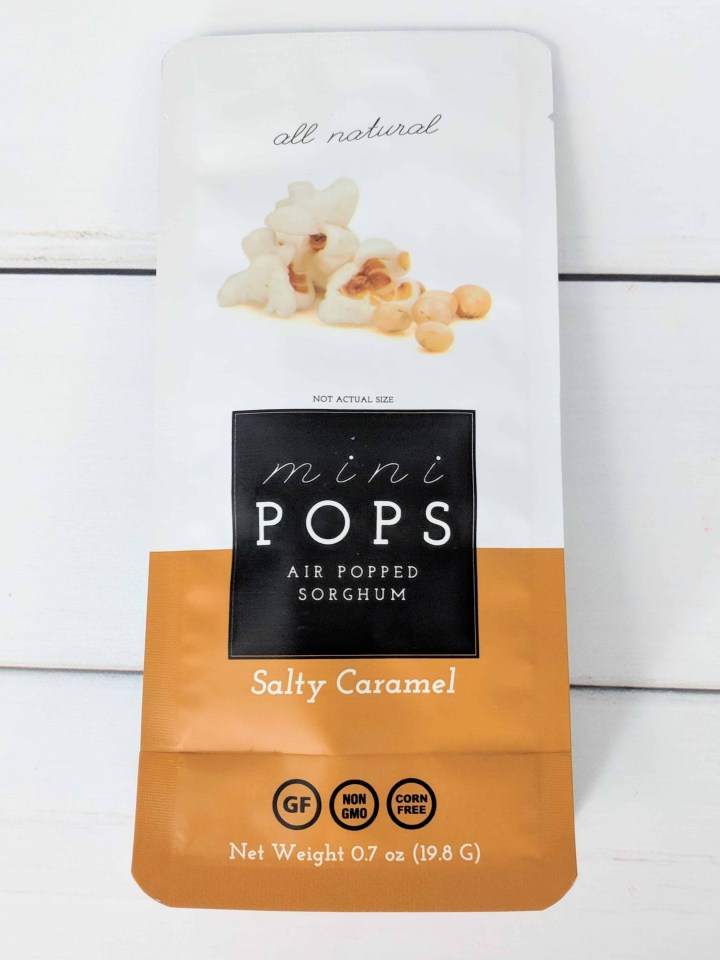 Mini Pops Air Popped Sorghum. I love Popped Sorghum! It's like popcorn, but smaller, cuter, denser, but with the same crunch and taste. This Salty Caramel wasn't overly sweet until I got to the bottom of the bag where all the powder was left! Seriously, I want to taste every single flavor as they are delicious!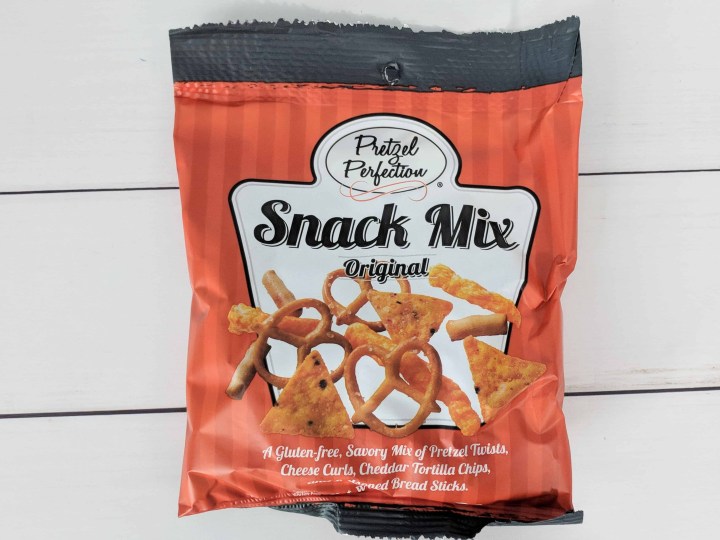 Pretzel Perfection Snack Mix Original. My husband didn't know they were gluten-free and he really enjoyed them! Even the pretzels! It's a typical mix of pretzels, cheese curls, tortilla chips and breadsticks.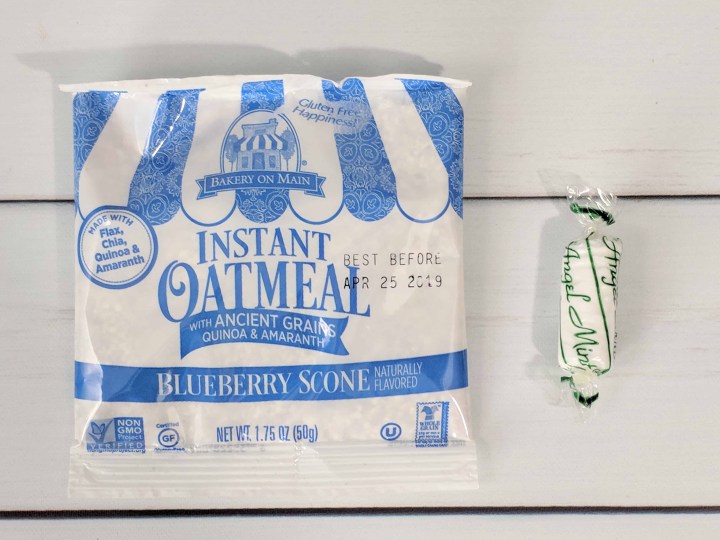 Bakery on Main – Instant Oatmeal – Blueberry Scone. A mix of oats, flax, chia seeds, and the two ancient grains, quinoa, and amaranth. I don't think there's a granola or oatmeal that I don't like and this one was fine, nothing to complain about.
Angel Mint. I like them! They are refreshing, not too harsh on the mint flavor, and I can easily chew them. They are very soft chalky kind of candy, without the chalky taste!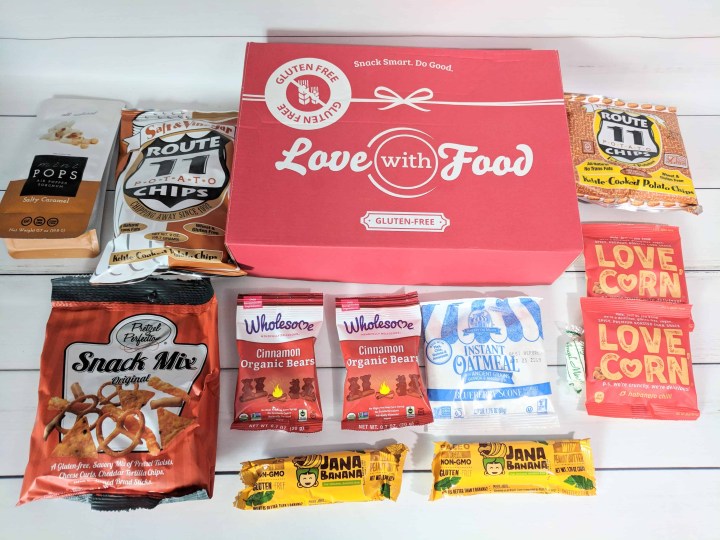 I really liked this month's box, as we received two of almost every snack, making it easier to share, or to keep some at home and some at the office! I always like the mix of sweet and savory treats, and the mix of the old favorites, in different flavors, with new to me tasty snacks!
What is your favorite Love with Food item from this month's box? Share below and let us know!

Visit Love with Food Gluten-Free to subscribe or find out more!
, and this one w