LiveGlam has just launched their newest subscription – ShadowMe! Every other month, you'll receive 6 new, high-quality, cruelty-free and vegan pigmented eyeshadows for $19.99 with free US shipping ($5.99 international).
LiveGlam also offers the MorpheMe Brush Club + KissMe Lipstick subscriptions.
DEAL: Get free KissMe lippie with your first ShadowMe box! No coupon needed – just use this link to get the deal.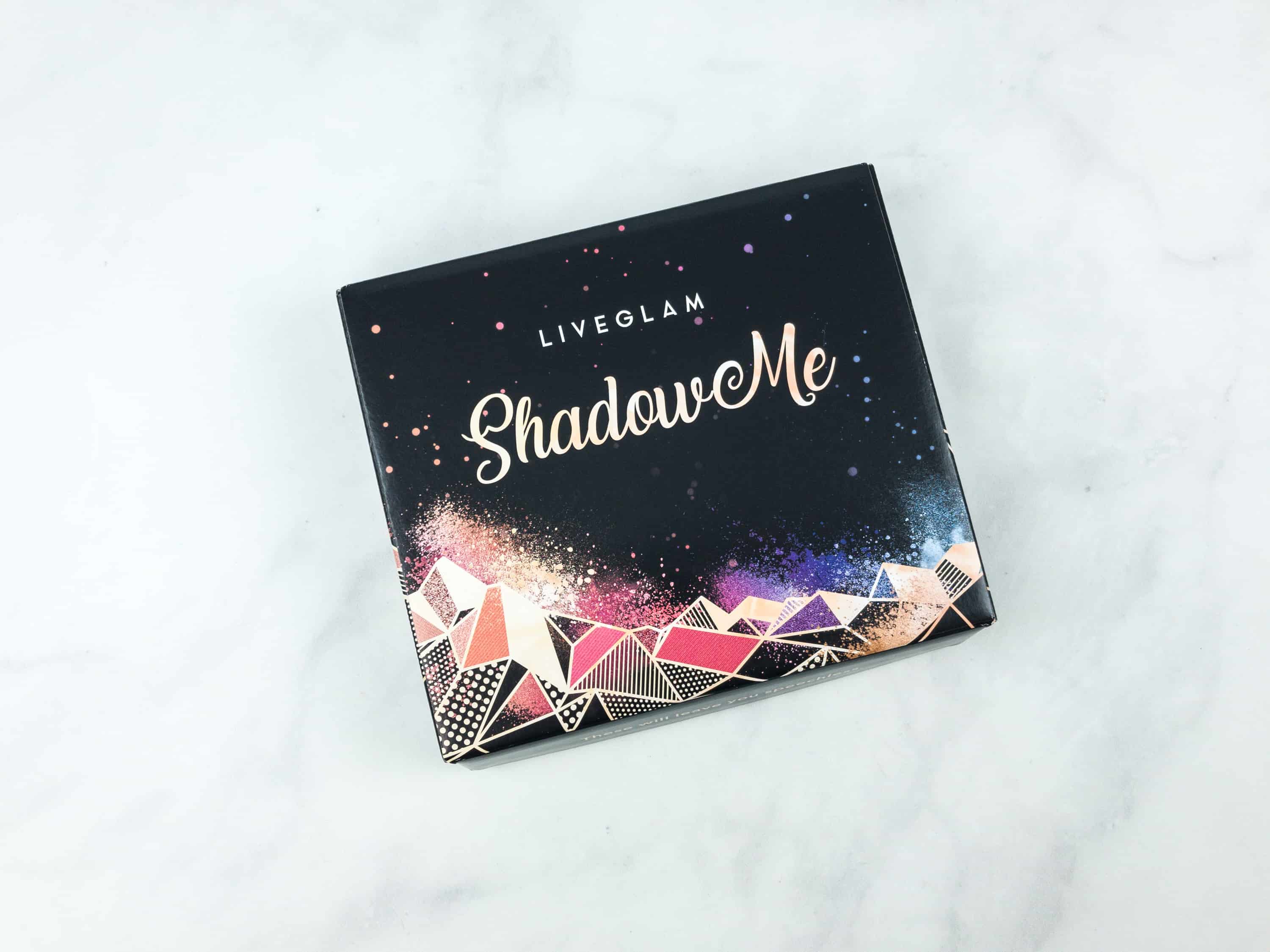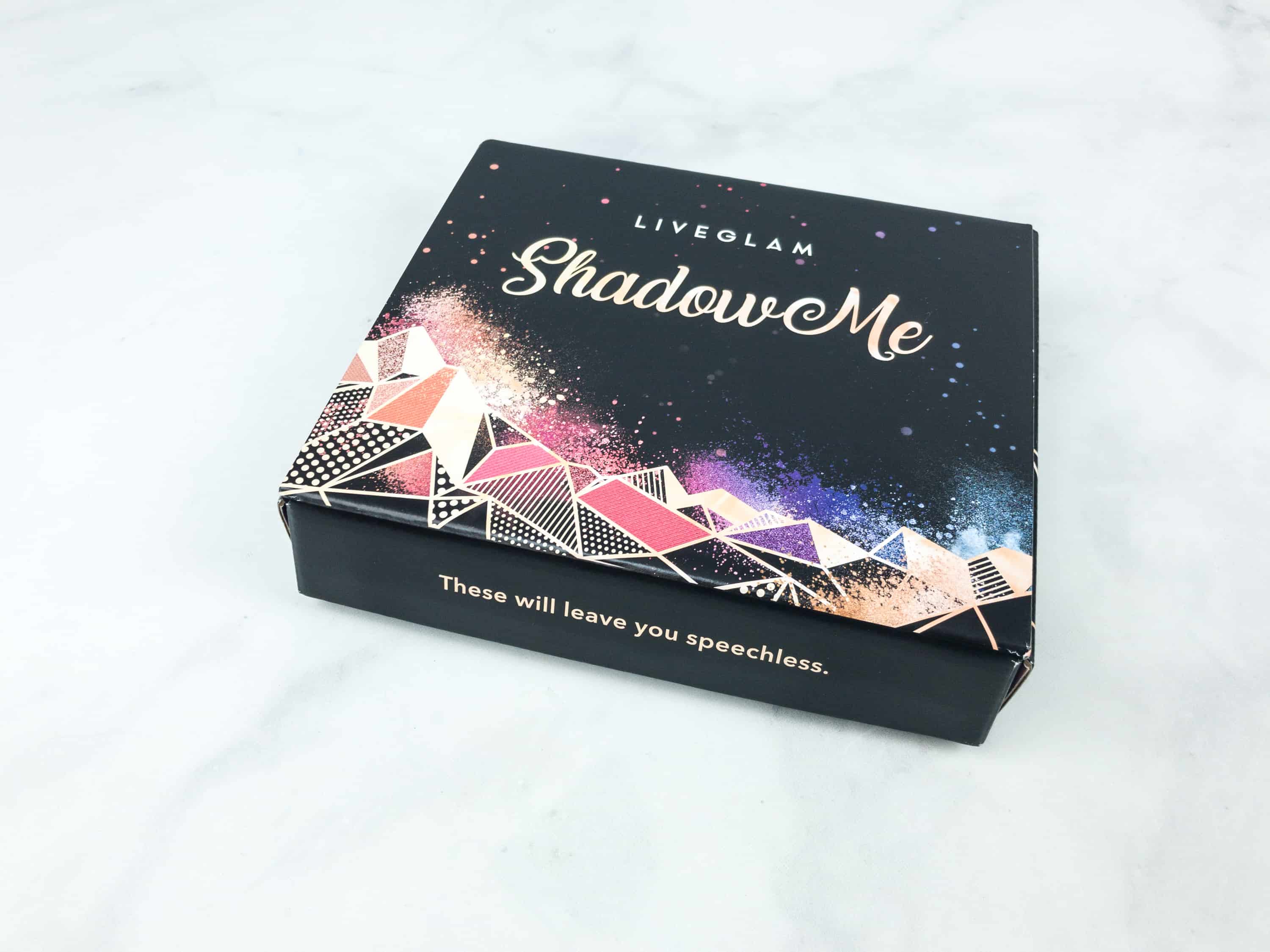 I'm speechless indeed. The box is so pretty!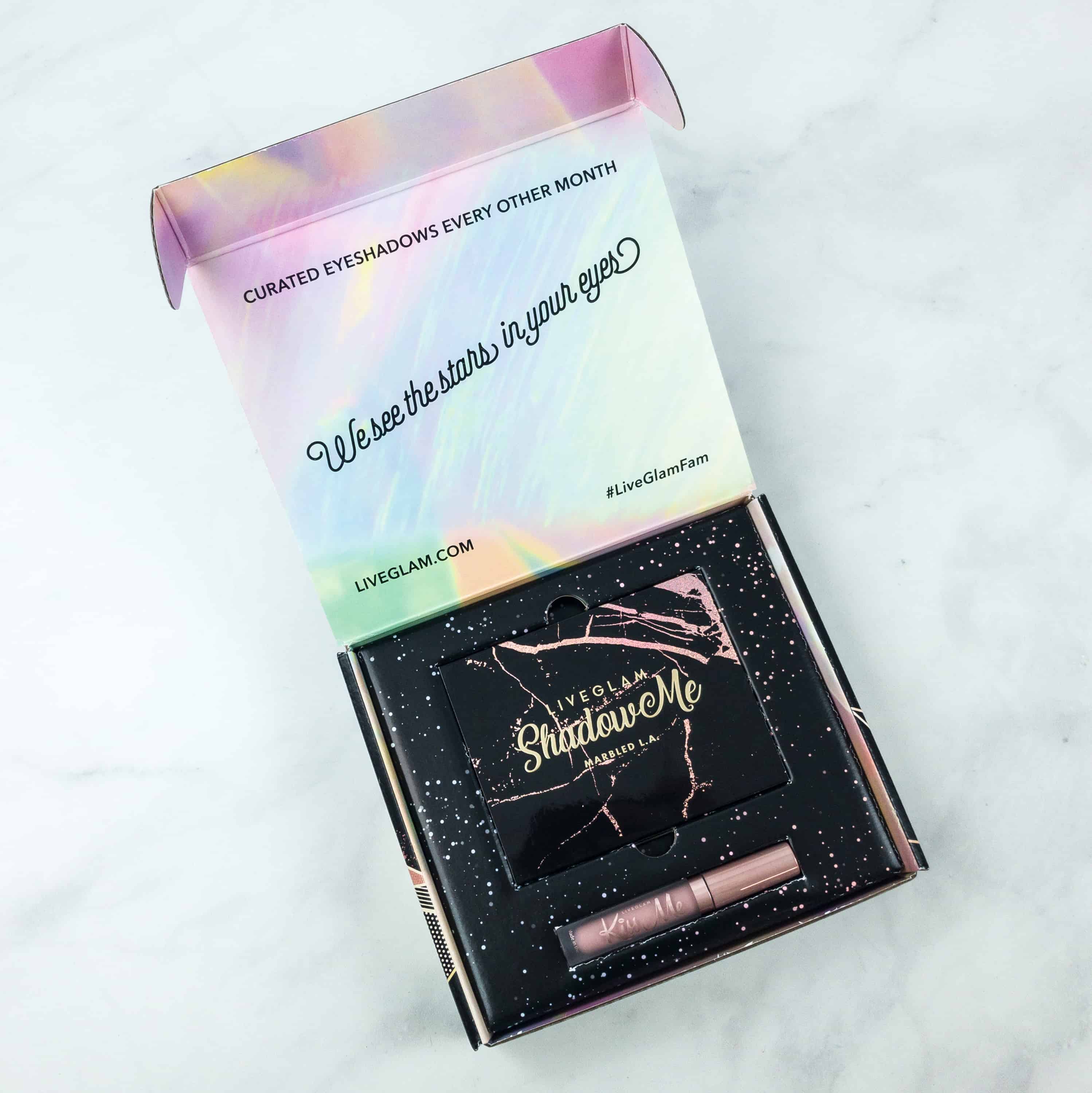 The box has a really beautiful presentation as it flaunts the products. It is a breath of fresh air from the usual bubble wraps and squiggles. The box has a combination of pastels, starry, and marble design. There won't be a cutout in the box for the free lippie if you don't use the link to sign up!
This is our first ever info card about LiveGlam's newest subscription line!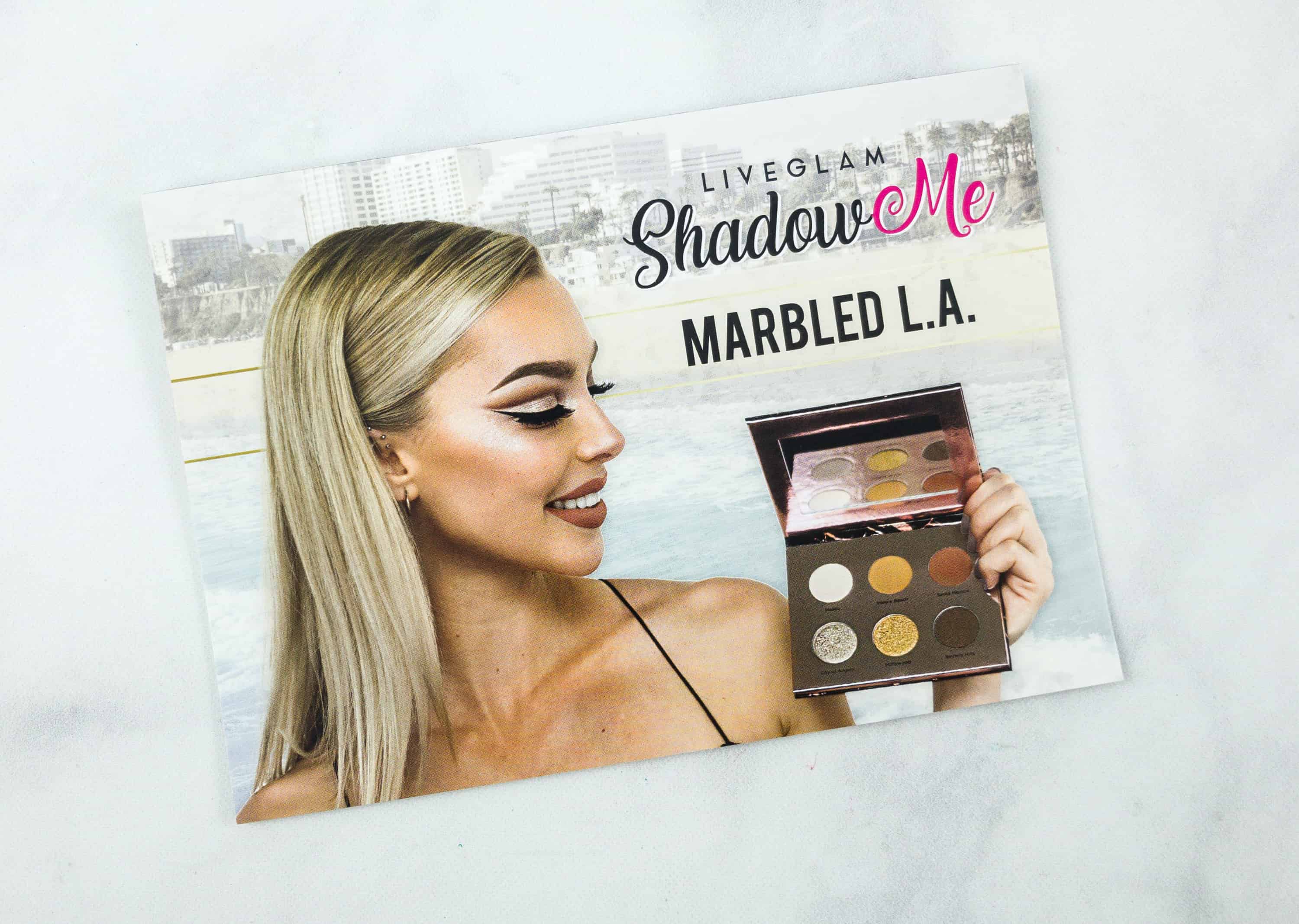 The very first LiveGlam ShadowMe palette is Marbled L.A.! This will be your first palette if you sign up between 7/18-7/22 only! Members who sign up for Marbled L.A. will be billed again in September on the date they signed up in July. For example: if a member signs up on July 18th, they will be billed for Baecation on September 18th.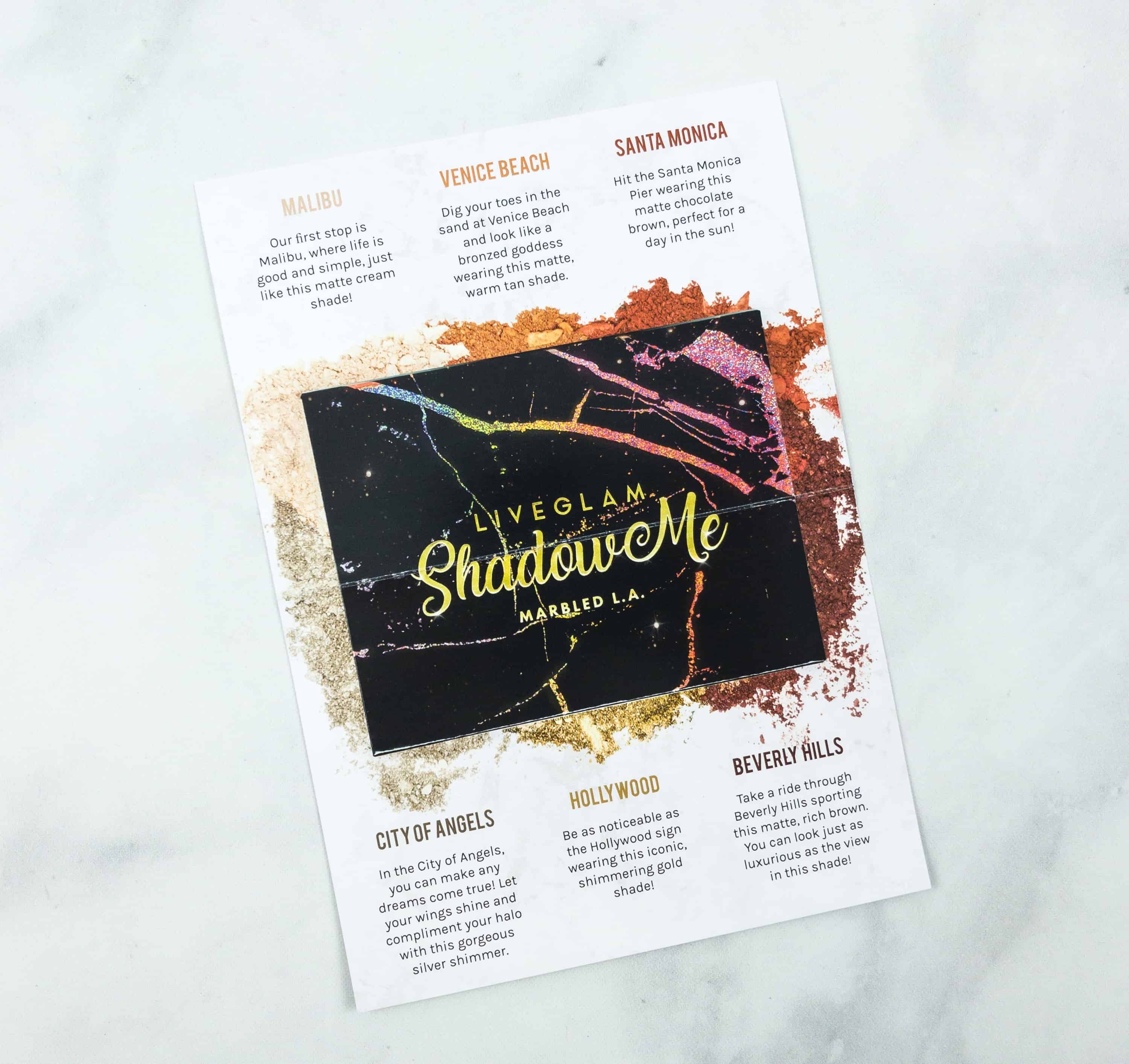 This is the info card of our palette that will make our eyes shine. It includes different shade names and each of their descriptions.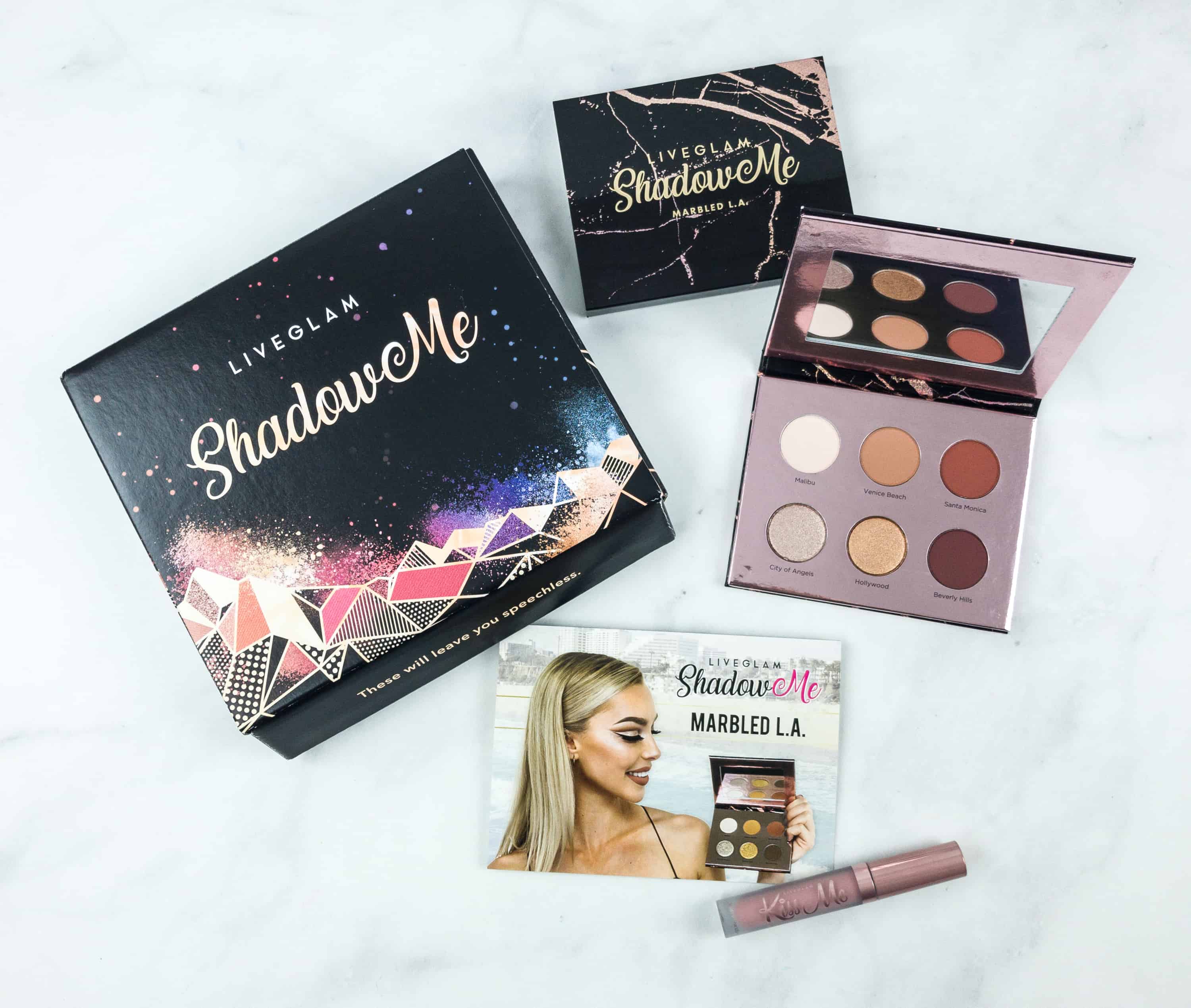 Everything in my box!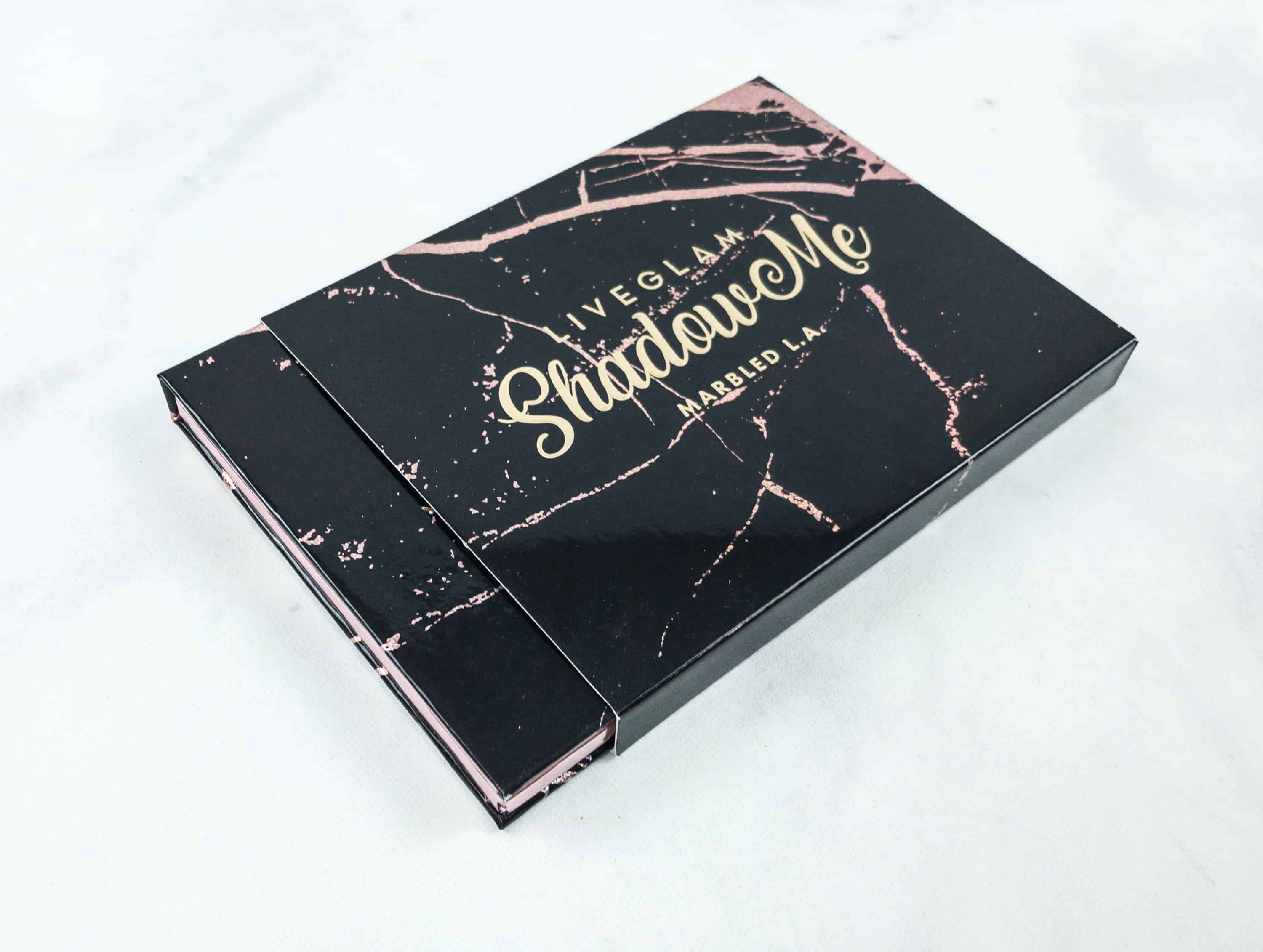 Marbled L.A. ShadowMe Palette. The sleeve has the same marble design as the palette.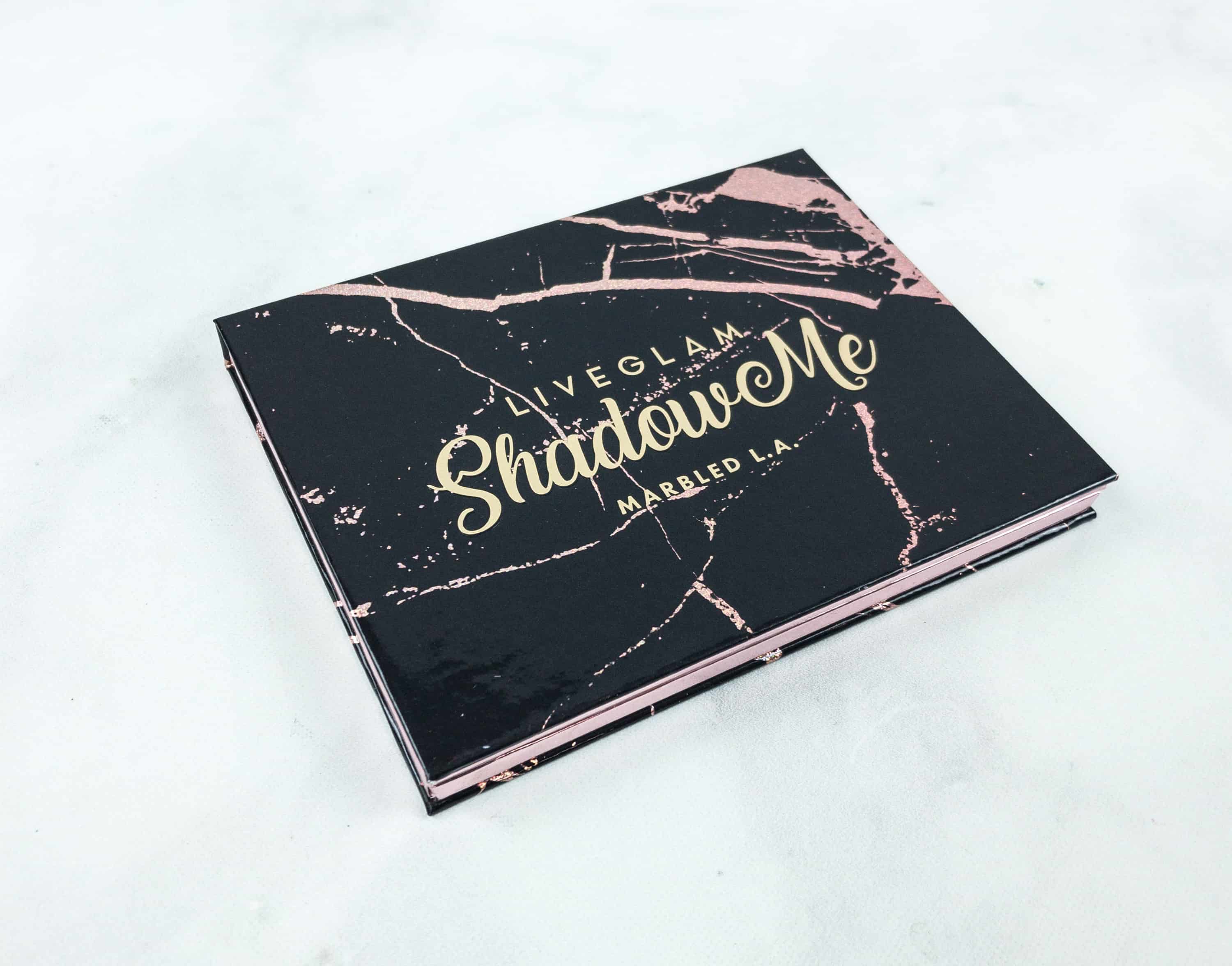 The marble designed has a color combination of black and pink that is really chic and trendy.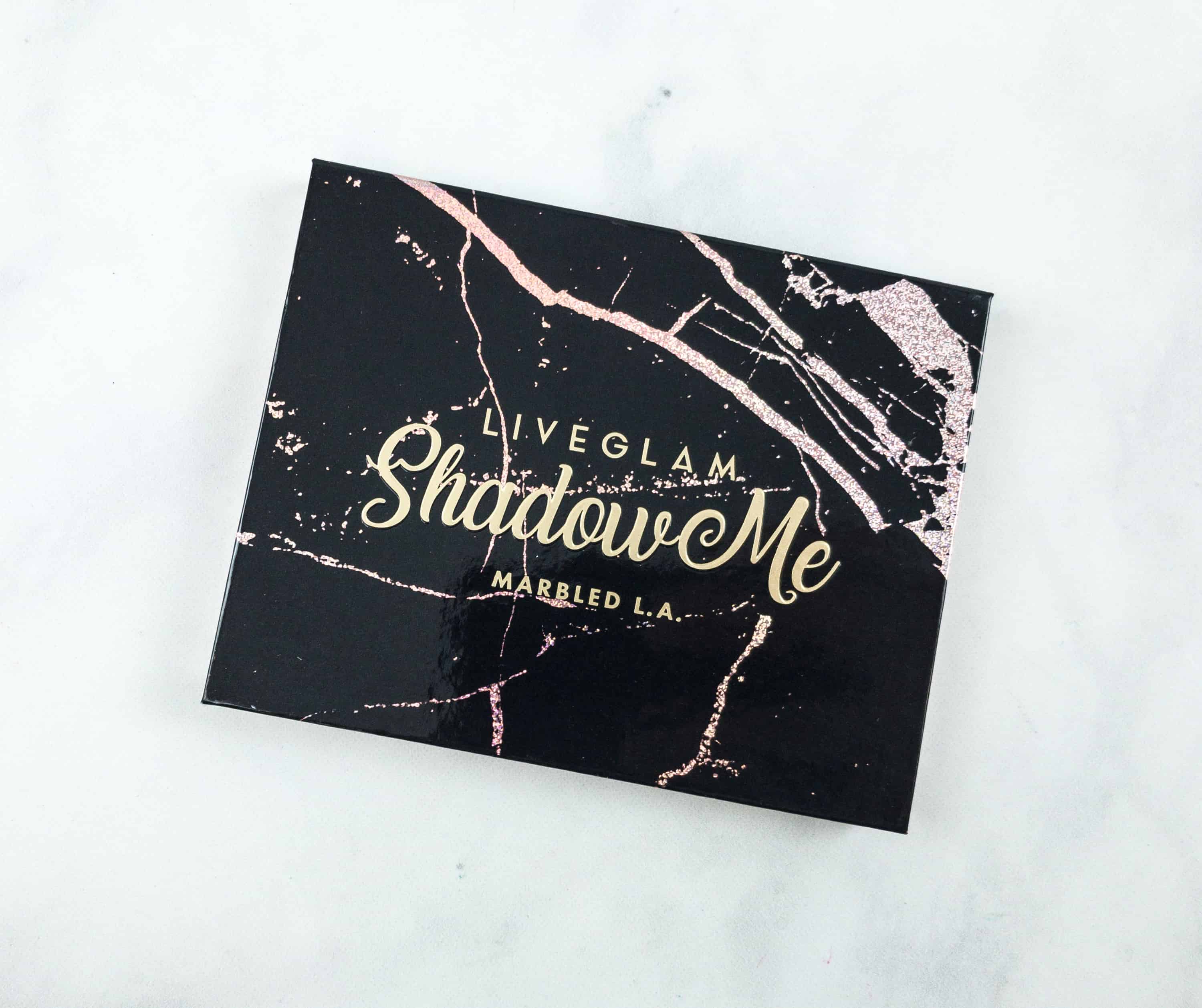 It really captured the essence of the theme and certainly made good first impressions for the launch of the subscription line.
We have six shades, four of them are mattes and two are shimmers. They are generally warm toned colors that can go with a lot of looks, whether casual or formal.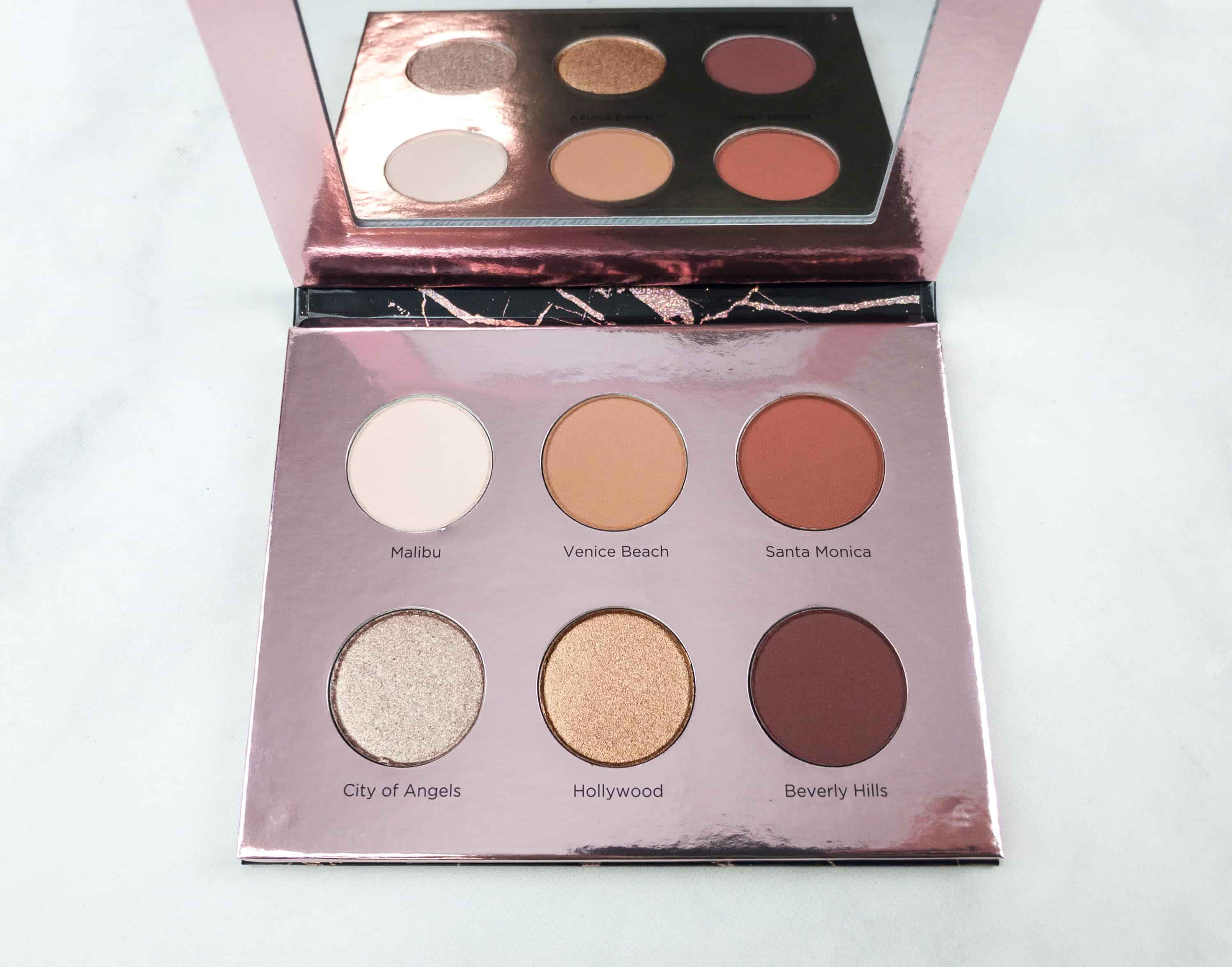 You can use the Malibu shade as the base color on your lids, then blend Venice and Santa Monica shades on your crease, maybe add a pop of Hollywood shade into your inner corners and pack it on the center of the lid so that you can have a perfect sophisticated look for night outs or dates. I know it's an eyeshadow palette but using the highlighter brush, you can also apply the City of Angels and Hollywood shades as a highlighter to have a radiant look. You can also use Beverly Hills on the outer corners of the eyes for smoldering smoky eyes.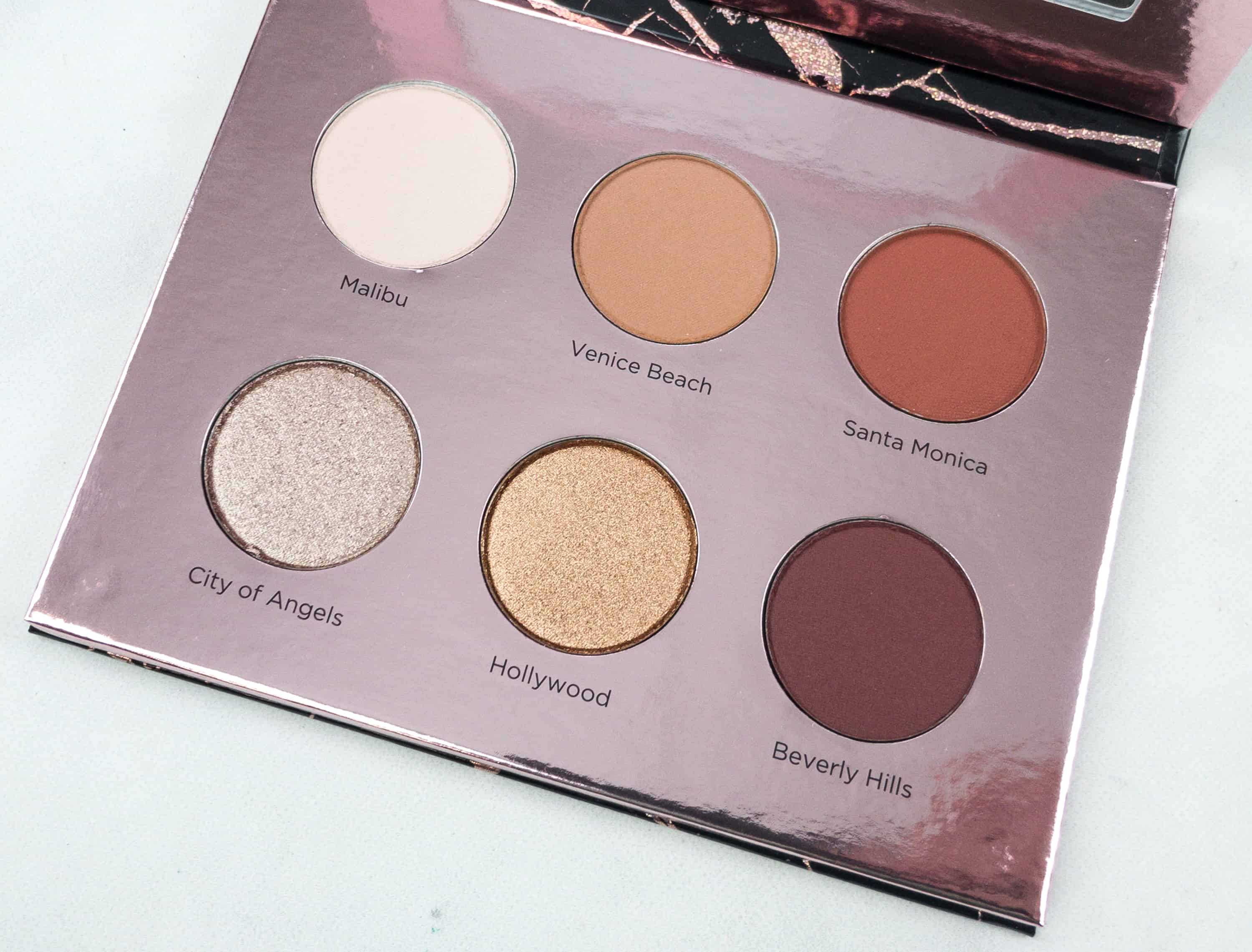 They are all buildable pigment and a little goes a long way. The formula also makes it so easy to blend with one another. It is not patchy at all.
The swatches look perfect! Given that the shades and pigment may vary and look different from the effect of the shadows on arm and on the eyes, it is a bonus that they already look good from the swatches. They are not chalky or gritty, they glide smoothly and very pigmented. I'm impressed by how pigmented the shimmer shades are and they have minimal fallout. The metallics are really perfection – just bold enough.
As usual, I also love the Kiss Me lipstick that I got for free (swatched at the tippy top above the shadows above the lightest shade – Malibu). The brand never disappoints when it comes to the formula of the liquid lipstick.
They have 3 options for you to choose from which liquid lipstick you want for a freebie. The selections are Kiss-A- Latte, Glamaccino and Very Brewtiful from KissMe June 2018 collection. I appreciate that they let us choose to make sure we really enjoy the looks that we can create.
My style is usually on pretty soft-pink matte lippie so I did not hesitate to be delighted over this shade. I also think this lipstick suits my complexion and goes well with the colors of the Marbled L.A. ShadowMe palette.
I've always known LiveGlam to have interesting and creative boxes like KissMe and MorpheMe. It's about time they have a new subscription line for eyeshadow palettes, because we are palette crazy!. From the packaging and presentation to the quality and color of the pigments, it is indeed a good first launch product. The palette is very versatile and useful for everyday wear to glammed up looks. The subscription is also flexible as you can cancel anytime, skip a payment or even trade the palettes plus we can receive and choose the bonus item bimonthly. I'm excited and I can't wait for the next one.
What do you think of this month's ShadowMe?